Excelente monoambiente con balcón, muy cómodo, luminoso y perfectamente equipado. Se destaca por su ubicación en pleno Centro Porteño, a 1/2 cuadra de la Univerdidad UADE y a 8 del Obelisco. Líneas subterraneas a una y dos cuadras. Metrobus a 150mts.
O apartamento é como descrito nas imagens. Bem organizado, limpo e com tudo que você precisa para cozinhar etc. Jorgelina é muito simpática e querida, se mostrou prestativa e pontual. Super recomendo.
Pedro
2017-02-20T00:00:00Z
Jorgelina es muy buena anfitriona. Nos recibió muy bien y estuvo a nuestra disposición con todo lo que fue necesario, y el departamento es excelente. Muy cómodo, confortable, cerca de todo, por supuesto yo volvería a pasar más días en su lugar cuando vuelva a Buenos Aires!
Gabriel
2017-03-17T00:00:00Z
Gracias por todo
Cristian
2017-04-07T00:00:00Z
Excelente monoambiente! Muy recomendado! Todo muy limpio, una muy buena ubicación, es un excelente lugar!
Gabriel
2017-03-27T00:00:00Z
Had a really great stay in Jorgelina's place. We were made to feel very welcome and arrived to very clean and fresh accommodation. The location of the air bnb is very good and all amenities were fantastic, with excellent wifi. We really enjoyed our stay over all and Jorgelina was very nice to deal with. I would highly recommend this air bnb.
Emma
2016-11-11T00:00:00Z
Very comfortable, clean and central. We had a lovely stay here and would highly recommend it!
Donné
2017-02-03T00:00:00Z
The place was exactly as pictured. A little bit of a walk to activities in the city but not bad.
Rachael
2016-11-15T00:00:00Z
Jorgelina é super acessível e solicita. Tivemos um problema com o funcionamento da energia e ela prontamente nos atendeu.
Clarissa
2016-12-09T00:00:00Z
Oda Tipi
Tüm ev/daire
---
Mekan Türü
Daire
---
Konaklayacak Kişi Sayısı
2
---
Yatak odaları
Buenos Aires, Ciudad Autónoma de Buenos Aires, Arjantin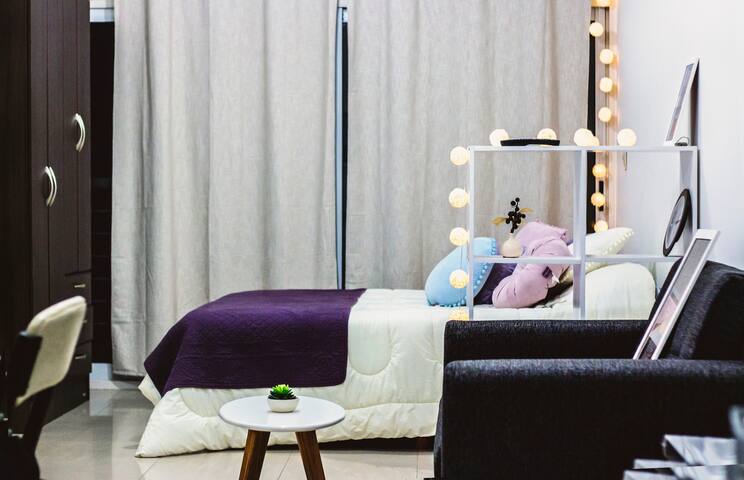 Also: https://www.airbnb.es/rooms/2159252?guests=1&adults=1&children=0&infants=0&s=qRMeyJ2Z Cozy loft apartment with balcony overlooking the street. Located in a very nice french style building. The position is perfect! 50 m Av. de Mayo and 300 m Florida St. Within walking distance to the most touristic attractions of the city: Cafe Tortoni, Plaza de Mayo, Casa Rosada, Av. 9 de Julio, Obelisco, Congreso de la Nación, etc. and the neighborhoods San Telmo, Puerto Madero, San Nicolás & Recoleta.
Small 33m2 studio loft with street view balcony. Very comfortable. It is located in a high 1º floor of a beautiful french building in the heart of Buenos Aires. Super connected to the most attractive tourist spots in the city, either walking or using public transportation.
Monserrat's neighborhood is an exceptional blend of history, stunning architecture, business hub and entertainment – shops, theaters, coffee shops, restaurants, language schools, tango and milonga schools. Usually referred as "el Centro". It is a focus point for all tourists who visit Argentina's capital.
Excelente apartamento, la ubicación es increíble ya que es muy fácil ir a cualquier lugar desde ahí. Jimena es increíble anfitriona y nunca tuvimos problema para comunicarnos con ella. Todo es justo como se ve en las fotos, no pudimos conseguir lugar mejor!
Mara
2016-05-15T00:00:00Z
Jimena's place is conveniently located and super easy to get around from there. The NY style loft was perfect for us (a couple). I definitely recommend it!
Audrey
2016-12-22T00:00:00Z
Jimena is a wonderful hostess; very flexible and accommodating! Despite not living in the city, I never had any problems getting in touch with her. The apartment is a perfect little alcove if you want to feel like a real Porteño. It's cozy and lived in. Yes, the street is noisy but the building is safe and the door staff are super friendly. Linens were fresh (there are extra under the bed), bathroom was clean, kitchen was well stocked, a/c was magic in the city heat-- what more can you ask for? BA is a very walkable city & Retiro, San Telmo, and Recoleta are nearby. A cab to Palermo will run about 100 pesos. As a solo female traveler, there's not a ton of foot traffic at night but the streets are well lit & I noticed ample police roaming about. Had a great time in this apt- highly recommend!
Amanda
2016-03-08T00:00:00Z
Muy buen lugar para esta en Buenos Aires, limpio, cómodo, bien ubicado, nos encanto, ademas muy buena comunicación Jimena, te lo agradecemos. Fue un muy buen fin de semana.
jorge
2016-08-17T00:00:00Z
O estúdio é muito bem localizado e muito funcional. O contato com a proprietária é rápido e preciso. Recomendo fortemente para quem vai a Buenos Aires a passeio ou a negócios.
Eduardo
2016-08-12T00:00:00Z
The apartment is pretty nice and very comfortable. I like the bed
Anke
2016-10-22T00:00:00Z
A viagem a Bs As foi maravilhosa em parte por ter ficado hospedada no apartamento! A localização é muito boa, sobretudo para quem vai pela primeira vez para a cidade e quer percorrer os diferentes bairros e os pontos de interesse mais famosos. É possível ir caminhando para quase todos os pontos, além de ficar próximo de metrô e de muitos ônibus. Jimena foi muito atenciosa, dispôs de muitas informações antes mesmo de chegarmos a cidade e esteve sempre disposta a solucionar quaisquer dúvidas que tínhamos. Foi uma experiência muito boa, recomendo!
Julia
2016-04-12T00:00:00Z
I had a great experience at Jimena's apartment! It had everything I needed, plus some great things within just a few minutes walk: grocery stores, subway stations, historic Cafe Tortoni and an awesome vegan cafe (called Vita, that I went to almost every day). Thank you for everything Jimena, I had a lovely stay in this awesome city! :)
Kelsey
2016-05-28T00:00:00Z
Oda Tipi
Tüm ev/daire
---
Mekan Türü
Daire
---
Konaklayacak Kişi Sayısı
2
---
Yatak odaları
Buenos Aires, Ciudad Autónoma de Buenos Aires, Arjantin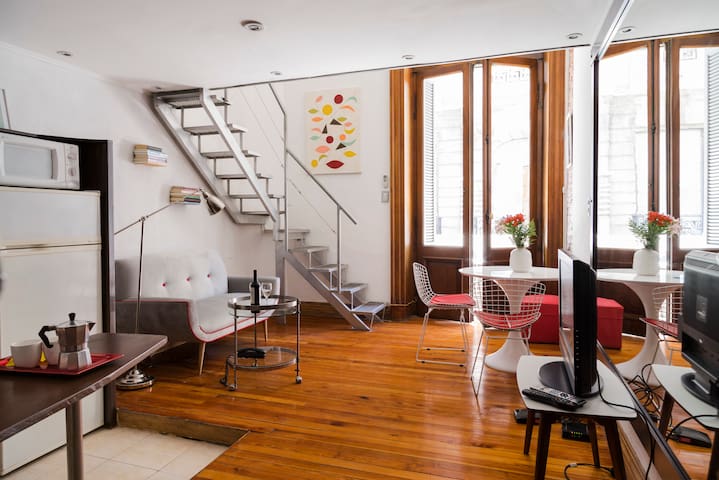 5 (GOOD) REASONS TO STAY HERE: 1. Trusted Host With More Than 1000 Positive Reviews. 2. Brand New Apartment in landmark building. 3. Awesome amenities including pool, gym, onsite bar and restaurant! 4. Perfect Location. Central and Safe! 5. Elegant style and furniture.
Great host
Phill
2017-01-12T00:00:00Z
Super Moderne Wohnung , elegant und romantisch . Sehr gute Lage zum die stadt Entdecken. Gastgeber immer und sofort hilfsbereit und erreichbar . Habe mich wohl gefühlt . Negativ war dass Waschmaschine und Tumbler fehlen obwohl erwähnt . Deswegen habe ich die Wohnung auch eher im oberen Preis Segment auch gewählt wegen der Ausstattung
Giuseppe
2016-12-13T00:00:00Z
Sebastian/Gabriel were wonderful hosts and the apartment itself was magnificent. The location is very good for bother short term tourist activities and longer term living/everyday life. The apartment is brand new so a few things are still in progress/being refined. However Sebastian and Gabriel are very responsive and as a whole, the apartment and facilities are a good value. You can walk to the downtown, San Telmo and Puerto Madero areas. Be sure to read up on Argentina/Buenos Aires before arrival to be aware of general local cultural nuances (i.e. poverty/begging, afternoon closure of business).
Arturo
2017-01-07T00:00:00Z
Modern comfortable apartment close to public transport in the financial district and close to San Telmo. Swimming pool was great and there was always space. Small supermarket in the same block. Apartment was well equipped and clean and tidy. I would stay again. Sebastian & Gabriel are light touch hosts - never actually met them. Cleaner checked me in and doorman took the key when I left.
Rupert
2017-01-23T00:00:00Z
BEAUTIFUL perfect AirBnB in the heart of BA
Katy
2017-03-26T00:00:00Z
Muy lindo y cómodo el departamento. Céntrico y cerca de buenos restaurantes.
Javier
2017-01-30T00:00:00Z
Muy lindo depa, ubicacion centrica!
Celeste
2017-03-07T00:00:00Z
We loved our stay in this beautiful loft. The balcony view provided the sweetest backdrop where we enjoyed morning coffee and mimosas. The home was immaculately clean, and very well decorated. Good location, walking only a few blocks to the city center, San Telmo Market, and convenient restaurants, cafes, and mercados within steps out the front door! We also very much enjoyed the cafe right in the main lobby of the building! It is a gorgeous building with 24/7 security. Mr. Antonio, the security guard was always so kind and helpful answering any questions we had during our week stay. The only bad thing we found about this home, is that there in fact, is no laundry available. The listing states that there is a washer and dryer, which was one of our main factors in choosing this home as we were traveling in Argentina for 2 weeks we were looking forward to ending our stay with some clean laundry. There is no laundry available within the unit so we had to scramble to find a lavanderia, which instead we packed all of our dirty clothes to take home. Other than the laundry, we enjoyed our stay very much. Sebastian was always in communication answering any question we had, and the apartment was available for us to check in early, which we greatly appreciated. I would recommend staying here!
Vanessa
2017-02-17T00:00:00Z
Oda Tipi
Tüm ev/daire
---
Mekan Türü
Daire
---
Konaklayacak Kişi Sayısı
2
---
Yatak odaları
Buenos Aires, Ciudad Autónoma de Buenos Aires, Arjantin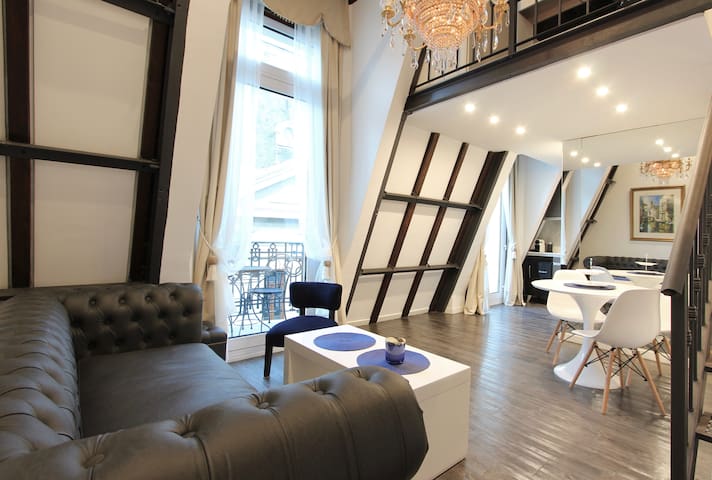 Muy buen departamento con balcón a la calle. Departamento entero, privado, con bajo precio, y alta calidad. Tv por cable, wi-fi alta velocidad, 2 splits frío calor, freezer, microondas, cocina separada, baño completo, 7º piso, balcón a la calle, 3 ascensores, 1 dormitorio cama matrimonial, living con sillón cama de fácil manejo, de 2 plazas. Ubicado en el centro, un lugar perfecto para estar en Buenos Aires. A dos cuadras del subte, para todas las direcciones con un ticket.
Very good apartment, with balcony to the street. Private, entire apartment, price like bed in shared room Cable TV , Wireless Internet, two air conditioners, freezer, microoven, kitchen, 40 m2, 7th floor, balcony, 3 elevators in building, one bedroom, double bed, living room with sofa bed, easy to use, double bed. It is placed in downtown, is a perfect place to be in Buenos Aires. It is 2 blocks from the Subway, and from Avda. 9 de Julio, the widest in the world. There are hundreds of coffes shop, restaurants, theaters and many tourist places around. There are hundreds of cheap public transport lines in all directions. Buenos Aires is a city of choice for tourists worldwide. The apartment is a few blocks from the Obelisk, the Government House, Plaza de Mayo, San Telmo, Congress, and tango shows. There is also public transportation with tour guides. Many people ask for restaurants near, and so, I put here my recommendations, which are generally those of Tripadvisor. Restaurant El Globo, two blocks away, Hipólito Yrigoyen 1199, open at night. Spanish and international ciusine. Food, service, quality/price, atmosphere, very good. Not expensive if you share, because food is very abundant. Puchero is a clssic. Trip Advisor clasifies as 254 from 1801 restaurants at Buenos Aires. La Estancia, Creole BBQ, Lavalle 941, one block from Obelisco, very good. Also, to pick up, a chicken with salad and fried potatoes and bread, very cheap.. Tripadvisor 229 El Cuartito, Talcahuano 937, pizza, number 41 Trip Advisor . Pizza, also, very good, Guerrín, Corrientes 1368, clasified 79 Trip Avisor Pizza and empanadas, nearer and good. La Continental, Avda. de Mayo 1389. To pick up a dozen empanadas, they charge 10. Tripadvisor 422. Café Tortoni, Avda. de Mayo 825 four or five blocks away, Tripadvisor N. 82, very touristic. Circolo Italiano, Libertad 1264, dinner. italian cuisine. TRIP ADVISOR 186, FROM 1801 Plaza Mayor, Venezuela 1289, three or four blocks away, Venezuela 1289, Trip Advisor 190.- at night I consider as a very good place, because the food is excellent (for us) and the price is cheap, Cervantes, it is more or less nine blocks away Perón 1883 A place for years does the job of feeding you with large portions at low prices. That if, without seeking claims on the environment, (which) is not for nothing fashion. On the contrary, it has the classic ambience of a neighborhood restaurant, with tables too close together. The service is good, quickly bring food even though the place is always packed. For lunch and dinner. Plaza Mayor, Venezuela 1289 - three or four blocks away, dinner. Chiquilín, very good and economic. Trip Advisor 201, -Sarmiento 1599 american and argentine cuisine. Museo del Jamon, very nice place, Cerrito y Rivadavia, 3 or 4 blocks away, TA 300 El Imparcial, Hipólito Yrigoyen 1201 at night, Trip avisor 305, 2 blocks away, good spanish cuisine. Fish and mariscos Taberna Vaska, Chile 980, at night. TA 329. La Poesía Chile 552- steackhouse, casual dining. TA 333 Zum Edelweiss, Libertad 431, open at night, german cuisine. TA 365. La Robla, Viamonte 1615 - european cuisine, TA 424 El Palacio de la Papa Frita, TA 427, Lavalle 735, ask soufle potatoes. El gato negro. TA 536, Corrientes 1669 - different cafe 36 billares, cuisine of -South America - Avda. de Mayo 1265 Tripadvisor 561 Campo Dei Fiori, tripadvisor 554, italian cuisine, paste, Venezuela 1411, six blocks away Pippo, TA 575, excellent food and pricing, paste, argentine and italian cuisine, Callao 1077, open at night Restaurante Prosciutto, Venezuela 1212 TA 590 four blocks away. The apartment is very comfortable, well maintained, in a safe and quiet building, and our price is very cheap despite its qualities. We deliver it in impeccable condition, and weekly cleaning is done by my family, for safety of guests. It is a perfect place to take a rest and enjoy this beautiful city. It is not expensive!
Es pleno centro, a dos cuadras de Avda. 9 de Julio, la más ancha del mundo, y a ciento cincuenta metros de Avda. de Mayo, una Avda. corta, con el Congreso Nacional en un extremo, y en el otro la Plaza de Mayo, con la Casa de Gobierno, la Catedral Metropolitana, último domicilio de Francisco, antes de su asunción como Papa.
Natalí is very helpful and friendly. She was there to great us when we arrived and showed us around the apartment. The apartment is great. It's just as advertised and in a great location. I enjoyed my stay there would recommend it to my friends.
Derek
2015-09-23T00:00:00Z
This apartment is in a very central location, ideal for walking to Congress, Plaza del Mayo, Obelisco, etc. It was clean and had everything we needed. We were only here for one night as a stopover before our flight to Iguazu, it was easy to flag a cab outside the apartment and we were at Jorge Newbury aeroparque in about 20 mins. Between four of us it cost the same as a night in a hostel dorm, but was much quieter and more private so if you're in a group and aren't looking to meet new people, it's a no brainer - stay here! Natali was very responsive to my messages and her brother was on time the following morning to check us out early in time for our flight. He was great at dealing with our bad Spanish! Thanks Natali!
Kerry
2014-10-14T00:00:00Z
Todo muy bien. Sin problemas.
Rafael
2016-08-29T00:00:00Z
Natali and family were great.. Juan picked me up to take me to the apartment and show me around and Natali was a constant source of support for every need and question... Thanks for everything! Great apartment, great location, great hosts!
David
2013-09-26T00:00:00Z
Grata experiencia, recomendable por la ubicación céntrica, seguridad y limpieza, muy atentos, buena recepción, cuando enviaron a recogernos al aeropuerto y traslado al alojamiento. Buen asesoramiento y consejos otorgados oportunamente por el anfitrión ante algún requerimiento. Con mucho gusto volvería, Gracias por todo.
Jorge
2016-09-14T00:00:00Z
The apartment was exactly what we needed. Simple, clean, great location, everything worked. Short walk to everything in town. Natalí is very helpful! Would stay again. Gracias, Natalí! El apartamento era exactamente lo que necesitábamos . Sencillo, limpio , excelente ubicación, todo funcionaba. A poca distancia de todo en la ciudad . Natalí es muy útil ! Me alojaría de nuevo . Gracias, Natalí !
Cassandra
2015-10-12T00:00:00Z
The apartment was in a perfect location for us. Restaurants, subway station, supermarket, etc... were within walking distance. Natali was a very helpful host and very friendly. She has helped us providing many information before we arrived. She has also helped us in some personal matters during our stay in Argentina. Top notch after sale service. We would definitely return at Natali's apartment should we plan another trip to B.A.
Francois
2015-10-25T00:00:00Z
Muito bom, fomos recebidos pelo irmão da Natalí que foi muito educado e prestativo. O apartamento corresponde perfeitamente ao que é proposto, limpo, bem localizado e com tudo funcionando. Indico a todos. Falou valeu!!!
Augusto
2015-07-08T00:00:00Z
Oda Tipi
Tüm ev/daire
---
Mekan Türü
Daire
---
Konaklayacak Kişi Sayısı
4
---
Yatak odaları
Buenos Aires, Ciudad Autónoma de Buenos Aires, Arjantin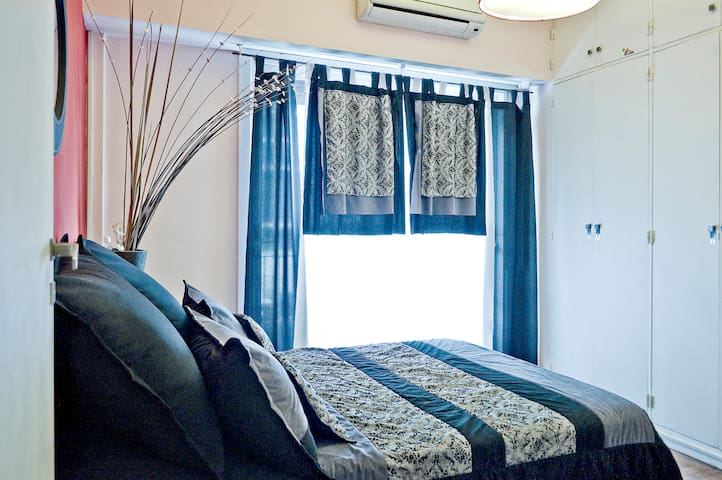 El departamento es muy cómodo y práctico para resolver las necesidades básicas durante su estancia. Cuenta con cocina a gas, horno microondas y eléctrico, cafetera, licuadora, baño completo, lavarropas, camas confortables y proyector. Ubicado en una zona estratégica, con acceso inmediato a todas las lineas de metro, buses y terminales de transporte. La entrada sobre la avenida y personal de vigilancia las 24 hs. son un plus de seguridad para moverse en distintos horarios del día.
El edificio no posee espacios comunes más que el hall de entrada y pasillos.
El barrio es, en general, de arquitectura antigua ya que es en parte donde se fundó Buenos Aires, cercano acceso a los edificios más históricos, emblemáticos y tradicionales de la ciudad como el Congreso de la Nación, el pasaje Barolo, la casa Rosada, etc. Durante hay mucha actividad comercial y financiera pero sin ser molesto porque Avenida de mayo tiene aceras muy amplias. De noche es tranquilo y hay muchos sitios para poder cenar diferentes tipos de comidas estando en un radio menor a 500 mts. de famosos y reconocidos restaurantes como El Museo del Jamón, El Globo, El imparcial, Casa de Galicia (restaurante de comida mediterránea), Chan Chan (comida Peruana), Guerrín, Banchero, La Continental, La Americana (pizzerías) y las más tradicionales cafeterías de Buenos Aires como Café Tortoni o Los 36 billares.
Excelente localização, avenida sempre movimentada em qualquer horário. Pontos de ônibus e metrô ao redor do estúdio. Mercados, lanchonetes e restaurantes para vários gostos e bolsos muitíssimo perto. Ambiente excelente, com tudo que se pode precisar ao viajar, confortável e discreto nos sentimos em casa! Ramiro é um ótimo anfitrião, nos mostrou tudo que o estúdio possui e que poderíamos precisar durante a estadia. Altamente recomendado!!!! Gran ubicación, siempre ocupado avenida en cualquier momento. puntos de autobús y metro de todo el estudio. Los mercados, cafés y restaurantes para todos los gustos y bolsillos muy estrechos. gran ambiente, con todo lo necesario cuando se viaja, cómodo y discreto, nos sentimos como en casa! Ramiro es un gran anfitrión, nos mostró todo lo que el estudio tiene y que es necesario durante la estancia. Muy recomendable !!!! Great location, always busy avenue at any time. Bus and subway stops around the studio. Markets, snack bars and restaurants for various tastes and pockets very close. Excellent atmosphere, with everything you could need when traveling, comfortable and discreet we felt at home! Ramiro is a great host, showed us everything the studio has and we could need during our stay. Highly recommended!!!!
Everson
2016-11-26T00:00:00Z
Fomos muito bem recebido pelo anfitrião, o espaço é acolhedor e perfeito para um casal. A localizaçao é no coração de Buenos Aires com transporte perto para todo lado.
juliana
2016-07-30T00:00:00Z
Todo muy bien. El anfitrión es muy atento. Hay accesos cercanos para moverse rápidamente por la ciudad.
Emilio
2016-12-11T00:00:00Z
La descripción es muy adecuada. Ramiro incluso compró un poco de víveres que le pedí por adelantado para que tuviera comida. En realidad es un lugar muy agradable, la ubicación es perfecta cerca del centro. Me encantó estar ahí y si vuelvo a Buenos Aires sin duda querría quedarme de nuevo en el depto de Ramiro
Adam
2016-11-11T00:00:00Z
Localização perfeita!! O apartamento é super confortável e tinha tudo que precisava. Viajei sozinha e o Ramiro além de ser muito educado me ajudou muito, ficou a minha disposição para o que precisasse, foi super atencioso e me deu ótimas dicas de passeios. Se voltar a Buenos Aires com certeza ficarei la novamente.
Jayne
2016-10-18T00:00:00Z
O ambiente é exatamente como nas fotos, tudo bem organizado e limpo, o espaço foi bem confortável e aconchegante para duas pessoas! Fica bem localizado na Av. de Mayo que é bem movimentada, supermercados próximo, restaurantes, paradas de ônibus e metrô. Ramiro é bastante solícito, nos recepcionou bem e deu várias dicas sobre a cidade, foi bastante agradável conosco. Fui com a minha namorada e adoramos a experiência! Recomendamos. (:
Leilane
2016-12-28T00:00:00Z
El depto esta bien
Patricia
2017-04-01T00:00:00Z
Ramiro a rapidement pris contact avec nous et il nous a pris en charge malgré notre arrivée matinale. Il a été flexible pour le départ également. La communication avec lui était facile avec AirBnb. Il nous a donné de précieux conseils. Le logement est bien situé, sur une artère principale, à proximité de la station Lima. Le logement est tel que décrit dans l'annonce. Je le recommande fortement!
Pablo
2016-09-20T00:00:00Z
Oda Tipi
Tüm ev/daire
---
Mekan Türü
Daire
---
Konaklayacak Kişi Sayısı
3
---
Yatak odaları
Buenos Aires, Ciudad Autónoma de Buenos Aires, Arjantin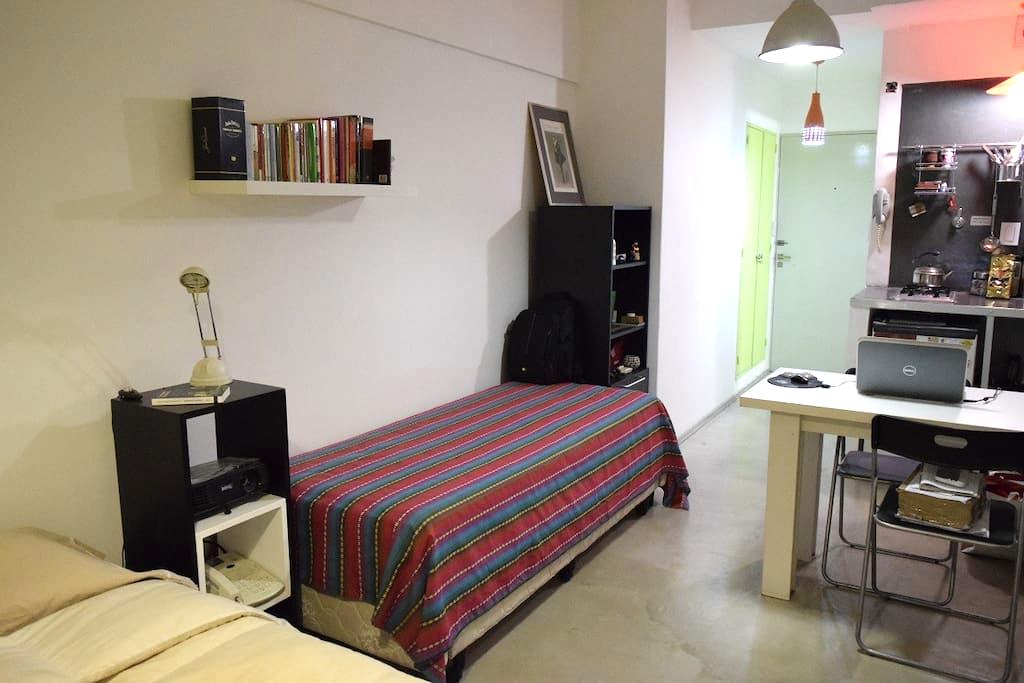 very luminnoso rooms, kitchen and bathroom. Recycling and decorated NEW, located in tourist area , in the heart of San Telmo. 1 block from the 9 de Julio. Universities and near subway lines c , e. and metrobus
Lo mejor del alojamiento es su ubicación , sus ambientes muy luminosos. Sofa cama muy cómodo.cerca de todo. The best accommodation is the location, and bright environments . very confortable sofá bed.
Es la zona mas turistica de buenos aires ya que estan la mayoria de bares y restaurantes y se encuentra a 10 cuadras del micro centro de la ciudad y a otras 10 cuadras del famoso Puerto Madero. It is the most touristic area in Buenos Aires since they are most bars and restaurants and is 10 blocks from the micro center of the city and another 10 blocks from the famous Puerto Madero
Todo perfecto gracias
Prebenth
2017-03-08T00:00:00Z
Hermoso departamento. Una hermosa estadia. Muy recomendable
Alejandra Marcela
2017-04-02T00:00:00Z
Nos alojamos tres noches, el departamento es muy cómodo. Se encuentra cerca de todo. Cristian un gran anfitrión (nos brindo información mas planos para movernos).
Facundo
2016-04-01T00:00:00Z
Cristian is a really kind and helpful host. His flat is ideally located right where the action is : the avenida 9 de julio is a few blocks away, plaza de Mayo about 10 minutes away by walk. San Telmo is a quiet yet vibrant barrio on sundays (visit the feria!). More than recommanded.
Nam
2017-02-08T00:00:00Z
O apartamento de Cristian é bem localizado, sossegado à noite e com fácil acesso ao metrô e a linhas de ônibus urbano. Nas proximidades há supermercados, quioscos, lavanderias, padarias, quitandas e restaurantes. Pode-se ir a pé até a Florida. As acomodações são simples, porém suficientes para a estadia. Acredito que existente uma ótima relação custo-benefício. Cristian é um anfitrião organizado e prestativo. A comunicação é rápida e eficiente. Recomendo o espaço para 2 pessoas.
Cleberson
2017-01-29T00:00:00Z
Me and my 2 friends had a good time at Cristians. He was really patient at the Check-in after we had some problems to get to the flat in time. The area of the airbnb is really great with a lot of cool bars.
Florentine
2017-02-21T00:00:00Z
That was one of the best airbnb experiences I have ever had! Everything was perfect. The apartment was very cozy and had everything you could wish for. The location was great as well, close to subway station. Cristian is a really nice guy who would do anything for you. Definitely recommended!
Gabrielė
2016-11-24T00:00:00Z
Cristian is friendly and communication was easy. The flat has good location, everything we need. Overall it was a good experience for us!
Lan
2017-04-08T00:00:00Z
Oda Tipi
Tüm ev/daire
---
Mekan Türü
Daire
---
Konaklayacak Kişi Sayısı
3
---
Yatak odaları
Buenos Aires, Ciudad Autónoma de Buenos Aires, Arjantin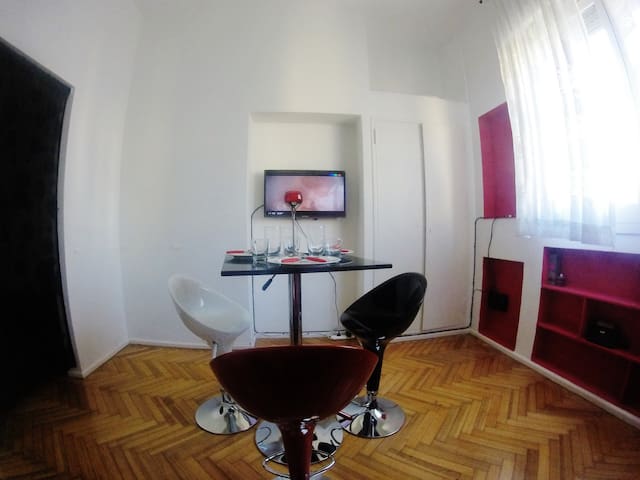 Comfortable and cozy studio in great location, near the most important tourist points of the city and the vibrant nightlife of San Telmo neighborhood location. Also, it is close to several Universities, such as UADE, USAL, UCA and other important study centers. Elegant Building with common areas, swimming pool, gym and laundry.
All the amenities for two people, equipped kitchen, linens, towels, LCD TV, Wifi. The bed is regular size 1.40mX1.90m. Change of sheets and towels is made in all reservations without exception. The apartment comes completely clean to make your stay as pleasing as being at home.
Location: Just 400m from the "Plaza de Mayo" historical surrounded by public buildings and the emblematic "Casa Rosada". Just 850m from the "Obelisk", symbol of the city of Buenos Aires. Excellent gastronomic proposals of the San Telmo district and a variety of bars to enjoy a microbrew. Very close to Puerto Madero and ecological reserve to enjoy a walk outdoors and find tranquility just 1200m, ideal for a bike ride
Muy cómodo, amplio y excelentes servicios ( como la pileta, gimnasio y lavadero) 100% recomendado
Abdala
2016-11-26T00:00:00Z
Ótima hospedagem em tudo. Recomendo!
Tassio
2017-04-03T00:00:00Z
I had an excellent experience with the hosts and the location. Perfectly clean and nice place.
Shannon
2017-02-23T00:00:00Z
La atención muy buena. El barrio es céntrico y muy cercano a San Telmo.
Adrian
2016-12-03T00:00:00Z
Altamente recomendado este apartamento si estás haciendo turismo en Buenos Aires. Tienes cerca todo lo que puedes necesitar y la mayoría de cosas quedan a distancias caminables. Natalia y Francisco son excelentes anfitriones dispuestos a ayudar todo el tiempo.
Maria
2017-03-22T00:00:00Z
Desde os primeiros contatos, Natalia foi muito atenciosa. Ao chegar em Buenos Aires, Francisco já estava me aguardando e me explicou tudo. O apartamento estava muito limpo e cheiroso, além de ser bem equipado. Há guardas na portaria, o que me trouxe mais segurança, principalmente quando chegava de madrugada. O local é bem centralizado, pude fazer vários passeios a pé (San Telmo, microcentro, Puerto Madero, etc). Super recomendo!
Luana
2017-03-28T00:00:00Z
A Natalia e o Francisco são pessoas incríveis! Nós chegamos um pouco tarde (23:40) e eles estavam nos esperando para nos receber. O estúdio é uma graça, super confortável e aconchegante! Nos sentimos em casa. Tinha tudo o que precisávamos, inclusive um ar-condicionado muito bom, pois estava calor nos dias em que ficamos hospedados! A localização é sensacional, a 3 quadras da casa rosada e de diversos pontos turísticos! Conseguimos ir a diversos lugares a pé e caminhar tranquilamente a noite. Só para dormir à noite que tem um pouco de barulho dos carros, pois a janela fica próxima à rua! Com toda certeza quando eu retornar a Buenos Aires, ficarei hospedado com vocês novamente! Natalia e Francisco muito obrigada pela atenção, comunicação rápida e por nós receber tão bem! Abracos
Juliana
2017-03-16T00:00:00Z
Ótimo local com uma recepção calorosa. Cumpre tudo que é anunciado e anfitriões sempre disponíveis.
Marcio
2017-02-01T00:00:00Z
Oda Tipi
Tüm ev/daire
---
Mekan Türü
Daire
---
Konaklayacak Kişi Sayısı
2
---
Yatak odaları
San Telmo, Ciudad Autónoma de Buenos Aires, Arjantin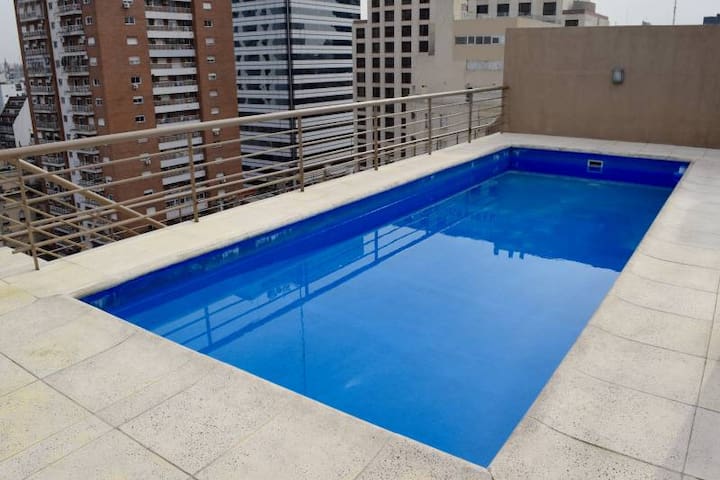 Next to the underground station, Congreso, San Telmo. Вам понравится, ведь в моем жилье есть Great views, brand new studio, spacious and sunny.
The studio is on a high floor from which you can see the Congress Building, city skyline and the River Plate.
The studio is strategicaly located close to subway. There is a very good choice of restaurants in the neighbourhood representing spanish, italian cuisine, pizzerias and coffee shops.
Be aware that there is no wifi or gas to cook. Shaibay is a good host in terms of communicating with you. The sofas in the pictures are the beds.
Sian
2017-03-20T00:00:00Z
All good. A new flat which is really clean and tidy. With an awesome view over the city. Shaibay is a nice host who answers quickly and gave me lots of helpful information via airbnb chat. If you are very tall (like 1,90) the bett (couch) could be a bit short. Thats is probably the only issue :-)
Patrick
2017-04-09T00:00:00Z
Great location and very accommodating host. I would definitely recommend this apartment
Patty
2017-03-27T00:00:00Z
Oda Tipi
Tüm ev/daire
---
Mekan Türü
Daire
---
Konaklayacak Kişi Sayısı
2
---
Yatak odaları
Buenos Aires, Ciudad Autónoma de Buenos Aires, Arjantin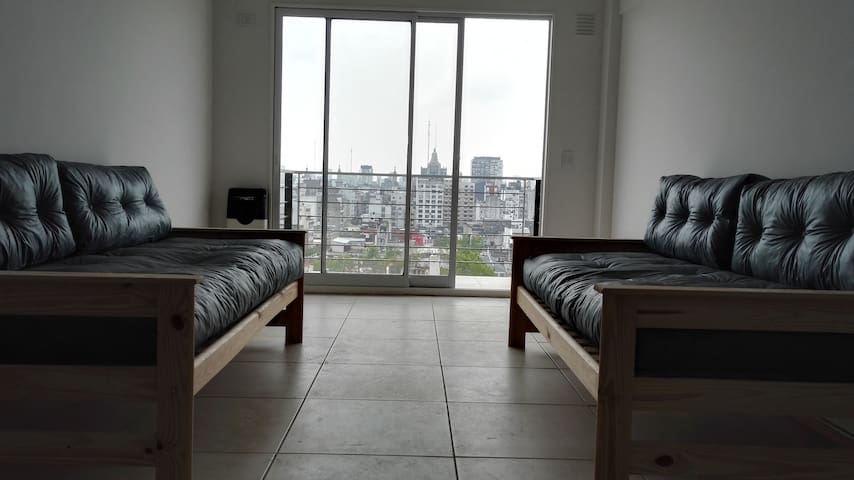 Se trata de un departamento totalmente equipado dentro de una casa colonial de tres alturas restaurada y con una hermosa terraza (compartida). El ambiente es tranquilo ya que hay solo tres apartamentos. Ideal para pasar unos días descubriendo la ciudad, alojándose en uno de los barrios más emblemáticos de Buenos Aires. Podrán disfrutar de total independencia, pero estaremos disponibles para lo que necesiten durante su estadía.
Es una de las casas más antiguas de San Telmo que ha sido restaurada conservando el carácter original y decorada con un estilo muy personal. Intentamos ofrecer a nuestros huéspedes un lugar cómodo y agradable. Los esperamos!
La casa está en el corazón de San Telmo, muy cerca de Plaza Dorrego, Mercado de San Telmo, Manzana de las Luces, Casa Rosada, Avenida de Mayo, Cabildo de Buenos Aires, Museo de Arte Moderno y Museo de Arte Contemporáneo, etc. La zona es muy animada, con muchos bares y restaurantes cerca y todo tipo de servicios: supermercados, lavanderías, etc. Los domingos hay feria en la calle Defensa.
We totally loved this place! It's bigger than expected, clean and comfy! Chile is a great street for dinner and drinks! Thanks Javier & Celeste !
Louise
2017-03-08T00:00:00Z
Super nice stay in a beautiful place. Wonderful old building, great balcony, light, super-high ceilings, great bed, nice furnishings... even the toilet's cool. San Telmo rocks, as well. And the flat is right in the thick of it whilst avoiding noisy streets. Super-super quedada en un sitio lindo. Edificio de periodo y muy cómodo, luminoso el cuarto, simpático balcón, techo alto, cama y muebles cómodas y apelando al ojo... aún el baño es chévere. San Telmo es muy 'cool' como lugar y el piso está ahí en la mitad pero en une sección que no es ruidosa.
Marcus
2016-12-14T00:00:00Z
Wonderful. This place is centrally located and has an environment that makes you happy to come home. The big windows allow for a lot of light and the room has high ceilings and big walls. The only small thing is that in the morning sometimes the traffic outside can be quite noisy, but shutting the windows helps a lot. Would come back to stay in a heartbeat.
Colette
2017-03-20T00:00:00Z
Great location. Javier was quick to respond and a great host.
Ross
2017-03-13T00:00:00Z
Nous avons passé un excellent séjour chez Javier et son oncle. Ce sont de supers hôtes, toujours disponibles. L'appartement est très bien situé dans le quartier de San Telmo, avec tout à proximité, laverie, supermarché, restaurants, bars, etc. L'intérieur est vraiment charmant et bien agencé. Nous recommandons fortement !
Amandine
2017-01-03T00:00:00Z
Javier et Celeste ont été des hotes d'une rare attention. Ils furent, tout au long de notre séjour, soucieux de son bon déroulement et de notre confort. Pour certains aspects pratiques, ils furent très aidants. L'appartement était très propre et similaire à la description qui en est faite sur le site. Nous y avons passé un séjour très agréable. Je recommande vivement d'y loger lors d'un passage à Buenos aires.
Claire
2017-03-16T00:00:00Z
Todo fue perfecto, el apartamento estaba muy bien situado y Javier se preocupó en todo momento de que estuviéramos cómodos. Muy recomendable.
Camila
2017-02-09T00:00:00Z
Todo estuvo muy bien. Javier y su tío fueron muy atentos y colaboradores.
Jose Daniel
2016-08-01T00:00:00Z
Oda Tipi
Tüm ev/daire
---
Mekan Türü
Daire
---
Konaklayacak Kişi Sayısı
3
---
Yatak odaları
Buenos Aires, Ciudad Autónoma de Buenos Aires, Arjantin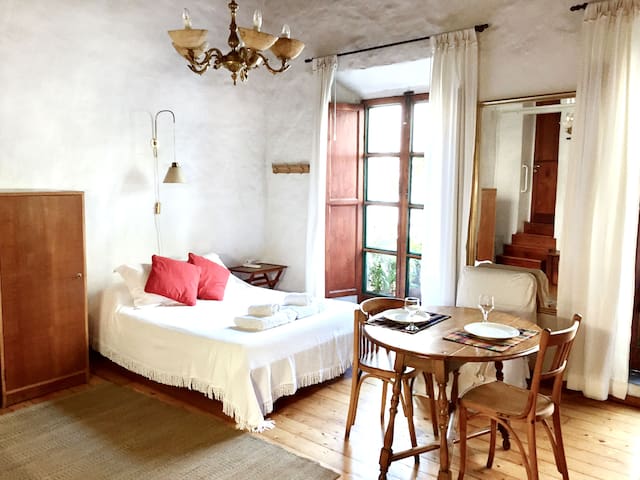 Reasons why you are going to love my place: Excelent location. You will find a large variety of places to eat and drink, i.e. Antares (Bar), Desnível (grill). Very close to places you must visit: Plaza de Mayo, Puerto Madero. Mobility is perfect. Nearby, you will find taxis, buses and subway. San Telmo´s athmosphere is unique. It has an exquisite blend of well preserved, historic, emblematic and fun. You will find lots of buildings with a very fine French architecture.
The department has a mix of modern inside (it´s brand new) and antique on the outside (it is preserved with it´s original architecture). You will find it practical because of it´s location: it is surrounded by bars and restaurants, attractions, and public transport. Also, you will find everything you need if you want to cook yourself, boil water in the electric jar or just warm your food in the microwave after a long day.
El ambiente de San Telmo es único. Por un lado es pintoresco, histórico y emblemático, y también tiene diversión y buena gastronomía. Mis bares preferidos son: Antares San Telmo, The Gibraltar, Krakow. Y en cuanto a resto/bodegones/parrillas mis preferencias son: Desnível, El Federal, Bella Gamba. Para comer tortas y ver un show de Tango no pueden dejar de ir al Café Tortoni. Otras recomendaciones son ir a la Plaza de Mayo, Puerto Madero, y los domingos solamente "La feria de San Telmo" a 50 mts. San telmo´s environment is unique. On one hand side it has a mixture of historic and emblematic. And on the other side, fun and with good places to eat. I strongly recomend this bars: Antares San Telmo, The Gibraltar, Krakow. And to eat this grills/resto/café ("parrillas" y "Bodegones"): Desnível, El Federal, Café la poesía. In order to drink a coffee, eat a slide of an extraordinay cake and watch a Tango show, you must go to Café Tortoni (must do). Other musto to: you should visit Plaza de Mayo, Puerto Madero, and only sundays "La feria de San Telmo" 50 mts away from the department.
L'appartement de Juan se situe au Nord de San Telmo, donc bien central dans Buenos Aires. La réception s'est deroulé à la perfection. Le lieux est propre et calme. Il manque peut être quelques ustensiles de cuisine. Je recommande pour un couple.
Mathieu
2017-03-24T00:00:00Z
Excelente atención, ubicación estratégica cerca de todo lo que desees visitar en Buenos Aires, Capital Federal.
Diana
2016-12-16T00:00:00Z
Juan's place is exactly as described in the pictures! It was clean, cozy, and everything needed for a great stay. The AC gets cold and the showers are nice and hot. This place is in a great part of San Telmo. There are restaurants, bars, and parks near by. The location is great for tourists looking to have a great time and explore. It is close to Puerto Madero. Juan is very responsive. I recommend staying at his Airbnb 100 %! Juan el lugar es exactamente como se describe en el fotos! estaba limpio, agradable, y todo lo necesario para una estancia estupenda. el ac obtiene frío y de la ducha son agradables y caliente. este lugar está en una gran parte de San Telmo. hay restaurantes, bares, y parques cerca. la ubicación es ideal para los turistas en busca de tener una gran tiempo y explorar. está cerca de Puerto Madero. Juan es muy sensible. recomiendo alojados en su airbnb 100%!
Vernon
2016-11-12T00:00:00Z
Un lugar muy bueno para quedarse, la localización muy buena y el contacto con el host genial. Muy recomendable. Great place to stay, perfect location and an easy to contact host. Very recommendable.
Anuk
2017-01-20T00:00:00Z
Muy vende depto y excelente la atención del dueño. Gracias Juan por todo. Very good apartment and excellent host.
Christian
2016-10-15T00:00:00Z
Super buen host! Muy atento a lo que necesites
Tatiana
2016-12-08T00:00:00Z
Juan is a very nice guy. Very acomodaron. The property is as described. It's perfect to use it as a base to go explore the city. However , the neighborhood seems a bit rough with graphite and not well taken care of in general. For the price is a great value.
Victor
2016-12-01T00:00:00Z
Very Central, comfy and clean! We would chose the apartment again!
friederike
2016-11-14T00:00:00Z
Oda Tipi
Tüm ev/daire
---
Mekan Türü
Daire
---
Konaklayacak Kişi Sayısı
2
---
Yatak odaları
Buenos Aires, Ciudad Autónoma de Buenos Aires, Arjantin
Our original and trendy loft at the Heart of San Telmo.Spacious and comfortable.Full commodities.1 bedroom upstairs with two options: two single beds or a king size one. Complete bathroom with bathtub . Kitchen fully equipped. Tv Smart 39" and Wifi. 2 A/C. Microwave and electric stove. Big closets. IMPORTANT: The loft is located in a very central area with bars & restaurants and is noisy on weekends. We reccommend our loft for travellers who wants to enjoy BA nightlife in a cool space .
The loft is brand new recycled and fully equipped. this is a cool and trendy space, with full commodities and hight quality : excellent bed , sheets and towels . Complete and spacious kitchen. Freezer, Microwave, electric kettle, coffee maker, toaster, juicer, and electric kitchen with oven Cool lighting. high ceilings 2 A/C Tv Smart 39 "" Wi-Fi connection working perfect Historic building Provision of sheets and towels during the stay Iron, hair dryer Full bathroom with large tub. . Toilet elements and cleaning supplies IMPORTANT: The loft is located in a very central area of San telmo and is noisy on weekends, due to it we have a promotional price.
Sourroundings: Antique Galleries, Tango ambiance and Modern Art in nearby Puerto Madero, to live 'la vida porteña' comfortably and charmfully. The bohemian feel, the cradle of tango, the street art, the museums, the cafés, the antique shops, the cobblestone streets, the old buildings' façades, the trendy impulse that wishes to recover the spirit when the city was a town.. San Telmo has so much to offer it's been hard to break away from this part of the city.
What a great experience from booking to checkout! Melisa and her brother Julian always answered any questions we had extremely quickly, as they were always accessible. Our flight arrived early, and they graciously allowed an early check-in. They also offered to watch our bags for a couple of hours after checkout if that were to help with convenience! Julian met my partner and me very warmly and welcomingly upon checking in. He showed us the very charming, updated and clean apartment. He also gave us local tips and suggestions of restaurants to try and itineraries for the time we were there. There's an Subte card he leaves with you for you to load and take on your travels on the metro around BA. Load it for yourself and leave for the next guests. This saves you the cost of purchasing the card. I forgot my glasses, and they quickly notified me and had the very friendly maintenance person give them back to me. The location is perfect. As stated in other reviews, it's in a busy (and on weekends, louder) area, but this stay was perfect all the way around! Thanks for the great place and being such perfect hosts!
Jason
2017-02-18T00:00:00Z
Excelente lugar. Agradable y buenas personas
Roberto
2017-02-08T00:00:00Z
We had a great stay at this place. Lovely and tasteful apartment, recently decorated. Very comfy and has everything you need, real value for money! Must re-emphasise it is a loud street outside, so not the best for light sleepers, but that is warned in the description. Julien was one of the best hosts, so much local knowledge and he organised us a great night out a brilliant tango joint, for a good price... as well as some delicious local restaurants. Very grateful, would love to come back one day. Thank you!
Niall
2017-01-21T00:00:00Z
The apartment is very central and a very good location. I liked the loft combining classic with modern style. There a many restaurant, cafes and bars in walking distance. The subway and plaza the mayo is only couple of blocks away
Maximilian
2017-03-11T00:00:00Z
Gostamos da vida noturna, bares de boa qualidade e boa localização.
fernanda
2017-02-15T00:00:00Z
Julian foi um anfitrião muito solicito e atencioso, respondendo rápido e sempre disposto a tirar duvidas ou dar indicações. O apartamento é lindo e bem arrumado, igual as fotos que estão em exibição. Quem nos recebeu foi o Claudio que foi muito simpatico e solicito. Julian nos ofereceu deixar as malas as 11:30 com o Claudio, enquanto esperávamos a hora do check in. Muito obrigada pela maravilhosa experiencia!
Jessica
2017-01-24T00:00:00Z
Todo estuvo muy bien, solo hay que tener en cuenta que hay MUCHO ruido de la calle y se hace difícil descansar, todo lo que respecta a atencion, servicios y el loft en si, insuperable! Julian super atento en TODO momento...
Maria Paz
2017-02-26T00:00:00Z
Beautiful, comfortable apartment, charming building in my favorite Buenos Aires neighborhood. Lovely hosts, made me feel right at home! Wifi works great. This is a lively neighborhood, full of bohemian bars, and the party in BA always goes into the wee hours, so bring your earplugs (always a good idea when traveling)!
Lizbeth
2017-03-18T00:00:00Z
Oda Tipi
Tüm ev/daire
---
Mekan Türü
Daire
---
Konaklayacak Kişi Sayısı
3
---
Yatak odaları
Buenos Aires, Ciudad Autónoma de Buenos Aires, Arjantin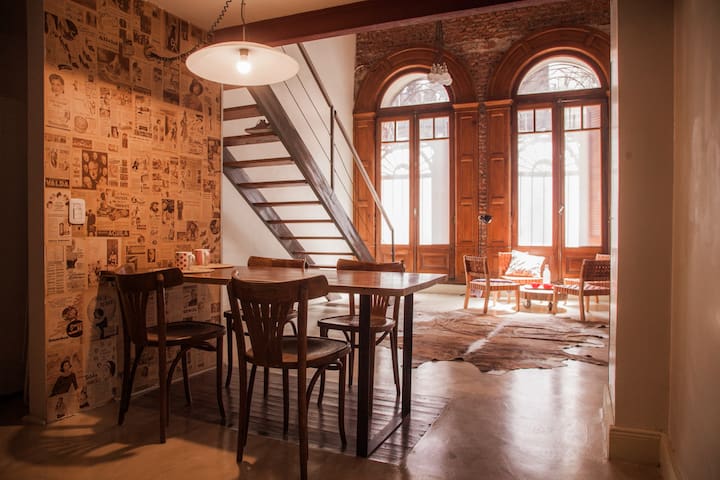 Excellent studio in a modern building with a privileged location in San Telmo, close to Plaza de Mayo, Puerto Madero and Avenida Nueve de Julio. TV, Wifi, A/C, complimentary coffee and tea, equipped kitchen, modern furniture. Private balcony. Laundry room, multi purpose room (SUM) and terrace located on top floor of the building.
Located in the fourth floor of a modern building in a privileged location in San Telmo. Walking distance to main downtown attractions like Plaza de Mayo, Puerto Madero and Avenida Nueve de Julio. Very luminous studio, with modern and stylish nordic style furniture, including premium bed, and comfortable living chairs. Air conditioning. Private balcony with furniture. Well equipped kitchen with microwave/grill, electric stove, coffee maker, electric water heater, fridge and kitchenware. Complimentary coffee and tea. Ideal for couples, tourists or business travelers.
A beautiful, well-decorated apartment in the heart of San Telmo. Miriam was a gracious host, offered delicious coffee and yerba mate. Thank you Miriam for being a great host!
Austin
2017-03-20T00:00:00Z
El studio/monoambiente es sencillamente divino, con una decoración exquisita. Está todo nuevo, recién estrenado. Baño cómodo y agradable (demora un poco el salir el agua caliente de la ducha, pero ten paciencia que sale), kitchenette con todo como para cocinar (bien equipada), la cama es muy cómoda, colchón nuevo, sabanas impecables. Tiene una terraza agradable donde da el sol directo hasta el mediodía. El ventanal tiene doble vidrio pero, aún así, por momentos se siente el ruido externo puesto que pasan buses/colectivos por la calle del frente y por la lateral (se escucha también la chicharra/sirena del parking del edificio). La ubicación es muy buena, a 6 cuadras de donde empieza la peatonal Florida, a 10 cuadras de Av. Corrientes. En menos de 300 metros hay panadería, farmacia, supermercado, lavadero de ropa, carnicería, locutorio... todo lo que se pueda llegar a necesitar está cerca. Y la estación de Subte Belgrano a 3 cuadras. Miriam es muy amable, responde las consultas, se preocupa por el huésped y recibe de buena forma cualquier pedido o sugerencia que se le haga; muy buena anfitriona.
Javier
2017-02-17T00:00:00Z
Great stay in a wonderful and well-equipped studio, perfectly comfortable bed, with flexible check in and check out.
Coby
2017-04-02T00:00:00Z
Muy lindo departamento, tal cual se observa en las imágenes, bien iluminado y limpio, con todos los servicios. Me encantó la ubicación, fácil de acceder a colectivos o subte, y recorrer distintos puntos de interés cultural sólo caminando un par de cuadras.
andrea
2017-03-13T00:00:00Z
Se trata de un dto con todas las comodidades, muy linda decoración, excelente ubicación para moverse por las zonas centrales de la CABA. Además, un excelente recibimiento y comunicación con Miriam.
Natalia
2017-02-22T00:00:00Z
Todo perfecto. Excelentes anfitriones. Volveré en cuanto tenga la ocasión.
Josep
2017-02-26T00:00:00Z
El departamento es muy lindo, completo y está bien ubicado.
Noe
2017-03-26T00:00:00Z
L departamento está muy bien ubicado. La zona es segura. El equipamiento está perfecto. Hay conexión rápida con transporte público.
Leonardo
2017-04-07T00:00:00Z
Oda Tipi
Tüm ev/daire
---
Mekan Türü
Daire
---
Konaklayacak Kişi Sayısı
2
---
Yatak odaları
Buenos Aires, Ciudad Autónoma de Buenos Aires, Arjantin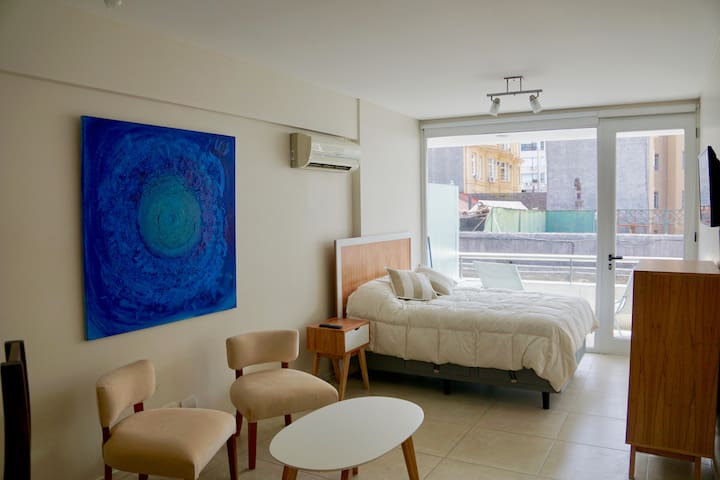 A spacious, luminous and conveniently located apartment in a French-style building from the early 20th century in San Telmo area (the best preserved historic neighborhood in Buenos Aires). Ideal for visitors looking for an authentic BA experience.
A spacious, distinguished apartment in a French-style building from the early 20th century in San Telmo area (the best preserved historic neighborhood in Buenos Aires). The flat has wooden floors and high ceilings, with walls stacked with books, a presidential desk and an upright piano. There are windows facing each of four cardinal directions -- north, south, east, and west -- which provide it with plenty of sunlight at all times during the day. The flat is 65 square meters (700 square feet). Amenities include a fully equipped kitchen (with microwave and regular oven), adapters for electrical devices, guidebooks, maps, magazines, A/C, heater, linens & towels, and wireless Internet. A library with more than a thousand books in many languages is at your disposal.
San Telmo is a favorite neighborhood among locals and tourists alike due to its rich history, stylish architecture and vibrant culture. This is the area to be for those wanting to experience the real Buenos Aires.
Muy buen lugar, mis padres se quedaron acá visitandome en Buenos Aires y les encantaron mucho. Es perfecto para quedar solo o como una pareja, suficiente espacio y muy tranquilo. Podes caminar fácil a San Telmo o tomar el subte a Palermo. Me gustaría tener una casa así en Buenos Aires :)
Isabel
2016-03-04T00:00:00Z
I was welcomed by Charlie, Cecelia's son, and made to feel at home right away. Everything was as described in the listing. The bed was comfortable, the wifi was good, and the apartment was just as charming as it looks in the pictures. The kitchen was equipped with everything needed to cook and serve meals. The immediate area is quiet on the weekend. I arrived on Saturday afternoon, so the restaurants and shops closest to the apartment were closed. However, there was a bakery and market open on Bolivia within walking distance, and there are lots of restaurants within a couple blocks. Also there are many convenient transportation options - subway, taxi, bus, walk. After a week traveling with 30 graduate students, this was a delightful place to stay for a couple days on my own to relax & explore the city.
Sandi
2016-03-16T00:00:00Z
Me sentí muy a gusto y volvería a hospedarme allí cuando vuelva a Buenos Aires
Gonzalo
2015-09-11T00:00:00Z
Comfortable apartment located in a central spot of Buenos Aires. Reasonably priced. Cute cafes and metro stop close by.
Claire
2016-04-24T00:00:00Z
We had a fantastic time in Pablo's flat. First impressions of the impressive decor and extensive library were surprise! We were almost (but not quite) tempted to stay indoors and read for 3 days straight, however, being so close to the CBD, Puerto Madero, San Telmo and the 9 de Julio lured us out. The maps and guides in the flat were very useful - and the subte cards! And everything was clean and tidy... though it took us a few minutes to master the hot water in the shower. The area was a little bit lonely at night, so we would recommend using a taxi if you plan to go out late. Having said that, the flat is in a inner city residential area, close to a school - we saw parents and kids going home every evening. If you are flying via/from Sao Paulo, Asuncion, Santiago or domestic airports try to connect to Aeroparque (AEP) instead of Ezeiza (EZE). Pablo's flat is relatively close thanks to BA's wide boulevards, which make the trip as short as 15 minutes on a Sunday morning. Thanks Pablo! Great spot :-)
Lauren
2015-09-07T00:00:00Z
O apartamento é ótimo! Espaçoso, aconchegante e bem equipado. Achamos, inclusive, maior do que se pode notar nas fotos. Eu e minha esposa gostamos muito. O bairro é bem próximo aos principais pontos turísticos, porém, à noite, é um pouco deserto e não há muitas opções de restaurantes abertos. Isto, para nós, não foi um problema, pois há várias opções de transporte. O apartamento fica ao lado da estação de metrô, há inúmeras opções de linhas de ônibus e o Uber funcionou muito bem, enfim, o deslocamento pela cidade foi tranquilo. Mantivemos contato com Pablo por e-mail para troca de informações e ele sempre nos atendeu prontamente sempre que necessário. Ao chegar lá, ele não estava na cidade, mas montou uma pequena rede de pessoas, muito acolhedoras, que nos ajudaram em tudo que precisamos. Cecilia e Charly foram muito simpáticos e (URL HIDDEN) certeza, foi uma ótima experiência. Recomendamos e, quando voltarmos, se o apartamento estiver disponível, ficaremos lá.
Rogério
2016-09-21T00:00:00Z
The apartment overall is quite nice albeit a bit old, noisy, and dusty. It is a large studio with several separate spaces a workable kitchen and bathroom. We stayed for a month and had quite a bit of internet trouble, but Pablo's mom was very attentive and helped us out. Overall, if you are ok with being in a studio and an old building, the space can be quite enchanting.
Nicholas
2016-12-04T00:00:00Z
Muy bueno el apartamento, muy cálido y acogedor. Fuí muy bien recibido por Norma, la madre de Pablo, quien me dio la bienvenida y me explicó el funcionamiento de la casa. La estadía fue muy pero muy buena, y planeo volver al departamento de estar disponible nuevamente en mi próximo viaje a Buenos Aires. Pablo, quien se encontraba de viaje, también estuvo disponible en todo momento.
Juan
2016-03-11T00:00:00Z
Oda Tipi
Tüm ev/daire
---
Mekan Türü
Daire
---
Konaklayacak Kişi Sayısı
2
---
Yatak odaları
Buenos Aires, Arjantin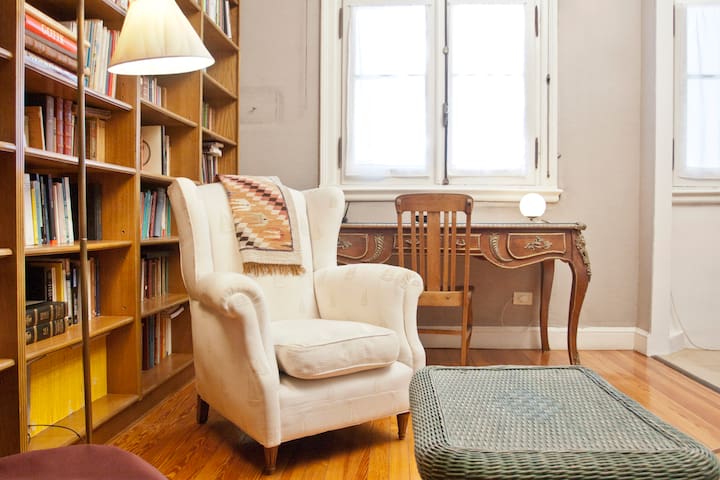 Exceptional, full of light flat in turn-of-the-century, heritage-listed building. 110 sq m/1200 sq ft. Combining antique and contemporary while keeping a coziness feel all-around, this is the perfect place to experience the local flavor.
Exceptional, full of light flat in turn-of-the-century, heritage-listed building. 110 sq m/1200 sq ft. It combines antique and contemporary, while keeping a coziness feel all-around. Decorated with antiques and contemporary furniture, this apartment exhibits the architectural heritage. The apartment is bright and airy and is in a 4th floor with a view of the dome of the church of Our Lady of Montserrat giving it an Italian touch. It is the oldest church in the city, dating back to 1750, and was built by the renowned Italian architect of the XVIII century Antonio Masella. Stayin in this apartment gives you the opportunity to live the experience of Buenos Aires, in a classic, traditional yet contemporary atmosphere.
It is located in Montserrat, the city´s first barrio (neighborhood) and part of the city´s heritage district, where you will find most of the city´s historical buildings and churches, beautiful old-world cafes, restaurants and street markets. San Telmo's renowned Antique Fair is just a 25 minutes walk away. Groceries, pharmacy, coffee, gym, and cleaners all within one block.
This flat's best features are that it has high ceilings, and classic style architecture. The furniture is quite old-fashioned but that kinda fits in with the style of the flat. The kitchen is quite well-equipped, and the showers have hot water 24/7 which is lovely. The living room and front bedroom are quite noisy, so I would definitely suggest sleeping in the back room; much quieter and cosy space. The area is quite busy, its very central, and can get a bit hectic at times (esp. in high temperatures) but is brilliant for walking to various central locations, and also near the Moreno tube station. Carlota will try her best to help whenever she can, and both the porter and the cleaner are lovely people. We enjoyed our stay here :)
Eva
2017-03-06T00:00:00Z
What an amazing place! Great location, beautiful property. Couldn't have asked for more! Highly recommended!
Neil
2016-05-22T00:00:00Z
I highly recommend this apartment. Carlota was a pleasure and very communicative. She provided numerous suggestions of things to see in the neighbourhood, and responded promptly to all our inquiries. The location was great, nice and central. The apartment was spacious and clean, the kitchen was well stocked with cooking paraphernalia, and we were really glad we stayed there. The apartment is near the Santelmo market and lots of other attractions. It is a little ways from the major museums, but taxis are cheap. It is a great location, with a lot of places to eat nearby. A few tips for first-time travellers to Buenos Aires: (1) It is is beautiful lively city, but one of the noisiest in the world. The rooms in the apartment facing the street were fairly noisy, due to traffic, buses and sometimes protest marches. I don't think any other apartment would have been quieter, it's just the reality of the city. If you are sensitive to noise, bring ear plugs, or sleep in the bedroom away from the street. (2) A lot of places only accept cash, and the bank machines will only give the equivalent of $200 per transaction, and charge foreigners $10 per transaction. So bring lots of local currency or be prepared for the fees. (3) Things are not cheap, except museums, taxis and alcohol; everything else is roughly similar to the prices in North America. Pizza is smothered in cheese and good tomato sauce is rare, but the meat dishes are delicious. Make sure you confirm the size of the dishes, some are intended for sharing but that's not indicated on the menu. (4) Go to the local stores to save money on groceries, not the ones that look like chains, but the ones that have displays of fruits and vegetables in front, they are much cheaper and some are surprisingly large (very deep) once you go inside. There's one near the apartment called "Los Amigos". It's a much better deal than the chains. The bakeries are often also a good deal. If you shop at the chains, look into getting the discount cards to save 10%. (5) If you're using the subway, you often can't buy a subway card at the station, you have to get it at the right convenient stores (kiosko). The subway is cheap, and you can put a little cash on the card and share it. You probably don't need one per person. (6) If you come from a country that requires a reciprocity fee, make sure to carry the proof of payment sheet with the bar code every time you cross the boarder (for instance if you go to Uruguay). (7) If you intend to tour a government building bring your passport. (8) Remember to look down when you walk, the architecture is gorgeous, but sidewalks are treacherous. (9) Museums are often closed on Sundays and Mondays. (10) Everyone eats dinner at 9pm, so plan accordingly. Enjoy your trip.
Dan
2016-08-23T00:00:00Z
Over the years, I've stayed at more than a dozen Airbnb properties, and Carlota's apartment was easily the best one. It's rare to find a two-bedroom apartment where both bedrooms are large and comfortable, plus two bathrooms. (Also rare to find a place that's as lovely in real life as in the photos....) This was a quiet, elegant refuge close to the heart of Microcentro, a short walk from San Telmo, and right in the thick of things. High ceilings, big windows, full of light, spacious, furnished with quirky antiques. Carlota kept in touch every day, answered all our questions quickly, was completely welcoming. We arrived very late, around 2 am, and even though Carlota was out of town, she arranged for a friend to greet us and settle us in. Other pluses: big, well-equipped kitchen; a lovely housekeeper several times a week; two Sube cards for guests' use; and a wonderful old-style Italian restaurant, Le Famiglie, a block and a half away. (Carlota suggested them, and we had dinner there twice.) In all, it was a delightful, very comfortable, and worry-free stay. It's no exaggeration to say that Carlota's place was one of the best things about our week in Buenos Aires.
Nicholas
2016-06-19T00:00:00Z
Carlota was a terrific host. We left the apartment. She was available for everything that came up. And we felt very well left after
Anthony
2017-04-05T00:00:00Z
Staying in Carlota s flat was really great! Remind me parisian flats in the heart of buenos aires , it s have 2 pretty rooms ,an hudge and well equiped kitchen , and a cosy living room With a beautiful view of the stretch, all this in a bohemian-chic style ! Located in Montserrat, close to subway s station , it was really easy to visit all the city. Carlota is a perfect host : very communicative and nice woman, Who can arrange everything With smile and good mood! It was a pleasure to stay there . I recommanded it to all the air bnb community ! :)
Marielle
2016-07-19T00:00:00Z
Oda Tipi
Tüm ev/daire
---
Mekan Türü
Daire
---
Konaklayacak Kişi Sayısı
4
---
Yatak odaları
Buenos Aires, Ciudad Autónoma de Buenos Aires, Arjantin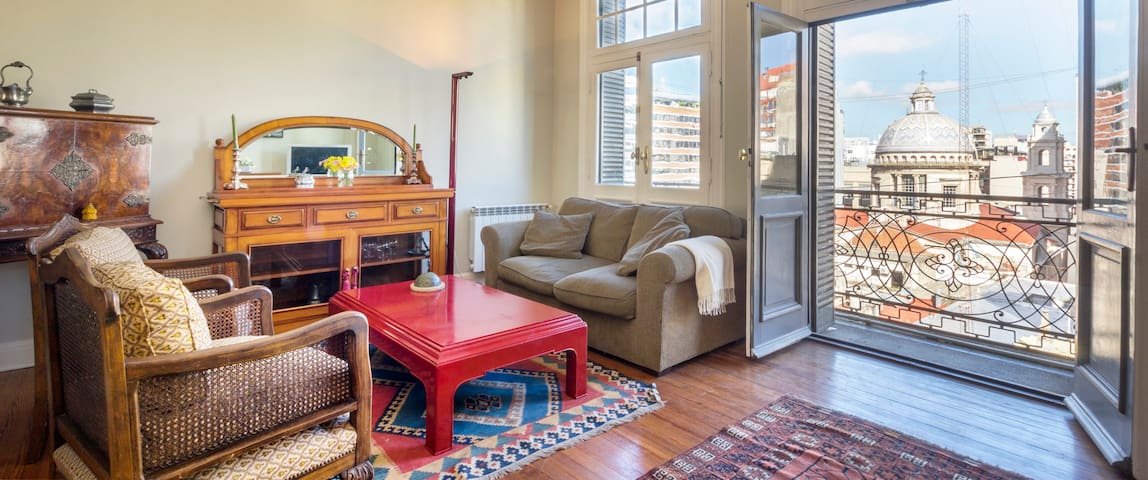 Located in the historical Pasaje Santamarina in San Telmo, it has a living area with a fireplace and a fully equipped integrated kitchen, 3 bedrooms (two in open mezzanines, with desks), a bathroom (with shower box, no tub), a walk-in closet and a laundry room. Features Wi-fi connection, LCD TV (to connect PC or tablet, no cable TV connection), and central air conditioning. Very quiet and light-filled. Easy access to Buenos Aires attractions.The apartment is reached through one flight of stairs.
This soulful apartment combines 19th century charm with 21st century comfort. The Pasaje Santamarina, a private alley-way connecting Mexico and Chacabuco streets, serves as the enchanting introduction to this quiet Eden. The apartment has its own entrance, and is reached up one flight of stairs. The living area has a double-height roof and includes a lounge room, with a working fireplace and a bookcase filled with all kinds of literature, a fully equipped integrated kitchen with seating room for four, and a mezzanine that can be used as an entertainment room or bedroom, with a couch that doubles as a bed, a desk, a flat-screen TV (no cable TV, with connectors and Chrome Cast to connect your computer, smartphone or tablet) and a stereo system where you can plug in your mobile phone, tablet or computer. From the living-room, a windowed hallway leads to the bathroom (with a shower box, no bath tub), main bedroom, with a double bed and two night tables, and, on a second mezzanine, a bedroom/study, with a bed and a large desk. In turn, the study leads to a walk-in closet and a cleaning room. Both mezzanines are reached by internal iron-and-wood spiraled stairs. Four skylights and a massive window let the sunshine in throughout the apartment. A central air conditioning system provides both heat and cold. The bohemian atmosphere is enhanced by the stylish decoration, wooden floors, Spanish tiles, white-wash walls and the original brick ceiling. It's perfect for a couple, but it can sleep up to four people. Please keep in mind that both mezzanines are reached through narrow, spiraled staircases which can be a hazard for small children. For the same reason, this apartment is unfortunately unsuitable for handicapped people. Obviously, the bedrooms on both mezzanines offer no privacy. The kitchen has a gas oven and stove, microwave oven, coffee maker, toaster and is equipped for cooking your own meals. Towels, linen and blankets are provided, as well as basic bath amenities. You will also find a hair dryer, an iron and an umbrella. Wi-fi is provided and the signal is strong enough to be available throughout the apartment.
We're at walking distance from glamourous Puerto Madero and the Rio de la Plata to the East, the historical (Government House, Plaza de Mayo, Cabildo and Cathedral) and the financial districts to the North, 9 de Julio avenue and its Obelisk to the West, and Plazas Dorrego and Lezama, the heart of San Telmo, to the South. We encourage you to explore the small universe San Telmo has to offer, from its colonial past to its bohemian present, the many milongas (tango clubs), traditional restaurants, old-fashioned bars, antique and vintage shops, and also the trendy new restaurants, cafes, and fancy boutiques, of which you'll find even more in nearby Puerto Madero. Day or night, San Telmo is full of activity.
We stayed nearly three weeks in this gorgeous apartment which felt like a calm oasis after busy days exploring buenos Aires . Mauricio was waiting in the apartment on our arrival ( which was a couple of hours later than planned ) he had left some supplies in the fridge . Also sube cards for public transport. We had two trips away during our stay , it felt very safe to leave our belongings as apartment set in gated courtyard. The centre of San Telmo is a short walk with lots of shops, bars , restaurants and tango venues. A busy area with lots of interesting characters. The subway is also a short walk , so access to other parts of the city is easy. Mauricio was a very helpful host without being intrusiv(URL HIDDEN)
Deborah
2016-10-29T00:00:00Z
Our stay in Mauricio's apartment was fantastic! The space has everything you need: a fully stocked kitchen, comfy bed, great hot water pressure in the bathroom, and an amazing library - but you are in BA - too much to do here! The apartment is furnished beautifully, with lots of bright light and airy space. A truly authentic experience of Argentinian lifestyle. In addition, the apartment is in a prime location: the famous street fair and San Telmo Market are a few blocks away, as are a multitude of tango bars and parrillas. Mauricio is a gracious host - he provided us with a list of things to do, places to eat - we just didn't have enough time here! We highly recommend staying at here - thanks so much Mauricio - we enjoyed our stay immensely.
scott
2016-10-03T00:00:00Z
If you dream one day to stay in a typical and bohemian flat with "buenas ondas" in Buenos Aires, this flat is for you... almost 5 months living in this city, and Mauricio's place was my favorite one, staying one month there ! All is perfect: the cosy living room with a fireplace and daylight , the principal bedroom when you can sleep and dream like a baby... YES, its a very good advantage in this crazy city, the flat is totally quiet!, the kitchen is very well equiped and the bathroom huge... Mauricio was a perfect host with me, very comunicated and open minded man with good intentions , he arranged totally EVERYTHING that i asked with smile and courtesy :) I totaly recommend this flat and his host !!! thks for all Mauricio :))
Marielle
2016-06-28T00:00:00Z
San Telmo é um bairro histórico com lindos prédios do fim do séc 19 e início do 20. O metrô fica perto assim como linhas de ônibus. O apartamento é lindo, decorado com peças antigas, charmoso e muito silencioso. A cozinha é moderna e funcional. O tamanho comporta três ou quatro pessoas, mas não há privacidade, pois dois quartos são mezzaninos. O banheiro é confortável, no entanto o box do chuveiro é muito pequeno. Mauricio é muito gentil e organizado, preparou um guia para indicar restaurantes e serviços no bairro e disponibiliza o cartão de transporte público para os hóspedes.
Isabel
2016-07-28T00:00:00Z
This space is the epitome of style and sophistication. The blend of classic and state-of-the-art amenities really exemplify this apartments charm. Furthermore, Mauricio goes above and beyond in providing the tools for his guests to have a great experience in Buenos Aires. I highly recommend this space to anyone seeking the authentic porteño experience.
Jake
2016-09-25T00:00:00Z
Certainly my best experience with Airbnb so far! Everything was perfect. First Mauricio had to wait on me for 3 hours because of my flight. His welcome was nonetheless warm and cheerful. He took more time to explain me the details of the apartment even as he obviously had to be somewhere else. Then the apartment itself is exactly how it appears on the pictures and even better. It's extremely bright, comfy and perfectly equiped! Mauricio even filled the fridge with basics such as butter, bread, orange juice and dulce de lece! The place was perfectly clean. Not a spot. Wifi was fast. The location is safe. The only minus is the neighbour, I guess, who has a few dogs but the amazing bed compensated for the occasional noise! Thanks!
Tibor
2016-10-09T00:00:00Z
En resumen: Lo recomiendo y volveria a ir. Primero, Mauricio es una persona genial, coordinamos constantemente por mensajes y siempre estuvo dispuesto a ayudarnos, nos recibio temprano, fue muy puntual e incluso nos dejo algunos fiambres para el dia que llegamos y nos ayudo a conseguir un taxi al final del viaje, son detalles que se aprecian bastante. Es un amigo mas que un anfitrion. Sobre el departamento, les puedo comentar que es tal cual las fotos, es un departamento muy bonito, comodo, amplio y muy bien decorado, no duden en reservarlo, se encuentra muy bien ubicado y el edificio es tranquilo, cuenta con wifi, calefaccion, y todo lo necesario para poder cocinar.
Alan Erick
2016-08-18T00:00:00Z
If you come to buenos aires you have to stay here. Wonderful apartment, perfectly located with lots of special touches. Mauricio was very accommodating and friendly. We don't want to leave!
Ailie
2016-09-18T00:00:00Z
Oda Tipi
Tüm ev/daire
---
Mekan Türü
Daire
---
Konaklayacak Kişi Sayısı
2
---
Yatak odaları
Buenos Aires, Ciudad Autónoma de Buenos Aires, Arjantin
Contempla la ciudad de Buenos Aires desde el cielo….!!! Súper luminoso departamento en el piso 20, en el corazón de la ciudad porteña, a pocos minutos a pie de los principales sitios de interés, y con un excelente acceso al transporte público (metro y buses). Un lugar ideal para los viajeros que quieran tener una auténtica experiencia de la ciudad de Buenos Aires!
El departamento, ubicado en el piso 20, tiene muchísima luz natural durante todo el día. Ubicado al lado del icónico Palacio Barolo, ofrece vistas también del Congreso Nacional que, además de maravillosas, son únicas!
Montserrat, es un barrio ubicado en el casco histórico de la Ciudad de Buenos Aires y por lo tanto estamos próximos a los principales sitios de interés: el Congreso, la Avenida de Mayo, el Palacio Barolo, la Avenida 9 de Julio, el Cabildo, la Plaza de Mayo, la Casa Rosada, Puerto Madero y vecinos del barrio de San Telmo y Manzana de las Luces. Encontraran en las cercanías del departamento algunos cafés y bares tradicionales de Buenos Aires como el Café Tortoni, el Café de los Angelitos, el Gato Negro, o 36 Billares, y diversidad de restaurantes, y pizzerías en la zona. También muy cerca, y a pie se puede llegar hasta la Avenida Corrientes, la avenida de los Teatros porteños. Saliendo del departamento tendrán varios supermercados alrededor, la lavandería enfrente, verdulerías y panaderías varias en la zona, además de bancos y cajeros automáticos y farmacias.
Ótimo apartamento, muito bem situado, perto de tudo, metro, lojas, pontos turísticos... da pra fazer quase tudo a pé! Paula é muito atenciosa e tem sempre uma dicas ótimas de passeio, restaurante, ou noite. Apartamento igual as fotos, tudo funcionando perfeitamente e muito aconchegante. Só tem um problema, você vai querer morar nele!!!
Thiago
2017-03-16T00:00:00Z
El departamento de Oscar es ideal para alojarse en la zona céntrica de Buenos Aires. Esta cerca de los restaurante mas tradicional de la ciudad y de Chan chan, que es una forma sana y economica de comer en BA. El depto tiene unas vistas espectaculares de la ciudad y esta totalmente esquipado con lo que unos necesita, ademas de la decoracion con muy buen gusto. El servicio de limpieza es impecable, y Paula la chica que nos recibió siempre estuvo disponible y fue super amable con nosotros. Totalmente recomendable. Volveremos sin duda.
michelle
2017-03-03T00:00:00Z
We spent 3 days in Oscar's apartment and I have to say we have been surprised by the will of Oscar and Paula to communicate, give advise and help in any way they could and all this very easy and fast!!! The location of the apartment is just terrific if you are willing to enjoy the various areas of the center of Buenos Aires!!! It's just a breath from the Obelisko and very close to the majority of all the touristic highlights!! I would clearly suggest it to anyone who wants a convenient accommodation in a good price!!!
Stratos
2017-01-24T00:00:00Z
El lugar es estupendo! Un monoambiente con todo, cerca de subtes y colectivos. Avenidas principales. Además tiene una vista hermosa de la ciudad, en especial hacía el Congreso Nacional. Todo está minuciosamente hecho a detalle para ser utilizado... Y los muebles son de diseño, generan un linda armonía y ganas de estar relajado. ¡EXCELENTE!
Lucas
2016-11-21T00:00:00Z
Amigos, fue una gran experiencia haber alojado en el departamento de Oscar, además de que Paula(co administradora) fue maravillosa su preocupacion por nosotros, siempre dándonos datos para que hacer en la ciudad. El departamento tiene un gran vista, buen acceso, céntrico con diversas oportunidades de movilización... en resumidas cuentas un agrado. Totalmente recomendable y de visitar nuevamente la ciudad, volvería a este lugar.. muchas gracias Oscar y Paula. Un abrazo
Tomaish
2017-03-26T00:00:00Z
The apartment is really lovely, very spacious, very airy, lovely feel to it, great location, amazing views as its high up. Highly recommend living here. The hosts are also wonderful. We felt looked after and very comfortable. They go the extra mile which is always very warming. Definitely go here!
Jonny
2016-11-14T00:00:00Z
El departamento esta muy bien unbicado. Centrico con lugares de entretenimento cercanos, teatros, cafes emblematicos de la ciudad, restaurants... Tiene una vista genial...el lugar es muy comodo y tiene todo lo necesario para una estadia confortable. Los anfitriones estan disponibles siempre para cualquier consulta y recomiendan sitios y actividades interesantes para hacer. Pase unos dias increibles en Buenos Aires, gracias!
Tania
2016-11-09T00:00:00Z
Hola! Primeiro quero dizer que é muito difícil escrever somente em 500 palavras o quão intenso (positivamente) foi a estadia no apartamento de Oscar e Paula em Buenos Aires. Certo que num projeto de viagem a intensidade da experiência é um entrelaçamento de vários acontecimentos e de bons encontros, e ter encontrado Oscar e Paula foi SIGNIFICATIVAMENTE importante para que o projeto tenha sido especial. Pré-viagem: em uma viagem decidida ao acaso, as pressas entre natal e reveillon e pouca, ou quase nenhuma, programação o contato com Oscar foi encorajador para escolher restaurantes, local de reveillon, cardápio, pontos turísticos, endereços....tudo foi enviado carinhosamente por ele antes de entrar no avião. Viagem: Quem nos recebeu foi Paula, uma pessoa especial, que nos apresentou o apartamento, as suas funcionalidades (apt de artista, todo pensado), necessidades, mapas, locais, internet, mais uma lista de restaurantes próximos, ótimos cafés...muito carinhosa e atenciosa. Durante todo os nossos 12 dias de estadia ela estava presente via (SENSITIVE CONTENTS HIDDEN) nos auxiliando no que fosse preciso. O apartamento condiz com o que foi apresentado no site. Vista (maravilhosa), limpeza, super arejado, com dois aparelhos de ar condicionado, ótima localização e com muita poesia (só conhecendo para entender). Apt bem no centro da cidade e perto de tudo: metro, ônibus, restaurantes, pontos turísticos, mercados, milongas (salões de tango), kioskos, starbucks... E o pós-viagem está sendo de boas lembranças, organização das fotografias, desarrumação de malas e um sentimento bom de satisfação de finalizar PERFEITAMENTE o projeto de viagem e de agradecimento à Oscar e Paula por terem contribuído com um bom encontro e feito a nossa viagem um momento especial. Recomendo por demais a estadia no apt deles sem nenhuma aspas ou exceções.
Saulo
2017-01-08T00:00:00Z
Oda Tipi
Tüm ev/daire
---
Mekan Türü
Daire
---
Konaklayacak Kişi Sayısı
2
---
Yatak odaları
Buenos Aires, Ciudad Autónoma de Buenos Aires, Arjantin
TODO MUY CERCA, TODOS LOS SUBTES Y TRANSPORTES. A 3 DE PLAZA DE MAYO, 4 DE PUERTO MADERO, 5 DE PLAZA DORREGO, TODO LA HISTORIA DE BS AS LAS 24 HORAS MI CASA COMO TU CASA , WIFI, TV EN LIVING ROOM, VIVO CON MI HIJA JUANA
CORAZÓN DE BUENOS AIRES. TODO LAS 24 HS. Lo mejor de casa : te damos las llaves, y sales y entras libremente. TIENES EL USO DE LA COCINA, LA HELADERA Y TODO NUESTRO ASESORAMIENTO PARA VIAJAR, CONOCER LO MEJOR Y LO DE MEJOR PRECIO , Es la mejor ubicación dentro de la ciudad (todo queda muy cerca) . Tranquilo, nada peligroso, barrio histórico y bohemio de Bs As, todo las 24 horas , todos los transportes y subterráneos terminan y comienzan su recorrido en Plaza de Mayo, para donde quieras moverte. Estas en el corazón de esta gran ciudad, caminando llegas a museos, paseos históricos y los barrios que le dan a esta ciudad esta característica de ciudad única en Sud América. A pocas cuadras de la calle FLORIDA. (BANCOS, COMERCIOS DE TODO TIPO) LA HISTÓRICA GALERÍAS PACÍFICO (paseo de compras que en sus techos hay una obra de arte de pintores argentinos de principio de siglo, llagas caminando al obelisco, monumento de la calle Corrientes, todos los cines, teatros, librerías y bares con historia. A pocas cuadras Puerto Madero el nuevo barrio de la ciudad sobre el Rió de la Plata (viejo puerto).COSTANERA SUR. Reserva Ecológica, paseo que te muestra la vegetación natural, aves, animales silvestres, naturales de esta región, con el contraste de los edificios modernos e importantes, diseños de arquitectos internacionales y nacionales. LA BOCA . Terminal de Omnibus y Tren para todo el país y limítrofes. LA IDEA ES QUE TE SIENTAS COMO EN TU CASA , TE ESPERAMOS MARIA, JUANA Y PANCHITA.
CORAZON DE BUENOS AIRES TODO LAS 24 HS.Lo mejor de casa : te damos las llaves y sales y entras libremente.TIENES EL USO DE LA COCINA LA HELADERA Y TODO NUESTRO HACESORAMIENYO PARA VIAJAR CONOCER LO MEJOR Y LO DE MEJOR PRECIO , Es la mejor ubicación dentro de la ciudad( todo queda muy cerca) . Tranquilo,nada peligroso ,barrio histórico y bohemio de Bs As, todo las 24 horas , todos los transportes y subterráneos,terminan y comienzan su recorrido en Plaza de Mayo, para donde quieras moverte ,. Estas, en el corazón de esta gran ciudad, caminando llegas, a museos , paseos históricos y los barrios, que le dan a esta ciudad, esta característica, de ciudad única en Sud América. A pocas cuadras, de la calle FLORIDA. ( BANCOS,COMERCIOS DE TODO TIPO) LA HISTÓRICA GALERÍAS PASIFICO paseo de compras (en sus techos una obra de arte de pintores argentinos de principio de siglo,llagas caminando al obelisco, monumento de la calle Corroentes todos los cines teatros librerías y bares con historia,a pocas cuadras Puerto Madero el nuevo barrio de la ciudad sobre el Rió de la Plata(,viejo puerto).COSTANERA SUR. Reserva Ecológica, paseo que te muestra la vegetación natural, aves,animales silvestres, naturales de esta región, con el contraste de los edificios,modernos he importantes, di ceños de arquitectos internacionales y nacionales,LA BOCA . Terminal de Omnibus y Tren para todo el país y limítrofes. LA IDEA , ES, QUE TE SIENTAS, COMO EN TU CASA , TE ESPERAMOS MARIA , JUANA Y PANCHITA
Maria est une hôte très attentionnée et sympathique! Toujours disponible pour donner des conseils avisés sur la ville de Buenos Aires. Nous n'avons pas été déçu par son appartement qui est très bien situé! Merci beaucoup Maria pour ce séjour très agréable chez toi!
marion
2014-08-22T00:00:00Z
Hay muchos comentarios muy simpaticos sobre la habitacion de Maria y voy a añadir uno mas ! Por efecto, la situacion de la casa esta perfecta porque a 3 cuadras de la plaza principal y hay la fiesta por el domingo en San Telmo. Maria da muchas informaciones sobre la ciudad y los modos de vida en Argentina. La habitacion esta muy linda y limpia. Recomiendo mucho esta casa muy barata !!
Maïté
2014-08-27T00:00:00Z
Maria Lucrecia es una buena anfitriona se encargó de que me sintiera a gusto en su casa que wa muy bonita y cómoda.
Iván
2015-10-25T00:00:00Z
Sigo lamentando no haber podido compartir momentos con María en su casa y compartir esta experiencia en Buenos Aires con ella. Desafortunadamente, no pude viajar. María fue tan buena persona y atenta conmigo en el momento de preparar mi viaje así cómo cuando supo que no yo no iba a poder viajar! además, con todas las informaciones que me dio respecto a mi llegada a B.A. me sentí muy segura. Cuando viaje allá por fin, espero poder quedarme en su casa!
Stephanie
2015-07-20T00:00:00Z
Muy buena estancia, la atención de Lucrecia y su hija muy buena, la ubicación es muy buena, definitivamente te sientes como en tu casa para poder entrar y salir, nos facilitaron un mapa de la ciudad y en todo momento trataron de responder nuestras dudas. Muy recomendable!.
Becca
2014-11-21T00:00:00Z
¡Riquísimo! Me encantó la hospitalidad de Maria y su familia que me recebieron con mucho cariño. Todo en su casa son como aparecen en las fotos. Me enamore por Buenos Aires y todos sus actraciones. Me lo prometo vuelver a esta ciudad mágica!!!
Mouses
2016-02-01T00:00:00Z
Maria's apartment really is in the best location. Minutes to tourist attractions, great restaurants/bars, and shops. I highly recommend her apartment. El apartamento de Maria en serio es en un ubicación perfecto. Maria me sienta como una amiga/familia en su apartamento. Gracias por todo.
Bryce
2017-03-18T00:00:00Z
Great little place located very close to the Plaza de Mayo (central spot in town). Maria was very pleasant and helpful, even though we spoke different languages it was easy to understand each other. Highly recommended!
Wei
2016-12-29T00:00:00Z
Oda Tipi
Özel oda
---
Mekan Türü
Daire
---
Konaklayacak Kişi Sayısı
2
---
Yatak odaları
Buenos Aires, Otonom Buenos Aires Şehri, Arjantin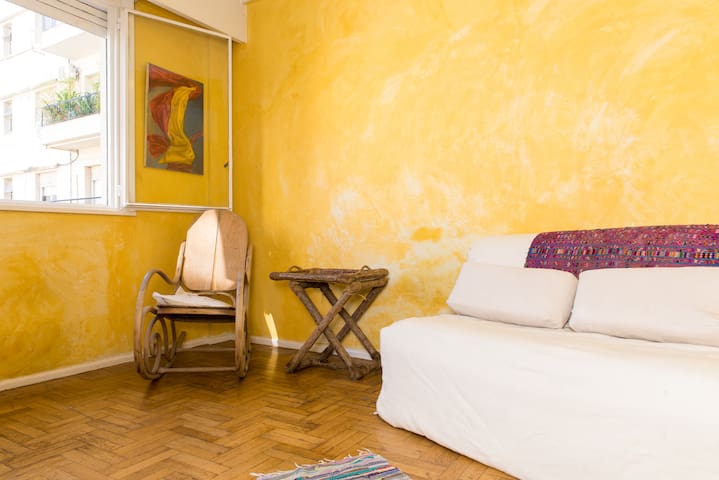 I´m a young professional who is passionate about the world of communication. I live in a modern and large studio apartment very luminous and very well located in the doors of the historical center of the city with access to a lot of public transport that will take you to every corner of Buenos Aires.. Mi alojamiento es bueno para parejas y aventureros.
Excellenet host and very understanding. I hope to see Leandro again.
Rashid
2017-02-06T00:00:00Z
Melhor anfitrião possível, atencioso e muito simpático! Recomendo muito, além do apartamento ser mt bom e conveniente.
Vinícius
2017-02-27T00:00:00Z
Oda Tipi
Tüm ev/daire
---
Mekan Türü
Daire
---
Konaklayacak Kişi Sayısı
2
---
Yatak odaları
Buenos Aires, Ciudad Autónoma de Buenos Aires, Arjantin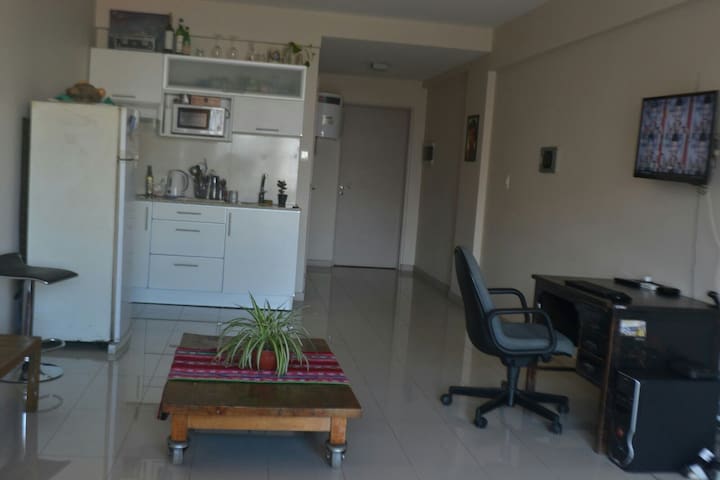 Monserrat - Airbnb
:
929

misafir değerlendirmesinden,

5

yıldız üzerinden ortalama

4.59

yıldız
1

–

18

/

300+ Kiralık Daire
Tam fiyatlandırmayı görmek için tarihleri görün. Ek ücretler uygulanır. Vergiler ilave edilir.