Mini appartamento nella via principale del centro storico di Monterosso al Mare (cinque terre), all'interno di un antico giardino ligure. Vicino bar, ristoranti, supermarket e banche dista solamente 100 mt dalla spiaggia. E' dotato di letto matrimoniale, un letto singolo , bagno, ventilatore, frigo e forno a microonde.
Chris and Chris were great hosts, very helpful and communicative. I had a great stay. Thanks so much.
Katie
2016-09-15T00:00:00Z
Very charming apartment, great location and beautiful location, definitely a mini apartment!
Freddie
2016-07-16T00:00:00Z
(English below) Fr : L'appartement est fidèle à la description, très propre, très bien tenu, et surtout très bien situé. Il est en plein coeur de Monterosso, dans une des plus jolies rues du centre, à deux minutes de la plage publique, proche de tous les restaurants, du petit supermarché de la ville et à moins de 10 minutes de la gare qui permet de rejoindre les autres villages. L'appartement est assez spartiate, mais il y a tout le nécessaire. L'accueil que nous a réservé Chris (La femme de Christian) était très chaleureux (elle parle français :) ), elle nous a donné de bonnes adresses, nous a même fait gouter une spécialité du coin dans un restau proche de l'appartement, et a toujours été très disponible au cours de notre séjour. Attention pour les grosses valises, il y a plusieurs escaliers pour atteindre l'appartement. En : The apartment is just like the pictures : clean, well tended and especially well situated. It is in one of the prettiest streets of Monterosso in the center of the city, at 2 minutes from the public beach, next to a lot of restaurants and to the small supermarket of the town, and 10 minutes away from the train station from which you can go to all the villages of the Cinque Terra. The apartment is a little spartan but it provides all the necessary things you will need. Christian's wife, Chris, gave us a really warm welcome. She gave us all the informations we needed about the good restaurants around, she even took us to taste a specialty of the area, and was available whenever we tried to reach her.
Aurore
2016-08-14T00:00:00Z
Had a great stay at casetto pozzo, the hosts were very easy to communicate with our arrival time being uncertain. Christina was their waiting for us and although our flat wasn't ready she allowed us to change in another flat and leave our bags whilst we went to the beach. Despite being compact the flat is in a superb location right in the middle of Monterosso with just a short walk to the beach. The flat is quite small and basic, so you are certainly paying for the location but with the limited amount of accommodation in the area in the vacation period this is expected. Would stay here again and highly recommend for people looking for an authentic cinque terre experience. Thank you!
Jamie
2016-08-17T00:00:00Z
Tutto come da programma. Il bagno è piccolino ma ci si adegua.
Francesco
2016-08-31T00:00:00Z
Monterosso is wonderful, I love Cinque terre. The apartment was nice and spacious. There are many steps leading to the apartment but it's okay. Just a heads to bring small baggages if you can. The communication was ok. When we left Chris didn't come to the check out (maybe I misunderstood something and it was supposed to be like that) but otherwise everything was great.
Adrienn
2016-08-04T00:00:00Z
Monterosso is beautiful, the location of the apartment is super and Christian was very kind and had many interesting things to tell me about the region and the culture.
Geoffrey
2016-07-30T00:00:00Z
It i a great place but you have to not that it is not an appartment but more a room with private bathroom (there is no kitchen, only a microwawe)
Valérie
2016-09-09T00:00:00Z
Oda Tipi
Tüm ev/daire
---
Mekan Türü
Daire
---
Konaklayacak Kişi Sayısı
3
---
Yatak odaları
Monterosso al Mare, Liguria, İtalya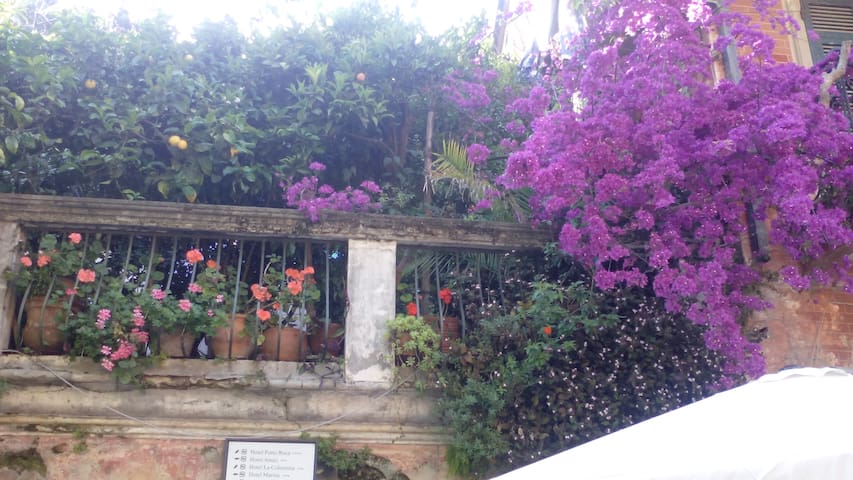 Please read carefully the "rules of the house" (check-in/check-out) Lovely apartment in Monterosso al Mare in front of the beach. The apartment is at the second floor of a small building not far from the railway station of Monterosso. IN JUNE, JULY AND AUGUST 15 NIGHTS MINIMUM TO BOOK Air conditioned - TV sat, wi-fi. Washing machine available on request The apartment comprises: entrance in the livingroom with kitchen corner and double sofa bed. One double bedroom with double bed and n. 2 pull-out bed. Double bathroom with shower and hairdryer. Nice terrace with breathtaking sea view, where you can have your breakfast or romantic dinner. The kitchen is fully equipped for 6 person with fridge, electric oven and micro-oven. It is very suitable for family or couples. The apartment is near the railway station and from here is easy to start to discover many other places in the region or in Tuscany. All the other villages are reachable in few minutes by train. If you want, from here you can change your landscape every day. Pets not allowed. Please tell me the total number of persons, adults and children, at the moment you make your request. As I do not live in Monterosso the check-in for my Guests is from 12 pm to 4 pm. (or in the morning so you have the whole day for you) Other times, before 6 pm, are possible with an extracharge of € 50, only by prior arrangements and compatible with the train timetable. I thank you in advance for Your cooperation Laura Check-out 9.00 am
Monteresso, Laura'nın evi ve de ev sahipliği çok güzeldi. Evin konumu ve kullanımı çok pratik, sade ve tüm ihtiyaçları karşılıyordu. 2 aile 6 kişi çok rahat bir şekilde tatil yaptık. 2 banyo, geniş mutfak ve oturma grubu, yatak odası ve muhteşem manzarasıyla olağanüstü bir balkon, adeta denizin üstündeymişsiniz gibi. Market, fırın ve tren istasyonu yürüme mesafesi 5 dakika. Ev çok temiz ve düzenli ve her türlü ihtiyaca uygun olarak döşenmiş. Herşey için çok teşekkür ederiz ve herkese tavsiye ederiz.
Gokben
2015-05-05T00:00:00Z
Laura was fantastic extremely helpful and welcoming. The apartment was exactly like the pictures in the best location in monterosso. I would definitely stay here again and would recommend it to anyone wanting a perfect location in cinque Terra.
lisa
2015-09-29T00:00:00Z
The apartment was in a great location, clean and very comfortable. Air conditioning was great. Wonderful views of the beach. The host was easy to deal with and we really enjoyed our stay. Would definitely recommend this place to base yourself when visiting the Cinque Terre!
Lisa
2015-06-13T00:00:00Z
Couldn't have been a nicer location. Close to the train station and a beautiful view of the beach. The apartment was very nice and clean. Having 2 bathrooms was wonderful and a washer was great. I would recommend staying at Laura's apartment for a perfect vacation!
Christine
2015-06-20T00:00:00Z
We stayed at Laura's apt recently for 5 nights with our family. It was spectacular...even better than the photos. We were so impressed with how clean and new and modern everything in the house was. We are a family of 5 with small children and the apartment was perfect. The view and the central location can't be beat! We loved the kitchen and the terrace and laura has thought of everything. There were cups and bowls for bambini and a first aid kit and shampoo in the bathrooms. Everything worked great and we really enjoyed meeting laura too. She was so easy to work with and helpful and accommodating. When we return to Monterosso we will only stay at Laura's apartment from now on! Grazie Laura. You made our vacation perfect!
Erin
2015-06-01T00:00:00Z
This is a fabulous apartment. Laura and Daniela made us feel very welcome even after arriving very late on our arrival day due to Air France strike causing us to miss a connecting flight. The apartment is large and decorated so lovely. The location and views are spectacular. It is an easy walk to the train station as well as Old Monterosso with many great restaurants and gelato nearby. I highly recommend Laura and her apartments and hope to return again very soon.
Patti
2016-06-24T00:00:00Z
Laura and Stephania made us feel very welcome. The description was very good and surpassed our expectations. This is a lovely property with a stunning view, the best we have ever enjoyed so far on holidays. I particularly liked Laura's attention to details and provision of certain supplies, essential when you are travelling by plane and have to leave things behind (even nail polish remover!). We will certainly go back.
nathalie
2015-09-06T00:00:00Z
This apartment was perfect! We loved being able to see and hear the ocean the entire time. The location is great - it's an easy, flat 5 minute walk from the train station, the old and the new town. The apartment has been nicely renovated, so it is comfortable and spotless. We had two adult couples, and there was plenty of space, particularly as there are two bathrooms. The kitchen is well-equipped for cooking. Laura and Daniela were very kind and helpful hosts.
Katie
2014-05-14T00:00:00Z
Oda Tipi
Tüm ev/daire
---
Mekan Türü
Daire
---
Konaklayacak Kişi Sayısı
6
---
Yatak odaları
Monterosso Al Mare, Liguria, İtalya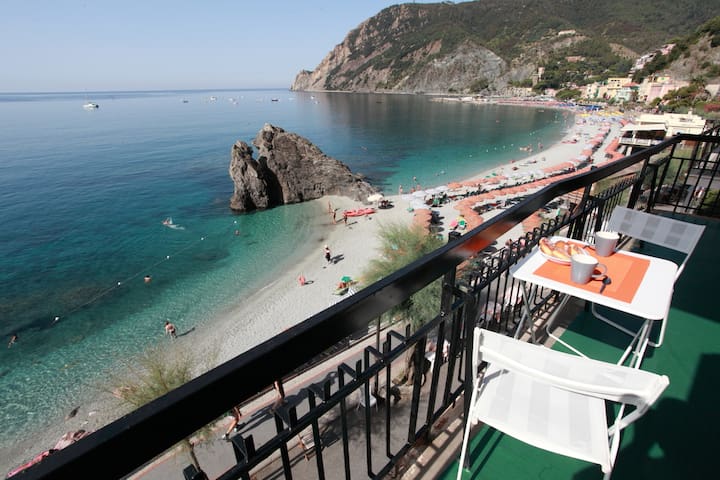 My accommodation is 300 meters from the beach of Monterosso (Cinque Terre), the train station is 400 meters. The apartment is suitable for couples and families (with children). The apartment is located in the new part of Monterosso in the green area, the lemon orchards, olive trees and beautiful flowering bougainvillea all around. The apartment is equipped with all comforts: air conditioned rooms, all equipped with kitchen, washing machine, LED lights, wi-fi connection, LED TV and a large garage for the car.
completely renovated sea view apartment with fine finishes on the second floor of a building in a residential area equipped with all comforts (air conditioned rooms, wi-fi connection, LED TV, LED lights, phone, washing machine) For those who use the car large garage available.
Apartment located in a residential area (green). For those who do not like to walk downstairs from the bus of the National Park of the Cinque Terre.
Nicole e la sua famiglia sono stati cordialissimi e molto disponibili. All'arrivo ci hanno accolto con gentilezza e ci hanno fatto trovare un bel cesto di benvenuto con frutta fresca e brioches! L'appartamento è bellissimo e dotato di tutti I confort e a 5 minuti dalle spiagge di Monterosso. Bellissima esperienza!! Grazie ancora a Nicole e famiglia! Silvia e famiglia
SILVIA
2016-08-27T00:00:00Z
O apartamento de Nicole é espaçoso e confortável o suficiente para dois casais, ou uma família de 4 pessoas. Tudo é muito novo no apartamento. Ar condicionado em todos os ambientes. Cozinha muito boa e equipada com todo o necessário. Banheiro perfeito para um apartamento de praia. Localização excelente, em local tranquilo e quieto, muito próximo da praia (cerca de 7 minutos de caminhada com vista para o mar). Como o local é montanhoso, a volta da praia para o apartamento constitui-se numa subida, mas a caminhada, como dito, é curtíssima, prazerosa e muito saudável! Nicole e seu pai Gianni são muito atenciosos e ótimos anfitriões. Na relação custo-benefício esse apartamento é uma das melhores opções na cidade.
Marcelo
2016-08-05T00:00:00Z
Nous avons passé un superbe séjour de 4 jours entre amis dans l'appartement de Nicole à Monterosso ! Tout est propre, neuf et très bien agencé! Nicole et sa famille nous ont très bien accueilli (bière, eau fraiche, café et thé à notre arrivé) et sont restés disponibles pour toutes nos questions. L'appartement est situé à 4 minutes à pied de la plage dans un quartier calme de la ville. Vous pourrez profiter de la clim (qui fait du bien!) et en prime d'une superbe vue sur la mer! Vous pouvez arrêter vos recherches, c'est l'appartement idéal ! :) We spent 4 amazing days in Nicole's place in Monterosso! The apartment is perfectly furnish and everything is clean and new! Nicole and family welcomed us in the best condition and were available for every question we had. The apartment is at 4 minutes walk from the beach in a very quiet part of Monterosso! You can stop your research, you have the perfect deal with Nicole's place!
Paul
2016-08-14T00:00:00Z
Nicole's flat was amazing. Nicole kept in contact with us, offering directions and meeting us despite our late arrival. Nicole provided us with a lot of information about the area and with delicious fresh fruit. It was a very warm welcome for our family. The pictures are accurate and everything is brand new. The air conditioning was crucial as break during the afternoon heat in July. The flat was only a five minute walk to the beach, 7 minute walk to the train station, and a 20-25 minute walk to the old town. Our family thoroughly enjoyed our visit to Monterosso al Mare, and staying in this beautiful apartment was an important part of that. We would absolutely recommend staying in Nicole's apartment to anyone looking to experience the amazing Cinque Terre.
Matthew
2016-07-30T00:00:00Z
Excellent!!! Appartement refait à neuf, belle vue mer, très propre, bien aménagé et équipé. Parking en bonus et petites attentions à notre arrivée (fruits, gâteaux, jus, bière dans le frigo). Près d'une supérette, de la gare et de la plage. Point de chute parfait pour les 5 terre. Nous recommandons les yeux fermés!!!
Marion
2016-10-31T00:00:00Z
Nicole's apartment was very welcoming and perfectly located away from all the noise and traffic from the main street. A nice walk up the hill (be careful of cars) provides quietness throughout the day and evening. We loved the apartment and highly recommend it to others visiting Monterosso!
Jennifer
2016-09-30T00:00:00Z
We had a great time at Nichole house. The apartment was modern and clean. The hosts were helpful and available for any questions or needs . The location was close to trails and restaurants. We all said we would love to go there again. Thank you for a great first Air BnB experience!
Susan
2016-09-18T00:00:00Z
bon accueille et ouvert. facilement joignable l'appartement est très joli et propre. merci
Violeta
2016-08-10T00:00:00Z
Oda Tipi
Tüm ev/daire
---
Mekan Türü
Daire
---
Konaklayacak Kişi Sayısı
4
---
Yatak odaları
Monterosso al Mare, Liguria, İtalya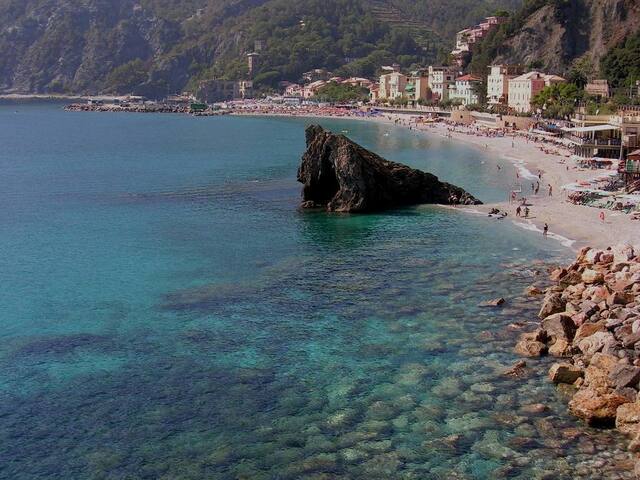 The apartment Casa Maria is on the second floor of an old building with painted facade in the historical center of Monterosso. The house consists of two bedrooms, a sitting room with kitchen and a spacious bathroom. Staying here you can experience the typical experience of life in the Cinque Terre, in close contact with the country, nature and cooking!
Casa Maria is just two minutes walk from the beach and only a ten minute walk from the train station, which is situated along the promenade of Monterosso. The apartment overlooks the typical alleyways of the lively old town, its restaurants and specialty shops. The main street is around the corner and just because of his position, the house offers peace and quiet despite being in the center of the country.
Oda Tipi
Tüm ev/daire
---
Mekan Türü
Daire
---
Konaklayacak Kişi Sayısı
4
---
Yatak odaları
Monterosso al Mare, Liguria, İtalya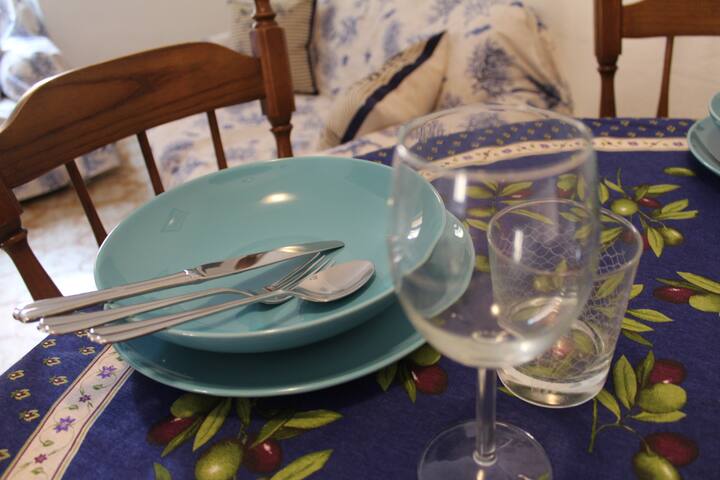 In the heart of the Old village Monterosso Zia Tere House is a new renovated flat with all the confort!
Bright flat really downtown near the Beach and the principal path, 4th floor
Best place in 5 Terre!
The apartment is newly renovated and beautiful. It is right in the middle of Monterosso and very close to the hiking trail, great restaurants, gelato, and the ocean.
Allison
2017-04-08T00:00:00Z
This apartment is brand new and the location is amazing. It's right on the Main Street of Monterosso, the rooms are big and spacious and the beds are so comfortable! Open the windows to hear the commotion below (pleasant). The kitchen is excellent as well. Dont hesitate to rent! The owner was extremely responsive as well!
Andrew
2017-04-01T00:00:00Z
Oda Tipi
Tüm ev/daire
---
Mekan Türü
Daire
---
Konaklayacak Kişi Sayısı
4
---
Yatak odaları
Monterosso al Mare, Liguria, İtalya
Nel cuore del borgo marinaro di Monterosso al Mare, perla delle Cinque Terre, completamente esposto al mare, con una splendida vista sulla baia monterossina.
We really enjoyed our stay at Marta's apartment. Beautiful view, great location! Very easy to find, check in and out was very easy and flexible. The apartment was fully equipped with everything we needed, it was clean and welcoming. I would highly recommend this apartment.
Brittany
2015-05-03T00:00:00Z
It looks exactly like the pictures. It was very clean and in the perfect location. Note that you must clean the kitchen or you will be charged 80 euros.
Sherine
2016-06-09T00:00:00Z
This was a fantastic location for getting around the Cinque Terre area. Amazing views from every room. The place is clean and bright. You can definately hear the trains, but they aren't a problem, especially if you have good earplugs. I highly recommended!
Kerri
2015-05-16T00:00:00Z
We never met Marta so I have no feedback on her personally but she was very fast to respond while we were planning our stay at this apartment. As far as the apartment we were very happy with the location. The view of the ocean is breathtaking! The beds were comfortable and rooms were spacious. Our biggest complaint was the shower. It only stays hot for about 5-10 minutes and goes from hot to cold without warning. We would definitely recommend this apartment and would stay here again.
Ashley
2015-07-29T00:00:00Z
Perfect location, right above the Monterosso train station and close to the beach! The apartment is on the 3rd floor, with great views and the rooms were spacious. Need to allow time to heat up water before shower, and again before someone can take the next shower. Overall, we enjoyed our stay! Thanks Marta for having us!
Lorraine
2016-05-09T00:00:00Z
Wow, what a view! The apartment is located in new town Monterosso, right on the water. We thoroughly enjoyed our stay, the bed was comfortable. Beware of the water heater! It only gives you about 5 minutes of warm water, so don't make the mistake of "letting it warm up" because it's warm right away. No wifi in the apartment, but it's great if you're looking for a disconnect. Easy access to train station, everything in the village is walking distance. Highly recommended.
Lacey
2015-10-31T00:00:00Z
Marta was great and very responsive to our emails and phone calls. Cinque Terra is a must visit. The apartment is in a great location with a beautiful view. very easy to get to the apartment from train station.
Cindy
2016-10-25T00:00:00Z
This apartment was amazing! It exceeded my expectations and the bed rooms were alot bigger than I thought. The view from one of the bed room and the kitchen is just spectacular. Pictures are as they seem on the website. I did not get to meet the host Marta because we arrived by train so Marta left the keys for us to collect. Location is convenient and right on top of the train station. Noise level was not bad considering it was on top of the train station and near the beach.
Eva
2015-09-12T00:00:00Z
Oda Tipi
Tüm ev/daire
---
Mekan Türü
Daire
---
Konaklayacak Kişi Sayısı
6
---
Yatak odaları
Monterosso Al Mare, Liguria, İtalya
Comfortable apartment, completely renovated, in a panoramic area with sea views. Appartment consists of 2 bedrooms with double beds, full bath, large kitchen, living room and two terraces. The apartment is equipped with internet, wi-fi, TV, washing machine, towels and sheets , phone, shampoo. Large private garage. Information and suggest for holidays. Welcoming the guests with a welcome offer.
Very bright apartment with sea views
The accommodation is located in the new area of the country, quiet and green, only 300 meters from the sea and 400 meters from the train station.
Gianni and his wife were great hosts making us feel welcome from our arrival, even helping us with our luggage. They had maps and guides at the ready to aid us with best places and ways to experience Cinque Terre. The apartment was perfect with comfortable furnishings, full amenities and spotlessly clean. What was a true highlight was the breathtaking views from all rooms, either fabulous views across the water and hill tops or up to the hills and terraced farms. Amazing.
Mark
2015-09-23T00:00:00Z
Gianni a été très accueillant, a répondu à toutes nos questions, nous a très bien renseigné sur le village, les lieux à visiter, les restaurants...
Marc
2016-10-14T00:00:00Z
Gianni was very reliable, communicative, warm and friendly exemplary host. He kindly left milk, juice and food as a welcome gift. This wonderful apartment is a short 5 min walk from beach level in a lovely position, is spacious, comfortable and clean, modern and very well appointed with lots of room and storage. A full kitchen & washing machine makes life easy. The panoramic ocean and mountain views are fabulous. We could not have asked for better or a more obliging host. Gianni is only too happy to help you. 5 star accommodation. Thank you Gianni and family.
suzan
2016-05-14T00:00:00Z
Da han kom med nøklene, forklarte han utfyllende om leiligheten, omgivelsene og andre forslag på turer enn de vi hadde bestemt oss for. Vi var uten varmtvann i to dager, men jeg oppfattet at Gianni gjorde det han kunne for å ordne problemet. Når vi skal feriere i Italia, så burde det kanskje være vinglass i leiligheten. Italia og vin er vel en og samme sak :-) Likeledes savnet vi en god brødkniv, for vi spiste frokost i leiligheten hver dag. Beliggenheten var helt topp, selv om den lå inntil veien, ble vi ikke sjenert av støy. Litt mener jeg vi må tåle, det er jo tross alt en by.
Rino
2016-09-27T00:00:00Z
This apartment was beautiful, and more than we could have possibly imagined! It's very clean, comfortable, modern, well-equipped, and in the perfect location! Gianni was incredibly helpful upon our arrival, walking us through the apartment to make sure we had everything we needed, as well as telling us all about Monterosso. We're currently traveling through Western Europe, and Gianni's apartment is by far our most favorite place to stay. It fit our family of four perfectly. We were able to do laundry, cook meals, and feel very at home during our visit. Thank you, Gianni - we hope to be back one day!
Kim
2016-06-20T00:00:00Z
Gianni was very nice and the apartment was great, very well located and beautiful!
Philippe
2015-10-31T00:00:00Z
Gianni was a wonderful host. He met us at the station and gave us a lift to the apartment which is clean and well organised. There was water in the fridge and fruit in a bowl. The views are amazing and the place is peaceful but close to everything. A wonderful stay.
Christine
2016-04-24T00:00:00Z
L'appartamento di Gianni è molto bello! Le foto non gli rendono giustizia ;) E' spazioso (in 4 si sta benissimo), ben arredato, rinnovato da poco e con una stupenda vista sul mare e sui monti. E' al terzo piano quindi ben ventilato e luminoso. Comodissimo alle spiagge (quella libera del gigante è a 5 min a piedi) e anche con supermercato comodo. Fondamentale il posto auto in garage doppio! Gianni è molto disponibile e gentile. Esperienza più che positiva!
gretchen
2015-08-09T00:00:00Z
Oda Tipi
Tüm ev/daire
---
Mekan Türü
Daire
---
Konaklayacak Kişi Sayısı
4
---
Yatak odaları
Monterosso Al Mare, Liguria, İtalya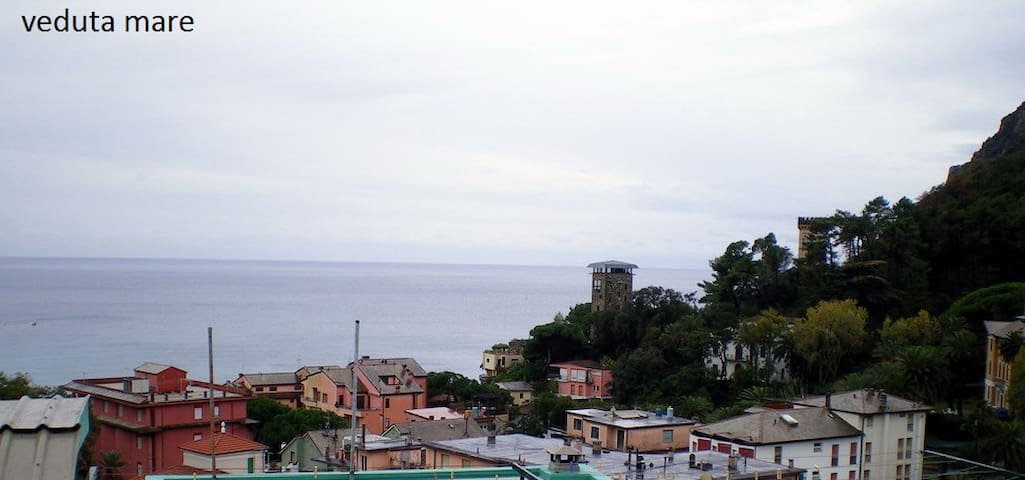 The terrace and the fantastic sea view are main attractions of the apartment, situated ten minutes walking from the beach. The apartment is at the third and last floor of a house surrounded by greenery, just 5 minutes after Villa Montale, and has a nice living room, a kitchen, three bedrooms and two bathrooms. Some steps to arrive, but it's worth! When you arrive on the terrace you never want to go down as the view will take your breath away.
The host canceled this reservation 173 days before arrival. This is an automated posting.
Ann
2017-03-14T00:00:00Z
Oda Tipi
Tüm ev/daire
---
Mekan Türü
Daire
---
Konaklayacak Kişi Sayısı
5
---
Yatak odaları
Monterosso al Mare, Liguria, İtalya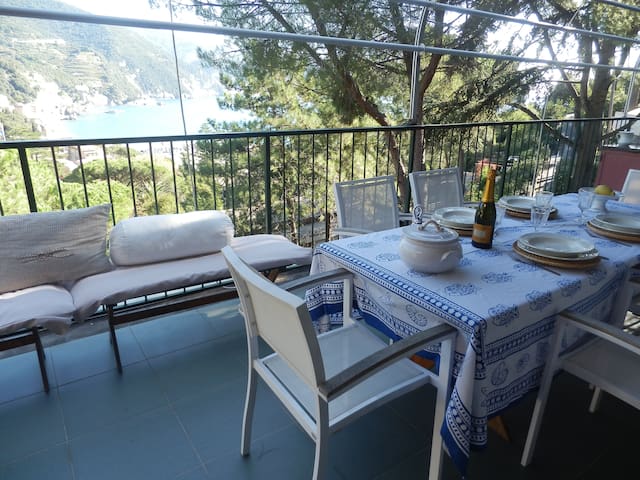 Apartment 250 meters from the seaside and a kitchen, living room, two double bedrooms, bathroom with shower and large balcony with sea view
The apartment can comfortably accommodate up to 5 people and enjoys an excellent view of the sea and the old town. Within walking distance guests will find numerous bars, wine bars and restaurants where you can taste the culinary specialties of the Cinque Terre.
Davide was great at communicating with us. He ensured we knew where to go and left a key for us. Apartment was very clean and in a great location. There were a few more stairs than we had expected but once there, it was well worth the effort. It was lovely to have a balcony with a great view.
Trisch
2016-09-07T00:00:00Z
we really enjoyed our stay. house was very clean and tidy as pictured. great location right near the restaurants and not far from the train station.
Alexandra
2016-10-02T00:00:00Z
Oda Tipi
Tüm ev/daire
---
Mekan Türü
Daire
---
Konaklayacak Kişi Sayısı
5
---
Yatak odaları
Monterosso al Mare, Liguria, İtalya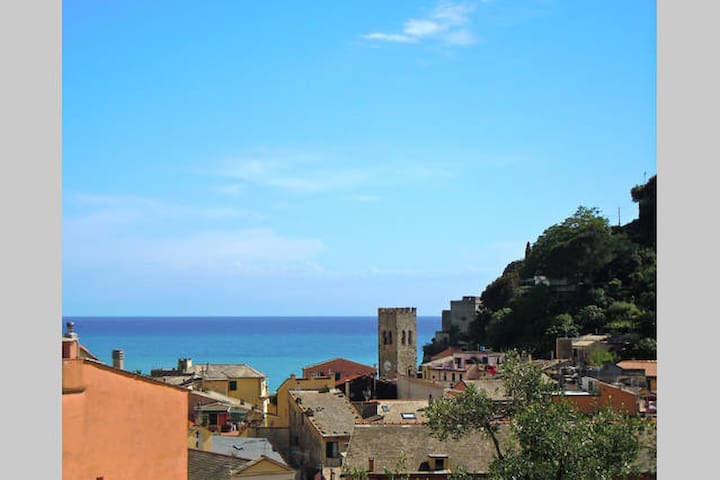 We are located in the center of Monterosso. Our place is situated in the best of the five villages, and within Monterosso the location is unbeatable. The apartment is in a duplex villa front beach.
The apartment is accessible by 70 steps (height comparable to a second floor) and is about 30 meters from the beach. Once down the stairs, you'll be in the central square of the village , around the corner are plenty of shops, bars and restaurants, the most charming piazza in Monterosso, a grocery store and butcher. The beach is located 2 minutes walk away ,and the train station is in very close walking distance (about 400 meters) The location is extremely panoramic and quiet. The apartment is developped on two floors. On the ground floor the entrance leads to the ample living room with unique sea view .The dining area has a open plan kitchen, and a balcony that overlooks the sea and a picturesque view of the coast and the country. An elegant marble staircase leads to the first floor where is the sleeping (URL HIDDEN) consists of a large double bedroom with sea view balcony and a bedroom with a queen bed (that fits for two) and one single bed .The large bathroom has a shower and clothes-washer. It's well equipped and very comfortable for your stay.
Its central location in the old part of Monterosso made it so easy to get supplies, enjoy meals out close by and get to ferry and train for exploring the other beautiful villages of Cinque Terre,very close to the Fegina parking (500 meters far ) as well from Monterosso Central Parking
Communication was quite easy through text messaging with very quick responses. We were greeted immediately once we arrived at meeting point. The apartment is quite spacious and the view is amazing. Yes, there are stairs but we are able bodied 40 somethings so it was not a problem. It is situated right on the trail to Vernazza so if you are a hiker, this is quite convenient. We loved our stay!
sandy
2016-11-22T00:00:00Z
We were met by Jessica as promised, led to the home, and informed about the home and Monterosso. The view is breathtaking! The home was well appointed and comfortable. Climbing steps is required to reach this property, but the effort is definitely worth it!
Barbara
2016-10-09T00:00:00Z
Pro Loved the location of this villa, just a short way uphill from Piazza Garibaldi situated on the 'older' side of the Monterosso al Mare village. The villa is a spacious two storey two bedroom with wonderful views of the beach, headland and village... we could have stayed forever! Clean and tidy with everything you need. Loved the shower a good size and consistent water temperature and pressure, a big bathroom, comfortable king bed in the large main bedroom with a mini parents retreat consisting of two comfy armchairs. The main bedroom and the lounge room each have a balcony big enough for deck chairs or to place the airer when drying clothes. Roller shutters are fitted to every window meaning great privacy and reduced noise. This area is quiet, the only noise is the train line that runs along the beach front - but with the shutters down and the windows closed I slept great and I'm a very light sleeper! The apartment building containing the villa has a communal backyard area which contains an outdoor picnic table and chairs with a flat grassed great for kids. The host is very friendly, helpful and punctual. We will definitely stay here if we are lucky to visit again, and have already recommended to our family and friends. Con Not cons, just be aware in case it is important to you: there are two ways to the villa front door. Firstly a stairway of 85 steps from the road which we used every day. Secondly keep following the road which zig zags uphill, there is only one step this way so you can roll your luggage to the front door. You will most likely be met at Piazza Garibaldi and walked to the villa from there anyway so don't worry about getting lost or anything.
Melissa
2014-10-12T00:00:00Z
l appartement est assez confortable et spacieux sous forme de duplex avec les chambres et la salle de bain a l étage ; la chambre principale est tres agréable bien décorée et une vue splendide sur la mer et monterosso ; il y a meme le départ du sentier piétonnier vers VERNAZZA au pied de l a maison quelques petits probleme de chauffage et d eau chaude pour cette période de Novembre et les ustensiles de cuisines assez pauvres inconvénient : il faut garer la voiture sur un parking assez éloigné de la maison et porter tous les bagages (15 a 20 minutes ) ou prendre un taxi
Patrice
2014-11-21T00:00:00Z
Daniela's villa in Monterosso was fantastic. I stayed there with four of my friends for a few nights. We all slept comfortably and had plenty of room. The views were absolutely incredible from the balconies. The location was perfect - it was right off of the path you take to hike to the other towns in Cinque Terre. We met up and got the keys to the place right when we arrived. We had arranged to meet up at a certain time and location, and everything worked out smoothly. The person that met us even gave us a map and recommendations on where to eat and visit. I would highly recommend this place to anyone looking for a nice place to stay, with great views, and in the perfect location to take advantage of the Cinque Terre hiking.
Joseph
2016-03-10T00:00:00Z
We spent a great time in Daniela's house. The house looks even better than what we saw on the pictures. The sea view is incredible, the house is well furnished (except with ventilators) and it is spacious. As mentionned in previous comments, you have to be ready to climb (a little) to reach the house but climbing is part of any holiday trip in Cinque Terre. You will feel very good in this place, I recommend it!
Nina
2015-08-16T00:00:00Z
We stayed in Danielas apartment for 5 days. The house was perfect. An easy 5min walk to the train station and just outside the main strip of Monterossa, which was great. The apartment is much better than what you see in the pictures. Was sad to leave. Problem free experience.
Anzac
2015-09-24T00:00:00Z
Cinque Terre is a Must during your travels of Italy! Monterosso was a delightful town and we enjoyed all it had to offer, including the beach, food and warm welcome of the towns people. An important thing to note in regards to this apartment, especially if you have any knee problems, is that from the parking lot to the front door, the distance and intensity of climb is much greater than posted. I recommend that you jump in a taxi and save your energy for hiking the hill to the apartment. Please note that there is no air conditioning and while there is a nice breeze that flows through by mid day the upstairs bedroom/bath are a bit stifling. The owner was nice enough to drop off a fan, once requested, but there wasn't an outlet in the bedroom. Maybe we were spoiled a bit by the other locations we stayed but we found the apartment to be lacking in a few areas. Huge Gratitude to Daniela, even though we never met, went out of her way to overnight ship our passports to us in Milan. She is an angel. Note, not a good idea to stick anything in drawers.
Nancy
2015-07-01T00:00:00Z
Oda Tipi
Tüm ev/daire
---
Mekan Türü
Daire
---
Konaklayacak Kişi Sayısı
5
---
Yatak odaları
Monterosso Al Mare, Liguria, İtalya
The apartment is on the third floor of a typical Ligurian tower house , convenient for shopping , the beach and hiking trails is located in a quiet area in the historic center . On three levels has : master bedroom , kitchen , balcony , view terrace.
Breath the typical 5 Terre , friendly and simple , straightforward and relaxing and a great retreat for those who wants a holiday without forgoing the chance to enjoy the historic center . The apartment located in the historical center of Monterosso al Mare in quiet, composed of multiple layers, is on the third floor of a typical Ligurian tower house. On the third floor large double bedroom, upstairs kitchen, bathroom and small balcony, on the next floor large terrace with sweeping views of the old town and sea of the 5 lands. Not very suitable for families with small children due to its structure and the stairs
The historic center is seen from the terrace while relaxing and then down into the life of the country and find themselves in Buranco or nearby in the Erta that make you savor the country in its true soul .
We had a great stay at Rosy's apartment. It is in a great location for hiking Cinque Terre and exploring the area. Rosy was very accommodative and met us to show us to her apartment. Her place is very clean and has a wonderful rooftop area with an excellent view. I would highly recommend staying here!
Eva
2016-03-16T00:00:00Z
Rosy was so nice and welcoming, and the apartment was beautiful, clean, and in a perfect location!
Natalie
2016-04-15T00:00:00Z
What a beautiful home! We weren't sure if we would have to share the bathroom with another apartment but it is all contained in one private home the first floor is the bedroom, the second has the bathroom, kitchen, and living room, and the third is an amazing rooftop terrace. It is located in the center of the old town which is perfect because the new town feels much more touristy and I think the beach at the old town is better. Checkin was smooth and easy. I only wish we had come a few weeks earlier because there is no air conditioning and we came in the hottest time of the year. Even so, it was not unbearable and there is a small fan provided. Overall, I would definitely stay here again.
Jeremy
2016-07-09T00:00:00Z
Wow, the terrace amazing! The wining feature of this flat and so beautiful to be up there an enjoy the view! Can't believe that we had an ocean view! Please note, as others have mentioned, this flat you need to be well conditioned in walking stairs. Need to walk about 50 (or more stairs) to get to the flat, and then every room is on a different level. The bedroom is nice - first level you come to, with a sink, but the bathroom and kitchen/living room is on the next level (along with a nice breakfast terrace!) Then one more level up is the amazing rooftop. Monterosso was wonderful and loved staying in the old town. Thanks for sharing your flat with us!
Stephanie
2016-08-14T00:00:00Z
Really beautiful, spacious place with incredible location! Private rooftop which has phenomenal views. Check in was really smooth - Rosy's daughter came to meet me in the main square. Really good value given the space. Note there is no wifi which is the only downside. Would recommend staying here.
Steph
2016-08-09T00:00:00Z
We loved our time in Monterosso and in Rosy's apartment. The apartment was big, very clean and right in the historic centre of Monterosso. It was a stones throw to the supermarket, restaurants and the start of the walking trail - perfect location. The bed was comfortable, and the roof terrace was a great spot to read a book/have a glass of wine in the evening. Rosy was also very welcoming and helpful. She responded quickly to our messages and offered to bring us an extra blanket when it was cold. Thank you Rosy!
Emma
2015-09-26T00:00:00Z
Amazing place to stay for few days or more. Located jn one of the most beautiful cinque terras. The location is divine. Amazing restaurants, coffee shops and bakeries only short walk away. Rozy is so nice and helpful too. We are definitely coming back.
Martin
2016-06-29T00:00:00Z
Rosy was a lovely host - very friendly and easy to communicate with! Her place is nicer than the pictures show, and the terrace view is unbeatable. So beautiful and right in the middle of Monterrosso action - close to it all. I would go back.
Chelsea
2016-03-12T00:00:00Z
Oda Tipi
Tüm ev/daire
---
Mekan Türü
Daire
---
Konaklayacak Kişi Sayısı
4
---
Yatak odaları
Monterosso Al Mare, Liguria, İtalya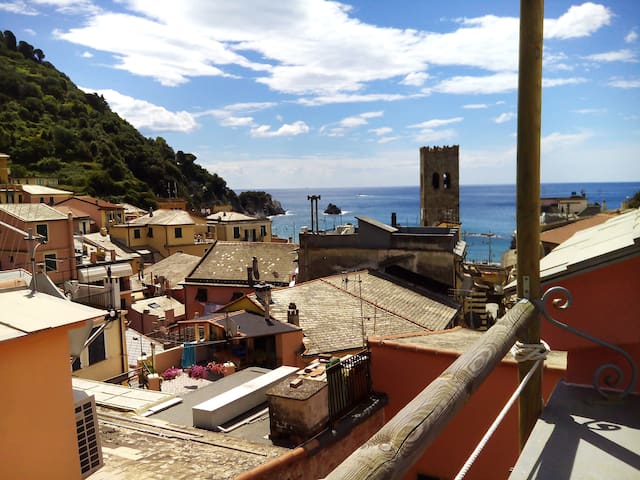 Large apartment with bedroom, toilet, kitchen with table, living room with 2 beds. A large balcony with view on historical village and sea. It comfortably fits up to 5 people (1 double bed, 3 single beds).
Large apartment with bedroom, living room with two beds, bathroom and big kitchen with dining area. The view from the balcony is excellent: the old village, the sea and the old monastery of Cappuccini on the hill. A spacious balcony by the living room, is ideally placed to enjoy the sunset. The apartment is well structured,with night area bordering a calm garden of olive trees, and luminous living room thanks to access to the balcony. Since 2015, completely renovated bathroom and kitchen, and heating system now available.
The apartment is located within the old village of Monterosso, along the main street (via Roma). Few steps away from the apartment, you will find the typical small streets and buildings of the Cinque Terre, a wide selection of bars and restaurants where you will be able to taste the extraordinary local food. The beach is at walking distance, 5 minutes away.
Giulio's apartment was perfect for what we were looking for. Had a nice view and was close to the center of Monterosso. They're not kidding with the number of stairs - getting up to the apartment with your luggage is a work out! But definitely worth it. Teresa was helpful but she does not speak English well. Luckily we had someone with us that could get by in Italian - otherwise it might have been a little more difficult. Overall, a great stay!
Michelle
2016-09-27T00:00:00Z
We had a fantastic time staying in Giulio's apartment and he and Teresa (who lives downstairs) were very helpful and friendly; we would recommend this apartment to any family although remember there a lot of stairs to climb! The apartment is in a great location and is lovely and spacious with a new kitchen and bathroom. We were very glad that we stayed in Monterosso as it has more restaurants and facilities than the other villages. You won't be disappointed if you decide to stay here. Thank you and enjoy!
Alice
2015-04-15T00:00:00Z
Great apartment situated in the heart of the town. Just a 10 minute walk from the train station in Monterosso. The stay would have been perfect if not for the screaming baby/toddler above us! She screamed all day and all night and the parents were not able to quiet her which prevented a solid night of sleep. Otherwise it was great. Older guests and those not in great shape should be aware that there are 12 flights of stairs you must walk up and down, as there's no lift. It was pretty difficult getting our luggage up and me and my friend are in pretty good shape. This would probably be a problem for older guests. Great spot overall!
Kevin
2015-10-06T00:00:00Z
Giulio was a great host. His neighbor Teresa let us in early so we could drop our luggage off, so helpful! There is a nice view from the balcony. The room was clean and modern, we had five adults and it was cozy, but it was wonderful!
Frances
2016-09-21T00:00:00Z
Great hosts, very nice apartment! We enjoyed staying in sleepy Monterosso in December, and living a bit like the locals certainly contributed to the experience. Climbing the stairs was also part of the experience as well as the great view from the balcony and the nicely refurbished kitchen and bathroom. The children particularly liked the fish on the wall! The small problem we had with the heating was kindly and efficiently solved with the help of Giulio's father. The locations was perfect for walking and also to get our morning coffee from a local bar. And of course we did not expect the little shop across the street to be open at 8am as promised the day before. Great place, kind hosts - truly recommended!
Zsuzsa
2016-12-11T00:00:00Z
Staying in Monterosso is really perfect to visit Cinque Terre. Guilo's house is very comfortable for the 5 of us. It is very clean and cozy but just prepare to climb up 5 level of steps to have the sea view. The rest is perfect! We are surrounded by lovely restaurants and villages are so charming.
Christine
2015-05-01T00:00:00Z
This apartment was fantastic! We appreciated the well-stocked kitchen, especially so we could make our own breakfast each morning and eat on the balcony. Also, we were so grateful for the washing machine! Giulio was great in sending very helpful information ahead of time. Teresa, the contact once you are in Monterosso, doesn't speak English, but the process of checking in and out was smooth - we just gave her a call when we arrived. Getting to the apartment is pretty easy - it's a 7 min walk from the train station. As other reviewers have noted, there are about 130 steps up to the apartment. It's a great location, and we were really glad we picked Monterosso among all the Cinque Terre towns. Thanks for a wonderful stay!
Brooks
2016-05-30T00:00:00Z
Our experience was simply fantastic ! Starting from the instructions mentioned on how to Find apartment are really easy. Giulio's father is a nice person & helped us with lot of information. Most important thing we liked about the apartment is the interiors.Decor is done tastefully. Last but not the least this apartment is in the most beautiful town of moterosso amongst five.Giulio response is lighting quick on airbnb.Only possible downside could be climbing up 5 floor if you are carrying heavy luggage, however we didn't mind one time effort So overall a great place to stay!
Rahul
2015-06-05T00:00:00Z
Oda Tipi
Tüm ev/daire
---
Mekan Türü
Daire
---
Konaklayacak Kişi Sayısı
5
---
Yatak odaları
Monterosso Al Mare, Liguria, İtalya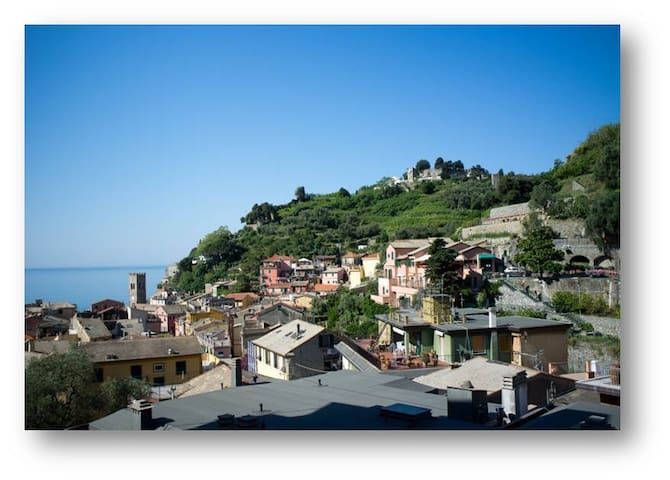 Our apartment is very nice for a family. It is located in a Residence, in a green area very closed to the beach. In the kitchen there is a little cooker induction a coffe express machine a little fridge. In living room you could find a table for breakfast and lunch/dinner. You can reach the apartment with taxi or private car. We don't have a park area, but you could park in a pay parking in Fegina area. You could bring your animals.
In a green area on the hill of Monterosso, 10 minuts by the beach
This was a great place to stay in! Me and my travel partner came in very late into town, and the landlord was extremely accommodating. The apartment itself is very close to the beach. It is in a quiet and safe neighbourhood. The place itself was very nice, cozy and quaint. I felt like I was in a home away from home. Highly recommend it!
Sabrina
2016-09-11T00:00:00Z
Buona accoglienza,comoda ai servizi, in posizione silenziosa lontana dalla ferrovia. Nell'insieme una buona esperienza!
Raffaela
2016-09-19T00:00:00Z
Lovely and helpful host. The apartment is clean, cosy and only a short walk to the main area of Monterosso's beach and bars. A great vacation spot!
Ronan
2016-09-15T00:00:00Z
Oda Tipi
Tüm ev/daire
---
Mekan Türü
Daire
---
Konaklayacak Kişi Sayısı
4
---
Yatak odaları
Monterosso al Mare, Liguria, İtalya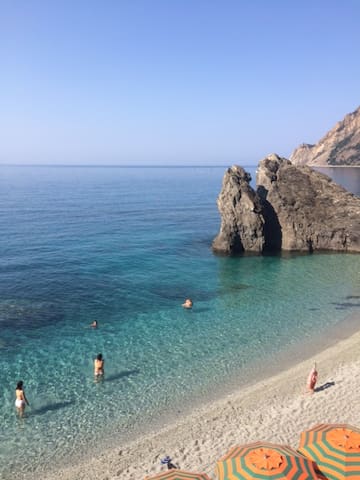 Immersa tra gli ulivi, appena fuori dal trambusto estivo del paese e a pochi passi dalla spiaggia di Monterosso, Casa Bibi è un moderno appartamento per 4 persone, appena ristrutturato con amore. Sono a disposizione degli ospiti una camera, un soggiorno con cucina, un terrazzino aperto su un panorama meraviglioso e tutti i comfort di una casa completa. Casa Bibi è felice di accogliere tutti coloro che possano apprezzarla e che abbiano voglia di vivere le Cinque Terre con un pizzico di modernità.
Casa Bibi è un stata appena ristrutturata con con qualità e con uno stile contemporaneo attento alle caratteristiche specifiche dell'appartamento come la luce, la vista mare e la funzionalità degli spazi.
Casa Bibi è situata in un palazzo a circa 500 mt dalla spiaggia e dalla stazione, in una zona collinare molto suggestiva, caratterizzata da uliveti e tipiche coltivazioni a terrazzamenti.
Oda Tipi
Tüm ev/daire
---
Mekan Türü
Daire
---
Konaklayacak Kişi Sayısı
4
---
Yatak odaları
Monterosso al Mare, Liguria, İtalya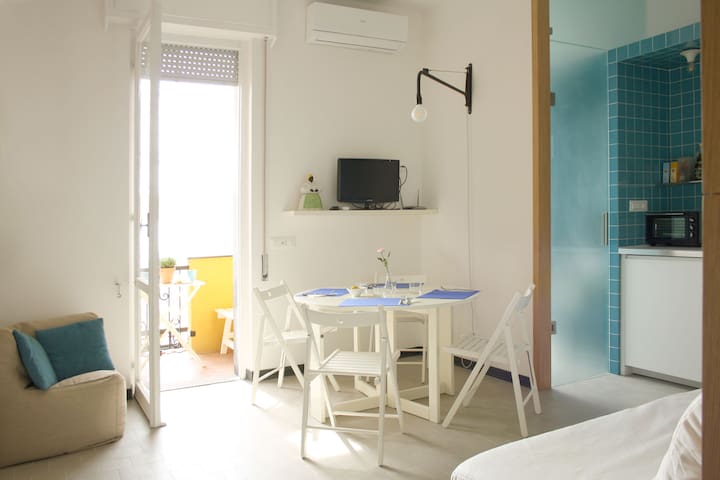 Il mio alloggio è nel centro storico di Monterosso nelle 5 Terre a soli 100 metri dalla spiaggia e dal molo, comodo per il trasporto pubblico (stazione ferroviaria) e taxi. Ti piacerà il mio alloggio per questi motivi: abitazione caratteristica e completamente ristrutturata con ingresso indipendente.
L'alloggio si trova in un caratteristico vicolo che parte dalla piazza centrale di Monterosso, silenzioso e poco affollato, rimanendo comodo a tutti i servizi: bar, ristoranti, panificio, supermercato, spiaggia a soli a 100 metri. Potrai vivere l'esperienza della vita del luogo, le sue cantine, le abitudini dei suoi abitanti.
Oda Tipi
Tüm ev/daire
---
Mekan Türü
Daire
---
Konaklayacak Kişi Sayısı
4
---
Yatak odaları
Monterosso al Mare, Liguria, İtalya
PANORAMIC APARTMENT IN FRONT OF THE SEA, FIVE LARGE WINDOWS, THIRD FLOOR IN HISTORICAL BUILDING, ONE ROOM WITH DOUBLE BED, LIVING ROOM WITH SOFA THAT CAN BECAME EASILY A DOUBLE BED, BIG KITCHEN AND LIVINGROOM, BATHROOM.
We had a great week at Marco's place in Monterosso. The location of the flat of course is amazing. The flat is of generous size (2 adults 2 kids), the kitchen equipped with generous supplies. The beds and bathroom are maybe not "hotel standard" - especially the pull out chairs I would not recommend for adults. The trains mentioned by others are noticeable but not an issue for us. Worth noting: a car is of no help in Cinque Terre - and parking it for a week in the public parking will cost you 90 Euros. Monterosso seemed like a great choice among the CT villages, given that it has a great beach and a little more to explore than maybe the others - we hiked to Vernazza, Corniglia. All in all a great stay - totally recommended for folks who are willing to trade in some hotel-like impeccability for a 5-star location.
Thomas
2015-10-11T00:00:00Z
This place was the perfect location: right on the beach, a close walk to the train station and next to many good restaurants. Marco (the host) made everything very easy once we arrived in town and we loved every minute of cinque Terre. The house is close to the train station so sleeping through the night was hard some nights, but that was nothing compared to the fun and beauty of Monterosso. I absolutely recommend this place to all my friends! Thank you, Marco!
Austin
2016-07-07T00:00:00Z
Very nice appartment with a fantastic view.
Dennis
2015-07-18T00:00:00Z
Gute Lage, nahe beim Bahnhof, sehr praktisch für Reisen mit dem Zug zu den anderen Dörfern, Wohnung ok, aber nichts besonderes, schöne Aussicht, Doppelbett ok, Sofabetten nur für leichte/kleine Personen bzw. Kinder geeignet. Ziemlich laut in der Nacht, da nahe beim Bahnhof. Sympathische Betreuung durch Nachbar Enrico, jedoch nur auf Italienisch.
Denisa
2016-05-08T00:00:00Z
Marco was communicative. Great spot, amazing view and location - train is a little noisy, but if you have earplugs or aren't a light sleeper, it won't be an issue in the slightest. The kitchen is large and well-stocked with all cookery needs. I cannot stress the the view and value of this location is unparalleled.
BJ
2015-10-03T00:00:00Z
Great place! next to the train station & quiet: you just hear the noise of the sea. We really enjoy our trip. Thank you very much.
DUSSAC
2016-10-25T00:00:00Z
The host canceled this reservation 59 days before arrival. This is an automated posting.
Isabelle
2017-03-28T00:00:00Z
Great apartment right on the beach with fantastic views from the kitchen and dining area! Being on the beach and next to the train station we could walk to everything, but it is also not the quietest location. Check in and out was super easy.
Lawrence
2016-09-11T00:00:00Z
Oda Tipi
Tüm ev/daire
---
Mekan Türü
Daire
---
Konaklayacak Kişi Sayısı
4
---
Yatak odaları
Monterosso Al Mare, Liguria, İtalya
This is a cozy 1 bedroom apartment, in a modern condo in Fegina, the newer residential area of Monterosso al Mare. The apartment is conveniently located, at the ground floor with private entrance. The apartment is 5 minute walk from the sea
Dear Amedeo, Thanks for the time at your place. We enjoyed 5T quite a bit. We didn't spend much time at home though. I'd suggest you invest in getting the apartment dry. The mould on the walls is no good and a health risk. I know this will be quite an effort - good luck and best regards, Axel
Axel
2016-06-24T00:00:00Z
Our stay was wonderful! The three of us had plenty of space and the apartment was close to the train station, restaurants, and shops. We had a bit of trouble finding it, but we did arrive in the dark. The Cinque Terre was beautiful, and Monterosso was the perfect base for exploring the area.
Christiana
2017-03-19T00:00:00Z
The apartment was convenient because it was on the ground floor and very close to the beach. Clean, good shower water pressure and towels were provided. No wifi. There were kitchen amenities, although we did not cook. Would stay again!
Jessica
2016-07-17T00:00:00Z
First the booking. Mr. Amedeo was prompt in replying to all my concerns . He also granted my request for a hair dryer and iron. Though we did not meet Mr. Amedeo,his friend Oliver was there to meet us in the apartment. Since we have 4 luggage we opted to take the taxi from the train station ( Euro 10.) But if you travel light, walking is not a problem to the apartment. Apartment was clean and basic. Although there is no AC, temperature inside the room with an electric fan was comfortable. Not sure though if you arrive July or August . It's quiet part of the town and we never had any problem with noise from outside. The only thing we missed is a full length mirror. Otherwise, there is nothing negative to talk about Mr. Amedeo's apartment. Would highly recommend for couples. More than two people is I guess a bit crowded. A few meters from the apartment are hotels. Adriana and 5 Terre. Forgot the others. We had dinner ( by reservation) at a nearby fine dining resto called Miky. Food was great! Beach is right down the train station. Thank you Mr. Amedeo for making our Cinque Terre vacation stress free and memorable one.
Maria Concepcion
2016-09-04T00:00:00Z
The host was very accommodating in helping us find the apt - his mother came to where we were and walked us up to the place. The apartment is cute but not very large so best used as a place to shower and sleep. The location is pretty and at the end of the road where it should be quiet but gets active pretty early - not a problem if you're an early riser.
Avis
2016-07-01T00:00:00Z
We loved staying in Monterosso. The lazy beach vibe was just the respite we needed from the busier places we had been. The apartment was simple, clean and easy to get to from the train comparably to those staying on the older side of Monterosso. Amadeo and his friend Oliver were so accommodating when I messed up our arrival time twice! Thank you.
heidi
2016-09-18T00:00:00Z
This is a nice apartment for 3 people near the end of a quiet, residential road but still just a few minutes (4-5) walk from the water, train station, and several restaurants and bars. The city centre is only a few more minutes away (5-6 more) by foot. The kitchen is small but functional if one wanted to do some cooking. For the adventurous, the apartment is situated very near the start of the hike to Levanto. For the beach goers, there are beach towels available! Amedeo was very responsive leading up to the stay and handled the one minor request during the stay (needed a corkscrew!) within minutes. This is a great option for a visit to Monterosso!
Jonathan
2016-05-22T00:00:00Z
We were met at the flat by Amedeo's mother who showed us around and explained very clearly what was what. The flat was clean and efficient, a hob, fridge and well fitted shower room with good water pressure. The bed is large and comfortable and the front room is light and airy. It is a five minute walk to the beach where the water at this time of year is warm and clear. We stayed for a week and had a wonderful time and would not hesitate to return.
Chris
2016-07-15T00:00:00Z
Oda Tipi
Tüm ev/daire
---
Mekan Türü
Daire
---
Konaklayacak Kişi Sayısı
4
---
Yatak odaları
Monterosso al Mare, Liguria, İtalya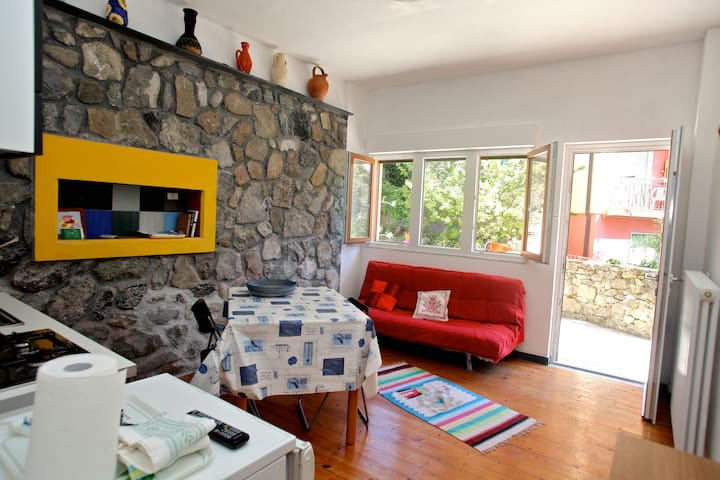 Apartment in the old town, near the beach and the parking lot. Close to restaurants, bars, supermarket, bank, post office, pharmacy. You will find a sheltered and shaded terrace in which to eat and unwind. quiet and cool rooms.
The apartment is equipped with TV, washing machine, electric oven, toaster, blender, iron, sheets and towels for bathroom and kitchen.
Die Wohnung hat alles was es braucht für schöne Ferien: saubere und praktisch eingerichtete und ausgestattete Räume, ein kleiner Balkon und man befinet sich mitten im kleinen Städtchen, nahe bei Meer und Bahnhof. Daniela hat uns sehr herzlich empfangen und sich Zeit genommen für uns. Danke!
Lena
2016-10-07T00:00:00Z
Nice apartment in perfect location. Daniela was friendly and sevice minded.
Andreas
2016-07-02T00:00:00Z
Daniela gave us good directions to the apartment and met us there, and showed us around and explained how everything worked. There were fresh towels (and beach towels) for us to use and even chocolates on the pillows! The photos and the description are accurate, if anything, the apartment is a little more spacious than appears. The location is good too, it's on the far side of Monterosso from the railway station - about a 10 minute walk. And from the beach about a 5 minute walk. It's set back a bit from the main drag, which is good as it's nice and quiet. It's next to a supermarket and laundrette, which is useful. There's no wifi, but that didn't bother us. A really great place to stay if you are exploring Cinque Terre and the coast.
Sotiris
2016-05-30T00:00:00Z
Beste Lage, am Rande des Zentrum und daher ruhig. In 2 Minuten im Zentrum; in 5 Minuten am Strand. Sehr sympathische Vermieterin. Schmucke "Innenhof-Terrasse".
DANIEL
2016-09-24T00:00:00Z
Scrivo in inglese perché è mia madre lingua. Però mi sono trovato molto bene qui. Daniela and Ambra welcomed me to the house and explained everything carefully. They were very helpful. The apartment was well located, and had everything I needed as a base to go hiking and swimming. Thank you Daniela and Ambra
Eddo
2016-10-02T00:00:00Z
Bon emplacement dans la ville à proximité des commerces, gare et plage à 10 - 15 minutes. Parking à côté mais cher (25€ par jour) sinon loin sur la route (en octobre). Appartement propre et bien équipé. Salle de bains, cuisine petites. La terrasse permet un bon espace de vie mais pas utilisable en octobre.
GHISLAINE
2016-10-17T00:00:00Z
Daniela è un host attento e premuroso, la casa ha tutto l'essenziale per un bel soggiorno oltre ad essere estremamente comoda sia per la spiaggia che per i servizi che ha nelle vicinanze. L'unico difetto della casa è che è un po fredda non battendoci mai il sole, ma il mini terrazzino è un elemento che lo rende molto vivibile.
Giovanna
2016-06-26T00:00:00Z
Daniela was very welcoming, polite and professional. The apartment was clean and functional. The beds were comfortable and the table outside a perfect place for breakfast and dinner in the fresh air. If you come with a car be aware that parking on the street is very limited in the area (the village is closed to traffic) but there is a parking garage nearby where it is possible to find a place with some patience.
Sandra
2016-07-24T00:00:00Z
Oda Tipi
Tüm ev/daire
---
Mekan Türü
Daire
---
Konaklayacak Kişi Sayısı
4
---
Yatak odaları
Monterosso al Mare, Liguria, İtalya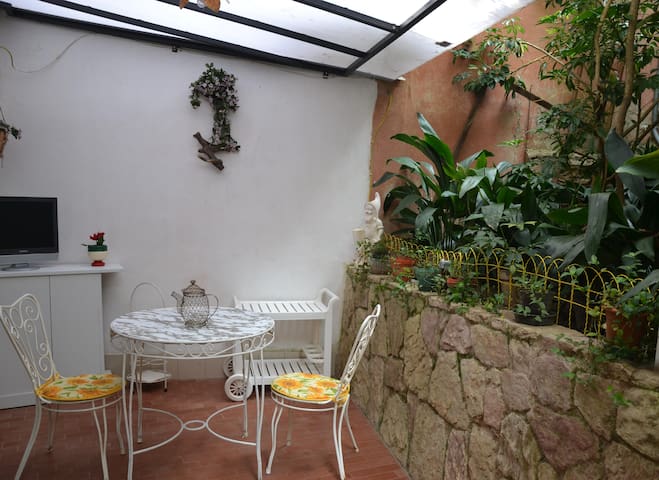 1

–

18

/

300+ Kiralık Daire
Tam fiyatlandırmayı görmek için tarihleri görün. Ek ücretler uygulanır. Vergiler ilave edilir.