Appartamento nuova costruzione in zona residenziale immerso nel verde a 10 minuti dal mare,15 dall'aeroporto di Fiumicino e 20 minuti dal centro di Roma. Stanze climatizzate con parquet e bagni annessi di cui uno con idromassaggio,cucina con balcone. Ampio parcheggio con possibilità di garage.
Great experience. Great location to reach Rome and airport by car in few minutes (20/30 mins). Clean apartment in a quiet neighborhood. Marina is a great host. We'll be back for sure.
Alessandro
2016-05-27T00:00:00Z
Bellissimo appartamento dotato di tutti i comfort, in una zona tranquilla e molto bella.Siamo stati accolti con molta generosità e gentilezza. Consiglio a tutti questa esperienza!
Paola
2016-07-25T00:00:00Z
The host canceled this reservation the day before arrival. This is an automated posting.
Valter
2016-05-19T00:00:00Z
Very good host and a great place to stay not far from the airport. We really enjoyed the quiet neighborhood. 7/10
Fabienne
2016-07-06T00:00:00Z
This is a lovely and well presented apartment in a quiet, leafy suburb of Rome, only 25 minutes' drive from Fiumicino Airport. Anne Marina went above and beyond the call of duty to help with our arrival and make us feel at home. There is a great little supermarket (Carrefour) and other shops only 10 minutes walk down the road (Via Gorgia di Lo(SENSITIVE CONTENTS HIDDEN)). A great place to use as a base for your travels in Italy, after arriving in Rome.
Chris
2017-01-02T00:00:00Z
We spent 1 week in Anne Marina's apartment. It was very clean and cosy. We had at our disposal everything we needed. The best to do in the evening was to dine on the balcony, as it was cooler as in the kitchen. By car you can reach the beach in 10 min , but by bus in ca. 40 min. For us it was a 5 out of 5 apartment.
Margareta
2016-08-11T00:00:00Z
Marina è stata molto gentile, ci ha accolto con simpatia e professionalità. L'appartamento è molto bello e luminoso. La zona è tranquilla e fuori dal caos cittadino, oltre che vicino al litorale di Ostia. Esperienza molto positiva. Soggiorno consigliatissimo.
Stefano
2016-05-10T00:00:00Z
We stayed here with 4 people. Nice and clean apartment on very practical location: - 15 minutes by car from beach - 15 minutes by car from metro with free parking (from there it's only 15 minutes to major highlights Rome) - 25 minutes by car from airport Fully air conditioned and wifi (don't forget to check wifi on arrival). Anne Marina was very friendly and helpful. Thank you for a great stay Marcel and family
Marcel
2016-08-24T00:00:00Z
Oda Tipi
Tüm ev/daire
---
Mekan Türü
Daire
---
Konaklayacak Kişi Sayısı
4
---
Yatak odaları
Roma, Lazio, İtalya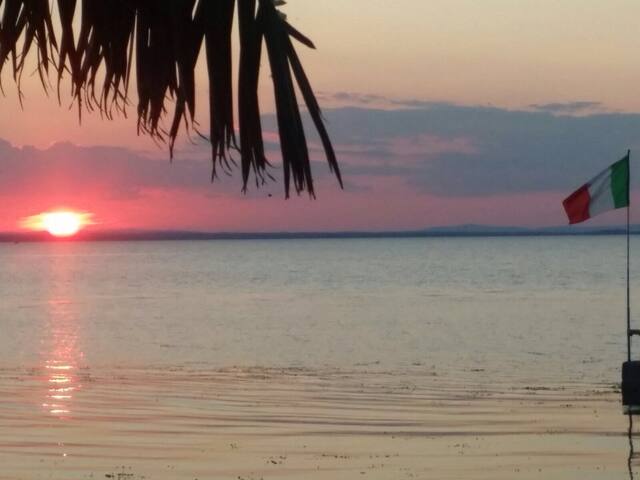 Appartamento finemente ristrutturato nel cuore del verde, dotato di tutti confort A 20 minuti dal centro di Roma , a dieci dal mare e dagli scavi di ostia antica. Adiacente a zona commerciale e a fermate dei mezzi pubblici.
Nice and cleaning apartment. Ennio is a friendly host. only problem for us was that it is to far from city center with public transport
Asger
2016-10-03T00:00:00Z
Host gentile e disponibile. L'appartamento si trova in una zona tranquilla da quale si può raggiungere facilmente il centro della città.
claudiu valentin
2017-01-23T00:00:00Z
Very good host! Great apartments!
Борис
2017-04-03T00:00:00Z
Appartamento che rispecchia perfettamente la descrizione presente. L'host è stato veramente eccezionale a partire dall'accoglienza nella quale ha descritto perfettamente tutto ciò che era presente in casa ma anche perche ha soddisfatto tutte le nostre richieste: dalla culla del bambino allo scalda pappe ecc.. il quartiere è veramente eccelso pieno di verde e con tutti i servizi vicino a partire dal supermercato aperto 24 ore su 24.
antonio
2016-05-02T00:00:00Z
It was my first stay with Airbnb. Ennio was friendly. Apartament was clean and cozy. I was here with my wife and two children. There is nice bathroom, washer and dishwash. Bus stop to the sea is before apartament. Thank you Ennio.
Vlastimil
2016-07-18T00:00:00Z
le quartier était calme proche des commerces. Un seul bémol, nous n'avons pas pu profiter de la terrasse car elle était envahie de moustiques . La climatisation serait nécessaire.
Thierry
2016-08-06T00:00:00Z
Приехали в Рим на несколько дней с семьей (включая малолетних детей). Выбрали квартиру Ennio по соотношению цена/месторасположение/качество, чем в итоге и остались довольны. Море в 10-15 минутах езды на автобусе, Рим - в 30 минутах езды с 2 пересадками. Сам район хороший, тихий, немноголюдный, в минутах 2 ходьбы находится большой супермаркет, аптека, магазинчики с одеждой, киоски. Также рядом есть церковь с детской площадкой во дворе. Что касается квартиры: любимым местом стал просторный балкон, с которого открывался вид на внутренний огороженный дворик. Хозяин Ennio был на связи все время, гостеприимный и дружелюбный.
Arina
2016-07-28T00:00:00Z
Ottimo alloggio, tranquillo e pulito. Ennio è una persona disponibile e squisita. Molto comodo il parcheggio. Consigliato anche per famiglie.
Alessandra
2017-02-26T00:00:00Z
Oda Tipi
Tüm ev/daire
---
Mekan Türü
Daire
---
Konaklayacak Kişi Sayısı
5
---
Yatak odaları
Roma, Lazio, İtalya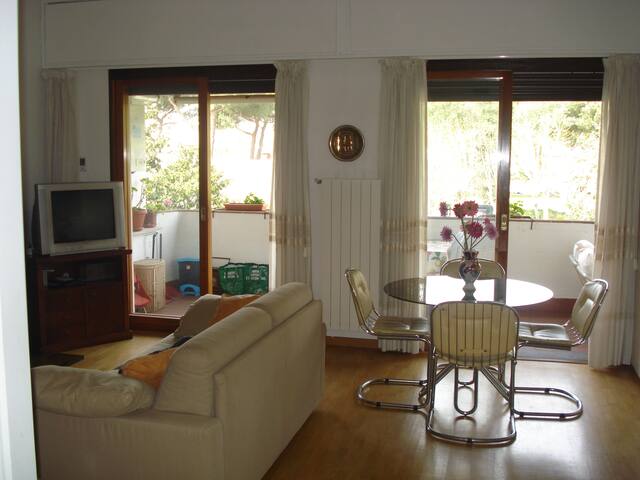 Lovely Flat in Rome, 2 Bedrooms, is only for the guests, few kilometers from the beach and Fiumicino Airport. 10 min from archeological site of Ostia Antica, close to Eur, the business area. Perfect choice if you want to enjoy the city and seaside
This fully equipped quiet flat is located on the 2nd floor, It features air conditioning in whole apartment. There are 2 Bedrooms, one features a queen size bed and the second one has a full sized sofabed ( very confy for 2 guests). There is 1 bath with a lovely shower. It come supplied with towels, a blowdryer, shampoo & bath soap. There is a spacious living room with a 46" plasma Tv, DVD player and library. The kitchenette is well equipped if you like cooking. It includes a dishwasher, refrigerator, gas oven and stove. The table seats 4 comfortably. The apartment has it's own washer and drying racks for your use. There are table and chairs for you to sit outside on your private balcony to enjoy your morning coffee and garden view. If you have a car there is one assigned parking space on the street. Our neighborhood is located in the south part of Rome only 15 minutes from Fiumicino Airport. Once you have settled in and gotten a good nigh's rest there is an abundance of sites to see close by in our little neighborhood. By car you are only 10 minutes from Ostia Antica, a wonderful archeological site dating back to ancient Rome, If you are traveling with children Zoomarine is only 30 minute away. Here you will find Italy's larges marine park with swimming and cinema included. (URL HIDDEN) If you like shopping 20 minutes from the apartment you will find Castel Romano Designer Outlet (URL HIDDEN) Here you will find the best of European and worldwide fashion. If you really want to take a day off we are located 10 minutes from the beach(Ostia). Here you will find the coastline of central Italy. If you are traveling for business this apartment is situated only 15 minutes from Eur, the most important business area of Rome. The best way to see the most well know sites of Rome which include The Colosseum (URL HIDDEN) Fori Imperiali (URL HIDDEN) Vatican (URL HIDDEN) Terme di Caracalla (URL HIDDEN) Sistin's Chapel (URL HIDDEN) ...is via train. All this can be done on public transportation. It is a quick 5 minute to the local bus station that brings you right to the train station. Here you will catch the train to Piramide which is located right in the center of Rome or anyplace that is on your daily itinerary. If you have a car you can also drive and park close to the sites. We are excited to welcome you to our home and Rome! I am here for you if you need me. Otherwise, we are happy to give you your privacy while you are our guest.
Ours is a perfect quiet neighbor if you would like to relax. The area is full of trees and is well kept, clean and safe. You can surrounded by good restaurants, pizzerias, coffee shops, bars and boutiques. You can also rent bicycles for the day and take the bike path to the beach!
Amazing host! Valentine's mom was so helpful for us! She was waiting for us till 1am ( cause your flight was late) and showed us everything! Location is great, flat is very big, secure and has everything you need! The best choice to enjoy real Italy. Thank you, dear Valentina and Alessandra ! We are so grateful for you!
Yulia
2016-05-24T00:00:00Z
Abbiamo soggiornato per quasi un mese nella casa di Valentina per motivi di lavoro e ci siamo trovati benissimo, la zona è molto tranquilla e nel contempo i servizzi sono vicini. L'appartamento è come nelle foto e nelle descrizioni fornito di tutto quello che ci necessitava
Massimo
2016-10-21T00:00:00Z
Alessandra's mom Valentina is wonderful lady! She helped us a lot! Thank you so much! It's a huge problem in this area with busses. You need to rent a car or smth. Flat is great clean and cozy!
Maria
2016-08-10T00:00:00Z
The apartment is beautiful, very comfortable and clean, we felt at home. We all really enjoyed it. . Thank Alessandra for the warm welcome and hospitality.
Марат
2016-06-14T00:00:00Z
Very nice experience and cute apartment. Valentina's mother helped with our check in and was very helpful. The apartment was clean and cozy, located close to the airport.
Katie
2016-07-15T00:00:00Z
We had a wonderful stay at Valentina's place. The apartment is in a very nice quiet neighbourhood. Everything was clean and we felt right at home. We slept very peacefully on the big beds and enjoyed the delicious coffee that we could make with the available percolator. The beach and airport are very close and the center of Rome was easy to reach. We decided to rent a scooter, which makes getting around (especially in busy traffic) a lot easier!
Lars
2015-09-28T00:00:00Z
Soggiorno perfetto! la casa è accogliente, ben pulita e dotata di tutti i comfort. La zona è molto tranquilla. Ottima per cercare un po' di pace, lontano dal traffico
Elisa
2016-07-09T00:00:00Z
Valentinas Wohnung ist super schön und man fühlt sich total wohl. Begrüßt wurden wir von Valentinas Mama, die super nett und hilfsbereit war. Sie hat uns alles gezeigt und bei weiteren Fragen, könnte man sie auch immer anrufen. In dem Ort sind Einkaufsmöglichkeiten, Apotheken, Restaurants, Tankstellen etc gegeben. Zum Meer sind es einige km, aber mit einem Auto gut und schnell zu erreichen. Das einzige was gefehlt hat, war WLAN. Vielen dank und immer wieder gerne :)
Anna
2016-07-28T00:00:00Z
Oda Tipi
Tüm ev/daire
---
Mekan Türü
Daire
---
Konaklayacak Kişi Sayısı
4
---
Yatak odaları
Municipio Roma X, Lazio, İtalya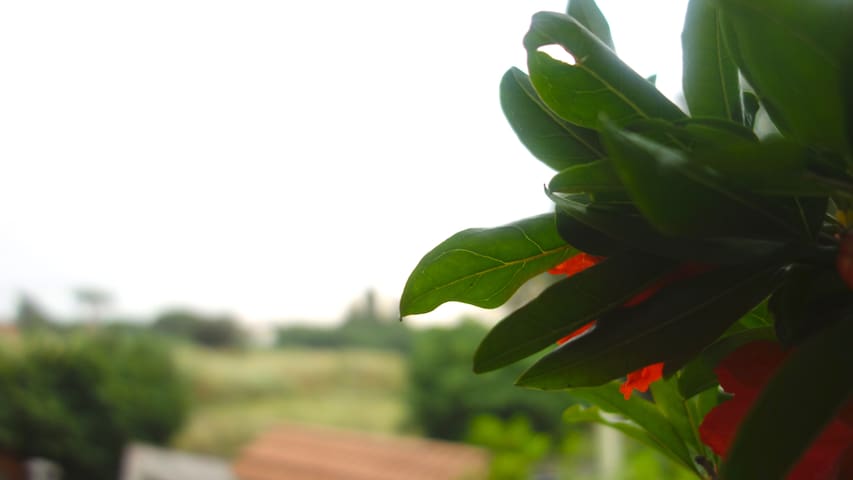 Home away from Home :) Lovely flat at ground floor of the villa is an entire apartment and it is not shared. It is in a perfect location if you want to enjoy Rome and the seaside in the same vacation.
Home away from Home :) Lovely flat at ground floor of the villa is an entire apartment and it is not shared. It is in a perfect location if you want to enjoy Rome and the seaside in the same vacation. 20 minutes by bus to the beach and 20 minutes to reach the metro B in Rome. One sofa bed sleeps is really comfortable, the little kitchen and bathroom are fully equipped and you can even cook bbq in our real fireplace. There is a spacious living room with Tv, and library and fireplace. The flat, deep in the green, is 10' from archeological site of Ostia Antica, close to Eur, the business area. Perfect choice if you want to enjoy the city and seaside Included AMENITIES: Wi-Fi internet, Travel adapters, Hair dryer, Clean towels and bedding, Iron and ironing board. Upon arrival we'll give you maps for the area and travel tips to help you get the most out of your stay. When you arrive at the apartment we will meet you there. At that time we will give you the keys, show you around and are happy to tell you a bit about the neighborhood. There are plenty of places to eat within walking distance. We encourage you to feel home in my flat and to treat it with the respect it deserves.
The apt is in the residential district Axa, a quiet and green area
L'alloggio è carinissimo e molto accogliente. LELA e' gradevolissima ed un host molto disponibile, anche a fronte di imprevisti quali mi sono capitati, la sua collaborazione ha fatto si che il mio soggiorno potesse continuare senza alcun disagio! consigliatissima!
salvatore
2016-02-17T00:00:00Z
appartamento molto carino, in un quartiere tranquillo e pieno di verde. Lela e Gianni sono stati estremamente gentili ed accoglienti! Assolutamente consigliato!
Jacopo
2016-06-17T00:00:00Z
We arrived later than planned and they were very accommodating and waited up for us. The apartment is very cute and cozy with everything you need. There is easy, free street parking and it is only about a 20 minute drive to the airport.
Meagan
2016-05-23T00:00:00Z
Big appartement but unfurtunatelly very small kitchen... We stayed 5 nights but that was a bit long also the bed was ok but 5 nights where to much.. He was very nice and brought us on a sunday to metro station... It was a bit far from Rome, takes about 30 minutes untill 60 minutes...
annet
2016-04-11T00:00:00Z
Lela e Gianni sono stati fantastici. L'appartamento è arredato con stile, molto particolare e accogliente. Curato nei dettagli. L'accesso al giardino , con tanto di simpatiche tartarughe, e veranda immersa nel verde daranno un tocco bucolico e di tranquillità al vostro soggiorno. La rete Wi-Fi è ottima. Non è difficile raggiungere la principale arteria che va da Roma ad Ostia se siete in macchina , e con un poco di cammino potrete raggiungere la stazione per il centro. Consigliato per coppie. Nella fornitissima libreria potrete trovare libri e guide di ogni tipo.
paolo
2016-07-09T00:00:00Z
Appartamento molto bello, pulito e confortevole. Zona tranquilla, Gianni e Lela molto gentili e disponibili! Consigliato!
Carla
2016-03-03T00:00:00Z
Лела и Джианни очень доброжелательные и тактичные люди. Хозяева жили в том же доме, но предоставили нам полную уединенность. Это нам очень понравилось. Принимали нас они очень радушно. Отдельное спасибо за прекрасное вино :) Кухня очень маленькая, это минус, но все, что нужно, там есть, это плюс :) Кровать не очень удобная, это минус. Расположение дома фантастическое. Это плюс. До моря ехать 15 минут, до центра Рима всего 40 минут. Отличный стол для настольного тенниса + ракетки. Можно играть. Парковка великолепная. Вокруг дома прекрасный доступный садик. Несмотря на жару на улице, в доме было находиться очень комфортно. Интернет работал отлично и с хорошей скоростью. Джианни любезно дал нам свои ласты и маску для плавания, а также туристические коврики, чтобы валяться на пляже. И вообще, они очень милые и симпатичные люди :)
Андрей
2016-07-03T00:00:00Z
Relaxing Days in Rom. The huge apartment is all man need for a quiet vacation near the big city. The hosts were very welcoming and had everything ready for my stay, the place is very clean and about 4 minutes by walk there are supermarkets with fresh food that can be cooked in the apartment's kitchen: the kitchen is big enough for one person and comfortable since has everything you need to cook at hand including gas. To go to Rome: if you have a car I recommend you to drive to the station about 1 mile and then take the train about 20min to the center in order to avoid traffic at rush hour. If you come with public transportation, walk extra 5 minutes and take a bus to the station. In (SENSITIVE CONTENTS HIDDEN) maps you can check for the bus and train schedule. A local tip is to take the train 1 station south to Ostia Antica, the archeological excavations of the old port of Rome, which is very well conserved as big as Pompei: plan at least 2h for the visit and don't miss it if you are willing to see some remaining from the roman times. I spent some days on the house just working on my stuff and it is very quiet apartment in a residential area. There is a garden if you want to enjoy the stars at night or just being in the apartment with the doors open listening at the sound of the nature. Traveling with the dog was not a problem, the hosts even had some water ready upon arrival. The bed sofa was OK even for 6 days and otherwise the apartment had everything that I needed. I even had some fruit from the garden upon arrival as well as sparkling water, coffee, sugar, soap... The hosts also gave me tips on how to get to places and were always there when needed. Although there were many days where we did not see each other, I had the feeling they were always there when needed. Highly Recommended to the AirBnB Community!! Miguel Highly Recommended!
Miguel
2016-05-16T00:00:00Z
Oda Tipi
Tüm ev/daire
---
Mekan Türü
Daire
---
Konaklayacak Kişi Sayısı
2
---
Yatak odaları
Municipio Roma X, Lazio, İtalya
Our apartment is part of a beautiful villa with a large garden to relax and enjoy the sunny days.It has a bathroom with shower and washing machine,two bedrooms,a kitchen,a dining room and a very cozy lounge,is situated just 10 minutes from the sea.
Just ten minutes by car from the sea, 30 minutes by car from the City of Rome and is located inside the famous pinewood of Ostia Lido.
Oda Tipi
Tüm ev/daire
---
Mekan Türü
Daire
---
Konaklayacak Kişi Sayısı
5
---
Yatak odaları
infernetto, Lazio, İtalya
La casa è posizionata nel centro residenziale di Casalpalocco, in prossimità degli scavi di OstiaAntica a 5 km dal mare e a 15 km dal centro di roma raggiungibile con la metropolitana non distante dall' alloggio. La posizione offre ai propi ospiti pace, tranquillità e vita all'aperto. L'alloggio dispone inoltre di uno spazio esterno attrezzato per i momenti di relax ed un barbeque. Su richiesta servizio di lavanderia.
Intera casa in prossimita' del mare e di roma.immersa nel verde della pineta di castel porziano ,vicino agli scavi di ostia antica.dotata di tutti i confort
Immersi nel verde del quartiere residenziale di casalpalocco si gode un' atmosfera quiete e tranquilla pur non essendo lontani dalla vita cittadina
Oda Tipi
Tüm ev/daire
---
Mekan Türü
Daire
---
Konaklayacak Kişi Sayısı
4
---
Yatak odaları
Roma, Lazio, İtalya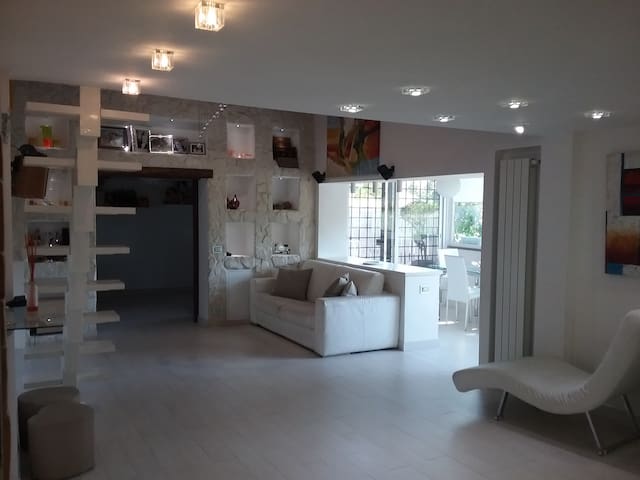 Independent and cozy new apartment, fully furnished, in a villa with garden, close to transport and services, with a park, swimming pool and sports facilities.
The apartment has been completely renovated and is located in a private garden of 1000 meters and a common park of 20 hectares, with sports facilities and swimming pool (summer).
The residential area of Casalpalocco extends between Via Cristoforo Colombo, which separates it from the hamlet of Infernetto, and Via dei Pescatori. The village is equipped with various sports and shopping centers; main feature is the abundant and well-kept vegetation that adorns the streets. Nearby is the shopping center's terraces, a large outdoor center with two floors, with a large variety of shops. 100mt from the house there are the bus terminus for the sea, for the Metro Roma-Lido and the EUR. By bike you can easily reach the Natural Reserve of Castelfusano (10min) and the sea (15min), via a convenient bike path.
Mara and her family were more than accommodating. Highly recommended to the airbnb community. Great stay!
AJ
2017-04-03T00:00:00Z
Oda Tipi
Tüm ev/daire
---
Mekan Türü
Daire
---
Konaklayacak Kişi Sayısı
2
---
Yatak odaları
Roma, Lazio, İtalya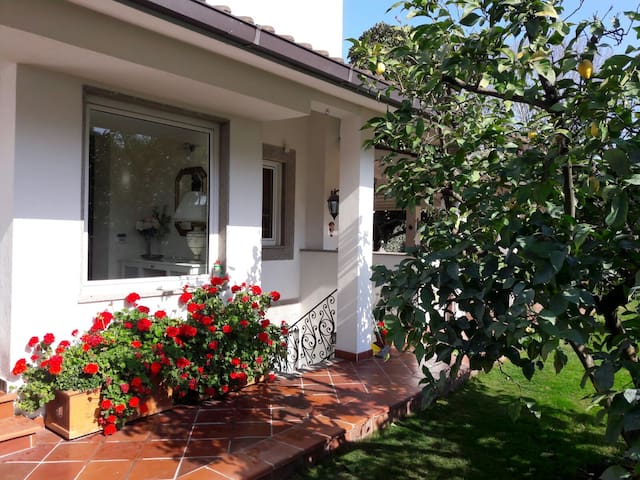 Apartment of 60 sqm. Villa in Casalpalocco, Rome: living room, bedroom, bathroom, kitchen. Fiumicino and Ciampino Airport to 15 and 20 km, beaches and archaeological excavations in Ostia Antica 4 Km, well connected to the center of Rome. Shoppingcentre 50 m. We speak French and English. On request we can provide certified gluten-free packaged foods for breakfast or meals, or information on where to buy them. Guests can use the garden, lay out the stuff washed in the washing machine or park your car in the fenced area. I'm an architect and I can recommend the best routes and also unusual for the discovery of the center of Rome or of archaeological sites around Ostia Antica. The district offers the green corners exceptionally nice and so beautiful walks along the canals. Two outdoor pools accessible from June to September, and tennis courts 150 m. Indoor swimming pool and gym are open all year to 2 km. (Bus 709). The town square with its shops is a short walk from the house, with several banks, pharmacy, supermarket, tobacco, perfume, hair salons, beauty salon, doctor's offices, beautiful clothes shops, several cafes and a restaurant-pizzeria to have on Saturday and Sunday american brunch. There is a bus if you want to go on the free or equipped beaches in Ostia Lido (which is 4 km away.) Or visit the archaeological excavation of Ostia Antica. The 709 bus and then the Metro A and B to reach the center of Rome, Piazza di Spagna, etc. .... On-site you will find new bedding, bathroom and kitchen and what you need to make some coffee or tea.
Vi è un letto matrimoniale, volendo possiamo aggiungere un letto singolo nel salone. A richiesta possiamo fornire alimenti confezionati certificati gluten-free per la colazione o i pasti.
Wanderfull gardens and trees all around. 2 Swimming pool in summer season at 300 mt. The sea 4 km. far.
Oda Tipi
Tüm ev/daire
---
Mekan Türü
Daire
---
Konaklayacak Kişi Sayısı
3
---
Yatak odaları
Roma, Lazio, İtalya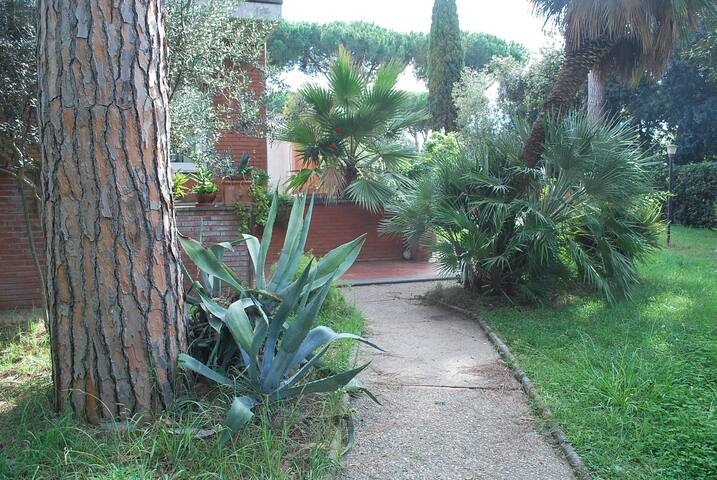 Charming apartment, recently renovated and fully equipped. 15 km from the international airport of Fiumicino, 20 km from the historic centre of Rome and 8 km from the Roman seaside town of Ostia. The apartment accommodates 4 people and is suitable for both long and short stays.
Charming apartment, recently renovated and fully equipped. One bedroom, a large living room, one bathroom, kitchen equipped with fridge, oven, microwave, washing machine and dishwasher. The bedroom is quiet and peaceful; there is a big bathroom with relaxing blue tiles and a large shower with tempered glass door. The living area is cozy and has an old-style fireplace with wooden beams. The open plan kitchen is modern and is fully equipped and furnished with all appliances for those who love to cook at home. In the same building where the apartment is located, there are other two very nice and bright rooms, equipped with air conditioning and Wi-Fi, which can accommodate up to 4 more people. These 8 beds make the entire property very suitable for families and groups.
The apartment is situated in a residential area surrounded by greenery and is adjacent to the Park of Castelfusano, a green pine forest halfway between the historic centre and the sea. Nearby are places of artistic/cultural interest are the archaeological site of Ostia Antica, the port of Trajan and the Villa of Plinio where guests can walk, jog or go for bike rides. In the square adjoining the property there are shops, restaurants, bars, supermarkets, news-stands, chemists, sports centres and swimming pools.
Although we had some problems during our stay in Monica's condo (we didn't get our rental car and wifi had some problems) Monica did everything to help us out. She even gave us a lift a few times so we could get to Rome easily. We experienced a warm welcome from Monica, all the basics were allready there foodwise and she even got some fresh fruit and wine. Thank you Monica for all your good care.
Sonja
2015-07-08T00:00:00Z
We came in at the last minute for one night with Monica. She went out of her way to pick us up at the airport. The suite was very comfortable with its' own entrance and WiFi. There was yogurt and wine in the refrigerator and a raindrop style wonderful shower. The bedroom was quiet with a very comfortable bed. Although there was no A/C, a fan was available which kept the temperature comfortable with the windows open. The unit is very safe and secure. We would highly recommend Monica and would stay with her again when in Rome!
Kevin
2015-09-20T00:00:00Z
L'accoglienza è della proprietaria è stata accogliente e gentile. Sempre disponibile. Purtroppo l'appartamento aveva in condivisione il giardino e sopra abita la proprietaria. Il quartiere ben collegato e tutto a disposizione.
Valentina
2016-08-23T00:00:00Z
L'accoglienza di Monica è stata superlativa! Possiede la qualità di farti sentire da subito a casa. La descrizione del suo annuncio è estremamente fedele alla realtà! Il quartiere è tranquillo e ben fornito di ogni tipo di servizio. Lo consiglio a chiunque, single, coppie o famiglia, che vogliano trascorrere dei giorni piacevoli di relax o per far visita alla capitale trovandosi a pochi chilometri.
Andrea
2016-02-01T00:00:00Z
Monica é stata accogliente e disponibile e ha reso il nostro soggiorno molto piacevole. L'appartamento, dotato di tutto il necessario, spazioso e ben rifinito é situato in una via tranquilla e consente di raggiungere a piedi sia negozi che zone verdi. Data la nostra esperienza, ci sentiamo di consigliarlo vivamente. Massimo e Luisa
Massimo
2015-03-16T00:00:00Z
A perfect house. It is clean and fully equiped. Monica prepared almost everything for us, including fresh fruits, water, wine, yourt, etc. There is a private parking area. That's very convient. Art is everywhere in the house. It is comfortable to live in it and we really enjoyed the time staying in it. In this apartment, We had a perfect last night in Italy. Monica is very nice. She always responded quickly. When we checked in, she showed us the apartment and explained everything detailly. She is a great host.
王
2015-08-12T00:00:00Z
We (two adults and two kids) stayed 2 nights and the appartment. Monica was the perfect host. She had preparred cold wine, juice, cakes and chips at our arrival and was vers helpfull with tips about transport and places to see in Rome. She also arranged transport to the airport and send us on the way 5 o'clock in the morning. She even text us to make sure we were back home safely. Transport by bus back and forth to Rome can be challeging as the bus schedule is non existing. We would recommend the train. The appartment is perfect and is exactly AS the pictures. Very clean and spacius and with all the equitment that you need. We highly recommend Monicas place.
Anne Mette
2016-07-28T00:00:00Z
Thank you again Monica for beeing a great host!! It was super nice in Alicia and the appartment is just impressive. Congratulation for preparing it in such a cosy way. It's a perfect spot. We felt like home and would have stayed longer if we could ;-)
Mate
2015-05-19T00:00:00Z
Oda Tipi
Tüm ev/daire
---
Mekan Türü
Daire
---
Konaklayacak Kişi Sayısı
4
---
Yatak odaları
Axa-Casalpalocco-Acilia-Castel Fusano-Ostia Antica-Ostia, Lazio, İtalya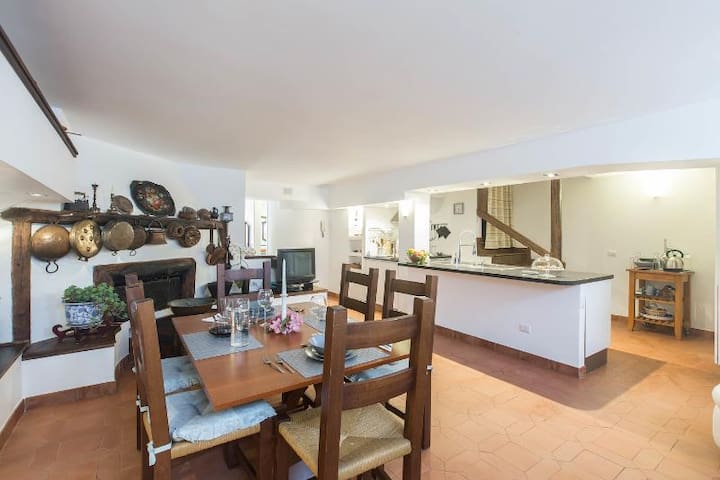 Il mio alloggio è vicino a l'aeroporto e trasporto pubblico. Il mio alloggio è adatto a coppie, avventurieri solitari e chi viaggia per lavoro.
a ridosso di una villetta circondato da 700 mq di giardino appartamentino confortevole e pulito di 24 mq cucina stanza e bagno sullo stesso piano, completamente arredato e inaugurato ad agosto 2016. La cucina comprende lavello, frigo, piano cottura ,forno, lavatrice macchina x il caffè professionale, pentole, posate, piatti, bicchieri, etc. La stanza è equipaggiata con letto matrimoniale o 2 singoli (su richiesta),materassi e cuscini in memory foam, nell' armadio troverai il ferro, l'asse da stiro e le coperte, (ogni 2 giorni facciamo il cambio del letto e degli asciugamani).nella stanza troverai una postazione internet da scrivania con i programmi più in uso tipo. Le prese a muro sono corredate di attacco usb dal voltaggio ottimizzato x il tuo tablet o smartphone (5V 1200h) quindi ti basterà avere solo il cavetto usb senza il trasformatore. Troverai un condizionatore da regolare a piacimento e un rilevatore di fumo x la tua sicurezza.D'inverno starai al caldo grazie anche ai radiatori centralizzati presenti nei tre (URL HIDDEN) bagno è completo di lavabo, bidet, vaso e box doccia.Troverai carta igienica, tappetino, phon, 3 dispencer già carichi rispettivamente di shampoo, sapone intimo e sapone x le mani e viso quindi un set di 3 asciugamani x persona. Nell'appartamento è rigorosamente vietato fumare, ma in giardino troverai un tavolo con il posacenere, oltre ad un barbecue a tua disposizione. Insomma abbiamo pensato quasi a tutto per farti passare momenti di relax, abbiamo anche pensato che ti faccia piacere avere a disposizione 2 biciclette,dovrai pensare solo al cibo ma non è un problema poiché in zona ci sono molti supermercati. In più io e mia moglie saremo lieti di consigliarti dove fare acquisti o dove mangiare. A malincuore non possiamo accettare gli amici a 4 zampe...
Siamo prevalentemente nel verde a 5 minuti dal mare (in auto), quindi potrai andare alle spiagge di Capocotta oppure di Ostia Lido. Altrimenti in 30 minuti (dipende dal periodo e dagli orari) sei al centro di Roma, oppure in 15 minuti all'aeroporto di Fiumicino. L'appartamento dista circa 500 mt dai trasporti pubblici.
Очень чистая, уютная и комфортная квартира. Есть все необходимое для комфортного проживания. И хорошая парковка во дворе. Хозяева очень радушные, заботливые и приятные люди. Очень рекомендуем!
Анастасия
2016-09-27T00:00:00Z
Con Fabrizio ti senti subito a casa. Appartamento caldo, accogliente e pulito. La gentilezza è di casa e non potevamo chiedere di meglio. Grazie Fabrizio
Massimo
2016-12-29T00:00:00Z
Semplice,completo,pulito e accogliente. Un we perfetto! Posto accogliente e zona tranquilla ma in una posizione molto comoda!
Samuela
2017-01-15T00:00:00Z
Location perfetta per un po' di relax fuori roma. Gran pulizia con attenzione nei particolari come asciugamani profumati riposti in confezioni in plastica. Ambiente rilassante con possibilità di parcheggio privato all'interno del cortile a 5 metri dall'appartamento. Disponibilità cortesia e gentilezza fanno dei proprietari un mix perfetto per un ***** lux. Grazie di cuore Fabrizio
Vincenzo
2017-02-24T00:00:00Z
Fabrizio and his family are warm hearted people. My daughter and i have been feeling there very good. It was all like on the photos and the webpage. We are sure back !!!!!
Olaf
2016-10-18T00:00:00Z
Fabrizio's apartment is located in a nice quite location in Ostia/Italy, communicating with him was very easy. There's a bus station located just 500 metres (5-10) minutes walking, you can take that to Ostia Central Station(20 minutes) then the metro to the heart of Rome (20 minutes). The room was very clean and comfortable. We found a couple of pastries, water, milk coffee and tea waiting for us when arrived. Now the best part is "Fabrizio" himself, he's very kind and helpful, he fetched us from the station, made us the best Italian coffee we ever tasted, qdrove us to Rome the 2nd day and gave us a lift to the Airport the last day. What an amazing friendly host really. We would definitely recommend his apartment to everyone & visit him again on our next trip to Rome. Well done, thanks for making our trip safe & fun.
Ahmad & Aya
2016-10-08T00:00:00Z
Hosts were very pleasent for us. Fabrizio helped us to get to the apartment from Rome central train station and also helped us to get to Rome EUR metro station when we were returning home. We found in the kitchen some basic food products (olive oil, coffe, milk and tasty crossaints). Host even showed us how good he really is in cooking and we have tried some of his favourite dishes. The place was clean and our towels and bedding were frequently changed (approx. each two-three days). Overall, the apartment and the host are substantially over the average we have seen on this site.
Mikołaj
2016-09-02T00:00:00Z
Really nice, new and clean flat! Perfect for holidays if you want to go to the beach (good bus connection to Ostia) and it's easy to go to Rome by bus and metro. Fabrizio and his family are great and you feel really welcome. They helped us a lot! I recommend you this pretty flat if you look for a quiet atmosphere were you can relax. Thank you for the great time Fabrizio!!
Benjamin
2016-09-16T00:00:00Z
Oda Tipi
Tüm ev/daire
---
Mekan Türü
Daire
---
Konaklayacak Kişi Sayısı
2
---
Yatak odaları
Municipio Roma X, Lazio, İtalya
Bellissimo e tranquillo comprensorio privato. L'appartamento è indipendente e ben arredato, con camera da letto matrimoniale, soggiorno con camino, cucina e tavolo da pranzo, grande bagno con vasca / doccia. Patio accogliente fornito di tavolo.
Nel soggiorno sono presenti divano e TV led 42 pollici. La cucina completamente attrezzata comprende anche frigorifero, forno, lavastoviglie e lavatrice. L'appartamento è dotato di riscaldamento, servizio internet e free WiFi. E' corredato di biancheria da bagno e da letto.
La zona in cui si trova l'appartamento è ad un quarto d'ora di auto dall'Eur da dove si può prendere la linea B della metropolitana per arrivare direttamente a Roma centro ed alla stazione Termini, inoltre è a soli dieci minuti dal lido di Ostia con spiagge e stabilimenti balneari, e a 20 minuti dagli splendidi scavi di Ostia antica. L'aeroporto di Fiumicino "Leonardo da Vinci" dista solo 15 Km.
Siamo stati veramente bene. La signora Eligia è stata molto gentile e disponibile e per noi è stato un piacere conoscerla. La casa è molto ben attrezzata e ben curata anche nei dettagli e rispecchia esattamente la descrizione su Airbnb. Per noi la posizione era perfetta, perchè situata vicino il mare (Lido di Ostia) e anche il centro di Roma è comodamente raggiungibile con la macchina. Ci ritorneremmo molto volentieri.
Davide
2016-09-18T00:00:00Z
Siamo stati solo 2 giorni ospiti di Eligia. E dico solo 2 perche saremmo rimasti volentieri per tutto l'anno. Non ci sono parole che possano davvero descrivere la nostra soddisfazione, ma penso che il termine ECCELLENTE sia quello che più rappresenta Eligia e la sua casa. La prossima volta a Roma saremo suoi ospiti e per un periodo più lungo per goderci appieno l'appartamento. Anche la zona ed in particolare il complesso residenziale nel quale si trova Eligia, merita una nota più che positiva per la sicurezza (il complesso è recintato e solo i residenti possono accedervi), per la vicinanza all'aeroporto di Fiumicino e per la "Cristoforo Colombo" che permette di spostarsi facilmente anche per chi Roma la conosce poco.
Francesco
2016-10-11T00:00:00Z
Гостеприимство супер, Квартира соответствует цене и качеству
Aleksandr
2016-08-24T00:00:00Z
Eligia è una persona disponibile e a modo. È stata molto gentile e precisa a spiegarci tutto il necessario, la casa è accogliente e dotata di tutto ciò che serve. La casa è a 5 minuti di macchina da Lido di Ostia ed è vicina a diversi supermercati. Consiglio vivamente l'appartamento di Eligia!
Erika
2016-07-27T00:00:00Z
La signora Eligia è stata gentilissima fin dal primo giorno,discreta e ha sempre soddisfatto ogni mia esigenza.Consiglio questa sistemazione,la zona è molto tranquilla e silenziosa e la casa è molto più bella che in foto!accogliente e completa di tutti i servizi!Grazie ancora!
valerio
2016-01-07T00:00:00Z
Eligia è stata un host esemplare: gentile e disponibile. Vorrei farle i complimenti per la casa, che è veramente bella e ben attrezzata, e collocata in un contesto bellissimo.
Valter
2016-05-09T00:00:00Z
Eligia è stata molto disponibile. Un Host fantastico! L'appartamento è veramente bellissimo., complimenti!
Iwona
2016-06-29T00:00:00Z
Nice stay , wonderful location nearby the Sea ,Historical Park of Ostia Antica ,Fiumicino Airport. The house is new in a residential area , quite and green. You need the car , but I really enjoyed my stay. Eligia was very kind and provided for a warm welcome upon the arrival.
Simon
2016-04-05T00:00:00Z
Oda Tipi
Tüm ev/daire
---
Mekan Türü
Daire
---
Konaklayacak Kişi Sayısı
2
---
Yatak odaları
Roma, Lazio, İtalya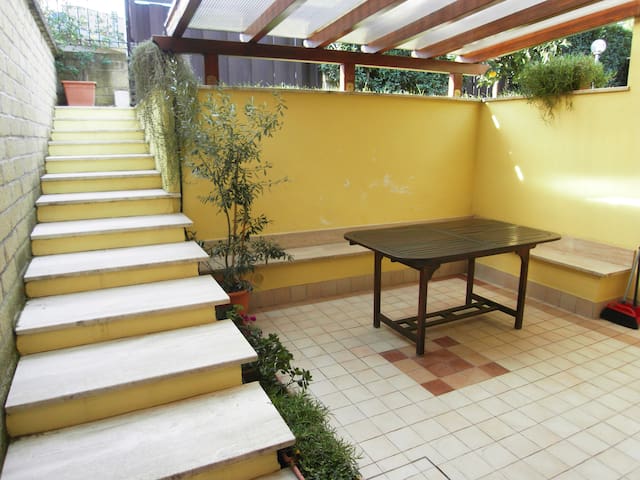 Il mio alloggio è vicino a mare, trasporto pubblico, parchi, ristoranti, bar, pasticceria, aeroporti, beach, public transport, parks, restaurants, rome airports. Ti piacerà il mio alloggio per questi motivi: la posizione, terrazzo, position, terrace, relax. Il mio alloggio è adatto a coppie, avventurieri solitari, chi viaggia per lavoro e famiglie (con bambini).
Whole apartment and huge terrace all for you
Close to Rome city center (25 minutes by car or 40 by public transport) Close to the sea (10 minutes drive or 25 by public transport) Walking distance (3-5 minutes) to: - Italian coffee shop - Restaurants (Italian, Indian, pizza, kebab) - Irish pub - bank and cash machine - Supermarket - Hairdresser - Tobacco shop
Wonderful appartement, calm and close to Rome and the airport at the same time. Clean and Luca makes you feel at home. He's so caring he helped us even with the luggage and i will for sure come back to spend more time at his appartement
Gilbert
2016-09-08T00:00:00Z
We stayed at this place for 4 days at the end of our vacation in Italy. The location of this apartment is really great. While the main purpose of the stay was to see the wonders of Rome, we also had to take multiple trips to the airport as my wife had to attend a conference elsewhere. To access the downtown Rome you simply follow Via Cristoforo Colombo almost from home. It is also close to the beaches, but I found them not as good as south of Salerno where we had a vacation. There is a grocery store within a short walk (3 min) from the apartment. This was our second stay at this apartment, so we did not need any instructions. Upon arrival, we got the keys from Luca's friend. There was some food left for us, like milk, juice, cereals and pastries. The apartment has a queen bed and a sofa that unfolds into a good size sleeping place. The temperature inside was comfortable without air conditioning. Since the apartment located on the outskirts of the city and closer to the sea, the air quality is good, and you can even hear owls at night. The kitchen was equipped well enough for our needs, but we didn't really cooked much. The departure procedure was simple: we left the keys inside and went to the airport. That was very convenient, because with two females getting ready I could not guarantee any particular departure time. Overall, it was a very positive experience. Next time we go to Rome, we will certainly wish to stay at this place again.
Denis
2016-07-30T00:00:00Z
Siamo una coppia di ragazzi che hanno soggiornato presso questa struttura nel periodo di novembre. Ci siamo trovati molto bene sia per l ubicazione che per la struttura curata ed accogliente. Consigliamo veramente questa struttura
adelma
2016-11-14T00:00:00Z
L'appartamento si trova in zona Acilia: per chi è motorizzato è una chicca, per chi è costretto a fare uso di mezzi pubblici forse un tantino piu' problematico, ma sicuramente vale la pena organizzarsi. L'alloggio è luminosissimo, silenzioso e raccolto, dotato di un enorme terrazzo mozzafiato. Pur essendo piccolo, nell'appartamento non manca nulla: un ampio divano supercomodo,un letto matrimoniale da hotel 5 stelle. La pulizia è ineccepibile. Siamo state accolte da Luca, un ragazzo di una disponibilità fuori dal comune, che subito ha fatto di tutto perché ci sentissimo "a casa". Grazie di tutto Luca, ci vedremo presto, meriti tanti guests alla tua altezza!
V.
2016-11-10T00:00:00Z
Ciao a tutti! Grazie mille Luca e Caterina! Tutto era super !!!! Io consiglio vivamente questo appartamento! Tutto lì !!! La ringrazio molto, la prossima volta, basta andare !!! Ciao! 100 punti!)))
Olga
2016-08-04T00:00:00Z
Nice and clean apartament in a very quiet area close to the sea!
Vlad
2016-08-18T00:00:00Z
Hello!We were eight days in Luca's apartment and it was all great. Apartment was clean,big,unbelievable balcony, neighborhood so quite. Rome definitely close to everything
Biljana
2016-08-30T00:00:00Z
I and my family had a very pleasant experience. The host was very accommodating to the uncertainties of our arrival time. The apartment was very clean and comfortable. My daughter was particularly impressed with the huge terrace the size of a playground. There was even some food in the fridge and on the table, enough for three of us to have a late night snack and a breakfast. We only stayed for 1 night , so we didn't have a chance to use all the amenities, but they were certainly there. We are going to stay there once again on our way back from vacation.
Denis
2016-07-06T00:00:00Z
Oda Tipi
Tüm ev/daire
---
Mekan Türü
Daire
---
Konaklayacak Kişi Sayısı
4
---
Yatak odaları
Municipio Roma X, Lazio, İtalya
It housed in an elegant residential area of Rome The property is adjacent to the presidential estate of Castel Porziano just 25 minutes from the historic center 15 minutes from Leonardo da Vinci 10 minutes from Lido di Ostia.
Oda Tipi
Tüm ev/daire
---
Mekan Türü
Daire
---
Konaklayacak Kişi Sayısı
2
---
Yatak odaları
Roma , Lazio, İtalya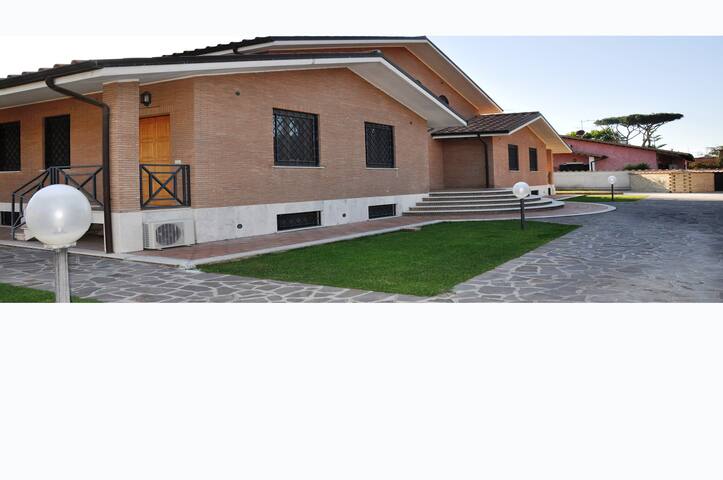 Appartamento in zona residenziale accogliente ed arredato con cura, immerso nel verde a 15 minuti dal mare, dagli scavi archeologici di Ostia Antica e a 20 minuti dall'aeroporto di Fiumicino. Roma centro è facilmente raggiungibile con autobus, fermata a 100 metri, e metropolitana. La cucina è completamente attrezzata per pranzare o cenare in casa. Macchina da caffè Nespresso
Completamente ristrutturato, la zona notte è separata dal grande salone da una porta. Zona pranzo, zona relax con divano e poltrona e una comoda zona con scrivania. La cucina è completamente attrezzata per preparare qualsiasi tipo di cibo. Macchina per caffe Nespresso. La camera da letto matrimoniale ha un grande terrazzo dove si può fumare in tranquillità Ingresso indipendente, con spazio privato all'esterno
L'Axa è un quartiere residenziale immerso nel verde, con possibilità di piacevoli passeggiate all'aria aperta. Supermercati, centri commerciali, bar, Farmacie raggiungibili a piedi
Oda Tipi
Tüm ev/daire
---
Mekan Türü
Daire
---
Konaklayacak Kişi Sayısı
4
---
Yatak odaları
Roma, Lazio, İtalya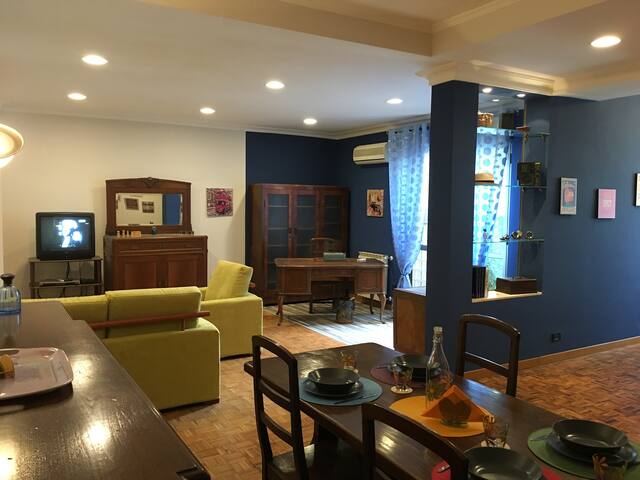 American Owned - Rome near the beach and Ancient Ostia Ruins, walk to Burger King, Chinese, shops. Beautiful villa appartment. Only 20 minutes to Rome by train, hosts will shuttle to the Acilia station. Only 20 minutes to airport and 30 minutes to downtown Rome. Extra room in lower appartment for 2 more people if necessary for 15 Euros more per night,
Only 30 minutes to Rome by train, hosts will shuttle to the station and return.
Zona residenziale di Casalpalocco e Axa, con quasi tutte ville. Quartiere molto sicura e tranquilla.
Elena and her family are extremely kind and they always gave their best to let us feel welcome at the house. 3 The house is pure luxury, very big and comfortable and very clean and tidy. they provided a shuttle to the train station so that we could go to the city centre whenever we wanted to - what a great service, we were so happy, thank you! There is also an extremely good italian restaurant at the corner, yummy! :) A clear recommendation for this apartment and this super cute family! :)
adriana
2017-04-03T00:00:00Z
Famiglia molto gentile, e premurosa. Bella casa in zona tranquilla.
luigi
2017-03-29T00:00:00Z
Oda Tipi
Tüm ev/daire
---
Mekan Türü
Daire
---
Konaklayacak Kişi Sayısı
4
---
Yatak odaları
Roma, Lazio, İtalya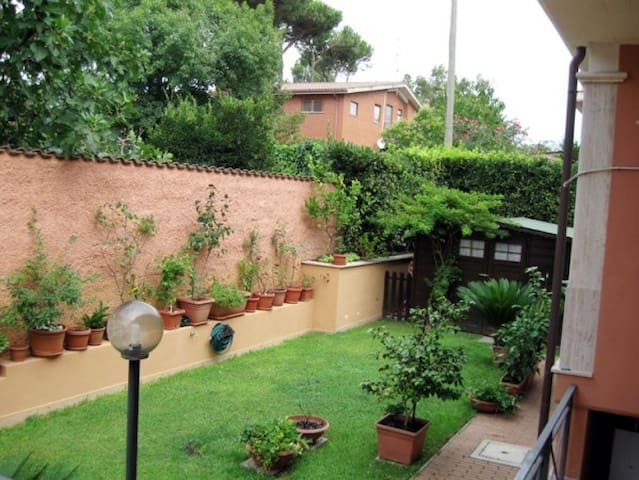 GRAZIOSO VILLINO PIANO TERRA IN ZONA INFERNETTO, DUE CAMERE, SALONE,CUCINA, SOGGIORNO DUE BAGNI, GIARDINO D'INVERNO, POSTO AUTO, AFFITTO INTERO APPARTAMENTO.
NAVETTA GRATUITA DALLA STAZIONE DI ACILIA ALL'APPARTAMENTO, PTRNOTABILE ALMENO 24 ORE PRIMA DELL'ARRIVO.
LA ZONA E SERVITA DA UN GROSSO CENTRO COMMERCIALE , CON RISTORANTI, CENTRI SPORTIVI SPA, LOCALI DI INTRATTENIMENTO, E PARCHI PUBBLICI.
Oda Tipi
Özel oda
---
Mekan Türü
Daire
---
Konaklayacak Kişi Sayısı
4
---
Yatak odaları
Roma, Lazio, İtalya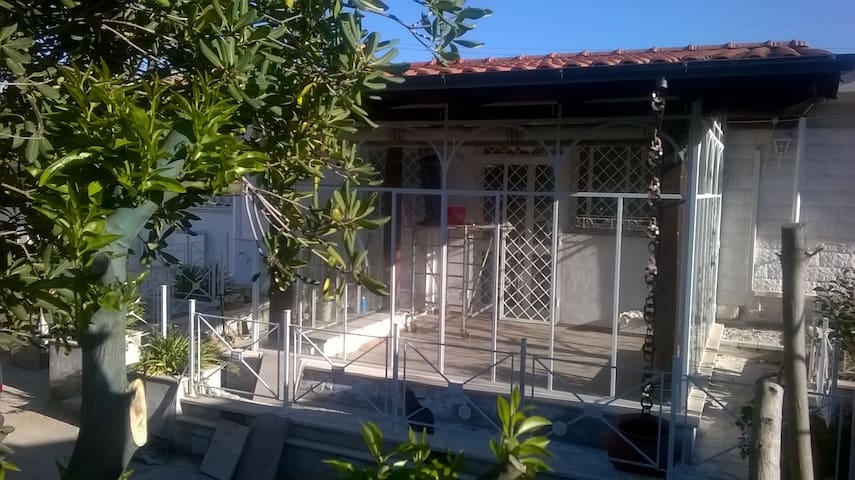 Our comfortable one bedroom apartment with a nice view and balcony close to the shopping center and the train station,10' from the seaside.Enjoy an Italian espresso or cappuccino in the morning and nice home made sweat pie;)
Very comfortable with Tempur(3000$) mattress
Quiet and has everything think you need like supermarket downstairs,pharmacy,bar,tobacco shop,etc
Oda Tipi
Özel oda
---
Mekan Türü
Daire
---
Konaklayacak Kişi Sayısı
2
---
Yatak odaları
Roma, Lazio, İtalya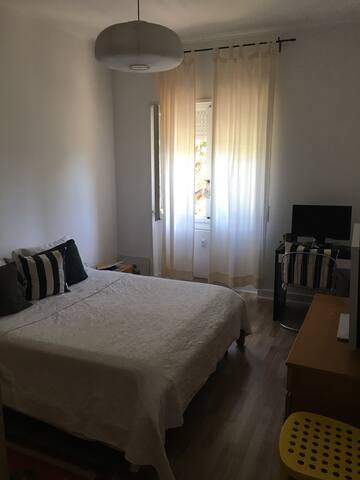 ventanas y puertas abiertas a un pequeño patio amueblado con barbacoa, donde bajo un gran paraguas rodeado de vegetación mediterránea en el verano para las comidas o disfrutar del calor del sol en invierno puede romana
Villa Karola está en Casalpalocco-AXA. Es sólo 18 km del centro de la ciudad ya 8 km de Ostia Lido y está situado en una zona residencial verde. Allí, usted puede encontrar todo tipo de tiendas y servicios. Es el lugar adecuado para tener una estancia agradable en Roma. Es una zona tranquila y estratégica. Se puede llegar fácilmente al aeropuerto internacional, en Fiumicino, en 15-20 minutos en coche (15 Km), Campidoglio de 30-40 minutos, Ostia Lido en 10 minutos, GRA (GRA: se trata de una carretera que va alrededor de la ciudad y conecta todas las carreteras principales y carreteras) en 8 minutos (7 Km). Si lo desea, puede visitar Ostia Antica excavaciones arqueológicas, Ostia Lido de playa, en la zona de EUR, Castelfusano de madera de pino. Estos son todos los lugares incluso se puede llegar en bicicleta, ya que son tranquila cerca de Casalpalocco. Dos apartamentos en una villa, llamados LIMONE y ULIVO, están a disposición de los clientes. ULIVO (alrededor de 45 metros cuadrados): un dormitorio-sala de estar, una cocina, un baño con ducha, una sala de la tienda. Tiene dos camas y muebles de tipo clásico. Cuenta con todo tipo de comodidades, así como de apartamentos Limone. También cuenta con un patio común más grande, con una mesa, barbacoa y tumbonas, que podrá utilizar durante las hermosas noches romanas. Hay un aparcamiento privado para cada (URL HIDDEN) Karola está cerca del centro comercial Eschilo, que se puede llegar en 5 minutos a pie. Las conexiones con Roma y Ostia subterránea a través de autobuses. Actividades deportivas en las inmediaciones: club de golf de 18 hoyos Parco dei Medici (7 Km) - Pista de tenis - Piscinas - montar a caballo.
El barrio Axa-Casalpalocco es la mejor zona residencial equipada, ciudad verde y agradable de Roma. Bien comunicado con el centro. Cerca del mar y de las ruinas, y permite momentos de relajación después de un día agotador en el centro Citto. Hay muchos restaurantes y pizzerías. La cercana ciudad de Ostia Mare (9 km de Lido di Roma)) ofrece todo tipo de entretenimiento local (cines, teatros, discotecas, etc.), así como una larga playa, está equipado, es de libre acceso.
La cortesia dei padroni di casa e la bellezza e la tranquillità della zona residenziale hanno fatto da padroni al nostro soggiorno.Ben collegato ai mezzi pubblici. Consigliatissimo.
ANTONIO
2016-12-16T00:00:00Z
Bella Roma ! 10 wundervolle Tage in Rom und Ostia liegen hinter uns und die herzliche Gastfreundschaft von Elke und - in unserem Fall - ihrer netten Tochter, ja der ganzen Familie, haben nicht minder dazu beigetragen. Da kann sogar der Koffer verloren gehen - Hilfe gibt es von jedem Familienmitglied. Sehr geschätzt haben wir die Ruhe und Erholung außerhalb Roms. Dennoch waren Stadt und (der oftmals unterschätzte) Strand in Ostia mit den öffentlichen Verkehrsmitteln gut zu erreichen. Das gut aufgeteilte Apartment ist genau richtig für ein Pärchen und hält was es verspricht. Leider konnten wir Elke und ihren Mann erst am letzten Abend kennen lernen. Aber auch hier haben sie uns überrascht und am Ende war es doch sehr schade, dass die Zeit schon vorbei war. Mile grazie für alles und arrividerci =)
Don
2015-08-31T00:00:00Z
Oda Tipi
Tüm ev/daire
---
Mekan Türü
Daire
---
Konaklayacak Kişi Sayısı
2
---
Yatak odaları
Acilia-castel Fusano-ostia Antica, Lazio, İtalya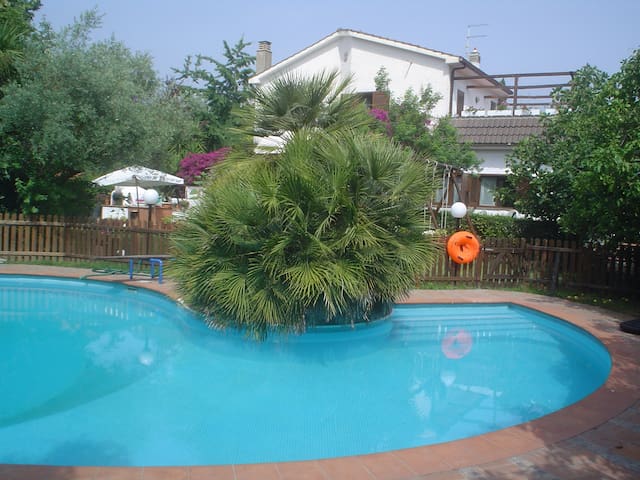 Municipio Roma X - Airbnb
:
154

misafir değerlendirmesinden,

5

yıldız üzerinden ortalama

4.57

yıldız
1

–

18

/

81 Kiralık Daire
Tam fiyatlandırmayı görmek için tarihleri görün. Ek ücretler uygulanır. Vergiler ilave edilir.