Tam fiyatlandırmayı görmek için tarihleri görün. Ek ücretler uygulanır. Vergiler ilave edilir.
Japanese traditional house in Niigata. You can go to Onsen and ski places! You also have a Japanese food in my house.
the host is very friendly and helpful. I'm so appreciated that he always picked me up from the Yoshiroda station.
marufei
February 2017
歴史が息づく街、小須戸の風情を満喫した3日間、大満足でした。 新潟駅からバスで40分、雄大な信濃川沿いを上流に向かうと、かつて舟運で栄えた小須戸の商店街に到着します。その町に魅せられたオーナーと、1階の料理店「あかり庵」で腕を振るうマスターに、新潟の包み込むような自然のごとく、おもてなしでわれわれの旅をサポートして頂きました。 私たち夫婦は、お盆の真っただ中に、東京方面から新潟の自然を求めて、散策に参りました。 以下ご参考までに、実際の旅程です: 1日目:新幹線「燕三条」駅でレンタカーを借り、日本棚田100選「北五百川の棚田」周辺でサイクリングと温泉を満喫。1時間ほどのドライブで宿に到着し、「あかり庵」の地元野菜をふんだんに使用した料理を堪能しました(別料金)。 2日目:早朝、信濃川を下流に向かって散歩。その後、レンタカーで以下を散策:弥彦神社で有名な「弥彦」、魚のアメ横「寺泊」、洗練されたワイナリー「カーブドッチ」。 レンタカーは新潟駅で返却し、バスで宿に戻りました。あかり庵にて妻と2人で晩酌を始めましたが、地元の他のお客さんからフレンドリーに話しかけて頂き、地元情報や地元ネタを提供頂きながら、遅くまで楽しく地酒を頂きました。 3日目:早朝、信濃川を上流に向かって散歩した後、小須戸の「雛の町家」を見学。マスターに車で、地元野菜売り場へ連れて行って頂き、お土産用に、桃、枝豆、水ナスなどを買いました。その足でマスターにJR矢代田駅(やしろだ駅)まで送って頂き、電車で新潟駅に向かいました(乗車時間約30分)。新潟中心部を無難に散策し、夕方の新幹線で帰宅。 オーナーとマスターに、再度お礼申し上げます。より多くの方が、この場所で思い出を作られること、願っております。 The room is on the 2nd floor of the newly renovated townhouse. The first floor is the restaurant "Akari" run by the owner's friend whom I call here "the master". The house is located at the center of the once prosperous district called "Kosudo". The district used to be the transportation hub of the Edo era when the transportation used to be limited to river ship on the "Shinano" river. You can feel the town's history by your skin, and I think it is the experience most of the foreigner tourists sought after. The best experience I and my wife had during our stay was the dinner at the "Akari" restaurant. Local ingredients were superbly arranged by the master chef, and the friendly local customers add more flavor to the local Sake rice wine. You can get to the center of Niigata city by 40 minutes bus ride from the bus stop near the restaurant, or you can take train from "Yashiroda" station to arrive at Niigata station after 30 minutes. In the latter case, the owner can help you to get to the Yashiroda station by his car. To fully enjoy the activities in the rural area, using rental car is highly recommended. For our case, we rented car at Niigata station for 2 days out of our 3 day trip, and for the remaining 1 day we enjoyed walking around the center of Niitgata city Although both the owner and the master will not be a good English speaker, they have the full spirit of "Omotenashi" Japanese hospitality and they surely will be of great help for your good trip. I hope more and more foreign tourist will visit here and share the experience of fascinating rural Japan.
Taku
August 2016
We had a great stay at Mae San. The room was perfect, 2 separate beds. The dinner he prepared for us tasted well and he even gave us sake. The day after he dropped us 30 minutes from his home as a service. Can recommend everybody to stay at his house.
Pwak1986
September 2016
ホストの勉さんはお仕事の関係でお会い出来なかったですが、店主さんに代わりに迎えて頂きました。店主さんもすごく人柄が良く、お酒を飲みながらお話も弾みすごく楽しい時間を過ごすことができました。宿も築100年以上でとても風情がありお部屋も綺麗でした。美味しい朝食もご馳走になり、新潟での良い思い出になりました。このサイトを使って宿を利用するのは初めてで不安もありましたが、すごく楽しかったです。ありがとうございました!
Kana
October 2016
I was searching for a relaxing and silent place outside of the city and found this wonderful house. Maeda-san tried his best to make me feel comfortable and at home - communication was good and my arrival was smooth. The room was much better than on the pictures - equipped with a small desk and chairs as well as hair dryer and mirror. The whole house is very charming, since it is an old Japanese house with paper doors and tatami rooms. I liked the atmosphere, however walls can be very thin. If you don't like that - better book a hotel. :) As well as the shower and toilet - both rooms were clean and nice, however the toilet was Japanese style and the bathroom was shower only. I was totally comfortable with it, for the people who would like to take a bath - there are plenty of Onsen around. If I go to Niigata, I would totally stay here again. I felt very safe and comfortable. Maeda-san was a great host! Highly recommended! 部屋が大変綺麗でした、前田さんのおかげでとても楽しい三日間すごしました。部屋にはベッドだけどじゃなくて、鏡、ヘアドライヤー、クローゼットもありましたし、とても過ごしやすかったです。快適でした。 日本の古い町屋なので、そこに泊まるのもとてもいい経験でした。
Friederike
September 2016
そこは和式の家で、二階があります。一階は日本レストランで、二階は泊まる部屋です。家は和風だけど、部屋では洋式のベットも、エアコンもヒーターもあるので、とても住み心地がいいです。朝ご飯も無料で食べられます。ちなみに、一階のレストランの料理は本当に美味しいです。家は新潟駅から20分で、前田さんは最寄駅で迎えます。日本風の小さな商店街にある家だから、隣は小さい店がたくさんあって、日本伝統芸術の展覧もあります! 前田さんはとても親切な人で本当にたくさん手伝いもらいました!一人旅なので、いろいろ案内してくれたし、新潟の行くべきところもたくさん教えてもらいました。前田さんは話をたくさんかけてくれました。日本人じゃないので、新潟の文化とか、生活とか、いろいろ詳しく教えてもらって、とてもいい文化の交流でした!ここ本当に薦めたいです!! I really really recommend you to choose staying here! To describe the house, it is a traditional house with two floors. The first floor is a Japanese restaurant while you will stay in the second floor. The room is a traditional room as well but there is a comfortable bed. You can also find an air conditioner and a heater. If you have any needs you can just directly ask about it :) They will provide breakfast and the food in the Japanese restaurant are really tasty! The house is 20min from Niigata station by train, and Maeda-san will pick you up from the nearest station. The house is located in a Japanese-style street, with a lot of little shops. There are even Japanese traditional art exhibition beside the house. Maeda-san is a really friendly person who tries to help you whenever you need! I was travelling alone,and he provided me a lot of travelling advices, like the places really worth visiting in Niigata, or even in other prefectures! He is a talkative person who likes cultural exchange. He told me a lot about the culture and life style in Niigata and I learnt a lot! 他的家是一棟和式的建築, 一樓在經營日式餐廳, 二樓是提供給旅客的房間。雖然是和式的建築但床是洋式的, 房間很大, 有空調有暖氣, 住起來十分舒適! 你有什麼需要前田先生都會盡量的協助! 早餐有提供, 順帶一提一樓的餐廳的料理十分美味! 從新潟站到那裡只需坐20分鐘電車, 前田先生更會提供車站接送服務。他的家位於一條挺有日本特色的小街, 旁邊有很多小商店, 更有傳統日式藝術的展覽可以看! 前田先生是一位很親切的房東, 我住的4日3夜裹他實在為我提供了很多很多幫助! 因為我自己一個來新潟, 他給了我很多在新潟旅行的意見, 如果你有空的話更會載你去玩! (有空的話) 他是一個十分健談的人, 因為我不是日本人, 所以他主動告訴了我很多有關新潟的事, 例如新潟的文化, 這裹的人的生活, 之類的, 使我有了一段珍貴的文化交流! 真心很推薦!!!!
Phoebe
May 2016
这是我的第一次airbnb经历,非常感谢勉带给我如此难忘的体验,勉的热情周到让我觉得好感动,这次旅行我没有做任何准备,但勉帮我安排了丰富多彩的活动,带我充分领略了新泻的美,只能说这一次不虚此行,(URL HIDDEN)
凤展
October 2016
We had mentioned before we arrived that, in addition to seeing my girlfriend's family in Niigata, that we wanted to visit an onsen and tour a sake brewery. We didn't request it, but Maeda-san insisted on taking us to the local onsen in his car! I think it was called Hana No Yu Spa. We only had time to stay about an hour because he had also made reservations for us at a sake brewery for their English language tour and sake tasting. He insisted on waiting for us in the parking lot until were done at the onsen. Then, he took us to the train station and told us how to get to the Imayotsukasa Sake Brewery (13 different kinds of sake and unlimited tasting for only 500 Yen (free if you bought a bottle)! Several hours later, when we returned from our tour/tasting, Maeda-san picked us up from the train station and brought us back to our room! By the way, the room is above a restaurant, which is run by his friend, Endo-san. Endo-san speaks English fairly well. We had a great dinner there, which was very reasonably priced, as well as free breakfasts for the two of us for each of the two days (one western breakfast and one Japanese breakfast). They also assisted us with the taxi driver, helping us give directions to my girlfriend's family's home in a nearby town. They were both very nice, hospitable and accommodating! Thank you, Maeda-san!
Jon
January 2017
Oda tipi
Özel oda
---
Mekan Türü
Ev
---
Konaklayacak Kişi Sayısı
10
---
Yatak odaları
1
新潟市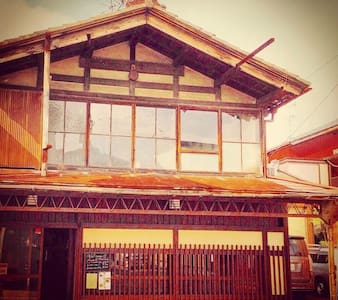 It's a great pleasure to stay at Toshikazu Kaneko's apartment. The apartment is very nicely maintained, with an artistic touch. I also appreciate greatly Kaneko-san's personal attendance, completed with clear information and tasty snacks.
FuJen
September 2016
The apartment was extremely beautiful and clean. It had everything, to make the stay in Niigata comfortable for us.
Daniel
October 2016
Host was very communicative and checked up on me every now and again. Was very easy to extend my stay. Apartment was perfect for me - could stay here with more people. Very cosy and good location in terms of nearby shops.
Ella
July 2016
Me and my family really loved the place! Kaneko san made it really special with complementary drinks. I mentioned to him that I will be bringing my 11 month old son so he even prepared complementary drinks and food for him :D Such a really good service! The place is really new. All clean and very comfortable bed. The location is really good. There were supermarket, drugstores, convenient store, ramen and mos burger around the area. Kaneko san is really a good host. He replies after a few minutes of sending him mail. He was easy to talked with :D In total, we will surely book again and recommend this place to others :D
Erin
September 2016
Very beautiful and peaceful house located at a walkable distance of 8 minutes from Maki station which is 40min from Niigata station. There is hourly train service from/to Niigata station. There is convenience store, drug store , Mos burger within 2-3 min walk from the house. The Iwamuro onsen area is 15-20 minutes by taxi from the station and it cost around JPY2,500 so no worries if you don't come by your own car but want to go to some nice onsen area .. Highly recommended for family stay .
Mayank
January 2017
とても最高な部屋でした! お菓子などの差し入れもとても感謝してます。 快適に過ごすことができました!本当にありがとうございます。
伊藤
August 2016
非常にキレイな広い部屋で最高でした! 飲み物やお菓子も置いてあり、ホストの気遣いが感じられます。 すぐ近くにコンビニがあるので、買い物に困ることはまずないと思います。
Yuuki
October 2016
お部屋はとても綺麗で、ドリンクやお菓子も用意されていて家族全員満足でした! 今回は滞在時間が短かったですが、次からは長期滞在したくなる快適さでした。
Akihiro
December 2016
Oda tipi
Tüm ev/daire
---
Mekan Türü
Daire
---
Konaklayacak Kişi Sayısı
6
---
Yatak odaları
2
Niigata