A une demi-heure de Genève, au bord du lac Léman, ce studio d'environ 40 m2 composé de deux parties ouvertes. Il se trouve dans la maison où vécut Lamartine. Entièrement refait à neuf, design et fonctionnel, il saura accueillir jusqu'à 4 voyageurs.
Ce "studio" est composé de deux parties ouvertes : une cuisine salle à manger et un salon avec chambre (surélevée) qui donne sur le lac. Il est très agréable et spacieux. Il y a un lit deux places et un canapé-lit très confortable. La salle de bains se compose d'une grande douche, w.c, lavabo.
La maison Lamartine se situe à l'extrémité est du petit village de Nernier, l'un des rares endroits de la côte française du Léman encore préservés du tourisme de masse. Le port et les bistrots sont de l'autre côté du village, à 300 m environ. Le village médiéval d'Yvoire est à 2 km à pieds par un petit chemin. Nernier est un petit village. On y trouve, selon les saisons, de un à trois restaurants ainsi qu'un bar à bières. Vous pourrez faire vos courses de base (épicerie, boucherie, boulangerie...) à Messerie (2 km) ou à Douvaine (supermarché, grand marché le dimanche - 10 km). Outre les activités sportives, thermales, récréatives et culturelles que peuvent vous offrir le lac Léman et sa région, Nernier n'est qu'à 1 h du domaine skiable d'Avoriaz, via les Gets ou Morzine.
We had the good luck to live for a week in an unique place, the small mediaval fisherman village and the house in direct contact to the Lac Léman. Opening the windows one has the sensation to stay direct at the coast, the stormy days were like to be at the see side. The inside of the house is modern and in the perfectest way renovated and equipped, we could prepare dinner easily. Our host ,first the daughter Jeanne is a very kind, gentle and helpful person, openminded, so we could enjoy all from the first moment. The owner came in the last days back from his voyage, he is an engaged person for many things an the renovator of his house. He showed to us his house,we were impressed. So we had avery good time there and best remember to all. If we had the chance to came an other time we would be happy.
Felicitas
2015-06-14T00:00:00Z
Oda Tipi
Tüm ev/daire
---
Mekan Türü
Daire
---
Konaklayacak Kişi Sayısı
4
---
Yatak odaları
Nernier, Rhône-Alpes, Fransa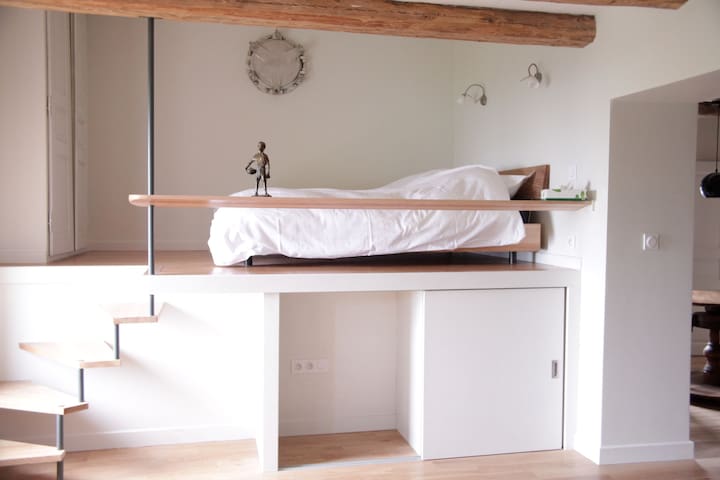 Mon logement est proche de Genève, Lac a deux pas que demandé de mieux. . Mon logement est parfait pour les couples et les voyageurs en solo.
La proximité des commerces et le calme de la campagne avec le lac en arrière plan
Oda Tipi
Özel oda
---
Mekan Türü
Daire
---
Konaklayacak Kişi Sayısı
4
---
Yatak odaları
Messery, Auvergne Rhône-Alpes, Fransa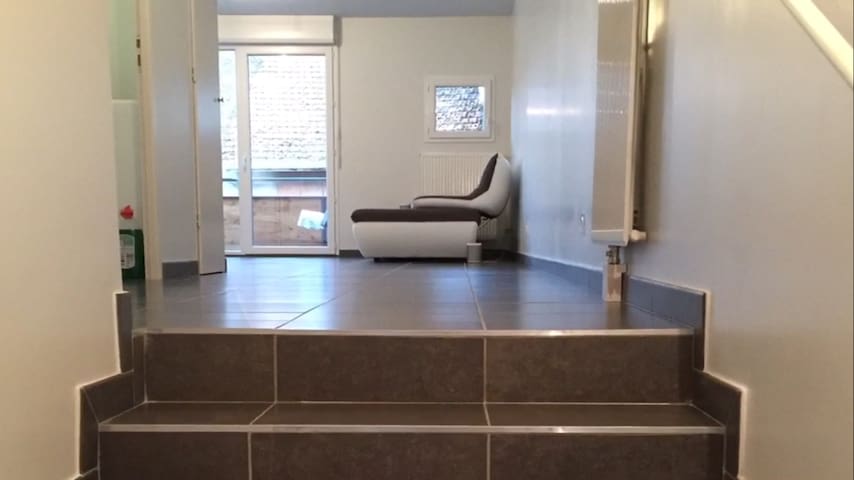 Appartement moderne, meublé avec juste ce qu'il faut. Très lumineux, belles vues (lac et montagne). Dix minutes à pied du centre du village (supermarché, pharmacie, boucherie, boulangerie, restaurants, mairie, office de tourisme, école). Quinze minutes à pied jusqu'à Messery plage. A proximité de Nernier et Yvoire. Genève 30 minutes hors heures de pointe.
Oda Tipi
Tüm ev/daire
---
Mekan Türü
Daire
---
Konaklayacak Kişi Sayısı
8
---
Yatak odaları
Messery, Auvergne-Rhône-Alpes, Fransa
Dans un village romantique à 25 km de Genève, au dernier étage d'une maison historique où vécut Lamartine et sur laquelle les vagues du lac viennent frapper, grand appartement entièrement rénové offrant un vue imprenable sur le Léman et les Alpes.
Avant tout, une vue unique. Rien ne vous sépare du lac, cette vieille maison ayant les pieds dans l'eau. Vous serez bercés par le bruit des vagues qui viennent battre les murs, contribuant au fort sentiment de calme, de sérénité, d'apaisement qui se dégage du lieu. Vous vous trouverez ainsi comme au bout du monde, dans un endroit que j'ai voulu le plus confortable possible en le rénovant et pour lequel j'ai aussi conçu et construit de nombreux meubles et objets, de la cheminée aux bibliothèques, en passant par les tables, les armoires, les luminaires... L'appartement est composé d'une grande salle à manger avec cuisine américaine, d'un salon (cheminée, bibliothèque, et équipements multimédia), d'une salle de bains (baignoire avec vue sur le lac) et de deux chambres (la première avec vue sur le lac, la seconde avec salle de douche individuelle). Le salon étant équipé d'un canapé-lit, la capacité d'accueil totale est de 6 personnes : 1 chambre avec 1 lit double ((PHONE NUMBER HIDDEN) chambre avec "twins" pouvant être réunis en 1 lit double (160x200), mais le lieu se prête aussi à des séjours plus intimes, romantiques et secrets. Aux beaux jours, possibilité de se tenir dehors autour d'une table.
La maison Lamartine se situe à l'extrémité Est du petit village de Nernier, l'un des rares endroits de la côte française du Léman encore préservés du tourisme de masse. Le port et les bistrots sont de l'autre côté du village, à 300 m environ. Le village médiéval d'Yvoire est à 2 km à pieds par un petit chemin. A 100 mètres de la maison il y a une plage de galets peu fréquentée. L'autre plage est dans le village. Elle est également proche et très calme. Nernier est un petit village. On y trouve, selon les saisons, de un à trois restaurants ainsi qu'un bar à bières. Vous pourrez faire vos courses de base (épicerie, boucherie, boulangerie...) à Messery (2 km) ou à Douvaine (supermarché, grand marché le dimanche - 10 km). Outre les activités sportives, thermales, récréatives et culturelles que peuvent vous offrir le lac Léman et sa région, Nernier est à 20km. de Genève et n'est qu'à 1 h du domaine skiable d'Avoriaz des Gets ou de Morzine.
L'organisation, la logistique d'arrivée, la qualité de contact avec nos hôtes ont été extraordinaires avant et pendant le séjour. Gentillesse et disponibilité de rigueur, tout en respectant complètement "l'intimité" de notre famille sur place. L'emplacement de la maison est littéralement fabuleux et la vue depuis le salon est un véritable écran géant de télévision HD. Pour les amoureux du Lac que nous sommes, ce fut un rêve, par pluie ou beau temps, peu importe. L'appartement, flambant neuf et aménagé avec un gout notoire est de toute beauté et nous avons vécu à 4 dans ce grand espace avec de la place pour tout le monde (et le 90% des fenêtres donnant directement sur le lac, y compris la salle de bain -essayez le bain chaud avec vue sur le lac et le village médiéval d'Yvoire!-). Petite plage à 30 mètres de la maison pour un bain quasi-privatif. Pour ajouter à tout cela, un accueil d'une très grande gentillesse et des interactions amicales et bien agréables avec les propriétaires et leur Labrador affectueux. A recommander sans modération ! (nous connaissons bien la région puisque nous y habitons et nous n'avons pas encore vu mieux à ce jour). Merci à François et son épouse!
Michel
2016-08-21T00:00:00Z
The apartment is every bit as beautiful as it appears in the photographs. It has been tastefully renovated retaining original features and using modern high quality materials. The location is right on the Lake shore with stunning views across the lake to Nyon and the Jura Mountains and along the lake to Yvoire with the Alps in the background. Many thanks to Francois and his daughter who helped make the stay comfortable.
nigel
2015-05-01T00:00:00Z
This was a perfect place for a beautiful and quiet vacation. Excellent view on the lake, great layout and everything one needs. François was a very helpful and friendly host.
Dan
2016-09-27T00:00:00Z
Unser Aufenthalt in Nernier war einfach fantastisch. Francois hat uns sehr freundlich willkommen geheißen und gemeinsam mit seiner Frau die tolle Wohnung gezeigt. Das Apartment kann wohl kaum verbessert werden. Die Aussicht auf den See, die tolle Ausstattung und die geschmackvolle - hochwertige Einrichtung lassen sofort Urlaubsstimmung aufkommen. Es ist alles vor Ort was gebraucht werden könnte. Das Dorf ist eine Oase der Ruhe (Autofrei) und Gemütlichkeit und bietet dennoch Gelegenheiten am Abend Essen zu gehen oder gemütlich einen Drink zu nehmen. Wir waren als Familie (zwei Erwachsene und zwei Kinder) sehr großzügig untergebracht und konnten den Urlaub daher sehr genießen. Die persönliche (nicht aber aufdringliche) Betreuung durch unsere Gastgeber haben wir sehr genossen und ich glaube sagen zu können, dass wir hier den schönsten Urlaub verbracht haben. Herzlichen Dank an Francois und Nathalie. Hoffentlich auf ein Wiedersehen. ****** Notre semaine de vacances à Nernier fût tout simplement fantastique! Francois et son épouse Natahlie nous ont très chaleureusement accueilli, et nous ont aussitôt fait la visite du superbe appartement. L´appartement ne pourrait être mieux équipé La vue imprenable sur le lac, l´équipement parfait ainsi que l´aménagement d´excellent goût et haut de gamme nous ont permis de nous sentir dès le premier instant en vacances. Tout ce dont on pourrait avoir besoin est sur place. Il ne manque, à notre avis, rien! Le village est une oasis de tranquillité (village sans voitures), de calme et de bien-être, mais propose toutefois des possibilités pour se restaurer à l´extérieur (restaurants) ou de prendre tranquillement un verre. Nous sommes venus en famille (2 adultes et 2 enfants) et les dimensions plus que généreuses de l´appartement n´ont fait qu´ajouter à notre bien-être. Nous avons énormément apprécié nos vacances. Nous avons également beaucoup apprécié les services et activités personnalisés (mais jamais importuns!) que nous ont proposés nos hôtes durant notre séjour. Nous pouvons affirmer que ces vacances furent parmi les plus belles que nous ayons passées jusque là. De tout coeur, un grand merci à Nathalie et Francois. Nous espérons à bientôt
Martin
2015-08-11T00:00:00Z
Nous avons passé une semaine de Noël magnifique dans le logement de François et de son épouse, trés bien conçu, trés bien équipé, trés agréable avec une vue magnifique sur le lac Leman ! Le village de Nernier est un endroit attachant et calme avec une âme qui s'attache à notre âme et la force d'aimer........ (Dans l'appartement vous découvrirez notamment deux recueils de poésies de Lamartine.) Enfin un petit mot sur les propriétaires qui sont infiniment sympathiques. Jocelyne et Jean-Pierre
Jocelyne et jean-Pierre
2015-12-31T00:00:00Z
Wir verbrachten als Familie eine traumhafte und unvergesslich schöne Woche im Haus von Francois und Nathalie. Die Unterkunft und die überaus herzliche Betreuung der Gastgeber liess keine Wünsche offen, unsere Erwartungen wurden weit übertroffen. Wir können einen Aufenthalt im Haus Lamartine nur empfehlen und werden selbst auch wieder dorthin zurückkehren. Ganz herzlichen Dank an Francois und Nathalie
Christoph
2016-08-01T00:00:00Z
My friends and I were fortunate enough to spend 3 wonderful days at Maison Lamartine. I cannot recommend the house highly enough! Francois' daughter Jeanne gave very detailed information via email in advance in regards to finding the property and settling in, and although she could make it to the house personally, we found everything we needed and Jeanne was readily available for any questions we had. We were lucky enough to have good weather which allowed us to enjoy dinner on the pontoon watching the sun set of an evening. The appartment looks exactly like the photos and has been renovated to a very high standard. The details and design are beautifully done and it felt like we spent a weekend in luxury with our view over Switzerland from the dining room table! I would recommend Maison Lamartine to anyone looking to stay in the Geneva area and my friends and I are already discussing when we can return! Thanks Francois and Jeanne for letting us stay in your beautiful home.
Amy
2015-05-19T00:00:00Z
Francois's place is awesome. It is located in the charming village of Nernier and is right on Lake Geneva. The setting is beautiful. The flat itself is very updated and extremely nice. We really enjoyed the large window that looked right out onto Lake Geneva. A truly beautiful place to spend a few days. Francois and his wife are also charming and very helpful. Francois showed us around the village and helped us secure a reservation at one of the local restaurants. He also gave us a nice bottle of wine and some bread. Terrific hosts. This was a wonderful experience, and I hope to go back. Thank you, Francois.
Joshua
2015-07-30T00:00:00Z
Oda Tipi
Tüm ev/daire
---
Mekan Türü
Daire
---
Konaklayacak Kişi Sayısı
6
---
Yatak odaları
Nernier, Rhone-Alpes, Fransa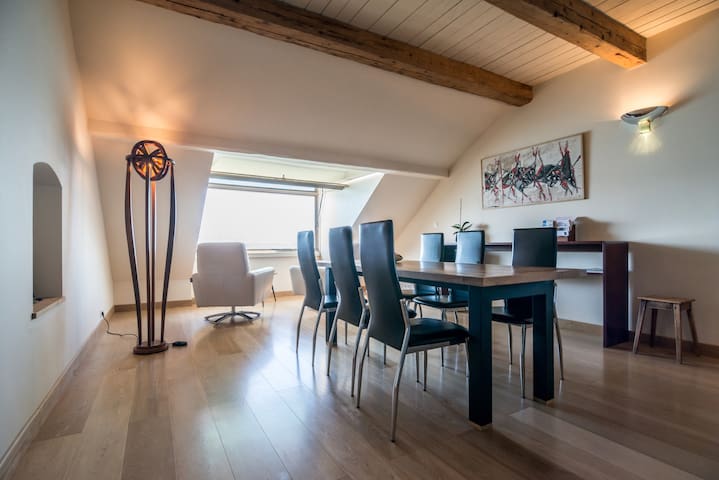 Apartment 3 rooms Excenevex beach facing 100m2 terrace with lake and mountain views. fully equipped kitchen, living room with fireplace, living room, 2 bedrooms, bathroom, toilet comfortable and very bright.
privileged location opposite the lake
Nous avons passé deux nuits chez Claudine. L'appartement est bien situé et comprend une grande terrasse avec vue sur le lac, à proximité d'une plage de sable. Très agréable. L'appartement est tout de même un peu cher pour la prestation offerte. Les 50€ de frais de ménage pour un séjour de 2 nuits sont clairement disproportionnés. Quoi qu'il en soit, Claudine est accueillante et a tout fait pour nous faire passer un séjour agréable.
Antoine
2016-08-29T00:00:00Z
Oda Tipi
Tüm ev/daire
---
Mekan Türü
Daire
---
Konaklayacak Kişi Sayısı
4
---
Yatak odaları
Excenevex, RA, Fransa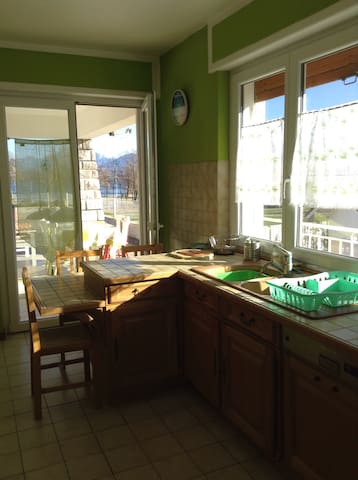 Appartement indépendant dans une maison de village, situé près de Genève. Idéal pour un couple, l'appartement est très spacieux et a été entièrement rénové. Le village est très calme, une auberge est située à 100 mètres. Belle adresse pour découvrir notre région, Annecy, Evian, Chamonix, Suisse, Italie.
Idéalement situé, village calme, l'appartement est entièrement rénové et est très spacieux.
Environnement campagnard, entre lac et montagne, et proche de toutes commoditées, fonds de cette adresse un lieux idéal pour découvrir notre région.
C'est la deuxième fois que nous louons l'appartement d'Eric et comme la première fois, c'était parfait. L'appartement est très agréable, spacieux, propre. Le village très mignon permet de profiter du calme de la campagne, de jolies balades à faire et à proximité de Genève, Thonon et du lac Léman. Eric est un hôte très sympathique, arrangeant et discret. Le séjour était parfait
rebecca
2016-05-17T00:00:00Z
Un court (trop court) séjour parfait. Que dire de plus? Un appartement spacieux, confortable, d'une grande propreté, très bien équipé, joliment décoré et un accueil chaleureux et attentionné. La situation en pleine campagne est très proche des commerces mais aussi des rives du Léman et permet de belles balades au bord du lac ou en montagne, sans oublier la proximité de la Suisse, notamment de Genève. Merci Eric pour ce séjour et pour toutes vos attentions que nous avons beaucoup appréciées (les amandes étaient délicieuses). J' espère vraiment que nous aurons l'occasion de revenir chez vous et de refaire une petite escapade à la Chamade.
Claude
2014-10-22T00:00:00Z
Vorremmo ringraziare ancora una volta la famiglia Nicollet , Duc e gatto, l'accoglienza e stata eccellente come anche l'alloggio, pulito ottimamente. Nell'appartamento abbiamo trovato tutto il neccessario per il nostro soggiorno, piu' prime necessita': latte, toast ect. La tranquillita' della casa e la cura del patio non ha eguali. Non aspettatevi di avere vicino il supermercato o la vita mondana di una citta', questo luogo e' un paradiso per chi vuole staccare la "spina". Grazie anche per il pensierino di rientro :) Sonia e Marco
Marco
2014-08-24T00:00:00Z
Wonderful stay in a really beautiful apartment. Eric and Marianne were delightful and considerate hosts. There was a warm welcome and lots of thoughtful touches; a welcome note with macaroons, homemade rhubarb jam, coffee, tea and a loaf of brioche for breakfast. I would have no hesitation in highly recommending Eric and Marianne's apartment.
Lucy
2014-08-30T00:00:00Z
Location très bien située : entre lac et montagnes. Randonnées ou baignades au lac très proches, circuits touristiques nombreux. Logement très soigné, harmonieux. Pas trop d'ustensiles pour cuisiner, mais ce n'est pas plus mal pour les vacances...
Claudine
2016-08-08T00:00:00Z
Hôte très sympathique, même si je n ai pas pu me rendre sur place il a été très réactif et agréable lors de nos échanges par mail .
Olivier
2014-07-14T00:00:00Z
Nous sommes ravis de notre séjour chez Eric. Il s'est montré très attentionné avec nous, avec une petite confiture faite maison et des chocolats suisse pour nous charmer. Très accueillant, nous avons pu discuter du secteur et de la vie dans cette région frontalière à la suisse. Le quartier est vraiment calme pour passer des vacances reposantes, agréablement installé sur les bancs devant l'appartement . Une ballade en vélo d'une demi-heure aller vous mènera jusqu'à la cité médiévale d'Yvoire ou encore de Nernier si l'on aime les lieux pas trop bondés, sans être inquiété par les voitures grâce à des chemins et routes dans les quartiers. Se baigner dans le lac Léman avec ses nombreuses plages tout en profitant du panorama montagneux sont des activités possibles et très accessibles. La ville d'Anthy sur Léman propose par exemple un concert chaque mercredi au lac, Thonon a également son programme d'activités. Evian, Genève, chamonix et tant d'autres destinations pourraient vous séduire ! L'appartement spacieux et rénové avec goût nous a beaucoup plus. On y est au frais par ses grosses chaleurs ! Une adresse à retenir !
New
2015-08-07T00:00:00Z
très bon accueil pour un deuxième séjour rien à redire logement conforme, spacieux et confortable à renouveler merci à Eric et son épouse
jean-marie
2015-12-31T00:00:00Z
Oda Tipi
Tüm ev/daire
---
Mekan Türü
Daire
---
Konaklayacak Kişi Sayısı
2
---
Yatak odaları
Massongy, Rhone-Alpes, Fransa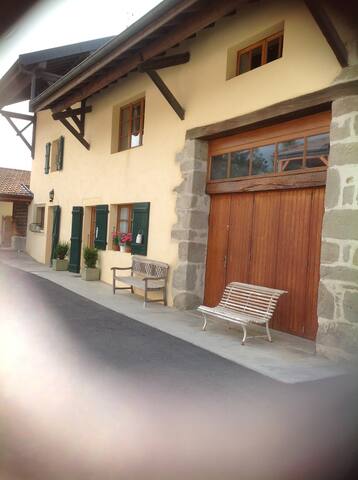 Beautiful 54 m2, 1 bedroom apartment in an 11th century tower " La Tour César" situated a few steps from the lake Leman, in the old town of Rive. This tastefully decorated apartment was entirely renovated in 2015.
The apartment is on the upper ground floor and composes of a bedroom, in a living room, a dining area, a bathroom, a WC and an open plan kitchen. It can house up to 4 people, as there is a double bedroom and a sofa bed in a living room. The bathroom : Rain shower, hairdryer, scales, storage baskets and a washer/dryer. The WC : Shoe storage, a jewelry holder and a small storage baskets. The dining area : An adjustable table, The kitchen : Tableware for 6 people, pots and pans as well as all basic cooking utensils and products. Also : a dishwasher, a Toasted sandwich maker, a raclette machine, a Fondue pan (caquelon) and warmer, a toaster, a kettle, a Nespresso coffee machine and a water filter. You will also find an ironing board, an iron, and a vacuum cleaner.
The area : The apartment is situated on the lake and below the castle, in the charming old town of Rive. It is minutes away from various restaurants, wine bars, pubs, club and shops. The shops are open on Sunday in this part of town. Every last Sunday of the month you will be able to explore the stands at the flea market, which runs all along the lake and through the rue de Rive. The city-center is a 10 minute walk away.
Appartment with an exceptional location and views, in front of the Leman Lake. Awesome landscapes. In the center of Nyon close to the restaurants, shops, 5 min from train station, so very convinient. The appartment is really cute, comfortable and clean, exactly as described and as you can see in the pictures. Catherine is an excellent person always willing to help you and give you some tips whenever you need. In my personal experience, I have to say that it has been the perfect place to relax after a long day at work, I really felt like at home. Of course, I would recommend this appartment to anyone, believe me you will love it like me!
Cristina
2015-12-18T00:00:00Z
This apt is amazing! It is warm and well appointed. The view of the lake is such a bonus. Catherine did a great job stocking the apt with the necessities like coffee and milk!
christine
2016-03-20T00:00:00Z
By far, the Best unit I have ever rented on the website. Catherine the owner was simply magnificent, caring, helpful and went beyond what I could ever have expected in order to make me feel at home and comfortable. The large one bedroom sun filled unit was recently remodeled, and is in a medieval style stone tower overlooking Lake Geneva. The unit contained everything one might need in an apartment, so don't overpack. Everything is supplied. A short 10 to 15 minute walk (albeit up hill) to the train station means you are minutes away from Geneva, Lausanne, and the Alps. I truly enjoyed my stay here, felt right at home and Catherine could not have been a better host.
bernard
2016-03-06T00:00:00Z
We have been in the tour cesar while waiting a final apartment in Nyon and we have hd a great experience. We feel like being home in every moment thanks to the hospitality of Catherine and her charming apartment. Location is simply amazing next to the lake so that you can enjoy it every morning.
Javi
2016-02-07T00:00:00Z
Very modern and convenient apartment in a historic tower in the center of Nyon. Highly recommended. We felt very much welcome and well taken care of by the owners.
Julius
2015-12-27T00:00:00Z
Oda Tipi
Tüm ev/daire
---
Mekan Türü
Daire
---
Konaklayacak Kişi Sayısı
4
---
Yatak odaları
Nyon, Vaud, İsviçre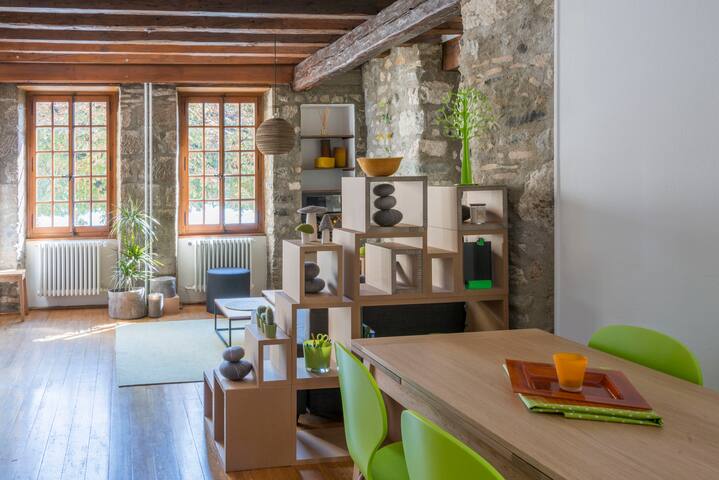 The flat is ideally situated on the lakefront with panoramic view of lake Geneva. The flat is spacious (130m2), features 2 bedrooms, 2 bathrooms, kitchen and large living room. It has 1 real double bed and 2 twins to comfortably accomodate 4 people
The flat is facing the Geneva lake and has an unobstructed view. The space is very comfortable (130 sqm), with two separate bedrooms accomodating up to 4 people. There are 2 bathrooms, separate kitchen and big living area
The lakeside area is called Rive. It is a charming neighbourhood, very relaxed and with plenty of bars/restaurants. Some groceries area available, but the main shopping area is on the hill. Nyon center has several large shops and more restaurants.
Georges is a wonderful host and the apartment is magnificent! It is light, spacious and warm and is well located with fabulous views. I cannot fault it and we will be back again soon!
Kay
2016-12-05T00:00:00Z
Bel appartement décoré avec goût au bord du lac: exactement comme sur la photo. Notre hôte a ete accueillant et attentif à notre arrivée et plutôt arrangeant sur les horaires. Très bon séjour malgré le temps!
Sibylle
2016-03-30T00:00:00Z
Wonderful stay! The view was amazing and we were very comfortable.
sasha
2016-07-02T00:00:00Z
George met us at the time we requested. He was friendly and welcoming and his apartment is wonderful. Large, clean, spacious and beautifully decorated. The location could not be better, with a beautiful old castle behind and lake Geneva in front. We would not hesitate to return. We have stayed in several Airbnb apartments in Europe and this is one of the top two (the other was equally good, not better). Also access to Geneva is quick and easy by train, and the ferry boat docks close by. In short this is a perfect place to visit.
Robb
2016-06-15T00:00:00Z
Georges is an incredible host. He makes everything perfect and comfortable. His place is so well located, so clean, so pleasant that it is a pleasure to stay there. When we'll be back in Nyon, we'll ask to go there again if it is available. Thanks Georges for making our trip enjoyable and easy even with a baby.
stephane
2017-03-20T00:00:00Z
Wir haben die grosszügige Wohnung mit der wunderbaren Aussicht auf den Genfersee genossen. Die Abwicklung am An und- Abreisetag gestaltete sich angenehm und unkompliziert.
Ruth
2016-01-10T00:00:00Z
Georges place is super! The flat is really spacious, clean, and looks exactly like the pictures. This is so far the best apartment I have ever stayed via airbnb! He welcomed us personally and the communication with him was easy. He took care of us by providing snacks and some food. We had a lovely stay at his place. Thank you so much for hosting us, Georges!
Anselma
2017-01-21T00:00:00Z
Great accommodation in a beautiful town. Spacious and charming apartment. Georges was very helpful and available but also unintrusive. I highly recommend this apartment.
Stephanie
2016-07-07T00:00:00Z
Oda Tipi
Tüm ev/daire
---
Mekan Türü
Daire
---
Konaklayacak Kişi Sayısı
4
---
Yatak odaları
Nyon, Vaud, İsviçre
rents apartment 60 m2, independent, duplex villa in the countryside. Furniture: all new kitchen, walk-in shower bathroom, bedroom loft. car park . monthly rental for the week. 9 km access Geneva possibility buses - 6km from Thonon bus possible: parking place 5km Yvoire Leman -plage- CHAMBERY CHAMBERY ideally located and mountains. Auto Show Geneva from 9 TO 19 March. 2 persons . Person not serious abstain.
Oda Tipi
Tüm ev/daire
---
Mekan Türü
Daire
---
Konaklayacak Kişi Sayısı
2
---
Yatak odaları
Massongy, Auvergne-Rhône-Alpes, Fransa
Beautiful duplex family apartment only 20 minutes from the French border and 30 minutes from Geneva. It comprises the ground floor of a kitchen open to a spacious living room with fireplace, a large bedroom with a double bed and a desk. A room with a single bed, a bathroom. 2 terraces. Upstairs a large children's room and bathroom. Parking available. Sauna
Oda Tipi
Tüm ev/daire
---
Mekan Türü
Daire
---
Konaklayacak Kişi Sayısı
5
---
Yatak odaları
Prangins, VD, İsviçre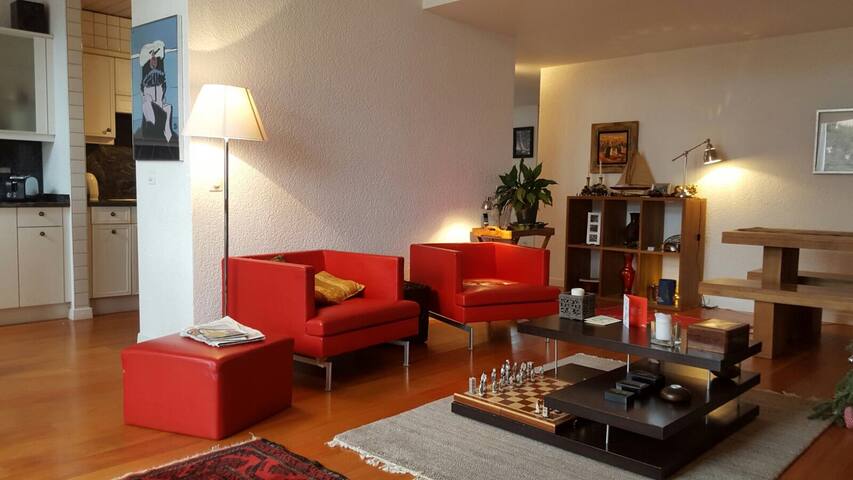 Joli petit duplex de 2x25m2 à Sciez, à 30 mn du centre de Genève et 50mn de son aéroport, à 1 h des stations de ski et 10mn à pied du centre du village, 20 mn à pied de notre véritable plage de sable fin, Excenevex. Ce joli duplex est disponible en juin, juillet et aout, pour une séjour d'une semaine au minimum. Une grande terrasse fermée et équipée pour la far niante vous attendra avec son bbq, à l'étage une grande chambre et une salle de bain.
Appartement en duplex 2X25m2 et sa terrasse fermée, tout confort et équipé, parfait pour découvrir ou redécouvrir notre belle région du lac Léman. Petit loyer contre bons soin à mon chat ;)
Ce n est pas un quartier unique et typique, mais un pied a terre central pour découvrir notre région, entre lac et montagnes
Audrey est top, elle nous a tout expliqué de son appartement avant de nous laisser prendre nos repères dans son petit nid. Le duplex est très agréable. Tout le nécessaire est disponible. Zouzou, sa chatte est adorable. Foncez, vrai bon plan et très bien situé.
Carole
2016-05-16T00:00:00Z
Oda Tipi
Tüm ev/daire
---
Mekan Türü
Daire
---
Konaklayacak Kişi Sayısı
2
---
Yatak odaları
Sciez, Rhône-Alpes, Fransa
Mon appartement est proche de la Gare CFF (bus et train), les grandes fenêtre sont exposées au Sud vers une large cour intérieur. c'est calme et lumineux. Le salon donne sur un balcon (pour rassurer les fumeurs). Vous trouverez à quelques pas, le centre ville, de bons restaurants, quelques bars, Boulangerie, Banque, le Lac, des supermarché, ou parking. Avec le grand lit séparable, mon logement est parfait pour les couples, les voyageurs en solo et les voyageurs d'affaires.
I enjoyed my staied at laurent house. It is just perfect.
RAED
2017-03-04T00:00:00Z
Very central and cosy - definitely recommended
Jerry
2016-12-17T00:00:00Z
Merci Laurent pour le super accueil ! L'appartement était parfait : proche de la gare (mais sans le bruit des trains), confortable, très propre, équipé simplement mais avec tout ce qui est nécéssaire. J'y retournerais avec plaisir lors de mon prochain passage à Nyon ! Mathilde (France)
Mathilde
2016-11-19T00:00:00Z
L'appartement est idealement situe, proche de la gare et permettant de se promener a Nyon.
Grégoire
2017-02-07T00:00:00Z
A+++ would rent again
Adam
2017-02-13T00:00:00Z
Oda Tipi
Tüm ev/daire
---
Mekan Türü
Daire
---
Konaklayacak Kişi Sayısı
4
---
Yatak odaları
Nyon, Vaud, İsviçre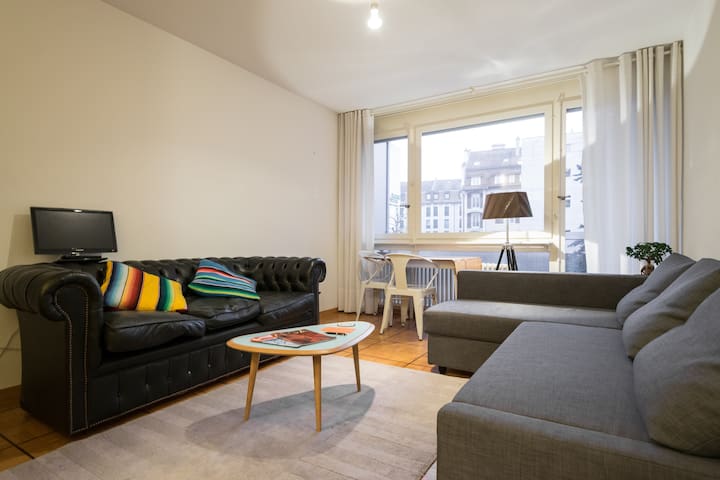 Grande chambre calme, lit de 180/200 donnant sur une cour intérieure avec l'odeur du pain au réveil ! Large quiet room, bed 180x200 overlooking a courtyard with the smell of bread in the morning!
Située en plein centre ville de Nyon, à 5 minutes de la gare, 20' de l'aéroport de Genève-Cointrin 10'du lac, plage,débarcadère, restaurants et proche des institutions et des commerces, cette chambre est un endroit idéal pour un séjour de travail ou de vacances. Located in the center of Nyon, 5 minutes from the station, 20 'from the airport of Geneva-Cointrin 10' of lake, beach, pier, restaurants and close to the institutions and shops, this room is ideal for a stay of work or vacation.
La vie au quotidien, lieu de passage, marchés, négoces. Une animation naturelle rythmée par les cloches et agrémentée des chants des oiseaux.
C'est mon deuxième séjour chez Marina, pour 2 semaines cette fois, et ça ne sera pas le dernier, j'ai même déjà réservé le prochain. L'accueil est toujours au top, dans une ambiance familiale, l'appartement est très agréable, avec une belle chambre très spacieuse.
Thierry
2017-02-05T00:00:00Z
Die Wohnung ist sehr zentral gelegen. Das Zimmer war sauber und das Bett sehr bequem. Die Gastgeberin ist sehr zuvorkommend und hilfreich. Sollte ich mal wieder in Nyon sein, werde ich mit Sicherhiet hier übernachten.
Elias
2017-03-08T00:00:00Z
Marina était une hôte super, je recommande!
Sebastien
2017-02-24T00:00:00Z
What a beautiful spacious place. With a lovely friendly host!
Justin & Eva !
2017-02-10T00:00:00Z
Very good communication and very friendly and flexible host. Great central location yet very quiet. Would love to come back anytime!
Pieter
2017-03-02T00:00:00Z
Perfect room, perfect host, perfect location :)
Scott & Yennilu
2016-12-24T00:00:00Z
I arrived into Nyon train station and was picked up by her and her lovely dog. It was such a nice gesture and I immediately thought how lucky I was to have found this room for my stay. The apartment was absolutely beautiful with a private garden/patio overlooking Nyon Castle. I would definitely come back to stay again.
Theresa
2016-10-19T00:00:00Z
It was a nice apartment with a helpful host and lovely dog and at a very central location. Everyzhing is reachable easily by foot.
Eliane
2016-07-24T00:00:00Z
Oda Tipi
Özel oda
---
Mekan Türü
Daire
---
Konaklayacak Kişi Sayısı
2
---
Yatak odaları
Nyon, VD, İsviçre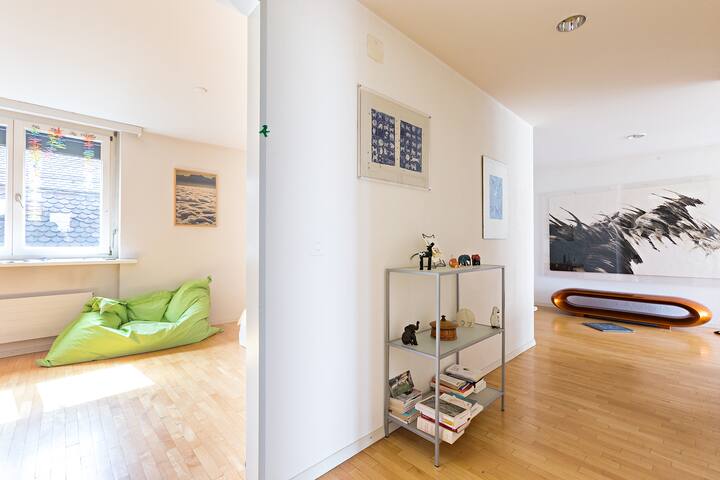 Apartment of 50 m2 with garden. Near all amenities. Close to the beach (10 min Excenevex), public transport and the airport Geneva (40 min). The nearest ski resort 30 min. Lots of activities around : Visits city center of Thonon/ Evian, hiking, rafting, paragliding, climbing, ski, lake activities. Perfect accommodation for couples, solo travelers and business travelers.
L'appartement de Delphine est très bien arrangé avec soin et il y a tout ce qu'il vous faut. J'ai passé une excellente semaine. Je recommande à tout le monde.
Christophe
2016-09-30T00:00:00Z
Accueil agréable et chaleureux , l'endroit est conforme à la description.
Mathilde
2016-10-08T00:00:00Z
Oda Tipi
Tüm ev/daire
---
Mekan Türü
Daire
---
Konaklayacak Kişi Sayısı
2
---
Yatak odaları
Sciez, Auvergne Rhône-Alpes, Fransa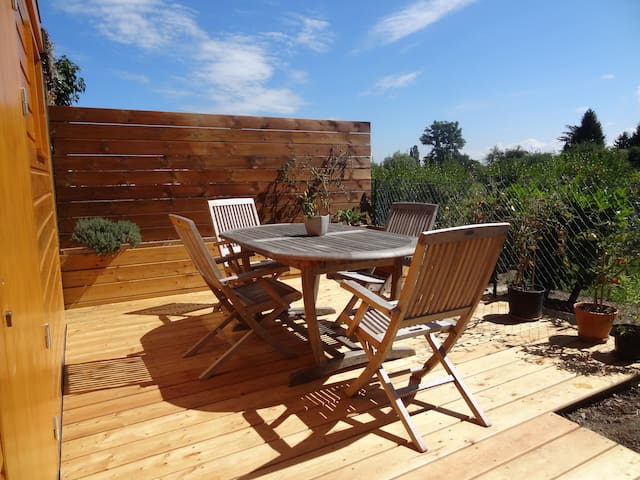 The apartment is ideally situated in the center of Nyon, very comfortable, nicely decorated and spacious with its luminous living room and dining room, 2 bedrooms, 1 bathroom and large balcony.
Not even 5 minutes walking to the Geneva lake and the station.
Christa was a great host & the flat was amazing!
Tammy
2016-11-21T00:00:00Z
The host canceled this reservation 111 days before arrival. This is an automated posting.
Jenny
2016-12-20T00:00:00Z
Oda Tipi
Tüm ev/daire
---
Mekan Türü
Daire
---
Konaklayacak Kişi Sayısı
4
---
Yatak odaları
Nyon, VD, İsviçre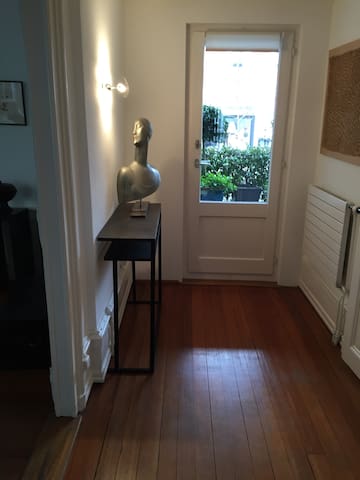 86m carrés plein centre ville Gare de Nyon: 4 min Supermarchés: 2 min Restaurants: 10 sec Genève: 15 min Une vue imprenable sur le lac, les montagnes et le château depuis la très authentique et grinçante loggia. 1 chambre 15m2, 1 salon 15m2 (canapé convertible pouvant accueillir 1 voire 2 personnes), 1 grande cuisine, 1 salle de bain, toilettes séparées.
Oda Tipi
Tüm ev/daire
---
Mekan Türü
Daire
---
Konaklayacak Kişi Sayısı
3
---
Yatak odaları
Nyon, Vaud, İsviçre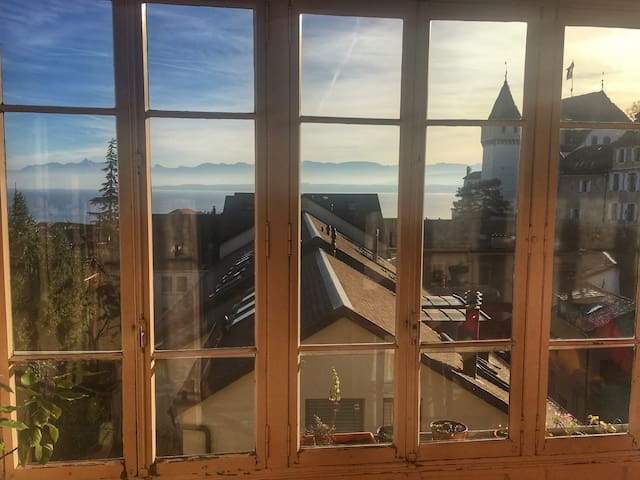 Between Geneva and Lausanne on Lake Geneva. Five minutes walk to the Lake with breathtaking views of the Lake and Mont Blanc on one side and the Jura mountains on the other. My place is close to public transport (20 mins to Geneva), parks, the airport (25 mins - 1 train), and all essentials. You'll love my place it has been decorated and equipped as our home. Only renting out temporarily as we are moving back to London. My place is good for couples, business travellers, and families (with kids).
The apartment is very quiet with no outdoor or indoor noise from neighbours etc. It has been a perfect home for us for the last seven years so obviously no issues.
Fantastic neighbourhood for kids, several parks within a few meters. Supermarket, doctors and small selection of restaurants also within a few mins walking distance.
The apartment was huge and well furnished on the ground floor. The one room on the second floor is completely empty, there is no furniture. As Ahmar wasn't present, a nice lady gave us the keys to the apartment. Our stay was great but the one thing that needs to be corrected is the cleaning. when we arrived, there were hair in the bed sheets, kitchen was sticky (counter, table, floor), bathroom needed cleaning too, containers in the fridge were dirty, some rubbish was still there from previous guests. Very positive: lots of parking spaces, not far from lake by car, supermarket very close, train station 15 mins by foot, many excursions possible in lake geneva area.
Giulia
2016-07-27T00:00:00Z
Ahmar is a very kind host and very considerate in checking up and offering help. The place is very clean with a lovely view. Everything was according to my expectations. Even though I stayed there in summer, the appartment is still cool but at the same time very bright. I would recommend it to anyone. All appliences for the kitchen and cleaning are available. For someone who looks for a nice getaway that is quiet, spacious, bright and comfortable place to stay will be perfectly accomodated at this place. Lovely !
Lisa
2016-07-09T00:00:00Z
Oda Tipi
Tüm ev/daire
---
Mekan Türü
Daire
---
Konaklayacak Kişi Sayısı
4
---
Yatak odaları
Gland, Vaud, İsviçre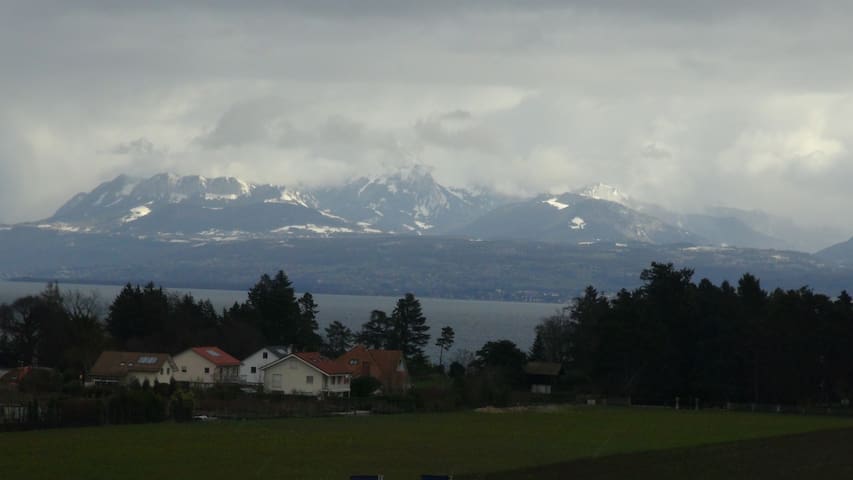 Clasy and comfortable studio in beautifull Prangins vilage. 15min walk or bus to Nyon train station, 30min by train from Geneva. 25min walk from the lake. Located in a family house, independent apartment with seperate entrance. Short and long term rental.
Independent studio with bathroom and small kitchen located in family house in a charming village of Prangins. Located between Geneva and Lausanne. comfortable double bed + sofa bed. baby cot can be provided. small kitchen, shower room, independent entrance to the studio. 3 min away from Tour d'Eau bus stop in Prangins, 10min by bus to Nyon, 15min by train from Nyon to Geneva Cornavin TV, DVD, wi-fi access included. towels and bed sheets included. washing machine and dryer available Prangins is a great place to explore Switzerland: there is Swiss National Museum, Chateau de Prangins, viniards and Chateau de Duiller - in walking distance from the apartment.
Quiet village of Prangins
We had a lovely stay at Joanna's place in Prangins. The studio is well equipped, comfortable and larger than we thought. Joanna was very friendly and helpful and provided us a bunch of baby accessories. We were also able to use the washing machine and dryer which was very useful as our little one wasn't feeling well at times. Prangin is a lovely little, quiet town near Nyon. Next time we visit the area, we would certainly come back!
Pieter
2016-04-26T00:00:00Z
Joanne is wonderful!!!! She was so warm and accommodating -- she was really helpful. The place is very accurately described in the pictures and it was a great place for my family - a family of 4 can stay there very comfortably.
Eli
2016-08-24T00:00:00Z
조안나는 밝고 다정한 주인입니다 우리 아이들을 위해 장난감을 미리 준비해주었습니다. 또 떠나는 날 빨래가 마르지 않을까봐 건조도 신경써 주었습니다. 그녀의 집은 밝고 안락하고 따뜻합니다. 또 바로 앞에 주차 할수 있어서 짐을 옮기기도 편합니다 주위는 산책하기좋은 장소와 아이들의 놀이터도 있습니다. 이 숙소를 추천합니다!
수경
2017-02-11T00:00:00Z
Joanna made us feel home, her apartment is clean and spacious. We felt home. Thx Joanna.
Omar
2017-02-07T00:00:00Z
Awesome place, perfectly located place, midway between Genève and Lausanne. Communication very easy with Joanna. Its our favorite place whenever we visit Switzerland. Thanx alot
Fawaz
2017-02-12T00:00:00Z
Thanks
suresh
2016-12-10T00:00:00Z
El apartamento es genial, tranquilo y agradable. La zona es una urbanización residencial muy tranquila y el studio se encuentra en la planta baja de una gran casa. En cuanto a comodidades, no le falta de nada. Acerca de Joanna, siempre se ha mostrado receptiva y dispuesta. Muy bien!
Jordi
2014-06-12T00:00:00Z
We stayed at Joanna Studio with our six months old baby for four nights. My husband and I had never rent a holiday apartment before so we did not know what to expect. Joanna was a great host; she really made us feel welcomed and ensured we had everything we needed. The studio is clean and well located. I definitely recommend it to anyone or family travelling in the area. This is a better and cheaper alternative to hotels…
Celestine
2013-07-10T00:00:00Z
Oda Tipi
Tüm ev/daire
---
Mekan Türü
Daire
---
Konaklayacak Kişi Sayısı
4
---
Yatak odaları
Prangins, Vaud, İsviçre
Nernier - Airbnb
:
97

misafir değerlendirmesinden,

5

yıldız üzerinden ortalama

4.48

yıldız
1

–

18

/

95 Kiralık Daire
Tam fiyatlandırmayı görmek için tarihleri görün. Ek ücretler uygulanır. Vergiler ilave edilir.