Beach side condominium with huge swimming pool. Walking distance to Bluport shopping mall and Cicada night market.
Oda Tipi
Tüm ev/daire
---
Mekan Türü
Daire
---
Konaklayacak Kişi Sayısı
4
---
Yatak odaları
Nong Kae, Prachuap Khiri Khan, Tayland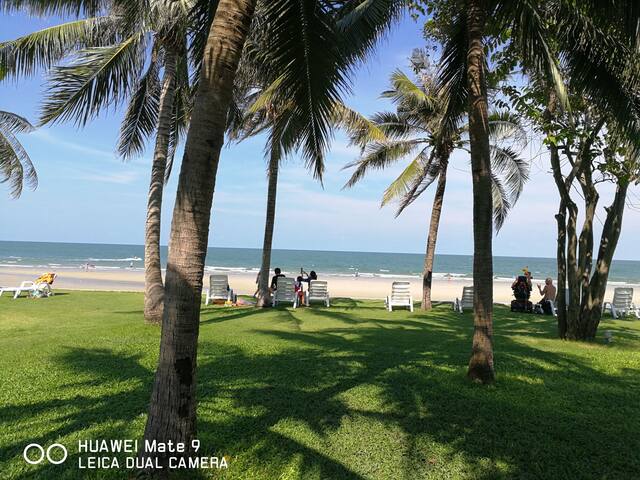 Cozy fully furnished and equipped apartment with a large balcony in a new gated complex with a unique large swimming pool with a children's area and a place for relaxation in walking distance from the beach, shops and restaurants.
Our apartment has a fully equipped kitchen utensils and household tehnikoy.Dlya suit guests online held in an apartment, equipped with satellite TV. The apartments have a large balcony where you can enjoy spectacular views of the sunset and the mountains.
The complex is located in an area with good infrastructure, it is close to the sea and to the city center. A five minute walk from the complex is the art market and food court Cicada Tamarind.Ryadom with complex located chain hotels luxury level.
Oda Tipi
Tüm ev/daire
---
Mekan Türü
Daire
---
Konaklayacak Kişi Sayısı
4
---
Yatak odaları
Nong Kae, Prachuap Khiri Khan, Tayland
Pleasant to live, light and airy, being north facing, it offers a welcome natural coolness in these latitudes ... The fact that he did not directly overlooking the pool provides a quiet and additional privacy.
Very comfortable and cozy condo. My family liked everything. Complex Autumn is excellent - I recommend it to everyone.
Konstantin
2017-03-28T00:00:00Z
Oda Tipi
Tüm ev/daire
---
Mekan Türü
Daire
---
Konaklayacak Kişi Sayısı
3
---
Yatak odaları
Nong Kae, Prachuap Khiri Khan, Tayland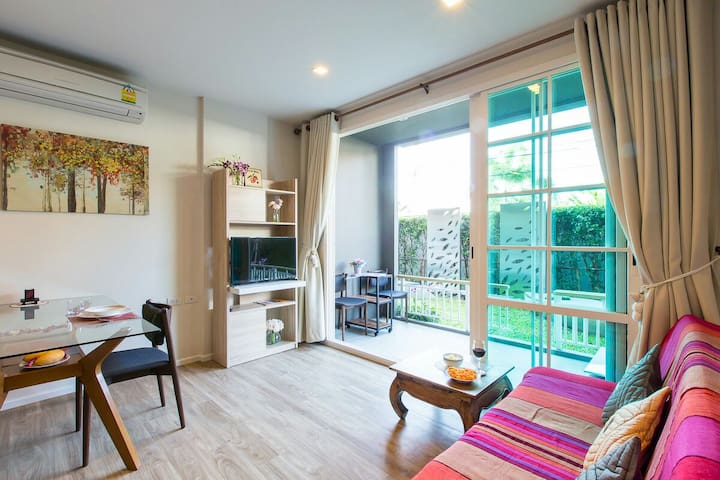 최대 4 사람들을위한 브랜드의 새로운, 빛이 가득한, 2 베드룸 유닛. 단위는 두 kingsized 침대, 두 개의 욕실, 맑은 바다 전망, 아늑한 거실과 주방, 헬스 클럽, 수영장 및 주차 공간과 발코니가있는 2 개의 침실을 제공합니다. 해변에서 200m.
I am beyond shocked by how pretty and clean this place looks. The beds were soft, the view was breathtaking, and so on. The swimming pool was big and there were many restaurants nearby. The host, especially, was very nice. He replied very quick and with manners. My family and I will definitely come back again to this place without doubt :)
Chotiwan
2016-07-18T00:00:00Z
Very nice host. Made everything very easy for us. Great. Recommend staying at Arts place.
Christinna
2016-10-03T00:00:00Z
We had a wonderful stay. Art was a fantastic host and the apartment was great. We will definitely be back. We loved the pool and the gym. Thank you
Raquel
2017-03-16T00:00:00Z
Room was clean and big enough for 4 people. Location is very good. The price was value for ur money ;)
Plerdplern
2016-07-26T00:00:00Z
The place was really clean and hygienic. Good for family or with friends. I'm so satisfied.
Yuto
2016-07-31T00:00:00Z
A very nice wide and spacious brand new condo located on a quiet street near Khao Thakiab. The host responded confirming the rental within minutes at 1 AM... Furnishing and equipment is a bit on the limited side, but there is a Family Mart just in front of the condo. The location is ideal (within 2 kms of Cicada night market and just by the side of Khao Thakiab - the room has a gorgeous view of that landmark). Plenty of eating places around (but you will need to get your own fork and knife if bringing home (disposable ones available at Family Mart). Toiletries, towels were made available and were quite appreciated. Kiddie pool, and lovely atmosphere.
Marc
2016-05-16T00:00:00Z
This is a new building with nice pool. However the unit is very sparsely furnished...two beds, two t.v., and one sofa. No kitchen utensils, dishes, cups, glasses, or trash can. No table, chairs, or closets.
Bruce
2016-05-15T00:00:00Z
The apartment is clean, comfortable and there are necessary facilities for vacation stay. Beach is not too far, just walk about 500 meters. Good service of transportation between the city and the condo is available. To sum up, we were happy while staying in this place.
Haris
2016-07-21T00:00:00Z
Oda Tipi
Tüm ev/daire
---
Mekan Türü
Daire
---
Konaklayacak Kişi Sayısı
4
---
Yatak odaları
Nong Kae, Prachuap Khiri Khan, Tayland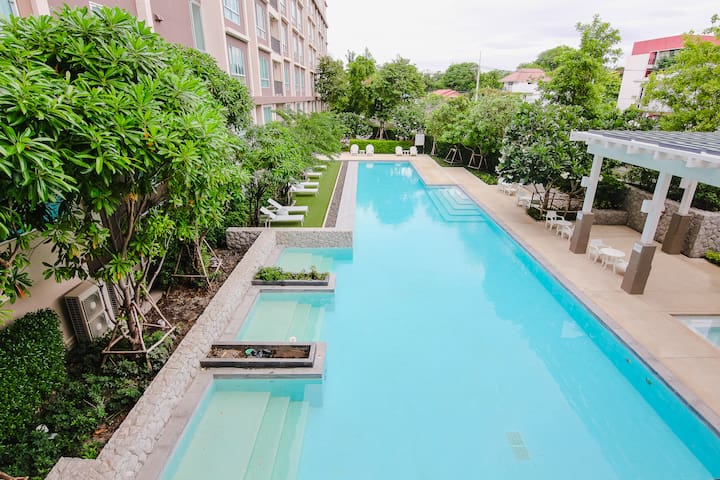 41 kvm glas skydedør mellem seng og stue Større og pænere end et hotel arrangement Kan byde velkommen til en 100 thb Morgenmad næste dør fra "Boathouse" pensionat. Hvis du ønsker at grap en billig morgenmad med dem. 41 kvadratmeter, mellem soveværelset og stuen af et glas partition døre gør, layoutet af større og mere komfortabel end et hotelværelse. Du kan også spise morgenmad i 100 sidelæns Boathouse Inn.
Golf Course. Greenary. Der er strande, der er træer
Stopped in Hua Hin for two nights and stayed at this very comfortable and clean condo. Parking space was helpful. 24 hour security was awesome. Bed was extremely comfortable. Friendly staff! "You and Me" massage around the corner and down the street was awesome! Go see Pi Oam and her staff.
Mark
2016-07-20T00:00:00Z
The room was nice & clean.
LookPla
2015-10-26T00:00:00Z
Lovely condo, especially the rooftop swimming pool. Exactly as appears in photo and clean. It is also incredibly close to the beach and many nice small seafood restaurants. My only suggestion would be that a few more amenities could be included e.g. kitchen had very few bowls and plates and no washing up products were provided.
Megan Tara
2017-01-06T00:00:00Z
Nice place with a great location. The apartment is located near a very good section of the Hua Hin beach. The rooftop pool area has an amazing view of the golf course and ocean.
Russ
2016-04-16T00:00:00Z
We thoroughly enjoyed our stay here. K.Nipaporn was very prompt in responding to both our booking and our inquiries. The room was as it is pictured in the listing. It was clean and neat. Towels were provided. The rooftop pool and the view is simply breathtaking. The beach is lovely and open. You can rent a chair/umbrella for THB 100/day on the beach. We hope to find an opportunity to return. Note: Bring soap and toilet paper.
Priscilla
2016-11-13T00:00:00Z
The apartment are in a nice quite area close to the beach. The staff are all friendly and able to support with anything you need. The apartment is fine the quality of the towels are not great and the bed although is a quality bed, it is very soft, but by the 3rd night was use to it. The roof top pool is nice, if not a bit cold. The gym is basic but is fine apart from the treadmill was not working. Would I stay again... no, I thing their is better out their. But by all means it was a nice clean apartment in a quite area 6/10
Gareth
2016-12-04T00:00:00Z
Excellent service from Khun Nipaporn and her partner. She made a point of dropping by on the first day to make sure everything was ok - it's always useful to get to know one's hosts in person. We were very happy with the condo. Perfect for the beach, and for getting around the Khao Ta Keab area. The swimming pool and open deck area on the roof were fabulous. The security guards at the condo were a delight - very helpful, and always with a bog smile.
Jonathan
2016-01-04T00:00:00Z
Description and pictures are accurate. Apartment is actually bigger than expected. Very modern and clean. Security and the workers at the office are very helpful. So was Nipaporn. Had a few small issues at check-in which were quickly resolved. Apartment building is very secure. Rooftop and pool area is beautiful. Beach is only a 5 minute walk away with plenty of cafes and restaurants. It's a little bit out of the center but with a motorbike rental it's easily reachable. I would stay here again.
Erol
2016-11-23T00:00:00Z
Oda Tipi
Tüm ev/daire
---
Mekan Türü
Daire
---
Konaklayacak Kişi Sayısı
2
---
Yatak odaları
Nong Kae, Prachuap Khiri Khan, Tayland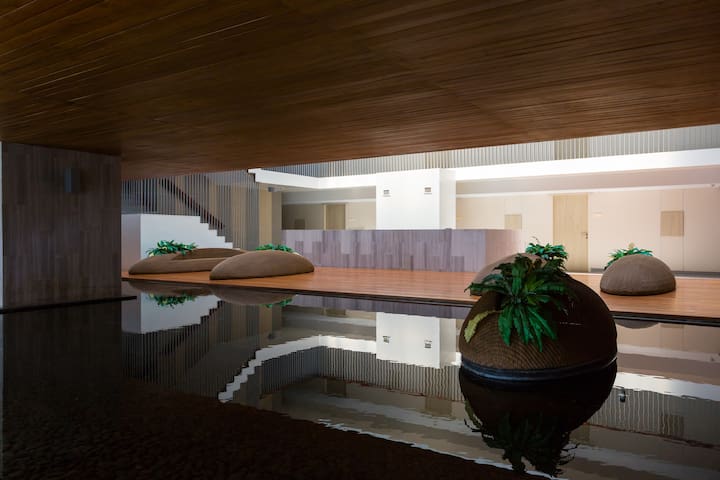 Ohranyanmy neue Wohnanlage befindet sich in einer der beliebtesten Orte in der Nähe von Expats Khao Takiab Berge zum Entspannen und Verweilen ein.
In dieser Wohnung, die Sie zu Hause .Hier Küche fühlen ist komplett mit Geräten, große, komfortable Kühlschrank, Herd und Tisch ausgestattet für das Kochen .Our apariamenty haben einen kleinen gemütlichen Balkon für Ihre Wäsche getrocknet wird, sowie auf alkone eine Waschmaschine für den persönlichen Gebrauch ist. auf dem Hof unserer Wohnung Pool großen bequemen Liegen zum Sonnenbaden und einen kleinen Pool für Kinder. Es gibt einen kleinen Garten mit einer angenehmen und udrbnymi Hängematten .Bolshoe komfortable Lobby Möblierte Steckdosen und Fans, Sie immer modet am Computer in der Lobby entspannen oder arbeiten. Unser neuer Fitnessraum ist mit allen Trainingsgeräten ausgestattet sprotom und Fitness-Einrichtungen zu engagieren, hat es eine große Fläche und ist mit einer Klimaanlage ausgestattet. In unserem Komplex für Gäste unserer arartpsentov bietet kostenlose Parkplätze für Auto und Motorrad oder Fahrrad.
Dies ist ein sehr beliebtes Gebiet unter Expats und Touristen, neben der Anlage einen schönen breiten Strand mit LeDuc und Massage salrnami. In raoyne Komplex zu vielen touristischen Orten: der Berg Khao Takiab, Cicada Market, die berühmte Fischmarkt .Naprotiv Wohnung gibt es ein Lebensmittelgeschäft mit allem, was Sie ganz in der Nähe ein neues Restaurant mit europäischer Küche und ein gemütlichen Kaffee Hause geöffnet. Zweimal in der Woche, nur wenige Gehminuten von dem Markt arbeitet kkompleksa rynok.Rybny Lebensmittelmarkt ist in etwa 10 Minuten zu Fuß, wo man immer frische Meeresfrüchte kaufen kann sie zu Hause oder poprobvaat Thai-Küche, nicht von den lokalen Cafés zu kochen.
Oda Tipi
Tüm ev/daire
---
Mekan Türü
Daire
---
Konaklayacak Kişi Sayısı
3
---
Yatak odaları
Nong Kae, Prachuap Khiri Khan, Tayland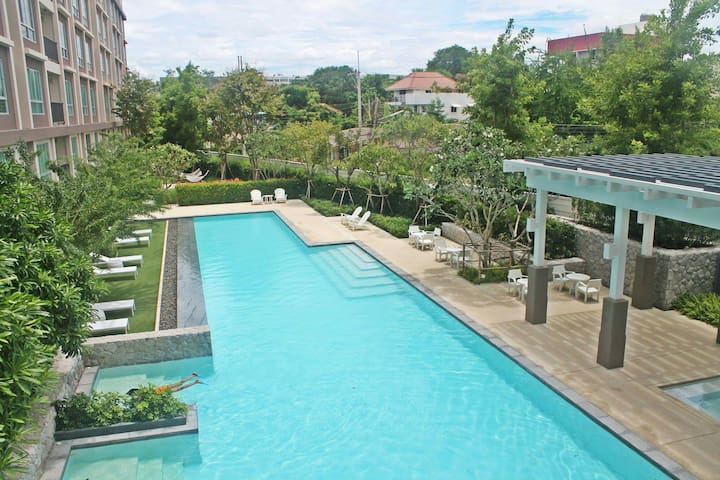 2 soveværelser familie suite, fuld faciliteter, fitnesscenter, 5 puljer med dias! Rolige og ren strand i Khao Tao, 15 min. fra Hua Hin centrum. Tæt på badeland, Vana Nava. Sjov for børn, perfekte ferie for alle. Nyd friske fisk og skaldyr fra fisker landsby
Høj gulv for at se havet, rolige og store visning. Vi giver et værelse med 6 'seng og det andet soveværelse med tre 3' seng. 2 badeværelser, fuldt funktion køkken. Smukke dekoration
Stille, men venlige
Все было супер!!!!. Спасибо Кети за прекрасный отдых. Прекрасное место для отдыха с семьей.
Maxim
2016-01-31T00:00:00Z
We had a really relaxing holiday at Kate's place. The facilities at the condo were great, the beach was right on our doorstep and there were enough little places to eat that we didn't have to drive anywhere. Kate was very helpful with her communication and her 2 bedroom unit was nicely presented. The only drawback we had was that the living area was quite small for a family of 5 (not really a problem though as we spent so much time at the pool and beach) and the kitchenette was really only suitable for breakfast, and basic meals. The laundry facilities at the condo are also quite expensive, so be prepared if you come for a longer stay.
Dan
2016-07-29T00:00:00Z
What a fantastic place! If you want a quiet and relaxing holiday this is the place to go. The surroundings are beautiful with a little village close by, a stunning beach and a well kept garden and pool area. The restaurants offers great value for money, lots of small local restaurants and the occasional pricier western style restaurant too. The area is safe and quiet. The apartment is spacious, well presented and clean. Kate is a great host who is easy to communicate with and has good advice to give on the area. Overall a great holiday!
Emma
2017-02-15T00:00:00Z
We had a wonderful stay at Kate's place! The apartment is clean and we'll equipped with the necessities. We loved the pool and wonderful beach area. It was quiet and we felt like our family had the beach to ourselves! Our youngest daughter (2 years old) absolutely loved riding on the back of Kate's bike with her daddy! There are many small restaurants and shops within a 5-15 minute walk of the apartment and we were able to find everything we needed. We had a great vacation at Kate's apartment in Kao Tao!
Matthew
2017-02-01T00:00:00Z
This is our second or third time staying here. The place is lovely. No surprises here. As others have already noted, Kate is great to communicate with and her place is situated in a lovely spot with everything one needs for a comfy and convenient stay. We'd happily return.
Gary
2017-02-23T00:00:00Z
Kate was a perfect host... she responded quickly (immediately most times) to any question we had. She checked in with us via text after we first arrived to make sure everything was satisfactory. Her condo was just as she described in the listing. The kitchen was furnished with basic pieces, enough for simple cooking. Honestly, we had simple breakfasts and lunches in the condo and then enjoyed dinners out so we didn't cook that much. Kate has drying racks on the balcony, which was so nice for our wet swimwear and beach towels. I would recommend bringing your own clothes hangers since there aren't any in the condo. We did pack our own, and it made it easier to organize clothes in the wardrobe. We stayed for 15 nights and enjoyed every single minute of it. We have 2 children ages 8 and 7. This is the perfect complex for families... several pools, easy beach access, quiet, helpful staff, secure. We used trip advisor to find several fantastic restaurants within a 15 minute walk of Kate's condo. If you're looking for western food/grocery story, it's a 10 minute taxi ride (400 Baht round trip) into the city. There's a place called Market Village in the city with a Tesco, Starbucks, ice cream, Burger King, pizza, pretzels, doughnuts, Sizzler, shopping. There's a 7-11 just a 5 minute walk from the condo, which has a great selection of basic grocery items. That was really convenient. The beach in front of the condo was spacious, even at high tide, with plenty of room to walk and play. During our stay, the beach was quiet with only a few people. It was almost like we had our own private beach area, which we loved. If we plan another vacation to Hua Hin, we'll definitely contact Kate to stay in her condo again. It was a great experience from start to finish.
Jennifer
2016-04-12T00:00:00Z
Kate has been a perfect host although we never met her in person. Available for assistance via (SENSITIVE CONTENTS HIDDEN) or telephone. Lots of tips or just "is everything oke" to check if we needed assistance. Her condo is perfect for a family of 5. Well equipped, good beds, good WIFI, 5 km south of Hua Hin city at the quite beach of Khao Tao. To have a relaxed vacation this is the spot.
Allan
2015-07-14T00:00:00Z
Хозяйка была очень гостеприимной.Квартира полностью соответствовала описанию и фотографиям.Спальные места были удобными и мы отлично высыпались.Удобная кухня со всем необходимым для приготовления пищи.Тихие кондиционеры не мешали пребыванию и хорошо охлаждали в жару. Отличные бассейны с чистой мало хлорированной водой. Охрана комплекса была очень приветлива ,всегда здоровались ,предлагали помощь в парковке автомобиля и переносе тяжелых покупок из машины в квартиру. Море довольно мелкое ,что удобно для детей. Само место уединенное, рядом мало точек питания и даже не было массажного салона и приходилось ездить на массаж на автомобиле. В целом пребыванием в этой квартире остались довольны и советуем её тем ,кто желает уединения без толп туристов.
Oxana
2016-07-10T00:00:00Z
Oda Tipi
Tüm ev/daire
---
Mekan Türü
Daire
---
Konaklayacak Kişi Sayısı
5
---
Yatak odaları
Nong Kae, Prachuap Khiri Khan, Tayland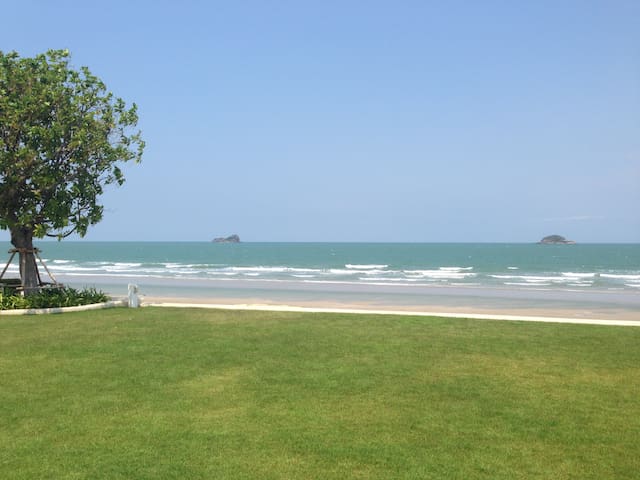 Appartement à louer à Hua Hin (Kao Takieab), dans la chambre wifi, à 5 minutes à pied de la plage entièrement meublé
Studio Room 30 sq m. 5 minites à pied de la plage. A proximité du marché Cicada (week-end de Merket) peut se rendre à la ville en voiture publique. Espace privé adapté à simple, double ou familiale.
自驾过来,小区环境很好,房间非常干净,楼下有全家,还有很好吃的餐厅,非常棒的入住体验
Alex
2016-12-31T00:00:00Z
Не было комплекта полотенец, не фена, не утюга, посуда практически отсутствует, нет элементарной сушилки для белья. Не понравилось отношение
Julia
2017-01-11T00:00:00Z
The apartment is very clean and comfortable. There is microwave oven and a kettle but no hotplate. It was enough for us. It is a great advantage: there is an automatic washing machine. The common pool and the condo's area is very nice. The location is good: not far from the public transportation and the beach. 7\11 and family mart is on the opposite side of the road from the condo. The owner is very friendly and helpful. She provided us with extra tatami-matress and a blanket for a kid. We had a very pleasant time in Hua Hin.
Elena
2017-02-17T00:00:00Z
Oda Tipi
Özel oda
---
Mekan Türü
Daire
---
Konaklayacak Kişi Sayısı
2
---
Yatak odaları
Nong Kae, Prachuap Khiri Khan, Tayland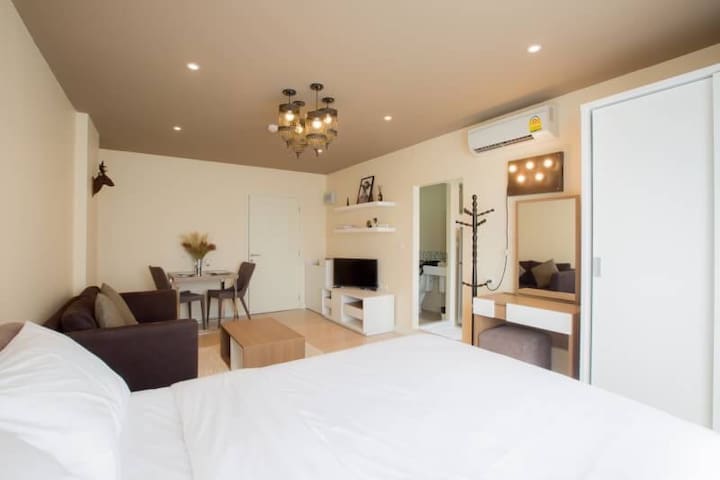 카오 Takieb, 후아힌 2BR 아파트입니다. 아주 매미 시장, 하얏트 호텔, 바나 나바 후아힌 워터 파크 또는 원숭이 사원에 마감했다. 근처 윌라 이완 후아힌 같은 좋은 레스토랑. 10-15분 내에서 후아 힌 시티 센터에 녹색 버스 교통.
이 거주, 반 IMM-목표는 좋은 아주 위치에 아늑한입니다. 장식은 실내 해변 마을과 휴식을 느낄 수있다.
당신은 당신이 지역에서 원하는 모든 것을 찾을 수 있습니다. 멋진 해변, 멋진 레스토랑, 심지어 좋은 술집. 필요가 어디든 갈 수 없습니다.
Inkkie is a super friendly host, and her home is a great place with great location . we had a good time in Huahin.
Pei
2017-02-03T00:00:00Z
A nice and tidy house,really clean with almost everything we need.Inkkie is reliable,always solve my problem immediately. 20-25mins walking distance to Khao Takiap Beach,and you can get the food and taxi service outside the (URL HIDDEN) 200 Baht to Hua Hin Satation/Night Market. 离华欣市中心有10分钟车程的距离,适合自驾出行。附近餐馆从人均十元到五十元不等,是个安静的选择。
Lu Jiayi
2017-01-20T00:00:00Z
Very good!!! Inkkie 非常nice 房子环境也非常干净舒服 很愉快的一次旅行
Mayyee
2017-02-23T00:00:00Z
Inkkie's is very helpful and very supportive host. This place is perfect for group of friends and family. The room is nice and clean and well-prepared by Inkkie. We did enjoyed our stay very much. :)
Pear
2017-03-26T00:00:00Z
Inkkie was very flexible with us and was very fast in responding to our incident (the window fell when I was opening it.) the apt is as shown in the picture. You'll need to get and return the key from the juristic person. The rooms face the street so do expect some noise - not to the degree to affect my sleep though. It's 10 min walk from the beach. I liked it because it's a 2-bedroom apt.
Penny
2017-02-25T00:00:00Z
I would have to say it was everything I wanted & more. I would definitely recommend it to family, friends & anyone else.
Robert
2016-12-31T00:00:00Z
ชอบค่ะ ห้องกว้าง นอนสบาย ที่สำคัญสะดวกและใกล้กับสถานที่ท่องเที่ยวยอดนิยมในหัวหินด้วยค่ะ
Anunya
2016-07-18T00:00:00Z
非常好,房间很干净,沙发床很大,五个人住很合适,不觉得拥挤。厨房该有的设施都有,厨具餐具一应俱全。位置还不错,我觉得在华欣没有必要住在市中心,inkkie的公寓离华欣的海滩和两个比较大的shopping mall挺近的,坐tutu或者taxi五、六分钟就到。与房东联络也很方便,有问题给inkkie打电话很快就取得联系。会推荐给朋友入住~thank you very much Inkkie~
亭仪
2017-03-02T00:00:00Z
Oda Tipi
Tüm ev/daire
---
Mekan Türü
Daire
---
Konaklayacak Kişi Sayısı
6
---
Yatak odaları
Nong Kae, Prachuap Khiri Khan, Tayland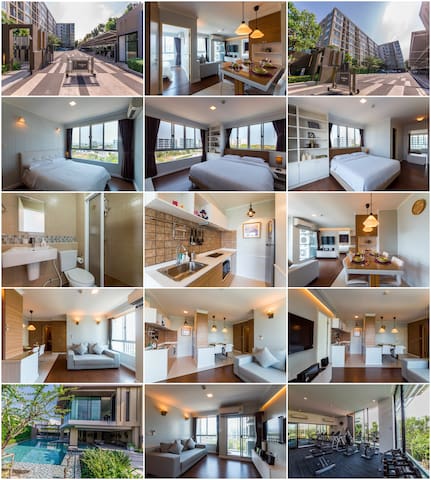 Gemütliche Atmosphäre, großes Schwimmbad (50x15 m), Kinderraum, Fitness, Parkplatz. 250 m Entfernung zum Strand Takiab. Viele Restaurants in der Umgebung, lokalen Markt, Family Mart.
Mein Zimmer ist voll möbliert, haben europäische Küche mit Herd und Dunstabzugshaube, elektrische Teekanne, Mikrowelle, Toaster und etc. 3 ppl ok sind komfortabel, hier zu bleiben.
Schöne Strände, neue Golfclub, neue und fantastische Wasserpark, Affenberg, Fischerdorf, eine Menge von lokalen und europäischen Restaurants amd Bars, lokalen Markt.
1.非常愉快的居住經驗! 2.位置雖然距離華欣的鎮中心遠一些, 但這一區的生活機能很好! 很多餐廳, SPA, 便利商店以及景點, 而且十分安靜! 租台機車的話, 十分鐘內就可以進入鎮中心! 或是在附近搭乘十元泰銖的"雙條"! 3.房間本身非常舒適, 空間寬敞, 房東預備了很完善的設備! 大樓本身有個超寬敞泳池, 是我在華欣地區的Condo中, 看過最大的泳池, 非常賞心悅目! 4.房東是個非常友善的人!
Roger
2015-11-19T00:00:00Z
Im allgemein ist alles OK
Ghassan
2016-12-13T00:00:00Z
Oda Tipi
Tüm ev/daire
---
Mekan Türü
Daire
---
Konaklayacak Kişi Sayısı
3
---
Yatak odaları
Nong Kae, Prachuap Khiri Khan, Tayland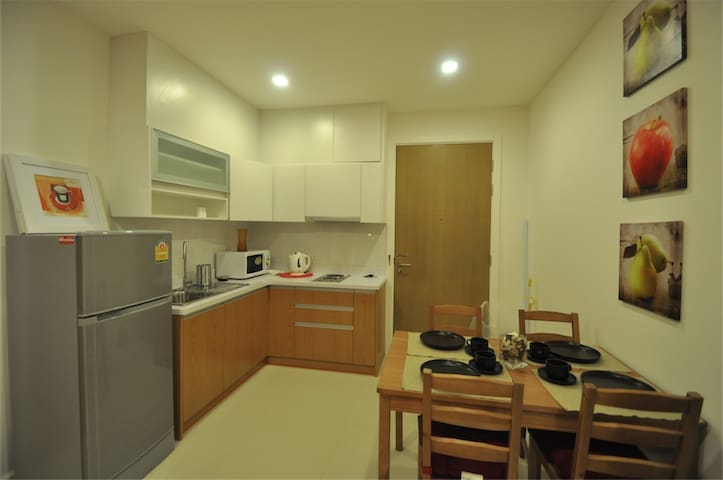 - Piscina, gimnasio - Estacionamiento libre
Excellent communication with host.
Jose
2016-12-14T00:00:00Z
I stayed at Koy's apartment for almost three weeks instead of just one week and I assume that itself says enough! Koy has a beautiful apartment in a very nice and quiet residence in a safe area, well secured (Not that there is any reason for, since Hua Hin feels very safe anyway). The apartment is exactly as described and even better, with perfect Internet!Koy was a perfect host and always online available to answer any questions. Can recommend this apartment to anybody who is looking for a good place to stay!"
Dave
2017-02-09T00:00:00Z
Great place, next to cintada market, away from the big crowd of Hua Hin, very cosy, good value for money
eric
2017-02-14T00:00:00Z
Nice place. Closed to Cicada market
thierry
2016-12-08T00:00:00Z
Oda Tipi
Özel oda
---
Mekan Türü
Daire
---
Konaklayacak Kişi Sayısı
3
---
Yatak odaları
Nong Kae, Prachuap Khiri Khan, Tayland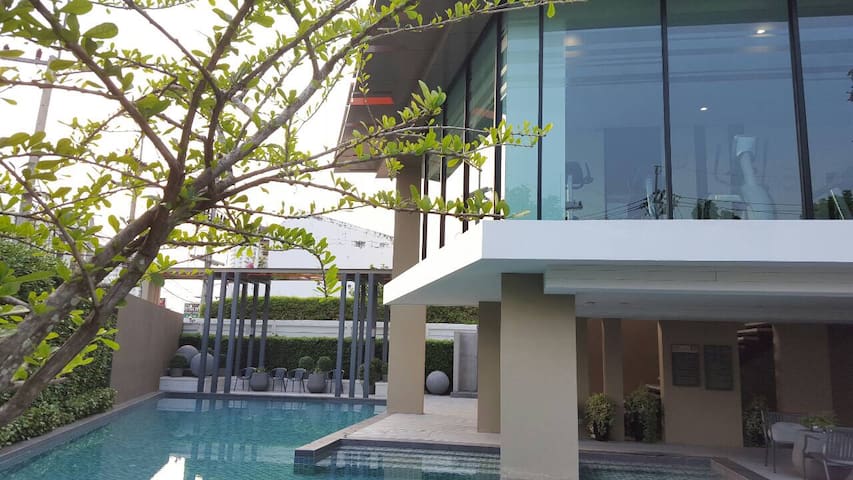 Este apartamento localizar cerca de la tienda de mercado cigarra y departamento villa. También el mercado de mariscos cercano. La piscina es muy grande y larga a lo largo de apartamentos y se puede caminar a la playa desde el apartamento (u puede desnudar pie desde su habitación). Es tranquilo y buen ambiente. En la habitación es cómoda y conveniencia.
decorar con estilo natural. habitación está limpia y cómoda. buen flujo de aire a la habitación. perfecto para relajarse
The host canceled this reservation 2 days before arrival. This is an automated posting.
Pantiya
2016-08-10T00:00:00Z
Oda Tipi
Özel oda
---
Mekan Türü
Daire
---
Konaklayacak Kişi Sayısı
6
---
Yatak odaları
Nong Kae, Prachuap Khiri Khan, Tayland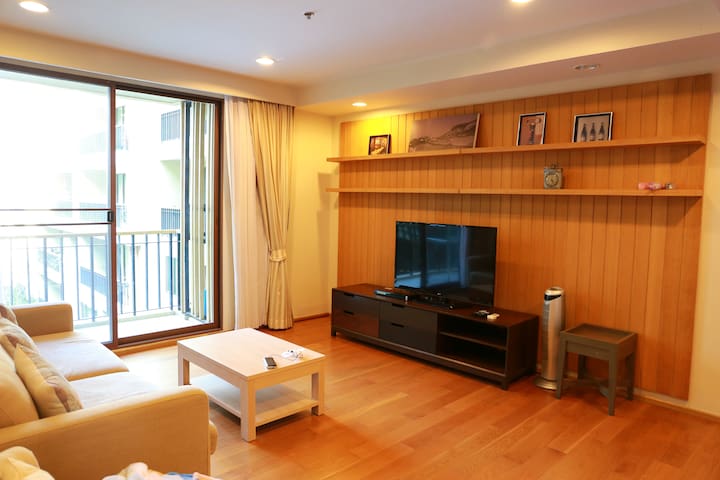 67 ตารางเมตร กว้างขวางพาร์ทเมนท์ 1 ห้องนอนพร้อมห้องน้ำ 2 ห้องหันหน้าไปทางสระว่ายน้ำทะเลและสนามกอล์ฟภาคตะวันออกสามารถมองเห็น ระเบียงขนาดใหญ่
Oda Tipi
Özel oda
---
Mekan Türü
Daire
---
Konaklayacak Kişi Sayısı
2
---
Yatak odaları
Nong Kae, Prachuap Khiri Khan, Tayland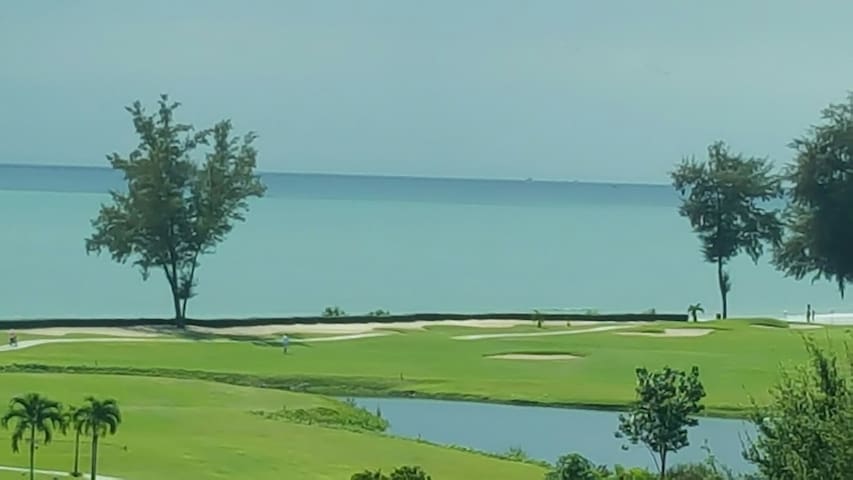 Rocco Huahin is a 200 m from Beachfront: Kite Boarding Area. The condo offers a outdoor pool, fitness centre and free private parking spaces Centrally located, MKT Village Shopping Centre is just 5 minute walk and HH night market is 15-minute walk
Oda Tipi
Özel oda
---
Mekan Türü
Daire
---
Konaklayacak Kişi Sayısı
4
---
Yatak odaları
Hua Hin, Prachuap Khiri Khan, Tayland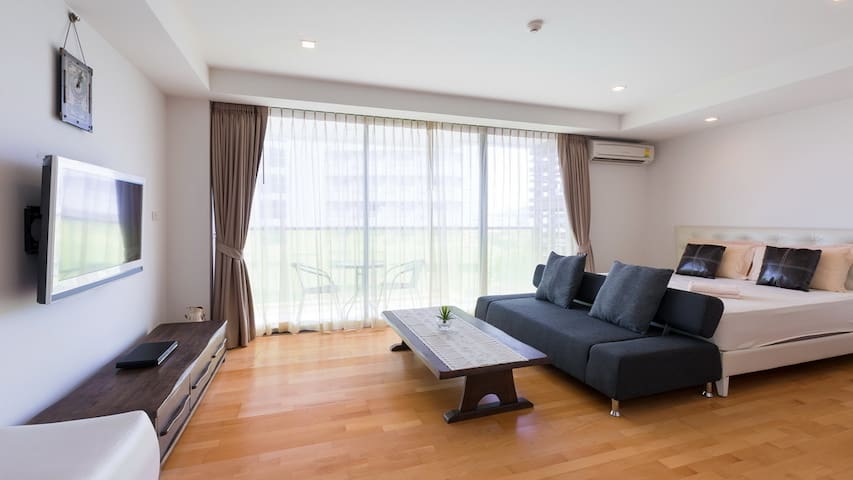 1 soveværelse nye Condo. Beach stil hyggelig og frisk med en dejlig balkon visning hav og solopgang hver morgen. Sød og nedkøling. Udendørs pool er fantastisk! 10 minutters gang til Hua Hin kulturelle og kunst nat marked Cicada Marked. Gratis golf cart shuttle til stranden.
Havudsigt fra den store balkon. Romantisk solopgang og solnedgang daglige under din rejse. Alle nye og rene Hyggelig og sød Perfekt til par og selv med et barn Baby / børnevenligt Køkkenredskab til genopvarmning din aftensmad (gå ikke glip af nogen thailandske mad!) Gåafstand til NAT marked, tiltrækning og stranden
Lige bag den berømte Lad os Hav og virkelig tæt på Cicada nat marked. Stille med havbrise efter omkring bagsiden af den travle livlige område Du vil få alt, hvad du ønsker for en ferie i Thailand-shopping, sjov, natteliv, god mad og stranden!
房子如房东提供的图片一样,公寓就在AMARI走过去500米左右,当时房东给的地址没有找到,AMARI酒店前台帮忙叫了车,100B过去,其实很近,走过去就可以了,公寓小清新的装修风格,楼下还有个超大的泳池,内部环境也很不错。当时与公寓的管理员沟通有点障碍,管理员人很好,联系他朋友帮忙翻译。 房东人也挺好的,联系回复都很及时,希望下次再来,更加优惠哦!
shaoqin
2015-08-16T00:00:00Z
accommodation was super cosy, nice new apartment with quality finishes. rooms are adequate with strong water pressure, plates and cutleries are provided. air cons are powerful too, good for hot summer months an apartment with many thoughtful touches, e.g. the baby high chair and baby tub apartment is on the higher floor and balcony is big enough to catch the beautiful hua hin sunrise every morning. facilities in the condo are good, there's even a buggy shuttle service to go to the beach. the condo is of medium size as compared to the big ones nearby, therefore it felt more exclusive and intimate swimming pool is pretty, surprisingly heated too. fun place to take photos, chill out, and children to play in the host, J replies promptly and is helpful. Great stay, will recommend it
Dave
2014-12-31T00:00:00Z
Very nice appartement facing the sea for a good morning sunbath. Summer is a refined property. No internet in the appartement but there is a free connection in the lobby. Despite I booked very late the night before, the host was responsive and really helpfull. Check-in and Check-out was a breeze
Laurent
2017-03-26T00:00:00Z
The location was a bit tricky to spot at first as it was right after a curve and the entrance was small. But after the first time it was no problem. The place looks new with nice looking lobby. The room is on the outer side of the place so we couldn't see the swimming pool sight from the room's balcony. The interior of the room is great. Very nice color combination. Everything works great. Towels, hair dryer, shampoo, shower cream, hand soap were provided. There were also toaster, electronic kettle, pot and pan, cutleries, and some seasonings. There was internet TV and blu-ray player with USB port (no wifi in the room though). J was very responsive to all our queries. Overall, we enjoyed our trip very much. Thank you!
Wiporn
2016-05-23T00:00:00Z
Oda Tipi
Tüm ev/daire
---
Mekan Türü
Daire
---
Konaklayacak Kişi Sayısı
2
---
Yatak odaları
Nong Kae, Prachuap Khiri Khan, Tayland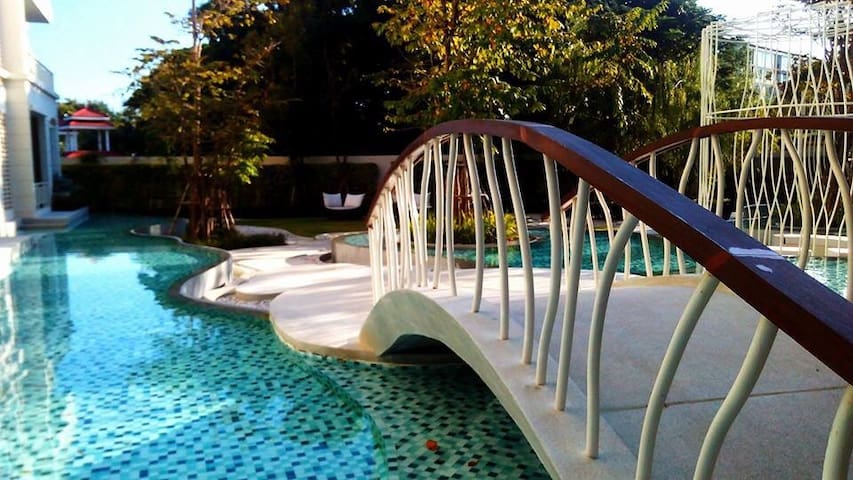 The Marrakesh Hua Hin Residence Apartments is a luxurious beachfront condominium on a 90-metre beachfront located in the heart of Hua Hin. The contemporary design is unique among residences and hotels in the surroundings and is heavily inspired by Moroccan architecture, fused with modern elements. The Apartment's major landmark is the magnificent lagoon (240 meter length) plus enormous water park and elegant Moroccan garden.Room is fully furnished,24 hours security, well-equipped fitness center
Marrakesh located in center of the city.There are restaurants,night market,hospital nearby.
Oda Tipi
Özel oda
---
Mekan Türü
Daire
---
Konaklayacak Kişi Sayısı
2
---
Yatak odaları
Hua Hin, Prachuap Khiri Khan, Tayland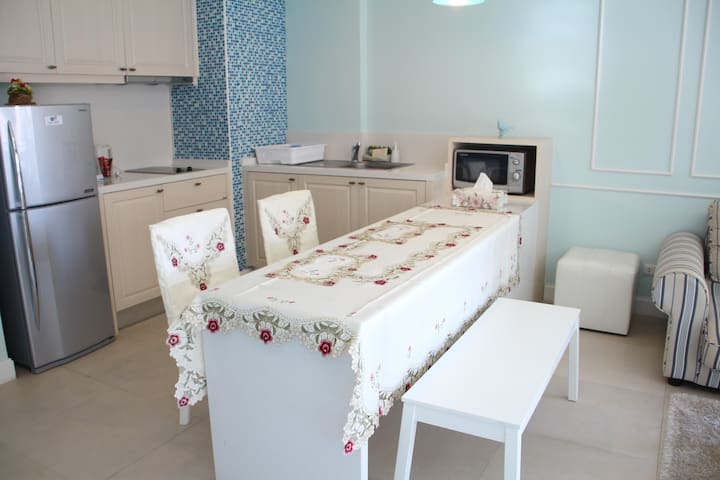 Velkommen i Kao Takiab (5 km syd for Hua Hin) i denne luksus toværelses lejlighed (57 m2) med balkon (3. sal). Smagfuldt indrettet med moderne faciliteter og gratis trådløs internetadgang. Separat soveværelse (queensize seng), badeværelse med varmt brusebad, tekøkken (køleskab, mikroovn, komfur, kedel, brødrister osv) 2 elevatorer til alle etager, gratis parkering, key card, gratis WIFI. Fantastisk udsigt til golfbanen og havet. Swimmingpool med liggestole på toppen af taget. Afstand til stranden 100m.
Den Overnatning: Luksus og lys møbleret lejlighed (57m2) i den 3. Etage i det nyopførte boligkompleks "The Sanctuary". Fra hele lejligheden har du en fantastisk udsigt til golfbanen og havet. Separat soveværelse med queen size seng (180cm) og skrivebord. Separat badeværelse med brusebad, badekar og garderobe. Køkken med køleskab, mikroovn, komfur, elkedel, brødrister, tallerkener osv Stor stue med sovesofa, fladskærms TV (Satellit og internet-tv-system) aircondition, trådløs internetadgang og spiseplads (bord med 4 stole).
Distriktet: Lejligheden er beliggende i et meget roligt område direkte overfor en golfbane og stranden er omkring 100 meter væk. Ved siden af Apartment er et dejligt sted for morgenmad. På stranden er der en masse af velsmagende Seafood Restauranter.
TLDR: it is very good. We lived in this apartment for three weeks (I believe that we were the first renters), and I think it was a very good choice, because the view and location are really good, and Lisette is very cool also. Problems with internet access (caused by provider) were solved the same day, and internet was very fast for Thailand. I also want to mention that Lisette helped us with an iron, ironing desk and induction cooker that we requested. What you should know. The location is very quite, it's not the center of the city and it costs (PHONE NUMBER HIDDEN)ht one-way to the center. The beach is better than city's beach. I think that "breakfast place" in the next building is not working but there are plenty of cafes and restaurants around and at the beach. The building (it's called Sanctuary) is very new, so there were some workers in the building at the time and I'm not sure that swimming pool on the roof was good to go, but, anyway, who needs it, there is a sea nearby, and the roof is very convenient place for evening drinks anyway. For the same reason the building was almost empty and more quiter than even location itself. If you rent this place, give the driver the address, not the name of the building — it's so new that majority of Hua Hin taxi drivers don't know its name yet.
Vladimir
2015-01-12T00:00:00Z
Das Apartment war genau so schön, wie auf den Bildern und der Ausblick noch schöner. Das Apartment ist sehr gut ausgestattet und auch an Kleinigkeiten wurde gedacht. Der Strand ist nur die Straße hinunter, 2 Minuten entfernt. Es gibt nette Restaurants direkt am Strand. Der Strand ist sehr weitläufig und nicht zu voll. Auf der Dachterrasse hat man viele Sitz- und Liegemöglichkeiten, einen schönen Pool und einen traumhaften Blick. Das Zentrum von Hau Hin ist mit den Bussen, die alle 10 Minuten fahren gut zu erreichen. Lisette war eine super Gastgeberin, sodass wir uns sehr willkommen gefühlt haben. Unter anderem hat sie uns zu Beginn vom Busbahnhof abgeholt und am Ende wieder dorthingebracht und viele Tipps für Hau Hin gegeben. Falls wir wieder nach Hau Hin kommen, würden wir das Apartment wieder buchen
Annalena
2015-03-26T00:00:00Z
My husband and I stayed three weeks in Lisette's condo at the Sanctuary. Lisette was a very good hostess. Before arriving we got all the information we needed and she met us, as she had promised, outside the Sanctuary when we arrived. She came to the condo and checked that everything was all right once a week and we could call her any time during the stay. Everything in the condo was as we had been told before we came. The only problem we had, was that there was still work going on in the building and up on the roof, so for one and a half of the three weeks it was impossible to use the pool. This was, of course, not Lisette's fault. We loved to be near the beach and had a walk along the beach and a bath everything morning. We also liked the small restaurants on the beach and in the neighbourhood.
Britt Margrethe
2015-02-04T00:00:00Z
This place is lovely, short walk to the beach, loads of nice restaurants around. And Lisette and Kuhn have been very helpful and nice. We'll definitely stay here again when we come back to Huahin again.
An
2017-02-15T00:00:00Z
The seaside is 100 metres away and the beach is huge with very little world; the place is quiet and relaxing. the pool on the roof of the building allows a wonderful view over the golf course and the beach. the staff is really friendly and helpful. We will come back next time in this very nice place.
Françoise
2017-03-31T00:00:00Z
Experience was perfect, location as well. Lisette has been very helpfull For sure, we kept a very good souvenir of this location fully recommend this place
Xavier
2017-01-04T00:00:00Z
Thanks you so much for everything. The room and the view is just perfect.
Mic
2015-04-06T00:00:00Z
Lisette was most welcoming with her place. She met us in Hua Hin where the Mini bus dropped us off from Bangkok and took us back to the suite, pointing out where the markets were, the grocery store, a good place for breakfast and where to catch the bus into town. There was complimentary water, coffee, milk and juice in the fridge and some little cookies that were yummy. Lisette also dropped us back into town at the end of our stay where we were catching a bus/ferry to Koh Samaui. She's a very friendly and helpful person. The suite is exceptionally clean and brand spanking new. Very modern design in glass, black and white. The bed is the most comfortable one we have had on our trip and the two a/c units work great. Being at the end of Hua Hin and next to a golf course, the area is quiet at night and being so new, it's also quiet inside the building. We ate out for dinner at nearby restaurants so didn't use the kitchen very much but it appeared to have the basics. The pool and couch area on the roof is lovely and we spent quite a bit of time there. The beach is a short walk up the road and is fabulous, especially if you like to walk on the beach. We walked to the opposite end, 7 km, and checked out the fishing village and the big Buddha on the hill there. We caught the local bus into town, 10 baht, to wander around the downtown area. We also went to the Cicada Market on Friday night next to the Hyatt. Great food, much more diverse vendors selling hand crafts than the other night markets we've been to and a live band that was pretty good. We very much enjoyed our 4 days in Hua Hin at the Sanctuary and would recommend it to our friends.
Debbie
2015-02-28T00:00:00Z
Oda Tipi
Tüm ev/daire
---
Mekan Türü
Daire
---
Konaklayacak Kişi Sayısı
3
---
Yatak odaları
Nong Kae, Prachuap Khiri Khan, Tayland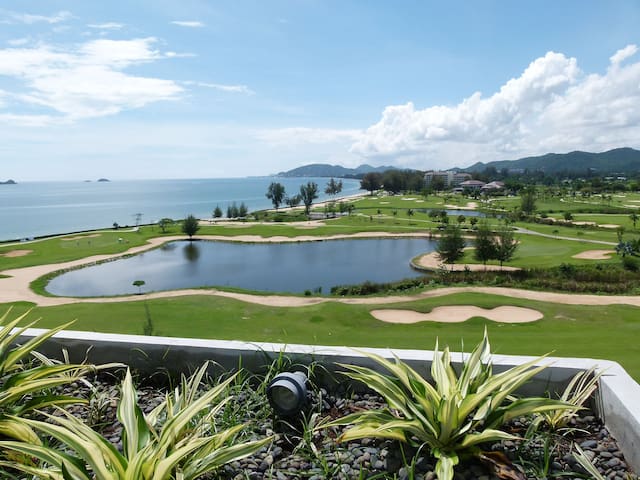 Two bedroom, two bathroom condo, brand new, just south of Hua Hin, Thailand, in Kao Ta Kieb. Located close to beach, golf course and many western and Thai restaurants. With a large swimming pool and gymnasium supplied. A great place for relaxation and long walks on the beach.
New! Clean and close beach, restaurants, free wifi in condo and free wifi around pool are!
Grant is a great host. It was a family travel, sometimes we cooked. Grant provided a rice-cooker for us, which was very useful. We tasted high-quality Thai rice. The condo was very comfortable, very clean and full of equipment. The Wifi was not work at the first time but Grant sent someone to fix it very quickly. Anyway, we had a quite wonderful trip here. Thanks
Yuzhou
2017-01-14T00:00:00Z
Oda Tipi
Tüm ev/daire
---
Mekan Türü
Daire
---
Konaklayacak Kişi Sayısı
3
---
Yatak odaları
Nong Kae , Prachuap Khiri Khan, Tayland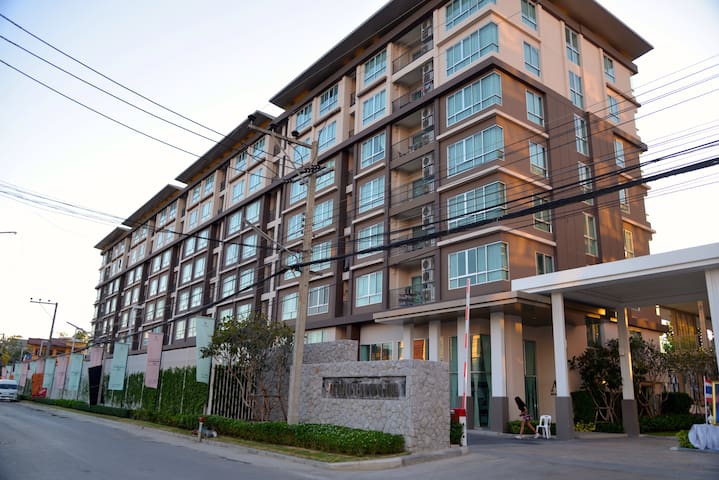 Nong Kae - Airbnb
:
105

misafir değerlendirmesinden,

5

yıldız üzerinden ortalama

4.48

yıldız
1

–

18

/

300+ Kiralık Daire
Tam fiyatlandırmayı görmek için tarihleri görün. Ek ücretler uygulanır. Vergiler ilave edilir.