Come and experience the relaxing Australian lifestyle and urban oasis that is Sydney Olympic Park. We are centrally located right in the geographic heart of the Greater Sydney Metropolitan area with world class amenities right at your door step.
Resort style living at Sydney Olympic Park, the site and home of the 2000 Sydney Olympic Games. This apartment offers a large living and dining space with 55 inch TV and Hi-Fi. The sofa can be converted to a double bed. The apartment has two bedrooms, two bathrooms. The room available will be the second bedroom as shown in the pictures. It is a south east and south west facing room with room your own private balcony offering a 180 degree view of Sydney, including the Sydney CBD Skyline. You will have access to your very own private bathroom with laundry which has a washing machine and built-in dryer. Super fast internet is also provided rated at 100Mbps. Located in the geographic centre and heart of the Greater Sydney area with easy access to a number of restaurants, cafes and public transport services including bus service and trains all located right beneath the apartment and will literally take less than a minute to walk to. Olympic Park train station is a 1 minute walk, Homebush Bay Ferry Wharf - 30 minute walk or 10 minute bus ride away. If you have a car, there is plenty of street parking available and you are only a 20 minute drive from Sydney CBD, 10 mins to Parramatta and only minutes away from every other major suburb or town centre. The area is situated within a major parkland with many walking and cycling tracks and facilities including the Olympic Park with easy access to the Aquatic Centre, ANZ Stadium, Qudos Arena, Sydney State Sports Centre and the Sydney Show grounds. This would be a very convenient location to stay during the Royal Sydney Easter Show and any other event held at Sydney Olympic Park and surrounding areas.
The relaxed, easy atmosphere and surrounding park lands are what make this location an ideal place to stay. Sydney Olympic Park is very centrally located geographically you can reach all major town centres normally within 30 minutes. It is also home to some of Australia'a biggest companies including Commonwealth Bank, Samsung, Acer, Lion, Fujitsu, Philips and Thales which makes it an ideal stay for business.
Thanks again David and Som - just as clean and comfortable as last time. Som was extra helpful helping me get my car parked. I'll definitely be back next year if I can.
Kathrzn
2015-11-14T00:00:00Z
Is nice and beautiful and clean.
昌業
2015-09-17T00:00:00Z
It was a pleasant stay in a modern flat with a nice view. Easy access to city with public transport in 30-40min. Located near big park.
Tanja
2015-12-30T00:00:00Z
I was welcomed by David's mumm who showed me around and made me feel very welcome. This meeting was set up by David and Som so I knew exactly where I was going and who to meet. This young couple are working very hard and keep long hours but that didn't stop them from providing an exceptionally clean and welcoming home in their unit. I very much appreciated the independent way of living, secure parking and the ability to make a cuppa each morning n night.
cheryl
2015-09-03T00:00:00Z
Great.
jerry
2015-03-27T00:00:00Z
It's very good!
Hongfei
2016-08-18T00:00:00Z
David Ang, Thank you so much for looking after my husband and daughter while they were in Sydney. The accommodation was just right, they enjoyed the convenience of walking to Eqitana and LOVED the restaurants. We would definitely stay with you again. The extra bits that you did to help them find you was also very much appreciated. Warmest regards, Jessie.
Jessie
2013-11-11T00:00:00Z
We were only with David and Som for a very quick night, arriving late in the afternoon and leaving very early the next morning. We were attending a rugby game at nearby ANZ stadium and needed a place to crash before heading to the airport in the morning. The apartment was only about a 15 - 20 min walk to the stadium, so it worked out perfectly. There is also a shopping center just a 5 min walk from their place. David and Som were so kind and the apartment was nice, we would have been happy to have stayed there longer and gotten to know them better!
Elise
2014-08-18T00:00:00Z
Oda Tipi
Özel oda
---
Mekan Türü
Daire
---
Konaklayacak Kişi Sayısı
3
---
Yatak odaları
Sydney Olympic Park, New South Wales, Avustralya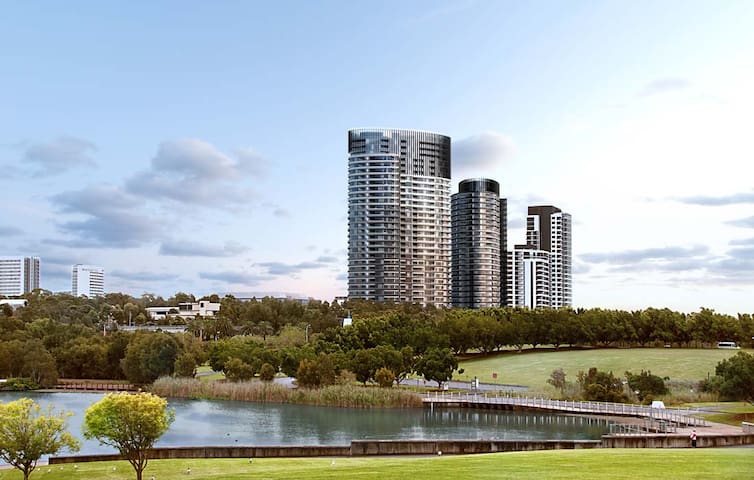 Hugely spacious brand new sub-penthouse level apartment with the city and park view for your stay in Olympic Park area. Easy access to public transport and plenty of food options in the area. Be the first to enjoy this beautiful apartment!
Brand new sub-penthouse level apartment. You get a spacious private bedroom with queen bed for your comfortable stay in Sydney Olympic Park. Bathroom may or may not be shared depending on occupancy of the apartment. All other areas such as living room, kitchen etc is shared. (I live in the apartment!) Pricing is for 2 people in 1 queen room. I have an additional bedroom with a queen bed and a single mattress allowing upto 5 people to stay in the apartment (but booking would need to be made for 2 separate rooms) Spectacular view of the city, harbour bridge and Bicentennial park. Long term stays - please contact for pricing. Parking space can be organized for a fee.
*DFO shopping centre - 5-10 minute walking distance. *Rhodes shopping centre 20-30 minute walking via Bicentennial park walkway. *ANZ Stadium & Allphones arena within 10 minute walking distance. *There are a number of cafes and restaurants in the area
Sujan's place is kept very clean. The living, dining and kitchen area is quite spacious to move around, and has magnificent views of the Sydney harbour bridge which can be seen from the bedroom as well. Sujan is a lovely and caring host who will most certainly help make your stay as comfortable as possible. The apartment is conveniently located 10 minutes walking distance to Sydney Olympic park so if you are heading that way, then I do recommend staying with this lovely host.
Iman
2017-01-29T00:00:00Z
Amazing apartment on 29th floor. Clean, modern, comfy beds, incredible views east across to the city. Special! Brilliant location for attending events in Olympic precinct as we did a BBL game at Spotless stadium. 5-10 mins easy walk. Once you get the hang of the security measures it is easy to get in out and there is a spacious car park in the basement. Thanks Sajun.
Evan
2017-01-04T00:00:00Z
Good location for Olympic Park events
Sean
2017-02-08T00:00:00Z
its wondfull place .nice people
Charlie
2017-02-15T00:00:00Z
Lovely place :)
Meilin
2016-12-03T00:00:00Z
Great place to stay
Jacinta
2017-02-11T00:00:00Z
Great stay! Sujan was a great host - excellent communication, clear instructions, a lovely person to talk to. The room was superb & the view spectacular - worth staying just for that! The whole place was very clean but felt very homely. Parking space was a bit of a distance, difficult if you had lots of stuff too bring in & needed to do several trips, but no problem with ordinary luggage. I'll be back to stay there for sure, thank you Sujan
Simon
2017-03-21T00:00:00Z
It is a very comfortable apartment, situated very close to the Sydney Olympic Park. Not only clean and tidy, the apartment offers a nice view too. Not to mention, the host (Sujan) is a nice person. Very recommended!
Nana
2017-03-11T00:00:00Z
Oda Tipi
Özel oda
---
Mekan Türü
Daire
---
Konaklayacak Kişi Sayısı
5
---
Yatak odaları
Sydney Olympic Park, New South Wales, Avustralya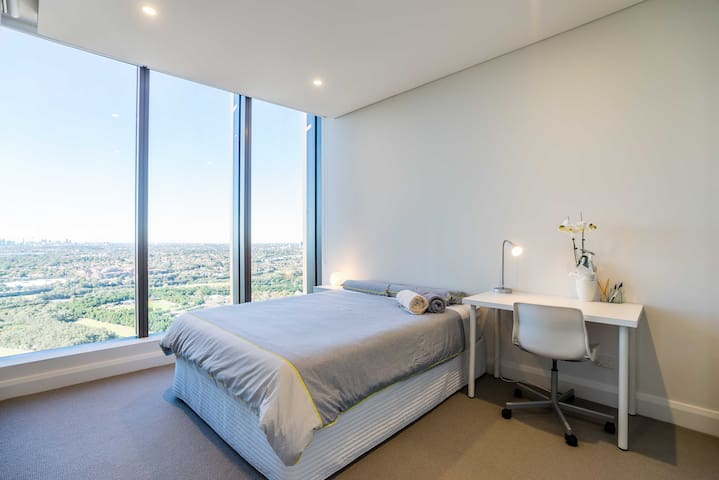 Stay in your own private bedroom with queen bed and a fantastic view of the Sydney skyline and Harbour Bridge, in the highest penthouse in Parramatta only 23 klms from the CBD. We are located across the road from Parramatta train station, the bus interchange and Westfields Parramatta, which is one of Australia's largest shopping centres. Sit back and relax in our private balcony spa overlooking a 270 degree view of Sydney and the Harbour Bridge.
This is the highest Penthouse west of Sydney and very close to the shopping and dining district of Parramatta. Our penthouse is light and airy. You are provided with complimentary tea, coffee, water and small snacks in your own private room upon arrival. Your own private room is fitted with a queen sized bed, linen, towels and toiletries. Your room also has a desk with a chair, a TV with Foxtel that has full access to all channels, plus your own air conditioner.
Parramatta is a suburb and major business district in the metropolitan area of Sydney, Australia. It is located in Central-Western Sydney 23 kilometres west of the Sydney central business district on the banks of the Parramatta River. The B1 Tower (our building) is located right in the heart of the shopping district close to public transport and with lots of cafes and restaurants nearby
Amazing apartment, with excellent views and perfect location close to the train and shops. Hosts were extremely accomodating and welcoming. Great amenities. Thanks!
Louise
2016-08-29T00:00:00Z
Phil and Kelly's apartment is in a fantastic location and is a quick walk from pretty much everything you'd want to see/do in Parramatta and about a five minute walk from the train station. The apartment itself is clean, with amazing views of Sydney and both Phil and Kelly were very hospitable. They happened to be home when I arrived and gave me a quick tour of their home and told me a bit about the local area as well. I'd highly recommend staying with Phil and Kelly for a great Parramatta stay.
Lucille
2016-11-04T00:00:00Z
What a wonderful second stay in Phil and Kelly's place. It's inspirational being a cut or two above the rest (28th floor!) and so easy with Hosts who uber experienced with making people feel welcome. Thank you again.
Derek
2017-03-22T00:00:00Z
We had a fabulous stay! Very beautiful apartment, pretty view, great room and hosts. Phil and Kelly are friendly and made us feel comfortable. I would definitely come back :)
Carina
2017-02-17T00:00:00Z
Nice stay in Phil and Kelly's lovely apartment. Thank you so much to Sean who gave us excellent tips for our trip in Australia !
Aurélien & Nathalie
2017-01-03T00:00:00Z
very nice and clean room, and very convinent to do everything, good location for transportation, shopping, eating.
Wangzhizhi
2016-12-22T00:00:00Z
Very modern and clean home. Great views of the city and very close to Westfield and local restaurants. Really great place for couples to stay as a base to get around Sydney.
Kris and Sonal
2017-01-22T00:00:00Z
It was nice stay. Very good location and easy access to train, bus and Westfield. Worth staying.
Chintan
2017-01-13T00:00:00Z
Oda Tipi
Özel oda
---
Mekan Türü
Daire
---
Konaklayacak Kişi Sayısı
2
---
Yatak odaları
Parramatta, New South Wales, Avustralya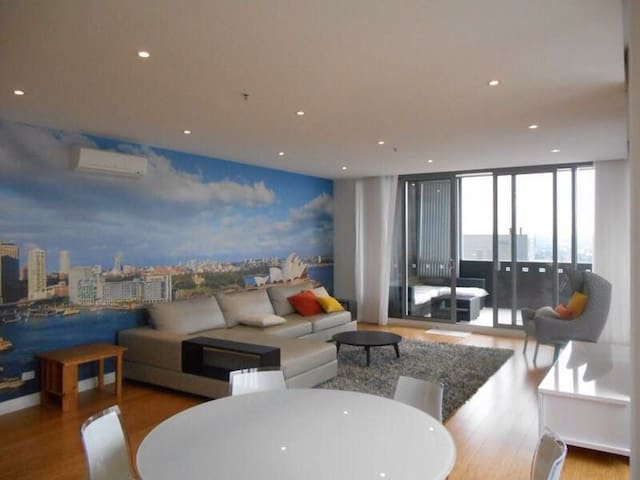 A double-bed in a single room for single travellers on a very tight budget. This room comes with its own private toilet and bathroom including free Wi-Fi internet access and free coffee/tea facilities and access to the other parts of the house (living room, kitchen). Highly recommended for transient travellers or very short stays. The Sydney CBD is about 22 minutes away by morning express train available every 15 minutes. It's only 5 stops away from Sydney Central Station.
Very close to Olympic Park and Paul was a very gracious host
Rendle
2016-08-03T00:00:00Z
Xxx
Mandi
2017-04-02T00:00:00Z
Paul is an amazing host. Very considerate and thoughtful towards his guests and always willing to make the stay as pleasant as possible.
Gregory
2017-03-11T00:00:00Z
Everything about the stay was excellent. It was ideally located for me. The home, the hosts, everything. I would highly recommend it.
Valerie
2012-05-01T00:00:00Z
Paul est une personne d'une grande générosité, amicale, qui aime beaucoup l'humour et vous met en confiance à la seconde ou vous le rencontrer. Quand je suis arrivé à l'aéroport, je savais déjà quoi faire car Paul m'avait envoyé un PDF avec plan, photos et étape par étape de ce que je devais faire pour le rejoindre, Paul est très organisé. Il m'a attendu à la station de train la plus proche de chez lui pour m'aider à porter mes bagages sachant qu'entre la station et la maison il y a à peu près 10 min de marche et ceux à minuit! Merci Paul! Pour ce qui est du logement, rien à dire, c'est exactement ce qu'il y a de décrit et de ce que j'attendais. Une chambre avec un lit confortable et sa propre salle de bain, tout est propre et fournis. L'appartement et très grand et divisé en 2 étages, le salon, salle à manger et cuisine en bas et les chambres et salles de bain en haut, le tout dans un endroit calme. Je pense que vous ne pourrez tomber mieux en venant chez Paul et ne serait ce que pour rencontrer l'Homme qu'il est cela vaut le coup! C'est sûr je reviendrais chez Paul si je dois repasser à Sydney!
Kevin
2015-01-31T00:00:00Z
住所交通方便,僅步行15分鐘就可能到達火車站,距離中央車站僅20分鐘車程,四通八達。房間舒適衛生,生活設備齊全,房東Paul友善又有風度,細心提供協助,連國際轉插器都有提供,又耐心指引前往旅遊點的路線,整體來說,對住所甚為滿意,更感謝房東的幫忙!
Nichole
2014-11-30T00:00:00Z
Paul was a great host. He met me at the train station and walked with me to his place. Paul gave me great advice on my arrival to Australia and really went above and beyond on making my arrival great. As Paul has stated his place isn't exactly downtown Sydney, but it's a decent location for the price.
Ryan
2016-01-14T00:00:00Z
Paul was a great host even before I arrived in his apartment. He was already giving me good instructions on how to get to his place, places to go in Sydney and how to save time and money even before my trip to Sydney. Good thing Paul was already on Christmas break when I arrived and he was the one who welcomed me in his home and even prepared a nice welcome snack for me. The room and bathroom were just perfect: soft and comfortable bed and very clean bathroom. I had days when it was hard to wake up because it was too comfortable. His neighborhood is really quiet and safe and just a good walk from the train station that could bring you to the City, to the Olympic Park or to the Blue Mountains. I would definitely stay again in Paul's place if ever I would drop by Sydney in the future. By the way, it was my first time to have a AirBnb accommodation with Paul and it has definitely set the bar high. Thanks again to Paul for sharing his home with me during my stay in the lovely city of Sydney.
Michael
2014-01-02T00:00:00Z
Oda Tipi
Özel oda
---
Mekan Türü
Daire
---
Konaklayacak Kişi Sayısı
1
---
Yatak odaları
Homebush West, New South Wales, Avustralya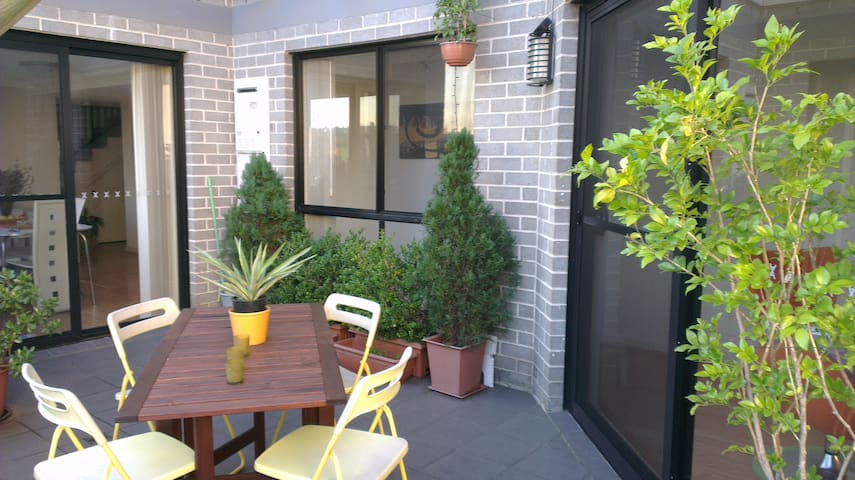 Great view of Sydney Olympic Park, Bicentennial Park and City Separate room+separate bathroom Queen bed + Chair and Table + Mirrored wardrobe You can use Kitchen to cook and enjoy the lovely Balcony with the amazing view (shown in a picture). Access: bus stop in front of the door. 2-3 minutes walk to the Olympic park train station Restaurants, cafes and grocery shop: downstairs
Amazing view, clean, brand new building,
Green area, surrounded by amazing parks, great access to everywhere in Sydney
Great place with a great host! Received more than I could ask for. Really clean toilet, good wifi, clean room, great host. Thanks man!
bryce
2016-12-03T00:00:00Z
Very welcoming host. Clean room and bathroom. Great views and easy walking distance to all venues in Olympic Park. I recommend Rezi as a host and his apartment for anyone with a love of dogs and needing reasonably priced accommodation. Would happily stay again.
Brad
2016-10-24T00:00:00Z
Perfect stay, thanks Rezi. He is the perfect host. Easy access, coffee in the morning, plus cuddles from his very cute dog pillow. Would definitely recommend!
Natalie
2016-07-15T00:00:00Z
Rezi is a wonderful host! Excellent hospitality and very generous and accommodating! The apartment was nice and clean and tidy! The bed was really comfortable and we had great views of the city! I will definitely be recommending his place to others! Thank you Rezi
Amelia
2016-11-18T00:00:00Z
Rezi is a very warm & friendly person. The location was great as we were attending the food & wine show. We only stayed one night. Would recommend.
Elizabeth
2016-08-07T00:00:00Z
Excellent position and great views
MJ
2016-10-04T00:00:00Z
Rezi was the ultimate host! His apartment was clean and welcoming and he did everything in our stay to make us feel welcome. He was very communicative and we were free to come and go as we liked. He was very friendly and I recommend his apartment to anyone. The apartment itself was modern, with a separate bathroom, and to-die-for views of the city. He was accommodating of a third guest, who was on a mattress in our room. Thanks Rezi!
Airlie
2016-03-22T00:00:00Z
Great room with amazing views. The hos, Rezi, was wonderful. Really enjoyed my stay and so convenient to Sydney Olympic Park.
Stu
2017-03-19T00:00:00Z
Oda Tipi
Özel oda
---
Mekan Türü
Daire
---
Konaklayacak Kişi Sayısı
3
---
Yatak odaları
Sydney Olympic Park, New South Wales, Avustralya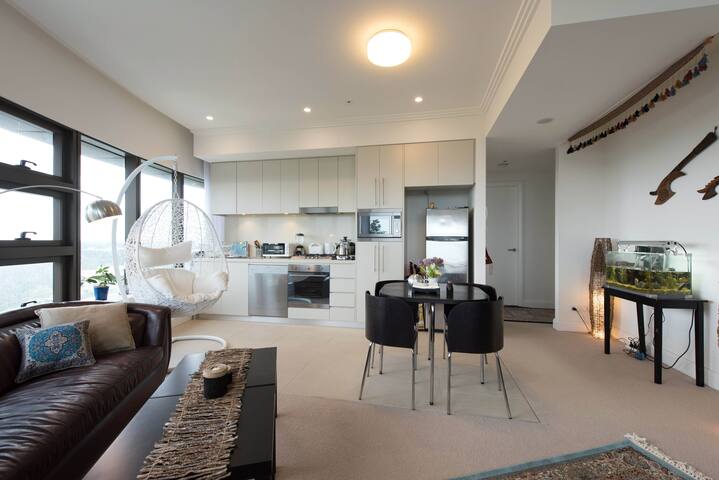 This brand new one-bedroom apartment at higher level of the iconic Australia Tower in the heart of Sydney Olympic Park, is featured with modern design, luxurious fittings and panoramic view of Sydney Olympic Park and Stunning city views.
*** THIS IS SPECIAL *** This apartment is located at Australia Towers, the whole building was planned as "New Luxurious Resort Style" , which makes it timeless and ultimate elegance . It could accommodate up to four adults, a brand new Queen size bed can fit in two people comfortably and the sofa bed in the living room can convert to two single beds. Indeed, the contemporary style sliding door separates the bedroom and living room properly and privately. Also, the living room faces north with cooling/heating air con. Overwhelming floor to ceiling glass windows bringing a bright and cheerful living. Minutes walk to train station; Olympic Park sporting facilities; Parks and Nature Reserves; DFO and Sydney Markets; Restaurants; and many other local amenities. We are more than happy to offer an underground secured parking space without any charges.
Apartment was just as advertised; nice and clean, with great views! Very close to all amenities and arenas/stadiums within the park. Host was very flexible in catering to our timetable and was extremely friendly and helpful. Would definitely stay again the next time I'm in the area!
Anthea
2015-10-19T00:00:00Z
Really nice apartment with lovely decor, great views and location!
Pippin
2016-01-20T00:00:00Z
We had a beautiful 2 night stay at this luxuriously modern apartment in Homebush. We came to Homebush to see a music concert and this beautifully modern apartment was a star attraction. Only minutes walk from the arena, surrounded by plenty of quality restaurants, beautiful parklands and with clear city views this apartment was the perfect place for us to spend a short 2 day getaway. The host Christina was very accommodating and made the whole experience a pleasure. Definitely our favourite place to stay outside of the cbd
Arthur
2015-10-29T00:00:00Z
Christine was very lovely and helpful. She let us drop off our luggage at her place and brought it to the apartment. She even dropped us off on the train line so we could get to the city! We had a bit of miscommunication regarding key pick-up but she helped to resolve that. The apartment was awesome, fully furnished and roomy with a great view. Beware of the dodgy intercom though, I got locked outside without a phone and couldn't buzz upstairs as it wasn't working (a long-term resident told me it happens often). So make sure you bring a phone down! Sydney Olympic Park can be a bit of a dead area when there's no event on, but we went for the weekend of Taylor Swift and Stereosonic so it was pumping on the Saturday. Definitely a bit far from the city if you're not going to be going to an event. That said the stay was great and I would definitely recommend the apartment + Christine to anybody! Thanks again!
Nicholas
2015-12-01T00:00:00Z
位置很方便,新社区周围环境也好,餐馆便利店都有,地铁车站就在旁边,房间干净清楚,感觉挺好的!
Jacob
2016-03-16T00:00:00Z
The location was perfect for our needs. It's a great property, and Christine is a very efficient host - we will be back.
John
2016-05-06T00:00:00Z
Our second stay in this apartment. Perfect location. Very comfortable stay.
Linda
2015-12-02T00:00:00Z
Christines accommodation was everything described. I would add spectacular view to the description. The area is very clean, safe, and easy walk to the rail for a very efficient trip into the cbd. Perfect for any major events that are often held at Olympic Park. And only a few blocks from the ferry terminal for a great alternative to get to all that central Sydney has to offer. We left some valuables behind and they were posted to us in good time. Wouldn't hesitate to recommend to others and hope to use it again ourselves.
Julian
2015-11-17T00:00:00Z
Oda Tipi
Tüm ev/daire
---
Mekan Türü
Daire
---
Konaklayacak Kişi Sayısı
4
---
Yatak odaları
Sydney Olympic Park, New South Wales, Avustralya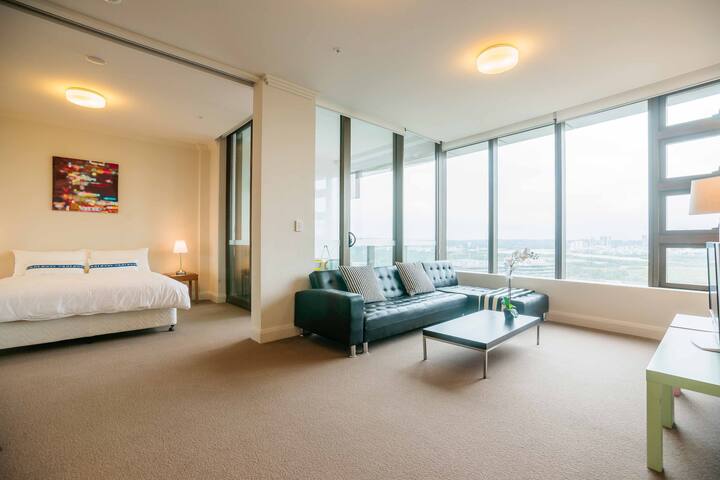 Stay in your own private bedroom with queen bed and 55 inch TV foxtel & internet, in Parramatta only 23 kms from the CBD Sydney . We are located 15 min from Parramatta train station, the bus interchange and Westfields Parramatta, which is one of Australia's largest shopping centres.
Cool ur bedroom with brand new air conditioner & very comfortable bad where you have real good sleep. A lots of space to put clothes inside wardrobe with hangers. Reading lamps on bedside tables. Wooden ladders for fresh towels. Rubbish bin. Around table with 2 chairs. Light breakfast such as cereal & toast with butter & jam. Coffee, tea & fresh water with lemon. Bathroom share with one more person & location direct front of guest room with shampoo, condition, soap, dryer for hair.
Neighbors is amazing. Plenty opportunity around such as coles, subway, oporto a lots of restaurant in church street where u can experience multiculture food. Waling 3 min to Parramatta river catch ferry to city or simple walking jogging. Parramata has huge park very joyful to spend time & connect with nature. Plenty more feel free to ask host about area. Thanks
It is first time to visit parramatta even Australia Sasha and boss is very nice and friendly, I like these kind of people The room is very nice, clean and comfortable TV is very big :)) all of thing is great! Even though we booked earlier than check in time immediately she accepted us and the time So we felt super cozy She is nice cook and all of thing which we ate are great! Really many restaurants are near the apartment (Church st) You can find anything :)) If you go and stay to parramatta, definitely I recommend this house oh actually it is apartment if you stay Sasha's house probably you will know what I mean! Thank you so much Sasha ~~!
남훈
2017-02-09T00:00:00Z
Great friendly place to stay very conveniently located for eating, entertainment and transport. Lovely welcome tea/coffee that was available through out my stay. Thank you Sasha
Derek
2017-02-16T00:00:00Z
Great host, very friendly, helpful and entertaining. Nice place with easy access to church street cafes & restaurants and supermarket across the road.
Ron
2017-03-15T00:00:00Z
Good host and they help you with anything you need. Walking distance to a street filled with nice restaurants. Quite near to train station and coles.
Chia
2017-02-28T00:00:00Z
very accomodating
paul
2017-02-23T00:00:00Z
Oda Tipi
Özel oda
---
Mekan Türü
Daire
---
Konaklayacak Kişi Sayısı
2
---
Yatak odaları
Parramatta, New South Wales, Avustralya
Rise up and live the high life. This less than 1 year old apartment is located in the heart of Parramatta's bustling CBD with 5 mins walk to station and Westfield Shopping Centre. It offers spacious lounge that leads out to the wrap around balcony with tall windows that deliver an abundance of natural light and amazing view. A cosy and homey place that will hit your heart at first sight.
Enjoy the sunset and 360 degrees view from tower's dramatic rooftop terrace on Level 28. Strictly no party and no smoking anywhere in the building including rooftop terrace.
It is located in the heart of Parramatta CBD and close to everything.
Sunny is a great host - very friendly and accommodating. The apartment is clean, new, and close to public transport, shops and restaurants. We had a great stay.
Ingrid
2017-03-23T00:00:00Z
We enjoyed our stay. The location is close to the town center, train, buses and the ferry to Sydney. The walking trails along the river and parks are also close by. We took advantage of all of these.
Ann
2017-03-12T00:00:00Z
A homey place that ticked all the box for a short stay. Location is definitely a highlight. It is centrally located in Parramatta CBD, with walk distance to public transport, cafes and restaurants. The apartment was nice and clean, filled with plenty of kitchen and cooking stuff. Complementary bottled ice water and chocolate bar are lovely, particularly when I checked in on a 40 degrees day... would like to come back again.
Lee
2017-02-11T00:00:00Z
Sunny is a very nice lady who will try her best to accommodate your request. The place is clean and tidy.
Chau
2017-02-21T00:00:00Z
Great place, sunny was really helpful. I would stay there again
Adam
2017-03-18T00:00:00Z
Nice place, great location, convenient to everything. Awesome view from the rooftop, it will be even better if there are some facilities up there ... overall, great for a short stay.
Robert
2017-03-06T00:00:00Z
Fantastic location, awesome views, extremely spacious for a family of 4 on a quick getaway. With Parks, transport, restaurants and shopping close by... our stay was perfect. We will definitely book again if we are in Sydney. Great communication by Sunny too.
Angela
2017-03-29T00:00:00Z
The apartment was clean and in an excellent location. Sunny is friendly, accomodating and helpful in every way. Very good value for money and highly recommend!
Cindy
2017-02-24T00:00:00Z
Oda Tipi
Tüm ev/daire
---
Mekan Türü
Daire
---
Konaklayacak Kişi Sayısı
4
---
Yatak odaları
Parramatta, New South Wales, Avustralya
Very clean and nice generous size room is available in heart of parramatta CBD. Only 5-6 mins walk from Parramatta Westfield and train station. Apartment is in secured high rise building with spectacular views at night from terrace. Room has in-builts and access to balcony as well. Perfect for commuters who are here for short term and want to have easy public transport access. Sydney CBD is about 35 mins by trains and frequency of trains are every 10 mins from Parramatta station. It's central location provide you access to various food joints and shopping centre
Location
Easy public transport Shopping Convenience stores Eating joints - all of above are within 5-6 mins walking distance
Oda Tipi
Özel oda
---
Mekan Türü
Daire
---
Konaklayacak Kişi Sayısı
3
---
Yatak odaları
Parramatta, New South Wales, Avustralya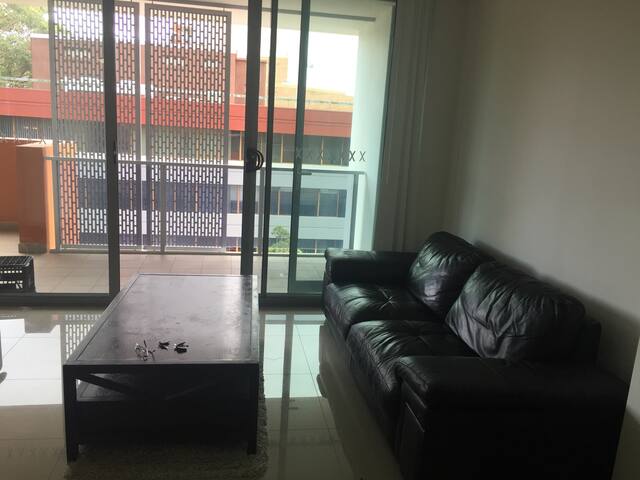 My place is good for solo adventurers and business travellers. It is a two-bedroom and two-bathroom apartment in Parramatta, six minutes walk to the shopping centre and train station. The guest has exclusive access to his/her bedroom and the bathroom next to it. The host is a full-time professional who keeps her space nice and clean.
The apartment is on the second floor of the building. It is a secure and pleasant home for the host who owns this place.
It is a very walkable neighbourhood with a park and lots of eateries around. It is in the centre of the 2nd CBD.
Great Place, Great host. Enjoyed my stay
Amby
2017-02-28T00:00:00Z
Ruolan is a super nice and friendly host. The house is clean and comfortable. It's only few minutes walk from transport and shopping mall. I highly recommend this place to anyone.
Hui Ping
2017-03-05T00:00:00Z
The host canceled this reservation 13 days before arrival. This is an automated posting.
Martin
2017-03-02T00:00:00Z
Oda Tipi
Özel oda
---
Mekan Türü
Daire
---
Konaklayacak Kişi Sayısı
1
---
Yatak odaları
Parramatta, New South Wales, Avustralya
A cosy ensuite suitable for anyone including travellers, couples. Located in the heart of Parramatta CBD, opposite Westfield Shoppingtown, railway station and bus interchange hub, this breathtaking 2 bedroom provides convenience and comfort for guests :)
Located in the heart of Parramatta CBD, opposite Westfield Shoppingtown, railway station and bus interchange hub, this breathtaking apartment is situated on higher floors of a striking architecturally designed iconic building with sweeping views from city skylines to the Blue Mountains, enjoying quality inclusions, spacious interiors and sunny aspects with cross ventilation. This apartment features: - Solid blackbutt timber floorboards throughout - Ducted air conditioning & freshly painted throughout - Floor-to-ceiling doors & tinted windows to maximise the sunlight - Undercover balcony perfect for alfresco entertaining - Spacious lounge & dining with dramatic views - Open plan kitchen with stone benchtops, gas appliances & dishwasher - Fully-tiled bathroom with bathtub - Internal laundry - Resort-style facilities include gym & swimming pool
The place is close to many restaurants, and Events Cinema with a Westfield right across the road
The host canceled this reservation 6 days before arrival. This is an automated posting.
Rosemary
2017-03-30T00:00:00Z
Oda Tipi
Özel oda
---
Mekan Türü
Daire
---
Konaklayacak Kişi Sayısı
2
---
Yatak odaları
Parramatta, New South Wales, Avustralya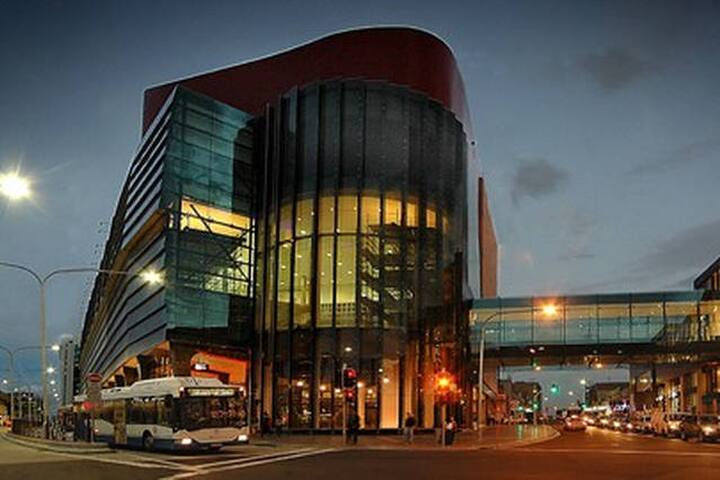 The apartment is quite sunny and airy. your private bedroom is furnished with fresh and modern bed linen and decor, other areas of the apartment available for guest's use are clean and comfortable. The apartment is very close to Westfield parramatta with all shopping and food offer and railway station and bus interchange.
It's quite safe and lot's of food, shopping and entertainment options at Westfield Parramatta and further up on church street.
Raghav's apartment is centrally located and very convenient. The room was clean and comfortable. Raghav is a great host and was very accommodating of every request. His wife Preeti was also very hospitable. We recommended his apartment to all travelers.
Mirza Sadaqat
2017-02-04T00:00:00Z
Great room in a great apartment well situated. Lots of light and air. There is everything you might need. Raghav and his wife were very hospitable, it felt like home! Thanks a lot for everything, keep in touch.
Gabrielle
2017-03-09T00:00:00Z
1最热天里两个成年人不许一天洗一次衣物,要求几天才可以洗一次衣物太苛刻了。2中午吃饭时主妇居然要求关闭房间里的电扇,房间与公共厕所不能上锁毫无隐私保护。3信息沟通说好中午12点退房,从早上八点就开始催要钥匙,赶出行李,忙乱中落下便携按摩器也无法取回。A tidy room, and kindly housekeeper. But if some things make out at first will be nice. We would like another choice. 1 In hot day not allowed washing clothes once a day, two person! 2Privacy secret hardly keep, bedroom door unlocked, public toilet unlocked. In the hottest weather we are stayed in house. At lunch time we were eating in the living room, housewife asked me to turn off the only fun which in the bedroom. 3 We were agreement check out at noon, and put the apartment keys on the dining table. But the housewife hurried us from the early morning. Pushed hard on us. We lost a handle massager under the bed and inconvenient to take back. Mr is gentleman and kindness, housewife is a little nervous.
力江
2017-02-19T00:00:00Z
Raghav's was as described, centrally located, close to Parramatta. Raghav was helpful with any questions and accommodation was quiet and peaceful.
peter
2017-03-01T00:00:00Z
Oda Tipi
Özel oda
---
Mekan Türü
Daire
---
Konaklayacak Kişi Sayısı
2
---
Yatak odaları
Parramatta, New South Wales, Avustralya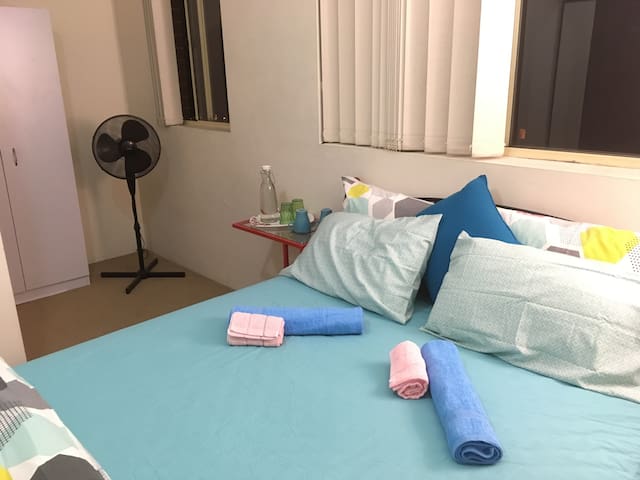 Enjoy spacious apartment overlooking world heritage convict site - with the Rumley Rose Garden and old Government House. This executive apartment is also suitable for small families with a secure car parking space and fully functional kitchen and laundry, perfect for longer stays. You are within walking distance to Westfield and great food and cafes including high-tea across the road. As a 'Thank You - Welcome Back' to previous Guests - request special offer from Superhost before booking.
Your home away from home - so happy we can share our space with you. Let us know if you have any special needs. A medical practice and famous SABA hair dresser is downstairs if you need any assistance or need to pretty up. Our apartment is not considered a quiet apartment - the birds like to set tle in for abit of a yak at dusk and traffic noise from the street. But hey we live in a city and we suggest closing the doors and windows. What is happening now: Parramatta Farmers Markets @ Centenary Square Every Friday, 8.30am - 3pm Yummy authentic freshly-baked bread, gluten-free food, home made country pies, cakes, jams, fresh vegetables and even Indian food. Don't miss this. Mov'In Bed - Outdoor Bed Cinema Experience @ Parramatta Park Every evening until April 29 Relax and watch a movie under the stars in the comfort of an outdoor bed, with a blanket and a glass of wine. Anzac Day celebrations 25 April - check out the RSL Club for the dawn service starting at 3.00 am and breakfast and cullminating with playing 2Up. It is such a fun afternoon. Since wed all cant be in Gallipoli, show your appreciation and respect for those who keep our country safe. Miss Saigon @ Riverside Theatre July 28 - Aug 11
Parramatta is the 2nd largest business district in Sydney NSW and a major business and commercial centre, including government head offices and the Big 4 Accounting firms. Located on the banks of the Parramatta River and just 23km from the Sydney CBD, Parramatta is the economic capital and major transport hub of Greater Western Sydney. The city is ethnically diverse with the Church Street being home to a range of quality restaurants, nearby Harris Park famous for its curries, and the fantastic Chinese restaurants e.g. Parramatta Phoenix, Mr. Ping's and Temasek (my all time favourite). I also love 'Thai Riffic on Street' beside the train station. Great lively pub entertainment and food at PJ Gallagher's and The Albion - both recommended. The Parramatta Leagues Club has good food too. For something different, try the Bavarian Bier Cafe for schnitzels and German beer, or Crinitis for their metre-long pizzas. One of my favourites - a morning walk then brunch at Gatehouse Tea Rooms, just across the road in the lovely Parramatta Park. The 85ha park is great for running and cycling, and features gardens, wildlife, play equipment and wide open spaces for games and picnics. Westfield , the 9th largest shopping centre in Australia is only 8 minutes walk away for all your favourite shops and the cinema. The Parramatta Riverside Theatres regularly host shows and events (check online for upcoming schedule).
Great location, close walking distance to Westfield n public transport, beautiful n clean and well looked over would love to stay again next time I'm in Sydney
emma
2017-03-10T00:00:00Z
We had the most fantastic stay at Shirley's place in Parramatta. The unit itself was fantastic and having two bathrooms was very handy. There is s lovely balcony with beautiful views of parramatta park and we were in walking distance of some great restaurants and cafes. Shirley was great to communicate and the little touches like milk in the fridge made our stay even more pleasant. Thank you!
Zoe
2017-01-22T00:00:00Z
easy access secure. Nice to be nice the park.
Greta
2017-03-17T00:00:00Z
Great communication, good location close to RSL for drinks and meals, comfy beds and everything provided we needed - recommended
Damian
2017-03-26T00:00:00Z
Shirley was helpful all the way and the listing is exactly as portrayed. Large and comfortable and the location is excellent right opposite Parramatta Park. Definitely recommend to anyone.
Dean
2016-12-16T00:00:00Z
Shirley is a great host everything is in place, very organised and put warm considerations for guest, instructions and in great detail which made all process so easy. Great location in Parramatta, easy to traffic and shops. Definitely recommended!
Eric
2017-03-05T00:00:00Z
Shirley has been a great hostess. Would stay in this property if needed in future.
Sinu
2017-02-27T00:00:00Z
We had a relaxing stay in Shirley's flat, all our needs were catered for. Parramatta Park is immediately across the road where we attended Australia Day celebrations. We could see the fireworks from the balcony. Thank you Shirley for your hospitality.
Bruce
2017-01-27T00:00:00Z
Oda Tipi
Tüm ev/daire
---
Mekan Türü
Daire
---
Konaklayacak Kişi Sayısı
4
---
Yatak odaları
Parramatta, New South Wales, Avustralya
My place is centrally located in Parramatta CBD,close to parramatta park and river.Just mins away to restaurants and cafes on church street,westfield shopping center, parramatta train and ferry station. My place is good for couples,solo adventurers and bussiness travellers. Room is spacious and well furnished with seperate bathroom.
We are located very close to pirtek stadium and riverside theaters.
If you are nature loving person,you will love this place,as its close to parramatta river where you can go for walks.
Very nice.
FANG
2016-12-22T00:00:00Z
It was good
Venkat
2017-01-18T00:00:00Z
Nice apartment shared with welcoming hosts in Sydney suburb Parramatta. Good transport links to central Sydney for ferry and rail.
Alex
2017-01-22T00:00:00Z
Both Sona & Bhavesh were accommodating and hospitable during the stay. The place is good value, if you are looking to stay in Parramatta; the only caveat being the room gets uncomfortably hot during summers.
Sulabh
2017-01-01T00:00:00Z
Very warm and considerate hosts who make you feel at home. Excellent location with a good mix of residential quietness and urban liveliness. Great view of the river too.
Abilash
2017-01-31T00:00:00Z
Close to restaurants and shopping centre, nice view of river.
Quentin
2017-02-18T00:00:00Z
Sona was very friendly and she has a beautiful family. I was also very lucky on my first night Sona shared with me some of her delicious and beautiful home made Indian cuisine. I feel very blessed to have been able to try out such a beautiful meal. The location is great and very central to everything. I had a conference to attend to in Novotel Parramatta. Sony's place is definitely a very good location. There is a river right next to it, though I did not get to jog along the riverside. The weather was simply too hot. But it would be a great location for people who want to keep active while they're away. I would recommend this place.
Daniel
2017-02-05T00:00:00Z
Home away from home experience. Both Sona & Bhavesh has been very accommodating and hospitable from start to end of our stay. Great place, would recommend if you are looking for one in Parramatta.
Saritha
2016-12-17T00:00:00Z
Oda Tipi
Özel oda
---
Mekan Türü
Daire
---
Konaklayacak Kişi Sayısı
2
---
Yatak odaları
Parramatta, New South Wales, Avustralya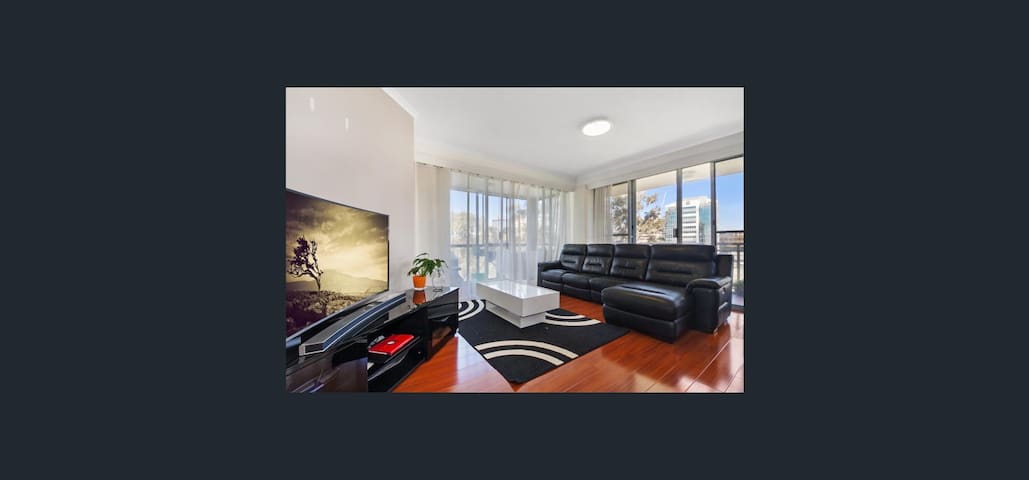 Earn QANTAS POINTS!!LONG TERM DISCOUNT AVAILABLE! Free Parking! Swimming pool @ rooftop! NBN ready! Internal size over 100 sqm. Luxury 2 bed + Study Apartment in the heart of Parramatta. Coles Supermarket is located at ground level. 5 mins walk to Church Street and Riverside. Unlimited WIFI provided. Business READY
2 Bedroom + 1 Study, total internal size 110Sqm + large Balcony
This is a residential block.
Apartment was exactly as described, oversized with plenty of room. Would stay there again
New
2017-02-22T00:00:00Z
Excellent location for anyone that is staying in Paramatta Sydney. The apartment is large, internet fast and location is close to the main eating strip and shopping centre. Lee is also a very responsive and good host.
Wilson
2016-12-06T00:00:00Z
We enjoyed our stay at Lee's place. Lee is great with communication and really helped to make our stay easy and enjoyable. This condo/apartment is very centrally located with easy access all around. The building itself has a Cole's Supermarket at the ground floor, and is literally 1 minute walking out the front door of the building to inside of Cole's. In the same ground floor area, you have access to a few restaurants and coffee shops. So, if you didn't want to journey anywhere from the building, you would have what you need onsite. The condo itself is very large with plenty of room for our family of 3. You have all you need in the apartment from cooking utensils, tub and shower, extra blankets for curling up to watch movies on the sofa. We enjoyed having the large balcony and were ale to have dinner out on the balcony a couple of times. All in all - we would say Lee and his apartment are great and we'd definitely stay there in the future.
Tina
2017-03-22T00:00:00Z
Excellent
Tom
2017-01-14T00:00:00Z
Large clean apartment, with good amenities. Is in great location, close to shops, restaurants and public transport. Lee was great to deal with and responded to questions and requests promptly.
Lisa
2017-04-01T00:00:00Z
Spacious apartment in a great location! Thank you to Lee for hosting us, it made our weekend away in Parramatta a relaxing one.
Michelle
2017-03-11T00:00:00Z
Very convenient location, parking appreciated.
marg
2017-02-20T00:00:00Z
Lee was great , meeting with Lee was easy and instructions were clear
James
2016-04-23T00:00:00Z
Oda Tipi
Tüm ev/daire
---
Mekan Türü
Daire
---
Konaklayacak Kişi Sayısı
5
---
Yatak odaları
Parramatta, New South Wales, Avustralya
Rise up and live the high life. This a new apartment is located in the heart of Parramatta's bustling CBD with 3 mins walk to station and Westfield Shopping Centre. It offers spacious lounge that leads out to the wrap around balcony with tall windows that deliver an abundance of natural light and amazing swimming pool 's view. A cosy and homey place that will hit your heart at first sight.
It is located in the heart of Parramatta CBD and close to everything. Minutes walk away from Parramatta's train station, ferry wharf, Westfield Shopping town and popular restaurants & cafés.
CBD and close to the everything
Oda Tipi
Tüm ev/daire
---
Mekan Türü
Daire
---
Konaklayacak Kişi Sayısı
4
---
Yatak odaları
Parramatta, New South Wales, Avustralya
Great location and experience overall 3 minutes walk from the train station, cafes, Restaurants and Westfields for your convenience Great balcony views of the parramatta city. Top floor penthouse harbour bridge view. 1 Bed room with Queen bed.
Centre of Parramatta city and convienent to all amenities
Access to 20 different indian restaurants in the street. Wigram street if famous for indian restaurants.
Central location and clean great hosts.
Paulo
2017-03-27T00:00:00Z
Host was really amazing and helpful with all faclities availble as listed in the ad and highly recommend everyone to consider a stay at this place....
Naveen
2017-04-03T00:00:00Z
Excellent location. Virtually had whole apartment with TV & internet
Asif
2017-03-24T00:00:00Z
Excellent host. Great flat, very clean and tidy.
Mauro
2017-03-20T00:00:00Z
Oda Tipi
Özel oda
---
Mekan Türü
Daire
---
Konaklayacak Kişi Sayısı
3
---
Yatak odaları
Parramatta, New South Wales, Avustralya
Beautiful and quiet location close to Parramatta CBD, Parramatta river, Western Sydney Uni plus everything else that Parramatta has to offer.
Modern, quiet, clean and tidy with BBQ facility and Gym. Private room with a bathroom for yourself. 18 min walking from Parramatta Train station.
Oda Tipi
Özel oda
---
Mekan Türü
Daire
---
Konaklayacak Kişi Sayısı
2
---
Yatak odaları
Parramatta, New South Wales, Avustralya
1

–

18

/

300+ Kiralık Daire
Tam fiyatlandırmayı görmek için tarihleri görün. Ek ücretler uygulanır. Vergiler ilave edilir.