2 private bedrooms on main floor with shared bathroom. 3 minutes off I80 for you coast to coast travelers not waning to spend a lot of money on a hotel. Very clean house with a hunting theme.
2 private bedrooms with a shared bathroom upstairs. Full access to kitchen and living room.
Small town USA, but 3 minutes from I80.
Oda Tipi
Özel oda
---
Mekan Türü
Ev
---
Konaklayacak Kişi Sayısı
2
---
Yatak odaları
Sidney, Nebraska, ABD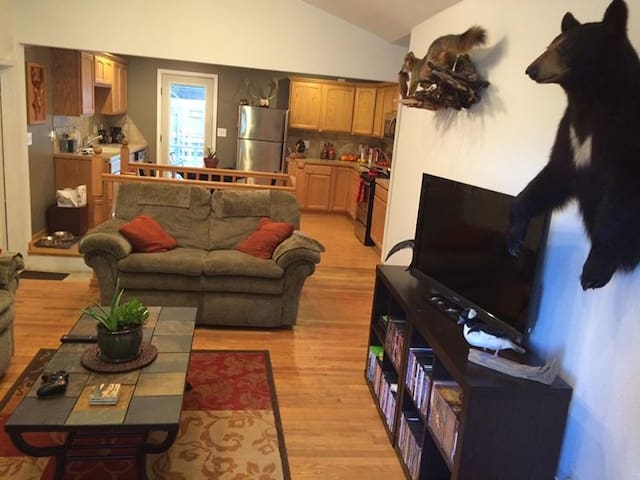 The Sedgwick Antique Inn has 14 bedrooms available in the historic bank building. Our guests tell us this is a wonderful place to stay. Please stay with us as long as you wish.
Lots of space and lots of room to let your imaginations flow.
We walk the streets at night. You will be safe in our friendly little town. We have the Jumbo Reservoir 5 miles west of us. Fishing and hunting is abundant in our area. Keep in mind we are a small town with a bar and a dispensary across the street.
Sedgwick is a tiny town with just a few businesses and a railroad track through it. Lupe is welcoming and talkative, and knows a lot about the area. It was fun to hear a bit about its history from her. Plenty of parking, but no gas station in town. There's a cafe attached to the inn where you can get an affordable meal. I recommend checking out the museum in Sterling, about 40 miles away.
Rae
2016-07-14T00:00:00Z
Lupe was a wonderful hostess and communicated with us throughout the booking process. We had a blast just chatting with her in the evening regarding the towns history along with tidbits of her life story. Lupe is one of the most interesting host we have stayed with. The Inn is "eclectic" and in the process of going through updating. It was nice to have breakfast at the Inn before we left Sedgwick. It was a great stopping off point for us coming from the East as it left us with about a 3 hour drive to Rocky Mountain National Park the next morning.
Bill
2016-09-07T00:00:00Z
Very friendly host, perfect place to stay if you are on a long road trip like me. Loved that it was pet friendly too!
Lynn
2016-09-25T00:00:00Z
Tracy met us at the door. She and Stephen were charming and friendly. They showed us around the Inn , told us how they started, and gave us our choice of available rooms -- particularly nice since the rooms are all unique. The accommodations were comfortable, the town is tiny, quaint, and deep in the Colorado plains. The stay was lovely. It's a great bargain and I'd recommend it to friends.
Jeff
2015-12-23T00:00:00Z
Drove in from Minneapolis, MN on my way to the Rockies for the ski season. Took a night off from driving at Sedgwick Inn. The northeast corner of Colorado is a highly traveled area with people funneling in from multiple directions. Lots of history in this town and certainly in this building. Nearly a century old, originally a bank, then by Lupe for numerous decades. This place has a lot of story to it. If you ask Tracy or Steven, the current owners, I'm sure they would be happy to tell you. My friend and I had a very intriguing experience and a comfortable night sleep. We appreciated the coffee before we hit the road in the morning. Will mostly likely be back on a future return trip to Minnesota.
Ryan
2016-01-09T00:00:00Z
My recent stay @ Sedgwick Antique Inn , everything was as advertised. Lupe is a very friendly host and the accomodations hit the spot after a long days drive.
luis
2016-08-27T00:00:00Z
This was my second stay, and i will return every time Im on this route! Love this place, its so charming and Lupe is a wonderful host. I highly recommend staying here.
Sherry
2016-05-28T00:00:00Z
This place was so easy to find, even at night, after a long drive. Lupe was a great host, the place was very interesting. Good for the price. Bathrooms could be more updated and more clean.
Bethany
2015-10-17T00:00:00Z
Oda Tipi
Özel oda
---
Mekan Türü
Diğer
---
Konaklayacak Kişi Sayısı
16
---
Yatak odaları
Sedgwick, Colorado, ABD