Located in a private and sunny cul-de-sac neighborhood, 10 minutes to the beach, and situated between Boston and Cape Cod. 3 Bedrooms, 2.5 bathroom, with deck and manicured yard.
Spacious, immaculate and well maintained
Quiet neighborhood of 13 homes, family-friendly, yet peaceful, private and quiet. Shopping within 5 minutes, beaches 4 miles away, ice cream shop close by.
Oda Tipi
Tüm ev/daire
---
Mekan Türü
Ev
---
Konaklayacak Kişi Sayısı
4
---
Yatak odaları
Pembroke, Massachusetts, ABD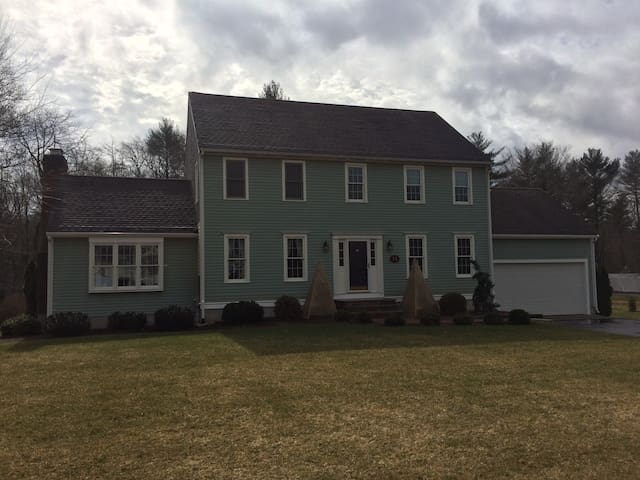 Our 2 bedroom home is not only lakefront, but just 25 minutes from the Duxbury and Marshfield beaches! Entertain indoors - cooking from a gourmet chef's kitchen. Or, take it outdoors for a pizza cook-off in the stone pizza oven! Just the two of you? The warm, eclectic interior invites you to relax, whether it's in the tranquil bedroom loft with French doors that open to the rooftop deck and boasts sunset lake views, or, on cooler nights, by the vintage pellet stove. Enjoy quiet mornings sipping coffee and listening to the birds from the worldly enclosed front porch.
72" TV, master loft with king size bed, living room with pullout couch, guest room with futon, pellet stove, outdoor pizza oven, lakefront, gourmet chef's kitchen, 1000 sq ft
Walking/biking trails, private, and safe
Rachael was a great host. The house was clean and in order. Very nice stay.
Lee
2016-10-23T00:00:00Z
Rachel's home is very cozy and warm! There is a lot of charm with plenty of character. Everything was very clean and organized. The home and outdoor area is even nicer than in the pictures. This truly is a lakefront escape.
Rogelio
2016-11-20T00:00:00Z
Beautiful views. Charming, clean and comfortable home.
Kathleen
2017-03-27T00:00:00Z
Rachael's place was wonderful and the views of the lake were beautiful. The area was very quaint and served as a great getaway. The kitchen and living area were well equipped. The house was very clean and organized with helpful tips. Highly recommend!
Julia
2017-01-01T00:00:00Z
Oda Tipi
Tüm ev/daire
---
Mekan Türü
Ev
---
Konaklayacak Kişi Sayısı
6
---
Yatak odaları
Pembroke, Massachusetts, ABD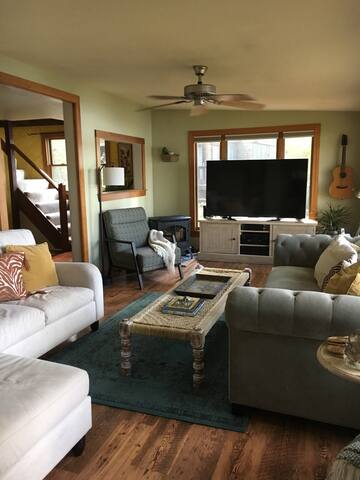 Schöne Hälfte Haus mit 2 Schlafzimmern in der historischen Innenstadt Plymouth. Zu Fuß zum Nachtleben, Innenstadt, Parks, historische Sehenswürdigkeiten. Kurze Fahrt nach Plymouth Plantation, Strände, dem Flughafen und den öffentlichen Verkehrsmitteln. Tolle Lage, Menschen, das Ambiente und die im Freien Platz. Mein Platz ist gut für Paare, Solo-Abenteurer und Geschäftsreisende. Wir bieten viele Annehmlichkeiten, aber bitte beachten Sie, während wir mit Kühlschrank, Kaffeemaschine und Mikrowelle eine kleine Küchenzeile tun haben, gibt es keine voll ausgestattete Küche ist.
Auf historischen Watson Hill, ist das Carole House ist ein charmantes Bed & Breakfast im Jahr 1899 mit 2 schönen bequemen Bett Zimmer gebaut, eine entspannende Gemeinschaftsraum reserviert nur für unsere Gäste und einen entspannenden Terrasse mit viel Privatsphäre und bequemen Möbeln in der sich zu entspannen und nehmen heimische tier~~POS=TRUNC.
Die Nachbarschaft sitzt auf Watson Hill, die die Position des ersten formellen Sitzung und Friedensvertrag zwischen den Pilgern und Indianern entwickelt wurde. Wir sind nur einen kurzen Spaziergang zu einem indischen Gräberfeld und nicht weit von Burial Hill, die viele unserer Vorfahren, die Ruhestätte ist, die auf der Mayflower angekommen!
Mark was there to greet us right when we arrived. He was extremely friendly, gave us a tour of our place and some tips and brochures on the area. The place was really clean and comfy. Best part was Mark set out breakfast for us every morning and when he didn't he would leave a gift card for a local place. I would definitely recommend staying here with Mark!
Matt
2016-07-30T00:00:00Z
Mark was a great host, readily available by text and even gave us a $15 gift card to a local café for Sunday morning breakfast! Would definitely recommend.
Derek
2016-08-08T00:00:00Z
My family was visiting Boston and Plimoth Plantation for weekend and we stayed one night at Mark's place. Mark is awesome, very responsive and warm, and made us feel like home. The house is very clean, cozy and private, with a parking lot. The location is very convenient, close to downtown (while quiet), and close to Plimoth Plantation (only few mins drive). I will definitely book again when re-visiting this area.
Jennifer
2017-04-09T00:00:00Z
Mark has a charming place with great access to restaurants at Plymouth harbour. He was incredibly accommodating, going out of his way to meet us when we turned up early and sharing tips on his favourite spots to eat in the city. A great host, we were lucky to stay at his place.
Paul
2016-10-27T00:00:00Z
It's a comfortable and beautiful place and the host was very friendly!
Christian
2016-10-19T00:00:00Z
I hope my overall rating showed all stars gold! Mark welcomed us warmly, was helpful with suggestions, showed us around our lodging. Beautiful home, close to everything. Easy to walk around downtown Plymouth. Thank you!
Mary
2016-09-15T00:00:00Z
Mark was extremely accommodating, especially given that we had a late arrival. He was very helpful throughout our stay, and the rooms were clean and nice overall.
Dennis
2016-10-30T00:00:00Z
This property was very well-appointed and in a quiet residential location close to area attractions. Each morning the host provided us with coffee and gift cards for breakfast.
Maria
2016-09-24T00:00:00Z
Oda Tipi
Tüm ev/daire
---
Mekan Türü
Oda + Kahvaltı
---
Konaklayacak Kişi Sayısı
4
---
Yatak odaları
Plymouth, Massachusetts, ABD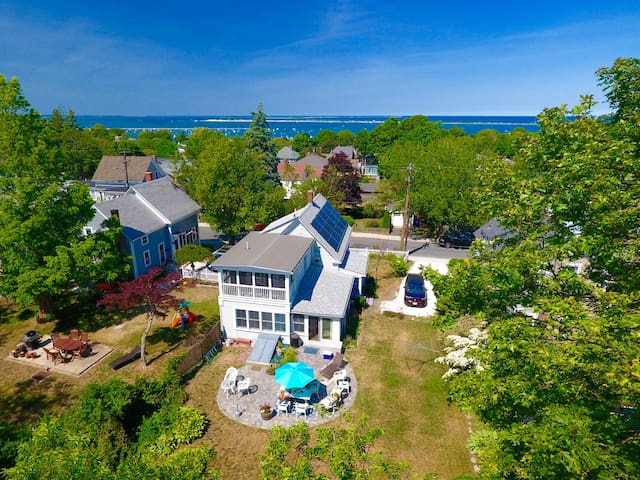 Ini indah 2,5 acre sepenuhnya dipagari properti menawarkan kebun pribadi, kolam di tanah kolam & rumah kolam renang dengan shower air panas luar ruangan. Rumah kami menawarkan 2 dapur, ruang makan tempat duduk 12, ruang besar, 3 kamar tidur dengan area duduk pribadi dan tingkat yang lebih rendah dengan 2 tempat tidur (pantat adalah tempat tidur penuh) & daerah latihan. Di luar 2 pemanggang & chiminea a. Kami adalah 3 mil dari pantai dan belanja / kafe, 45 menit dari Boston (pada rute kereta api) dan 20 menit dari Cape Cod.
2 dapur lengkap dengan kompor, lemari es, microwave & mesin pencuci piring. 3 kamar tidur terpisah w / area duduk di tingkat 3 1 kamar tidur di berjalan keluar tingkat; 2 tempat tidur dengan 2 tempat tidur ukuran penuh di bagian bawah dan 2 tempat tidur kembar di atas Ruang makan kursi 12, dapat menampung 2 lebih nyaman Semua tiga tingkat memiliki AC sentral. Jendela unit AC ada di masing-masing kamar tidur atas seperti yang kita telah menemukan bahwa tamu sering seperti suhu tidur mereka pada tingkat yang berbeda. Kabel dengan saluran film & wifi tingkat yang lebih rendah untuk remaja atau single untuk menonton tv, bermain game dalam pengaturan asrama. Ruang keluarga utama yang akan duduk 10 + & ruang tamu yang terpisah untuk percakapan tanpa gangguan Properti termasuk taman terawat dan perimeter alami. Banyak ruang untuk permainan di luar! Berjalan properti untuk menikmati flora & fauna.
Diam. Di seberang 85 are rawa cranberry 2,5 Miles dari pusat kota 3 Miles dari pantai 3 Miles dari menonton ikan paus, feri ke Ptown, kapal penangkapan ikan tuna 3 Miles dari semua situs bersejarah 45 menit dengan kereta api ke Boston 20 menit ke Cape Cod.
I have stayed at the best places in the world. Not only was the place better than the (URL HIDDEN) was equipped like a top hotel. Everything and anything you need is right where you want it to be. I would recommend this home to anyone looking into it.
Katie
2016-08-22T00:00:00Z
What a great home in a quiet neighborhood with a short ride to the waterfront (great view, restaurants, shops and history)! The hosts thought of everything and more to make you feel as if it was your own home. We enjoyed staying here and especially the pool. Both Birgit and Chris were wonderful hosts and very informative. We will definitely be staying at this home when we visit Plymouth again!
Yvette
2016-08-29T00:00:00Z
The Secret Garden was the perfect Thanksgiving get away for our family. Birgit welcomed us with delicious breads, a warm smile and immaculate accommodations. Thank you for a delicious holiday. We can't wait to book another trip to enjoy the pool!
Vanessa
2016-11-25T00:00:00Z
Birgit and Chris were absolutely amazing hosts! My husband and I had to make an unexpected trip to Massachusetts with his parents and sister, along with all of our children, because my husbands grandmother had passed. We found this listing last minute and Birgit responded to my husband's inquiry immediately. Upon our arrival (2 days later) Chris met us at the property to give us a tour of the home and (URL HIDDEN) word describes our first impression - beautiful! As we walked in, there were flowers and a card for us saying how sorry they were for our loss. We felt so welcomed and they were so genuinely nice, it was very refreshing! Our stay was AMAZING! The grounds were gorgeous, the pool was awesome, and the house was comfortable. We can't wait to come back and stay again, this time under better circumstances. Thanks again to Birgit and Chris for a wonderful stay!
Brian
2016-08-14T00:00:00Z
Oda Tipi
Tüm ev/daire
---
Mekan Türü
Ev
---
Konaklayacak Kişi Sayısı
10
---
Yatak odaları
Plymouth, Massachusetts, ABD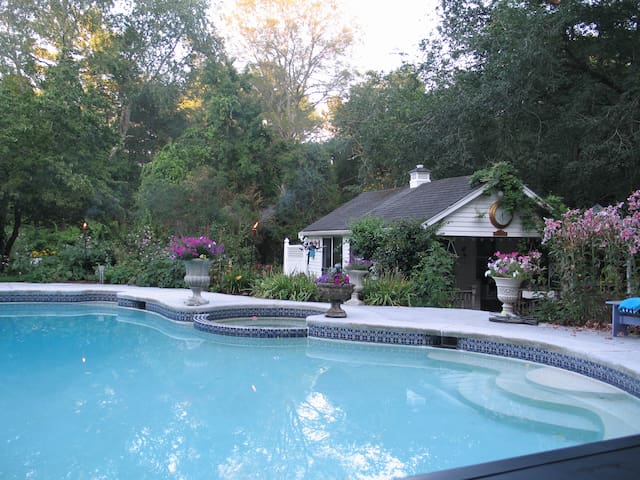 Das Blockhaus ist schön. Nur wenige Minuten vom historischen Plymouth, Strände und das Kap. An einem Morgen privatem, bewaldeten Grundstück. Das Hotel liegt gegenüber vom schönen Cranberry-Felder und Wanderwege. Nahe Boston und Providence. Etwas, das man gesehen haben muss! Saisonale Preise gelten.
Diese Auflistung ist für eine traditionelle Blockhaus am Strand / Tag / Woche / mo. Groß für einen Sommerurlaub am Meer! Erstaunlich für Herbstlaub und vor allem die Cranberry-Ernte !! Wir haben fertig Dieses Angebot mit allen neuen Edelstahl-Geräte zu aktualisieren, zusätzlichen Platz an Deck und sind fast fertig mit dem Keller wieder zu modellieren. Unsere $ 125 / Tag Nebensaison Rate spiegelt unsere '' fast fertig '' Zustand. Das Innere des Blockhauses ist so charmant wie das Äußere und überzeugt immer mit 30ft Decken und Holzböden gewölbt. Der Hof ist sehr schön und gepflegt. Zentrale Klimaanlage / Heizung mit einfach zu bedienende digitale Klima-Schnittstelle.
Das Hotel liegt nur wenige Meilen von der historischen Plymouth, wird diese Eigenschaft auf einer Reihe von Cranberry-Felder gelegen und hat Wanderwege entlang von Seen und Teichen auf der Straße. Es ist nicht in einer Umgebung befindet, per se, obwohl es von der Haupt '' alten '' Straße Front Plymouth zu wasser hinunter nicht sitzen. Das Haus hat zwei unglaublich schöne Nachbarn auf beiden Seiten, aber es bleibt sehr ruhig und privat mit jedem Objekt ein Morgen oder mehr jeder.
Garrett was a delightful host! He was quickly responsive to any questions and sought to make our stay as pleasant as possible. We were in Plymouth for a wedding and his home was most comfortable and convenient. Breakfast muffins, eggs, milk and juice were most appreciated! Thank you for a lovely visit!
Nancy
2016-09-04T00:00:00Z
Another exceptional experience through AirBnB. So much better than a hotel. The house was exactly as advertised. Clean house, quiet neighborhood and friendly host.
Nick
2016-04-11T00:00:00Z
The house was as described and spotless. The beds were great as was the wi-fi. Very quiet peaceful surroundings about 10-15 minutes from the harbor during commuter hours. I would definitely return.
Peter
2015-10-02T00:00:00Z
We had a great time at Garrett's home. The house was spotless and there was fresh baked bread waiting for us! Garrett allowed us a late check out so that I could get my hair and makeup done for my wedding, which was truly appreciated. Garrett came by to clean the linens while we were there (because of the late check out) and was so kind and helpful. He also has an adorable dog that visited too! Thanks Garrett!
Chelsea
2016-10-29T00:00:00Z
We had an amazing overnight at the log cabin. It was beautiful inside and out. There was plenty of room to spread out our stuff and repack after a week on the road. We will be sure to check availability here first if we are in the area again!
Katie
2016-06-24T00:00:00Z
Due to some unforeseen circumstances, I had to end my visit early. Nevertheless, the evening that I spent at this cabin was lovely and I look forward to my next opportunity to visit. I was happy to discover that the cabin is even lovelier than the pictures suggest, and although it is located in a quiet, country setting, it was incredibly convenient to find a whole variety of food options just a short drive away in downtown Plymouth. On this trip, I had a chance to enjoy the beautiful space and relax. Next time, I can't wait to explore the trails behind the house through the cranberry bogs!
Julie
2016-01-04T00:00:00Z
Great location and the hosts really made the arrival smooth despite our late arrival. No issues or problems and we can't wait to return next year. House is a short drive to many of the key tourist locations in Plymouth and close to groceries stories and other commercial locations. Tons of room for our family of 5!
Eric
2016-08-27T00:00:00Z
This was our first Airbnb experience and what a fabulous one it was! Our stay at Garrett's log cabin home was wonderful. He was so welcoming and even baked a banana bread for us. Garrett made sure we felt comfortable and was a great resource about the area. We felt right at home in his cabin, it had everything a family needed, beds were super comfy, and our boys really enjoyed the log cabin feel and loft area to play in. We also loved the outdoor space, so tranquil and pretty this time of year with plenty of space for the boys to play and explore. Garrett's home was just a quick walk to the cranberry bogs which were so neat for us to see! The house was very conveniently located near historic Plymouth and a wonderful amusement park we took our little guys to. We thoroughly enjoyed our time and only wish we could have stayed longer. We will be back and many thanks to a wonderfully thoughtful host, Garrett!!
Kelly
2016-10-30T00:00:00Z
Oda Tipi
Tüm ev/daire
---
Mekan Türü
Ev
---
Konaklayacak Kişi Sayısı
6
---
Yatak odaları
Plymouth, Massachusetts, ABD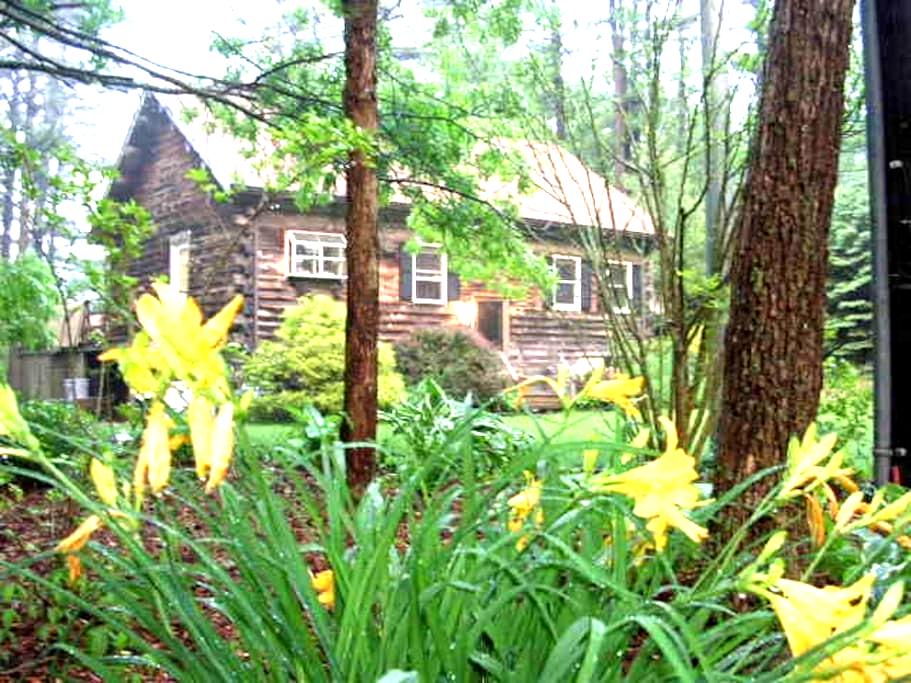 Cette propriété étang avant offre une atmosphère de détente avec vue magnifique sur votre plage privée pour la baignade, le kayak et le canoë-kayak. Vous êtes à un jet de pierre de la Plymouth Rock, Plantation, Plymouth Beach, ainsi que tous les restaurants et magasins le long du front de mer. Boston, Cape Cod, et Edaville Railroad avec Thomas Land sont à quelques minutes de votre porte. Il y a un chemin de marche autour d'une tourbière de canneberge adjacente, avec des foyers et un patio privé pour votre plaisir en plein air.
Cette belle demi-maison peut accueillir jusqu'à six personnes très confortablement, avec 2 chambres et un grand salon privé. Il y a deux lits queen et un ensemble de lits superposés, avec un jumeau gigogne. Il y a une cuisine entièrement équipée avec coin repas. La salle de bain complète dispose d'une douche séparée, de sorte que deux personnes peuvent l'utiliser ensemble, et ont encore beaucoup d'intimité. Les clients ont une surface de pont de patio détente pour beaucoup de temps calme. Il y a aussi des meubles confortables à l'extérieur pour se détendre et profiter de la faune sauvage en Nouvelle-Angleterre.
L'auberge est sur un terrain clos au calme dans une propriété boisée étang de l'avant avec un parking privé et entrée. L'auberge offre une atmosphère paisible et relaxante pour les repas en plein air avec vue magnifique sur votre plage privée. Il y a aussi beaucoup de sentiers de randonnée et de marche pour votre esprit d'aventure. Encore une fois, cependant, vous êtes seulement un jet de pierre de Colony Place, Kingston Mall et Plymouth Center sur le front de mer pour une soirée!
Had an absolutely wonderful time at this sweet spot. Our dogs loved all the fenced in room to run and proximately to the pond. Debbie was great, we will definitely be back
Meredith
2016-10-16T00:00:00Z
The host canceled this reservation 56 days before arrival. This is an automated posting.
Cameron
2016-12-23T00:00:00Z
The host canceled this reservation 35 days before arrival. This is an automated posting.
Annie
2017-01-16T00:00:00Z
Oda Tipi
Tüm ev/daire
---
Mekan Türü
Daire
---
Konaklayacak Kişi Sayısı
7
---
Yatak odaları
Plymouth, Massachusetts, ABD
Tolle Lage im Herzen der historischen Innenstadt von Plymouth. Spaziergang zu den Restaurants, Pubs, historische Stätten, Museen, das Hafengebiet und genießen Sie alles, was Plymouth zu bieten hat! Das Harbor House ist neu renoviert und bietet allen Komfort von zu Hause in einem privaten 2 Schlafzimmer-Einstellung. Du wirst es lieben!
Sie werden auf der zweiten Etage eines Zweifamilienhaus wohnen. Der Raum ist sehr hell und luftig mit neuen isolierten Doppelklappfenster, so dass Sie sie für erfrischende Seeluft Brisen öffnen oder sie für die Privatsphäre und eine Klimaanlage schließen. Der Hafen befindet sich an der Basis der Straße nur ein paar hundert Meter entfernt. An der Spitze der Straße, nur wenige Schritte entfernt, sind Sie im Zentrum der Innenstadt! Die Wohnung ist mit allen neuen hochwertigen Geräten, Möbeln und Betten ausgestattet. Die gesamte Einheit ist in jedem Zimmer, eine neu gestaltete Küche mit Ahorn Schränke und Granit Zähler mit frischer Farbe, neue Fußböden renoviert. Die Küche verfügt über alle wichtigen Dinge mit Kochgeschirr, Besteck, Geschirr, Toaster, Kaffeemaschine und vieles mehr. Das Wohnzimmer verfügt über ein italienisches Leder Schnitt mit zwei elektrischen recliners und einen 50 "LED-Flatscreen-TV mit Kabel-Service. WLAN ist ebenfalls vorhanden. Das Schlafzimmer enthält ein Top-Modell der Sealy Hybrid-Schaum / Gel Königin Matratze auf einer Plattform Bett. Das zweite Schlafzimmer verfügt über zwei Einzelbetten. Bitte beachten Sie, dass dieses Zimmer minimale Bodenfläche hat. Es ist geeignet für Kinder oder Erwachsene, aber es ist auf der kleinen Seite. Das einzige Badezimmer verfügt über eine Stand-up-Dusche.
Lage, Lage, Lage! Sie werden nicht eine Eigenschaft näher an der Innenstadt finden dann diese ist, weil es in der Mitte der Innenstadt von Plymouth richtig! Gehen Sie bis zum Plymouth Rock, den Hafen, Strände, Mayflower II, Burial Hill und vieles mehr. Genießen Sie tolle Restaurants, Pubs, Weingüter, Handwerk Brauer, Museen, Spielhäuser und Boutiquen nur wenige Minuten von Ihrer Haustür! Zwanzig Minuten Fahrt zum Cape Cod Canal und 40 Minuten Fahrt nach Boston. Nelson Beach Park ist 7/10 von einer Meile Plymouth Long Beach ist 3 Meilen entfernt oder 5 Minuten Fußweg nach Plymouth Wassersport 'Beach Ferry und nehmen Sie an schönen Long Beach Punkt
We loved Steve's place. Great location!
Jennifer
2017-02-24T00:00:00Z
This place is just as described. A perfect private place within walking distance of the water and main st. Couldn't be better!
Paul
2017-04-08T00:00:00Z
Great place with amazing accessibility and access to local spots. Very clean and comfortable spot.
Brian
2016-10-16T00:00:00Z
My group and I had a great time staying at Steve's. The apartment was perfect for a weekend away from the city. It's located within a 5 minute drive of anything you may need, and is walking distance from a number of sites. Would recommend this listing to anyone looking to spend time in or around Plymouth.
Michael
2017-01-02T00:00:00Z
We came as a family of 4, and we were comfortable. As a matter of fact, my younger daughter was dying to sleep on the couch because she was so comfy! The pictures are true to what the space looks like, and in terms of location, it was right in town and easy to walk to various restaurants and shops. Thank you, Steve for the little touches, such as the hairdryer, as I had forgotten mine!
Jane
2016-10-23T00:00:00Z
Great location! Walking distance to the Main Street with pubs restaurants and antique stores. Many of the antique stores are very reasonably priced as well! Parking situation is easy as well!
Kevin
2017-03-26T00:00:00Z
Everything was GREAT !!!!!!!!!!!!!!!
dan
2016-09-19T00:00:00Z
Everything was great
dan
2016-09-27T00:00:00Z
Oda Tipi
Tüm ev/daire
---
Mekan Türü
Daire
---
Konaklayacak Kişi Sayısı
4
---
Yatak odaları
Plymouth, Massachusetts, ABD
Bequeme 4 Zim Cordage Haus Blocks vom schönen "Geheimnis" Strand perfekt für SUP / Kajak. Ein Block von Main St, eine Meile vom Ufer / historische Stätten. Nahe dem Einkaufen, cine, Fitness / Yoga, galore.Close Restaurants Zugang zu zwei "T" stoppt und Hwy 3.
We had a very nice stay at Paula's house where we felt at home. Paula welcomed us very kindly, communication was no problem. The house is nicely decorated and comfortable, we enjoyed the deck and barbecue. We liked Plymouth as well, both seaside resort and a very historical place. We enjoyed our stay.
Nathalie
2016-08-22T00:00:00Z
The house is conveniently located in Plymouth close to the historical district. Paula promptly answered all our questions and she had been very nice.
Tianyi
2016-10-09T00:00:00Z
Paula kindly left us deck chairs, a beach umbrella and towels, which we put to good use. The beds were comfortable and there is air conditioning or a fan in all the bedrooms which made the summer nights comfortable. There is good outdoor space for sitting, grilling and eating. The kitchen is well stocked, although we couldn't find a tin opener! Things that are not obvious from the listing: Generally, the lighting is poor. The living room has been converted into the downstairs bedroom, so the living space is small with one sofa. The TV cannot be viewed comfortably, unless you are lying along the sofa, rather than sitting on it. We were unable to find network TV channels, although a connected wii device allowed us to connect to Netflix. There are incomplete renovations downstairs: kitchen ceiling is half missing and there is visible insulation and wires; Kitchen floor is not flat; dishwasher bottom panel is missing revealing wiring; downstairs bedroom door frame is unfinished; several power socket without covers, which seemed dangerous. The bathroom is downstairs only, which is inconvenient if using the upstairs bedrooms. One of the twin bedrooms is missing curtains. This house might be suitable for a big group of students looking to keep costs low and planning to spend time in the out door space. I would not recommend it for families with children.
Melanie
2016-08-26T00:00:00Z
Paula was an amazing host who truly went above and beyond to accommodate us. Her communication was excellent and she prepared the house with everything we needed prior to arrival. The house is well located if you want to compromise between Boston and the Cape(URL HIDDEN)The kitchen has everything you would need to get by. Everything works well, but some spaces are tight like the bathroom and kitchen eating area. We were fortunate that the weather allowed our family of 4 to eat outside when we cooked. I wouldn't stay here with 7 people, 2 adults / 2 kids it was fine.
Jason
2016-08-12T00:00:00Z
Paula was an excellent host who communicated well, and made the effort to make our stay go as smoothly as possible. Her home was just as described. The four bedrooms were more than enough for our family of four. We enjoyed the well-equipped kitchen for mealtimes, and the dishwasher made for easy cleanup. There are neighborhood shops right around the corner. It is just 1-1/2 miles to the main downtown area, with historic attractions, more shopping, and a variety of restaurants. The downstairs hallway has a couch and tv, but otherwise no designated living room at this time- but we knew this coming in, and it was fine. During warmer months, the rear deck and yard seem well-equipped for outdoor living. Definitely recommend to others!
Patricia
2016-12-30T00:00:00Z
Paula's communication was great! The house was comfortable and the AC in the rooms were helpful. The location was a quick drive downtown. The backyard was nice to hang out in. But bring bug spray in the summertime. Pay attention to the count/size of beds. 3 bedrooms: 6 beds, only 1 was a queen and the rest were twin beds. We were 2 couples and one couple had to sleep separately in twin beds because of only one Queen bed located downstairs in the living room area. Probably a better house for a family. Overall, we had a comfortable stay and was good for one night. The whole town seems to be infested with moths! Harmless, but unexpected.
Stacey
2016-07-17T00:00:00Z
Paula's place was perfect temporary residence for my family of five. Great residential neighborhood near local convenience stores, a playground, and a laundromat. A 10-minute walk to public walking trails, the beach, and downtown Plymouth. Plenty of parking in the driveway. The place itself was charming and clean. The kitchen was very well equipped and we enjoyed the outdoor grill and dining areas. Lots of space in the upstairs bedrooms. Our family loved the wifi and being able to easily stream our favorite shows and movies. I would definitely recommend this place to friends.
Julia
2016-09-11T00:00:00Z
Paula is a wonderful host. She was extremely attentive to our needs. Came immediately when I couldn't get the wi-fI to work( it was actually turned off upstairs) as well as traded out a couch. The house is situated in a quiet neighborhood and close(by car) to all that Plymouth has to offer. The house is small but the bedrooms upstairs are cute & adequate Downstairs is small especially with the additional bedroom on that floor.(Real benefit for people who can't do stairs!!)
Beverly
2016-06-29T00:00:00Z
Oda Tipi
Tüm ev/daire
---
Mekan Türü
Ev
---
Konaklayacak Kişi Sayısı
5
---
Yatak odaları
Plymouth, Massachusetts, ABD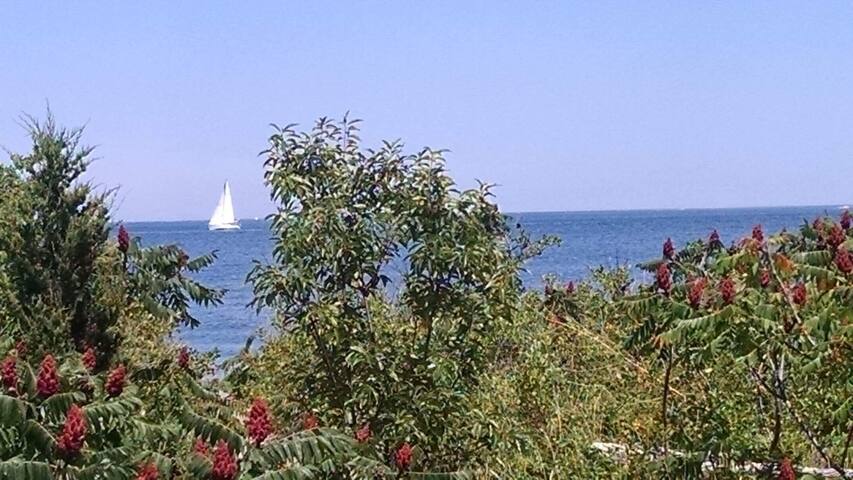 I hjärtat av Plymouth Waterfront.
Din bästa cityläge är på Ocean Peek på Brewster Street. Detta sekelskiftet klassiska koloniala hem ligger på historiska Brewster Street som ansluter centrum till historiska Plymouth Waterfront. Minuter och steg är en underdrift för hur nära du är allt som Plymouth har att erbjuda. Den andra våningen på Ocean Peek har två sovrum, vardagsrum, kök, badrum och matplats. Hemmet är utrustad med nödvändiga sängkläder, handdukar, luftkonditionering, köksredskap, kuvert, TV, WiFi och mer. En enda av parkeringsplatser plats är på plats. Om du planerar att använda kollektivtrafik är gatraen busshållplats rätt upp på gatan. ((URL HIDDEN) för scheman). Lägenheten är tillgänglig vecka eller månad under sommarmånaderna. Vi har bott i Plymouth i över 25 år och finns tillgängliga för att svara på frågor eller hjälpa till med saker att göra och se när du besöker USA: s hemstad. Lätt att göra i Plymouth Mayflower Ship och Plymouth Rock. Plimoth Plantation Living Museum. Plimoth Bio Färja till Provincetown. Valskådning Djuphavsfiske Jet Ski, kajak och paddla båtuthyrning Gratis Sommar Konserter och festivaler. Cykling, Parker, hav och sjö stränder Harbor Tour Art Guild och Pilgrim Hall Museum Mayflower Society House Jenny Grist Mill Brewster Garden Ghost, Lantern & Native Amer. Turer. Världsklass restauranger, shopping och antiquing
Promenera till festivaler, levande musik, middag och historiska platser.
Oda Tipi
Tüm ev/daire
---
Mekan Türü
Daire
---
Konaklayacak Kişi Sayısı
4
---
Yatak odaları
Plymouth, Massachusetts, ABD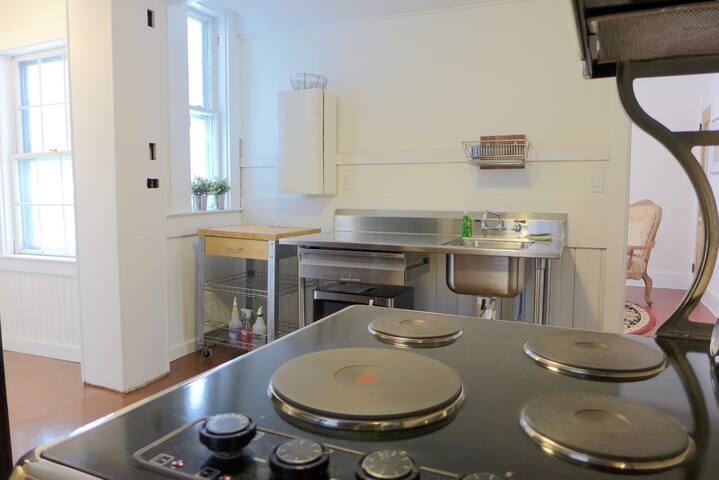 1850 geschmackvoll renovierte Haus Stil zu Hause, in einer ruhigen historischen Viertel Schritte in der Innenstadt Plymouth & Wasser bis hin zu lebendig. Herrliche Ziegelsteinpatio für unterhaltsame, Grillen, Cocktails, usw. Kleine eingezäunten Hof ideal für Kinder und Hund Das Haus hat zwei Schlafzimmer, eines davon ist ein Loft-Stil, das heißt, seine zum Treppenhaus geöffnet. Beide Schlafzimmer haben ein gemeinsames Badezimmer, das die beiden Schlafzimmer haben einen direkten Zugang.
Das Haus wurde geschmackvoll und komfortabel mit allen modernen Annehmlichkeiten man erwarten würde. Das Haus befindet sich nur wenige Schritte vom pulsierenden Innenstadt Plymouth, der Waterfront und historischen Stätten und Museum. Zahlreiche Bars, Restaurants, Musikveranstaltungen, Boutiquen, Antiquitätenläden, Fachgeschäfte Wassersport, Boots- und Angeltouren, täglich Fähre nach Ptown und Wale beobachten.
Die Hütte befindet sich auf der "Watson Hill" war dies ein Bereich, in dem die Wampanoag Indianer einst lebten und bewirtschaftet. Die meisten Häuser in diesem historischen Viertel zurück bis um 1850. Alle die Häuser sind einzigartig und haben interessante Kandareanklang.
We had an absolutely wonderful time staying in Bernadette's cottage. We visited with our 11m old & dog and the house was perfect. There was plenty of room inside and out for both human and animal to enjoy. It was "baby safe" which allowed us to truly enjoy our vacation. The a/c was a godsend in the summer heat and the location to downtown Plymouth was excellent. We would undoubtedly love to stay here again.
Megan
2016-07-16T00:00:00Z
Really lovely house close to the main shopping and town center. Everything was very easy and Bernadette made us feel right at home immediately. I couldn't recommend more for a base to stay while visiting historic Plymouth! Thank you!
christine
2016-07-10T00:00:00Z
Bernadette's cottage is a gem. The house is well-furnished, updated, clean, and represents quintessential New England character. The house is located within walking distance of town and getting into Boston was easy from nearby Kingston. Bernadette was incredibly easy to work with and responded quickly to messages. She was flexible with our check-in time and had loads of information about Plymouth laid out for us. I highly recommend this home for anyone visiting Plymouth.
James
2016-06-28T00:00:00Z
Bernadette's home was lovely! The home was decorated nicely, and was well equipped to suit a comfortable stay (the beds were VERY comfortable). We booked the house for our Cape Cod getaway, and were pleasantly surprised at how lovely the surrounding area was (Plymouth). We enjoyed the local beaches, as well as our leisurely walks around the adorable neighborhood. Although it was a bit of a driving distance from some of the towns along the Cape (1 h 40 min drive to Provincetown, one way), it was well worth it to stay in this area. I would definitely stay at Bernadette's home again. Very clean, and cozy...and Bernadette was a great host.
Liana
2016-07-20T00:00:00Z
Wonderful renovation of an historic house. Well located neighborhood. Host did everything possible to make us welcome and comfortable. Great yard and patio. Will definitely stay again if our plans bring us to the area again.
Stephen
2016-09-15T00:00:00Z
We enjoyed a delightful New England Christmas in Bernadette's cozy home-the Christmas trimmings she bedecked the house with added much to the atmosphere. The historic neighborhood lends easy access not only to the charm of Plymouth but also Boston and the Cape-very nice.
Jacqueline
2017-01-02T00:00:00Z
Bernadette's cottage was the perfect place for a wonderful weekend getaway, we never wanted to leave! It was the perfect location. Very close to plenty of restaurants and beaches. We were so lucky to be so close to all of the July 4th festivities and met so many wonderful people from the neighborhood while enjoying the patio in the yard. The house was exactly as described and very clean and comfortable. We couldn't have asked for a better host!
Deirdre
2016-07-06T00:00:00Z
Die Unterkunft war wie in der Beschreibung. Ein sehr süßes und gemütliches Cottage. Bernadette war immer ansprechbar wenn wir sie gebraucht haben. Ein sehr schöner Urlaub.
Carola
2016-08-22T00:00:00Z
Oda Tipi
Tüm ev/daire
---
Mekan Türü
Ev
---
Konaklayacak Kişi Sayısı
4
---
Yatak odaları
Plymouth, Massachusetts, ABD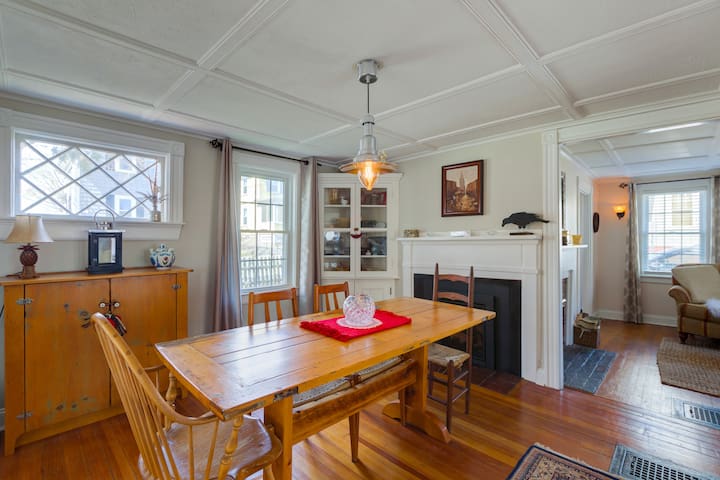 «Séjournez dans une maison d'été bardeau classique à Warren Cove avec vue imprenable sur la baie de Cape Cod et Phare Gurnet. La maison dispose d'une plage privée rocheuse avec des kayaks et un canot à votre disposition. Ce vieux de 130 ans "chalet" dispose de cinq chambres, un étage, vue sur la mer atelier / étude (idéal pour la peinture et l'écriture), une véranda fermée, et un porche côté ouvert à partir duquel magnifiques couchers de soleil peuvent être visualisées sur l'anse.
expérience Rustique Nouvelle Angleterre d'été, plage privée, à proximité du centre-ville historique de Plymouth vie nocturne et de la culture. Les Bartletts, qui vivent à côté, sont un couple charmant de 70 ans. Ils ont parcouru le monde et sont les plus aimables personnes les plus généreuses que vous pourriez espérer rencontrer. La maison a été construite par le grand-père de Sam et a été dans la famille depuis plus d'un siècle. WiFi, animaux domestiques, cuisine moderne, et d'autres chambres avec de nombreuses caractéristiques originales. Un mile de Plimoth Plantation, et plage de sable Plymouth.
Un sentiment d'isolement, même dans une ville d'été animée. La plage privée en face de la maison est rocheuse, mais a de grandes roches plates pour des chaises de plage ou de mettre des serviettes sur. piscines de marée abondent et sont parfaits pour la chasse au crabe et à explorer. Regarder les bateaux de homard tirent leur pot tous les jours.
Our best holiday home ever! The place is even more beautiful than the photos can show. Joan and Sam were the perfect hosts. Thank you for this incredible experience!
Gerasimos
2016-09-18T00:00:00Z
This place was awesome! We arrived and were immediately given the royal treatment by the caretakers. The showed us the ropes and gave great suggestions on places to eat and things to do in town. The weather was perfect, so we took full advantage of the boats on the beach. The outdoor shower helped when we came up from the beach to rinse off, and the washer and dryer were great too-- we left with no dirty laundry! The house is great, and has a lived in and loved feel. It accommodated all eight of us! Definitely would stay here again!
Ginger
2015-09-28T00:00:00Z
The hosts were wonderful, very informative and helpful. They live right next door and are available if you need anything. However, they leave you to enjoy your vacation; it was awesome having them next door. The house matched the listing as described.
Kelley
2016-05-23T00:00:00Z
Loved every minute gazing out at the Cove from the porches. The house reflects the many happy years the family spent there and gives a real personal touch to the time we spent there. Joan and Sam were kind hosts and recommended the cinema at Plimoth Plantation which is right down the street. We enjoyed exploring Plymouth and nearby Cape beaches and had a great time!
Sandra
2015-09-20T00:00:00Z
An amazing house, full of character, in a great location. The panoramic Ocean views from this house were beautiful indeed. It was also wonderful to wake up to near 360 degree ocean-front views from the Master bedroom. Our hosts were more than gracious and were warm and friendly, allowing us the privacy as needed but always available for any needs. I would highly recommend this place.
Daniel
2015-09-07T00:00:00Z
We thoroughly enjoyed our stay at Seaside New England summer home! Isaac was very easy to correspond with and always responded promptly to any questions we had leading up to our stay. Joan and Sam were the perfect neighbors and hosts! They were approachable and helpful, yet gave our family privacy. The listing and previous reviews were 100% accurate! We had two families and the family matriarch vacationing together for the week. The multiple bedrooms afforded everyone their private space - while the common areas - the dining room, living room and outside porch were perfect places for our group to gather and enjoy family time. Our four teenagers enjoyed the yard and games left by the hosts - and moms loved the outside shower! We spent our week enjoying the local beaches, kayaking and fishing in local ponds and great dinners in downtown Plymouth. Lastly, the views and sunsets we saw during our week were spectacular and will not be soon forgotten.
Sue
2016-07-24T00:00:00Z
We very much enjoyed our stay at the Seaside New England Summer Home. The location of the home is perfect for a relaxing get-away, peaceful and calming. Town is only a short drive away with fun shops and restaurants. The home itself is very interesting and has an old world charm. It was fun to explore the rocky beach below. We would definitely rent again!
Dani
2015-09-02T00:00:00Z
Oda Tipi
Tüm ev/daire
---
Mekan Türü
Ev
---
Konaklayacak Kişi Sayısı
8
---
Yatak odaları
Plymouth, Massachusetts, ABD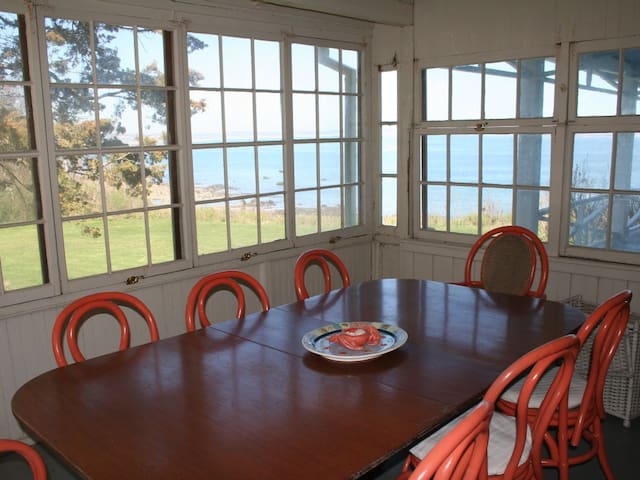 WIR SIND ZURÜCK!!!! Nach fast einem Jahr offline aufgrund Stadt breiten Abwasserprobleme wurde ich wegen nicht Zugriff auf mein Eigentum zu schließen Operationen gezwungen (und mehrere andere Standorte in der Stadt), während die Stadt 24/7, diese Probleme zu lösen gearbeitet. bleibt immer noch "vorübergehend" freiliegende Rohrleitungen in der gesamten Stadt, aber alles langsam zu normalen zurückkehrt. Also .. was gesagt wird, lassen Sie mich Ihnen sagen, ein wenig über die Umgebung ... ich mich befinde, am Ende einer Sackgasse innerhalb von Minuten Plymouth Zentrum und am Wasser komplett mit einer großen Auswahl an Speisevergnügen bis zum schäume Kunst Festivals / Museen, eklektische Shopping-Erlebnisse, und mehrere von Celtic reichen Musikzentren der zeitgenössischen unseren eigenen Philharmonic Orchestra. Weniger als 3 Minuten zu Fuß von meiner Wohnung zu wunderschönen Morton Park bringt, wo Sie Schwimmen, Wanderwege, Zugeständnisstandplatz, Bäder und Kajakverleih. Mietfläche umfasst separate Sperre aus Eingang mit großem Schlafzimmer, ein separates Zimmer Gehäuse einen kleinen Kühlschrank, Toaster, Kaffeemaschine, Schrank Bereich und Büro. Komplettes Badezimmer mit Dusche und Wäscherei. Die Fotos werden für einen erholsamen schweifen über die Immobilie mit Kaffee am Morgen oder am Abend Cocktails zu den schönen Gartenanlagen bezeugen. Ich bin auch sehr hundefreundlich ein schönes Schokoladenlabor wie meine Hunde-Begleiter mit. Ich bin etwa 3 Meilen von der Autobahn entfernt und haben eine ruhige Umgebung Mischen Flora, Kunst und Natur zu einem harmonischen Lebensraum zu schaffen versucht. Der Preis bezieht sich nahe, aber bequem Nähe zu Autobahn. Plymouth ist ein schönes Jahr über Ziel vor Ort, auf halbem Weg zwischen den historischen Boston und Cape Cod seine eigene einzigartige Mischung aus Geschichte und positive Ozeanströmung bietet ...
Nous sommes arrivés tard dans la maison de Lorna, après avoir bravé des heures d'embouteillages ! Lorna nous attendait ! Le chemin et la maison elle-même étaient éclairés de plein de petites lumières, c'était féerique, et cela nous a fait oublier instantanément les contrariétés de la si longue route. Lorna est une hôtesse charmante, accommodante et très accueillante. Le seul petit point négatif a été d'être réveillé en sursaut le jeudi matin par un enfant qui criait en jouant sur le plancher au-dessus de nous et des pleurs de bébé qui ont duré fort longtemps, mais c'étaient les enfants d'une dame qui nettoyait. C'était probablement exceptionnel et donc un manque de chance. Mais ce petit inconvénient ne nous a pas enlevé le bonheur de séjourner dans cet endroit. La maison de Lorna est cosy et nous y avons trouvé tout ce dont nous avions besoin. Des snacks dans le frigo, des produits de bain dans la salle d'eau et de quoi faire du café et du thé. Lorna a même prévu des DVD pour meubler les soirs de pluie. Mais ce qui nous a vraiment émerveillés est son jardin. Une surprise se dévoile à chaque regard. C'est magnifique, une statuette, un elfe, une écriture… Une belle découverte. Ce fut un enchantement. Merci Lorna !
Bruno
2015-06-06T00:00:00Z
We had a wonderful time staying at Lorna's. The room itself is very clean, comfy and private. Lorna made out stay though, she is very easy going and friendly, and was full of advice about places to see in Plymouth and even helped us out by giving us numerous rides in and out of town. Overall it was a great weekend and we wouldn't hesitate to recommend Lorna's.
Sean
2015-01-26T00:00:00Z
Lorna's place was great! The room was very nice and we had a separate bath room and a small dining area that even had wine glasses ready to use for us. Lorna is a host that make her guests feel welcome. She enjoys life and always seems to be in a good mood. Her dog is great as well!
Manuel
2015-04-19T00:00:00Z
Lorna wasn't really around but was really welcoming and arranged it well for us to come and go when we needed. The room is in a basement that was clean and comfy, even if lacking a bit of natural light. The only problem was the noise of the AC/heater, that was just next to us.
Sophie
2015-04-21T00:00:00Z
The place looks exactly like the one shown in the pictures. We didn't have a chance to meet Lorna and so we didn't know if she had her private Wifi, but we managed to connect to the Internet by using the xfinitywifi. I recommend guests to bring their own body wash and shampoo. What made me feel really happy is that I can use the washer and dryer to clean my clothes. If you have leftovers you can save them in the fridge and use the microwave in the living room to heat them. The disposable tableware is provided.
Yaxin
2015-07-04T00:00:00Z
Lorna's home was very lovely! The location was perfect for exploring Boston for the day and heading to Cape Cod the next day! We briefly interacted and enjoyed meeting her and her pups!!
Lisa
2015-09-27T00:00:00Z
Awesome, relaxing place. Thanks to Lorna for being a great host.
Donald
2015-08-03T00:00:00Z
Lorna est une hôte très plaisante, ouverte, à l'ecoute du moindre besoin de ses invités, prodiguant infos et conseils touristiques. Son accueil très chaleureux et sa maison au milieu des bois (un vrai petit bijou !!!) sont un vrai plus pour Lorna. On retrouve dans son jardin et dans son petit studio toutes les touches artistiques qui la caractérisent. Je recommande vraiment !!!!
Cecile
2013-09-06T00:00:00Z
Oda Tipi
Özel oda
---
Mekan Türü
Ev
---
Konaklayacak Kişi Sayısı
2
---
Yatak odaları
Plymouth, Massachusetts, ABD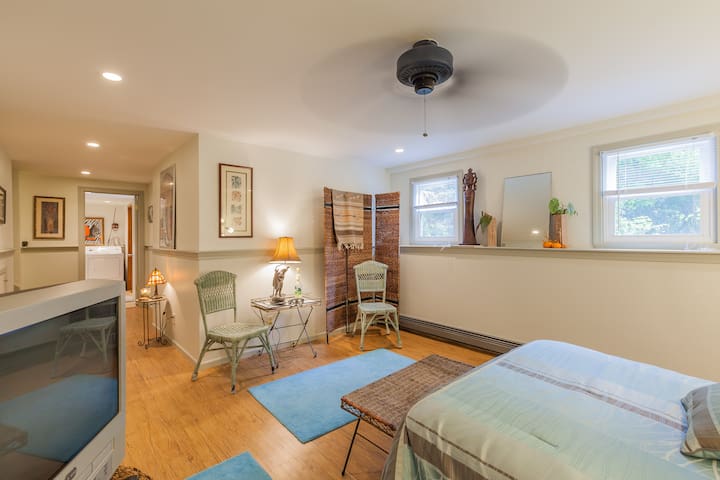 El centro de Plymouth, completamente remodelado grandes etapas de estudio de apartamentos lejos de todas las atracciones de Plymouth tiene para ofrecer, además de una multitud de restaurantes / bares, todos a 1-10 minutos a pie.
Un hermoso gran estudio limpio en el corazón del histórico puerto de Plymouth está esperando. Todo el nivel ha sido totalmente renovado y rediseñado, abierto y tiene todas las especias, y aparatos de cocina que necesita. Ropa de cama, toallas, pañuelos de papel, acceso inalámbrico a Internet y cable de Verizon Fios HD.
Este destino por excelencia de Nueva Inglaterra, situado convenientemente entre Boston y Cape Cod, es mejor conocido por su historia de los indígenas, la historia del peregrino, y uno de los monumentos más emblemáticos del país - Plymouth Rock. Pero la historia es sólo el comienzo de lo que los visitantes vienen a experimentar aquí en el condado de Plymouth. Con todo, desde deportes acuáticos hasta avistamiento de ballenas - jugar al gol en tours de fantasmas -Thomas tierra para viajes de la carretilla - cosechas de arándano para viajes culinarios ... se encontrará planeando volver incluso antes de salir! Y con cama pintoresco puerto lateral y rurales, hoteles familiares, y un complejo de cinco estrellas que se encuentra en el bosque, nuestra gama de alojamientos satisfacer todos los gustos.
This was my first time using Airbnb and James couldn't have made it any easier. He always responded quickly to my questions with detailed answers. His apartment is nicely furnished and located a short walk from the Plymouth Waterfront and all of its attractions.
James
2016-05-16T00:00:00Z
What a great time we had! The apartment was just as advertised. It was clean, well stocked and very comfortable. I would recommend this place for anyone.
Margaret
2016-12-27T00:00:00Z
When I arrived there was a bottle of red wine as a welcoming gift. The space was immaculate and all amenities were high quality, better than described. My stay was very enjoyable and I certainly will come back again, if the occasion arises.
NICK
2016-10-27T00:00:00Z
Very comfortable Unit very easy to get downtown I would definitely stay again
steven
2016-05-31T00:00:00Z
My boyfriend is from Taunton nearby, but has always told me how much he loves Plymouth, so when we had a wedding to attend in Kingston and I saw how close to Plymouth it was I looked for a place in Plymouth. We arrived and found the keys easily, and entering the basement apartment was a real treat. It doesn't look like much from the outside but inside it is clean, comfortable, and expertly decorated. Though it is technically a studio there is plenty of space. Location is great with easy walking distance to restaurants (though be prepared for a little uphill) and we had easy access to the tourist areas in Plymouth as well. I wish we could have stayed longer, as there was a grill and back patio we didn't have time to take advantage of, and it's a gorgeous area. Thanks James for a great stay!
Jessica
2016-09-21T00:00:00Z
The Apartment is very nice, super cleand, the furnitur are a good composition, no Old things :0). The kitchen it complet for cooking,have all Tools. It is in the Center of the City, near the habor. Five Stars for our time.
Pia
2016-10-13T00:00:00Z
Great place, great location, and great host. Well worth the money and would recommend this place to anyone.
Cruz
2016-10-10T00:00:00Z
Wine and fresh flowers to greet me, very nice and welcoming! The apartment was excellent, fully stocked and equipped, and convenient to downtown Plymouth and its many attractions. Dedicated off-street parking was also appreciated.
Catherine
2017-01-06T00:00:00Z
Oda Tipi
Tüm ev/daire
---
Mekan Türü
Daire
---
Konaklayacak Kişi Sayısı
2
---
Yatak odaları
Plymouth, Massachusetts, ABD
We had a great weekend at Yi's house on the water. The house was immaculate and the views were awesome. It was really windy outside, but that's to be expected so close to the water. There was plenty of room for everyone in our group, everyone had a place to sleep (12) and there were plenty of bathrooms. There was so much room in the kitchen. We thought breakfast would get hectic with everyone in the kitchen but it was very comfortable! The stove and oven were great for cooking and the separate freezer and fridge were very helpful and the island was enormous! We would definitely stay there again and would recommend to anyone! We didn't get to use the beach access because we visited in the winter, but the beach was very close.
Doug
2017-01-01T00:00:00Z
Great place to stay
cornelia
2016-11-26T00:00:00Z
Yi was an excellent host and the property was amazing. I agree that it is not a heated pool but who needs a heated pool when it is gorgeous weather? He was extremely accommodating and helpful. Any questions I had he got back to me immediately. The master bath was a dream. I definitely recommend this property for a nice little getaway.
Herry
2016-07-05T00:00:00Z
Mr. Yi was a wonderful host from the start. He was very communicative and available to answer any of my questions before arriving via text or e-mail. The house and property are amazing and the pictures don't do it justice. It is set on a beautiful property full of greenery and flowers in bloom, with a view that is just jaw-droppingly stunning. Mr. Yi thankfully provided 2 pairs of binoculars to check out the adjacent lands, including the sand dunes and out north east to a point which has a beautiful lighthouse thats perched on enormous sea cliffs. This was a magical and peaceful setting that I would re-book any time. The descending dream stairs down to the deck and ocean are surrounded by lush plants and flowers. The deck is phenomenal, I mean, really, really fantastic. Overall, Mr. Yi was a fine host and I would highly recommend him to my fellow human beings looking for an expansive home to relax and rejoice in. My only small criticism is that there was a nice Shuffleboard court, but no equipment to enjoy it with. Thanks Mr. Yi!!! : )
Jonah
2016-07-11T00:00:00Z
We had an amazing time at Yi's oceanview house. The views were SPECTACULAR! The beds were comfortable, the kitchen was easy to cook in, and the pool an added bonus. It was the perfect vacation spot for us.
Sylvie
2016-07-24T00:00:00Z
We had a wonderful time at Yi's property! The views were amazing and we love sitting out on the deck every evening watching the sunset! We had 9 adults and one 2 year old and we had more than enough space. The master bedroom was incredible and huge ! The other bedrooms some only had two twin beds but the couples in those rooms pushed the beds together and they said it worked out just fine ! With the views you don't really want to sit in your room anyway! A lower deck right over the water was also just amazing! The pool was great , and we were there with a little heat wave so all were thankful for the pool! Yi was always quick to answer any questions quickly. We really had a great family vacation at this home!
Vanessa
2016-08-14T00:00:00Z
We were in town for a wedding and the house was a perfect place to have several of us stay and be able to visit while in the area. The home was great and the view was stunning. Thanks for letting us arrive early so that we could get ready for events taking place that day. Our accommodations were icing on the (wedding) cake. : )
Susan
2016-08-01T00:00:00Z
Yi communicated very well and we had no problem getting into the home. The views were absoutley breath taking and the pictures accurately show the house. There are plenty of rooms and bathrooms which was great for a group of girls. The house was nice and clean and the air conditioners were great in the hot summer heat. The pool is very nice and the walk down to the water is a must. Would recommend going to the beach as you can't really swim or go into the water off the dock, it is rocky and some metal could be seen in the water. Overall this is a great house and the views cannot be beat.
Meg
2016-08-28T00:00:00Z
Oda Tipi
Tüm ev/daire
---
Mekan Türü
Ev
---
Konaklayacak Kişi Sayısı
12
---
Yatak odaları
Plymouth, Massachusetts, ABD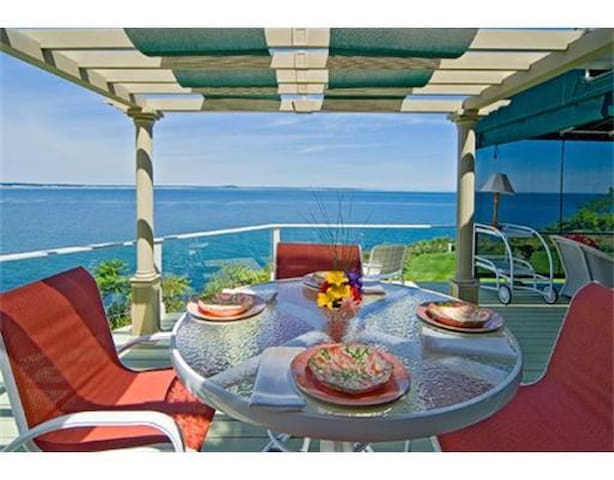 Privat große Fläche mit Kingsize-Bett und Cabrio Königin Couch. 1 Meile von Plymouth Flughafen und 2 Meilen von der Innenstadt Plymouth Wasser. Ruhige Nachbarschaft mit eigenem Parkplatz.
The host canceled this reservation 122 days before arrival. This is an automated posting.
Stéphane
2017-03-23T00:00:00Z
Oda Tipi
Özel oda
---
Mekan Türü
Ev
---
Konaklayacak Kişi Sayısı
4
---
Yatak odaları
Plymouth, Massachusetts, ABD
Geniet van rust, rust en comfort op het regelen Inn. De eerste klasse luxe accommodaties zal een geweldige plek voor u om te ontspannen na een drukke dag in het centrum van Plymouth, Boston, Cape Cod of vele andere attracties in de buurt.
Welkom bij Bewoning Inn. Uw privé accommodaties beschikken over een grote prachtig en nieuw ingericht in-law appartement met eigen parkeerplaats. Je zult een open woonkamer met een kathedraal plafond, dakramen en zichtbare grenen balken in te voeren. De volledige keuken en eetkamer is direct grenzend aan de woonkamer. Vaststelling van de hal is de master bedroom met voldoende kastruimte en een comfortabel queen size bed. De badkamer heeft zowel een douche en ligbad - ideaal om te ontspannen. Boven is een geweldige loft waar u kunt ontspannen na een drukke dag. Zoals u stap uit op uw twee niveau dek, kan je niet helpen, maar aankondiging wordt omgeven door een prachtige luifel van volwassen pijnbomen en hardhouten bomen. Voor uw gemak is draadloos internet gratis aangeboden. Ons huis is terug 500 voet in het bos, grenzend aan Morton Park, het grootste park in Plymouth. Het bevat 200 hectaren bos, oever, mijl van wandelpaden en een bron gevoed vijver te vissen, zwemmen en beachen. Stap recht uit het huis en je bent eigenlijk op een parcours. U zult privacy en gemakkelijke toegang tot het centrum van Plymouth dat is slechts een mijl afstand hebben (met inbegrip van Plymouth Rock, de Mayflower II, vele andere historische bezienswaardigheden, evenals goede restaurants, pubs en winkels). Het is zo rustig en vredig maar toch minder dan een mijl van de belangrijkste snelwegen (Routes 3 en 44). Plymouth is een prachtig historisch kuststadje ligt 40 mijl ten zuiden van Boston en 17 mijl van Cape Cod. Het beschikt over een uitstekende haven, een enorme hoeveelheid open ruimte, uitstekende restaurants en interessante toeristische bezienswaardigheden. We houden van Plymouth en het maakt niet uit wat je interesses, wij helpen u geniet van uw verblijf (wandeltochten, fietsen, beachen, restaurants, toeristische bezienswaardigheden, enz.). We wonen op het terrein in een volledig aparte unit aan de Inn. Zodra u incheckt, heb je geen probleem hebt Bewoning Inn !!!
Vreedzaam en rustig, omgeven door een baldakijn van grote grenen en hardhouten bomen, met wandelpaden en vijvers op korte loopafstand van de herberg. Toch zo dicht bij het centrum van Plymouth, de winkels en de prachtige haven en de stranden !!
Linda and Lloyd were wonderful hosts! They were kind and personable, offered lots of information and suggestions for things to do in the area. Great restaurant recommendations. Linda is also an excellent baker! Not only were breakfasts beautiful and delicious, but she was also willing to share her recipes. Great, peaceful and relaxing place to stay. Would highly recommend!
Chris
2014-01-08T00:00:00Z
Linda and Lloyd were very gracious, genuine hosts that made our wedding weekend that much better and comfortable. The home was amazing, set back away from the main road in a beautiful wooded setting and had all of the amenities one could need. It was a great place to spend our wedding weekend and we will definitely be returning for weekends away from the city.
Cara
2014-06-16T00:00:00Z
We absolutely loved our stay at the Settling Inn. Linda & Lloyd are kind and gracious hosts - we felt immediately welcome and completely comfortable throughout our visit. The Inn is spacious, spotlessly clean and equipped with everything one might need or want. The setting is lovely. The house is just tucked into the woods so it gives that away-from-it-all feeling while actually being very near everything. And have you heard about the breakfasts?! We felt positively spoiled by the baskets and trays of home baked goods, yogurt and berry parfaits, crustless quiches....amazing!!! We love, love, love this place. Hope to return soon!
Jill
2014-05-22T00:00:00Z
We had a WONDERFUL stay at Linda and Lloyd's beautiful home. From the warm greeting and tour we received upon arrival, to the delicious home baked goods Linda prepared for us - everything about our stay was perfect. Comfortable beds, fabulous hot shower, assorted drinks/coffee/tea, toiletries, and area guide books - the list goes on. We felt right at home and would not hesitate to recommend the Settling Inn. I wish we had booked a longer stay, it was perfect in every way!
Jennifer
2015-08-12T00:00:00Z
Great house- we really enjoyed our stay in Plymouth. Linda and Lloyd are fantastic hosts and had nice tips for trips.
Nils
2015-10-07T00:00:00Z
A wonderful home and Airbnb experience. It was an absolute delight to stay in Linda and Lloyds place, it surpassed any and every expectation I could ever have had. I've stayed in many places around the world on Airbnb and what really shone through was the care and attention and thought that they had put into the place and in ensuring their guests were looked after. The apartment itself was great, very quiet, super spacious, yet cosy, very very clean and with everything you could need. What really set apart this experience was the care and attention from the hosts. They got the right balance of caring about your stay, offering hints and tips, providing incredible home baked food but also allowing you total privacy for a relaxing weekend away, More than anything else the rental came with all sorts of extras that were totally unexpected, everything from baked goods, to a basket in case we'd forgotten any items. A real treat to stay here, I would suggest to anyone that they give this place a try above any other options.
Tom
2013-11-04T00:00:00Z
The home was a peaceful home away from home. Very thoughtful amenities. Close to trails and swimming ponds. Walking distance to downtown. Great place to stay. Additionally, Linda surprised us with some cookies and bread. My kids loved it. Wonderful experience. Thank you.
Paul
2016-06-30T00:00:00Z
Linda and Lloyd were wonderful hosts! The Inn was absolutely beautiful, modern, clean, and cozy. The food and coffee stocked there was delicious, as well as the breakfast that was brought fresh in the morning! The whole place was stocked with good quality blankets, pillows, towels, toothpastes and soaps, books and tv. Linda and Lloyd were friendly and generous, helping us to make dinner reservations and providing lots of suggestions of things to do in the town. We loved our stay at the Inn!
Emily
2014-01-02T00:00:00Z
Oda Tipi
Tüm ev/daire
---
Mekan Türü
Ev
---
Konaklayacak Kişi Sayısı
4
---
Yatak odaları
Plymouth, Massachusetts, ABD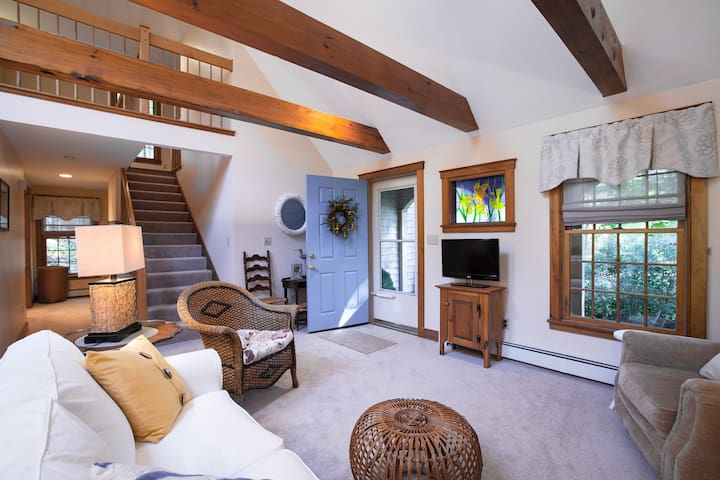 My place is close to Hingham Square. Grab a bite to eat at any of the great restaurants near by such as Tosca or catch a movie at Loring Hall. You're also close to Hingham Harbor & the beach, not to mention Worlds End. Oh, and the commuter rail is right around the corner too! . You'll love my place because of the quiet setting, the comfy bed, the high ceilings, the kitchen, the cherry floors and the wrap around porch.. My place is good for couples, solo adventurers, and business travelers.
Originally built in 1890, the house was completely renovated in 2005. The front portion of the house is currently a photography studio (wait until you see some portraits!) and the rear is the guest accommodations. You have approximately 700 sq ft between the upstairs 1 Br, the main floor LR/dining, full bath and kitchen.
Quiet, well-appointed spot with a small kitchen, sitting room, and bedside desk where I burned the midnight oil. Watch your head going upstairs if you're tall! All in all, a very unique AirB&B experience in charming Hingham, MA.
Sarah
2017-03-21T00:00:00Z
As usual, great place to stay! Always open to coming back.
Tom
2017-03-17T00:00:00Z
We've stayed here multiple times. Great place to stay!
Tom
2017-03-11T00:00:00Z
The host canceled this reservation the day before arrival. This is an automated posting.
Megan
2017-03-02T00:00:00Z
This place is perfect if you want to get away by yourself or with your partner. The house is small and cute and cozy. The host is very responsive via and will accommodate your needs.
Shamara
2017-03-23T00:00:00Z
Very clean very pretty very close to town
Cynthia
2017-03-30T00:00:00Z
Scott's place is the perfect getaway. Clean, classy, and cozy.
Noah
2017-03-08T00:00:00Z
This place was beautiful! It was exactly what we needed after traveling all around Boston for the day. Despite being slightly outside the city, it was nice to be in such close proximity to a shopping center (7 minutes drive) with great restaurants where we went for a relaxing dinner. Everything was clean, and Scott was very easy to get in contact with for all of our questions. I would highly recommend to anyone looking for a comfortable place to stay.
Kirstin
2017-03-12T00:00:00Z
Oda Tipi
Tüm ev/daire
---
Mekan Türü
Konukevi
---
Konaklayacak Kişi Sayısı
2
---
Yatak odaları
Hingham, Massachusetts, ABD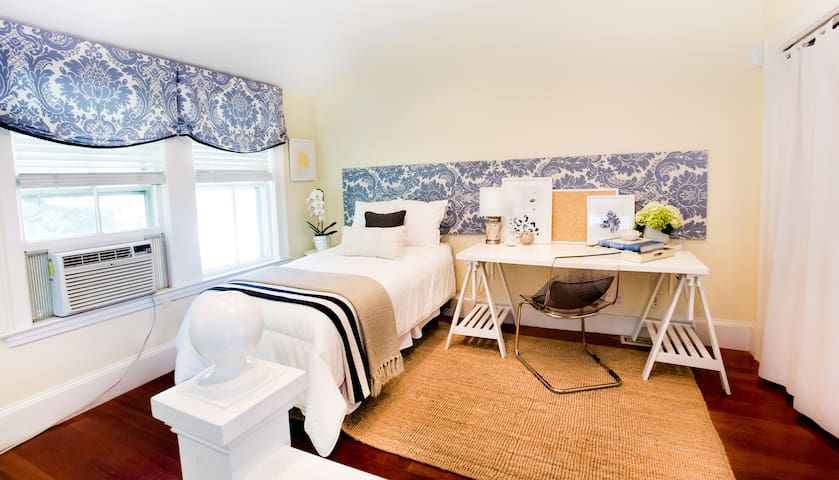 Tam fiyatlandırmayı görmek için tarihleri görün. Ek ücretler uygulanır. Vergiler ilave edilir.