Giriş tarihinizi gg.aa.yyyy formatında girin
Çıkış tarihinizi gg.aa.yyyy formatında girin
0 çocuk
Yaş aralığı 2 - 12
Ev sahibinin onayını beklemeden rezervasyon yapabileceğiniz kayıtlar.
Ev sahibinin konuştuğu dil
Tam fiyatlandırmayı görmek için tarihleri görün. Ek ücretler uygulanır. Vergiler ilave edilir.
Bu Temmuz ve Ağustos aylarında tüm fiyat aralıklarında en yüksek puanı alan bu 100 evden birini deneyebilir ve Sonoma'da yaşayan bir kişinin görüşünden faydalanabilirsiniz. 24 saat giriş, Anında Rezervasyon, yerel şarap ve atıştırmalıklarla tek yapmanız gereken arkanıza yaslanıp tatilin keyfini çıkarmak.
Located in northwest New Mexico, we are in the heart of Indian Country surrounded by the Navajo and Zuni Reservations and midway between Santa Fe and Flagstaff. Our area is ranked number fifty in the world by New York Travel. A hidden treasure!
Midway between Flagstaff and Santa Fe and along the Ancient Way Scenic Highway, our Apt/guest house is close to several National Monuments/Parks (El Morro, Chaco Canyon, El Malpais and the Ice Caves), the Zuni Pueblo and the Navajo Nation. The Ramah area incorporates a very diverse and vibrant community. There are multiple hiking opportunities and many Anazasi ruins (including one on the property). You're welcome to take our dogs on a hike too! The cottage is complete with full bathroom, fully equipped kitchenette (small fridge, electric frying pan, toaster oven, microwave and basic supplies, cooking utensils and silverware), queen size bed (with a memory foam mattress), wi fi, gas fireplace, DVD player and plenty of parking (including plenty of space for an RV or campervan, especially VW vans!). A rollaway single bed is also available. In summer there are two chairs and a table outside the cottage entrance, to enjoy morning or evening drinks. But you are also welcome to join us on the back porch during the summer months. There are two restaurants in the area, a small grocery store, and a Farmers Market on Saturdays in the summer. Guests have access to the entire guest house and surrounding 10 acres and beyond. You need to walk through the main house courtyard to the guest cottage which has it's own entrance. (The guest house is attached to the garage which also has a separate entrance). No public transportation. Stock up with supplies before you arrive. There is a convenience store close by and a small "alternative" store in the community. Bring all alcohol, the closest place to buy is 40 miles away! We do provide some breakfast supplies (coffee, tea, yogurt, granola, fruit and juice). Guests have access to the entire cottage and surrounding 10 acres and beyond. You need to walk through the courtyard to the guest cottage which has it's own entrance. (The cottage is attached to the garage which also has a separate entrance). In the summer the back porch of the main house is available for relaxation, and in the winter you are welcome to join us in front of our wood burning fireplace. As much as you would like! You can have complete privacy or we are happy to give you suggestions of places to visit in the area.
The beauty of the landscape and the community of people in the area is what makes this a unique area. Go to (website hidden) for a full picture of what the area offers. No public transportation Stock up with supplies before you arrive. There is a convenience store close by and a small "alternative" store in the community. Bring all alcohol, the closest place to buy is 40 miles away! Think camping and stock up.
Great hosts! The room was beautiful and there was great hiking nearby
Kevin
May 2016
Not only was the place beautiful but Chris and Mike were so kind and helpful! They gave very simple instructions on how to get to their place and some really delicious restaurant suggestions. Their guesthouse looked just like the pictures. I only wish we could have stayed longer and been able to take their sweet dogs on a walk along one of the trails. Great for a quiet and peaceful get away. Hope to make it back again!
Hayley
February 2016
Chris went above and beyond what I expected. She spotted my car on the road and directed me personally to their place.
Robert
August 2015
I stayed at the Guest Cottage on my return trip as well. It was just as pleasant as my first visit.
Robert
August 2015
Absolutely loved this secluded gem! Our host was prompt to reply to emails before booking, stayed in touch leading up to our trip and was available by phone for specific driving directions. The cottage was warm and inviting, comfortably furnished and well appointed with games, books, toiletries, and light breakfast and coffee. The property was peaceful and enjoyable to explore and our hosts were available but unobtrusive. The man of the house went above and beyond by helping us get our camera drone out of his tree, and was very gracious about the whole thing.
Michele
February 2016
Such a cozy place to stay, we ran into rain, hail storms and thunder showers, but it was soooo wonderful to come home to a warm, heated sanctuary! When it cleared up we had fun playing with the dogs and exploring outside!! Hosts were just so friendly and offered everything we needed and helped up in getting around the area!!! LOVED IT:)
Jo Ann
May 2016
Chris and Mike were very helpful and gracious hosts. They welcomed us as if we were old friends and invited us to join them for refreshments at their front garden table. They gave excellent recommendations for local visiting and called to make reservations for dinner. We enjoyed their dogs and the easy walk across the Mesa. The location is remote but with easy access to beautiful scenery, especially El Morro National Monument. The Casita is beautiful and spacious for two persons. The small gardens and humming bird visitors were delightful.
Christopher
July 2015
This is a great place to stay. The suite where we stayed is absolutely lovely. It is spacious, comfortable and very tastefully decorated. There were lovely touches like the special soap in the bathroom, yoghurts, fruit and cereal for our use, English tea, an electric kettle and teapot as well as coffee beans and a grinder. Humming birds etc in the garden. Beautiful rural location but close to El Morro and Acoma Pueblo.
John Leonie
May 2016
Oda tipi
Tüm ev/daire
---
Yer tipi
---
Konaklayacak Kişi Sayısı
2
---
Yatak odaları
1
Ramah
Top noch Studio Apt, 300 breathtaking acres of red rock mesas, grass filled meadows and views of the Zuni Mountains. A special place for rest and relaxation where the Ancient Ones will permeate your soul and remind you of a simpler way of life.
Waking up to 360 acres with views beyond compare. Red rock mesas with Anasazi ruins, flocks of birds, deer and elk may grace your presence. Peace and tranquility. Quiet, relaxing space. Long walks or hikes seeing evidence of ancient ruins. NEWS FLASH FEBRUARY 2016 Unlimited Internet is now available. While this may sound trivial it is nothing short of miraculous. So while experiencing the beauty of this land will fill up the hours of your stay here there will be internet available for those who absolutely need it . We are there to welcome you, show you the ropes, and then there for any assistance or company as needed.
Our neighborhood is the sky, the mesas, the wildlife and domesticated animals. That is about it :) ! Leave the city lights. AWD recommended, Hwy 53 is only 3 miles away From Wild Sheep Place. Zuni is 30 minutes west on Hwy 53 and El Morro is 20 minutes going East, both are worth the trip . To get here, take Canyon Rd/TimberlakeSubdivision, located between Highway Marker 34 and 35 off of Hwy 53. Travel 1.5 miles up Canyon Rd then Right onto Togeye Canyon Rd. Continue another mile and a half. The first house you see on left is not ours, keep going. Come to a fork in road, bear left up hill though gate, house on left. Welcome to Wild Sheep Place! Come prepared with groceries and whatever you care to drink. There is a refrigerator, coffee maker, microwave and cusinart skillet for simple cooking. We do not have a stove . In the town of Ramah is the Stage Coach Cafe for breakfast, lunch or dinner. The Ancient Way Restaurant is 15 minutes East of Ramah featuring Exotic Cuisine.
After reading all the reviews of Wild Sheep Place, I really had my hopes up. My expectations were exceeded. The house you'll stay in has beautiful details and everything you need for a comfortable stay, not to mention an amazing view as the sun rises in the mornings. And you don't even have to get out of bed to see it! Hiking is readily available right out your door. The hosts are lovely, friendly, and helpful at all times. Wildlife is abundant from the time you turn off the main road till you pull into the driveway. (URL HIDDEN) many stars! As a city girl, I almost forget they exist, but they're all there above Wild Sheep Place at night. I really can't say enough about what nice people and what a nice place it was. When you're there and you settle in and breathe in the landscape, you suddenly feel like you've figured out something really important about life. But it's not just that--it's the entire community of Ramah, which I hope you'll explore if you get the chance. It's full of even more nice people who are passionate about their community and full of creative talents. Thanks so much to my hosts and their kindness and hospitality. I can't wait to get back.
Jonathan
June 2016
Hands down the best Airbnb experience ever! Wild Sheep Place will take your breath away with its beauty. I wish we could have stayed longer to take it all in. Karen was awesome and so accommodating, making sure we had everything we needed to enjoy our time there. Oh and if you like dogs, you'll love the two here--they even came with us on our hike. If you're anywhere near Ramah, do yourself a favor and stay here!
Andrew
May 2016
I loved it here! The hosts were kind, outgoing yet respectful of privacy, easy-going, and very pleasant to be near. The studio-type apartment was clean, nicely decorated, and comfortable in every way ... and to suit my purposes ... very dog friendly! The landscape is truly awesome and many interesting sites are within driving distance (wolf sanctuary, El Morro, ice caves, Cibola forest) - hiking the property alone is worth the stay. Ramah is a very cool little town with a couple of great cafes and and an art gallery. I'm only a couple of hours away, so I will be going back and I'm very much looking forward to my next visit.
Sharon
April 2015
This place is truly magical and Karen and her husband are phenomenal, warm, caring hosts; they even lent me a pair of boots to explore their property! To look out your window and see horses grazing, amazing Mesas and a big beautiful sky was a pleasure for a city boy like myself. The studio is cozy and inviting, the perfect place to disconnect and find solace.
Jacob
December 2015
The lodging was clean and comfortable, the location is scenic. Karen is a good host, friendly and helpful. A good place to stay.
Ray
January 2015
This place is amazing. Completely off the beaten track, in the middle of gorgeous nature, it gives you a real getaway feeling!! We loved the surroundings, the tranquility and the sunrise. The apartment is also very comfortable. I would really recommend staying here.
Frederique
September 2015
The experience was great, for the second time. It's one of the most beautiful places I have ever seen, and Karen is an outstanding host. I can't it five stars for convenience because it's quite a ways down a dirt road, but it's comfortable and welcoming and simply beautiful.
Doug/Karen
September 2016
Easily the best AirBnB we've ever stayed in. I'll keep this short - it's beautiful and Karen and Steve are the perfect hosts.
Craig
April 2016
Oda tipi
Tüm ev/daire
---
Yer tipi
---
Konaklayacak Kişi Sayısı
2
---
Yatak odaları
0
Ramah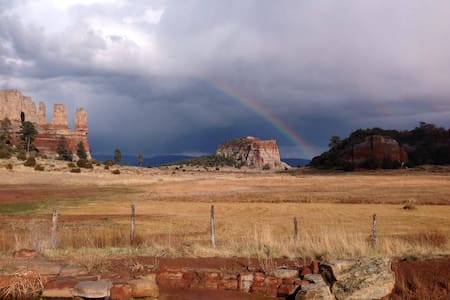 Wall tent with a futon, cot bunk beds, and wood stove within driving distance of El Morro and Zuni. Guests will have the use of the stores showers from 7-8am with a breakfast burrito and small drink. There is a Port-o-Potty available during off time.
This is Glamping, we offer a futon and cot bunk beds. Bedding is available but you are encouraged to bring your own. There is a wood stove for heat and a small refrigerator. We are situated across the street from the Wild Spirit Wolf Sanctuary. GPS Coordinates, 34.914201, -108.485832 You will be able to access the stores showers from 7-8am, so that it is your time. As well as, a breakfast burrito and small drink included with your stay. PLEASE NOTE, do not use your GPS to get here, call ahead for directions!!!! We will be around most days except Mondays and will always be here for your assistance.
We are located across the street from Wild Spirit Wolf Sanctuary. 12 miles from El Morro National Monument as well as El Malpais National Park. We are located near the Continental Divide, sometimes the weather is not cooperative. There is also 4 miles of dirt road to get here. GPS Coordinates, 34.914201, -108.485832
Staying here turned out to be the perfect three day and two night getaway with kids. Driving in there is El Calderon and Fire and Ice to stop at and then the Wolf Sanctuary and El Moro for the second day. There is plenty of space on the inside of the canvas tent for 3 or 4 people. The wood burning stove works great for heat at night as does the outside fire pit for roasting marshmallows. The walkway is well lit at night if you have to get to the bathroom. There is a spigot for water at the main building so you'll have to carry your water a bit. The shower is nice at the main building and breakfast burritos are tasty. If you are interested in learning about the lava fields and volcanoes in the area I totally recommend staying here. : - )
Leah
October 2016
My kids and I had a great experience. The description is accurate. Everyone was very friendly and helpful. I suggest visitors call for specific driving instructions - (SENSITIVE CONTENTS HIDDEN)maps is not accurate.
Joanne
May 2016
We had a great experience at Michael and Tammy's! We ended up having a friend come along with us and Michael and Tammy were very welcoming. Perfect platform tent with fold out bed, bunks, wood stove, cube fridge and bedding and campfire ring. Included great breakfast burritos. ( Thank you Henry) .. Since the location is opposite the Wild Spirit Wolf Ranch you do have an upfront seat to fascinating nighttime serenades.
John
November 2016
We toured the Wild Spirit Wolf Refuge on Thursday and plan to be tent camping for the next two days, so a comfortable place to stay with showers and breakfast the next day sounded good. Indeed, we enjoyed our stay at the Candy Kitchen Glamping! It is not fancy, but comfortable. It is just a few feet away from the store with its deli, so we had a good supper at the store and slept well, showered and are looking forward to breakfast. There were two unexpected benefits of staying there: we heard wolves howling occasionally during the night and also saw the Perseid meteor shower!
Richard
August 2016
Oda tipi
Tüm ev/daire
---
Yer tipi
---
Konaklayacak Kişi Sayısı
4
---
Yatak odaları
1
Pinehill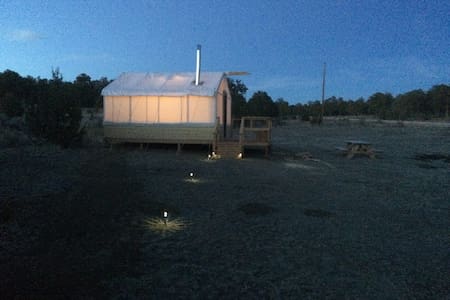 Eight miles west of the Continental Divide, 7,300 ft. in elevation, my house is at the end of five miles of dirt road. The guest room is approximately 500 sq. ft. with a private sitting area, bath & quality queen mattress. Mountain views.
The spacious guest room totals approximately 500 sq. ft. of privacy, offering a sitting area and a full bath. There are views out the large windows in the bathroom as well as the two windows in the bedroom -- which hosts a quality queen size bed neither firm not soft, a shabby chic decor and antique furnishings. My home is modestly appointed, inviting and clean. Outside the guest room is a large unfurnished den made into an art gallery with original paintings and decor for sale by several New Mexico artists. This room also hosts a private library of 600+ books including Tom Clancy's novels, a collection of biographies, books on herbal and alternative medicine, gardening, religion, interior design, and history. From the den is a private entrance / exit to a mudroom then to the outdoors, where a concrete slab may host a telescope focused on the northern sky. There is extensive wildlife in the area including elk, mule deer, antelope, bobcat, lynx, mountain lion, coyote, jack rabbits, cotton tails, kangaroo rats, chipmunks, squirrel and the occasion bear, badger and fox. Also there is an assortment of birds including golden eagles, hawks, ravens, bluebirds, woodpeckers and other common birds. Guests will have access to the great room which includes the kitchen, dining and living room, as well as having complete privacy in the guest bedroom and bath. Guests may walk the five acres around the house which are fenced, as well as stand or sit on the deck on the south side of the house where one can see for miles. I'm available in the evenings to visit, answer questions about sites to visit in New Mexico, and discuss local history until approximately 9 pm.
Pie Town really was named because pies were sold there; that is still true today. Most major TV networks have filmed specials on Pie Town for that reason. I work at one of those pie shops called The Gathering Place. People are often traveling NM Highway 60 on their way to the Very Large Array (VLA), El Malpais National Monument which is near El Morro National Monument (Inscription Rock), the Bosque del Apache National Wildlife Refuge, the Gila Wilderness, or their interest is observing the stars here in some of the darkest skies in the United States. Other travelers hike / bike the Great Divide. Because I live five miles away from NM Highway 60, I'm happy to meet guests in Pie Town where you may leave your vehicle overnight. Or we can meet at the highway between mile markers 49 and 50 where the main dirt road (Catron County Road AO51 on Google Maps) turns north, and you may follow me to the house.
Oda tipi
Özel oda
---
Yer tipi
---
Konaklayacak Kişi Sayısı
2
---
Yatak odaları
1
Pie Town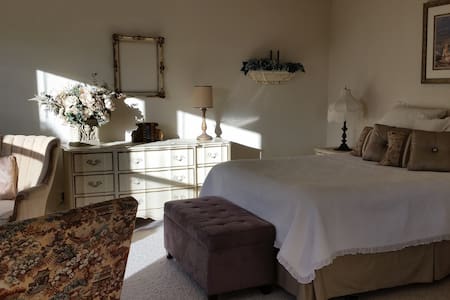 This APT/House is accommodated with full cleaning service daily if requested. It is located right off the I 40. Equipped with hotel standard furniture. This can easily accommodate a very large family comfortably.
Check in just as if you are checking into a normal motel right at our front desk. You will have full access to the entire building. Kitchen under construction We have a full staff of employees that can help accommodate your stay and make it a great one.
great site seeing near by
My stay at Akash's was wonderful. It is located right off the freeway with easy access to travel. The amenities are great and the space has plenty of room for multiple guests. Akash was very cordial and friendly when handling checking in/checking out as well as any questions I had. I would definitely stay here again if I had business or was traveling through NM.
Sailendra
December 2016
Oda tipi
Tüm ev/daire
---
Yer tipi
---
Konaklayacak Kişi Sayısı
8
---
Yatak odaları
4
Grants