Cosy, spacious (90m2) apartment with a park view in Warsaw. 3 rooms: a double bedroom, a room for a child and a living room with TV. Only 12 min. by train and 20 minutes by bus to the center. A nice cafe round the corner. Great way to see real life in Warsaw. Spacious apartment overlooking the park in a quiet area with good access to the center (line 12 minutes, bus 20). 3 rooms: comfortable bedroom for two people, baby room, large living room and kitchen. Two bathrooms. Welcome!
Oda Tipi
Tüm ev/daire
---
Mekan Türü
Daire
---
Konaklayacak Kişi Sayısı
3
---
Yatak odaları
Varşova, Masovian Voyvodalığı, Polonya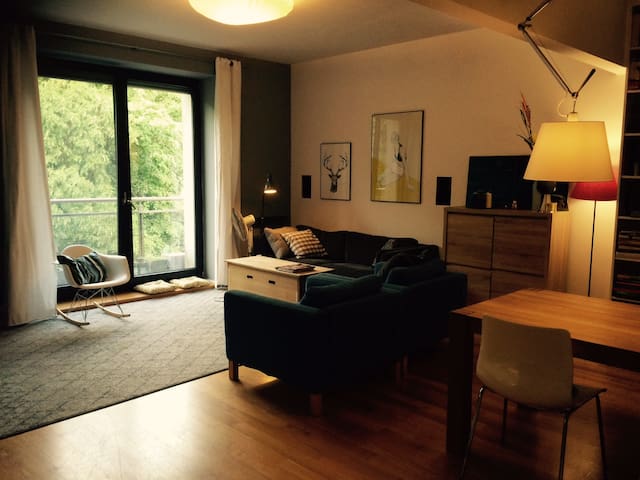 Varşova'da bir güzel zaman geçirebilirsiniz Airbnb için teşekkür ederiz. Sen kültür etkinlikleri, enterteiment ve spor tesisleri büyük bir seçim var. şehir turundan sonra güzel bir yerde dinlenmek gerekir. Hoşgeldiniz ... benim yerime! En iyi seçim.
Mükemmel güneşli alan bir sürü daire arangged. Geniş gardırop, tam donanımlı mutfak, TV güzel bir salon ve rahat bir yatak ile rahat bir yatak odası.
havaalanına kolay erişim ve şehir merkezine Huzurlu ve yeşil çevresi. Yürüme, bisiklet yolları, restoranlar ve dükkanlar için yakın yerlerde. Yakınlardaki yıl boyunca kayak, alışveriş merkezleri ve çıkış olduğunu.
Spędziliśmy tydzień w mieszkaniu Dominiki i byliśmy bardzo zadowoleni! Miejsce jest przytulne, dobrze wyposażone i w świetnej lokalizacji, z łatwym połączeniem do centrum miasta. W razie potrzeby na pewno tam wrócę :)
PAULINA
2016-03-12T00:00:00Z
Appartamento bello, luminoso, ben arredato, molto pulito. Dominika, che parla italiano, e la sua amica Svitlana, che mi ha accolto al mio arrivo, sono molto gentili. Spero di tornare.
valentino
2016-01-20T00:00:00Z
The location is a little bit far from the centre. But has a bus stop 5 min away that can take you to centrum. My experience with the house was good but the only thing was the bed sheet wasnt realy clean and the house was a little dirty.
Melissa
2017-02-28T00:00:00Z
Apartamento muy confortable con muy buena comunicación con el centro de Varsovia y muy agradecido con la amabilidad de Dominika por todas sus gestiones e información. Ĺo recomendamos de plena confianza. Un gran saludo
Juan Antonio
2015-05-30T00:00:00Z
Perfect place to stay in Warsaw - you can either go to city center or stay at home and have a nice and calm evening with wine :) The store is nearby, basically next to the apartament and it was extremly convenient sińce we were coming back late in the evening :) Aparent itself is very cosy and warm. It has a nice balcony which was perfect for in the evening :) Dominika was a very helpful host and it was a pleasure to be her guest :) Again - thanks a lot!!!
Michał
2017-03-31T00:00:00Z
Oda Tipi
Tüm ev/daire
---
Mekan Türü
Daire
---
Konaklayacak Kişi Sayısı
4
---
Yatak odaları
Varşova, Masovian Voyvodalığı, Polonya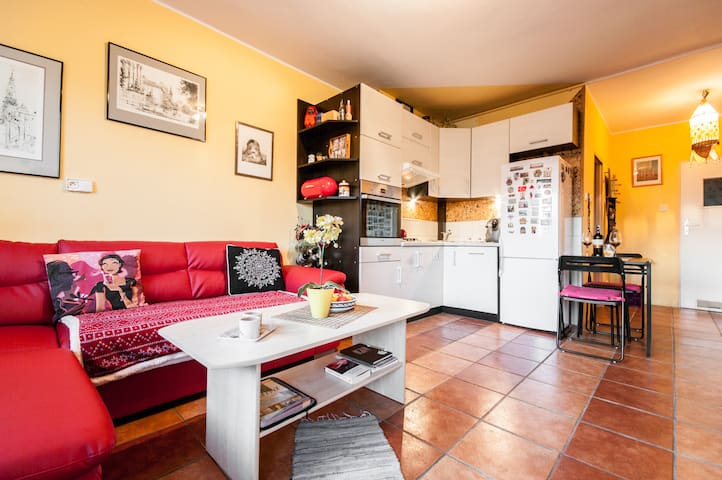 Big bedroom in a Private secure building&parking area: A warm place to stay with safe,friendly neighbourhood & convenient public transport, not far from the center of Warsaw. The foodstores, restaurants, supermarket, grocery are all around the corner
Huge and New Apartament (132m2) Private building under monitoring. -easy access to public transport 20 min to centre -shopping mall nearby -shops, restaurants in the corner -park for jogging -gym fitness 500m near by -big kitchen full equipment -big bathroom : hairdryer, iron -No need to buy water, we have a filter system for drinking Water -big fridge and refrigerator I provide a healthy life style, as a non-smoker person living with a cute small dog :) and 1 family member . We are kind, polite, open-minded, know how to cook well and very helpful when you need). WHAT CAN I OFFER: -Internet access WiFi -blankets, towel, pillows -hairdryer, iron -parking place in the private area -big space in the kitchen -huge living room Check my guidebook: https://www.airbnb.com/manage-listing/973254/guidebook
*Neighborhood - private secure area, calm neighborhood, near a park with a big lake for jogging and walk * Restaurants - Italian food, Sushi World, KFC, *gym fitness center 500m near by * Shops - by 100 m close to a small supermarket and 200m to Makro hypermarket, supermarket Tesco, Eleclerc, Biedronka, 2 bus stops from one of the biggest shopping malls in Warsaw : Blue City and Reduta Centrum Handlowe, Carreffour
I was on a work trip, only needed and clean place to sleep but I enjoyed staying in Natalia's home. The flat is exactly as it is on the pictures, the host is very friendly and flexible and the location is very convenient. A real multicultural experience to stay with Natalia and her family in Warsaw, I can only recommend it.
Virág
2014-03-01T00:00:00Z
I stayed with Natalya and her family for a month and totally enjoyed my stay, the apartment is as in pics, it's very clean, organized, and fully equipped with all i needed. Natalya, her mother and her sisters are so kind, friendly and helpful, you can talk with them, ask about where to go and what to do, they really cared about me and made me feel at home. Surely if i ever go back to Warsaw, I'll stay at Natalya's apartment.
maram
2013-10-01T00:00:00Z
Spend two months in Warsaw was a very enrichissing experience and spend two months with Natalia and her family was even more rewarding. The reception was great, Natalia was always available to answer all my questions and help me in my efforts. We were able to share our language skills, she helped me to improve my english and I helped her to improve her french. I spent a pleasant time in their company and I hope to go back soon.
Mathilde
2015-05-31T00:00:00Z
Natalia and her family is very kind . They helped me with transportaition . What can I say great Hist , Great family . Highlly recomendet )))
Armen
2014-02-08T00:00:00Z
Natalia and her family were the perfect host. I felt at home as soon as I arrived. I really enjoyed staying with them and being treated their traditionnal food. They were kind enough to help me when I got a health trouble.Their dg was very friendly too. The room is very big and well furnished, it is quiet as it is at the bottom of the flat. The street is securised and very well maintained. The borough is 20min by WKD from centrum where I worked. If I had to return to Warsaw I would be glad to return at their place. I definitely recommend them. Petit plus pour mes compatriotes elles parlent/comprennent le français.
Christelle
2013-07-01T00:00:00Z
I was a guest of Natalia for a month and a half. I found it very well: Natalia and her family are very kind and hospitable and helped me with public transportation.
Ilaria
2013-11-29T00:00:00Z
Natalia again was so helpful. It was really a good 10-day. If you are looking for a clean and quiet place to stay I recommend you to contact with Natalia and make a reservation.
Gürol
2015-12-12T00:00:00Z
Natalia & her family were so helpful .. Place is exactly as in the pictures. Thanks to them for making me feel like home. Finally, their pets(Mickey & Mini) were awesome.
Saibala
2015-10-31T00:00:00Z
Oda Tipi
Özel oda
---
Mekan Türü
Daire
---
Konaklayacak Kişi Sayısı
1
---
Yatak odaları
Varşova, Masovian Voyvodalığı, Polonya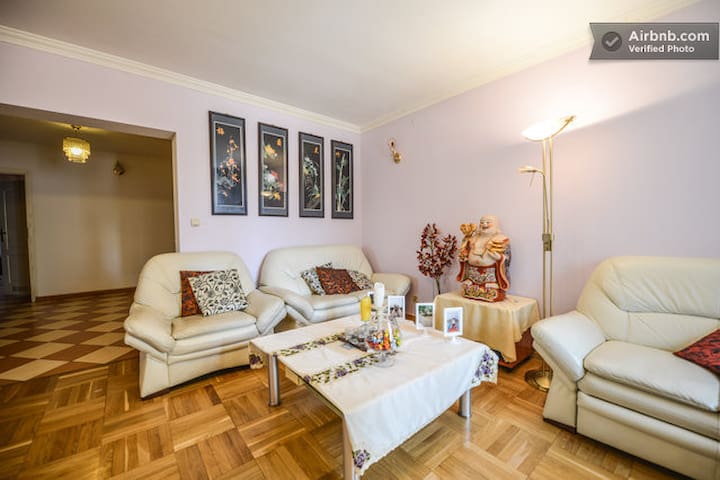 Apartament znajduje się na Ursusie, os. Skorosze zamknięte z ochroną, na terenie osiedla znajduje się kilka placów dla dzieci, sklep spożywczy, poczta, fryzjer itp. Miejsce parkingowe lub garażowe. Dojazd do centrum (bezp. bus 517) i lotniska Chopina (1 przesiadka) ok. 25-35 min autobusem pospiesznym, przystanek tuż przy osiedlu. Mały taras wyposażony w sofę i stolik kawowy. Udogodnienia w rejonie 2 min spaceru (restauracje, apteka, sklepy itp.)
37 m2, kuchnia w aneksie, aneks sypialny oddzielony od przestrzeni dziennej. Mieszkają tu 3 małe ptaki - najpewniej będą pozostawać w mieszkaniu podczas krótkoterminowego pobytu gości.
Spokojna okolica, rodzinne osiedle, kilka placów dla dzieci. W budynku frontowym restauracja, piekarnia, sklep spożywczy, poczta, fryzjer, biblioteka itp. W promieniu 2 minut spacerem sklepy, restauracje, apteka, przystanki autobusowe. Supermarket Biedronka i centrum handlowe Skorosze w odległości ok. 300 m.
Apartment very cosy , nice and very clean! Edyta is so kind!
Danielle
2017-02-19T00:00:00Z
Mieszkanie bardzo przytulne, czyste, bardzo dobrze wyposażone. Bardzo polecam!
Robert
2017-02-26T00:00:00Z
Oda Tipi
Tüm ev/daire
---
Mekan Türü
Daire
---
Konaklayacak Kişi Sayısı
4
---
Yatak odaları
Warszawa, mazowieckie, Polonya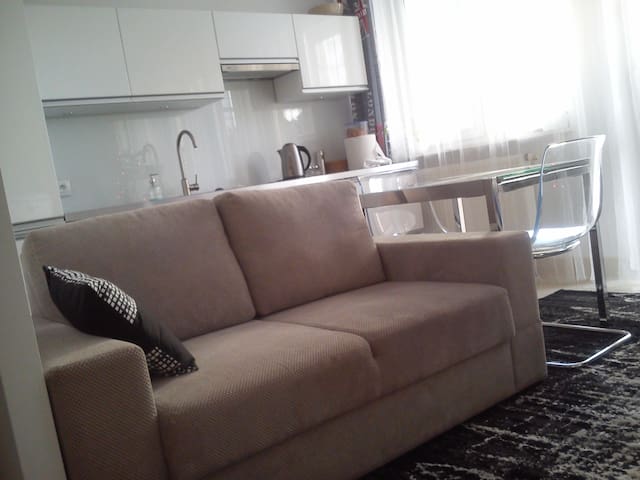 Perfect for fans of exploration in style & comfort. Quiet district, close to shops, cafes, park, train, bus; only 20' to the citycentre and airport. 1-st floor, balcony, bathroom with tub. We speak French, English, Spanish, Italian & Polish :)
This apartment has been just renovated (June-August 2015) with travelers in mind. Furniture, TV, wall colours, fabric textures and general space arrangement were all designed so as to give you the rest and coziness you will need, without compromising the impression of size and room for your easiness. It is perfect for two people, but if necessary, an additional sleeping place can be arranged for a child, upon request. The kitchen is equipped with a regular stove+oven, as well as a microwave, an electric kettle, and a fridge with freezer (not big but sufficient for short stay). There is a hair-dryer and an iron+board for your use.
This luminous apartment is located in the district of Warsaw that saw the rise of Solidarity movement in the 1970-ties, Ursus. Famous for its (now nonexistent) tractor factory, it has over the last 20 years developed into a comfortable living district with apartment houses, schools, shops and parks. Very well connected by public transport to the city centre and airport, it will be great for both explorers who like to immerse themselves in real life of the city as well as those traveling on business, who need to recharge their batteries a little away from the noise of the busy Śródmieście, while not losing touch with it. Closeness of the airport is a huge asset for those on a schedule, with the only draw-back being, on some days, the planes flying above the place, not noticeable if you do not keep your windows wide open though.
A great apartment in a great area. The apartment is about 15 minutes from the city centre, so it is nice and quiet. It is very easy to commute to the city centre when you want to go. The apartment is very well done!! It is very modern and very homely. I thoroughly enjoyed my stay, I found it hard to leave the apartment every day. The hostesses were amazing. Very helpful, with everything; very friendly and kind; very knowledgable about Warsaw; and lovely to be around. I will recommend this place to everyone visiting Warsaw. It made my experience that much better.
Brad
2016-01-01T00:00:00Z
Agnieszka was so very welcoming! The place is very clean and sunny. There is a small kitchen that is very convenient and you can still prep large meals if needed.The small balcony looks upon a courtyard and is great for just lounging for a bit. To get into the city the train station is less than a 10 min walk and the 517 bus takes you straight into the city centre. Overall I had a great experience and if I come back to Warsaw this will be my first choice.
Alania
2016-06-15T00:00:00Z
Zdecydowanie polecam!!!:)
Magda
2016-01-31T00:00:00Z
Piękne mieszkanie, bardzo stylowo urządzone. Mieszkanie położone jest bardzo blisko kolejki skm więc dojazd do centrum jest łatwy i szybki. Brat właścicielki był bardzo miły i pomocny. Polecam!!!!!!
Magdalena
2016-02-19T00:00:00Z
Very nice and cosy flat for a long and short time stay. The host provided the flat with all necessities needed, all in good condition. Agnieszka was very helpful host, answering any of my questions within few minutes - Didn't matter what time of the day I asked. Even during 1 day emergency, when there was no water available due to external factors, she offered help with supplying the water and even offered a discount because of this situation. I can definitely recommend Agnieszka as a host.
Marcin
2016-05-22T00:00:00Z
Agnieszka's apartment was very nice, nice clean linen on the bed and good quality towels. All very clean and everything there you need for a comfortable stay. I could see the attention to detail, lots of nice extra touches that told me Agnieszka had taken time to make everything just right. There was safe car parking a few meters away and the area was quiet and residential, metro only about 600m away and local shops etc right there. I was Greeted by Bogda, Agnieszka's sister who spoke excellent English, she showed me around and took me on a short walk around the block to show me shops , metro etc. Very nice place to stay.
Brian
2016-04-01T00:00:00Z
Mieszkanie jest przytulne, ciepłe i zachwyca kreatywnością Właścicieli. Okolica spokojna, łatwo znaleźć miejsce parkingowe. W pobliżu sklepy, restauracje, punkty handlowe. Gospodarze są wspaniali, zadbali dosłownie o wszystko. Drobne problemy załatwione od zaraz:) Polecam w 100% !!!
Magda
2015-12-08T00:00:00Z
wonderful place, very warm welcome. would recommend it to anyone looking for a nice place to stay in warsaw
Stefan Sebastian
2016-07-17T00:00:00Z
Oda Tipi
Tüm ev/daire
---
Mekan Türü
Daire
---
Konaklayacak Kişi Sayısı
2
---
Yatak odaları
Warszawa, mazowieckie, Polonya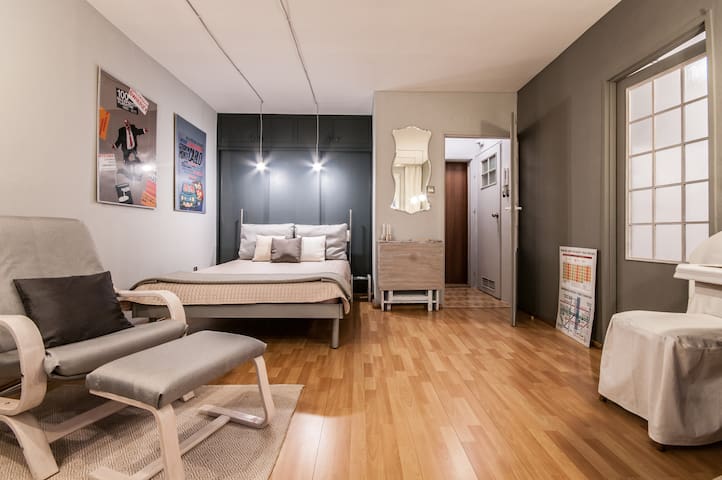 My offer is near Warsaw Italy railway station - 15 mins to city center, airport 15 mins by taxi. You'll love my job because of: A lovely apartment with large roof top terrace. You will love the spacious living room and kitchen with comfortable bedrooms and two bathrooms (the master bedroom is attached living room and one guest bedroom). Fully equipped. One parking place in underground parking lot. My place is good for couples and business travelers furry friends.
Przede wszystkim Pani Magdalena bardzo in plus zaskoczyła nas swoją otwartością - dostosowała się do godziny naszego przyjazdu i to w niedzielę rano! Dodatkowo była bardzo pomocna, zawsze odpowiadała na smsy i pytania. Mieszkanie okazało się większe i bardziej przestronne niż się spodziewaliśmy. Było świetnie przygotowane - bardzo czyste, zadbane, wszystko było na miejscu. Standard oceniam na bardzo wysoki. Dogodzi nawet najbardziej wymagającym gościom. Jeżeli jeszcze kiedyś będziemy musieli pojawić się w stolicy na dłużej, to na pewno wybierzemy się ponownie do Pani Magdaleny. Wszystko na najwyższym, światowym poziomie - od bezproblemowego kontaktu, poprzez świetne mieszkanie na bardzo dobrej lokalizacji skończywszy. Pozdrawiamy serdecznie jeszcze raz dziękujemy:)
Edyta
2016-11-30T00:00:00Z
The host canceled this reservation 11 days before arrival. This is an automated posting.
kamil
2017-01-29T00:00:00Z
Oda Tipi
Tüm ev/daire
---
Mekan Türü
Daire
---
Konaklayacak Kişi Sayısı
3
---
Yatak odaları
Warszawa, mazowieckie, Polonya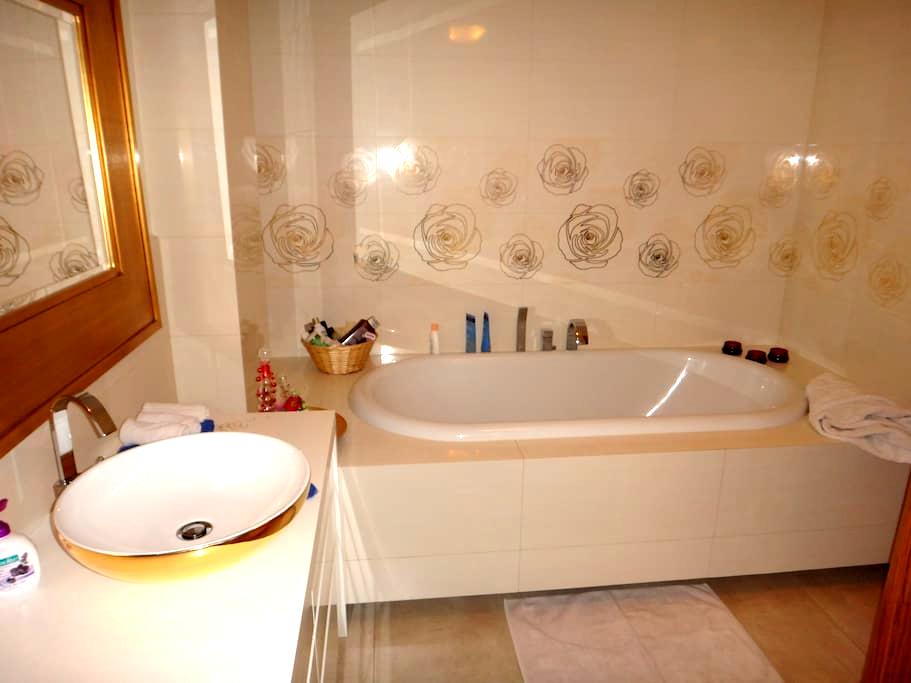 Sunny apartment on the first floor in the cottage, newly renovated, consisting of a large living room with kitchen, separate bedroom and a fully equipped bathroom with a shower. Space living room completes a large loggia overlooking the garden and the countryside (single-family houses surrounded by gardens). The kitchen is fully equipped - dishes, pots and necessary kitchen accessories, fridge, induction hob. Located on the first floor of a detached house.
If you are planning a short or slightly longer stay in Warsaw and do not want to be overwhelmed by onslaught of people and cars are welcome to us. In the district of detached houses away 10 minutes by car from the city center, we offer sunny apartment for one / two people who value peace and quiet.
Quiet area, close to shops, supermarkets type Lidl, Biedronka, to the ATM. district cottages, close to the park with a beautiful pond and the birds
Oda Tipi
Tüm ev/daire
---
Mekan Türü
Daire
---
Konaklayacak Kişi Sayısı
2
---
Yatak odaları
Warszawa, mazowieckie, Polonya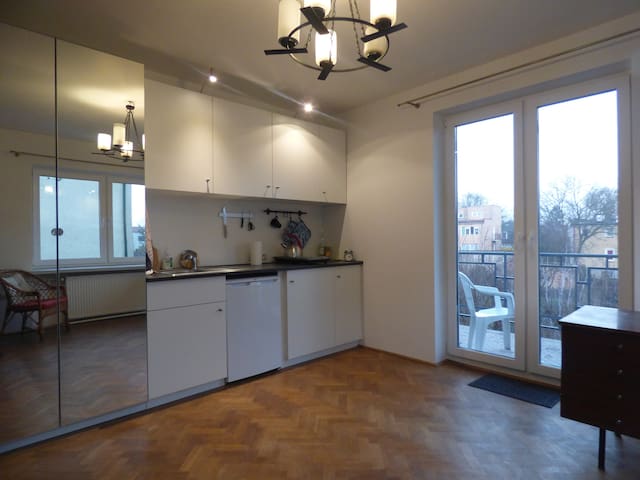 I like calm and comfortable. This place gives that. Here is a good energy, I hope that you will feel it. The cat lives in the apartment, so it is a friendly animals place. This place has a soul :)
Oda Tipi
Tüm ev/daire
---
Mekan Türü
Daire
---
Konaklayacak Kişi Sayısı
4
---
Yatak odaları
Warszawa, mazowieckie, Polonya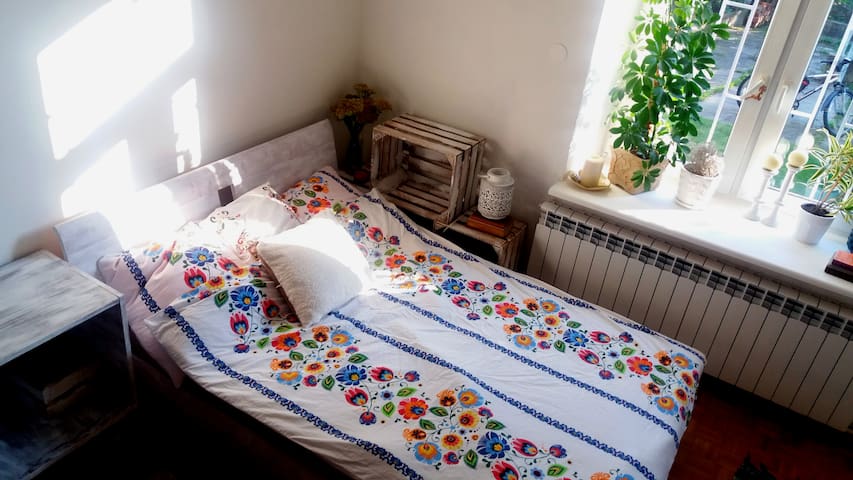 The apartment has 47 m2 and is located in center of Pruszków in quiet neighborhood and close to ATM, church, bakery, 24h shop, park, stadium, McDonald's, Rossmann and a lot of restaurants and commercial premises. The apartment is on 2rd floor without elevator/lift. The apartment is newly renovated and nicely and modern furnitured. It's the perfect place for 4 guests + 1 baby or for couples.
The kitchen is fully equipped and it's connected to the living room. The bedroom has a king size bed (160x200 cm) and baby bed. You can lock the bedroom's door. The living room has a comfortable sofa bed for two and 42 inches televisor with cable TV. Easy connection the the Warsaw. Pruszków is 15 minutes by car from center of Warsaw or 25 minutes by train (WKD or PKP). Apartment is close to WKD station (5 minutes on foot). If you come with a car you can park free on the street.
Karolina and Tomek are very kind and helpful people! Karolina was texting me every day to check if I need something and Tomek was very nice to give me a ride to Warsaw in order to catch my train. I was really satisfied with the house and especially the location, which allowed me to walk to my destination. House is in the center of Pruszkow and you have everything around you. House was also very clean, despite the cats living in the house. Both cats are very quiet and friendly :) I strongly recommend.
Christiana
2017-03-05T00:00:00Z
Karolina jest wspaniałą osobą, wszystko przebiegło sprawnie, bez problemów i w porządku. Karolina dba o gości i dom, pomagała nam we wszystkim. Dom jest czysty, zadbany, ładnie urządzony, przytulny. Jak najbardziej polecam!
Anna
2017-01-12T00:00:00Z
Karolina她人非常好也很热情!我们的宝宝差不多大,房间有提高给宝宝的床,澡盆,玩具,很喜欢,非常适合家庭居住,非常感谢!她的猫也很乖,很安静!再次感谢Karolina,来到这里让我们有家的感觉!
Liu
2017-02-04T00:00:00Z
W mieszkanku Pani Karoliny poczujesz się jak u Siebie w domu. Nowoczesne, przytulne, dobrze wyposażone mieszkanko w skromnym bloku na osiedlu.
Krzysztof
2017-01-24T00:00:00Z
Каролина, очень чуткий и отзывчивый человек. Буду рад снова погостить у нее.
Владимир
2017-01-15T00:00:00Z
Oda Tipi
Tüm ev/daire
---
Mekan Türü
Daire
---
Konaklayacak Kişi Sayısı
4
---
Yatak odaları
Pruszków, mazowieckie, Polonya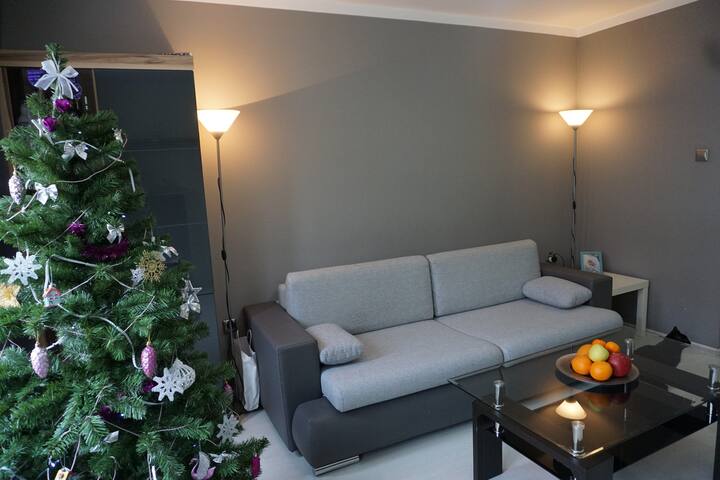 Büyük bir dairede rahat yatak! Büyük göl ile çevrili Park sadece yakın, sakin bir sokakta yer almaktadır. serbest zaman yemek keyfini, biz büyük bir mutfak sunuyoruz merkeze WIFI internet, TV ve kolay erişim tam erişim, dükkanlar ,!
Büyük ve Yeni Apartament (132m2) izlemedeki özel bina. merkezine toplu taşıma 20 dk -kolay erişim Yakındaki alışveriş merkezi -Alışveriş köşesinde -shops, restoranlar koşu için -Park tarafından yakın -jimnastik salonu spor 500m -Büyük mutfak tam teçhizat -Büyük banyo: saç kurutma makinesi, ütü içme suyu satın almanız gerekir -Hayır, biz su için bir filtre sistemi var -Büyük buzdolabı ve buzdolabı Ben bir sevimli küçük köpek :) ve ... 1 aile üyesi ile yaşayan bir sigara kişi olarak, sağlıklı bir yaşam tarzı (URL HIDDEN) kibar, nazik açık fikirli) ihtiyacınız olduğunda iyi ve çok yararlı yemek pişirmeyi biliyor. NE TEKLİF CAN: -İnternet Erişim WiFi -blankets, havlu, yastık -hairdryer, demir Özel alana yer -Otopark Mutfakta -Büyük alan -Büyük bir oturma odası Benim rehber kontrol edin: https://www.airbnb.com/manage-listing/973254/guidebook
Benim mahalle güvenlik görevlisi, yürüyüş için büyük bir göl ile çevrili bir koşu için parka ve güvenli bir alanda sakin. * Restoranlar - İtalyan gıda, Suşi Dünya, KFC, * Mağazalar - 100 m Makro hipermarket, Eleclerc, Biedronka, Tesco küçük bir süpermarket ve 200m yakın Mavi Şehir ve Reduta Centrum Handlowe, Carreffour: -2 otobüs Varşova büyük alışveriş merkezlerinden biri olan durakları - Yakınında spor fitness merkezi 500m
This was my first airbnb experience and I can't fault it. Natalia was a wonderful host, her place was warm and friendly. The location was great as it is a short bus ride from the city and a short bus/train ride from the airport. I spent some time with Natalia and her family and everyone was just wonderful. I loved Warsaw and my experience was enhanced by staying in such a lovely place. Cannot recommend enough and when I return to Warsaw Natalia's place would be the first I looked for a place to stay. A wonderful place and a wonderful experience. Chris
chris
2013-05-27T00:00:00Z
Just to say the minimum. Nathalia is awesome! She helped me with a lot of stuff that i need to find out here in Warsaw. Gave me advices and tips for everything. Also, she is a very funny and communicative girl. We had wonderful conversations about everything. She is also a incredible tourist guide. Her mother and sister was also very kind to me providing a unforgettable experience (she mother also teached me how to cook Vietnamese food (nham nham). There is also a minimarket and barbershop inside the flats building. You don´t need to leave the bulding for daily goods. The only bad thing that i have to say: the younger little dog, didn´t want to be my friend. Only when i had food around :/ If you want to be at home, chose Nathalia´s place. ps: She likes the Nama Green Chocolate
Vinihill
2016-01-28T00:00:00Z
Good location close to a bus station with transport connections to different parts of the city. Big supermarket is just 10 minutes walk, fitness center is across the road. Well equiped kitchen, cosy room. Natalia and her family were friendly and helpful. I would definitely stay there again.
Sergey
2013-08-25T00:00:00Z
Natalia is awesome! She is a wonderful host along with her family. I was in town for a conference and she helped me with various things. Extremely responsive and fun to hangout. Room was clean, house was close to everything you need, and room is exactly as it looks in the photo(s). Stay here.
Deepak
2013-05-20T00:00:00Z
Natalia and her family are very friendly and alsways helpful. The room is big enough to relax after all the sightseeing and I felt pretty well welcomed. Good location close to a bus station with transport connections to different parts of the city. I would definitely stay there again.
barbara
2013-09-30T00:00:00Z
Good location, convenient transportation, close to Chopin Airport. excellent value for money. friendly hostess.
Yury
2013-05-14T00:00:00Z
Natalia is very nice and welcoming, as well as her sisters and mom. She helped me a lot with Polish transportation to travel inside the country. A great host!
Faustine
2013-09-13T00:00:00Z
Natalia and her family are really good and friendly people. I liked to communicate with them and it was a nice place for a rest and travelling. I'd like to stay here again and see Natalia:)) Best regards, Evgeniya:)
Evgeniya
2013-05-08T00:00:00Z
Oda Tipi
Özel oda
---
Mekan Türü
Daire
---
Konaklayacak Kişi Sayısı
1
---
Yatak odaları
Varşova, Masovian Voyvodalığı, Polonya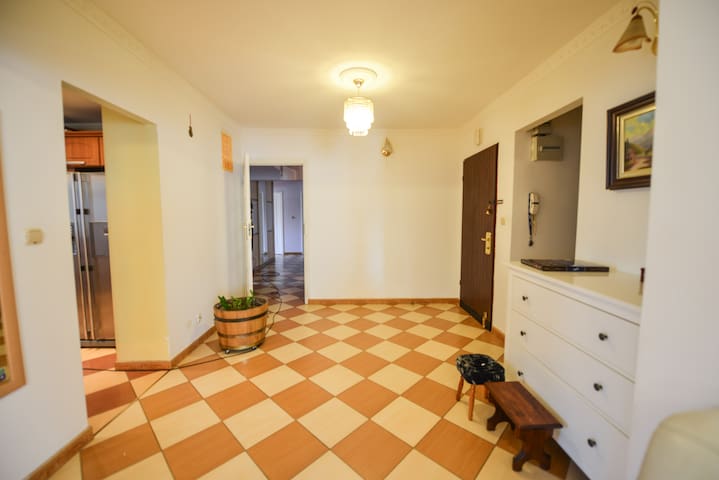 My offer is near the city center, public transport, airport and parks. You'll love my job because of: location, surroundings and the environment outside. My place is good for a couple, the adventure solo business travelers, families (with children), and furry friends (animals).
You have two bedrooms living room with a kitchenette, a comfortable bathroom and a view of the 7 floors of the city center!
Very close to the park with a nice playground for children. The dog also can revel, bus stop on the corner of the street close to shops pharmacy
Very carying host and a cozy apartment with all the amenities you need. What I found fantastic, was the underground garage with the spot right next to the elevator:-). One thing is for sure - we will book again when in Warsaw.
Rafal Felix
2016-12-30T00:00:00Z
Irmina is attentive, polite and helpful person. Apartments suit for family staying in Warsaw)
Karina
2017-01-02T00:00:00Z
Квартира очень оказалась уютной, хоть и по размерам небольшая. Если путешествуете на машине, здесь останавливаться удобнее всего, поскольку в доме есть своя подземная парковка, а от центра города немного далековато, пешком не дойти в "городе развязок".
Anna
2017-01-04T00:00:00Z
Pani Irmina - bardzo kontaktowa i konkretna osoba, dba o to, aby goście nie mieli z niczym najmniejszego problemu. Mieszkanie bardzo ładne, przestronne, czyste i zadbane. Okolica - bez najmniejszego zarzutu, bardzo dobrze skomunikowana z centrum. Polecam serdecznie!
Katarzyna
2016-12-04T00:00:00Z
Great host! *****
Jacob
2017-02-18T00:00:00Z
This temporary home is very comfortable, very warm, the landlord is very intimate very warm, the next time to Warsaw this is my first choice, thank the landlord
chaopeng
2017-03-29T00:00:00Z
Very convinient location, peaceful neighborhood, garage an absolute luxury! This is the place to stay, if you're visiting Warsaw by car! The apartment is cute, playground and indoor playground for kids just few steps from the door. Nice ponds and park for walking the dog nearby. The host is very helpful. Since the apartment is near big roads sensitive sleeper should remember to take earplugs.
Katri
2016-12-27T00:00:00Z
Apartamento muy completo no le falta de nada y limpio. Cerca del aeropuerto y con el bus a media hora del centro.
Diego
2017-04-02T00:00:00Z
Oda Tipi
Tüm ev/daire
---
Mekan Türü
Daire
---
Konaklayacak Kişi Sayısı
6
---
Yatak odaları
Warszawa, mazowieckie, Polonya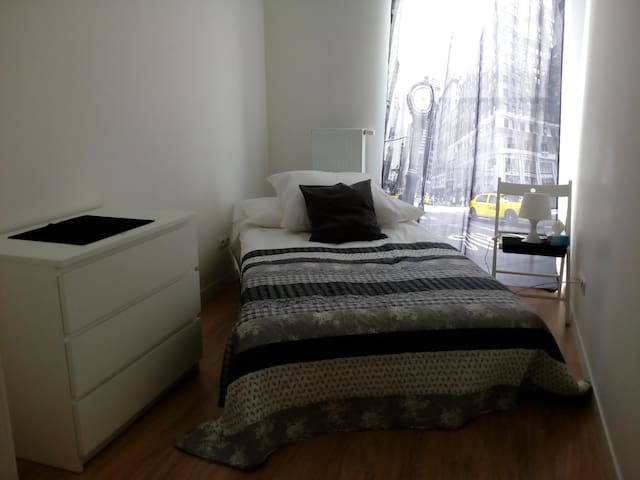 Moja oferta jest w pobliżu: centrum miasta i parki. Pokochasz moją ofertę z uwagi na: lokalizacja. Moje miejsce jest dobre dla: pary, przygody solo oraz podróżujący w interesach. Pokój ma 12m kw. Na zdjęciu jest sporo przedmiotów, ale to są rzeczy po byłej lokatorce. Spokojnie, już tam tego nie ma. Lokalizacja to tylko 12 minut SKMką do Centrum.
Oda Tipi
Özel oda
---
Mekan Türü
Daire
---
Konaklayacak Kişi Sayısı
1
---
Yatak odaları
Warszawa, mazowieckie, Polonya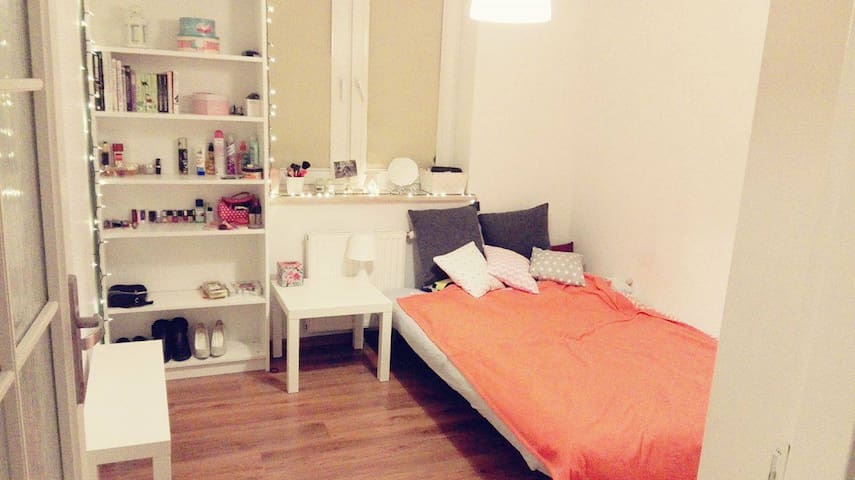 Die ruhig gelegene, sonnige, frisch renovierte und sehr komfortabel eingerichtete 2 -Zimmer Wohnung (moderne Küche und Bad mit Dusche) befindet sich auf der 1. Etage in einem Mehrfamilienhaus am Rande eines wunderschönen Parks mit See und Restaurant.
Im Wohnzimmer befindet sich ein Bettsofa, welches zwei weiteren Personen eine bequeme Übernachtungsmöglichkeit bietet. Dazu gehören Bettdecken, Kissen und Lacken für 4 Personen. Die Küche ist sehr gut ausgestattet: 2 Backöfen, einer mit Mikrowellen Funktion, Waschmaschine mit Trockner, Abwaschmaschine und ein grosser Kühlschrank. Besteck und Teller für 12 Personen. Fernseher, Wifi und Telefon runden das Angebot ab.
Die Nachtruhe ist ab 22 Uhr verbindlich.
A louer sans hésitation.
Philippe
2015-12-31T00:00:00Z
This is the end of my Polish period. And I'll regret Maria's apartment. Because it felt like home ... as well as the kindness and availability of Maria because every little problem she replied directly. I do not know where my steps will take me. But the next landlord will have work to do to hope to be at the level of Maria.
Philippe
2016-01-31T00:00:00Z
From the time we booked this apartment till checkout the experience was excellent. Maria was very helpful with all my questions. Tomek was very welcoming and patient on arrival. Location is a very easy 15 min drive from Warsaw and is close to public transport. The apartment exceeded expectations. It was very well equipped and very clean. If you plan to stay for a few weeks we recommend to pay the extra small fee to have the cleaner come for a weekly tidy up. The lady changed bedding and cleaned everything perfectly. We will definitely be staying here again.
Collette
2017-01-04T00:00:00Z
Sehr schön eingerichtete Wohnung im Zentrum Pruszkows, verkehrsgünstig gelegen. Super Betreuung durch Maria vor und während der Reise!
Robert
2017-02-18T00:00:00Z
Accueil comme un membre de la famille. Très bel appartement avec un certain paradoxe car l'entrée de l'immeuble donne une impression de vétusté. Et puis quand vous ouvrez la porte de l'appartement, vous ne pouvez que faire wow......... Les seuls bémols sont la difficulté de stationnement et la barrière de langue par rapport aux commerces avoisinants.
Philippe
2015-11-29T00:00:00Z
Very nice place. Maria was really friendly and helpful. Only one conclusion is possible for her place. Home sweet home.
Philippe
2016-02-14T00:00:00Z
Réception like family's part.
Philippe
2015-10-30T00:00:00Z
Oda Tipi
Tüm ev/daire
---
Mekan Türü
Daire
---
Konaklayacak Kişi Sayısı
2
---
Yatak odaları
Pruszków, mazowieckie, Polonya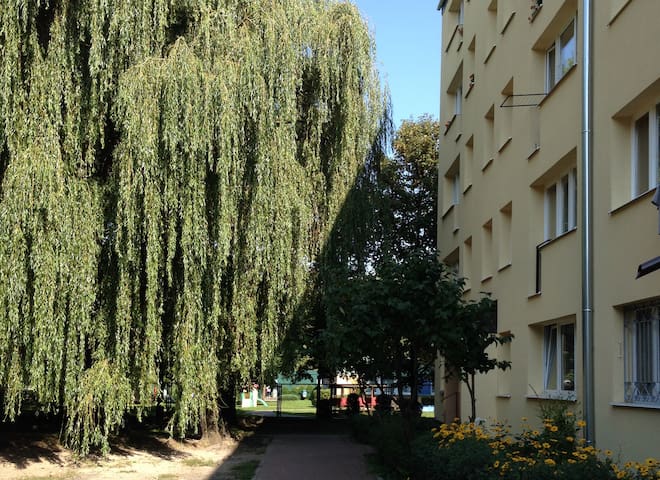 Two-bedroom apartment on the third floor, with a balcony, elevator, parking place, in a new subdivision Skorosze in Warsaw. The apartment is fully equipped with washing machine-2 TV, DVD, microwave, 2 couches, crockery, coffee maker electric kettle., Kitchen electric.
Near the center of the capital, and at the same time as we were on wczsach :)
calm, quiet, lots of shops (lidl, ladybug, tesco, ross, alma) veturilo (city bikes for hire) .. pubs and outlet clothing factory ..
The listing description was never accurate, and I was misled. The parking on premise exists but inaccessible to you as a guest. Every tenant has a remote control to enter the gates, and she didn't provide and didn't know about it. She asked me to go the security, and he doesn't speak any English. She was not communicating well. She was out of the country when I was there. Tried to call her many times she never responded. She responds by email very late. Because of her deception and mislead in the parking on premise, My vehicle was towed away because her neighbor called five times to tow away my vehicle and I have paid a big fine because of her deception. She promised to pay the fine, and she never responds my messages anymore. Because I was trying to resolve things amicably and respectfully, she said I was a very bad person and tried to resolve things amicably. I have been very patient with her waited more than two weeks, and she never responded back to resolve. She was dishonest about her promise paying for the fine due to her fault. I never got any response back from her
HESHAM
2017-01-01T00:00:00Z
The host canceled this reservation 20 days before arrival. This is an automated posting.
Kurt
2017-03-09T00:00:00Z
The host canceled this reservation 3 days before arrival. This is an automated posting.
piotr
2015-10-18T00:00:00Z
Oda Tipi
Tüm ev/daire
---
Mekan Türü
Daire
---
Konaklayacak Kişi Sayısı
2
---
Yatak odaları
Warszawa, mazowieckie, Polonya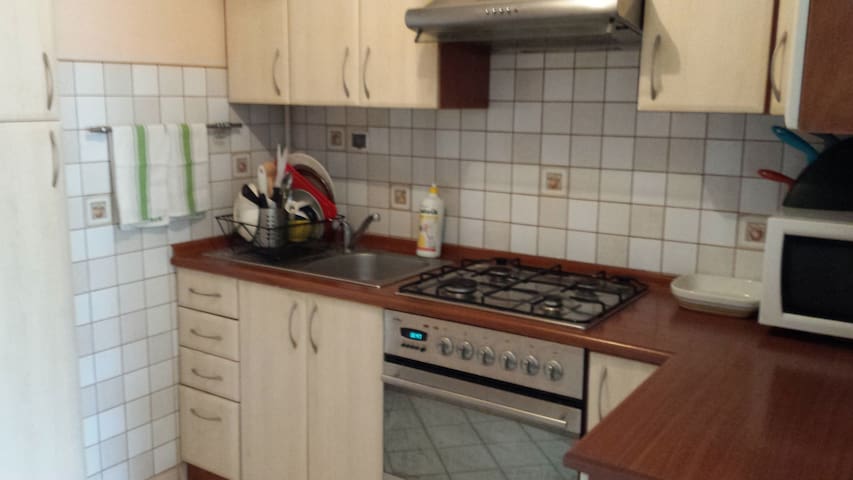 Quiet and spacious apartment. Fully equipped, ideal for longer stays. Three people comfortably accommodate up. The high standard, yet cozy. Living room with a large kitchen (Parkiet, water filters, induction hob, dishwasher, steam-oven), hall, bedroom with a large and comfortable bed and built-in wardrobe. Bathroom with bath but with the possibility of taking a shower, bidet. Washer and dryer. Balcony. Quiet area. Deal also includes a place in the underground garage.
New, bright, cozy apartment to a high standard. Ideal for work and relaxation after a busy day. Last floor (7) air conditioning. Quite a large balcony, which offers a nice view of downtown. On the balcony table with chairs where you can relax :-) Deal belongs to an underground garage space.
Surroundings quite quiet and peaceful. Apartment situated in the area of Jerusalem Avenue, so it is very easy access to the center, as well as to the airport. Nearby there are two grocery stores, pharmacy, Fitness Club, the BP gas station open 24-hour, Coffee Shop where you can purchase freshly roasted coffee. In the building on the ground floor is a Salon.
Estuvimos en este maravilloso apartamento durante dos noches, 27 y 28 de mayo. Agnieszka en todo momento estuvo en contacto con nosotros dándonos indicaciones sobre cómo llegar, autobuses, precio de taxi, etc. Para el día de salida, dado que salíamos temprano, ella se ofreció a llamarnos al taxi para que nos recogiera en el apartamento. Muy atenta durante toda la estancia. Maravilloso. En cuanto al apartamento, es tal cual se aprecia en las fotos, completamente nuevo, todo tipo de comodidades, wifi, smart tv, cocina completa, decorado con mucho gusto, en definitiva una magnífica elección. Por lo que se refiere a la ubicación, se encuentra a unos 10 minutos en taxi, coche, del aeropuerto Chopin, con una parada de bus, 517, que se dirige al centro de la ciudad, a pocos metros.
Jose Maria
2015-05-29T00:00:00Z
Wszystko w jak najlepszym porządku. Szczerze polecam :) .
Edyta
2015-10-12T00:00:00Z
I'm very grateful for Agnieszhka's hospitality! Her flat is very light, modern, clean and comfortable. :) My neighbors are very polite and peaceful. The district is calm and I felt in safety even late in the evening. :) You can get to the center of town enough quickly by 517 bus (every half hour). The road is about 15-20 minutes. I will miss it. :))) I was sad to leave. Because fantastic people live in Warsaw (and in the whole in Poland)! And dear Agnieszhka isn't an exception. :) She is very positive and kind! She always is ready to help. It is rarity! So I wish her god luck with her future guests. :) And of course I hope to return in the next year. If she won't against. Many thanks for everything!!
Ekaterina
2016-11-26T00:00:00Z
The apartment was very clean and cozy. Host was very attentive and very helpful during the whole time. The area is near many amenities and easy to get into the city center.
Norbert
2015-07-24T00:00:00Z
It was a totally comfortable and relaxing stay. Agnieszka's place is very clean and beautiful, she is kind and nice, welcomed us with amazing smile. Great place to stay in Warsaw! I want to come back again for sure. Strongly recommended!!
Soojin
2016-09-23T00:00:00Z
Mieszkanie jest czyste oraz świetnie wyposażone. Wszystko zgodnie z opisem, a nawet więcej! Specjalnie na naszą prośbę Pani Agnieszka zorganizowała łóżeczko i krzesełko dla naszej córki. Zdecydowanie polecam !
Michał
2017-03-09T00:00:00Z
Все понравилось. Квартира соответствует описанию. Все новое и современное. Отлично, что есть подземный паркинг Агнешка очень милая и приветливая хозяйка
Kateryna
2015-09-20T00:00:00Z
Pani Agnieszka zaskoczyla nas pozytywnie komfortowo, praktycznie i pieknie urzadzonym mieszkaniem. Dla mnie bardzo wazny jest zdrowy i higieniczny sposob przygotowywania posilkow. Bylo to mozliwe w tak nowoczesnie urzadzonej kuchni: paropiekarnik, piekarnik z wielostronnymi funkcjami, plyta inducyjna oraz serwis kuchenny. Przygotowana byla dla nas bielizna poscielowa, reczniki itd. w ilosci zapasowej. Wszystko nowe, czyste i estetyczne.Pani reagowala szybko na nasze prosby/potrzeby i spelniala je mozliwie najszybciej.
Lucyna
2015-05-09T00:00:00Z
Oda Tipi
Tüm ev/daire
---
Mekan Türü
Daire
---
Konaklayacak Kişi Sayısı
3
---
Yatak odaları
Warszawa, mazowieckie, Polonya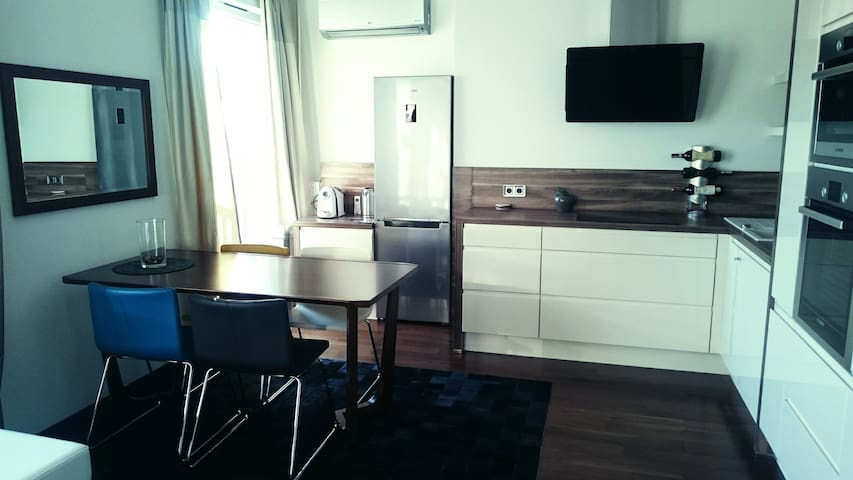 A bit unusual apartment, it's located at Warsaw Expo exhibition centre. Best place to stay if you come visit any shows hosted here. The listing is for the guest bedroom with its private bathroom. Guests are allowed to use the common space that consists of a living room, kitchen and gym.
Oda Tipi
Özel oda
---
Mekan Türü
Daire
---
Konaklayacak Kişi Sayısı
3
---
Yatak odaları
Nadarzyn, mazowieckie, Polonya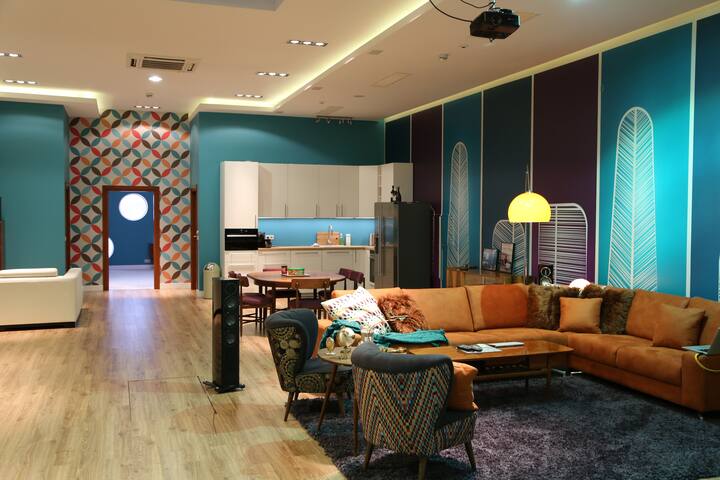 My place is close to restaurants and dining, art and culture, the beach, great views, and family-friendly activities. You'll love my place because of the high ceilings, the views, the location, the people, and the coziness. My place is good for couples, solo adventurers, and business travelers.
Oda Tipi
Özel oda
---
Mekan Türü
Daire
---
Konaklayacak Kişi Sayısı
1
---
Yatak odaları
Pruszków, mazowieckie, Polonya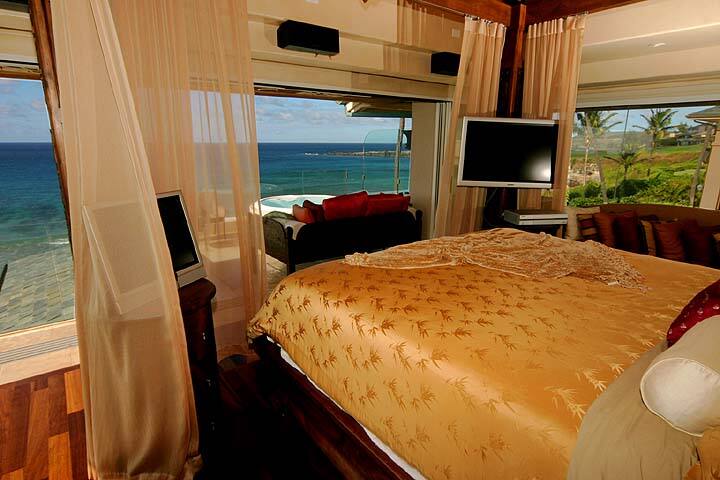 Mieszkanie 64 m.kw., 2 pokoje po 20 (URL HIDDEN) minut dojazd do Centrum szybką koleją SKM, kuchnia umeblowana z kuchnią gazową, zmywarką. Pokoje bez szaf.
Możliwość dostawienia łóżek.
Okolica: starodrzew, park z jeziorkiem, dużo zieleni, 250 m - market Lidl, 150 m - market Biedronka, 200 m. apteka 24 h, 350 m - sklep Żabka po drugiej stronie torów, poczta, bank(bankomat), cukiernia, przychodnia, sklep spożywczy 24 h.
Oda Tipi
Tüm ev/daire
---
Mekan Türü
Daire
---
Konaklayacak Kişi Sayısı
8
---
Yatak odaları
Warszawa, mazowieckie, Polonya
1

–

18

/

49 Kiralık Daire
Tam fiyatlandırmayı görmek için tarihleri görün. Ek ücretler uygulanır. Vergiler ilave edilir.