Just renovated in the historic center of Campo Ligure (town ranked among the most beautiful towns in Italy). Can be reached in just 20 minutes the Liguria coast, half an hour in the center of Genoa.
For those looking for the typical hospitality of a B & B, but do not want to give up all the comforts of home, here is the new holiday house "The window on the village." Located in the heart of the village (from which the name) a few meters from the Medieval Castle, the museum of the watermark, the main square where you can admire the Spinola Palace and everything is life and the typical village of Campo Ligure ( recently he became part of the most beautiful villages in Italy). The property was recently completely renovated. It consists of a sleeping area with double bed and living area with additional sofa bed (sleeps 4 Complessivi), full cooking facilities, TV with digital terrestrial channels, bathroom with hydro massage cabin and washing machine. In style B & B management is PET, with the possibility of referring all the time to us (Henry, Sara, Arianna) for every request or need. Campo Ligure is located about 20 minutes drive from Genoa and the Riviera di Ponente. Also, for those who love shopping, it is about 30 minutes from the largest outlet center d 'Europe in Serra Valle
Campo Ligure, as well as being central to other destinations (Riviera Ponente, Genoa, Serravalle Outlet ...), is a town to live, to see (Castle and medieval bridge, museum of the watermark, Palazzo Spinola, walks in the countryside .. .)
Super cute apartment. Parking close and short walk to river for my kids and dog to play. Host was great with communication. I would stay there again.
PASCHA
2015-08-07T00:00:00Z
The apartment is ideally located in the centre of the tiny but very pretty villiage of Campo Ligure. We were met as we arrived and shown to the apartment which was clean and very comfortable. We stopped in Campo Ligure for just one night while driving from Tuscany to Lake Orta. We drove up to Praglia on the afternoon of our arrival and walked to Punta Martin on the recommendation of Enrico which was a great idea. It was a great choice for a stop over on our journey. Thanks Enrico and Sara
Tom
2015-09-18T00:00:00Z
The Apartment in Campo Ligure was nice. It's a small apartment in the heart of the town, ideal of 2 people and is fully furnished. Enrico was a very helpful and friendly host who always answered our questions quickly and gave good suggestions of places to visit and places to eat. The town is characterful and the people were very friendly, which made our stay enjoyable.
Ruwantha and Amisha
2016-08-06T00:00:00Z
Great stay, very comfortable apartment, comfortable bed. Had everything we needed, easy access - just off the main street to shops and restaurants in the lovely little town. Very quiet, fire place heated up the apartment for the whole night which was lovely. the host was very friendly and helpful, he recommended a great little restaurant across the street and was on hand to help us at any time.
Clair
2016-03-30T00:00:00Z
Ernesto was a wonderful host. He was very welcoming and even made a reservation for us at the local restaurant. He also offered us a bottle of Proseco as a welcome gift! The apartment was very clean and charming. Campo Ligure is a cute town to stop in overnight, and this apartment is centrally located.
Diana
2015-05-23T00:00:00Z
È stato un piacere soggiornare presso di voi, abbiamo trovato gentilezza e cortesia. La casa è molto accogliente.
cristina
2016-09-03T00:00:00Z
A fantastic stay throughly recommend. This is a perfect place to stop for a night on the way down to the coast or up to the mountains. Very close to genova and the highway but you are in the middle of the hills in a beautiful village. The hosts are excellent and the accomodation faultless. Very clean, modern, all the comforts you need and great breakfast thrown in too. The village is great for a wander and a couple of beers in the square and we ate at a great restaurant as recommended. Will definitely be back. Thank you.
Steve
2014-09-27T00:00:00Z
Oda Tipi
Tüm ev/daire
---
Mekan Türü
Daire
---
Konaklayacak Kişi Sayısı
4
---
Yatak odaları
Campo Ligure, Liguria, İtalya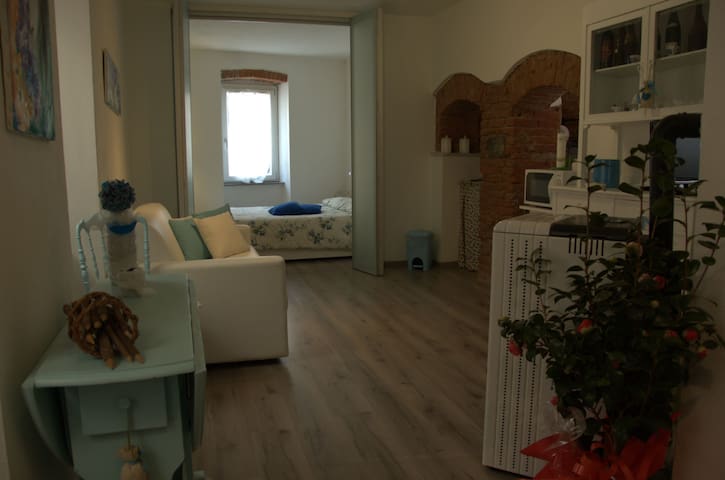 Nabízíme velký domov, vintage styl, ale je úplně obnovený až 7 osob, v Rossiglione - malé typické ligurské vesnice v oblasti Appennino (hory), 30 km od Janova a moře. Milan je 120 km daleko a nákupní ráj - zásuvka vesnice v Serravalle - asi 40 km na cestě do Milána. Náš domov je v přízemí s dvěma terasami a zahradou v obyčejný s jinými byty a parkování. Wi-fi zdarma. Pračka. Vítáme snídaně. Žádný poplatek za závěrečný úklid.
Náš domov je s na sobě nezávislými vchodem v přízemí, úplně renovovaný v roce 2014, se dvěma terasami a zahradou ve společné s dalšími byty a parkování zdarma. Nabízíme také bezplatné Wi-Fi a bez poplatku za závěrečný úklid. Najdete velkou kuchyň vybavená sklokeramickou deskou, lednice, nádobí, Moka, varná konvice a hrnce a terasou, 3 ložnice (1 s manželskou postelí, 1 doplnění a 1 jednolůžkový pokoj), 1x koupelna se sprchovým koutem, 1 obývací pokoj s rozkládací pohovkou a přístup k obrovskou terasou. Naše zařízení: - bezplatné wi-fi připojení - ručníky a ložní prádlo - TV (digitální - jen italské kanály) - pračka (detergent) - uvítací snídani (káva, čaj, mléko, džem, sušenky, minerální voda) - welcome kit (mýdlo / šampon) a vysoušečem vlasů - látkové pantofle - pro svého psa: mat a misky - venkovní parkoviště zdarma Pro novorozence: dětská postýlka k dispozici zdarma. Za jakoukoliv pomoc rodiče budou k dispozici na vyžádání.
Pěšky: trh 200 m, pekárna 150 m, a další obchody s potravinami v 200/300 m. Autem: nejbližší restaurace se nachází v km 1,5 a jiní v této oblasti. Pizzerie v km 1. Je také možné vzít. Rossiglione je malá obec 30 km od Janova, od moře a 36 km od Outlet Village. Můžete se těšit na typické non-turistické atmosféru Ligurie, baru v hlavním náměstí se starými lidmi hrací karty, objednat soukromou domácí večeři, objevovat lesa, řeky a přírody v okolí nebo dosáhnou k moři do 30 minut.
Our stay was fabulous! The location is perfect, clean and in the best of taste. Marinas parents are so keep me and helpful. It is a place to feel homelike. Even with 2 small kids we felt very welcome. The destination, near to the beautiful natural park is outstanding and gives you a taste of the real Italy, with its small pictorial villages and towns. However if you search for beaches and some tourism it is only a 30 minutes drive. This holiday was beautiful!
Lisa
2016-08-23T00:00:00Z
Wir wurden sehr freundlich von Marinas Vater empfangen und durch die Wohnung geführt. Sie ist sehr geschmackvoll eingerichtet und es hat alles was man braucht. Wir haben uns sehr wohlgefühlt. Die Umgebung ist wunderbar ruhig. Leider mussten wir nach einer Nacht bereits weiterreisen. Wenn wir wieder einmal eine Übernachtungsmöglichkeit brauchen auf dem Weg in die Toscana, steht diese Wohnung ganz oben auf unserer Liste! Herzlichen Dank für alles.
Philipp
2015-09-20T00:00:00Z
We though fly enjoyed our stay at your place. My family & I fell in love with your parents. Our only regrets was we could not speak their language. Would have loved spending more time to hear about their lives. Your Dad went up & beyond our expectations as a host when he drove his bicycle to the local pizzeria to show us the way their. Your place was very accommodating & comfy. We were sorry we didn't get the chance to meet you. Take care. Tom, Lynn & Laina - USA
Lynn
2015-06-22T00:00:00Z
Excellent acceuil par le père de Marina avec quelques petits gateaux et boissons pour le petit déjeuner.,très disponible pour répondre aux questions.Appartement spatieux ,propre ,bien équipé,bien insonorisé.Logement très bien situé en centre ville , très calme.
Jacques
2016-08-30T00:00:00Z
Séjour très agréable . Le papa de marina est très attachant. La maison est très propre et nous avons eu droit à des spécialités locales. Juste la connexion wifi assez faible. Pour le reste le séjour fut très bien. Merci Silvio et Marina
Youssef
2016-05-08T00:00:00Z
This is a a beautiful spacious place with style and perfectly clean. You feel the old Italy from the 70's all around you. Try the espresso Italian style and get some fresh bread from the local bakery just a few hundred meters from the apartment. The apartments are part of the old family house with high ceilings and beautiful stone floors. You receive a warm welcome upon arrival. Even the people at the pizzeria and the bakery were very friendly. You really feel the Italian style when you walk through the village.
Erwin
2016-08-06T00:00:00Z
Accoglienza gentile ed educata, appartamento grande, pulito, pieno di confort e in ottima posizione. Consigliato
Elisabetta
2016-07-17T00:00:00Z
Marina's dad, Silvio, was there to thoroughly explain the workings of the apartment. It is well equipped, very clean and spacious. It is a great place to escape from the busy world. The local community has plenty to offer travellers.
Berkley
2017-01-03T00:00:00Z
Oda Tipi
Tüm ev/daire
---
Mekan Türü
Daire
---
Konaklayacak Kişi Sayısı
7
---
Yatak odaları
Rossiglione, Liguria, İtalya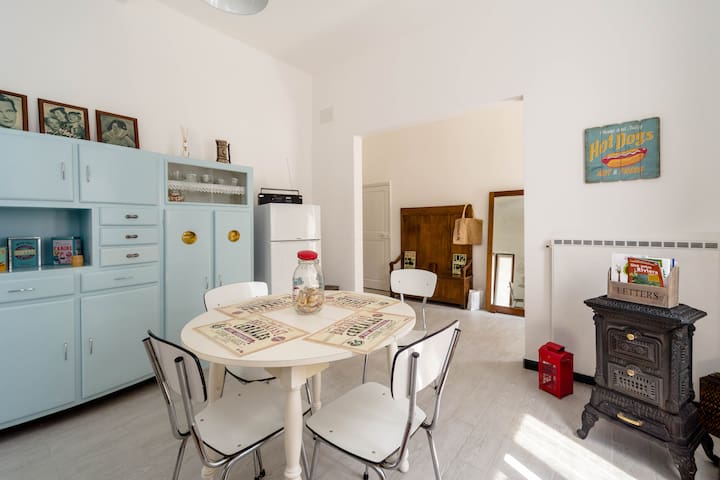 Tam fiyatlandırmayı görmek için tarihleri görün. Ek ücretler uygulanır. Vergiler ilave edilir.