A vacation rental, Mesa Valley GuestHouse is located at the base of the Black Mesa on the Walker Ranch, near Kenton, OK. The area is secluded and private. You are 40 miles from the nearest town, gas station and grocery store. Peaceful, Quiet, and Amazing! Come See Us!
Mesa Valley Guesthouse is a privately owned HOME and secluded in the Valley of the Cimarron River. We have 4 bedrooms, and a den that has a trundle bed and the living room sofa makes out to a queen bed. The nearest neighbor is 3 miles. We are 40 miles from the nearest grocery store and gas station. The nearest Walmart is about 100 miles. Therefore, you must have plenty of gas and food for your stay!
Beautiful country....Peaceful, Quiet......God's Country!
Everything was available and just as described. The area is gorgeous and the house an interesting mixture of old and additions. Cerita was always available when we contacted her and was willing to go out of her way to provide whatever we would need. I highly recommend this place if you want to get away and relax in the middle of natures beauty.
Richard
2016-08-10T00:00:00Z
I needed some peaceful downtime and knew I was at the right place when a flock of wild turkeys visited me at the front door. The hosts were very nice, beds comfy and the house had everything one needed. A beautiful hiking spot located in a beautiful secluded valley.
James
2016-07-10T00:00:00Z
Mesa Valley GuestHouse is such a unique experience. No light pollution at night so you can stargaze and breathtaking surrounding area to explore in the day time. We had no problems with our cell coverage and the wifi and other amenities in the house were superb. Cerita was a wonderful host and always answered our emails promptly. We only wished we could have stayed longer, but we will definitely come back in the future.
Jing
2016-08-03T00:00:00Z
The stay was great! Really cool place to have discovered. Everything was nice, in order, and felt very homey. I do intend on going back.
Matt
2016-05-15T00:00:00Z
Truly one of the best things about AirBnB, from discovering the place to a successful booking took less than five minutes, it was a decision that I will never regret. From start to finish Cerita was easy to communicate with and very responsive. As for the place? where can I begin, the night sky was the main draw for me, and it did NOT dissapoint! But we also managed some morning hiking/exploring, wildlife everywhere! such a beautiful place and the house truly does feel like you're visiting family. I can't say enough nice things. I will definitely be back when I can spend more time here, I was just passing though on a longer road-trip, but the Mesa Valley GuestHouse will now be a straight up Destination for me in the future!
Jeffrey
2015-11-16T00:00:00Z
The house was very quaint and the remote location was beautiful. The night sky was lovely. Cerita was very responsive to my questions and was easy to reach. We loved it and would recommend it!
Heather
2015-09-14T00:00:00Z
I wanted to text Cerita to let her know that we arrived to the guesthouse, but it appears that Verizon doesn't have any cell coverage in Kenton. If you're looking for a place to stay in the Oklahoma panhandle, you're probably one who can manage without your cell phone for a few days anyway. The guesthouse is a perfect compliment to getting away for the weekend. Bring your own food and there is everything else you need here. Grill up some steaks for dinner, drink some beers on the front porch and watch the sun go down and make sure you stay up late enough to see the stars, very few places in America can you get a better night time picture of the sky. Cerita and Eddie are great hosts, if you're ever in the area and need a place to unplug from everything, this is your place. 100% recommendation!
Kevin
2016-06-13T00:00:00Z
Cerita was amazing to work with! She was in contact with us immediately after we applied for our stay and was constantly available to be reached throughout the duration of our stay. The guesthouse was beautiful and the surrounding area was absolutely amazing. We also received the warmest of welcomes from "Needy" the cat that stays around the guesthouse. He was ridiculously affectionate and was always ready to hangout. If we get the chance to visit the area again we will be sure to stay here again.
Alex
2015-10-27T00:00:00Z
Oda Tipi
Tüm ev/daire
---
Mekan Türü
---
Konaklayacak Kişi Sayısı
12
---
Yatak odaları
Kenton, Oklahoma 73946, ABD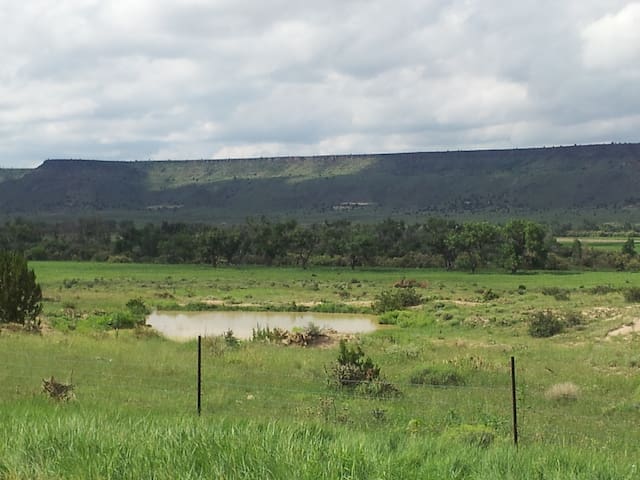 Tam fiyatlandırmayı görmek için tarihleri görün. Ek ücretler uygulanır. Vergiler ilave edilir.