We offer you a cozy holiday flat with a king size bed, your own bath room (toilet & shower) a living room and your own fully equipped kitchen to cook if you wish.
The cozy flat is 2 and a half rooms. There is a sleeping room, a living room, a new bathroom with a shower and toilet. Also you will have a fully equipped kitchen where with all accessories you need to cook (including an oven and microwave). Of course we have wireless LAN for your internet devices and a small smart TV. Also you have the possibility to store your clothes in a closet. Attention: The clothes washing machine is not working and not for your personal use. Please do NOT use the clothes washing machine as this may cause damage on the flat and your clothes. Than you for your understanding :)
The flat is in a very quiet district with a lot of green and in the neigbhorhood there are mostly families.
El apartamento de Pascal está muy bien. Tiene todo lo necesario, muebles modernos y funcionales, incluyendo tv multimedia. Vistas maravillosas a las montañas Churfirsten y cerca del lago para hacer excursiones. Volveríamos.
Iñaki
2016-07-14T00:00:00Z
Wij hebben een geweldig verblijf gehad in het appartement. Het was groter dan verwacht en heel gezellig en praktisch ingedeeld. De badkamer en keuken zijn perfect. De bedden zijn heel goed. De ligging is heerlijk rustig. Een extra pluspunt waren de buren die ons geholpen hebben bij elke vraag die we hadden. Bijzonder vriendelijke mensen. Winkels en de Walensee zijn vlakbij. Voor uitstapjes zit je zo op de snelweg. Al met al een echte aanrader!!!
Wilma
2016-06-18T00:00:00Z
This apartment was fantastic. It was very clean, nicely decorated, and had everything we needed. The bed was very comfortable, and had more than enough amenities. The location was fantastic-- it was a short walk to the lake, and the neighborhood was very nice. Pascal had laid out brochures of nearby points of interest, which was very helpful. I would definitely recommend staying here if you're going to be in the Walensee area.
Jordan
2016-05-07T00:00:00Z
La casa è arredata davvero con gusto e per questo molto accogliente; inoltre è molto pulita. Il quartiere è tranquillo e in un ottima posizione: facendo colazione puoi ammirare le vigne sotto le montagne. Comoda come location per raggiungere diverse mete turistiche
lorenza
2016-07-28T00:00:00Z
Unterkunft top!!! Kann ich nur weiter empfehlen!! Unkompliziert, schön, sauber, mit viel Liebe hergerichtet!!
Pia
2016-05-17T00:00:00Z
We really enjoyed our stay. The flat is big enough for two and the kitchen is really cosy. Oscar the cat is a sweetie. We rated the shower 10/10, really good. Very quiet position, walking distance to the centre of the lovely litttle town of Walenstadt.
Tony
2016-06-29T00:00:00Z
We never met Pascal but his correspondence was fast & his English was good. Neighbors were also helpful & friendly. Most beautiful & quiet neighborhood w/ spectacular views of vineyards & mountains from dining area. We had 1 rainy day that set off 4 viewable gushing waterfalls from the apartment. 5 minute walk to lakeshore & to village stores & pubs. I would stay here again in a Swiss minute, which is a slower pace than most places. Vielen dank / thank you Pascal.
Curtis
2016-08-09T00:00:00Z
Die Unterkunft war wie schon beim ersten mal wieder prima. Wir kommen immer gerne wieder. Es fehlt einem an nichts. Und die Umgebung ist wirklich super.
Madlen
2016-10-07T00:00:00Z
Oda Tipi
Tüm ev/daire
---
Mekan Türü
Daire
---
Konaklayacak Kişi Sayısı
2
---
Yatak odaları
Walenstadt, Sankt Gallen, İsviçre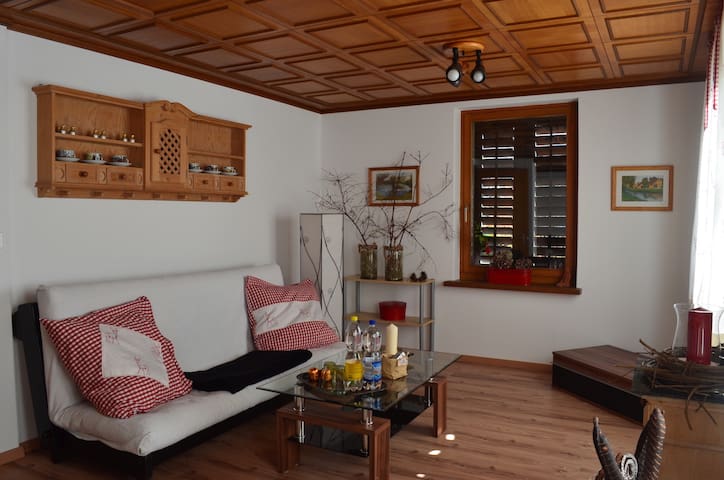 Zeer mooi groot appartement met twee slaapkamers met twee keer twee bedden. Linnengoed en handdoeken zijn inclusief, dus geen meerkosten nadien! Kinderbedje is aanwezig en hier worden geen extra kosten voor gerekend. Voor het extra bed worden meerkosten in rekening gebracht.
Het appartement kenmerkt zich door een zeer groot balkon aan de voorkant met prachtig uitzicht over de Walensee en het voorgelegen terras. Het appartement is centraal gelegen op het park, dicht bij de gondel naar de Flumserberg. Bij het appartement is een eigen gratis parkeerplaats inbegrepen. Naast een toegewezen parkeerplaats zijn er ook nog een aantal vrije gratis parkeerplaatsen. De keuken is van alle gemakken voorzien en volledig voorzien om gezellig te koken.
Eine rundum perfekte hervorragend ausgestattete Ferienwohnung! Die Wohnung ist Teil eines sehr gepflegten Resorts direkt am Walensee in der Schweiz. Alles ist sehr gepflegt und perfekt ausgestattet. In der Küche findet man wirklich alles um zu kochen und sich selbst zu versorgen. Das Badezimmer ist sehr groß und übrigens wie die ganze Wohnung perfekt sauber! Zudem ist die Wohnung auch einfach gemütlich und schön eingerichtet. Kleiner Tipp für deutsche Gäste: man sollte sich einen oder mehrere Adapter für die Steckdosen mitbringen. Offenbar gibt es in der Schweiz andere Stecker. Das Ferienresort liegt direkt am Walensee und vom Balkon hat man sogar einen hervorragenden Seeblick. In Sichtweite befindet sich ein Sportgeschäft zum Ausleihen von Skiern, Schuhen und allem was man sonst zum Skifahren braucht. Die Gondel, die ins Skigebiet führt, ist nur 5 Minuten zu Fuß von der Wohnung entfernt. Wir haben uns oben am Berg ein Skidepot gegönnt, so dass wir nach dem Skifahren shr entspannt in normalen Schuhen ohne Skier und Stöcke in der Gondel saßen - sehr zu empfehlen! Das Skigebiet ist sehr kinderfreundlich. Direkt oben am Tannenboden ist ein Kinderland und auch ein öffentlicher Zauberteppich. Und daneben ein wirklich gutes Areal mit Ankerliften und flachen Hängen zum Üben. Die Lage der Wohnung, die Wohnung selbst und das Skigebiet sind einfach perfekt. Wirklich ein Grund zum Wiederkommen. Der Austausch mit Gijs bevor ich buchte und dann rund um Abfahrt und Ankunft war sehr direkt, schnell und alle Auskünfte waren richtig! Vielen Dank!
Annette
2017-02-28T00:00:00Z
Stunning place with amazing views of both the mountain and the lake. We were blown away by the place. A 30-second walk from Intersport Walansee and a 4-5 minute walk from the gondola to take you up the mountain. Really convenient and easy for a trip that has so many extra things to worry about (ski rental, lift tickets, etc.). Gijs was terrific in helping my party get settled in and ensuring that we were comfortable throughout our stay. He was by far the best host I have ever had.
Jack
2017-04-02T00:00:00Z
appartement très confortable et très cosy , 2 grandes terrasses avec vue direct sur le lac. Vous êtes à 5 mn à pied du téléphérique . Nous reviendrons avec grand plaisir dans cet appartement
Guillaume
2017-02-19T00:00:00Z
We had a great week at Gijs's place and kids didn't want to leave. Location, standard and comfort all fit the description perfectly. Can happily recommend to anyone skiing in Flumserberg or just enjoying the beautiful Walensee area.
Peter
2017-02-12T00:00:00Z
We have had a great time at the Walensee, the location was perfect and our host made our stay very pleasant. The apartment was clean and well equipped - the lake view was stunning! Hope to be back one day...
Petra
2017-03-28T00:00:00Z
Oda Tipi
Tüm ev/daire
---
Mekan Türü
Daire
---
Konaklayacak Kişi Sayısı
5
---
Yatak odaları
Quarten, Sankt Gallen, İsviçre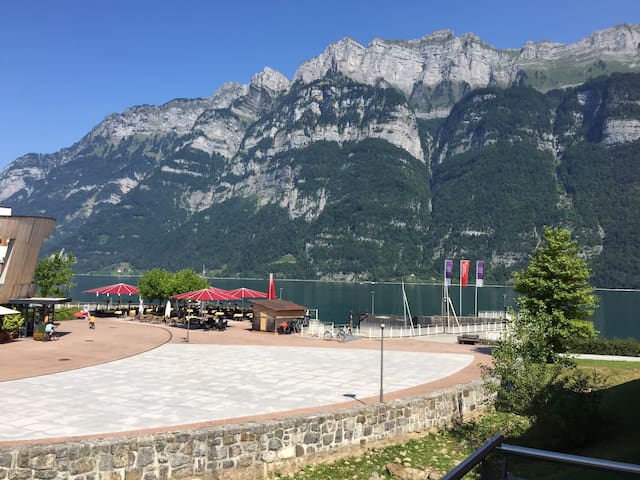 bright, friendly furnished room in a large apartment, near downtown, train station and bus stops, near excursions. Visitor parking. If desired, a second room can be made available.
bright and quiet room for two people, friendly and simply furnished in large apartment, second floor. Extra person possible.
We live in a quiet, pleasant residential area
Very friendly and interesting hosts. Comfortable and clean room. Brigitt showed us Werderberg, beautiful small town near Buchs. Highly recommended.
Gintaras
2016-08-07T00:00:00Z
Brigitt is a nice person. She made us feel being very welcomed. She helped us at her best and prepared a good breakfast for us. The room was clean and tidy. The balcony was great that you were refreshed starting a day with a breakfast there. Would definitely recommend this BnB.
Phyllis
2016-07-05T00:00:00Z
This is exactly what an overnight stay with Airbnb should be! Birgit is a fascinating and generous host, and her cozy home in a picturesque little town made me feel right at home. There are two guest rooms, both charming and comfortable, and the house is easy to find by car. There's even a Swiss chocolate on the pillow for you.
Karen
2016-07-04T00:00:00Z
Brigitt and her husband welcomed us and we stayed there for just one night on our way back to Vienna and Romania. The location is great, very clean and nice! Brigitt is a great host and company! There is a private parking spot near the location. Thanks for the hosting Brigitt! Write us on your next trip to Romania
Anca
2016-07-10T00:00:00Z
Room was clean and tidy, host was very welcoming and warm. Nothing much to do in the neighborhood, but a good place to discover Liechtenstein
Ruward
2016-09-18T00:00:00Z
What a fantastic host, arrived ill and Brig took me to the Doctor in next village. Made cups of tea and drove us to train in morning as so ill. Bed was super comfy and great shower. Close to town but in quiet spot. Brig has loads of info and is happy to share. Would not hesitate to stay again.
Di
2016-10-22T00:00:00Z
超好的夫妇俩!超级推荐!Super super nice couple! They treat us just like family members. Together with all the other guests, we enjoyed an unforgettable breakfast in the morning and got super useful help from the couple. Highly recommend!!!
炜
2016-10-02T00:00:00Z
We had a lovely stay at birgitt.she and her husband are nice and easy going, the flat is nice, and quiet.a really good stay!
riccardo
2017-01-15T00:00:00Z
Oda Tipi
Özel oda
---
Mekan Türü
Daire
---
Konaklayacak Kişi Sayısı
2
---
Yatak odaları
Buchs, Sankt Gallen, İsviçre
Bizim mülkiyet RAFIs yer (URL HIDDEN) bir çift kişilik yataklı iki oda sunuyoruz. çay-kahve ve özel banyo ile TV, mutfak ayrı bir salon alanı bulunmaktadır. çevre sessiz ve pastoral. dinlenmek için ideal. Bizim konaklama toplu taşıma ve parklar yakındır. Sen, konfor için görüş ve insanları benim konaklama seveceksiniz. Benim konaklama çiftler, yalnız maceraperest, iş seyahatleri ve aileler için iyidir
Bizimle kendi oturma alanı vardır. Oda oturma odası, mutfak ve banyo. Ayrıca uzun konaklamalar için ideal. Mutfak da elbette kullanılabilir. evin önünde park etme olanakları. Kitabın merkezine yaklaşık 20 dk. evimize yürüyerek. En yakın otobüs durağı 5 dk. yürüyerek. Bölge her türlü Şnorkel Geziler için idealdir. Yürüyüş, bisiklet, kültür ya da kayak. En yakın yamaçları 30 dakika değil. Bizden uzak.
Sessiz, kırsal ve ailesel bir ortam. Ve yine bir şehrin ortasında birkaç dakika içinde olduğunu.
Very nice, clean and spacious apartment. Easy to find. Beautiful views.
Leslie
2017-03-31T00:00:00Z
Thomas is a nice person and we had a wonderful stay at his place. This is one of the places I've ever stayed with the highest quality-price ratio. I highly recommand it to people who wants to visit this beautiful region.
Hsueh-Yung
2017-04-02T00:00:00Z
Very clean, secluded, charming apartment with beautiful views. Thomas was a thoughtful host with attention to detail: clean, comfortable beds; well-equipped kitchen; bathroom supplies; lots of books and videos; local tourist info; and bedside water carafes. Loved the newly remodeled bathroom with bathtub, which is rare in Europe. Thomas and family live in unit below, so was available for questions.
Jim
2017-04-01T00:00:00Z
Overall, a great place, great view, and just great!
Matt
2017-02-19T00:00:00Z
Lovely place, very clean and very comfortable . Would definitely recommended !
oksana
2017-03-26T00:00:00Z
Thomas and his family were very welcoming to us and made our stay a pleasant one. The apartment was really spacious and clean. It has everything you would need. Highly recommend it!
Hussain
2017-03-06T00:00:00Z
Thomas is a very nice host. The apartment was comfortable , very clean. It was perfect. Thank you Thomas
Loïc
2017-04-09T00:00:00Z
Gemütlich eingerichtete Wohnung mit neuem Bad. Preis-Leistung stimmt auf jeden Fall.
Philipp
2017-02-20T00:00:00Z
Oda Tipi
Tüm ev/daire
---
Mekan Türü
Daire
---
Konaklayacak Kişi Sayısı
4
---
Yatak odaları
Buchs, Sankt Gallen, İsviçre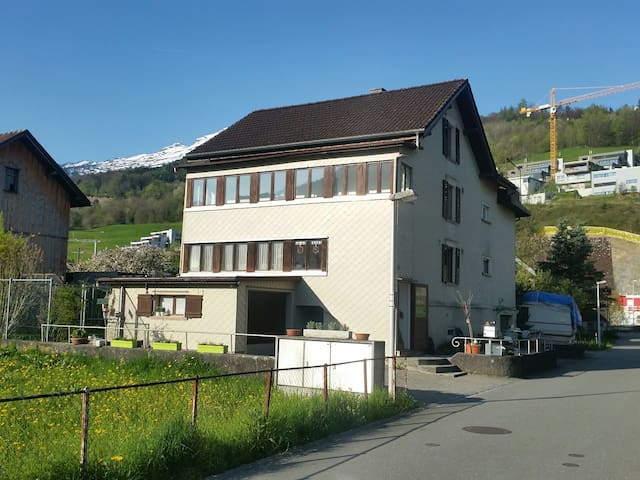 OFFER !! PERIOD 5 MAY TILL 3 JUNE FROM € 795 FOR € 598 P.W. LUXURY 2 - 6 PERS APARTMENT SWITZERLAND FLUMSERBERG/LAKE WALEN FOR HOLIDAYS IN ALL SEASONS IN SPRING, SUMMER AND AUTUMN REST, WALKING, CYCLING, MOUNTAIN BIKING, WATERSPORTS ALSO MANY POSSIBILITIES FOR A FANTASTIC FAMILY HOLIDAY The apartment is located in the beautiful park-like Resort Walensee/Flumserberg in the neighbourhood at the village Unterterzen about 100 km from Zurich.
The apartment is on the ground floor and is luxurious and fully furnished. Living room with flat screen tv with international channels, multimedia player, Wi-Fi, a wood-burning stove, dining area, open kitchen with induction hob, dishwasher, microwave, convection oven, large refrigerator, coffee maker, three bedrooms with double beds in each room and a wardrobe, two bathrooms, a bathroom with bath/shower, sink and toilet and a bathroom with shower and sink. A second separate toilet is also provided. In the basement there is a locked storage room and a communal washing machine. Elevator. Private covered parking space for 1 car. Sunny terrace with beautiful view.
HOLIDAYS IN SPRING, SUMMER AND AUTUMN Whichever season you also come to Lake Walen, you will always enjoy a great holiday. Lake Walen and the Flumserberg offer the visitor many opportunities. Do you like water sports then you can your heart's content. Are you a Walker, a dense network of 150 hiking trails runs through the holiday region. The same applies for the cyclists among you. Also many cycling routes are tailored to your needs. The mountain biker can use marked bike trails. Children very happy. Apart from the beach at the resort, the ability to swim, the water cycling and other water pleasure, the area offers plenty of other nice features for the whole family. Peace and quiet The resort is on a beautiful location on the Lake and between the mountains. The apartment is located in a beautifully landscaped park with walking trails, also along the Lake. The area offers you peace and quiet also plenty of other options for you to enjoy. Numerous villages congregate around the Lake, where each town has its details. The passenger boats sail the entire season on the Walensee and do most lakeside locations. The cable car that within walking distance of the apartment is located, brings you the whole year the Flumserberg on and off. Above you will find restaurants with terraces where you can relax. Through a beautiful and good road is this place also by car. You can also use the car plenty of beautiful trips. Walking A dense network of 150 km hiking trails runs through the holiday region. There are easy, medium and demanding hikes. Of all types of walks there is ample choice. During the trips to get magnificent vistas and wonderful places. Also, for example, walks on the Flumserberg are very much in demand. All villages around the Lake by hiking trails. Cycling and mountain biking Or you are a touring bike or a mountain bike tours, there are more than enough for both routes. You can use the normal bike without too much height difference. For the mountain bikers are among you there are plenty of mountain bike trails mapped out, which in all likelihood of you more effort is required than you are used to in Netherlands. A challenge for many is the 17 km long bike ride to the top of the Flumserberg. The Intersport shop in the resort located rents bikes, mountain bikes, e-bikes and all other necessary materials. This you may want to book in advance. Family holiday For a stay during the school holidays the Resort Walensee for both the parents and the children a very good destination. Especially during the summer vacation one can enjoy the beach and everything that goes with it, such as swimming, pedalos, surfing, diving and sailing with a motorboat. For the little ones there are spread throughout the park plenty of playground equipment. Naturally the family during all holidays lots of other fun activities to do. One can for example with the nearby cabin course or car the Flumserberg on to delicious walking, in one of the restaurants to use something and possibly with the toboggan run a piece to go down. May a boat trip on Lake Walen certainly not lacking. For the elderly and young people always a fun break
Oda Tipi
Tüm ev/daire
---
Mekan Türü
Daire
---
Konaklayacak Kişi Sayısı
6
---
Yatak odaları
Quarten, Sankt Gallen, İsviçre
In this cozy appartment with 4 sleeping rooms, a balcony, parquet floor and an astonishing mountain view, you will rapidly feel at home! The flat ist central in Vaduz, you can reach the city in 5 min walking, the bus in 1 min!
The room was clean with good views of the surrounding mountains and walking distance from Central Vaduz and the Old wooden bridge. The bed is a lot more comfortable than it looks. Simeon was a great host also!
Nikki
2017-04-02T00:00:00Z
Regarding Vaduz: don't expect (too much) nightlife here.. But in other places not far away, it's being equalized. Regarding the room: Although we'd been quite late for arrival, Simeon was still waiting and nonetheless an open and friendly host. As we arrived late in the evening, we were delighted about the hotel-like condition of both bathroom and bedroom, because we just wanted to get to bed. The mountain view mentioned in the room ad is really great btw! Shortly: I'd definitely stay here another time. Nice place, nice host :) And for this price there's no better choice.
Vincent
2017-04-05T00:00:00Z
This is an centrally located place in almost the centre of Vaduz and the people are great fun. If anyone visits Vaduz I would recommend them to stay here and it's very clean as well.
Sibhi
2017-03-10T00:00:00Z
Had a great stay, beautiful view from the bedroom window, brilliant value for money! Friendly and helpful! Would definitely stay here again! A+++
Natalie
2017-03-04T00:00:00Z
Simeon was easy to communicate with. The room was pretty basic but a good value. Thanks!
Craig
2017-03-07T00:00:00Z
We had an excelent stay in this nice apartment in Vaduz. Breakfast on the balcony with mountain view is the best! And guys are really great, talkative and easygoing. It was fun, hope we meet again in Prague. I can recommand this place for everyone.
Jan
2017-03-26T00:00:00Z
I never got to meet Simeon, but his friends Stefan and Vincent were very friendly. They offered to drive me to some sights, though I never needed it as I ended up spending the whole time in Vaduz center looking at museums, the castle and the surrounding area. They also offered me a free meal, brought me to a supermarket to buy groceries and were chill to hang out and drink with in the evening. It was nice to get to know them a little and learn some facts about Lichtenstein and Germany, while trading a few travel experiences and talking about my home. The place is nice student flat with 3 rooms for the tenants, a kitchen, a living room and the guest room for AirBnB. The guest room is very modest with a simple double bedframe and a fairly thin mattress and a table and chair. The kitchen was a little dirty and messy, but I never really used it to cook so I didn't really mind. Besides, that's to be expected in a student flat. All in all I'd say the place is absolutely fine for a two night stay, and is in no way as rowdy as you might fear.
Kristian
2017-03-17T00:00:00Z
Oda Tipi
Özel oda
---
Mekan Türü
Daire
---
Konaklayacak Kişi Sayısı
2
---
Yatak odaları
Vaduz, Vaduz, Liechtenstein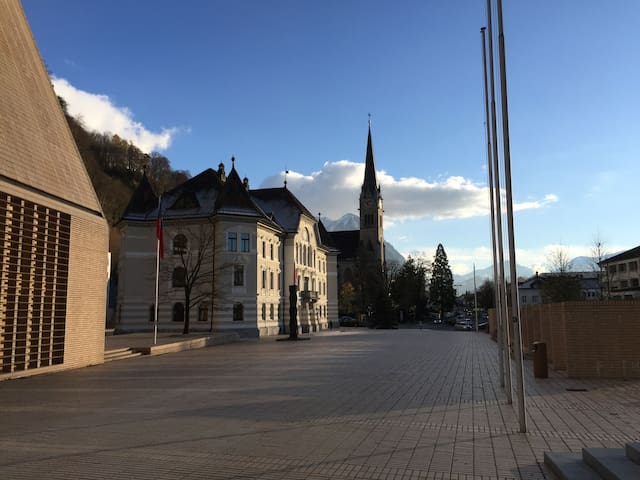 Flumserberg - Tannenheim Direkt an der Skipiste: Charmante 3.5 Zi-Wohnung inkl. Wellnesszone Geeignet für Paare, Familien oder Einzelpersonen Wohnung: Wunderschöne Aussicht auf die Berge Ruhig gelegen, grosszügig, 95m2 Cheminée (für Wochenmieter) Eigener Sitzplatz (sonnig) 1 Tiefgaragen- & 1 Aussenparkplatz Wellness (direkt zugänglich, freie Benutzung): Grosser Whirlpool Sauna, Infrarot, Solarium, Fitness Skiraum Lift ÖV und Einkaufsmöglichkeiten in der Nähe
Ehemaliges Hotel mit Wellness-Bereich & separatem Skiraum
Absolute Topunterkunft, wunderschön und komplett eingerichtet, toller Wellnessbereich, perfekte Lage direkt an der Skipiste, sehr freundliche Gastgeber - kurz: besser geht eigentlich nicht!
Marco
2017-03-03T00:00:00Z
Wunderbar. Jedederzeit wieder
Silvan
2017-01-15T00:00:00Z
Fantastische Unterkunft! Bequeme Anreise mit dem Auto, da sowohl Aussenparkplatz wie auch Garagenplatz vorhanden. Super charmante Inneneinrichtung und atemberaubende Bergsicht (Churfirsten!) aus beiden Schlaf- und dem Wohnzimmer. Es ist alles vorhanden, fehlt an nichts. Direkter Zugang zu Schlittel- und Skipiste. Der Wellnessbereich im Haus ermöglicht erholsame Stunden nach dem Outdoorplausch. Sensationelle Betreuung per Email, alles ausführlich dokumentiert und Daniela ist super freundlich. Danke!
Fabienne
2017-01-29T00:00:00Z
Location was great, close to the tannenheim lift and you could also access the slopes just 20 meters from the house. The place was exactly like in the pictures and the sauna and jacuzzi area was a big plus. Daniela responded quickly to all questions and was a fantastic host.
Larissa
2017-02-04T00:00:00Z
Daniela's appartement is van alle gemakken voorzien, het uitzicht is fenomenaal, de ligging is zeer gunstig (3 min afstand van de piste) en Daniela's ontvangst was erg vriendelijk. Ook is de inrichting erg sfeervol. Top! Volgend jaar weer.
Diana
2017-02-23T00:00:00Z
Daniels's Wohnung war einfach ein Traum. Wir waren zu viert mit 2 Babys dort.Die Wohnung ist super groß und unglaublich gemütlich und schön eingerichtet. Alles vorhanden was man braucht...von der Kaffeemaschine bis zum Wäschetrockner. Ein Käsefondue und der tolle Kamin runden die tolle Einrichtung ab. Der Whirlpool und die Saune im Haus sind zudem großartig und in 5 min Fußweg ist man an der Gondel. Daniela war super nett und hilfsbereit. Tolle Gastgeberin:)! Wir waren begeistert und können die Wohnung sehr empfehlen!
Oliver
2017-01-08T00:00:00Z
Daniela's place was great for our five day stay over New Years. The decoration is exactly as shown in the pictures and there is plenty of comfortable furniture to lounge in front of the large fireplace, and a very well stocked kitchen to make anything you want. The beds are very comfortable and the sauna/jacuzzi facilities are great to relax after a day on the slopes or a hike. The location is very convenient, close enough to town to walk. The view is fantastic out of both bedrooms and the living room! Daniela was a great host, very communicative. Definitely recommended!
Paul
2017-01-02T00:00:00Z
Mit sehr viel Liebe und Stil eingerichtete Wohnung. Man hat sich sofort wohl gefühlt. Perfekt für einen tollen Aufenthalt in den Bergen.
Nadja
2017-01-22T00:00:00Z
Oda Tipi
Tüm ev/daire
---
Mekan Türü
Daire
---
Konaklayacak Kişi Sayısı
4
---
Yatak odaları
Flums, Sankt Gallen, İsviçre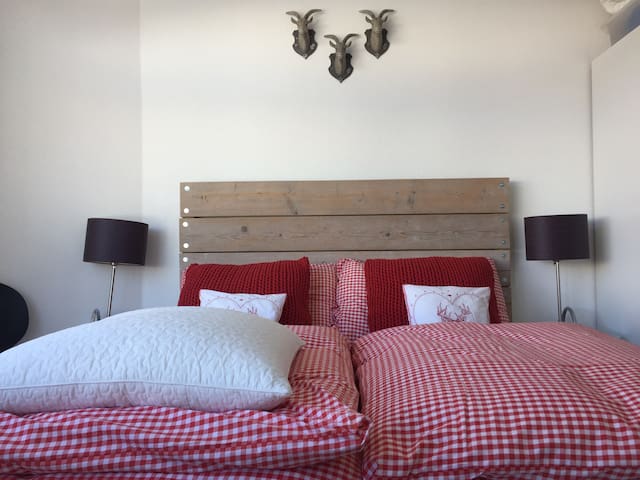 Studio (only NO SMOKING) with separate entrance Bath / WC small KITCHEN OFFICE with 1. Induction hotplate and fridge
Oda Tipi
Tüm ev/daire
---
Mekan Türü
Daire
---
Konaklayacak Kişi Sayısı
2
---
Yatak odaları
Wildhaus, Sankt Gallen, İsviçre
New right on the slopes. Sauna solarium gym see available. Garage and charging point for electric vehicles 16 Amp
required Creating No vehicle for skiing skis and off you go. Charging station for electric cars for free with 16amp
Oda Tipi
Tüm ev/daire
---
Mekan Türü
Daire
---
Konaklayacak Kişi Sayısı
4
---
Yatak odaları
Flums, SG, İsviçre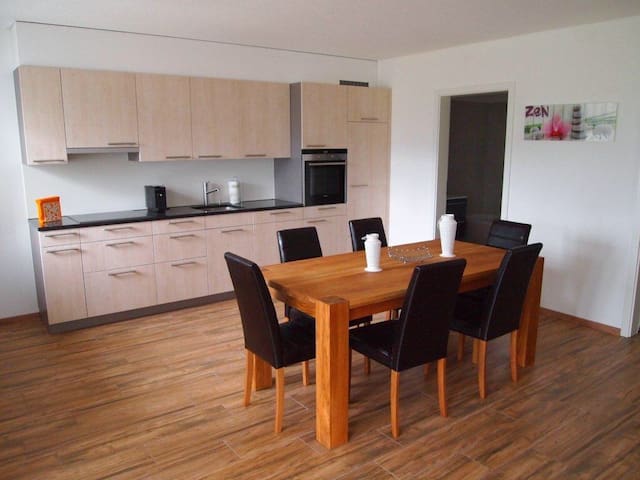 The studio has a separate entrance and a floor space of about 25sqm add a small hallway 2.3qm and a bathroom with about 8qm. In the studio is a kitchen integrated with stove and all necessary dishes and cooking utensils. Furthermore, there is a toaster a water cooker and also a coffee machine which works with capsules. Coffee capsules, various teas as well as milk and sugar are available free of charge.
The accommodation is in a quiet side street with perfect connection to the local transport (about 3min to the bus). Triesenberg is one of the oldest communities in Liechtenstein and belongs to the Walsers. For hiking enthusiasts, there is a lot to do here, such as the legendary trail and hiking in Malbun to Austria. Wintersportfreund also at their expense in Malbun (about 10min bus trip) there are several lifts and runs an ice rink as well as for children a own small realm with lift and departure. In Malbun there are also several restaurants, bars and a cash machine. In the district of Steg there is a cross-country ski run as well as a 1.5 km long natural cycle track. In summer, paragliding flights from the nearby Gaflei are also offered. In the summer as in the winter the restaurant Sarais is very recommendable it is on 1600m and can be reached by the chairlift. Also mountainbikers come here at their expense there are everywhere good possibilities to go to its limits the routes are well signposted including km and time.
Very nice studio in a lovely chalet, with cosy furnitures and decoration. Very nice view of the Rhein valley from outside. Gabi and Mike are very nice and warmhearted.
Bertrand
2016-10-29T00:00:00Z
Everything was perfect! Our hosts were really helpful and open for us. We absolutely enjoyed our stay in their place! Would definitely recommend them!
Juris
2016-10-17T00:00:00Z
The is no place to buy stuff like food. But it is just not necessary. The host prepared everything for the guest. And they are so friendly and kind. What is needed more? Nothing!
TAEEUN
2016-11-15T00:00:00Z
A wonderful place with a breath taking view! The suite is located above their home and has more then any hotel offers. The suite can accommodate up to three people and has a full kitchen. The bathroom was large with excellent water pressure and temperature. The complimentary foods was a big bonus since we like to snack :-) A parking spot in the driveway added to the convenience. A beautiful church, a bakery, a grocery store and a few restaurants are within a 10 minute walk.
Philip
2016-11-26T00:00:00Z
Wonderful hospitality. Plenty of food. The amenities are great. Very convienient for skiing in Malbun...beautiful!!
Chris
2017-01-23T00:00:00Z
It is a wonderful place! The hosts are super attentive to their guests! Thank You, Gabrielle and Mike !
Liliya
2017-02-07T00:00:00Z
Unfortunately we can give only 5stars. Otherwise, 10 would be appropriate. Gabriele and Mike are very friendly and prepare their very nice airbnb apartment with many nice details which make you feel really welcome. And of course, the location on top of the mountain with the beautiful view is yet an other advantage. Best AirBnB we ever did. Richard und Milagros
Richard
2016-12-19T00:00:00Z
Mike and Gabriele were wonderful hosts, very enthusiastic and friendly people! Their place was very nice and cozy, and the mountains across the valley were beautiful. There was plenty of trailheads for hiking just five minutes away.
Daniel
2016-12-05T00:00:00Z
Oda Tipi
Tüm ev/daire
---
Mekan Türü
Daire
---
Konaklayacak Kişi Sayısı
3
---
Yatak odaları
Triesenberg, Triesenberg, Liechtenstein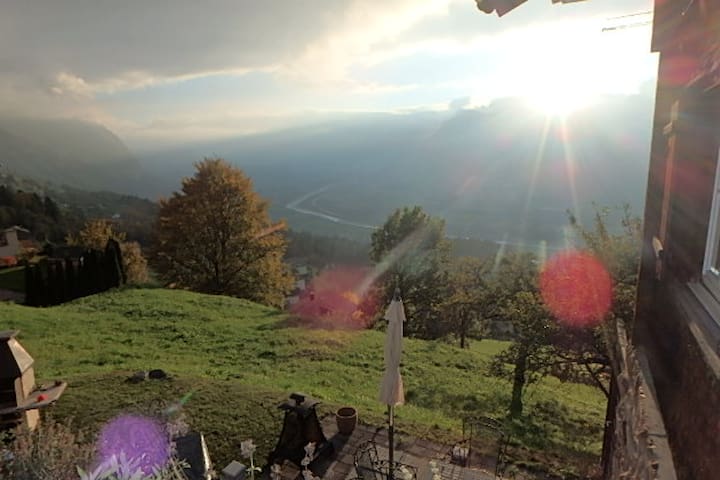 Die Wohnung befindet sich direkt gegenüber vom Skilift!! (Tannenbodenalp) SHORT STAY-ZUSCHLAG: 1 Nacht 200chf, 2-4 Nächte 120chf. Bar bei Übergabe. Vom Teekocher über ein Fondue-Set, bis hin zum Tiefgaragenplatz, findest du hier alles vor was man für ein paar Tage Entspannung in den Bergen benötigt. Die Einrichtung ist neuwertig & voll funktionstüchtig. Die Küche verfügt über eine komplette Einrichtung, so können Sie sich auf Wunsch "wie Zuhause" selbst verwöhnen. 2 Balkone mit Traumblick.
Dieses Apartment ist sehr geschmackvoll eingerichtet, neuwertig, TOP-Standort und ideal für 2 bis 4 Personen. Eine 5. Person könnte notfalls zusätzlich auf dem Bettsofa (normal für 2 Personen) schlafen. Geschäfte, Restaurants, Infostelle Flumserberg , Skischule, Übungslifte, Bergbahnen etc. im Umkreis von 500m. - 2 Balkone mit tollem Ausblick auf die Berge - Ski-Trockenraum - Tiefgarage-Stellplatz für 1 Auto - Küche mit kompletter Einrichtung - Alle Geschäfte innerhalb weniger Minuten erreichbar.
So nah wie hier wirst du nie mehr an einer Skipiste mit Skilift wohnen. Die Nachbarn sind hier die Berge, sie werden dich mit einem tollen Panorama verwöhnen.
Die Wohnung liegt wirklich ideal im Skigebiet Flumserberg, sodass eine Mittagspause im Appartment kein Problem darstellt. Die Zimmer sind sehr groß und gut eingerichtet. Hilfreich ist auch die Tiefgarage mit Skiabstellraum im Keller, das Gepäck transportiert man bequem in Aufzug. Für unsere Familie mit 2 Kindern ein guter Ort für Skiurlaub.
Simone
2017-03-02T00:00:00Z
Tolle Lage! Ideal für Skiferien mit kleinen Kindern, da die Skischule und Skipiste von der Wohnung nur 3 Gehminuten entfernt sind. Die Wohnung ist genug gross für eine 4-5 köpfige Familie.
Youngmi
2017-02-25T00:00:00Z
We had an excellent stay, only bad thing is that if you don't stay for a week there is a surcharge in cash also there is a tourist tax that was not mentioned before coming. Sammy was very accommodating working out a deal with the surcharge, just something to Keep in mind. Excellent place would defiantly recommend super close the the ski lifts and in a perfect spot over all. definitely would stay again!
Adam
2017-02-05T00:00:00Z
We were so pleasantly surprised by this flat and its location! It is much lovelier than the pictures posted, and the location really couldn't be better. We had a quick mini vacation with our family of four and our dog. Monika had homemade cookies on the table, the couch bed was already made for the kids. The closest ski lift wasn't open while we were there (that one is directly across the street), but the next one up the hill was still an easy walk. The views were gorgeous! The hiking goes on forever. It is right beside the Visitor Center. The flat was well equipped and even had games. There was a small issue with the lack of hot water on one day, oddly it was back in he morning. We also didn't realize there was wifi available for purchase, not free with a provided login. Good to know, but I should have realized that. Overall, wonderful experience that would have been beautiful in any season! Thank you for sharing your space :-)
Linsie
2016-12-28T00:00:00Z
Sehr gut gelegene Wohnung! Gastgeberin war überaus freundlich und hilfsbereit.
Suzana
2017-01-01T00:00:00Z
Super Wohnung! Sauber , sehr nahe an der Gondelstation, einfachen und unkompliziertes ein-, auschecken.
Jasmin
2017-02-17T00:00:00Z
Oda Tipi
Tüm ev/daire
---
Mekan Türü
Daire
---
Konaklayacak Kişi Sayısı
5
---
Yatak odaları
Quarten, Sankt Gallen, İsviçre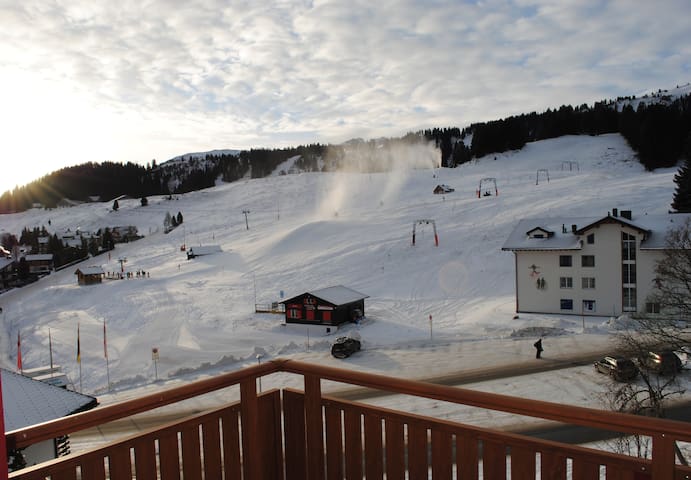 Das neue Wohn- Bad- Schlafzimmer (keine Küche)mit grossen Fenstern charmantes Bauernhaus mit einer 270 Jahre alter Esche. Für die Seele eine Wohltat. Herrliche Aussichten Nahe am Ski- und Erholungsgebiet alles zu Fuss erreichbar. Neue Bergbahn Gipfelrestaurant Herzog & de Meuron. Auf Wunsch: Sauna, Gemeinsame Küche, Sonnenterrasse
Wunderschönes Wochenende, haben uns sehr sehr wohlgefühlt bei Robert! Sehr empfehlenswert!
Steven
2016-12-18T00:00:00Z
Als rege Airbnb-Nutzerin habe ich schon einige Unterkünfte erlebt. Noch selten hat mich eine Location so positiv aus den Socken gehauen wie diejenige von Robert! Echte Spitzenklasse!
Patrizia
2017-01-15T00:00:00Z
Such a beautiful and romantic place! I arranged a surprise weekend for my husband to watch the Perseid meteor shower and Robert's private apartment was the perfect setting for it. The location is ideal for star gazing, hiking (only a five minute stroll to the mountain railway station) and simply exploring. The home was well-kept, quiet, clean and extremely welcoming. Highly recommend this wonderful spot.
Mardiana
2016-08-14T00:00:00Z
It was awesome! Amazing place - clean and tidy. Robert did a great job with his house. You will def enjoy your stay in Unterwasser!
Elena
2016-10-17T00:00:00Z
We had a great time in the house. The apartment is much nicer than what you can expect from the photos. The location is perfect if you want to enjoy the Swiss landscapes.
Cesar
2016-08-19T00:00:00Z
This was a perfect house located very close to the centre of Unterwasse and mountain lifts. Ideal for walking the extensive footpaths. We had our own outside entrance with spacious bedroom, bathroom and dining/living room. We also had direct access to the kitchen. Robert was a great host and offered the use of all the outside facilities. He was always available to get good local advice. I would definitely stay again add recommend. My wife and I had a great stay. Thank you! :-)
Graham
2016-07-07T00:00:00Z
Wir haben uns sehr wohl gefühlt und alles hat super geklappt. Obwohl wir sehr kurzfristig gebucht hatten. - Vielen Dank!
Philippe
2016-09-25T00:00:00Z
Ein Nacht nur, wir fühlten uns wohl und ruhig aufgehoben in der gemütlichen neuen und grosszügigen Wohnung. Die Bilder vermitteln einen guten Einblick. Draussen in der Nacht die Sterne geniessen. Hervorragender Ausgangspunkt um die Natur in der Umgebung zu geniessen. René
René
2016-07-10T00:00:00Z
Oda Tipi
Tüm ev/daire
---
Mekan Türü
Daire
---
Konaklayacak Kişi Sayısı
4
---
Yatak odaları
Unterwasser, SG, İsviçre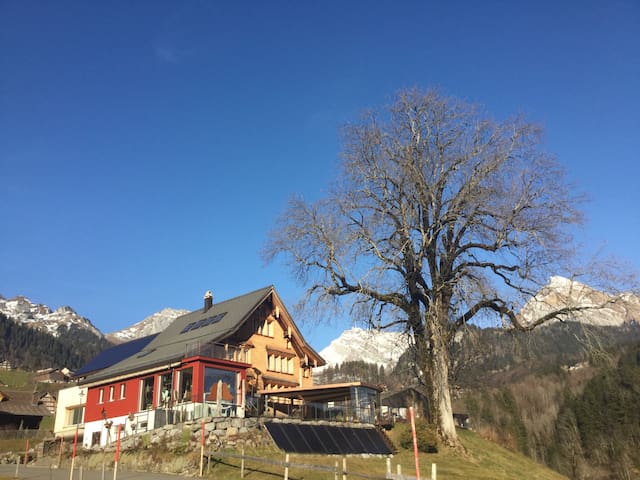 My little guest room in my appartment is a nice place to stay for holidays: you have the perfect nature all around: lakes, mountains, river... it s amazingly beautiful. Half of the rent pay goes as donation for Bali Streetdogs! ((URL HIDDEN) I have 2 loving dogs - that nobody should be afraid of...
My place is 200m apart from the cristel clear and beautiful Walensee (lake) and right next to amazing beautiful hiking and land "Glarnerland". Its surronded by mountains. From here you can start amazing hiking, biking, or boat trips , surf or climb - anything you wanna do in swiss mountains. You share the appartment with me (if im around) and get your own little guest room. I have seaview, balcony and 2 very friendly small dogs, who make you feel comfi (if you like (URL HIDDEN) happy to advice you with trips or might even be able to take you to places. You can use my internet or anything you need. I now have WLan (Wifi). Weesen is a small little village , right at the lake - with pretty little harbour and restaurants. Bus connection is right at front - train also available. Come and check it out - i try to make you feel comfi. The rent is donation for my animal welfare association (BAWA - (URL HIDDEN) (URL HIDDEN) - so if you want to do a good thing for poor streetdogs in Bali - come and stay :) ! Im 1 Hour from Zürich (60km) or Liechtenstein.
beautiful nature, lake very nearby - see pictures
die mel ist ein sehr lebensfreudige gastgeberin. so bunt wie ihre wohnung ist auch ihr leben und ihr charakter. für gute tips und hilfe wo es nur geht, hat sie sich bei mir ein eintrag ins buch für "einmal wieder vorbei kommen" verdient. wer kochen möchte kann sie gern überraschen. :-))) lg matthias
Matthias
2013-12-13T00:00:00Z
Mela ist eine tolle Gastgeberin mit 2 knuddeligen Hunden. Sie hat mir super Tipps für meinen Start in der Schweiz gegeben. Das Zimmer war sehr sauber und gut eingerichtet. Alles in allem ein gelungener Aufenthalt. Werde Mela wieder besuchen :-)
Karl-Heinz
2014-07-07T00:00:00Z
Melanie's apartment is very cute and very homely. Her dogs are the cutest and the view from her balcony is a great site to watch the sunset that overlooks the lake. Very close to the lake and Melanie was a kind and open host. The lake is a great place to escape to and just sunbath and do some reading by the lake with minimal people around. Highly recommended if you are around the area and need a quiet and relaxing detour.
Thuy
2012-08-20T00:00:00Z
Mel's village is as beautiful as it can be. It's a photographer's dream. Within walking distance, you can practice long exposure photography on a nearby waterfalls, sunrise and sunset photography on a pebble beach and harbor. You can also go hiking on many trails up to the mountains or around the lake. Opportunities are endless and only limited by your time and physical abilities. Oh and when you're here, you must visit Liechtenstein to cross it off your list because it's about 90 min away by public transportation. Mel likes to share with guests whatever she has and that was very kind of her. I'd love to come back and see what I didn't have the chance to see last time.
Timothy
2015-04-27T00:00:00Z
Melanie was a great host and very good-natured; luckily for me as I arrived much later than we had arranged! The flat is in a good location, with great views and the bedroom was spacious and comfortable. It's a shame I couldn't have stayed longer as Weesen looked to be a great place and Melanie's apartment was a really nice, relaxing place to stay. Oh yeah, and her dogs were really sweet too!
Julian
2013-08-22T00:00:00Z
I had a fantastic time at Mela's place! Mela is a wonderful person, full of energy, easy going and funny. Her apartment is filled with the feeling of her amaizing life and very comfortable and homey. The best home I've ever been. The nature around is just unbeatable and breathtaking! Mountains, lake, waterfall, river, snow, sun.... Ahh, wish to be there again... Thanks sooo much Mela! :-)
Judit
2015-12-17T00:00:00Z
Staying with Mela was a wonderful experience! Lake Walensee is a perfect area in Switzerland. Mela was kind enough to show me around a bit as well. The property is great. But really what made it a good time was Mela. She's got the biggest heart of anyone you'll ever meet, and the dogs to match :)
Quinten
2016-08-14T00:00:00Z
Das Zimmer ist ruhig gelegen, in direkter Nähe zum Walensee und mit vielen Wandermöglichkeiten in den Bergen und im "Heidiland". Die Gastgeberin war sehr freundlich, Zimmer und Bad sauber und ordentlich. Bei Bedarf werde ich gerne wieder dort übernachten.
Martin
2014-11-29T00:00:00Z
Oda Tipi
Özel oda
---
Mekan Türü
Daire
---
Konaklayacak Kişi Sayısı
1
---
Yatak odaları
Weesen, Sankt Gallen, İsviçre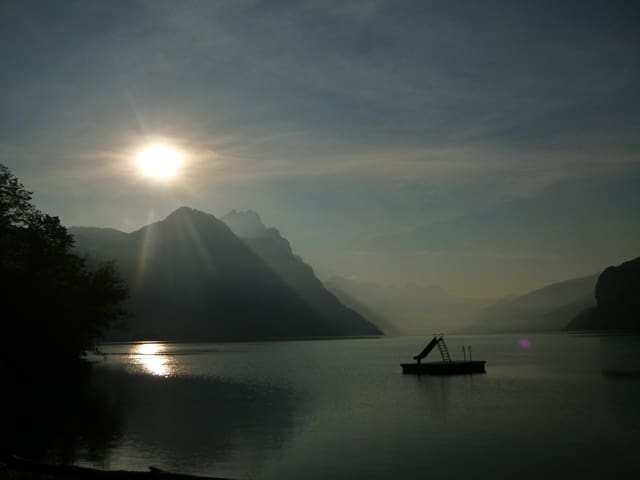 Meine Unterkunft ist in der Nähe von Skigebiet, Wanderwegen Hallenbad, Walensee, Wassersport, familienfreundliche Aktivitäten. Du wirst meine Unterkunft lieben wegen der Ausblick, die Lage und Platz im Freien. Meine Unterkunft ist gut für paare, alleinreisende abenteurer, geschäftsreisende und familien (mit kindern).
Oda Tipi
Tüm ev/daire
---
Mekan Türü
Daire
---
Konaklayacak Kişi Sayısı
1
---
Yatak odaları
Amden, St. Gallen, İsviçre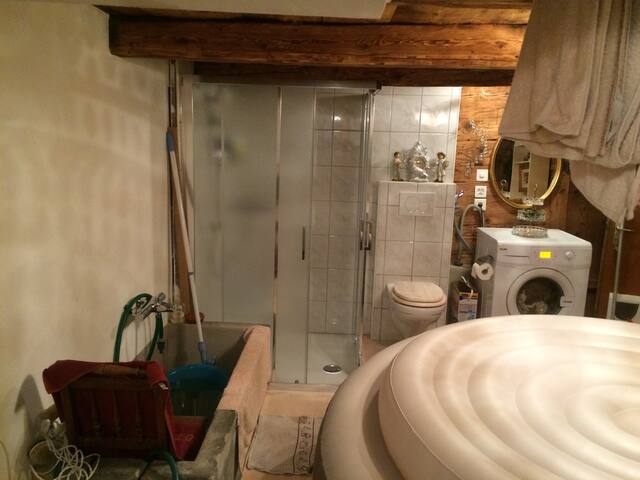 Nice 2 bedroom apartment with panoramic views of the Churfirsten. The house is located on a top location immediately after the pass Wildhaus (village center, shops, ski, etc.).
Living Room: The living room has 2 beds (proper beds: slats and mattress), which can be easily lowered. As well as a dining area with (4-6 Seats) be together for a cozy and a TV (Swisscom TV). Bedroom: The bedroom has a double bed and 2 cupboards, which provide plenty of storage space is available (incl. Hangers). Bed linen is provided and already dressed on arrival. Kitchen: The kitchen is fully equipped for 6 persons (plates, soup plates, glasses, cups, dishes, pans, pots, can opener, corkscrew, etc ...) tea towels, dishwashing liquid, cloth, dishwashing brush are provided (incl.). Bathroom: The bathroom has a sink, a shower and a toilet. (no bathtub). Bath linen set / pp (bath, hand and washcloth) are free for you. Basement or storage room: Very suitable for storage of fruits and vegetables / drinks. In this room there is also a Reisebettli, highchair and a bed guard for our younger guests (free). When using the Reisebettli the apartment of 5 persons (2 beds, 2 beds, travel cot) can be used.
Uncomplicated and very nice neighbors.
Sehr netter Kontakt, hat alles bestens geklappt und der Aufenthalt war sehr schön!
Reto
2017-03-26T00:00:00Z
Michaela und Dani sind tolle Gastgeber. Wir wurden herzlich willkommen geheissen und haben uns trotz des kurzen Aufenthalts gefühlt wie zu Hause. Die Wohnung war sehr sauber, hat der Beschreibung absolut entsprochen und auch die Betten (auch das Schrankbett) waren sehr komfortabel. Die Aussicht auf die Churfirsten ist noch eine tolle Zugabe. Wir kommen gerne wieder!
Miriam
2017-01-29T00:00:00Z
Michaela und ihr Mann sind tolle und sehr freundliche Gastgeber. Wir konnten mit allen unseren Fragen und Wünschen zu Ihnen kommen und sie waren immer sehr zuvorkommend. Die Wohnung ist super gut gelegen um ins Skigebiet zu kommen. (Skibus keine 5 Minuten von der Wohnung entfernt). Alles war vorhanden und sehr sauber. Im Badezimmer haben wir den warmen Fussboden und die heissen Heizungen in den Zimmern geschätzt um unsere nassen Skikleider zu trocknen. Super ist auch der eigene grosszügige Eingangsbereich mit viel Garderobe und Platz für Schuhe, Skis etc. Es hat uns sehr gut gefallen und wir kommen gerne wieder.
Silvia
2017-02-04T00:00:00Z
Our stopover at Michaela's place was like a drem come true! We arrived wishing for a cosy place and snowfall. Woke up in the morning with overnight fallen fresh snow! The outlook was like a dream, over a nice valley onto the neighbouring mountainsides! Everything looked like in storybooks! Absolutely beautiful! Our host welcomed us in a warmest possible way, the setup was great, clean, fresh, neat, just like in the description! (special note: great shower) Would suggest to anyone wanting a superb experience!
Michael
2016-12-19T00:00:00Z
Michaela is a very friendly and welcoming host and we had a great stay! The apartment is clean, a good size with great views of the mountains. I would love to go back in the ski season as its in the perfect location, close to the chairlifts.
Gemma
2016-05-02T00:00:00Z
This living space was perfect for the 4 adults who stayed here. The apartment was super clean and had everything that we could possibly need to be comfortable (clean linens, towel, kitchen tools/utensils, coffee machine, and great parking! Our hosts were so very kind and hospitable, which made our stay even better!
Anne
2016-07-08T00:00:00Z
Michaela is a nice person and was very helpful and contactable throughout our stay. She speaks fluent English as well as a few other languages including German. While we were there she provided information on places and what ever else we had questions about. The apartment is as listed on here with the photos of the inside. The views from outside the apartment can't be captured by the photos, they are amazing! We sat out on the balcony / patio area a few times and just relaxed. The neighbourhood is fantastic, there is a supermarket and local shops less than 200m from the apartment and some nice hotel restaurants with great terraces if you want to eat out. The people I met in the village were really friendly and you get a feeling of being in an amazing part of the world. I really enjoyed staying at Michaela's place.
Vikas
2016-05-25T00:00:00Z
Michaela was a great host. Her home was clean and comfortable, and having a crib for our baby was a big bonus. She made us feel welcome in the house. She even offered to book us a reservation for dinner at a local restaurant which helped as we don't speak any German. The pictures of her house are accurate. The view is amazing. If we are ever in the area again we would definitely stay at her house again. I highly recommend Michaela if you're in the Wildhaus/Buchs/Liechtenstein area.
Warren
2016-04-26T00:00:00Z
Oda Tipi
Tüm ev/daire
---
Mekan Türü
Daire
---
Konaklayacak Kişi Sayısı
4
---
Yatak odaları
Wildhaus, Sankt Gallen, İsviçre
Meine Unterkunft ist in der Nähe der Bergbahn Oberterzen-Tannenboden, Idealer Ausgangspunkt im Winter zum Skifahren, im Sommer für Wanderungen in den Bergen oder Baden im Walensee. Es gibt viele familienfreundliche Aktivitäten in der ganzen Region Flumserberg/Heidiland. Du wirst meine Unterkunft lieben wegen der Seesicht, der Lage und Umgebung. Meine Unterkunft ist gut für Paare, Alleinreisende und Familien (mit Kindern).
Gemütliche, ruhige Wohnung; Für uns als 5 köpfige Familie war es sehr gut geeignet
Peter
2016-09-05T00:00:00Z
We had a very good time at Patrick's property. Patrick responses to all our inquiries were very fast and helpful and he and his uncle were very nice and welcoming. The property was as described on the site and shown on the pictures with very beautiful view from the balcony to the Walensee lake and surrounding mountains. In the area we found plenty of attractions for us and our children - Alpamare (water park), Cliimber (Alpine coaster), Floomzer (a 2-km toboggan run) for example and, of course, a lot of nature with well developed hiking routes. There is a train station nearby; and with a car Zurich is just 1 hour drive away.
Ella
2016-08-21T00:00:00Z
Oda Tipi
Tüm ev/daire
---
Mekan Türü
Daire
---
Konaklayacak Kişi Sayısı
4
---
Yatak odaları
Oberterzen, Sankt Gallen, İsviçre

Geschlossen, auf der Suche nach neues Zuhause. Im Herzen von Weesen, eine Minute zu Fuss von der Promenade Walensee und Bushaltestelle finden Sie das helles Privatzimmer für 2 Personen mit WC, Dusche, Küche, Garten. Idealer Ausgangspunkt für Wanderungen, Velofahren, Wassersport, Schifffahrt.
Nette Nachbarschaft
Alles tip top gelaufen. Super Kontakt und stets sehr schnell per App bei Fragen zu erreichen. Empfehlung :)
Alexander
2016-08-31T00:00:00Z
Super...studio agréable, proche du centre avec un petit jardin pour manger dehors.
Céline
2015-08-04T00:00:00Z
Satu was a great host. We arrived here a bit later than planned and she was very accommodating to that. The flat is situated in a quaint town just steps away from an incredible view. We loved it so much we decided to book a second day and explore the city further. Pictures were just as described and everything was nice and clean. I would definitely recommend this place to others! Thanks again Satu!!
Kunal
2016-05-11T00:00:00Z
Satu was fantastic and the place was wonderful! we were able to find quick, free parking with the help of Satu and she supplied us with ideas of where to eat, where to visit and some nice walking paths. The area is absolutely gorgeous, walensee has a lot to offer any time of year
Anthony
2016-06-23T00:00:00Z
This was a very welcome break after a days cycling in the rain. Satu even provided an airer for us to dry off wet things. Kitchen was well equipped. Would recommend.
M
2016-09-06T00:00:00Z
Nice acommodation in the small village by the lake. Beds are simple but you have everything you need in the appartment very coveniently located. Satu was very nice welcoming us in her appartment.
Rodrigo
2016-09-11T00:00:00Z
Excellent accommodation in one of the most beautiful places. All we needed was there. Thank you Satu.
Tom
2015-10-06T00:00:00Z
Place is very well situated, nice and cosy. Satu is caring and very nice. We should come back at the summertime.
Rasa
2015-10-18T00:00:00Z
Oda Tipi
Tüm ev/daire
---
Mekan Türü
Daire
---
Konaklayacak Kişi Sayısı
2
---
Yatak odaları
Weesen, St. Gallen, İsviçre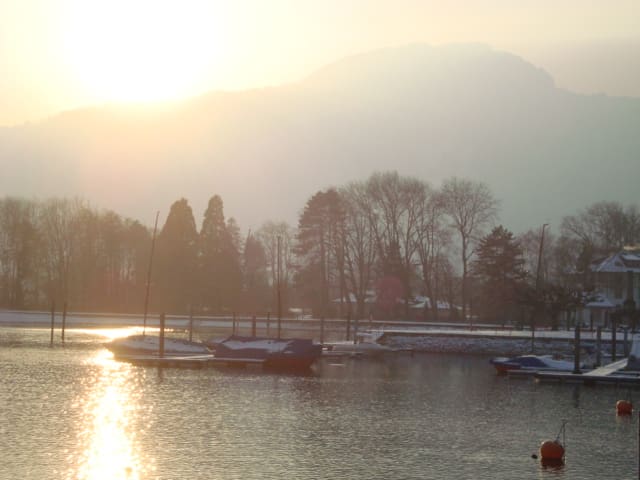 You can expect a very nice, newly renovated, very cozy apartment. 2 adults and 2 children. Quiet, yet centrally located. Underground parking, elevator, WiFi, TV. Separate kitchen with Glaskeranikherd, fridge-freezer, Nesspressomaschine, kettle, toaster, dishes, etc. Bed linen and towels is included.
Comfortable, quiet, fully furnished From the balcony amazing view to the mountains
Die Gastgeberin Käthy lässt es einem an nicht fehlen. Alles ist sehr gut organisiert, sie ist bei Fragen immer erreichbar und kümmert sich hervorragend um die Gäste. Wir haben uns sehr wohl gefühlt in der Wohnung, welche ruhig und zentral gelegen ist und mit allem ausgestattet ist, dass es braucht. Sehr empfehlenswert, 100% Erholungsfaktor
Reto
2017-03-13T00:00:00Z
Oda Tipi
Tüm ev/daire
---
Mekan Türü
Daire
---
Konaklayacak Kişi Sayısı
2
---
Yatak odaları
Wildhaus, SG, İsviçre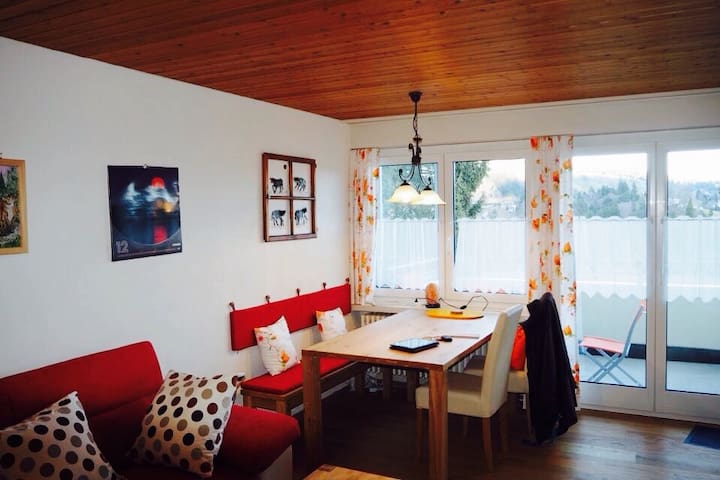 1

–

18

/

300+ Kiralık Daire
Tam fiyatlandırmayı görmek için tarihleri görün. Ek ücretler uygulanır. Vergiler ilave edilir.