Wir haben einen Pool im Garten und Reedley Strand ist über die Straße. Im Sommer können Sie Rafting auf dem Kings River gehen. Wir sind 1 Stunde. Fahrt vom Kings Canyon NP. Sequoia NP befindet sich direkt daneben. Sie können Hume Lake, Cedar Grove besuchen. Yosemite NP ist 2 1/2 Stunden Fahrt. Die Küste (West) 2 1/2 Stunden, San Francisco (North) und Los Angeles (Süd) sind in 3 1/2 Stunden. Im Winter können Sie in ca. 45 min im Schnee sein. Unser Platz ist gut für Paare, Solo-Abenteurer und Geschäftsreisende.
Wir leben in einem 125 Jahre alten historischen Haus, eines der ältesten Häuser in Reedley. Wir liegt direkt gegenüber dem Kings River sind (mit einem kleinen Strand). Es ist auch nur eine Stunde Fahrt zum Eingang des Nationalparks und ein wenig mehr als 2 Stunden bis zum Eingang des Yosemite NP.
Wir liegt direkt gegenüber dem Kings River sind (mit einem kleinen Strand).
Anita was an awesome host! We couldn't have ask for a better place to stay!
Alexandra
2016-09-02T00:00:00Z
Absolutely great hosts. Lovely people. Opened up their large, clean home to our 6 person group. Gave us great information on the national parks we were planning on going to the next few days. Great value - great people.
Eric
2016-12-29T00:00:00Z
Anita was very helpful with tips on the area. The home was beautiful, we had our own fridge with use of the kitchen. Also great landscaping, friendly dogs, and a ping pong table as a bonus.
Phil
2017-01-17T00:00:00Z
Anita was so caring and nice with us, very easy to talk to. We arrived late in the night and she was waiting for us. Her house is so nice and clean. We really loved our stay!
Sandra
2017-02-09T00:00:00Z
Comfortable beds in a family home. Anita was very helpful and welcoming.
Debbie
2016-12-30T00:00:00Z
None
Eric And Connie
2017-02-15T00:00:00Z
Great place and friendly host
Aaron
2017-03-30T00:00:00Z
Anita and Jan were great hosts! We were only there one night but they made us feel very comfortable and accommodated. The house is lovely and exactly as described. Would highly recommend.
Shane
2016-08-28T00:00:00Z
Oda Tipi
Özel oda
---
Mekan Türü
Ev
---
Konaklayacak Kişi Sayısı
7
---
Yatak odaları
Reedley, California, ABD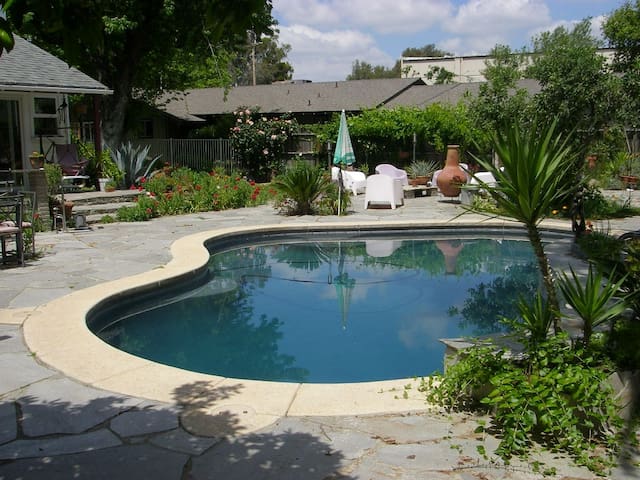 California's Central Valley at its finest! Enjoy Spring when fruit trees and foothill wildflowers are in bloom. Easy drive to 3 National Parks. Beautiful 100 year old 2 bath/bedroom ranch home with large yards sleeps 6 or more with pets allowed.
This is a fully renovated 100 year old 2-story 3000+ sq foot classic ranch home in rural S/E Fresno County (north of Dinuba and east of Reedley) in a rural agricultural setting amid a multitude of crops including citrus and stone fruit trees. Home is set back from road with long paved driveway providing ample space to park a number of vehicles. There are two complete upstairs bedrooms with full-sized beds, each sleeping two, plus a comfortable queen sofa-bed in the downstairs den. Both bedrooms have full closets and ample drawer space for extended stays. Two full baths with showers are located down/upstairs. All bath and bedroom linens are washed only with biodegradable, hypoallergenic and unscented detergent. There is a large kitchen and table for 6, plus formal dining room that comfortably seats another 12. Downstairs also includes a formal living room and separate den with large-screen TV and Blu-Ray player. Wireless Internet is included. See Guest Access information for pets. Smoking inside is prohibited. Guests will have access to entire property except garage, master suite and office which are locked off for exclusive use by owner along with adjacent ag/farm buildings. Access includes full front/rear yards (rear yard is completely fenced and includes a large, partially covered, redwood deck part of which is currently being renovated. A charcoal or propane grill is available by advance agreement with owner. Yards are pet friendly; pets are only permitted indoors in den entrance area and tiled kitchen/utility rooms, but not on remainder of property interior. Owner travels extensively with little advanced notice, so may or may not be on the property during time of reservation. This is California's rural Central San Joaquin Valley at its finest! Enjoy millions of Spring blossoms when fruit trees - and foothill wildflowers - are in bloom. Fresno County's famed Blossom Trail (bicycle and vehicle tour) is just minutes away. Only a short drive further are three of the nation's most popular National Parks, Kings Canyon/Sequoia and Yosemite, or the many other exploring and hiking opportunities of the Central Sierra Nevada mountains, including access to the famed John Muir Trail. Use this rental as a hub for a wonderful Central California experience! Private auto is needed for travel, though there is a local taxi service for the Dinuba/Reedley area. Fresno-Yosemite Intl Airport (FAT), offering a number of rental car options, is 30 miles away.
May/June 2016 Update: Picked daily fresh fruit (berries, cherries, nectarines, peaches, and plums) and vegetables are now available at a number of local roadside stands! This is an older agricultural neighborhood that is several miles from the closest towns, with a number of local families having lived here for over a century. Nearby towns offer a wide variety of shopping including (in Dinuba to the south) several "big box" stores (Walmart, etc), plus the historical and well preserved Reedley downtown area to the west and historic Kingsburg with its Danish heritage and cuisine 12 miles to the southwest. There are a wide variety of both American and ethnic eating establishments to choose from when dining out, from Armenian to Danish/Swedish to the best tasting "hole-in-the-wall" & "taco coach" plus full sit-down Mexican choices to very high-end steakhouses.
Thanks very much John to have us in your beautiful place! John is an excellent host, thoughtful and warm hearted. We talked lots about Portland where I am living and surrounding area of the his property. He gave us very detailed instruction about the traffic. The house is also beautiful and very well maintained. We feel lucky to be in John's place. Definitely recommend to everyone!
MARY
2015-05-01T00:00:00Z
John's home was roomy and spacious. We had such a relaxing weekend. It was raining for the two days we were there. But we still have a great time hanging out in his den and cooking in the kitchen. Thanks to john's attentive details, we will definitely coming back.
Kimi
2016-03-06T00:00:00Z
John's place is very spacious and full of old world charm. The kitchen is well stocked with all the appliances ( with the exception of a dishwasher which would have been nice) utensils and crockery that you would expect. It is well located for access to Kings Canyon and Sequoia National Parks and we enjoyed memorable days out at both parks. Yosemite is do-able but it is a long drive to the gate and another hour into the heart of the park, so I would not attempt it. John was a great host and provided lots of help and advice prior to our arrival.
Nigel
2016-10-09T00:00:00Z
John was a great host and very knowledgeable about the area. Not only did he give us very specific directions to and from his place, he also sent us of with some locally picked fruit.
Galen
2015-05-21T00:00:00Z
The House was spacious and we loved it. John met us for the check in time and nicely described where everything was. He was very kind of giving us fresh oranges that were growing in the big plantation, near the house for us to make juice in the morning. We constantly stayed in contact and John replied right away. Thank you very much for welcoming us into your beautiful house.
Inessa
2017-01-07T00:00:00Z
If you want to explore the southern Sierra Nevadas, this is a great place to stay! Within striking distance of three national parks, and there are restaurants a reasonable drive away. Also close enough to Fresno (and the airport there) to be useful. Beds are full and not queen (as advertised, so no surprises there), and in colder weather the house is a bit chilly (although the pellet stove was fun to use!). If those two things are ok for you, then this place is fantastic - a charming older house with good size and great privacy. Good for a family vacation, a home base for trips around the area.
Jeffrey
2016-11-26T00:00:00Z
Welcomed us and was helpful
Michael
2016-09-04T00:00:00Z
John was an excellent host and very helpful on all the logistics! We will definitely stay here again in the future! Exceeded our expectations on all fronts!
Scott
2016-02-12T00:00:00Z
Oda Tipi
Tüm ev/daire
---
Mekan Türü
Ev
---
Konaklayacak Kişi Sayısı
6
---
Yatak odaları
Dinuba, California, ABD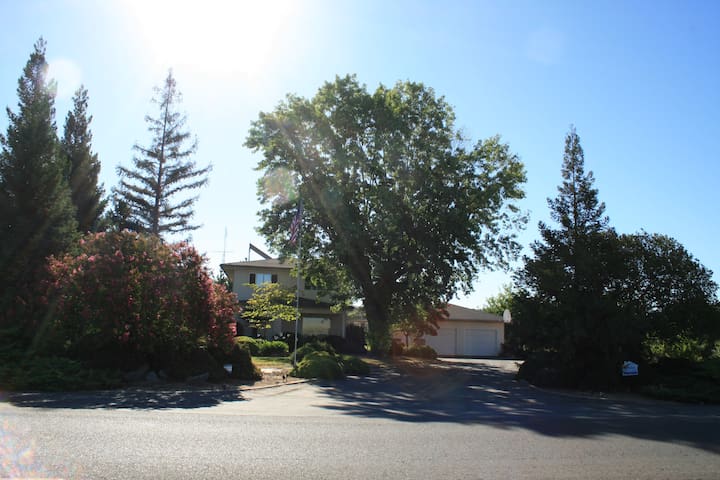 Perfect home for anyone wanting to check out the national parks in the area! Wish we could have stayed a few more nights, even just to play with the beautiful doggies.
Hayden
2016-11-21T00:00:00Z
Our stay was short but great. Easy access to Kings Canyon and Sequoia National park only about 1.5 hours away. Yosemite is about 2.5 hours away but worth the drive. Anita was a pleasure and gave us great tips on where to go in the park.
Flor
2016-10-10T00:00:00Z
Jan and Anita were very accomodating! The wild lemons and grapefruits they had were delicious and their two friendly dogs really made this a memorable stay! Thanks guys :)
Remy
2017-01-17T00:00:00Z
The room was cosy and large. The welcome was warm. The informations about the Kings Canyon was accurate and relevant…in brief this is a good stopover.
cedric
2016-12-30T00:00:00Z
You will be home away from home in Jan and Anita's place. Great hosts!!!
Carolyn
2017-02-14T00:00:00Z
Anita and her dogs were very welcoming when we arrived, which made us feel comfortable. The room was very spacious and clean. I liked that the room had its own entrance. Overall it was a good experience!
Gerardo
2016-10-08T00:00:00Z
As we are from the Netherlands as well this was a pretty obvious pick. We stayed here for one night (place to sleep going from Sequoia to Yosemite the next day). Anita is very knowledgeable when it comes to these national parks and she helped us out a lot to plan a route for Yosemite. The place itself was great. The house layout was pretty cool. Also, as a dog owner myself being on vacation (and having to miss them), it's nice to see their dogs. Also, with Reedley being a reasonably small town it's rather complete when it comes down to restaurants and stores.
Boy
2016-11-11T00:00:00Z
Great house :) Anita and Jan are very nice and give great advices! The neighborhood is quiet, perfect for relaxing after a hike in the national parks (next to the house). It is a lovely place that I recommend to everyone :)
camille
2016-12-04T00:00:00Z
Oda Tipi
Özel oda
---
Mekan Türü
Ev
---
Konaklayacak Kişi Sayısı
2
---
Yatak odaları
Reedley, California, ABD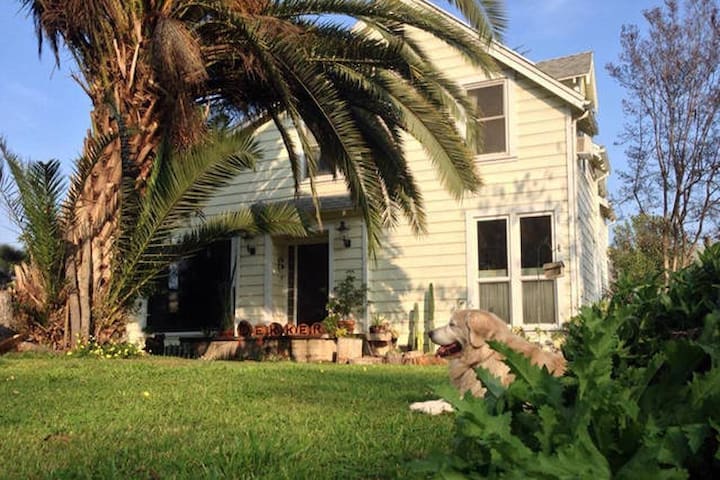 Very comfortable exceeded my exspetations
william
2017-02-17T00:00:00Z
Oda Tipi
Özel oda
---
Mekan Türü
Ev
---
Konaklayacak Kişi Sayısı
2
---
Yatak odaları
Reedley, California, ABD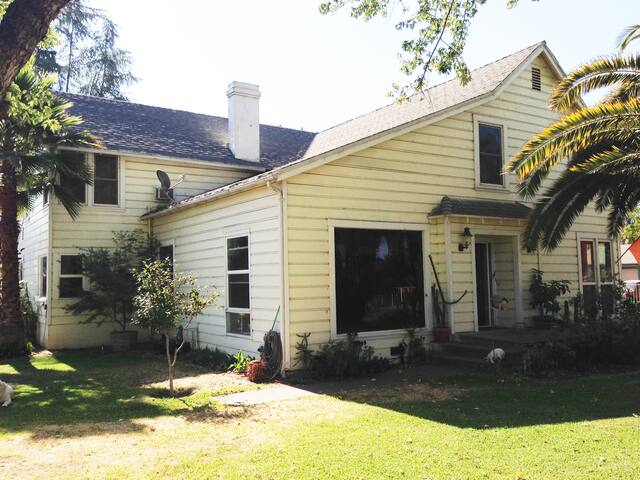 Tam fiyatlandırmayı görmek için tarihleri görün. Ek ücretler uygulanır. Vergiler ilave edilir.