Our apartment is situated in the heart of the city of Rieti, 600m from the station and close to the central square (800m) where, typically occur gastronomy fairs. The apartment is completely renovated, consists of a large living room with kitchen, two bedrooms and two bathrooms. Renovated and furnished with care, it can accommodate up to 6 people for a pleasant stay in our beautiful city.
Bellissimo appartamento .enorme super pulito .consigliato .
Cristina
2017-03-07T00:00:00Z
la casa ė in centro ed in 5 minuti si raggiungono a piedi le vie del passeggio ed i principali luoghi di interesse. molto pulita e curata ma soprattutto veramente enorme. attrezzata con tutto quello di cui si può aver bisogno.
Andrea
2017-03-03T00:00:00Z
Eastwood è un padrone di casa eccellente, simpatico, disponibile e accogliente. La casa è meravigliosa: ampi spazi, cura dei particolari, posizione centrale eppure molto tranquilla. Consiglio vivamente a professionisti per viaggi di lavoro, coppie e famiglie.
Tantra PadmaYoni
2017-04-02T00:00:00Z
Casa molto bella, con tanto spazio, calda e super accessoriata. Tutto funzionante, Eastwood e molto cordiale, disponibile e sorridente. Casa ideale per famiglie.
Giuseppe
2017-03-22T00:00:00Z
Oda Tipi
Tüm ev/daire
---
Mekan Türü
Daire
---
Konaklayacak Kişi Sayısı
6
---
Yatak odaları
Rieti, Lazio, İtalya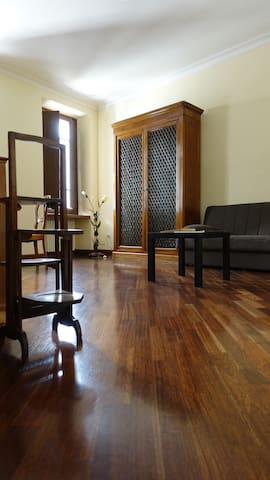 Spacious and airy master bedroom with private bath and 2 balconies and a big garden. 1 hour by bus from Rome in a central and quiet area.
Oda Tipi
Özel oda
---
Mekan Türü
Misafir suiti
---
Konaklayacak Kişi Sayısı
2
---
Yatak odaları
Rieti, Lazio, İtalya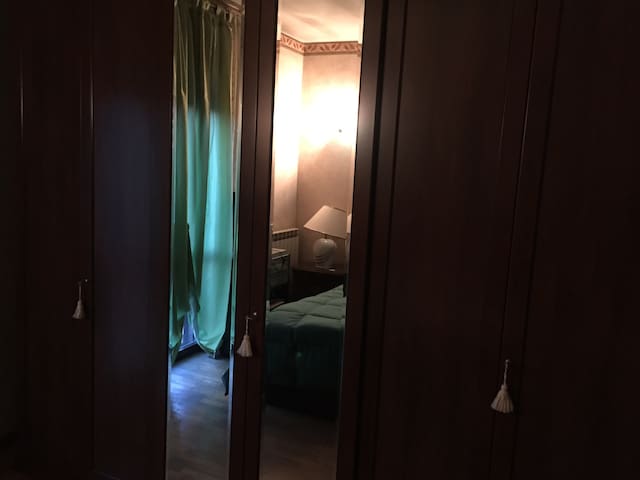 Oda & ücretsiz kahvaltı, her zaman bol, çarşafları ve duş (şampuan, sabun ve banyo tek kullanımlık köpük) için gereken her şeyi ile kahvaltı. Evin, geniş, aydınlık, temiz ve güzel bir şekilde dekore edilmiş. Bu sadece yürüme mesafesinde, tarihi merkezin duvarları dışında, şehir merkezinde yer almaktadır ve faiz, dükkanlar ve restoranlar birçok noktada bu nedenle yakındır. iki büyük yatak odası, kendi özel banyosu, dinlenme odası ve mutfak ile her bulunmaktadır.
tarihi kent merkezine bir taş atımı. Sadece duvarları dışında bulunmaktadır. Park her zaman kullanılabilir. Yaklaşık 750 m tren istasyonundan yer.
bnb sadece eski şehir duvarlarının dışında, şehir merkezinde güzel bir mahallede yer almaktadır. tüm dükkanlar ve kullanışlı hizmetler vardır
Soggiorno perfetto, Sara molto disponibile e attenta alle esigenze. Tornerò sicuramente:)
Simone
2017-02-04T00:00:00Z
Sara è stata cordiale e disponibile fornendo consigli utili per il soggiorno a Rieti. L'appartamento era pulito e spazioso. Il quartiere è residenziale alle porte della città, si trova parcheggio facilmente e in 10 min a piedi è possibile raggiungere il centro storico.
Amedeo
2016-10-29T00:00:00Z
The whole apartment is very spacious, nice and clean. Sara is a great host!
paula
2016-10-10T00:00:00Z
El trato es familiar.... Y no te sientes un extraño.... Es perfecto
Manuel
2016-09-13T00:00:00Z
Camera pulita e spaziosa, prima colazione abbondante, proprietaria gentile e precisa.
Domenico
2017-02-10T00:00:00Z
Everything was nice and clean! Great host! All necessary stuff provided! thank you
Stefan
2016-07-05T00:00:00Z
Sara si è rivelata un ottima host, si è informata dell orario del mio arrivo cosi che nessuno dei due ha dovuto aspettare. La casa è spaziosa pulita e dotata dei confort necessari , la colazione è stata piu che sufficiente. La consiglio in quanto l appartamento è a 10 minuti a piedi dal centro storico.
Mauro
2016-06-11T00:00:00Z
Sara offers a very nice room in a big apartment. She is a great host and knows her way around. The apartment is well situated; really close to the old centre and to the railway station.
John
2016-10-23T00:00:00Z
Oda Tipi
Tüm ev/daire
---
Mekan Türü
Oda + Kahvaltı
---
Konaklayacak Kişi Sayısı
5
---
Yatak odaları
Rieti, Lazio, İtalya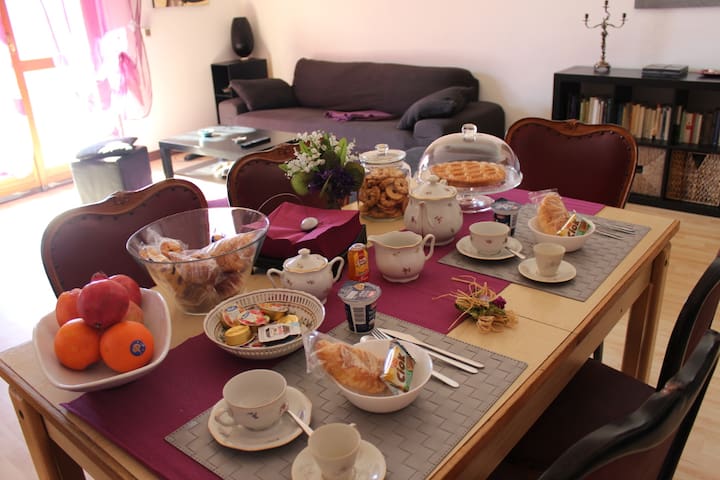 Single room with one queen bed in a shared apartment with kitchen, living room, lounge, two bedrooms, two bathrooms
L 'Penthouse and' very quiet and bright with a beautiful view of Monte Terminillo, tastefully decorated room, there is a single bed and a half a wardrobe with library and a large desk, window overlooking Viale G. De Juliis
Quarter just outside the historic center, reachable on foot in about 10 minutes or by bus, stopping 50 meters. Convenient shopping center 200 meters away with a supermarket, tobacconist, bars and shops of all kinds
The host canceled this reservation 8 days before arrival. This is an automated posting.
Giuliano
2017-02-13T00:00:00Z
Oda Tipi
Özel oda
---
Mekan Türü
Daire
---
Konaklayacak Kişi Sayısı
1
---
Yatak odaları
Rieti, Rieti, İtalya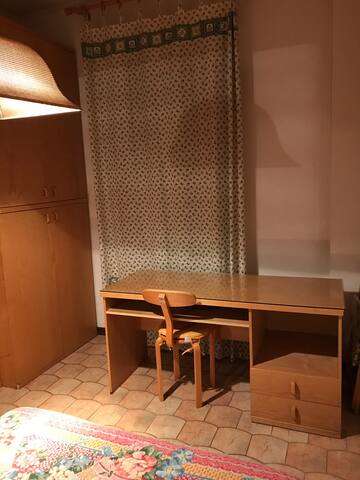 My accommodation is in the town center. Suitable for couples, lone adventurers and business travelers.
Giancarlo made me feel right at home in his beautiful place in the heart of old Rieti, and was a great communicator and gentleman. It was a joy to wake up to the beautiful views...out of every single window! The photographs don't do it justice -- just gorgeous. I would highly recommend a stay here to soak up the history and ambiance of Rieti!
Deb
2016-10-16T00:00:00Z
Giancarlo was very helpful and welcoming. The apartment is beautifully light and quite spacious with lovely views from each window. It is well equipped and very homely. We very much enjoyed our stay here. Ideally situated for visiting all sights in and around Rieti.
Tony and Rachel
2016-10-30T00:00:00Z
Location :ottima , in pieno centro Struttura: insping, come sentirsi a casa propria... Ospitalità : cordiale, discreta affidabile Prezzo: molto affordable! Lo consiglierei ai miei amici
Nicola
2016-10-02T00:00:00Z
Giancarlo lascia a disposizione dei suoi ospiti la sua casa, arredata con gusto e arricchita da oggetti e ricordi di pregio. L'appartamento è in pieno centro storico ma in un luogo appartato e silenzioso, in un palazzo che mostra i segni del tempo ma molto affascinante. L'appartamento ha una vista romantica sui tetti di Rieti quasi a 360 gradi ed è accessoriato con tutto quanto serve anche per soggiorni medio-lunghi. Ottima la comunicazione con l'host e le tempistiche di consegna e riconsegna delle chiavi.
Flavia
2017-02-22T00:00:00Z
Oda Tipi
Tüm ev/daire
---
Mekan Türü
Daire
---
Konaklayacak Kişi Sayısı
2
---
Yatak odaları
Rieti, Lazio, İtalya
It located in a strategic area since the Piazza Cavour, the starting place of public transport, a short walk from the historic center but also from the promenade on the river Velino, for those wishing to spend a relaxing weekend.
The apartment is not inhabited. The bed and mattress are new. Linen towels etc .. are always clean and fragrant. Station ready for PC connection Internet fastweb via wi fi cable. Tv. The sofa is very large and comfortable is not a sofa bed but for a single person is more than enough. The windows overlook the square. within walking distance there are bars, shops, post offices, banks, courts, bus stops and public transportation, downtown, river walk, athletics stadium, convents etc .. all easily reached on foot in 2 minutes.
If you feel like there is the opportunity to visit the picturesque places that offers the city. ON FOOT: Roman bridge, river walk velino, historical site, the monastery s. antonio the mountain, the square of the lira, sn rufo Square (the center of Italy) Cottorella source springs, underground Rieti.
Damiano è stato un host molto disponibile e gentile. La casa è pulita ed esattamente come si vede in foto. Posizione ottima per raggiungere il centro di Rieti a piedi.
Roberta
2017-02-26T00:00:00Z
Grazie Damiano per la vostra gentilezza, mi sono trovato davvero molto bene a Rieti. Spero un giorno di poter ritornare. Ciao Pietro
Pietro
2017-01-08T00:00:00Z
Tutto bene tranne il bagno. L'host è gentile, la posizione è buona ma non ci si può far la doccia. C'è una micro vasca ma manca l'appendi doccino e non ci si sta in piedi xkè sopra la testa ci sta un ripiano.. pulizia da migliorare.. stabile datato.
Alessandro
2017-01-29T00:00:00Z
Siamo stati molto bene, Damiano è stato gentile e disponibile e l'appartamentino era bello e accogliente.
Andrea
2016-05-23T00:00:00Z
Damiano was great, met me promptly on my arrival and he has a lovely home in a very central area.
Andy
2016-10-16T00:00:00Z
Mi sono trovato benissimo in questo appartamento super centrale e con parcheggio, che mi ha dato la sensazione di essere a casa mia! l'ambiente è davvero familiare e vagamente etnico! Damiano è un ragazzo cordiale e molto disponibile. mi ha persino proposto di utilizzare per un'eventuale doccia la sua casa ben oltre l'orario di check out! grande!
Vincenzo
2016-08-31T00:00:00Z
Sono stato ospite di Damiano per tre giorni. Che dire? Un ragazzo gentilissimo ed educato. Essendo arrivato a Rieti in autobus e per giunta di sera si è offerto di venire a prendermi in macchina e mi ha accompagnato in appartamento. L'appartamento ha tutto il necessario e anche di più; è centrale e nei pressi ci sono una miriade di ristoranti dove allietare il proprio palato con la cucina reatina. Damiano,inoltre, mi ha anche permesso di lasciare i bagagli per riprenderli prima di partire, in modo da non doverli portare a lavoro. Sono le piccole accortezze che fanno la differenza. Se dovessi capitare nuovamente a Rieti sceglierei lui perché non mi ha fatto sentire un ospite ma un amico!
Francesco
2016-09-23T00:00:00Z
Ho soggiornato 7 notti nell'appartamento di Damiano, e non posso che esprimerne un giudizio positivo. L'appartamento è dotato di tutti i comfort e comodità, è situato in zona centralissima e permette di godere di un'esperienza di viaggio più che gradevole. Un apprezzamento particolare va a Damiano ed ai suoi genitori, che con la loro estrema gentilezza e disponibilità, fanno davvero sentire ogni ospite come a casa propria.
Salvatore
2016-12-11T00:00:00Z
Oda Tipi
Tüm ev/daire
---
Mekan Türü
Daire
---
Konaklayacak Kişi Sayısı
3
---
Yatak odaları
Rieti, Lazio, İtalya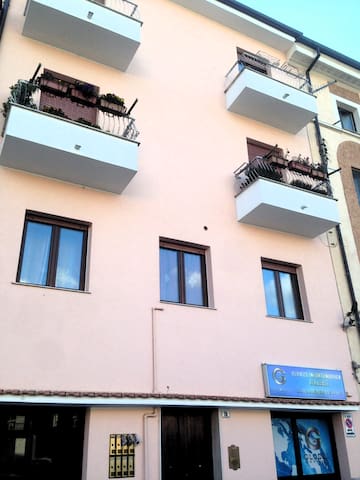 Lejligheden er beliggende i et roligt område af Rieti. At være så på dette område vil få mulighed for nemt at nå alle de mest interessante steder i byen og provinsen. Du finder alt du har brug for.
Lejligheden er beliggende i en bygning, der består af 6 boliger. Du vil finde en stue med en lille terrasse, et køkken, et badeværelse med stor bruseniche, en dobbelt og et soveværelse. Lejligheden er perfekt til dem, der søger en oase af ro og er et glimrende udgangspunkt for besøg i både byen i provinsen er også tæt på hospitalet, på stadion og den industrielle kerne. Et indkøbscenter og andre faciliteter er inden for gåafstand.
A very spacious, good value apartment. Great kitchen for cooking your own meals, Maria Luisa and her son Stefano made us feel very welcome and I would recommend this apartment if you have a car or bike - it's a couple of kilometres away from Rieti's centre and the road's not particularly safe for walking (fast cars, no sidewalk)
Jo
2016-05-09T00:00:00Z
L'appartamento è davvero pulito e ha il necessario per soggiornare. Graditissimo il kit per la prima colazione. Eravamo due coppie e ci siamo trovati davvero bene
Giovanna
2016-09-18T00:00:00Z
Casa pulita comoda e spaziosa. Host gentilissimo è disponibile sono stati benissimo. Se dovessi tornare a Rieti ci tornerei sicuramente!
Giuseppe
2016-06-27T00:00:00Z
Maria Luisa è un host molto premuroso. Non ci ha fatto mancare nulla!
Francesca
2016-11-27T00:00:00Z
Accogliente e familiare
Francesca
2016-07-14T00:00:00Z
Ho prenotato questo appartamento per i miei genitori ed il mio fidanzato. Nonostante ció, sono passata a trovarli ed ho potuto notare una casa spaziosa e pulita. I miei si sono trovati benissimo! L'appartamento non è a Rieti centro ma in pratica é vicinissimo e trovare parcheggio molto semplice. La sig.ra Maria Luisa, inoltre, è stata molto cordiale e disponibile, in casa ha fatto trovare tutto il necessario per la colazione. La consiglio.
Moena
2016-03-10T00:00:00Z
Our stay was great. The host is very kind. The apartment has a lot of light, it is clean and spacious.
Francesca
2016-09-15T00:00:00Z
Oda Tipi
Tüm ev/daire
---
Mekan Türü
Daire
---
Konaklayacak Kişi Sayısı
4
---
Yatak odaları
Rieti, Lazio, İtalya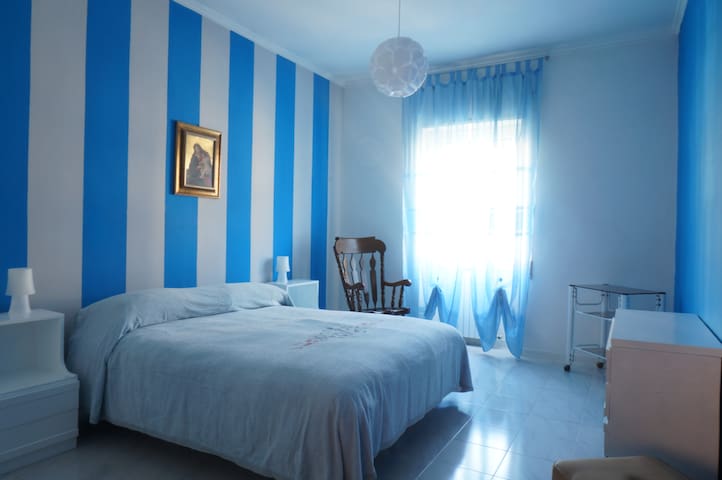 Nuestro apartamento se encuentra a pocos pasos del centro de la ciudad, cómodo, equipado con todo lo necesario para mantenerse en perfecta tranquilidad. Bares, tiendas, centros comerciales e instalaciones deportivas en los alrededores (campo deportivo "Raoul Guidobaldi" y Piscina Municipal)
El alojamiento cuenta con tres balcones, estacionamiento, dos TV, vajilla, ropa de cama para el cuarto de baño, refrigerador con el desayuno disponible. Va a encontrar folletos y mapa de la ciudad que le ayudarán a orientarse por su visita, centro comercial y varias tiendas en las inmediaciones, campo deportivo, parada de autobús
El barrio es el hogar de muchas tiendas, bares y restaurantes. El apartamento está en el corazón de la ciudad (aunque en una zona moderna, fuera del tráfico restringido) a pocos pasos del centro, cerca de la sede de atletismo, donde se encuentra el famoso Encuentro Internacional y cerca de paradas de autobús.
Stefania è stata una host molto cortese e attenta. L'appartamento è confortevole, ben attrezzato e vicino al centro. Il soggiorno ha soddisfatto le nostre aspettative. Lo consigliamo.
Paola
2015-12-29T00:00:00Z
Esperienza più che positiva. Ambiente accogliente ed elegante. Disponibilità, attenzione e familiarità hanno contributo a rendere piacevole e dvertente il soggiorno.
Valerio
2016-03-10T00:00:00Z
Bellissima esperienza, la casa è semplicemente stupenda con tutti i confort necessari e come riportata in foto, ma quello che abbiamo apprezzato è stata sopratutto la disponibilità e l'accoglienza di Stefania impeccabile!! consiglio a tutti questo appartamento! !!
emilia
2015-11-14T00:00:00Z
Stefania ed il marito sono stati gentilissimi ed accoglienti. L'appartamento è ben tenuto, spazioso e pulito. Ci siamo trovati molto bene.
Matteo
2016-07-05T00:00:00Z
La casa è grande, luminosa e ben organizzata. Il quartiere è tranquillo e a 5 minuti a piedi dal centro storico. Stefania è stata gentilissima e molto disponibile. Esperienza sicuramente positiva Grazie, Gianni e famiglia
Gianni
2015-06-02T00:00:00Z
The hosts were warm and welcoming upon our arrival and responsive in communication. The apartment is clean and looks as described. There is a market and a farmers market very close. We went to Rieti for a track meet and to our surprise the track was a two minute walk. This is a beautiful place and city to enjoy and explore.
Deborah
2016-06-28T00:00:00Z
L'appartamento è molto bello. Ottima l'accoglienza.
giovanni
2016-10-09T00:00:00Z
Oda Tipi
Tüm ev/daire
---
Mekan Türü
Daire
---
Konaklayacak Kişi Sayısı
4
---
Yatak odaları
Rieti, Lazio, İtalya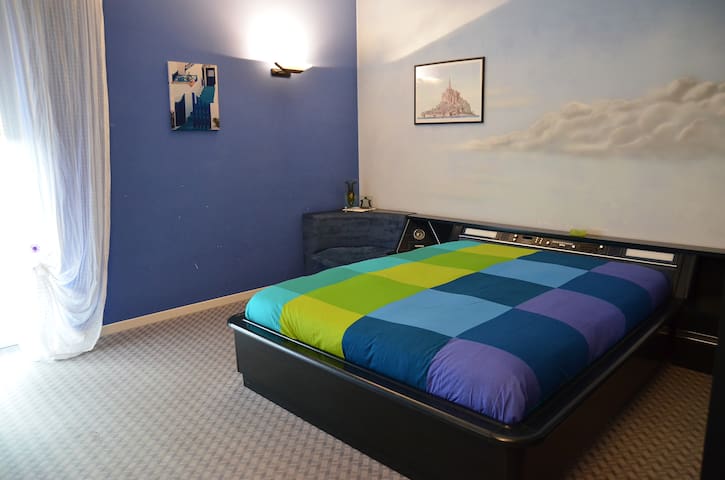 El B & B está a 60 metros de la zona peatonal fuera de la ZTL, perfectamente accesible en coche, a 100 metros de la estación de autobuses.
El B & B Piazza Cavour, que se encuentra en el centro de la ciudad y el centro de Italia, nació del deseo de compartir la maravillosa Rieti sentado a los pies del Monte Terminillo, atravesado por un encantador río Velino e inmerso en el Valle Sagrado. Hicimos toda la reestructuración con el objetivo de hacer que los huéspedes se sientan como en casa, pero en la comodidad de un hotel. Todas las habitaciones tienen baño privado con ducha grande, nevera, televisión, aire acondicionado y Wi-Fi. Desde los grandes ventanales se puede disfrutar de una hermosa vista de la plaza con vistas al río Velino. El B & B está a 60 metros de la zona peatonal fuera de la ZTL, perfectamente accesible en coche, a 100 metros de la estación de autobuses. Ofrecemos un desayuno de repostería casera y de alta calidad También sabroso desayuno bajo petición, sin gluten y lactosa.
I had a great time in Rieti , definitely want to go back . My room was gorgous , and the host was outstanding , making sure my stay was comfortable . I have good memories .
Dekitha
2016-10-10T00:00:00Z
Great place within the center of Rieti! Main downtown plaza and shopping street within 1 min of the apartment door. Host was very helpful! Very welcoming and greeted very warmly. I was doing research on the next town over (Antrodoco) and staying in Rieti was the perfect location to start and end each day in.
Austin
2016-06-30T00:00:00Z
ottima posizione; camere ampie, pulite e ben arredate.
Michele
2017-02-22T00:00:00Z
Nice and central stay in Rieti. The B&B has been very recently renovated, everything looks brand new. The room is spacious with a good bathroom and shower. The location makes it very easy to walk to the main parts to visit in the town. On the night I stayed the central street it was on was a little noisy but it ended at around midnight. Overall a good experience with hosts that are working hard to give great service.
Juan
2016-06-16T00:00:00Z
Oda Tipi
Özel oda
---
Mekan Türü
Oda + Kahvaltı
---
Konaklayacak Kişi Sayısı
2
---
Yatak odaları
Rieti, Lazio, İtalya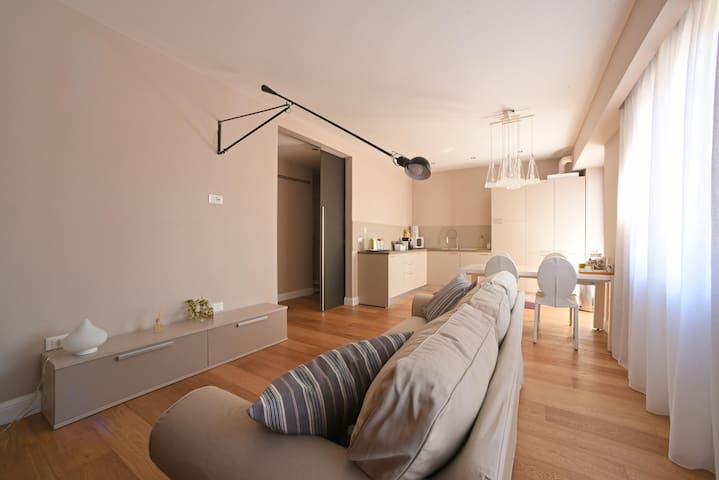 Iets meer dan een uur rijden van Rome, in het historische centrum van het middeleeuwse stadje Rieti, wonen in onze Rental heldere Vakantie in het hart van de Centrale Apennijnen.
Het Huis van 45m² is gelegen op de vierde verdieping van een historisch pand in het historische centrum van Rieti; er is geen lift, maar we zullen u helpen uw koffers, ook al vol met zware spullen, wandelen, handig als je wilt wat klimmen doen en wandelen in de omgeving. U zult twee bedden op een mezzanine (dubbele futon), maximale hoogte van 1,80 cm te vinden; twee andere grote zaal (grote slaapbank), ingerichte keuken, badkamer, open haard en een balkon met uitzicht op de berg Terminillo.
Het historische centrum van Rieti is vol met winkels, cafés, aperitieven, typische restaurants. Het interessante Museum en de oude ondergrondse wegen zal een goede afleiding in de dagen wanneer niet een bezoek aan de stad Rome of excursies te bewerkstelligen in de omgeving.
We had a wonderfull time in this beautifull apartment. It has everything you need and is nice and cosy. When you walk out the door your in the middle of the old centre of Rieti. Roberto recomended some restaurants to us wich were very close to the apartment where we had amazing food. We felt very welcome and it is definately worth coming back to.
Marloes
2016-07-30T00:00:00Z
Nuestra estadía en Rieti fue muy grata gracias al fantástico departamento de Maya y Roberto. Está bien equipado, es amplio, tiene hermosas vistas, y cuenta con un muy buen equipo de música. Roberto y Maya fueron muy amables y atentos con nosotros, son unos excelentes anfitriones, siempre preocupados de que todo ande bien. Recomiendo absolutamente este departamento en todo sentido.
Pablo
2016-07-15T00:00:00Z
La casa è un gioiello, ben arredata luminosa e pulita!! Roberto è di una gentilezza unica. Siamo state benissimo!
Tatiana
2016-04-17T00:00:00Z
Oda Tipi
Tüm ev/daire
---
Mekan Türü
Çatı Katı
---
Konaklayacak Kişi Sayısı
4
---
Yatak odaları
Rieti, Lazio, İtalya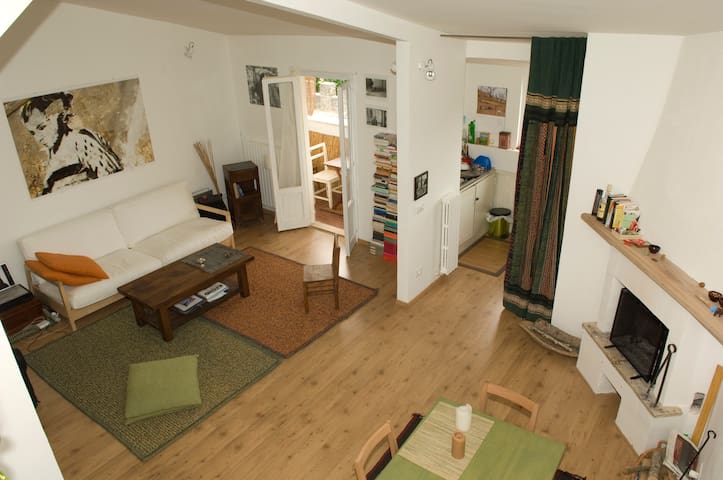 Notre appartement est situé au coeur de la ville de Rieti, près de la gare et à proximité de la place où, se produisent généralement des salons de la gastronomie. L'appartement est entièrement rénové, se compose d'un grand salon avec cuisine, deux chambres et une salle de bains.
la casa e molto bella e carina pulita si trova proprio nell centro a pochi passi dal bar supermercato ect..la mama di flavia ci ha aspettao anche se siammo arrivate in ritardo lei e stata molto gentile ci ha aspettato e ci ha datto dei consigli utili per visitare la citta e manggiare bene..che dire apartamento molto bello lo reccomando per chi voglie passare una vacanza a rieti...grazie a presto.
Cristina
2016-08-13T00:00:00Z
Sono arrivata a Rieti con tre amici, non avevamo un posto dove dormire e nel giro di pochissimo tempo ci siamo messi in contatto con Flavia. L'appartamento era vicino alla stazione. Flavia anche se era fuori cittá ci ha fatto accogliere dalla madre che ci ha trattati benissimo, facendoci trovare anche la colazione.
Elena
2016-08-07T00:00:00Z
Flavia che non ho conosciuto personalmente e sua madre che ci ha accolto sono persone molto disponibili e molto gentili, ed hanno contribuito a rendere piacevole il soggiorno a Rieti. L'appartamento è ben tenuto, pulitissimo, in pieno centro in posizione tranquilla. Assolutamente consigliato.
DANIELE
2016-08-19T00:00:00Z
Oda Tipi
Tüm ev/daire
---
Mekan Türü
Daire
---
Konaklayacak Kişi Sayısı
4
---
Yatak odaları
Rieti, Lazio, İtalya
The Angelo pellegrino is located in the district of San Francesco next to the namesake church in the heart of the beautiful and picturesque town of Rieti a stone's throw from the Italian Center (Umbilucus Italiae). Visit our page "The Angelo pellegrino"
Ottima accoglienza ed ottima sistemazione. La casa vacanze si trova esattamente al centro di Rieti, comodissima per chi intende muoversi a piedi visto che ogni cosa si trova esattamente a due passi (supermarket, tabacchi, ristoranti, ecc..) ed inoltre è molto vicina ad un ampio parcheggio, quindi non ci sono problemi neppure per chi abbia l'auto al seguito. All'interno è completamente nuova, molto pulita e dotata di tutto ciò che occorre per soggiornare confortevolmente. Il fatto di poter adoperare la cucina è da non sottovalutare per chi intenda alloggiare più giorni. Assolutamente consigliata!
Alfonso
2016-01-23T00:00:00Z
Appartamento centrale, bello e la proprietaria gentilissima. Lo consiglio vivamente
Barbara
2016-11-25T00:00:00Z
We arrived right at 2pm and Lucia was waiting for us. Our communication was a mix of English, Spanish, Italia and mind reading, which was so much fun. The apartment is absolutely lovely, private and comfortable and I would love to go back there and spend more time next time. My boyfriend and I highly recommend this place.
Erika
2016-09-25T00:00:00Z
Oda Tipi
Tüm ev/daire
---
Mekan Türü
Daire
---
Konaklayacak Kişi Sayısı
4
---
Yatak odaları
Rieti, Lazio, İtalya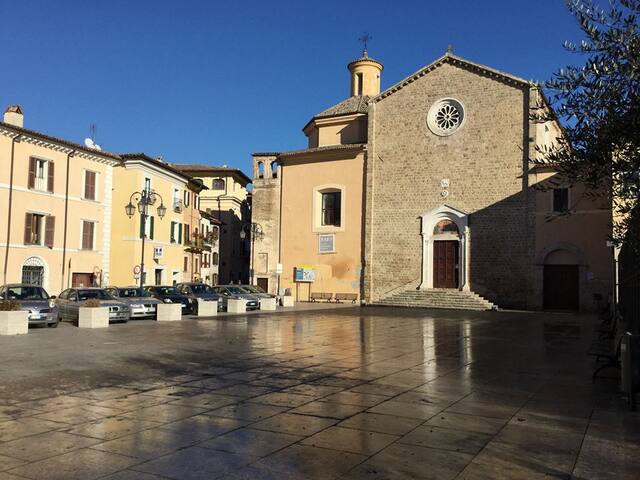 My accommodation is close to beautiful panoramic views. My accommodation is suitable for couples.
Oda Tipi
Özel oda
---
Mekan Türü
Villa
---
Konaklayacak Kişi Sayısı
2
---
Yatak odaları
Rieti, Lazio, İtalya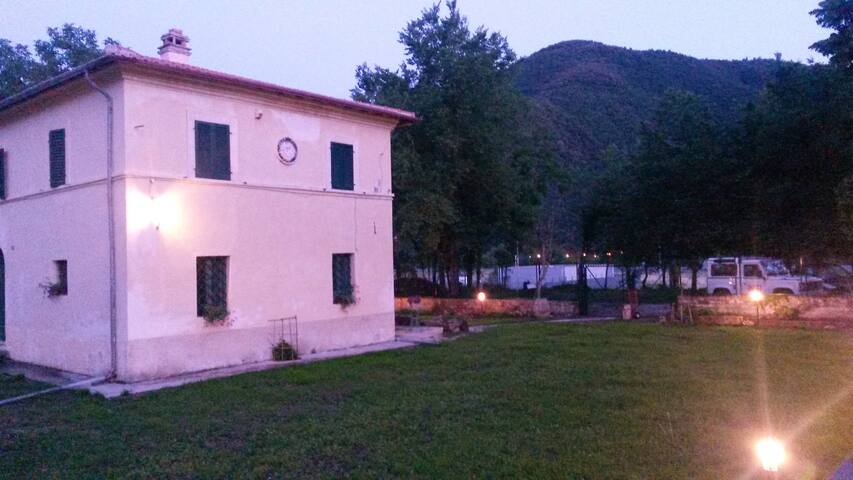 The host canceled this reservation 6 days before arrival. This is an automated posting.
Alessandro
2016-12-25T00:00:00Z
Oda Tipi
Özel oda
---
Mekan Türü
Oda + Kahvaltı
---
Konaklayacak Kişi Sayısı
7
---
Yatak odaları
Rieti, Lazio, İtalya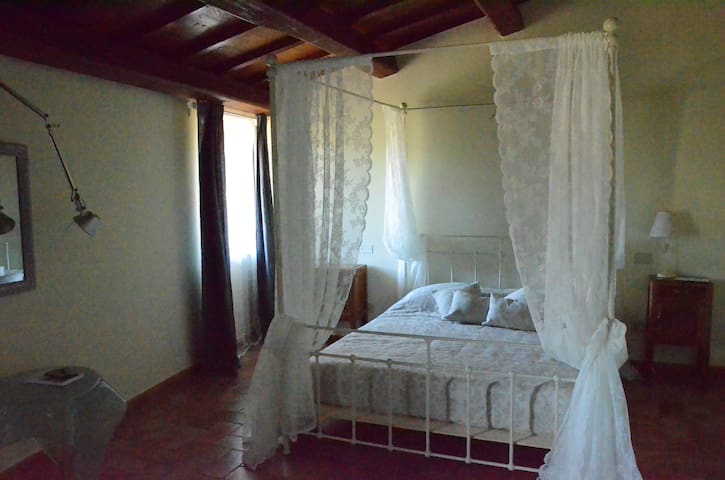 w4g5hthttrht dtrhht hrhthher ehheh
erhrttn hnnn
gghreeh
Oda Tipi
Özel oda
---
Mekan Türü
Daire
---
Konaklayacak Kişi Sayısı
7
---
Yatak odaları
Rieti, Lazio, İtalya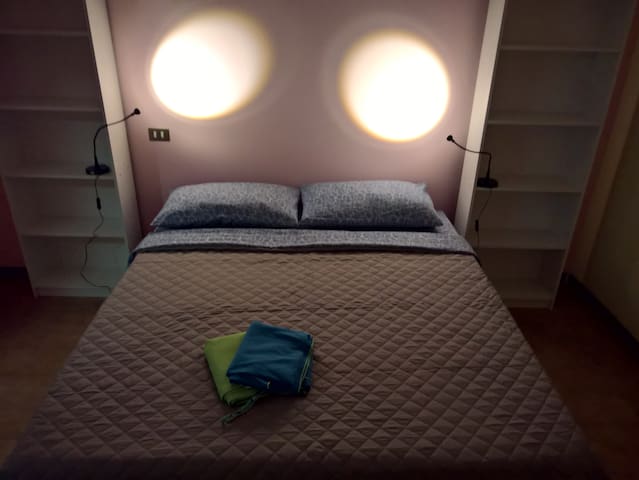 La sala è luminosa e ariosa al secondo piano di una grande proprietà a schiera con doccia e servizi igienici privati. Il letto è una doppia dimensione confortevole.
Oda Tipi
Özel oda
---
Mekan Türü
Daire
---
Konaklayacak Kişi Sayısı
2
---
Yatak odaları
Rieti, Lazio, İtalya