Walk to Belle Isle, 6 min drive to downtown! A spacious 1BR corner loft overlooking the river and two parks. Lots of light and beautiful view. Convenient location off Jefferson Ave and Detroit's Riverwalk. Gated parking for one car. First time visitors to Detroit and city regulars will enjoy using my loft as a base of operations. I've been a contributing author to Wildsam Field Guides, an eclectic guidebook publisher, and have great recommendations for most cravings in this unique city.
[This loft is often booked. If it is, have a look at my three other spaces near by, including my sailboat. Just click on my profile picture to find them.] This loft is beautiful, open, and full of light. A perfect retreat in Detroit. I grew up in Montana, lived in India for a few years, and ran a journalism startup in Detroit called Jaunt, so I have decorated my place with remnants of my travels. I also contributed to a Detroit guidebook called WildSam Field Guides, so I can help you put together a good itinerary or fill any holes you might have. I mostly live on my sailboat during the summer and I teach Marine Science on a sailing school vessel. The loft is all open except for the bathroom. The bedroom is separated by a wall without a ceiling. The kitchen has all the basic essentials and utensils plus coffee, tea, cereal, oatmeal, etc. for breakfast. I have an HDTV with Blu-Ray, Roku, Netflix, Amazon Prime, and an HD OTR antennae for NBC, ABC, FOX, etc. Then there's the bed. Queen and super comfortable - I splurged on the bed because good sleep is really important to me. For extra guests, there is a queen pull-out sofa in the common area. The apartment can accommodate up to four (two in each queen bed) but you're starting to get a little cramped. I will decline requests for greater than four people unless you have a special circumstance. There are two A/C units: one window-mounted right next to the bed and the other in the living room space. They do a good job on the loft 90% of the time, but if the sun is glaring and it is scorching hot, they won't be able to create the refrigerated A/C frigidity we are used to with central air. The bedroom unit works perfectly if you shut the door to the common area. In the winter, you can turn the heat up as much as you like and make it toasty warm.
I moved here in October, 2014 from the nearby West Village area where there are a few great new restaurants, like Craft Work, Detroit Vegan Soul, and Red Hook Coffee. The loft is on the Riverwalk, which is a bike/walk trail connecting you to downtown and Eastern Market via the Dequindre Cut, a converted rail line that runs off of the Riverwalk. I am also walking distance to the Belle Isle bridge. The building is kitty corner to a Coast Guard base, a U.S. Federal building, and the offices of a private security firm. The streets are lit and other residents of the building are frequently coming and going. I have always felt that the area around where I live is quite safe.
Beautiful loft, rustic, western inspired. Lots of space and very bright. I did not meet Thane but he made himself very available if I had any questions. He also gave me a very helpful list of his favorite spots.
Zeeshan
2015-09-07T00:00:00Z
The communication leading up to the trip was phenomenal! Thane also took the time to leave us a thoughtful gift to take home and remind us of our trip to Detroit.
Daniel
2016-10-11T00:00:00Z
Fantastic host.
James
2014-10-22T00:00:00Z
Loved the place. Thane has good taste.
Felicia
2016-07-17T00:00:00Z
We couldn't have been happier with our stay at Thane's loft. It looks and feels exactly as pictured and really added to our overall Detroit experience. A few earlier reviews mentioned concerns with soundproofing, but we didn't have any issue with this (especially given this is a corner unit). Thane prepared a great list of recommendations for us, which we took full advantage of. We wouldn't hesitate to stay here again and would recommend this listing to any family, friend, or fellow Airbnb members. Thanks for sharing this space with the Airbnb community Thane!
Corey
2016-05-09T00:00:00Z
Appartement très sympa dans un quartier calme
Edouard
2016-08-10T00:00:00Z
Thane's loft looked exactly like the pictures.. The place was very clean and smelled good! The loft is located on the river front and the view is breathtaking...we loved the place so much and would highly recommend it. Thank you Thane for being such a great host!
Bill
2016-02-10T00:00:00Z
Communication with Thane was easy and timely. His loft is in a beautiful building in a great location, and we enjoyed exploring Detroit from this comfortable home base.
Kirsten
2015-07-13T00:00:00Z
Oda Tipi
Tüm ev/daire
---
Mekan Türü
Çatı Katı
---
Konaklayacak Kişi Sayısı
4
---
Yatak odaları
Detroit, Michigan, ABD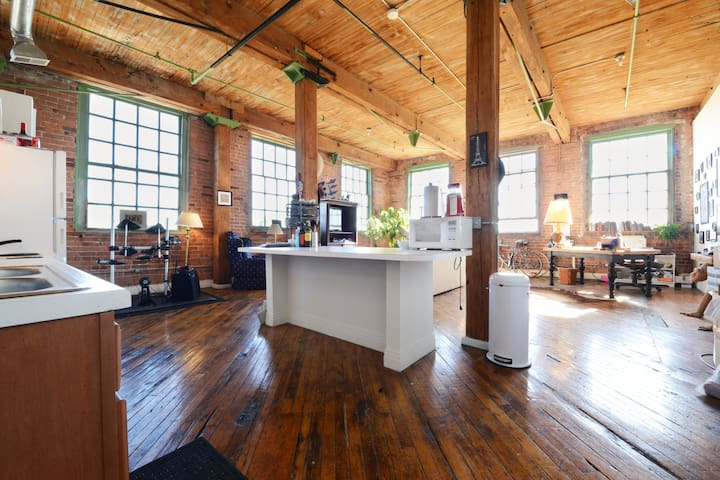 A beautiful, open, airy loft space housed within a completely renovated 1926 industrial building. Centrally located on Woodward Avenue in New Center to tons of local restaurants, bars, and coffee shops in New Center and Midtown. Relax, you're home.
This is a modern loft apartment housed within a completely renovated 1926 building that originally housed graphic artists for General Motors, and other companies. Designed by famed-Detroit architect Albert Kahn, you'll notice the signature art-deco front-facade and incredible lobby of the building. All the character of the loft is still intact, from the concrete floors, brick exterior wall, and the mushroom columns Albert Kahn was known for. Home includes a large kitchen, front load washer and dryer, incredibly fast internet with wifi and one bedroom with a queen-sized bed. This building is incredibly peaceful, quiet, and relaxing; while being just blocks away from anything you'd want to do in the city. Kitchen includes gas stove/oven, stainless steel sink, refrigerator, toaster, pots, pans, coffee maker, and any other utensils you need to call Detroit home for a few days. You'll find a single bedroom (this was originally a studio unit, but has been converted into a completely-walled one bedroom unit). Beautifully comfortable queen bed, small dresser, and chair. The main bathroom includes a subway tile shower/tub, sink, and any towels and amenities you'll need to make your stay perfect. Awesomely comfy white cotton sheets are included in the bedroom. The living room includes a couch (can be used for extra sleeping space, but isn't a pull-out), coffee table, and two chairs. 50" HDTV is hooked up to an Apple TV with Netflix. Outdoor space includes a small patio (which you'll enter from) with two bistro chairs and table. Enjoy the sunny back-alley of the building with a drink of your choice from the fridge. Local spots within walking/biking distance include the incredibly beautiful art-deco Fisher and Albert Kahn buildings; Midtown Shopping (Shinola, Willys, Nora, Hugh, Carhartt, Fellow Barber, City Bird, Nest, and more); the mid-century gardens and campus at Wayne State, and more. Local attractions include the city and public art, Belle Isle with its beaches, waterpark, Albert Kahn designed conservatory and aquarium, and trails. The world is your oyster. Restaurants nearby including fast food, Northern Lights Lounge, Falafill, Dangerously Delicious Pies, City Wings, Motor City Brewing Works, Jolly Pumpkin, and more. The loft is all yours while you're here. Enjoy, relax, and hang out. I prefer text and AirBnB message for communication. Taking photos during your stay? Make sure you #thatdetroitloft.
Awesome location right on Woodward at the Midtown/New Center border. Just a few blocks either way to a ridiculous amount of inspiration, character, activities, and restaurants. Take in the Detroit Institute of Arts, or check out the art-deco skyscrapers of New Center.
Our host made it really easy to be guests. The condo had everything we needed and more. We would definitely stay there again.
Joanna
2015-07-27T00:00:00Z
Fantastic space! Absolutely loved our time here! Easy parking and close to everything. We'll be back!
Brandy
2016-10-10T00:00:00Z
Killer pad in and a great location. It was an easy walk to Ford field for the Lions game. Everthing we needed was there, Jesse checked in a few times to see if we were cool....would do it again..
Jim
2016-11-25T00:00:00Z
Jessie's place is great. My wife and I visited Detroit for the weekend from Chicago and had a great time. Went to several of Jessie's recommendations in Corktown & Midtown. Visited Motown Museum as well. It's a great location, nice furniture / well designed, easy parking, and looks just like pictures! Thanks a lot!
Nick
2016-10-16T00:00:00Z
The apartment was really gorgeous and super spacious/comfortable! Jesse was helpful and responsive. We felt very safe with the police station right next door. There was ample parking and we were able to quickly drive/uber anywhere we needed to go. Highly recommend!
Sarah
2016-08-04T00:00:00Z
I can't recommend Jesse's place enough!!!!! Everything looks exactly as it does in the photos! My girlfriend and I enjoyed using the kitchen to make dinner, lounging on the couches, and listening to the records.
Ryan
2016-01-18T00:00:00Z
We had a great weekend at Jesse's place- everything was perfect!
Andrea
2016-09-13T00:00:00Z
We truly enjoyed staying at the loft. It was as described, clean and very cozy, loved the patio for morning coffee. It is close to everything we wanted and needed to do. Thank you for making it available
Pina
2015-07-28T00:00:00Z
Oda Tipi
Tüm ev/daire
---
Mekan Türü
Çatı Katı
---
Konaklayacak Kişi Sayısı
4
---
Yatak odaları
Detroit, Michigan, ABD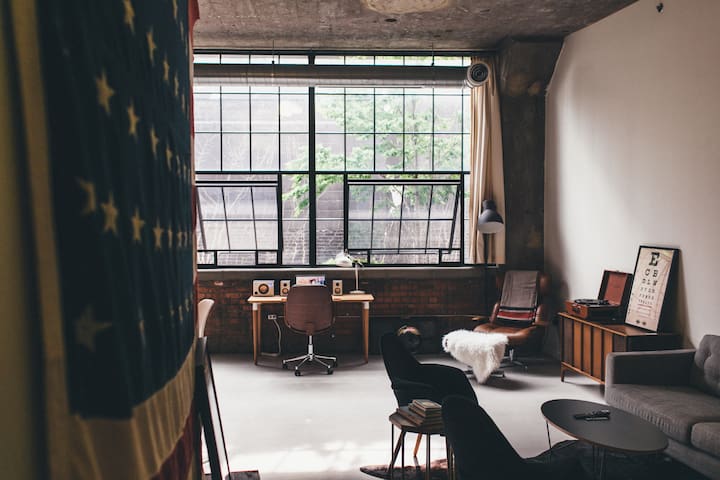 Welcome to Woodbridge Farm! ...a friendly, spacious & quiet neighborhood, close to all of the happenings in/around Detroit. Enjoy the newly renovated 2nd floor of our 1884 Historic house. The apt is cozy w/ yummy architectural/design details.
WOODBRIDGE FARM: We love it here! ...very special and unique. The street is filled with Urban Pioneers and creative types; artists, musicians, gardeners, and makers. You will find that most homes sit on larger pieces of land, giving Woodbridge Farms a unique feel. Many of the houses in the area have undergone impressive renovations, and for the others the renovation is underway. We have completed the interior renovations of this home, and soon we will start renovation on the house next door, which we also own. From the outside they look a little rough, but keep coming back and you will be able to witness the transformation! US & OUR RENOVATION PROJECTS: We are longtime Detroiter's. We are committed to the City, and we are so happy to have been a part of the revitalization of Detroit. We love old homes …and we love to renovate them! Zac is a general contractor, and Renee is an Interior Designer. Together, we have been restoring old homes in Woodbridge for the last 15 years. LOCATION: You are a short walk/drive from Detroit's midtown area, where you will find a variety of restaurants and shopping. Both Corktown and Downtown are within a few miles. It is a very quiet neighborhood, conveniently located to all major freeways. Lots of parking. THE LISTING: Newly renovated, with the best of care. Open plan kitchen, dining, and living. King size bed with fine linens and nice pillows. The bedroom windows are opposite the sun rise. It is a very peaceful space, bright, open and fresh. We are sure you will love the apartment. It is clean and private. We have an office on the first floor that is completely separate from the space. Zac is typically there M-F 9-5 should you need to fax ,copy or have any questions. If you have any special requests we will do our best to accommodate you, if given a bit of notice. We live 2 blocks away from the apartment should anything urgent come up.
This is one of the most amazing Airbnb's I've stayed in. Detroit is my passion so it was great to see those who share my passion in growing Detroit. The house is amazing and true Detroit architecture. It was easy to navigate, easily accessible, clean, roomy yet cozy, and just overall beautiful. I cannot wait to stay here again!
Natalie
2016-08-23T00:00:00Z
Photos do this location no justice. The apartment is designed very well and provides a positive space for creativity.
Mar
2017-03-10T00:00:00Z
It was so great. We had to go back a second time!
Kirstin
2017-03-30T00:00:00Z
We really loved staying here. The apartment was stunning and well situated. The neighborhood was quite and it didn't even feel like we were in the city. The apartment is beautiful! Its spacious and bright. We highly recommend this apartment if you want to see a lot of Detroit from a central location you cannot do better than this place.
Jonathan
2016-12-04T00:00:00Z
Beautiful, clean, light, my dream apartment! Easy to check in, since we didn't have to coordinate meetup times, with their easy lock box for keys. If you're there during the weekday, just be aware that it's a working office below and you can hear everything, as if they're in the same room as you. Kinda rough in the mornings if you're coming from a very different time zone. Other than that, I had a fantastic stay and absolutely recommend this space.
Mickey
2017-03-29T00:00:00Z
I would highly recommend Zac and Renee's place! The location was perfect, since a lot of what we planned was less then a 10 minute drive away. The apartment is beautiful! I felt right at home.
Raquel
2016-12-11T00:00:00Z
We were in town visiting my husbands family in nearby Northville. As this was my first time in Detroit, we decided that being closer to downtown would give us the chance to more readily explore. I came across Zac & Renee's listing and it looked to fit our needs perfectly. I'll echo what many other guests have stated - communication was prompt and full of all the information necessary. They were proactive and generous with their recommendations. The apartment is fantastic, very comfortable and really quiet. We sank into the couch to read, setup our laptops on the picnic table and generally lounged as much as we explored the town. There were some folks working on the house and we never heard a peep. We got the wonderful bonus of having Taco the cat come visit a few times throughout our stay. He's gentle, sweet and was a great companion. Everything is there for a short or long term stay. Woodbridge Farm will definitely be our top go-to whenever we find ourselves in Detroit.
Nina
2016-07-01T00:00:00Z
My teenage son and I stayed at Zac and Renee's place. It is exactly as described and reviewed. It is airy, large and welcoming. As city dwellers we were not at all put off by the neighborhood which is clearly in transition. There are a number of beautiful homes amidst homes which are in various states of disrepair. It was interesting to see what's going on there and get a sense of what's happening in Detroit these days. We had great meals downtown, went to a couple Tigers games, rented bikes along the waterfront, explored 8 Mile, Groose Point and the Ford Museum. A wonderful few days in Detroit that has us wanting more. Thanks Zac and Renee!
Lauri
2016-04-28T00:00:00Z
Oda Tipi
Tüm ev/daire
---
Mekan Türü
Daire
---
Konaklayacak Kişi Sayısı
2
---
Yatak odaları
Detroit, Michigan, ABD
Upstairs from Slows BBQ and on the same block as Astro, Sugar House and Gold Cash Gold, this two-bedroom neighborhood inn provides an immersive, welcoming travel experience in the heart Corktown, Detroit's oldest neighborhood.
A small-scale, design-focused Detroit inn, Honor & Folly is reminiscent of the way folks used to travel: a few beds above the village pub or restaurant. You'll be immersed in this historical neighborhood that's also at the forefront of the city's current revitalization. Featured in Martha Stewart Living, Food & Wine, Bon Appetit (made the 40 "Best Food Lovers Hotels in America" Awards), The Globe and Mail, Details Magazine, Conde Nast Traveller UK, and Afar. With a prime Corktown location, you'll be situated smack into the middle of one of the most thriving, charming and walk-able neighborhoods in the city—right across from the city's most beautiful icon of urban decay: the old train station. Admire it up-close or enjoy the beautiful view through the big living room windows—you can even see the Ambassador Bridge! Sharing a block with Slows, Astro, Gold Cash Gold and Sugar House, Honor & Folly also offers plenty of other nearby bars, shops and restaurants within a quick stroll (I provide guests with a list of my favorite recommendations), as well as easy access to downtown. The well-appointed space is decorated with goods made by Detroit and Midwest-based designers and artisans—much of which is also for sale. There are two bedrooms, each with a queen bed and its own bathroom, for a capacity of four people, with additional possible sleeping arrangements for kids. From time to time, Honor & Folly is used as a community space, hosting workshops or events, but you will have the space entirely to yourself during your stay. OTHER AMENITIES: outdoor balcony | local design | fully stocked cooking kitchen | potential to arrange custom catering, private dinner parties, etc.
A wonderful flat and location.
Clynton
2015-03-14T00:00:00Z
What a great space! We had so much fun exploring Detroit and using Meghan's loft as home base. The place was absolutely perfect! Meghan is so kind and helpful with great tips about what to do and see in her city which she is clearly passionate about. Hosts like her and spaces like hers are why we love Air B&B! Thanks so much!! We will be back.
Marie
2015-02-07T00:00:00Z
Thank-you for the use of your lovely flat. We really enjoyed the location. Also thank you for responding to our initial enquiries iso timely. We would reccomend you to others quite happily.
John
2016-02-08T00:00:00Z
Honor and Folly made us want to move back to Detroit! My friend and I are natives and we rediscovered the emerging energy of Corktown and it's environs. What a fabulous location on one of the hottest hippest blocks in town. And the place is beautiful: urban modern reclamation of beautiful 1800s architecture at its finest. We loved our little porch overlooking the freeway and felt a part of the town's resurgence just being here.
Diane
2016-08-09T00:00:00Z
This was our second stay at Honor & Folly, and it was as great as the first. Everything is perfect, really.
Cyrus
2016-05-09T00:00:00Z
What a wonderful loft and location. Really enjoyed my stay. The innkeeper is very attentive and the space is very unique. I ate at Gold Cash Gold and had a great dinner. The area is cool and this is a great place to stay.
Hashem
2016-04-29T00:00:00Z
The space was absolutely beautiful, and Meghan provided LOTS of thoughtful recommendations about what to do, see, where to eat in Detroit, how to travel/park. Truly she thought of everything. You couldn't ask for a better location - right in the center of a block of Corktown where there is lots to see. If you are looking to get a good sense of Corktown, stay here and spend some time in the neighborhood; you will learn a lot, eat/drink really well, and at the end of the day, go back to a super comfortable apt.
Dani
2015-09-16T00:00:00Z
Megan was professional and quick to respond to all my questions. The apartment is spacious, comfortable, well furnished and well appointed. However it has an odd layout with an internal bedroom, it is also between two busy roads (the noise of the air-conditioning fans drowns out most of the sound of the traffic), and the kitchen lacked some items of equipment. More for young professionals perhaps than young families. So, on the whole we felt it was slightly over priced at $215 plus a $50 cleaning fee. I guess there aren't very many people providing similar suitable accommodation in Detroit. The area was interesting, though the local trendy bars and cafe's etc all felt expensive and decadent in comparison to the rest of Detroit.
Tom & Jaqui
2015-08-25T00:00:00Z
Oda Tipi
Tüm ev/daire
---
Mekan Türü
Daire
---
Konaklayacak Kişi Sayısı
4
---
Yatak odaları
Detroit, Michigan, ABD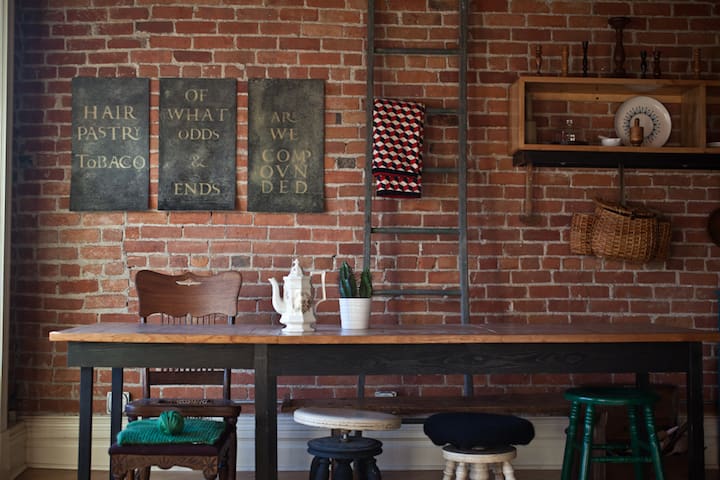 This building is a "soft-landing" for creative professionals seeking a home-base while filming movies, producing albums or making culturally relevant contribution. We love to host large groups from across the globe. Last year we hosted 1000+ guests!
This 12 unit lofts building offers panoramic views of the city! Located in the Albert Kahn designed warehouse district, this building sits in the cradle of America's Industrial Design Revolution. Each unit ranges from (PHONE NUMBER HIDDEN)SF. First floor units are two story lofts and second floor units are three story lofts with private roof terraces. The units are fully furnished and include items such as: 50 inch flatscreen tv's, Keurig coffee maker, tea distiller, pots, pans, plates, towel and WIFI of course!
This two story warehouse was constructed in 1914 by Jam Handy. After a successful career as an Olympian athlete, Handy pioneered visual learning and contributed immensely to the areas of motion picture production, film technology, and telecommunications. Many of the building on this block were part of his film production complex that produced 7,000+ films. This building and neighborhood continues to be a welcoming place for industrial design thinking. Henry Ford invented the Model T two blocks away, Motown's Hitsville 8 blocks away, Shinola headquarters 5 blocks away, and the list goes on…
Great space, awesome instructions, and good amenities. Unfortunately, however, all marred by the wifi going out during our first night. I contacted the host several times through airbnb, text, and even by phone, but never received a response. The wifi was never fixed.
Sam
2016-07-07T00:00:00Z
Kyle, Let me start off by saying how impressed my group was with the lofts. Both lofts H and J were clean, spacious and well lit. During our stay we entertained a large group of family members for an afternoon brunch, yet we never felt cramped. This place, in my opinion, is ideal for events of ALL SIZES. I thoroughly enjoyed my stay. I would recommend your place to all of my friends and colleagues. With warm regards, Julian
Julian
2016-07-12T00:00:00Z
The process of entering the building seemed a bit convoluted, albeit necessarily so, considering the nature of self check in. The loft was even larger than the photos give it credit for. It was a very unique space and I would definitely recommend it to anybody looking for a creative getaway.
Doron
2016-10-03T00:00:00Z
Great place and professional host. We had a few minor items with the physical space but felt like they'd be addressed in advance of any visit. Would definitely come and use again.
Joe
2016-11-20T00:00:00Z
These lofts, y'all. They're somehow even more impressive and spacious and full of great light in person than in the photos. We were traveling in a pack of 12 friends and this space (+ the unit next door) was perfect for us to hang out, eat cake, listen to music, and nap between brunch and bars without bugging each other one bit. Sunsets from the roof, parties at the warehouse next door, snacks and drinks from the gas station across the street - I'm kinda bummed I'm not still there. And the hosts! So helpful and nice and ready to provide whatever we needed. Sleeping arrangements for such a big group could easily have been a nightmare, but they gave us easy options that turned out perfect. Added bonus: the beds are super comfortable and there's pretty good pressure in the showers.
Rebecca
2016-04-19T00:00:00Z
We truly enjoyed our stay in Detroit. The loft was beautiful and spacious and the beds were comfy and cozy. Thank you for the awesome binder of suggestions on good eats and things to do; Heidelberg Project, The Motown Museum and Katoi were definitely highlights for us. The neighbourhood was exactly what we pictured and we really liked the art and culture that came with it.
Marcus
2016-10-02T00:00:00Z
The loft was great, tons of space and very near downtown. Kyle was very quick to respond and sort any concerns I had. Will definitely stay again!
Doran
2016-10-28T00:00:00Z
This was such an amazing space! Everything was a pictures. The loft was beautiful, clean and Kyle was a great host. Highly recommended!
Desiree
2016-09-16T00:00:00Z
Oda Tipi
Tüm ev/daire
---
Mekan Türü
Çatı Katı
---
Konaklayacak Kişi Sayısı
16
---
Yatak odaları
Detroit, Michigan, ABD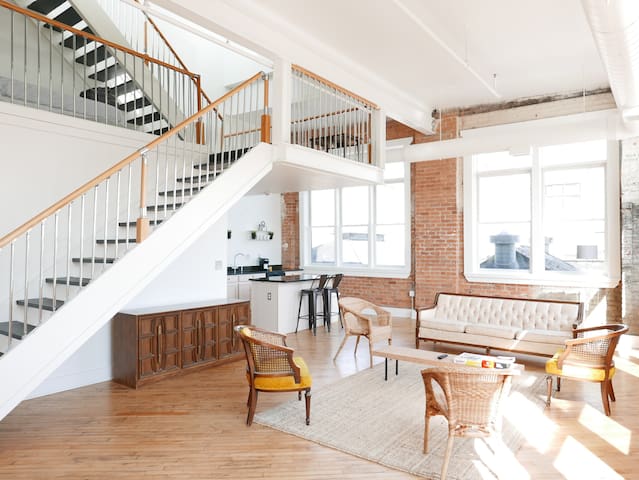 Luxury condo on the Riverfront. Perfect for weekends or weekly (URL HIDDEN) furnished designer Bernhardt furniture &w/ Balcony. Heart of Downtown Detroit. Gated parking provided ,walking distance from Ball park, restaurants, theaters &stadiums.
Historical Building that has been restored granite counter tops, wood floors, all new appliances. Located across the street from Atwater brewery & located on Detroit Riverfront. Firmly where they filmed Martin the TV show
Myself and three friends decided to rent from Jason after finding out that all the hotel rooms were sold out for the night that was needed. It was a great experience, so much better than a hotel room would have been. We were able to check in early. In the morning there was no rush to leave so we were able to enjoy breakfast at the condo before we left.The condo was nice and very well decorated. Jason was great also. Super good host. I will definitely rent with him again if the need arises.
Mary
2016-05-02T00:00:00Z
Oda Tipi
Tüm ev/daire
---
Mekan Türü
Ev
---
Konaklayacak Kişi Sayısı
6
---
Yatak odaları
Detroit, Michigan, ABD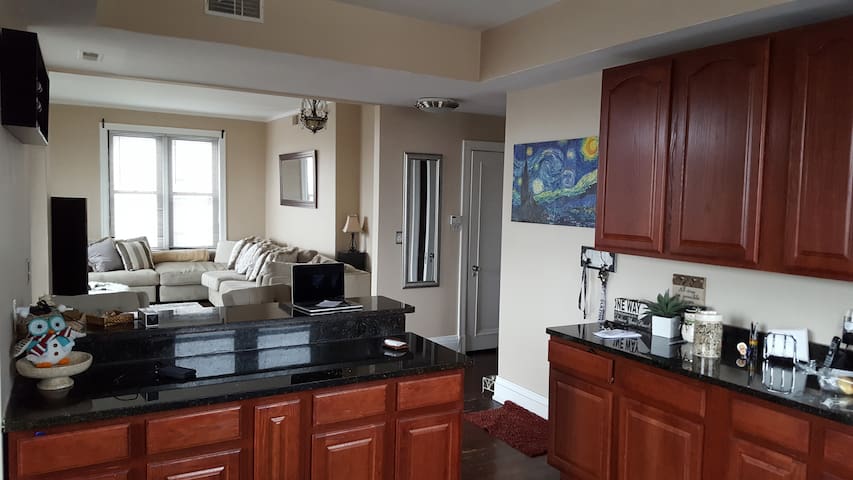 Our charming upper flat is the perfect place to explore the hip underdog city of Detroit! The entire apartment is modern, clean, and all yours to enjoy. Check out the rich culture, architecture and grittiness that is solely Detroit. BonVoyage :)
My partner Matt and I have a lovely flat in Hamtramck that has been restored to its original 1920s charm. Our style is intentional and warm, and decorations include things that we have collected through the years that have meaning to us. Equipped with a queen size bed in a spacious bedroom it is perfect for a couple or close friends! There's plenty of room for an air mattress too. The living room has a couch, eating table, chair, and bar with stools for enjoying food and beverages. We provide a TV with Netflix access, games, and books for when you feel like relaxing after a long day of hanging out in the city. The brightness and vintage style of the kitchen will warm your heart. You will love cooking in this space, not to mention you will be provided with any cooking supplies you need. Lastly, the bathroom is large and clean with a vintage claw foot tub for a tranquil bath or shower. For longer stays, you are welcome to our washer and dryer in the basement.
Hamtramck is touted as 'The World in 2 Square Miles.' Located directly in the center of Detroit, it is a diverse city that has its roots in the rise of the auto industry. Anyone who loves history will appreciate the beauty and architecture that still exists in Detroit and Hamtramck. Originally a hub for Polish immigrants Hamtramck has maintained its eastern European flair and guests will find excellent Polish restaurants, markets with delicious pierogi, keilbasa, and stuffed cabbage along with a Polish Art Center equipped with treasured artifacts and souvenirs. Hamtramck also has some excellent Bengali, Indian, Iraqi and Yemeni food! Things to see in Detroit: Detroit Institute of Arts (DIA) 4.3 miles Eastern Market 4.9 miles Heidelberg Project 4.1 miles Comerica Park and Ford Field 5.6 miles Fox Theatre 5.6 miles Renaissance Center 6 miles Detroit Opera House 5.7 miles Ann Arbor (Visit U of M!) 50 miles Henry Ford Museum 16.1 miles MGM Casino 6.3 miles Greektown and Casino 5.8 miles
Sweet apartment - very comfortable with gracious hosts. Easy street parking and close to downtown Detroit by car. Highly recommend this place- we stayed with our nearly 3 year old and he gives it high marks too :)
Susannah
2015-09-07T00:00:00Z
Matthew + Meredith were great! It was so nice to walk into a beautiful, clean, and hospitable space. They have this little book with ideas of things to do and places to eat which we really appreciated. We enjoyed every one of the places they suggested. I would stay here again in a heartbeat. It was so welcoming!
Tatianna
2016-08-28T00:00:00Z
What a gorgeous place this is! We had a fabulous stay in the roomy loft. They were extremely responsive to messages and questions and helpful with suggestions. I'd stay here again in a heartbeat.
Danielle
2016-08-28T00:00:00Z
Matt and Meredith's place is absolutely lovely. Gorgeous, comfortable, clean, quiet, well designed space. They were so welcoming and courteous. Communication was very easy. Would highly recommend this beautiful space to couples or single folks visiting the Detroit area.
Nina
2015-08-21T00:00:00Z
Matt was extremely warm and welcoming, providing us with a thorough tour of the space and even presenting us with a bottle of wine upon arrival! He made us feel at home instantly ... yet another great Detroit experience in the bag. The apartment had ample space for various sleeping arrangements and beautifully retro kitchen and bathroom fixtures. Also probably the best assortment of bedding/linens/towels I've ever come across on Airbnb!
Max
2016-07-11T00:00:00Z
Matt and Meredith have the loveliest place to stay, the best in Detroit I think! The apartment is located in a great cosmopolitan neighborhood, easy to find. The flat makes you feel at home away from home, and is very elegantly decorated, with a back garden. Nothing was left out…from the fat towels to coffee ready for us to make in the morning, all the little things you don't think of on your way out the door. They put together a comprehensive list of local and in-town eats plus a must-see recommendation. They're also the nicest people. I'd recommend the flat to anyone and will happily go back.
Kevin
2015-05-28T00:00:00Z
Matt and Meredith's place was exactly as pictured: cozy, clean and comfortable. Matt was friendly, easy to communicate with, and he was flexible/understanding of our tight travel schedule. I would highly recommend this location to anyone visiting Detroit/Hamtramck and I would love to stay there again the next time I'm in town.
See-yin
2016-07-25T00:00:00Z
It was so great, I booked a second night!!!
Jane
2016-07-28T00:00:00Z
Oda Tipi
Tüm ev/daire
---
Mekan Türü
Daire
---
Konaklayacak Kişi Sayısı
3
---
Yatak odaları
Hamtramck, Michigan, ABD
This Air BnB rental is for our detached room over the garage with private bath. Driveway parking available during the day, and street parking available at night. The following are included: linens, towels, toiletries, microwave, toaster, mini fridge, smart tv (Netflix, HBO Go, etc) and local cable by digital antenna. Pets are allowed with approval and you will have access to our yard. Laundry can be available upon request with ample notice.
Located right off Woodward near 13 mile in Royal Oak. Five minutes to Birmingham and 5 minutes to downtown Royal Oak.
Great room above the detached garage. Perfect size and great location!
Zach
2017-03-18T00:00:00Z
Wonderful, cozy detached room. Erin is a great host, and easy access to roads, restaurants, CVS, etc.
Michael
2017-03-13T00:00:00Z
Erin and Gibb have done a wonderful job providing a comfortable and cozy spot with many amenities. The check-in was easy, and having my own private space in Royal Oak was just lovely. They have done a fantastic job and I would certainly stay here in future trips. Thanks again, Erin and Gibb!
Kerry
2017-04-01T00:00:00Z
Nice space. Very close to Beaumont hospital, which was a big plus for us. Great communication and comfortable stay.
Gordon
2017-03-01T00:00:00Z
This place is great! The room and bed are very cozy. There are options to be able to cook your own food and it has a private entry. Erin and Gibb and great hosts, and while I didn't meet them face to face, they were very friendly and had great communication. I highly recommend!
Jennifer
2017-02-26T00:00:00Z
My wife and I had a lovely time! It was the perfect space for us to have some alone time and a small getaway for a few days. The room was perfectly adorable and very clean.
Anissa
2017-03-16T00:00:00Z
You won't even feel.like you are staying above a garage, this place is so beautifully decorated and the bed is so comfortable! Erin makes sure you feel at home with plenty of personal touches, and the shower has great pressure with plenty of hot water! Great place and great value!
Laura
2017-03-05T00:00:00Z
Cozy private room with bathroom! It was great staying there and having the privacy of your own separate space. Erin did an excellent job communicating and making sure I was comfortable. I especially enjoyed the comfortable bed and smart TV with Netflix. I would stay here again if in the area.
Julia
2017-02-24T00:00:00Z
Oda Tipi
Tüm ev/daire
---
Mekan Türü
Konukevi
---
Konaklayacak Kişi Sayısı
2
---
Yatak odaları
Royal Oak, Michigan, ABD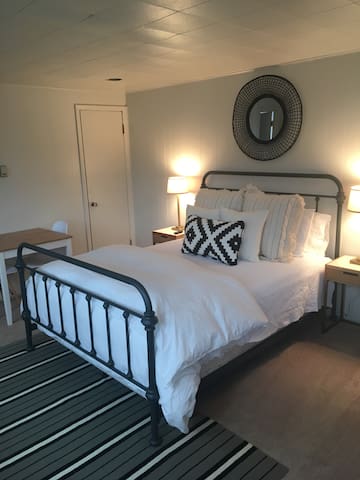 Great 2 bedroom apartment conveniently located on Woodward Ave, 5 min walk to Downtown Royal Oak and a 3 min walk to the Detroit Zoo. Apartment has 2 bedrooms: Master has a king size bed and walk in closet, 2nd bedroom has a comfy twin bed and large desk for those who work. Apartment is comfy, cozy with a decorative artistic touch. Apartment location is extremely safe with many convenient stores, restaurants, grocery stores, and gas stations right near by. Hang out, relax, and enjoy your stay!
Definitely will be booking again! The place was exactly like the pictures. Dorais was an awesome host and kept lines of communication open with us. Check out her artwork too!
Melissa
2017-03-29T00:00:00Z
This a great place in a very sought after location. Walking distance to the zoo and royal oak; a short ride from Fernadale, Birmingham and downtown Detroit. Dorais was great, waiting for me when I arrived. Her place is comfortable and roomy. I can recommend enough!
Denise
2017-03-26T00:00:00Z
Nice clean place to stay. Good location. Friendly host.
Katie
2017-04-02T00:00:00Z
Oda Tipi
Tüm ev/daire
---
Mekan Türü
Daire
---
Konaklayacak Kişi Sayısı
4
---
Yatak odaları
Royal Oak, Michigan, ABD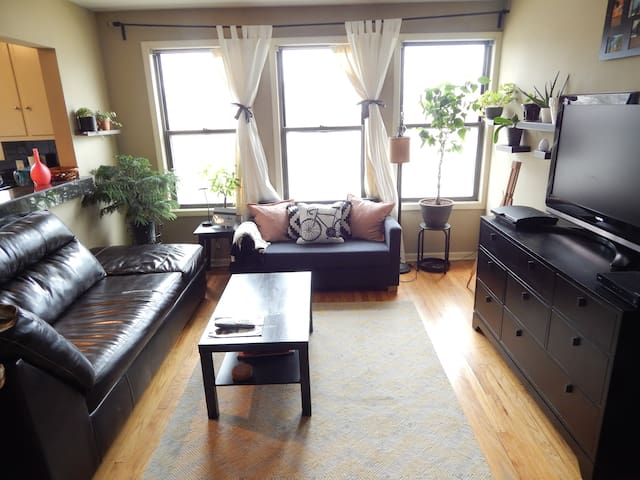 My place is a newly renovated one bedroom apartment perfect for business travelers, couples, students, or anybody looking to visit the area. It sits in the middle of Birmingham and Royal Oak and less than 1.5 miles away from Woodward Avenue.
Newly renovated, one bedroom apartment complete with amenities
Located between Birmingham and Royal Oak inside a family oriented neighborhood.
Ron was super welcoming and our stay was nothing short of wonderful thanks to the central location and cozy space for my family and I to relax in during our stay.
Marcia
2016-10-17T00:00:00Z
Great host, cozy apartment, fit description
katherine
2016-11-12T00:00:00Z
The one word that describes my experience with this property and the host Ron AMAZING in all caps..... I am a frequent traveler and I have tried Air BnB in the past and luckily my experience has been good but this one tops it..... I recommend dealing with Ron (PHONE NUMBER HIDDEN)%.... thank you so much and thank you for providing such a clean, updated, most comfortable property in one of the safest areas of the metro Detroit area....
Rene
2016-12-03T00:00:00Z
Host was excellent. Supplied a coffee maker, was easy to contact and the place was great.
Frank
2016-11-03T00:00:00Z
It was great very relaxing & Free..... 5 stars....,
Schimeka
2016-09-12T00:00:00Z
Great cozy space for two, in a quiet neighborhood. Ron was very attentive and communication was easy! I would definitely rent a property from him again.
Jennifer
2016-11-25T00:00:00Z
Ron is a pretty good host. This place is nice and clean.
Purushottam
2016-11-18T00:00:00Z
Oda Tipi
Tüm ev/daire
---
Mekan Türü
Daire
---
Konaklayacak Kişi Sayısı
2
---
Yatak odaları
Royal Oak, Michigan, ABD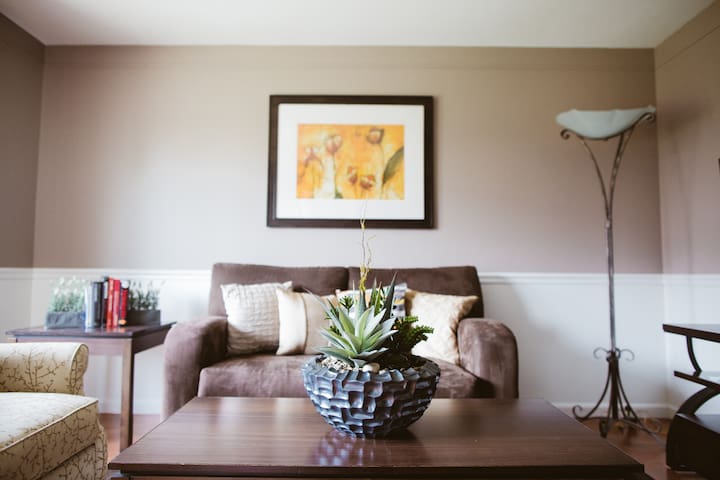 This 1-Bedroom Apartment is newly renovated and fully furnished with contemporary design. It sits in the middle of Birmingham and Royal Oak and less than 1.5 miles away from Woodward Avenue. The apt has a queen sized bed and a couch (converts to a Day Bed). There's complimentary Coffee, Wifi internet, Roku, and parking. Fresh linens, towels & all your bathroom essentials like body wash, shampoo and conditioner are provided. Perfect for couples on vacation, adventurers, and business travelers.
This is a well designed apartment minutes away from Main Street Royal Oak or Downtown Birmingham. It has been recently renovated with fresh paint and contemporary furniture. The apartment has a queen sized bed and a couch that converts into a daybed. You have access to complimentary Coffee, Wifi internet, Roku, and parking. Fresh linens, towels and all your bathroom essentials like body wash, shampoo and conditioner are provided. The kitchen has a fridge, microwave, electric stove and oven, dishes, silverware and basic cooking utensils which are all yours to use.
Located between Birmingham and Royal Oak inside a family oriented neighborhood.
Oda Tipi
Tüm ev/daire
---
Mekan Türü
Daire
---
Konaklayacak Kişi Sayısı
2
---
Yatak odaları
Royal Oak, Michigan, ABD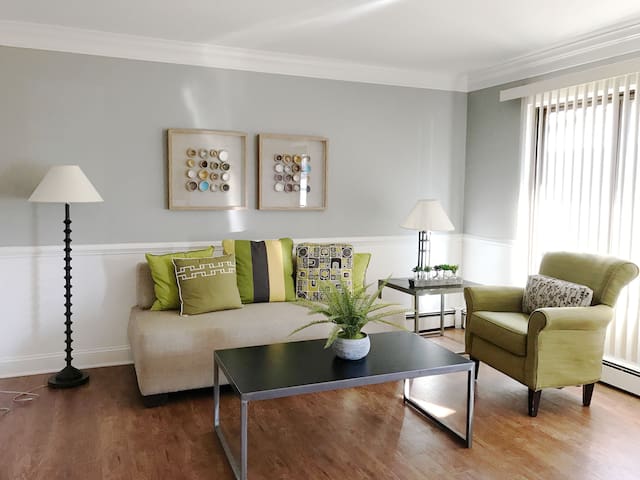 Cute ranch walking distance to fun Royal Oak downtown, easy access to highways, Beaumont Hospital and so much more. All hardwood floors inside and cute, clean decor.
The house has recently been painted and hardwood floors refinished. The house is very clean, please treat it as if it were your own.
Just a few blocks down from all the bars, restaurants, clubs, movie theaters, bowling and all the fun stuff Royal Oak has to offer.
The location was perfect for walking to downtown Royal Oak. The house was a little rough around the edges, but clean and with plenty of room. Maria was very responsive. I sent her a list of suggestions for improvement on the home. If she implements those, I'd stay there again.
Tom
2016-06-19T00:00:00Z
Convenient location and very clean. The hidden foosball table inside the coffee table is a nice little surprise on a snowy night! The bathroom is tricky though but ok for the price.
Ryan
2016-01-15T00:00:00Z
Maria was great and very quick response time. The location is wonderful and everything is in walking distances. I would stay here again. Giovannia
Giovannia
2016-07-19T00:00:00Z
Maria was easy to reach, responsive to our few requests, and checked in to make sure we didn't need anything else during our stay. The home was comfortable for our short stay with 2 young kids, and 2 adults. The neighborhood is WONDERFUL! There is a park at the end of the street (typical of Royal Oak, IMO) and we were close to the farmer's market and restaurants. Very safe, very quiet, and with friendly neighbors. (Both sides stopped over to say hello!) Our only complaints were that the bathroom was very small, which limited usability, and the kitchen had very limited food preparation tools (no knifes, cutting boards, and only 2 pans).
Heidi
2015-08-11T00:00:00Z
Mary's reached out to us on several occasions and made us feel quite welcome. The house was as described and the neighborhood was safe and pleasant. The inside of the house was immaculate, nicely decorated and had all the supplies we needed to feel at home. We enjoyed our stay
Susan
2016-07-02T00:00:00Z
Alles war einfach und unkompliziert. Das Haus ist zwar älter aber gut hergerichtet und mit 3 Schlaf-, Wohn-, Esszimmer, Bad und Küche (Spülmaschine/großer Gas-Herd und Kühlschrank) auch für 6 Personen noch groß genug. Im Wohnzimmertisch ist ein kleiner Tischkicker versteckt, WLAN + TV kein Problem. Alles Notwenige ist vorhanden, Maria notfalls jederzeit über Telefon erreichbar. Das Haus ist in einer ruhigen Wohngegend 3 Gehminuten von der Main Street mit Bars/Restaurants/Clubs entfernt.
Uwe
2016-09-13T00:00:00Z
There was a wine bottle in general table welcoming us from the host! Very nice touch !
Saiko
2016-11-07T00:00:00Z
Such a nicely kept little oasis. Loved it.
Eric
2015-08-23T00:00:00Z
Oda Tipi
Tüm ev/daire
---
Mekan Türü
Ev
---
Konaklayacak Kişi Sayısı
6
---
Yatak odaları
Royal Oak, Michigan, ABD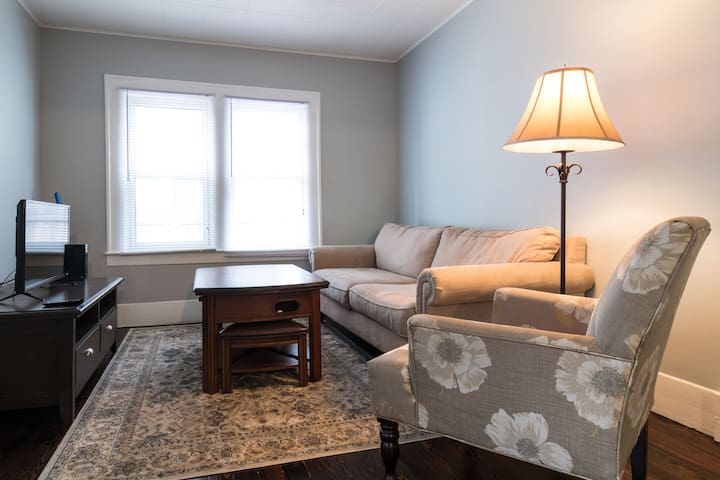 This place is super cozy and comfortable for anyone wanting to come check out the great come back city of Detroit. It is centrally located in the heart of downtown Royal Oak (2 minute drive) and 15 minutes either way to downtown Detroit or Birmingham. There's lots of natural light, a desk for any work need, fireplace, balcony, and really nice bed for quality sleep. Just located off Woodward Ave, close to anything you need- bars, farmers markets, grocery stores, and lots of restaurants!
This is a great location, close enough to drive to the freeway, royal oak, & downtown Detroit. It is spacious enough for 2 people. Easy to find and check in/out process was a breeze. Didn't get to meet Shannon personally but she was very easy to reach and communicable.
Jigna
2017-03-01T00:00:00Z
The host canceled this reservation 7 days before arrival. This is an automated posting.
Chris
2017-02-16T00:00:00Z
Shannon's place is cozy and it's a great location. She is flexible and easy to coordinate with.
rodrigo
2017-03-07T00:00:00Z
Shannon's place is fantastic! It's really clean, quiet and well-equipped. The bed is super comfortable to sleep on after a long trip. Shops and restaurants are only a few minutes away by foot. Highly recommended for any visitor to the area! :)
Meng
2017-02-16T00:00:00Z
Really cute place and definitely worth the price! Would definitely stay here again!
Pam
2017-02-13T00:00:00Z
This is a very cute space in Royal Oak. It also has a a lot of wonderful natural light! 10 out of 10, I would absolutely love to stay there again!
Tom
2017-02-20T00:00:00Z
Very comfy place. Conveniently located near all the places we wanted to go to - Palace of Auburn Hills, various malls and plazas, highly rated restaurants, and all other places. Cozy house, safe neighbourhood. Can't go wrong with Shannon's place
Kim
2017-03-19T00:00:00Z
Great place. Comfy, clean and a good location. Shannon answered all my questions very quickly.
Beth
2017-03-14T00:00:00Z
Oda Tipi
Tüm ev/daire
---
Mekan Türü
Daire
---
Konaklayacak Kişi Sayısı
2
---
Yatak odaları
Royal Oak, Michigan, ABD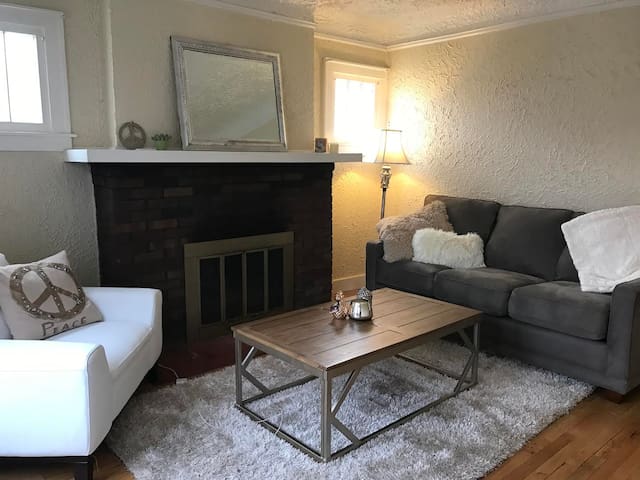 My place is close to Downtown Royal Oak, Ferndale, Berkley, and Birmingham. It is a 10 minute drive to Somerset Mall, a 5 minute drive to the Detroit Zoo, and 15-20 minute drive to Downtown Detroit. You'll love my place because it is clean, comfortable, well maintained, and situated in a safe and quiet neighborhood. It is close to restaurants, shopping, nightlife, and many cultural attractions in Metropolitan Detroit. My place is good for couples, solo adventurers, and business travelers.
Excellent communication! Worked out great. Thanks!
albert
2017-02-25T00:00:00Z
Very comfortable house in a nice neighborhood. Everything was clean and I felt very accommodated. Zee was terrific and proactive about communication.
Jono
2017-02-19T00:00:00Z
Enjoyed my Stay
Jim
2017-03-02T00:00:00Z
Had a very nice stay at this location, host was very personable and accommodating, facilities, location, comfort were all exceptional. Thank you!
Chris
2017-01-21T00:00:00Z
Matthew and Zeinab were great hosts and the made me feel at home. They are helpful and responsive. Matthew's place was clean, comfortable, quite, and well maintained and located in a nice and quiet neighborhood. It's only 5 min drive to downtown Royal Oak and about 20 min to downtown Detroit. Great place.
Abdul
2017-01-10T00:00:00Z
The room was clean and comfortable. Very cute home in a great neighborhood. Zee was available and made sure everything was taken care of.
Jordyn
2017-03-26T00:00:00Z
A great place to stay. Highly recommend to everyone!
Lilia
2017-03-25T00:00:00Z
Nice, well furnished house. Host (Zee) very accommodating and good communication
Jim
2017-02-16T00:00:00Z
Oda Tipi
Özel oda
---
Mekan Türü
Ev
---
Konaklayacak Kişi Sayısı
1
---
Yatak odaları
Royal Oak, Michigan, ABD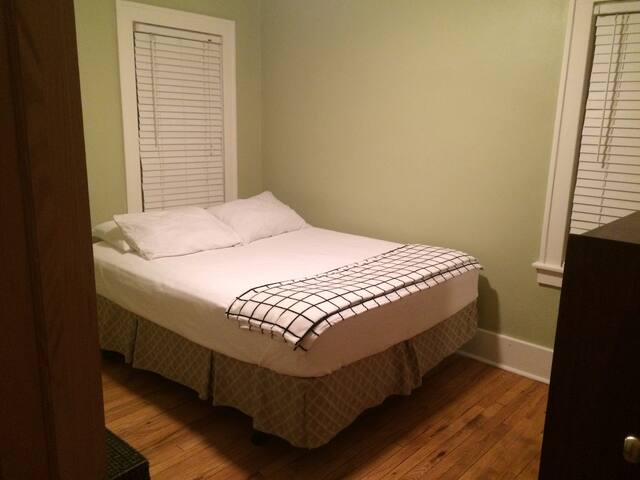 Walk or ride a bike 1 mile to downtown Royal Oak from this spacious, newly renovated basement apartment. 900 sqft all to yourself with brand new furniture, incl. memory foam mattress, fully equipped kitchen and bathroom w. shower. 2 min to I-696/I-75
Johanna and her family were great hosts! So accommodating and nice. I plan to stay with them again in the future when I return to Royal Oak/Birmingham. I'd recommend this listing to anyone.
Drew
2016-01-31T00:00:00Z
Johanna is a great host. She goes out of her way to be sure everything is perfect. She even leaves some breakfast items. The apartment is very comfortable and the description is accurate. We would definitely try to stay again.
Deb
2016-01-02T00:00:00Z
I had a great time staying at Johanna's place. It was easily one of my best airBnB experience. The basement apartment was beautiful, very clean lots of space! Location was in a great area close to a bunch of good restaurants and bars. My hosts were very kind they even offered to host me for a dinner and provided me with a bunch of snacks and some groceries to start my visit off. I would definitely stay here again if I'm back in Royal Oak!
David
2017-02-28T00:00:00Z
It was a wonderful experience to stay at the sunny basement apartment with Johanna and her family. It made my visit to Royal Oak extra special. The spacious apartment setting and the use of the lovely kitchen helped me so much to prepare meals which supported me as I completed work in the area. Johanna and all members of her family were there to support me with any questions. The area is very safe and quiet. I felt very supported in every way. The expectations and contact information were very clear. There was also much understanding and compassion when I needed to arrive for my first day a little later than expected. I would highly recommend this Airbnb sunny basement apartment. I was very grateful for the opportunity to stay with Johanna and her family.
Peggy
2016-10-22T00:00:00Z
I had a great stay at Johanna's place. After being in a frozen place that I rented on Airbnb as well I cancelled and move to her place. I finally could rest properly there. It's a really cozy and neat place that you definitely want to rent!
Justin
2016-01-21T00:00:00Z
Everything was great here! Johanna and Tosh were very nice and the space is huge. One of the most comfortable beds I've ever slept on. I'd definitely recommend staying here!
John
2015-12-12T00:00:00Z
What a fantastic experience! My parents stayed in the apartment and absolutely loved it. They want to stay there every time they come back to visit. Johanna and her family were warm, welcoming, accommodating, and kind. Wonderful from start to finish!
Rachel Ann
2015-09-24T00:00:00Z
Awesome place, good neighborhood, the basement is amazing, everything You need and sooo big. Thank You guys!
Jakub
2016-06-01T00:00:00Z
Oda Tipi
Tüm ev/daire
---
Mekan Türü
Daire
---
Konaklayacak Kişi Sayısı
2
---
Yatak odaları
Royal Oak, Michigan, ABD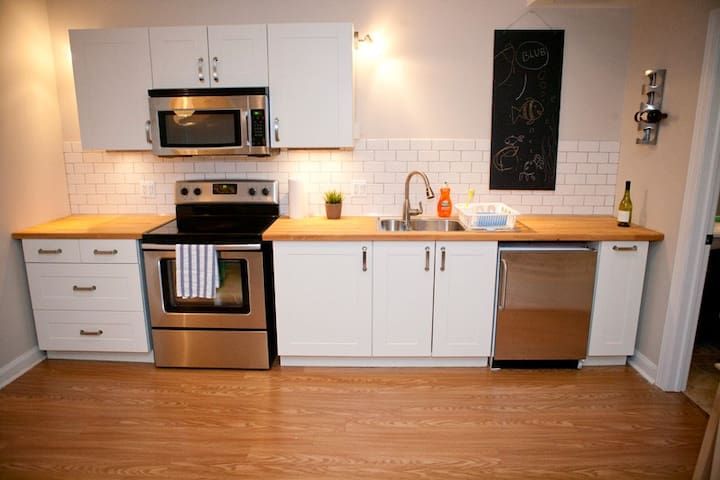 Walk to all of the wonderful restaurants and shops in Downtown Royal Oak from this private, clean and comfortable upper flat. Close to major freeways. We are pet friendly and it is a great walking neighborhood. There is internet and cable television in the living room and both bedrooms. There is access to the laundry in the basement if needed. Coffee, tea and other snacks provided. We look forward to hosting you and know you will enjoy our great city and our great apartment.
Oda Tipi
Tüm ev/daire
---
Mekan Türü
Daire
---
Konaklayacak Kişi Sayısı
5
---
Yatak odaları
Royal Oak, Michigan, ABD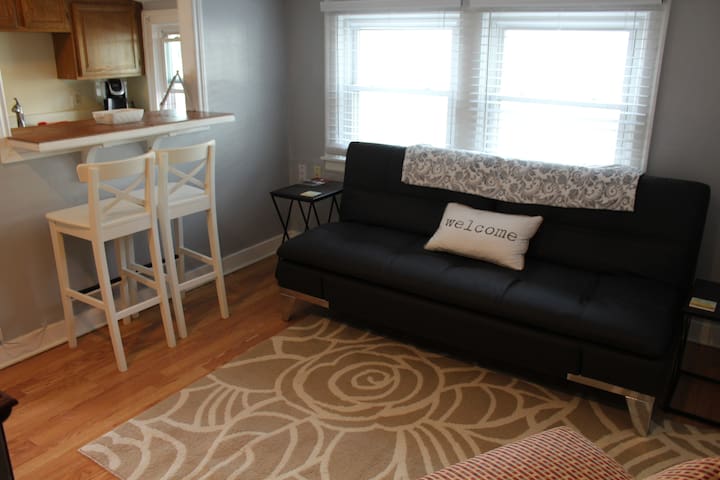 This single family home is in the center of it all. Located in Downtown Royal Oak you're footsteps from miles of downtown sidewalks. Explore over 85 boutiques, salons and retail shops. Hungry or thirsty? 750 outdoor seats at over 70 restaurants await. By car, Detroit is only 20 minutes away! You'll love our place because of the neighborhood and the coziness. Our place is good for couples, friends, LGBT travelers, solo adventurers, business travelers, families, and furry friends (pets).
Enjoy being a pedestrian as you explore all that downtown Royal Oak has to offer. Or, hop on to one of the house bikes and appreciate an expanded area in this beautiful and friendly neighborhood. The home features 2 bedrooms, one with a queen bed, and one with 2 twin beds. There is also a pull out queen sized sofa bed.
Easily walkable to everything, historic homes and friendly neighbors.
We felt very at home. They provided all amentities needed. We had a great stay & would highly recommended staying at this location if in the area. Quite & nice location.
Aaron
2016-07-26T00:00:00Z
Stephen was an excellent host! Extremely attentive and definitely made sure my husband and I were enjoying our stay. His place is absolutely adorable and is super close to many great restaurants. We were welcomed with a bottle of wine and a list of recommendations of places to visit. What a perk! Royal Oak is a very quaint and cute little town and we would definitely recommend Stephen's place as it is only a few blocks away. Thanks again guys!
HANG
2016-10-18T00:00:00Z
This beautiful home was the perfect place for me and my family of 6 to stay! Andrew and Stephen thought of everything and we truly felt like we were home while visiting extended family nearby. The place was clean, fully stocked with essentials and close to so many things in Royal Oak. Hosts were available 24/7 if we needed anything. Looking forward to when we will back...hopefully next year! A+++
Lora
2016-08-19T00:00:00Z
The only reason why we gave Stephen's AirBnB 5 Stars is that 6 Stars are not available! The house was very well set up and the location to Royal Oak is perfect. We appreciated the attention to detail that Stephen and Andrew took to provide for a comfortable stay.
Richard
2016-10-13T00:00:00Z
Stephen & Andrew were great hosts. Very welcoming and friendly, and the home was well prepared to make a guest feel comfortable and at home. The location is fantastic, making it easy to walk to local restaurants and bars. I enjoyed taking a bike ride too. Would certainly recommend it!
Gary
2016-10-28T00:00:00Z
Steve made us feel extremely welcome with recommendations, wine, and a coupon to a great restaurant. The house was perfect. So close to downtown, very clean and comfortable, and easy to get to.
Nathan
2016-12-23T00:00:00Z
Cozy and comfortable house located in a convenient area in Royal Oak. Everything within walking distance. House is very clean and everything is provided that you would find at home. Hosts met us there and gave us a tour and advised of the local hot spots. Would visit again.
William
2016-09-23T00:00:00Z
Stay in this adorable Royal Oak cottage...close to everything and the perfect place to escape big, city Detroit life at the end of a day...perfect for business travel or a small family, this home has all the amenities you would expect and a location that cannot be beat.
Emily
2017-03-13T00:00:00Z
Oda Tipi
Tüm ev/daire
---
Mekan Türü
Ev
---
Konaklayacak Kişi Sayısı
6
---
Yatak odaları
Royal Oak, Michigan, ABD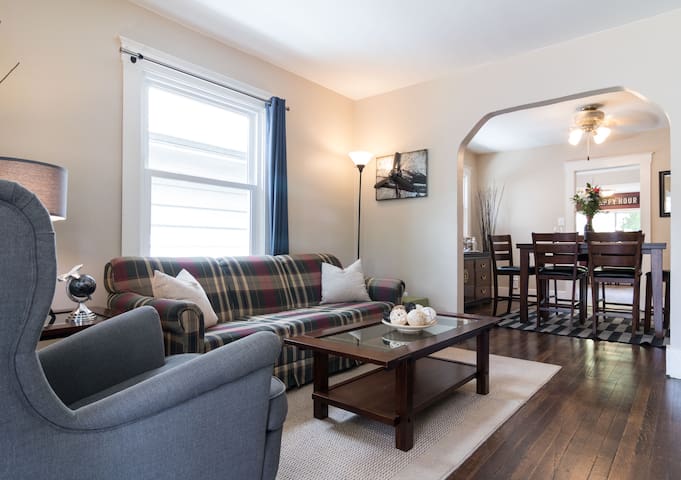 My cozy home offers it's guests their own shower and bathroom, complete with common toiletries. Good Coffee and a Cozy couch.
Oda Tipi
Özel oda
---
Mekan Türü
Ev
---
Konaklayacak Kişi Sayısı
2
---
Yatak odaları
Ferndale, Michigan, ABD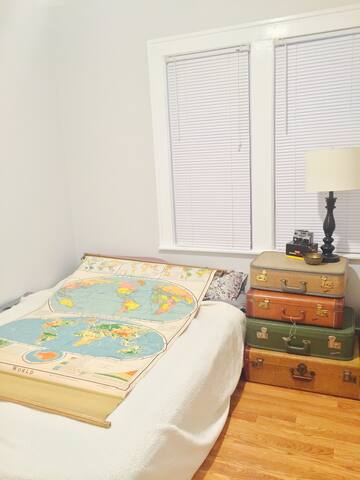 Royal Oak - Airbnb
:
891

misafir değerlendirmesinden,

5

yıldız üzerinden ortalama

4.87

yıldız