Beautiful art deco house in a quiet town on the Flemish countryside with its taverns. Near the Belgian border Train, bus to motorway The house has all the necessary equipment for a pleasant stay
Large house individual 1930 art deco in a nice little town
The campaign Mountains Flandres with its taverns
Dear Pierre and Marie! The building, the apartment and the area is really beautiful and special! Thank you that we have experienced what it feels like in a true original townhouse living. Recommended for everyone! Thank you for the warm welcome! Kriszta Gyula Bendegúz
Gyula
2014-11-01T00:00:00Z
Avons été très bien accueillies lors de l' enterrement de vie de jeune fille de notre amie. La maison correspond à la description faite. Y retournerons volontiers.
FABIAN
2016-09-05T00:00:00Z
Beautiful old art deco house with a lot of charm (the house & its decoration). Very close to beautiful Heuvelland (Belgium). All as described, and hosts very welcoming, very pleasant stay. We stayed with 3 for only one night, but will definitely be back. Would comfortably suit groups of 10 persons.
Jurriaan
2016-04-24T00:00:00Z
Superbe ! Les hôtes sont entièrement à l'écoute des besoins , s'adaptent en toute gentillesse. Cadre magnifique, décoration au top ! Un séjour idéal !
Clément
2016-06-29T00:00:00Z
Heel mooi oud huis . Warm en knusse , speciale inrichting . Wij bleven maar 1 nacht en hebben genoten van de westhoek en Frans Vlaanderen.
Regine
2016-05-02T00:00:00Z
C'etait très bien, bonne accueille, hôte très gentille et la maison est magnifique. Nicolas
Nicolas
2015-08-07T00:00:00Z
Maison très agréable et confortable avec un accueil chaleureux de Pierre. Je recommande fortement d'y séjourner.
Arthur et Christina
2015-02-02T00:00:00Z
Pierre was great, meeting us when we arrived and sowing us the place. The house was incredible. A really old turn-of-the century building with amazing features. Everything was really comfortable and we settled in really easily.Very welcome for a family of 5, after a long-ish drive.
Tim
2015-05-27T00:00:00Z
Oda Tipi
Tüm ev/daire
---
Mekan Türü
Ev
---
Konaklayacak Kişi Sayısı
15
---
Yatak odaları
Bailleul, Nord-Pas-de-Calais, Fransa
Au coeur des Flandres, le gite offre un panorama unique (vue à 360°) sur un paysage incroyable. Dépaysement assuré! Le gite comprend 2 chambres, un séjour avec cheminée, cuisine équipée et salle de bain neuve. Jardin et terrasse exposés plein sud.
The house is located in an amazing area, upon a hill, in the countryside. We can have a 180° view over the countryside of the North.
Our neighborhood is very quiet, green and lighty. Nature is highly preserved here. The view from the house is absolutely amazing!
Wir haben unseren Tripp nach Beilleul sehr genossen. Wir waren zu 4. in dem kleinen, aber schön eingerichteten Häuschen. Vom Haus aus hat man einen wundervollen Blick über die Landschaft, die man entweder vom Frühstückstisch oder von der Terasse aus genießen konnte. Céline hat uns viel erklärt und auch einige gute Tipps gegeben, wo man gut essen kann und wo man hinfahren könnte. Die 4 regionalen Biere im Kühlschrank, waren ein sehr willkommendes Begrüßungsgeschenk. Von Bailleul aus kann man sehr gut nach Belgien fahren und sich dort Ypern (18km) oder Brügge (90km) ansehen. Auch Lille und Lens liegen nah am Ort und sind schnell mit dem Auto zu erreichen. Leider hatten wir nur kurz Zeit und die Umgebung genauer anzusehen. Wir werden sicherlich nicht das letzte Mal in dieser Region gewesen sein und sicherlich auch noch mals in dieser gemütlichen Unterkunft halt machen.
Sebastian
2016-06-24T00:00:00Z
Céline was the perfect host to myself, Caterina and our Dog Dante. The listing was just the right stop off for our journey down to Italy after our ferry from Calais. And Céline was very accommodating to our late arrival and early exit the next morning. We hope you enjoy the beers we left you!
Christopher
2015-12-18T00:00:00Z
House was very well appointed and we had everything needed. Very convenient for many sites to visit. Celine was very helpful and spoke good English. She left some local boutique beer for us to try which was really nice. the Gite Bailleul was close to towns. wifi was good.
Lynette
2016-10-05T00:00:00Z
Céline was very responsive to messages. She met us on our arrival and provided us with useful information (and bottles of local beer in the fridge). The gite is just outside of Bailleul, in beautiful countryside. The garden is south facing, so gets the sun nearly all day. If you want to cook, there are plenty of cooking utensils. The main bedroom is up in the eaves (the steps are quite steep), with the twin bedroom on the ground floor (just off the lounge).
Lesley
2016-09-09T00:00:00Z
Le logement de Céline est vraiment super, nous avons été accueilli avec le sourire et Céline a été à notre disposition malgré notre arrivé tardive le logement est très propre et très complet, il y avait même quelque bières dans le frigo pour nous accueillir
Julien
2016-12-03T00:00:00Z
Adorable petite maison flamande, beaucoup de cachet, confortable, agréable, bonne énergie. Superbe vue et accueil très chaleureux. Idéal pour un weekend ou bien plus.... Nous y reviendrons avec grand plaisir. Nous recommandons!!
Marie
2017-01-29T00:00:00Z
La petite maison correspond très bien aux photos publiées. Elle est spacieuse, décorée avec goût est très claire. Nous avons particulièrement apprécié la vue sur les champs (et vaches). La terrasse est très agréable quand il y a du soleil. La cheminé fonctionne et nous avons même fait du feu un soir. La literie est confortable et le linge fourni est très propre. Céline a été très accueillante et souriante. Nous recommandons cette maison pour un séjour découverte du Nord de la France et de la Belgique.
Roxana
2015-06-25T00:00:00Z
Beautiful view. Very comfortable. Super friendly and helpful host.
Bob
2017-04-02T00:00:00Z
Oda Tipi
Tüm ev/daire
---
Mekan Türü
Ev
---
Konaklayacak Kişi Sayısı
4
---
Yatak odaları
Bailleul, Nord-Pas-de-Calais, Fransa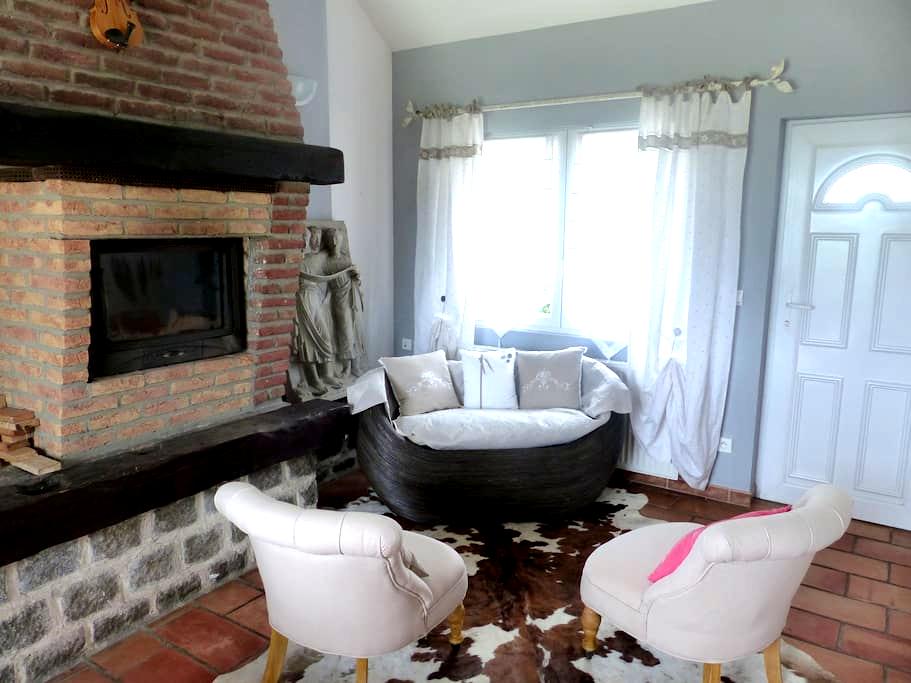 Holiday house in an old farm in the heart of Flanders Hills (8 people) Growers in the region, we have fully restored in 2014 this house with old materials, while respecting the traditional Flemish.
Logement très bien décrit. Nous avons été très bien accueillis !
Lucie
2015-09-14T00:00:00Z
We hadden een heel aangenaam verblijf in dit huisje, alles wat we nodig hadden was voorhanden. Het huisje is klein maar heel gezellig ingericht.
Lien
2016-09-26T00:00:00Z
Week-end parfait dans cette ancienne ferme rénovée au cœur des Monts de Flandre ! La maison est très propre et très chaleureuse avec de superbes chambres, salle de bain (douche italienne) et salon. L'endroit est très dépaysant avec une magnifique terrasse et son grand barbecue maison avec un grand jardin et parking. Les hôtes nous ont tout de suite fait comprendre que l'on était les bienvenues dans leur logement, des personnes très accueillantes. Nous avons même pu déguster leurs propres "produits maison" de l'arboriculture (un régal!). Le village de Boeschepe est très jolie, dans un véritable cadre champêtre à moins de 15 minutes des grands axes en directement de Lille, Dunkerque, Calais et la Belgique. De belles ballades, des bons restaurants dans le coin, un cadre superbe, un véritable bon bol d'air frais. Superbe logement au centre du Nord. Un véritable coup de cœur ! Bref, que dire de plus, n'hésitez pas !
Florian
2015-03-09T00:00:00Z
Le lieu est super convivial, implanté dans un endroit tranquille et bucolique. Tout était génial. A faire en famille ou entres amis
Nicolas
2016-07-18T00:00:00Z
Lucile and Regis provided us with the most beautifully restored farmhouse in Flanders to stay in. It was clean, well equipped, comfortable and very tasteful in decor. They had left a bottle of fresh juice to welcome us, and although we did not meet them, as we were arriving late in the evening, they made it very easy for us to settle in and be there. The kids loved the converted loft accommodation, each with their own bed and storage space. The location of the farmhouse was idyllic - in the middle of the countryside with fields all around - a real break from the city where we live, it was so quiet and peaceful. However, it was a great location from which to explore many of the WW1 sites, such as Ypres (20mins), Flanders and the Somme battle fields (1 hr 15 min). Our highlights were attending the 'last post' ceremony at the Menin Gate in Ypres (this happens every night of the year since 1926, except during German occupation during WW2), and also our visit to the Somme Museum at Albert, housed in underground tunnels which had been used during WW2 as a bomb shelter for the whole town) After camping for two weeks with our three children around Europe, our three nights in Boescheppe were a real treat, and were real luxury. A big thank you to our hosts for such a lovely, affordable place to stay.
Christoph
2015-08-10T00:00:00Z
Lekker vers appelsap stond klaar bij aankomst
Veerle
2016-06-13T00:00:00Z
-
Séverine
2016-12-26T00:00:00Z
Paar mooie dagen beleefd op de grens tussen België en Frankrijk.
Martijn
2016-10-11T00:00:00Z
Oda Tipi
Tüm ev/daire
---
Mekan Türü
Ev
---
Konaklayacak Kişi Sayısı
8
---
Yatak odaları
Boeschepe, Nord-Pas-de-Calais, Fransa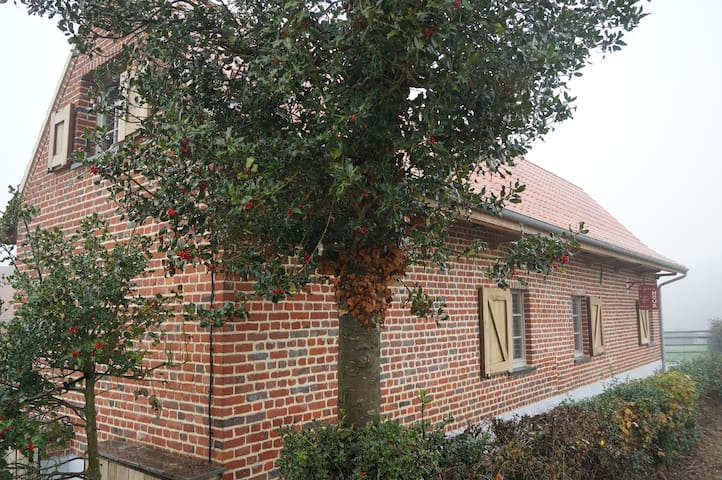 Located on the south side of Mont des Cats, the heart of Flanders mounts The little vixen is a charming cottage that offers a view breathtaking ...
Located on the south side of Mont des Cats, the heart of the mounts of Flanders, the little vixen is a charming cottage that offers a view breathtaking ... A cozy house ideally equipped for 6 people but can accommodate up to 8 people with all the - large and small - in the middle of a private garden of 2000m² A spacious living room facing east / south / west to lose nothing of the light of Flanders ... A fireplace for fire magic ... 3 bedrooms where the beds can wish to be single or double ... A large and beautiful garden to relax, to eat around the barbecue and where children can play on the trampoline and swings ... Close to the abbey in the heart of a rich network of walking paths, steps from Belgium, 30 minutes from Lille, 30 minutes from the beach ...
On the southern slope of the Mount of cats. Very calm. panoramic view to the hills of Artois.
Nice house, very nice view, perfect place to be with little kids. Helene is very flexible!
Anna
2016-09-05T00:00:00Z
Oda Tipi
Tüm ev/daire
---
Mekan Türü
Ev
---
Konaklayacak Kişi Sayısı
8
---
Yatak odaları
Berthen, Nord-Pas-de-Calais, Fransa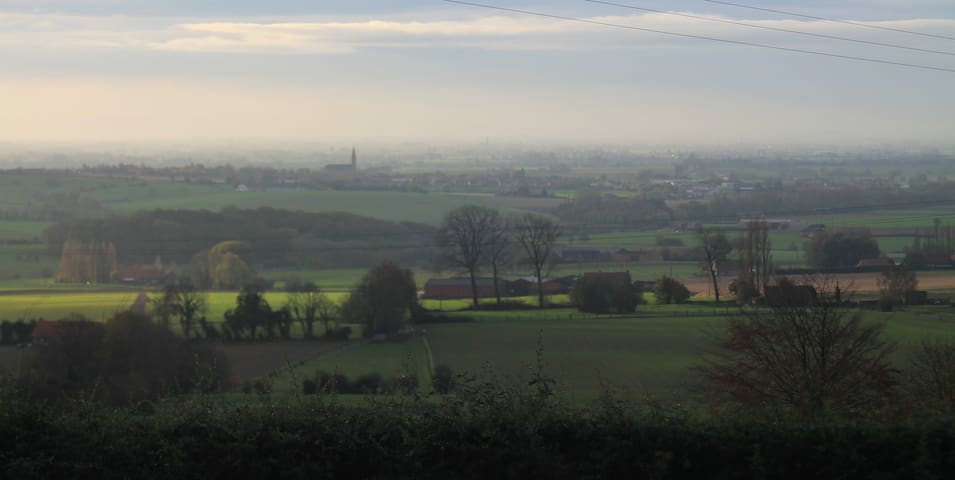 The guesthouse is located at the foot of the hills. A perfect location with wonderful views of the rolling countryside and hiking and biking trails on the doorstep. A place where you can feel home in the middle of the nature, in the beautiful Heuvelland. Close to the historical cities Ypres and Lille. Big and cozy garden terrace - Family and child friendly - Free parking Breakfast is optional, the price do not include breakfast.
Our guesthouse is completely private: there is a living room,kitchen , bathroom, 2 toilets. The sleeping area is upstairs.
Dranouter is een klein, charmant dorp met tal van aanbiedingen. Een prachtige natuur waarin u omringd bent met heuvels en weides.
This guest house is exactly as described. It is charming! But not as charming as the host and her mother. They made us feel so welcome. If you are looking for a quaint, quiet Belgium getaway, this is the place.
Lori
2015-07-12T00:00:00Z
Très jolie petite maison avec 3 chambres, à notre arrivé le frigidaire était rempli et sur la table de quoi faire un petit déjeuner chaque matin de notre semaine. La famille est super accueillante, nous avons eu le droit à un câble HDMI acheté pour nous c'était une superbe attention. Je vous recommande ce logement si vous êtes dans la région
Idriss
2016-03-11T00:00:00Z
thanks for a great time in your house!
Gerrit
2016-06-15T00:00:00Z
Gezellig huis met alle comfort (buiten een vaatwasser) in een landelijke omgeving. Ideale uitvalbasis om te wandelen, fietsen of de streek te bezoeken!
Hugo
2016-02-09T00:00:00Z
Hôte charmante et pleine d'attention, maison très agréable. Le petit +, le petit déjeuner !!! Endroit idéal pour découvrir la région. Nous recommandons vivement.
Maxime & Nathalie
2015-08-21T00:00:00Z
Aangename verblijf in een geweldig mooie streek!!
Jef
2017-01-02T00:00:00Z
This is a wonderful little cottage nestled on the Franco-Belgian border. The accommodation was very comfortable with one bedroom in the attic up a metal spiral staircase. Very cute. The house was well equipped with everything we needed (except a washing machine but we knew that was the case beforehand), and the beautiful local villages in the area had lots of good food shops and restaurants. It was very convenient for exploring the Great War sites around Ypres with most of sites being a very easy drive along pleasant roads. The garden of the house was lovely in the sun and having some chickens living in the garden next door behind a fence was a source of great joy to my 2 year old, who loved feeding them our table scraps! It's not within walking distance of anything so it really is for enjoying the countryside and using a car for exploring, but that was what we wanted so it wasn't a problem. Ciska was very responsive when we communicated through Airbnb. Her Mum made us feel very welcome when we arrived leaving a bottle of the local Dranouter wine which was very pleasant and had strong notes of pear. Overall a very nice place to stay.
Matthew
2016-06-30T00:00:00Z
Nous avions les consignes et la clef était mise à disposition pour que nous puissions rentrer dans la maison. Le logement était conforme au descriptif, la maison et le jardin très agréables, mais pas de draps dans les lits!!! C'est la 1ère fois que nous rencontrons cette situation dans les multiples Airbnb déjà fréquentés. En l'absence de la propriétaire et de sa maman, à 18 heures, nous avons dû acheter des draps (pour 10 personnes =121 euros en plus !!) et la maman nous a informé vers 18h30 qu'elle pouvait nous en louer!!!!! Dans l'annonce les draps étaient annoncés fournis!!! De plus, il n'y avait ni sacs poubelle, ni papier toilettes, ni serviettes pour la vaisselle! Nous avons bien reçu, par texto, les excuses de Ciska mais nous avons été très déçus par cette situation. Peut-être avons-nous joué de malchance (rien pour le petit déjeuner non plus!) tant les commentaires précédents étaient bons!?
isabelle
2016-05-09T00:00:00Z
Oda Tipi
Tüm ev/daire
---
Mekan Türü
Ev
---
Konaklayacak Kişi Sayısı
10
---
Yatak odaları
Dranouter, Vlaams Gewest, Belçika
Ancien séchoir à houblon rénové avec des matériaux écologiques. Au rez-de-chaussée, il y a une chambre, une salle de bain avec douche à l'italienne, à l'étage 3 chambres et une salle de bain. Il y a du matériel pour bébé (table à langer, baignoire, chaise haute...). Il se situe dans la campagne de Méteren, au calme. Parcours de randonnée à proximité.
Le rez-de-chaussée du logement est accessible aux personnes à mobilité réduite (chambre, salle de bain, toilettes). Le plan de travail de la cuisine est réglable en hauteur.
Very complete and nicely located gite in a rural, quiet place with a spacious terrace. Nice atmosphere. Good communication with the host.
Paul
2017-04-02T00:00:00Z
The host canceled this reservation 2 days before arrival. This is an automated posting.
mariejk
2017-03-17T00:00:00Z
Oda Tipi
Tüm ev/daire
---
Mekan Türü
Doğa içinde pansiyon
---
Konaklayacak Kişi Sayısı
8
---
Yatak odaları
Méteren, Hauts-de-France, Fransa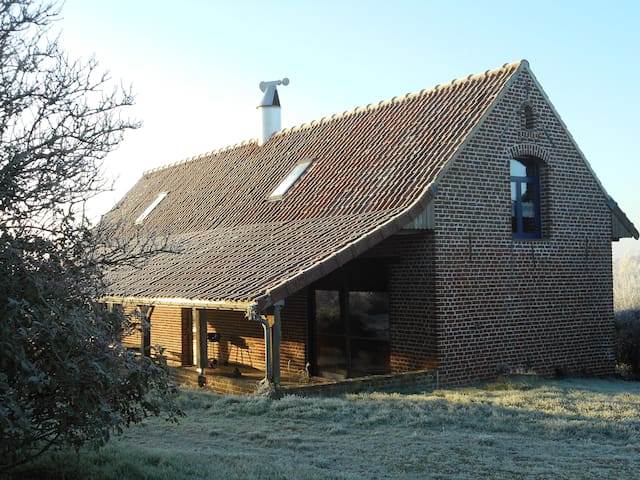 Een gerenoveerde vakantie woning met alle comfort en plaats voor 4 volwassenen in twee volwaardige slaapkamers en groot terras . Je hebt een prachtig uitzicht op de flanken van de Rode Berg en onbeperkte wandel- en fietsmogelijkheden in Heuvelland.
Oda Tipi
Tüm ev/daire
---
Mekan Türü
Ev
---
Konaklayacak Kişi Sayısı
4
---
Yatak odaları
Heuvelland, Vlaanderen, Belçika
Notre maison est située à 30 km de Lille, et 85 km de calais, à 5mn de la frontière belge. C'est une maison accueillante et chaleureuse. Nous avons engagé une démarche de rénovation écologique avec des matériaux sains ouverte sur un grand jardin.
Maison de famille nombreuse, chaleureuse. Des espaces ouverts et zen. Les chambres sont aménagées pour un confort agréable et garantissant l'intimité.
Notre quartier est situé à 5mn à pieds du centre ville où se trouve notre beffroi classé au patrimoine de l'Unesco et tous les commerces.
Bij onze aankomst werden we vriendelijk ontvangen. We werden voorgesteld aan de andere gezinsleden en aan de andere gasten. We konden onze fietsen veilig stallen in de tuin. We konden s' avonds samen met het gastgezin TV-kijken (WK-voetbalmatch Frankrijk - Albanië). Ook tijdens het ontbijt nam de gastheer tijd voor een gesprek waarna we rustig konden vertrekken.
Ignace
2016-06-17T00:00:00Z
Non loin de la grand Place de Bailleul, le logement est très sympathique et conforme à la description. Nous n'avons pas rencontré Viriginie et Bertrand mais leurs enfants nous ont chaleureusement accueilli. Le petit-déjeuner était complet et très apprécié. Nous recommandons ce logement pour passer quelques jours dans la sympathique région des Flandres.
Nicolas
2015-07-04T00:00:00Z
Merci à Virginie et Bertrand pour leur accueil chaleureux. Nous avons passé un excellent séjour et avons pu échanger sur des thèmes qui nous intéressaient.
juliette
2016-07-04T00:00:00Z
Super accueil, famille très charmante. Chambre agréable.
Nicolas
2016-05-08T00:00:00Z
Très bon accueil, hôte attentionné. Je recommande
Emeric
2016-07-11T00:00:00Z
Nous somme venus pour une nuit pour un week end mariage ! Nous avons été très bien accueillis par Virginie et Bertrand avec qui nous avons pu bien échanger lors d un petit déjeuner composé de très bons produits !! La maison et la chambre sont très agréables !!! Merci encore à eux !
Marie
2016-10-09T00:00:00Z
Zeer aangename ontvangst bij dit Eco-gezin, mooie kamer en uitgebreid ontbijt
Steven
2015-08-10T00:00:00Z
Accueil très convivial de la part de Bertrand et Virginie. La chambre est très agréable et confortable. Le petit déjeuner était parfait.
Tony
2016-03-09T00:00:00Z
Oda Tipi
Özel oda
---
Mekan Türü
Ev
---
Konaklayacak Kişi Sayısı
2
---
Yatak odaları
Bailleul, Nord-Pas-de-Calais, Fransa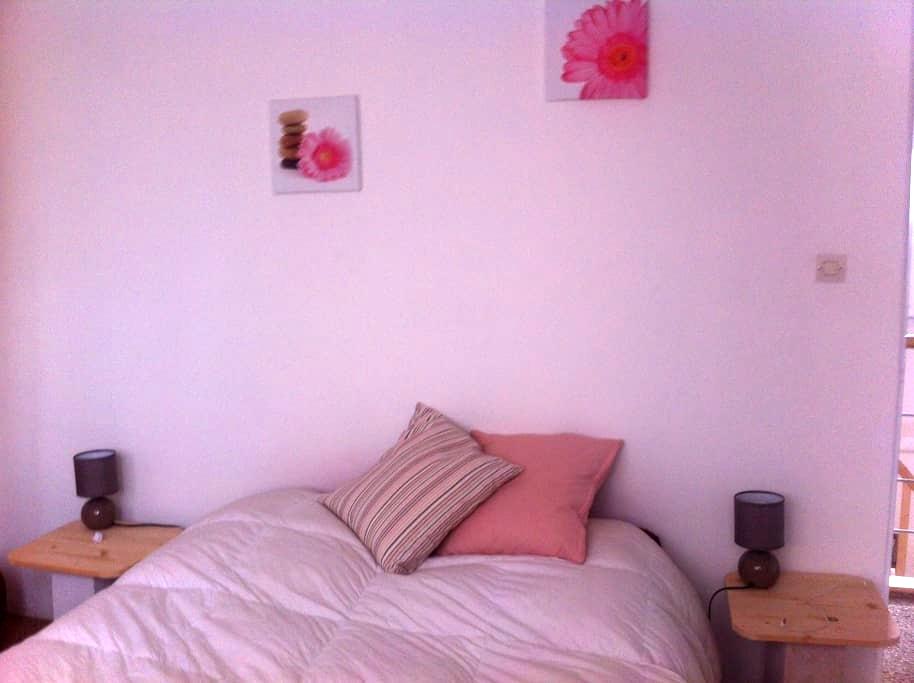 Minimum stay is 2 nights! Renovated barn with 32 beds in 3 sleeping rooms. Allowed to bring tents to place in the garden. Large industrial kitchen and bathroom. Cosy fire place, industrial wood interior design.
Our stylishly renovated barn has room for 32 people in 3 large bedrooms. It offers the best country side views in town! A large terrain surrounding the house can be used for outside activities or putting up tents for youth camps. The house features a large professionally equipped kitchen and separate bathrooms for men and women with 2 showers each. The spacey interior can be used for various inside activities, events, parties, etc. A separate mezzanine has a cozy sofa, table and fire place. Other amenities are a barbecue, wireless internet, wireless audio speakers, and a table tennis. There are also children chairs and beds. Parking is free down the road. This is a unique spot for larger groups that wish to enjoy the best the region has to offer: WW I history, nature hikes, mountainbike rides, Belgian beer, local wildlife, etc.
Op 23km van Rijsel (FR), op minder dan 10km van Bailleul (FR), Westouter, Kemmel. Op 15km van Ieper, Poperinge, Westvleteren. Natuur & Sport: paardrijden, mountainbiken, wandelen op de Kemmelberg, de Rodeberg, de Zwarteberg, Dikkebusvijver Cultuur & musea: 't Folk (concerten), WO I herdenkplaatsen, Flanders Fields Memorials, Hoppemuseum, Frans-Vlaamse toneelvereniging, Watou (op 15km) Lekker eten: In de Zon (Loker), In De Wulf (ster!), de Barbier, Boergondië, De Tere Plekke BBQ vlees: slagerij 't Gourmetje Aardbeien: automaat boer bovenop de heuvel Kruidenierswinkel: Rita Caron (Loker) Brood: centrum Dranouter
Un lieu parfait pour se retrouver en groupe et profiter sans se faire de soucis!!!!!! Tout le nécessaire est disponible en mode industriel (quantité et robustesse) le tout dans un esprit loft sympa. Pas de voisins à proximité ce qui limite les risques de nuisances sonores. Bref, un chouette lieu de convivialité à ne pas rater :) Seb
Amélie et Sébastien
2016-05-17T00:00:00Z
Notre séjour à Doucemont a été très fantastique. Nous avons organisé l'anniversaire de mariage de mes parents, avec une trentaine de personnes, et le lieu s'y prête parfaitement. Le lieu est très bien agencé et permet d'organiser un dîner facilement, et une belle soirée dansante derrière. La campagne environnante est magnifique, et même si le soleil nous a manqué, nous avons bien profité de ce bel endroit.
Sigrid
2016-06-06T00:00:00Z
Le logement est vraiment formidable, conforme aux photos et à la description. C'est très calme, parfait pour un événement. Les hôtes sont également très disponibles. Nous étions 27. Le week-end a été parfait ! Tout le monde a adoré. S'il fallait le refaire, ce serait sans hésiter !
Franck
2016-04-04T00:00:00Z
Grande Maison qui convient parfaitement pour un week-end entre amis. Nous avons passés un bon moment !
François-Xavier
2016-07-25T00:00:00Z
Nous avons passé un excellent week-end à Doucemont. Nous étions 30 pour fêter un anniversaire. Tout est là pour passer un séjour agréable et Carl, présent durant l'ensemble du séjour était à la fois très disponible et discret. Les prestations sont à la hauteur de ce qui est annoncé, difficile de trouver mieux! Nos invités ont été charmés par l'endroit et les prestations.
Mathieu
2017-02-26T00:00:00Z
Maison très agréable et très bien faite pour les grands groupes (grande cuisine, salle de bain, toilettes..). Très bonne disponibilité des propriétaires tout au long de notre séjour, ceux ci facilitent beaucoup la prise en main. Nous avons passé un très grand moment et je pense qu'il ait difficile de trouver une prestation de ce type pour des grands groupes.
Cyril
2016-02-15T00:00:00Z
Grange réaménagée de manière moderne, très bien équipée, située en plein milieu des Flandres belges. Nous y avons passé un excellent Noël 2015 en famille (19 personnes). Tout le monde a adoré. C'était parfait pour l'occasion. A refaire
Benjamin
2015-12-26T00:00:00Z
J'ai réservé ce gîte de groupe pour une fête d'anniversaire avec une trentaine d'amis et l'endroit a fait l'unanimité... dans le bon sens du terme! Il est situé à une quarantaine de minutes de Lille, à moins de 10 minutes de Bailleul, au bout d'une petite route de campagne qui semble nous emmener au fin fond des Flandres. Séduit par les photos lors de la réservation, je n'ai pas été déçu à la découverte des lieux. Il s'agit semble-t-il d'un ancien hangar agricole totalement rénové (il ne reste que la structure) aujourd'hui prolongé d'une terrasse avec une vue dégagée sur la plaine. Au rez-de-chaussée, on peut cuisiner, manger, danser et même jouer au ping-pong! A l'étage, on retrouve, sur la mezzanine, un coin salon équipé d'un insert et trois grandes chambres d'une dizaine de couchages chacune. Les WC et salles de douches (hommes/femmes séparées) sont situés au rez-de-chassée. Quelques qualificatifs : spacieux, chaleureux, fonctionnel, propre, atypique, neuf, lumineux,... Bref, parfait pour nous ! La cerise sur le gâteau : les propriétaires sont très sympa et parlent français.
François-Xavier
2014-01-27T00:00:00Z
Oda Tipi
Tüm ev/daire
---
Mekan Türü
Ev
---
Konaklayacak Kişi Sayısı
16
---
Yatak odaları
Heuvelland, Flanders, Belçika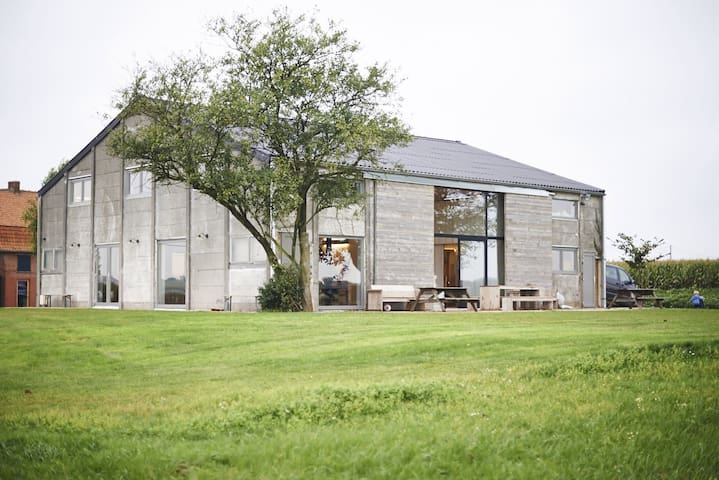 400 m2 for you = 5 single rooms 16 people: Double beds/single beds 1 room for 6 people 4 rooms from 2 to 4 people Bath towels & linens, breakfast provided Kitchen, dining room, lounge, 2 bathrooms, WC garden, BBQ, pool, ping pong room, piano
Ideal for family , groups , birthdays ... 400 m2 for you = 5 private rooms with real beds double and single beds . 1 large bedroom with 2 double beds and 2 single beds = 6 people . 3 bedrooms with double beds = 6 people . 1 bedroom with 2 single beds and 1 double bed = 4 people . Clean linen and duvets provided . Total 16 persons possible . 4 different entrances to enter the house = you will have your own entrance with your key . 2 separate staircases to climb to the 1st floor = you will have your private staircase for you . Free breakfast = coffee , tea , chocolate , milk , cereals , baguettes , butter , jam , honey , Nutella , fruit . Kitchen , dining room , living room hi-fi : Jack , TV : ACCESS TO WIFI . 2 bathrooms with towels , shampoo , soap , toilet . Garden ( 1800 m2 ) : BBQ , terrace and pool . Ping pong , piano . In a detached house ( Art Deco style ) with garages . Quiet , tranquility, 5 minutes walk from the town center , Flemish architecture in the heart of Flanders : beautiful Flemish houses .
Town of Flemish architecture in the heart of Flanders with Estaminets , YPRES with commemoration of world war 1914-18 ( every day at 8 pm ) .
Wonderful place. Really beautiful. An authentic experience. Pierre and François were truly helpful. The village is great. We only missed a little bit more of cleanliness, but it is difficult to get a spotless house with those dimensions (it is huge).
Javier
2015-08-29T00:00:00Z
Absolutely loved this place. A wonderful house full of personality and character. Would definitely recommend to anyone. Hosts were very friendly too, great people.
Anthony
2016-06-18T00:00:00Z
We enjoyed our 1-night stay in this lovely and a bit crazy house... An ideal location to drive 5 km, cross the border and have dinner at In de Wulf - the one Michelin star restaurant of Kobe Desramaults that will close at the end of 2016. The cat, dog and breakfast were included. One negative point are some of the matrasses in the bedrooms. But the space, the decoration and the ping pong table do compensate this! :)
Elise
2016-02-21T00:00:00Z
Maison très spacieuse. Nous avons passé un très agréable Noël, entre parties de Ping-pong et de cache-cache...
olivier
2015-12-25T00:00:00Z
Une maison magnifique et authentique. François et sa famille sont à la fois disponibles et discrets... Un vrai plaisir de séjourner chez eux, en plein cœur de Bailleul!
Rodolphe
2014-04-28T00:00:00Z
Superbe maison à 30km de Lille. Parfait pour accueillir 8 à 10 personnes avec deux salles de bains. Hôtes adorables qui nous ont servi le petit déjeuner. Encore plus appréciable si vous venez avec le beau temps pour profiter du jardin et de la piscine
Bettina
2015-05-03T00:00:00Z
Very nice! To be recommanded!
Hetty
2016-12-28T00:00:00Z
Zeer vlotte ontvangst en uitleg. Foto's tonen niet hoe groot en mooi het volledige huis is. Huis is oud maar goed onderhouden. Oprit biedt plaats aan vier auto's. De buurt zijn we niet gaan verkennen.
Kevin
2017-01-01T00:00:00Z
Oda Tipi
Tüm ev/daire
---
Mekan Türü
Ev
---
Konaklayacak Kişi Sayısı
15
---
Yatak odaları
Bailleul, Nord-Pas-de-Calais, Fransa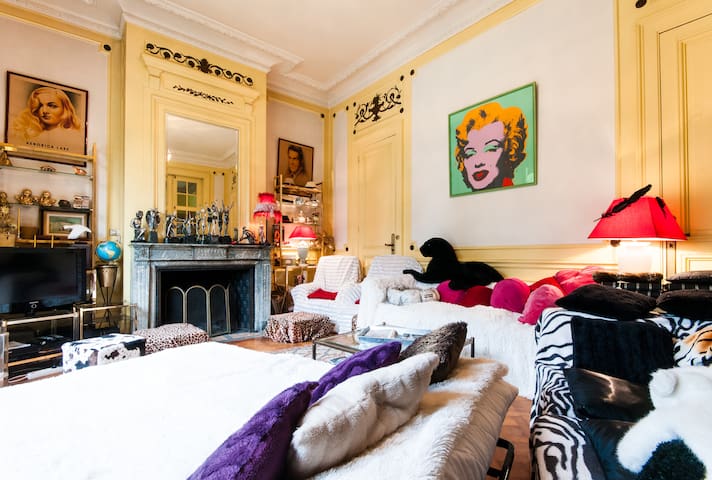 Cozy house, Beautiful area. You find nature, shops, restaurants... all very nearby.
Amazing place, would highly recommend staying here to anyone and everyone! Had a great time relaxing in the Wellness Spa, which was a well-needed break for us during our travels around France! Vicky was a very good host, met us on time and was always available if we needed her! Thanks again. Sion and the boys!
Sion
2016-06-29T00:00:00Z
Het was een leuk weekend in een mooie wandelstreek. Vicky is een vriendelijke behulpzame gastvrouw. Het huis is zoals beschreven,netjes en alles in goede staat. Marleen en Peter
Peter
2017-03-13T00:00:00Z
Geweldig huisje, van alle gemakken voorzien. Ideaal voor een weekendje ontspannen.
Mirko
2015-10-25T00:00:00Z
fantastic home. Beautiful town with nice scenery. House fully equipped with everything you need. Vikki was very accommodating. Would recommend highly.
Evan
2016-06-25T00:00:00Z
Discreet, stijlvol, met veel aandacht voor details: of hoe een vakantiehuis en de gastvrouw moeten zijn.
Ludwig
2016-08-09T00:00:00Z
Fantastic host and always available to answer our needs
Ian
2016-09-02T00:00:00Z
The stay at the house was as expected. The house was amazing both inside and out. It was what we were looking for. Unfortunately we did not have as much time in the house as we would have wanted as we were off to work. Vicky the host was very friendly and helpful with everything that we needed. It was a very private stay as we did not see the neighbours and were able to be undisturbed during the whole stay.
Christian
2015-09-06T00:00:00Z
Ein grossartiges Haus mit einer tollen Gastgeberin. Perfekt zum Entspannen und Geniessen. Wir können dies nur Weiterempfehlen. Wer unvergessliche Ferien möchte ist hier genau richtig...
Giuliano
2016-06-21T00:00:00Z
Oda Tipi
Tüm ev/daire
---
Mekan Türü
Kulübe
---
Konaklayacak Kişi Sayısı
6
---
Yatak odaları
Heuvelland, Vlaams Gewest, Belçika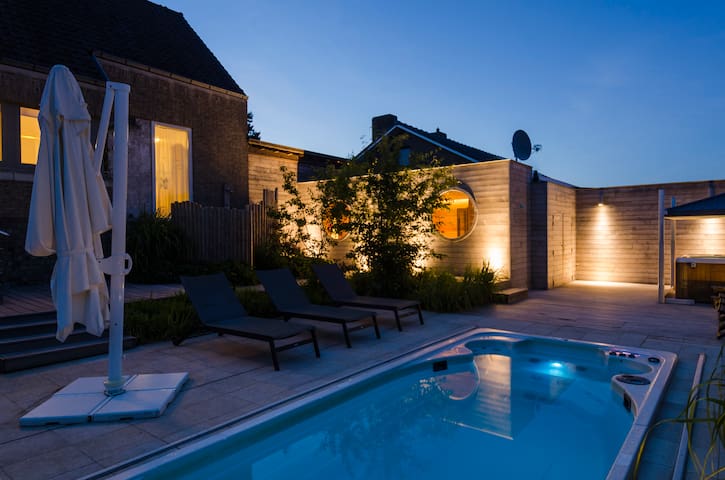 fully restored farmhouse situated in a green oasis where you can hear the silence ... and where you can see the darkness ... located at 12 km from Ypres, 30 km from Lille (France) ideal to unwind after a day of Ypres and its First World War relics
Todo correcto. Marc es una persona muy atenta, y hace todo lo posible para que te sientas como en tu casa.
MAYTE
2016-06-20T00:00:00Z
Oda Tipi
Tüm ev/daire
---
Mekan Türü
Ev
---
Konaklayacak Kişi Sayısı
6
---
Yatak odaları
Heuvelland, Vlaanderen, Belçika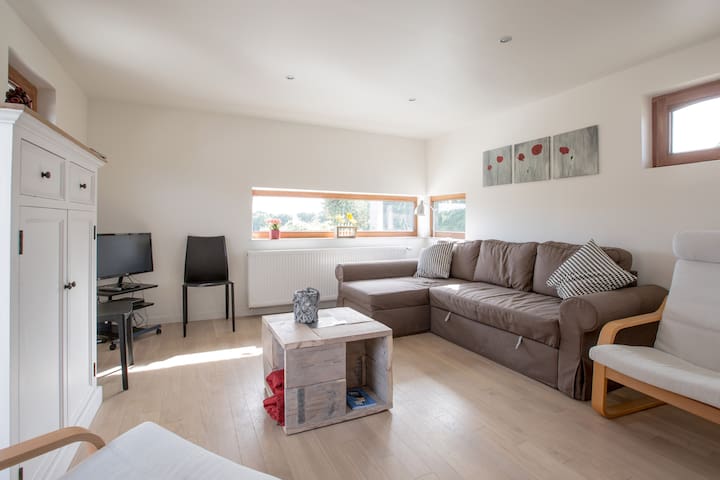 Venez dormir, dans une vrai maison Flamande, avec ses plafonds a 3,20m. Prendre votre petit déjeuner gargantuesque dans la verrière qui donne sur le jardin.
(URL HIDDEN)label cle vacances - 3 clés- C'est au cœur de Bailleul, une ville à la campagne, dans un maison flamande qui a fêté ces 90 ans en 2013 qu' Isabelle et Philippe proposent de vous accueillir tous les jours dans 2 chambres rénovées avec goût. La « chambre du carillonneur » nommée ainsi parce qu'elle donne sur le beffroi, aujourd'hui patrimoine mondial de l'Unesco, et La chambre de « Gargantua » parce qu'il serait impossible de ne pas vous conter le carnaval. Chaque chambre est équipée d'un lit double (1.60m*2m), de tables de nuit avec lampes de chevet, d'une armoire ou une commode, d'une TV, d'une bouilloire électrique permettant de faire un café, un chocolat ou un thé, d'un repose valise, d'une salle de bain, avec WC, douche et lavabo. Les serviettes de bain sont mises à disposition. Le Matin, le petit déjeuner est servi dans la verrière qui donne sur le jardin de la Maison. Pour les matins frileux, le poêle a bois viendra apporter une agréable chaleur Belle de Flandre est à quelques minutes à pied de la gare, à environ 2km de l'autoroute A25. A environ 30 minutes de voiture, vous êtes à Ypres, Lille, Dunkerque, Hazebrouck, St Omer, Pour déjeuner et diner, les restaurants de Bailleul peuvent vous accueillir, mais aussi tous les estaminets flamands le long de la frontière belge. Plus de détail sur notre site belledeflandre Tarif 65 € par chambre de 2 personnes mot clé : chambres d'hotes, location, flandre, flandres
La maison est au coeur de Bailleul, a quelques metres des restaurants, du beffroy, des musées des dentelières et benoit du puyt.
Merci Isabelle & Philippe pour votre accueil si chaleureux! Votre maison est vraiment belle et on s'y bien! En plus le petit déj' était délicieux! Bien à vous
Vincent
2014-01-27T00:00:00Z
The host canceled this reservation 81 days before arrival. This is an automated posting.
Laura
2016-01-24T00:00:00Z
Nous sommes restés une nuit chez Isabelle et Philippe qui nous ont très bien accueillis. Leur maison est charmante, et le jardin très bien tenu. Notre chambre était joliment meublée (URL HIDDEN) de tout le confort nécessaire. Le petit déjeuné servi avec beaucoup d'attention. Nous avons visité la région, Lille, qui est une ville formidable, et la frontière belge parsemée de petits endroits délicieux. Nous recommandons Belle de Flandre, ses hôtes et leur région chaleureusement.
Evita & Allan
2016-11-13T00:00:00Z
My boyfriend and I have been using Air BnB for several years now, and this was the best experience we've had. Isabelle and Phillipe were very kind to us and a pleasure to sit and chat with!! And the room and hotel were beautiful and clean--and we were given an excellent breakfast spread. We will try to make it back to Bailluel just to visit!!
Elizabeth
2015-04-12T00:00:00Z
Prachtige kamer, luxueuze privé-badkamer, zalig ontbijt in een heerlijke tuin, en zeer aangename ontvangt. perfect dus!
Steven
2016-08-08T00:00:00Z
We had a wonderfull stay at the B&B from Phillipe and Isabelle. It is a perfect location with a beautifull garden. The breakfast was very good with fresh products. This experience was completed by the warm welcome of the very sympathic Phillipe and Isabelle. In French; "Trés Magnifique!" -Leon, Gitta & Jessy -
Leon
2016-07-26T00:00:00Z
Nous sommes très bien accueillis par Isabelle et Philippe. La maison est vraiment belle. Notre chambre était spacieuse et propre. Nous avons apprécié le délicieux petit déjeuner. Philippe nous a vraiment aidé à la recherche de marchés aux puces. Nous avons eu deux jours merveilleux et nous y reviendrons. Nous recommandons cette B & B certainement!
Erwin
2015-05-03T00:00:00Z
Isabelle et Philippe nous on très bien accueilli ma collègue et moi-même, je lui avais réservé une chambre pour une nuit et elle a beaucoup apprécier la décoration de la maison et le confort de la chambre ! Isabelle nous a offert un rafraichissement en terrasse dans leur beau jardin, ce qui était très agréable ! Le petit déjeuner copieux lui a également beaucoup plu. Je réserverais à nouveau des chambres pour mes collègues quand l'occasion se représentera !
Hélène
2015-08-07T00:00:00Z
Oda Tipi
Özel oda
---
Mekan Türü
Oda + Kahvaltı
---
Konaklayacak Kişi Sayısı
3
---
Yatak odaları
Bailleul, Nord-Pas-de-Calais, Fransa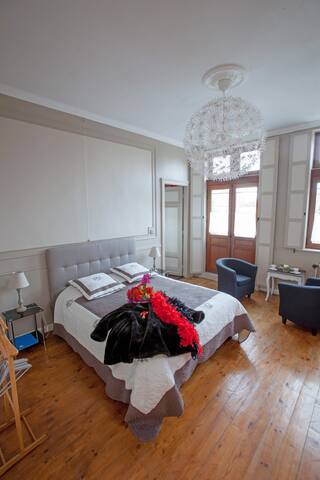 Wandelen, fietsen, gastronomie, musea, en nadien rust in onze b&b! Dranouter, dicht bij Ieper, Rijsel, op wandelafstand van sterrestaurant In de Wulf,... Te betalen bij aankomst: toeristenbelasting: €1,25/pers/nacht. Ontbijt is optioneel, bestellen kan bij je reservatie, €10,00/pers.
Onze b&b is volledig privé: er is een aparte eetruimte, salon, keuken, badkamer en toilet. Het slaapgedeelte is boven: 1 kamer met een tweepersoonsbed, 1 kamer met 2 stapelbedden.
Dranouter is een klein, charmant dorp met tal van aanbiedingen: prachtige natuur: omgeven door weides en heuvels. Knooppuntenroute loopt langs onze b&b. culinair: verschillende eetkroegen, restaurant De Bralle in het dorp en op wandelafstand van onze b&b: In de Wulf, sterrestaurant.
Griet leidde ons bij aankomst zelf rond. Het gastenverblijf is een onderdeel van haar eigen woning en het is eigenlijk een volledige woning op zichzelf. Er is een ruime zit/eetkamer, een mooie keuken en boven zijn twee slaapkamers. De omgeving in het West-Vlaamse heuvelland is ook prachtig. Een prima plek om met een gezin een week te verblijven. Helaas konden wij maar één nacht gebruik maken van de accommodatie. Dit was ver boven verwachting. Echt een aanrader!
René
2015-07-14T00:00:00Z
Wij overnachtten met 4 personen in dit leuke huisje na een avond lekker tafelen bij In De Wulf. Heerlijk, zo op wandelafstand! Binnenkort sluit het restaurant de deuren, maar Griets b&b blijft de moeite: de uitgestrekte velden zijn een lust voor het oog. Het huisje was perfect in orde, proper en best gezellig. Tip: aarzel niet om voor 8€ p.p. ook ontbijt te bestellen. Lekker, vers en verzorgd!
Lieven
2016-11-27T00:00:00Z
Quiet and rural. Perfect with children for an outdoors vacation. Super friendly hosts as well.
Piet
2016-12-08T00:00:00Z
Griet's place in the Belgian countryside was one of the highlights of our trip. Although our stay was short, we would have changed our reservations and stayed longer if we could have. The space was extremely clean and spacious and the host's were very easy to work with as we arrived late. The house is on a beautiful piece of property with sheep, chickens, donkeys, etc. In addition, the breakfast they provided us in the morning was outstanding. I'd definitely stay here again!!!
Nathan
2016-05-31T00:00:00Z
Great place, amazing surroundings! If you love culture, history, hiking or Belgian gastronomy, this is the place! Step outside and learn about the Great World World. Feel like discovering something new? Go try out one of the Belgian vineyards in the neighborhood or explore local beers in the surrounding 'cafés'. More into culture? Check out the yearly 'Dranouter Festival' (just around the corner) or the 'In Flanders Field Museum' in Ypres. Last but not least, Griet the host, serves delicious breakfasts with home-made butter, yoghourt, jam, honey and even home-made choco. Furthermore you may expect bio tea, coffee, etc. One note though: the ceiling of the living area is only 1m90 - just so you know if you're tall.
Domien
2016-02-14T00:00:00Z
Heel rustige, gezellige en verzorgde b&b! Griet onthaalde ons vriendelijk, het ontbijt was zeer lekker en gevarieerd.
Sofie
2014-12-19T00:00:00Z
Een aanrader voor mensen die rustig willen genieten van het Belgische leven. Het ontbijt is ook een aanrader!
Niels
2017-04-02T00:00:00Z
Griet verwelkomde ons bij aankomst op een heel vriendelijke wijze. Voelden ons direct thuis. Ontbijt met alles erop en eraan. Mooi uitzicht vanuit het woonkamertje. Alle voorzieningen aanwezig. Topvakantie gehad!
Bram
2017-01-05T00:00:00Z
Oda Tipi
Tüm ev/daire
---
Mekan Türü
Oda + Kahvaltı
---
Konaklayacak Kişi Sayısı
6
---
Yatak odaları
Heuvelland, Flanders, Belçika
Mon logement est proche des transports en commun (2 km de la gare et 3 km de l'autoroute A25). Côté cour - Côté Jardin est parfait pour les couples, les familles (avec enfants) et les grands groupes, situé en pleine campagne, avec une vue sur les houblonnières et le mont Ravensberg, il est aussi à seulement 2 km du centre ville de Bailleul. Nous sommes à la frontière belge (super pour visiter Ypres, Gand ou Brugges). Enfin nous sommes à équidistance entre la métropole lilloise et la mer.
Dans un cadre verdoyant et agréable, la maison d'hôtes a été aménagée dans une grange du 18ème indépendante du logement des propriétaires. Hébergement labellisé "Gîtes de France" et " Tourisme et Handicap"
Je vous mets à disposition de la documentation touristique, ainsi que des conseils sur les restaurants à proximité
Great house, really good for a big family trip.
Aaron
2017-01-02T00:00:00Z
Oda Tipi
Tüm ev/daire
---
Mekan Türü
Ev
---
Konaklayacak Kişi Sayısı
8
---
Yatak odaları
Bailleul, Nord-Pas-de-Calais Picardie, Fransa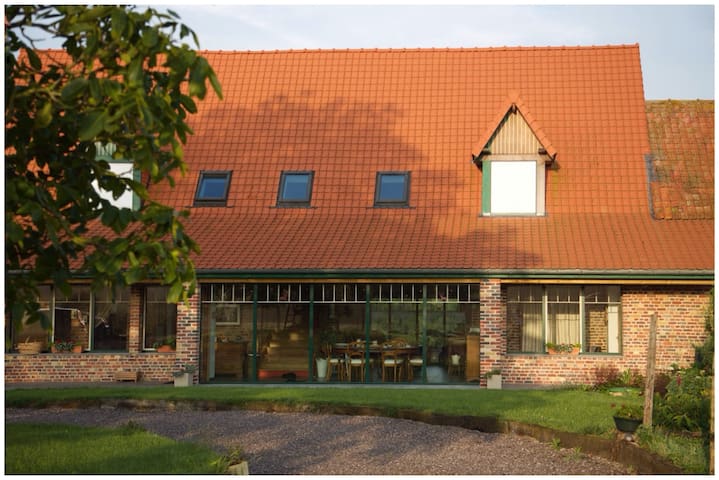 Maison au cœur des monts des Flandres. Idéale pour des randonneurs, sportifs, amoureux de la nature et de calme. Maison au sein d'une copropriété mais sans vis a vis sur les maisons voisine et surtout une superbe vue sur la nature.
Maison de pleins pied très pratique.
Oda Tipi
Tüm ev/daire
---
Mekan Türü
Ev
---
Konaklayacak Kişi Sayısı
2
---
Yatak odaları
Heuvelland, Flanders, Belçika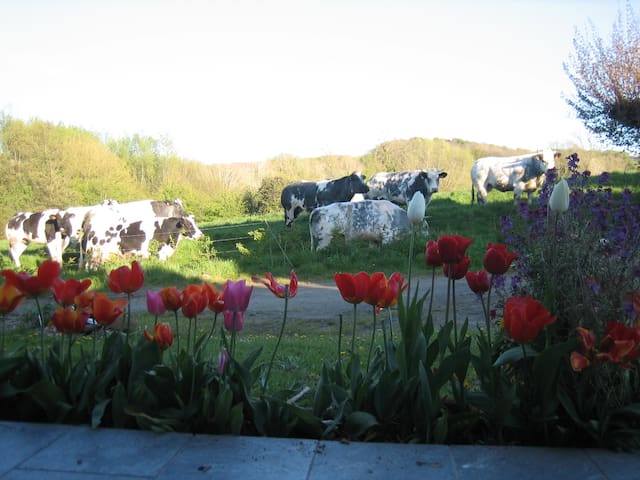 Envie de changer d'air, de vacances, d'un petit séjour, ou juste pour une nuit, notre duplex douillet très cosy, pour 2 à 4 pers, équipé d'un salon, sdb, cuisine équipée, parking privé et d'une terrasse privative, est là pour vous...
the apartment is located on the 1st floor with access via an outside staircase overlooking a small private terrace , it is independent of our house . It is very well insulated very well soundproofed . The kitchen is open to living . It is equipped with a bathroom , a duplex room . All the amenities are there , microwave, TV , oven , hob , shower, washing machine , fridge freezer with water dispenser , hairdryer Very cozy ... you'll be quiet to enjoy your stay.
By car , you will reach the train station and the highway 2 minutes Housing
Super, extraordinario, extraordinary, wspanialy, غير عادى ! !
kinga
2016-06-23T00:00:00Z
It is not major attraction area but if you are looking for the place where you can relax from your journey, it is a good option. There were some language barrier but it's not a major issue. The house is clean and well equiped. In the kitchen, you can find everything to cook. The bedroom is comfortable but located at 2nd floor so it might be problem for someone. We were welcomed warmly. Very kind Host!
Chan Yeol
2016-10-21T00:00:00Z
David était très sympa, accueil chaleureux. Le logement était très bien et les équipements complets. Seul bémol: la proximité de l'autoroute même si l'appartement est très bien insonorisé. Si vous souhaitez visiter la région, ce logement fera sans aucun doute l'affaire.
elodie
2016-11-01T00:00:00Z
Bel appartement propre et fonctionnel Grand pour 2 ou 3 personnes Les hôtes sont bien accueillant La proximité de l autoroute ne dérange pas car c est bien isolé
vincent
2016-11-13T00:00:00Z
Fabulous. Perfect place to stay. It has everything you need. Great decor. Loved it.
Linda
2016-07-31T00:00:00Z
Accueil chaleureux :-) , nous avons passé un agréable séjour dans cet appartement propre et fonctionnel.
sophie
2016-06-26T00:00:00Z
We have arrived at a late hour and David was kind enough to agree to meet us in person. The driving instructions provided with the booking confirmation were confusing and we got lost. However after phoning the host we found out that we were standing directly opposite the house. The sign that shows direction to the house was not visible in the dark and we passed it a few times. David was very friendly and showed us around. Everything in the apartment is brand new. The apartment is clean, the bathroom is great, the bed is comfortable. The kitchen has all the basic amenities and a nice coffee machine. There is no kettle, but you can get boiling water from the coffee machine by not loading coffee in it. Please note that the apartment is on the first floor and the bedroom is on the second floor right under the roof. The staircase to the bedroom may not be fit for elderly people and people with foot injuries. The parking is very secluded (off the street).
Vladislav
2016-09-02T00:00:00Z
The apartment is great! Very well equipped and veeery comfortable. The area ia very calm. You can enjoy peace and tranquillity during your stay. Coralie and David were very welcoming and went out of their way to make me and my wife feelbat home. It is very easy ti get to bigger cities like Lille from this location.
niels
2016-06-14T00:00:00Z
Oda Tipi
Tüm ev/daire
---
Mekan Türü
Daire
---
Konaklayacak Kişi Sayısı
4
---
Yatak odaları
Bailleul, Hauts-de-France, Fransa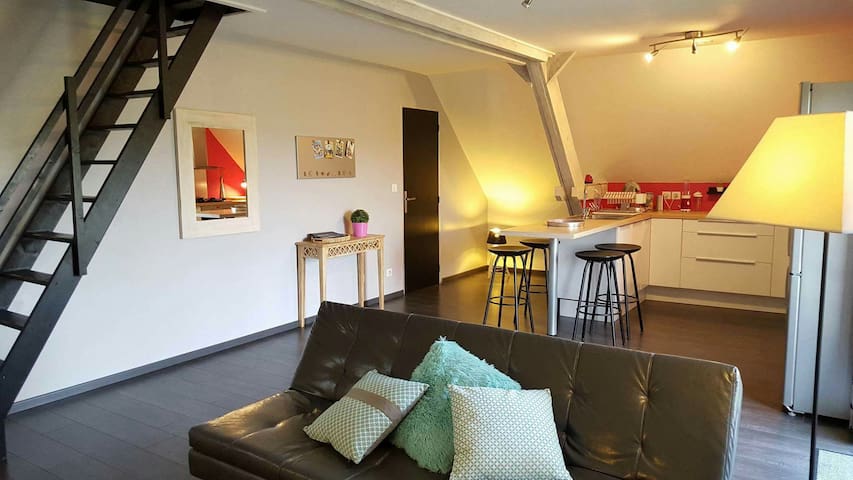 C'est une maison au cœur d'un village typique ,au milieu des monts des flandres très rapide d'accès par l'A25, avec un grand jardin et une belle vue sur la campagne environnante, il y une piscine moderne à proximité ,des restaurants et cafés(Poperinghe ,7 km)le mont-noir (4 km),parc d'attraction Bellewaerde 25 km). Séjour gratuits pour les enfants de moins de 4 ans.
Les chambres sont toutes situées à l'étage ainsi qu'un WC et une salle de bains avec une baignoire et deux lavabos. L'une des chambres a une TV et un lecteur de DVD ainsi qu'un petit ordinateur .Une autre un ordinateur de bureau. Il y a une grande table disponible pour les personnes séjournant plus d'un jour et voulant cuisiner.
Il y a les commerces de proximité dans le village. Deux boulangeries , une boucherie, une épicerie, deux médecins, une pharmacie, un bureau de poste,deux cafés. La principale attraction de la commune est son moulin.Le moulin de l'ingratitude (ondankmeulen). Pour les adeptes de la marche, il y a d'agréables promenades à faire au départ du village.Celle par exemple menant au mont des Cats ou se trouve une abbaye de moines trapistes. Il y a un restaurant réputé à 1 km,l'auberge du Vermont,qui propose des menus gastronomiques typiques des Flandres,son chef Florent Ladeyn ayant été demi finaliste à top chef il y a quelques années.
Een hele aardige familie in een typisch slapend Frans dorpje net over de grens bij belgie. We kregen ook nog een degelijk Frans ontbijt 's ochtends. We konden gaan en staan waar we wilden en in overleg met de bewoners konden we zo laat terug komen wanneer we wilden. Een puntje van kritiek is de hygiëne in het huis. Er word door de bewoners gerookt wat je dan ook overal in het huis ruikt en de keuken is niet naar Nederlandse standaard schoon. Verder was alles keurig in orde.
Sem
2016-06-20T00:00:00Z
Hôte très accueillant, le petit déjeuner est très copieux. Le cadre vraiment très sympathique .
alban
2016-08-05T00:00:00Z
Alain and his home were perfect. VERY clean and comfortable, perfect for our one stop on the way to Germany. Flexible on arrival time. Prepared us a lovely breakfast in the morning. As we were only staying for one night, I cannot say much about the location, but the area was very peaceful and calm. Would definitely recommend staying here.
Kiran
2016-08-21T00:00:00Z
Alan literally saved our lifes by his quick cooperation. Our original reservation had to be cancelled evening before we were about to leave and we had to find new accomodation really quickly. The place was a bit difficult to find, but we managed it :) The house was nice and clean, everybody was really friendly (even though we do not speak French) and we really enjoyed our stay with Alan. Definetely reccommend to everybody!
Tatiana
2016-07-11T00:00:00Z
Alain et sa femme nous ont accueilli pour la seconde fois dans leur belle maison.
Olivier
2017-01-08T00:00:00Z
we appreciated our host our journey was very pleasant to us
Rob
2016-02-19T00:00:00Z
Alain was heel flexibel, zowel voor de check-in als het ontbijt en verder ook eigenlijk alles. De ruimte die wij hadden was groot en we hadden genoeg privacy. Bedankt voor de gastvrijheid!
Zena
2016-08-03T00:00:00Z
It was a nice experience to stay at Alain place. House was quite big with all required facilities. We enjoyed our stay there. Host was also very nice chap. Breakfast was also delicious.
Rashid
2016-08-27T00:00:00Z
Oda Tipi
Özel oda
---
Mekan Türü
Oda + Kahvaltı
---
Konaklayacak Kişi Sayısı
6
---
Yatak odaları
Boeschepe, Nord-Pas-de-Calais, Fransa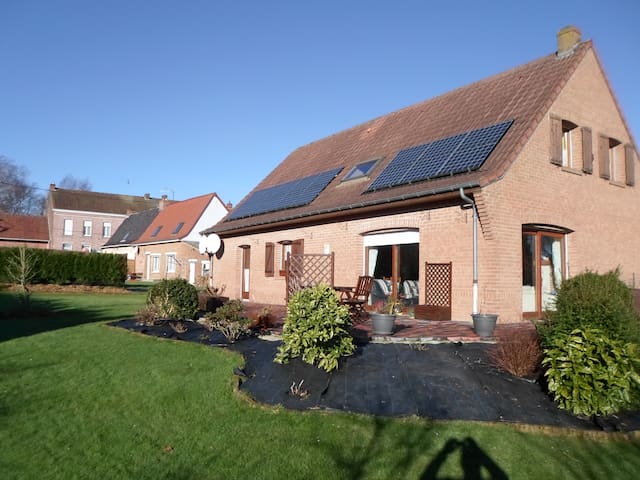 Tam fiyatlandırmayı görmek için tarihleri görün. Ek ücretler uygulanır. Vergiler ilave edilir.