ambient idíl·lic i romàntic amb terrassa privada, separada de la casa principal. Vistes a la piscina i muntanyes. Bany compartit dins de la casa principal. S'accedeix per escala de fusta. esmorzar bufet inclòs.
All was over my expectations. The finca is wonderfull, a little paradise for this cheap price! This is lost in the mountains, real quiet place, perfect for having a rest a while. A car is very necessary. House is clean and respectful of the environment. There are many good vibes, kitchen, terrace and living room are very warm. I slept as a baby. Leeward is a kind and very friendly, always here to give tips about the island or to any suggestions or demand. I recommend highly!
Camille
2017-04-02T00:00:00Z
The host canceled this reservation 41 days before arrival. This is an automated posting.
Stefan
2017-04-10T00:00:00Z
Oda Tipi
Özel oda
---
Mekan Türü
Villa
---
Konaklayacak Kişi Sayısı
2
---
Yatak odaları
Santa Eulària des Riu, Illes Balears, İspanya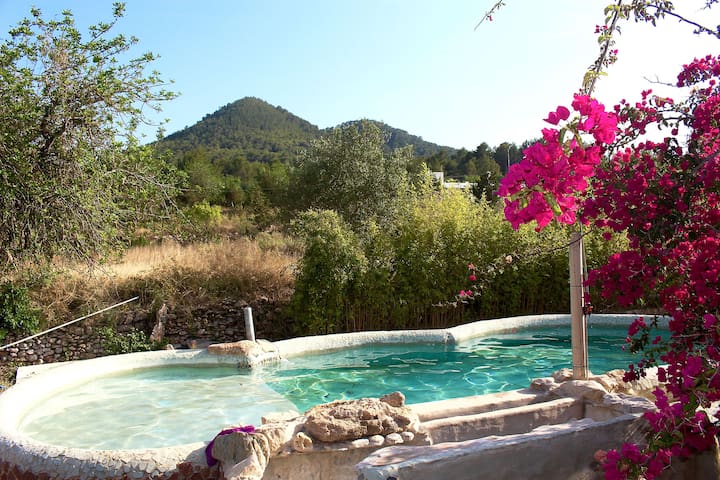 My beautiful villa is close to the beach, with great views and your room is private from the rest of the house. This is a wonderful space because it has the luxury of your own terrace and private entrance. Stunning French bed and beautiful furnishings....perfect ibiza hideaway. Theres also an a-joining room that you can book separately, if you are 2 couples or a family. You could then all be together on the same floor with a private bathroom. Pls note the room is accessed by a wooden ladder.
It's a designer who owns the finca and the attention to detail is evident! The finca is wonderfully quirky and cool. Private terraces and higgildy piggildy courtyards and lounging areas make this a real experience. My nanny is a reiki master too and I am a masseuse, so we can offer pampering by the pool!
The nearest village San Juan has an authentic hippy market on Sundays. The north of the island is all about wellness and good vibes. It's wild landscape to me epitomises the true beauty of ibiza.
We had such a great time in this beautiful and typical house. The 2 rooms are awesome and the private bathroom too. Kat, Charly and the baby are really warm, relax and so nice. I really recommend this little place of heaven :) Thank you girls !!
Indiana
2016-06-13T00:00:00Z
Great stay! Very relaxing with beautiful grounds and views. One of my favorite things was taking a siesta by the pool and reading on the loungers on the property with amazing views all around. If you are looking for a chill out, quiet place on the beautiful north side of the island, we highly recommend. Kat and company were also very cool people and will do everything to make your stay comfortable. Get there!
Nick
2016-09-21T00:00:00Z
It s à wonderfull place ! Its very Easy To go To the beach ! Thank you kat for all !
Elisa
2016-08-20T00:00:00Z
Kat's finca is rich in character and is in a stunning location. There's a wonderful relaxed feel to staying there and the outdoor dining area serves as a great centrepiece. This would be great for a large family looking for somewhere off the beaten path.
Rory
2016-10-28T00:00:00Z
What a lovely surprise. We stayed for 5 nights with our 18 year old daughter. It was fun, clean and relaxed. We met wonderful people, all interesting and from different parts of the world, sitting around the breakfast table in the charming courtyard near the pool. More like a little community than a 'room'. Kat is a perfect host. Thank you!
Nicole
2016-07-19T00:00:00Z
Stunning setting with a beautiful pool. Kat is exceptionally friendly and easy going. We had great fun and met some nice people. You definitely need a car to get around, but I would advise this wherever you stay so that you can explore the more secluded coves. Slight drawback is there is only one bathroom for the house, although to be fair we didn't have much problem with this.
Mary
2016-07-14T00:00:00Z
Kat is a lovely host and the place is gorgeous! Would definitely recommend!
Vicky
2016-09-11T00:00:00Z
Wow! - this gorgeous place is just what the doctor ordered. The host and villa were as stunning as the surrounding Ibizan mountain scape , and staying here really felt like returning home to old friends. Kat is the most attentive and lovely host who literally couldn't do enough to make our stay comfortable relaxing and perfect. We picked figs, almonds, lemons and limes from the surrounding trees on the land and loved making refreshing ice water and eating our finds by the lush pool. We were thrilled to find out that reiki therapy and other healing sessions were on offer to add to the charm and positive, calming atmosphere of the fica. We loved all the quirks and design of the villa from the 300 year old architectural details to the gorgeous ladders that led to our room and terrace under the stars. Thank you so much for having us - we loved every moment and will be sure to return !
Katie
2016-08-31T00:00:00Z
Oda Tipi
Özel oda
---
Mekan Türü
Villa
---
Konaklayacak Kişi Sayısı
2
---
Yatak odaları
Cala de Sant Vicent, Balearic Adaları, İspanya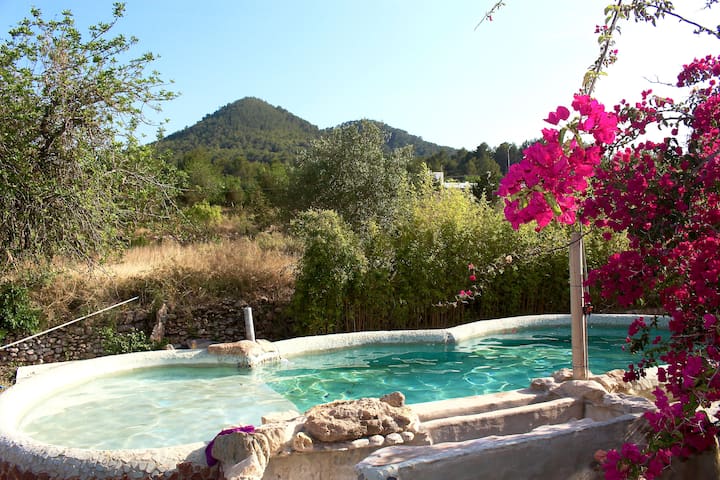 Aquest encantador apartament és ideal per a unes vacances tranquil·les i relaxants a Eivissa, envoltat de natura. En 4 minuts amb cotxe i 19 minuts a peu, hi ha Cala Sant Vicenç, una extensa platja d'aigües tranquil·les i blaves. La zona compta amb supermercats, restaurants, al peu de la platja, pel que és un lloc molt agradable per passar el dia. Hi predomina un ambient familiar, sense molta gent i sense aglomeracions, i un entorn natural encantador.
Ferienwohnung in Cala San Vicente mit Meerblick, ruhig gelegen mit einem gemeinsamen Swimmingpool in der Urbanisation verfügbar 2017.01.06 bis Ende Oktober. Es hat die hodling Kapazität von 4 Personen, ein Zimmer mit zwei Einzelbetten und einen Doppelschlafcouch im Wohnzimmer. Vielleicht ist die Unterkunft mehr Komfort für 2 und 3 Personen. Es verfügt über ein Badezimmer und eine integrierte Küche im Wohnzimmer. Die Wohnung ist sehr gemütlich, hell und charmant. Es ist ideal für Paare, Paare mit Kindern (1 oder 2), Abenteurer, Geschäftsreisende. Hat gemeinsamen Parkplatz, also kein Problem. Wifi wird in der dritten Aprilwoche installiert werden.
Cala San Vicente ist eine große Bucht im Norden der Insel. Es ist 10 Minuten von der Stadt San Carlos, 20 Minuten von Santa Eulalia, 10 Minuten von dem berühmten Flohmarkt Las Dalias, und 15 Minuten vom Secondhand-Markt Cala Lenya gelegen, am Sonntagvormittag geöffnet. Bei der Ankunft können wir Sie über die Attraktivität der Insel und ihre Umgebung informieren. Wir wünschen Ihnen einen angenehmen Aufenthalt!
Oda Tipi
Tüm ev/daire
---
Mekan Türü
Daire
---
Konaklayacak Kişi Sayısı
4
---
Yatak odaları
Sant Joan de Labritja, Illes Balears, İspanya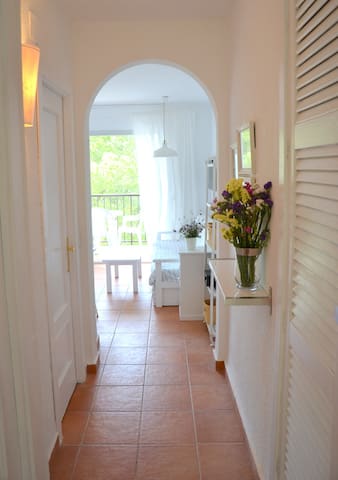 INDEPENDIENTE casa de huéspedes en una finca con piscina y natación caballos, en un parque natural, EXTREMO NORTE DE IBIZA. Dormitorio para 2, un baño grande / WC - terraza privada con vista panorámica en las colinas y bahía de Sant Vicent de Cala- SA'CHARMING Y PRIVADO COCINA / COMEDOR DE APERTURA POR IGUAL EN LA BAHÍA - estancias cortas y largas aceptadas - disponible todo el año
Nuestra finca está situada en un parque natural protegido, en el norte de la isla. La habitación es confortable y rústico, construido en el estilo tradicional de Ibiza, con vigas de madera local para sostener el techo. Está separada del resto de la mansión y se abre en el jardín. Cuenta con su propio gran baño / WC, terraza y cocina / comedor con vistas a la bahía de Sant Vicent y las colinas - Internet por wifi. También hay un aparcamiento para su coche. Tenemos caballos y una cabra, gatos, perros y peces Todos los huéspedes podrán disfrutar de una tranquilidad absoluta a una corta distancia de la vida social activa de Ibiza A corto plazo y largo plazo en -Disponible durante todo el año Que no están equipados para dar cabida a los niños
En las colinas de Sant Vicent, que es una zona protegida están prohibidas nuevas construcciones así que hay animales todavía salvajes alrededor (ginetas, un montón de pequeñas aves, conejos, búhos y halcones) - El aire es muy limpio se puede ver miles de estrellas por la noche Esa zona es una invitación a montar a caballo, a pie de montaña y la práctica Bike- Proporcionamos guías para todas estas opciones
Nuestra estancia en casa de Françoise fue maravillosa , ella es una persona muy atenta y amable con sus huéspedes . Desde el primer momento de contactar con ella fue siempre muy servicial , la vivienda se encuentra en un entorno rural precioso , puedes realizar paseos por el bosque , disfrutar de la tranquilidad y la paz que reina en su entorno . Si buscáis un lugar donde relajarse y desconectar es el sitio perfecto . Espero que volvamos a vernos pronto François , muchas gracias por permitirnos disfrutar de tu mágico paraíso . Silvia y Luis .
luis
2012-10-20T00:00:00Z
Nous avons passe un excellent sejour dans un cadre magnifique.Nous avons pu decouvrir la face cachee d'Ibiza! Un lieu unique que Françoise a su amenager avec amour. On s'y sent bien et nous referons le voyage avec grand plaisir.
Héloïse
2013-07-21T00:00:00Z
The host made us feel very welcome and at home, there if you need her. Loved the space, pool, gardens, cats and location. St Joan is lovely and with lots of lovely beaches within easy reach. Would stay again and perfect for any time of year, as a great base fro walkers, cyclists and horseriders too. Amazing views and very relaxing.
Debs
2015-09-05T00:00:00Z
The reservation was canceled 10 days before arrival. This is an automated posting.
Apartamentos CalleCultura
2015-05-04T00:00:00Z
Endroit préservé entre le ciel et les collines. La maison est magnifique, aménagée avec beaucoup de goût et Francoise une hôtesse discrète, attentive et adorable !
Stephanie
2016-06-11T00:00:00Z
Françoise ist eine außergewöhnlich sympathische und herzliche Gastgeberin, die sich mit großem Engagement darum kümmert, dass sich Ihr Gäste wohlfühlen. Die Lage ihrer Finca ist exceptionell, ebenso wie auch der große Pool mit freiem Blick auf die bergige Umgebung und das Meer. Das Quartier bietet die ideale Möglichkeit, einerseits Ruhe und Erholung zu genießen, andererseits aber auch schnell alle Hightlights der Insel zu erreichen. Danke für den wunderschönen Aufenthalt.
Konrad
2016-08-30T00:00:00Z
Le logement est totalement con,forme à la description et le cadre est paradisiaque! Nous avons été merveilleusement accueilli par Françoise! Nous avons passé 4 jours très agréables et reposants!
SOPHIE
2015-06-17T00:00:00Z
Very recommendable place for a hideaway in the mountains of Ibiza, very calm, cozy place where all you can hear are birds and the sound of wind in the trees. Lovely restaurants in 20 min drive distance. Françoise is very discrete and helpful and a very nice person.
Hans
2014-06-08T00:00:00Z
Oda Tipi
Tüm ev/daire
---
Mekan Türü
Villa
---
Konaklayacak Kişi Sayısı
2
---
Yatak odaları
Sant Vicent de sa Cala, Ibiza, Balearic Islands, İspanya
Gessamí, és una bella habitació amb un balcó a l'impressionant residència de Samskara Eivissa, una finca del segle 18 situat als turons de Sant Vicent amb vistes a les muntanyes ondulants i més enllà. El preu és per habitació per nit, ocupació senzilla.
La nostra casa és propietat d'una família eivissenc i ha estat en la seva possessió durant segles. És una casa molt especial i és pacífic, tranquil i encantador que es presta per a aquells que vulguin venir a relaxar-se totalment, tornar a configurar i tornar a desentranyar la naturalesa circumdant. La propietat és període i té una sensació i textura natural, que torna a alinear la seva gamma de colors i no és una experiència cridanera, de gamma alta, tot el contrari. Les habitacions i àmplies i fresques, però tenen una elegància única que crea una sensació de quietud i pau. Tenim una llar de foc crepitant al cenyit per la cuina per a la lectura de llibres i la relaxació i un munt de passejades propers per explorar l'illa en el seu temps lliure.
La nostra casa està situada a Sant Vicent, amb vista sobre els turons i més enllà. Som un salt curt, salt i un salt a Cala Sant Vicenç nostra platja més propera, que és una platja clara aqua gloriosa i majestuosa amb sorres blanques glorioses perquè pugui aparcar vostè mateix sobre i Chillax. Hi ha molts bells restaurants i bars allà també per triar, amb increïble de marisc i peixos, però també un lloc de pizza increïble per a un fresc del sopar més informal platja. Ho lamentem, però no som una residència per a nens. Els nens menors de 16 anys no són capaços de quedar-se amb nosaltres a Samskara, de nou per mantenir la pau i la tranquil·litat de la casa.
Samskara is a fab place to stay! The setting is beautiful and the house is charming! Jo is a great host & very friendly person; I felt right at home. The yoga classes are brilliant too! I would definitely recommend a stay here! Leila
LEILA
2015-05-07T00:00:00Z
Desondanks onze reservering, werden we niet verwacht. Echter ontving Jo ons zeer hartelijk en bracht zij alles zeer snel in orde. De kamer is best ok. De hygiene van de badkamer liet te wensen over, dit hebben we gemeld en zou snel rechtgezet worden. Perfecte locatie indien je een Yoga liefhebber bent. Indien je niet kan deelnemen aan de ochtendsessie wordt er muesli en melk in de koelkast geplaatst als ontbijt. Kan je wachten, krijg je er stukje fruit en yoghurt bij om samen met de cursisten op te eten. Als je het eiland wil verkennen, is dit misschien niet te perfecte locatie.
Katrijn
2015-06-26T00:00:00Z
I had a beautiful experience staying here..... its a very homely feel, great pool and views....... and lots of sunlight, close to some beautiful Beaches.....
Nathan
2016-04-17T00:00:00Z
Samskara is an absolutely beautiful place to stay, so restful and relaxing with gorgeous views and a great atmosphere in the house. The Jasmine Room is so pretty, very private with a double door onto a small balcony overlooking the picturesque valley beyond. Jo is an epic host, great yoga teacher, makes the most delicious breakfasts and delicious daily smoothies. The pool area is lovely, and the location of the house is perfect for exploring the surrounding coastline, beaches and amazing restaurants in the local towns and villages. Only 45 mins from the airport it couldn't be more perfect (though you need a car!). We had the best stay. Thank you Jo
Katie
2016-07-22T00:00:00Z
Me and my girlfriend had a wonderful stay at this tastefully designed Airbnb. We stayed 5 nighst but we wished we could've stayed longer. Everything was very tidy, the decor was very charming and relaxing. The location was excellent in the quiet part of Ibiza. The communication was great and friendly. Highly recommended.
alexandre
2016-06-18T00:00:00Z
Jo was our best host since we're using Airbnb, very human, humorous and always willing to share her best tips on the island. We definitely loved our stay in this beautiful house, one of our best week vacation ever ! Namastê Jo y muchos besos +++
Alexandre & Delphine
2016-08-21T00:00:00Z
The reservation was canceled 28 days before arrival. This is an automated posting.
Hyebin
2015-04-28T00:00:00Z
The listing was accurate and set in the most beautiful part of the island, near Cala de San vicente. waking up every day to beautiful countryside and yoga made our holiday. The house is quirky and a bit wacky but this added to the charm. Breakfast is included and this was eaten with other guests after yoga - allowing guests to interact and creating a warm and inviting atmosphere. I was a little surprised that there was a shared bathroom , we were lucky other guests were sessile and sharing was not a problem , but this may not be the case if the house was overly full. Possibly having some bathroom rules would help alleviate this. YOU DEFINITLEY NEED A CAR! Here are easiest directions - take road from airport to St Eulalia, follow road to San Carles (carlos) go through the village round a bend take first left to Aquas Blancas/Cala San Vicente all the way through the hills and down to t-junction, turn left and carry on for 3 km until you see pink signs on right for caves, follow the road until you see a sign for a bend and take sharp right - YOU HAVE ARRIVED. The house has beautiful yoga area, nice pool. You can walk into Cala San Vicente where there are a fews nice bars particularly "on the beach".The yoga was a bonus and I enjoyed getting up daily to attend. I loved our room which was "Jasmine room" and it is definitely the best room in the house. We have had a great holiday.
Karen
2015-06-23T00:00:00Z
Oda Tipi
Özel oda
---
Mekan Türü
Ev
---
Konaklayacak Kişi Sayısı
3
---
Yatak odaları
Sant Joan de Labritja, Illes Balears, İspanya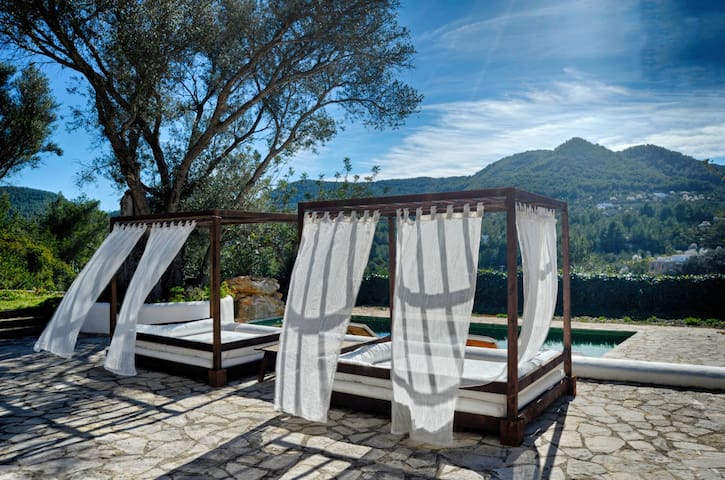 Dies ist das beste Zimmer in der Finca, weil sie über ein eigenes Bad und ist riesig! Das Bad ist unglaublich, mit einem riesigen begehbaren Dusche und Whirlpool. Ziemlich Besonderes.
Die Finca ist 300 Jahre alt und ist unglaublich schrullig und einzigartig. Es ist ein magischer Ort und ist ein komplettes Heiligtum für die Seele. Lehnen Sie sich zurück entspannen und lassen Sie sich von uns einen schönen Urlaub geben.
Seine in einem schönen Ort, in der Nähe zum Strand von Cala San Vicente, nur 15 Minuten zu Fuß.
Oda Tipi
Özel oda
---
Mekan Türü
Villa
---
Konaklayacak Kişi Sayısı
2
---
Yatak odaları
Santa Eulària des Riu, Illes Balears, İspanya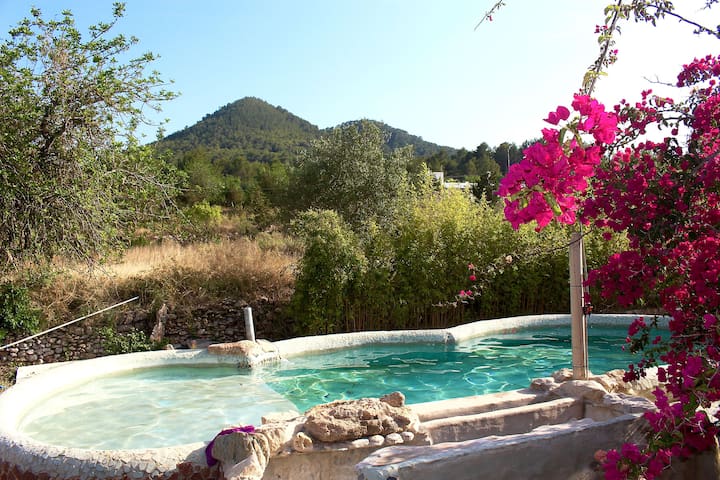 L'apartament és ideal per a dues persones i està situat a la part més bella d'Eivissa. Nord d'Eivissa és coneguda per la seva bellesa i calmth. L'apartament té la seva pròpia entrada, privacitat, i està envoltat per la natura, els cavalls i la pau.
L'apartament està situat a la planta baixa, al costat d'una figuera bella, i és part de la finca autèntica, encara que té la seva pròpia entrada, bany, cuina i un dormitori amb un llit doble i un sofà a la sala, dels quals es pot fer llit també. Ideal per parelles o amics.
Sant Vicenç és una petita part de Sant Joan Delabritja, un bell petit poble al nord de l'illa. Es tracta d'una unitat de 5 minuts a Cala Sant Vicenç, una increïble platja de sorra amb una vista impressionant. És també molt a prop de Sant Carles, famós per la seva gran 'del Bar Anita', on es pot menjar bé i beure és autèntic 'Herbes'! (Que és massa bo per al consum, en realitat!)
Mirjam, Nicolas and family were the most welcoming and generous hosts. The accommodation was really homely and perfect for our stay with a party of four adults, although cosy, it worked for us. As we arrived on a Saturday, once the shops were closed, the fridge was very well stocked. The scenery is incredible and we enjoyed the company of the dogs and horses. We were made to feel very comfortable staying in the guest house and using the pool, even when Mirjam and Nicolas had friends over for lunch. Overall, we had a really relaxing stay- we'd love to return, we miss The Guest House and Pukka already!
Jade
2015-04-26T00:00:00Z
A fantastic place to stay for a relaxing break in the north of the island and a great base to explore the many beautiful beeches in the area. Mirjam and Nicolaas were fantastic hosts; they provided a travel bed for our son as well as a fridge full of goodies on arrival. They are also really friendly and always ready to answer our questions about the local area. I'd recommend this place to anyone who wants a LoFi break in what is a stunning location.
Jonathan
2015-09-21T00:00:00Z
Within the first few hours of our stay at Mirjam and Nicholaas' warm and welcoming finca, my daughters tearfully told me that they never wanted to leave. Of course none of us could have ever imagined arriving just in time to bathe a Shetland pony. Or falling in love with Olive, hands-down, the sweetest dog we've ever met. Or finding a fridge thoughtfully stocked with local goodies, including wine for a thirsty mommy. Between the extraordinary hospitality--not only Mirjam and Nicholass, but also their three children--the horses, the pony, the cat named Luna, the views, the cosy beds, the pool, the balance bike, a pitch to kick a football around, and the close proximity to the beaches and to San Joan, we actually all wish we could have stayed forever. here is a little video made by my daughter Luna, age 6, that explains it all. (URL HIDDEN)
Niki
2015-05-29T00:00:00Z
When we arrived at Mirjam and Nicolaas' villa in the amazing hills of the north, the title of this bnb made complete sense. Jaw dropping surroundings, beautiful horses, two happy dogs and a smiling host greeted us. We felt at home from the first second. Never wanted to leave too. Just book this if you're up for a relaxed and real time off.
Jan
2016-08-06T00:00:00Z
Great appartment located in a beautiful place, just 10 minuts from the beach. A shame we could only stay there for 2 nights. We will come back!
Teia
2016-08-08T00:00:00Z
Een erg klein, maar leuk huisje in sant joan. Door de ligging is het wel echt nodig om een auto te huren! Ook moet je van dieren houden, want zij hebben aantal paarden en honden! Verder zijn Mirjam en Nicolaas erg relaxed, helpen je als je dat wilt maar laten je verder je eigen gang gaan.
Kevin
2016-08-25T00:00:00Z
Ibiza en onze eerste week in het gastendeel van de finca van Mirjam en Nicolaas hebben onze verwachtingen overtroffen! Een heerlijke ruimte met uitzicht op de paarden en de weide omgeving geven je een heerlijk gevoel van rust. Ook de honden en de kat viel in de smaak. Ons zoontje vond het ook helemaal fantastisch! Het zwembad deelden we met de familie, maar dat was geen probleem. De eerste avond werden we al super gastvrij ontvangen met een gevulde koelkast, potje voetbal en een gezellige borrel... Zie de foto's en ervaar! Absoluut een aanrader...
Karin
2015-08-03T00:00:00Z
First of all, Big THANK YOU to Mirjam & Nicolaas and their wonderful family for the welcome we received and to make sure , that , we had anything we needed all way though our holiday. The place is just perfect for a relaxing time and discover a such of beautiful part of the island . The guys suggested many beautiful places to try. If you don't want to drive, the beach , cala san Vincente is , literally , down the road, and it is fantastic, with a great , surfer look like restaurant ,on the right corner, called On the beach , brilliant for a meal or cocktails at the night, but book it, as it get very busy.Everyone at the house was incredibly respectful of our privacy and the place itself , well , me and my wife could easily move there. The view of the mountains around the house are breathtaking , perfect for an early/ late jogging. We will definately come back.
gianfranco
2016-07-18T00:00:00Z
Oda Tipi
Tüm ev/daire
---
Mekan Türü
Daire
---
Konaklayacak Kişi Sayısı
2
---
Yatak odaları
Sant Joan de Labritja, Balearic Adaları, İspanya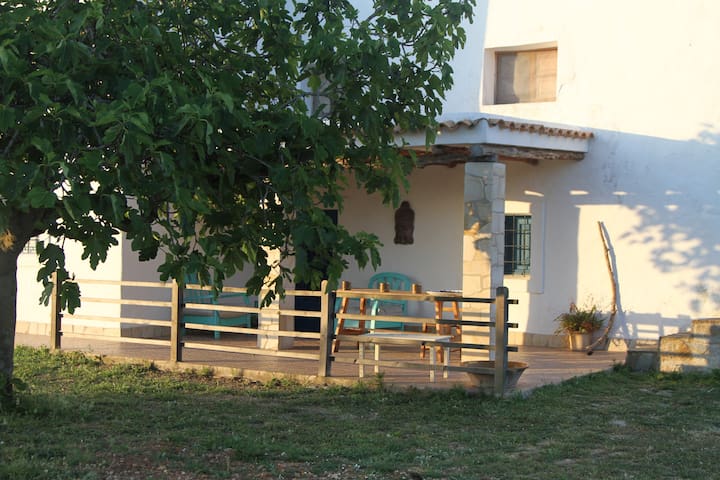 Dieser Ort ist ideal, wenn Sie an einem unberührten Teil von Ibiza zu bleiben suchen, in einem sauberen und natürlichen Umgebung zu leben. Das Dorf ist nur ein paar Minuten entfernt, alles, was Sie es brauchen finden können, die größeren Städte leicht zu erreichen.
Manténgase en un Yurt tradicional, fabricadas a mano en Mongolia. La yurta es de 6,7 metros de diámetro y construido sobre una base de madera de pino circular. El interior es espacioso y aireado, que tiene una cama, un sofá, almacenamiento de doble ropa y electricidad. La yurta tiene un calentador para los meses más fríos. Hay un baño separado para los Yurta con inodoro, lavabo y ducha de agua caliente. toallas de baño y ropa de cama incluidas. Usted tendrá que traer sus propias toallas de playa. El área de la cocina se encuentra bajo una cubierta de chill-out. Tiene una nevera, cocina y fregadero. Totalmente equipada con ollas de cocción y utensilios para cocinar al aire libre grande. El Yurt, baño y cocina están situados en los jardines de mi casa, y es un área independiente. Usted tiene un camino independiente para el acceso y aparcamiento. Estamos situados en el noreste de la isla, en una zona tranquila entre los pinos y lejos de la carretera principal. La hermosa playa natural Agua Blanca es una unidad de pocos minutos y hay muchos grandes playas de esta zona, a poca distancia. El pueblo de San Carlos es un par de kilómetros, donde encontrará restaurantes, bares, dos tiendas de alimentos orgánicos / de salud, un fantástico pizzería llamados 'Enfarinate', una increíble Sushi bar 'Blue Lotus', restaurantes, por supuesto típicas ibicencas, comestibles y boutiques. 'Las Dalias' tiene el mercado hippy colorido cada sábado, y los mercados de lunes a viernes noche.
My girlfriend and I absolutely loved staying in the beautiful Yurt - and Jo was such a fantastic host. When we arrived it was rainy and cold but inside the Yurt it was warm and comfortable. We enjoyed making ourselves breakfast every morning in the kitchen and lazing in the hammock in the sun. The location is breath-taking - a beautiful pine forest with just the sound of birds and the sea. Jo went out of her way to make sure we were comfortable and happy. We had an amazing week and can't wait to go back!
Alex
2013-05-05T00:00:00Z
We've had an amazing experience! The Yurt and surroundings are really awesome! Everything is just perfect! And Jo too! She helped us finding the good spots. A perfect week of relaxation. We rented a golden Duck from ducksunited and that was perfect to drive to some different beaches and up and down the Island. Cala Boix was our favorite beach. Thanks Jo for the perfect staying and we will definitely come back!
Agavni
2013-06-18T00:00:00Z
What can I say? We had planned a week chilling in Ibiza and discovered Jo's yurt by chance. There are not enough superlatives to describe what a true gem this is. The traditional Mongolian yurt is stunning and so comfortable. The cute little outdoor kitchen has everything you need and plenty of space to lounge and chill, along with a swing and hammock set amid a perfect little pine wood copse. It's enough to make you want to sell your return ticket home. We absolutely adored our week with Jo, who went out of her way to make our stay truly memorable – a really wonderful lady. You can walk to the beach in 20 minutes and discover a myriad of others in a car all around the coast. The local town is quiet and friendly with a sprinkling of nice bars and restaurants. (And not the over the top, super-expensive tourist traps you'll find elsewhere on the island!) We are already planning our next trip. Don't hesitate, just go. You won't regret it. Thank you Jo!
Tamsin
2013-10-16T00:00:00Z
Thank you Joséphine for your kindness, all the details you give to make your place so welcoming and beautiful. I had such an intense relation with the nature all around, peaceful & refreshing moments, and thank you for the good vibes you're sharing generously. Will come again.. for sure!
Vincent
2016-05-11T00:00:00Z
What a wonderfull place! We enjoyed our time very much. It's very quiet and clean, nearby lovely villages and beaches. Josephine furnished the yurt and garden with a lot of attention. Thank you!
Emma
2015-04-28T00:00:00Z
Wonderful host & gorgeous place! Beautiful and relaxing surroundings. I loved it!
Telma & Ruud
2012-08-27T00:00:00Z
It was so lovely to stay in the yurt & the peaceful surroundings of it. Josephine made the yurt, kitchen & bathroom into a wonderful, boho-style and pleasant stay and she herself is also wonderful to meet!
Maroesja
2012-09-06T00:00:00Z
It was one of the best holidays we spent in the mongolian yurt at Josephine's. I don't really know where to start. Well the Yurt: you step in the house and you feel at home. All is arranged with so much love and you will discover all this lovely details...A really comfortable bad and my favourite place was the chill-out with the outdoor kitchen. To cook in the sun and to relax after eating in the comfi hammock!! And not to forget the bathroom. I used to take my showers in the sunlight and brush my teeth under the stars. In the neighborhood you will find many beautiful beaches, with crystall-clear water, white sand and sweet kioskos. And don't miss to take a coffee or a beer at Bar Anita in the sunset. Josephine is a wonderful and lovely person, who tried everything to make us feel at home. We could borrow stuff from her we forgot and got information about the neighbourhood and the hidden places you won't find without local help. We spent a wonderful time together and I am sure we will visit her and her son again and stay in contact anyway. Because if you meet a person like Josephine in your life and are lucky to call her your friend, better don't loose contact! Klaus & Vera
Klaus
2013-05-10T00:00:00Z
Oda Tipi
Tüm ev/daire
---
Mekan Türü
Yurt
---
Konaklayacak Kişi Sayısı
2
---
Yatak odaları
Santa Eulària des Riu, Balearic Adaları, İspanya
An Ibicencan villa nearby 2 beaches, with a harmonious 100,000m² garden of Eden valley in the San Vicente hills and a new swimming pool with special system of non-chlorinated water. Become one with nature in this yoga paradise hidden from modern man. Vivienda Turística:: ETV-0984-E
Have you ever returned from a vacation saying "I need a vacation"? You need an escape from life's pressures? And have enough of the overrun beaches (like Sant-Antonio and Playa den Bossa), the tiresome tourist traps, the frazzled feeling that comes from fitting too much "activity" into your precious little time off. What you really want this year as vacation, you've decided, is not recreation, but recreation, extending the peace, serenity, and sense of well-being. So isn't it then time you took the whole of you on vacation - your soul, mind, spirit and body? Welcome to this Ibicencan villa, a harmonious 100,000m² valley hidden in the San Vicente hills, completely cut off from the troubles in the outside world, an earthly paradise hidden from modern man. That will give you the fun and adventure you are looking for and at the same time revitalize you -- restoring your optimum vitality with practising Ibiza yoga in the morning under the mandarin or lemon trees. .....Yesterday you told me 'bout the blue blue sky...... …….And all that I can see, and all that I can see, ……… ............... Is just my yellow lemon-tree...................... Before you even step into the entrance of the valley, you can smell the pungent sweetness of the lush melons, watermelons and plum trees. The valley is alive with the song of birds and you can hear the rustling of small animals on either sides of the path to the grape trees terrace. Yet, the gardens are empty of people, you will be the only visitor to this paradise. As you wander farther into the gardens of Eden, sunlight becomes softer, filtered by the leaves of the ancient olive, fig and almond trees. Become one with nature and rediscover your connection to the intricate web of life. This is the perfect environment to get yourself "tuned-up" for not only the coming months, but for the rest of the year. Discover your optimum vitality by eating your own vegetables from the potager: fresh tomatoes, peppers, aubergines, ... with fresh fish you just bought from the local Ibicenco fishermen who caught it before sunrise. (The bbq terrace is next to the kitchen and the outside dining area). A place to come "home". It proved a perfect combination - after a morning of Ibiza yoga on the mandarin terrace or the lemon terrace, followed by a brunch in the shades of the big orange tree, nothing seemed more appealing than a trip to the beach. The beaches: • Cala san Vicente, a wide sandy beach, less then 5 min away (3.2km by car). There's always room for your kids to play or to just lay down and enjoy the sun. • Cala Ses Caletes, one of those beaches hidden from mass tourism to enjoy sunbathing in full privacy (1.6km as the crow flies) or just 7min. of your precious holiday time to find that peace and tranquillity also on the shores. Even for die-hard swimmers and sunbathers, sometimes a day at the beach is anything but. You know the drill: too many people, too much noise, not nearly enough serenity to enjoy the majesty of blue skies and white-crested waves. The good news is that there are still undiscovered beaches out there, blissful hideaways where tourism hasn't yet eclipsed the local culture. Ses Caletes is one of them. "Total physical and mental inertia are highly agreeable... a beach not only permits such inertia, but enforces it, thus neatly eliminating all problems of guilt. It is now the only place in our overly active world that does." # DESCRIPTION AND INFORMATION: are automatic translated by this booking channel. Please cross check all information with the original version of this listing in English in case some property details and information are not well translated.
By now, you surely have noticed that in our rental villa on Ibiza there's something for everyone. So it won't come as a surprise that lots of guests have already spent their holiday in our villa. See for yourself and join us on f b , our profile "Cala san Vicente" will gladly welcome you! Not only will you find pictures there, but also videos on the surrounding area and popular hotspots. Those who already spent their holidays there, were unanimously pleased, as the pictures can prove. So quickly join our ever-growing f-b following before we reach the 5000 friend limit.
Fantastic villa with amazing fruit and vegetable gardens. Rural location with nice view across the valley to the church, and only 5 mins drive from great family beach. The house has a simple charm but with modern amenities - windows with mosquito nets, bathrooms, outdoor BBQ area, etc. We very much liked the owner and would love to go back next year.
Howard
2013-08-23T00:00:00Z
We hebben een geweldig verblijf gehad in Villa Ibicenca Shangri-La! Het huis was schoon, ruim en comfortabel (inclusief nieuwe keuken), de omgeving is prachtig en we hebben genoten van het fruit en de groenten uit de tuin! De stranden zijn een paar minuten rijden met de auto, het meest toeristische strand is zelfs lekker rustig en heeft heel relaxte strandtenten om te eten, drinken en te loungen. Wim en Pam waren heel goed te bereiken en waren altijd beschikbaar voor het beantwoorden van vragen, heel prettig! Wij hebben de daar rondhangende ontzettend lieve, kletsgrage, knuffel(straat)kat Toby (Tobias) genoemd, wellicht loopt die er nog steeds rond! Als eventuele minpuntjes zijn te noemen het gebrek aan zwembad (hoewel wij het niet echt gemist hebben), en een onbetrouwbare wifi connectie (maar wie wil er internet gebruiken als je gewoon lekker buiten in de zon kunt relaxen??). In het geheel is het huis (en de noordkant van Ibiza) zeker aan te raden!
Noor
2014-08-24T00:00:00Z
Oda Tipi
Tüm ev/daire
---
Mekan Türü
Villa
---
Konaklayacak Kişi Sayısı
8
---
Yatak odaları
St Joan de Labritja, Balearic Adaları, İspanya
Apartamento con preciosas vistas al Mar y la isla de Tagomago. Cuenta con un dormitorio, cocina,baño y un luminoso salón con salida a las 2 terrazas. Ideal para pasar unos días de vacaciones en familia o amigos.
Oda Tipi
Tüm ev/daire
---
Mekan Türü
Daire
---
Konaklayacak Kişi Sayısı
4
---
Yatak odaları
Cala de Sant Vicent, Balearic Adaları, İspanya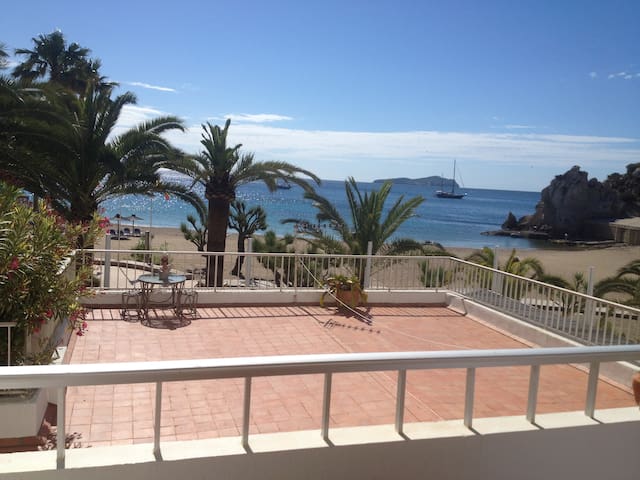 Bonito apartamento en primera línea de mar. Dispone de habitación doble bastante amplia, baño y salón-cocina donde hay un sofá cama. Perfecto para 3 personas o una familia con niños pequeños. Si quieres venir a relajarte a Ibiza es el lugar ideal.
Oda Tipi
Tüm ev/daire
---
Mekan Türü
Daire
---
Konaklayacak Kişi Sayısı
3
---
Yatak odaları
Cala de Sant Vicent, Illes Balears, İspanya
The apartment is located in one of the most privileged areas of the island, if you want to disconnect from the bustle, you have chosen the perfect place, the views from the apartment are unbeatable, enjoying sea and mountain one step.
Oda Tipi
Tüm ev/daire
---
Mekan Türü
Ortak mülk
---
Konaklayacak Kişi Sayısı
4
---
Yatak odaları
Sant Joan de Labritja, Illes Balears, İspanya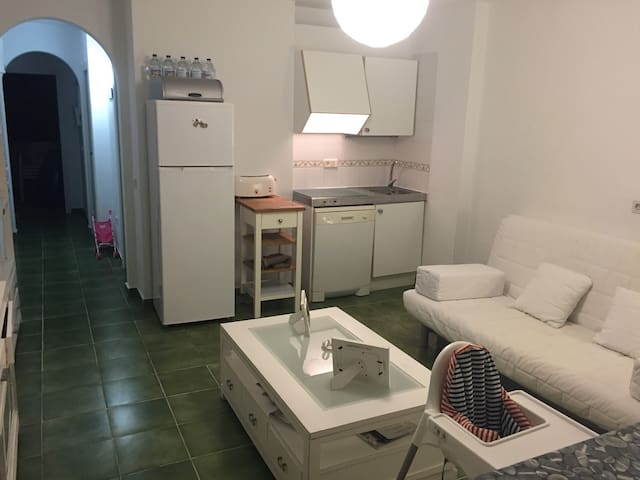 500 yo finca done up with contemporary flair by its interior designer owner to provide maximum style and comfort for your holiday stay. Featured in Channel 4´s ¨Homes by the Med¨ as well as many magazines it is the location of choice of many a photographer due to its incredible location.
Completely Private 500 year old Spanish Finca (Farmer's House) in the hills of Ibiza recently featured in Channel 4's ¨Homes by the Med" as well as Architectural Digest. Extremely rare Gem with Full Country Kitchen With Four bedrooms, 2.5 bathrooms, Fireplace and featuring 4 meter high Beamed Ceilings and Original Stone Walls in Two Separate Structures joined by Outside Terraces. The house is shielded from neighbors by Sabina and Pine Forests and Surrounded by hills, manicured Almond Groves, Rock Garden, Cactus Grove and Adjacent to San Vicente and Its Nature Preserve of Virgin Mediterranean Pine Forests and the secluded beach of Ses Caletas. Let your mind find its balance as you enjoy the absolute quietude. The house is perfect for contemplation and Stargazing. Featured in Architectural Digest, L'Officiel, White Magazine and others. Simply Gorgeous! The main house contains: 2 bedrooms. Bedrooom 1: Queen Size Bed direct access to living room and outside terrace with Armoire. Bedroom 2: Queen size Bed with access-through small foyer / home office with built In Shelves. Newly renovated bathroom with shower Central, toilet, mirror, sink and cabinet. Newly renovated Kitchen With Stone Floors and opening to breakfast Terrace, Gas Range, Stainless Steel Full Size Refrigerator / Freezer, dishwasher, brand new oven, lots and lots of Stainless Steel Cabinets, separate free standing bar counter, Deep Porcelain Sink, Professional Cookware Cuisinart as well as Rustic Clay Pots, Sitting Area, and antique china cabinet with lots of dishes, serving trays and everything you may need for fabulous cooking- from shredders to garlic peelers. Living Room with high ceilings with 4 meter beams with Original Wood Stove Burning Wood, my own No 9 Sofa and Glass Topped Table with four chairs ideal for intimate fireside dinners with Friend. AIrplay is available in the house for sound system, i-pod and Wooden with Metal Studs Double doors leading to Outdoor Dining Area. Outside Dining Area with Antique Indian Dining Set with Six Chairs, 2 Parasols and Potted Plants, Domed Wood Burning Oven Original, Water Cistern and Outside Prep Kitchen with lundry facilities . Separate 2 Bedroom Annex with Private Patio. It contains 2 Bedrooms: Bedroom 1: Queen size bed, Skylights and hanging Clothes Rack, Bedroom 2: Double Bed, Writing Desk Chair and desk with light, Hanging Clothes Rack and Private Deck. A full Bathroom with sink, toilet and shower and another half bath with toilet and sink. Well kept Terraced Groves Providing Multiple Spaces Almond adaptable to yoga retreats from Different Purposes, friends and family Gatherings. Provided Ammenities: Refrigerator, Freezer, Gas Range, Oven, Toaster Oven, , Professional Cookware, Fireplace, Gas Water Heater, Fans. Down Comforters are our Winter Provider for Guests. Towels and Bed Linens are included but not Beach Towels. Linens Provided for Extra Rentals Longer than 7 days. Cleaner prior to arrival arrives, and available on request for an extra fee. House cook also available on request for an extra fee. No TV. No Phone. But since it's vital to stay in Touch with the world, and to know what's going on - the main house is WiFi ready! Concierge services are also avaialble for those hard to get to tables and events. Special Considerations: The house use water from the Cistern. The first 8500 are included in the Liters Price of the Rental. Any Additional Water Deliveries Can be arranged for an extra € 80 fee. Water conservation is strongly Advised. For our Winter Guests: Sustainable Wood for the fireplaces is available as part of your Rental. Accessability: The house is Situated 45 minute drive from the airport, a car is essential. Ibiza town is 45 minutes away with all the restaurants and nightlife the city is famous for. The town of Sant Joan is 7 km away with the fabulous Giri Cafe and Bar restaurant, the Village of San Vicente with STI sandy beach is 3 km away. The Village features Boat Rentals, Scuba Center, and the hip "On the Beach" Live Jazz restaurant. Santa Gertrudis is 30 minutes away for Amalur and Can Pau. The house is 3 minute drive from secluded Ses Caletes Beach, and nearby hiking trails in the surrounding hills. Nowhere near clubs, this is for Those Who Value That kind of happiness That Does not depend on what Happens, a perfect expression of joy. 7 day minimum.
Rural Ibiza of fields, hills and almond orchards- all cascading down to the sea.
We had such a wonderful week at Pietro's house with our two kids !! More than a simple house, this a true and authentic experience in the privileged, natural, wild part of Ibiza. The house is even more beautiful than on photos. Pietro welcomed us warmly and was always keen to help us if needed. I couldn't recommend any other place to stay in Ibiza for those who seek peace, nice village (close to San Joan), Eden small beaches and true experience !!
Julien
2015-08-01T00:00:00Z
perfect week in a wonderful place. We were looking for a stay in the authentic part of Ibiza and it was exactly like that. Pietro is a wonderful host with a lot of attention for his guest. I can't recommend another place to stay if you are looking for this part of Ibiza. Pietro thanks for everything !!!
Matthieu
2016-05-03T00:00:00Z
Pietro was the perfect host, kind, helpful totally available when needed - and the property was breathtaking. Our family enjoyed an idyllic stay. Dx
Daniel
2016-10-30T00:00:00Z
Pietro's Finca is just fabulous. The Ideal place for a complete relaxation. The house is unique, full of character, a real experience! It was exactly what we were looking for. We came back refreshed and peaceful. Special thanks to Susie who greeted us and gave us all the best addresses in Ibiza. Always keen to help, she has been a real value to our trip. Thank you!!
Jonathan
2016-08-18T00:00:00Z
We had a wonderful stay in this beautiful (and beautifully designed) farmhouse. Pietro was a perfect host, going out of his way to answer all our questions and make our holiday perfect. Thanks!
Magnus
2014-07-05T00:00:00Z
De finca voldeed in alle opzichten aan de beschrijving: een prachtig huis op een prachtige plek in het land met veel rust en ruimte. Het huis is verzorgd en comfortabel, en smaakvol ingericht. Pietro is een professional met gevoel voor de wensen van zijn gasten. Het welkom was hartelijk, informatief. De omgeving biedt veel mogelijkheden voor wandelen, fietsen, zelfs zwemmen op een haast prive-strand op 30 min. loopafstand. We komen graag terug.
piggel
2015-06-06T00:00:00Z
Pietro was a wonderful host, helpful and understanding and very friendly. The area is beautiful, and the villa absolutely stunning. We felt very lucky to get to experience it.
Katie
2015-06-17T00:00:00Z
pietro is a fantastic host offering up lots of local information + helpful tips which we really appreciated as this was our first time in ibiza. pietro's house is absolutely beautiful and we felt so lucky to have stayed there. honestly, everything was magical.
Amy
2014-06-19T00:00:00Z
Oda Tipi
Tüm ev/daire
---
Mekan Türü
Ev
---
Konaklayacak Kişi Sayısı
6
---
Yatak odaları
Cala San Vicente, Ibiza, İspanya
In Cala san Vicente, 50 mtrs from the beach and boulevard we have this little garden house with a double bed for 2...outside shower plus hot shower, wc's, free wifi available, there are 2 friendly dogs...please get in touch for details and more information!
Oda Tipi
Özel oda
---
Mekan Türü
Diğer
---
Konaklayacak Kişi Sayısı
2
---
Yatak odaları
Cala de Sant Vicent, Illes Balears, İspanya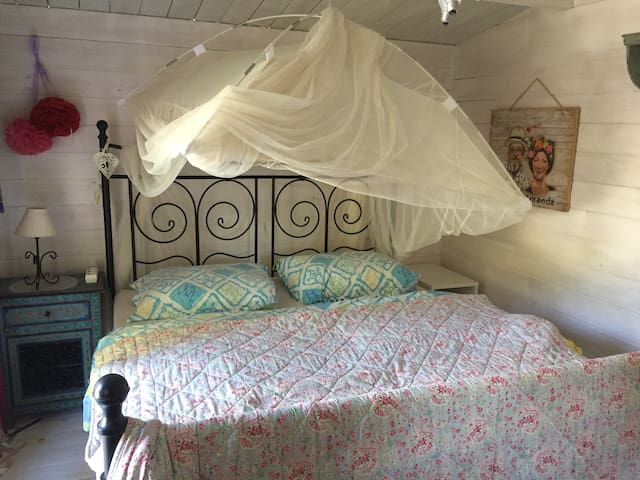 ESTUDI INDEPENDENT EN UNA FINCA nord d'Eivissa amb accés directe a la piscina i un jardí
CASA DE 2, separada de la resta de la mansió al primer pis, amb bany privat i terrassa - ACCÉS DIRECTE A PISCINA GRAN I MEDITERRANI JARDÍ - Cavalls - Situat en una zona NORD I CONSERVES D'EIVISSA - VISTA AL MAR, LA BOSC, i la badia de Sant Vicent - lloc ideal per gaudir de la zona Lovely NORD dE l'ILLA l'habitació és espaiosa (36m2) i assolellat causa de les seves grans obertures a la terrassa d'iguals dimensions - El seu sostre és tradicional amb bigues FETS dE fusta local, està equipat amb un llit King Size doble, un armari, taula i cadires, un còmode sofà, una estufa PER L'HIVERN - possibilitat de cuinar incloent una cuina de gas amb dos cremadors, una pica, una nevera PETIT, tAULA i BUTAQUES BAIX el pòrtic de la terrassa - bany còmode, baranes de marbre amb dutxa, LAVABO I WC - TOTES lES ACTIVITATS FORA SÓN POSSIBLES: natació a les platges conegut o secret, Senderisme, excursions, equitació, tennis, golf, excursions en vaixell, VISITA dE LLOCS d'interès arqueològic , VISITA D'EIVISSA MEDIEVAL DE lA CIUTAT i MERCATS - Hamam aL POLIESPORTIU DE SANT JOAN - Restaurants i bars musicals a les proximitats - tranquil·litat absoluta a la propietat, vida social activa en les proximitats
Als turons de Sant Vicent noves construccions estan prohibides per la qual cosa encara hi ha animals salvatges al voltant (genetes, conills, aus petites, perdius, òlibes i falcons) - A la nit, l'aire és tan clar es pot veure milers d'estrelles - Des de la terrassa es té una bella vista de la badia de Sant Vicent i els turons dels voltants Aquest lloc és ideal per a muntar a cavall, anar en bicicleta i la pràctica muntanya - Proporcionem guies fo opció Rany
Francoise Finca is absolutely beautiful and stunnig. The view on the neighbourhood ist breathtaking and the Fica is even more beautiful than on the pictures. First of all Francoise was the perfect host. She picked us up, so we could follow her car in the hills. That is very helpful, because getting there alone would be very difficult for the first time. She recommended us places to visit, that were great. We could ask her questions any time, but were nevertheless very independent and our privacy was never intruded. She is kind and always friendly. Now the appartment itself. Everything was more than clean, everything you needed (kitchen, bathroom) was there. Even towels were changed if we wanted it. It's a perfect spot to relax and you definetly should plan to stay at the Finca at least one day! To get there by car is a MUST. It would be very difficult to get up there by foot or by bycicle. And to get to the perfect coasts and caves in the north it is better to be independent. The neighbourhood: St. Joan is a very nice little town. If you want to have a nice dinner, go to Giri Cafe there. And the hippie market on Sundays is also a very nice event to make your vacation complete. If we ever come back to Ibiza, this would be the place to go. I hope you will have us another time ;) Thank you Francoise!
Amelie
2016-09-06T00:00:00Z
Françoise a été très attentive à notre confort et nous aider pendant notre séjour chez elle. Nous avons eu la chance d'avoir un petit déjeuner frais tous les jours. Sa maison est très belle et idéal si vous souhaitez des vacances tranquilles et isolées. Nous reviendrons avec plaisir !
Katia
2012-10-23T00:00:00Z
We had a fantastic time at the Garden on the Sea! Francoise is a wonderful hostess, who gives a warm welcome and is full of knowledge about the surroundings, be that history, festivities, beautiful walks or the local fauna. Her 'garden' is a hillside farm, where you are kept company by cats and horses, with swifts, falcons (and sometimes a sea eagle) all riding the winds. Overlooking Cala Sant Vicent in the distance, the pool provides a lovely relaxing way to cool off when your terrace has heated you. It feels wonderfully remote - a 10-minute walk will take you to a ridge where you can watch the sunset in perfect seclusion, but it is only some 5km from Sant Juan, with its shops, bars and restaurants - and from there the beaches of the north are all within easy reach. A perfect place to relax and forget the world!
Ian
2014-06-28T00:00:00Z
The host canceled this reservation 9 days before arrival. This is an automated posting.
Francesco
2016-04-20T00:00:00Z
Came back for the second time after some years it was better than the first time. Found again a slice of heaven, dreamed for years was looked like to came back in the past. Thank you Francoise..thanks so much because you make us happy again.
Marcello
2016-08-16T00:00:00Z
Françoise is a very kind and attentive host. We most liked the large terrace with stunning views, and the swimming pool. The one room apartment is spacious with a double bed and closet. The bed was a bit sweaty, as it has a plastic mattress cover. We put the dinig table on the terrace. The kitchen equipment is very basic, but we were still able to cook a decent meal. The kitchen is outside on the veranda, so the strong mountain winds made cooking some days a bit of a challenge. We received regularly clean towels. All in all we had a fantastic time at Françoise's place and we would recommend it to anyone looking for a central located and quiet appartement in the north of Ibiza.
Reinier
2015-09-07T00:00:00Z
Very nice studio with amazing views over the hills and st vincent. Francoise is very nice and helpfull. We will be back one day!
Chelly
2014-08-28T00:00:00Z
Françoise is a friendly modest host. If you have questions, she is there to answer them with pleasure. If not, you have all the privacy you need on a vacation, away from every days buzz. A top location, beautiful an quiet, with a nice swimming pool, and a magnificent garden with nice views, 360° around. The village of Sant-Joan, on a 5 minutes drive is also nice and peaceful, with a few charming restaurants. Top beaches nearby. We'll be back one day... Johan and Kathleen.
Johan
2014-07-28T00:00:00Z
Oda Tipi
Tüm ev/daire
---
Mekan Türü
Villa
---
Konaklayacak Kişi Sayısı
2
---
Yatak odaları
Sant Vicent de sa Cala, Ibiza, Balearic Islands, İspanya
If you are looking for a wonderful base to explore the beauty of Ibiza you have found it. Set in the hills overlooking the traditional village of San Carlos surrounded by fruit trees you cannot help but feel relaxed in these beautiful surroundings. My place is next to some of Ibizas most beautiful beaches Aquas Blancas, Es Canar, Es Figurel. It is 2 minutes from the famous Las Dalias Hippy Market and the delightful village of San Carlos.
La "beautiful casita" de Nir est absolument comme décrite : beautiful ! C'est une petite maison charmante au milieu d'un (très) grand jardin, avec une piscine. Elle est très fonctionnelle, les lits sont confortables, la cuisine pratique et entièrement équipée. L'île d'Ibiza est splendide, particulièrement hors-saison lorsqu'elle est vide de tous touristes, sauvage et toujours aussi verte (en décembre, baignade possible et bains de soleil sur la plage !).
Claudia
2016-12-31T00:00:00Z
A great casita, the pictures hardly do it justice! The location is perfect for exploring the quieter side of the island, and near some lovely beaches. Sarah and Nir were great hosts and their boys were lots of fun to play with. Our 3 year old loved playing with the boys, visiting the chickens every morning to check for eggs, and picking oranges from the trees.
Sophy
2017-03-31T00:00:00Z
Beautiful and comfortable little casita separate from the main house, walking distance from Sant Carles and with a beautiful view overlooking the village and its valley. Sarah greeted us and was very friendly and laid back. She had prepared a lot of toys so our baby daughter could play . Thank you Sarah and Nir !
Lorenzo
2017-04-03T00:00:00Z
Best place for relax on Ibiza!!!!
Nadia
2016-11-25T00:00:00Z
La casa és una preciositat i la finca també. Absolutament recomanable per a passar uns dies, està ben ubicada, es tranquila i cómoda!
TERESA
2016-12-11T00:00:00Z
Oda Tipi
Tüm ev/daire
---
Mekan Türü
Ev
---
Konaklayacak Kişi Sayısı
4
---
Yatak odaları
İbiza, Balearic Adaları, İspanya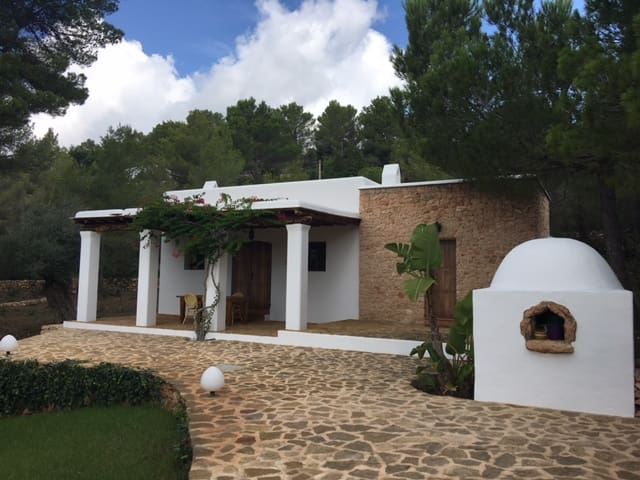 300m from the beach, Can Camet is a 3 bedroom house constructed 10yrs ago following the traditional inside architecture of ibiza houses in the quiet part of the island. Has a pool, garage, and an amazing wooden porch to relax in.
The house has 3 rooms 1 main double room and 2 twin rooms. There are 2 complete bathrooms (both with a shower). There is another hot shower in the patio area to rinse from the beach. This patio area is shared with the owners studio who only comes a couple of weeks a year and will always warn guests at the time of reservation and how long he will stay for everybody's comfort. Generally it's the night of arrival and the night of departure to exchange keys.
We have the best sand beach in Ibiza, not the trendiest, but definitely the most complete. Full lifeguard and wheelchair services. It is on the quiet side of Ibiza, so not busy except weekends. There is a lovely Chill out bar called On the Beach that offers live music on weekends and great cocktails by the beach. The Pizzeria Ole has the most amazing this crust pizzas, first thing I do when I arrive is order a Pizza Sirena. Most of the restaurants in the area are very good. But prices vary a lot. There are 2 small supermarkets at the beach, one with fresh bread and pastries. There is a hippy market in Las Dalias(San Carlos) every Saturday and Monday night, well worth the 15min car trip
Jaime is a special host. Very helpful and ready to help get the maximum from your vacation. The house is large and spacious and in an extraordinary position: just 150 mt from the beach and sea of Cala Sant Vicent with basic services (supermarket, kiosk, souvenir, car rental) and many restaurants (we suggest On The Beach, a very friendly chiringuito right on the sea). Secluded with privacy, the villa is set in a private road, so none can access and definitely no traffic ! Surroundings are really Ibizencos with a stunning vegetation. If you're in Ibiza to enjoy the island, you're in the right place, as the northern region is savage and full of small coves and bays. If you are coming for foam parties, then go somewhere else :-)
alberto
2015-09-04T00:00:00Z
Really enjoyed this Ibizan home! Jaime is a great host. Friendly communication throughout the booking and was very accommodating (especially with very extended check in/out times). It's a really good location, only about 150metres from a lovely family friendly beach. Great to have the games room (which is huge) to use if the weather turns. The fig trees, almond tree and lemon trees are a real bonus too. The swimming pool is great for kids to play around in and of course there's the plethora of unique Ibizan beaches to explore! Overall a fantastic base for families wanting a chilled out villa to explore beautiful Ibiza. Thank you Jaime!
Luca
2016-08-20T00:00:00Z
Oda Tipi
Tüm ev/daire
---
Mekan Türü
Ev
---
Konaklayacak Kişi Sayısı
6
---
Yatak odaları
Cala de Sant Vicent, Balearic Adaları, İspanya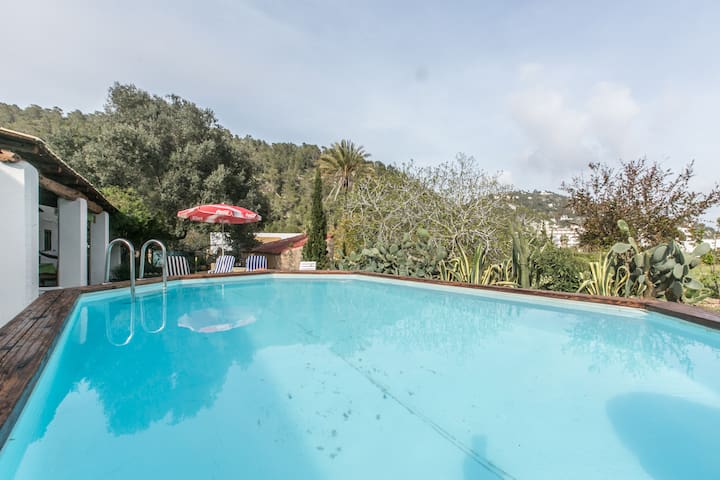 Romantische und traditionelle ibicenco Finca mit Privatsphäre und einem großen Pool im Norden!
Willkommen in unserem schönen, sehr ruhig und authentisch alten Bauernhaus im Norden der Insel restauriert! Die kleine Finca verfügt über eine magische Atmosphäre für diejenigen, die Entspannung und genießen ihre Privatsphäre. Es war für uns wichtig, die Authentizität und den Charme des alten Gebäudes zu halten, und wir sind sicher, dass Sie diese ruhige und ruhigen Ort mögen und genießen, wie viel wir tun! Neben dem gemütlichen Wohnzimmer mit es Sitzecke, Fernseher und Kamin, gibt es zwei Schlafzimmer: ein größeres im Obergeschoss, mit einem 1,60 m Doppelbett, einem alten Holzdecke und einen Fernseher; und eine kleine, aber auch sehr reizvoll Schlafzimmer mit einem 1,40 m Doppelbett und original alten Holzbalken an der Decke in der unteren Etage. Die separate Küche ist liebevoll eingerichtet und ausgestattet mit allem, was Sie brauchen. Natürlich gibt es Wi-Fi im Haus und auf der Terrasse! Das kleine Bad mit Dusche wird durch einen Flur mit Schränken und Stauraum erreicht. Das Innere der Finca ist einfach, aber mit viel Liebe zum Detail ausgewählt worden und es bewahrt den ursprünglichen Charme eines alten Bauernhaus. Die Terrasse ist komplett abgedeckt und mit einem Holztisch und Stühlen ausgestattet, ein perfekter Platz im Schatten zu entspannen einen herrlichen Blick auf den Garten und die Berge genießen. Unten im Garten finden Sie die herrlichen Pool, wo Sie ganz in Luxus Bettwäsche mit dicken Kissen und Holzschirmen entspannen können. Ein kleines, tragbares System für die I-Pod ist im Haus vorhanden. Die Finca ist ökologisch und umweltfreundlich mit Energie versorgt mit Solarenergie, nur den Einsatz von natürlichem Sonnenlicht zu machen. Während der Tageszeit, Energie und Warmwasser von der Sonne direkt zur Verfügung gestellt. Am Abend und in der Nacht, liefern Batterien, um die benötigte Energie. Neben dem Haus, können Sie eine kleine, sehr ruhig und schönen felsigen Strand erreichen, weit weg vom Tourismus, auch während der Hochsaison, aber auch schöne Sandstrände sind mit dem Auto leicht. Die nächsten Dörfer sind Cala San Vicente und Sant Joan, hier finden Sie Supermärkte, Apotheken und gute Restaurants finden. Die Finca verfügt über eine gesetzliche Mietlizenz !!! Wir akzeptieren nur Buchungen von Samstag bis Samstag!
Fabulous finca in a beautiful location. Exactly as the listing suggested if not better. Very helpful host and smooth running all round
Bishakha
2016-06-26T00:00:00Z
La finca è esattamente come nelle foto, è molto bella ed è perfetta per chi cerca un rifugio nell'intimità di una valle isolata. Il silenzio e la tranquillità sono garantiti. Jim ci ha accolto con calore e tanta simpatia, grazie ancora ! Abbiamo scoperto una nuova Ibiza.
Riccardo & Graziella
2016-09-26T00:00:00Z
Jim's Finca is amazing - beautiful, private and incredibly quiet. The perfect place to unwind. One of those places you don't want to leave.
James
2016-09-18T00:00:00Z
La maison est vraiment magnifique et en plein milieu de la nature. Pas un bruit et à proximité D une très jolie crique. Nous avons hâte d y retourner.
Fabrice
2016-06-30T00:00:00Z
Oda Tipi
Tüm ev/daire
---
Mekan Türü
Ev
---
Konaklayacak Kişi Sayısı
4
---
Yatak odaları
Sant Joan de Labritja, Illes Balears, İspanya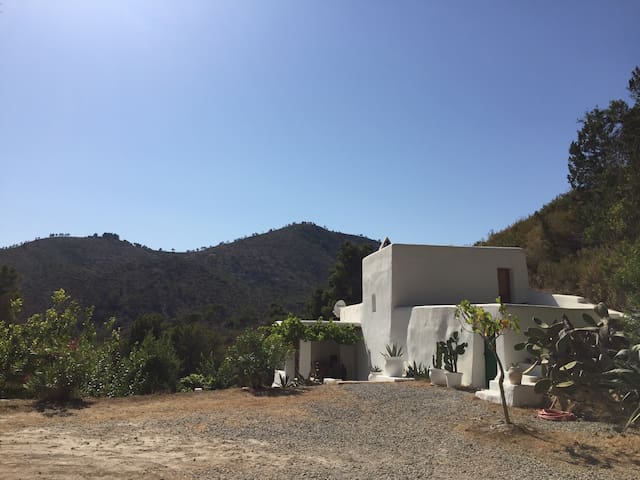 Tam fiyatlandırmayı görmek için tarihleri görün. Ek ücretler uygulanır. Vergiler ilave edilir.