Ven a disfrutar de nuestra hermosa casa de carácter en el precioso pueblo de Seba Beach en el lago Wabamun. Un fin de semana perfecto o llevar a la familia para unas largas vacaciones. Sólo 60 minutos de Edmonton! Dotado en su totalidad con todo lo necesario.
Esta hermosa casa fue diseñado en los años 60 e incluye un garaje solo coche adjunto. La cocina totalmente equipada ha sido recientemente renovado. El dormitorio principal de arriba tiene una cama de latón antiguo con una suite en el pleno. El loft de arriba es muy acogedor, con una chimenea de leña, TV de pantalla plana, DVD y equipo de audio. piso de la sala de comedor principal hermosa con acceso a la deck.There es un pozo de fuego al aire libre para la velada familia! Aceptamos mascotas, sin embargo hay un cargo de $ 20 por noche por animal, a pagar a la llegada.
Really nice setting and really nice accommodation. Clean and comfortable. We enjoyed the property and yard for a weekend this July with some family from Edmonton. Nightly fires, BBQing, mini golf and good fishing. We would definitely come back and recommend this accommodation to others
Lisa & Eric
2015-07-19T00:00:00Z
We had a great weekend! Clear instructions, beautiful cabin with all the amenities! Awesome area, quaint general store and fancy golf course restaurant nearby for dinner if you want. An indoor fireplace was heaven...wine, fire, great music collection, pancakes at midnight and a picturesque walk...couldn't have asked for more! Awesome hosts, replied to a question from France! Thanks, we would definitely stay again!
Opal
2016-10-10T00:00:00Z
The Seba Beach getaway was awesome! Thanks Daryl and Sylbiane! It's a nice small village on the lake. We enjoyed a hike down to the beach and with all the snow we particularly enjoyed the fireplace upstairs! It was perfect for a weekend getaway.
Tyler
2016-10-16T00:00:00Z
We had a great stay in Seba Beach. The lake was frozen and great for cross country skiing and there was a little rink and skating track cleared nearby. Such fun!
Merilie
2016-12-31T00:00:00Z
Daryl and Sylviane's cabin was the perfect get away. The cabin itself is beautifully located on a quiet road; a short walk from the public beach. The property is beautiful, well kept and a perfect combination of open, but providing privacy. Everything we needed was provided. The kitchen is well equipped and there were extra towels in the bathrooms and bedding if need be. The cabin is a beautiful reflection of both Daryl and Sylviane's heritages. I am a single parent and took my daughter, along with one of her friends and our family dog. Everyone enjoyed themselves. The girls loved playing in the living room upstairs and put on several "shows" for me from the upper deck. They used the outdoor swing and danced around the yard. I enjoyed the privacy of the deck, sipping on wine while they watched movies before bed and played. We spent a lot of our time at the pubic beach which was clean and not overly busy. We cooked in the cabin on the stove, BBQd outside and visited the local mini golf place a few times for ice cream :) I would have liked to have a fire, there was wood and kindling provided for both outside and inside however we were blessed with hot days, so maybe on our next trip. I would recommend this cabin for a family get away from city life or for an adult only vacation. The cost per night was definitely reasonable for what the hosts provide for their guests. I really appreciate that it was dog friendly, a leash/tie and water bowl for outside use. I will definitely visit again!! Thanks for having us :)
Sara
2015-08-12T00:00:00Z
The host canceled this reservation 7 days before arrival. This is an automated posting.
Penelope
2016-05-13T00:00:00Z
Its very pleasant to walk up to the front door, the deck around the house and little lanterns give this cottage a real nice cozy feel. The cleanliness of the cabin could be looked at. But the beds were cozy and clean. Coffee should be a must for the future. And update some of the cloth items in the cottage to make it feel clean, like bath and bedroom matts and the cloth sectional. We never saw much out of the cottage.
Laura
2017-01-07T00:00:00Z
Wonderful location and very accommodating hosts that were easy to get a hold of if needed. The cabin had everything we needed and the back yard was perfect for our dogs. We basically lived on the deck or by the fire pit our entire stay.
Keltie
2016-08-23T00:00:00Z
Oda Tipi
Tüm ev/daire
---
Mekan Türü
Ev
---
Konaklayacak Kişi Sayısı
6
---
Yatak odaları
Seba Beach, Alberta, Kanada
Ellen was very accommodating as we needed to change our arrival time at the last minute. She met us onsite and gave us a detailed tour. Entry and exit was pre-arranged via text message making it simple for us. She always responded very quickly before, during and after booking, along with during the stay itself. The house itself was spotless and well-maintained. All amenities were thought of from cooking supplies to linens. The provision of firewood, kindling, newspaper and lighting materials were greatly appreciated for us, and safely kept away from our young kids. Netflix and satellite TV were helpful for the rainy days along with the cozy sun porch (our favourite part!). The large yard was great for the kids and everything really is walking distance as Ellen described. We had a great time walking to the beach, the playground and the library. While the beach is rocky, with only a little sand, the kids had fun. The whole house is well-designed and comfortable. Laundry being included was an added and helpful bonus. It was a relaxing stay, our first time in Alberta Beach!
Rosie
2016-08-27T00:00:00Z
Ellen was very accommodating during check in. I was running 30 minutes late and she was gracious about it. Her place is the ideal location to be as it was close to the beach and stores. I definitely enjoyed having both the outdoor fire pit and fire place in the sun room. When there were too many mosquitos out, we make use of the fire place in the sun room. The place is fully equipped with extra blankets, beach towels, life jackets, roasting sticks ... everything needed to enjoy outdoor cabin experience. Would definitely stay again and recommend to anyone looking to rent.
Chita
2016-08-15T00:00:00Z
The listing was very well represented in the photo's. We found the master bedroom mattress to be really comfortable (not too soft, not too firm). The house was VERY clean. The keyless entry system was great as we never had to worry about where the key was or who was carrying it. We could easily make a quick stop back without having to track down a physical key - a really nice touch.
Michelle
2015-08-21T00:00:00Z
Hello! My family of 6 spent 3 nights at Ellen's cottage. Ellen met us as we arrived and walked us through the house. We enjoyed the clean, bright and well appointed cottage. The beds were all very comfortable and a welcoming sight at the end of some long days in Edmonton. The kitchen was nicely stocked with all basic amenities. While this cottage may not be an ideal nature (URL HIDDEN) was a perfect reprieve from the city. We really loved having nightly fires in the wood stove...kindling and paper thoughtfully bundled for our stay. Ellen has done a great job of making a "home-away-from-home" in her cottage at Alberta Beach. A short commute to and from Edmonton should not keep you from giving this a try. Thanks so much! Natasha and Wayne
Wayne
2015-08-27T00:00:00Z
Had another wonderful visit at Alberta Beach. The accommodation was perfect and the addition of the upstairs deck is fantastic!
Audrey
2016-06-20T00:00:00Z
Ellen meet us on arrival and showed us her beautiful beach house:). The cottage was perfect; it had literally everything. Our favourite spot was the veranda with a fireplace and comfortable lawn furniture - amazing outdoor lazy boy chair; outdoor blankets; and marshmellow sticks... The beds were comfortable , great decor and linens! The kitchen was stocked with necessities and had all the necessary cooking utensils... Plus coffee and cream. The neighborhoid was awesome; the restaurant across the street served a great breakfast; Alberta beach hotel tavern had a great live band on July 1st; fireworks were amazing on July 2 ( postponed due to rain); and the lake access right across the street has a lovely swing set and it was fun to walk out in the shallow lake water until it got deep ( approx 100m). Literally no complaints:). Full recommendations to stay at Ellen's Beach house!
Sherri
2016-07-06T00:00:00Z
We had a wonderful weekend at the house. It has a nice location, walking distance to everything. The house looked exactly like in the pictures. Very comfortable rooms, felt like we were at home. The deck was nice, and we enjoyed spending evenings in front of the fire.
Ashley
2015-08-03T00:00:00Z
Ellen was very nice, she showed us around when we arrived and provided all the info we needed for the rental. She was quick to respond when we texted her questions which made the whole experience run smoothly. The place is very nice, I really like the big enclosed deck on the front of the house and beautiful wooden walkways throughout. The house was very clean and well kept when we arrived. We were provided complementary coffee beans w/ grinder which was a nice touch. I would not hesitate to book here again.
Greg
2015-03-17T00:00:00Z
Oda Tipi
Tüm ev/daire
---
Mekan Türü
Ev
---
Konaklayacak Kişi Sayısı
6
---
Yatak odaları
Alberta Beach, Alberta, Kanada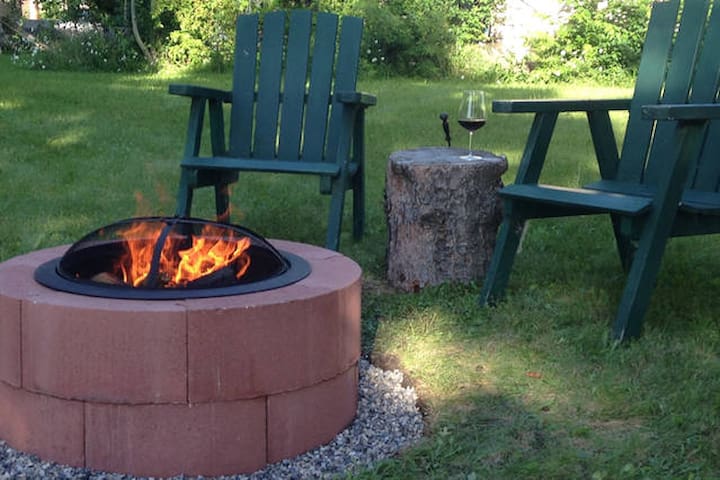 I'm a single male with an extra room. Need a place to stay temporarily? I can help you out.
Open concept, sunny and airy atmosphere.
No noise or distractions. Grocery store is right around the corner!
Michael was a wonderful host who went above and beyond to make us feel comfortable. Our stay was short because we were in the area for a hockey tournament, but he ensured that we felt right at home while we were there, providing clean rooms, a stocked fridge, access to the laundry and much more. Just minutes away from Drayton Valley, this quiet home was an ideal break from the hectic pace of the weekend. We definitely recommend staying with Michael if you are in the area. A nice alternative to the excessively overpriced hotels in the area.
Dustin
2015-11-08T00:00:00Z
Nice and clean place in a quiet area Michael is a good guy and helps with whatever is possible
Chris
2015-08-08T00:00:00Z
Michael was a great host. Perfect for a stay in or around Drayton Valley area.
Nush
2015-11-21T00:00:00Z
Oda Tipi
Özel oda
---
Mekan Türü
Ev
---
Konaklayacak Kişi Sayısı
2
---
Yatak odaları
Rocky Rapids, Alberta, Kanada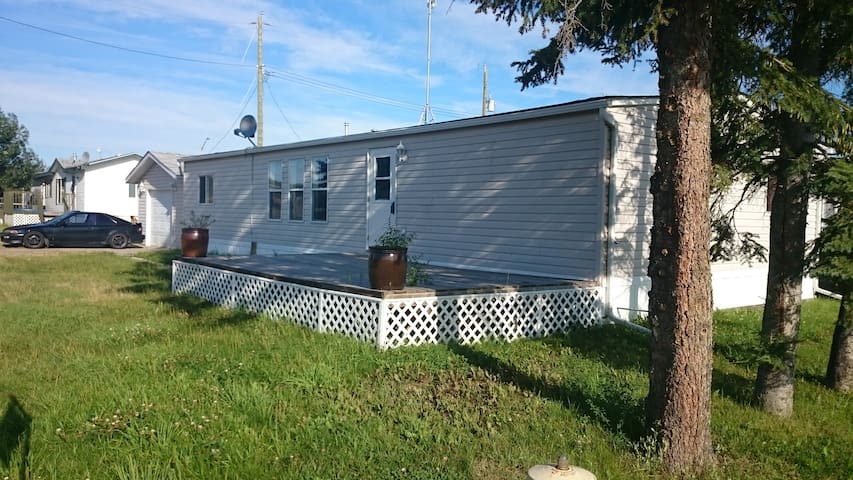 Cathy's place is in a scenic spot that is beautiful in the winter time. I'm sure that it's beautiful in the summer too. The finishes and hardware are unique and lovely. I was working close by and was so glad to find a place that I could spread out my work for the night. Also, the bed is incredibly comfortable. Work may bring me back in a week. If I have to stay over, I'll be booking this spot again!
Faye
2017-03-16T00:00:00Z
We have lived in Alberta for the last three years, but this was maybe our best weekend away from the city yet. Tremendous amenities and a very rural location with walking trails a couple blocks away and several lakes and nature areas less than half an hour away. The house is set up with pretty much anything you could want or need. It was a great weekend and we hope to visit again!
Rebbeca
2017-02-13T00:00:00Z
Oda Tipi
Tüm ev/daire
---
Mekan Türü
Ev
---
Konaklayacak Kişi Sayısı
2
---
Yatak odaları
Spring Lake, Alberta, Kanada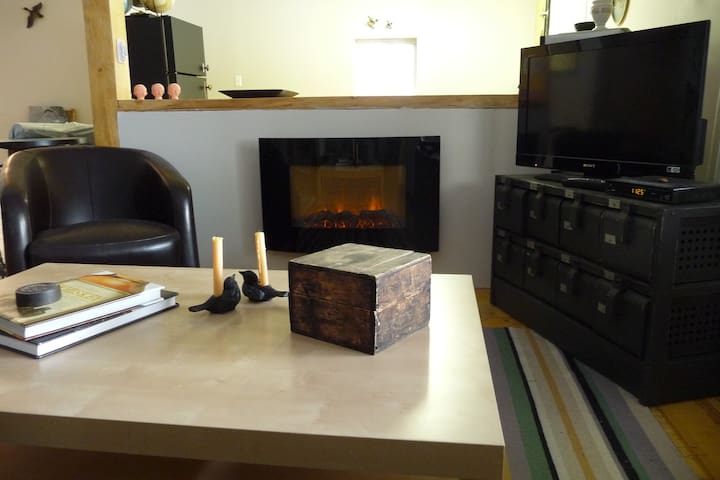 Tam fiyatlandırmayı görmek için tarihleri görün. Ek ücretler uygulanır. Vergiler ilave edilir.