BUBBLING HOT TUB on deck with 180 degree expanding views over Melbourne, Port Philip Bay, Yarra Valley.Sparkly Night Lights,moving clouds,great sunsets,stars,moon,coloured birds On the top of Mt Dandenong.50mins from Melbourne central.5 mins from Olinda. Foxtel freeWifi.
HOT TUBS AND 180 degree view Magnificent 180 degree view. Hot tub on deck overlooking the expanding views over Melbourne, Port Philip Bay and the Yarra Valley. Sparkly night lights, moving clouds, great sunsets, stars, moon, coloured birds. Private spacious and self contained on the top of Mt Dandenong. 50mins from Melbourne central.5 mins from Olinda. Foxtel, free WI-FI
OLINDA,SKY HIGH,MT DANDENONG, William Ricketts sculpture garden,Divine Destiny, Rhododendrom Gardens, Sky High, Puffing Billy,1000 steps, Tree adventure Belgrave, Mt Dandenong villages. Sassaffrass, Olinda, Kallista, Yarra Valley wineries, Surrounding forests with walking paths and bicycle trails, hot air balloon Silvan Reservoir. Picnics
Amazing place! Beautiful view. Very calming as you walk in, lovely music playing. They even had everything we needed to make a great breakfast set up and read to go. 100% would recommend for a relaxing getaway, with a view. (Minus one crazy bird we named Death-scream haha)
Foad
2016-01-18T00:00:00Z
Everything was amazing!
Lauren
2015-05-19T00:00:00Z
My partner and i stayed here for two nights in november and absolutely loved it :) The spa bath is lovely, the views are simply amazing. We were very welcomed and had a chat with Vivian about the local places to eat/things to see and do. A trip to sky high is well worth it, the walk is great, a bit steep so wear walking shoes :) We will certainly be back, thanks so much for having us! :)
Brittni
2014-11-08T00:00:00Z
Place was great. View was incredible. Unfortunately my apartment wasn't ready until half an hour after arriving but that wasn't really a problem. Very clean, breathtaking view.
Seth
2015-01-27T00:00:00Z
great place the spa tub was a plus after a full day of driving around. The birds are amazing its so nice to see 10-12 cockatoos on your balcony. its like living in a bird sanctuary. the kitchen was very well equipped. we didn't leave the place the whole time the view was amazing and great get away on a rainy day.
Brad
2016-11-22T00:00:00Z
My girlfriend and I were greeted with a smile upon arrival. This place is absolutely amazing, and the views are even better than the photos show. Food in the pantry and fridge for breakfast was a lovely touch for your first morning there. Close to some great restaurants and other attractions. Spa on the balcony was absolute bliss for relaxing after a day of trekking around. This was the perfect getaway for us and we would definitely stay again (PHONE NUMBER HIDDEN).
Christopher
2015-12-31T00:00:00Z
Staying at Bonza View was one of the most wonderful experiences I've ever had. The view is truly spectacular and the place was immaculate, relaxing and enjoyable. When we walked in there was music playing and bird seed on the table, which we immediately used to have cockatoos eating out of our hands. Amazing! Gorgeous area, serene location, worth every penny and more. Thank you!
Mia
2015-09-28T00:00:00Z
What an amazing place to stay. At the end of a very quiet street. The views are unbelievable. Greeted at the door and then left alone to enjoy ourselves. Great night away.
Pauline
2015-12-08T00:00:00Z
Oda Tipi
Tüm ev/daire
---
Mekan Türü
Daire
---
Konaklayacak Kişi Sayısı
2
---
Yatak odaları
Kalorama, Victoria, Avustralya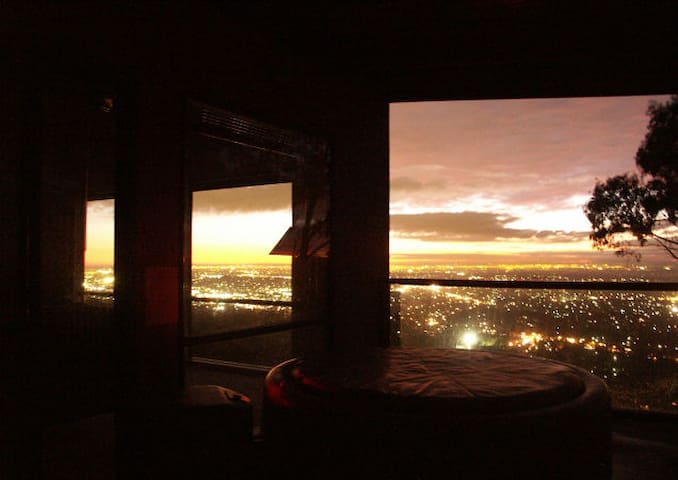 My place is close to Sky high restaurant and view of the Melbourne city, also 5 minutes from Tatra Hut wedding reception. You'll love my place because it is nestled in the Kalorama forest within a 10 minute walk through the forest is the local picnicground as well as a delightful view in the distance of Silvan reservoir. My place is good for couples, solo adventurers and business travellers. Continental breakfast supplied in your kitchenette.
John was great! Lovely, cozy home nestled in the middle of the trees. We loved it!
Chelsea
2016-09-18T00:00:00Z
The host was so welcoming, and made sure that all our needs were met and questions were answered. I already miss him & his partner and his place, I would go back anytime!
Janice
2016-09-27T00:00:00Z
Me and my girlfriend stayed one night at John's place and to be perfectly honest cannot say one bad or negative thing, John was fantastic and done everything possible to make us feel welcome and right at home, he even gave us a lovely bottle of wine when we arrived which was a lovely touch. The room was amazing, very clean and homely and with the open fire in the evening was quite possibly the coziest place in the Dandenong Ranges. Would recommend the place to anyone and most defiantly will visit again. Fantastic!
Luke
2016-08-29T00:00:00Z
John's place is located in the middle of the nature and surrounded by beautiful native birds. We had a very relaxing time and John gave us a warm welcome with white wine. The room is very cosy and perfect to have a great time. Thanks again, your place is highly recommended.
Jose
2016-11-12T00:00:00Z
John and his partner were the most welcoming and accommodating hosts. They did everything to ensure we have the best time and that our weekend went as smoothly as possible. Their home is fantastic. We can't wait to go back
Christie
2016-10-30T00:00:00Z
John's place was just lovely, as was John himself. I would highly recommend staying here! and the view from the room was absolutely breathtaking!
Bianca
2017-01-28T00:00:00Z
We loved waking up to the sound of birds, the forest/garden. John made us feel really welcomed and comfortable. We had a lovely weekend.
SHEILA
2016-09-25T00:00:00Z
John was so welcoming to us the moment we arrived and right before we left. My friend and I had a great time and we can't wait to come back :)
Jazlina
2016-11-25T00:00:00Z
Oda Tipi
Özel oda
---
Mekan Türü
Daire
---
Konaklayacak Kişi Sayısı
2
---
Yatak odaları
Kalorama, Victoria, Avustralya
Come unwind at our forest retreat located in the hills with many forest walks at our door step including 1000 steps.
Our house is set among the forest with a magical retreat feel. Attached to the side of our main house is a fully self contained unit with your own entrance. The room includes a double bed, kitchen with all commodities, heating and private bathroom with soap and towels. we offer free breakfast and any information you may need to know about the Dandenong Ranges. We supply a fan for the summer months but the room is very cool and shaded by the forest. It's around 7 degrees cooler up in the hills so air con is not needed. There are many walks, springs and our favorite cafes that we are happy to share with you. we are walking distance to 1000 steps and other beautiful forest walks, a few minutes from many magical gardens, 5 minutes drive to boutique cafes and shops in Sassafras and Olinda, 8 minutes to Sky High lookout, 7 minutes to Belgrave shops, train station and puffing billy. We have a communal lounge room with a fireplace that you are welcomed to enjoy. We also have a healing room with relaxation massage and sound healing on offer. We also offer taxi services if need be.
we live in one of the most beautiful neighborhoods in the hills as it's very quiet and surrounded by forest.
This place is fantastic and the walks are to die for Bella's is a great host Perfect for a short stay
MARY
2017-01-28T00:00:00Z
We had no complaints about our stay. Easy communication with friendly down to earth hosts. Studio style space attached to the side of house with door closing or connecting the area from main house. Just the right size for two people to enjoy with all the amenities you need - full kitchen, large bathroom and bed (could do with a better mattress, slightly springy). Great heating (needed for the cooler climate beneath the trees canopies). Very close to popular walking tracks and shops. Thank you for sharing your cosy space!
Jamile
2017-02-18T00:00:00Z
great cozy, quiet and relaxing getaway
Stewart
2017-03-05T00:00:00Z
Welcomed by Bella with a lovely smile and a warm fire on the go in the lounge room. We were provided with a selection of breakfast foods and we had a fantastic time exploring the surrounding forest.
Anthony
2016-06-20T00:00:00Z
A lovely AB&B tucked away in quiet and very beautiful location. It is close to walking tracks in the adjacent National Park, including the famed '1,000 Steps'. Also handy to all the restaurants and country markets that abound in the Dandenongs. Bella welcomed us on our arrival and introduced us to her companions, who shared some great tips on where to eat, how to reach the walking tracks in the National Park, and also the great little market in Kallista on Sat morning. Thoroughly recommend staying with Bella and her friends; particularly if you want a quiet getaway.
Greg
2016-12-05T00:00:00Z
Great location. Good communication for check-in. Nice cosy spot, attached to main house but still felt private.
Ingrid
2017-03-12T00:00:00Z
Lovely cosy little apartment equipped with all of the necessities and in a great location. The host/s were welcoming and friendly. Would absolutely recommend.
Kirilly
2017-01-17T00:00:00Z
Bella's place is very peaceful, beautiful and clean. The kitchen is equipped with everything you need to cook. Everything that was available for us ( the coffe,bread, jam, muesli etc etc ) was really delicious and good quality! Bella and her partner are super lovely and greeted us with a very warm welcome. We kept to ourselves most of the time which was fine and we felt that we had our privacy but also felt comfortable to use the communal space. Their was a baby kookaburra sitting outside the bathroom window when i woke up on the first morning, it was beautiful and misty! A great place to visit if you want to just get up and go to escape Melbourne for a few nights. Thank you very much for sharing your home with us :)
Julia
2016-05-27T00:00:00Z
Oda Tipi
Tüm ev/daire
---
Mekan Türü
Daire
---
Konaklayacak Kişi Sayısı
2
---
Yatak odaları
Olinda, Victoria, Avustralya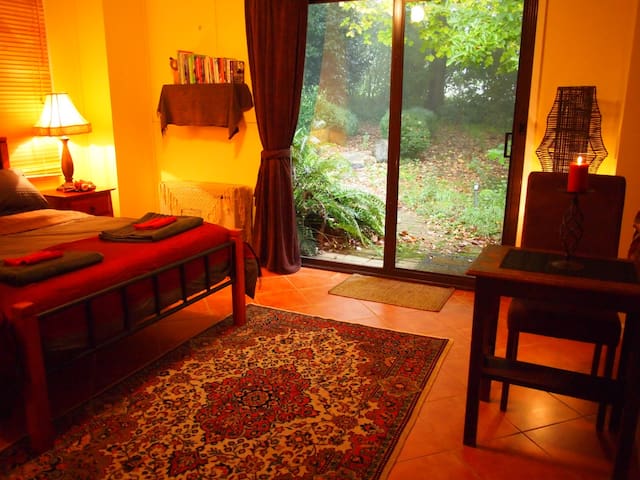 BUBBLING HOT TUB on deck with 180 degree expanding views over Melbourne, Port Philip Bay and the Yarra ValleySparkly Night Lights,moving clouds,great sunsets,stars,moon,coloured birds On the very top of Mt Dandenong.50mins from Melbourne central.5 mins from Olinda.Foxtel,wifi
BUBBLING HOT TUB on deck with 180 degree expanding views over Melbourne, Port Philip Bay and the Yarra ValleySparkly Night Lights,moving clouds,great sunsets,stars,moon,coloured birds On the very top of Mt Dandenong.50mins from Melbourne central..5 mins from Olinda.Foxtel,wifi
Very Beautiful forests and tourist shops and cafes and restaurants and colourful forest walks All parks have free entry. Walking trail maps provided in rooms. Rhododendron Pirianda gardens R.j Hamer Arboretum Mt Dandenong Arboretum George Tindale Memorial Gardens Alfred Nicholas Memorial Gardens Fern Tree Gully Picnic Groung - 1000 steps. Olinda Falls Picnic Ground Kalorama Picnic ground Cloud Hill Karwarra Australian Plant Garden Kuranga Native Nursery Yarra Valley & Dandenong RangesSky High offers every night (except Saturday) a free limo service that picks you up and returns you after dinner. Kellys Bar has every night something different. Wednesday night is open mike music night and $15.00 Parma and pot. Great fun. The Piggery is Shannon Bennetts (View du Monde) new venture Shannon Bennett's Piggery Café and Burnham Bakery Day only. 5 Star Restaurant opening soon. Miss Marples everyone's favourite. Old English. Day only. The Cuckoo German Barvarian Restaurant. Smorgesboard and entertainment. Ripe. Great lunches. Day only. Woods, Wild Oak, Copperfields, Sky High. Intimate Restaurants. Telephone and order food to be delivered. Restaurants List Wild Oak Copperfields SkyHigh Kelly's Bar & Kitchen Ranges Cafe The Cuckoo Ripe The Pig & Whistle Olinda Restaurants
Lovely place! It's a luxury to wake up in front of this view. Vivian and the team were attentive and helpful.
Wei
2015-10-01T00:00:00Z
Perfect place for a quiet get away. Amazing views and really nice inside. Full fridge for cooking breakfast and flexible for checking in & out. Would 100% recommend. Thank you
Chris
2015-08-24T00:00:00Z
Love the view and spa of the room, it was just amazing. Vivian is a friendly host and we had a small talk before left. We will recommend this romantic place to our friends, thanks again for everything! =)
Summer
2015-04-27T00:00:00Z
The place has amazing views, very comfortable and it's close to a lot of shops. The spa is great, and there's minibar/breakfast stuff provided which is good. Good location for hiking or just relaxing all day. Would definitely recommend and stay here again, thanks!
Mona
2016-12-26T00:00:00Z
Loved it! Host was flexible with our arrival time, friendly in showing us the room and it's intricacies. The views were superb, a nice interaction with some Australian wildlife and being environment conscious, I loved how environmentally friendly the toilet was! Great accommodation, I would highly recommend it.
caz
2016-08-13T00:00:00Z
Lovely apartment with spectacular views. We loved feeding the birds on the balcony so thanks for leaving the feed for them. Comfy beds and pillows too.
Liz
2015-04-20T00:00:00Z
What a stunningly beautiful view! We had an amazing stay. We were so sad to leave. Great hosts and nice clean accommodation. The view in the spa was phenomenal. Breakfast supplies left for us by our kind hosts. Thanks guys!
Marie
2016-04-18T00:00:00Z
Vivian and Jordan were lovely and friendly hosts. I'm not sure if we met Jordan or not, there were people living beneath the apartment who brought up requested items and only my parents-in-law met the man who let them in. The space is fine for 4 guests. We were a group of six adults and so we found it not quite right for the extra guests fee. There weren't enough basics for six people as we had to request extra plates, cups etc. Slight hiccup with getting another bed for the night, I thought we had an inflatable mattress which turned out to be wrong. But Vivian and Jordan were flexible and arranged a bed to be there for us. However, we had to request a bed sheet, and I'm glad we had our own doona. On arrival at what we believed was an Entire home/apartment, we discovered it was a divided property. Downstairs was perhaps a permanent home and on our level were two apartments. They are private though. That's true. There were many notes in the apartment about noise levels. Now, we were six adults on a night away from home, expecting to be in a country home to ourselves. Definitely not expecting to have to worry about "loud voices, laughing, screaming". Not that we scream but laughing and talking over music is usually the norm. I felt it ruined our night having to be so concerned with whether our voices were carrying. We are a fairly courteous bunch so I felt this an unnecessary restriction especially because it was written everywhere. At about 8pm I received a message claiming I couldn't park one of our two vehicles in the spot we'd chosen, it was a No Standing zone and we might get a parking ticket. I would like to point out, there are only three available parking spaces. Our group brought two vehicles. My mother-in-law parked in the only space left and we pulled in very close behind her and left enough space for any capable driver to reverse and turn their car around. In the morning we found a hand written, disgustingly rude note on our vehicle saying that we were thoughtless (of all things) for parking there. I will re-iterate that we parked in the most THOUGHTFUL available space leaving plenty of room for any capable driver to reverse and turn their car around. So THOUGHTFUL in fact that when we took Vivian's advice and re-arranged our parking positions so one car was parked at the 'top of the stairs' later that morning, one of the other vehicles parked there couldn't get out. Funny that. We're unsure who left the note but there were two different writing styles on it. Aside from all this - The apartment is quite lovely. The view is stunning and Vivian provides breakfast things. All yummy! I'd still recommend the place! Just be aware of more house rules than what is mentioned and parking legally. :)
Fox
2015-09-28T00:00:00Z
Oda Tipi
Tüm ev/daire
---
Mekan Türü
Daire
---
Konaklayacak Kişi Sayısı
4
---
Yatak odaları
Kalorama, Victoria, Avustralya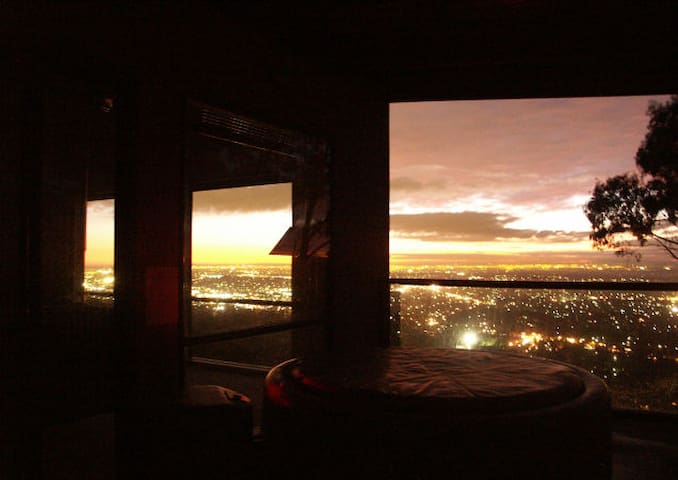 Treetops Tri-Level Cottages and One Level Treetops Guesthouse Cottages (Accommodate 2 Persons or 1 Couple) The three Tri-Level Treetop Cottages are all one bedroom cottages and feature spa baths, log fires and contemporary style throughout as well
Treetops Balconies Breathtaking Views Forested Views Unique location set in the Beautiful Surrounds and grounds but so close to the Village of Olinda
Within walking distance of your cottages: -Gardens of Cloudehill – spectacular gardens, nursery and view! -National Rhododendron Gardens -Olinda Village -Mt Dandenong Village -Credo Restaurant, Olinda Village -Ranges Café, Olinda Village -Olinda Sweet Company -Olinda Health, Day Spa -Mt. Dandenong Antique Centre, Mt Dandenong Village -Olinda Falls -Olinda Golf Course A short car ride from your cottages: -Alfred Nicholas Gardens -William Rickets Sanctuary -Pirianda Gardens -Karwarra Australian Plant Garden, Kalorama -Warratina Lavender Farm -Hancock Daffodils, Menzies Creek -Tesselaars Tulip Festival (mid Sept – mid Oct annually) -Puffing Billy Steam Railway, Belgrave -Burrinja Gallery -Cameo Cinemas, Belgrave -Mont De Lancy Farmers Market – 2nd Sat of each month -Kallista Markets – 1st Sat of each month -SkyHigh and Observatory, Mt. Dandenong -Famous Cuckoo Restaurant, Olinda
Such a beautiful little cottage! So perfect for a getaway for two! Perfect location and super cosy and cute. Would definitely come back!
Amanda
2016-05-29T00:00:00Z
An absolutely gorgeous cottage. Very luxurious, but still perfectly positioned to feel tucked away within the forest. Hope to be back again!
Hannah
2015-11-25T00:00:00Z
Really really nice spot, exceeded expectations. Only mild thing if note is a bit of road noise but that's not an issue in the house, which was lovely!
James
2016-11-19T00:00:00Z
Great accom, cosy
Julie
2016-10-01T00:00:00Z
We were made to feel extremely welcome. The property was even better than I'd hoped for (and I'd been hoping for a lot!). Extremely relaxing and highly recommended.
Paul
2015-06-28T00:00:00Z
What an amazing little place! Perfect location, very quiet and peaceful. That spa bath is ridiculous! We had a very relaxing weekend away in the rainy weather in Olinda. Highly recommended, great experience, would definitely come back and stay again!
Russell
2016-10-01T00:00:00Z
This was an amazing getaway! I surprised my boyfriend for our anniversary. It was everything we hoped for. Loved the privacy and the surrounding forest. Thanks for a great stay.
Jessie
2015-12-06T00:00:00Z
Lovely cabin. Very quiet and relaxing. Be careful as in summer can get hot and no aircon. Great location close to village. Lovely stay.
Olivia
2016-12-28T00:00:00Z
Oda Tipi
Tüm ev/daire
---
Mekan Türü
Daire
---
Konaklayacak Kişi Sayısı
2
---
Yatak odaları
Olinda, Victoria, Avustralya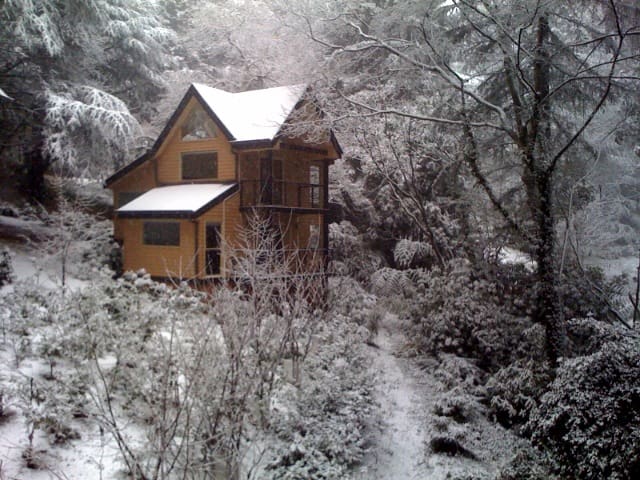 Relax in your own private, peaceful & spacious self-contained apartment @ Campania, nestled in 1.3 acres of tranquil gardens, adjacent to the Rhododendron Gardens in Olinda, the most picturesque village in the Dandenong Ranges. So much to see & do!
Campania is a truly beautiful property. The really large sandstone character house is centred within a 1.3 acre garden that was established 45 years ago by a talented horticulturist and is surrounded by soaring Mountain Ash (eucalyptus trees). Within the house is an old 1950s house, brought here 50 years ago! The spacious apartment @ Campania is in a totally private wing of the house and has its own path, veranda & entrance. Basic tea, coffee, milk plus oil, sauces etc are provided but no meals. Although only a 7 minute walk (2 minute drive) to Olinda, Campania is totally secluded on a long 'no through' road - peaceful and quiet. Breakfast (& other meals) are available at nearby Olinda Cafe & the Ranges Cafe. We have set a minimum of 2 nights when booking but may offer a discount for 3+ night stays - please ask.
The beautiful Dandenong Ranges, 45 kms east of Melbourne CBD, are at the tail end of the Great Dividing Range that runs down the east coast of Australia. Scattered throughout the Dandenong Ranges are several picturesque villages. Olinda (where we are) is one of the prettiest, with Sassafras a few minutes drive away. Enjoy lovely cafes, restaurants, antique & vintage shops, galleries, clothing boutiques & speciality shops (and a couple of pubs 5 mins drive away). Lovers of fresh air, soaring Mountain Ash trees, fern gullies, parks, gardens, bush walks, plant nurseries & National Parks will be spoilt for choice. Only 3 minutes walk away from Campania are the famous National Rhododendron Gardens - 10 acres of beauty & peace, free to enter. Just a short drive to William Ricketts Sanctuary, Alfred Nichols Gardens, Burnham Beeches (plus the Piggery owned by chef Shannon Bennett), Sherbrooke Forest, Mt Dandenong Observatory & Sky High, the Arboretum and the Dandenong Ranges National Park. Slightly further afield, within 20-30 minutes, are the some of the many Wineries of the Yarra Valley. The trip through the Dandenong Ranges and the Yarra Valley is a pleasure - and the various destinations are superb. Only 35 minutes to the Healesville Sanctuary (Australian Wildlife) - in the other direction, Puffing Billy (vintage steam train ride through the Dandenongs, a must for kids and the young-at-heart!).
We had an absolutely beautiful time at Robyn and Ken's property. They were very welcoming and the grounds are stunning and magical to explore. The room was equipped with everything we needed and was very comfortable. The property is so close to the Olinda shops and cafes too- very handy! Our son Henry especially loved playing with your friendly dogs- Thank you Robyn and Ken!
Anika
2016-03-30T00:00:00Z
Robyn and Ken were fantastic hosts. We stayed @ Campania for a long weekend. The place is perfectly situated - very quiet but only a short walk to the Olinda village shops and an even shorter walk to the incredible National Rhododendron Gardens. The self-contained studio had everything we needed; comfy bed, kitchenette, modern bathroom, parking, reverse-cycle aircon, beautiful garden and everything was spotless. Would definitely stay again if we came back to the Dandening Ranges.
James
2016-04-26T00:00:00Z
Oda Tipi
Tüm ev/daire
---
Mekan Türü
Daire
---
Konaklayacak Kişi Sayısı
2
---
Yatak odaları
Olinda, Victoria, Avustralya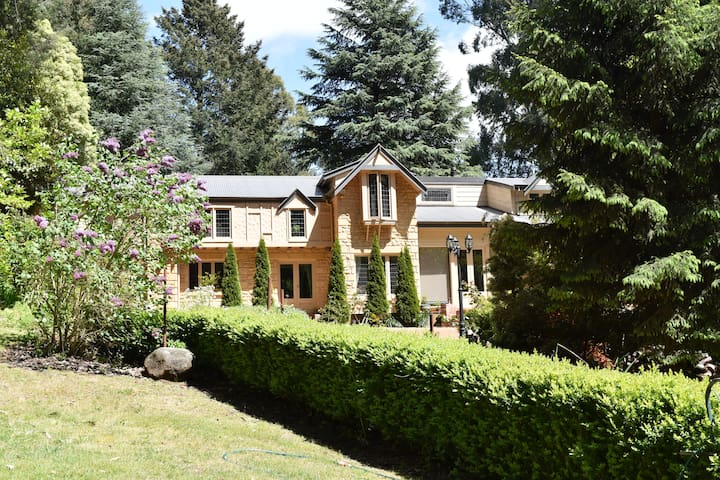 Beautiful, boutique style contemporary accommodation in a rainforest surrounding in the heart of the Dandenong Ranges, log fires, Spa Baths, balconies. Located on the edge on the unique village of Olinda, close proximity to Sassafras and Mt Dandenong
Contemporary and Modern. Great Village edge location. Forrested Views. Treetops Balconies Large Spa Bathrooms, Seperate shower. Unique Rainforest Setting.
Within walking distance of your cottages: -Gardens of Cloudehill – spectacular gardens, nursery and view! -National Rhododendron Gardens -Olinda Village -Mt Dandenong Village -Ranges Café, Olinda Village -Olinda Sweet Company -Olinda Health, Day Spa -Mt. Dandenong Antique Centre, Mt Dandenong Village -Olinda Falls -Olinda Golf Course A short car ride from your cottages: -Alfred Nicholas Gardens -William Rickets Sanctuary -Pirianda Gardens -Karwarra Australian Plant Garden, Kalorama -Warratina Lavender Farm -Hancock Daffodils, Menzies Creek -Tesselaars Tulip Festival (mid Sept – mid Oct annually) -Puffing Billy Steam Railway, Belgrave -Burrinja Gallery -Cameo Cinemas, Belgrave -Mont De Lancy Farmers Market – 2nd Sat of each month -Kallista Markets – 1st Sat of each month -SkyHigh and Observatory, Mt. Dandenong -Famous Cuckoo Restaurant, Olinda
Alan's Treehouse is a tranquil, beautiful place to stay
Sinéad
2016-12-28T00:00:00Z
I had a wonderful stay at the treetop cottages. In pristine condition when I got there and is in the most perfect location. Key collection was easy and the place is so close to town and all of its cute stores and restaurants. 5 stars
Zoe
2015-12-06T00:00:00Z
Oda Tipi
Tüm ev/daire
---
Mekan Türü
Daire
---
Konaklayacak Kişi Sayısı
2
---
Yatak odaları
Olinda, Victoria, Avustralya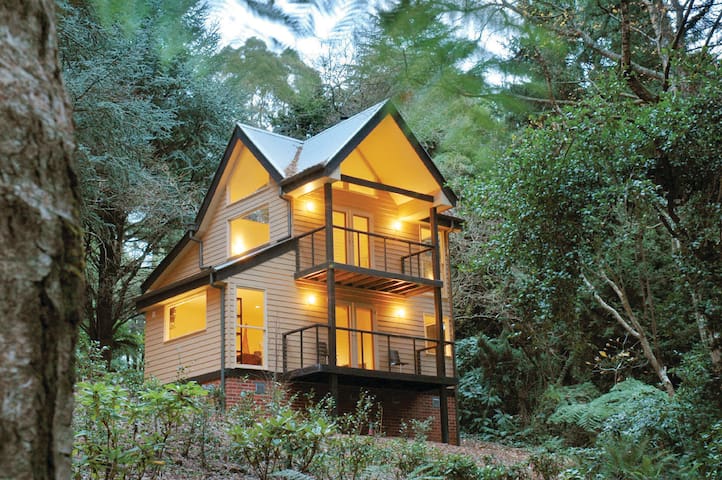 All cottages are private, boutique and contemporary in style and fully equipped for your romantic, intimate escape! Relax in your own oversized spa and marvel at the wildlife through your private bathroom window or just stay in bed and view!
Contemporary & Modern Forested Views, Forested Location. 2 Minute stroll from Olinda Township. Large Spa bath for 2 Log Fire Large Living Space Breathtaking Views. Lochiel Luxury Accommodation
Things To Do Within walking distance of your cottages: -Gardens of Cloudehill – spectacular gardens, nursery and view! -National Rhododendron Gardens -Olinda Village -Mt Dandenong Village -Ranges Café, Olinda Village -Olinda Sweet Company -Olinda Health, Day Spa -Mt. Dandenong Antique Centre, Mt Dandenong Village -Olinda Falls -Olinda Golf Course A short car ride from your cottages: -Alfred Nicholas Gardens -William Rickets Sanctuary -Pirianda Gardens -Karwarra Australian Plant Garden, Kalorama -Warratina Lavender Farm -Hancock Daffodils, Menzies Creek -Tesselaars Tulip Festival (mid Sept – mid Oct annually) -Puffing Billy Steam Railway, Belgrave -Burrinja Gallery -Cameo Cinemas, Belgrave -Mont De Lancy Farmers Market – 2nd Sat of each month -Kallista Markets – 1st Sat of each month -SkyHigh and Observatory, Mt. Dandenong -Famous Cuckoo Restaurant, Olinda
Had an amazing time! Definitely coming back :) Ticked all the boxes
Jack
2016-08-06T00:00:00Z
The host replied quickly for a reservation the day before, was responsive and offered an alternative room as the one we wanted was booked. Room was pretty good, close to town and tidy. One thing to note is that there is no bathroom door, so not great for those with privacy concerns!
Lachlan
2015-03-09T00:00:00Z
Oda Tipi
Tüm ev/daire
---
Mekan Türü
Daire
---
Konaklayacak Kişi Sayısı
2
---
Yatak odaları
Olinda, Victoria, Avustralya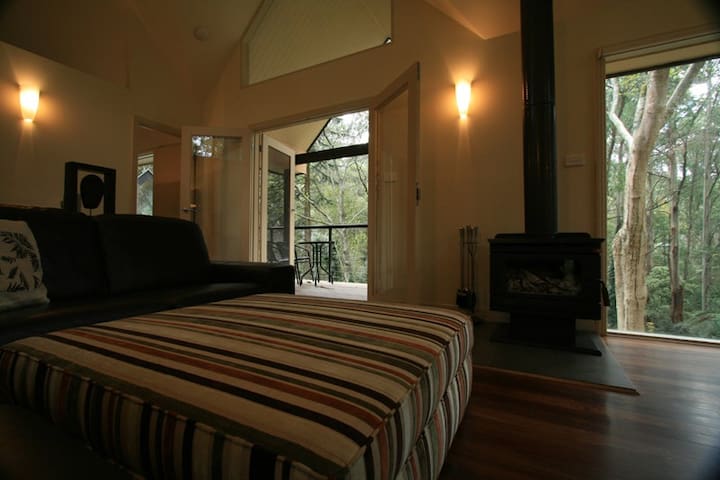 My place is close to public transport, nightlife, and family-friendly activities. You'll love my place because of the people, the outdoors space, the ambiance, the light. My place is good for solo adventurers and business travellers. It is a brand new room
Clean and quiet
Quiet
Oda Tipi
Özel oda
---
Mekan Türü
Daire
---
Konaklayacak Kişi Sayısı
1
---
Yatak odaları
Melbourne , Victoria, Avustralya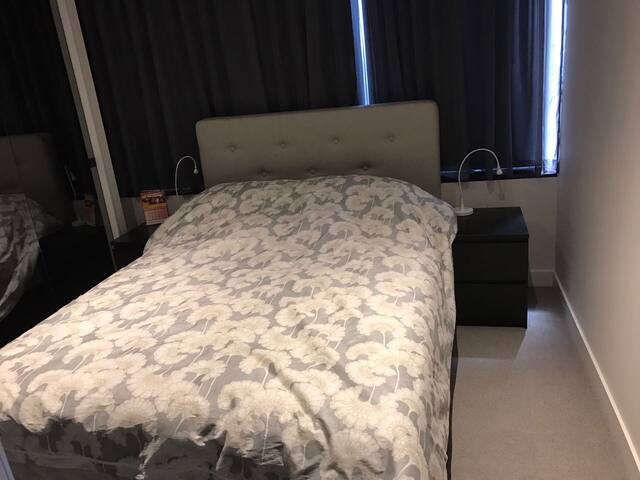 Nestled in a natural reserve, it's a wing of a mud-brick house, equipped with modern cons, offers a peaceful and tranquil escape for a gateway in the Yarra Valley. Enjoy being surrounded by Australian bushland wildlife. Dinner can be provided
Hi there! I'm Flavia. Thanks for taking a look at our B&B. This is unique accommodation. Kangaroo Creek Retreat is a self-contained annexe adjoining owners mudbrick eco-house, designed by the renewed local architect Alistair Knox. A rustic building constructed using only natural materials,it blends in tastefully with the surrounding native bushland. This is a place to relax and unwind as you tune in with nature. Enjoy beautiful views over the bushland. Be warned you might not want to get out of the comfortable bed equipped with the memory foam mattress and the bedlinen is 100% Egyptian cotton 500 thread count. In the bathroom there are towels, shampoo and soap. You can have a great day at the local wineries or exploring the Yarra Valley and the Dandenongs and then come home to the seclusion of the woods. We have some of the best bird and wildlife around. You will hear owls calling in the evenings and maybe spot cockatoos and king parrots, a wombat snuffling about or kangaroos grazing in the garden. There is wireless internet to stay connected, for your convenience. Mobile reception at the retreat is good. This is the ideal place to fill up, slow down, uncoil or recharge. Welcome dawdlers, explorers, weekend travellers, single people looking for peace and quiet, couples, families with young children. No pets are allowed, as they would upset the wild life living nearby.
A short drive away there are plenty of walks, Sugarloaf Reservoir equipped with pic-nic areas, numerous wineries (such as Samson Hill, de Bortoli, etc.), eateries (e.g. The Yarra Glen Grand Hotel, Hargreaves Brewery). The Yarra Valley chocolate factory renowned for its quality fine chocolates and breathtaking settings. Last but not least the Healesville Sanctuary, home of numerous species of Australian animals. An hour drive away there are the spectacular Dandenong Ranges. Melbourne city centre it's only 55 mins drive away. Please look at the guidebook tab on your left for more ideas on places to visit.
Flavia is a great hostess, friendly and informative. She is also a fantastic cook if you get a chance to have her prepare a meal for you. I enjoyed the natural outlook of the retreat and loved the big bathtub. I also enjoyed many walks in nature closeby.
Paul and Maia
2015-04-23T00:00:00Z
Loved this place! Wonderful hosts; warm and welcoming and very generous. If you want to experience the natural environment of the Australian bush, thus is the place to be!
Donna
2015-04-19T00:00:00Z
Kangaroo Retreat is a great place to go and relax! Flavia was a very friendly, generous and attentive host, breakfast was included (blueberry pancakes!), and the fireplace made it very cosy. It was my first time using air BnB and I had a fantastic experience here.
Fiona
2016-04-11T00:00:00Z
Really gorgeous place in a beautiful bush setting - Flavia and her family were extremely sweet and welcoming - Flavia's pancakes and smoothies for breakfast took our stay to a whole new level! Best Airbnb experience I've had. Thank you so much!
Nick
2016-11-11T00:00:00Z
Great experience, beautiful home and gorgeous surroundings! Thanks Flavia and family :)
Keli
2016-10-18T00:00:00Z
Flavia is very nice and helpful!
WaiLim
2017-03-16T00:00:00Z
The property was secluded enough to allow us time to rest and rejuvenate- without the 3 hour drive from home! Flavia and her kids warmly welcomed us and once we settled in by the cosy fireplace we just didn't want to leave! We highly recommend Flavia's home cooked dinner, it was the best meal we have had in a long time! We will definitely be booking with Flavia again the next time we need to step away from the hustle and bustle of the city.
Yan
2016-05-23T00:00:00Z
Comfortable and great stay at Flavia's little cottage. The breakfast was delicious and the kids were a delight to have around. We definitely recommend the stay
Jessica
2016-10-08T00:00:00Z
Oda Tipi
Tüm ev/daire
---
Mekan Türü
Daire
---
Konaklayacak Kişi Sayısı
5
---
Yatak odaları
Bend Of Islands, Victoria, Avustralya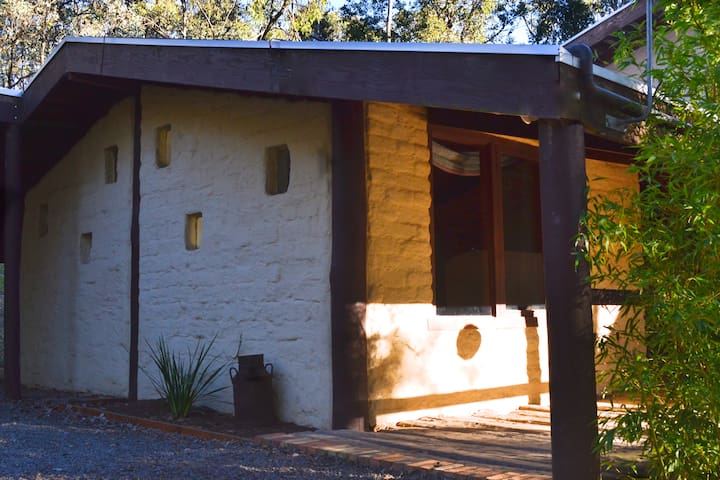 This modern, light and spacious three-room apartment is close to Puffing Billy, Belgrave, Sherbrooke Forest, Dandenong Ranges National Park and local mountain bike trails. You'll love it because of the unique house and views of natural bushland environment. Perfect for couples, solo adventurers, and business travellers.
Light, spacious three-roomed apartment with private entrance adjoining architecturally significant home. Delightful bushland setting with view of creek and local birds and wildlife.
Bushland setting with view of creek and local birds and wildlife. Close to Puffing Billy steam train, Belgrave, Sherbrooke Forest, Dandenong Ranges National Park and Lysterfield Lake Park, home of the state mountain biking course.
Libby has set this up perfectly. Nothing else needed. Comfy bed and under floor heating a real treat. Couldn't ask for more.
Tricia
2016-11-25T00:00:00Z
My partner and I spent two nights here. This is our second stay here and we think we will come again in the future. Lovely place, lovely host, lovely stay. I wholeheartedly recommend this place to anyone looking for a getaway in the hills! Z.
Zahid
2016-08-20T00:00:00Z
WOW! We couldn't have asked for a better stay in the hills. It was such an incredibly spacious, bright and eclectic space to spend some quality time away. We are very thankful we had the pleasure to discover this beauty. The studio was very well equipped with all the essentials and more. The room offered absolutely stunning floor to ceiling views of nature and fauna. The furnishings were well kept, the paintings, ornaments and little additions also provided great character. All these features made for a pleasant and relaxing stay. Libby was a spectacular host, very accommodating and friendly. We appreciate the selection of delicious treats you generously provided us to enjoy on our stay. We highly recommend guests looking to book in this area choose your studio.
Chiara
2016-09-26T00:00:00Z
We received lots of friendly and helpful communication from our hosts before our visit. The room was perfectly set up - clean, warm and cosy, with lots of supplies. Had a wonderfully stylish feel. Unfortunately we were only there for a short time, and found it very hard to leave!
Denise
2016-07-22T00:00:00Z
Libby was a fantastic host and her place was absolutely lovely. It was clean, and just as listed online. The location was serene and peaceful and I would definitely recommend it for a quiet getaway. Libby provided a great range of snacks and was super warm and welcoming. Thank you :)
Madeline
2016-09-23T00:00:00Z
From when we booked to when we left, both Simon and Libby were terrific! The directions were helpful, as was Simon when we had a question about getting around. The venue is just as it looks in the pictures - beautiful! The floor to ceiling windows provide a breathtaking view of the natural bushland and its wildlife and changing colours - a perfect background to a beautiful stay! We were particularly delighted with the many included extras that weren't a part of the listing - a delightful surprise! Special thanks also to Simon for going the extra distance to ensure that we were able to thoroughly enjoy our night! Thank you!
Carol
2016-07-30T00:00:00Z
Where do I begin! Libby is so welcoming and helpful and made us feel comfortable from the moment we arrived..the surroundings are breathtaking and look exactly if not better than the pictures show..the apartment is so thoughtfully decorated and beautiful, spacious and bright and complete with a "hookey" set..a generous pantry on offer which was unexpected and much appreciated as you don't want to leave this magical place once you walk in the door..amazing!
Shannon
2017-01-22T00:00:00Z
Beautiful place to stay in a lovely location. A large room with lots of natural light. Libby is lovely and the kitchen is well stocked for little munchies.
Rob
2017-02-26T00:00:00Z
Oda Tipi
Tüm ev/daire
---
Mekan Türü
Daire
---
Konaklayacak Kişi Sayısı
2
---
Yatak odaları
Belgrave, Victoria, Avustralya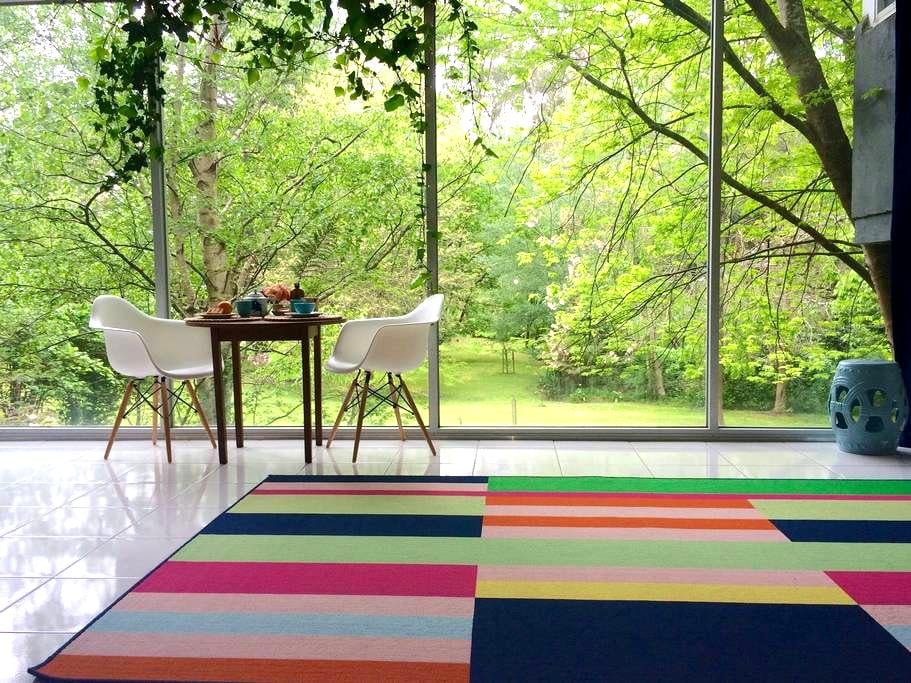 Delight in a retreat accommodation in a very rustic private property, unwind, chill-out, defrost from technology, smell fresh air. A getaway 50 mins from Melbourne. Historical 125+ years old RAIWENA house, oldest Nobelius homestead located in the hills of Emerald! Relaxation, peaceful, romantic, private, tranquil 2 acre rustic terraced gardens with a stream awaits you. Panoramic (180) view of nature from your own very private flr. Highly suggest a 2-night stay to really experience re-energizing!
Raiwena is a historical rustic property/home. A true oasis located in the hills of Emerald originally built in 1891, surrounded by trees dating over 125+ years & very rustic terraced gardens. Of architectural & local significance, modernized in 1930's & 1950's. A panoramic (180) view of nature at its best from open plan bedroom/living area. You have your own private entry/exit, & bathroom. Fridge, crockery, cutlery, kettle & microwave are provided in apartment! We recommend takeaway places in the area, bakery, cafes & restaurants. This is a place to really just chill-less cooking, put your feet up, enjoy your snacks & glass of wine, or cup of tea/coffee and favorite biscuits! Take a train ride on Puffing Billy or cycle along the lake. Emerald Museum & Park is free to the public. Close to the Mt. Dandenong/Yarra Ranges: Olinda, Sassafras, Monbulk, Kallista, Belgrave, Gembrook. Also an ideal place for your wedding night or having small parties for any occasion; day or night-ask us for costing! Wifi limited to certain areas of the property for emergencies only, for a real chill out time, with no intrusions from emails or internet!
Peaceful, very rustic, scenic, at one with nature, a true oasis. Very, very private & romantic, also able to play loud enough music without disturbing neighbours who are far apart from each other. Walk to lake, and forest paths or around the golf course forest. Wifi not available in apartment so no intrusions on your chill out time! The surrounding area are all private homes...
A beautiful, remote location with zero noise and zero phone reception (this is a good thing). A great place to get away, be warned this is a location in itself and not somewhere just to crash for the night!
Rhys
2016-06-13T00:00:00Z
This place is great!! Beautiful surrounds, the place is huge, great amenities, good privacy, the tree is super cool, the spa bath is great, Raoul is a great host. Better than it looks in the photos. We will definitely return.
Andrew
2016-04-18T00:00:00Z
I loved staying at Raoul's. I like the feel and smell of country home, and the uninterrupted forest view. It was cosy and romantic. The oak tree in the middle of the room is amazing, a unique and rewarding experience for me. Thank you! :)
Aida
2016-02-28T00:00:00Z
What a gem of a place!! Just outside Emerald you will find a beautiful natural haven among the trees. The house is beautifully furnished, has bags of historical charm and lots of atmosphere. Not to mention the panoramic views, great record collection/PA system and last but not least there is a tree growing through the middle of the house just to add that extra treehouse feel!! Beautiful in winter or summer I would imagine, highly recommend a stay. Host Raoul was also welcoming and full of historic facts and stories.
Eoin
2016-07-10T00:00:00Z
The oasis apartment was absolutely beautiful and ambient. The treehouse was extremely eclectic and had all the amenities to have a unique and memorable experience. The view from the entire place was magnificent. Raoul and his wife were extremely friendly and helpful. We thoroughly enjoyed our stay and look forward to staying there again!
Ryan
2016-08-07T00:00:00Z
Fantastic little place, Raoul is a great host, and the place itself is the most comfortable, cosy spot you'll ever see. Highly recommended!
Tim
2016-06-06T00:00:00Z
A great part of the world to chill out, relax, unwind, sleep in, read a book, absorb yourself in nature and basically recharge the batteries. One night stay would not be enough.
Justin
2017-01-01T00:00:00Z
We had a most wonderful stay at Raoul's place. Beautiful treehouse. Beautiful nature. Absolutely loved it!
Olga
2016-09-17T00:00:00Z
Oda Tipi
Tüm ev/daire
---
Mekan Türü
Daire
---
Konaklayacak Kişi Sayısı
2
---
Yatak odaları
Emerald, Victoria, Avustralya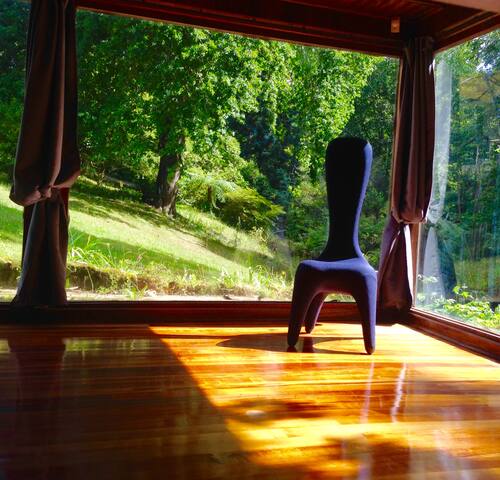 My place is close to the Dandenongs and only about 35 minutes drive to the CBD... or about 45 minutes by train. You'll love my place because of the views, the quiet surroundings and more.. My place is good for solo adventurers and business travellers. It's a nice, quiet neighbourhood with all amenities nearby and a train station close by also.
It's a nice size 2 bedroom unit that has street frontage and a nice view of the Dandenongs from the street and also the backyard.
It's a pretty quiet neighbourhood, not too far from the city CBD that it is in the sticks and not too close that the property sizes are tiny.
Darren was a great host. Room and amenities as listed. Darren was easy to chat with giving me my space when I wanted to do my own thing. The home and room was clean and neat.
Grace
2016-11-09T00:00:00Z
This is probably my favorite Airbnb that I have stayed at. Got on extremely well with Darren, and the house was extremely neat and tidy. I would have stayed longer but he quickly become booked up for the rest of the month.
Phillip
2016-10-05T00:00:00Z
The place is awesome, it's like being at home, and its close to bus/train stations and shops. Darren is a great host he is really kind and has the best attitude. Fully recommended.
Miguel
2016-10-28T00:00:00Z
Darren is a great host. Offering of assistance and advice was most welcome. Darren is considerate and easy to get along with.
Pete
2017-04-06T00:00:00Z
Perfect stay at Bayswater. Quite environment. The room is very clean. Amenities are complete. Bed is comfortable. All here is very good!
Genaddi Billy
2016-12-30T00:00:00Z
Darren's place is charming and is a the quietest neighborhood I have ever been in. Please ask him about renovation works in the train line going to his neighborhood as it will affect your travel time...
Sondes
2017-01-07T00:00:00Z
A good place for a short stay.
Neil
2017-01-20T00:00:00Z
Very comfortable, clean and a very help host.
Tegha
2017-02-18T00:00:00Z
Oda Tipi
Özel oda
---
Mekan Türü
Daire
---
Konaklayacak Kişi Sayısı
1
---
Yatak odaları
Bayswater, Victoria, Avustralya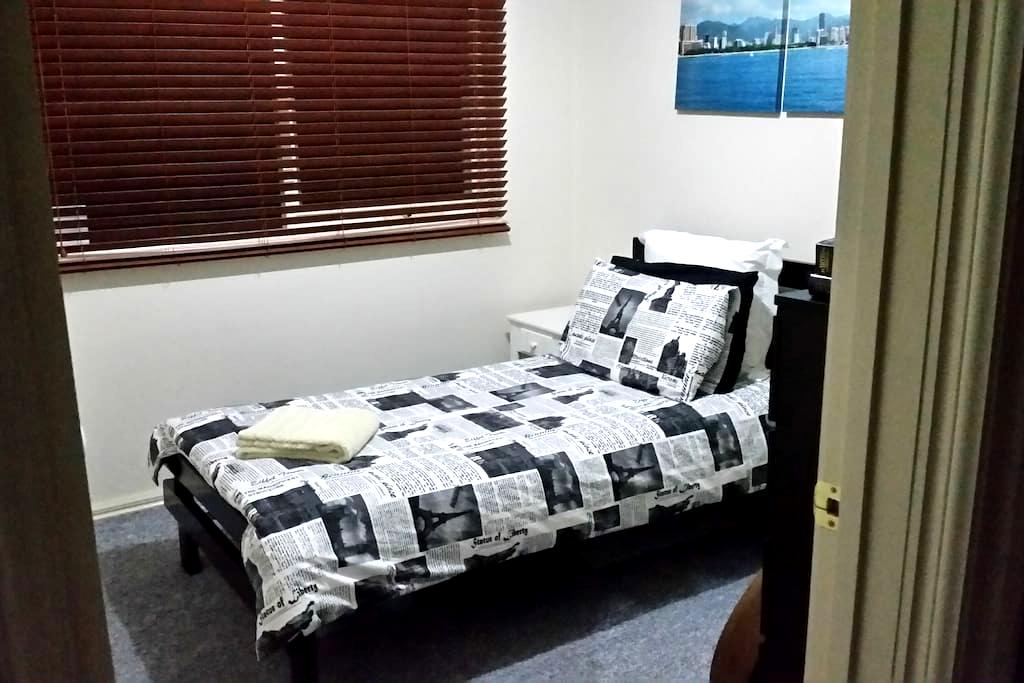 Sunny studio apartment on a rural property with views of the lemon orchard, swimming pool and mountains. Private back-deck with external clawfoot bath so you can bathe under the stars or take in the mountains . Enjoy the sounds of the birds and the countryside whilst being only a five minute drive from Healesville restaurants and Yarra Valley wineries. Pick your own lemons and herbs to enjoy during your stay.
The Pool house studio is a light and airy self-contained apartment at the back of our swimming pool garden. The front veranda looks over the pool and the private back deck is nestled in the lemon orchard with views over the hills. If you would like to bathe under the stars there is a clawfoot bath on the back deck. The studio has two rooms: one room has a king-size bed and an ensuite bathroom which has a shower and vanity. The other room has a small kitchenette with fridge, microwave, kitchen sink and living area. The kitchen has cooking utensils, toaster, coffee plunger and a single induction plate if you want to cook a simple meal. There is also a small electric BBQ on the back-deck. The day bed in this room can be used as a single bed if there are two guests who want separate sleeping arrangements or a third person. There is a small TV in the bedroom and a TV/DVD player in the living area. The property itself consists of 13 acres with extensive gardens, orchards and vegetable patch. You are welcome to help yourselves to lemons to use during your stay and any herbs growing in the garden and we provide you with continental breakfast provisions
The Yarra Valley is a beautiful region with dozens of vineyards, national parks and abundant local produce. The closest vineyard ( Thick as Thieves) is just down the bottom of the lane. Our accommodation is a 5 minute drive from the lovely small town of Healesville which has a disproportionate amount of cafes and restaurants including the iconic Healesville Hotel, Innocent Bystander and the new Four Pillars Gin Distillery. The Healesville Sanctuary is just 2 km away and places of interest such as Tarrawarra Museum of Modern Art, Rochfords, and a number of walking tracks are just a 5-10 minute drive away. Lake Mountain is an hour away. The studio is set on 13 acres of garden, orchard and farmland so there is abundant bird-life and the opportunity to enjoy sunrise and sunsets over the hills and valley.
Amazing grounds, loved to pool too! Jacky was so lovely to deal with - can't wait to go back!
Kimberley
2016-02-13T00:00:00Z
Jacky's Pool House Studio was just like the photos and more! The studio was warm, well appointed, comfortable and romantic. The bed was huge and the shower hot! The bath on the back veranda overlooking the lemon grove was lovely. Jacky greeted us with afternoon cake and left us bread, cereal, jam, butter, tea and milk for our breakfast. We were invited to pick lemons to take home and to walk around the grounds to the dam. We stopped by only briefly overnight for a wedding - the pool house suited our needs. Jacky was friendly and helpful. Thanks for a good stay. Nicki and Dennis
Nicki
2016-06-13T00:00:00Z
The pool house studio was nice and cosy and has all the facilities you need. The location was wonderful with nice views and only 5 min drive from Healesville township. The hosts were extremely friendly and helpful, Jacky (and her lovely two dogs) made us feel very welcome. Highly recommended place to stay if you are ever visiting the Yarra Valley.
Dimuth
2016-02-21T00:00:00Z
We had a great time here and enjoyed it more than our night in a 5 star winery. Very relaxing, accurate photos and description. Jacky is a great host and couldn't be more accommodating. Highly recommended
Brad
2016-04-05T00:00:00Z
We arrived late from the airport but still found it easily with good instructions. Tony sent us a text when we were running late to see how we were getting on which was very considerate. Jackie kindly took us through some ideas for teh next day even though it was pretty late when we arrived. It is a lovely. private place to stay. We enjoyed walking through the lemon orchard and patting the horses. It is conveniently located to get to Healesville and the wineries. We also enjoyed as few bush walks including up Mount Riddell recommended by Tony.
Rod
2016-07-31T00:00:00Z
We had such a lovely time! The place was beautiful and Jacky and Tony were really welcoming and friendly (and Rory the dog was a great tour guide too). We loved Tony's cake on arrival. Would definitely recommend a stay here.
Karla
2016-10-30T00:00:00Z
Very picturesque and relaxing we had a lovely stay and enjoyed walking around the property with Rory the dog and having a bath outside on the deck with a glass of wine. The bed was very comfortable as was the whole apartment. Homemade cake on arrival was so thoughtful and yummy too! Delicious breakfast and coffee just topped off a lovely stay. We would definitely stay again!
Natalie
2016-11-17T00:00:00Z
We received a warm welcome from Jacky and her two lovely dogs. Jacky showed us through the pool house and explained everything in kind detail, then left us to enjoy the property and surrounds. We had a wonderful time helping ourselves to the garden, lemon grove and patting the horses.
Leah and Marcus
2016-03-16T00:00:00Z
Oda Tipi
Tüm ev/daire
---
Mekan Türü
Daire
---
Konaklayacak Kişi Sayısı
3
---
Yatak odaları
Badger Creek, Victoria, Avustralya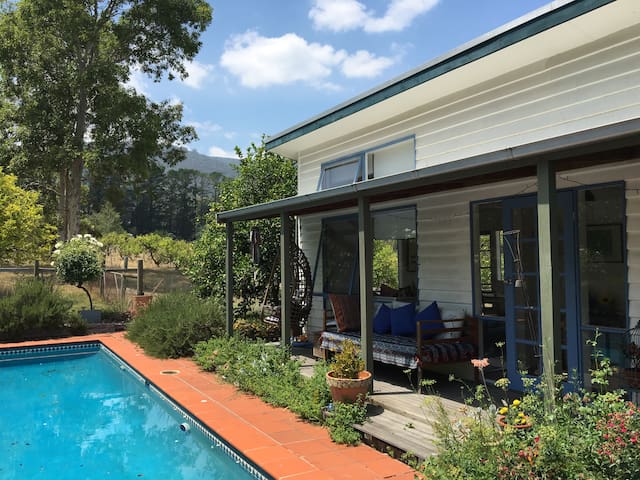 Modern decor with large windows providing views onto the landscaped gardens. Gorgeous bathroom and hot tub outside. Kitchenette with microwave, toaster, kettle and dining table. The self contained apartment although under one roof with our residence has its own private entry with no shared indoor space. Undercover parking attached to apartment Restaurants cafes in nearby Emerald, Berwick and Upper Beaconsfield.
Catherine's place is a charming, relaxing getaway in the beautiful Dandenong Ranges. She was a great host, supplying breakfast goodies, tips of places to go and the hot tub is a dream. Highly recommended!
Jennifer
2017-04-06T00:00:00Z
Would def recommend this place. You can view their picturesque garden as you enjoy your meal. Nice bathtub and outdoor spa. The house was clean, neat and quite safe for baby. Initially I wasn't sure about having the host living next door but Cath and Tony completely changed my mind. They were so friendly and helpful it felt even better knowing they are next door.
Jess
2017-03-12T00:00:00Z
This is such a lovely place for people to get away relax and enjoy. Caroline really did think of everything someone would need for a short stay. Absolutely stunning, peaceful , bliss
Lisa
2017-03-20T00:00:00Z
A wonderful place to stay. Very clean and comfortable place in a peaceful setting. Lovely hosts who were a delight to deal with. Highly recommend and definitely would come back again
Stefanie
2017-04-02T00:00:00Z
Well worth the trip to emerald. Great place to base yourself on doorstep of yarra valley (40 min drive) or just get away to hills.
Sean
2017-02-19T00:00:00Z
Beautiful scenic retreat. Catherine was a lovely host and made sure we were well looked after without intruding on our privacy. Would definitely recommend as a lovely weekend getaway that is still close to the city.
Stacey
2017-03-04T00:00:00Z
Such a lovely welcoming home and beautiful property. The house itself so comfortable and everything we needed was at hand. The outdoor area is stunning and you can't beat the outdoor spa :) The host is so lovely, considerate and helpful especially with suggestions for food and directions. We will definitely be back!
Skye
2017-02-11T00:00:00Z
wonderful, peaceful - heavenly bathroom. Catherine was so friendly and warm.
Pete
2017-03-01T00:00:00Z
Oda Tipi
Tüm ev/daire
---
Mekan Türü
Daire
---
Konaklayacak Kişi Sayısı
3
---
Yatak odaları
Emerald, Victoria, Avustralya
At the base of the lush wonder of the Dandenong Ranges in Ferntree Gully, is Clematis: a smoke free, light filled, fully self contained, 1 bedroom unit. 2nd bedroom available on request A hop, skip and jump to public transport & the well serviced village of Ferntree Gully, Clematis is suited to both leisure and business travel, couple/twin/solo adventurers Easy drive to: The delights of The Dandenongs Mega retail therapy at Knox City & Chadstone centres Eastlink tollway to Melbourne
We think you'll be comfortable in our bright, cozy unit. Clean and cheerful, it's in a small complex of two duplexes, mostly occupied by owners. Our neighbour, with whom you share a common wall, both inside and between the courtyards, is quiet and unobtrusive. Please extend the same courtesy to her. Comfortable and simply furnished, relax on the leather couch, spread out on the pillow top king bed, enjoy your own sunny courtyard If you are travelling with a friend, there is a single bed in the usually private second bedroom available on request. R/C heating/cooling ensures year round temperature control For your convenience we have WiFi. To ensure the provision of this service to all our guests and to ensure that the behavior of some does not disadvantage the majority of our guests, you agree to abide by our fair use policy, that is: up to an average of 3GB per day of your stay. The boring bits... Gas stove and microwave in our clean, basic kitchen. Washing machine, dryer, washing powder, iron and board in the laundry There is under cover parking for one car. Other vacant space is privat(URL HIDDEN) parking for the other units. There is plenty of street parking. Please note that there are steps to the front door and the shower is over a bath tub Linen is included. This is a self contained unit. We supply milk, tea, coffee, sugar and basic kitchen condiments to start you off. The local supermarket, a few minutes walk from your door, will take care of the rest. Business Travellers especially: see Guide Book for nearest: Dry Cleaner Unisex Hair Salon Rental car and taxi contacts. Office supplies Business lunch restaurant Fast food home delivery Yoga Studio Golf Course. Just in case: The William Angliss Public Hospital and Emergency Centre is located east in Upper Ferntree Gully, approximately 2 kilometers just off Burwood Highway.
Ferntree Gully Village is a few minutes walk from your door...look closely, you can just spot our favourite coffee shop (Rapture) through the trees from your front window! You'll find all the essential services: Post Office, a Bendigo Bank. ATM's, pampering services, supermarkets, pharmacy, newsagent, fast food joints, restaurants and cafes, fuel, buses and trains. Me, I love the op shops :) Best Pub is 'The Royal' 1208 Burwood Hwy, Ferntree Gully Most famous local attraction is the Ferntree Gully National Park Kokoda Memorial Trail: '1000 Steps' Be warned, it's a challenge! But you'll be sooo pleased with yourself when you reach the top. Watch out for parking restrictions on the main road. Go early so you can park in the car park. For those with gentler activities in mind, try the natural beauty of Koolunga Native Reserve. Enter from Forest Road, opposite Hunter Street, Ferntree Gully Or the Tim Neville Arboretum, corner of Dorset Road and Frances St Ferntree Gully. The Arboretum is an attractive park that has many features to delight. It has barbeque areas, toilets, a tranquil lake and paved paths for strolling along to enjoy the various trees and plants in a beautiful garden setting. We're talking a little further afield, but Clematis is a great jump off point for the Dandenong Ranges. So many pretty villages, just follow Mount Dandenong Tourist Rd. It will take you half an hour max to drive to any chosen attraction. See Trip Advisor 'Things to Do near Dandenong Ranges' for lots of fun holiday activities For Day Trips: Explore The Yarra Valley, Mornington Peninsular and Phillip Island (the penguins!) If you're getting married, Clematis is close to the gorgeous wedding venues of The Dandenongs. Consider having a few days rest and recovery before heading off on your Honeymoon. A designated trusted person may drop off your luggage any time from 1pm on the day.
The place is very homey and comfy. It's in a quiet neighbourhood and 8 to 10 minutes walk to the Ferntree Gully train station. The house is quite spacious and cozy and well decorated. Loved spending time in the backyard. The host has been very accommodating and responds very quickly to our enquiries. Will definitely come back!
Elaine
2017-03-19T00:00:00Z
Chris, deserves the title of 'super host'! Her place is exactelly what you can see on the pictures + the details and the smell of the candles will let you feel at home!
Isabella
2017-03-25T00:00:00Z
Great place. Great location.2 minutes from train station, direct line to Melbourne. Good base for exploring mountains and a comfortable drive to some great beaches. Will definitely book again.
Michael
2017-02-11T00:00:00Z
Beautifully styled and VERY comfortable place complete with a coffee machine and milk provided! I had a wonderful stay here and really appreciated the little touches like the lovely sheets and cozy dressing gowns! Thanks Christine :)
Donna
2017-04-01T00:00:00Z
We had a wonderful time. It had a wonderful homely feel from the minute Sharon and I walked in. I must commend you on a great choice of coffee as well, you're the first place with a single origin coffee. Sharon also loved the decor, it was quite different but worked very well and nice to be within it. Very close to public transport and easy to get to. The Dandenong Ranges are only minutes away by car as well. It's a good location and close to everything. Thank You.
Theo
2017-03-27T00:00:00Z
Oda Tipi
Tüm ev/daire
---
Mekan Türü
Daire
---
Konaklayacak Kişi Sayısı
3
---
Yatak odaları
Ferntree Gully, Victoria, Avustralya
Gateway to the Yarra Valley On the doorstep of some of Australia's best wineries. Ideal for couples or small families. Enjoy a leisurely rest in this self contained apartment (5m x9m). On street parking, Ensuite, TV, wifi, Microwave, Fridge, Kettle, Queen bed and access to swimming pool in summer months. Laundry facilities available on request. No minimum night stay $25 extra person (3 & 4 guest) $30 cleaning
Oda Tipi
Özel oda
---
Mekan Türü
Daire
---
Konaklayacak Kişi Sayısı
4
---
Yatak odaları
Mooroolbark, Victoria, Avustralya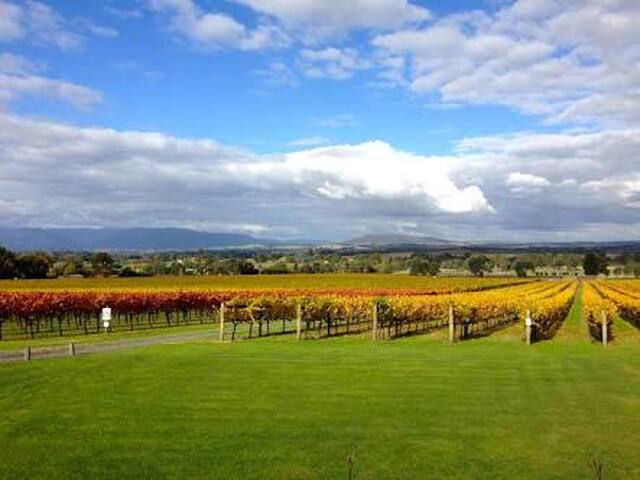 Exclusive and beautifully furnished security living close to some of the best golf courses and wineries in Australia. Situated in the Heritage Estate(Nicklaus designed course,Spa, Tennis etc) and close to 160 innovative Wineries enjoy coming home. There are stairs from double garage to bedroom level and stairs from bedroom level to living, kitchen,powder room and outdoor entertaining area.
I have tried to present accommodation that is a real home away from home. A place to look forward to coming home to and relaxing. Both bedrooms 1 and 2 have ensuite with bath and shower
The apartment/townhouse is just as beautiful as the photos. We thoroughly enjoyed our stay over the afl grand final weekend. Car parking underground was perfect. Bedrooms had beautiful linen Bathrooms were very clean Balcony provided a lovely space to relax with friends Thanks for letting us lease your space Peter
Crystal
2016-10-01T00:00:00Z
Very lovely corner unit offering panoramic view. Very clean and well maintained. Kitchen is well equipped and the barbeque unit is very handy. Oh and the super convenient location to explore Yarra Valley, my family will love to be back soon.
Jaan
2016-11-30T00:00:00Z
Peter has an amazing corner apartment taking in fabulous views! The balcony is a delight to sit out on with a wine or two all the while watching the kangaroos hopping about. Pictures are exactly what you will be greeted with on arrival. Thanks for having us Peter - we loved it although the circumstances of our stay were less than ideal!!
Amy
2016-12-22T00:00:00Z
The town home is awesome! Big kitchen, back deck with beautiful views. The kangaroos on the golf course just added to an already perfect spot! Would love to stay again, would recommend to all!
Julie
2017-01-03T00:00:00Z
We had a wedding at a winery nearby and we were able to have a delightful weekend trip away. Beautiful views, quiet, clean and nice place. We had 4 adults using the 3 rooms, could comfortably suit 5. The balcony area was delightful- overlooking the kangaroos! At one stage we almost wanted to stay at home on the balcony instead of going to the wedding! Peter was very easily contactable. Would consider visiting again.
Stefanie
2016-11-20T00:00:00Z
The estate is beautiful and the house was clean, uncluttered and had a good view.
Annamaria
2016-09-21T00:00:00Z
Great place, well located for a weekend away in the Yarra Valley. We have a lovely time staying here, place was spacious, private and great views. Peter prompt with responses and provided some great places to visit.
Myvanwy
2016-08-02T00:00:00Z
Great place with great view of the hills and welcomed by wild kangaroos. Clean and spacious for family of 6. Nearby shopping area and good location.
mohd firdaus
2016-11-23T00:00:00Z
Oda Tipi
Tüm ev/daire
---
Mekan Türü
Daire
---
Konaklayacak Kişi Sayısı
5
---
Yatak odaları
Chirnside Park, Victoria, Avustralya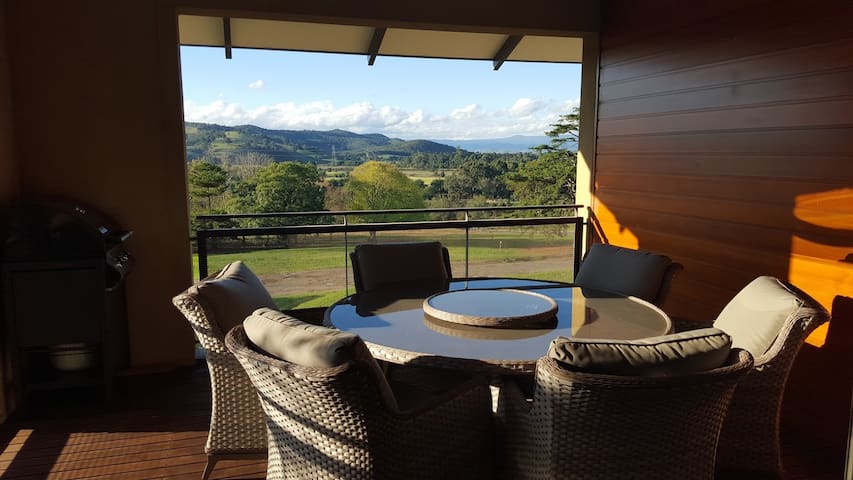 Silvan - Airbnb
:
591

misafir değerlendirmesinden,

5

yıldız üzerinden ortalama

4.77

yıldız
1

–

18

/

78 Kiralık Daire
Tam fiyatlandırmayı görmek için tarihleri görün. Ek ücretler uygulanır. Vergiler ilave edilir.