Giriş tarihinizi gg.aa.yyyy formatında girin
Çıkış tarihinizi gg.aa.yyyy formatında girin
0 çocuk
Yaş aralığı 2 - 12
Ev sahibinin onayını beklemeden rezervasyon yapabileceğiniz kayıtlar.
Ev sahibinin konuştuğu dil
10 Kiralık
· Smoky Mountain
10 Kiralık
· Smoky Mountain
Tam fiyatlandırmayı görmek için tarihleri görün. Ek ücretler uygulanır. Vergiler ilave edilir.
Bu Temmuz ve Ağustos aylarında tüm fiyat aralıklarında en yüksek puanı alan bu 100 evden birini deneyebilir ve Sonoma'da yaşayan bir kişinin görüşünden faydalanabilirsiniz. 24 saat giriş, Anında Rezervasyon, yerel şarap ve atıştırmalıklarla tek yapmanız gereken arkanıza yaslanıp tatilin keyfini çıkarmak.
In 1882, the East Tennessee and Western North Carolina Railroad ("Tweetsie") linked Cranberry and Johnson City, Tennessee with a stop at Elk Park; three years later, Elk Park was incorporated. In 1911, Avery County was established; originally Elk Park was to serve as the county seat, but was changed after North Carolina Lieutenant Governor William C. Newland made a deal that the new county seat would be named after him for his aid in passage of the bill.
no rooms except bathroom, open floor plan king bed with 2 twins Includes all your home needs, towels linens Etc. one room suite with all appliances, washer dryer, shower, microwave, oven, stove, Frig/freezer, closets, open floor, porch with views of wildlife and fall foliage. private suite cabin, cozy porch with spectacular views. None,I'm here on the property should you need something. I am available if and when you need me.
Restaurants near: Sissys Ole Country House serves breakfast and lunch and fish fry on Fridays a local favorite, Kayes has an array of options from catering to daily lunch specials and she serves brunch on Sat and Sundays with a omelet maker that is truly amazing ….(the guy runs like 3 or more peoples food at the same time funny stuff) In Banner Elk you must go to the banner Elk café another local favorite with 2 restaurants, coffee house, ice cream parlor, and a pizza house! I personally like the meatball parm sliders! , Mast general In valle Crusis has a farm to table dinner on the weekends cost :$45.00 for 3 course and $55.00 for a 4 course meal..my clients love this place! Let me know if you would like to make reservations I can set this up for you! Must be made approx. a week in advance , but I will certainly call for you! Boone has it all, Walmart's Ihop, chili's, Appleby's, and a lot of great local flare, the Daniel Boone house is like a smorgasbord style set up great family atmosphere. Less than 45 Minutes from Bristol tracks 3 miles or less to the TN border, Watauga lake is about 15 miles up the road. Quaint breakfast spots or if you want to just grab a burger from Betty and Carols less than a mile. Hike Appalachian Trail from practically your porch, Canoe on Watauga Lake, Fish (ing), woolly worm festival in the fall. SKI in the winter and hike anytime! Closing mini blinds please open blinds and than pull to open or close. As you may damage the blinds trying to figure this out! Heated by propane, Security deposit is not part of your fees. It will be refunded by AIRBNB upon your departure. Once again NO SMOKING! Or you could loose your deposit.
Jane was incredibly welcoming and gracious throughout our stay. This was a last minute booking for my husband and I, as we were evacuating from Hurricane Matthews. This peaceful retreat was the perfect way to turn a stressful situation into a vacation. We worked from the cabin during the day, and toured the quaint mountain towns surrounding the area in the evenings. A good selection of shops, restaurants and hiking trails are within a very scenic 30-minute drive of the cabin. The cabin itself was clean, well-furnished and pleasant.
Wendy
October 2016
Jane was an excellent host. Provided info prior to arrival & was on hand to greet my husband & me & our dog. Also checked on us periodically to make sure we were comfortable. This is a rural area near the Appalachian Trail & Roan Mountain. Easy driving to restaurants & shops in Banner Elk. The cabin has a nice front porch where you can watch the deer up in a small apple orchard. The cabin was very clean and comfortable, especially for the price. We would certainly stay here again.
Lisa
September 2016
This cozy cabin is perfect for a weekend getaway! While being perfectly secluded, it was just a short drive away from local ski resorts as well as wonderful dining options. Jane is an excellent host - not a single flaw all weekend!
Alex
January 2017
Oda tipi
Tüm ev/daire
---
Yer tipi
---
Konaklayacak Kişi Sayısı
4
---
Yatak odaları
0
Elk Park
This lovely house sits at the foot of Hump Mountain/Appalachian Trail. The area is great for golfing, hiking, sight-seeing, photography, and relaxing in the cool mountain air.
What a fantastic experience staying at Daisy's mountain cottage! Perfect weekend getaway. The cottage was cozy, quaint and beautifully decorated. We were welcomed with fresh bagels, cookies, apple juice, bananas and a variety of coffee flavors. It was the perfect location close enough for dinner in Boone and hiking at Roan Mountain, Elk River Falls and Linville Falls. Can't say enough good things about Daisy and her cottage!
Rachel
October 2016
This was my first experience with Airbnb. Daisy was quick to respond to my messages and flexible with our check-in. Her hospitality made the experience extra special. We arrived to strawberries from her garden, cookies, breakfast items, and a rose. The cottage had phamplets for local sites, a map of the area, and restaurant recommendations from Daisy. We were able to sleep with windows open and enjoy the fresh air. We had a wonderful experience and would definitely stay at Daisy's cottage again.
Meredith
September 2016
Staying at Daisy's completely surprised my expectations. Even though we arrived late, we were welcome with hugs and a fridge full of fresh berries from her garden. The home is cozy and comfortable. There's nothing like waking up the sound of singing carnivals and the smell of fresh mountain air. Daisy even invited us to the town's 4th of July picnic which was so much fun and everyone was kind enough to share their favorite hiking spots. Definitely take the time to drive the Blue Ridge and hike down to Crabtree falls—it was my personal favorite. Thanks again for everything Daisy!
Alfredo
July 2016
So nice to arrive at a welcoming little house. Daisy provided a cozy, quiet and comfortable spot to relax. (Loved my special provisions, thank you). This is a great spot for many seasons and area attractions, but for me it was a nice comfy bed for someone who spends a great deal of time on the road. I recommend the Springhouse.
Nancy
October 2016
This was my first time using Airbnb, and I was a little anxious. I was also worried about booking this place because it didn't have any reviews, but I convinced myself it would be fine, especially because no one had stayed there before. I am so completely glad I did. This cottage was completely adorable, exactly like the pictures, the bed is comfortable as well as the couch, and Daisy made us feel 100% at home. She was completely sweet and right next door in case we needed anything. She showed us where the heater was in case it got too cold, and also put an electric blanket on the bed just in case. There's no air conditioning, which wasn't a problem for us, but could pose an issue in hotter months. Being in the mountains it definitely got cooler at night! Daisy had everything we would need including extra pillows, dishes, silverware, and even soap and toiletries. This is definitely a small place, but I never felt cramped, it was very comfortable, furnished adorably, and the tv with on demand was great to relax to in the living area! The location was also great if you're looking for a lot to do, positioned perfectly near Linville (for the falls and caverns) and not too far from Banner Elk, Boone, and Blowing Rock. It's a small drive to most things, but nothing bad at all. I will definitely be back, this was completely worth it, and I had a wonderful first experience!
Aimee
May 2016
The stay was amazing! Daisy keeps it up well and is there for whenever anything is needed. I would definitely stay again!
Matthew
August 2016
Daisy was easy going, friendly, and left some great treats for me including some amazing fresh strawberries. Is about 20 min drive to Roan Mt State Park where there is trout fishing.
Aaran
October 2016
Daisy was SO nice and thoughtful! The stay was great! Daisy brought over fresh fruit and breakfast along with fresh orange juice! She was willing to let us use her grill for steaks and was just delight to talk to. The house was very clean and updated. Wifi was great - there is no AT&T service near the area! Thanks again!!
Justin
June 2016
Oda tipi
Tüm ev/daire
---
Yer tipi
---
Konaklayacak Kişi Sayısı
3
---
Yatak odaları
1
Elk Park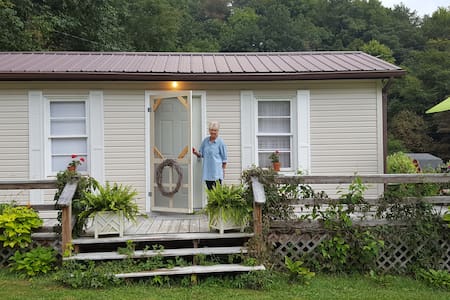 Impeccable cabin with a fire pit, game table, hot tub, grill, cable, great views, TV & wifi. It's in a private setting and only 3 miles from downtown Banner Elk, where activities abound like skiing, festivals, rafting, fishing, vineyards & hiking.
Why settle for less when you can vacation in a cabin? This rustic cabin has 3 Bdr/2 Ba. Its located 3 miles from downtown Banner Elk, Sugar & Beech Mountain. Amenities include a hot tub, fire pit, game tables, Smart TV, fireplace, wifi, grill and cable. The main floor has one bedroom with a queen-sized bed and another bedroom with two bunk beds that kids love! There is a bathroom on the main floor. The second floor has a master suite with a king-sized bed and a bathroom. The loft has a sofa with a twin-sized pull out bed. You will love the main floor's open layout that features a cathedral, tongue and groove ceiling, wide plank wood floors, kitchen, living room and dining room. The cabin decor gives you a "homey" feeling. The living room includes a soaring stone fireplace, a Smart TV and a gas fireplace. The dining room seats eight with additional seating at the counter bar. The kitchen is very nice and has everything that you'll need to prepare meals. Guests have access to everything in the cabin which includes wireless internet, Smart TV so that you can watch cable, 3D movies or stream your own media by using Netflix, Youtube and HuluPlus. The game room features a foosball table and plenty of board games for family fun night. There's a huge deck with a private hot tub for relaxation, a grill, an adjacent patio for a fun game of corn hole and a fire pit that is perfect for roasting s'mores! The only guests that will be in this cabin will be you are your friends and family. A resident will not be home when you stay. There is a digital lock box outside the main entrance so you can let yourself in and out. I will be available 24/7 by email, phone or text is there are any questions/concerns.
The Three Bears Cabin is in a quiet neighborhood. Its located on a private road. This cabin is in a relaxed neighborhood that has less than 6 homes. There are two driveways that provide great access to our cabin. Additional amenities include books and cable on Smart TV. This cabin has huge front windows so you can enjoy the views. We do not provide food but the kitchen is equipped with the cooking ware and appliances to prepare great meals for you and your guests. Enjoy the main-floor porch with additional seating that is position perfect to enjoy the star-filled sky in the evenings!
Nice, clean place. Met & exceeded our expectations. Must say the king sized bed upstairs has a very comfortable mattress. Made for a great nights sleep! The hot tub was very clean & came in handy after long hikes. We appreciated having Pilsner glasses, wine glasses and a nice assortment of cooking items. We felt like the owner has tried to provide every item one might need during their stay. He was very prompt and helpful with any questions we had. Overall, good location for lots to do & see! Thanks for a great Anniversary!
Melissa
October 2015
The place was amazing. Very nice house to stay in. Will definitely return for future visits to the Mountains. Owner responded quickly to my questions prior to arrival. All accommodations were made even LP gas for the grill was available. The house was very neat kept and clean. Up to date furnishings and kitchen. Totally pleased with our experience.
Justin
September 2016
Have stayed here twice and had great experiences both times... pictures of house are up to date & accurate. Has great amenities and close to many local attractions.
Dylan
October 2016
Cozy cabin in the mountains -- it was clean and welcoming, and we had a wonderful weekend with three other couples!
Heather
August 2016
Our experience at the 3 Bears Cabin was nothing short of perfect! It was spacious yet cozy and all the amenities were perfect! Our host was very nice and was very quick to respond when we had any questions about anything! Very beautiful and clean house :)
Carol
September 2016
We loved our stay at the Three Bears Cabin! It was the perfect place for our weekend away as a family! The hosts made us feel welcomed by listing everything we needed to know before we arrived and there was even a Christmas tree set up to make it even more special. Thank you for everything!
Jessica
December 2016
Such an amazing stay at three bears cabin! The cabin was clean and cozy and everything we could have dreamed of! The kitchen had tons of stuff so we were able to cook our own meals. The beds were amazingly comfortable and the scenery around the mountain was breath taking! The host was great at responding to questions and we never had to wait for a response. We would definitely come back to stay again!
Emily
January 2016
This beautiful little cabin was perfect for our family weekend. There were plenty of games available and it was close to the hiking we wanted to do (although it was so windy that the Grandfather Mountain Hikes were closed...sad....but gives us another reason to come back!) Almost everything you would need is in the well stocked kitchen (although you do need to bring your own griddle if you're planning any pancake breakfasts ;-D). There were only a few small issues, but they were cleared up quickly and respectfully of our time. I wouldn't hesitate to recommend Three Bears Cabin!
Jennifer
April 2016
Oda tipi
Tüm ev/daire
---
Yer tipi
---
Konaklayacak Kişi Sayısı
8
---
Yatak odaları
3
Banner Elk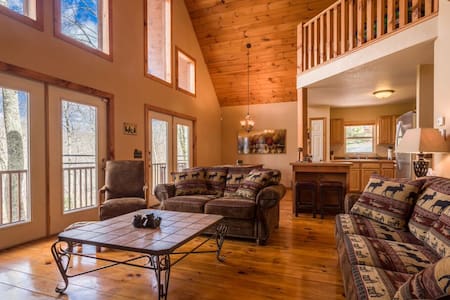 Red Stag Lodge is a spectacular, luxury mountain home in a private setting in the Lodges at Eagles Nest, one of the most desirable and awe-inspiring communities in the mountains of North Carolina. Breathtaking westward sunset views overlooking the Blue Ridge Mountains and Pisgah National Forest await you. Ensconced by lavish trees and beautiful landscaping, this multi-million dollar custom built home sets the standard for luxury mountain living.
Built of the highest grade natural materials in the age-old tradition of cabin craftsmanship, Red Stag Lodge provides an ambiance of picturesque rustic elegance, while at the same time offering all of the modern amenities of a perfect mountain retreat, including multiple large decks, outdoor fireplace, outdoor hot tub, game room, DirectTV (with NFL package), built-in sound system (which can connect directly to your mobile device to play your own music), DVD and CD player, broadband wireless internet, and custom lighting, in addition to high end furnishings, and rustic mountain décor. Offering four levels of living, it is the perfect place to enjoy a family vacation, reunion, ski vacation, or just to enjoy a few days to get away from it all together with close family and friends. The house comfortably sleeps up to twelve people, offering three king bed sleeping areas, plus a separate bunk room floor with a queen bed plus four built-in bunk beds, together with its own mini-kitchen and living area. Red Stag Lodge's main floor evokes the warmth and coziness of the true cabin lifestyle, featuring a soaring real stone wood-burning fireplace, walls formed from hand-hewn wood timbers, towering wood beams imported from British Columbia, hardwood floors, and custom-made poplar bark cabinetry. The gourmet kitchen contains all stainless steel appliances, rainforest granite countertops, and high-end cookware. Also on the main floor is the master bedroom suite, which has a king-sized bed and adjoining oversized master bath featuring dual sinks, custom poplar bark cabinetry, walk-in closet, state-of-the-art steam shower, and old-fashioned soaking tub. Overlooking the great room is a beautiful loft featuring two king sleeping areas with a full bath, their own deck, and seating area with built-in desk space. Walk outside of the main floor to enjoy the fresh mountain air and views while relaxing on the expansive outdoor deck, which features a grand wood-burning real stone fireplace, outdoor bar, large custom-built picnic table, built-in sound system, and plenty of rocking chairs. You can grill out on the stone fireplace's built-in grill, or use the separate Holland Grill propane chargrill if you prefer. Step around the corner of Red Stag Lodge's wrap around deck to take a dip in the outdoor Tiger River Spas hot tub, with built-in lighting and outdoor speakers connected to the high-end sound system. Just below the main floor is the large game room which features a plethora of entertainment options, including top-of-the-line pool table, ping pong table, air hockey table, dart board, and custom-built rustic poker table, in addition to numerous card and board games, providing fun for all ages. It also boasts its own covered deck, and an additional full bath and a sleeping area with a queen size bed. Below this floor is the bunk room level, complete with a queen bed nestled into its own sleeping nook, four built-in twins (bunk) beds, full bath with dual sinks, its own kitchenette, and tv/game area, featuring both Playstation 3 and Nintendo Wii, with several games provided for our guests' use. Unlike many other mountain homes, Red Stag Lodge has fairly level, paved access, proving much less challenging in winter. In addition, this luxury home is perfectly located to take advantage of all of the activities of North Carolina's High Country, with spectacular mountain scenery everywhere you look. Enjoy the gourmet restaurants and excellent specialty and gourmet boutiques of Banner Elk (less than 5 minutes- 3.5 miles - away), Blowing Rock, Linville, and Boone. Plus, outdoor daytime activities abound, including guided or unguided fly fishing, hiking, canoeing, kayaking, horseback riding, trips to nearby Grandfather Mountain and the Blue Ridge Parkway, as well as white water rafting excursions for the more adventuresome. Red Stag Lodge at Eagles Nest is also ideally located for winter sports, approximately 10 minutes (6.2 miles) to the entrance to Sugar Mountain Resort, and 15 minutes (7.8 miles) to Beech Mountain Resort, both of which offer some of the best skiing on the East Coast. Or enjoy a day of snow tubing at nearby Hawksnest, the largest snow tubing resort on the East Coast - or take a ride on their zip line, which is open all year, weather permitting. Welcome to the High Country, welcome to Red Stag Lodge! This exclusive North Carolina luxury vacation home rental is located in Banner Elk's prestigious Eagles Nest community. Larger groups may enjoy renting this home along with another of our Eagles Nest homes. Depending on the home, 4WD, chains or sometimes both may be required when visiting the mountains in winter. Access to this home may not be suitable for vehicles with rear wheel drive, limited ground clearance, or motorcycles even during summer months. We are happy to help you find the home with the access you are most comfortable with, any time of year! Trails, ropes courses, great camp with playground,...
All guests must sign a North Carolina rental contract outside of airbnb. Firewood and pet fee charges are charged OUTSIDE of airbnb.
Oda tipi
Tüm ev/daire
---
Yer tipi
---
Konaklayacak Kişi Sayısı
14
---
Yatak odaları
5
Banner Elk
For a quick weekend getaway, or week long escape from business - Boulder Ridge has the chic rustic experience you're looking for! The amenities and professional decor leave nothing to be desired. -3 King Beds. -4 Flat Screen TVs. -Hot Tub. -Fire Pit.
Boulder Ridge provides the ideal High Country getaway. The 1,100 sq ft of outdoor living space with fire pit and hot tub, combined with the rustic chic decorations, make this the perfect mountain cabin. Located just minutes from Beech Mountain and Sugar Mountain, Boulder Ridge is in the prime location for year round fun! The open floor plan, log walls, vaulted ceilings, and floor to ceiling glass on the back of the house, allow you to enjoy all that the mountains have to offer. When you walk into Boulder Ridge, you can't help but notice the beautiful stone chimney that is the center piece to the living space. The simple push of a button allows you to immediately enjoy the warmth of the fire while taking in the beauty of Banner Elk out the back windows. The leather sectional and sitting chair provide elegant seating in the great room. The 60" Smart HDTV with Blu-ray is centered above the fireplace with easy viewing from anywhere in the great room. The handmade custom farm table provides adequate space for at least 10 people to dine or enjoy time with one another. All three bedrooms boast beautiful king size beds, 50" Smart HDTVs with Blu-ray, and exquisite mountain decor. On the main floor you find the master bedroom with an attached bath and Jacuzzi tub. The two upstairs bedrooms share a jack-and-jill bathroom. Additionally, there are two bunks in the loft area for extra sleeping. The kitchen offers beautiful, dark granite countertops and stainless steel appliances. The only bad thing about this kitchen is having to choose to look at the 60" TV, or outside at the mountains. Boulder Ridge offers all the amenities you could hope for, and the location is prime as well. The fire pit, hot tub, skiing, hiking, and outdoor living space make Boulder Ridge idea for the outdoor enthusiast - while the clean living space, custom furniture, and technology upgrades will please those looking for an indoor rustic retreat. No pets No smoking Unless otherwise noted: Checkin time is 5PM Checkout time is 11AM The entire property is yours for the dates selected. Boulder Ridge offers a turn key experience with primary communication through email and text, allowing you to maintain your privacy.
Safe and secure entry with detail for you after booking.
We absolutely loved your house. It was perfect. Thank you so much for a great weekend stay.
Leni
December 2015
This was the perfect weekend getaway spot for our family! The cabin was perfect; clean and cute as can be. We also had a marvelous time with the jacuzzi and the fire pit. Thank you for a wonderful setting for family memories we will treasure. We would recommend this to anyone looking to reconnect with family or friends.
Rebecca
August 2016
I spent a couple days in Bamner Elk here for weekend of snowbording with my significant other as well as three other couples. Taylor was more than helpful with arranging this cabin. Taylor's quick responses helped immensely with last second planning. The cabin itself was so flawless and beautiful that the pictures cannot do it justice. Must see it for yourself. The beds and other accommodations were incredible not to mention the hot tub. It is definitely a place I will be coming back to!
Preston
January 2016
Taylor's place was very nice and very clean. The hot tub was such a nice feature and Taylor was very responsive.
Katelynn
October 2016
Fantastic cabin in a great location! We went to Banner Elk Winery which was located just a few miles away and had a great time. The cabin is also beautifully decorated and has all the amenities needed for a getaway weekend. I would definitely stay here again and recommend it to others.
Shelly
November 2016
Our annual Christmas Tree outing was made even more special with our stay at Boulder Ridge! This was our first experience booking through Airbnb so we were a little nervous about it. Working with Taylor took away any doubts we had. He was always quick to respond to many of our questions and his recommendations for area restaurants was spot on (try Bella's for pizza)! The cabin was even more beautiful than the pictures portray. The fireplace and living room area was so cozy. It was hard to motivate the family to get up and go out to do other things as we just wanted to hang out in the cabin! We will definitely be back next year.
Scharmen
December 2015
We arrived in the mountains at night and it was snowing so finding the correct cabin was a little challenging under those conditions. With no light, we couldn't make out the address numbers on the cabins and couldn't text the owners as we didn't have service on our mobile phones, but eventually figured out which cabin was "third on the left."
Nancy
March 2016
The house is even more beautiful in person, it's in a great little town. Taylor was awesome and all the information that was given made everything seamless. The restaurant recommendations were also spot on. Thank you so much for everything. Aloha
strelitzia
September 2016
Oda tipi
Tüm ev/daire
---
Yer tipi
---
Konaklayacak Kişi Sayısı
8
---
Yatak odaları
3
Banner Elk
This property is a rustic pioneer cabin that has been in our family over 100 years. My grandfather and his 8 sisters grew up in this cabin with his parents in the early 1900's. It has maintained much of it's old original details over the years. No TV, or Phones! It will sleep 10 in beds. Plus there is room for more air mattresses. It has a soap stone real fireplace, original hardwood floors, an electric organ, charcoal grill, bon fire pit, waterfall, trails, a creek, a bridge and serenity!
This house has been in our family over 100 years. My great grandfather built this house and raised 9 children there. It is rustic, pioneer, and charming in character. We ask that you respect its age and treat it with care. This is a peaceful, cozy, private and secluded cabin in the woods with a flowing creek and water fall in the front yard. We live in a private secluded hollow with dirt roads, streams and creeks all around us. We have fresh spring water that supplies our homes fresh from our mountain tops. No City Water here! We are no more than a mile from downtown Newland, NC and only 15 minutes to skiing and golf courses. There are so many things to offer visitors to our High Country. Grandfather mountain is minutes down the road, Sugar Mountain, Beech Mountain, and the town of Boone, home to Appalachain State University is just down the road. Bristol motor speedway is an hour away from us and Tri-Cities airport is also 45 minutes away. Guests may enjoy the house and its contents. However, ALL outbuildings surrounding the house such as the barns and outhouse are OFF LIMITS and are for the owners use only. The house has an indoor soap stone fireplace and an outdoor fire pit for your enjoyment. The house is heated with kerosene oil in Electric Monitor and floor heaters along the walls. There is No HVAC in the house or air conditioning of any kind. You are air conditioned by Nature. The house has a tin roof providing soothing sounds of rain on the tin and has a constant water fall sound of flowing water from the creek in the the front yard. You are surrounded by trees and nature at the house. This Cabin is very private and secluded from view. No one lives in this cabin. It is strictly a vacation getaway for our guests. We have 90 acres in Calhoun Hollow and four houses total that are ours. My parents have their own house on the property and my children and I live in the hollow as well. We frequently visit each other and get around on our four wheelers or by car from time to time. I have two English bull dogs male that stay with me and my parents have four other female dogs, coco, vicki, piper and shadow, that live with them on their property. All of our dogs are friendly. The girl dogs like to follow my father, Doyle where ever he goes on the four wheeler.'s. We love pets and our pets are friendly and usually stay at home. Occasionally they will wander over to the cabin to greet the guests. They are harmless though.
Amenities: River Front, Private, Secluded, Peaceful, Serene, Quite, Tranquil, Relaxing, Laid Back, Rustic, Comfortable, Friendly and welcoming. Attractions: Grandfather Mountain, Linville Ridge Country Club, Eseola Lodge, Sugar Mountain, Beech Mountain, Banner Elk, Roan Mountain, High Country Polaris, Avery County Museum, Heritage Park, River Walk, Wooly Worm Festival, Grandfather Highland Games, October Fest at Sugar, July 4th Celebrations. Restaurants: Fabios Restaurant, Stonewalls Restaurant, Sorentos Restaurant, Mason Jar Cafe, Sandees, Carolina BBQ, Shady Lawn, Riverdog Cafe, McDonalds, Hardees, Los Arcois, Puerto Nuevo, Valle Bravo, Nicks, Peddlin Pig BBQ, Bella's, and Banner Elk Cafe. Hotels: Shady Lawn, Best Western Banner Elk, and Pineola Inn Churches: First Baptist of Newland, First United Methodists, Cranberry Baptist, St. Catherines, Newland Church of God, First Presbyterian of Newland. We do not have taxi's here. You will need your own transportation while visiting. Avery county does offer some assistance in transportation to the elderly and disabled for a small fee. The town of Boone has a bus service for visitors. NO: Wi-Fi access, No Internet, No Phone (only dials 911), No TV, SPOTTY CELL PHONE COVERAGE Items to Bring: ICE no ice maker in the fridge. Shampoo/Conditioner, Hair Dryer, Drinks, Groceries, Soap, Dish Liquid, Laundry Detergent, Paper Products, Lighter/Matches Items INCLUDED: Iron, Sheets, Pillows, Comforters, Quilts, Towels, Washcloths, Washer/Dryer, Microwave, Coffee Maker, Stove, Oven, Refrigerator, Freezer, Wood for Fireplace, Charcoal Grill, Pots/Pans, Dishes, Glasses, Plates, Trash Bags and Cups.
Nancy was unable to meet us due to a family emergency. I was unable to contact her to report the following concerns because I had no cell service and the landline did not work. On entering, the cabin has a profound odor of mold, mildew, and dust. There were layers of dust on everything, and visible dirt on all floors and carpets. There were large mold spots on the pillows and sheets on the upstairs beds. The upstairs rooms smelled of mold and urine. The dishes in the kitchen had clearly not been used in ages as there was caked on dirt and dust. The toilet had not been cleaned well and there was feces splattered on the rim and the underside of the seat. We proceeded to strip the beds and wash all of the sheets and mattress pads (there was a washer/dryer) and then put them back on the beds. We had to wash all pots and dishes before using them for dinner that night. We wiped down the headboards and the walls in the upstairs room and the wash water turned dark brown with the dirt. The urine and mold smell was so overpowering in the second back bedroom that we could not tolerate being in there at all. The next morning we packed up and left as soon as possible. All hotels were booked in the vicinity (or we would have left the night before) and it was raining so we could not sleep outside. We had intended to stay a second night but were unwilling to stay in the cabin again. We left the cabin in better shape than we found it but it still requires a tremendous amount of TLC before it is suitable for guests. I understand that it has sentimental value for the family, and that is fine, but it is not ready for airbnb. In addition, I took my two small children for a short walk amongst the beautiful fall foliage. We heard dogs barking and from up a hill there were 4 large dogs that came barreling down the hill towards us. I like dogs and am not afraid of them, but having 4 large unrestrained dogs running as a pack at me and my two children while barking loudly was terrifying. Positives: the scenery is beautiful with a lovely creek out front. There is a working electric organ in the cabin that our kids enjoyed playing. Our dogs enjoyed eating the apples that had fallen from the large heritage apple tree nearby. The front porch is pleasant.
Laura
October 2015
Nancy is a great host. She stopped by to check on us and made us feel so welcomed. Everything is the cabin was nice except it was a little cold upstairs. The view was so beautiful around the cabin. We had a wonderful weekend there.
Jingbo
October 2015
The host canceled this reservation 5 days before arrival. This is an automated posting.
Pragya
Beautiful place and nice people.
Luis
December 2016
Nancy was a great host and even brought us extra chairs for around the fire when asked about it! The property was beautiful.
Joshua
September 2016
Nancy and family were such great hosts. The opportunity to share their family home was an experience that my children and I will cherish. We enjoyed a relaxing stay with the kids playing in the creek, picking apples for an apple pie and enjoying nature. Nancy ensured that we settled and helpful through out the visit. This cabin is an authentic antique. If you are looking for a luxurious cabin this is not the place for you. If you are looking for a family experience with great people this is the place for you. The view is amazing and the location is so peaceful. The creek runs right in front of the cabin and you can enjoy its peaceful sounds from the front porch. The kids had lots of room to run and explore (mine spent a lot of time in the creek). The kids loved the apple trees and Christmas trees. We picked apples to make apple pies several nights. We had adequate room with all the available beds for all 7 of us and enjoyed dinner at the huge dinner table. The cabin is located close to town to get staple items to cook or any other needs. During our stay each family member made a stop to check in and just introduce themselves, making us feel like a part of their family. We plan on going back again to enjoy what the "hollar" has to offer!
Amy
October 2016
Nancy was a great host. The bed was very comfortable (we like a firm mattress), and everything was as clean as a 100 year old cabin can be. I loved the fireplace, and sitting on the front porch listening to the water run from the nearby creek. It was so relaxing! I was able to imagine what it must have been like when the house was a homestead in the early nineteen hundreds. If you are looking for new and spotless this is not for you. The property is described very well as a 100 year old homestead. If you are looking to stay in a rustic historic home this is the place!
Chip
June 2016
Oda tipi
Tüm ev/daire
---
Yer tipi
---
Konaklayacak Kişi Sayısı
10
---
Yatak odaları
4
Newland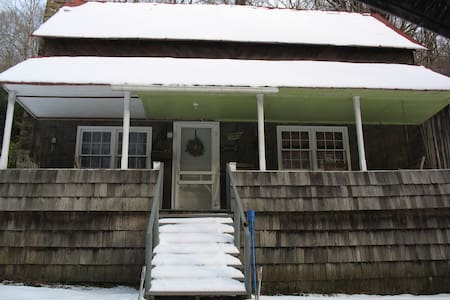 This 3 BR/1BA home has been remodeled inside to provide all the comforts of home. This house has been in our family for 75+ years. It was my father's birthplace. It is still in great shape and cozy to boot. Private yet one mile to grocery store, dollar general, roses and to town. I decorated the house with items from my grandparents, collection of music, hobbies, passion and loves. It will sleep 6 in beds but has room for 2 or 3 more air mattresses. Fire Pit, table & chairs outside too.
This is the house my father grew up in. It has been in my family over 80 years. We have remodeled it and updated it a bit over the years. It has Three Bedrooms, a Full Kitchen, Dining Room, Full Laundry Room, Den, and (1) Full Bathroom with Tub/Shower combo, A FIRE PIT, DINING TABLE AND CHAIRS outside on the side of the house. Guests are welcome to enjoy all the amenities of the house. It has Electric Heaters, Electric Oil Monitor for Heating, NO HVAC, window fans and air conditioned by nature. Open windows and doors. My parents and children live on or near the property as well and frequently visit us on their four wheeler or by car from time to time. We have a Georgia bull dog named Buster that stays with us and my parents have four other dogs, two boxers, a chocolate lab, and a mixed breed of some sort that lives with them above the rental on their property. All of our dogs are friendly..
We are located one mile from town on a dirt gravel road that sits back in a hollow all our own. We are very private and secluded providing lots of peace and quite. We are very laid back, and simply ask that you respect our property and clean up after your self. Other than that enjoy your stay with us. It is very private and serene here. Lots of nature and wildlife to enjoy as well. Amenities: TV with cable, DVD players with movies, Karaoke Machine, Ipod/iPhone speaker, games, Private, Secluded, Peaceful, Serene, Quite, Tranquil, Relaxing, Laid Back, Rustic, Comfortable, Modern, Friendly and welcoming. Attractions: Grandfather Mountain, Linville Ridge Country Club, Eseola Lodge, Sugar Mountain, Beech Mountain, Banner Elk, Roan Mountain, High Country Polaris, Avery County Museum, Heritage Park, River Walk, Wooly Worm Festival, Grandfather Highland Games, October Fest at Sugar, July 4th Celebrations. Restaurants: Fabios Restaurant, Stonewalls Restaurant, Sorentos Restaurant, Mason Jar Cafe, Sandees, Carolina BBQ, Shady Lawn, Riverdog Cafe, McDonalds, Hardees, Los Arcois, Puerto Nuevo, Valle Bravo, Nicks, Peddlin Pig BBQ, Bella's, and Banner Elk Cafe. Hotels: Shady Lawn, Best Western Banner Elk, and Pineola Inn Churches: First Baptist of Newland, First United Methodists, Cranberry Baptist, St. Catherines, Newland Church of God, First Presbyterian of Newland. We do not have taxi's here. You will need your own transportation while visiting. Avery county does offer some assistance in transportation to the elderly and disabled for a small fee. The town of Boone has a bus service for visitors Fishing in the river in front of our house is Forbidden! The river belongs to Toe River Fishing Club. We live in a private secluded hollow with dirt roads, streams and creeks all around us. We have fresh spring water that supplies our homes fresh from our mountain tops. No City Water here! We are no more than a mile from downtown Newland, NC and only 15 minutes to skiing and golf courses. There are so many things to offer visitors to our High Country. Grandfather mountain is minutes down the road, Sugar Mountain, Beech Mountain, and the town of Boone, home to Appalachain State University is just down the road. Bristol motor speedway is an hour away from us and Tri-Cities airport is also 45 minutes away.
Nancy was very friendly and offered to get us anything she could. We have known her parents for years but did not realize this was their place. Her parents visited us and it was good to see them. If you want peace and quiet this is the place to be..never heard an airplane, train or car while there. I was disappointed there was no TV reception, but it did state that in the add..I just did not read all of it. This is a very old cabin and has a lot of history that makes it interesting.
Janice
November 2016
The place was great! Beautiful location and comfortable accommodations. Nancy was available for anything we needed and extremely kind and helpful.
Jess
October 2016
Oda tipi
Tüm ev/daire
---
Yer tipi
---
Konaklayacak Kişi Sayısı
6
---
Yatak odaları
3
Newland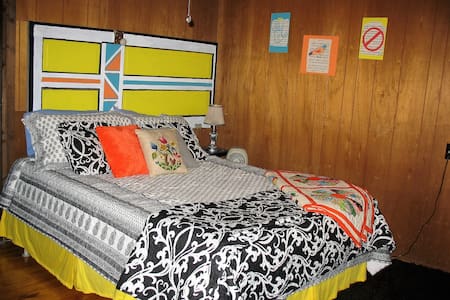 Located in Banner Elk at The Lodges at Eagle's Nest, this majestic home is one of the best luxury rentals we offer. With a timber framed portico, walk out onto the back deck and experience a 180 degree layered view of the Blue Ridge Mountains. You will be inspired by the beauty of this area and this home. Upon entering the great room with its 30 ft tall ceilings and its superb woodwork and stonework, you have the feeling of your own exclusive English hunting lodge.
Near the Teepee village and Great Camp at is within Eagle's Nest. This resort offers a ropes course, volleyball court, disc golf course, playground, ATV trails, hiking trails, soccer field, and nearby fishing. There is also horseback riding nearby, picnic areas, and a wildlife rehabilitation center. Everything for the perfect family vacation. We have a 24/7 line that is only for emergencies. Otherwise, an office phone may be called to answer your questions.
Firewood and a pet fee (if bringing pet) are charged separately outside of airbnb. All guests must sign a North Carolina rental contract that is separate from airbnb.
Oda tipi
Tüm ev/daire
---
Yer tipi
---
Konaklayacak Kişi Sayısı
10
---
Yatak odaları
4
Banner Elk
Escape the bustle of the city, or simply get a change of scenery here at Tippytop, your private three-bedroom, two-bathroom mountain cabin atop the Blue Ridge. After exploring the local nature highlights or culinary delights, relax in your secluded hot tub on the large deck overlooking the manicured yard with fire pit, complete with grill, table, and rocking chairs -- or spend the time inside watching one of your four flat screen TVs, surfing the internet, or simply reclining by the fireplace.
This cabin is a step above the rest with it's custom luxury design and attention to detail, including a luxe jacuzzi tub upstairs, a slate standing shower with glass door downstairs, and a wooden mantle that was made with a tree from the yard. The lofted master suite has a king bed and sweeping views of the yard, and each of the two downstairs bedrooms has a plush queen bed. All three of the bedrooms have cable TVs and blackout blinds. Relax in complete privacy in the entire cabin, deck, and garden. Though you'll enjoy the space to yourself, we have someone on standby in case you run into any unexpected issues or questions. Details will be sent in confirmation.
Our neighborhood is quiet and secluded, consisting of ten similar cabins, with Tippytop having the most privacy at the end of the road. Banner Elk is a special mountain community that has the best the Blue Ridge has to offer. Tippytop is located about 15 minutes from the base of both Sugar and Beech Mountains, with easy access to skiing, snowboarding, ice skating, and snow tubing. The cabin is within close driving distance of some of the best food that Appalacia has to offer, including The Gamekeeper, Artisanal, Bistro Roca, and The Painted Fish. See our neighborhood guide for some of the highlights from our view of Appalachia. The cabin is within a 30 minute drive of some of the best sights of the Blue Ridge, including Grandfather Mountain, Linville Falls, the Blue Ridge Parkway, Blowing Rock, Linville Caverns, Elk River Falls, Boone, and Tweetsie Railroad. We are located at the top of a mountain and are about a 10 minute drive from downtown Banner Elk. Our driveway can comfortably fit up to four vehicles. For winter time travel: - It is advisable to have four-wheel drive or snow chains as the mountain roads can be quite slick and dangerous when icey or snowy. - Depending on time of year, the water may be turned off when you arrive. If this is the case, we will let you know beforehand and will direct you to a detailed guide.
This was such a great experience in a great location. The cabin was in excellent shape and the hosts were quite responsive. We will definitely come back.
David
August 2016
The cabin is in great hands with fantastic personal touches. Quiet, secluded, and pleasant setting all around. Shelby did a great job on the welcome guide. It is precise and very detailed. We have enjoyed our stay and will be back for more.
Yu Feng
July 2016
Perfect mountain get away! Exceeded our expectations in many ways. Conveniently located in Banner Elk and near Beach and Sugar mountain but off the beaten path enough to enjoy all of NC mountains beauty and nature. Sat on the large deck watching humming birds and the chipmunks run around the manicured landscaped yard. Grilled dinner, sipping on a glass of wine. Wrapped the evening up in the hot tub then coming inside to sit in front of the fireplace and playing some cards. Look in a log home magazine and that is what Shelby and Tron have created. Cozy but rustic with top of the line everything! We own a home at the beach that is really two homes in one and are considering becoming a host. Shelby & Tron and their home will be the blueprint we use when that day comes.
John
September 2016
Shelby and Tron's cabin was amazing! The listing depicts the cabin just as it is, "Calming and Secluded Five Star Cabin." The cabin is equipped with every thing you need. Coffee pods were available at the cabin so you could roll out of bed and enjoy the start to your day on the deck with a fresh hot cup of your favorite brew. The beautiful landscape provided a picturesque view and smell the fresh air. The decor of the cabin is not only comfortable and inviting it's gorgeous to look at. Every inch of the cabin is well thought out and appointed. The beds were comfortable and the sheets and blankets were just as luxurious as what you would expect in a high end hotel. Our party of 4 had a wonderful time and our only regret was we had plans all day Saturday so we didn't get to enjoy the cabin enough. We plan to return for a full weekend without plans to take advantage of the beauty and relaxation that Tippy Top has to offer. Thank you Shelby & Tron!
Tracy
September 2016
The property was amazing! Communication with the hosts was easy, and timely. They were flexible and very friendly. Looking forward to staying here again.
Misty
July 2016
Great experience! Nice, quiet, beautifully decorated space. Shelby + Tron accepted our reservation request within an hour and were super responsive to questions and updates. I would recommend these hosts and this place to anyone!
Sarah
July 2016
Beautiful and nicely kept house with choicest of things. Very well equipped kitchen and all rooms for things needed in a home away from home. Beautiful yard with lot of privacy. Definitely recommend.
Arvind
July 2016
Great experience and nice view from the cabin. This cabin is a pretty new place with beautiful decorations inside.
Lingyi
November 2016
Oda tipi
Tüm ev/daire
---
Yer tipi
---
Konaklayacak Kişi Sayısı
6
---
Yatak odaları
3
Banner Elk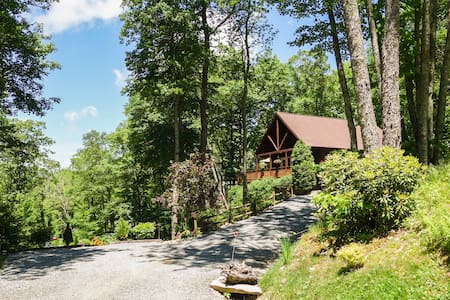 My place is close is overlooking the mountains and fun for every occasion, close to Sugar Mountain and Beech Mountain. It is ideal for winter retreat and summer enjoyment. Our house offer endless opportunities for a group of friends or family. The house has 5 bedrooms. It also includes 2 spacious family rooms with a fire place in each, dining room, kitchen and breakfast area and a spacious common area. 3 beautiful decks add another bonus to the place.
Awesome!!
Juan
January 2017
Fantastic stay at a truly memorable spot. Our family of 10 is still talking about our wonderful stay and when we can get back to visit this luxurious home. Lots of windows, great natural light, tons of space to spread out (5 adults, 6 kids ages 12-18 were very content). The home is built against a hillside, so the bedrooms feel as if you are floating amongst the trees. It is serene, quiet and very relaxing. Dmitry is a responsive and attentive host who wants his guests to be happy and enjoy themselves. Which we did! Thank you. We will return!
Susan
January 2017
Oda tipi
Tüm ev/daire
---
Yer tipi
---
Konaklayacak Kişi Sayısı
12
---
Yatak odaları
5
Banner Elk