My home is close to San Antonio, just north of the Bosque del Apache National Wildlife Refuge. You'll love my place because of the high ceilings, the views, the location, the ambiance. My home is in the middle of the Chihuahuan Desert, dark skies, amazing stars. In fact, it's perfect for star gazing so bring your telescope! Great desert hikes are right out the front door or short drives. It's VERY quiet. Perfect for couples, solo adventurers, business travelers, families with kids, and pets.
Three bedroom house, one bedroom is available to rent anytime, others with one week notice. One deck upstairs available anytime. Jacuzzi tub and second deck available with notice. Quiet, in desert, dark skies, gazebo with hammocks. Downstairs bedroom with private bath is $50/night. Full kitchen available anytime.
My area is quiet, in the desert, up on a hill overlooking the Rio Grande Valley to the east and the Magdalena Mountains to the west. My nearest neighbor is about 1/2 mile away.
A wonderful location - so close to the Bosque del Apache National Wildlife Refuge that you can head to the Refuge for the early morning fly out and back to Vanetta's for breakfast.
dyan
2016-12-27T00:00:00Z
We just returned from a two-night stay at the Perry Farm House. We went to the area to visit the Bosque Del Apache Wildlife Refuse - amazing... What a great experience. The custom built home is lovely and cozy, heated by passive solar with enormous south-facing windows and a wood stove. The entire home is filled with sunlight and decorated with an eclectic and fascinating collection of area and family artifacts and collectibles, plus an unbelievable plant collection. As lovely as the house is, the real treasure are the owner and her partner, Vanetta and Jeffrey. These warm-hearted folks are welcoming and kind. They make their guests feel treasured and special. Vanetta communicates well before your arrival to ensure you can find this unique and private property, Jeffrey grinds fresh coffee and makes sure you have everything you need to have a wonderful stay. They are available, interesting and very knowledgeable about the area, the refuge and the nearby restaurants (think "green chile burgers"). They have two well-trained, friendly and welcoming dogs, plus two kitties. None of the pets are intrusive, but are available if you wish to enjoy them (and we did). The house is located in the middle of 40 acres, has beautiful views, the night skies are dark and the setting is very quiet. We enjoyed every moment of our stay and hope to return. This Airbnb property is a great value. We highly recommend it.
phyllis
2016-11-15T00:00:00Z
Vannetta and Jeff are the most friendly and welcoming hosts. The house and our part of it were quite green (with plants), beautiful, quiet and spacious imaginable. The great photos almost do not convey the comfort and loveliness of the house. Location is rural but only 1.5 miles from San Antonio, so quite close to the Bosque and other marvelous hikes. Vannetta and Jeff were very accomodating to our needs and schedules. The room and adjoining bathroom were marvelous and there is a sundeck, beautiful living room, great books and art pieces for making one feel right at home. Staying here made the Bosque Apache wildlife experience even more marvelous than on previous visits.
Mark
2016-12-12T00:00:00Z
The host canceled this reservation 7 days before arrival. This is an automated posting.
Laurel and Paul
A wonderful adobe high on a bluff overlooking alfalfa fields adjacent to the Rio Grande. The house is full of a lifetime of love and memories, long term guests and two great dogs. Vanetta and her guests are all warm and caring and helpful people. The home is very close to a small town with a couple of taverns and a dinner and also close to the BDA refuge area. One of my best Air BnB stays.
Michael
2017-02-14T00:00:00Z
Vannetta is a most warm and welcoming hostess and truly makes you feel like family...along with the very sweet animals. If you want an experience of traveling that makes you feel very at home, I recommend her place. She is very thoughtful and does her best to provide anything a guest might need.
Ellen
2016-12-23T00:00:00Z
What a great host and beautiful home and view! Vannetta was amazing and I look forward to staying there again sometime so that I can enjoy the views. Beautiful! She offers great options with 2 different room setups to meet your needs. Great value and location! Definitely recommended for anyone looking for a central base to explore the are or just a spot to relax and enjoy the country.
Lynn
2017-01-17T00:00:00Z
Oda Tipi
Özel oda
---
Mekan Türü
---
Konaklayacak Kişi Sayısı
2
---
Yatak odaları
Socorro, New Mexico 87801, ABD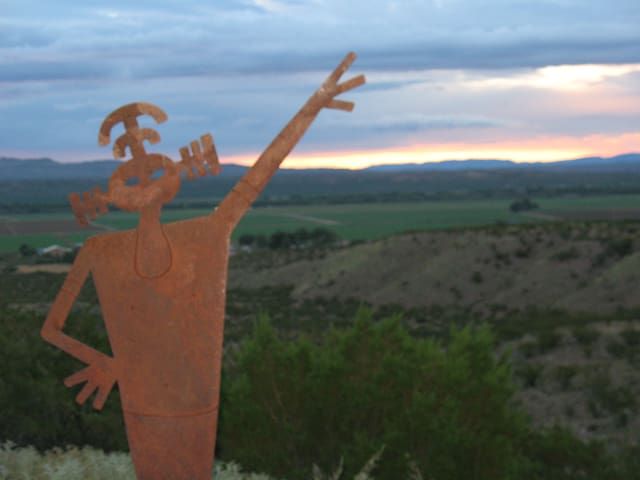 Tiwa is a cozy bedroom/bath area with a private patio on which to enjoy New Mexico's storied sunlight and fresh air. Inlaid tile, adobe, a tall tree, and a small garden that attracts hummingbirds in the summer add to its charm.
Judy's place was great stop for our road trip. The breakfast was AMAZING!
Brittney
2016-10-06T00:00:00Z
This is a great little place, wonderful yard with a huge shade tree. The casita itself is a good size, with a comfortable bed, and a fireplace (not used, as it's still pretty warm right now). Judy is gracious and friendly. The coffee is good, the homemade apricot preserves are better. She let us leave a vehicle parked at her place all weekend, even after we had checked out of the casita. Highly recommended.
Liana
2015-09-22T00:00:00Z
Judy was a wonderful and gracious host accommodating a late arrival and having the separate guest house warm and welcoming. Breakfast local southwest omelette, fresh fruit and wonderful conversation about the area all earn my high recommendation.
John
2015-12-21T00:00:00Z
Judy was very accommodating to my schedule. I enjoyed my stay very much!!
Diane
2016-10-24T00:00:00Z
Excellent accommodation! Small and quiet place. Judy was a wonderful host. Breakfast was delicious and sometimes quick when needed. Outstanding communications and worked very well with my schedule. If your in town, you have to check-in!
Boris
2017-01-12T00:00:00Z
Judy was a wonderful host! Cute & comfortable casita. Amazing breakfast too.
Rebecca
2015-02-21T00:00:00Z
Oda Tipi
Özel oda
---
Mekan Türü
---
Konaklayacak Kişi Sayısı
2
---
Yatak odaları
Socorro, New Mexico 87801, ABD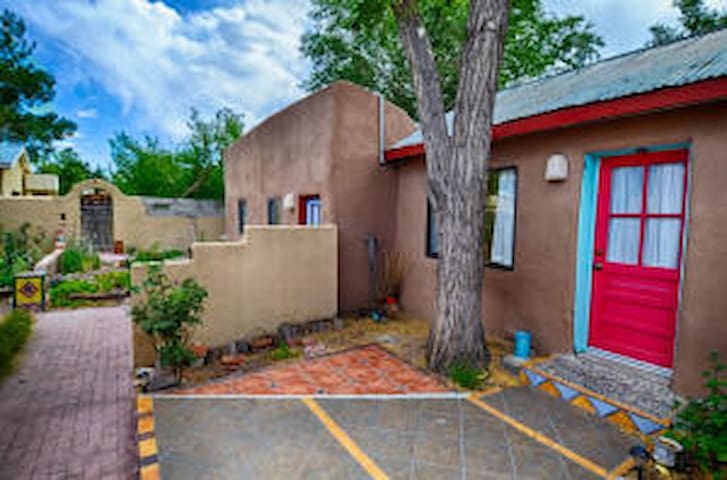 Casa del Sol is a guest casita on an artist's property, offering a unique get away vacation spot. A tranquil sanctuary to relax and rejuvenate! If you love star gazing, some of the darkest skies and the brightest stars are right outside your bedroom door. Additionally, Casa del Sol is a great location for hiking, rock-hounding, or an artist's retreat.
The yard is fenced. guests are welcome to use the outdoor fireplace.
Casa del Sol is located on a quiet residential street, in a nice family neighborhood. It is approximately 7 blocks from Highway 60, the main road into the village of Magdalena.
The kitchen is well-stocked and the bed is very comfortable. Safe parking, friendly pets, and beautiful shared spaces. Magdalena is a remote, quiet town. Make sure you check out the VLA right down the street!
Kristine
2017-02-21T00:00:00Z
In remote location, the Casita is full of amenities, the host is thoughtful, the place is very clean, the kitchenette well equipped. We definitely recommend!
Yaron
2017-02-07T00:00:00Z
Gwen is an exceptional host! Beautiful soul. Her place is amazing! Classy & cozy, just the perfect stop over and she keeps immaculately clean. Thanks for a great experience Gwen. Will definitely book again!
Rapi
2017-02-12T00:00:00Z
Very thoughtfully designed and decorated space. We loved the location on the edge of town. We were a little concerned about the low ceilings, but it didn't bother us at all. We plan to come back again.
Jackie & Sean
2017-01-17T00:00:00Z
Gwen has made a small space very comfortable. It's got all the basics covered and everything is new and clean. She left snacks for us too, which was nice.
Lillian
2017-01-18T00:00:00Z
Very cozy casita!! Gwen is very hospitable and the casita is everything you need and more! Thanks again!!
Barbie
2016-12-21T00:00:00Z
I only have positive things to say about Gwen and her place. Not only was it extremely clean and nice, the few was also extremely beautiful. Gwen had though of everything, from bottled water in the fridge to a book with recommendations on the coffee table. I would recommend this place to anyone and everyone. I can imagine it can be a romantic getaway or a nice quiet place to wind down on your own but me, my sister and mother found it great for our family trip as well. Gwen was the most amazing host, she has such a nice soul and is so kind and you can tell she puts a lot of effort into the place.
Engel
2017-02-18T00:00:00Z
This is a gem! Thank you Gwen for all of the great information on surrounding area, treats waiting for us, fluffy towels, bath mats and a perfectly appointed kitchen. This was a great home away from home!
Ashley
2017-02-16T00:00:00Z
Oda Tipi
Tüm ev/daire
---
Mekan Türü
---
Konaklayacak Kişi Sayısı
4
---
Yatak odaları
Magdalena, New Mexico 87825, ABD
Dos Casitas is a small B & B located in Socorro, NM offering two private "little houses" with a bedroom, bath, and patio each. New Mexico Tech, the Bosque del Apache NWR, and the Very Large Array are just 3 attractions in the area.
Judy was wonderful, helpful and a joy to converse with. The room was clean and the gas fireplace gave it a nice warm glow. The shower was excellent and the cookies she left in the room for us were delicious. Breakfast was good too! It all added up to a great visit.
Chris
2016-01-02T00:00:00Z
We had a very pleasant two night stay in this casita while viewing birds at Bosque del Apache NWR. The host greeted us and made us welcome. The casita contains one of the most comfortable mattresses that we have slept on in any of our travels. Breakfast was arranged to suit our schedule and was simple and tasty. Three other guests on one morning and Judy at both breakfasts were excellent meal companions. The Bistro was Judy's wonderful dinner recommendation. We'll stay again if we're in the area.
Clark
2016-01-09T00:00:00Z
Oda Tipi
Özel oda
---
Mekan Türü
---
Konaklayacak Kişi Sayısı
2
---
Yatak odaları
Socorro, New Mexico 87801, ABD
The Casa Javelina is a hundred year old house moved to Magdalena in the 1920's from a silver mining ghost town 30 miles away. It has been renovated but retains a lot of character. Whole house rental, 2 Br, 1 Bath, 900 sq ft, 6500 ft elevation in town, 11,000 ft mountains a few miles away. Partially Solar Powered! Horse Friendly- adjoining horse pen in back.
This is a hundred year old Ghost Town House! Really! It was built at a Silver mine 30 miles from Magdalena and moved to its current location i the early 1900's. It has been renovated but remains vintage and eclectic. 2 BR, fully functional kitchen, full bath with tiled shower, about 900 sq ft. Comfortable and clean, definitely more funky than fancy. Fenced yard. Family friendly. DVD Player and a cool movie collection. Grid Tie solar too!
Magdalena is a town of about 1000 folks in the sunny mountains of Central New Mexico. We celebrate our Tri-cultural heritage in New Mexico. Lots of old Spanish families, Navajos from the nearby Alamo Navajo Res, Anglo ranchers from the country all around, and now artists and people who just prefer to live off the beaten track populate our town. People wave as we pass each other driving. Amazing area for hiking, mountain biking, horseback riding. The Very Large Array Radio Telescope complex is just a few miles down the road. The Bosque Del Apache Wildlife Refuge is 50 miles away. There are old mines and ghost towns to explore. The Cibola National Forest is all around Magdalena. Magdalena is also a gateway to the Gila National Forest and Wilderness. World class elk hunting, mule deer, 3 species of quail, wild turkey are all close for hunting guests. Cross country skiing and snowshoeing are possible some winters. The owner knows the country very well.
One of my favorite Airbnbs! Omar was such an amazing host. He made me feel at home and ensured that I had everything I needed during my stay. He picked vegetables from his garden for my friend and me so we can cook. That was great! The house is very cozy and nice. I highly recommend this place for anyone to the area.
Lin
2016-08-07T00:00:00Z
This is a great place to stay. We had a very relaxing, comfortable stay. The casa was clean and enjoyable. The town was peaceful and a great place to walk around and see the historical sights. The people in the town we met were all welcoming and friendly. Omar is a great host, communicated with us well, and even left us with some locally produced treats to enjoy. We enjoyed meeting his children and even watched a movie with them. This was an awesome experience and we look forward to returning.
Byron
2016-09-16T00:00:00Z
The Casa Javelina Ghost Town House provides a quiet 'rural' setting within the city streets of quiet Magdalena town. As advertised, the house is old, but all amenities were provided. Walk the history laden streets for an early morning breakfast among the locals at the Magdalena Café. Omar was very communicative & gave excellent recommendations regarding Magdalena & places enroute to his casa.
Carol
2016-06-03T00:00:00Z
One of my favorite Airbnbs! Omar was such an amazing host. He made me feel at home and ensured that I had everything I needed during my stay. He picked vegetables from his garden for my friend and me so we can cook. That was great! The house is very cozy and nice. We stayed one more night. Hope to come back!
Lin
2016-08-08T00:00:00Z
Omar was an excellent host. He came by and talked with us about the area and gave us some great tips on places to hike and other interesting sights in the area. The house was cozy and pleasant with cold water in the fridge and local coffee for the morning. The Casa Javelina was exactly what we needed after a long day of driving.
Rosemarie
2016-06-21T00:00:00Z
This was my second stay at Casa Javelina. Omar and the kids came by to make sure I had everything I needed. It is so nice to have a comfortable, friendly place to stay in Magdalena. I'll be back in a few months. Thanks, Omar!
Mary
2016-10-01T00:00:00Z
Omar was an exceptional host and made us feel very welcome and comfortable during our elk hunting stay. He left NM snacks and libations to greet us when we arrived, which was a nice touch. Our toddler loved playing in the enclosed yard and watching the horse wander around its pen. Omar was very helpful in directing us to find a place to watch the Army-Navy football game (which was incredible), and told us where to look for elk in our unit. In all, we had a great time at the Casa Javelina and we'd love to come back if we get drawn for another hunt in the area!
Erin
2016-12-13T00:00:00Z
Omar's place is perfectly New Mexican with a beautiful view of the mountains and stars. Casa Javelina is a quaint little house with all the amenities (including a full kitchen, large bathroom, washer, dryer). The casa is surrounded by horses, gardens, nice landscaping and even baby turkeys at my visit which were fun to watch. Omar was a friendly and welcoming host. He even provided a bottle of local wine and nuts. I would recommend Casa Javelina to anyone looking to stay in the area.
Beth
2016-06-02T00:00:00Z
Oda Tipi
Tüm ev/daire
---
Mekan Türü
---
Konaklayacak Kişi Sayısı
6
---
Yatak odaları
Magdalena, New Mexico 87825, ABD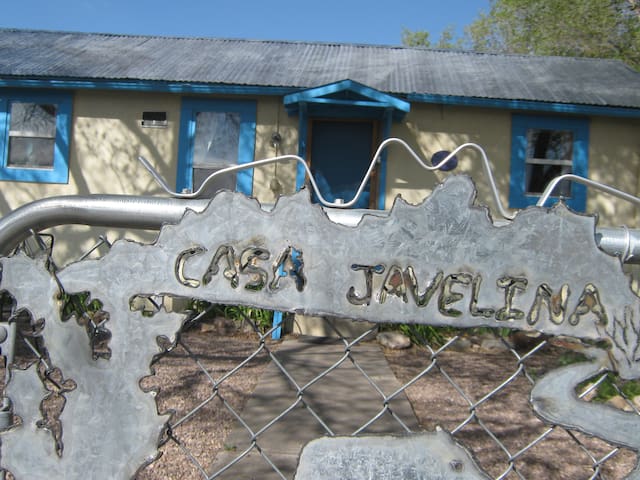 This is a 1963 Kenskill camper trailer which has been recently remodeled. It's very cute and has a cozy feel to it. Set in the rural village of San Antonio there are three places to eat just a few blocks away (I hope you like burgers or Mexican Food). It's ideally located for individuals who would like a quiet place to themselves to recharge and see the birds at the Bosque Del Apache Wildlife refuge 8 miles down the road or a quick ten minute drive.
I based the interior design on the previous owner of the camper Mr. Raymond Edgin. He was a navy veteran, so there are some naval flourishes inside.
I grew up spending my days in the house across the street when my grandmother lived there. I just like how quiet and open the village can be. There's farms nearby and hills to explore.
I spent five nights in John's trailer and it worked out perfectly. I wanted an economical stay close to the wildlife refuge and this could not have been better. The trailer sits on an empty lot which also has a friendly horse owned by John's father. He likes carrots and apples:) It is in walking distance to the Owl Cafe (highly recommended) and a few miles to the entrance of the reserve, so was ideal for those very early mornings when I headed out to see and photograph the birds taking off from the pools at sunrise. The interior of the trailer is really lovely and it was actually far nicer than I had expected. Very clean, tidy and organized. There is an ample sized refrigerator, microwave and toaster oven, so I was able to both store and cook all my meals there except for the final night when I went to the Owl Cafe in town. There is a small table and chairs where I was able to set up my laptop and download my images each day. The bedroom has two twin beds and I have to say, my bed was one of the most comfortable I have ever slept in! It was incredibly cold a couple of nights I stayed there and I was able to remain warm and cozy all night. There are two electric heaters which heat up the space very quickly. The bathroom is small and efficient with ample towels. Water is heated up via a switch in the kitchen and takes about ten minutes. Note however, showers need to be short! This was fine for me and not an issue. Be aware however not to have multiple electrical items on at the same time as the power can cut out. This did happen to me, but was very quickly resolved with John's father dropping by and turning it back on again. All in all, this is a great value and John has really put a lot of effort into making this a great space. It was perfect for my needs and is ideal for those who just want a place to rest their head after a long day out and about exploring and are quite happy with the basic necessities. I did see a comment about the noise of the train. Yes, a freight train passes through San Antonio at regular intervals and at night, but it did not bother me in the least. I woke up but fell right back to sleep. It was all part of the charm of staying in a small rural town.
Jacqueline
2016-12-14T00:00:00Z
I loved staying in the little blue camper. There was plenty of space and it was well stocked. I stayed for three nights and had no issues. The location is beautiful, and I could watch the cranes flying in during the evenings. Thank you, John, for being such a great host!
Sabrina
2016-11-14T00:00:00Z
As we wrote in the guest book, this little camper is a diamond in the rough. Hot water. Hot coffee. Two comfy beds. Clean. We are looking forward to next year. I'm hoping for a slat covered deck- - - let us know if we can help build it.
Wanda
2016-11-10T00:00:00Z
Great placr supper cool , i would stay again!!!
Ben
2017-01-09T00:00:00Z
When I opened the door and walked into the camper, my immediate thought (and almost spoken) was, "Too cute!" The camper is cozy and comfortable with two electric heaters that are more than adequate. The proximity to the Bosque del Apache is perfect, making a quick morning run possible before starting a busy day. Thanks, John, for maintaining this great space.
Mary
2016-12-16T00:00:00Z
My husband and I stayed in this cozy little camper for two nights while we visited the Bosque del Apache. Everything was as described in the listing and we were pleasantly surprised to find the kitchen stocked with plates, cups, utensils, pots and pans. The shower is very small and hot water runs out quickly (as you would expect for a camper like this) - If you are used to tent camping or staying in small spaces, this camper is perfect. If you are expecting more of a hotel-like feel, you will probably find it a little cramped.
Amy
2016-11-08T00:00:00Z
John could't have been more easy to deal with and welcoming. Everything was very smooth and easy to set up. The vintage trailer's interior was replete with charm, coziness and functionality. It was also neat as a pin. The beds are comfy and the kitchen has all one needs to be comfortable. But if you're a coffee snob (like me) you may want to bring your own coffee. And meanwhile, down the road at Bosque Del Apache NWR, we saw hundreds of snow geese and cranes, a great horned owl, a kestrel, a herd (herd? pack? whatever) of Javalina and a bald Eagle!! Come check this place out and stay the night at John's trailer. While you're at it, have meal at the famous Owl restaurant just a short walk away.
Joe
2016-12-29T00:00:00Z
Stellar location- such a cute place to stay! We loved it!
Rebecca
2016-12-03T00:00:00Z
Oda Tipi
Tüm ev/daire
---
Mekan Türü
---
Konaklayacak Kişi Sayısı
2
---
Yatak odaları
San Antonio, New Mexico 87832, ABD
Experience tiny house living on 28 acres of wild land. Built with ECO friendly materials. There is a small deck w/mountain view. Wintertime provides hawks, rabbits, quail, small birds and our chickens. At night coyotes howl under endless stars.
Our 2015 Tiny Bed and Bath only is an example of alternative housing. Insulated with blue jean material, built with materials that don't off-gas. It stays toasty warm; you control the heat. Our place is built on an old ranch hay trailer. The deck is at the entrance. Opening the door you will see a firm FULL SIZE BED and in the back a bath with a shower. A coffee maker, cups and snacks are in the room. There are plenty of outlets to charge your devices and wireless internet for your entertainment. Total of 150 sq ft. A second guest fee is $10 per night. There is a one time $10 cleaning fee.
This is countryside New Mexico. As you turn off Hwy 380 onto Bosquecito Rd You will see rural NM. There are no zoning rules for how you live sort of like the last of the wild west. There are mobile homes, farms, and 200K homes in the area. There are small sheep and cattle ranchers. Most people have chickens and gardens and some have a menagerie of animals. The area to the east of us is BLM land which is leased to large cattle ranchers and a none working pumice mine. There are wild honey bees at the mine site. It's a nice area for hiking and seeing hawks. Sometimes a local hawker/faconer can be seen flying his birds across the street.
This is was one of the nicest experiences my husband and I had in an Airbnb! Cindy and Dave welcomed us with arms open and we had a lovely conversation the day we arrived. They told us what and where to eat in San Antonio -- and they were absolutely right about taste and quality. We brought back chilli burgers from the Owl Cafe and sat on the tiny porch watching a glowing sunset. The place is a tiny cabin with an extremely comfortable bed and well-stocked bathroom. Cindy made sure we have coffee, fruits, and energy bars and allowed us to use her handcrafted pottery. There were 2 very luxurious bathrobes for us too.... I walked around in the morning greeting the sun behind the cabin, Cindy and her new delightful puppy, Sheeba. Cindy took me on a walk on their property and I was amazed at the land preservation and restoration work they are doing. I am an environmental science and policy professional and I was so happy to see the soul they are pouring into their land. We had breakfast at the Mexican place in town called Crane, again recommended by Cindy as food-from-scratch. It was the best Mexican food we've had in New Mexico. I wish we could have stayed longer; but I am sure we will be back. I feel as if we left friends and we all hugged when we said good-bye. I look forward to going back and seeing the cottonwoods grow on their property and tasting Cindy's future wolf-berry pie.
Ilinca
2016-10-12T00:00:00Z
Cyndie was very friendly and the Tiny House was a perfect retreat! Beautiful landscape, hiking nearby, access to a famous green chile burger--what more could one need? It was a fantastic experience and I look forward to another stay in the future!
Lynette
2016-10-12T00:00:00Z
Cyndie and Dave were able to accommodate our changing schedule on short notice and made us feel very much at home. We enjoyed staying in the cosy tiny house very much. The shower was unexpectedly strong and hot. The view we woke up to in the morning was fantastic! We appreciated the muffins and coffee and chat with Cyndie and Dave where we learned more about our tiny house as well as the land.
Daniel
2016-08-08T00:00:00Z
Cyndie and her husband were great hosts, and the place was an exquisitely detailed "Little House" in the Bosque in central New Mexico near San Antonio (home to the famous Owl Bar with its wonderful green chile cheeseburger and two other great restaurants). The view from the house was great - the whole vast spread of the Magdalena Mountains. It's a great place for people visiting the Bosque del Apache National Wildlife Refuge.
Stephen
2016-09-26T00:00:00Z
One of the best stays ever! If you like remoteness and wilderness this is the place to be! Watching the nighttime sky in peace, only the coyotes howling in the distance.. Beautiful! The house hast mega comfy bed and clean big bathroom. Both were so welcoming and lovely- I'll be back!
Viktoria
2016-09-11T00:00:00Z
This tiny house was surprisingly roomy - perfect for a lone traveler looking to enjoy a few days away from the normal hustle and bustle of life. Very close to Bosque del Apache - great if you're planning on heading out early in the mornings to see the sandhill cranes! The stars on a clear night go on forever. The room was clean and cozy - a furnace kept the space pretty warm on chilly evenings. Cyndie and Dave were lovely - very generous with tips on places to eat and nearby wildlife refuges. I also left with some wonderful tips for my next stop in Santa Fe. Thanks so much for a beautiful stay! :)
Shin
2016-11-19T00:00:00Z
I really enjoyed my stay at Cyndie's tiny house. It was the perfect place to spend the night after visiting the VLA. The tiny house has a comfortable bed, great shower, and a front porch that faces the mountains. Cyndie was very thoughtful to leave coffee, bottled water, and some snacks. I loved hearing and seeing the wildlife and birds outside, all the while inside the tiny house was peace and quiet. I would definitely recommend staying here.
Rachel
2016-05-10T00:00:00Z
Cindy and Dave were very welcoming. The Tiny House is air tight against the desert winds. It was super comfortable and very quiet for sleeping. They went out of their way to make sure I had bream for my coffee and bring in baked goods which were delicious. The locationwas very convenient for visiting the Bosque. I look forward to returning!
Sara
2015-11-23T00:00:00Z
Oda Tipi
Özel oda
---
Mekan Türü
---
Konaklayacak Kişi Sayısı
2
---
Yatak odaları
San Antonio, New Mexico 87832, ABD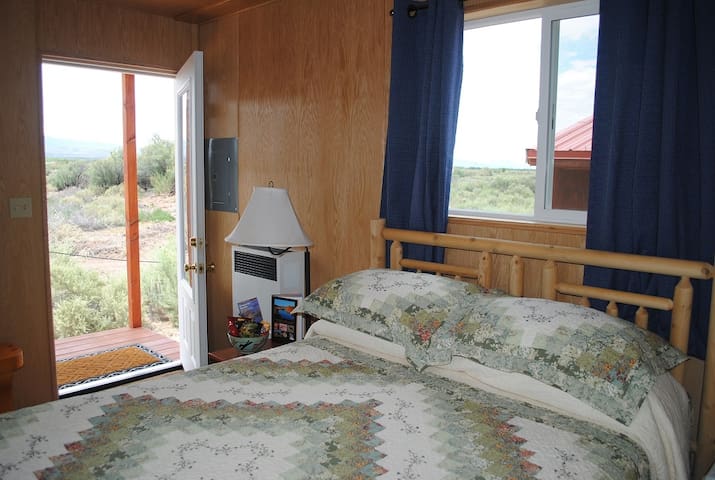 A writers haven or if you just want to get away and get "unplugged" from the hustle and bustle of life stresses. Bird watching , hiking, close to ruins. There is a sun porch that welcomes you to view our water fall filled with fish, water lilies .
You will have access to the front of our home which is equivalent to a nice size 1 bedroom Apartment. Note: cats are not inside home.
At 7000 feet the light clear air with intense sun and more stars than you have ever seen will make (URL HIDDEN) trees all around us . A bird watchers paradise with migrating cranes and snow geese passing by. Lots of hummingbirds and bluebirds, pinion jays,crows. CAUTION : The high thin air can induce relaxations .
We greatly enjoyed our stay at this interesting, eclectic, clean and comfortable home. It is about 9 miles from the center of Mountainair, much of that over maintained dirt roads. It's centrally located for seeing the various far-flung parts of Salinas Pueblo Mission National Monument. There is no grocery store in Mountainair now, so be sure to bring groceries with you to the listing. The countryside is lovely and the Mountainair folk art, including murals and mosaics, is definitely worth a visit.
Pat
2016-07-26T00:00:00Z
Oda Tipi
Özel oda
---
Mekan Türü
---
Konaklayacak Kişi Sayısı
2
---
Yatak odaları
Mountainair, New Mexico 87036, ABD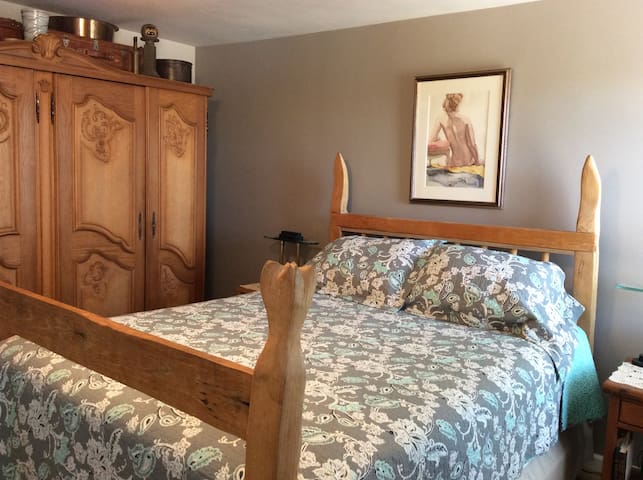 What I love about this space is that I never tire of the views, whether it be the mountains, the mesas or the sky. The sunsets are breathtaking and the nightly skies wondrous. Incredible expansive views of the Cibola National Forest.
Adjacent to the Cibola National Forest, filled with mesas, mountains and endless trails for hiking, biking and horseback riding. This non-smoking one-bedroom unit can accommodate up to four guests. Surrounded by Pinon and Juniper trees, Two Ponyz Ranch creates an atmosphere for rest, restoration, and relaxation. The Casita is decorated in an eclectic Southwestern style and has such luxurious touches as a jetted tub, a wood-burning kiva fireplace, heated travertine floors, and hand-carved wood vigas and doors that add New Mexican flavor. FREE wi-fi, docking station, and FREE Dish satellite TV. A full kitchen complete with granite counters, stainless steel appliances, all the kitchenware, utensils, and basic spices you may need. And this guest house also has a small library, two covered patios (with a propane grill). Located in the "heart of New Mexico" Two Ponyz offers guests a comfortable retreat or home base for day trips all over the state. Ten minutes from the quaint town of Mountainair, which offers a comfortable local coffee shop, buildings on the Register of Historic Places, a pharmacy with a soda fountain, art galleries, a well-stocked grocery store, and a post office. Two Ponyz Ranch is also close to the three famous Salinas Mission Ruins. Two Ponyz staff are happy to help with your travel plans while visiting New Mexico and can also schedule trail rides for the novice or experienced rider. Or bring your own horses along and board them in our clean, airy barn. Drive to nearby Belen and take the Rail Runner train for a day in Santa Fe. With mountain and mesa views and surrounded by quiet, natural beauty, Two Ponyz makes the idea of staying a weekend, or even several months, a tempting option. Cleaning Service Fee is 5% of rental amount. With prior approval, well-behaved dogs under 60 lbs. are allowed with a $60 non-refundable pet fee. Dogs left unattended must be crated. Torrance County tax at 7.9375% will be applied to all reservations. Check Two Ponyz Ranch site for specials and discounts.
Surrounded by Pinon and Juniper trees with clear views of the Manzano Mountains and Chupadera Mesas. Closest neighbor over a mile away.
Karen and Adam are fantastic hosts. My girlfriend and I were on a a Route 66 road trip with our two dogs and after enduring some pretty horrible storms arrived to 2 Ponyz Ranch to have Karen and Adam meet us at the road and guide us to their home. The guest home (casita) is nearly perfect, great location - secluded and beautiful. Luxurious space with all the amenities you could ask for, warm, very comfortable bed and just a wonderful vibe. Karen has two horses and two dogs (our dogs got along great with theirs, but please keep in mind if you're thinking about bringing your best friend(s)). The property is adjacent to a national park and national monument and a quick drive to Albuquerque. Mountainair is a very quaint town with a nice art gallery and bakery. The grocery store is well stocked, but be advised does not cater too much to fish eaters/vegetarians (so plan accordingly). Karen and Adam are very friendly and chatting with them as they are taking care of the horses and grounds was very enjoyable, you feel like you're staying with family. Our 15 1/2 year old black lab/golden mix acted 10 years younger and overall we would highly recommend and would love to return. This place is good for the soul.
Tim
2015-12-03T00:00:00Z
Karen was so sweet! We walked over to the main house get keys to the Casita - she came back to the Casita with us to walk us through the inner workings of the house, and helped us get settled in! There was even a goody basket waiting for us :) She was very kind and open - willing to give insights into Mountainair, trails around the property, and was very detailed in feedback before we arrived to help us plan properly. All in all, everything was great. We LOVED the Casita - heated floors, fire place, great little kitchen with anything you would need, and free roaming horses. The horses stopped by our back patio every day around sunset, and were even friendly to our dogs!
Cara
2016-01-05T00:00:00Z
Karen was very welcoming. The space was clean and had everything needed for a comfortable stay. If a getaway from city life is what you need, then this is your place. Definitely will stay here again.
Etienne
2015-10-12T00:00:00Z
Oda Tipi
Tüm ev/daire
---
Mekan Türü
---
Konaklayacak Kişi Sayısı
4
---
Yatak odaları
Mountainair, New Mexico 87036, ABD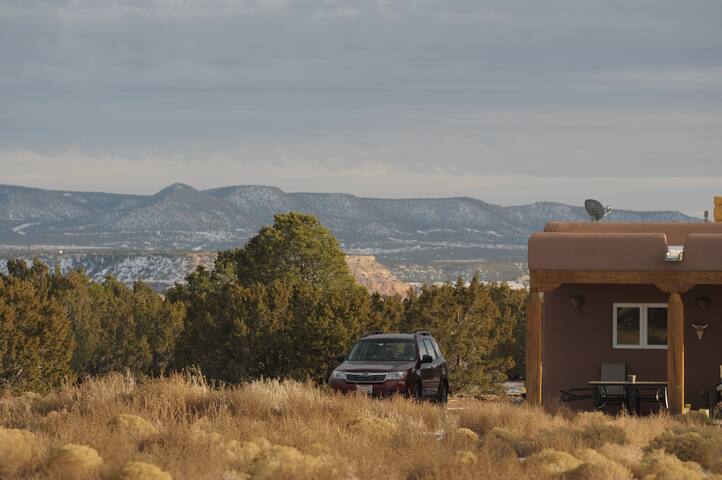 Our private secluded 7.5 acre property can host you and your horses. The charming 2 bedroom home with 5 stalls is nestled in mature cottonwoods and has a true country western feel. Centrally located to all New Mexico attractions and easy access to 1-25 make this an ideal choice.
It's a private lot is quiet and cozy, and horse friendly. There are many horse trails nearby, as well as San Lorenzo Canyon which is a miniature Grand Canyon, that is a 5 minute trailer ride from the property. The country western home has all modern amenities, and boasts beautiful mountains views with amazing sunsets.
Quiet and cozy as if you were the only ones on the planet.
Had a great experience here. The house is very close to the interstate, yet, nicely secluded and extremely quite. The property is quite spacious, with plenty of trees and shade and overall very nice. The house was well maintained, welcoming and had plenty of space. The internet connection worked flawlessly and there were no issues at all during our stay. It's definitely a unique experience and for our use the house and property was ideal and overall everyone had a wonderful time and was quite happy with this place as our selection.
Jason
2016-06-27T00:00:00Z
Oda Tipi
Tüm ev/daire
---
Mekan Türü
---
Konaklayacak Kişi Sayısı
6
---
Yatak odaları
San Acacia, New Mexico 87831, ABD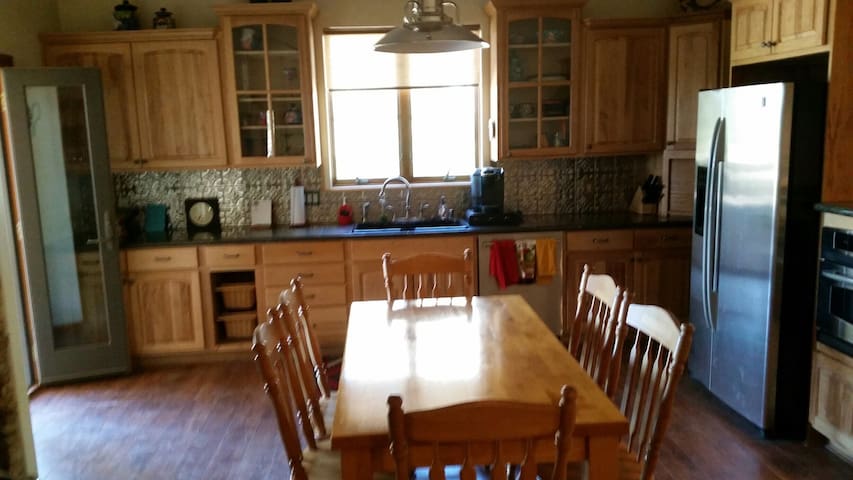 The house itself is a 2 bedroom 1 bathroom, living room and kitchen. Our neighborhood is quiet and our neighbors are friendly. It is indeed your home away from home. The house is fully furnished and you need to have a comfortable and relaxing stay.
Oda Tipi
Tüm ev/daire
---
Mekan Türü
---
Konaklayacak Kişi Sayısı
4
---
Yatak odaları
Belen, New Mexico 87002, ABD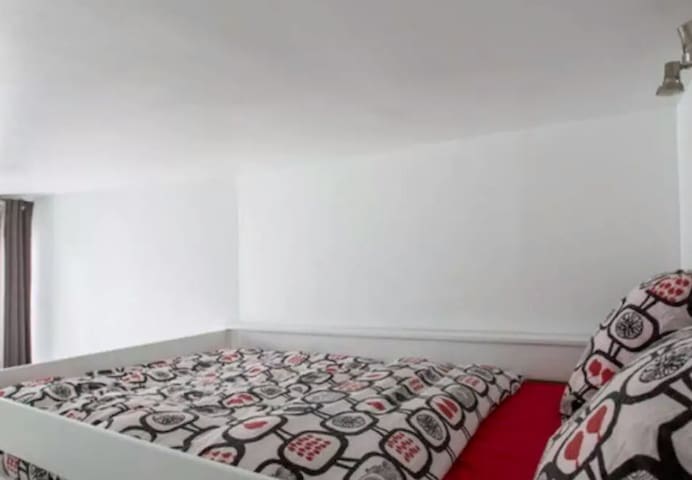 Tam fiyatlandırmayı görmek için tarihleri görün. Ek ücretler uygulanır. Vergiler ilave edilir.