My place is close to the ocean. You'll love my place because of the outdoors space, the comfy bed, and the light. My place is good for couples, solo adventurers, and families (with kids). A great place to rent if you love kayaking. It's a magical spot on a magical island. You won't believe the views! The house is in amazing condition. There are fruit trees all over the property and more wild berries you'll know what to do with!
My parents and I were looking for an out-of-way nook place to spend Christmas this year, and this was definitely something different for us! Felt like we got a pretty authentic BC Island wintertime experience - cold and beautifully desolate. //House: Quite nice and very warm once we got the wood stove going. Super cozy with quite a few amenities like wireless speakers (for holiday music!) and plenty of stuff to cook with. The view is truly spectacular and was a wonderful place to get away from it all for a few days. The house and beach are quite charming, majestic, and quiet. Sleeps 6 comfortably. Wasn't really an issue for us, but there is no TV but pretty reliable and fast WiFi. //Location: Really out in the middle of nowhere (at least it felt like such in the middle of winter) - fastest way in really is by Seaplane (or conventionally, via a series of ferries from Nanaimo). Fantastic if you like getting away into the quiet, not so ideal if you're creeped out by a lack of human contact. //Host: Couldn't have asked for more from Chris. Great experience and fantastically responsive. Had to call on Christmas Eve as we were checking in and he responded immediately to help. Super grateful! //Summary: Wonderfully luxurious house with a ridiculous view out the back porch, but definitely better (personal opinion) in the summertime with more people and daylight hours. Awesome amenities and an enjoyable experience in someplace a bit different.
Brian
2016-12-28T00:00:00Z
Excellent rental in a beautiful, clean, comfortable home in a spectacular setting. Chris was a great host and ensured all our questions were answered promptly. Wish we were still there!
Andrea
2016-08-20T00:00:00Z
Great house, amazing location, very clean, excellent communication from host.
Tyler
2016-09-16T00:00:00Z
Lovely house in a spectacular, quiet location. We enjoyed the views, the ocean, the wildlife and everything else that Cortes Island has to offer. Chris was a great host!
Kim
2016-08-28T00:00:00Z
It is a great house with a beautiful view. The yard is exquisite! We always had dear visiting. There were more blackberries and apples this we could eat. It was great to be able to walk directly down to the beach. Our host was lovely and responded quickly to every question quickly.
Cassandra
2016-08-05T00:00:00Z
An amazing location; quiet, with stellar views! Fruit trees and blackberries in the yard as well as resident deer and fawn. It was easy to explore the island by car from this place. Very comfortable and well-equipped!
Linda
2016-08-13T00:00:00Z
Oda Tipi
Tüm ev/daire
---
Mekan Türü
Ev
---
Konaklayacak Kişi Sayısı
6
---
Yatak odaları
Mansons Landing, İngiliz Kolombiyası, Kanada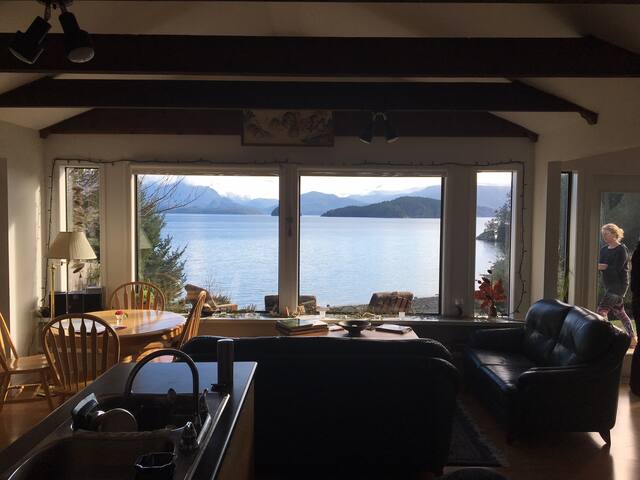 My place is close to Klahoose First Nation, beach, mountains , great views, ocean, hiking.. You'll love my place because of the cosiness, the views and living space. My place is good for couples, solo adventurers, business travellers, and families (with kids).
Yes, that is right - the entire area of 3 bedrooms, large kitchen, living room, enjoy the evenings on a large deck. Even though it is a 3 bedroom house, at least you get a large space to yourself to enjoy.
Oda Tipi
Tüm ev/daire
---
Mekan Türü
Ev
---
Konaklayacak Kişi Sayısı
5
---
Yatak odaları
Squirrel Cove, İngiliz Kolombiyası, Kanada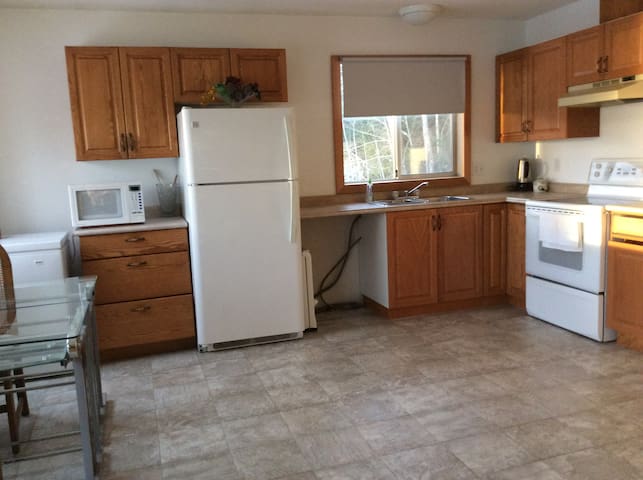 Welcome to Hummingbird Haven Cottage. Our Studio suite beautifully incorporates west-coast architecture with driftwood and salvaged lumber. A bay window & curved walls creates a cozy, creative space. There is a winding wooden staircase that leads up to a writer's tower. The cottage is attached to a large dance/yoga studio with oak flooring, mirrors and massage table. At the other side of the studio is a bathroom with a sink, bathtub and washing machine. There is an outdoor composting toilet.
The cottage and dance/yoga studio is located at the edge of an organic orchard with a forest surrounding. Fresh fruit from the orchard is available to guests in season. We have a large vegetable and flower garden that you are welcome to visit. We are continuously adding to the landscape planting more and more flowering shrubs and trees in an effort to create a sanctuary for bees and other pollinators. We offer an EMR-free zone; no smart meter, WIFI or cell tower waves.
Hummingbird Haven is located at the south of Cortes Island, a five-minute walk to Hague Lake. Our home borders Kw'as Park and we are a two-minute walk to one of the trail heads. We are close to Manson's Lagoon, "Downtown" Manson's Landing (Co-op, store, community hall, medical center, museum, school, cafe), Linnaea Farm, Library, Gunflint Lake and Cortes Island Motel. We are a five-minute drive, fifteen-minute bike ride, to Hollyhock and Smelt Bay.
What an amazing place! Everything was charming and wonderful. The bedrooms have a lovely artistic feel with a spiral wood staircase and tree branches as part of the trim. The kitchen area is spacious and has everything you need (cookstove, refrigerator, kettle, tea/coffee, dishes, large counter, dining table, and breakfast fixings). It was very peaceful enjoying breakfast there while looking out over the yard and garden and fruit trees. Being able to use the studio was a dream come true for us as we have professional dancers in the family. The studio space is fabulous with mirrors, a wood stove, a piano, TV/VCR, portable ballet bars, and big barn doors that open out to a large deck. Diane and Andrew were super hosts - very friendly and interesting people. This is a great place to stay on Cortes and gives a special glimpse into local life on the island. We feel very grateful we had a chance to stay at the Hummingbird Haven Cottage!
Cathie
2016-08-12T00:00:00Z
Our hosts made us feel very welcome and were very helpful. This is a lovely family and we enjoyed meeting them. A lovely rustic cabin nestled in the woods, yet near to all the charming sites on Cortes Island. We loved the big dance/yoga space and the cozy beds. The outdoor kitchen was lovely. We'd definitely return!
Diane
2016-07-24T00:00:00Z
Cortes is a remarkable place and the joy of it is the people and the magic and hague lake.. it is the coop and the proximity of hollyhock and the fact that wherever you turn there are people there is the possibility of something unexpected.. At Diane's I listened to bard owls in the night, used a very clean, full of personality outhouse, and slept with the doors and windows wide open. In some ways I felt as though I was camping, and my 58 year old body felt like it was 20 again..
trish
2016-09-15T00:00:00Z
Diane and Andrew were amazing hosts! They were willing to accommodate us on VERY short notice (a matter of hours), and they provided us with a tour of their wonderful home right when we arrived (despite a late night arrival). They were warm and inviting and left us a bottle of local wine and chocolate. They were extremely communicative, always responding to any requests we had within a matter of hours. The home itself is beautiful, with two full beds, a big space, and beside a beautiful backyard. It's near beautiful hiking trails, Hague Lake, and very near to Hollyhock (which was convenient for us since we were taking a leadership training course there). We loved our stay and would highly recommend it!
Teju
2016-08-20T00:00:00Z
Oda Tipi
Tüm ev/daire
---
Mekan Türü
Ev
---
Konaklayacak Kişi Sayısı
3
---
Yatak odaları
Mansons Landing, İngiliz Kolombiyası, Kanada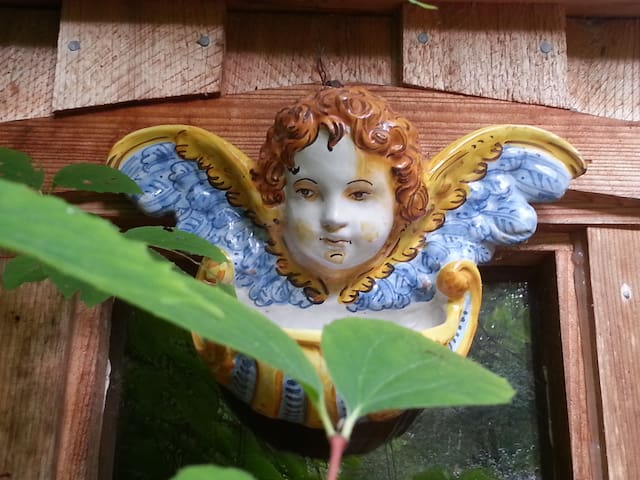 Welcome to Paradise on the shores of the Mansons Lagoon. We offer a two bedroom fully furnished home located on Cortes Island. This cottage is the perfect place to unwind while enjoying all that nature has to offer. Cozy up to a warm fire, relax and enjoy Island Life.
Mansons Lagoon Cottage boasts one of the best beachfront locations on all of Cortes. A fully equipped, two bedroom, oceanfront to meet your ever expectation. The beachfront cottage has fresh linens, clean relaxing furniture with all the amenities required for a comfortable stay. Doors open to a inviting deck only a stones throw away from the ocean. The picturesque island of Cortes is renowned for its fine white sand beaches and friendly people. With a population of around 1000, the community is rarely busy except during its summer festivals. Bring your family for a island style vacation you will never forget.
Cortes is a perfect getaway island for visitors. It is also a seafood lovers dream. With clams and oysters covering the beach in front of the cottage. We offer a clam and oyster harvesting lesson to all our guests. This is especially fun in the winter months when the tide is low during the night. Buckets, rakes, and headlamps are provided. Just bring your gumboots and we will show you how it's done. We love how the island lights up in the summer months with people getting away from the hustle of their normal lives. Although Cortes does double in population in the summer time it still has that "laid back island feel" to it. Making it a great place to vacation off main tourist locations.
It's a very charming and cozy place. My family enjoyed staying at the Mansons Lagoon Cottage. Even in the rain, the views were beautiful, and very relaxing.
Lubica
2016-09-18T00:00:00Z
We knew from the pictures Melissa posted on the website that the cottage was going to be special but we weren't prepared for just how special! The house has a charm that can't be captured through photography - you just have to go there to experience it's magic. Melissa was very helpful throughout the whole booking experience and provided great info on the island and how to get to the cottage ahead of time. She was warm and welcoming and gave us what felt like a personalized treatment. The cottage is also ideally located on Cortes for getting to all the great swimming beaches and amenities - although we really didn't want to leave the cottage. There is just so much to say about how great it is. Personal favourites were the outdoor (hot) shower with views of the lagoon, the comfy deck with pillows and blankets for just soaking up the surroundings, the lagoon, the sunsets, the reflections of the moon on the water, the peaceful garden and listening to the bees buzzing amongst all the glorious flowers. We also took full advantage of Melissa's kind offer to use their personal row boat and enjoyed paddling about the lagoon and looking at all the amazing marine life teeming below us. I even accepted a marriage proposal whilst being rowed out at sunset - it's that kind of place! We will most definitely be coming back here again. Thank you for a truly unforgettable stay. x
Rebecca
2014-08-06T00:00:00Z
The beauty, comfort, and age of this little nook is captivating. A serene place to rest after a long travel, and heartbreaking to leave.
Phillip
2015-10-30T00:00:00Z
Mansons Lagoon was a very peaceful relaxing place. Even though Melissa and her family live next door, the cabin was very private and you could hardly see their house. The walk to the cabin was a small bumpy trail, it was easy for us with our backpacks but if you have a lot of luggage or are not so able on your feet, it might be a challenge (she did provide a wheelbarrow to haul luggage if needed). The cabin is right on the lagoon (surprisingly not buggy!), it is a great place to sit and watch the birds. Highly recommended for your trip to Cortes Island.
Stephanie
2015-06-17T00:00:00Z
I had to cancel last minute. Melissa was very understanding.
Stacey
2015-10-21T00:00:00Z
My parents and sister were welcomed beautifully into Melissa's beautiful home on the fabulous lagoon on Cortes Island.The home was immaculately clean with a large exotic Bouquet of flowers from the garden.There was a wonderful library for reading on inclement weather (URL HIDDEN) family was entranced by the tidal activity in the lagoon and any needs we had were taken care of immediately by (URL HIDDEN) was a perfect spot for a our family to celebrate my father's 86 th birthday. I highly recommend Melissa's home for a great experience .
Naomi
2016-07-11T00:00:00Z
Great place to experience coastal island living. Harvest shellfish from right outside your door! Host has a canoe too which was great being able to paddle about with the friendly harbour seal right in front the house just like that couldn't have been more amazing for me and my little boy.
Max
2017-03-29T00:00:00Z
Nicely greeted as we arrived. Quiet porch and good BBQ. Comfy beds. Great fireplace. Launched our kayaks on the beach for a great paddle in the area.
Bruce
2016-10-04T00:00:00Z
Oda Tipi
Tüm ev/daire
---
Mekan Türü
Ev
---
Konaklayacak Kişi Sayısı
6
---
Yatak odaları
Mansons Landing, İngiliz Kolombiyası, Kanada

Emerald Cove Lodge is located on the warm waters of the Gorge Harbour. The walk-on beach is perfect for swimming & launching kayaks. The lodge is spacious, yet cozy with all the amenities including a huge covered deck. We're just 7 minutes away from Desolation Sound & 5 minutes away from the Gorge Harbour Marina with it's store, swimming pool & hot tub. The lodge is great for couples, solo's, and large groups.
Loved our stay here! So much space for everyone in our large group. Very friendly hosts too. Thanks again.
Andrea
2017-01-02T00:00:00Z
Oda Tipi
Tüm ev/daire
---
Mekan Türü
Ev
---
Konaklayacak Kişi Sayısı
16
---
Yatak odaları
Whaletown, İngiliz Kolombiyası, Kanada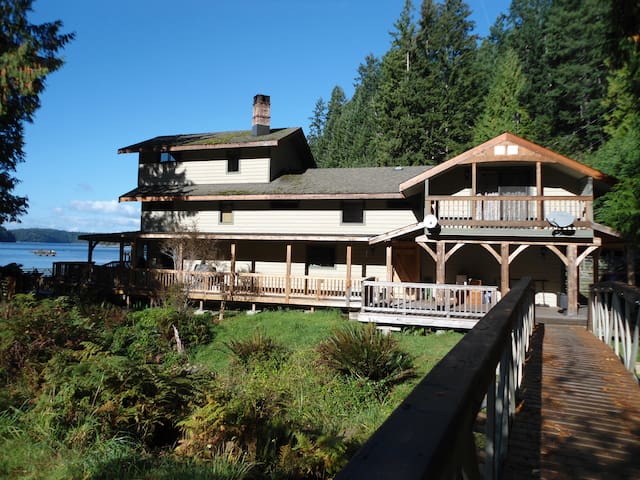 Kw'as Bay Home is a short stroll to semi-private Hague Lake sandy beach, beautiful Kw'as Park entrance, and ten minutes to Hank's Beach ocean trails. We have just purchased this lovely home and will have updated photos as we refurnish June 1st. It is a very peaceful and relaxing space. Enjoy hikes in the woods, swimming in either fresh or salt water, bike rides or walks to the local café/natural food store, and return to four-person hot tub on wrap around deck. Eight foot yurt sleeps one.
More family than you can fit in Kw'as Bay Home? Consider also renting Kw'as Bay Cottage located on the same 3 acre property. Contact us directly to discuss rates for combined rental. There is also a cozy eight foot round yurt that can accommodate an extra person if needed. Used mostly for meditation, this is a very powerful healing and relaxing space.
What makes our neighbourhood unique is its close proximity to the conservation wetlands (actually a part of our property is an extension of the wetlands), Kw'as Park Trail system (short walks close to your rental or long, beautiful walks), your own semi-private sand beach on Hague Lake (a short stroll from your rental), a ten-minute walk to the trails of Hank's Beach (lovely forest walk to a quiet ocean spot for swimming or sun bathing), a relaxing twenty-minute walk to the 'town' of Mansons Landing (the Co-Op Natural Foods store & Café, post office, Marnie's Bookstore, the market at Manson's Hall), five-minute drive drive to Smelt Bay's ocean beaches. All this and we are quietly located on a no-through road.
Oda Tipi
Tüm ev/daire
---
Mekan Türü
Ev
---
Konaklayacak Kişi Sayısı
4
---
Yatak odaları
Mansons Landing, İngiliz Kolombiyası, Kanada
Oda Tipi
Tüm ev/daire
---
Mekan Türü
Ev
---
Konaklayacak Kişi Sayısı
6
---
Yatak odaları
Cortes Island, İngiliz Kolombiyası, Kanada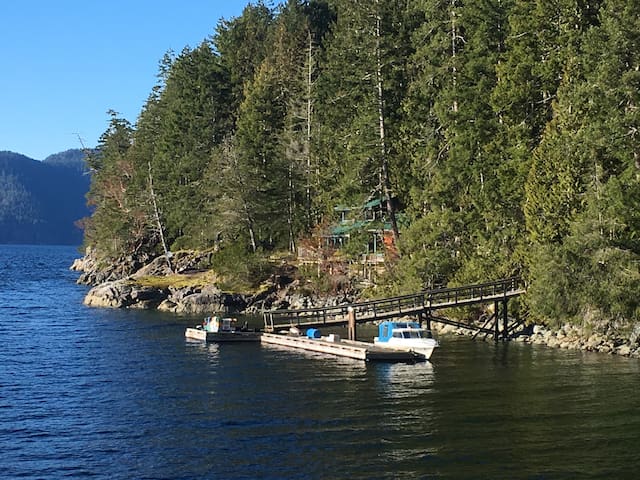 Our beautiful suite is situated right on stunning Hague Lake, with amazing views of garden and lake and easy access to lovely swimming beach. This suite is self contained, within a family home, with private entrance, and has queen bed, spacious new bathroom, wifi, kitchenette with hot plate and toaster oven.
Our suite is bachelor style suite, with bed, kitchenette and sitting area all in one spacious area. It is very comfortable, cozy and nestled in a beautiful setting. The highlight is the amazing view of Hague Lake.....
Our home is situated in a convenient location. Minutes from our village Manson's Landing, where you'll find most of the island amenities, such as, Natural Food Co-op and Cafe, General Store, Post Office, Museum, Hall, Friday Market, Skate Park, Health Centre. Also close to many amazing walks, hikes and sunset beach at Smelt Bay.
Lisa and Rex were warm and welcoming. Very easy to be at their lovely home. The swimming and canoeing was perfect. We felt very fortunate to have found their suite.
Brandt
2016-08-17T00:00:00Z
We found Lakeside Suite to be a delightful retreat and staging point for our visit to Cortes Island. Since our itinerary included presenting a course at Hollyhock, the quietly beautiful suite was a great place to begin our stay on the Island and to return to after leaving Hollyhock. Lisa and Rex are stellar hosts who could not be more accommodating or helpful. They have created a home where the best of the island's culture, beauty and hospitality finds focus, framed by a magnificent and colorful garden, stately evergreens and expansive views of Hague Lake. The spacious suite has a comfortable queen bed, and is cheerfully decorated with some of Lisa's lovely art. There is a large bathroom with an awesome shower. A dozen or so excellent novels and two comfy chairs invite you to curl up on a rainy day for indoor adventure while the busy robins and hummingbirds outside the large picture window punctuate the life outdoors. It is possible to prepare simple meals in the mini-cooking area, and the fridge will hold your drinks and favorite foods. We took advantage of the easy walk to businesses and amenities of Mansons Village, although we probably enjoyed TOO MANY outrageously good muffins from the Co-op. There are lovely places to walk, and the School to Sea Trail is a favorite and leisurely hike. Don't hesitate to use the canoe at Lakeside Suite to explore the glassy lake and sandy swimming beaches. We had a great stay! Thank you, Lisa and Rex, for a wonderful visit to Cortes. Annie and Cliff
Cliff
2016-06-25T00:00:00Z
Lisa gave us good instructions for finding their house and greeted us as we walked into the property. The apartment was all we hoped for and more. A beautiful quiet spot with great view.
John
2016-07-29T00:00:00Z
Our Host welcomed us with everything we could possibly need in our suite, a super comfortable bed with a view facing out onto the lake, a fridge and cupboard fully stocked with everything we might need to cook with and nice hot showers. The bonus for us was getting up early and canoeing on the pristine lake with a canoe which they provide. Pure bliss! We were sad to have to leave. Heaven on earth.
Lisa
2015-05-19T00:00:00Z
The host canceled this reservation 133 days before arrival. This is an automated posting.
Tim
2016-03-06T00:00:00Z
Hi Lisa and Rex, My stay here was wonderful! So peaceful and serene. Exactly what I had hoped for! Thank you so much!! Charlene :)
charlene
2015-07-20T00:00:00Z
It was such a pleasure staying at Lisa's! The room was beautiful and clean, plus the view is absolutely gorgeous. She and her family were quiet and respectful of our privacy, but also made us feel very welcome. We loved being able to take out the canoe! The listing description fits perfectly; the only difference is that the place looks better in person than in the photos. We felt right at home, and look forward to returning next year!
Victoria
2014-08-14T00:00:00Z
My husband, 4-year old, and I loved staying at Lisa's cozy, clean, and serene suite on Cortes. She was available, friendly, kind, and made us feel completely welcome! We are grateful for the lovely retreat, and can't wait to come back to Cortes. Thank you, Lisa! -Elizabeth, Dave, and Silas
Elizabeth
2016-08-01T00:00:00Z
Oda Tipi
Özel oda
---
Mekan Türü
Ev
---
Konaklayacak Kişi Sayısı
2
---
Yatak odaları
Mansons Landing, İngiliz Kolombiyası, Kanada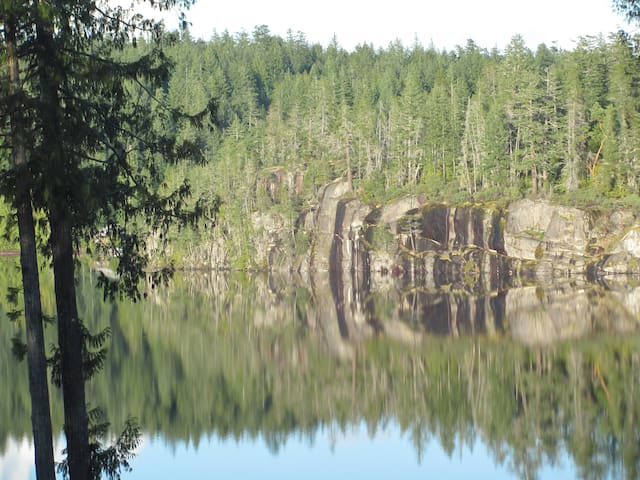 This is your basic cabin in the woods, it's private, located in Whaletown, well stocked with kitchenware, easy to come and go from.
The cabin is our guest accommodation on 10 acres.
Cortes Island,, it's awsome!
The cabin is homey and welcoming as soon as you walk in the door. It's clean and fresh with everything you need for some peace and quiet. Ken was a welcoming host on arrival, with advice on hiking trails in the area and places of interest to see. After the initial meeting I kept to myself and didn't see him again, though he made it clear that he was available if anything was needed. Excellent stay.
Jackie
2017-03-25T00:00:00Z
A quiet secluded place to get away from the hustle and bustle with 360 degree evergreen.
Ken
2017-03-19T00:00:00Z
Ken's quaint cottage was the perfect getaway for my partner and I. Ken was more than accommodating and went out of his way to let us use his boat to explore the surrounding islands of Cortes. Lovely location of cottage. I felt like I was in a beautiful log cabin in the middle of the forest. There is a really neat tree house that Ken is building that you can check out too!
Alanna
2017-01-08T00:00:00Z
The host canceled this reservation 242 days before arrival. This is an automated posting.
Jessi
2016-12-29T00:00:00Z
Cozy little cabin with green all around, felt very private. Not quite two separate rooms as there is a pass through between rooms and the kitchen is sort of in the bedroom. But what can you expect on Cortes! Island funky, but in a good way.
Shelley
2017-03-31T00:00:00Z
Oda Tipi
Tüm ev/daire
---
Mekan Türü
Ev
---
Konaklayacak Kişi Sayısı
3
---
Yatak odaları
Whaletown, İngiliz Kolombiyası, Kanada
1,500 sq. ft. beachfront house on 5 acres...large deck...hot tub...gas barbeque....kayak...beach access.... The Wilcox Lodge is a serene retreat nestled on 5 wooded acres on the shore of Gorge Harbour, Cortes Island, considered by many to be the best of the Evergreen Islands. These islands are located on the famed "inside passage" used by ships going to and from Alaska and are sheltered from winter Pacific storms by Vancouver Island, one of the largest and most interesting islands in the Northern Hemisphere. Cortes Island is served by regular scheduled ferry service from Campbell River. Campbell River on the east side of Vancouver Island has scheduled airline service from Vancouver (host city to the 2010 Winter Olympics), and charter service direct to Gorge Harbour is available from Seattle, Victoria, Vancouver and Campbell River. Cortes Island is in the "rain shadow" of Vancouver Island and has far less precipitation than Victoria or Vancouver. Weather is usually warm and sunny with cool evenings May thru October. The 1,500 sq. ft. Lodge is situated just above the beach with a panoramic view of the harbour and a view thru the harbour entrance of Vancouver Island mountains in the distance. Wildlife abounds. You may see bald eagles and many varieties of birds, deer down by the beach or out the kitchen window, sea lions, seals or an otter playfully swimming by, mink, and perhaps dolphins or a whale on the ferry ride over. The Lodge is rustic but has all modern conveniences, a fully equipped kitchen (no dishwasher), comfortable and spacious living/dining area that opens onto a spacious 750 sq. ft. L-shaped deck overlooking the beach and harbour. 2 chaise lounges make for lazy sunbathing/reading afternoons on the deck and the cafe & dining tables are a perfect spot for outdoor dining. Anyone for oysters on the barbeque??? The Lodge sleeps 6: 2 in the bedroom (California King sleigh bed with McCroskey mattress & boxspring), 4 in the loft (double bed and trundle bed with 2 twin mattresses). The Lodge is an "A" frame with an open floor plan, the loft is accessed thru the bedroom and both the loft and bedroom are partially open to the main living area (so no bedroom privacy). The bathroom has a low flow toilet, shower and a clothes washer (dry your clothes outside on the clothes line, they will smell so fresh and good); there is also an outhouse. You can putter around in the small overgrown flower/vegetable garden adjacent to the Lodge and there is ample parking for several cars. There is a land line phone for local calls and limited long distance, flat screen TV w/DVD player (no cable), CD player and record player w/record collection just for old times sake. We also have a collection of books, some by local authors, and some board games. Feel free to add a shell or two to our display case coffee table in the upper loft or a beach combing find to our entry way beach combers wall. Main thing is to unwind, have fun, enjoy the beautiful natural surroundings... Please note that this is a rustic beach house, partially hand built, not a modern city house transported to the water side. Also we are constantly in the process of upgrading and improving the property which is challenging on an island two ferry rides away from building and other materials. Our next major project is to replace the worn and stained carpet with tile flooring...this will be much more suitable to the wear and tear that comes from the forest, beach and pets...but we won't do this until Spring 2014. The Lodge is not as remote as it sounds, neighbors are within walking distance as is the Gorge Marina with gourmet restaurant, small grocery, gasoline, and a new beautiful outdoor swimming pool & hot tub overlooking the harbour/marina and open to the public. One neighboring cottage can be seen from our deck. The Lodge is 2 1/2 miles from downtown Whaletown with government dock, post office, church and mini-library. Internet access is available at nearby Trude's cafe. The Lodge is not child-proofed and may not be suitable for young children (or you may have to watch them closely). Also, the short pathway down to the beach from the deck is a bit uneven and not handicap accessible. When you tire of hanging out around the Lodge, numerous outdoor recreational opportunities abound: fishing and clamming, boating, sailing, kayaking, hiking, biking, swimming at the Marina pool or Hague Lake, Hollyhock retreat center courses, other beaches to explore...There are several good restaurants on the island, and good quality organic foods for preparing your own meals can be purchased at the local Coop and from several local farms. Call now to reserve for Fall 2013! 10% discount iƒ you also book a 1 week+ stay at our other vacation rental: The Wilcox Cabin at Government Camp, Mt. Hood, Oregon VRBO listing #287912.
Susan helped us to take full advantage of Cortes Island and to make the cabin our home away from home. We loved the view, the hot tub, the comfy bedding, and the well-stocked kitchen.
Liz
2015-07-26T00:00:00Z
The Cortes Beachhouse is located at a stunning secluded bay on Cortes Island. Stunning view from the deck and master bedroom. The kids loved the large collection of peculiar items in the house and played variations of 'I spy...' ... great fun! We have seen a lot of (marine) wildlife: otters, seals, sea lions, eagles, turkey vultures, dear, raccoon... too much to list. We also enriched our daily meal by self caught crabs, salmon (caught a big chinook!) and rockfish. The Green Mountain trail is a great walk to get a panoramic view of the bay. Recommended. We were lucky and got to see a pod of killerwhales from the ferry; but also went out on a boat (leaving from Quadra) to observe them (and the humpbacks) more closely. Stunning. If you are visiting; please be aware that Cortes is really remote... no such thing as quickly hopping back to mainland... and the shops on the Island are limited in their supplies. Would surely come back!
Peter
2016-08-02T00:00:00Z
Sue's place at Cortes Island was a true gem! My family had an amazing time looking through all the knick knacks around the house, lounging around the deck with the truly majestic view, and of course taking a dip in the hot tub as the sun set across this quiet island. The house has every amenity one would need away from home and is super cozy. It definitely has a lived in vibe, but in our opinion it added more to the experience as you could tell there was a lot of love put into the place and tons of history to go with it. We loved reading the books about the local areas provided and all the other puzzles/games on the shelves. We definitely recommend taking a dip in Hague Lake and checking out all the amazing local produce/goods at the Co-Op Bakery and weekly markets! Cortes is certainly a shlep to get to, but once you're there you'll realize there's not many places left on earth like it and it is a true diamond in the rough. Sue's place 100% added to the experience and we all felt it was a great price for such a quirky and fun experience. If we are ever on this side of the world again you can bet we would book here in a second! Thanks so much!!!
Liz
2013-07-08T00:00:00Z
Oda Tipi
Tüm ev/daire
---
Mekan Türü
Ev
---
Konaklayacak Kişi Sayısı
6
---
Yatak odaları
Whaletown, İngiliz Kolombiyası, Kanada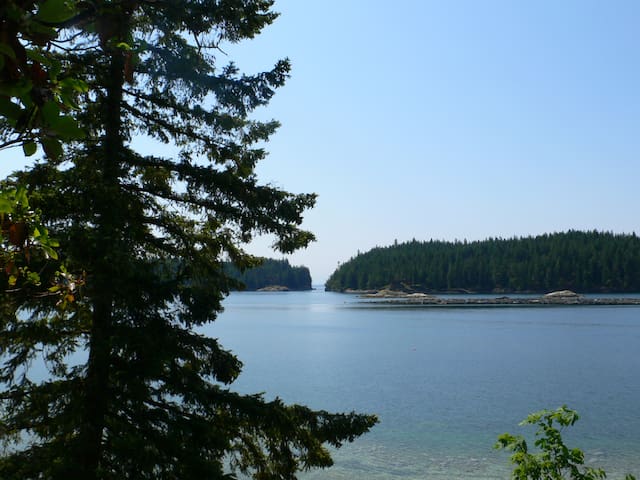 Emerald Cove Lodge is located on the warm waters of the Gorge Harbour. The walk-on beach is perfect for swimming & launching Kayaks. The lodge is spacious, yet cozy with all the amenities including a huge covered deck. We're just 7 minutes from Desolation Sound & 5 minutes to the Gorge Harbour Marina with it's store, swimming pool & hot tub. The lodge is great for couples, solo's, and large groups.
Our stay was pure magic. We came as strangers but left with new friends. We were sad to leave and plan on visiting again.
Khari
2016-09-04T00:00:00Z
Oda Tipi
Özel oda
---
Mekan Türü
Ev
---
Konaklayacak Kişi Sayısı
2
---
Yatak odaları
Whaletown, İngiliz Kolombiyası, Kanada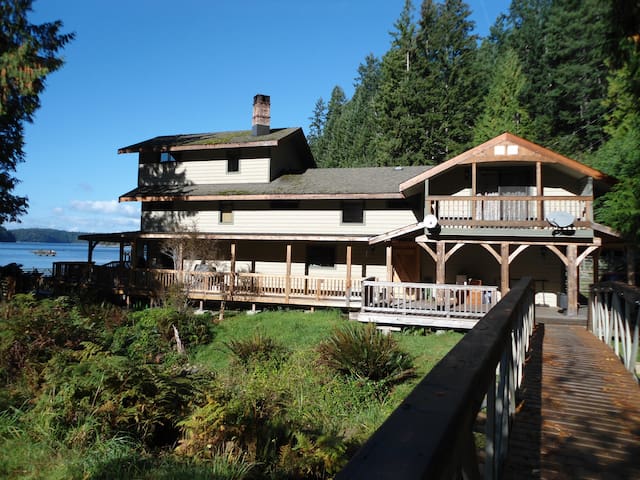 Cortes island is a paradise island, with a sandy fresh water lake for swimming, old growth forests for walking in, and beautiful ocean views everywhere you go. Our home is a spacious and comfortable house with all the modern amenities you could need. It's on a large property with lots of room to play and hike up behind the house to a view of the surrounding area. It's centrally located, and a short drive from all the adventures the island has to offer: clam-digging, tide pools, Hollyhock, etc.
A visit to Cortes Island is never simply a vacation. Maybe inspiration will strike on the ferry, while chatting with an island artist with a view over the mainland mountains. Maybe browsing a local artisan's wares at the Mansons Landing Friday Market will invite a flash of your inner creativity. Maybe the warm smiles and the flowering gardens will inspire a new idea of how to live connected with your own community. No matter how it strikes you, it's the rich community life on Cortes Island that leaves the longest-lasting impact on our visitors. Many Cortes Islanders came for a visit and stayed for a lifetime. Is it the wildlife, the serenity, or the friendly smiles on people's faces? Come and visit to find out for yourself. Don't say we didn't warn you.
Oda Tipi
Tüm ev/daire
---
Mekan Türü
Ev
---
Konaklayacak Kişi Sayısı
6
---
Yatak odaları
Mansons Landing, İngiliz Kolombiyası, Kanada
This brand new forest cabin sits in South Mansons. No expense was spared in the construction and furnishing of the cabin. Queen size bed upstairs and a queen size pullout couch downstairs as well as a newly built kitchen and bathroom. Walking distance to Hollyhock beach, Smelt Bay Provincial Park and forest trails outside the door. Enjoy the island from this charming home base. Families welcome!
The cabin is nestled among trees in a very convenient location, close to multiple beaches and trails. Inside the cabin was a cozy and welcoming, but modern, set up that had all the basic necessities we would need for our stay. It was a great place to use as a homebase for our exploration of Cortes!
Catherine
2016-08-13T00:00:00Z
Beautiful
Danielle
2016-07-31T00:00:00Z
Iain welcomed us upon arrival. The cabin is new, clean and modern with all necessary amenities, even wifi! Would recommend to anyone looking for accommodation on Cortes.
Sylvia
2016-09-25T00:00:00Z
We had a great stay at Ian's Cabin in the woods. It's close to the beach, the lake, and Cortes Market. The house looked small from the outside but once inside it had all the space we needed. The layout of the house is practical and comfortable with brand new appliances and a fully equip kitchen. I wish we could have stayed longer and enjoyed more of the island.
Robert
2016-07-17T00:00:00Z
A great little cabin near the beach and lake. We enjoyed our stay.
Joe
2016-08-05T00:00:00Z
Highly recommend this place for 4 ppl or less. It's quite and calm. I loved the location is very close (few minutes drive) to the food shop and restaurant.
Stella
2016-08-27T00:00:00Z
Great little cabin! Cabin is very new and clean. Bed is very comfortable. Kitchen has everything you'll need. Perfect size for two people. Property is very quiet and close to ammenities. Loved Cortes... Wonderful little island.
Jon
2016-09-18T00:00:00Z
We really enjoyed our stay in Iain's "urban-rustic" cabin! It is super cute and more than comfortable for two. it is conveniently located near good hiking trails, the lake, and the quiet lagoon. We are already planning our next trip back!
Ross
2016-09-05T00:00:00Z
Oda Tipi
Tüm ev/daire
---
Mekan Türü
Ev
---
Konaklayacak Kişi Sayısı
4
---
Yatak odaları
Mansons Landing, İngiliz Kolombiyası, Kanada
Emerald Cove Lodge is located on the warm waters of the Gorge Harbour. The walk-on beach is perfect for swimming & launching Kayaks. The lodge is spacious, yet cozy with all the amenities including a huge covered deck. We're just 7 minutes from Desolation Sound & 5 minutes to the Gorge Harbour Marina with it's store, swimming pool & hot tub. The lodge is great for couples, solo's, and large groups.
Ann and Ben were wonderful hosts who provided us with perfect accommodations, local history, sunset view of Gorge Harbour, comfortable beds, a babbling brook, fantastic kitchen, deck,and fireplace. Location is close to the ferry and grocery shopping at the Gorge or Cortes Markets and exploring the local beaches and hiking trails. We will be back on our next visit to Cortes Island
peggy
2016-09-08T00:00:00Z
Oda Tipi
Özel oda
---
Mekan Türü
Ev
---
Konaklayacak Kişi Sayısı
2
---
Yatak odaları
Whaletown, İngiliz Kolombiyası, Kanada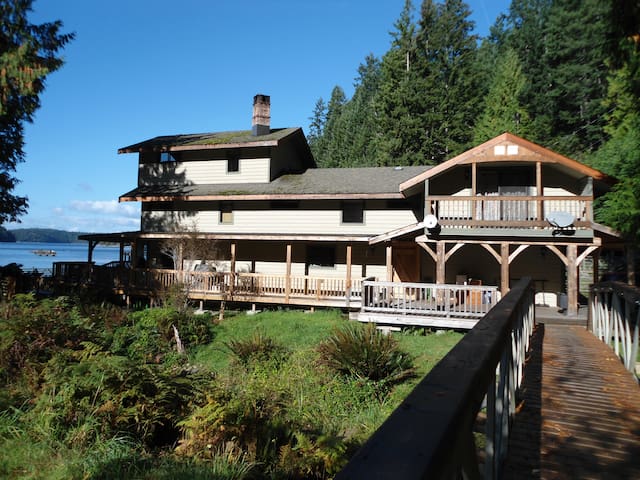 This serene property was homesteaded in 1913 and was once an orchard. Fruit bearing trees remain with heritage pears available in September. Unwind here! Explore the private bay, seek out unique viewpoints and hike the well-maintained trails. A 10 minute kayak to Refuge Cove offers unique shops, coffee, burgers, groceries and laundry facilities and much more. Boating offers abundant fishing, prawning and oysters available everyday. The property is presently being converted into a vineyard and corporate retreat. Until that time the cabin is being offered as a vacation rental. Regular rates are $2850 per week + $ 150.00 for cleaning before and after arrival. Relax on the new deck and enjoy the views and wildlife. This is an off the grid, self-contained boat access only property with water taxi and float plane easily arranged. The cabin is located 30 minutes by boat North of Lund and 5 minutes by boat East of Squirrel Cove. Refuge Cove, B.C. is located approximately 150 km Northwest of Vancouver between the Mainland and Vancouver Island. Refuge Cove is a year-round community in the heart of the Desolation Sound area of the Inside Passage. A centrally located supply stop for boaters traveling in or near Desolation Sound, offering a wide range of services including moorage, fuel, groceries, ice, showers, laundry, espresso, and other supplies. Most of the services are seasonal, operating from June through September. During the rest of the year, the general store and fuel docks are open Monday, Wednesday, and Friday from 1:00 PM to 3:00 PM. Refuge Cove is home to about twenty families during the warm summer months. Hundreds of boaters stop here daily during the summer, relaxing and provisioning for their Desolation Sound adventures. During the off season there are a handful of year round residents that call Refuge Cove home. Refuge Cove can be accessed by one of two ways. By boat or by plane. It is possible to get within 3 miles of Refuge Cove by Car, with a short crossing by boat. Alternatively during the summer months there is direct flight service by Kenmore Air. Float planes land right at the government dock a short distance from the property. Desolation Sound Provincial Marine Park (8,256 Hectares) is British Columbia's largest marine park. This includes more than 60 km of shoreline, several offshore islands, and a gradually rising upland that contains a number of lakes, waterways, and waterfalls. Unwin Lake; a 173-hectare body of fresh water is the parks largest. Set back to the North and East, Coast Mountains soar to more than 2,400 meters. The warm waters surrounding the area teem with sea life. Ideal for swimming, scuba diving and feasting on your catch of the day, salmon, cod, prawns, crab, clams and oysters. Plenty other tasty morsels lie beneath on the oceans floor; to acquire them you must put on your scuba gear and get a little wet. Cortes Island Cortes Island, just across the channel, is where the big salmon congregate in early autumn. This 116 square mile island is accessible by ferry (16 car and 150 passenger capacity) and offers fantastic scenery, the freshest air in the world, idyllic beaches, and great fishing. This island boasts only two "stop signs" and is very popular with the tourists in the summer months. Campbell River Campbell River, population approximately 25,000, also known as the Salmon Capital of the World, is situated on Discovery Passage, on the north-east coast of Vancouver Island, facing the islands of Quadra, Cortes, Read and Redonda. The major industries of this area are forestry, fishing, mining, and tourism. Powell River Powell River with a population of 18,000, this friendly seaside town offers 'big city' amenities and luxury services without the 'big city' parking and traffic hassles. A full-service hospital, medical, dental, chiropractic, physiotherapy and massage therapy clinics, health and beauty spas, a newly renovated recreation complex, full banking facilities, marine services, outdoor guides and outfitters, plus a wide range of retail outlets, art galleries, gift shops and fine dining are all within easy access. Lund Just around the corner is the historic community named after a city in Sweden. It was established in 1899 when the Thulin Brothers started to build the hotel, which is still in use today. Recently the hotel has changed ownership and has recently seen a major renovation. For most of the early years Lund served as a port for fisherman. Today Lund thrives on its attraction from tourists seeking the neighboring Gulf Islands and marine parks. Savary Island Situated 6km (4mi) west of Lund and accessible only by boat or water taxi, Savary is known as BC's south sea island for its mild climate and sandy beaches. Eight km (5mi) long and crescent-shaped, Savary Island sits in warm waters where tides from northern Vancouver Island mingle with tides from the south; ocean temperatures are generally in the 22 degrees C (72 degrees F) range. Since there are no campsites here, accommodation takes the form of cabin rental or Bed-and-Breakfast. About 70 people live year-round on this pearl of an island, which looks like it floated up from the South Seas. Unlike most Gulf Islands, Savary runs east-west and is really an 8km clay ridge covered in sand. The south shore has the strait winds so it has big rollers and attracts surfers. The biggest arbutus tree in BC is located on the north shore of the island. The residents voted against having electricity. There is a public wharf and floats at Keefer Bay. Climate and Weather The Upper Sunshine Coast, from Saltery Bay to Desolation Sound boasts approximately 1,900 hours of sunshine annually. Summer temperatures vary from 70-90 degrees Fahrenheit (20 to 30 degrees Celsius) while winter temperatures are mild. Keywords: Stay where the yachters play! Private 4 acre getaway located at the mouth of Desolation Sound. Property includes cabin, shop, covered dock, private bay and hiking trails. 10 minutes by rowboat or kayak to the amenities of Refuge Cove. 5 minutes by boat to the amenities of Squirrel Cove.
Oda Tipi
Tüm ev/daire
---
Mekan Türü
Ev
---
Konaklayacak Kişi Sayısı
7
---
Yatak odaları
Greater Vancouver, İngiliz Kolombiyası, Kanada
Enjoy stunning views and deep peacefulness from our front bedroom and private bathroom with hot tub, also expansive ocean view from kitchen living area. Best place to watch the sun and moon rise, enjoy fire under the stars. A short walk to Hollyhock. Wifi, laundry, extra bed possible.
Its right on the water, with access to some of the activities at Hollyhock retreat center next door (until November). You can just book one bedroom or several. The local design and craft of our home is wood heaven and non toxic. We strive for a clean and comfortable experience.
We share the beach with otters, deer, wolves, eagles, herons, ravens and oysters. Hollyhock center is close by, however during the winter, it is closed and there are no people around, and so it is very quiet and also dark at night for excellent star viewing.
What a spectacular home! Beautifully finished interior featuring BC's native soft woods. Loved the mixture & contrasts of the weathered barn-wood, Douglas Fir and Cedar. A hidden gem at the end of a very quiet road. Waking up to spectacular sunrises, and laying out on the deck at night to capture shooting stars and travelling satellites. Magical. Kevin and Georgina provided all the necessities to create a very comfortable experience. Comfy bed, open floor plan, firewood to burn in the wood stove, extensive reading material and a good assortment of music. My husband and my mother-in-law spent 3 nights on Cortes. Loved the island and Kevin & Georgina's home only added to the wonderful experience. Thank you so much.
Ronda
2016-05-09T00:00:00Z
Staying at Kevin and Georgina's was magical. The place is beautiful and everything was made to have the house ready (clean, woodstove on, a pile of wood indoors). We got upgraded to the downstairs instead of the upstairs, and that was fabulous. It has a great kitchen, and the bedrooms are great.
José
2016-11-13T00:00:00Z
Stunning place. Can't wait to visit again. Host was very friendly and helpful. Perfect island get away.
liz
2017-02-26T00:00:00Z
The host canceled this reservation 83 days before arrival. This is an automated posting.
Salina
2017-03-11T00:00:00Z
I had an amazing 3 nights at this fabulous home right on the beach. Thank you to the hosts for the inspiring time. Highly recommended.
Jennifer
2016-06-09T00:00:00Z
This is an amazing cabin in the most beautiful setting. The hosts and home were very welcoming. Everything was super clean and decorated with fresh flowers from the garden. It was beyond our expectations and we for sure will visit again. Thank you so much!
Santiago
2015-07-29T00:00:00Z
The place was stellar. Clean, quiet, great beds, and conducive to long conversations, cooking and reading The view/setting is one of the most attractive I've seen. The apartment was all window overlooking the water and mountains Georgina and Kevin provided a great experience. Thank you Georgina for the hike recommendations!
Graham
2015-02-15T00:00:00Z
This was a beautiful well equipped apartment on the ocean suitable for beach walking and kayaking. The hosts were very welcoming. This is shared accomodation with rentals on all three (URL HIDDEN) You can hear your neighbours.
Janice
2016-06-01T00:00:00Z
Oda Tipi
Tüm ev/daire
---
Mekan Türü
Ev
---
Konaklayacak Kişi Sayısı
6
---
Yatak odaları
Mansons Landing, İngiliz Kolombiyası, Kanada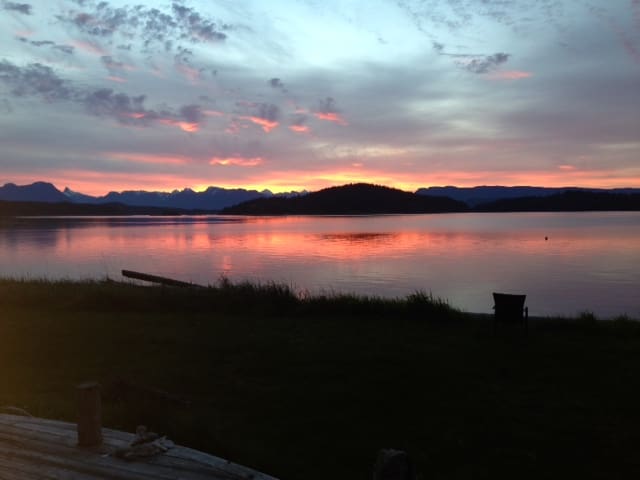 'The Lighthouse' invites you to the perfect Cortes Island 'get-away' for one, two, or three families wishing to holiday together. This luxurious, southwest-facing, 5000 square foot, executive home, with all new furnishings, overlooks the ocean with a spectacular 180-degree view of Georgia Strait and the Vancouver Island Mountains from the decks and every room.
Oda Tipi
Tüm ev/daire
---
Mekan Türü
Ev
---
Konaklayacak Kişi Sayısı
14
---
Yatak odaları
Mansons Landing, İngiliz Kolombiyası, Kanada
Emerald Cove Lodge is located on the warm waters of the Gorge Harbour. The walk-on beach is perfect for swimming & launching Kayaks. The lodge is spacious, yet cozy with all the amenities including a huge covered deck. We're just 7 minutes from Desolation Sound & 5 minutes to the Gorge Harbour Marina with it's store, swimming pool & hot tub. The lodge is great for couples, solo's, and large groups.
Oda Tipi
Özel oda
---
Mekan Türü
Ev
---
Konaklayacak Kişi Sayısı
2
---
Yatak odaları
Whaletown, İngiliz Kolombiyası, Kanada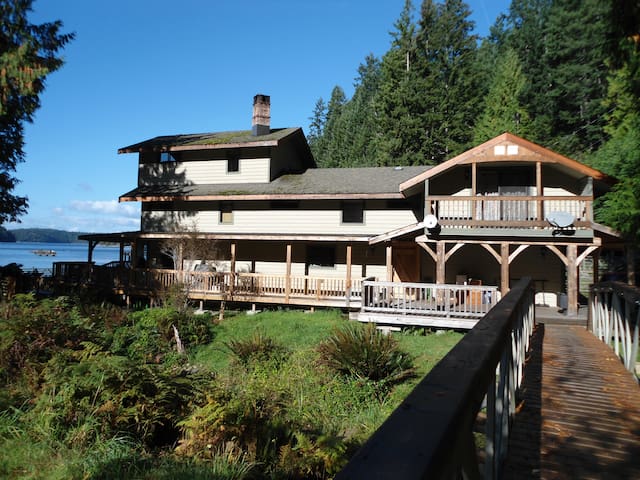 Tam fiyatlandırmayı görmek için tarihleri görün. Ek ücretler uygulanır. Vergiler ilave edilir.