Reiheneinfamilienhaus ca. 150 m2 gross, auf 5 Etagen mit 3 Schlafzimmern, ganze Wohn-/Küchenetage mit Speckstein-Ofen und verwunschenem Garten in Fussdistanz zur Altstadt und den weltberühmten Sehenswürdigkeiten von Luzern. Kinderfreundliches Haus und Umgebung. Öffentlicher Verkehr mit 3 Bushaltestellen sehr nah. Kein Privatparkplatz - nur blaue Zone.
Es können 6 Personen beherbergt werden - besonders geeignet für Familien mit Kindern und Teenies. Das Haus hat 5 Etagen, ca. 150 m2 gross. Bettwäsche, Badetücher, Küchen- und Putzutensilien sowie Kehrichtsäcke inklusive. - Eingangsetage mit Entre, Waschküche mit Waschmaschine und Trockner zur freien Benützung, Waschmittel inklusive, WC und Notdusche, Keller mit zusätzlichem Kühlschrank, Ausgang zum Garten. -Wohnetage mit gut ausgestatteter Küche zur vollen Benützung. Gaskochherd, Elektrobackofen, Geschirrspüler, Wasserkocher. Abwasch- und Putzmittel inklusive. Specksteinofen (Holz inklusive). - Schlafetage mit 2 Schlafzimmern und Bad/Dusche/WC Zimmer mit 1 Bett 140 x 200 Zimmer mit 1 Bett 90x 200 oder 2 Betten total 180x200 - Schlaf-/Büroetage, 1 Kinderzimmer mit 1 Bett 80x200 ODER Ausziehbett 160x200. Büro privat, nicht zur Benützung, durch Paravent abgetrennt. - Dachgeschoss mit Kinderbüchern, Spielen, Puzzle, Duplo, Holzspielsachen, Papier, Malstifte, Leim uns Schere. Estrich privat. WLAN im ganzen Haus Garten mit Tisch, Stühlen, Sonnenschirmen, Kinderschaukel, Feuerschale, Grill/Smoker (Holz inklusive) In Fussdistanz -Einkaufsmöglichkeiten -Bäckerei -Café und Restaurant -Altstadt von Luzern -weltberühmte Sehenswürdigkeiten -Spital Drei Bushaltestellen der vbl in der Nähe Mobility Carsharing Standorte in der Nähe Nextbike Standorte No Private Parking No TV strictly NO smoking in the house
In Fussdistanz/im Quartier -Einkaufsmöglichkeiten -Bäckerei -Café und Restaurant -Sehenswürdigkeiten -Öffentlicher Verkehr -Spital
Nous avons passé un agréable séjour dans une maison impeccable et idéalement situé pour découvrir Lucerne. Claudia qui écrit dans un Français de qualité à assuré un suivi parfait du début jusqu'à la fin.
Mikael
2016-08-07T00:00:00Z
This is a wonderful house; better than the photos. It's really big, has everything you need, with a great view of lakes and mountains, in a very nice neighbourhood. Lucerne public transport is extremely good. It's a 5 minute walk to the nearest bus stop, where we never waited more than 3 minutes for a bus, at any time of day, and always reached the main train station in under 10 minutes. The house has a great wood-burning stove, with loads of logs and kindling provided. The wet-room bathroom is great too. A real bonus was the toys, which our kids (2.5 and 4.5 years old) really appreciated. The comms with Claudia were great. She wasn't there during our stay but the friend of hers who was was very knowledgable, pleasant and helpful, and even kindly babysat for us one night.
graham
2017-01-04T00:00:00Z
The house is great and Claudia is a very nice host. The rooms and living areas are comfortable, it is super well equipped and very clean. The location is central and the garden enjoyable. Great place to stay with a family!
Manuel
2015-10-03T00:00:00Z
Oda Tipi
Tüm ev/daire
---
Mekan Türü
Ev
---
Konaklayacak Kişi Sayısı
6
---
Yatak odaları
Luzern, Luzern, İsviçre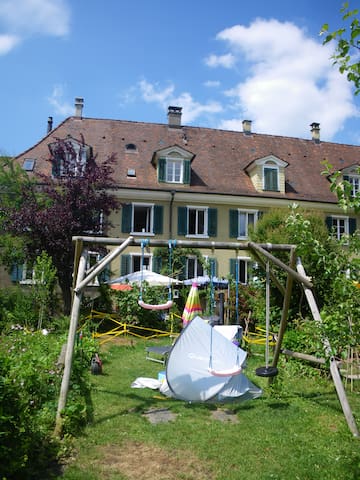 In einem Mehrfamilienhaus im Herzen der Luzerner Altstadt befindet sich das lauschige und ruhige Gartenstudio mit moderner Küche und einem geräumigen Wohn-/Schlafzimmer mit privatem Badezimmer.
Das Gartenstudio steht ganz dem Gast zur Verfügung und hat einen eigenen Eingang. Die Unterkunft ist perfekt gelegen. In nur wenigen Minuten erreicht man Luzerner Sehenswürdigkeiten, wie zum Beispiel die historische Museggmauer welche sich hinter dem Haus befindet oder die berühmte Spreuerbrücke. Trotz der zentralen Lage ist das Studio sehr ruhig und man kann sich bestens erholen. Einkaufs-, Ess-, und Ausgangsmöglichkeiten sind ebenfalls nur wenige Gehminuten entfernt.
My 2-week stay in the studio apartment was very enjoyable. It is well furnished, in impeccable condition and with a modern kitchen and bathroom. In addition, it is located in one of the best areas of Lucerne for easy walking to major attractions, the train station, boat docks, food markets, etc. Also it is on a narrow, essentially pedestrian-only and leafy street, so thus provides great peace even in the heart of the City. Margrit provided me with much helpful information upon my arrival, and assisted me with the use of the laundry facilities elsewhere in the building and provided answers to any questions I had about other matters during my visit. I highly recommend the apartment as a fantastic alternative to a hotel experience, and I would definitely return.
Michael
2016-09-13T00:00:00Z
Lage und Ausstattung der süßen Wohnung sind perfekt. Es fehlt nichts. Wir wurden herzlich empfangen und Gioia war jederzeit für uns zu erreichen. Bei einem nächsten Mal wünschen wir uns besseres Wetter, um die lauschige Terrasse genießen zu können...
Marie
2016-09-18T00:00:00Z
We've been in Lucerna for two days, the house of Margrit and Gioia was perfectly furnished and very well located, I hope to come back there!!!
Giuseppina
2015-09-01T00:00:00Z
Convenient location just outside the city center. Walkable from the train station and on a quite street. Hosts provided us with good information on what to do during our short stay.
Matt
2016-09-14T00:00:00Z
Everything was as expected. Great location, nice and neat unit.
Ivan
2016-11-21T00:00:00Z
Great location, just ideal for short trip to Lucern.
John
2016-11-05T00:00:00Z
We really enjoyed our stay here. The place is really good and has everything you might need, also very relaxing and comfortable! The kitchen is well equipped and big enough to make a nice meal in it. The location is great too, an easy 10min walk from train station and close to everything in the old town of Lucerne.
Kate
2016-10-22T00:00:00Z
Wonderful stay! The apartment is great and it's in the best location! The accommodation is bigger than it looks in the photos and has a nice kitchen and lovely bathroom. The bed is very comfortable. It was spotless and has it's own outside area to sit in. It's in a lovely character building too. The location is what makes it stand out though - it's a 3 minute walk to the heart of the old town (and a supermarket which is very handy). Margrit was lovely and gave us great information for exploring the area. Wifi was fast and the washing facilities handy. I highly recommend this place - and Lucerne!!
Michelle & Bill
2016-06-20T00:00:00Z
Oda Tipi
Tüm ev/daire
---
Mekan Türü
Ev
---
Konaklayacak Kişi Sayısı
2
---
Yatak odaları
Luzern, Luzern, İsviçre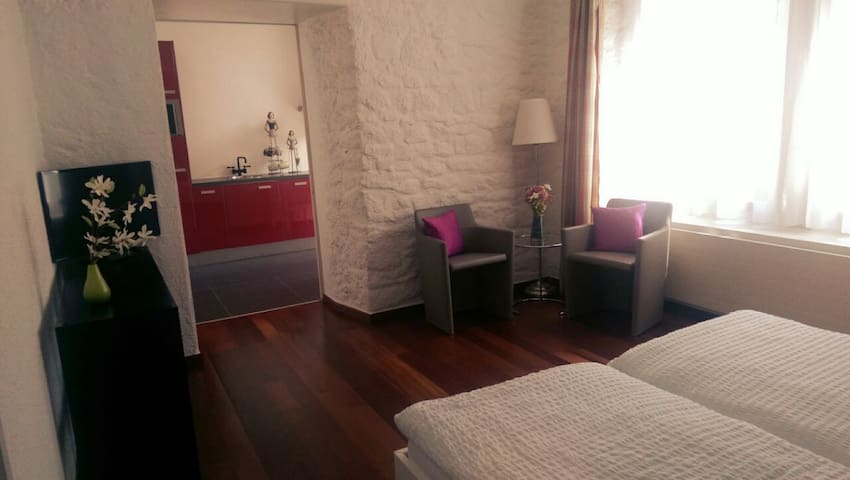 Im Erdgeschoss befindest sich das Gästezimmer mit dem Bad/WC /Küche. Ich bewohne mit meinem Mops Joya den 1. Stock. In der Küche findet man Geschirr, das von den Gästen genutzt werden kann. Einkaufsgeschäft ( Coop) 500 m entfernt. Migros, Denner, Post 5 Min. entfernt. Bushaltestelle 1 Min . Distanz zum Bahnhof ÖV 12 min. In 3 Min. erreicht man den Gütschwald mit schönen Wegen, die auch in die Stadt führen. Der Tischtennistisch freut sich, wenn er benutzt wird. Grillieren erlaubt
The room is 14 m2, bed 1.60 x 2,00 m, 3-door wardrobe. WIFI. sep. Bath / WC next door. Bed linen and towels weekly. Garden you can use. Play Pingpong or Featheball. Grill to use. Small dishes separat for guest to make breakfast.
In allernächste Nähe, 5 Min., ist der Wald mit seinen Teichen. Schöne Wege in die Natur. in 10 min. Fussdistanz das einzigartige Waldschwimmbad frisch saniert. Einkaufsgeschäfte 200 m entfernt (Coop, Avia). Weitere Geschäfte, Bank und Post in 5 min erreichbar. Post- / Bankautomat 1 min. Bus fährt alle 8 min zum Bahnhof. Reisedauer mit ÖV 12 Min.
Oda Tipi
Özel oda
---
Mekan Türü
Ev
---
Konaklayacak Kişi Sayısı
2
---
Yatak odaları
Luzern, Luzern, İsviçre
Schöner Bauernhof auf dem Ruswilerberg (Pferde, Katzen, Schweine und Kleintiere). Aussergewöhnliche Aussicht auf das Bergpanorama. Diverse Freizeitmöglichkeiten in der Region: Freibad, Vita-Parcours, Wandern, Velofahren, Sempachersee usw. 25 min. von Luzern, 20 min von Sursee entfernt. Gut geeignet für Personen mit einer temporären Arbeitsstelle in der Region oder Personen, die eine Auszeit möchten. Auf Wunsch mit Frühstück Fr. 8.-.
Oda Tipi
Özel oda
---
Mekan Türü
Ev
---
Konaklayacak Kişi Sayısı
3
---
Yatak odaları
Ruswil, Luzern, İsviçre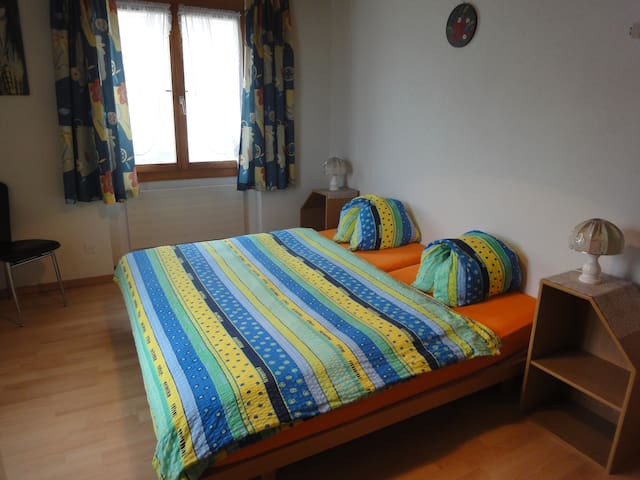 Meine Mutter biete ein gemütliches Zimmer in einem Einfamilienhaus. Du kannst dich bei ihr gut entspannen und die Natur geniessen. This room is at my mothers place. Its an old house. But you defently have enough space. Seperate bath/shower.
Wohnen in der Natur mit vielen Tieren There are a lot of animals...domkey, pigs, rabbits, goats and and and Ther is an extra bed for kids (till 4 years old)
Fabiennes Mutter ist eine ausgesprochen freundliche und herzliche Gastgeberin und einer dieser Menschen, die man sofort ins Herz schließt. Zudem ist sie sehr kinderfreundlich und hatte für unsere Kleine sogar Spielsachen bereit gelegt als wir ankamen. Das Haus hat Charme und der Garten ist einfach ein Traum. Kein Wunder, dass sich hier so viele Tiere wohl fühlen. Unsere kleine Tochter hat Hühner, Enten, Hasen, Pfauen, Mehrschweinchen, zwei kleine schwarze Hausschweine, einen Hund, eine Katze, ein Pferd und einen Esel kennenlernen und sogar eine Schildkröte kennenlernen dürfen. Vielen Dank für dieses wunderbare Erlebnis. Trotz der vielen Tiere -die alle draußen leben- ist das Haus blitzsauber! Im Garten gibt es viele Sitzgelegenheiten. Das Zimmer ist innerhalb des Hauses separat gelegen und sehr ruhig. Man hat absolut seine Privatsphäre und darf auch noch das Vorzimmer dazu nutzen, welches mit einer riesigen Bücherwand, einem Lesesessel und einem kleinen Tischlein zum gemütlichen Sitzen für zwei Personen ausgestattet ist. Positiv überrascht hat uns der gute und schnelle WiFi Zugang, den wir an diesem abgeschiedenen Ort gar nicht erwartet hätten. Super! Zum Sempacher See sind es nur wenige Autominuten. Der nächtliche Sternenhimmel ist atemberaubend, da keine Lichtquellen stören. Wir haben sehr gut (und lange) geschlafen. Wir waren nur auf der Durchreise für eine Nacht, aber dieser Ort wäre auch eine längere "Ferien auf dem Bauernhof" - Reise Wert gewesen. Vielen Dank nochmals!
Jutta
2016-08-27T00:00:00Z
Calme et propre
Arnaud
2017-02-24T00:00:00Z
It is a really lovely place, a different experience you'll get from the normal kind of airbnb. Fabienne & her mum were very friendly and helpful. They came to pick us up from a nearby bus stop as the place is really not easy to locate for a first timer, and even harder to go if you do not have a car. So its recommended for those who're driving. Apart from the location, overall Fabienne's place is great! We enjoyed our time there! :)
Charlotte
2016-11-09T00:00:00Z
De verhuurder was wel vriendelijk en gaf ons een rondleiding want toilet en douche waren een heel eind van de kamer verwijderd.Ze toonde ons een kast waar we evt een handdoek konden nemen .Het hele huis en tuin was rommelig maar wel (URL HIDDEN) onze aankomst hebben we niemand meer gezien en zijn de volgende morgen zo vertrokken.Niet echt een warm onthaal zou ik zeggen.
Rosie
2016-09-05T00:00:00Z
Sehr sympathische Vermieter mit vielen wundervollen Tieren in einer tollen Umgebung
Jessica
2016-08-12T00:00:00Z
L'hôte est très accueillante, elle nous a fait une petite visite des lieux avant que l'on s'installe. La chambre est confortable et tranquille. Petit bémol il fait un peu froid mais des couvertures sont à disposition ! J'ai passé un très bon séjour avec un prix très attractif.
Marc
2016-09-19T00:00:00Z
Wonderful surroundings and great host! The possibility to use the kitchen was really useful.
Francesco
2016-10-29T00:00:00Z
We had a wonderful stay. Lovely little farm. We felt very welcome. Warm room, comfortable bed, hot shower. Great location if you have a car. Instructions for getting there were spot on. Great stay overall.
Sarrah
2016-11-04T00:00:00Z
Oda Tipi
Özel oda
---
Mekan Türü
Ev
---
Konaklayacak Kişi Sayısı
2
---
Yatak odaları
Büron, Luzern, İsviçre
離市區20分鐘車程、離火車站步行10分鐘、安靜、風景優美
適合
Oda Tipi
Özel oda
---
Mekan Türü
Ev
---
Konaklayacak Kişi Sayısı
2
---
Yatak odaları
Ruswil, Luzern, İsviçre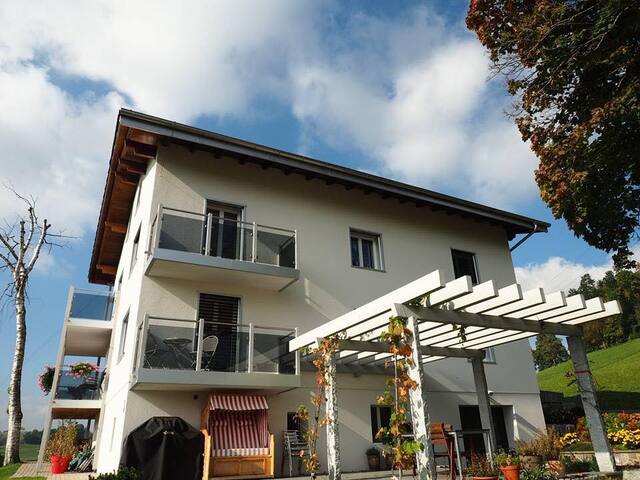 Im neu erstellten Hausteil vermieten wir eine freundliche 2 Zimmer Wohnung mit ruhigem Schlafzimmer, moderner Küche, Bad, Wohnzimmer. Zentralschweiz heisst mit dem Auto: 30Min bis Luzern, 50Min bis Zürich, 1h bis Bern oder Basel
Aus alt mach neu, aus dunkel hell und bring Freude, Licht und Freundlichkeit herein. Mit diesen Ideen haben wir unser Haus umgebaut und können nun Platz für maximal 5 Gäste bieten (3 in dieser Wohnung und 2 im Schlafzimmer mit Bad einen Stock höher - siehe unseren zweiten Eintrag bei AirBnB)
Grosswangen ist in der Schweiz sehr zentral gelegen. Wir haben rundum sehr schöne Velorouten, Spazier- und Wanderwege. Ein interessantes Naturlehrgebiet ist ganz in der Nähe. In 10-15 Minuten ist man in den historischen Städtchen Willisau, Sursee und Sempach. Alle sind sehr schön mit Stadttor erhalten.
5 sterne + vielen dank für alles - waren und sind begeistert
Miladin
2015-04-02T00:00:00Z
Rita와 Richard는 매우 친절한 host였습니다. 모든 것이 갖춰있는 Rita의 집은 cow bell 소리가 들리는 공기 좋은 곳에 위치해있습니다. wellcome drink와 nespresso coffee machine은 Rita의 환대를 경험할 수 있는 것들이었습니다. 공휴일이라 방문하지는 못했지만, 가까운 거리에 훌륭한 bakery가 있습니다. 전 세계의 여행자에게 open mind로 열려있는 Rita와 Richard를 만난 것도 스위스여행의 또 하나의 즐거움이었습니다.
Boyoung
2016-05-06T00:00:00Z
Wir wurden von Rita Brusa sehr freundlich empfangen. Die Wohnung mit der voll eingerichteten Küche ist komplett neu. Sie ist liebevoll eingerichtet und entspricht genau den Beschreibungen. Wir fühlten uns richtig wohl. Rita ist sehr hilfsbereit und wir konnten uns jederzeit mit Fragen an sie wenden. Diese Wohnung empfehlen wir gerne weiter. Walter und Rita
Walter
2014-09-20T00:00:00Z
Il soggiorno presso la casa di Rita e famiglia é stato estremamente piacevole. Casa curata, pulita, calda ed accogliente come da foto; dotata di tutto ciò che può servire per soggiornarvi davvero come a casa propria. Le comunicazioni con Rita puntuali e precise, l'accoglienza graziosa con una lavagnetta di benvenuti!! Immersi nel verdi e nella tranquillità della campagna Svizzera, a 30 minuti circa da Lucerna, in un alloggio davvero realizzato con passione ed amore, grazie ancora!
Cristina
2016-10-31T00:00:00Z
Wir waren mit einem Kleinkind (6 Monate) in der Ferienwohnung von Rita. Sie war super eingerichtet für Familien mit 1 Kind. Die Wohnung liegt in der Nähe von vielen Ausflugszielen und ist top eingerichtet.
Simone
2016-09-29T00:00:00Z
Best Experience Ever!! One of the most wonderful Experiences of our lives. We feel truly lucky and blessed to have chosen Rita's Place. First I would like to talk about our hosts. We did'nt at any point feel like Guests... We felt like family as we were treated like one. Rita's husband Richard fetched us from the Train station and waited sweetly and patiently for us as we missed our train. Welcomed us with a great smile and made us comfortable immediately. We really enjoyed with Rita and Richard as they made us feel truly welcome into their home. They Invited and took us to Children's Equestrian gymnastics at Dagmersellen. This was organised by their own family. This was an experience our kids will remember all their lives, and so will we. Every Morning Rita would take the kids around the area on a Horse and showed them all the Farms around. Everything from Cherries, Grapes, Raspberry to Apples were there. We plucked a few cherries too...A very different and awesome experience for us. My 2 Sons just loved Rita and are still asking for her. One evening we had dinner together and Richard gifted us a Swiss Army Knife. Richard plays the Piano and Guitar very well and entertained us to the fullest. Kids had a great time dancing to his Tunes. They are the Best Hosts we have ever stayed with. The House- As good as the hosts. Everything thing in that house is of Superior Quality. The Bed, Bathroom Fittings, Kitchen fittings and the overall house was Top Notch. There is no TV which is also great since there are so many natural things to do. Some of their cuttelry was Villeroy and Boch which really shows the quality conciousness. We were super comfortable. Location- Its a bit away from Lucerne City. 45 minute Bus ride. However its nicer to stay here at Innerdorf [Sursee] and experience the city whenever one wants to go. 45 minutes is a small price to pay to enjoy both the experiences. Bus Stop is a 10 minute beautiful walk away from Ritas House. Overall a Great Experience and You would be lucky if you Chose this place and spent time with this lovely couple.
Ajit
2015-06-30T00:00:00Z
It was a great experience . Rita was a wonderful host. Her apartment was beautiful and impeccable . We had a great time . She gave us a tour and paid attention to every small detail . We even had refreshments in the refrigerator . Rita has set the bar very high !
Rehana
2015-08-16T00:00:00Z
Rita was very kind to us, she made us feel welcome and her house is very well managed. It had everything promsited. We liked living outside of the city so this was perfect for us. We'd recomend this place to everyone.
Dmitry
2016-08-17T00:00:00Z
Oda Tipi
Tüm ev/daire
---
Mekan Türü
Ev
---
Konaklayacak Kişi Sayısı
3
---
Yatak odaları
Grosswangen, Luzern, İsviçre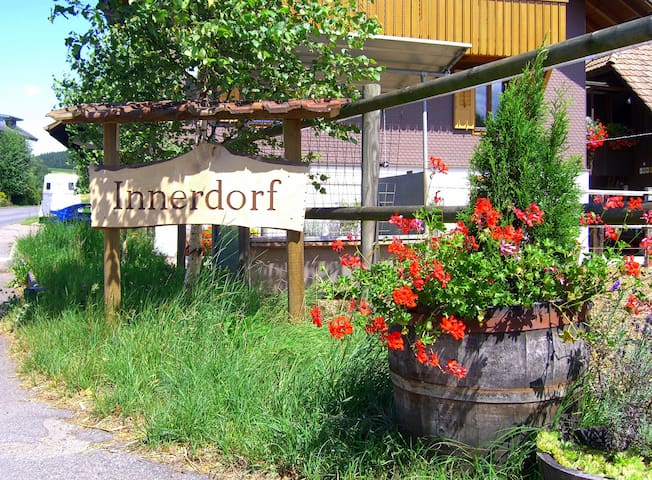 A professional holiday apartment on the sun-filled rooftop with a fantastic terrace, located on a quiet street within 20min walk to the main attrations like old town, kappel-bdg. Perfect for a family or small group. A free parking inclusive. Save & Enjoy Lucern in your own flat!!
It is a professional holiday apartment which is available only for tourists all year round. (which means any messy stuff from the owner won't be found in this flat:-)) An experienced housekeeper is in charge of cleaning the space, hence the standard for the hygiene and cleanliness of this property is very high. A cosy 2 bedroom flat on the sunny rooftop floor has a spacious terrasse overlooking Mt. Pilatus. The flat is suitable for 2 to max. 6 persons. The facilities are: -terasse -two Bedrooms (specially one bedroom with a new box spring bed!) -dining room -shower -wc -Kitchen
Just within 25min walk from our house, you can reach any lovely spots as tourists want to see in Luzern. Also there are good restaurants newly opened or changed around this area where the locals love. We also love to dine out, and will keep you informed!!
Had a great time in lucerne. Apartment was close to town and easy to find. Great communication. We even borrowed a cup of vinegar for cooking as owners live downstairs. 2 separate bedrooms was great and a separate shower and toilet. Everything was clean and lots of things provided for us to use. Coffee pods were a nice touch too. we were given a map and any help we needed. Safe area and parking out the front.
Christine
2015-11-15T00:00:00Z
Wir haben sehr gern in Tricia`s flat gewohnt. Es war sauber, gemütlich, stadtnah, mit sehr schöner Umgebungen genauso wie wir es uns gewünscht hatten. Jederzeit wieder!!!
Gudrun
2016-01-03T00:00:00Z
The host canceled this reservation 222 days before arrival. This is an automated posting.
CHANGHO
2017-02-21T00:00:00Z
Nice flat with a good situation (10min from city center). It is a calm place. We could even have accès to a parking Area which was really convenient ! Tricia is a person who welcomed us in a really nice way.
Anne-Flore
2017-02-22T00:00:00Z
Gemütliche und saubere wohnung mit toller terrasse! War alles wie beschrieben. Super!
Patrick
2016-07-26T00:00:00Z
Tricia's place is one of the best option for one visiting Switzerland with family and choose to stay away from cosmo city. House is spacious and to my surprise it even had some essentials stored like.. Soap, towel, oil, salt, etc. The view of the mountain was just great from the house. To say about Tricia, she was a wonderful host and a very prompt person. For me and my family, heating was a bit low and we felt cold in common area. Tricia s kind enough to explain how it works. Overall a good and memorable experience
Shobana
2016-05-08T00:00:00Z
Tricia's flat is very great! My family enjoyed a lot! It's so close to the bus stop that we could go to the city center and other sight viewings very quickly. The flat is big enough for my 7-persons family and quiet all the time. Tricia is very nice and provided us much helpful information on our visiting. I strongly recommend her flat to the ones who will visit Luzern. 房东Tricia的公寓非常舒适,很适合我们这样的大家庭。公寓宽敞、安静、便捷:离公交车站很近,很容易往返市中心和各个景点。房东人非常好,提供了地图和各种旅游信息,对我们帮助很大。强烈推荐Tricia的公寓给那些想来卢塞恩的旅游人士。注:建议请乘坐公交车抵达住处,瑞士山坡多,牵着行李箱步行抵达将是一件令人痛苦的事。
Lin
2016-08-19T00:00:00Z
Clean and close to the bus station, and by bus, only about 10 minutes to the train station, very convenient. Highly recommended for small group of people to stay.
Lin
2017-02-05T00:00:00Z
Oda Tipi
Tüm ev/daire
---
Mekan Türü
Ev
---
Konaklayacak Kişi Sayısı
6
---
Yatak odaları
Luzern, Luzern, İsviçre
Das Haus Altfeld ist ein Junkerhaus aus dem 18. Jahrhundert. Es steht inmitten von grünen Wiesen, fernab von Lärm und Hektik. Die Zimmer sind einfach und rustikal eingerichtet. Eigene Toilette auf der Etage, gemeinschaftliches Badzimmer im Parterre.
Holzhaus aus dem Jahr 1756, umgeben von Kuhweiden, mit 2 Gartensitzplätzen, familiäre Atmosphäre. 2 Zweibettzimmer für total 4 Personen. Ein Kinderbett für Kinder bis zu 2 Jahren ist vorhanden. Eigene Toilette, das Badezimmer mit Dusche wird mit der Gastgeberin geteilt. Auf Wunsch mit reichhaltigem Frühstück à CHF 10.00 pro Person.
Das Haus Altfeld liegt in der Landwirtschaftszone, umgeben von Kuhweiden und Obstbäumen. Sehr ruhig.
Ruth was a wonderful host. We really enjoyed staying at the farmhouse, and her breakfast and fondue was superb. The surroundings were very scenic, with loads of easily accessible walks. The town and railway station are within a short walk of the property. Ruth gave us excellent advice regarding trips, transport and excursions. Really looking forward to staying with her again.
Fernanda
2016-07-24T00:00:00Z
My family totally enjoy our stay with Ruth! We loved the rustic environment with cows at such close proximity, we drank milk which were milked moments ago, apples from the apple trees which were pressed into juice, ate cheese which were made by a cheese factory nearby, vegetables which were from the garden bed at the back of the house. Ruth is very attentive to our needs and offered us good suggestions on sightseeing places. She speaks perfect English and it was such a pleasure talking to her and exchanging views about social issues in Switzerland and Europe. My children and us missed Ruth's place the moment we leave Entlebuch. We hope to come back someday.
TONG MUI
2015-11-17T00:00:00Z
Ich bin leider krank geworden und konnte nicht zur Pension reisen.
Ilka
2016-02-22T00:00:00Z
Ruth did a great job of making us feel at home. She greeted us warmly and explained everything about our stay in her home. We enjoyed learning about the region while we had breakfast. The home itself was spacious and inviting, having the charm of a wooden house. And the area is beautiful to explore. We followed her recommendations for drives and trails. I would definitely stay there again.
Phil
2015-05-25T00:00:00Z
The b&b located in a farmland. We arrived in a cold evening but Ruth came out to welcome us. The old wooden house was warm and cosy inside and we had a sweet dream that night. In the morning you can see cows from the bedroom and the sound of cow bells were amazing. The breakfast was wonderful, the bread and jam were all handmade by Ruth. My family and I believe that Ruth is the best host we have ever met. Thanks a lot!
Xinyi
2015-10-21T00:00:00Z
In dem wunderschönen, charmanten, alten Bauernhaus herrscht eine wohlig warme Atmosphäre. Ruth ist sehr herzlich und eine tolle Gastgeberin! Ich kann sie wärmstens empfehlen, sie vermittelt ein Gefühl des Willkommenseins und man spürt es kommt von Herzen. Die Unterkunft ist gut gelegen für Wanderungen in der Region. Drei Restaurants in der Nähe laden ein, den Abend bei einem leckeren Nachtessen und einem Glas Wein ausklingen zu lassen.
Claudia
2017-02-20T00:00:00Z
Perfect place to discover Entlebuch and surrounding. Ruth is very welcoming her guests. We lived the house and the countryside around. Very quiet and natural!
Annemarie
2017-03-12T00:00:00Z
The room is super clean, very well furnished with wooden furniture, with beautiful view outside the window, the neighborhood is also very quiet in the night, it is a wonderful place to stay.
Cong
2017-02-26T00:00:00Z
Oda Tipi
Özel oda
---
Mekan Türü
Ev
---
Konaklayacak Kişi Sayısı
4
---
Yatak odaları
Entlebuch, Luzern, İsviçre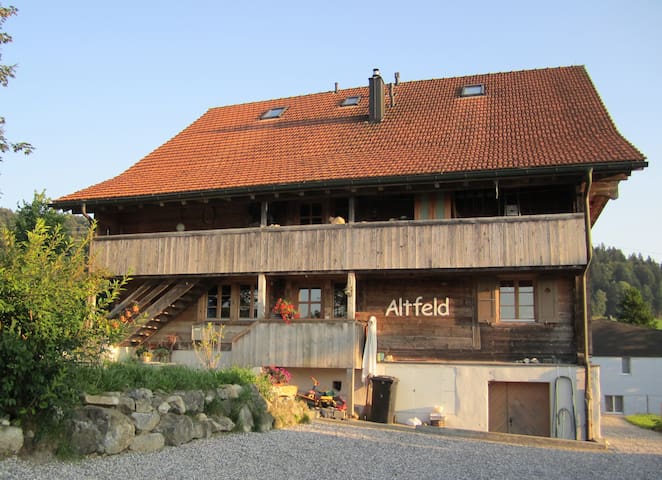 Ein hübsches Zimmer wartet auf Euch,in einer sehr schönen ruhigen ländlichen Gegend. Aussicht ins Grüne, gutes Frühstück. Da der Gastgeber 5 Hunde hat, sind Hunde nach Rücksprache, erlaubt. Parkplatz beim Haus, kostenlos. Hilfsbereite Gastgeber.
Da der Gastgeber 5 Yorksher (Hunde) hat, ist die Unterkunft für Personen, die keine Hunde im Haus akzeptieren können, ungeeignet
Ich hatte eine sehr schöne Zeit bei Olena und Urs, war sehr Familier und würde immer wieder dort einkehren!!!
Christian
2015-06-22T00:00:00Z
Sehr nette Gastgeber, gemütliches Zimmer und sehr leckeres Frühstück. Vielen Dank, wir kommen gerne wieder.
Marvin
2015-10-11T00:00:00Z
Olena and her husband are very friendly and helpful. They help us to explore lovely places close to their house. They have a nice house with beautiful view. We really enjoyed staying at their lovely house. I would definitely recommend this place!
Rike
2015-08-08T00:00:00Z
Sehr nette Gastgeber, ein Gutes und Reichaltiges Früschtück, Danke für alles, immer wieder gerne!!!!
Dimit
2015-09-24T00:00:00Z
Personnes très accueillantes, chambre et salle de bain propre, déjeuner très varié et copieux. Mon ami et moi avons passé un excellent séjour.
Yolande
2015-12-27T00:00:00Z
Vielen, vielen Dank nochmals Olena und Urs. Ich habe mich gefühlt wie bei Freunden, mit viel Herzlichkeit, Aufmerksamkeit und Hilfsbereitschaft. Habe super geschlafen und lecker gefrühstückt ;o) Wenn es passt, sehr gern wieder! Steffen
Steffen
2015-06-23T00:00:00Z
Eine freundliche und sehr bemühte Gastgeberin. Ein Schlafzimmer was der Beschreibung entspricht. Eigenes Bad. Gutes Preis-/Leistungsverhältnis.
Michael
2015-07-26T00:00:00Z
Olena and her husband made us feel welcome and were always available if we needed something. They introduced us to Switzerland and even to Italy, gave us maps and all instructions needed. It was very helpful! There was a delicious breakfast with a lot of tasty things to choose from. All in all it was a great stay. It's worth mentioning that Olena also speaks Russian, that may be important for Russian-speaking travelers.
Alina and Ivan
2016-01-31T00:00:00Z
Oda Tipi
Özel oda
---
Mekan Türü
Ev
---
Konaklayacak Kişi Sayısı
2
---
Yatak odaları
Gondiswil, İsviçre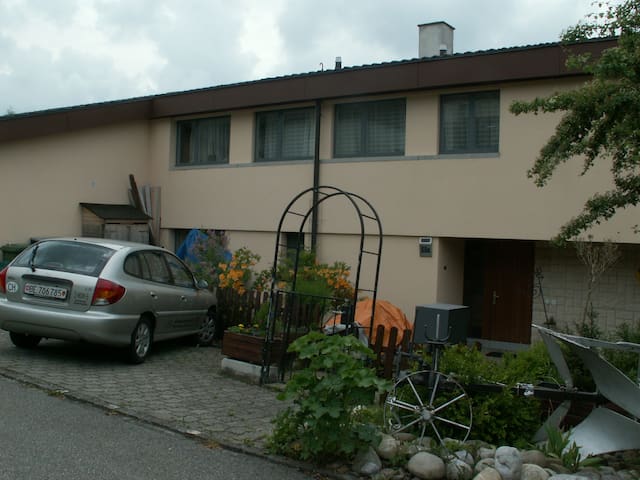 Unique view on Pilatus and the Bernese Alpes! Stay at a historic farmhouse with 3 guets bedrooms. This insertion contains 1 double bed.
Det var et hyggelig sted å bo, og vi fikk tilgang på alt det vi trengte. Vi laget mat og vasket klær mens vi bodde hos Adrian og Andrea. Huset er over 100 år gammelt, og ligger godt plassert hvis man ønsker å dra inn til Luzern, eller fjellene Rigi og Pilatus. Adrian og Andrea har tre rom de leier ut, men det gikk fint å dele bad og fellesarealer.
Jani + Irene
2016-07-18T00:00:00Z
Nice resting place in the middle of the countryside. Andrea gave us a warm welcome, replied to all our curious questions about the farm, and even provided guidance regarding our itinerary for the next day. Too bad it was raining, the surrounding place looks very nice.
yann
2016-07-28T00:00:00Z
Andrea und Adrian sind tolle Gastgeber. Man wurde sehr zuvorkommend empfangen und die beiden sind sehr herzlich. Das Zimmer und alle weiteren Raume zur Mitbenutzung (wie Bad und Küche), sind sauber und ordentlich. Als Urlauber kann man sich wohlfühlen. Viele Tipps und Hinweise haben wir von den beiden bekommen die wir gut nutzen konnten. Die Lage ist perfekt um abschalten zu können und gleichzeitig nicht zu weit entfernt um aktiv zu sein.
Maria
2016-05-08T00:00:00Z
Oda Tipi
Özel oda
---
Mekan Türü
Ev
---
Konaklayacak Kişi Sayısı
2
---
Yatak odaları
Ruswil, Luzern, İsviçre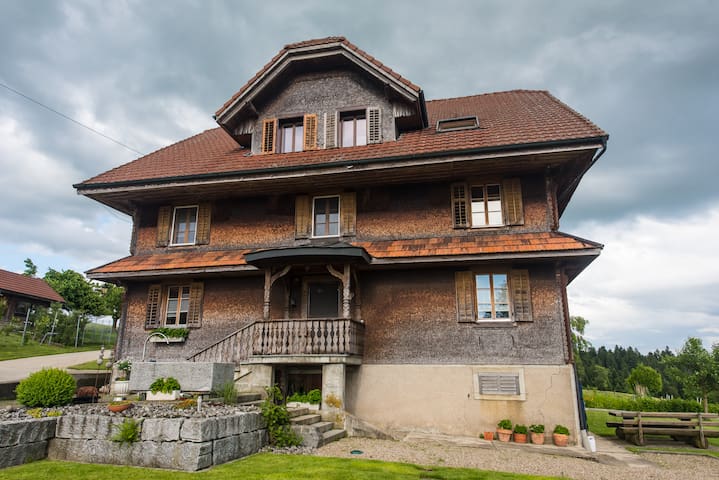 Welcome to the Studio gARTen! Take a relaxing break, surrounded by interesting objets d'art and our wonderful garden.
Welcome to the Studio gARTen! We offer a spacious and stylish studio (55m2) with kitchen, sleeping area, bathroom and patio. Take a relaxing break, surrounded by interesting objets d'art. The location is on a hill between the lakes of Sempach and Baldegg and offers a beautiful view of the Alps. Excellent walking and cycling trails are accessible from the door. Downtown Lucerne can be reached in 20 min. by car or bus. The golf facility "Sempachersee" offers two golf ranges with 18 holes each and belongs to the largest and most beautiful in Switzerland. The studio is very comfortable and well equipped with: - A kitchen with a ceramic hob, microwave, fridge, toaster, kettle, coffee and egg cooker. - One bedroom with a double bed, cupboard, dresser and a desk. A baby cot is available. - Open dining and living room with a sofa bed (150 x 200 cm), dining table, TV, and CD player. A baby cot is also available Bathroom with shower, toilet, sink, washing machine and dryer.. - Free internet Wi-Fi access - Garden terrace with table, chairs and a barbecue. - Private parking The studio is located about 5 km from the motorway E35 / A2 Basel - Gotthard - Lugano Lucerne center can be reached by car in 15 - 20 minutes.
Mark is very nice and welcome person , they have a very nice garden , nice room . I love it very much!
铭
2016-06-11T00:00:00Z
Quel bel endroit nature, calme et paisible ! Des hôtes tout à fait accueillants, avec de petites attentions touchantes. Idéalement situé, à la fois pour bénéficier de la beauté des collines verdoyantes, tout en étant à 25mn du centre de Lucerne. Très bon séjour, à recommander. Francis
fRANCIS
2016-08-06T00:00:00Z
Gerti and Mark were very accommodating and communicated well. The studio was very comfortable and clean. Thank you for making our stay very enjoyable and especially for the gifts we received.
Noelle
2015-02-05T00:00:00Z
The atmosphere and the place is very very good. The studio is very well equipped and has all the required ammenities . Very nice owners Mark and his wife , supportive and helpful . Only drawback 25 min away from the city .
nitesh
2013-05-12T00:00:00Z
We stayed at Mark's studio for 2 nights. The property is located at Hildisrieden Post, which is 25 minutes bus ride from Luzern's main railway station. The place is calm and serene with beautiful view of mountains from the garden and the window. We were picked up by Mark's daughter from Hildisrieden Post bus stop on the day we arrived. She showed us the property and very happily baked the pizza, which we got for our dinner in their oven. On the day we left Mark kindly dropped us back to the bus stop. The property is very well done and its easily the best bnb I have stayed in so far. The host were very helpful in a non intrusive way which made the stay even more enjoyable and it almost felt like staying at home away from home. I would love to go back to Mark's place again and would highly recommend this place to others.
Saurabh Seth
2016-05-31T00:00:00Z
This apartment was beautiful, spacey and clean. Only 15 min drive from Lucerne, the apartment is nicely situated in the country hills just outside of town. As well, within minutes walk is a great restaurant at the centre of the village that was delicious. Lastly, Mark and Gierti were wonderful hosts! They made you immediately feel welcome and at home. Would stay again in a second!
Jay
2014-10-27T00:00:00Z
My wife and I had a lovely time staying at this studio, which overlooks the garden/backyard. Unfortunately, poor weather prevented us from seeing the Alps in the distance but knowing they were there made it special.
Ryan
2016-04-10T00:00:00Z
My fiancee' and I thoroughly enjoyed our stay in the private modern and clean apartment. First we enjoyed a lovely welcome from both Mr and Mrs Walker and then we were able to enjoy, at our leisure, relaxing in the beautiful garden just outside our door! Mr and Mrs Walker have been superb hosts and as a bonus they invited us into their home for an aperitif. As my partner and I were in the middle of re-locating to Luzern, Mr Walker had been more than willing to help us with advice and some translations. He was also very flexible and accommodated our every need which was especially appreciated during our stressful time of relocating. I would recommend anyone to stay here for either business, leisure or in transit. In fact, we would happily stay here again or send our family and friends here for a short break. The apartment is fully equipped with all mod cons and is not far from Luzern by either public transport or car.
Beretta
2013-05-30T00:00:00Z
Oda Tipi
Tüm ev/daire
---
Mekan Türü
Ev
---
Konaklayacak Kişi Sayısı
2
---
Yatak odaları
Hildisrieden, Luzern, İsviçre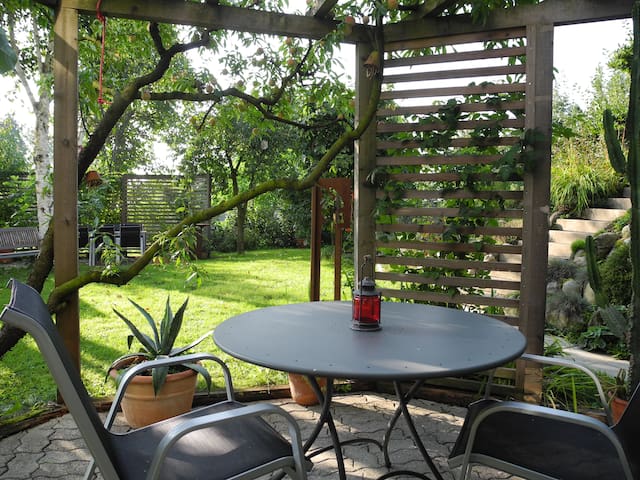 The Room is in a Farmhouse in the nice country side of Luzern, There is a Bus Nr.50/52 to Gromund Busstation from there a 15min walk from the house until late in the night to and from Luzern Pets are welcomed.
A cosy Farmhouse in the green, but still have puplic Transport near by
Amazing Views Shopping in near by Village Hildisrieden.
The host canceled this reservation 39 days before arrival. This is an automated posting.
yunjeong
2016-05-22T00:00:00Z
We spent 2 nights at Reto's house and the experience was very positive. Reto is very nice host and it was a pleasure to spend time with him. The description of the place is accurate and it was relatively easy to find - although (SENSITIVE CONTENTS HIDDEN) showed us a bit different way (partly unpaved as it turned out). What is really nice about the location is the silence. No cars passing by, no loudly people running around, etc.
Joanna and Mirek
2014-09-29T00:00:00Z
Reto was very welcoming and shared a lot of local information with us. The house and room are just as described as well as warm and cozy. The location is idyllic and very charming. Reto and Vladimir are really nice people. Would recommend them highly.
Mignonne
2016-10-15T00:00:00Z
The sight is pretty good .The host is friendly and warm-hearted.
QICHUN
2016-07-18T00:00:00Z
很漂亮的农场,屋子干净舒适,房东很热情
Pengcheng
2016-06-29T00:00:00Z
He is very kindly and friendly person. We could see horses, goats, sheeps, and cows. My friend really liked it. I could feel the nature of Swiss. It was an incredible experience.
상희
2016-07-13T00:00:00Z
The host canceled this reservation 36 days before arrival. This is an automated posting.
Wojciech
2016-08-14T00:00:00Z
Maybe some people would have liked... Ask for more photos! Reto strives
Theo
2016-06-05T00:00:00Z
Oda Tipi
Özel oda
---
Mekan Türü
Ev
---
Konaklayacak Kişi Sayısı
2
---
Yatak odaları
Neudorf, Luzern, İsviçre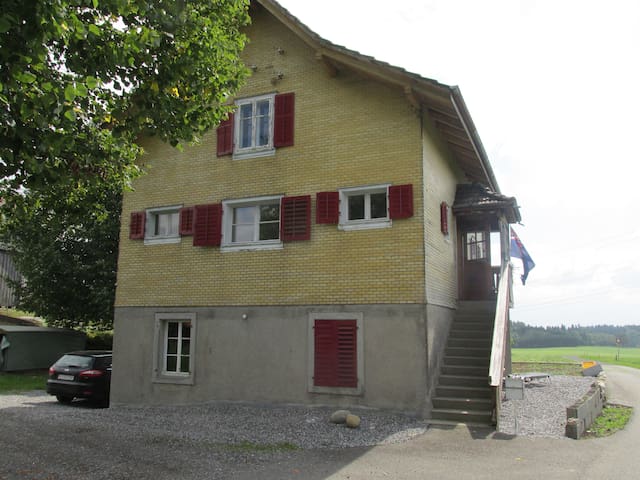 Nice & cosy room in a house in the country side. Parking in front of the house; kitchen, bath, garden, etc. for shared use, seperate toilet. The room has a comfortable double bed in it and is heading east so in the morning the sun will wake you up... if it's not too cloudy.
Unkompliziert und freundlich
Michel
2017-03-13T00:00:00Z
Super nette Frau mit tollen Kindern !!
Mathias
2013-06-08T00:00:00Z
Barbara ist eine tolle Gastgeberin und es war sehr gemütlich bei ihr zu übernachten. Am Morgen gab es ein kleines Frühstück mit selbstgebackenen Zopf und Konfi auch selbst gemacht. Sehr gerne würde ich wieder kommen wenn ich eine Unterkunft suche.
Martina
2017-03-10T00:00:00Z
sehr sympathische Gastgeberin, kommunikativ und unkompliziert! Nur zu empfehlen
Sylvia
2017-04-05T00:00:00Z
Excelent hostess! All ok in your house. Good local to parking a car, breakfast very well.
Roberto
2015-04-02T00:00:00Z
habe bei einer wunderbaren Gastgeberin in einem liebevoll eingerichteten Haus übernachtet. Morgens saßen wir dann gemütlich bei einem üppigen Frühstück im molligwarmen Esszimmer während draußen die Schneeflocken fielen und haben uns angeregt unterhalten. Wird mir als eine besondere Begegnung in Erinnerung bleiben. Vielen Dank für deine herzliche Gastfreundschaft! ulrike
Ulrike
2015-02-08T00:00:00Z
Oda Tipi
Özel oda
---
Mekan Türü
Ev
---
Konaklayacak Kişi Sayısı
1
---
Yatak odaları
Dürrenäsch, Aargau, İsviçre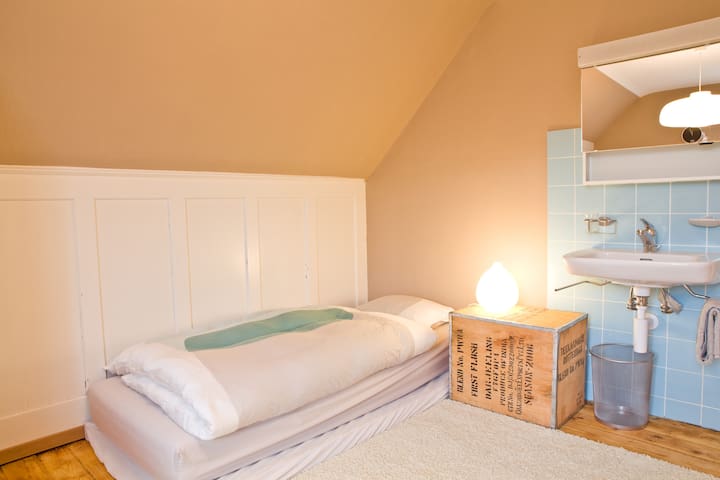 My apartment has a unique view and is very quiet. You'll love my property because of the superb location, environment, the green revolution and the quiet neighborhood. My accommodation is good food for business (long-stay) and big groups. Less suitable for short stays.
Besides the great location it also offers ample parking.
Oda Tipi
Tüm ev/daire
---
Mekan Türü
Ev
---
Konaklayacak Kişi Sayısı
12
---
Yatak odaları
Wolhusen, Luzern, İsviçre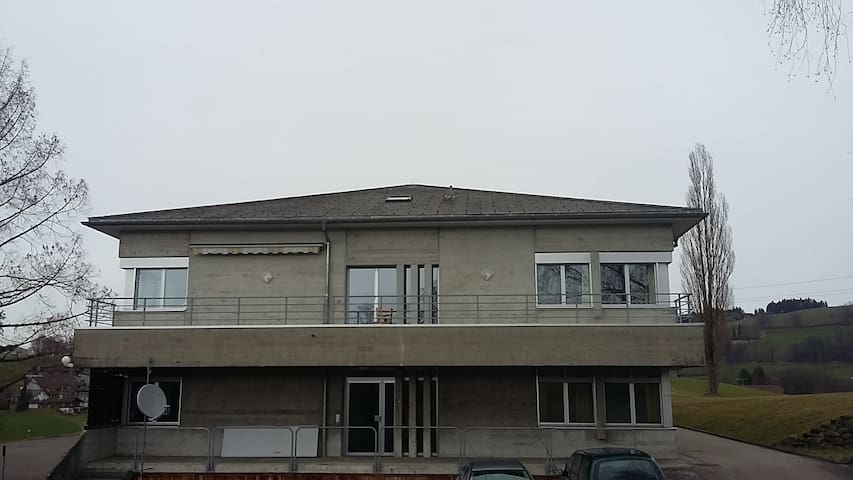 Gästezimmer
Gästezimmer zu vermieten ab einer Woche
Oda Tipi
Özel oda
---
Mekan Türü
Ev
---
Konaklayacak Kişi Sayısı
2
---
Yatak odaları
Buttisholz, Luzern, İsviçre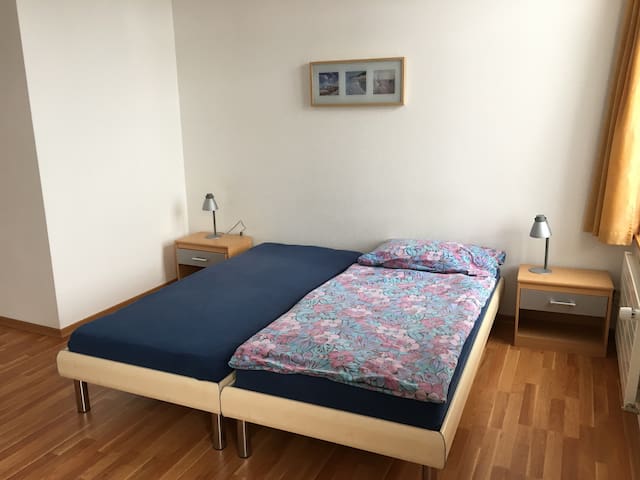 This house has four bedroms and a diningroom with extra bed. There are two badroom available. A lot of nature is around the house and the house is near Luzern only 5 minutes walk to the busstation.
A nice house near to the nature and near to the busstation
Die Natur und die unkomplizierten Nachbarn.
Environnement rustique ; literie excellente, tout est dans un état irréprochable.
Anne
2017-01-27T00:00:00Z
Really enjoyed our stay. We were shooting a movie in the neighboorhood. Location is perfect.
Lucah
2017-02-13T00:00:00Z
Très bon séjour, logement bien chauffé en hiver! :)
Bruno
2017-01-22T00:00:00Z
First day we landed in Basel and came to Emanuel's place (visiting Rheine Fall + Coop grocery shopping) late in the night by 10:30 pm. Although it was too late than usual check-in time but Emanuel send his company's car to bus stop to pick us up. It was really a great gesture from his side since we were having 3 small kids and lot of luggage. Apart from small issue of WiFi we found everything as per promise. And the WiFi issue also he resolved by putting his personal machine to the apartment. On our request he bought new bigger cooking utensils because we were staying altogether 3 families. And on last day he personally visited us and said good bye with 3 nice box of wonderful Lindt chocolate (One for each family). We had Indian food together. And he dropped us till bus stop in his personal car. The house is located at very nice and calm place nearby biological farming area owned by owner of the house where he grows flowers. During our stay flowers were not bloomed but during june-july it must be very beautiful when they grow. So guests who will stay during that time will be blissful. Connectivity to Lucerne bahnhof is very good. Bus 1 can be found every 7-8 min 600m away from the house. Emanuel - Thank you for lending your house. You made the vacation nicer and beautiful. And I liked the way you live your life.
Manish
2016-05-13T00:00:00Z
15 mins bus journey is all it takes to reach Emanuel's place from luzerne central station. The house itself is very beautiful with all modern amenities. It was so clean and neat. Utensils are in plenty and kitchen is equipped with a dishwasher as well. Weather was so good that we didnt get the opportunity to use the heater, but Emanuel lit it up for us and we enjoyed the wood heating as well. Emanuel is a great host. Very prompt with the responses, respects your privacy and ll be there to help you at any time. The prices are very much reasonable and i will definitely recommend Emanuel's place to everyone.
MANOJ
2017-03-19T00:00:00Z
Emanuel is a great host. He left us our privacy from the start however popped by the second day to greet us and bring us homemade jam from his Trees in the garden:) The house is perfect for a big group, clean spacious and fully equipped with all you need to cook and relax after a long day skiing or hiking.
Alessia
2017-02-26T00:00:00Z
Everything was as described, very nice house, heating is very good. We were tree families with small children, there is nice forest just beside the house. Emanuel is very nice and helpful host. We really enjoyed our weekend at his place and I highly recommend it, especially for families.
Natasa
2017-02-05T00:00:00Z
Great location for family just that you need a transport to get to the house.
Arif
2017-01-06T00:00:00Z
Oda Tipi
Tüm ev/daire
---
Mekan Türü
Ev
---
Konaklayacak Kişi Sayısı
10
---
Yatak odaları
Obernau , LU, İsviçre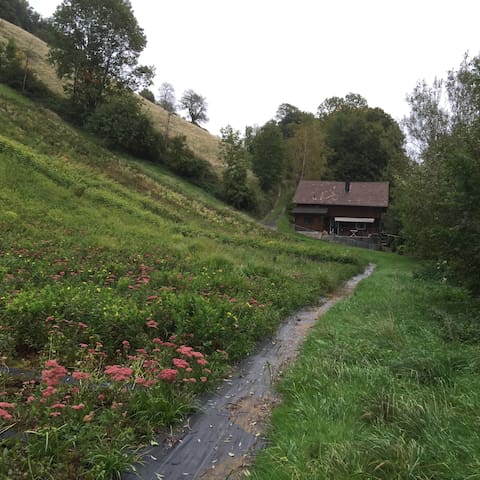 We welcome you to our charming swiss landhouse. Surrounded by the beautifull nature but still only a 10 minutes car ride from Lucerne, it offers the perfect balance for people who not only like to do a city trip, but also like to relax!
You find yourself in a totally remote area with no trafic, nor light pollution. Get your experience in a unique rural farmhouse out in nature but close to the City.
Go for a walk, for a bike ride, a short trip to Luzern, or for a hike to mount Pilatus or just relax in our garden, make a fire and barbecue and enjoy swiss country side.
Our hosts Manu and Petra made us feel very welcome. Their house is so beautiful, that photographs don't do the location justice. This was our second visit as we love the area and the house and Manu and Petra are great hosts.
Karen
2016-05-31T00:00:00Z
Petra und ihr Freund haben uns sehr lieb empfangen und das Frühstück war sehr lecker. Das Zimmer war sauber und wie angekündigt. Es gab sogar Handtücher. Die Lage des sehr alten Bauernhauses ist in Mitten von Feldern und unser Hund hat sich sehr wohlgefühlt. Leider waren im Bad sehr viele Spinnen.
Lena
2015-07-21T00:00:00Z
Wunderbar unkompliziert und natürliche Gastgeber. Sehr ruhige und friedvolle Lage und ein grossartiges Schlafvergnügen inklusive selbstgemachte Naturkost aus dem Garten.
Nina
2015-10-26T00:00:00Z
Merci Petra pour votre hospitalité, et pour nous avoir fait partager un peu de votre vie proche de la nature, dans cette belle maison traditionnelle. La maison n'est pas facile à trouver, mais cela vaut la chandelle. Un bon moment de ressourcement. 5/5 de la part de quelqu'un qui aime la nature et la simplicité.
Laurent
2015-05-24T00:00:00Z
It was a wonderful experience. The view from room was just amazing and so is the host Petra with a smiling face. Would love to visit again
ajith
2015-08-24T00:00:00Z
Petra and Manu made us feel amazing! Their place is located in heaven, with wonderful views of the mountains nearby. They are extremely friendly and well travelled and share their experiences openly. We appreciated our discussions about our travels. The room was cozy and perfectly clean. The breakfast was the best: bio food with a huge bowl of birscher-muesli, great cheese, super tea and fresh-baked bread! We are so happy to recommend Petra and Manu for other AirBnB guests.
Monica
2016-05-07T00:00:00Z
Petra came out to greet us and the room was beautifully done. She also had Swiss chocolates for us!
Snehal
2015-05-20T00:00:00Z
Petra was a great host we arrived late evening she waited up for us and welcomed us warmly. Both Petra and Manuell were happy to chat. Breakfast was very tasty overall great experience thanks.
Graham
2016-06-19T00:00:00Z
Oda Tipi
Özel oda
---
Mekan Türü
Ev
---
Konaklayacak Kişi Sayısı
2
---
Yatak odaları
Malters, Luzern, İsviçre