Our relaxing and cozy one bedroom loft with private balcony has everything you need to make your stay a true "home away from home" experience! The Loft is close to many parks, the city center, the airport, the west river community center, pools, Medora and Theodore National Park. The cozy feeling of home is in every detail so you will be relaxed and well rested to continue your adventures. The Loft is great for couples, solo adventurers, and business travelers.
Beautiful family and home! The Loft was the relaxing way station we sorely needed on our road trip. Comfortable and cozy and private, with a very welcoming atmosphere courtesy of our hosts. We were able to do laundry while we watched a movie on fabulous recliners in front of a huge television screen. I would definitely recommend this stop to anyone traveling through Dickinson. Thanks to Dayna and her family for having us!
Miranda
2017-04-02T00:00:00Z
The host canceled this reservation 79 days before arrival. This is an automated posting.
Tom
2017-03-24T00:00:00Z
Dayna was an excellent host! Her and her family were very welcoming upon my arrival and gave me a nice tour. They checked up throughout the week to make sure everything was good and to make sure I had everything I needed. Dayna was always on top of all the communication and I felt very comfortable reaching out whenever I needed. And the place was beyond my expectations; very cozy and roomy. Definitely a home away from home. I enjoyed my stay at the Loft very much!
Ivan
2017-03-25T00:00:00Z
Oda Tipi
Tüm ev/daire
---
Mekan Türü
Çatı Katı
---
Konaklayacak Kişi Sayısı
2
---
Yatak odaları
Dickinson, Kuzey Dakota, ABD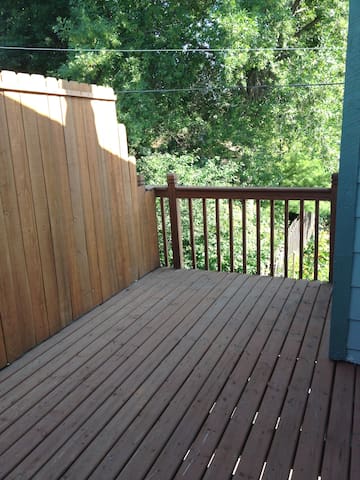 Medora & TR National Park, Assumption Abbey, and the Enchanted Highway are all within 20-40 minute drive. In less than ten minutes you can reach shopping, medical facilities, numerous parks, and Dickinson State University. Day passes at The West River Community Center include water park, climbing wall, classes, and equipment. The municipal golf course and airport are each about 20 minutes away. The River is great for couples, solo adventurers, business travelers, and furry friends (pets).
Sunlight through large wall-to-wall windows overlooking the Heart River make this an exceptionally pleasant place to stay and relax.
The neighborhood is residential, within walking distance of tennis court, outdoor pavilion, and dog park.
Oda Tipi
Tüm ev/daire
---
Mekan Türü
Daire
---
Konaklayacak Kişi Sayısı
2
---
Yatak odaları
Dickinson, Kuzey Dakota, ABD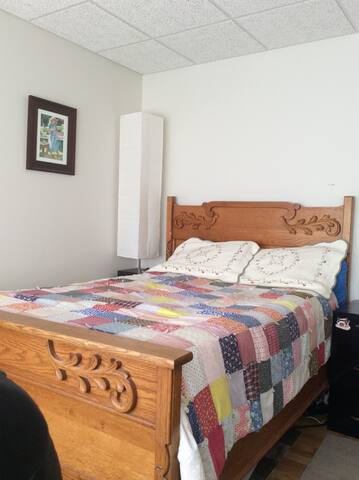 The Lodge is a large A-Frame house with an open floor plan that is decorated with hunting and rustic decor. It is located 4.5 miles east of exit 64 in Dickinson. It is a perfect place for a quiet get away or for a family get together.
This home offers space to relax by the fireplace or sit by the large A-Frame windows and appreciate the view. Families could also gather at the lodge to play pool or other games. The wrap around deck and outside area provides lots of space to relax and have fun.
The lodge is located in a rural setting 4.5 miles from Dickinson.
Oda Tipi
Tüm ev/daire
---
Mekan Türü
Ev
---
Konaklayacak Kişi Sayısı
10
---
Yatak odaları
Dickinson, Kuzey Dakota, ABD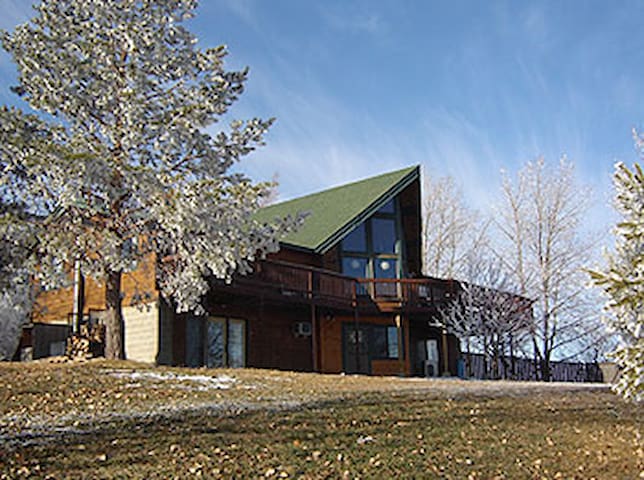 Dies ist eine 1910-Ära Folk viktorianischen vor dem Abriss gerettet liebevoll nachgearbeitet und an den Ufern des Flusses nahe Hock Mott, ND verlegt, in der Nähe der Badlands, Black Hills und im Grünland Prärie Land. Der Westen Blick auf Sonnenuntergänge ist so ruhig und Tierwelt ist reich an den Fluss.
Dies ist eine "gerettet" Eigenschaft, um 1920, die für den Abriss und zog an den heutigen Standort geplant war. Jeder Versuch wurde gemacht, um diese wunderbare Immobilie zu renovieren und die bestehenden Charakter der Wohnung halten _ gibt es einige Anzeichen seines Alters _ Chips in den alten Emaille Waschbecken, zum Beispiel _ aber die sind Teil des Charmes.
Sie werden feststellen, dass Sie viel Privatsphäre haben, aber zu Fuß fühlen sich um und stoppen in ein Hallo zu sagen, wer Sie treffen. Die Innenstadt ist klein, aber freundlich.
Cannonball Cottage is worth any detour from the highway with its whimsical, well-stocked interior. The wrap-around porch makes for a great setting for homemade meals and the sunset.
Claire
2016-09-08T00:00:00Z
This cozy cottage was the perfect mix of rustic and whimsy. I wish I was able to watch the sunset from the deck; I did not arrive until late in the evening following adventures to the Badlands. Lauren provided ample directions, and it was fairly easy to find- even in the dark! The house is probably 1.5 hours away from the Badlands, but totally worth the view of the lake on the deck! #thatviewthough I will definitely be returning to this place with friends if I am ever in the area!
Kaycee
2016-08-09T00:00:00Z
This cottage is adorable, a great getaway! The host was very helpful. Due to weather we did not get to experience the fire pit or much outdoors but the cottage was a great place to be for us. Thanks!
Danae
2016-04-12T00:00:00Z
Lauren was great at communication and the cottage was lovely. The porch faces a small river and it is very beautiful. The cottage is in a remote location, so if you are looking for a quiet retreat spot, this is the place to go.
Lynn
2014-07-20T00:00:00Z
This cabin is an oasis of brilliance in the prairie-land. The river and grasslands behind the cabin look west and if you're lucky (as we were) you could watch lighting storms, hours away, as they march toward you. The cabin itself is even more delightful than the pictures suggest. Oh the mermaids!! Be prepared to feel your roots - you might be reminded of your grandmothers' ability to make just this type of space work to raise a family. And I was even able to catch a catfish for supper!!
Athena
2016-08-16T00:00:00Z
The Cannonball Cottage was so cute! This place was a great place to crash on our way home during our roadtrip. We loved sitting on the porch watching the sunset and playing Scrabble. Later we cooked some grilled cheeses in the vintage kitchen and enjoyed hanging out in the living room. This place is a little off the interstate, but way worth the trip for a memorable night's stay. If you stay during the summer, open the windows to smell the sweet country air!
Emily
2016-07-25T00:00:00Z
Great communication between us. Loved the campfire ready to go as we got in later than expected. Cottage is very comfortable and quiet.
dan
2016-10-01T00:00:00Z
Lauren is the sweetest and friendliest host who responds within minutes if you any questions. Her gorgeous cabin is very clean, fully stocked with dishes, towels etc and sits right on the river so that's a bonus. It is beautifully decorated and has lots of privacy for those wanting some peace and quiet. We loved not having access to the internet and or tv and spent the evening playing scrabble and listening to cassettes (not sure if some of you know what those are lol) which we just happened to have on our trip with us :) so happy about our lovely stay!
Sadia
2016-12-19T00:00:00Z
Oda Tipi
Tüm ev/daire
---
Mekan Türü
Ev
---
Konaklayacak Kişi Sayısı
4
---
Yatak odaları
Mott, Kuzey Dakota, ABD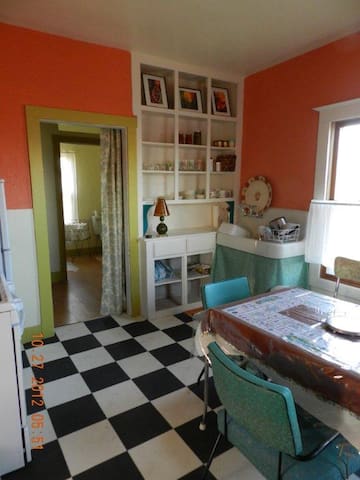 Tam fiyatlandırmayı görmek için tarihleri görün. Ek ücretler uygulanır. Vergiler ilave edilir.