Jedná se o byt o menší skupině v horolezecká ráji Kalymnos v Řecku. V bytě se nachází 2-pokojový byt s pěkným kuchyňským koutem, koupelna se dobré postaven v sprchovým koutem a nejúžasnější balkon s nejlepším výhledem na moře na ostrově. Hned za bytě máte lezeckou Mekkou básníků a dále do grande Grotta. V docházkové vzdálenosti máte nejvíce gorgious vlastní malý ráj pláže a kousek dál máte pláž puls Massouri pláže.
V bytě je dobře umístěnou plochu dvou místností (1 ložnice + 1 obývací pokoj), kuchyň a koupelna 42 m2, ale se dvěma balkóny o více než 10 m2 s nejkrásnějším výhledem na moře v Kalymnos, snad ve Středomoří ;-)
Okolí je magie. Pokud ura horolezce, bude u být umístěn těsně pod "Básníci" a všechny gorgious skály až do nádherným výhledem Grande Grotta ve vaší "zahrádce". Pokud ura "turista" je téměř soukromá malou pláž jen rovně dolů na silnici do vody a tepu Massouri Beach příjemnou procházku dále dolů. Je-li u (podle nějakého podivného důvodu :-D) nechtějí vzít snídani na východ slunce na balkoně, Kostas jen dolů na silnici má nejlepší espresso ve vesnici italské Gelateria v rohu má nejlepší domácí vyrobený zmrzlinu na ostrově (nebo na světě úplně magický; D), a jen pár minut chůze níže máte vesnice "centrum", s místní putyka z Fatolitis, místních supermarketů, supernice restaurací a všechno.
We had a wonderful time in this apartment! We stayed for 6 weeks, and loved it. The apartment itself was super, and the balcony is like an extra livingroom with a magic view. Rufus responded quickly on our questions, and gave us useful tips.
Ann Kristin
2016-07-03T00:00:00Z
We had a great stay on Kalymnos. The flat is clean, fully equipped, with a real fantastic view, located in the climbers-heart of Kalymnos. Rufus helped us with everything, gave tips and hints and fixed problems! Thank you very much!
Nico
2015-10-28T00:00:00Z
Rufus's flat is very nicely situated just a bit above the center of Masouri with a fantastic view to the sea side and the island of Telendos. If you are a climber like us, the flat is just perfect because all the famous spots are within walking time. The flat itself is very well equipped with a small but functional kitchen, a convenient bathroom and has even a washing machine. Unfortunately there was a problem with the cleaning of the flat at our arrival and we had to make use of the washing machine to clean all bed sheets before the first night. But after we told Rufus he tried to organize immediately another cleaning lady and he was very helpful with this. Afterwards we could enjoy our stay perfectly. And since at Kalymnos there are not really street names please ask Rufus for a location map of the flat since it is not so easy to find. Once again, thank you for a great week at Masouri.
Mich
2016-10-23T00:00:00Z
Many tks to Rufus for our brilliant vacation on Kalymnos! The appartment is very nice, everything is brand new and very convenient for use. Location is very close to climbing sectors like Grande Grotta, Kalydna, Ioannis. We rented a car and there was a place for parking nearby apartment, so very convenient!
Kate
2016-05-02T00:00:00Z
Rufus's place was perfect. The view from the porch was incredible, and the location was ideal for climbing. Poet's crag was so close! Rufus was also incredibly communicative and kind. I would highly recommend. This was a great value!
Jen
2017-03-11T00:00:00Z
We stayed in Rufus' place for a bit over a week while climbing in Kalymnos. The location of the house is idea for access to the main climbing areas, and the view is incredible. The house was super clean, functional, and generally perfect for our needs. I would absolutely stay here again, and recommend it to anyone visiting Massouri.
Rose
2017-03-19T00:00:00Z
This apartment was sweet. The location was perfect for anyone coming to Kalymnos for climbing. It is set a bit up the hill giving you amazing views of the sea and the island of Telendos. The balcony is an awesome place to hang out and enjoy. The apartment was a good size with a nice living room area, a decent sized kitchen and a nice, simple bedroom with large closet. There is a washing machine in the bathroom which was very useful after climbing hard for eight days :) The shower left something to be desired, as it was a hand held shower head that was mounted at mid height and did not have great water pressure. I would say that was the only drawback and overall we had an excellent stay. Rufus was a wonderful host and was very helpful with any questions that we had. I would stay here again and definitely recommend the apartment to anyone visiting the island.
Brad
2016-05-24T00:00:00Z
Our month long stay at Rufus's was an absolute pleasure! The apartment is very nicely put together, with a well stocked kitchen, good sized living space, a large modern shower, and a comfortable bright bedroom that has excellent built in storage closets. Of course the views from the apartment are stunning and the location is very convenient -- close to climbing and all the shops and tavernas in Masouri. Rufus himself is very friendly and is fairly easy to contact should you need anything. I would definitely stay here again!!
Jenna
2016-12-02T00:00:00Z
Oda Tipi
Tüm ev/daire
---
Mekan Türü
Daire
---
Konaklayacak Kişi Sayısı
3
---
Yatak odaları
Kálimnos, Egeo, Yunanistan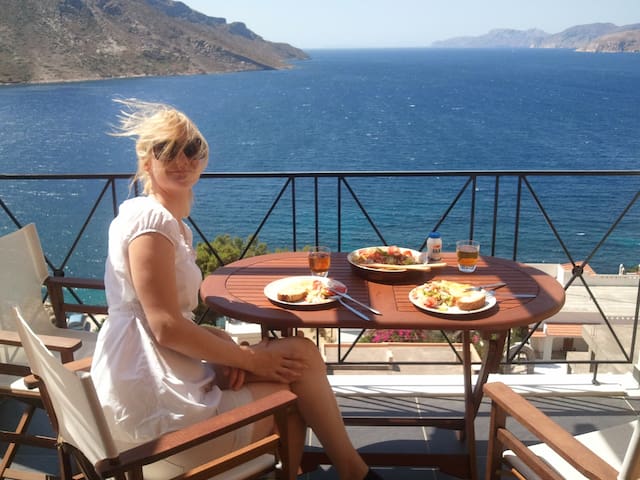 Kalymnos.Just10 metre "yukarıdaki" Masouri Sahilde en iyi balkon bu bir kat daire her şeyi sunuyor! rahatlatıcı veya eylem holidays.Climbing, dalış, snorkling, yüzme, balıkçılık, cayaking ,, yoga ya sahilde dağcılar eylem kalbinde, sadece evin dan yürüme mesafesinde alanda yapabileceği bazı etkinlikleri vardır Relaks sonra tekrar sizin homecooked akşam yemeği, şarap, kahve keyfini ya da adanın Just.Perfect en güzel veranda içebilirsiniz seçim sizin .Eğer
3 yatak odalı daire çok rahat. Tamamen modern aile mutfak, oturma odası, yemek alanı ve balkon mutfak alanından doğrudan erişim donanımlı. ..... Yakında iç dolayısıyla yenilenen faaliyetlerinden büyük resimlerle bu andan gerçekleşecek ... . sadece 20 metre daire bir çamaşır makinesi unnessesary yapar.
aparment sadece 2 kat yukarıda, Ege Taverna ile aynı binada yer almaktadır! Bu kadar ada ve spot.More tavernas ve kafeler mahalle yakın da pratik bir dönüm noktası üzerinde iyi restoranı yanı sıra küçük süpermarketler, çamaşırhane, AVIS araç kiralama Plaza Hotel vb gereğidir ..
okay!!! we just came back from the best vacation ever every thing was perfect yiannis and vasilis were so good to us . they thought about everything I really don't have words to describe it.... yiannis and vasilis show us every thing in the island took us to the best tavern ! explain everything thing that we want to know. I really can't think on something that they didn't though about in the house. every thing was so great about the house! and very safety for my little baby that didn't stop running all over the place. the house was very very clean and has everything you need !!! now i know for sure that my family will comeback to this beautiful place next year to visit our dear friends Yiannis and vasilis thank you so much wish you best of luck .!!!
Ilan
2016-08-08T00:00:00Z
We arrived late due to a flight delay, but Yannis (the host) waited for us at the port ant took us to home after one day travel and that has been a big help. The house was better than in photo and the veranda on the sea was larger than we expected. When we arrived at home we find son fruits, eggs, milk and a lot of greek food. We were 4 adults and a kid 18 months old: he gave us all the stuff for the baby and, when our kid had a problem due to the sun, we went to the hospital and we found there Yannis and his wife wating for us and also helped us. What really impress us was the view on the sea and on Telendos from the veranda. The last fantastic thing was the dinner organised by Yannis and Vasilia (his wife).
Elisabetta
2016-08-24T00:00:00Z
What can we say, this apartment and this family were just exceptional! The apartment is directly on the shore and is completely modern, clean, and good for children. The balcony with the beautiful arches creates an amazing atmosphere. Beach is accessible by staircase and is good for swimming. This family is a wonderfully kind family providing us with some special treats, advice/information, and very interesting conversation. They seem to be very perceptive of the needs of the guests. We did a lot of climbing and it was a good location for this as well. Not only did we have an incredible vacation, but we also made some wonderful friends due to the fact that we arranged to have a potluck dinner with them on the last day of our trip. Another big bonus is also the most recommended and super delicious restaurant in the area is in the same building on the third floor! The only thing I would say is that make a reservation early because they are very busy. We want to come back soon!
Nune
2016-07-07T00:00:00Z
The house is absolutely beautiful, with really nice details and its terrace is the best place to stay for all the relax you need. Yiannis is a superb host, he gave us all his time necessary to be here like a home. We definitely recommend this place and we will come again to enjoy this house and to talk again with his host.
Giuseppe
2016-07-11T00:00:00Z
Oh my gosh! We are so lucky to have booked here! Perched right above a sandy beach, a cozy gorgeous balcony to watch the sunset and sit and read/chat/nap, and just below the #1 restaurant in Kalymnos: What else could we have asked for? Climbing was awesome on the island too. John and Vasilia bent over backwards to make our stay comfortable (meeting us at the airport, taking us to the ferry, taking us on a tour of the island and to get a coffee, friendly and fun to talk to).
Claire
2016-09-09T00:00:00Z
short description: simply amazing now the long one: originally we (2 adults and 1 baby) only booked two nights, however we haven fallen in love with this newly renovated and state of the art place so much that we added another 12 nights. yiannis was so easy to communicate with. he even offered up front to provide a baby bed and stroller for our little one, picked us up at the port and when we arrived at the apartment I realized that I forgot to ask for a baby chair... since he told us that the one of her daughter is broken we saw ourselve having our baby holding for each meal having at the appartmemt, but within not even an hour after Yiannis left us, he dropped a baby char - what a service. the place is not only ideal for a family ( huge terrace which has been made completely baby safe including two great couches for to chill, beach front only a few stairs away from the beach, totally clean everywhere which is important to us since our baby is spending quiet some time playing on the floor), three bedrooms, large bathroom, living room, fully equipmemt kitchen including an american style fridge, high speed internet, tv with weigh too many chanels and video on demand) but also for a larger group of friends. we have been in masouri before and altough this little village provides nice restaurants, shops and of course "nice climbing" etc., there is very often a noise pollution from the motorbikes. due to the fact that this place is literally directly on the beach ( the stairs lead up to the main road which is a few stories higher) the only "noise" we could hear were the sound of the waves! :-) yiannis and his wife (she has done such a fantastic job by adding all the little architectial and interior details in the appartment and provided us a welcome package ranging from home made jam, olive oil, vinegar, bread, eggs from her chicken, milk, etc) were available all the time, they are fery special people who made us feel welcome from the very beginning. summary: another awesome airbnb experience ( such unique places / hidden gems you don't find in any travel agency) and we'll be back soon. thank you Yianmis & family! cheers, your Austrian friends
Franz
2016-05-26T00:00:00Z
Our stay at John and Visalia's home in Myrties/Masouri was outstanding. From day one when we arrived in Kos, John was quick to respond via AirBnB messenger to our questions. He accurately directed us to the correct ferry in Mastichari to Kalymnos. Once we arrived in Kalymnos, he graciously offered to pick us up and transport us to the AirBnB. For our two week stay, we also needed a car, and personally helped us find the right car rental agent for our needs. Additionally, when we arrived at the apartment, we found it freshly cleaned with a full day's food in the fridge--what a treat for weary travelers. The weather during our stay was terribly cold and rainy, and on many stormy nights, John would personally contact us to ask if we needed help. He also graciously invited us to dinner and coffee with his family on his Name Day. He was highly service oriented and customer focused! Lastly, on our final day, he helped escort us to the ferry back to Kos, and offered to carry our bags to the ship. A true gentleman! We would highly recommend John and his apartment to any traveler wishing to visit Masouri and Kalymnos.
Nate
2017-01-14T00:00:00Z
Our hosts were charming, friendly and very helpful. Vicky presented us with home made preserves, honey, eggs and olives on our arrival. They made us feel very welcome; they went out of their to help with a problem I had with my iPad and drove us to the port at the end of our stay. The apartment could not have been more delightful with a large arched patio overlooking the island of Telendos and Massouri beach below. The rooms were clean and comfortable and the kitchen facilities were excellent. We loved Massouri which has everything the traveler needs by way of mini- markets, shops, tavernas and car and scooter rentals. It was a good base from which to explore the rugged beauty of Kalymnos. As a bonus, the Aegean Taverna at the top of the Airbnb is the best restaurant on the island. We enjoyed two superb meals there watching the sun set behind Telendos.
David
2016-09-16T00:00:00Z
Oda Tipi
Tüm ev/daire
---
Mekan Türü
Daire
---
Konaklayacak Kişi Sayısı
8
---
Yatak odaları
Mirties, Egeo, Yunanistan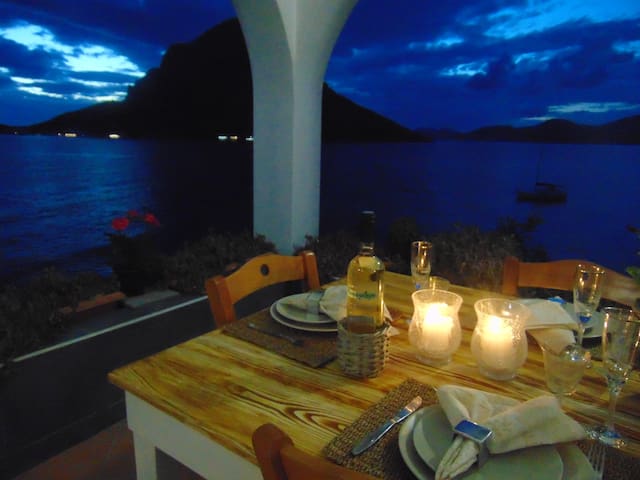 Utrolig placering på vandet. Hør bølgerne dunkende stranden. Dejlig udsigt til haven. Masser af privatlivets fred. Tæt på alle klatreruter. Rene lagner og håndklæder etc.Pullout sofa & stol i stuen. 3 + 3 Gratis dag sejler for gæster en uge +.
Placering er så godt som det får for klatrere eller turister. I stand til at sove op til 6. De seneste opdateringer og forbedringer i april 2016 og mange flere til at komme for 2017 Masser af plads og privatliv. Ejendommen og hus er bedre i virkeligheden end billederne viser. Værftet er store med masser af træer, så meget komfortable, selv i varmt vejr. Huset er rent og behageligt. Masser af træer. 10 meter gennem haven, og du er på stranden. Sejlbåde til udlejning. Noget at gøre på en af dine fridage klatring? Kom ud for et sejl og have det sjovt på vandet på din hviledag klatring. Nedsatte sejlads satser for gæster, der bor mindre end en uge. Der er to virkelig blide hunde, der bor på ejendommen .. den ene er en meget blid Newfoundland der sover hele dagen og den anden er en en lille cocker mix .. Meget venlig og godt socialized .. i modsætning til den ene ældre dame en ikke bjergrytter, der efterlod mig en ikke så venlig gennemgang ..
Flere restauranter og super marked inden for 5 min gang. Også 5 min gåtur langs stranden for at få færgen til Telendos.
Great spot for climbers as many of the crags are accessible by foot. We had the entire second story to ourselves (2 bedrooms, livingroom and bathroom), so there is plenty of room for at least 4 people (provided one person sleeps on the couch or 2 people split a bed). The livingroom has a beautiful view of the ocean and the island of Telendos, and the water next to the house is clean and great for swimming in after a climb. The location is next to a couple restaurants with good food and the town of Masouri is a 10 minute walk away for anything else you might need. Manny was very accommodating and great to chat with. Very easy going guy and his dog Fidel is amazing. Wish I could have spent more time at this place, but there's always next time.
Tanner
2015-10-24T00:00:00Z
Emmanouil è una persona molto accogliente e disponibile. Ci è venuto a prendere al porto, lo incontravamo spesso e chiacchieravamo. Ci ha invitato a fare un giro in barca con lui. La casa è molto carina, un po' disordinata ma pulita e rispecchia la descrizione che si può vedere dalle foto. La cucina è fuori (questo non è un problema perché fa sempre caldo e c'è il sole) ma ha solamente una piastra elettrica, in compenso ha il forno a legna dove abbiamo cucinato i pesci! la stanza più bella è la sala che non dà sulla strada ma sul giardino in cui c'è un divano letto dove si può dormire.. ci sono molte zanzare ma credo un po' ovunque e basta munirsi di repellenti! visto il prezzo (noi eravamo in 4) è davvero conveniente. la situazione è per giovani, spartani. il luogo è perfetto per spostarsi per i vari settori dell'arrampicata. p.s. ci sono due cani Fidel e Amigo che sono bravissimi, non abbaiano, sono molto dolci e stanno per i fatti loro. Io, che in genere ho paura dei cani, non ho avuto alcun problema!
Serena
2016-08-08T00:00:00Z
The flat is comfortable, clean, with big bathroom and common room with large windows by sea view. A lot of hot water, large fridge. The is also big yard with sunbeds and a gate right to the sea, a shelter with cooking facilities and wood oven you can share with the oner. The oner, Emmanouill is very pleasant, interesting and open mind person, has two kindly dogs. We have several dinners together in the yard with wine and fish, tried some fishing in the harbor nearby and from his sailing boat. Sailing with him around Telendos island is very interesting trip and experience if you never tried it. As climbers we found that the location is very good since we walk to main sectors between Kasteli and Masouri. The boats to Telendos come every half an hour just two hundred meters from the house so we spent there climbing several days we never been before. No crowds, deferent styles. Nearby several restaurants and bars, Stall supermarket and life here is more quiet and local. Still you can walk to Massouri for shopping and dining parties. Will stay again next time! Thank you.
Андрей
2016-11-25T00:00:00Z
Mannys place is great. Clean nice and very inviting. His yard backs up to the beach and the next time we come were definitely taking advantage of the wood burning oven outside to cook up seafood. Can't wait to come back
Yegor
2016-10-27T00:00:00Z
Manny was great. Picked us up from the ferry port, gave us a quick tour and left us to get on with things. Good chat & interesting guy. We were a group of climbers and the site worked for us very well. We'll be back!
Harry
2016-10-08T00:00:00Z
We had a fantastic stay at Emmanouil's.There was a bunch of us on a climbing holiday, and the place was just right for our needs. Emmanouil has been a very considerate host - just as an example, one of us had a health-related emergency and he offered us his help to navigate the healthcare system, which we really appreciated. I personally really enjoyed playing with the dogs too!The location is very good for climbing, and the boat for the island of Telendos is basically on your doorstep- don't miss the chance to pay a visit
Sibilla
2016-09-20T00:00:00Z
We had a very nice stay at Emmanouil's house ! He came to get us at the ferry when we arrived, the house is very nice and with a wonderful view and Emmanouil is a very good host ! We recommend the place :)
Clara
2016-08-20T00:00:00Z
Emmanouil was very kind with us. His place is very special, just by the sea with a private garden. The lounge is very comfortable and a great place to watch sunset. It is a great hippy place even if the flat has still some work to be done. A great fire place outside to cook your fish!
Romain
2015-11-11T00:00:00Z
Oda Tipi
Tüm ev/daire
---
Mekan Türü
Ev
---
Konaklayacak Kişi Sayısı
5
---
Yatak odaları
Kálimnos, Egeo, Yunanistan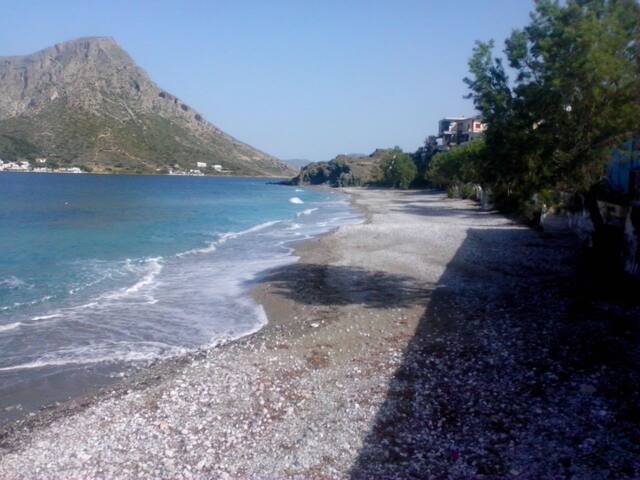 tırmanma siteleri - Yeni deniz ve kaya yakın Myrties bulunan iki katlı evin zemin katında rahat atölyesini kurdu. Bu 17 sm ve 2 kişi kapasiteli. Bir çift kişilik yatak, dolap, televizyon, internet erişimi, klima vardır
stüdyo, yeni, tam donanımlı, kendin pişir kendin ye konaklama. veranda gizlilik ve deniz manzaralıdır.
We had a great stay at Katina and Steve's apartment. They were fantastic hosts, picking us up from the airport and dropping us at the ferry. They shows us around town, made us food and were overall very hospitable. The apartment is small but has everything you need. Fantastic location with sea views and central to restaurants, beaches and climbing. We recommend staying here to anyone lucky enough to get to Kalymnos.
Jane
2014-09-16T00:00:00Z
Absolutely fantastic host :) Picked us up from the port all the way on the other side of the island and gave us a tour of the local neighborhood when we first arrived, even though it was late at night. Katina stocked our kitchenette before we arrived with some groceries, and even made us dinner one evening. She and her husband Skevos definitely made us feel very, very welcome. The room is quite small, but the facilities work well - the bathroom is nice, there is a kitchenette and a refrigerator, and the wifi is quite reliable. For other climbers (I stayed here for the sport climbing on Kalymnos), note that the studio is in Myrties and not Massouri, but that adds just a 5 minute walk. The studio comes with a nice view, and a veranda to appreciate it. Would definitely stay here again.
Austin
2015-08-15T00:00:00Z
Soggiorno fantastico.. Katina e Skevo sono persone fantastiche.. Al nostro primo giorno di arrivo sono venuti a prenderci al porto per portarci all alloggio.. La posizione è fantastica, 10min a piedi dal mare e i vari ristorantini.. L alloggio dentro è carinissimo, piccolino ma pratico con condizionatore cucina e. Bagno come descritto.. Al nostro arrivo abbiamo trovato il frigo con frutta uova cioccolate e pane comprato da katina e suo marito.. Altra nota positiva noi siamo arrivati senza valigia perché l aereoporto aveva fatto casino.. Skevo si è preso la briga di chiamare e di andarci a prendere le valigie..sono persone veramente disponibili e gentili.. Lo consiglio!!
Chiara
2016-08-06T00:00:00Z
I've now stayed at traditional studios twice. Both times were absolutely amazing. The studio provides a few luxuries I've really come to appreciate after staying in several places in kalymnos. The studio has screens on the windows so you can sleep at night with windows open and no fear of mosquitos, your own hot water so you always have a hot shower, and access to a washing machine. Katina and Skevos are amazing hosts who are always responsive and willing you help during your stay.
Jeboah
2016-10-26T00:00:00Z
What a wonderfull host cople for a wonderfull stay in this beautiful island. They have all the time the smile and ready to help you ! The appartment is well equiped, in a good location for a very good price. Thank's to have permitted to join my family and for the transfer to come and leave from the port . HIGHLY RECOMMEND. we wish you all the best.
Nathan
2015-06-20T00:00:00Z
Katina and Skevo are the perfect host couple! Skevo picked us up in Potia late at night and Katina had the breakfast ready in our Studio. Very clean place and perfectly situated for climbing. They even made a delicious, typical dinner for us! Thank you again!!
Ella
2016-06-09T00:00:00Z
Fantastic stay, wonderful people. A lovely, well appointed studio with the most fantastic hosts. Would definitely stay again!
Tiff
2014-05-11T00:00:00Z
Well deserved ''super host'' mention. We had a fantastic stay in Kalymnos. Katrina and Stevos are such nice, helpful and friendly people. They take great pride in what they do and they looked after us so well. The place was clean, towels and bedding changed on regular basis. We even got few treats along our stay (traditional greek cooking, sweets...) We would recommend to anyone to stay at Katina 's and Skevos's. Also Kalymnos is a fantastic climbing location, if not the best! The house is really close to any crag.
Leigh and Steph
2016-01-17T00:00:00Z
Oda Tipi
Tüm ev/daire
---
Mekan Türü
Yatakhane
---
Konaklayacak Kişi Sayısı
3
---
Yatak odaları
Mirties, Egeo, Yunanistan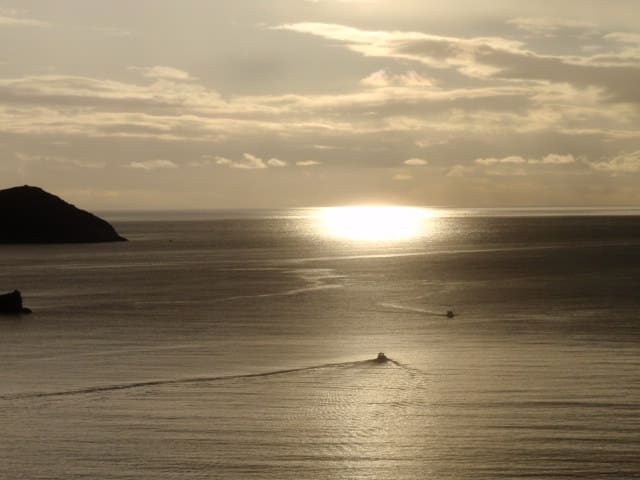 Argo studios are located right on the beautiful beach of Myrties with panoramic seaview and view of Telendos island with a splendid sunset. Also they have a fully equipped kitchen corner and they are very close to climbing areas.
Le indicazioni lasciatemi per raggiungere la stanze erano precise, ed ho trovato subito il mio alloggio, poco dopo è arrivata Stella a verificare che tutto fosse a posto: una persona adorabile e gentilissima. La posizione della struttura è molto bella, comoda e piacevole, ma ha decisamente bisogno di un po' di attenzione: c'è un odore forte di muffa nella stanza, la cucina e la sua attrezzatura potrebbero essere aggiustate, riaggiornate ed implementate senza bisogno di grandi investimenti ma solo con un po' di più amor proprio, rendendola un po' più comoda, pratica (le attrezzature sono moolto essenziali e rétro, la mensola della cucina è incurvata ed instabile, non c'è una pentola o uno scola pasta/riso, il piccolo bollitore è antidiluviano...) meno decadente e più accogliente senza che questo però influisca sul prezzo all' utente....che così può andare in alta stagione, ma non a fine novembre quando l' isola è oramai deserta. Prima di cambiare appartamento ho visitato altre strutture ed erano tutte meglio equipaggiate, più curate, con acqua bollente e a 20 € anziché 35€ Ho lasciato la stanza dopo due giorni perché mancava l' acqua calda, legata ai pannelli solari che probabilmente a fine Novembre non accumulano abbastanza calore: bastava dirlo subito invece di cercare di convincermi ad aspettare domani ancora...non hanno accennato ad offrirmi un prezzo ridotto e non hanno comunicato ad airbnb la mia uscita, nonostante fossi rimasta d'accordo con Stella che avrebbero provveduto loro..così l' ho fatto io 3 giorni dopo non avendo ricevuto da airbnb alcuna news in proposito. Lo consiglierei soltanto a qualcuno che va nell' isola per stare al mare, in spiaggia, non per i climbers di sicuro: non ne vale la pena e c'è molto di meglio in giro.
madda
2015-11-29T00:00:00Z
We stayed in Argo Studios which is located right on the beach Myrties. We had everthing which we needed in it. There was also an aircondition eventhough we didn't need to use it. We had wifi, hot water evert time. House, beds, bath were very clean and comfortable. There was a market near house so we cooked most of days. House was also so close to Masouri center. We went there to drink somethings and to do shopping by walking. We walked to reach a lot of sectors too. After climbing when we came back home, we enjoyed our beers on teras with amazing landscape smile ifade simgesi. Our host, Sotiris and his wife Stella, were very friendship, warm, helpfull and professional. Stella served us delicious cake, thank you again. We enjoyed every minutes of our holiday.
ali
2016-04-24T00:00:00Z
Stella and Sotiris were amazing hosts. When I travel I always stay at Airbnb rentals and they were probably the best host I've ever had. Stella cooked us fresh cheesecake one day and did an incredible job at making us feel like family. It is off the main road right up along the ocean and within walking distance to Massouri with lots of good restaurants along the way. Going to sleep and waking up to the sounds of the ocean... Can't get much better! Next time I visit Kalymnos (and I will most definitely be back) I am without a doubt staying here again. Thank you again Stella and Sotiris!
Adriana
2016-10-22T00:00:00Z
Beautiful condo right by the ocean. We loved waking up and falling asleep to the sound of the waves. Stella even brought us cheesecake on our last night! We enjoyed our stay and would stay again!
Caitrin
2015-10-24T00:00:00Z
Excellent, helpful and friendly. Highly recommended.
Rowan
2016-09-24T00:00:00Z
Very nice place, in an amazing location, just in front of one of the best beaches of the island! The room is clean and comfortable. Stella and Sotiris are very sweet and kind, always available
maria
2016-07-31T00:00:00Z
Oda Tipi
Özel oda
---
Mekan Türü
Daire
---
Konaklayacak Kişi Sayısı
2
---
Yatak odaları
Καλυμνος, Αιγαίο, Yunanistan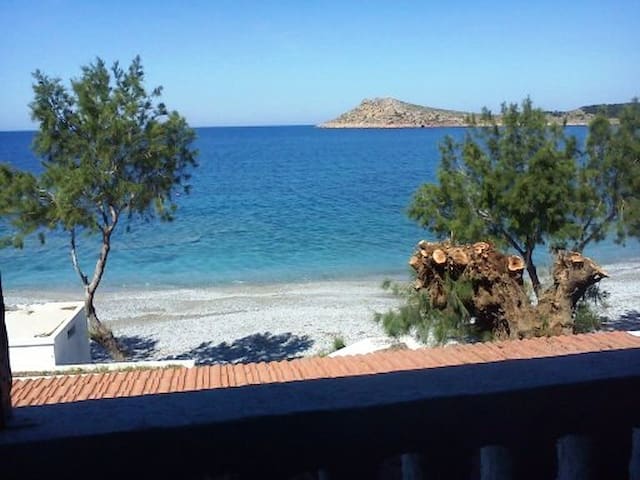 Einfamilienhaus, traditionelle lokale Inselarchitektur und Dekoration, verfügt über eine voll ausgestattete Küche. Es ist nur 10 Meter vom Meer entfernt und verfügt über eine hervorragende Aussicht auf die kleine Insel Telendos. Einfamilienhaus, traditionelle lokale Inselarchitektur und Dekoration, verfügt über eine voll ausgestattete Küche. Es ist nur 10 Meter vom Meer entfernt und verfügt über eine hervorragende Aussicht auf die kleine Insel Telendos.
Oda Tipi
Tüm ev/daire
---
Mekan Türü
Ev
---
Konaklayacak Kişi Sayısı
3
---
Yatak odaları
Mirties, Egeo, Yunanistan
Οικογενειακό όαση κοντά στην παραλία
Το σπίτι βρίσκεται σε 1.700 τμ οικόπεδο που περιβάλλεται από πεύκα, συκιές, ελιές και αμυγδαλιές. Η θέα του αλιευτικού λιμανιού, στη θάλασσα στο νησί της Τελένδου είναι συντριπτική. Η παραλία της Μελιτσάχας είναι σε 5-7 λεπτά. walkdistance, δύο άλλες παραλίες βρίσκονται επίσης σε κοντινή απόσταση με τα πόδια. Στον πρώτο όροφο η κατοικία διαθέτει 2 υπνοδωμάτια: ένα με διπλό κρεβάτι και δικό του κλιματισμό και ένα με δύο μονά κρεβάτια και κλιματισμό και ένα μπάνιο / WC. Στο ισόγειο υπάρχει ένα μικρό καθιστικό / υπνοδωμάτιο με ένα διπλό (ημι-υψηλή) κρεβάτι, μόνιμα εγκατεστημένο, μια μικρή κουζίνα και ένα μπάνιο / WC. Η βεράντα είναι πολύ μεγάλο και έχει μια υπέροχη θέα στη θάλασσα. Συνολικά, το σπίτι μπορεί να φιλοξενήσει max. 6 άτομα. Ο πρώτος όροφος είναι προσβάσιμο μόνο από μια εξωτερική σκάλα. Καθαρισμός και αλλαγή σεντονιών, παρέχεται μία φορά την εβδομάδα και περιλαμβάνεται στην τιμή. Wi-Fi είναι διαθέσιμη και είναι δωρεάν. Κάτω από το σπίτι, υπάρχουν δύο «στούντιο» με τη δική του βεράντα. Ένας από αυτούς μπορεί να είναι επίσης να νοικιάσετε για 30.- / ημέρα. Προσφέρει διαμονή για 2 επιπλέον άτομα. Αποτελείται από μπάνιο / WC και ένα υπνοδωμάτιο με κλιματισμό. Ο εξωτερικός χώρος του σπιτιού είχε προγραμματιστεί εκ νέου πρόσφατα (2016).
Unsere Anreise lief wegen Unwetter nicht wie geplant und so sind wir statt nachmittags erst am späten Abend auf Kalymnos angekommen. Vlasis Mutter hat uns vom Hafen abgeholt und zum Haus gebracht. Und sie hatte schon Brot, Milch, Eier usw für unser Frühstück besorgt und auch Wasserflaschen waren schon vorhanden. Das Haus ist sehr ruhig an einem Hang gelegen und es hat eine wunderschöne und große Terasse, von der man Telendos und jeden Abend den Sonnenuntergang sieht. Die Räume sind schön eingerichtet und es ist sehr sauber. Es gibt in der direkten Umgebung mehrere sehr gute Restaurants und zum Mini-Supermarkt sind es auch nur ein paar Minuten Fußweg. Den nächsten Ort Masouri erreicht man zu Fuß in ca 20 min. Vlasis (in Österreich) seine Mutter (vor Ort) waren immer für uns erreichbar und haben sich sehr lieb um uns gekümmert. Wir haben uns sehr wohl gefühlt.
Nicole
2015-10-02T00:00:00Z
We were 7 climbers staying one week at Vlasios house (villa + studio) and everything was perfect. First of all Vlasios was very helpful before our stay and always answered our questions the day I emailed them, then his parents took charge when we arrived on Kos and Kalymnos. They were extra welcoming, coming to the harbor to get us, leaving us delicious homemade marmalade and providing extra blankets, and arrangements for our departure... The house itself is great. The terrace is huge with comfy chairs and we spent most of our time there. The view on Telendos is perfect, there are no other houses below. Everything was really clean, the two bathrooms are practical (shower stall, not curtains) and there were two towels for each of us! The mattresses are good, the two double beds are big (one of them is in a big room, the other lacks privacy if someone wants to use the living room), there was a lot of place to put all our clothes and climbing gear. Doors, some windows, and even some beds are equipped with mosquitoes nets which is a real plus on Kalymnos. The location is great too: very close to Masouri but less touristic, above the harbor, with two taverns (go to Anna's!), not far from a small supermarket and water machine (Kalymnos tap water is not to drink, these machines provide free drinkable water). We will probably be back at Kalymnos, and when we do, we will be back there if we can, because it was part of what made our stay so good :) Thank you Vlasios, and send our appreciation to your parents !
yasmin
2016-10-21T00:00:00Z
It was a perfect place to stay after days of climbing- quiet, private and clean. Everything was very kindly organized - transport for six from the port and back, breakfast materials waiting in the kitchen, changing of broken bulb and even reorganizing beds in the room (we had misread the number of single beds). Hosts parents, who take care of you, speak german (we don't :)), but with a little help from their daughter, things worked out without any hassle. The house was just as described. Downstairs living room is not very big, but we spent most of the time outside on the terrace anyway. Bathrooms were clean and roomy, bedrooms have mosquito nets and window shutters. Kitchen was equipped with all the basic appliances and kitchenware we needed to prepare our dinners. The place is very private, in the middle of a quiet area (no noise from the scooters!), but still in a walking distance of good restaurants, minimarket, scooter rental and the beach.
Pille
2016-04-25T00:00:00Z
Wir durften das zweite mal in diesem Jahr in Vlasis Haus wohnen. Er organisiert min seinen Eltern eine reibungslose An- und Abreise. Für das Wohlbefinden vor Ort stellte er uns sogar zwei Gitarren bereit - vielen Dank!
Christian
2016-10-29T00:00:00Z
I shouldn't be doing this because this review will make it more difficult to rent Vlasis Haus in the future. The house itself was as described and extremely comfortable. The kitchen, although small, was completely equipped and contained a full sized refrigerator. But what really made this property an AirBnB gem was Loukas and his wife (Vlasios'parents) who met us at the ferry and arranged a taxi for us, welcomed us at the house with wine and pastries, and generally looked after us for the two weeks that we were on Kalymnos. In addition, the sunrises and sunsets over the island of Telendos, viewed from the patio, made breakfasts and dinners a delight. We will definitely be back!
Garry
2016-10-09T00:00:00Z
We were a group of 6 climbers that had a fantastic time at Vlasis Haus! The house was great, the best part of which was the veranda where we sat and enjoyed a view of the sea while eating breakfast and dinner every night. Its less than a 5 min walk from the beach and a grocery store, in the quiet town of Myrties, but easily walkable to Masouri, the larger village with tons of restaurants, coffee shops and climbing stores. The host was super easy to contact and responded quickly, its his parents though that take care of the house and who you will meet. They are super sweet, have limited English, but more than enough to communicate. They helped us arrange taxis to and from the ferry and even came by with some fresh local Greek cheeses to try! We hope to go back to Kalymnos again and would definitely try to get this house again!
Bronwen
2016-05-20T00:00:00Z
Vlasios was a great hos, his friendly father picked us up at the airport and drove us to the house which was very nice. Vlasios parents were very nice and showed us everything in the house before leaving us to ourselves. The house itself has a lot of room and a great view of the ocean. It was also nice to stay away from the noisy main road on Kalymnos.
Jon-Leo
2015-10-18T00:00:00Z
Die Unterkunft "Vlasis Haus" ist kurz gesagt genial. Wir waren zu sechst im Kletterurlaub. Wir wurden am Hafen herzlich von den Eltern von Vlasios empfangen und zum Haus geführt. Seine Mutter spricht gut Deutsch und wartete mit lokalen Köstlichkeiten auf. Das Haus bietet eine saubere Küche, zwei Badezimmer und ebenso nette Schlafzimmer. Der Balkon eignet sich ausgezeichnet für das morgendliche Frühstück. Das Zentrum ist in ca. zehn Gehminuten für einen abendlichen Pub-Besuch oder einen Einkauf zu erreichen und der Hafen für die Fahrt zur Insel Tolendos in ca. fünf. In der nahen Umgebung ist ein Strand und einige feine, familiäre Restaurants, die durchaus als Geheimtipp durchgehen. Vlasios Vater organisierte uns noch die Taxifahrt für die Rückreise. Mit diesem Haus und den Leuten vor Ort macht Urlaub Spaß. DANKE
Christian
2016-05-29T00:00:00Z
Oda Tipi
Tüm ev/daire
---
Mekan Türü
Ev
---
Konaklayacak Kişi Sayısı
6
---
Yatak odaları
Kalymnos, Egeo, Yunanistan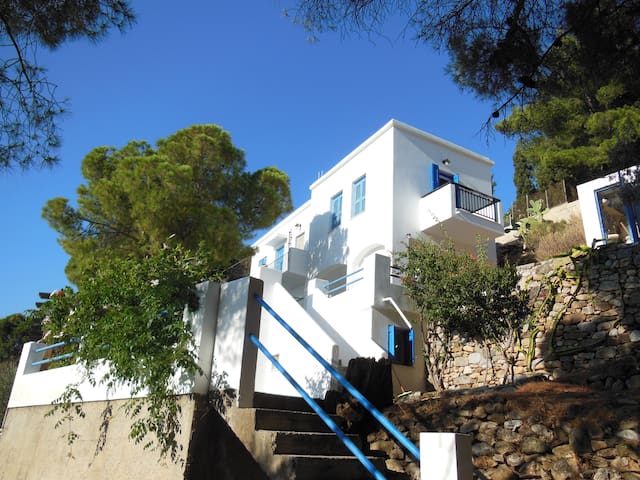 Deluxe floor in Kastelli Sunset Villa with pool is fully equipped. 2 Double Bedrooms, Bathroom and Living room with kitchen area. All rooms with stunning sea view.
The house was as just as amazing, as the pictures. Michaela and Tomas were very good to communicate with. Beautiful view overlooking the sea and mountains - and stunning sunset. The house has a good space, 2 bedrooms with the amazing view, aircon and fan and space for clothes. Small kitchen, with just what you need. Beautiful build stone house with modern look, and very clean. We enjoyed the amazing pool every day. We hope very much to come back to your great house. Highly recommendable.
Jakob
2016-07-08T00:00:00Z
We had a great time and the place was well-maintained and accurately depicted.
Robbie
2016-10-17T00:00:00Z
Let's start with the positives-The view from this stone built villa is magnificent and this cannot be disputed. The house itself is attractive with a nice outdoor area half covered with a pergola. Garden needs to be planted as well The pool is more of a dipping pool as it is about 5 metres long so swimming is not really possible unless you are a child. It was however very refreshing after sunbathing on the terrace. The house is presented in an island chic style which although nice to look at was not very comfortable. Built in solid concrete Sofas are never comfortable at the best of times but these were too narrow and with no fitted back cushions but just a jumble of scatter cushions- it was impossible to get comfortable on them. I know that the house has only recently been offered on AirBnB but the owners have got some basics wrong. The water pressure, bizarrely only for the cold water (which you need in 30c) was non existent in the bathroom but no problem in the kitchen-this needs to be fixed immediately as it will lose them customers-and is a most basic need. We were promised WIFI and TV and as we were here during the Olympics we intended use of both at this high price. The WIFI was initially restricted to 2 GB according to the agent Yannis this is 2016 and this was unacceptable and almost caused me to try and find a nearby hotel! We had it upped to 30GB and we had no major problems after that. The TV had no aerial and so we got someone through the agent to come-five minutes after he left the signal died and then we played a 1970s game of moving the aerial around the terrace shouting out to each other whether it was working! We gave up-they came back to fix it but did not bother to let us know and we missed most of the Olympic coverage. There is another flat attached to house upstairs and was rented out for about 5 days during our visit and the super close proximity meant you could literally hear ever word of every conversation by both parties-not very nice frankly and no privacy at all. The worst aspect of this house was the road leading to the house a one in two gradient at the beginning and end and a dirt road in between was a hair raising experience and we scrapped the bottom of our new car badly getting in and out After a few days we "learned" the tricks and was ok going up. All in all it was not a bad stay but it was not luxurious and the anxiety of the road ruined it a bit for me. I would say it is somewhat overpriced as it is and the owners need to address some basic problems esp the lack of cold water pressure in the shower.
Yannis
2016-08-27T00:00:00Z
Oda Tipi
Tüm ev/daire
---
Mekan Türü
Daire
---
Konaklayacak Kişi Sayısı
4
---
Yatak odaları
Kastelli , Egeo, Yunanistan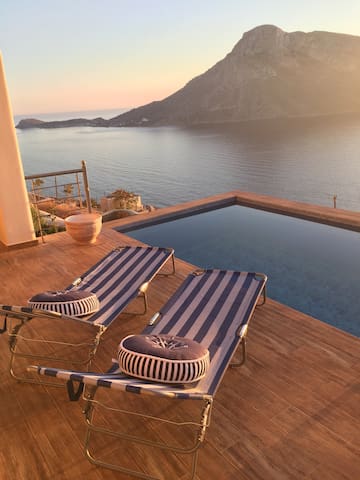 A pleasant place to be 50 meters from the beach ! Renovated in 2015
Oda Tipi
Tüm ev/daire
---
Mekan Türü
Daire
---
Konaklayacak Kişi Sayısı
4
---
Yatak odaları
Πάνορμος, Αιγαίο, Yunanistan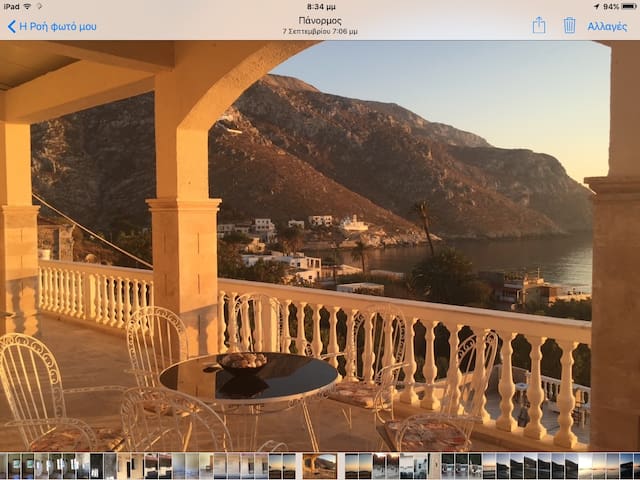 • Full air conditioning • Free Wireless Internet • Fully fitted kitchen with fridge • Furnished living room with fireplace • Spacious double bedroom • Fully equipped bathroom (with washing machine) • TV with 400 + sattellite channels from all countries • Print your vouchers or boarding passes for free
Located at the heart of Kalymnos, Massouri (premiere location for the climbing community), you will relax and enjoy the breathtaking views that mother nature has to offer. If your are a climber or just looking to enjoy what the island has to offer, you will relax in comfort at Sdregas Flats. The apartment provides access to disabled persons.
Amazing place with a beautiful view of Telendos and the sea! Perfect spot if you're a climber! Couldn't have been better!
Kol
2015-06-12T00:00:00Z
The view from the balcony alone will sell you on this apartment! Popi and Nicholas are just gorgeous hosts, they make you feel like family (and we almost didn't need to buy food .. the fridge was well stocked on arrival!) and the people of Kalymnos (& Masouri/Myrties) are beautiful (the town is a one minute walk down the hill). And for all the climbers - you're within walking distance of some of the crags .. but why would you miss out on the experience of hiring a scooter to zip around on! Can't recommend this place highly enough .. definitely stay here - we will be again! =)
Caitlin
2016-08-25T00:00:00Z
We really enjoyed our stay with Popi and even extended our time there. The unit we initially wanted was not available but Popi had another unit available in the same building. The location of the apartment was great - easy access to Massouri and a lot of the crags. And also set back enough that noise was not an issue. The interior was lovely, clean, and exactly as shown in pictures if not nicer. Popi was also available to answer questions and very helpful. Overall, we had a great experience and would love to return in the future.
Jessica
2015-10-11T00:00:00Z
The flat is located right above Massouri, and all the restaurants, necessities and the beach are a comfortable walk. The view of Telendos from the balcony is amazing. The flat is very comfortable and clean. We spent 5 days and easily could have stayed much longer.
Marian
2016-06-13T00:00:00Z
Very nice host w great apartment on the hill.
Zacharias
2016-06-23T00:00:00Z
Popi's place is a perfect stay in Masouri. It is an easy walk to everything as well as walking distance to some of the climbing areas. The patio was marvelous to enjoy morning coffee or watch the sunset. Popi was so wonderful, kind, and helpful with everything as well! My husband and I would highly recommend this place.
Josie
2016-11-24T00:00:00Z
Amazing place in the perfect location!
Kol
2015-06-14T00:00:00Z
We stayed in the top floor 1 bedroom apartment of Popi's, and it was phenomenal. The flat has a spectacular view from the balcony, and is a short walk (5 min) into town, with very easy access to restaurants, a well-stocked corner market (we bought all groceries for a 1-week stay here or nearby), gear shops, and even many of the popular climbing sectors. The flat is fairly modern - our guess is built or remodeled within the last 5 years. It has wifi, a washer, stove/oven, and basic kitchen items (though fairly minimalist). We were welcomed with a basic of fresh fruit, a bottle of wine, and some basics likes eggs, bacon, milk, and butter - how thoughtful! We would absolutely stay here again. Best Airbnb experience to date.
Mitch
2015-10-19T00:00:00Z
Oda Tipi
Tüm ev/daire
---
Mekan Türü
Daire
---
Konaklayacak Kişi Sayısı
3
---
Yatak odaları
Μυρτιές, Αιγαίο, Yunanistan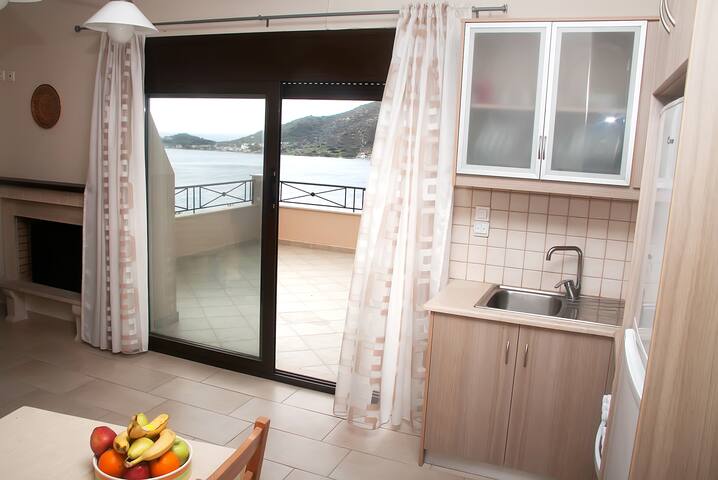 Renovated rooms that include 2-3 beds, fridge, a/c, (website hidden), free Wi-Fi, daily cleaning service, 24h hot water and public kitchenette with all cooking utilities. All rooms have seaview to Telendos island. 5min access to Massouri beach, bus and taxi sq and most climbing sectors. Rich breakfast.
The access to the beach and pool are just a 5 min. walk. Also our rooms have a fantastic view to the sea and the island of Telendos. There are several restaurants and minimarkets & tourist shops around to make your stay easier and just like ..home!!!
We stayed a week in one of the rooms at the Prego restaurant. Everything was perfect. Themis was super helpful all the time. We could pick up the keys in an inconvenient time (bit after midnight) and she arranged a taxi for us when we left. The food at the restaurant is excellent! I can recommend their hummus and vegetarian dishes for everyone. We were really satisfied with the service.
Attila
2016-05-20T00:00:00Z
Clean, great patio, great price! Loved getting the discount at Prego downstairs!
Caitrin
2015-10-16T00:00:00Z
What a wonderful place to stay. Lovely stuff, clean rooms and super delicious food at the Prego restaurant. Highly recommending. Thank You for a good stay.
Saulius
2016-08-19T00:00:00Z
Themis and her husband were lovely-- they even picked us up from the ferry coming from Kos in a bad rainstorm! Such nice hosts and a nice place in a wonderful location.
Anna
2017-03-16T00:00:00Z
The property sits just above what seems to be the only Italian restaurant in Massouri. The rooms are clean and the location is great. The common kitchen leaves a lot to be desired but I guess the vast majority of guests would rather eat out anyway. During our stay there was nobody at reception and it was not obvious that we should have asked at the restaurant downstairs. Otherwise a nice place.
Andrey
2014-04-29T00:00:00Z
It's beautiful place for climbing and holiday on Kalymnos! We liked hotel and restaurant. Thank you for a good days on this island!
Rifat
2014-07-04T00:00:00Z
Awesome, wonderful, and great! Themis and her staff are great hosts. Their restaurant is wonderful, we ate there almost every night of our stay.Highly recommended!!!
Corry
2016-10-09T00:00:00Z
The host canceled this reservation 48 days before arrival. This is an automated posting.
Nicky
2016-08-29T00:00:00Z
Oda Tipi
Özel oda
---
Mekan Türü
Oda + Kahvaltı
---
Konaklayacak Kişi Sayısı
2
---
Yatak odaları
MASSOURI, DODECANESE, Yunanistan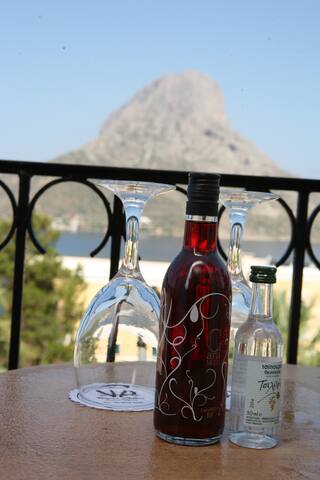 Place of wonderful aesthetic in Kantouni, fully furnished and equiped. Guests have access to the tree garden with fruit to collect. The can also enjoy relaxing moments at the beautiful yard of the house. The house is located very close to Kantouni beach (3 minutes on foot), popular bars, restaurants and a supermarket. An ideal place for those who are looking for quality vacation time.
This new listing, and the hospitality of our hosts Nicholas, Calliope and family exceeded our expectations. The suite was incredibly clean, private and stocked thoughtfully with everything we needed to make a little home away from home on idyllic Kalymnos. We would return in a heartbeat, and you should too.
Erin
2016-09-28T00:00:00Z
We stayed for one week at this incredible and beautiful house. The hosts were excellent and friendly, and even picked us up from our ferry. And the house was fully equipped with all amenities. The lovely garden was a great bonus as well. We will definitely visit again and definitely recommend this house for anyone looking for a beautiful, fun and relaxing vacation. Yasoo!
elena
2016-08-20T00:00:00Z
Kalliope and Nicholas are the perfect hosts and the house is very cosy, clean and full of optionals, from the Wi-Fi to the swimming pool, from the air-conditioning to the solarium. They where so kind to take us at the port of Kalymnos (little unknown treasure of the Mediterranean Sea) when we reached the island and to help us shopping at the cheapest supermarket nearby, renting a scooter or getting info about diving or climbing. The nearest beach is just 3 minutes walking and it's wonderfull to eat outside in the garden by night enjoying the silence and the stars.
Matteo
2016-07-27T00:00:00Z
Best overall trip/airbnb ever. Rent a scooter from the scooter shop down the street. The owner is super friendly. The airbnb hosts picked us up and showed us around. They brought fresh eggs and fruit in a basket in the morning. We took our scooter and climbed and swam all over the island. A perfect romantic get away!
Mikiel
2017-04-08T00:00:00Z
These people are amazing! Very accommodating and helpful. This was my first time on a solo trip and there are numerous was to get to kalymnos. They were very helpful in getting me to places, showing me amazing things and restaurants. The house is beautiful, everything anyone would need. A nice deck to tan on and a beautiful pool with pomegranate and oranges growing at the front door. In a quite location but yet close to masouri via scooter. Can't say enough what a perfect time I had.
Joe
2016-10-31T00:00:00Z
The host was fantastic, picking us up from the port, taking us to the supermarket and to the moped rental place. They were always on hand if there were any problems with the apartment. The apartment was very nice and we had access to the pool and sunbeds on the roof.
Amy
2016-10-24T00:00:00Z
The place was woderfull. House was full equiped and owners of house are very helpfull. Perfect place for calm vacation.
ekin
2016-09-20T00:00:00Z
De gastheer en vrouw doen alles om het naar je zin te maken. Staan steeds voor je klaar. Zijn ons komen afhalen en hebben ons terug gebracht naar de Ferry. Huisje comfortabel en zeer netjes. Naast het huis van de eigenaars gelegen. Klein zwembad ter beschikking. Vlakbij klein strandje, klein supermarktje en enkele eetgelegenheden.
Sandra
2016-09-17T00:00:00Z
Oda Tipi
Tüm ev/daire
---
Mekan Türü
Ev
---
Konaklayacak Kişi Sayısı
2
---
Yatak odaları
Kalimnos, Egeo, Yunanistan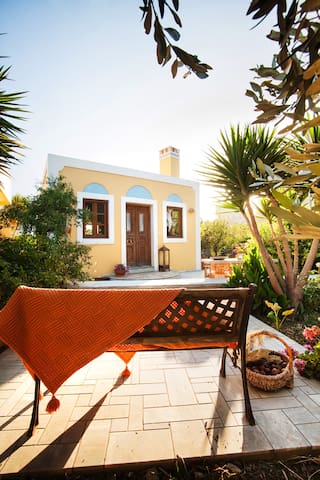 Spacious 3 bedroom house at the center of Masouri, 2 minutes by foot from the beach. Large kitchen, Tv room &beautiful veranda with breathtaking seaview. Free charge cleaning service,free wifi, and better prices after discussing! So send a message..and we will figure it out!
One of the advantages of the house is it's magnificent view of the sea and Telendos island that carries you away. Secondly the house is fully equipped with every amenity you will need. The house has 3 bedrooms that totally sleep 5 persons. The bathroom is really spacious with tub and washing machine. The linen and towels will be provided. Welcome sweet basket is treated upon your arrival with baklava, almond biscuits and honey from the best traditional local pastry shop. Apart from the balcony there is a back yard which is safe in case of children. The kitchen is very convenient with lots of space, a counter, hot plate, big fridge, and a dining table. The living room is united to the kitchen which provides 2 sofas,1 armchair, a coffee table and a TV with over 300 international satellite channels such as English, American, Russian, German, Italian, Spanish etc. A big asset of the house are the big windows that let the house be sunny until the afternoon. Of course the house is airconditioned. Parking space is available for one car and motorbikes. Free wifi is provided so you can work from home and surf at the internet.
The neighborhood has lots of foodstores, restaurants and shops. The beach is accessible at 2min by foot. There is a bus and taxi sq. at 100m The hotels nearby provide free access to pool and wifi. The house is located at the best area of Masouri. Very close to everything ..
My family of 5 had very nice staying at Foteini. The terasse and location of the house were the best. Foteini was also wonderful host. We could stay there another time also. Isot tilat, hyvällä etäisyydellä Massourin pääkadusta. Vähän vanha talo, pieniä puutteita kuten liian lyhyt suihkun johto, vuotava jääkaappi ja hapettunut vedenkeitin ja hankalat keittiön tuolit mutta näillä puutteilla myös pärjää. Pyysin emäntää huomioimaan nämä jatkossa.
Riina
2016-06-19T00:00:00Z
Great apartment, great location, great host!
Rachael
2015-10-03T00:00:00Z
Foteini is very good at communicating, which was really appreciated, she helped organise the Taxi, met us at the Villa, walked us around, organised the cleaner for us mid week and provided some gorgeous biscuits and if I new where she got them from I would take them home with me! The villa has a fantastic view over the bay. Will definitely consider staying again. Thanks Ian
Ian
2016-10-11T00:00:00Z
The house is in a great location at the lower end of Masouri, its clean, comfortable and with a fantastic view across the bay to Telendos and beyond. Foteini couldn't have been more welcoming and helped to arrange transfer taxis and kept in touch making sure all was ok. It was cleaned weekly and the solar heating provided loads of hot showers. I would definitely book with Foteini again
Bill
2016-04-10T00:00:00Z
The panoramic view of Masouri and Telendos from the veranda was incredible. The home was spacious and had three air conditioned bedrooms with 5 real beds. Fotini was very nice. She left us a gift of baked pastries from her family's bakery, and a jar of honey. The hill leading to the house was steep and there were three flights of steps, but the house and view were worth it. It was in the town of Masouri, a few minutes walk to the beach and a short walk to Mirties port. We loved it there and were sad to leave.
Connie
2016-07-09T00:00:00Z
Oda Tipi
Tüm ev/daire
---
Mekan Türü
Ev
---
Konaklayacak Kişi Sayısı
5
---
Yatak odaları
KALYMNOS, dodecanese, Yunanistan
We are located near the most known tourist area in Kalymnos, Masouri. The distance between the studios, Massouri central Square and the beach is only 200 m. Each studio is equipped with electric cooker, cutlery, a fridge, a toilet, large verandahs and a panoramic view of the island of Telendos. There is also a water-tank that supplies all studios with fresh rainwater, hot throughout the day.
Oda Tipi
Tüm ev/daire
---
Mekan Türü
Daire
---
Konaklayacak Kişi Sayısı
2
---
Yatak odaları
Chorio, Yunanistan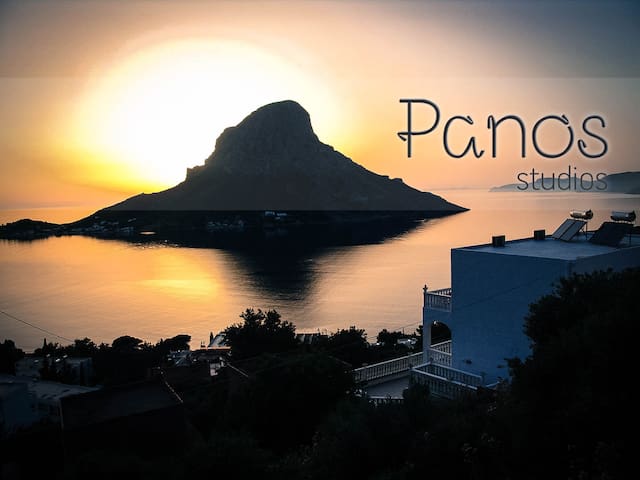 Naše pokoje jsou umístěny v centru Massouri, 2 min od pláže, restaurací a obchodů a je v blízkosti nejznámějších lezeckých odvětvích. Byt poskytuje A / C, útulný obývací pokoj, kitchennete, ložnice se 2 samostatnými lůžky a čištění každý druhý day.The pohovkou spí 3. osobu. Také jsme likvidovat soukromé parkoviště. V bytě je 30 metrů čtverečních s balkonem, který vás ohromí! Naprostá modré moře s malebný ostrov Telendos bude váš společník během svého pobytu ...
Oda Tipi
Özel oda
---
Mekan Türü
Mobilyalı daire
---
Konaklayacak Kişi Sayısı
3
---
Yatak odaları
Mirties, Egeo, Yunanistan
L'appartamento può ospitare 3/4 persone, è composto da cucina abitabile, bagno, camera da letto ed esclusivo resede esterno. È dotato di aria condizionata. È situato proprio di fronte al mare da cui si può ammirare la splendida isola di Telendos (parco naturale protetto) e un tramonto mozzafiato!
La posizione eccezionale
La pace, la tranquillità e il contatto con la natura
Oda Tipi
Tüm ev/daire
---
Mekan Türü
Daire
---
Konaklayacak Kişi Sayısı
4
---
Yatak odaları
Myrtees, Dodecaneso, Yunanistan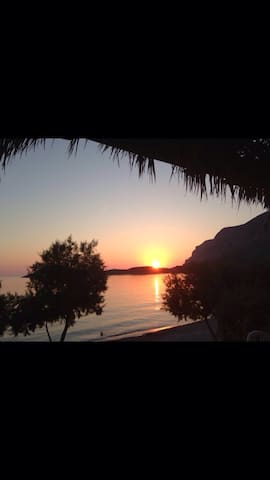 Kamenný mezonet, plně vybavená. Dřevěné podlahy, zastaralý nábytek. Přízemí: kuchyň (s lednicí a troubou), obývací pokoj. Ložnice Vybavení: Double kované železo vyrobena postel, TV, fén, 2 / c Extra podkrovní ložnice. WC venku.
Staré architektonický styl, útulné podkroví, klidný a relaxační atmosféru. Neuvěřitelný výhled z balkonu, pohodlný pobyt pro každého hosta.
The reservation was canceled 126 days before arrival. This is an automated posting.
Eily
2014-01-24T00:00:00Z
Location fantastica, un panorama splendido che basterebbe per dare 5 stelle di valutazione e proprietaria gentilissima e disponibile. Qualche miglioria possibile nell'arredamento, soprattutto per quanto riguarda la funzionalità del piano terra, in cui ci sono un po' troppi oggetti e mobiletti in giro che creano confusione.
christian
2016-07-03T00:00:00Z
Very nice with beautiful few :)))
Christina
2014-07-15T00:00:00Z
Great trip - thanks for organising the ferry transfer to the house and everything else! Loved the views from the terrace - perfect for a drink at the end of a hot day.
Angus
2014-10-12T00:00:00Z
We stayed 3 days in this cosy house and we loved this place. The house is located on the top of the hill of Mirties, which means it has the most incredible view over the bay and the island of Telendos but it is a quiet long walk to reach it if you have transportation. The communications with Katerina were quick and accurate. The toilet is located outside of the house but it is not a big deal since the house is quiet isolated and you have all the privacy that you need.
Riccardo
2016-08-02T00:00:00Z
We had a great experience! The house is quaint but tiny. We stayed for over a week and had all the equipment necessary to cook our own meals. Wonderful view from the balcony! Katerina was very helpful along with her friend Popi who helped to settle us. great stay!
Katie
2014-10-23T00:00:00Z
Oda Tipi
Tüm ev/daire
---
Mekan Türü
Ev
---
Konaklayacak Kişi Sayısı
4
---
Yatak odaları
Mirties, Egeo, Yunanistan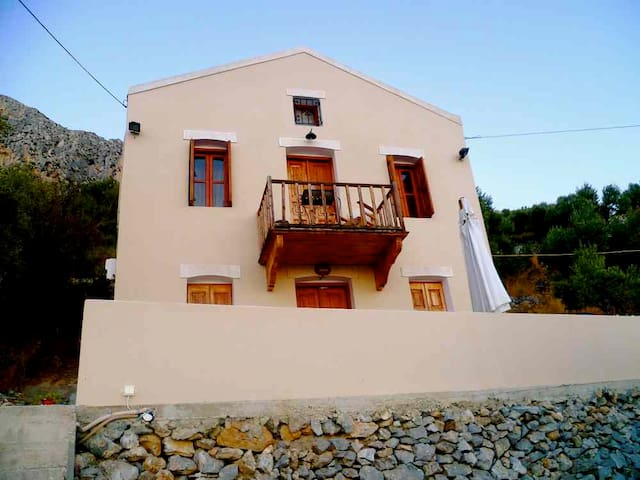 Tam fiyatlandırmayı görmek için tarihleri görün. Ek ücretler uygulanır. Vergiler ilave edilir.