Το σπίτι μας είναι ένα διώροφο πολυτελές Μεζονέτα, κατάλληλο για τους επαγγελματίες, τους επιστήμονες, ζευγάρια (με τα παιδιά, καθώς), άτομα που επισκέπτονται τη Θεσσαλονίκη για επαγγελματικούς λόγους ή για διακοπές. Σε ένα πολυτελές, ζεστό και βολικό μέρος, με όλες τις ανέσεις και παροχές, μπορείτε να περάσετε κάποιο χρόνο εργασίας, χαλαρώνοντας και απολαμβάνοντας τον εαυτό σας.
Το σπίτι μας είναι ένα διώροφο πολυτελές Μεζονέτα, κατάλληλο για τους επαγγελματίες, τους επιστήμονες, επίσης, με τα παιδιά, ζευγάρια, άτομα που επισκέπτονται τη Θεσσαλονίκη για επαγγελματικούς λόγους ή για διακοπές. Σε ένα πολυτελές, ζεστό και βολικό μέρος, με όλες τις ανέσεις και παροχές που θα μπορούσατε να χρειάζεστε, μπορείτε να περάσετε λίγο χρόνο για να εργαστείτε, να χαλαρώσετε, κατάστημα και να απολαύσετε τον εαυτό σας.
Το σπίτι ήταν ακριβώς όπως στις φωτογραφίες. Άνετο, πλήρως εξοπλισμένο και πολύ καθαρό. Η επικοινωνία με την κ. Μαρία ήταν άμεση και ως οικοδεσπότης ήταν άψογη. Μας έδωσε την δυνατότητα να μείνουμε παραπάνω από την ώρα που όριζε το check out και αυτό ήταν πολύ ευχάριστο. Το σπίτι είναι πολύ εύκολο να το βρεις καθώς υπάρχει στάση αστικού σε 1 λεπτό απόσταση κ βρίσκεται δίπλα στον κεντρικό δρόμο. Σίγουρα την επόμενη φορά που θα επισκεφτούμε την Θεσ/νίκη θα μείνουμε στης κ Μαρίας. Η εμπειρία μας ήταν πολύ καλή. Ευχαριστούμε για όλα.
Dimitra & Savvas
2016-12-04T00:00:00Z
Όμορφο, άνετο, πλήρως εξοπλισμένο και πολύ καθαρό σπίτι όπως στις φωτογραφίες. Κοντά σε στάση λεωφορείου και ταξί. Μείναμε μόνο μια μέρα αλλά εκτιμήσαμε ιδιαίτερα την φιλοξενία αφού η κ.Μαρία είχε ετοιμάσει ακόμα και το πρωινό μας.
ΑΓΟΡΙΤΣΑ
2017-02-05T00:00:00Z
perfect host, perfect apartment! we really like it!
Begum
2017-04-02T00:00:00Z
Άψογη συνεννόηση, συστήνεται ανεπιφύλακτα
S
2016-11-13T00:00:00Z
We had very good time even if we stayed just one night! The house is very very clean and spacious and close to the The White Tower! The host(Maria) was very friendly and helpfull! Thank you Maria and hope to see you next time!
Alex
2016-09-18T00:00:00Z
Oda Tipi
Tüm ev/daire
---
Mekan Türü
Daire
---
Konaklayacak Kişi Sayısı
4
---
Yatak odaları
Triandria, Yunanistan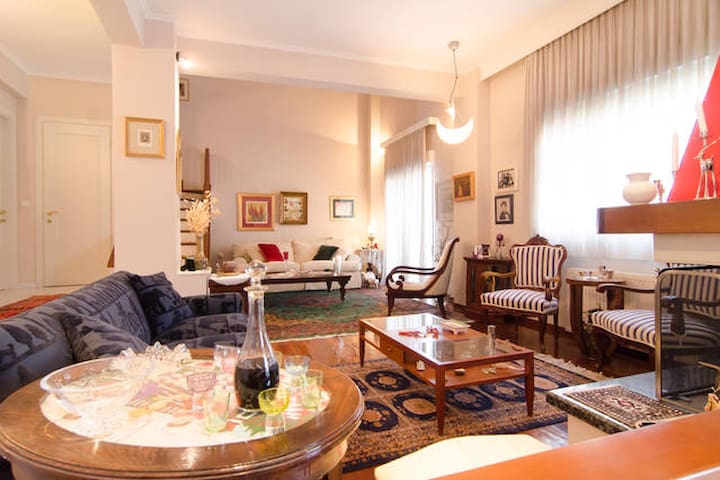 Útulný byt 68sqm. V blízkosti centra města snadný přístup autobusem nebo pěšky. veškeré vybavení kuchyňské pomůcky ložní prádlo ručníky jsou provided.Everything co potřebujete, je v okolí s velkým supermarketu a pekárny na rohu. to může ubytovat až 5 osob.
V centru Soluně blízko nádraží -BUS STATION 5min.chůze Pěšky za střed (Aristoteles SQR, Old Market ATD) Smlouvat o pěkné a levné zdrží a prozkoumají Soluni. MĚSÍC 700EURO TÝDEN 300 (URL HIDDEN) Jedná se o plně zařízený byt nachází v centru Soluně, v pěší vzdálenosti od centra města (10 min). Má prostorný obývací pokoj, který má pohovku převeden do postele spát (2 PRS), samostatná kuchyň, 1 oddělené místnosti (2prs) a vanu. Má 3 balkony s výhledem na hlavní silnici z přední jeden. Tento byt se nachází ve 2. patře zcela 5 (URL HIDDEN) je plně vybavena všemi domácími zařízeními, jako trouba, chladnička, prádelna, A / C, TV, DVD, Hi-Fi, etc.It má také vysokorychlostní připojení k internetu ACCESS Veškerá občanská vybavenost je velmi blízko od domu a centra města se nachází cca 5 minut autobusem nebo 10 min walkThe vlakové nádraží je příliš blízko asi 100 metrů a autobusová zastávka jen 50 m ,. V ceně pronájmu jsou všechny účty (s výjimkou úklid 30euro) (URL HIDDEN)
Můžete si najít volné parkoviště kolem
The apartment is large, well-equipped and has individual heating system that is important in winter. However, its cleanness is at a low level.
Michael
2016-12-25T00:00:00Z
Πολύ άνετο σπίτι κόντα στη πόλη. Το προτείνω ανεπιφύλακτα..
Leonidas
2016-12-09T00:00:00Z
Awesome host! I got a little lost and he came to find me where I was. The apartment that were supposed to stay at wasn't available due to water problems. Luckily he was able to put us up in a different apartment which was similar to what was described in this listing. Everything worked out in the end! The apartment isn't super close to the center by walking but there is a bus that takes no time really.
sabrina
2016-08-10T00:00:00Z
Great little apartment, Thanos was very helpful.
Nils
2016-12-16T00:00:00Z
The apartment was great. Just as described and worked well for us while we were there. The location is perfect for a short walk to the center of the city. Thanos was very accomodating, as we arrived later than expected.
Asya
2012-04-17T00:00:00Z
The host canceled this reservation 14 days before arrival. This is an automated posting.
Jelena
2016-06-19T00:00:00Z
Thanos was excellent host and the apartment as seen in the photos we had great time and would recommend it next time for my visit. 10 mins walk to port and city center
christie
2016-05-26T00:00:00Z
Η τοποθεσία ήταν καλή , το διαμέρισμα όπως περιγράφεται και ο οικοδεσπότης ευγενικός και φιλόξενος ! γενικά όλα ήταν καλα
Andreas
2016-10-10T00:00:00Z
Oda Tipi
Tüm ev/daire
---
Mekan Türü
Daire
---
Konaklayacak Kişi Sayısı
6
---
Yatak odaları
Selanik, Central Macedonia, Yunanistan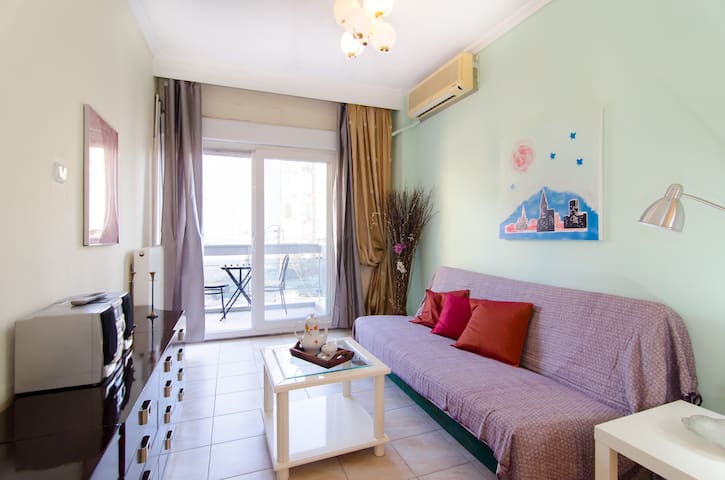 Die Wohnung befindet sich nahe dem Stadtzentrum, Parks, tolle Aussicht, Restaurants und Restaurants, Seeseite, Strand zu Fuß, Supermärkte, öffentliche Verkehrsmittel (50m), Taxi-Haltestellen. Sie werden es lieben, weil es recht und doch ist, so nah an den Strand zu Fuß und Seeseite von Thessaloniki. Nur 10 Minuten Entfernung zum weißen Turm zu Fuß. Einfacher Zugang zu öffentlichen Verkehrsmitteln sowohl in die Innenstadt und nach Osten (in Richtung Kalamaria) und zum Flughafen. Es ist gut für Paare, Solo-Abenteurer und Geschäftsreisende!
Günstig 45sq Meter Einzelzimmer-Wohnung direkt an der Küste gelegen. Einfacher Zugang zum Stadtzentrum (10 Minuten zu Fuß), und zu allen öffentlichen Verkehrsmitteln. Internet (8 Mbps Wi-Fi)
Konstantinos is a very nice guy, and you will love his appartement! Very cosy place, located in a quiet side street but still very close to cafes and restaurants. 3 minutes walk to the sea. Perfect location!
Isa
2017-02-06T00:00:00Z
ΤΟ ΣΠΙΤΙ ΗΤΑΝ ΑΚΡΙΒΩΣ ΟΠΩΣ ΦΑΙΝΟΤΑΝ ΣΤΙΣ ΦΩΤΟΓΡΑΦΙΕΣ . Ο ΚΩΝΣΤΑΝΤΙΝΟΣ ΠΟΛΥΕΥΓΕΝΙΚΟΣ .ΤΟ ΣΠΙΤΙ ΠΟΛΥ ΚΑΛΟ ΚΑΙ ΣΕ ΚΑΛΗ ΤΟΠΟΘΕΣΙΑ. ΛΙΓΟ ΘΕΜΑ ΜΟΝΟ ΜΕ ΤΟ ΠΑΡΚΑΡΙΣΜΑ. ΟΛΑ ΚΑΛΑ
MIHALIS
2016-12-16T00:00:00Z
Ειναι πολυ ωραιο διαμερισμα ,σε πολυ κεντρικο σημειο της πολης,παρα πολυ καθαρο ,μικρο προβλημα με το parking,πολυ καλη εξυπηρετηση απο τους οικοδεσποτες, Ανεπιφυλαχτα το προτεινουμε και ευχαριστως θα εμενα και παλι στο ιδιο διαμερισμα και την επομενη φορα
Andreas
2017-02-19T00:00:00Z
Oda Tipi
Tüm ev/daire
---
Mekan Türü
Daire
---
Konaklayacak Kişi Sayısı
2
---
Yatak odaları
Selanik, Central Macedonia, Yunanistan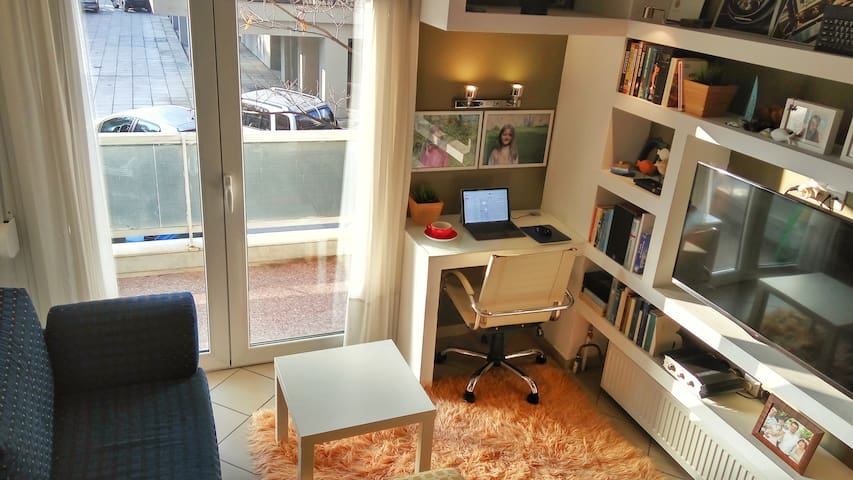 Bu şirin daire gerçek bir çift kişilik yatak, dolap, TV bulunmaktadır. Sen tam donanımlı bir mutfak ne gibi pişirmek ve yemek ya da büyük balkon kahvenizi içebilirsiniz. Stüdyo son zamanlarda modern bir tarzda ve çok temiz yenilenmiş. Thessaloniki tadını çıkarın! Bunun için biz sunuyoruz: • turistik her türlü şehir merkezinde Daire. • Klima ve Isıtma • El sabunu, tuvalet kağıdı dahil. • Yatak çarşafları, apartmanda havlu • TV, Wi -Fi. • İhtiyacınız olan her şey tam donanımlı mutfak. • Çamaşır makinesi, kahve makinesi, saç kurutma makinesi, ütü.
daire sakin ve kesinlikle güvenli bir mahallede şehir merkezinin kalbinde yer almaktadır. Eğer bulacaksınız Ayrıca mahallede sokuldu şehir tarafından sunulan eğlence ve dinlenme için çeşitli olasılıklar, keyfini en iyi Yunan, Akdeniz ve dünya mutfağı, daire sadece 2 dakika uzaklıkta, doğrudan yerel piyasadan taze ürün satın şehrin bir sakini gibi hissettirecek dükkanlar, pastaneler, barlar ve marketler yerel. Şehrin tüm görme seeings örneğin, yürüyerek 'yaklaşık 10 şunlardır: Beyaz Kule, Attaturk Müzesi, Galerius'un Arch, Agios Dimitrios, Panagia Achiropoietos Kilisesi, Agia Sofia, Agia Sofia Meydanı, Navarinou Meydanı, Alatza imaret, Tsinari, Bizans duvarları, Rotonda vb
Το σπίτι του Στέλιου αν και ήταν σε παλιά πολυκατοικία,ήταν πολύ άνετο στο εσωτερικό του και είχε όλες τις απαραίτητες παροχές στο σπίτι του για ένα ταξίδι.Το σπίτι ήταν σε πολύ καλή τοποθεσία από το κέντρο της πόλης αλλά και από την άνω πόλη με τα κάστρα.Περίπου 15 λεπτά απόσταση και στις δύο περιπτώσεις. Μοναδικά μειονεκτήματα η έλλειψη ασανσέρ και το γεγονός ότι δεν μπορείς να χρησιμοποιήσεις παράλληλα τα δύο σώματα καλοριφέρ λόγω πτώσης του γενικού.Δύο μικρά μειονεκτήματα που σίγουρα δεν επηρεάζουν τη γενική εικόνα για το σπίτι,που σίγουρα θα ναι στις επιλογές μου όταν επισκέπτομαι τη Θεσσαλονίκη.
Δημήτρης
2017-02-21T00:00:00Z
The appartment is exactly as described. It was very clean and cozzy. Communication with Stelios was very easy. He is a well prepared host and will help you to have a good time in Thessaloniki.
Marian
2017-02-10T00:00:00Z
It was a pleasure to stay at Stelios' apartment. You have everything you need with a nice balkony for having breakfast. The apartment was clean and located in a great area. The tavern next corner has good prices and fantastic food. Stelios gave us really good tips where to go. That was the best chance for us to see the interresting parts of the city. We'd definetely come back!
Tom Julius
2017-03-27T00:00:00Z
Stel's apartment was the perfect place for us!! Obviously a studio apartment but for a young couple on a budget it is great- fully stocked kitchen, things for laundry, very clean sheets and towels, balcony, nice computer with internet, movies,etc!! great!! It was very easy to get to the city center from the airport and then to his place. He even offered to meet us at the bus stop and walk us to his place. Stel was super helpful in showing and providing us with maps, places to go, things to see, tips for tourists,etc. not just the first day but all throughout the week. We loved all of his recommendations! We also had the opportunity to go out twice with Stel and his girlfriend. We had so much fun with them. Really great young couple full of smiles and interests for other cultures,etc. We hope to see them again and spend more time together either in Greece or Italy. I would definitely recommend renting from them!!!! Just remember though it is on the 4th floor with no stairs but that totally wasn't a problem for us since you are out most of the day you have to walk them very little. There is also a very nice and convenient grocery next door and then a bakery at the end of his street- yummy bread and croissants for cheap! Ok so run, hurry, book Stel's place before it's full!!!
marti
2012-09-05T00:00:00Z
Stelios apartment was just perfect - the right size for a couple. The place has everything you need: pans, herbs, some food and a TV! It's very close to the center of Thessaloniki and the walk to Aristoteles Square is only about 10 minutes. Supermarkets are located in the same street and I would recommend the restaurant Nea Folia (a hip modern/traditional place) which is right next door. Thank you Stelios for making it so easy for us!
Ngoc-Le
2014-03-30T00:00:00Z
We had an amazing month staying in Stelios' place! The apartment was perfect. It's in a really great location next to lots of cheap bakeries and places to eat and an easy walking distance to all the main sites. There was also a really cheap Lidl nearby which was great for budgeting! The rooms are also well shaded so they are kept cool (which was amazing as it was 34 degrees some days!). The sofa bed was really comfy and the kitchen was really well equipped for cooking and had everything you might need including coffee and spices. The wifi was also really fast! Stelios is such a great host! He was kind enough to ring KTEL (the bus company) for us and help us plan the rest of our journey as we were struggling! It was really nice of him to make the call. He was also on hand with everything we needed and made us feel really welcome. Thank you so much Stelios! 100% recommended :)
Sally
2014-07-01T00:00:00Z
Stelios Studio was just perfect! Kitchen has all the amenities, there were heaters, towels and even speakers to plug your music in! Also Evgenia showed us all the good places and helped us with timetables for the buses to go to the airport early morning. Thank you!
alba
2016-11-02T00:00:00Z
The room was as expected. Clean, in a good place and the host was very friendly and helpful. they welcomed us with a bottle of wine and their kitchen was fully equipped to cook whatever you can imagine. highly recommended
Γιώργος
2015-03-23T00:00:00Z
Oda Tipi
Tüm ev/daire
---
Mekan Türü
Daire
---
Konaklayacak Kişi Sayısı
2
---
Yatak odaları
Selanik, Central Macedonia, Yunanistan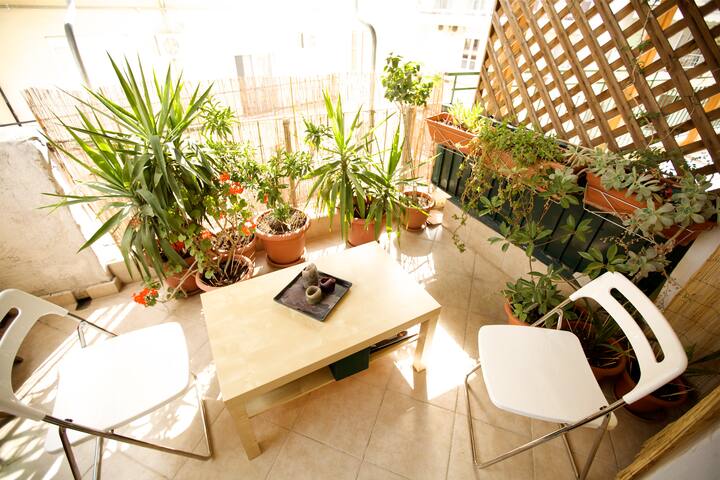 Το ξενοδοχείο προσφέρει μια ιδανική διαμονή στην καρδιά της Θεσσαλονίκης για 6 άτομα. Αποτελείται από δύο υπνοδωμάτια είναι εξοπλισμένα με διπλά κρεβάτια, ένα μπάνιο με ντους και πλυντήριο ρούχων, ένα άνετο φωτεινό σαλόνι και μια πλήρως εξοπλισμένη κουζίνα.
Το διαμέρισμα έχει ανακαινιστεί πρόσφατα και μπορεί να φιλοξενήσει άνετα μέχρι 6 άτομα. Αποτελείται από δύο ευρύχωρα ατομικά υπνοδωμάτια είναι εξοπλισμένα με δύο διπλά κρεβάτια (queen & king size), μεγάλες ντουλάπες καλυμμένο με καθρέφτες, ένα μπάνιο με ντους και πλυντήριο ρούχων, ένα άνετο φωτεινό σαλόνι και μια πλήρως εξοπλισμένη κουζίνα.
περιοχή Αγίας Σοφίας, όπου το διαμέρισμα βρίσκεται, κυριολεκτικά και γεωγραφικά στο κέντρο της Θεσσαλονίκης. Η καλύτερη τοποθεσία για κάποιον να εξερευνήσετε την πόλη, καθώς είναι πολύ κοντά σε διάφορα καταστήματα, καφετέριες, αρτοποιεία, θέατρα, σούπερ μάρκετ, καθώς και εστιατόρια, μπαρ και κλαμπ. Οι κεντρικές παντοπωλείο, τα ψάρια και το κρέας αγορές είναι επίσης 5 λεπτά με τα πόδια. Θεσσαλονίκη ως πόλη έχει μια μοναδική ιστορία με 13 μνημεία, κυρίως εκκλησίες, που ανήκει στον κατάλογο παγκόσμιας κληρονομιάς της UNESCO.
Great Apartment! Close to good restaurants and bars, perfect and central (URL HIDDEN) has everything that you need for a short or long stay in Thessalonika. Everything was perfect!! The Apartment is very pretty and modern. The host was very helpful and accommodating! The communication was fast and very friendly! Highly recommended!
Deniz&Hilmi
2015-05-11T00:00:00Z
Loistava majoitus! Ei nähty itse Nikolasia, mutta hänen siskonsa hoiti majoitukseen liittyvät asiat erittäin hyvin. Majoitus oli hyvällä paikalla keskustassa ja mitään ylimääräistä meteliä ei kuulunut mistään. Liikkuminen majoituksesta oli helppoa, koska asunto sijaitsi kahden ison tien vieressä. Näissä busseja liikkui paljon. Suosittelen!
Toni
2014-06-04T00:00:00Z
Nikolas and his sister were polite and helpful, contacting very fast and trying to give us all the information we needed to go to the apartment. The apartment is full-equipped and has a good localization. Highly recommended!
thales
2014-08-17T00:00:00Z
Great hosts and a fantastic apartment! The apartment is modern And clean and equipped with everything you will need! The beds are very comfortable and the bedrooms spacious enough. The kitchen is fully equipped and convenient. Family friendly and we had a great cot and high chair provided for our child. Amazing location right in the hearts centre with all attractions within walking distance, supermarket, taxis great restaurants and cake shops , are just on the doorstep of this niche apartment. Tina and Nikolas were both extremely helpful, patient and polite with all our enquiries right throughout our trip and next time we are in thessalonki We will be staying here and we wish them both the best in the meantime ! David & Nastassja
Nastassja
2014-08-28T00:00:00Z
Nikolas and Tina were great hosts. They were very hospitable.The apartment was exactly the same as it was described on the site. It was very clean and well- equipped. I recommand this place.Thank you very much for the warm welcome!
Hristina
2015-03-04T00:00:00Z
First of all i would like to thanks Nikolas for the accommodation. The apartment was AMAZING in a central location . We had everything we needed in the apartment ,we had all facilities we wanted. Nikolas is highly recommended for your stay in Thessaloniki. We really felt like staying at home!
Chrysanthos
2015-11-16T00:00:00Z
Fantastic location; about a five minute walk to the waterfront, with plenty of stores, shops, and restaurants within 50 meters of the apartment. The apartment looks exactly as shown in the pictures and the description is accurate. Fast wireless internet. Nice, small balconies for relaxing. Would stay here again if I visited again.
Jeffrey
2013-04-29T00:00:00Z
We had a fantastic time staying in Nikolas' apartment! Nikolas and Tina were wonderful hosts, full of recommendations and information on what to do and see. The apartment itself was spacious, comfortable and in a great location. A few minutes walk from the seafront bars, restaurants. The apartment was very well equipped with everything that we needed. I would very happily stay there again and have already recommended it to family and friends.
Marcus
2014-07-25T00:00:00Z
Oda Tipi
Tüm ev/daire
---
Mekan Türü
Daire
---
Konaklayacak Kişi Sayısı
6
---
Yatak odaları
Selanik, Central Macedonia, Yunanistan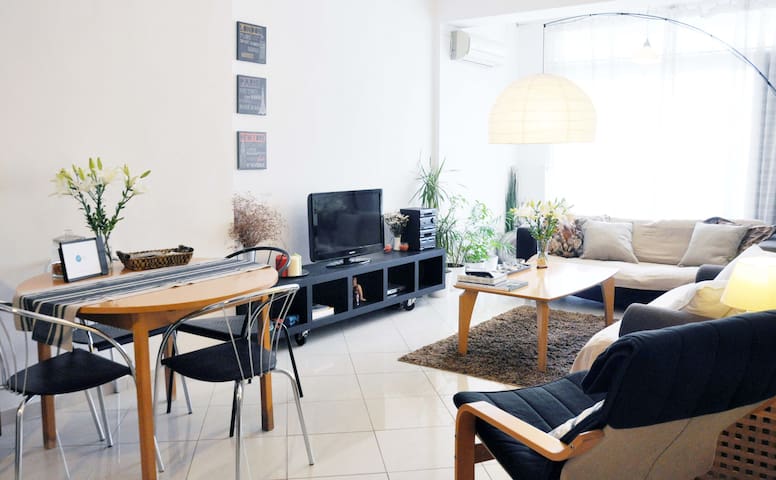 Πρόκειται για ένα διαμέρισμα 3 υπνοδωματίων σε ένα υπέροχο ήσυχη περιοχή, γεμάτη από δέντρα κοντά σε: α) το κέντρο της πόλης - 3 χιλιομέτρων β) η παραλιακή πλευρά της πόλης που χορηγήθηκε πρόσφατα το βραβείο για το νέο σχεδιασμό και την ανακαίνιση. - 150 μέτρα μακριά. Θα σας αρέσει.
Πρόκειται για ένα διαμέρισμα 3 υπνοδωματίων σε ένα υπέροχο ήσυχη περιοχή κοντά στην παραλιακή πλευρά της πόλης. Είναι μόλις 150 μ. η παραλία της Νέας Παραλίας που χορηγήθηκε πρόσφατα το βραβείο για το νέο σχεδιασμό και την ανακαίνιση. Επίσης κοντά είναι το "Μέγαρο Μουσικής" Μέγαρο Μουσικής Θεσσαλονίκης, η οποία κατέχει συναυλίες συχνά και δίπλα σε αυτό το αθλητικό κέντρο «Ποσειδώνιο» με αθλητικές εγκαταστάσεις, όπως δύο (εσωτερική και εξωτερική) πισίνες, γήπεδο μπάσκετ και τένις. Το διαμέρισμα είναι περιτριγυρισμένο από δέντρα και να κρυώσει ακόμη και κατά τις ημέρες υποδοχής του καλοκαιριού. Η bustop στο κέντρο είναι μπροστά από το σπίτι, είναι olny 3 χιλιόμετρα μακριά! Μόνο 10 χιλιόμετρα μακριά είναι το αεροδρόμιο που μπορείτε να φτάσετε με τη δημόσια συγκοινωνία. Τα λεωφορεία της γραμμής που φθάνουν στο κέντρο και να συνεχίσει προς την κατεύθυνση της TRAN και ΚΤΕΛ stasion λεωφορείων. Υπάρχει επίσης no.8 λεωφορείων που συνδέουν το σπίτι με τα κύρια πανεπιστήμια της Θεσσαλονίκης, του Αριστοτέλη και του Μακεδονικού. Η Θεσσαλονίκη είναι, επίσης, το ποδήλατο-friently, μπορείτε να περπατήσετε μέχρι το κέντρο της πόλης από τη θάλασσα, είναι λιγότερο από 3 χιλιόμετρα μακριά, όπως γράφτηκε παραπάνω. Μπορείτε επίσης να βρείτε δωρεάν θέσεις στάθμευσης εύκολα στην περιοχή γύρω από το σπίτι, αν είστε ιδιοκτήτης ή deside να νοικιάσετε ένα αυτοκίνητο. Υπάρχει μια μεγάλη παραδοσιακή ταβέρνα για κρέας γεύματα ψαριών ακριβώς γύρω από τη γωνία, κάθε φορά που θα ήθελαν να γευτούν την αληθινή ελληνική κουζίνα. Σούπερ μάρκετ και αρτοποιείο είναι επίσης κοντά για τα πάντα, ένα νοικοκυριό μπορεί να χρειαστεί, από φρέσκα φρούτα και λαχανικά για να σπιτικό φαγητό. Παρακαλώ μη διστάσετε να κάνετε την κράτηση σας εδώ!
It was a short stay at Olivia's place but I can tell you that it is a very convinient location in Thesaloniki and above all the appartment is nicely organised and everything is fitted perfectly and best of all very clean and neat...I will definitelly choose this place for future visit's to Thesaloniki.
Arsim
2012-06-11T00:00:00Z
Great!
Chris
2013-08-07T00:00:00Z
Our stay in Olivia's apartment was a wonderful one! Olivia is extremely welcoming, helpful and with a great sense of humour, we felt so at home. The apartment itself is beautifully furnished and functional, everything is as it should be (just as lovely as the pictures) and the area is quite, but with a strong sense of identity. There are lovely and good value pastry shops, ice-cream delis, seafood restaurants and amazing spit-roasts within 5mins of the apartment. If you want to cook, there is a local fishmongers, butchers and supermarket equally as close. Take a stroll or hop on most buses to the town centre for some beautiful, beautiful churches (visit the Rotunda of St George!), history and culture. If you want to visit Thessaloniki and have a relaxing, fun and fulfilling time, stay in Olivia's apartment. She welcomed us with open arms and we are very grateful for her warmth and hospitality. P.S My brother's ate the pastry you greeted us with in less than 3mins!
Nel
2013-09-19T00:00:00Z
Olivia is a fantastic hostess. I immediately felt comfortable with her, and her place is just amazing. I will definitely be staying there the next time I go back to Thessaloniki. Highly recommend!
Mark
2016-10-25T00:00:00Z
Olivia was an exceptional host. Always trustworthy and willing to help, she made our stay thoroughly enjoyable. The apartment was immaculately clean and very comfortable. It is located on a quiet tree-lined street with many restaurants and other amenities close by. The seaside walkway is only a few blocks away. We recommend Olivia and her apartment most highly. You will not be disappointed!
Mark
2013-01-09T00:00:00Z
Very nice place despite sockets being outdated and defect door loock.
Efstathios
2017-03-12T00:00:00Z
wonderfull places. wonderful lady
ziya
2017-02-23T00:00:00Z
Χώρος άνετος με θετική αύρα σε πολύ καλή θέση.
Konstantina
2016-09-24T00:00:00Z
Oda Tipi
Tüm ev/daire
---
Mekan Türü
Daire
---
Konaklayacak Kişi Sayısı
4
---
Yatak odaları
Selanik, Central Macedonia, Yunanistan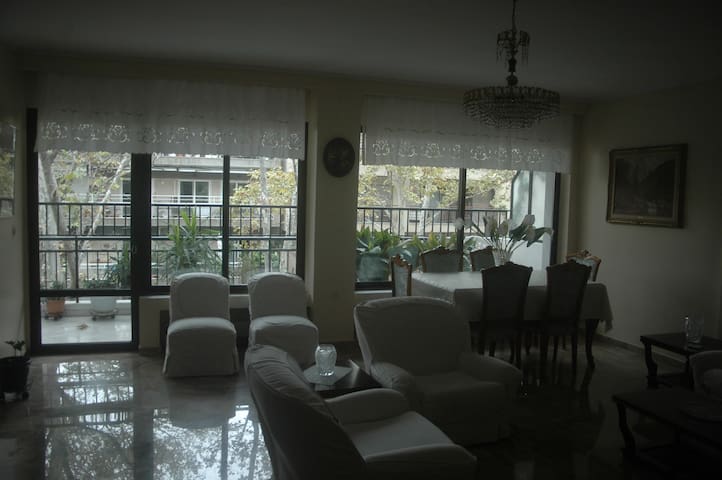 Mein "zu Hause" ist ein komplett eingerichtetes Penthouse besteht aus einem Schlafzimmer mit einem Doppelbett, einem Nachttisch mit Lampe und einen Schrank. Im Wohnzimmer gibt es ein Sofa -Welche eröffnet und passt als Bett ein Couchtisch, ein Fernseher, ein Bücherregal, a / c, und eine voll ausgestattete Küche (Mikrowelle, Töpfe und Pfannen, alle Art von Geschirr, Toaster, Wasserkocher, Küchentisch und chairsetc) sowie ein Badezimmer (eine Ansammlung in der Dusche, eine Waschmaschine). * Die washine Maschine ist für Aufenthalte von mehr als 6 Tage ohne Aufpreis und ther ist kein Trockner zur Verfügung, aber Sie können die Kleidung auf der Terrasse hängen. Das Haus Terrasse ist geräumig und passt eine Reihe von Terrasse Tisch und Stühlen für 4 Personen ihre Mahlzeit zu genießen. Da Lage sehr wichtig ist, ist es erwähnenswert, dass unsere "Home" im Herzen des historischen Zentrums von Thessaloniki innerhalb von 5 Minuten zu Fuß vom alten Markt (agora) befindet, von der Kirche St. Demetrius einen Block entfernt, und 10 Minuten zu Fuß vom Hauptplatz (Platia Aristotelous) und 15 Minuten bergauf zu Fuß von der Altstadt und der Burg. Sie können sich die Innenstadt zu finden, in dem Einkaufszentrum, an der Küste, am Hafen, in den Museen, in der Handlung des Geschehens einschließlich Nachtleben von innerhalb weniger Minuten zu Fuß (von 10 bis 20 auf Ihrem Urlaubsort). Die apt ist in einer realen Umgebung, sehr zentral mit vielen Geschäften und Supermärkten in der Nähe gefunden. Es befindet sich im 6. Stock und es gibt keinen Aufzug. Wie für Unterhaltung, können Sie entweder von Restaurants am Meer oder in Ladadika oder Aufholjagd auf die neuesten Filme im Kino Theater im Zentrum wählen oder einfach nur zurücklehnen und den Sonnenuntergang am Golf von Thermaikos beobachten, während Sie Ihren Lieblingskaffee zu zippen. Die Nacht ist immer jung in Thessaloniki, ja, stellen Sie sicher, dass Sie auf einem der Segelboote Bar Hop einen Blick auf Thessaloniki in der Nacht zu haben, bevor Sie auf andere Abenteuer zu bewegen. Die apt hat alle nach Hause conforts, und kann bis zu 3 people.The Zimmer haben Holzböden empfangen und der Rest der Wohnung hat Fliesen. Vor dem apt Gebäude gibt es eine Bushaltestelle mit drei Buslinien direkt ins Zentrum oder zum Bahnhof nehmen. Alle Art von Geschäften, Supermärkten, Mini-Märkte, Frühstück Orte, Metzgereien, Bäckereien stehen zur Verfügung nur wenige Schritte entfernt. * Die apt ist sehr hell, die Sonne scheint immer im Wohnzimmer, ist es luftig und heiter, wie der Gastgeber! :) Sie können vom Flughafen entweder mit dem Bus-Bedarf für die apt bekommen 2- oder mit dem Taxi zu nehmen (viel schneller und nicht so teuer, es ca. 20 € ist etwas). * Pick-ups können arrangiert werden, falls erforderlich. Der Bahnhof ist viel näher und Sie brauchen nur einen Bus Nr 23 in die apt zu bekommen. Das Schloss, das Kloster Vlatadon, die Universität der Stadt liegen in der Nähe und können zu Fuß erreicht werden oder wenn Sie faul fühlen, mit dem Taxi nur für die Mindestgebühr 3,50 €. Und zögern Sie nicht, alle Anfragen zu machen, die Ihren Aufenthalt angenehm machen !!!!
Die Nachbarschaft ist sehr lebhaft; gibt es viele Geschäfte, Supermärkte, Bäckereien, Fleisch und Fisch auch Obst- und Gemüsemärkten. Es gibt viele Restaurants-einige haben täglich gekochte Gerichte, andere nur Fisch und Fleisch und viele Snackbars und Cafés. Die besten Café im Freien ist die eine 2 Blocks entfernt nach unten, wo man Kaffee genießen können durch den Blick auf die antiken Agora bewundern. Es gibt viele archäologische Stätten in der Nähe; eine ist die alte agora, dann neben dem apt Gebäude ist Alatza Imaret und die Altstadt ist nur einen Spaziergang bergauf.
I stayed in Cathy's apartment for quite some time and I did not experience a problem regarding Cathy's hospitality and help with anything you can thing of. I think the apt is very well located. Basically it takes minutes to get downtown. Everything is close and a bus stop right in front of the apt. makes it really easy to get to the airport with a pile of luggage (like mine)... The apt. is very well equipped and can easily host 3 people. Looks exactly as in the pictures but what I loved most is the huge balcony!!! I would recommend the place anytime. The only thing you really should keep in mind is the sixth floor if you are not used to stairs. Dear Cathy, Thanks again!!!
Marek
2014-02-22T00:00:00Z
Cathy is really nice and her place is great. The location is good - between city central and upper city - you can walk everywhere.
Marika
2016-11-30T00:00:00Z
This apartment was clean, spacious, and has a wonderfully central location. Cathy responded promptly to our questions , and she even arranged for a sweet friend of hers to meet us at the airport to give us the keys. I highly recommend this apartment as a charming Yet economical lodging choice in Thessaloniki.
Mary
2011-09-07T00:00:00Z
wonderful apartment - great location, near to everything needed. Cathy is a wonderful "guide" - she did everything in order to make connections for me - bus schedule, ferry schedule - etc. since I was in the middle of a long journey - going from 6 weeks in Ireland - to Thessaloniki and then to Skopelos . . . and in mid-trip did not have phone or internet connections! She and her family met me at the airport - priceless . . . as was all her help. Wonderful experience!
kitty
2012-04-26T00:00:00Z
Nice appartment with beautiful terrace, very good position. Cathy is kind and very helpfull. Pay attention to the sixth floor without lift. Appartamento carino con bella terrazza, posizione ottima. Cathy è gentile e molto disponibile. Attenzione al sesto piano senza ascensore.
Silvia
2013-06-10T00:00:00Z
Cathy's apartment was amazing. It had a beautiful balcony where you could even see the sea a little bit. Fully equipped apartment is always a plus. Cathy's flat is in the very center of the down. Almost all the monuments are within walking distance. I highly recommend this great apartment to anyone who is willing to spend a good time in Thessaloniki. PS: closest beach is just an hour away!
Gokce
2011-09-15T00:00:00Z
Cathy's apartment in the heart of Thessaloniki was a great place for the two of us to stay 4 nights and explore all the the city has to offer. The location is fantastic - just 10 mins walk from the city centre, the old neighbourhood of Ano Poli and the bars and restaurants of Ladadika and surrounds. Cathy gave great advice and provided excellent notes on local eateries which we followed up on and loved. There is nothing like the recommendations of a local and Cathy has great local knowledge. Although we didn't get to meet Cathy she was excellent at communicating and arranged for her friends to meet us an give/collect the keys. Thanks for a great stay Cathy.
Dion
2012-12-11T00:00:00Z
Cathy had a great place in the real center of town. Great access to everything.
Cyrus
2011-09-04T00:00:00Z
Oda Tipi
Tüm ev/daire
---
Mekan Türü
Daire
---
Konaklayacak Kişi Sayısı
3
---
Yatak odaları
Selanik, Central Macedonia, Yunanistan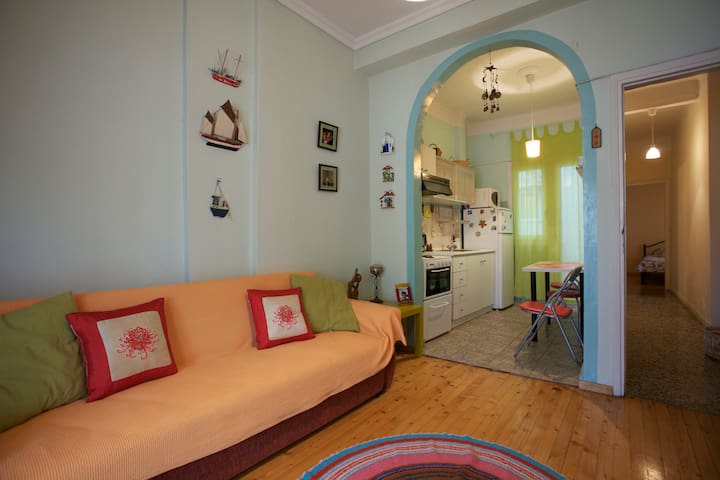 Жилье радует тем что совсем рядом есть остановка на которой останавливается автобус до центра.Так же неподалеку есть таверна и храм.Из минусов: Немного не хватало места,но для недельного времяпрепровождения, вполне ,пригодное жилье.
Liza
2013-08-13T00:00:00Z
the studio was in a really nice location in Thessaloniki.I could easily walk anywhere in the central area and was even easy to find late at night...Olga was very helpful in all ways . I would highly recommend this place for someone looking for a small but lovely place to stay in Thessaloniki.
Cam
2012-10-24T00:00:00Z
Oda Tipi
Tüm ev/daire
---
Mekan Türü
Daire
---
Konaklayacak Kişi Sayısı
2
---
Yatak odaları
Selanik, Central Macedonia, Yunanistan
-Prime θέση στην πλευρά του δρόμου από την πλατεία Αριστοτέλους -μπαλκόνι Θάλασσα sideview -λίγα βήματα από την προκυμαία Εύκολη πόδια σε όλους τους χώρους / χώρους -Οι καθαρό σχεδιασμό με άπλετο φυσικό φωτισμό Εύκολη πρόσβαση χωρίς κλειδί -room συσκότιση περσίδες -Inverter A / C Μονάδα για την παραγωγή θερμότητας / κρύο -Υψηλή ποιότητα στρώμα και μαξιλάρια γυάλινο μπάνιο -Hotel στυλ -Professionally καθαριστεί για τη διαμονή σας Εκτέλεσαν άψογα για ένα ζευγάρι, μοναχικός ταξιδιώτης, στελέχη ή τους φίλους σας -Προσφέρει όλες τις ανέσεις που απαιτούνται για μια άνετη, χαλαρωτική διαμονή
Stüdyo sadece birkaç adım uzaklıkta Selanik'in nefes kesen deniz kenarında, ticari Tsimiski Caddesi ve pitoresk Aristotelous Meydanı'na yer almaktadır. Mahalle yüksek kaliteli butik en popüler yerel café'ın, barlar, pastaneler ve havalı restoranlar arasında yavaş yürüyüşler için harika, oldukça sakin ve çok güvenli. Caddesi üzerinde dışında adım, Thessaloniki en önemli tarihi ve kültürel bazı sitelerin yürüme mesafesinde içinde kendinizi bulacaksınız.
Very nice room and balcony, perfect location. We were very happy with this Airbnb and would recommend it to anyone!
Lynn
2016-07-01T00:00:00Z
Il monolocale è molto carino e curato e in una posizione fantastica per visitare la città.
Alessandra
2016-08-15T00:00:00Z
Dimitri and Alexandra were undoubtedly great hosts - very helpful and kind. Although the appartment is really small, it's cozy, beautifully designed and modern. It's located right in the center, so it is really easy to feel the atmosphere of the vivid city! The balcony with the view at the seaside makes it even better, especially that the neighbours are joyful and friendly. Definitely worth the recommendation!
Kacper
2016-03-02T00:00:00Z
The studio us located in the city center, half a minute walk from Aristotelous Square.Easily accessible. Alexandra and Dimitri are super responsive. The studio itself is perfect for a couple, stylishly decorated, the bed is super comfortable and the view from the balcony is great and you can enjoy it when having coffee in the morning as a machine and all utilities needed are also provided. We would definitely recommend and come back ourselves.
Vicky
2016-05-24T00:00:00Z
PERFECT PLACE. PERFECT ORGANISATION! POLITE OWNER. Small but nice apartment. Good terrace. Really good price for this place. Thx.
VOLODYMYR
2016-12-14T00:00:00Z
The apartment really lives up to the pictures and it's perfectly located in the city center right next to the harbor! The hosts are really sweet and very helpful! The balcony is very big and nice when it's a warm day/night. The only negative thing about this beautiful apartment is that you are asked to throw your toilet paper in a trash can as the building is old and the drains might get clogged, this meant that we really didn't use it during the stay. Other than that, everything was excellent!
Freya Kamille
2016-07-19T00:00:00Z
The hospitality is amazing. The communication is great, quick responses to anything you need. The apartment is clean and there is everything you need. The view on the balcony is beautiful, I really enjoyed it. Once again, I liked my stay.
Kelsy
2017-03-18T00:00:00Z
Location Location Location! Maybe, the best place to stay during your visit to Thessaloniki. In walking distance from every benchmark and just a breath away from the best bar/restaurants and cafes of the city. The apartment was clean, the bed was comfortable and I can say that everything was exactly the way it has been described. I didn't met Dimitri and Alexandra but with their messages they created a "safety net", they gave us the impression that they could help anytime with any difficulty we should face. It will definitely be my airbnb choice during my next visit to Thessaloniki.
Nikos
2016-10-31T00:00:00Z
Oda Tipi
Tüm ev/daire
---
Mekan Türü
Daire
---
Konaklayacak Kişi Sayısı
2
---
Yatak odaları
Selanik, Greece, Yunanistan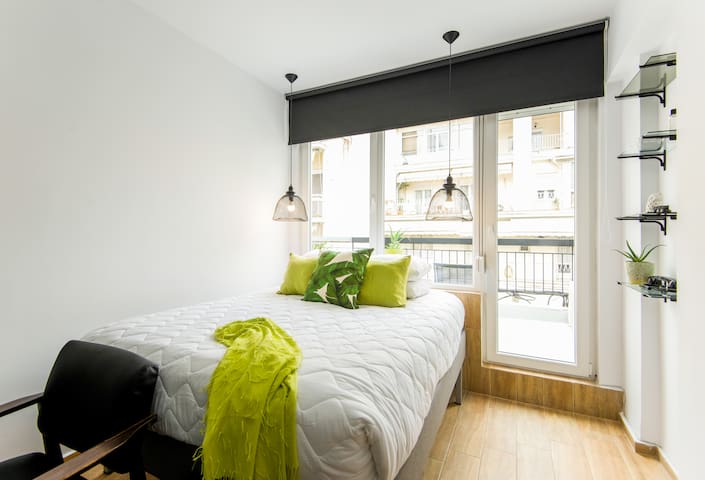 dairemde özel bir oda! tüm konumlar, barlar ve restoranlar yürüme mesafesinde şehir merkezinde küçük bir (tüm eşyaların için bir 2 kişi için yatak ve yeterli alan vardır) ve gerçekten temiz oda. Geniş oturma odası, mutfak, banyo ve büyük bir balkon zevk ve paylaşılacak. 5 * standart temizlenmiş :)
Bu benim gündeme gelmiş dairede özel bir yatak odası; klasik bir duygu korur ve modern olanaklara ile karıştırır. Ben, şimdiye kadar bu yüzden bir 3 çeyrek yataklı küçük bir oda var :) kullanmayın alanı paylaşmaya karar verdi harika bir deneyim oldu bir süre için şimdi Airbnb kullanıyoruz, bu olmayan tek bir sigara için idealdir kenti keşfetmek için paradan tasarruf ederken temiz ve özel bir yer arar gezgin :) Düz tam donanımlı bir mutfak vardır ve büyük bir oturma odası, aynı zamanda büyük bir balkon bulunmaktadır. Bu liste bir oda sadece unutmayın, siz ortak kullanım alanları kullanmak ancak tek olmayacak karşılama daha kurs daha fazladır :) Oda profesyonelce önce 5 * otel standart varış temizlenmiş olacak, temiz çarşaf ve havlu tüm ziyaretçiler sağlamak olacaktır.
Gerçekten merkezi bir konumda size 5 ila 15 dakika içinde tüm merkezi gezi yürüyebilir! Ayrıca daha fazla girişim ihtiyacı olanlar için bir Merkez Otogarı (Kamara) yakın :)
Suzie is a nice, friendly and warm person. She provide us with tourist information and very convenient suggestions. The room is quite cosy but the apartment has an impressive terrace perfect to enjoy a coffee. And it is very well located, just a few minutes walk of the centre. All in all, a highly recommendable option to stay in Thessaloniki :)
Anna
2016-09-18T00:00:00Z
Very good communication. Although our room was very small for two persons, we had a nice stay.
Tabea
2017-01-20T00:00:00Z
Suzie lives in the center of Thessaloniki which is awesome. Her balcony is big and charming and invites you to stay there for a little bit longer. Her apartment is clean and has a good standard. Suzie is a really good host!
Mirjam
2016-07-08T00:00:00Z
Suzie's place was great! I arrived from the airport and took a cab there, much easier than where the bus drops off. She was there waiting for me and showed me around the house. House was clean and welcoming. It is a short 7 minute walk to the bustle of town and about another 7 to the water. Would definitely recommend a stay here!
Olivia
2017-02-23T00:00:00Z
Had a really nice stay at Suzie's apartment. The room is small but clean as well as the rest of the apartment and Suzie is a great host.
Aiske
2016-09-17T00:00:00Z
Nice and clean apartment with cozy rooms very close to the center! It was a good choise for 3 days in thessaloniki thank you very much Suzie!
Bafas
2017-01-10T00:00:00Z
everything was perfect! Suzie is is a nice person, very friendly and helpful. Thanks again
Okan
2016-07-26T00:00:00Z
Suzie is a wonderful host, very friendly and welcoming. She really made me feel at home. It was very nice to chat with her as she enjoys meeting people from all over the world. Her flat is very clean, bright with beautiful furniture and large terrace very close to city centre and places of interest. The room I slept in has a large comfortable bed, the bathroom and toilet are spotless and the kitchen has all the necessary appliances. The terrace is a perfect place to chill out after a day full of sightseeing. I would definitely stay again with Suzie and this time longer!
Dr Kalina
2016-06-26T00:00:00Z
Oda Tipi
Özel oda
---
Mekan Türü
Daire
---
Konaklayacak Kişi Sayısı
2
---
Yatak odaları
Selanik, Yunanistan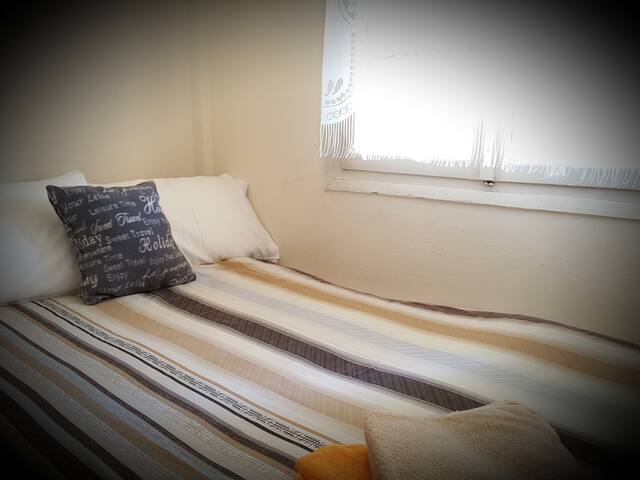 Yepyeni bir stüdyo 10 dakika Selanik'in merkezinden yürüyerek! daire zemin katta, 25-30 m2 üzerindedir. Bir çift kişilik yatak, uyku iki kişi, bir çalışma masası, şifonyer-dolap, 1 mutfak ve 1 banyo sığabilecek çekyat oluşur. Tamamen yenilenmiş olup, ihtiyacınız olabilecek tüm konforu sunmaktadır! Çok çabuk kışın ve ısı çok, yazın serin sıcak!
Müjde merkezi noktalarının hepsi çok yakın bulunduğu ve bir sakin ve güvenli merkezinin gürültü olmadan yürüyerek veya bir alana, otobüsle ya gidebilir!
This apartment have everything! The guest was good and helpful. To the apartment was very easy the check-in and check-out! It is very cleanly room and it stay near to the center.
Szilárd
2017-04-10T00:00:00Z
Oda Tipi
Tüm ev/daire
---
Mekan Türü
Daire
---
Konaklayacak Kişi Sayısı
3
---
Yatak odaları
Selanik, Yunanistan
Miluji pocit pohostinnosti a schopnost setkat se s lidmi z celého světa. : DI nabízejí útulný prostor s verandou s úchvatným výhledem, 10 minut od centra městečka poblíž památek / Místa se zájmem, v blízkosti je Lampraki (nákupní ulice s kavárnami, restauracemi a levné trhu) & relativně blízko Seich-Sou lesa pro milovníky přírody. Důvody pro zálibu mou plocha: názor, osvěžující prostředí, lidi a umístění. Můj prostor je vhodný pro každého.
Malý, praktický, praktické a poměrně teplý a příjemný prostor s okouzlujícím výhledem a svěžesti vedle lesa. (Seich Sou (URL HIDDEN) je v nádherné tarrace na kterých můžete pít kávu v dopoledních hodinách, jíst, nebo jen pověsit ven a užít podzim teplo slunce.
Family-like, klidná lokalita s spousta zeleně a lesů v blízkosti (Seich Sou Forest). Také 5min pěší vzdálenosti blízkosti je tu poměrně přeplněné ulice s bohatou & nenákladný trhu s oděvy, ale také mnoho možností pro vyplnění jídlo & Kavárny (Grigoriou Lampraki Str.).
I had to attend some seminars while at Andrew's apartment so I decided to book again. The city centre is considerably close (10-15 mins by bus) and the area is lovely.
Iosef
2016-12-05T00:00:00Z
Το δωμάτιο ειναι εξαιρετικό! Μεγάλο κ βολικό κρεβατι μεσα σ ένα όμορφο, ζεστό κ πολυ σύγχρονα διακοσμημένο σπίτι! Το κέντρο ειναι πολυ κοντα με τα μεσα συγκοινωνιας στα οποια υπάρχει άμεση πρόσβαση απο το σπίτι!! Οι οικοδεσπότες ειναι μοναδικοί, φιλικοί κ χαρούμενοι με πολυ χιούμορ κ πάντα πρόθυμοι να βοηθήσουν! Ευχαριστούμε για ολα!!!
Garyfalia
2016-12-12T00:00:00Z
The host was really helpful accepting to check in late at night, providing some guidance throughout our stay and even printing a document I needed. However, the location was not that good as described in the listing and the host was sleeping in the living room, which made us feel a little uncomfortable considering the size of the house.
Arthur
2016-11-23T00:00:00Z
Love this air BNB : great guys, lot of humor, beautiful meeting, love the flat. Wonderful experience
Emma
2017-02-20T00:00:00Z
Everything was fine! Andreas is very kind person and Helpful. I want to say thank you for everything :) Alles was gut! Andreas ist sehr nett und hilfsbereit. Ich möchte ihm für alles danken :)
Ibrahim
2017-01-23T00:00:00Z
Andreas was a great guy. Very warm and welcoming with great conversation. He is going to take time out of his day to show me some parts of this city. Such an amazing heart!! Please stay with him and have a chat. You won't be disappointed.
Matthew
2016-11-03T00:00:00Z
He was one of the nicest hosts ever. The bed was so big and comfortable, and the lovely terrace with a super nice city view, but just the room has no heating so I opened little bit the door to let the warm air coming in From the heating in the dinning room. Wifi couldn't connect well but Andreas was so kind that to let me use his computer. :D
Unique
2016-11-15T00:00:00Z
Andreas is a very welcoming host. The place is quite small but a good comfortable bed.
Bridget
2016-11-04T00:00:00Z
Oda Tipi
Özel oda
---
Mekan Türü
Daire
---
Konaklayacak Kişi Sayısı
2
---
Yatak odaları
Selanik, Yunanistan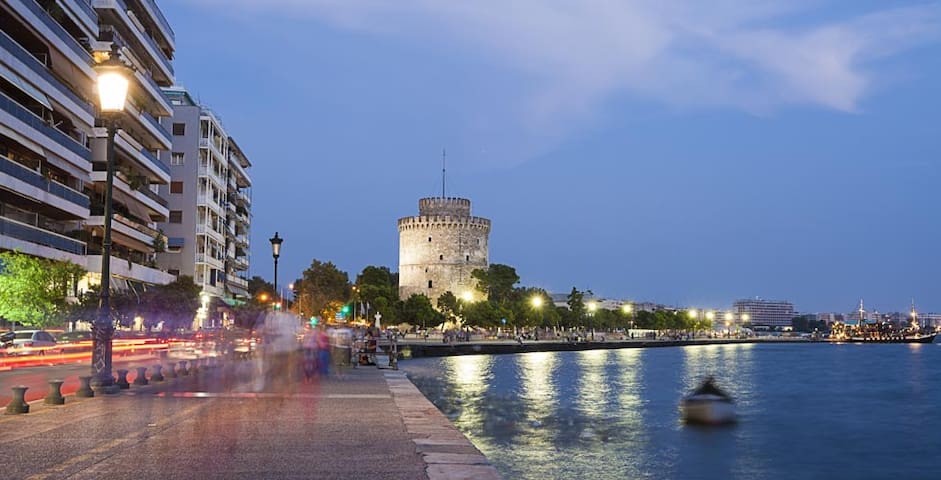 Aristotelous meydanına Selanik 100 metreden daha az çiçek pazarının yanında A, büyük, çok rahat ve tam donanımlı daire. Sağ şehir merkezinin kalbinde, yürüyerek ve kentsel ulaşım ile tüm kasaba erişimi vardır.
Bu inanılmaz ve konforlu 5 kat daire yanındaki kasaba çiçek pazarı ve 16. yüzyıl Yahudi Yahudi hamam ve Aristotelous meydanına az 200 metre, şehir merkezinin kalbinde yer almaktadır. Bir çift kişilik yatak ve ilave bir çekyat ile geniş bir oturma odası ile geniş bir yatak odası olan bir aydınlık, lüks ve modern bir ortam, bu nedenle kolayca 3 kişiye kadar konaklayabilir. Herkes kendi alanı ve gizlilik ve ev gibi hissediyorum böylece yatak bağımsız ve ferah. Aynı zamanda bir banyo, geniş ve tam donanımlı bir mutfak ve iki balkon bulunmaktadır. Selanik'in merkezindeki konumu sağ değil, aynı zamanda sakin bir yerinde, kenti ziyaret ve güzellikleri keyfini istediğiniz herkese daire idealdir. Bu noktadan itibaren, tüm merkezi ve tüm konumlar ve şehir gezi hızlı ve kolay bir yürüyüş erişimi vardır. Sonuç olarak, şehir merkezinin tüm yerler ve müzeler keşfedebilirsiniz, Beyaz Kule, Selanik Uluslararası Fuarı, kongre merkezi, üniversite kampüsü ve şehir tüm ticari sokakları, restoranlar yanı sıra çeşitli yürüyerek barlar, kulüpler, restoranlar, sergiler vb. Her şey 5-15 dk yürüyerek ulaşmak mümkündür olsa da, hemen yanındaki apartman yanı şehir, havaalanı ve tren istasyonu herhangi bir yöne götürebilir otobüs durakları vardır. Aynı zamanda bir taksi durağı yanındaki ve araba ile seyahat ediyorsanız apartman yakınındaki bir ücret park istasyonu bulunmaktadır. Ayrıca, nasıl şehir hakkında, ziyaret etmek istediğiniz konumlar ve çeşitli ipuçları ulaşmak için toplu ulaşım, nasıl kullanılacağı hakkında ayrıntılı talimatlar (URL HIDDEN) kalmak verdiği ölçüde zevk sağlamak için elindeki her şeyi yapmaya çalışacağız.
Really great Appartement with more than we needed. Very modern and practicabel. Furthermore Easy communication with Katerina! Thanks a lot!
Juliane
2016-07-26T00:00:00Z
The apartment is vey good, near everything you can think about.
Denaro Giuseppe
2017-02-13T00:00:00Z
Εξαιρετικό!! Η ιδανικότερη τοποθεσία για να μείνεις στη Θεσσαλονίκη!! Καθαρό, ζεστό (κυριολεκτικά και μεταφορικά!!), αυτό που πραγματικά ζητούσαμε!! Στην επόμενή μας επίσκεψη στην πόλη, θα είναι η πρώτη μας επιλογή διαμονής!!
ΚΑΤΕΡΙΝΑ
2017-03-12T00:00:00Z
Ηταν το παρθενικο μου airbnb booking και νομιζω οτι δε θα μπορουσε να ειναι καλυτερο.Ελσα και Κατερινα ευχαριστω που μου αλλαξατε την ταξιδιωτικη μου φιλοσοφια.Εχετε πολυ μερακι σε αυτο που κανετε και ειναι εμφανες.Καλη συνεχεια...
Παναγιωτης
2017-03-08T00:00:00Z
The apartment is in the city centre, close to everything you have to see in Thessaloniki - the sea, the market and there are a lot of great pubs nearby. Katerina and Elsa were superkind, helpful and flexible. We had a wonderful time there. The apartment was comfy, well equipped and homelike. Highly recommended.
Eszter
2017-02-06T00:00:00Z
Great central location, very nice apartment and good value as well
George
2017-04-09T00:00:00Z
Πολύ καλή επιλογή για διαμονή στο κέντρο της πόλης
Stella
2017-04-01T00:00:00Z
Alles war prima. Obwohl super-zentral, ist es in der Wohnung nicht laut. Das Haus sieht gepflegt aus, die ganze Wohnung scheint gerade überholt worden zu sein. Das Bad ist (gemessen an anderen airbnb-Wohnungen, die ich kenne) fast großzügig, jedenfalls sehr zweckmäßig ausgestattet und ausreichend. Die Wohnung war sehr sauber und aufgeräumt. Ein kleineres Problem mit der Klimaanlage wurde von der Gastgeberin sofort und durch persönliches Aufsuchen in der Wohnung gelöst. Sehr zu empfehlen.
Tarik
2016-11-07T00:00:00Z
Oda Tipi
Tüm ev/daire
---
Mekan Türü
Daire
---
Konaklayacak Kişi Sayısı
3
---
Yatak odaları
Selanik, Yunanistan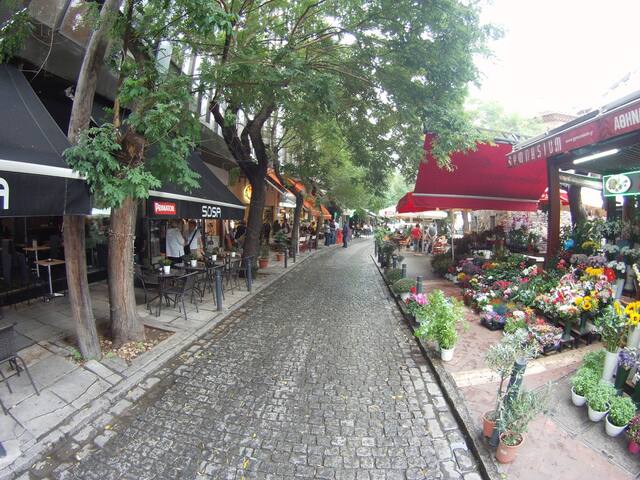 Mé místo je na terase 7. patře panelového domu, kde jsou umístěny profesionální kanceláře, ve městě centre.Although je to blízko k nejvíce centrálního náměstí (Aristotelova náměstí), nejvíce centrální ulice (Egnatias) a jeden z nejvíce picteresque část (Athonos náměstí), je velmi izolovaný a ideální pro profesionální a potěšení trips.Fully renovovaný v srpnu 2016, je to na velmi výhodném místě pro všechny veřejné dopravy a památek města. s
17 m2 studio, renovovaný v srpnu 2016, na terase panelového domu s profesionální kanceláře only.Ideal až pro dvě osoby v centru Soluně, v Mitropolitou Gennadiou ulici, je velmi blízko historického a obchodního centra město, pěšky
Studio se nachází v centru města mezi Athonos a Aristotelova Square.Athonos je jedním z nejoblíbenějších míst pro potraviny a Aristotelous je ochranná známka společnosti města, takže okolí je plné života (s supermarkety, obchody, kavárny, restaurace známek , taverny)
The place was very clean and the location ideal. The house was very cosi and had everthing you need! Around the flat there are loads of places to eat and go out and the neighborhood stays alive till late. The apartment was very quite and there was superb privacy with a very nice view to the city. The host Dimitris was very helpfull, polite and responsive and I felt comfident from the first minute. I would recoment the Dimitris' place to both couples and lonely travelers.
Nasos
2016-10-09T00:00:00Z
Το δωμάτιο του Δημήτρη ήταν ένας πολύ καλός και καθαρός χώρος, αν και λίγο μικρος.Αυτο βέβαια δεν ήταν πρόβλημα αφού μόνο για ύπνο το χρησιμοποιησα...ο ίδιος ήταν πολύ ευγενικός και πρόθυμος για κάθε βοήθεια. σίγουρα σε ένα από τα επόμενα ταξίδια μου στην Θεσσαλονίκη θα επιλέξω και πάλι το ίδιο δωμάτιο.
KOSTAS
2016-12-06T00:00:00Z
Ο χώρος,αν και μικρός,ήταν πολύ βολικός για τις 3 μέρες που μείναμε.Ο Δημήτρης πολύ εξυπηρετικός και πρόθυμος να βοηθήσει ανα πάσα στιγμή με ότι προκύψει.Η τοποθεσία του χώρου ειναι αναμφίβολα εξαιρετική,καθώς βρίσκεται κοντά στην πλατεία Αριστοτέλους και σε όλα τα μαγαζιά και μέσα μεταφοράς. :)
Anna-Maria
2016-12-08T00:00:00Z
Κεντρικοτατο διαμερισμα δεν χρειαστηκε να παρουμε Μεσα στην τριημερη διαμονη μας σε ασφαλη περιοχη. Καθαρο με ολες τις παροχες. Ο Δημητρης ευγενεστατος και προθυμος οταν τον ρωτησαμε αν υπαρχει δυνατοτητα για late check out! Το μονο μειονεκτημα ο θορυβος του ασανσερ. Σιγουρα θα το ξαναπροτιμησουμε!!
Efi
2017-03-26T00:00:00Z
The host canceled this reservation 2 days before arrival. This is an automated posting.
Evi
2017-01-11T00:00:00Z
Εξαιρετικός οικοδεσπότης. Τυπικός. Ο χώρος εξαιρερικα καθαρος και ομορφα διαμορφωμένος. Εύκολη πρόσβαση γιατι ειναι στο κέντρο της πόλης. Στα θετικά ωστοσο να σημειώσω το κρεβάτι το οποιο ηταν άνετο.
Dhmhtrhs
2016-10-17T00:00:00Z
Ο Κ.Δημητρης ηταν εξαιρετικος οικοδεσποτης , επικοινωνιακος , ευγενικος και προθυμος να μας βοηθησει , μας βοηθησε να βρουμε το σπιτι με τα Μ.Μ.Μ . Ο χωρος ηταν καθαρος και ειναι οπως φαινεται στις φωτογραφιες και ειναι σε πολυ καλο σημειο στην πολη .Σιγουρα αν ξαναεπισκεφτω την Θεσσαλονικη θα προτιμησω τον Κ.Δημητρη.
Δημητρης
2017-01-08T00:00:00Z
Dimitros was so kind. The localitation was so great. The bad things are the kitchen (only the really basic things) and it doesn't have wifi...
Dario
2017-01-04T00:00:00Z
Oda Tipi
Tüm ev/daire
---
Mekan Türü
Daire
---
Konaklayacak Kişi Sayısı
2
---
Yatak odaları
Selanik, Yunanistan
3-й этаж с лифтом полностью отремонтированы 2-комнатная квартира! Расположенное в центре города, в оживленном районе Agiou Dimitriou в Салониках она может предложить все, что вам могут понадобиться Диринг вашего пребывания. Идеально подходит для осмотра достопримечательностей, ночной жизни, посетить набережную, попробовать местную еду, интересно город или бизнеса. 5 мин пешком до Аристотелуса кв. Или Ротонды. Вопросов? Задать нам что-нибудь, в любое время! 24hr Flexible прибытие! Длинные Арендаторы Срок приветствуются и могут обсуждать цены. Шестой человек бесплатно! Дайте нам знать!
Ideal sowohl für Urlaub und bleiben langfristig! Unser Haus ist ein vollständig renoviertes 3. Stock mit Aufzug-2BR Wohnung! -Voll Ausgestattet und vor allem gemütlich gestaltet. -Rechts Die belebte Straße von Agiou Dimitriou aus seiner Lage ist wirklich zentral, alles zu tun! Sightseeing, Nachtleben, Wandern rund um die Stadt, besuchen Ano Poli, Geschäftsreisen, Shopping -24hr Flexible Ankunft! -Ich Kann Ihnen bei allen Fragen hier ankommen helfen. -2 Schlafzimmer mit Doppelbetten und einem Schlafsofa im Wohnzimmer, die 2 Personen passt really.Fresh Bettwäsche zur Verfügung gestellt. -Vollständig Badezimmer Renovierung: Handtücher und Fön zur Verfügung gestellt. -Voll Ausgestattete Küche und großem Essbereich. Kostenloser WLAN (24 Mbps), Flat-TV, Ethernet-Kabel, einen Arbeitsbereich. -Next Rang Tag-Nacht-und Bushaltestelle zum Taxi. -Waschmaschine, Wäschetrockner, Bügeleisen und Bügelbrett. -Küche, Pantry Essentials Kochutensilien, Toaster, Wasserkocher, Kühlschrank. -Nizza Gebäude mit Sicherheitstür. -Neighborhood: 24-Stunden-Läden wie Bäckerei, Café, Kiosk, Geldautomaten zu Füßen. Supermarkt, Lebensmittelgeschäft, Gyros Grill, Tavernen, kleine Geschäfte den ganzen Tag. Zögern Sie nicht, mich zu fragen, ob Sie noch weitere questions.I'll froh sein, zu helfen!
St.Dimitriou Straße und die Nachbarschaft im Allgemeinen mit Bars überfüllt, Cafés, Tavernen, 24h Kiosk und Bäckerei, Supermarkt, kleine Geschäfte, Tankstellen, Banken mit Geldautomaten.
Everything was like described, very good place !
Yohan
2017-03-19T00:00:00Z
Matina was very friendly and helpfull. She explaind everything about the apartement and the neighborhood to me. She also provided a bottle of water and wine to welcome me. The apartment is in a good location, very close to the city center. I would stay there again!
Viktoria
2016-09-11T00:00:00Z
Had a great stay at Matina's place. A great apartment in the downtown area right next to St. Demetrius' church. She contacted me several times during the week I stayed there to check in and suggest places that I might go and see. I thought the price was very reasonable and she was a wonderful host.
Jeff
2016-07-11T00:00:00Z
The apartment is in a convenient location, close to most of the places. The size of the apartment is quite small. especially the bathroom washing basin, we all hit our heads. but that's only a small issue, the rest of our stay are great! We did not meet Matina but her brother is very friendly and Marinated responded very quickly with any questions we have.
Joanna
2016-08-01T00:00:00Z
Matina was an amazing host, she gave us all the information about things to do and places to visit. She is nice and friendly girl, we will definitelly come back. The flat is very cozy, clean and everything is new. The location is perfect. Everything you need is close, so there was no need for us to use transport, I highly recommend this place!
Katarina
2016-05-03T00:00:00Z
The host canceled this reservation 18 days before arrival. This is an automated posting.
ΝΙΚΗ
2016-11-29T00:00:00Z
Το διαμέρισμα έλαμπε απο καθαριότητα. Ένα βήμα από το κέντρο. Πολύ συμπαθής η Ματίνα. Την ευχαριστούμε πολύ!
Ελένη
2016-05-31T00:00:00Z
Everything was perfect. We had lovely time. Matina was really nice and help us with everything.
Rozalina
2016-10-16T00:00:00Z
Oda Tipi
Tüm ev/daire
---
Mekan Türü
Daire
---
Konaklayacak Kişi Sayısı
6
---
Yatak odaları
Selanik, Yunanistan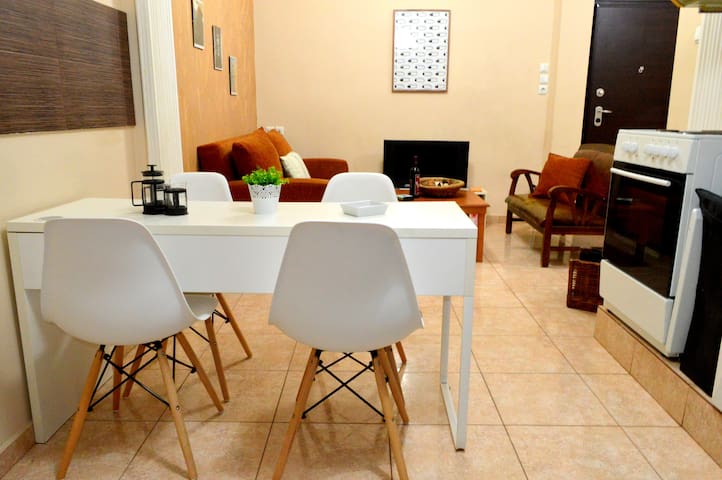 Moderne und gemütliche Wohnung im Herzen von Thessaloniki Zentrum, neben kamara.
Moderne und gemütliche Wohnung
die Nachbarschaft ist sehr sicher, direkt neben Bars, Restaurants und ein Café. Sie werden ihr Abstand von einigen der wichtigsten historischen und kulturellen Sehenswürdigkeiten von Thessaloniki zu Fuß finden.
Oda Tipi
Tüm ev/daire
---
Mekan Türü
Daire
---
Konaklayacak Kişi Sayısı
4
---
Yatak odaları
Selanik, Yunanistan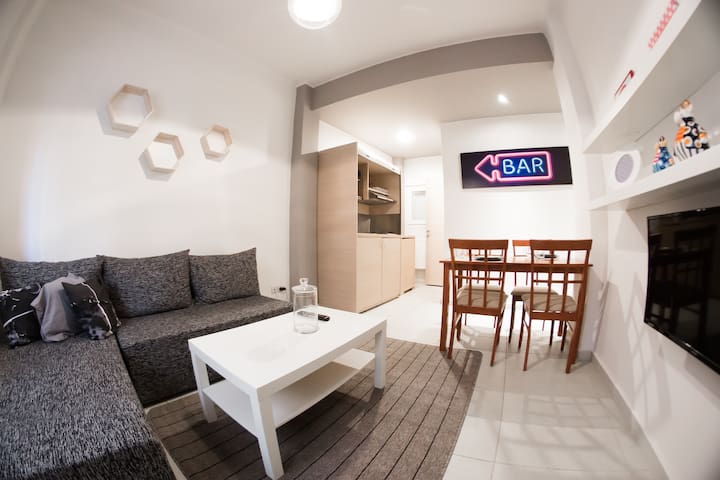 Odama tarihi kent merkezinde bir çok merkezi bir sokakta yer almaktadır. Beyaz Kulesi'ne sadece 400 metre ve 10 dakika Aristoteles Meydanı'na yürüme mesafesindedir. Toplu taşıma, mağazalar, restoranlar ve barlar kolay erişim imkanına sahiptir. Bu kendi kendine yeten stüdyo 20sq.m. hangi merkezinin kalbinde bulunan, ancak çok sessiz bir ortam vaat ediyor. Ben konaklamanızı keyifli hale getirecek bilgi ve yardım için her zaman kullanılabilir duyuyorum.
Το διαμέρισμα ήταν πολύ όμορφο, καθαρό,σε τέλεια τοποθεσία δίπλα στο κέντρο 10 λεπτά με τα πόδια, η Κατερίνα πολύ εξυπηρετική μας περίμενε έξω από το διαμέρισμα και πρόθυμη να μας βοηθήσει σε ότι χρειαστούμε!!!Το συνιστούμε ανεπιφύλακτα σε όλους!!!
Κiki
2016-12-27T00:00:00Z
L'appartamento, seppur piccolo, è confortevole e situato in una zona centrale raggiungibile con il bus dall'aereoporto. L'accoglienza di Katerina è stata puntuale e cordiale. Ottimo rapporto qualità prezzo.
Mariagrazia
2017-02-27T00:00:00Z
Πολύ άμεση και αποτελεσματικη επικοινωνία - εξυπηρετηση ... χώρος όμορφος, καθαρός και άρτια εξοπλισμένος με μόνη εξαίρεση κάποιο χαλί στο χώρο του δωματίου για επιπλέον ζέστη.. το προτείνω ανεπιφύλακτα σαφώς και για την κεντρικότατη τοποθεσία του
Panos
2017-01-12T00:00:00Z
To spiti vrisketai se ena polu kentriko shmeio ths polhs,sxedon dipla apo ton Leuko Purgo!Exei oles tis aneseis, pamf8hno,pentaka8aro kai h Katerina polu eksuphretikh kai kalh!To sunistw anepifulakta!
CHRYSIIDA
2017-03-05T00:00:00Z
τέλεια τοποθεσία! η κατερινα πολλη καλή οικοδέσποινα, πρόθυμη να βοηθήσει. Ιδανικό το σπίτι για ολιγοήμερες διακοπές!
ΡΕΝΑ
2017-02-24T00:00:00Z
Katerina is a nice Lovely host with a nice lovely comfort little place positioned at the heart of the city, furnitured nicely well and cleaned, from where you can simply reach any place around the city center by only 5-10 min walking, especially the seaside. Will be back again and highly recommend it :)!
Genc
2017-03-14T00:00:00Z
Το δωμάτιο ήταν ακριβώς όπως περιγράφεται και φαίνεται στις φωτογραφίες. Αν και μικρό ήταν καθαρό και άνετο, ήσυχο, ασφαλές και εξοπλισμένο με όλα τα απαραίτητα για ολιγοήμερη διαμονή. Το σημείο είναι ιδανικό καθότι η πρόσβαση σε όλα τα κεντρικά σημεία της πόλης είναι εφικτή με περπάτημα ολίγων λεπτών. Η Κατερίνα ήταν πολύ φιλόξενη, εξαιρετικά εξυπηρετική και πρόθυμη να βοηθήσει σε οτιδήποτε χρειαστήκαμε! Θα συνιστούσα αυτό το χώρο ανεπιφύλακτα σε όποιον θέλει να περάσει λίγες ημέρες στη Θεσσαλονίκη.
Αλεξάνδρα
2017-01-18T00:00:00Z
The perfect place in Thessaloniki! Quiet, cozy, clean near the central city
Sylke & Hartmut
2017-03-22T00:00:00Z
Oda Tipi
Tüm ev/daire
---
Mekan Türü
Daire
---
Konaklayacak Kişi Sayısı
2
---
Yatak odaları
Selanik, Yunanistan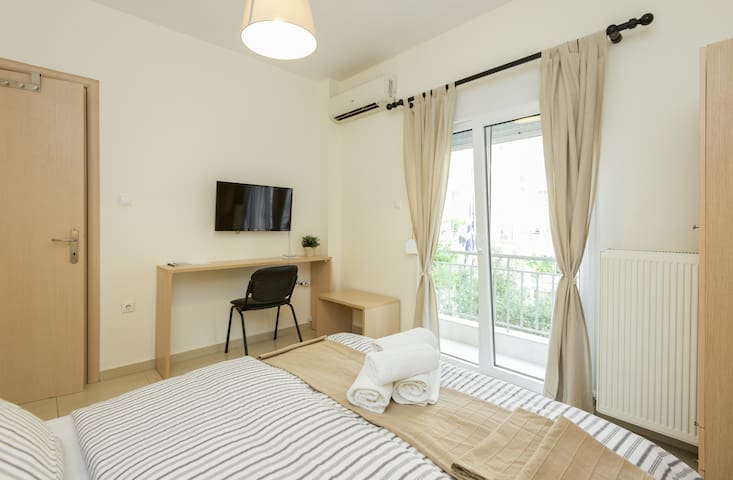 1

–

18

/

300+ Kiralık Daire
Tam fiyatlandırmayı görmek için tarihleri görün. Ek ücretler uygulanır. Vergiler ilave edilir.