Our chalet is located in the Laurentians 1.5 hours from the (P.E.T)Montreal Airport . Described as a "manor on the water" with an AMAZING VIEW from the back porch. With our own private beach. From practicing yoga to sitting by the lake to having great dinner with friends and family, you'll find our place offers an "earthly serenity" worthy of your time. Great for couples, solo adventurers, families with children, small groups (up to 15). dogs allowed. Dishwasher and washer and dryer.
Our cottage is over 3,300 SQF in size over 3 floors so there is plenty of room to get some alone time, if you need some or hang out on our back terrace & BBQ with your closest family and friends. Isolated enough to meet your desire for peace and tranquility yet close enough from 2 very popular Laurentides cities so you can enjoy a little bit of city living within a short 20 minute drive from our cottage.
For that city feel, you can hop in your vehicle and drive about 20 minutes to the nearest town where you can enjoy restaurants, movie theaters and shopping of all kinds.
Oda Tipi
Tüm ev/daire
---
Mekan Türü
Ev
---
Konaklayacak Kişi Sayısı
15
---
Yatak odaları
Val-des-Lacs, Québec, Kanada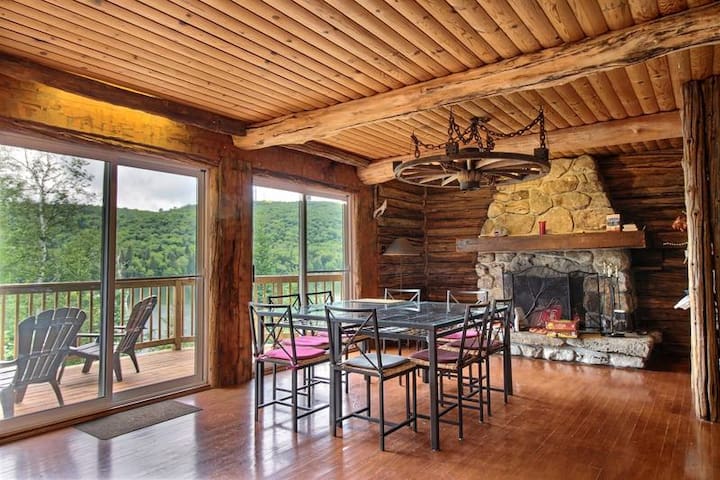 It is a round wood chalet ( log cabin) built in 2015 and fully equipped for 10 people including for person with reduced mobility (adequate entry, 1 bed room, 1 bathroom). For your family reunions, week-ends or a stay to discover the beauty of the Laurentides, the chalet is ideally located in a private domain in the forest and among squirrels, hares, marmots, deer and dozens of different birds
The chalet has 4 bedrooms, 3 bathrooms, a reading area, a games room, a large kitchen with its bar, a dining room, a lounge with fireplace, a terrace, a laundry room, 2 television, internet connection, sheets, duvet, pillows, bath towels.
During the winter period it is preferable to hav(URL HIDDEN)drive. You can park 3 to 4 cars in front of the chalet
Grandiose... c'est le premier mot qui nous vient à l'esprit. Ensuite il y a inoubliable, remarquable ou encore simplement parfait!! Quelle remarque pourrait on faire? Aucune!! Nous sommes arrivés dans un lieu magique, accueillis de façon d'adorable, le chalet est d'une propreté irréprochable, tout le confort s'y trouve et la décoration est faite avec beaucoup de goût. Cela sans parler de toutes les gentilles attentions de nos hôtes avant et pendant le séjour. Nous avons été de plus parfaitement renseignés sur place quant aux activités, restaurants et autre informations vitales a un séjour parfait. Nous avons passé un de nos plus beau Noël chez Philippe et Esther. Merci...
RUELLE
2016-12-31T00:00:00Z
I totally agree with the earlier reviews, the pictures look great, but don't do justice to the actual awesomeness of the log cabin! It is spacious, especially with the high ceiling. Modern fixtures don't take away from the cozy cottagey ambience. Kitchen is fully equipped with quality pots and pans and other necessities. Our kids had a blast tobogganing on the makeshift trails on both sides of the house. The vacation was truly unforgettable. Thank you very much, Philippe!
Rosalie
2017-02-20T00:00:00Z
Notre groupe d'amis a adoré notre week-end aux oursons! Nous avons été charmés par le confort et la beauté du chalet, tout était parfait: pièces spacieuses, foyer, table de pool, immense table à manger, et que dire de la vue ! Nous y avons été très bien accueillis par Marie-Josée qui s'est assurée du bon déroulement de notre séjour. Nous y retournerions sans hésiter, c'est un véritable petit coin de paradis à découvrir!
Valérie
2017-03-12T00:00:00Z
This is an AMAZING home. The home is very clean and has stunning views. Philippe and his team are very accommodating and helpful.
Saleema
2016-05-31T00:00:00Z
Très belle propriété, propre et très bien équipé. Il ne manquait de rien. Les enfants ont adorés le grand espace ainsi que la salle de jeux. Une superbe vue qui vous fait décrocher du quotidien. Nous allons définitivement revenir et nous recommandons ce chalet à tous. Vous ne serez pas déçu!
Patrick
2016-07-17T00:00:00Z
Très beau chalet! Bien entretenu! Je recommande cette place sans aucune hésitation pour passer un agréable moment en famille ou entre amis en toute intimité!
D-lorah
2017-04-02T00:00:00Z
What an incredible home! Philippe's home is beautiful (new construction) with the photos truly not doing it justice. We received a warm welcome by Philippe's friend Jean-Yves at the automatic gate, who then gave us the grand tour. From a kitchen with all brand new kitchen appliances (and fully equipped), to terrific bedrooms, bathrooms, etc. What a relaxing stay, in an incredible home, with such a warm host. What a treat it was to receive a bottle of wine as a welcome upon arrival. Philippe has truly thought of everything! I would stay here again in a heartbeat!
Rob
2016-08-07T00:00:00Z
This place was awesome! Huge log style home with plenty of room for the entire family!! Everything you need is there! Just bring you clothes and food and you'll be set for an awesome weekend! Had a blast and will defiantly be back for many more weekends!! And highly recommend petit poucette it's a well known breakfast place about 25 minutes away!
Mr.
2016-10-30T00:00:00Z
Oda Tipi
Tüm ev/daire
---
Mekan Türü
Ev
---
Konaklayacak Kişi Sayısı
10
---
Yatak odaları
Val-des-Lacs, Québec, Kanada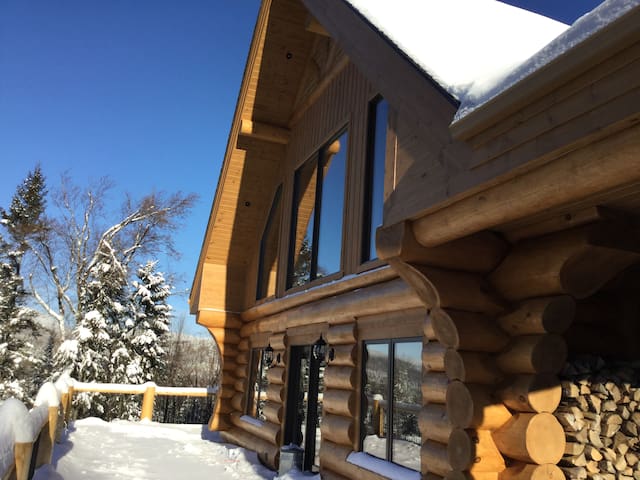 Cottage, fully equipped and furnished, on the lake. Double garage. Offering memorable viewpoint and sunsets. Within 35 km of Mont Tremblant (and Casino), Mont Blanc, Sainte-Agathe and St-Jovite. Numerous winter and summer activities readily available: watersports, biking, walking/trekking (mountain trails at 8km), golf, skiing, etc. Rink, tennis and grocery store at 3km. Great for families and small groups (8 or less)
In the summer, use the pedalo for a short tour of the lake. Otherwise, bring your canoes or kayaks to enjoy a grander view of the lake. The porch has a gazebo with table and chairs. Use the BBQ as you will as well as the firepit by the lake. In the winter, cross-country ski or snowshoe on the lake for a unique experience of peace in the nature.
Not only does our cottage offer everything you might need (ex. fully equipped kitchen also includes crock pot and pannini), but you will be residing within 35 minutes or less of the city and several resorts and recreational centers.
Beau chalet très bien équipé, propre et confortable. Situé directement au bord du lac la vue est très agréable . A seulement 30 min du mont tremblant. Nous avons passé un très bon séjour au calme
Pierre
2017-01-22T00:00:00Z
Le chalet est tel que décrit avec une belle vue sur le lac. Il y avait beaucoup d'endroits autour pour faire des activités en plein air. Yves était disponible en tout temps pour répondre à nos questions. Très belle semaine en famille!
julie
2017-01-01T00:00:00Z
Excellent séjour dans le chalet! Superbe vue!
Josianne
2017-03-03T00:00:00Z
Nous avons passé une belle fin de semaine entre amis avec un enfant, nous n'avons manqué de rien et avons profité autant de l'intérieur du chalet que de l'extérieur.
Sarah
2017-02-13T00:00:00Z
I went on a Tremblant trip with a group of friends. The cottage is extremely cozy and is equipped with anything you would ever need.
Ryla
2017-02-21T00:00:00Z
Chalet très bien équipé. Ensoleillé grâce aux multiples fenêtres. Apportez seulement vêtements et nourriture. Aucun bruit autour. Séjour hivernal très relaxe. 4 chambres avec lits ultra confortables. Si le lac n'est pas gelé, patinoire à 3 km. 2 TV. Une avec satellite, l'autre avec lecteur DVD (plein de films pour enfant). Endroit pour faire du traîneau à chiens à 6 km (Kanatha-Aki). Super pour les enfants.
chantal
2017-02-28T00:00:00Z
Beau chalet, bien entretenu, coin tranquille avec toutes les commodités nécessaire pour un beau séjour.
Maryse
2017-02-19T00:00:00Z
The location is great and very well taken care of. Quiet lakefront property that is only 15-20 min from Tremblant North entrance. A central location to many other outdoor activities (tobogganing, cross country skiing, hiking/snowshoeing) within 30 min) as well. Communication with Yves was top notch. Would strongly recommend the location and will go back again if plans work out for next year.
Wade
2017-01-05T00:00:00Z
Oda Tipi
Tüm ev/daire
---
Mekan Türü
Dağ Evi
---
Konaklayacak Kişi Sayısı
8
---
Yatak odaları
Val-des-Lacs, Québec, Kanada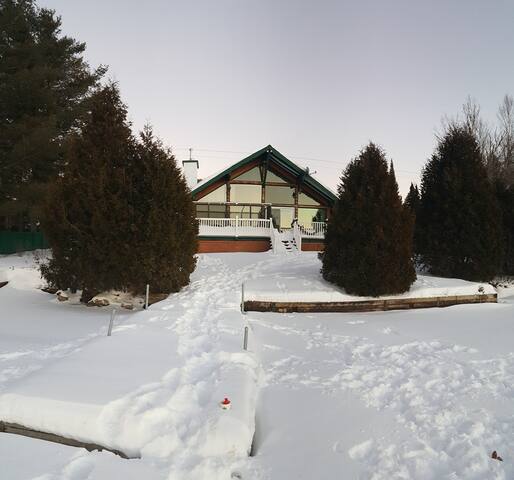 " Bienvenue chez vous" Magnifique chalet en bois rond dans la forêt des Laurentides où tout le confort est au rendez vous
Les directives transmises étaient claires et exactes. Les hôtes sont disponibles et accommodants. Chalet propre, idéal pour famille ou couples d'amis. Tranquille, sensation agréable d'être loin de tout. Le seul bémol est que nous avons trouvé un peu laborieux l'entrée au domaine étant donné que l'accès est sécurisé. Il a aussi fallu que les hôtes reviennent à la fin du séjour pour inspecter les lieux avant notre départ.
Sarah
2016-10-16T00:00:00Z
Superbe séjour dans un très beau chalet.
Michael
2017-01-02T00:00:00Z
My friends and I had a great stay at chalet caribou. The cottage was clean and modern. The chalet had all you needed for a perfect weekend up north!
Luca
2016-07-02T00:00:00Z
Oda Tipi
Tüm ev/daire
---
Mekan Türü
Dağ Evi
---
Konaklayacak Kişi Sayısı
12
---
Yatak odaları
Val-des-Lacs, Québec, Kanada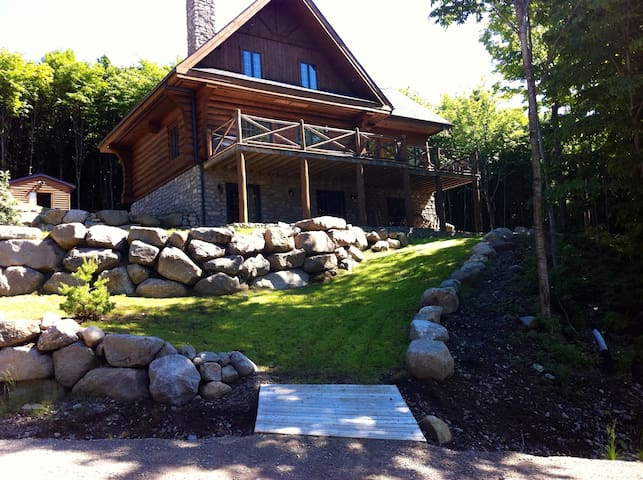 50 feet from the lake and huge wild forest to discover. Wont get any quieter than this. Kayaking/swimming/hiking etc.
2500 sqarefoot house that is 50 feet from the lake, huge balcony, big living room
Forest, lake, beach, hiking, snowmobile trails 20 minutes to Mt Tremblant / 15 minutes to Mt Garceau
Oda Tipi
Özel oda
---
Mekan Türü
Ev
---
Konaklayacak Kişi Sayısı
4
---
Yatak odaları
Val-des-lacs, Quebec, Kanada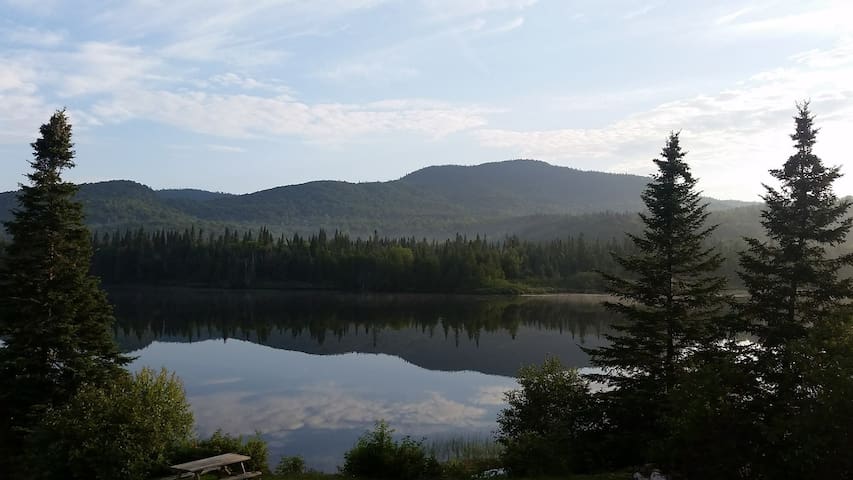 1h ½ from Montréal: The Cottage Marie-Rose is located on Lac Gagnon in Val-des-Lacs. Mont-Tremblant, Saint-Donat and Ste Agathe-des-Monts are just 20 minutes away. With its 4 bedrooms it comfortably fits 6 people.
You find plenty of things to do within short driving distance... or you can just chill out by the house, on the water and enjoy the haven and peacefulness of nature. With its 3 double and two single beds Marie-Rose comfortably sleeps 6 people and is wonderfully set up for family with children. Your kids will love the boats, the picnic table, the sandbox, the tree house and the trampoline. Parents enjoy an easy arrival with a crib and playpen set up, highchair and toys provided by the hosts. We have life vests in all sizes!
Nous avons passé une semaine très agréable dans le chalet de Katrin. Il est très confortable, lumineux, propre et bien équipé. Les chambres sont douillettes et accueillantes et les aires communes sont spacieuses avec une belle vue sur le lac. Le terrain est bien entretenu et l'équipement mis à notre disposition (bateaux, trampoline, cabane dans les arbres) a remporté un franc succès chez les enfants. Le lac est non navigable donc tranquille. La communication avec Katrin a toujours été facile. Elle s'est montrée très disponible et accueillante et nous nous sommes immédiatement sentis à l'aise chez elle. Ceci est appréciable surtout lorsque l'on séjourne avec de jeunes enfants. Je recommande ce chalet et suis prête à y retourner en toutes saisons!
Kim
2016-08-14T00:00:00Z
Kartrin and Matthias quickly responded to all of our questions (within minutes, most times). The cottage was lovely: clean, well equipped, and cozy without feeling cluttered. It's a fantastic spot for taking advantage of the area. The fact that there are no motor boats on the lake make it all the more peaceful. Also, our daughter *loved* the trampoline! We had a very memorable week!
Andrew
2014-07-26T00:00:00Z
Très joli et chaleureux chalet, en pleine nature, très bien équipé, fidèle à la description. Il y a plusieurs sentiers de raquette dans les environs et la région fourmille en activités hivernales. Les hôtes sont très disponibles et accommodants. Nous avons adoré notre séjour lors de la relâche et reviendrons! Recommandons vivement cette maison pour des vacances d'hiver comme d'été.
Marie
2016-03-05T00:00:00Z
Very pleasant lake-side cottage, well-furnished, in a lovely natural setting; great view. Wonderful variety of fowl and birdlife. Canoe, kayak, and boat provided (life jackets included). Really great place for kids: 1) to connect to nature, 2) because water off the dock is not deep, 3) to have wonderful adventures in the mini-forest (and partial tree- house) that is part of the property, 4) to burn off energy on a trampoline. What appealed most to me was the sheer peacefulness and beauty of the location. The host Katrin was extremely communicative, and very friendly.
Zoja
2016-07-24T00:00:00Z
Oda Tipi
Tüm ev/daire
---
Mekan Türü
Dağ Evi
---
Konaklayacak Kişi Sayısı
6
---
Yatak odaları
Val-des-Lacs, Quebec, Kanada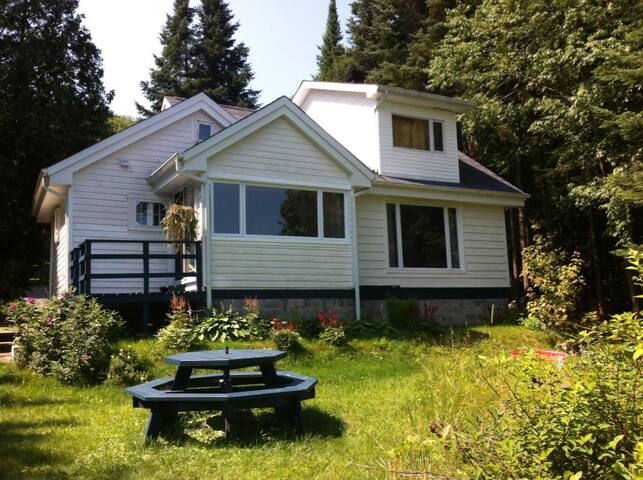 Huge cabin loaded with charm! Expansive waterfront property on lake L'Orignal offering a bright open floor plan. This home has a beautiful lake and mountain views, a large stone fireplace, cathedral ceilings, a renovated kitchen, 6 bedrooms and a mezzanine,3 bathrooms and a laundry room. Located near snowmobile trails, 30 minutes from Mont-Tremblant and other ski resorts. 20 minutes from St-Donat and 90 minutes from Montreal. Great for couples, families with kids and big groups. Bring snowshoes!
Perfectly located cottage. You have everything you could possibly need. Stephanie is a great host! Just remember to stock up on water bottles, as you can't drink the water. We were a group of 13 people and everyone fit perfectly. So many beds and space. Such a gorgeous cottage along the lake. Perfect for snowshoeing as well! Would definitely go back.
Sanaya
2017-01-15T00:00:00Z
Nous avons adoré ce séjour! Nous étions plusieurs familles, 11 adultes et 4 enfants et le chalet est parfait pour des familles, il est vraiment très bien équipée et possède de nombreuses chambres fermées. C'est très bien décoré et Stéphanie nous a beaucoup aidé pour notre arrivée et notre séjour. Le chalet est situé au bord d'un lac et est très calme. Nous y reviendrions avec grand bonheur!
Clarisse
2017-03-12T00:00:00Z
Excellente et facile communication. Très beau chalet avec son charme authentique. Nous étions 15 et chacun à trouver sa place. Très lumineux, très beau lac ! Merci
Maxime
2017-02-26T00:00:00Z
Oda Tipi
Tüm ev/daire
---
Mekan Türü
Ev
---
Konaklayacak Kişi Sayısı
15
---
Yatak odaları
Val-des-Lacs, Québec, Kanada
Activités : Excursion en forêt, patinoire, chaloupe à votre disposition Centre récréatif réserve Kanatha-Aki ; pêche, bison, équitation, tyrolienne, traîneau à chien (à 10 min) Les chutes de la rivière Archambault (à 15 min) Mont tremblant et Mont saint sauveur (à 30 min)
Guillaume a toujours été très réactif et serviable. Il nous a même installé des déco de noël pour que l'on profite pleinement ! Le chalet est agréable avec un petit coté rustique et une vue splendide. Par contre, les murs entre les pièces sont très fins et les chambres collées donc il n'y a pas trop d'intimité (surtout avec un bébé qui ne dort pas trop) !
Julia
2015-12-26T00:00:00Z
Great visit, went with a group of co-workers for a weekend out of the city and had an amazing time. The chalet was great with a really nice view and it is in a really nice area, we went for a hike by the waterfalls which was excellent. Bref on a beaucoup aimé nos temps là.
Daniel
2015-10-18T00:00:00Z
Vue du balcon sur le couché de soleil splendide Intérieur du chalet très jolie et fonctionnel Communication facile avec Guillaume
sophie
2016-10-10T00:00:00Z
Un Week-End très agréable entre amis, avec un chalet identique à sa description. Au calme, balade à pied possible à partir du chalet. Bref le cadre et le chalet sont parfaits pour un séjour reposant avec tout le confort qu'il faut.
Romy
2015-11-29T00:00:00Z
Super nice ! Exactly like the photos. Guillaume was very nice and responded to all my messages fast. Deffinetely worth it!!
Cynthia
2016-03-13T00:00:00Z
Guillaume was promptly in touch after our booking. The chalet was lovely - very much as depicted on the website. Cozy, charming and lovely views. We loved that there were games to play and we enjoyed taking walks along the nearby roads. We had a couple of issues we had hoped to discuss with Guillaume, but never heard from him after sending a message, leaving us a bit confused. Overall, it was a lovely stay and would definitely recommend!
anna
2015-11-08T00:00:00Z
Nous n'avons pas rencontré Guillaume, mais il nous a expliqué tout le nécessaire concernant le chalet. Celui-ci est très agréable, et cosy aussi bien pour des familles que pour un groupe d'amis. En somme, un week-end parfait, dans un cadre idyllique. On recommande !
Agathe
2015-10-04T00:00:00Z
J'ai bien aimé mon séjour au chalet nordique léger! Malgré l'aspect extérieur qui nous a un peut surpris au départ, l'intérieur était comme sur les photos. Par contre, le réseau internet n'était pas de bonne qualité. Avant votre séjour, aller voir la page (SENSITIVE CONTENTS HIDDEN) du chalet nordique, car il y a les explications pour la chaloupe et l'accès à l'eau, ce que nous avons chercher pendant un certain moment avant de savoir comment y avoir accès! Aller au chute de la rivière Archambault, elles valent réellement la peine et vous pouvez vous y baignez, c'était une très belle expérience! Bonne expérience en générale, malgré des petits défauts!
Cathie-Anne
2016-08-01T00:00:00Z
Oda Tipi
Tüm ev/daire
---
Mekan Türü
Dağ Evi
---
Konaklayacak Kişi Sayısı
7
---
Yatak odaları
Val-des-Lacs, Québec, Kanada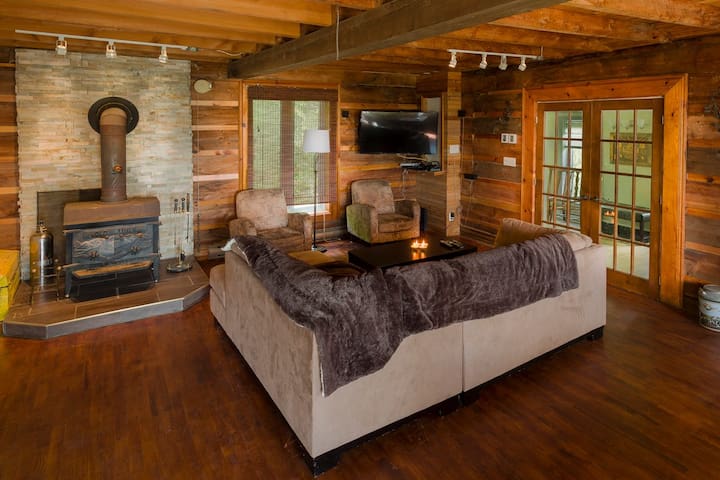 The Ranch is close to parks, the exceptional view and the beach (edge of small river). You will appreciate the cottage for the view of the mountains, the location, the kitchen and the comfort. Come admire the horses from your window !! It is perfect for couples, solo travelers, families (with children), large groups and four-legged companions. The price is for the 2 chalets, if you want to reserve a chalet only it is possible, inquire about our rates ....
Live with the horses, enjoy the exceptional site far from the road and neighbors. Ideal for parties with friends or family. The gate at the entrance allows you to live a private stay. Dogs are welcome ... there are several trails to walk around. In winter, go to the snowshoe dogs !!!!
Located in Val-des-Lacs, 25 minutes from Mont-Tremblant resort, Ste-Agathe and St-Donat and 1h30 from Montreal. The region has several activities for all seasons.
Le ranch est magnifique. L'endroit est très beau et se trouve dans un paysage incroyable. 100% recomendé! Josée a été très gentille et disponible en tout temps. Merci!!!!!!! On a eu une fin de semaine magique :)
Oscar
2017-02-05T00:00:00Z
Nous avons passé de super moments entre amis avec nos enfants au Ranch. Tout était fait pour qu'on passe un week-end parfait. Josée est une hôtesse attentionnée et super sympathique, s'assurant des moindres détails pour que notre séjour soit confortable et plaisant. Des activités pour tout le monde: table de ping-pong et baby-foot, des bâtons et des buts de hockey pour une petite partie de hockey-bottine, et même une luge à chiens pour s'amuser avec les petits, et aussi sans oublier les chevaux que les enfants adorent. Je recommande fortement pour un séjour entre amis ou pour les réunions de familles dans un endroit confortable et chaleureux. Et pour la nature et les environs, très reposant. Que du bonheur!
Thien Hung
2017-03-19T00:00:00Z
The Ranch is so huge and love it! Even the kids are having a great time, playing ping-pong and fuse ball. Esp. When they saw the horses! Beds are very comfy. Can't go wrong. The host - Fantastic! Very friendly and always smiling. :D AWESOME! It's a place to all friends and family to be gathered and also kids will have fun!
Ivan
2017-02-26T00:00:00Z
Superbes logements dans un cadre magnifique ! Les chalets sont très beaux, très bien équipés. Le chalet principal permet d'accueillir tout le monde et la cuisine ouverte est vraiment conviviale. Le paysage alentour est incroyable, parfait pour des raquettes et des glissades. Nous étions avec des enfants de 2ans et moins, et le fait qu'il y ait plusieurs appartements a été très apprécié : nous avons pu dormir le matin pendant que les parents pouvaient s'occuper des enfants sans craindre de nous réveiller. Nous avons passé un séjour fantastique, je recommande vivement l'endroit !!
Caroline
2017-02-12T00:00:00Z
Josee's ranch near Tremblant is fantastic for large groups. I organized a ski trip to Tremblant with ten friends (couples) and we were all easily and comfortably housed on the Ranch with our own rooms. It's a real working ranch. You can watch the horses just feet away from inside the main lodge, while relaxing by the massive fireplace. The inside décor of the lodge is rustic and stunning beautiful, with a large and exceptional master bedroom upstairs. There's also a games room with ping pong, fooseball, and other activities attached to the house. There's even a wood fired Finnish barrel sauna on the property. All nestled in a gorgeous mountain setting. Josee herself was very accommodating and I have zero complaints about my stay there. We will definitely be back!
John-Eric
2017-01-22T00:00:00Z
Oda Tipi
Tüm ev/daire
---
Mekan Türü
Dağ Evi
---
Konaklayacak Kişi Sayısı
15
---
Yatak odaları
Val-des-Lacs, Québec, Kanada
Magnifique chalet offrant une vue imprenable sur le lac Quenouille. Raquette, traîneau à chien, ski de fond Plaisirs hiver Entièrement équipé avec cuisine moderne. Chambre principale a la mezzanine avec salle de bain. Lac magnifique pour baignade sécuritaire. Canot, pédalo offert ! 1h15 de Montréal, 20 min Versant nord Tremblant
Vue, vue, vue ! Cuisine moderne avec immense îlot offrant une vue époustouflante. 3 chambres à coucher lit King mezzanine avec vue, lit queen rez de chaussé et lit double au sous sol. Laveuse sécheuse. Magnifique quai pour prendre du soleil ou pour souper au bord de l'eau en tête à tête !
La nature et la tranquillité piste de ski de fond, raquette, randonnée en montagne, Ski alpin a proximité, golf à proximité. pêche et baignade, equitation, traîneau à chien, cabane à sucre
This cottage was absolutely lovely! The pictures are accurate and the place is exactly as described. We spent a week at the cabin relaxing, going for snowshoe walks on the frozen lake, and heading up to Tremblant (which is about 30 minutes away). Melissa was an amazing host - quick responses and very friendly. The space was clean and had everything we needed. I can't wait until we can come back up here!
Adam
2017-01-13T00:00:00Z
Le chalet était tout simplement magnifique et en cohérence avec les photos de l'annonce. Mes amis et moi avons passé un très bon moment, tant dans le chalet qu'au bord du lac. Je recommande cette adresse. Encore merci.
William
2017-01-02T00:00:00Z
Great stay, gorgeous views, 20 minutes from Mt-Tremblant or Ste Agathe des Monts. We miss the Lac Quenouille
Francois
2016-10-10T00:00:00Z
On a passé un excellent séjour à ce chalet! Très propre, très bien équipé. Le paysage était beaucoup plus beau en vrai et le lac venait tout juste de dégeler! Mélissa a été très accueillante et nous a guidé à travers les activités disponibles aux alentours. Des très bonnes chances que j'y retourne cette été :)
Walid
2016-05-09T00:00:00Z
Melissa was a wonderful host. Though we never met we had excellent communication before during and after my stay. I was there with 5 children over Winter 2016 and I am considering coming back for the Summer 2017.
Craig
2016-12-31T00:00:00Z
Nous avions passé une fin de semaine (2 soirs) dans le Chalet Le P'tit Prince Tremblant entre amis et un chien. Je recommende fortement ce chalet. Propre, très bien équippé et la vue!! Merci Melissa.
Julie
2016-05-23T00:00:00Z
Nous avons passé un très beau séjour au chalet Le P'tit Prince. La description du chalet est représentative de la réalité; propre, bien équipé, bien entretenu, et que dire de la vue magnifique sur le lac (et bien orienté avec le soleil). De plus, l'accueil et les communications avec Melissa ont facilité notre arrivée. Nous allons sûrement y retourner pour profiter d'une saison différente.
Daniel
2016-03-21T00:00:00Z
Mellissa was incredibly helpful. And the place is beautiful. And the view is awesome
Charlie
2017-02-22T00:00:00Z
Oda Tipi
Tüm ev/daire
---
Mekan Türü
Ev
---
Konaklayacak Kişi Sayısı
6
---
Yatak odaları
Val-des-Lacs, Quebec, Kanada
Très beau chalet style rustic au bord de l'eau, équipé, 10 minute des stations de ski La Reserve et Mont-garceau. Accès au lac de la montagne noir avec toute ces activités d'été, kayak, péche et beignade// Beautiful cottage rustic style right in front of water, all equiped, at 10 min of ski stations La Reserve and Mont-garceau. In front of lac Montagne noir with all activities for summer, kayak, fishing and swinming.
Ce grand chalet est parfait pour ce retrouver entre amis ou famille pour profiter de bon temps. Avec une cuisine complète, un superbe foyer au bois et tout le nécessaire pour profiter de chaque saison et les activités qu'elle nous apporte.
Le chalet est a St-donat, a 10 minute des stations de ski Mont-garceau et La reserve. Situé a 30 minute de Mont-tremblant. Le lac de la montagne noir est de taille moyenne acceptant les embarquation a moteur et parfait pour la pêche. Une des 7 chambre est au sous-sol avec un lit superposé et un lit simple parfait pour les enfant.
We rented this cottage in January 2017 and we had a great time. The cottage is very big, very cozy and extremely well equipped. There are 7 bedrooms, an amazing basement with lots of games and activities. The one thing that we had a hard time was getting the cars out of the parking, since from the cottage to the street there is a considerable slope and it was very icy.
Pablo
2017-01-29T00:00:00Z
This cottage was a great getaway for a large group of people. With only being 30 minutes away from Tremblant, this was a secluded cottage perfect for a weekend getaway!
Cameron
2017-03-05T00:00:00Z
The house was perfect for our New Year's eve family gathering. Next to a beautiful lake. The games room in the basement was amazing.
Chris
2017-01-01T00:00:00Z
Magnifique chalet! Les photos ne rendent pas justice à l'endroit. Nous étions un très grand groupe et la chalet convenait parfaitement. Très bien équipé, nous avons manqué de rien. Je le recommande à n'importe qui. Nous espérons y retourner durant l'été!
Joel
2017-02-05T00:00:00Z
This place was very good and spacious. We all are very comfortable in our stay, clean, and well equiped! You dont need to bring anything, everything you need is in the Chalet. Perfect for families too! Also, it is winter and very snowy during our stay but it didn't stopped us to enjoy! Skates, ski's, sled etc. Can also be found in the basement so you could enjoy outdoor activities in the snow especially on the frozen lake. I don't have anything negative I could say about this place. It was perfect!
Adelyn
2016-12-12T00:00:00Z
Oda Tipi
Tüm ev/daire
---
Mekan Türü
Daire
---
Konaklayacak Kişi Sayısı
16
---
Yatak odaları
Val-des-Lacs, Quebec, Kanada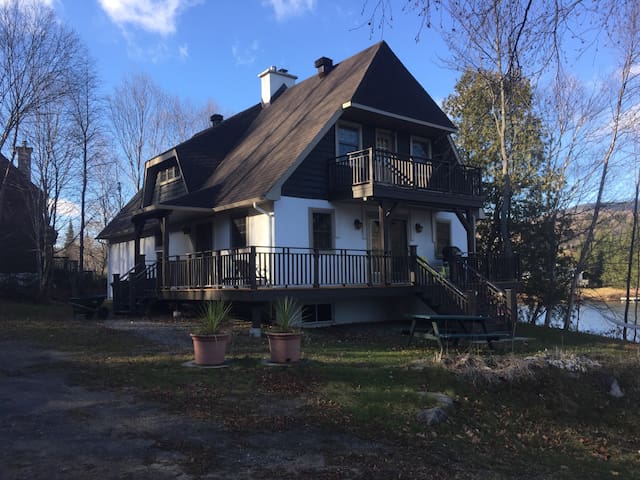 Ce grand chalet sis dans la forêt du Domaine privé Nostalgia, vous accueillera pour vos réunions de famille, vos fins de semaine entre amis, ou vos escapades découverte. Très bien aménagé, avec un intérieur lumineux, vous y trouverez confort, calme et sérénité, et tout l'espace dont vous pourriez avoir besoin.
Cuisine toute équipée, salle à manger et salon avec cheminée, grande terrasse avec BBQ, 4 chambres dont une avec salle de bain attenante, plus 2 autres salles de bain, salle familiale au sous-sol
Station de ski de Mont-Tremblant à 30 mn. Station de ski Mont-Blanc à 20mn. Chiens de traineaux de Kanata Haki à 5 mn. Chutes Archambault à 5 mn. Dépanneur à Val-Des-Lacs à 5 mn.
Michelle was great! She was really accommodating despite some hiccups my group ran into getting there. The home was beautiful and well stocked for a large group. We had no issues with rooms, beds or amenities and she was always communicable via text. Merci, Michelle!
Minh
2017-02-20T00:00:00Z
The chalet is exactly as advertised. Michelle is very fast with responding. Perfect for a weekend getaway. Holds 10 people comfortably.
Jeff
2017-02-26T00:00:00Z
Oda Tipi
Tüm ev/daire
---
Mekan Türü
Dağ Evi
---
Konaklayacak Kişi Sayısı
10
---
Yatak odaları
Val-des-Lacs, Québec, Kanada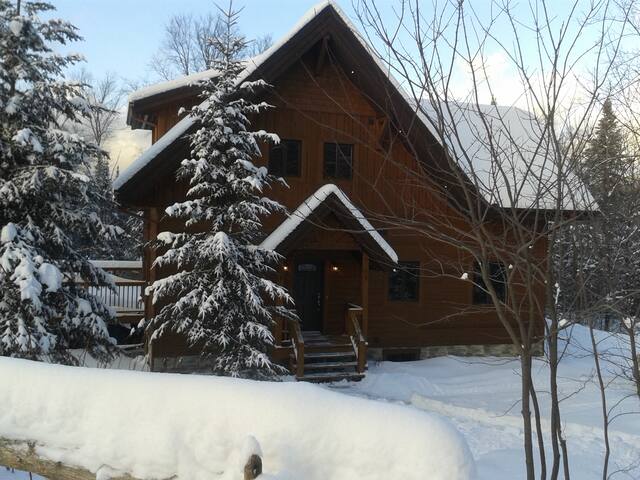 Luxueusement aménagé dans le décor enchanteur des Laurentides, ce très beau chalet en bois rond (2010) est situé à 30 minutes de la station du Mont-Tremblant, à 15 minutes de la station de ski Mont-Blanc ainsi que du parc national de Tremblant et à 10 minutes de St-Faustin, itinéraire du petit train du Nord. De nombreuses activités sportives autant estivales qu'hivernales sont à votre portée depuis cet endroit sis dans un domaine privé au nom de Nostalgia sur le chemin du Lac Quenouille.
le chalet comporte a l'entrée une belle cuisine aménagée, un grand espace de vie avec salon et petit coin bureau. Une salle a manger très agréable avec vue sur les pistes de Mont-Tremblant. A l'étage inférieur vous trouverez une chambre avec 2 lits Queen, une deuxième chambre avec 1 lit Queen, une salle de bain avec baignoire et douche ainsi qu'une troisième chambre avec 1 lit Queen dans laquelle se trouve une salle de bain privative avec douche. Draps, duvets, oreillers, serviettes de bain sont fournis.
Les activités dans la région : Ski, motoneige, raquettes, pêche, chiens de traîneau, randonnées à cheval, golf, casino, karting, vol en hélicoptère, randonnées, natations, shopping(magasinage), gastronomie, théâtre, vélo, Quad, ...etc.
Great place, excellent people!
Elliot
2016-09-06T00:00:00Z
Sylvie est une personne chaleureuse et accueillante. On s est tout de suite senti les bienvenues.
Darline
2016-08-21T00:00:00Z
Absolutely great place. I have no bad comments to say about this place, everything was awesome
Lee-Ann
2016-10-16T00:00:00Z
Wow! Sylvie is nice, efficient, on time and she made us feel welcomed and at home. L'Orignal is the real thing. A typical log cottage. The house is super clean, very well equipped, comfortable, and it has everything one would want spending time in the Laurentians. We had a great time and we will be back. L'Orignal is a great place to take some downtime. Merci Sylvie.
Philippe
2016-07-10T00:00:00Z
Sylvie nous a sortis d'un pétrin à quelques heures d'avis. Nous lui devons une fière chandelle! Nous avons passé une séjour des plus agréable, le confort du chalet, la quiétude du lieu... À refaire le plus tôt possible pour relaxer encore une fois et ne plus vouloir partir ;-)
Alexandra
2016-08-24T00:00:00Z
Oda Tipi
Tüm ev/daire
---
Mekan Türü
Dağ Evi
---
Konaklayacak Kişi Sayısı
8
---
Yatak odaları
Val-des-Lacs, Québec, Kanada
3-star rated. Nice chalet with fireplace, WiFi Internet access, washer-dryer and dishwasher dishes. Near winter and summer activities around Nord Tremblant. Ideal to rest.
ACTIVITIES: Val-des-lacs Ice rink, youth park with swings and slides, tennis, bowling, hiking trails, horseback riding, pony rides and mini farm with more than 100 animals at the Ranch ladouceur. CENTRE KANATHA-AKI: (5 minutes from the cottage) Sled dogs, introductory wilderness survival, horseback riding, or day with the trapper trapper, bison reserve, fishing, hand and ice . inter-center cross-country ski trail 10 minutes from the cottage: - nature interpretation center uqam: 25 km of trails of varying difficulty for hiking, snowshoeing or skiing . swimming is possible in front of the Archambault fall. This is a unique and refreshing experience, but caution 20 minutes from the cottage: - Adventure Park in mountains with zip lines, and `` décalade via ferrata! ``: hiking between heaven and earth - Linear Park North train. bike and snowmobile - Cruises on Lac des Sables in Ste-Agathe - Public beach in Ste. Agathe. . - 9 hole golf `` The old Ferme`` 30 minutes from the cottage: - Parc Des Pioneers (St-Donat): Summer: Swimming Winter: Trail forest skates, outdoor rinks, cross-country ski trail, snowshoe forest and slides - Skiing.:Garceau and Ski La Reserve in St-Donat - Ski: Mont Blanc - Tube slides: ski resort La Réserve - Cross-country skiing: The path of the Black Mountain - Educational farm . with over one hundred animals - `` Royal Golf Laurentien`` - Golf St-Donat 45 minutes from the cottage: - astronomical observation Pavilion: Domaine st-bernard - Spa: Scandinave Spa Mont-Tremblant - Casino Mont Tremblant - mont-tremblant golf - Alpine skiing and cross country skiing - Slides tubes - Ice climbing - Cycling-Mountain - Red River Rafting - Alpine Luge summer
Very nice cottage, well organjzed and clean. Close to all kinds of winter activities. We had a great time!
Schtick
2015-12-23T00:00:00Z
Merci
Med
2016-08-16T00:00:00Z
The cottage is very nice, well equipped and comfortable. The description on the website is accurate. A great place to relax with a group of friends.
Olga
2016-02-15T00:00:00Z
Excellent and warm cottage , very clean , equipped with everything you need . Good location close to the lake , trails in the forest ! And very hospitable host ! Thanks Jacques ! Julian&friends
Masstherclinic
2016-03-28T00:00:00Z
Jacques waited up for us and was there to hand us the keys and tour the house at 11pm when we arrived. Very impressed with his dedication to ensure our stay was comfortable and smooth. No issues arrose and we enjoyed the Family Day long weekend tremendously this year! Highly recommend this place for a quiet get away from the city.
Jack
2017-02-20T00:00:00Z
Place is as described, thanks Jacques!
Maria
2017-01-07T00:00:00Z
Nous avons passé un très bon séjour en famille dans le chalet de Jacques, qui propre, calme, confortable et bien équipé. La communication avec Jacques a été très facile. si vous êtes à la recherche d'un endroit calme et proche de la nature, foncez, vous ne serez pas déçus.
Elodie
2017-03-20T00:00:00Z
It is well maintained and clear cottage. It is prefect for summer as lot of lakes closed to it. Owner lives next to the cottage and it is easy for check in arrangement. It is bit challenge to get there with icing rain weather that we faced.
Patrick
2016-12-28T00:00:00Z
Oda Tipi
Tüm ev/daire
---
Mekan Türü
Dağ Evi
---
Konaklayacak Kişi Sayısı
8
---
Yatak odaları
Val-des-Lacs, Québec, Kanada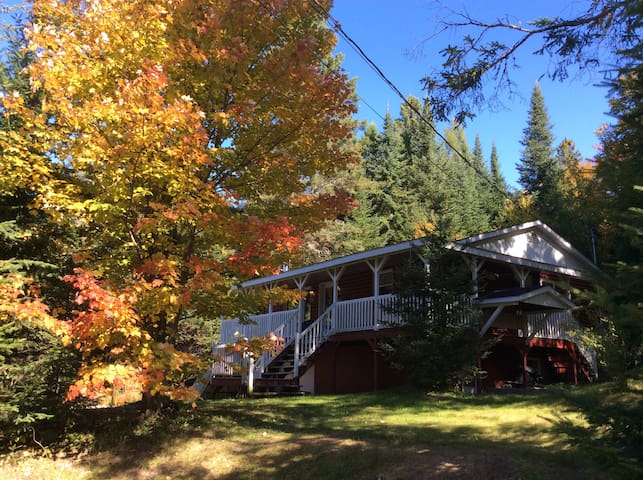 The 8 bedroom Cottage Azure Paradise rental is an exceptional waterfront property tucked away in an exclusive peaceful setting. This luxurious cottage rental sleeps 16 people very comfortably, with an inviting post & beam interior design that combines comfort and style effortlessly.
Oda Tipi
Tüm ev/daire
---
Mekan Türü
Dağ Evi
---
Konaklayacak Kişi Sayısı
16
---
Yatak odaları
Val-des-Lacs, Québec, Kanada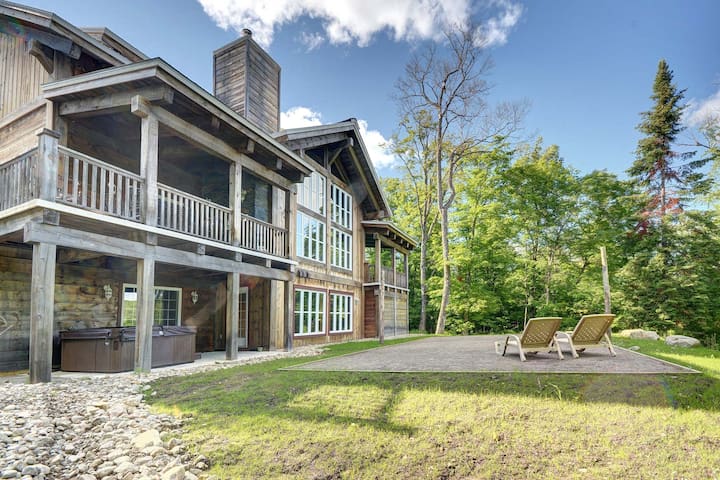 It is peaceful and relaxing.   It has a gorgeous view from most windows over a beautiful lake and the surrounding mountains.  The chalet is nestled on a private wooded lot.
It is peaceful and relaxing.   It has a gorgeous view from most windows over a beautiful lake and the surrounding mountains.  The chalet is nestled on a private wooded lot. The 4-season hot tub (SPA) in the sunroom is the perfect place to enjoy the view, while the jets massage your back. The Snow Chalet is in the tiny Laurentian village of Val-des-Lacs, only 90 minutes from Montreal and just 20 minutes to the skiing of Mont-Tremblant. Winter Curl up by the fire after a complete day of skiing, snowboarding, dog sledding, sledding, snowshoeing, skating or horseback riding! Summer Swim and fish from our private dock into the clean waters of the lake, or enjoy a game of badminton/volleyball on our private beach volleyball court. Barbeque, campfires, marshmallows…. Autumn Fall evenings can be spent around the campfire after a full day of hiking or biking enjoying the stunning fall colours.  Enjoy the lake with our canoe or peddle boat. Spring Enjoy the peaceful view of the lake awakening from winter and watch the birds return from their winter vacations.  Enjoy the lake with our canoe or peddle boat. The snow chalet is awaiting your arrival, and your pets are welcome too!  We enjoy providing a relaxing vacation rental for the whole family.
The cabin is very well equipped and comfortably hosts 3 couples. The volley ball court is well kept, and the hot tub is large enough for 6 adults. You may have trouble finding it if your GPS takes you down the wrong side of the lake. Make sure that when you are driving down Val-des-lacs, you don't turn left until you hit the SAQ. Overall, amazing weekend!
Michaela
2016-05-30T00:00:00Z
Tres belle expérience dans le chalet de Dominic : il est très bien équipé pour ne pas s'ennuyer et profiter des activités sur le lac, sur le terrain de volley et dans le chalet. A refaire sans hésiter!
MARINE
2015-09-18T00:00:00Z
Séjour merveilleux, le chalet est très accueillant, bien agencé et équipé, le spa fut un régal. Nous avons eu la chance d'avoir les premières neiges, magnifique ! Nous serions plus que content d'y revenir.
thomas
2015-12-21T00:00:00Z
Le chalet est très confortable et bien équipé. Brigitte et Dominic fournissent toutes les informations nécessaires pour profiter pleinement du séjour dans leur chalet. Le spa est un vrai plus pour se détendre après une journée d'activité. Enfin le lac Gagnon est très sympa pour une petite promenade en canot ou pédalo.
Fabien
2016-05-24T00:00:00Z
Nous avons passé 3 jours supers au chalet. il est tres confortable, bien meublé et tres calme. Dominic et Brigitte ont repondu rapidement à toutes nos questions, nous recommandons vraiment ce chalet!
Caroline
2015-12-30T00:00:00Z
Le châlet est magnifique et Dominic a tout fait pour que ce séjour soit parfait. Je remercie les propriétaires pour leur implication et je recommande ce chalet où on ne risque pas de s'ennuyer : Chandelles, spa matériel de jeu (badminton, playstation et jeux de société) pédalo, canoë, barbecue... C'est simple: il ne manque rien. Encore merci
Renaud
2015-10-21T00:00:00Z
Dominic and Brigitte's snow chalet is something to behold. It shows much nicer in person and the photos don't do it justice. The snow chalet is a charming, well-insulated, cottage towards the end of a private road surrounded by alpine with an amazing view of the Laurentians just over the tree-tops. (It also has access to a private beach as well in the summer). The chalet was well managed and provisioned with everything you could possibly want for a vacation. Everything from the beds, the comfy sofas / futons, to the newer fixtures in the bathroom, to a well maintained kitchen, to an ingenius vestibule (turned spa room) had us having one of our more enjoyable getaways of recent memory. The best part about this whole experience, is how much care Dominic and Brigitte put into making our stay perfect. They were very quick and attentive communicators and provided ample instructions ahead of time to help us plan our trip. Once arriving at the chalet, we were pleasantly surprised by the "guest binder" with everything from best driving directions to Tremblant, tourist information, and restaurant guides / menus. Firewood was provided, and even our dog Bentley who made the trip was provided a special blanket. It says a lot when hosts take care of the small things, and Dominic and Brigitte certainly took care of all the finer details. We very much enjoyed our stay, and look forward to returning soon! Merci Beaucoup!
philip
2016-03-26T00:00:00Z
We felt very welcome because they communicated with us every day.
Elizabeth
2016-09-24T00:00:00Z
Oda Tipi
Tüm ev/daire
---
Mekan Türü
Dağ Evi
---
Konaklayacak Kişi Sayısı
6
---
Yatak odaları
Val-des-Lacs, Québec, Kanada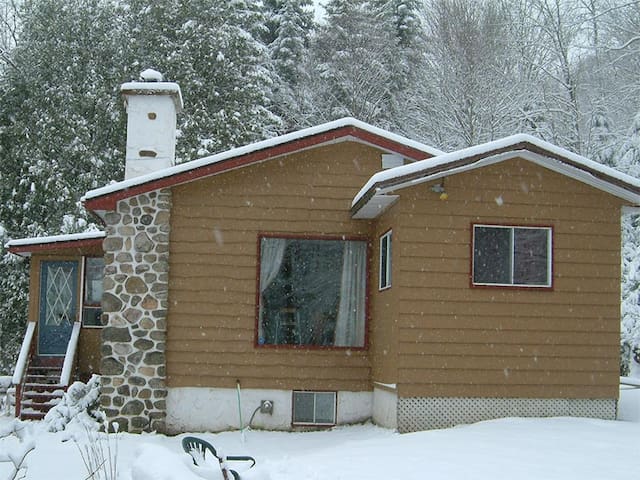 In the heart of the Laurentians, 25 minutes from Mont-Tremblant, St-Donat and Ste Agathe des Monts. Ideal for amateurs of fishing, winter sports such as skiing, snowshoeing, ect. Also for anyone who enjoy being in pure nature.
House with an area of over 3000 square feet on 2 floors, on a plot of more than 3 acres. Home has been will decorated and very comfortable, has 3 bedrooms, all with queen beds. There is a Murphy bed in the basement. There is one electric fireplace upstairs and one wood fireplace in the basement. There is also a Tanning bed, 2 large full bathroom, one with bath and shower and second shower only. There is a 52 inches TV in the basement. Large lake view balcony with gazebo for meals on the outside. Parking for 4 cars. Dock gives access to the lake and has a pedalo.
At 25 minutes from the ski slopes and Tremblant golf course, 30 minutes from St Donat ski hill and 30 minutes from Ste Adele, 20 minutes from Ste Agathe des Monts 1 and 15 hrs of Montreal. There is Kanatha-AKI center not very far away, it is a fabulous place for horse riding, bison park, forest survival, zipline, fishing.
The cottage was exactly as described. Large, with ample space for sleeping and an overall great place to relax and enjoy nature. The place was very clean, and extremely well maintained. Beatiful property overall with absolutely everything you need.
Bogdan
2016-01-02T00:00:00Z
This cottage is in a fantastic location! Great cachet and sunlight through the entire day. Mountains, secluded nature, peace... it is a great place for a family vacation or dinner with friends! Xiaobing is also excellent at replying messages. I cannot give a perfect note as it is missing some accessories but i would definitely recommend it. Happy New Year 2017!!!
Christian
2016-12-30T00:00:00Z
Chalet très spacieux et confortable dans un décor hivernal très beau. Nous y étions pour le week-end, tremblant accessible en 45 min d'auto. Aussi beaucoup de commodité dans le chalet pour se divertir. Seulement 2 petits bémol lors de notre passage, l'eau du spa n'était pas propice à la baignade et quelques items de cuisine étaient sales. La communication était parfaite avant notre arrivée, tout était très claire pour les directive d'arrivée. Merci Xiaobing!
Rémy
2017-02-26T00:00:00Z
What a beautiful chalet! We had a wonderful weekend! Chalet was exactly as described in Xiaobing's listing. Absolutely gorgeous and full of amenities! Everything was supplied and we didn't have to worry about a thing. Beds were comfortable, fully stocked (gorgeous) kitchen, incredible bathroom(s) and a theatre room to drool over! Xiaobing's instructions were spot on, and he and his wife were extremely helpful when we had questions! Very happy with out weekend getaway, and already planning to go back in the summer!
Amanda
2016-02-14T00:00:00Z
We spent a wonderful New Year's getaway at Xiaobing's home. What a beautiful space, secluded in nature and surrounded by stately cedar trees. Lucky for us there had been a heavy snowfall when we arrived, and the trees were full of snow. It couldn't have been a more picturesque setting! The home had everything we could have ever needed; the kitchen was well-equipped, plenty of towels to go around, comfortable beds (even the Murphy bed)... There is a Keurig coffee machine, and there were plenty of pods for us, but bring your own K-Cups if you prefer tea or decaf. We had hours of fun playing baby foot and pool, and the cinema room in the basement was very cool. A large TV and the very comfortable leather recliners were a big hit. We nearly ran out of toilet paper and there was no soap in one of the bathrooms, but we had brought extra reserves of everything so we were OK. Some additional supplies of basic toiletries would have been appreciated. The shower had plenty of body wash, shampoo, conditioner, so that was nice. We used the hot tub a few times during our stay, and it was fantastic! It's right by the front door, so you don't have too far to go in the snow after you jump out! If you arrive in the winter after a storm and don't have a 4-wheel drive car, you will have a hard time getting up the long steep hill to Xiaobing's house. One of our guests tried multiple times before finally making it up! Overall it was an exceptional stay, and Xiaobing was very quick to respond everytime I messaged him. I hope to rent again in the summer time, so that we can enjoy the gorgeous view of the lake! :)
Valerie & Max
2017-01-02T00:00:00Z
Great accommodation. Very clean and modern. Xiaobing had everything we needed and more. The open concept kitchen/living/dinning room made it great for socializing and preparing food. The 25 min. drive to the North Gate of Mont Tremblant is a nice drive and doesn't seem long at all. Definitely preferred it over going to the south gate of the mountain and having to wait in the long gondola line.
Nick
2017-02-20T00:00:00Z
Oda Tipi
Tüm ev/daire
---
Mekan Türü
Villa
---
Konaklayacak Kişi Sayısı
8
---
Yatak odaları
Val-des-Lacs, Québec, Kanada
Observer un ciel étoilé d'une clarté saisissante; un ressourcement sans pareil en plein air dans les Laurentides! Sauna, bain thérapeutique et foyer pour agrémenter vos journées d'activités en plein air. Réservez votre week-end plein air détente!
Notre chalet est réputé pour sa propreté, la quiétude des lieux et un prix abordable. Il arborera fièrement de nouvelles couleurs dès ce printemps dans plusieurs de ses pièces avec un décor tout nouveau et au goût du jour!
Great cozy house. It's only 16 min drive to the north parking place of Mont-Treblant ski centre. I will definitely recommend this house to my friends. Eric is a wonderful host and he is very helpful.
Tina
2016-03-16T00:00:00Z
Thank you, Eric for the home away from home experience. Our stay was great - the place is exactly as described - simple but beautiful in its simplicity. Everything was working great for us - given that we primarily skied most of the time. It's exactly 15 min to the North Side parking (which I would suggest to go to) of MT skiing resort. Plenty of local places to go to - and they are if not better but surely are equal to the food choice and quality of the restaurants on the South Side of MT village (Like a La Stazione Cafe or a Le Rustique Bar). Again, thank you and wish you all the best. Jenya
Jenya
2017-02-25T00:00:00Z
Nous passé une très belle fin de semaine (2 nuits) au Héron Bleu. Malgré notre arrivée tardive, nous avons été très agréablement accueilli par Eric qui nous a fait faire le tour de son charmant chalet. Nous étions 1 couple avec bébé et 2 adultes: la taille du chalet était parfaite avec 3 chambres. Tout l'équipement nécessaire est là, pour passer des moments agréables et relaxants. La vue sur les alentours boisés et enneigés ainsi que le lac était vraiment belle. Nous avons pu accéder à de beaux chemins de raquette dès la sortie du chalet. Enfin la proximité de Mont Tremblant, et de St Daunat est vraiment pratique. Nous n'avons pas testé le Sauna. Nous envisageons de revenir pendant l'été et recommandons ce chalet avec plaisir!
Delphine
2016-03-09T00:00:00Z
Super accueil, bel endroit assez peu fréquenté en hiver. Les sentiers de raquettes dans la forêt juste à côté sont tous simplement magnifiques. Le chalet est confortable, très agréable, le sauna et sa sortie directe dans la neige est à tenter ! Nous n'avons pas pu utiliser la patinoire à cause de la neige glacée qui la recouvrait mais on imagine que c'est génial d'avoir ça à la porte ! Bref, une expérience superbe, merci Éric !
Solenne
2016-02-08T00:00:00Z
Wonderful, cosy, and secluded cottage ! The Heron Bleu was perfect for our trip. The wood stove and the sauna were fantastic, the property was great for snowshoeing and tobogganing, and we enjoyed the hiking trails in the Centre d'Acces a la Nature d'UQAM down the road. Eric was a lovely host, the house was well equipped and overall we had a wonderful experience at the Heron Bleu. Thank you Eric!
Laura
2016-03-02T00:00:00Z
Nous avons passé une excellente fin de semaine dans le chalet d'Eric avec nos amis. Le chalet a tout ce qu'il faut, et est très bien situé, proche de plein d'activités de plein air. Merci encore Eric!
Constance
2016-01-25T00:00:00Z
Oda Tipi
Tüm ev/daire
---
Mekan Türü
Dağ Evi
---
Konaklayacak Kişi Sayısı
8
---
Yatak odaları
Val-des-Lacs, Québec, Kanada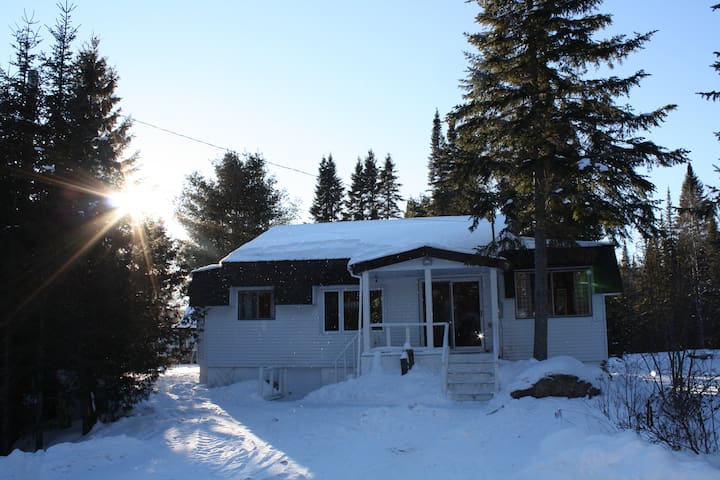 Tam fiyatlandırmayı görmek için tarihleri görün. Ek ücretler uygulanır. Vergiler ilave edilir.