2 floors, 4 hab. (4 beds ind. 2 Queens.) 2 bathrooms (1 shower-1 bathtub) Kitchen Salon large windows open room with tv. and wifi. plant.superior covered terrace with great river views, mot.camp. 1000mt2. garden-orchard, aparc.4 coche.compl.equipada * new *
A very quiet place near the river Fluvia 7 km. of the Payas of Sant Pere Pescador, Ampuries yl Scale Places to be visited Puedo Boutique: Cadaques, Girona, Banyolas, Peratallada, Besalu, Olot, Figueres
The area is very quiet, about 500mt.tenemos the publo of St. Miquel de Fluvia. and 2km. San Mori and few can find more Camallera distance, L 'Escala, Sant Pere Pescador and Figueres, where you can find shops and restaurants of all kinds
Хозяйка Пакхита, очень приятный и заботливый человек. При бронировании ответила сразу на все вопросы и детально обьяснила, как найти дом. Узнав, что с нами малышка 6 мес, предоставила коляску и купила теплое одеяло для ребенка. Сам дом и окрестности - это прекрасное место для исследования Коста Бравы. Пляжи, музеи, рестораны,супермаркеты, как прибрежные, так и деревенские - все в пределах 15 мин на авто. Дом очень чистый, красивый и полностью укомлектован, я много готовил и чувствовал себя, как на своей кухне. Рядом с домом течет река, красивый сад, лес, мы даже видели диких животных, ловили рыбу. Обязательно вернусь в этот прекрасный Каталонский уголок и чудесной Пакхите!
Yuriy
2016-10-15T00:00:00Z
Wir haben die Zeit bei Paquita sehr genossen. Das Haus ist geräumig, sauber, neu renoviert und traditionell eingerichtet. Wir empfehlen das Haus gerne weiter und wünschen Paquita alles Gute!
Ilja
2016-07-22T00:00:00Z
Hemos pasado unos días excelentes, estábamos encantados con la casa que es preciosa, amplia, super limpia y no le falta absolutamente nada, es como estar en tu casa a nivel de utensilios. El jardin es grande y muy agradable de cara al huerto y pasa el río Fluviá allí mismo, es un paraiso para nosotros que venimos de la ciudad. Con la anfitriona, Paquita exactamente igual es una mujer educada, simpática y muy atenta a disposición de cualquier cosa, la verdad nos ha encantado conocerla.
Marga
2016-05-17T00:00:00Z
Confié en Paquita y sus instalaciones para celebrar los 60 años sorpresa de mi madre y no podía haber salido mejor. Paquita nos hizo sentir como en casa, colaboró en todas nuestras necesidades y nos hizo una estancia muy agradable. La casa es muy grande en un entorno natural y con un jardín grande con barbacoa para que los niños y adultos puedan disfrutar de unos días (URL HIDDEN) nos faltó de nada, la anfitriona es muy atenta y agradable, ¡recomiendo la visita a esta casa!
Raquel
2016-05-30T00:00:00Z
We were lucky to find this place for our easter vacation together with our friends and kids! The house has enough space for two families and offers also a lot of playground for children in the garden. The interieur as well as the perfect condition expresses that the house was not made for a rental-purpose. Paquita is a charming host who was very helpful to arrange our stay as comfortable as possible. The location is within walking distance from the next village and also close to a lot of attractions of the Alt-Emporda-Area.
Michael
2016-03-30T00:00:00Z
Paquita a été extrêmement accueillante et prévoyante avec nous. Nous étions 8 garçons et la maison était absolument parfaite pour cela : grand jardin, 2 terrasses, barbecue ... Un séjour helas un peu court mais parfait! À recommander absolument si vous recherchez un coin calme, dans la campagne près de Roses. Merci Paquita !
Jean
2016-07-04T00:00:00Z
Casa muy tranquila. A unos 15-20 min de las playas cercanas
Joan
2016-07-10T00:00:00Z
Hem estat molt bé a casa la Paquita, tot molt nèt i tranquil, i genial per els nens que poden corre al seu aire per tot arreu.
enric
2016-11-20T00:00:00Z
Oda Tipi
Tüm ev/daire
---
Mekan Türü
Ev
---
Konaklayacak Kişi Sayısı
8
---
Yatak odaları
L'Alt Empordà, Katalanya, İspanya
Betoverende huisje gelegen in het hart van de Alt Emporda en slechts 10 km naar de Costa Brava stranden.
Betoverende huisje gelegen in het hart van de Alt Emporda en slechts 10 km van de Costa Brava stranden van Sant Marti d'Empuries, L'Escala, Sant Pere Pescador. Vila-Robau, een rustig dorp met zeer weinig verkeer zodat de kinderen de vrijheid om te lopen, fietsen en genieten van het platteland. Waterskiën. Lake gelegen op een unieke natuurlijke en gastvrije landschap en slechts 2 minuten van Ca La Paulina De villa is 75m2 en op een niveau. 2 slaapkamers, 1 met een tweepersoonsbed en de andere met 2 eenpersoonsbedden. 1 badkamer met douche. Open plan lounge / keuken en eetkamer leiden naar een overdekte veranda, de ideale plek om buiten te dineren. De tuin is ideaal voor kinderen en volwassenen. Ruimte om te spelen en ruimte om siësta. Ca la Paulina verwelkomt huisdieren. De tuin is omheind. De kustplaatsen van L'Escala, Sant Marti d'Empuries, Sant Pere Pescador, Empuriabrava en Roses zijn allemaal binnen 10 tot 20 minuten drive.Figueres en Gerona 25km Het slaperige dorpje Vila-Robau (een gehucht van Ventalló) bevindt zich op een kleine heuvel aan de rechteroever van de rivier de Fluvià. De oude stad nog een aantal unieke gebouwen. De pre-Romaanse kerk van St. Andrew. Vroeger Vila-Robau en Palol (Torroella de Fluvià) vormden een enkele parochie wijk die had als Chief Sant Genís de Palol, terwijl Sant Andreu de Vila-Robau was een extra kapel. Twee oude kerken zijn bewaard gebleven. Het is de moeite waard te wijzen op de oude klokkentoren van de stoel van de oude kerk, dat is een van de oudste in de regio.Het Village festival wordt gehouden in de tweede week van augustus. Bezienswaardigheden - Sant Pere Pescador, Castelló d'Empuries, Roses, Cadaqués, Portlligat, Port de la Selva, Perelada, Figueres, L'Escala, Empúries, L'Estartit, Ullastret, Girona, Pals, Peratallada, L'Bisbal d 'Empordá. Culturele aanbod zijn onder meer: Dalí-museum, de Griekse en Romeinse ruïnes van Empúries, Castillo de Pubol, Peratallada. Activiteiten - wandelen, wandelen, boottochten, vissen, fietsen, waterskiën. Er zijn 4 prachtige golfbanen in de buurt: Empordà Golf club, Pals, Perelada en Navata. Ca La Paulina is gelegen in een prachtig gebied waar de provincies Alt Empordà en de Baix Empordà samenkomen. Het is slechts 5 minuten met de auto uit de Griekse en Romeinse ruïnes van Empúries, net naast de stranden en dorpen van Sant Martí d'Empúries en Sant Pere Pescador, een van de beste locaties op het Iberisch Schiereiland voor kitesurfen en windsurfing-, 15 minuten van Figueres en het Dalí-museum, op 25 minuten van de oude stad van Girona, op 30 minuten van de El Bulli Foundation en 40 minuten van het dorp Cadaqués.Pets 12 € per nacht. Gelieve te adviseren als u van plan bent om een huisdier mee te nemen. Maximaal 1 huisdier per verblijf.
Ca La Paulina is gelegen in een prachtig gebied waar de provincies Alt Empordà en de Baix Empordà samenkomen. Het is slechts 5 minuten met de auto uit de Griekse en Romeinse ruïnes van Empúries, net naast de stranden en dorpen van Sant Martí d'Empúries en Sant Pere Pescador, een van de beste locaties op het Iberisch Schiereiland voor kitesurfen en windsurfing-, 15 minuten van Figueres en het Dalí-museum, op 25 minuten van de oude stad van Girona, op 30 minuten van de El Bulli Foundation en 40 minuten van het dorp Cadaqués.
We enjoyed staying in this house. The house has been cozy and the things were as described. Lovely location even if we would have preferred to be closer a grocery and bakery (nothing by walk).... But that's normal when you are looking for a quiet countryside around real local people (no tourists). Paulina has been very welcoming and friendly, advised us restaurants, marketplaces and "secret" beaches.
Mohand
2016-07-17T00:00:00Z
We stayed 2 days at Casa Paulina, very comfortable, really quiet, our 2 kinds enjoyed the garden. Surroundings are great: nice and good restaurants, 10 minutes drive from beaches. Great stay, we recommend Casa Paulina with no doubt !
Damien
2016-08-28T00:00:00Z
Super accueil, le logement est fidèle au descriptif au milieu de la campagne ... Et le propriétaire est réactif en cas de problème ...
Martine
2016-07-24T00:00:00Z
Lugar muy bonito y cerca de l'escala...muy recomendable
Silvia
2016-09-06T00:00:00Z
Paulina fue muy amable y a pesar de llegar un poco tarde (por la caravana que tuvimos) nos espero!!! Gracias
Ana
2016-06-27T00:00:00Z
Estuvimos pocos días pero la estancia valió la pena. Una casa agradable con todo lo necesario y en un entorno tranquilo. El patio exterior muy espacioso con una hamaca que hizo las delicias del pequeño de la casa. La atención muy amable por parte de Belén y Paulina. gracias...hasta pronto.
Oleguer
2016-08-16T00:00:00Z
Estuvimos muy bien en Ca la Paulina. La casa no es lujosa pero tiene mucho encanto (el porche, el jardín, el entorno) sobretodo para pasar unos días de verano.
David
2016-08-22T00:00:00Z
Oda Tipi
Tüm ev/daire
---
Mekan Türü
Ev
---
Konaklayacak Kişi Sayısı
5
---
Yatak odaları
Vila-Robau, Catalunya, İspanya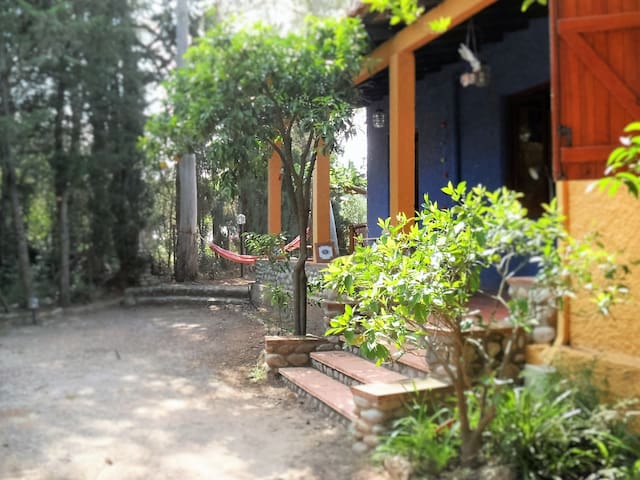 Preciosa masia en el alt Emporda. Situada a 5 Km. de la playa de Sant Pere Pecador y 8 Km. de L ´Escala. Bonito y tranquilo pueblo. Cerca de Figueres y de Girona.
Oda Tipi
Tüm ev/daire
---
Mekan Türü
Ev
---
Konaklayacak Kişi Sayısı
8
---
Yatak odaları
Ventalló, Catalunya, İspanya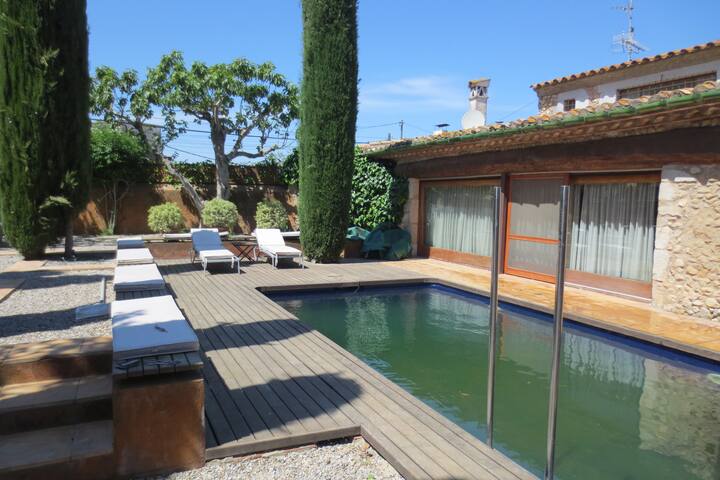 Casa Fluvia is a charming stone village house in a Catalan village on the Costa Brava just 5 km from the sea. A perfect base for enjoying culture, cuisine, history, nature, and sports as well as the sea. Spacious house suitable for up to 8 people. Tourist Registration Ref: HUTG 000207
CASA FLUVIÀ IS A 18TH CENTURY STONE VILLAGE HOUSE WITH 3 DOUBLE BEDROOMS AND 1 TWIN BEDROOM. - rooftop terrace and solarium - first floor living area 30s Catalan style - ground floor living area typical of 18th century stone farmhouse The house is within 5 km of some of the best Costa Brava beaches, set in a quiet Mediterranean village in the Empordà with views of the Pyrenees, surrounding fields and neighbours working and paying their daily social visits. This fully renovated house features vaulted tile ceilings with exposed stone walls on the lower floor. The upper floor reflects a 1940's renovation in the turn-of-century (Noucentiste) modern style then popular among city dwellers in Barcelona and Figueras, with decorative floor tiles and moderately high ceilings that make the living space cool in summer and warm in winter. Up-to-date kitchen and bathroom facilities have been recently added, and each bedroom is decorated in a different colour with has unique features. With the Costa Brava beaches just down the road, this house is attractive to guests wanting to experience the real Catalan countryside and appreciate the rich natural and archeological treasures of the Costa Brava, the Empordà and the Roussillon just across the French border. • LIVING ROOM: Situated on the ground floor, 430 square ft with vaulted ceilings and tile floor. It has seating for 10 people and connects to a narrow 90 sq ft patio. • KITCHEN - DINING ROOM: (Around 400 square ft) Recently remodeled with dishwasher, cooker, fridge, (the washing machine is in the downstairs bathroom). Granite counter tops plus island bar with stools. Dining table for 10. This space is the heart of the living space on the first floor, but you can also socialise in the ground floor living room or the sunroom-terrace on the rooftop level. The upper level has a permanently installed heating system. • Terrace: The 170 square ft south-facing roof terrace is ideal for enjoying the Mediterranean sunshine, al fresco dining, having an evening drink while watching the sunset and stargazing. • Sun room: The sun room is a lovely space in which to relax, read a book, listen to music, or have a siesta. It overlooks the terrace via its south-facing floor-to-ceiling glass wall with sliding doors, while a large panoramic window on the opposite side looks towards the Pyrenees and adjacent fields. • Bedrooms: Four large double bedrooms of 140 to 160 square feet, three with double beds and one with two singles. Our Tourist Property Registration number is HUTG 000207
We are a short drive from the beach (about 4 km). The immensely long beach of Sant Pere is famous for its beauty and (in designated areas) as a wind surfing, surfing, and kite surfing venue. The more protected coves at Sant Marti de Empuries are situated beside the Roman ruins of Empuries and the picturesque hamlet of Sant Marti. The house is a minute's walk from a great local shop. Fresh bread and newspapers in the morning. Adela stocks good local produce (including organic products) and most essential items. There is a small village bar/restaurant in the town square. The neighbouring village of Sant Pere Pescador offers a good range of shops including a middle-sized supermarket located just outside the village. There are also restaurants for every pocket and taste in Sant Pere (although some are only open from Easter to end October so if you are visiting in the Winter there is less choice--but some of the best are all-year-round!). Roads through the fields surrounding the village offer plenty of opportunities for walking and cycling, as do some of the trails and paved roads. You can walk to a small lake located about 10 mins from the village. Many attractive towns and villages are nearby. A swimming pool is open to the public in an adjacent village just 2km away. A walk along the river Fluvià takes visitors to the nearby market town of Sant Pere Pescador, and the riverbank area is included in the Aiguamolls nature preserve and bird sanctuary. More intensive bird watching is afforded by the trails and blinds around the Aiguamolls visitor reception centre located some 10 minutes away by car, between Sant Pere and Castelló de Ampurias. This is a great area for on and off-road cycling and hiking, sea kayaking, bird watching and much more. We are well situated for groups interested in hill walking, grand randonnée trails and hiking. Within half an hour you can access walks in Cap de Creus national park, the Alberes and the Salines ranges on the French border, the Muntanya Gran trails on the coast, the Garrotxa Volcanic National Park, and the Gavarres range to the south. Visit historic Girona with its medieval ramparts and ancient Jewish quarter. Explore Cap de Creus where Salvador Dalí lived and took his inspirations. Visit the Dalí museums in Figueres, Pubol and Port Lligat. Or the art museum in the lovely town of Ceret just over the border. Drive up into the Pyrenees for the day and explore Romanesque churches and stone villages. Visit the vineyards on both sides of the border and taste delicious Catalan wines. Take a day trip to Barcelona. About 1 hour on the train from Figueres Vilamalla on the high-speed train.
Le nid douillet de Torroella de Fluvia est un gîte remarquablement bien situé dans la région de l'Empordà, au sein de la Costa Brava et près du Parc Naturel de Cabo Creus. Les randonnées sont superbes et les centres d'intérêts très proches les uns des autres : Cadaqués, Girones, Figueres, Roses... Le gîte est superbement équipé. Le mélange des matériaux décoratifs très heureux. L'accueil de Marta, responsable du gîte a été chaudement "catalan" : attentive, disponible, et nous fournissant volontiers les compléments de renseignements lorsque nous en demandions. Ce gîte est à recommander pour sa situation privilégié et son calme absolu. Flore et Jean
jean
2014-10-21T00:00:00Z
It was wonderful. The house is the best. Lots of space, fully equiped with everything you might need. The village is cute and the neighbours are friendly. Ann and Dick and their local contact were very nice and helpful. We had a great time.
Noemi
2013-09-29T00:00:00Z
We had a great time time. The area is beautiful. The house was perfect for our family. Thanks to Ann for all her advice on local shops, restaurants and help for organizing our stay. Highly recommanded! :-)
Frederic
2016-04-22T00:00:00Z
Dick and Ann's stone cottage is a fantastic place to stay. It is beautiful, spacious, clean and well located. Communication with Ann was very easy also. I would love to stay again one day and I strongly recommend this listing.
Tom
2016-10-16T00:00:00Z
Nous avons passé un excellent séjour. La maison est très agréable et rénovée avec goût, et très propre. L'environnement est calme. Merci à Marta pour son accueil.
Pierre
2015-04-26T00:00:00Z
Seven of us stayed at Casa Fluvia for a week and had a great time. It is a really good location from which to explore the surrounding towns, museums and countryside, and a nice spacious house to return to at the end of a full day's activities. Sitting then on the terrace with a glass of wine watching the sunset and the birds was very enjoyable. The house was comfortable and easy to stay in for seven people. Ann provided very clear directions and the arrangements worked smoothly.
Jenny
2012-07-29T00:00:00Z
The house was very beautiful, comfortable and clean. Especially the first floor and the terrace was great to spend time and relax. The house was fully equipped so it was almost nothing you couldn't find there. The village is very small and quiet with a small supermarket and farmland around. You should definitely have a car or bike to go to the beach and see the beautiful area and cities around. Ann and their local contact Martha were very nice and disposable.
Teresa
2014-09-07T00:00:00Z
Dick ans Ann were wonderful guests. We were very welcomed by Martha. The house is vey well located in the center of a small village where you can find a small shop with local products and a friendly cafe-restaurant. All we need was in the house which is finely decorated and easy to live in. We had easy access to many beaches and lovely touristic sites from the house. We really enjoyed our stay in this house.
laurent
2015-08-09T00:00:00Z
Oda Tipi
Tüm ev/daire
---
Mekan Türü
Ev
---
Konaklayacak Kişi Sayısı
8
---
Yatak odaları
Torroella de Fluvià, Katalanya, İspanya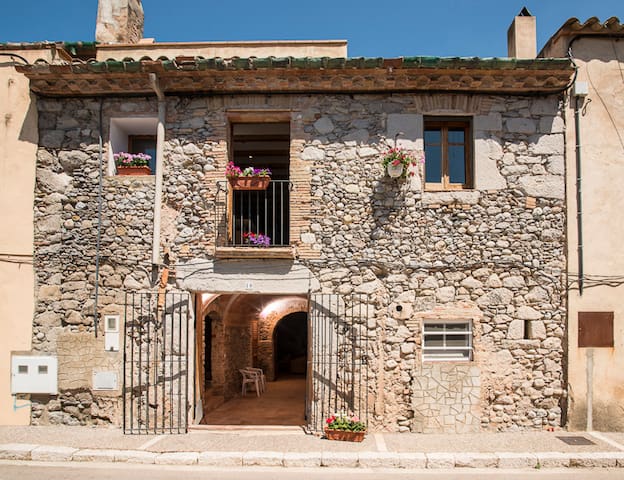 Can Barrina, es una antigua casa Pairal restaurada en 2014 situada en el fantástico pueblo de Ventalló, conocido por el encanto de sus calles y casas de piedra de estilo rustico. Consta de 1 planta principal de 9 plazas y 3 estudios de 2-4 pax
Su situación a tan solo 5 minutos en coche de las playas de sant marti d'empuries y de l'escala
Precioso pueblo tipico del emporda, con casas de piedra.
If you want to experience life in a Catalan village, this is the place. Easy to reach from the highway, very quick to get to the beach in L'Escala. We enjoyed it.
Ed
2017-01-05T00:00:00Z
La casa aun es más bonita si cabe que en las fotos. Destacaría : La cocina, es amplia y esta totalmente equipada. El comedor esta en el mismo ambiente, lo que hace que sea perfecta para estancias en familia o con grupos grandes, donde los que cocinan no quedan separados de los que están en el comedor. El baño también es amplio y precioso. El entorno, es un pueblo tranquilo y ideal para desconectar de todo, jamas dirías que estas a tan solo 6 km de la playa. La anfitriona, Cristina, fue muy amable con nosotros. A pesar de ir en plena navidad, nos dio la bienvenida personalmente a la casa y fue muy amable y simpática con nosotros. Se preocupo porque nos sintiéramos como en casa y se ofreció a que contactáramos con ella en cualquier momento si lo necesitábamos. 100% recomendable.
Montse
2014-12-26T00:00:00Z
Oda Tipi
Tüm ev/daire
---
Mekan Türü
Ev
---
Konaklayacak Kişi Sayısı
9
---
Yatak odaları
Ventalló, Catalunya, İspanya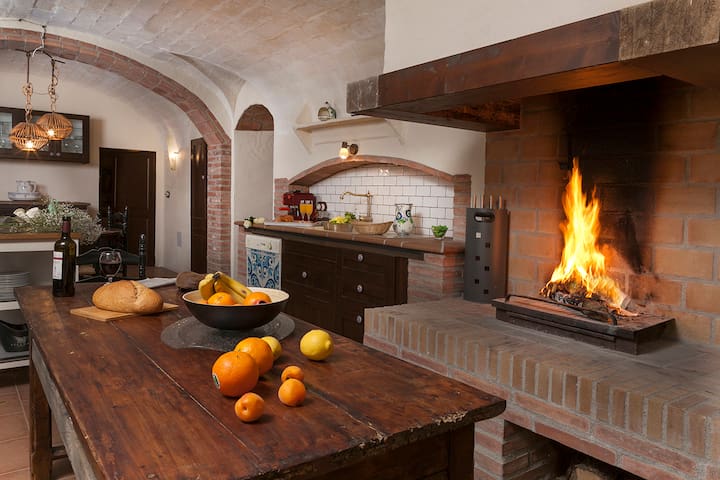 La masía rural Ana Maria, en Sant Mori (Girona) fue construida en el año 1.700 y totalmente restaurada en el 2006. Construida toda ella en piedra, con arcos o "volta catalana" tiene 800 metros cuadrados distribuidos en tres plantas con una ámplia buhardilla con terraza y fantásticas vistas. Sus seis habitaciones, con seis cuartos de baño, gran cocina con barra interior, dos comedores, Piscina interior, jardín y otros muchos equipamientos harán de su estancia la más agradable experiencia.
La casa de turismo rural Ana Maria Pairal, en Sant Mori (Girona) fue construida en el año 1.700 y totalmente restaurada en el 2006. Construida toda ella en piedra, con arcos o "volta catalana" tiene 800 metros cuadrados distribuidos en tres plantas con una ámplia buhardilla con terraza y fantásticas vistas. Sus seis habitaciones, con seis cuartos de baño, gran cocina con barra interior, dos comedores, jardín y otros muchos equipamientos harán de su estancia la más agradable experiencia.
Pasar unas vacaciones en el pintoresco pueblo de Sant Mori, es experimentar la paz y la tranquilidad del campo a un paso de las playas de Sant Martin de Empuries o de Sant Pere Pescador. A 25 Km de Figueres, el Museo Dalí. El pueblo cuenta con un pequeño colmado-carnicería, si desea un supermercado podrá encontrarlo a 15 Km en l' Escala. Tiene estación de gasolina a unos 4 Km.
Nuestra estancia en la masía ha sido fantástica! Ana y su familia han sido muy amables y atentos con nosotros, adaptándose a nuestros horarios de llegada y salida de la casa, para que pudiéramos disfrutar el máximo de nuestra estancia. La masía es muy espaciosa, recientemente renovada y muy bien equipada (incluso con piscina climatizada!). Totalmente recomendable!
Gil
2017-01-01T00:00:00Z
El pueblo es una preciosidad con pueblos alrededor y actividades para hacer con los niños. La casa una preciosidad muy bien cuidada y con sitio para todos. La piscina es un lujo y el patio también. Una estancia genial!!!
luisa
2016-09-26T00:00:00Z
Oda Tipi
Tüm ev/daire
---
Mekan Türü
Ev
---
Konaklayacak Kişi Sayısı
15
---
Yatak odaları
Sant Mori, Catalunya, İspanya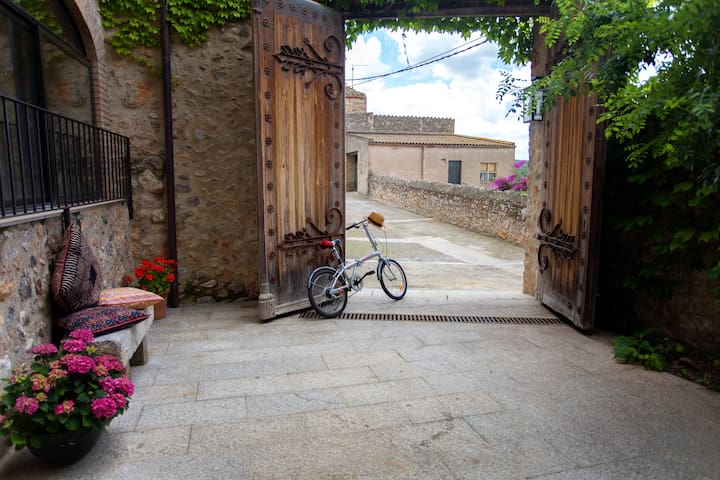 Casa de vacaciones en SantMori bonito pueblo medieval del Alt Empordà, a medio camino de Figueres (con su magnifico museo Dali) y Girona( con su fascinante Barri Vell), y la proximidad de las playas de la Costa Brava la convierten en un lugar ideal.
Todo muy bien, la casa, el trato, el entorno...repetiremos!
Xavi
2015-04-07T00:00:00Z
Mariano é um ótimo anfitrião, nos fez sentir como em nossa própria casa. Las Cocheras é um lugar muito acolhedor, confortável e com todas as comodidades. Não tivemos nenhum problema com o sino da igreja, pois este deixa de tocar da meia noite até as oito da manhã... uma ótima hora para despertar e começar outro grande dia de férias. A 10 minutos se encontram todos os serviços como supermercados, farmacia, posto, etc., e a cinco mais estão as belas praias de L'Escala. Amamos ossas inesquecíveis férias. Obrigado ;)
Leonardo Fabricio
2016-07-15T00:00:00Z
Las cocheras resulta sorprendentemente acogedora, desde el minuto cero estuvimos muy a gusto, es confortable, espaciosa y se encuentra en un peculiar pueblito tranquilo de Gerona a quince minutos de la costa y a escasos 30 min. de la capital o Figueras, nos encantó la estancia y creo que Mariano hace todo lo posible porque estemos como en nuestra propia casa. Altamente recomendable.
Carolina
2015-07-18T00:00:00Z
La casa es espectacular en un pueblo muy tranquilo con casas muy particulares. La casa es muy amplia, con todas las comodidades y muy bien equipada. 100% recomendada!!
Carolina
2016-07-22T00:00:00Z
La casa és fantàstica i el poble i l'enorn també. Hi vam anar amb les dues criatures i va ser perfecte. A més, tot està net i cuidat i hi ha de tot. En Mariano, a més, es va preocupar en tot moment que estiguéssim bé.
Laia
2015-08-14T00:00:00Z
Oda Tipi
Tüm ev/daire
---
Mekan Türü
Ev
---
Konaklayacak Kişi Sayısı
6
---
Yatak odaları
Sant Mori, Catalunya, İspanya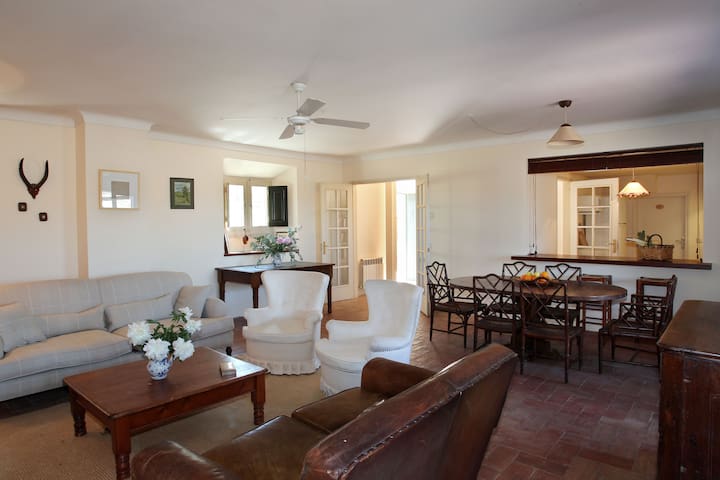 Habitación individual en residencia de artistas
Ventalló es muy tranquilo y resulta fácil encontrar aparcamiento. El piso se encuentra a 15' de la playa de l'Escala y cerca de todo tipo de supermercados, por lo que está muy buen comunicado. En todo momento, José se ha interesado por si necesitábamos cualquier cosa y nos ha tratado de forma excepcional. Las fotos del piso son fieles a la realidad y se trata de un piso limpio, acogedor, espacioso y con mucho encanto. Sin duda, si algún día queremos ir de vacaciones por aquella zona, volveremos a hospedarnos con José y su perrito Plat que, por cierto, es un amor.
Laura
2016-08-08T00:00:00Z
Our stay at José's place was one of the highlights of our trip to Catalunya. The room is very pretty and spacious. The house full of character and the village really charming. José is a hospitable and enthusiastic host and made us and our baby boy Henri feel absolutely at home. He had some great suggestions for beaches and restaurants nearby. We hope we can visit again in the future!
Marthy
2016-07-30T00:00:00Z
Encantadas con José y la casa! Hemos estado muy a gusto y repetiremos seguro. Muy recomendable.
marta
2016-06-26T00:00:00Z
Jose nos ha proporcionado todo lo necesario para tener una estancia cómoda y tranquila. Desde un primer momento, ha transmitido mucha confianza, echo que nos ha ayudado a estar como en nuestra propia casa. A parte de la casa, la zona tiene un encanto muy especial, asi que en general la valoración es muy positiva.
Andrea
2016-08-12T00:00:00Z
We had a very special time staying in Ventalló with thanks to José for making us feel at home as soon as we arrived. We 100% recommend staying here.
Sally
2016-05-17T00:00:00Z
Merci José pour ce séjour, trop court à notre goût. José nous attendait avec sa compagne, son fils et son magnifique golden retriever à notre arrivée. Il nous a donné les clefs et nous avons pu découvrir sa maison, pleine de charme. Notre chambre était exactement comme l'indiquait le descriptif, et suffisamment spacieuse pour nous accueillir avec notre chien également. Les hôtes se sont fait discrets et nous avons apprécié ceci. Ventallò est un très joli village, qui donne un accès rapide vers cadaquès ou Begur, que nous avons beaucoup aimé.
Floriane
2016-08-03T00:00:00Z
Oda Tipi
Özel oda
---
Mekan Türü
Ev
---
Konaklayacak Kişi Sayısı
2
---
Yatak odaları
Ventalló, Catalunya, İspanya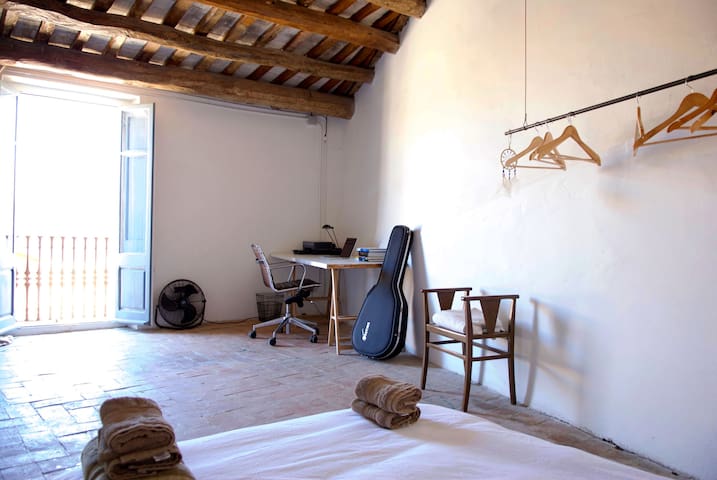 Alquiler de amplia habitación con terraza y baño privado de uso exclusivo para los clientes. La casa se sitúa en una zona . A 10 minutos de la playa y a 15 el Museo Dalí en Figueres. En la misma urbanización hay zona de juegos infantiles y piscina con servicio de bar-restaurante. Alojamiento ideal Hablamos castellano, francés e inglés.
Quite place Comfortable bed Big bathroom
Einat
2016-09-04T00:00:00Z
Excelente lugar! Buscabamos un lugar tranquilo para descansar y éste lo fue. Muy limpio, acogedor y ubicado en un barrio silencioso. Ana es genial! Recomendado 100%
Carmen
2017-04-01T00:00:00Z
獨立房間與衛浴,非常寬敞且乾淨,一路上房東還會確認我們是否沒有迷路,滿值得推薦的房間!
Huang-Kai
2016-07-31T00:00:00Z
La experiencia en casa de Anna fue estupenda! La habitación amplia, cómoda y muy silenciosa, la terraza espectacular! Anna fue muy amable y atenta en todo momento, ofreciéndonos ayuda siempre que se lo pedimos. Para repetir!
Maite
2016-07-18T00:00:00Z
Tuvimos una buena experiencia en casa de Anna. incluso vino a buscarnos al centro del pueblo después de que el gps nos llevará a una dirección errónea. la habitación es amplia con terraza y limpia. gracias por todo Anna
Aldo
2016-07-17T00:00:00Z
Great place, clean, quiet, very nice host, wonderfull location, super view from private terrace
steven
2017-01-06T00:00:00Z
Le logement est conforme à sa description. Il est à l'intérieur des terres mais assez proche de la mer (10 minutes). Quartier calme. Anna est très accueillante et vous met à l'aise tout de suite. Le plus du logement, est la salle de bain et la terrasse privative. Propreté impeccable. J'y reviendrai sans problèmes.
laurent
2016-08-06T00:00:00Z
Très contente d'avoir trouvé cette adresse Anna et son mari sont des personnes très charmantes. Très bon accueil et elle a su nous orienter vers différentes plages, lieux pour se restaurer .... Super sympa le coin d'autant plus qu'il n'y a pas autant de touriste que sur la côte. Je garde le numéro car je pense y retourner
Christel
2016-08-06T00:00:00Z
Oda Tipi
Özel oda
---
Mekan Türü
Ev
---
Konaklayacak Kişi Sayısı
2
---
Yatak odaları
Torroella de Fluvià, Catalunya, İspanya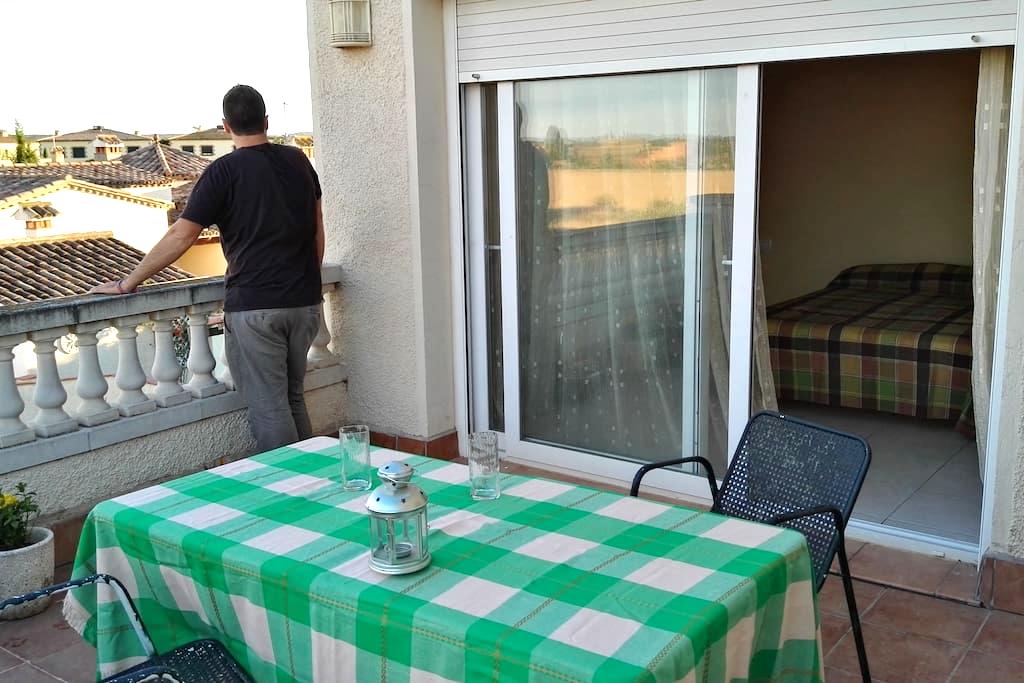 Located in the Centre of the village. Fully equipped and spacious. Attractions: Beach, River/Lake, mountain, the village and the entire environment. You'll love my place due to the views, the atmosphere, the location and people. My accommodation is perfect for people looking for a quiet stay, couples and families. Pets (free) are accepted.
Fully equipped kitchen. Vitro-horno.nevera, freezer, microwave. Coffee maker Bosch of capsules, Toaster, Blender, juicer, etc... . Clothes of bed and towels. Games: (includes). Terrace with views.
A 5-minute drive from beautiful beaches. Exquisite environment. A very nice town in a quiet and natural environment. Enjoy long walks. Near the river Fluvià (skiing). The village has shops, restaurants, children's playground.
Nuestra permanencia en Ventallò fué perfecta: Nuria y su marido fueron muy acogedores y disponibles, nos dieron muchisimas informaciòn y nos dejaron sentir como si estabamos en nuestra misma casa. La casa está una posición perfecta para visitar la Costa Brava, aunque no está cerca sel mar todo esta muy cercanos y el país es muy gracioso, tipico y con gente muy disponibles. Los dos restaurantes son muy buenos y la casa es grande y espaciosa, con muchas abitaciones y una hermosa terraza en el techo. Además las playas son buenisimas. Os la aconsejo.
Margherita
2016-07-12T00:00:00Z
Estuvimos como en casa, Ventalló es un pueblo con encanto donde te relajas nada más llegar.
Carlos
2016-08-20T00:00:00Z
The host canceled this reservation 16 days before arrival. This is an automated posting.
Cristina
2016-12-14T00:00:00Z
Der Aufenthalt bei Nuria war sehr angenehm. Wir wurden sehr herzlich empfangen und uns wurde alles erklärt. Alles entsprach den Angaben. Es war sauber und gepflegt. Nurias Haus ist sehr praktisch für Familienferien und der Strand, die Einkaufsmöglichkeiten wie auch die Attraktionen sind mit dem Auto in 15 Minuten zu erreichen. Das Haus bietet viel Platz und liegt in einem ruhigen und wundeschönen Dörfchen. Es hat einen kleinen Dorfladen, wo man das nötigste einkaufen kann, falls mal was vergessen ging. Die Dorfbewohner sind alle sehr freundlich und hilfsbereit. Nuria ist sehr gut vorbereitet und eingerichtet. Sie ist auch jeder Zeit erreichbar. Das wlan der Hauses funktioniert einwandfrei und schnell. Wie auch die Küchengeräte, der TV und der DVD Player. Es gibt auch eine gute Waschmaschine und ein Badezimmer mit genügend warmen Wasser. Das Highlight ist der Ping Pong Tisch! Wir gehen sehr gerne wieder in Nurias Haus.
Fiorenza
2016-08-06T00:00:00Z
Nuria et son mari sont des gens très chaleureux et notre accueil a été parfait. La maison a toutes les commodités et dispose d'une bonne connexion internet. Elle est spacieuse et idéale pour une famille qui recherche un endroit calme près de la mer. Le village est vraiment typique et offre des commerces de proximité (supérette, boucherie, boulangerie, restaurants ) très appréciables. Les plages de sables sont agréables, pas surchargées et ne sont qu'à 10 minutes en voiture. De nombreux chemins de randonnées sont possibles pour découvrir la région aux alentours. C'est une adresse où nous aurons plaisir à revenir et que nous recommandons vivement.
ekila
2016-08-14T00:00:00Z
La casa está bien equipada, conjuga lo rústico y lo moderno. Es muy valorable su proximidad en coche a las playas de San Martí d'Empuries. La ubicación es ideal tanto para el descanso como para realizar excursiones (Girona capital, L' Escala, Pals, Ruinas de Empuries, etc.)
Nava
2016-08-29T00:00:00Z
Oda Tipi
Tüm ev/daire
---
Mekan Türü
Ev
---
Konaklayacak Kişi Sayısı
6
---
Yatak odaları
Ventalló, Catalunya, İspanya
This is a stunning 3 story typical Catalan house situated just a 8 minute drive to the nearby beach of Sant Marti D'Empuries. Ideal for those wanting to explore the mountains, famous medieval villages, rugged coastline or sample the wonderful catalan cuisine. HUTG-024443
Beautiful traditional catalan village house consisting of 1 double bedroom, 1 twin room, 2 bathrooms, 2 terraces and private lower ground space with double sofa bed.
It's approx 8 mins drive to the nearby beach of St Marti d'Empuries. Girona city centre is 25 mins drive away and Figueres (Dali museum is 15 mins drive) This is an ideal base for families who want to go to the local beach and enjoy the wonderful nearby restaurants. Also a great base for cyclists, people who like to hike or those that just want to explore the local medieval villages.
Oda Tipi
Tüm ev/daire
---
Mekan Türü
Ev
---
Konaklayacak Kişi Sayısı
6
---
Yatak odaları
Ventalló, Catalunya, İspanya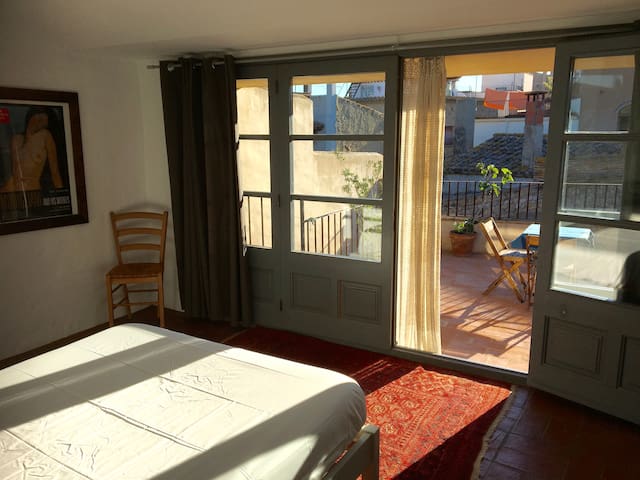 Oda Tipi
Tüm ev/daire
---
Mekan Türü
Ev
---
Konaklayacak Kişi Sayısı
8
---
Yatak odaları
sant miquel de fluvia, İspanya
Casa amplia, luminosa y acogedora, bien equipada, con 3 dormitorios, 2 baños, cocina, comedor, salón, jardin y un amplio espacio exterior con bosque y huerta. A 8 km del mar, a 10km de Figueres, en el corazón de l'Alt Empordà. Se aceptan animales. HUTG-(PHONE NUMBER HIDDEN)
Es un lugar muy tranquilo y a la vez muy bién comunicado con Figuertes, Girona y toda la bahia de Roses. Paseos por los bosques de alrededor, playas, visitas culturales, ocio... Os proponemos cuatro actividades gratuitas para realizar en la misma finca durante vuestra estancia: la Ruta de los Exploradores, el Misterio del Bosque Encantando, las Pequeñas Olimpiadas de Juegos Tradicionales y la Cabaña de madera. Solicitad más información al hacer vuestra reserva.
Nuestro vecindario es muy tranquilo y hospitalario.
un très bon accueil de Pepa, toujours disponible avec le sourire.
SANDRINE
2016-08-14T00:00:00Z
Accueil très agréable à notre arrivée. Disponibilité et gentillesse des hôtes pendant toute la durée du séjour. La maison est en encore mieux que sur les photos! Les pièces sont toutes agréables à vivre et plus grandes que ce que les photos laissent imaginer. Table de jardin, fauteuils pour se détendre à l'extérieur juste devant la maison, des hamacs pour se reposer au frais dans la pinède qui longe la maison... C'est le rêve ! L'un des meilleures séjours via airbnb
Valerie
2015-08-23T00:00:00Z
The house is beautiful, Pepa was there waiting for us to show us around and the garden and forest were super nice, Figueres and San Pere de Pescador very close by. Very good mattresses and simple and nice decoration with a fully equipped kitchen with indoor and outdoor dinning space. We also loved the dogs of the farm!
Lucia
2016-06-04T00:00:00Z
Pasamos dos noches en la casa que esta perfectamente acorde con la descripción y las fotos. Pepa vive justo al lado y estuvo al pendiente de nosotros en todo momento. Ella y su familia han hecho un trabajo genial en el bosque donde niños y grandes pueden pasear de forma muy cómoda. Hay un recorrido de aventuras con retos de equilibrio y de habilidad. También han desarrollado un divertido juego de pistas en el que nos llevan en un bosque encantado en búsqueda de un par de conejitos (la historia viene en catalán). Los perros de la familia son muy amigables y nos acompañaron en nuestros paseos.
Laurent
2016-10-27T00:00:00Z
Oda Tipi
Tüm ev/daire
---
Mekan Türü
Ev
---
Konaklayacak Kişi Sayısı
7
---
Yatak odaları
Torroella de Fluvià, Katalanya, İspanya
The house in Armentera has 5 bedrooms and has capacity for 10 people. It has views to the mountain and to the garden. It is located 2000 m from Armentera city, 2000 m from L´Escala supermarket, 7 km from Sant Marti D´Empuries sand beach, 15 km from Figueres train station, 15 km from Figueres bus station, 45 km from Girona airport.
The house in Armentera has 5 bedrooms and has capacity for 10 people. It has views to the mountain and to the garden. It is located 2000 m from Armentera city, 2000 m from L´Escala supermarket, 7 km from Sant Marti D´Empuries sand beach, 15 km from Figueres train station, 15 km from Figueres bus station, 45 km from Girona airport. The house is situated in a quiet neighborhood in a beautiful rural area. The accommodation is equipped with the following things: garden, internet, open-air car parking (3 seats) in the same building, 1 tv. In the butane gas independent kitchen, refrigerator, microwave, oven, freezer, washing machine, kitchen utensils, coffee machine, toaster are provided. The house concists of two residencial untis
Oda Tipi
Tüm ev/daire
---
Mekan Türü
Ev
---
Konaklayacak Kişi Sayısı
10
---
Yatak odaları
Ventalló, Gerona / Girona, İspanya
Pueblo en el ALT EMPORDA, amplia HABITACION con vistas y wc completo privado (2 personas y 1 niño). Solo compartir Salon-iternet WIFI 20Mbps speed-TV-COCINA-LAVADORA.CERCA 7 minutos de playas SANT MARTI EMPURIES, junto a ruinas Romanas.
JARDIN DE VERANO Y JARDIN DE INVIERNO.Vistas al mar y al Pirineo y bosque, cuando estan las ventanas abiertas solo se oyen los pajaros.
La colaboracion y ayuda..pero tengo pocos vecinos , solo 4, con los que me relaciono.
Tranquilo fin de semana en Ventallo (Gerona) y un buen punto de partida para realizar excursiones en coche a las playas de la costa brava. La casa es agradable y comoda. Nuestro anfitrión, Bill, fue muy amable, servicial y buen conversador.
Luis
2013-08-26T00:00:00Z
La casa está en un pueblecito muy tranquilo, con vistas a la montaña y con un pequeño jardín ideal para desayunar. Bill nos hizo sentir como en casa, pudimos utilizar la cocina libremente, e incluso nos regaló algunas verduras de su huerto (los tomates estaban espectaculares). A Bill le gusta conversar, además nos indicó un par de restaurantes y bares de copas en el pueblo (nos gustaron mucho) y hasta nos hizo un mapa con algunas de las cosas para visitar en la zona.
Sonia
2014-08-18T00:00:00Z
Bill e la sua casa sono molto accoglienti. Abbiamo utilizzato la camera al primo piano che è molto spaziosa e comoda. Ogni mattina Bill ci portava il pane caldo chiedendo le nostre preferenze per la colazione e offrendoci frutta fresca. La casa non è facile da trovare ma Bill ci è venuto a prendere in un posto di ritrovo e ci ha dato ampie spiegazioni x visitare i dintorni e sulle migliori spiagge.
Marco
2015-08-19T00:00:00Z
Molt bona acollida per part del seu amfitrió, el Bill, molt amable i ens va facilitar informació en relació a les visites d'interès per realitzar a la zona. Per altra banda, pel que fa a l'allotjament també vam quedar molt satisfets.
Teresa
2016-08-24T00:00:00Z
Bill was a extremely gracious host. He was very accomodating and warm with a pleasant personality. He asked what we would like for breakfast and it was there for us in the fridge the next morning. The neighborhood was quiet and a short walk to to the village which was very convenient for my cousin's wedding reception. Bill was very helpful to offer suggestions on things to do and places to eat and provide directions. He provided great service with his maid ironing my wrinkled clothes for the reception. He tracked down the location of the post office in the airport and even found out the mass times in the local church. Parking was provided as well as access to wi-fi. I enjoyed my stay and felt very comfortable. Bill has a great sense of humor and was very easy to talk with. I would recommend him without hesitation. Please keep in mind that his place is out in the country and there isn't much to do/see in Ventalló, but it's very close to many beaches and sites.
James
2014-07-22T00:00:00Z
Bill was a great host and the place was very nice. Bill explained everything very well with detailed information on the house and the surrounding area. He was very helpful.
Manel
2015-07-26T00:00:00Z
La estancia con Bill ha sido estupenda. La casa estaba en una zona que nos ha permitido visitar todo el Empordà. Ventalló es un sitio tranquilo pero cerca de todo. Bill genial, comunicativo, generoso y pendiente de que estuviéramos bien en todo momento. Muchas visitas por la zona las hicimos gracias a sus recomendaciones, incluídas las mejores bodegas del Empordà (los vinos buenísimos Bill). La habitación amplia, limpia, con baño, cama de matrimonio y cama para un tercer huésped ocupando la primera planta de la casa. Utilizamos también la planta baja donde estaban el salón la cocina, una terraza trasera y un jardín delantero perfectos para cenar en casa. Opción perfecta para visitar el Empordà.
Paco
2014-08-25T00:00:00Z
Es war bei Bill wunderbar. So einen warmen Empfang und Hilfsbereitschaft kannten wir vorher nicht. Bill sprach sehr gut englisch und hat sich hervorragend um unser Wohl gekümmert. Die Wohnung war sauber und gut ausgestattet. Würden jederzeit wieder zu Bill fahren.
Eric
2016-08-11T00:00:00Z
Oda Tipi
Özel oda
---
Mekan Türü
Ev
---
Konaklayacak Kişi Sayısı
3
---
Yatak odaları
Ventalló, Katalanya, İspanya
5-room house on 2 levels. living/dining room with open-hearth fireplace and satellite TV. 3 room with 2 beds for each one and 1 room with 1 french bed and bath/bidet/WC. 1 room with 1 sofabed. Large kitchen (oven, dishwasher, 3 ceramic glass hob hotplates, microwave) with open-hearth fireplace. Swimming pool,Barbecue, Terrace furniture and covered balcony. View of the countryside. Facilities: washing machine, air conditioning, cune and Free WiFi. HUTG025211
Ventalló is a small and quiet village specialized in the olive oil conire, with ancient olive trees. Located in the Alt Empordà region you can enjoy the nearby beaches of the Costa Brava (L'Escala, Empuriés and Roses) and visit the vineyards and wineries. Also on the outskirts of the village is situated the Waterski (Xavi Mill Ski Competition) and Adventure park (Llac de l'Aventura).
Oda Tipi
Tüm ev/daire
---
Mekan Türü
Ev
---
Konaklayacak Kişi Sayısı
9
---
Yatak odaları
Ventalló, Catalunya, İspanya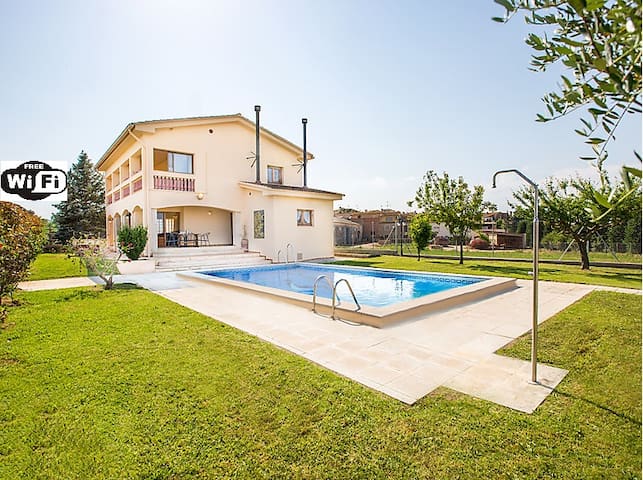 I rent the last floor of my house its a suite doble room with a private bathroom and terrace, There is the posibility to have a extra bed for children.From the terrace you can enjoy the view of Alt empourda' country-side and and far you can see Cala Montgo' and the sea.side. The house is warm and cozi decorated, I think that the best point is that the guest are completely independent of the res of the house.Ventallo' is a nice old village where a few exponent of Catalans"intelligencia" decide to have their second residence. Well connected to the beaches of Sant pere Pescador and L'escala.7 and 8 km far from.20 minutes from Dali' Museum and 30 min to Girona.The area is also famous for having two of the best restaurants of the world. You can practize a lot of sports like parachute, surf, kite surf, riding horses on the beaches,mountain bike,trekking. In the morning I will prepare you a fully complete breakfast .
es un pueblo encantador con casas con jardines espectaculares, hay un bar de copas restaurante con buena musica en verano, y muy bien fequentado,hay una galeria de arte contemporanea interesante, y se puede comprar carne , frutas , verduras y aceite de oliva de producion local.
The apartment is really good, including a terrace with a splendid view over the valley and the mountains at far. Fedra is a nice host with all relevant and good tips for a pleasant stay. We could even explore the surroundings by using her bike.
Jochum
2014-08-01T00:00:00Z
La Fedra es una persona acollidora i mostra el seu interès per aconsellar-te llocs que et puguin interessar. Coneix la zona i mostra empatia amb els hostes. L'Alt Empordà és una de les zones més boniques de Catalunya, els seus pobles petits, amb regust medieval, la seva gent, tant l'autòctona, com la vinguda de fora (sobretot gent del món de la cultura) enriqueixen el paisatge. Mar i plana fan una combinació espectacular.
Hermínia
2014-07-22T00:00:00Z
Fedra est une hôte très aimable, souriante et de bon conseil. La chambre est très propre, joliment décorée et la terrasse est très agréable ! La salle des bain est également très propre et spacieuse. Le petit déjeuner sur la terrasse est particulièrement agréable. Merci à Fedra pour son accueil chaleureux. Nous avons passé un très bon week end à Ventallo et nous retournerons à cette adresse sans hésiter !
Aurélien
2013-08-19T00:00:00Z
Fedra es una amfitriona amable y encantadora. Era nuestra primera experiencia con airbnb pero nos hemos sentido como en casa. El desayuno buenisimo y su casa preciosa. Ha sido realmente un placer.
Anna
2014-07-14T00:00:00Z
Ha sido una estancia de 4 noches genial. Todo ha encajado con la propuesta de Fedra en Airbnb. La habitación y baño, además de limpias, muy confortables. Fedra es una anfitriona perfecta, sabe encontrar el equilibrio entre hospitalidad y privacidad, lo que nos ha hecho la estancia aún más cómoda si cabe. Preocupada por dejarnos el desayuno a la hora que mejor nos interesaba, preparando aquello que más nos gustaba y por recomendarnos dónde ir etc... La población es muy tranquila, está a 5 mins en coche de las mejores playas del Alt Empordà y de los increíbles parajes de los Aiguamolls. Al disponer de espacio en el garaje, hemos podido guardar las bicicletas durante la noche, el Masos de Ventalló es una población tranquila y se puede aparcar rápidamente el coche. Hemos tenido todas las comodidades de un hotel y las atenciones de una muy buena anfitriona. Muchas gracias por todo Fedra. JM
JOSE M
2014-08-22T00:00:00Z
Fedra was very helpfull , kind ,open and fun. Had ä great time. Good information about good places to visit. Fedra was like ä good friend to me. Good breakfast, and dinner. Italian pasta.:) Tnx Fedra
Robert
2016-08-08T00:00:00Z
We had a great time at Fedras home and enjoyed the big terrace, the lovingly prepared breakfast and especially Fedras very good tips for beaches, nice little villages and excellent restaurants. Fedra is very welcoming and uncomplicated and has a great sense for vintage interior fitting, so our stay at her place was very pleasant at all times.
Michael
2014-06-09T00:00:00Z
The host canceled this reservation 38 days before arrival. This is an automated posting.
Jim
2015-07-01T00:00:00Z
Oda Tipi
Özel oda
---
Mekan Türü
Ev
---
Konaklayacak Kişi Sayısı
2
---
Yatak odaları
Ventalló, CT, İspanya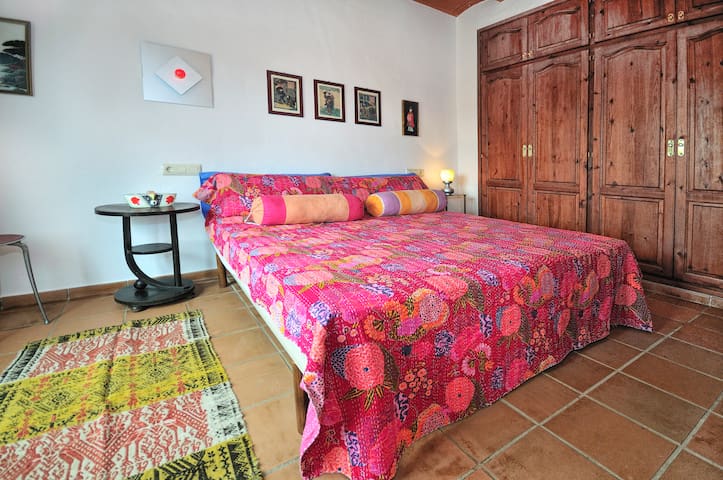 HUTG-013377 This is a house located in the village of Sant Mori, a small and quiet village ideal for lovers of riding, hiking and biking trails, rustic style. The village lies a few kilometers from the most beautiful beaches of the Costa Brava.
HUTG-013377 A dream house! Stone house of XVII century, completely renovated with luxury finishes, modern decor respecting the style of the original period. Our little castle. The house is located in Sant Mori, a small quiet village ideal for lovers of riding, hiking and biking trails. The village is a few kilometers from the most beautiful beaches of the Costa Brava, l´Escala and Empúries, sandy beaches and ideal for children very shallow water. The house consists of two parts: a large living room with dining area, with games (darts, table tennis and etc.), TV, fireplace, fully equipped kitchen and BBQ with access to very large garden where children can play freely. And another part, where on the ground floor you will find a large living room and fully equipped kitchen and a space that preserves details from the original era. On the first floor you will find four bedrooms and two bathrooms. On the top floor you can enjoy of a large living room, a fully equipped kitchen with breakfast area and large terrace with lovely views over natural surroundings of Sant Mori. The house has an elevator. In the house can sleep 9 people (3 double beds, 1 single bed and a double sofa bed). Dear Guest, Before making your reservation please read very carefully to all the descriptions of the accommodation. Remember that from 24/06 to 01/09 the check in/ checkout day can be only on Saturday with weekly rental periods (1 week, 2 weeks, etc.)!!! Remember that the city tax is payable on arrival and mandatory (€ 0.90 per person /per day over 16 years with a maximum of 7 days per person per stay). Please inform us in advance of your expected arrival time. By the general rule entry into the accommodation it is after 16:30 and departure before 10:00. To make check in / checkout later or earlier please contact us before booking. On the day of the entrance all persons staying in the accommodation must be provided with ID card, passport or other identity document (according to article 2 of the Order IRP / (PHONE NUMBER HIDDEN)). Place of delivery of keys and check-in is at the office of the Agency - Avenida Riells, 32 B, of L'Escala (17130), Girona, Spain. Please leave the rented property and all items are in it (furniture, appliances, plumbing, decor items and items which are in the garden) in the same condition in which they were at the time of your arrival (clean and intact). Please remember that sound travels and noise should be kept to reasonable levels, especially after 22:00. Please, let us know in any case any damage that originated in accommodation facilities for purposes of quick repair. If you are not satisfied with the level of cleanliness, please notify us by phone or email upon arrival to the accommodation. Cleaning team will return within 24 hours to rectify and clean anything that can be neglected. For all other inquiries please do not hesitate to contact us. We will be delighted to assist you and welcome you in L'Escala. Sincerely yours, Natalia
L'Escala has a strategic location - everything is close. Girona, Roses, Cadaques - only 40-45 min; Figueres and Empuriabrava - 20min; Begur and Palamos - 30 min; Pals and Playa de Aro - 40 -50 min; Banyoles, Olot - 40 min - 1 hour. Overall, L'Escala is perfect for exploring the Costa Brava. L´Escala offers various activities and areas which can be enjoyed with children. The beaches of L´Escala are characterised by their fine sand and shallow waters, which means that they are ideal for children. Also is a paradise for children, with children´s parks, go-karts and horse trip, as well as bicycle hire. What´s more, L´Escala offers a wide range of sports and adventure-based activities - discover new sensations!! Bicing in l´Escala is more than a simply renting bikes service. L'Escala Cycling is a public transport service. It is practical, sustainable and easy to use. Tour and enjoy the l'Escala region free from air and noise pollution. A walk along El Camí Forestal between l´Escala and Sant Martí d´Empúries, discover the Sea Route of l´Escala and visit the watchtowers and defence towers. These are some of the activities you can do in l´Escala.
La maison est énorme et bien équipée, idéale pour des vacances en Famille.Nous avons passé un remarquable séjour. Le village est mignon calme et très accueillant. Il est situé à 20 minutes en voiture des plages de L'Escala. Nos hôtes Natalia et Laura ont été très disponibles et efficaces.
Magib
2015-08-28T00:00:00Z
La casa es increíble. Muy grande, parece un castillo reformado. Esta totalmente equipada, en muy buen estado, limpia, luminosa. El pueblo es muy hermoso, y si tienes auto es fácil de acceder. En cuanto a la atención no tuvimos problemas, estuvieron disponibles y fueron muy amables.Altamente recomendable
Sofia
2014-09-14T00:00:00Z
Oda Tipi
Tüm ev/daire
---
Mekan Türü
Ev
---
Konaklayacak Kişi Sayısı
9
---
Yatak odaları
Sant Mori, Girona, İspanya
Tam fiyatlandırmayı görmek için tarihleri görün. Ek ücretler uygulanır. Vergiler ilave edilir.