We had a wonderful stay at the Blue House. Beautiful location right on the doorstep of some iconic walks in the Royal National park. House is beautifully decorated. Especially enjoyed sitting on the back deck in the lovely afternoon sun.
Lynne
2016-07-04T00:00:00Z
Stunning! Great kitchen, amazing patio fresh and clean. Will be staying here again for sure.
Christopher
2016-05-09T00:00:00Z
Fantastic home on the edge of the Royal national forest and right next to the iconic costal walk full of rainbow Lorikettes.... fantastic place to stay. Michelle has good taste and the birds wake you every morning. Don't miss this one.
Rich
2016-07-11T00:00:00Z
Michelle place was a real gem. If you are looking for a place to relax, or maybe somewhere it stay close to the Royal National Park, its wonderful. The house is very well equipped and surprisingly extremely organise ( I wish to have this kind of skills). The surrounding area is picturesque and it's a treat to explore. We had such an amazing time in Michelle house. I highly recommend this beautiful house. Thanks Michelle for allowed us to spend a relax weekend in your magic place
Juanita
2016-04-17T00:00:00Z
We had a lovely, relaxing stay taking in the stunning views over the Royal National Park from the balcony. The house was very well equipped and appointed - highly recommended.
Cath
2016-09-05T00:00:00Z
We enjoyed our stay at the Blue House. Everything was accurate to picture and the comprehensive manual came in handy a few times. Beautiful views off the balcony an nice and close to some iconic Royal National Park walks. Loved relaxing in this beautiful location.
Amber-Lyn
2016-05-16T00:00:00Z
Michelle's Blue House was a real treat! It was so spacious and comfortable in the dome - shaped central living room, and has also 2 large decks that catch the sun and look out on greenery. Michelle has created such a peaceful and well equipped home, with abundant entertainment options like cable TV, DVDs, iPhone docks, and board games, and wifi. The kitchen is fantastic for gourmet chefs, as it has all the cooking gear and a well stocked pantry available using the 'honesty' box. It IS hard to leave such a beautiful uniquely designed place, but its location is right next to a fantastic National Park. The place is surrounded by kilometres of Bay and Ocean beaches, and many different bushwalks of varying landscapes and lengths. It's hard to believe this piece of Paradise is in Sydney!
Robert
2016-04-21T00:00:00Z
We had a fantastic time at Michelle's Blue House. Her place is a sanctuary, peaceful and welcoming. It was spotlessly clean, and everything worked well and was super organised, including the check in process. The bed was comfy, the wifi worked, everything we needed was provided. I really enjoyed her artwork...lots of which I hear she has done herself. The position is amazing, at the edge of town with everything close by, but right on the edge of the bush with all it has to offer. We took a spectacular walk to the beach for a swim, and came back for lunch on the deck. I came home so well rested, it felt as though I'd been away for days! Thanks, Michelle....we'll be back!
Lanning
2016-04-03T00:00:00Z
Oda Tipi
Tüm ev/daire
---
Mekan Türü
Ev
---
Konaklayacak Kişi Sayısı
6
---
Yatak odaları
Bundeena, New South Wales, Avustralya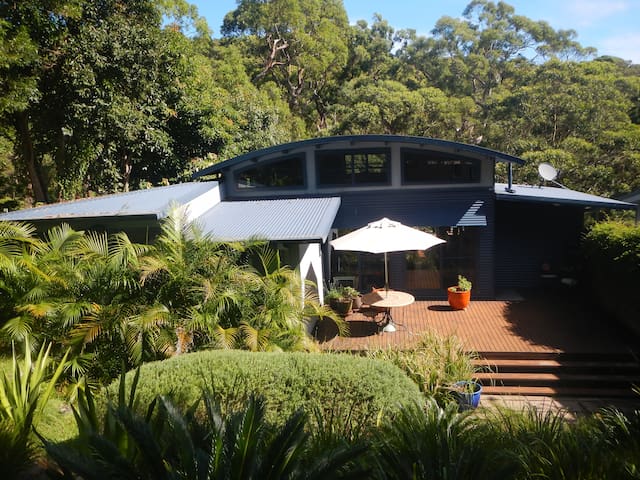 Tam fiyatlandırmayı görmek için tarihleri görün. Ek ücretler uygulanır. Vergiler ilave edilir.