Londra'dan sadece 30 dakika henüz ormanlık ve kırsal binlerce dönüm arasında, Pompa İstasyonu doğrudan kendi kapılarına güzergahları ve bisiklet parkurları mil vardır ayarlayın ve kuş türleri, yaban hayatı ve sonsuz ülke pub tarafından yutulmuş edilir.
Pompa İstasyonu ek taze dönüştürülmüş (Kanal 4'ün Restorasyon Man) ve bir 6x4m yaşam ve mutfak alanı, 3.6x3m çift kişilik yatak odası ve 3x2m banyo / duş odası içermektedir edilmiştir. (Kilitleme ve çeşitli kapı kilidini tarafından kiralama dahil edilebilir ilave 3.2x3m yatak odası bulunmaktadır. Bu 2 kişi üzerinde numaralar için kiralama dahildir.) Ultra verimli ısı pompaları ile boyunca yerden merkezi ısıtmalı; 's elektriğin% 50'sini yaptığı gibi, sıcak su, güneşten geliyor; LED'ler tarafından neredeyse sadece yaktı ve 75MB WiFi genişbant sahiptir. 4/5 için bums için 'Kahvaltı' ada akıllıca yanı sıra öğle ve akşam yemeklerinde dizayn edilmiştir ... mutfak indüksiyon ocak, açılan fırın ve mikrodalga ve büyük buzdolabı dondurucu, küçük bir bulaşık makinesi ve bir lavabo ile olan bir 'çok güzel bir musluk'. Yaşam alanının diğer yarısı güzel bir çekyat var (6'x 3'6 "), karasal TV, Apple TV, Chromecast, B & W Zeppelin ve çeşitli USB ve iPhone adaptörleri. Ana yatak odasında çift kişilik yatak ve şeyler için çalkalama mandal herhangi bir sayıda (URL HIDDEN) raflarında takas ve ekstra 5 'çocuğun yatak olabilir. ve üçüncü bir pull-out single - İkinci yatak odası iki single çevirir veya bir çift yapmak için bir araya iten bir ranza vardır. Gerekirse Son olarak, çeşitli karyolası ve bebek sepetleri var.
Pompa İstasyonu ormanlık rezervi, patikalar, bisiklet parkurları ve ülke pub yaklaşık iki bin dönüm çevrili, henüz Londra dışına sadece 30 dakika var olduğunu. Her derece güzel. Eğer yürüyüşler ve doğa, ya da terli seyyar satıcılarının sakin bir hafta sonu için arıyorsanız olsun orada sizin için bir iz var ve her biri bir pub geçmek gibi görünüyor. Newgate Street birkaç yüz sakinleri, bir kilise, bir oyun, iki pub ve bir restoran küçük bir köydür. Yolun ya da ormanda ve demiryolu tünelinin üst üzerinde bir saat macera boyunca bir 10 dakika yürüyüş mesafesindedir.
It a nutshell - You won't regret. Say hi to the chickens for me Mat.
Oren
2015-02-26T00:00:00Z
This was the best decision we have made in our travels! We have 3 boys (age 5 years, 3 years, and 3 months) and this was an absolutely perfect stay in every way. First - our hosts Matt & Ali & their daughters were wonderfully welcoming. We arrived exhausted after an overnight flight from Canada, and they greeted us warmly & dropped off a fresh pot of brewed coffee, and had fresh baked bread, jam, milk, eggs & other essentials waiting. Amazing! After we slept & could form sentences again, we got a chance to talk to them - they are very interesting people, and really terrifically friendly (although they do give you your space - sort of a perfect mix!). Second, the place is gorgeous - spotless with crisp white linens (like heaven after a sleepless night), modern decor, and I'm definitely buying olive body wash from the Body Shop after this! There is everything you need to cook, live, and be comfortable - Matt & Ali have clearly put a lot of care & consideration into stocking the kitchen, living room, & bathroom with useful things. (SENSITIVE CONTENTS HIDDEN) chrome on the TV was particularly great, as we streamed videos from the ipads for the kids. And, it was really fascinating watching "Restoration Man" and seeing all of the work that has gone into this building! Third, the location is also just gorgeous! There is a large garden with a trampoline (very exciting for my boys) and chickens that roam free (very very exciting for my boys), and a forest and paths right behind the property, with a little stream running through it (over the top excitement for my boys). We were so thankful we got the chance to stay here, and so happy we didn't go to a hotel! A wonderful stay in every way!! I am sure we will be back :)
Robin
2014-08-31T00:00:00Z
We needed 48 hours away from our lives in London and the Pumping Station provided just that. The apartment is fantastic, a spot of urban comfort in a properly rural setting - so just right for folks who don't necessarily want to rough it but still fancy a bit of a ramble. The woods that start in the back garden and stretch for miles were a major attraction (and did not disappoint - from the wild garlic carpets to the ancient beeches and hornbeams), but the warm, down-to-earth welcome laid on by Matt, Ali and the girls (plus the hens) elevated the stay. Thanks, all.
Matthew
2015-05-19T00:00:00Z
Hi Matt and Ali, We had a few great days at your very stylish pumping station appartment. Everything looks so beautiful! It had it all! Even a large garden with trampoline to jump on for our 3 year old daughter. Thanks for everything. Rob, Olga and Isabella
Olga
2015-09-15T00:00:00Z
Matthew's place was perfect for our regular business meet up. lovely surroundings, space to pace, modern kitchen and fast WiFi. Will book again soon. Thanks!
Chris
2016-10-20T00:00:00Z
When we arrived at the place, we found a basket with bread, butter and jam, and a chilled bottle of white wine! And it only got better from there :) The apartment is beautiful, very well laid out and with excellent amenities. The nearest shop if about 4 kilometres away but we managed to get there without a car, stock up on groceries for three days and spend the rest of our time walking in the stunning woods behind the house and the surrounding country side. Matt and Ali are wonderful hosts, there when you need them, very friendly and warm. The chickens are wonderful too!
Anna
2015-03-15T00:00:00Z
We had an absolutely amazing time during our recent stay at The Pump House. The house is fantastic and Matt and Ali are such lovely hosts, we couldn't have wished for more. From the beautiful basket of goodies on our arrival to the great advice on local events, they helped make our time here extra special. We will definitely think about staying here again and will be recommending it to all our family and friends.
Eleanor
2016-06-20T00:00:00Z
We enjoyed our stay and it was very interesting to stay in the Pumping Station, a lovely restful break in the English countryside. Although Matthew and family were not home, Matthew made sure to be in touch and we knew we could contact him anytime, although we didn't need to. There was a welcome basket of breakfast items and information about the area for us, and we enjoyed going to the local pub and driving around the villages - great to visit King Harold's favourite church, Waltham Abbey which was close by. Also a trip back into London was easy to do. The Pumping Station was very well appointed and we appreciated all the nice touches including the wines available (even though we didn't have any!), books and magazines and so on.
Kiri
2015-08-29T00:00:00Z
Oda Tipi
Tüm ev/daire
---
Mekan Türü
Ev
---
Konaklayacak Kişi Sayısı
6
---
Yatak odaları
Cheshunt, Birleşik Krallık
Riverside retreat in rural position nestling adjacent to a ford close to Brocket Hall, St Albans and nearby London. Elegant self-contained garden room accommodation ideal for short breaks, business trips or a romantic weekend in a peaceful location
- Detached annexe with rural views and private bbq/patio - Exclusive use of secluded riverside seating area - Access to stunning hot tub with views along the river. Please note: The hot tub is used by the owner, her friends and family. It is located in her garden, albeit in a private setting within the substantial grounds. It is available to use at a nominal additional cost of £10 per session (timings to be arranged with the owner). - Fully fitted kitchenette, including washing machine and dishwasher - Continental breakfast included. Full cooked breakfast can be arranged, for additional cost - Local chef offering in-annexe or main house dining. Food can be prepared for guests to finish themselves, or fully prepared and served. - Dog friendly, with prior arrangement. (Please note: any damage to soft furnishings, or the like, will require compensation) - Loft bedroom with 'Hypnos' kingsize bed and single pull out bed, if required - Sitting room with pull out sofa bed, if required - Private off-street parking - Excellent country walks on the doorstep - Great local pubs and restaurants nearby
Waterend Lane is close to the village of Ayot St. Lawrence with its two unique churches, one a romantic ruin and the other built in neo-classical Greek style, and the National Trust run home of Mr. George Bernard Shaw. It is also home to The Brocket Arms Public House a firm favourite of guests from all over the world! There are many other country pubs to visit and delightful walks to take whilst staying at The White Cottage. The lovely Hertfordshire towns of St.Albans, Harpenden and Welwyn Garden City are all within 15 minutes drive and have excellent shopping facilities and cinemas/theatres etc. Being in the commuter belt for London there are several options of transport into town which would normally take less than an hour.
This is our second stay at White cottage. It is beautiful here. We loved our time here. Walking by the river. Sitting in the hot tub under the stars. Playing ball with the wonderful dogs Sally has. It is great that we can bring our dog - Lola. She loves it too. We will definately be coming back soon. Dan and Bona.
Daniel
2016-09-27T00:00:00Z
The White Cottage is honestly the perfect place for a quiet, relaxing getaway. The place is absolutely stunning; falling asleep by the river, eating breakast with beautiful views in the morning, lounging in the hot tub at night... all alongside an incredible service from Sally. I could not recommend this listing more! And by the looks of the guest book everyone (including me!) is planning on returning so book quickly! Thank you so much Sally for sharing this beautiful space with us and putting in so much hard work to make it a place of absolute luxury.
Caroline
2016-08-19T00:00:00Z
Have already passed many compliments back. This little place is so very unique- We felt we were very lucky to find such a beautiful spot that we were allowed to share with the rest of our family- if only for one night
Joy
2016-08-30T00:00:00Z
Would definitely recommend Sally's place, it was amazing! The hot tub is magical, Sally is an excellent host and the cottage is beautiful :) we will be coming back to stay again soon!
Alis
2016-09-23T00:00:00Z
A really lovely little place for a quiet break. When we arrived we were shown round the annex which is completely separate from the cottage - just a shared driveway. The kitchen was well stocked with tea, coffee, pastries, bread, butter, preserves, eggs, yoghurt... everything you could want for breakfast! Amazingly equipped kitchen as well if you want to cook. Interior was clean and cosy with the best bed I've ever slept on! Comfy sofa to watch the telly too. There's a village about 40 minutes walk away which has some lovely pubs. We were able to get a taxi (10mins, £8) back as well which was brilliant. Lovely area with gentle walks and beautiful countryside.
Ruth
2016-10-25T00:00:00Z
Fabulous location, Fabulous house so homely and vintage, the garden is too beautiful with a river running through it, perfect for a peaceful romantic get away. Sally is a brilliant host, her hospitality is next to none. She allowed me and my family to have the afters of my daughter's christening there, she helped in every way she could and was very kind, generous and welcoming to us all. Sally thank you so much for everything. You made our day so special. I wish we got to enjoy the peace and beauty more. Thanks again. Geena, AJ & Ailia xxx
Geena
2016-10-10T00:00:00Z
Sally's place is absolutely perfect! The cottage itself is beautiful, well decorated with everything you could need for a brilliant visit! You've plenty of private space indoors and out, but Sally's gardens are so wonderful that we tended to wander around them as well, with the flurry of incredible friendly and well-behaved dogs; a bonus if you're a dog lover! The hot tub was the perfect extra treat to make everything else even better, although trying to use it in Storm Doris was a little unnerving... still a great experience though! Most importantly though, Sally is absolutely wonderful, and the perfect host. She's incredibly welcoming and helpful, but also lets you get on with your holiday however you like and was very hospitable to us. We would definitely recommend this cottage! We are going back very soon!
Zoe
2017-02-23T00:00:00Z
Our stay exceeded expectations! Setting was peaceful and charming, the cottage was cosy, warm, clean and eclectic but above all it was Sally's welcoming arms and impeccable attention to detail that won our hearts!! It was a pleasure to wake up daily to croissants and rustic Scandi bread!!
Yannis
2016-03-30T00:00:00Z
Oda Tipi
Tüm ev/daire
---
Mekan Türü
Ev
---
Konaklayacak Kişi Sayısı
4
---
Yatak odaları
The Ayots, St Albans, Birleşik Krallık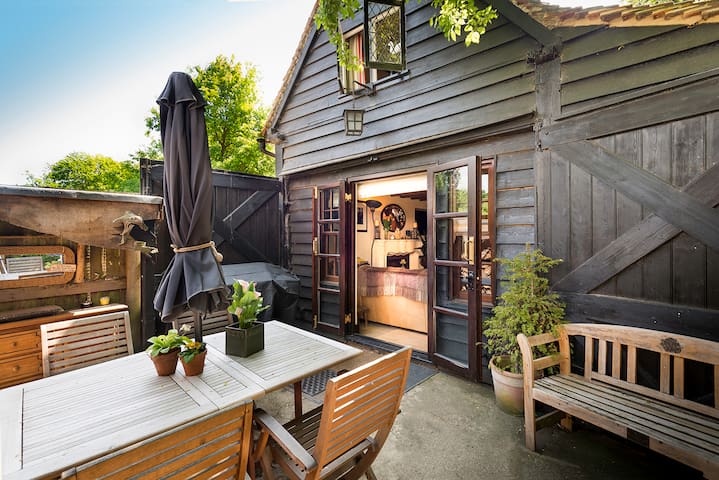 Brand new bedroom in a 4 bedroom house with a shared bathroom . It's decorated in cool shades of blue and cream, it consists of a single bed, bedside table and a chest of drawers. The house is situated in a leafy, quiet street . There is parking availability .
Elizabeth was a very welcoming host, and the room was comfy and very nice :)
Amy
2016-12-02T00:00:00Z
Needed a place to stay last minute for work before I could move into my own place. Elizabeth was a lovely host and very accommodating to my late check in. I had a couple of great nights sleep! Would definitely use again should the need ever arise.
Kerrin
2016-11-29T00:00:00Z
Elizabeth was easy to communicate with and very helpful.
Guy
2017-01-11T00:00:00Z
Nice clean family home in close proximity to offices, friendly host who was very happy to help.
Chris
2017-01-19T00:00:00Z
Great, clean, comfortable place. Stayed here now for the second time, and, as always, Elizabeth was a great (and friendly!) host, providing me with everything I needed (and more). For example, she provided me with bowls and fridge space for my breakfast, and even laid the bowls out for me in the morning! Will definitely come again when I have to come back to Welwyn for business. P.S: Also there is ample off-road parking space, which is nice.
Fabian
2017-03-29T00:00:00Z
No desk. No tv. Single Bed. Busy shared bathroom. A place to sleep, shower and leave. Nothing else. Overpriced compared to other options in the area.
Blake
2017-02-22T00:00:00Z
Great, friendly host. Provided me with everything I needed (and more!). Very comfortable bed and clean room. Only slight issue is the spotty wifi, which was very slow at times.
Fabian
2016-12-09T00:00:00Z
Lovely clean room, very friendly, highly recommended!
William
2016-10-12T00:00:00Z
Oda Tipi
Özel oda
---
Mekan Türü
Ev
---
Konaklayacak Kişi Sayısı
1
---
Yatak odaları
Welwyn Garden City, İngiltere, Birleşik Krallık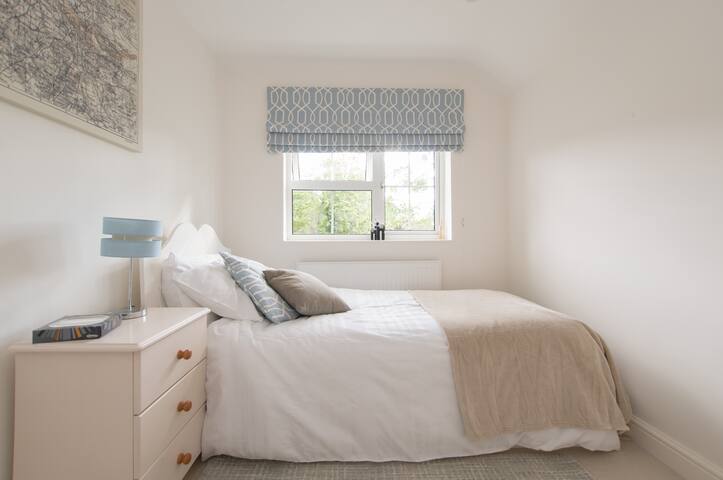 My place is great for families (with kids) to enjoy good leisure time and tourist attractions in London. It's a semi-detached house with gardens, a private parking space (+park cars in street). Completely fenced back garden - safe for small kids - self-catering - good to enjoy food and beer under the Sun. Near lovely Welwyn Garden City center - shopping and looking around like the locals Short walk to train station - 22 minutes fast train to central London (King's Cross) - London Attractions!
This house is in a nice clean quiet safe neighborhood. Guests are expected to help keeping it remains so.
Good host great accommodation - we will definately use this again
gillian
2017-04-07T00:00:00Z
Oda Tipi
Tüm ev/daire
---
Mekan Türü
Ev
---
Konaklayacak Kişi Sayısı
6
---
Yatak odaları
Welwyn Garden City, İngiltere, Birleşik Krallık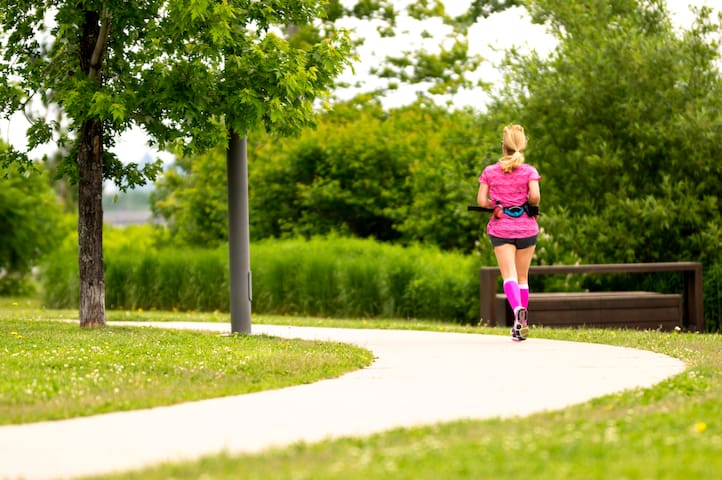 Cosy double room with shared bathroom in a new home. 20 min walk (£3.50 cab) to the Welwyn Garden City station & town centre. 25 min train to Kings Cross, 30 miles to central London by car. Space includes a desk/dressing table, hanging space and toiletries. Lots of modern touches.
Our cosy second bedroom includes a full size (UK) double bed with clean linens, pillows and bedspread. The room has a single wardrobe for guest use, two bedside tables and a desk / dressing table space. This is a bedroom in our home and not a fully serviced bed and breakfast business. We provide towels, dressing gowns, a hair dryer and a selection of toiletries. Modern touches include: - TV with free access to Netflix, iTunes movies, YouTube etc. (no digital/analogue channels) - Free Wifi - Nest learning thermostat in room - 4 x UK plug sockets with integrated USB sockets - Apple iPhone/iPad charging cables - 2 x Playbulb bluetooth controllable LED lamps (iPhone app required). Otherwise they can be used as a traditional lamp! Guests have access to the shared bathroom next to the room. The bathroom has a modern power shower over the bath, sink, toilet, scales and heated towel rail. We have lots of shower gels and shampoos in case you leave anything at home! We try and leave some space in the fridge for guests so if you want to keep a bottle of wine or beer cool, please do! We will provide a basic breakfast of cereals and toast but guests are responsible for making their own breakfast. We also have gluten free bread and dairy free almond milk. We would prefer guests not to use the kitchen for cooking big evening meals as we do not have a regular dinner time ourselves but are very happy for guests to have takeaways delivered or cook a simple meal in the oven or on the job. Please note we do not have a microwave for ready meals. The shared area has a TV, Sky TV, PS3, Apple TV and access to Netflix, Amazon Prime, Vudu (movie streaming) and catchup services. We love watching movies! We have 100s in our Vudu / iTunes library and we add recent releases weekly. Guest are welcome to use any of the above if we are not in (instructions are provided in the welcome information pack). There is a small garden out the back with a BBQ and french doors for access. A small laundry basket is provided for guests staying more than a few days. If you want to use the washing machine then please let us know. We also have an ironing board and iron.
We are located in a small newly built development in Welwyn Garden City, Hertfordshire. It is a quiet and safe area with free visitor parking available. Nearby amenities: - Sports centre nearby - Large supermarket with petrol station (5-10 min walk) - Bus stop outside development for buses to town centre and train station - Local pub (5 min walk) - Small shopping area with pharmacy, beauty salon, food stores and takeaways (10 min walk) - Panshanger Golf Complex including foot golf! - Welwyn Garden City Football Club - Stanborough Park & Lakes - Smaller local parks
Becky and Matt were great hosts. We were made very welcome and comfortable during our stay, the room is large and excellently equipped, all the little touches made it extra special. Any questions I had were answered very quickly. Communication was fantastic and made our stay very easy and smooth. Thank you so much for a lovely stay, we would definitely return in the future!
Annabel
2016-08-08T00:00:00Z
We had a great stay at Rebecca's home. The room was excellent - more spacious than it appears in the photos. Rebecca was most helpful and pleasant - recommended us a great pub just a couple of minutes walk away where we enjoyed a nice meal. We only stayed one night so didn't explore the area as we were there for work, but the development is modern and the house was the same. Exceptionally clean, very well furnished - toiletries and guest robe/slippers etc was a nice touch. Great, powerful, hot shower - we will certainly ask to stay again if we find ourselves in the area.
Sarah
2016-03-11T00:00:00Z
Rebecca and Matt are great people. They are really friendly, welcoming and helpful. I was with them three days and they made me feel like a home. The house is awesome, brand new and really clean. The room is really nice and the bed really comfortable. Besides the offered me a big breakfast every morning. Finally, cats were really cute. I honestly recommend staying at this house!
Enrique
2015-10-22T00:00:00Z
Rebecca (and her cats) were very welcoming. The room was bright and clean and Rebecca made a great cup of tea. The house was easy to find with parking by the door. Would certainly not hesitate in recommending her as a host.
Bill
2015-12-12T00:00:00Z
Fantastic location with safe parking, very quiet and nice and close to food and shopping. Fantastic hosts, very helpfull and accomodationg. Very cozy room, very comfortable and the little cats are lovely :) Would certainly stay here again next time I'm staying in the area.
Edward
2017-02-23T00:00:00Z
More than I was expecting being a first time Airbnb newbie. Large comfortable room, easy parking in a quiet location Thanks!
Maurice
2016-06-24T00:00:00Z
As good as before. Great place, great hosts. I've booked again!
Liam
2016-04-08T00:00:00Z
They were very easy with the time of arrival, the room was very neat and even had some snacks, drinks and other extra's. There was a small dental kit, what was really great since I forgot my tooth brush, Thanks for that! The bed is comfortable and the area is very quiet. We had a great sleep here!
Karin
2016-02-22T00:00:00Z
Oda Tipi
Özel oda
---
Mekan Türü
Ev
---
Konaklayacak Kişi Sayısı
2
---
Yatak odaları
Welwyn Garden City, Birleşik Krallık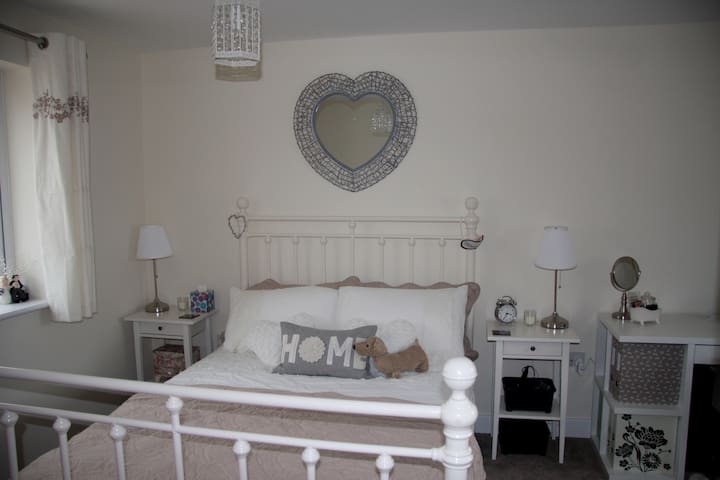 Beautiful light double bedroom close to the centre of town..
Hello, Thank you for your interest in our lovely double bedroom which has recently been refurbished. The room is part of a two bedroom end of terrace house. The room is located a 9 minute walk from the Welwyn Garden City station and the centre of town. Guests can make use of the kitchen and all cooking utensils, we have a dishwasher, washing machine, there's a tv in the room and fibre optic broadband is included. There is free street parking, we also have a garden which you're welcome to use.
Welwyn Garden City is a beautiful town, we are a 9 minute walk away from the centre which has big supermarkets, multiple shopping centres, restaurants, pubs and bars. There are buses that operate in the area and frequent trains that go straight into London/Cambridge and surrounding areas.
Jess and Alex, are both very welcoming and friendly people. We instantly felt ease in their house which was both immaculately clean and homely. The room was bright and airy and the bed was really really comfortable. We would definitely recommend staying here.
Mark
2017-04-07T00:00:00Z
Jess' place is lovely and you get the homely feeling. I would definitely stay there again.
Mihaly
2017-04-06T00:00:00Z
Room was as advertised - We arrived late in the evening and left early in the morning - due to my wife's badminton commitments - so can only comment on the bedroom - which was exactly as advertised with very comfortable bed for a good nights sleep
Terry
2017-04-02T00:00:00Z
Lovely couple made to feel right at home as soon as you walk in. House is as described and better. One of the best I've stayed in so far highly recommended to stay.
Pete
2017-03-03T00:00:00Z
I had a very warm welcome, and a friendly relationship throughout my stay. The house was newly decorated and smart inside and the bed was very comfortable. A shelf was reserved for my use in the fridge, and I was invited to have as much tea and coffee as I liked. Highly recommended.
Margaret
2017-03-26T00:00:00Z
A great room and a perfect location for me when I'm in London. Jess was a great host. I'm sure I will booking again.
Jake
2017-03-16T00:00:00Z
Modern and immaculate house, only stayed the one night but it was an absolute pleasure. Great hosts!
Daniel
2017-03-30T00:00:00Z
Jess and Alex have a beautiful home. They were away when I stayed but so friendly and welcoming and very responsive to email - and accommodating when my plans had to change. Their home is immaculately clean. Spacious kitchen; and such a comfortable bed. Very convenient location for my work at the University. Staying again so looking forward to meeting J&A then!
Kathryn
2017-03-23T00:00:00Z
Oda Tipi
Özel oda
---
Mekan Türü
Ev
---
Konaklayacak Kişi Sayısı
2
---
Yatak odaları
Welwyn Garden City, İngiltere, Birleşik Krallık
Cosy single room in a nice and peaceful area. The room is in a 3-bed-end terrace-house. Bathroom and kitchen are shared. Big supermarket is 5 minutes walk away. Guests can make use of the kitchen and all cooking utensils. There is free street parking. Railwaystation, Tesco headquarters, Xerox and Shire park (Roche, Paint Point and many more are) are only 20 minutes by foot. We are a young couple who moved recently to this place.
Great room great host!
Glynn
2016-08-27T00:00:00Z
Great clean place and very friendly host. Only minor issue is that the walls are bit thin, so if you're a light sleeper, the alarm of the tenant in the room next door could wake you up. Otherwise, very quiet and nice place and very close to Tesco offices.
Fabian
2017-02-08T00:00:00Z
Great stay thanks
Chris
2017-02-02T00:00:00Z
An ideal room and location for a night away. Clean and bright room and house with everything as listed. Benjamin was very accommodating of me coming back late after a work function. I found parking difficult near to the property, but there is parking available a short walk away.
Sandra
2016-12-12T00:00:00Z
Benjamin was a great and friendly Host...if I will be back in Welwyn Garden City I will stay there again....
Roger
2017-01-28T00:00:00Z
Benjamin and his girlfriend were great hosts - super friendly and accommodating. Flexible with regards to arrival/departure. Very close to Tewin Bury Farm where I (EMAIL HIDDEN)fy bed and clean, light room. Slept so well! Would totally recommend them as hosts! Thanks so much both of you.
Grace
2017-03-12T00:00:00Z
I communicated with Benjamin straight away. Both him and Trini were awesome.
Mercedes
2016-12-02T00:00:00Z
Benjamin was a great host, very friendly and helpful! The room was as described and the house was clean and tidy. Benjamin responded very quickly when I had questions about check in.
Thomas
2016-09-16T00:00:00Z
Oda Tipi
Özel oda
---
Mekan Türü
Ev
---
Konaklayacak Kişi Sayısı
1
---
Yatak odaları
Welwyn Garden City, Birleşik Krallık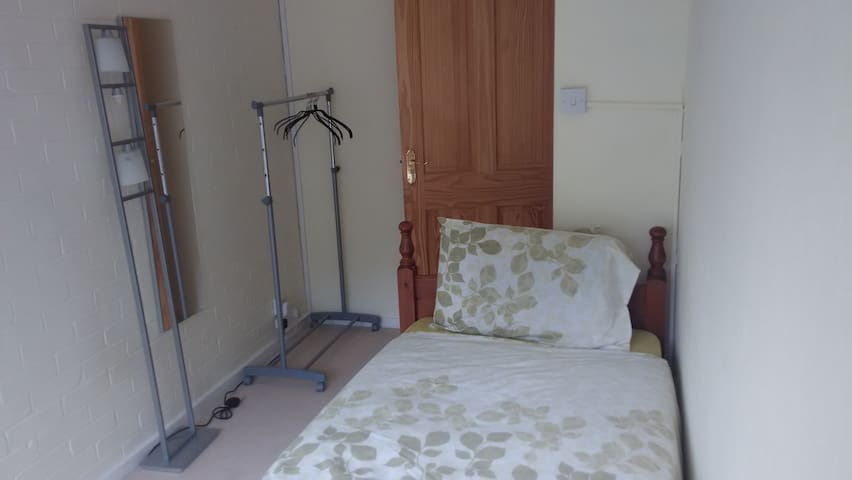 King bedroom in our weekend family home. Great location near shops and station (direct to KingsX). Well-equipped and spacious, usually empty Mon-Thurs nights, so access to the whole house, parking, garden. Additional bedrooms may be available (extra cost). Not available weekends. Will negotiate reduced rates for long lets.
This is a family home with 4 bedrooms, which is only used at weekends. It is well-equipped with all the usual appliances and gadgets, wifi and Freesat TV. There are 3 off-road parking spaces and a sunny rear garden that gives onto a park. One king room to let. Also: Living/dining room with doors to garden Kitchen Utility room with laundry facilities Bathroom with WC, basin, bath and shower over Additional bedrooms may be made available at additional cost. Downstairs WC It is in the quiet residential area of Panshanger, which is well- served with supermarkets, and only approx 10 min drive from the centre of Welwyn Garden City, with excellent shopping and regular direct trains to London (Kings X).
Convenient for all amenities and London access Quiet Direct park access
I stayed at Catherine's weekend family home throughout the working week and it has been just perfect. The location is ideal if you are working in Shire Park as it is only a short walk away. The house is very cosy, comfortable and warm. It was very well prepared for my arrival and very tidy, with fresh bed linen, towels and plenty of wardrobe space. The king size bed was very comfortable, with a view to the garden and plenty of morning sunshine. The shower is great and the kitchen very well equipped. I had my own fridge and cupboard. The house felt very homely and relaxing. Catherine is a wonderful host, she was very friendly, approachable, accomodating and ensured I had a nice stay.
Vejuna
2016-03-18T00:00:00Z
Clean and cozy house in a quiet and peaceful neighbourhood. Good sized bedroom with open views to the park behind and ample parking space. Catherine is a most wonderful hostess and made sure everything was perfect for a comfortable stay. I have stayed at hers a few times and would definitely recommend her place.
Viplove
2016-12-09T00:00:00Z
Oda Tipi
Özel oda
---
Mekan Türü
Ev
---
Konaklayacak Kişi Sayısı
2
---
Yatak odaları
Welwyn Garden City, Hertfordshire, Birleşik Krallık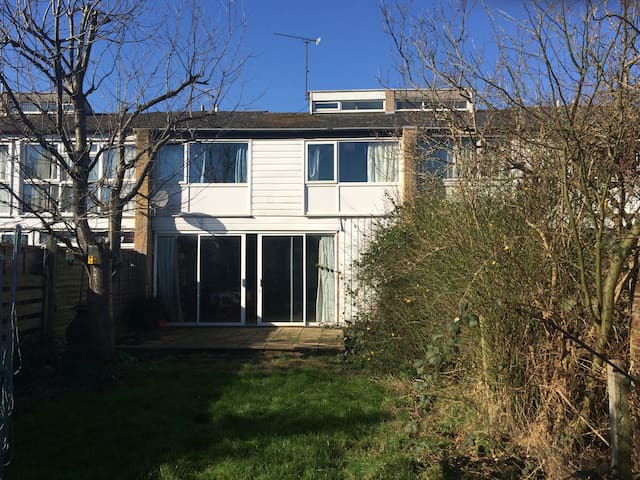 Spacious double room in a family home. Near local amenities and transport links.
I received a warm welcome and was offered a beverage immediately on arrival and assisted with taking personal belongings to a spacious room. Everything was spick and span with a bundle of fluffy towels and an invitation to take a shower whenever I wished. My host gave me a quick guide to the area, which comprised neighbourhood shops, a local pub and a woodland area nearby. There was also a good shopping centre reasonably close. I can recommend Lyndsey as being warm and approachable. Her home is in a pleasant, residential area - a home from home.
Catherine
2015-04-15T00:00:00Z
Oda Tipi
Özel oda
---
Mekan Türü
Ev
---
Konaklayacak Kişi Sayısı
2
---
Yatak odaları
Welwyn Garden City, Birleşik Krallık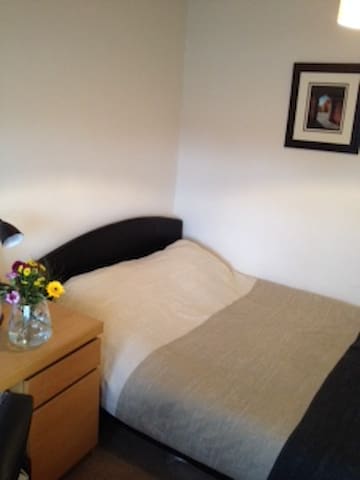 **This place will be ready by 23th January and will be to a luxury standard. If you want to see the standard of our listings then please go to my page and see our property in Stevenage** **20% off for my first 10 guests** My place is close to Shire Park, public transport. You'll love my place because of Luxury apartment and very close to business, the comfy bed. My place is good for couples, solo adventurers, business travellers, and big groups.
Unwind on our L shaped corner sofa and entertain yourself with a Smart flat screen TV. If you have a group of more than 2, the sofa also converts into a handy double bed with bedding stored within. The large open plan living room also allows you to take a seat around our Art Deco table and chairs, perfect for catching up with work or having some quiet time to have a meal with travel companions or family. The kitchen is fully equipped with gas hob and electric oven, microwave, fridge with ice box, a kettle and toaster, cutlery, china and glassware and utensils. We also provide some of the essentials such as tea bags, coffee and sugar. Any last minute laundry needs are also catered for with a washing machine and you can find a clothes horse, iron and ironing board in the living space too. Take a soak in the bathroom suite which has the option of a rain shower, we'll even supply the towels for you and your guests in your rooms. The double bedroom gives you everything you need for a good night's rest with a comfy double bed and bed linen provided, bedside cabinets and clothes rails with hangers. We know that remembering to bring everything doesn't always go to plan so we also provide; a universal travel adaptor and a hairdryer. We hope that there aren't any unfortunate accidents but for your safe of mind there is a first aid kit and fire blanket situated under the kitchen sink. There are also smoke alarms fitted in the property
Oda Tipi
Tüm ev/daire
---
Mekan Türü
Daire
---
Konaklayacak Kişi Sayısı
4
---
Yatak odaları
Welwyn Garden City, İngiltere, Birleşik Krallık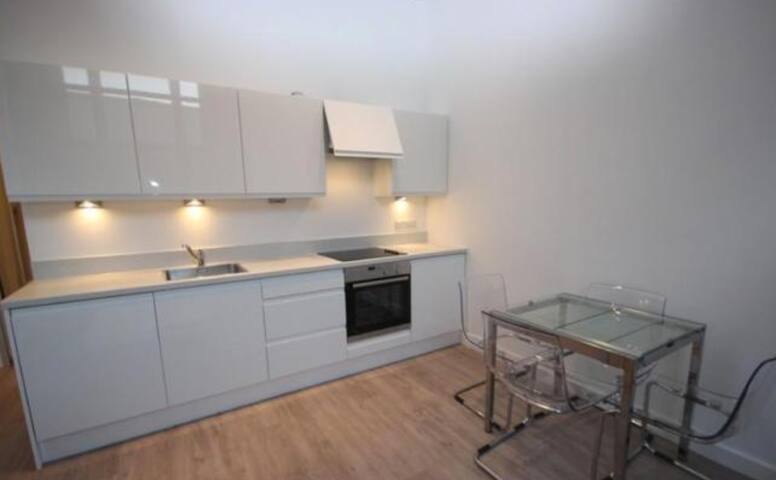 I have a cosy room to rent available immediately in great location near old town in Stevenage. The house is located in quiet cul de sac close, 10 min walk to old town and 15 min walk to the station. The fast trains get you to London Kings Cross in 20 min. There is small cat in the house, but you wont see him as he will be locked away. Facilities include: Bathroom and toilet Parking Wi-Fi Futton bed Towels and bedding
viktorija place is great, clean and quiet there is no any disturbance, her WC is so clean and room is good for one person will prefer anyone to stay
Adil
2017-03-31T00:00:00Z
Oda Tipi
Özel oda
---
Mekan Türü
Ev
---
Konaklayacak Kişi Sayısı
1
---
Yatak odaları
Stevenage, İngiltere, Birleşik Krallık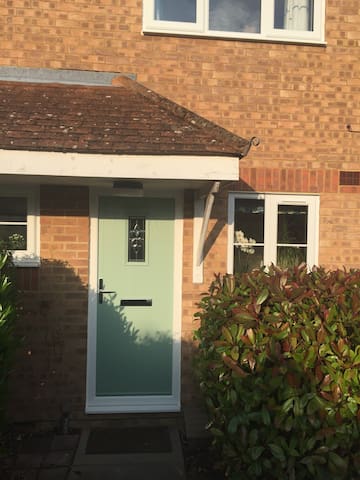 Our place is in a residential area, close to the train station (3 min by walk). The A1 motorway going to London is 5 min by car, so it is really convenient if you want a day out in London but without all the noise. The high street is also 6-7 min away, if you fancy a drink or you want to eat in town. Stevenage is conveniently located from the airports (both Stansted and Luton). Our place is good for couples, solo adventurers, business travellers, and families (with kids).
Cosy nice two bed apartment with a great living room.
The area is a quiet residential area with some green space.
Definitely recommend staying with Robert and Melinda - they are a lovely, accommodating couple.
Lauren
2017-01-31T00:00:00Z
I can only recommend staying at this place. It is a nice place and they are lovely people. We had some good chats!
Svenja
2017-02-15T00:00:00Z
A very convenient location for train station,5 mins walk, bus network, and main roads/motorway. Very welcoming hosts, Robert and Melinda went out of their way to make our stay comfortable. Double bed, own bathroom and full use of their kitchen.
Roger
2017-03-16T00:00:00Z
It was my first experience with airbnb and it went really well. I have been welcomed as an old friend, Róbert is a great host and he like to chat and listen for others. My room was good, clean and with a desk. I also had a private bathroom which was not clear to me when I book (so I suggest to make it more visible in the description). Róbert was offering coffe and tea and biscuits which I think is an extra. He has a nespresso machine so this was good quality coffe. I got fast internet connection, hot water and I was also offered to have my own key. Overall great personal experience. Thanks again for all the kindness
Matteo
2017-01-26T00:00:00Z
We had a pleasant stay. Robert and Melinda are awesome people and amazing traveller. Their house it's clean and quiet. I would totally recommend staying with them. Thank you guys.
Lucia
2017-01-18T00:00:00Z
I enjoyed staying at Robert & M's place a lot. They are very nice & hospitable. Accommodation itself is also lovely with all the amenities that a person needs (private bathroom & large kitchen). I would recommend staying at their place to anyone.
Jan
2016-10-27T00:00:00Z
Great friendly couple, easy stay
Barry
2017-03-31T00:00:00Z
I've stayed here a couple of times now. Always be a great easy stay with a friendly couple. Would be happy to return and would recommend to anyone
Barry
2016-08-12T00:00:00Z
Oda Tipi
Özel oda
---
Mekan Türü
Daire
---
Konaklayacak Kişi Sayısı
2
---
Yatak odaları
Stevenage, Birleşik Krallık
Comfortable flat with a Separate Lounge, Dbl bedroom, Bath, Fully fitted Kitchen, Parking etc for Guests including Businessmen and Conference delegates. Knebworth House and Gardens are nearby for Days out,and Events. Quick Access to A1 Motorway for London and Cambridge. Buses to Luton, Stansted and Heathrow Airports nearby. London easily accessible by Express train. Live like a local. Eat a healthy meal. All our Cooking Utensils and Cutlery are Brand new and our Mattress comfortable.
Quiet, Comfortable and Spacious, Centrally heated and warm, Self-Contained flat, 4 minutes walk from Knebworth Train Station and Town centre. Knebworth is very close to Stevenage and joins with Stevenage in some parts. The Stevenage Leisure Park and the Roaring Meg Retail and Leisure Park are both in close proximity, and offer a large selection of well loved restaurants, a bowling alley and Cinema complex. The North Hertfordshire College and Campus, a TESCO Extra and an Asda Superstore in Stevenage are not far by bus or on foot. There is a large selection of welcoming Pubs, Restuarants and boutique shops in the charming Stevenage Old Town, an abundance of local green space locally and Stevenage boasts over 40km of cycle ways. The flat Includes a Large Separate Lounge for your relaxation. Separate bedroom, Separate Kitchen and a Separate Bathroom all accessible for the price of a room. A furnished lounge with Virgin Media's Cable TV with Virgin's Maximum 250 TV Channels including Sky & BT Sports, Movies and Documentaries etc., Virgin media's latest Fibre Optic Broadband with speeds up to 200 Mbps, a Work Station and ample space for Relaxation & Exercise. A Large Double Bedroom with a comfortable large Double bed. A Clean & Separate Bath, with attached Shower and a well equipped Separate Kitchen, all at an affordable rate and within commuting distance of London, Cambridge, Luton, Stanstead, Heathrow and London City Airports. Suitable for Private Hospital clients looking for a discrete place to stay whilst attending their Hospital appointments in Stevenage, Hitchin and the Surroundings, or for Guests who just want a place to stay or a getaway. Sleeping and relaxing space. The emphasis is on promoting sleep and relaxation in a welcoming space. Bed made with high quality Egyptian cotton. Extra Linen & Pillows provided. The entire flat is cleaned by a paid cleaner after each Guest departs and on a regular basis. Clean and fresh Linen, Towels and Toiletries are provided. Complementary Tea and Coffee supplied on arrival. Wi Fi: Virgin Media's VIVID 100 Fibre optic Broadband – up to 200 Mbps I.e. Virgins next generation Optical fibre. Perfect for lots of people streaming and browsing, all at the same time. On average 10x faster than regular broadband~
Knebworth is a Quintessentially English Village sharing a boundary with Stevenage, Welwyn & Codicote. It is surrounded by Parks, Woodland and Greenery for your amusement and leisure Knebworth hosts the Sonisphere UK and Europe's widely acclaimed Music Festival Seasonally. Sonisphere returns in 2016 after a gap year. You will be staying in a Comfortable and Clean Flat with a Furnished Lounge designed for your relaxation and entertainment, a large double Room with a separate Kitchen and bathroom in a very quiet neighbourhood close to Parks and Woodland. For Groceries there's a Cooperative Supermarket in the town centre within walking distance from the house and train station. For eating out there are several Continental restaurants in the Town Centre including Indian, Chinese Takeaways and English Fish and Chips Shops.
Ebs home is in a nice secluded peaceful area. Bed is really comfortable, nice big living area for myself with good internet. Had everything needed to have a pleasant stay in Stevenage. Highly recommend.
Leon
2016-09-02T00:00:00Z
So lovely and a perfect little space!
Eleanor
2016-08-13T00:00:00Z
Emmanuel was a nice host, flexible with arrival time and easy to reach when needed. The flat was perfect. Cosy, clean, exactly as seen on the pics with all the basics needed for a good stay, including cooking a decent meal. The neighbourhood was nice as well, quiet with kind people. There were enough shops / restaurants nearby and a Tesco superstore at around 8 mins drive. I'd recommend this place!
Matthijs
2016-05-07T00:00:00Z
Clean and pleasent flat in a quiet suburban area, an hours drive from central London. There are some shops a short drive away. Emmanuel was flexible with my arrival time and is a friendly and welcoming host.
Tom
2016-04-13T00:00:00Z
Had a very pleasant stay at Emmanuel's flat in Knebworth. The flat was spacious, warm, and comfortable with great WiFi! There was adequate parking and it is not too far to walk into the centre of Knebworth. Emmanuel was a good host and was easy to get in touch with. I would definitely stay again - thanks!
Helen
2016-03-05T00:00:00Z
Very convenient location for us, walking distance to local shops and station, Cosy flat and the flat was excellent value.
Phil
2016-10-30T00:00:00Z
Fantastic apartment. Comfortable, spacious, clean, well equipped, comfy bed. Close to station, quiet neighbourhood. Highly recommended
Chris
2016-08-20T00:00:00Z
The flat is spacious for two people. The kitchen is good for cooking yourself. The village is very nice. There is a few cafés and resturants, a supermarket, a good butcher and a train station within walking distance. It is a very quiet location, so it is a very nice base for a holiday. There is also a park right next to the building. Emmanuel was very helpfull and a very nice guy.
Vivian
2016-07-23T00:00:00Z
Oda Tipi
Tüm ev/daire
---
Mekan Türü
Daire
---
Konaklayacak Kişi Sayısı
2
---
Yatak odaları
Stevenage, Hertfordshire, Birleşik Krallık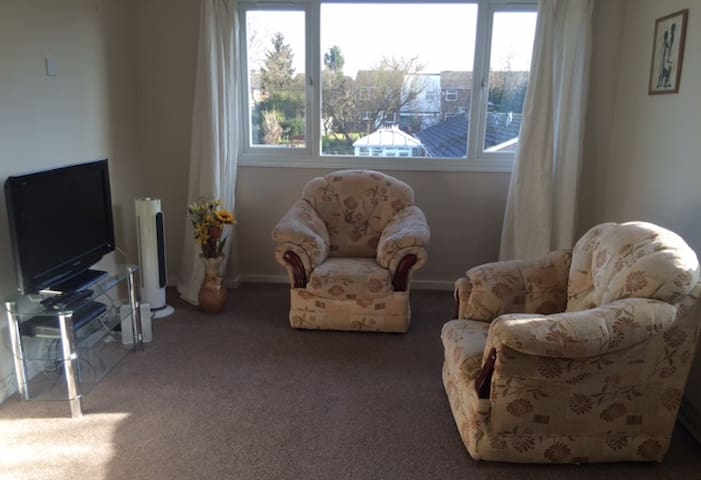 Very comfortable and totally private self contained studio, separate from the main house in a quiet road in Stevenage Old Town. Ideal for one or two persons. One mile from Stevenage station. (20 minutes to London Kings Cross) One mile to The Lister Hospital. Excellent links to Luton airport, (approx 13 miles away) 3 minutes walk to bus stop to Luton airport. Ideally situated for easy access to the A1 north and south My place is ideal for couples, solo adventurers, and business travellers.
Very private studio, there is everything one could need on a trip away. You will not be disturbed and can come and go as you wish. Tea and coffee etc provided as well as fridge and microwave. Also own shower and WC
quiet residential street mainly Victorian and Edwardian houses, just a stones throw from pubs, bars and restaurants.
What a gem! This basically a stand alone tiny house, completely updated and absolutely gorgeous. The pictures barely do it justice, it's miles away one of the best places we've ever stayed. It's private and in a quiet neighborhood, but close to the shops and restaurants, all in walking distance. We had a car and parking was available and extremely easy. Mary is a stellar host, she left us milk, coffee, tea, there was even a hairdryer and a flatiron! Highly recommend!!
Cristina
2016-11-29T00:00:00Z
This studio does exactly what is says on the tin. Perfect for me, for my short stay in Stevenage. Lovely area in the old town. The studio is a converted garage, attached to a Victorian semi-in a nice street. It has everything you need, very clean, all mod-cons(except a hob). Comfy double bed, fridge, microwave, toaster, etc. I would recommend it highly in this price bracket.
Stephen
2016-09-22T00:00:00Z
A great little studio in a quiet road. Perfect for a business traveller. Mary is a great host and the studio was clean and comfortable.
Tim
2016-10-26T00:00:00Z
Very helpful
Gareth
2016-10-17T00:00:00Z
Mary was very welcoming and her place was lovely & very spacious (much more so than it seems in the photos!). It was perfect for a business stay due to the great location and flexible entry. I would certainly recommend this studio to friends and would consider staying again if I was in the area.
Ed
2016-09-30T00:00:00Z
Cute little studio. Perfect if you are in Stevenage for a few days.
James
2017-02-17T00:00:00Z
A really handy and clean self contained unit. Thanks Mary.
Rachel
2017-02-10T00:00:00Z
Mary's place is a fun, private, unique and cosy little place to stay if you are visiting the area. It's very clean and we'll looked after, and a short walk from the train station. We'd stay again and recommend it.
Raquel
2017-01-08T00:00:00Z
Oda Tipi
Tüm ev/daire
---
Mekan Türü
Daire
---
Konaklayacak Kişi Sayısı
2
---
Yatak odaları
Stevenage, Birleşik Krallık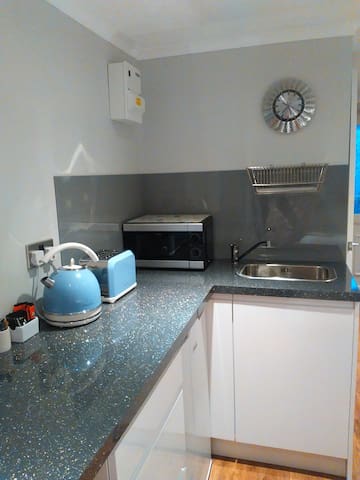 This beautiful 2 bedroom apartment is located in Stevenage in the heart of the New Town. Just a short stroll to the station (2 minutes), leisure park (4 minutes), and Old Town with some beautiful pubs and restaurants (5 minutes in a car/taxi). All the magic of Stevenage is literally on your doorstep. You will also benefit from an allocated parking space - this is in a gated car park within the apartment grounds, so is highly secure and so convenient.
This 2 bedroom apartment sleeps up to 6 people. It has one bedroom with a double bed, another bedroom with two single beds, and a double sofa bed in the lounge. It has a great fully equipped kitchen, and plenty of space for you to dine. There's two bathrooms - one with a bath and bath shower, and one ensuite to bedroom one which has a lovely shower. You will also benefit from an allocated parking space - this is in a gated car park within the apartment grounds, so is highly secure and so convenient. Additional parking is available for £7 just around the corner. The apartment is situated near many cafes, bars, restaurants, shops, supermarkets, boutiques and department stores.
Very clean spacious apartment. Great location, highly recommend.
Luke
2017-03-21T00:00:00Z
great host, very quick to respond to any questions and very helpful. will definitely rebook next time I'm in the area on business.
darren
2017-03-25T00:00:00Z
The place was spotless, spacious and had parking literally couldn't asks for more.
Oliver
2017-03-15T00:00:00Z
Very happy lovely place to stay and fantastic, helpful hosts
Kevin
2017-03-20T00:00:00Z
The apartment and the location were both great.
Adhiraaj
2017-03-12T00:00:00Z
Oda Tipi
Tüm ev/daire
---
Mekan Türü
Daire
---
Konaklayacak Kişi Sayısı
6
---
Yatak odaları
Stevenage, İngiltere, Birleşik Krallık
Double Room in family home 20 minutes by train to London. Quiet, parking, Continental breakfast, internet, kitchen utensils for cooking. laundry facilities. TV, modern bathroom with bath and shower, shared if both rooms occupied. Guests can use dining room if they have work to do. Shops nearby. Good bus service to town centre and leisure park.Stanstead and Luton airports nearby,Trains to Cambridge York and Scotland. Larger room also available at £38 per night.
Local shops 5 minutes. 2.5 miles from Town Centre, Railway station and Stevenage old town Good bus service..2 minutes from countryside and rural villages, traditional country pubs. Private residential area. Stanstead and Luton airport less than an hour away. Plenty of parking spaces.
A comfortable room in a quiet neighbourhood. Errol and his family were very welcoming and helpful. I would stay here again.
New
2016-06-10T00:00:00Z
Excellent hosts who made me very welcome in their home. Well equipped and spotless. Would highly recommend. Very much enjoyed listening to music together with Errol.
Michael
2016-08-18T00:00:00Z
The house is very beautiful and the rooms are very clean and comfortable. anyway, We have a good time, it is worth to stay.
yanfang
2016-06-26T00:00:00Z
This was a Large and very comfortable room in a modern, immaculately kept house. Very friendly and welcoming hosts.
Ruwan
2016-04-15T00:00:00Z
Errol was a fantastic host. It was a very late booking with a late arrival but he was very accommodating. The home was exceptionally clean, a beautiful home in a lovely quiet neighbourhood. The room was lovely with its own bathroom. I can't stress enough what a fantastic host Errol was and how comfortable the stay was. Again at breakfast time Errol couldn't do more to make us feel comfortable as though we were old friends.
Lynda
2016-05-20T00:00:00Z
Very comfortable, very clean and lovely home. I particularly love the shower and spacious bathroom. But the best part of my stay is getting to know Errol & Faith. Their warmth and kindness made my travel in the UK a fuller experience. It's a privilege to be welcomed in their home.
Marissa
2016-08-02T00:00:00Z
Erol was very welcoming and invited me into his beatiful home where I met his lovely family. Beautiful home, fabulous host, nothing was a problem, very clean, very tidy, just fabulous. Quiet area, close parking. Would love to go back when working in the area.
Justine
2016-06-08T00:00:00Z
I was really delighted with the room. It was very comfortable. Erroll and Faith were a delight to meet and very welcoming. I would have no hesitation in booking with them again. Thanks
Stuart
2017-01-13T00:00:00Z
Oda Tipi
Özel oda
---
Mekan Türü
Oda + Kahvaltı
---
Konaklayacak Kişi Sayısı
2
---
Yatak odaları
Stevenage, Birleşik Krallık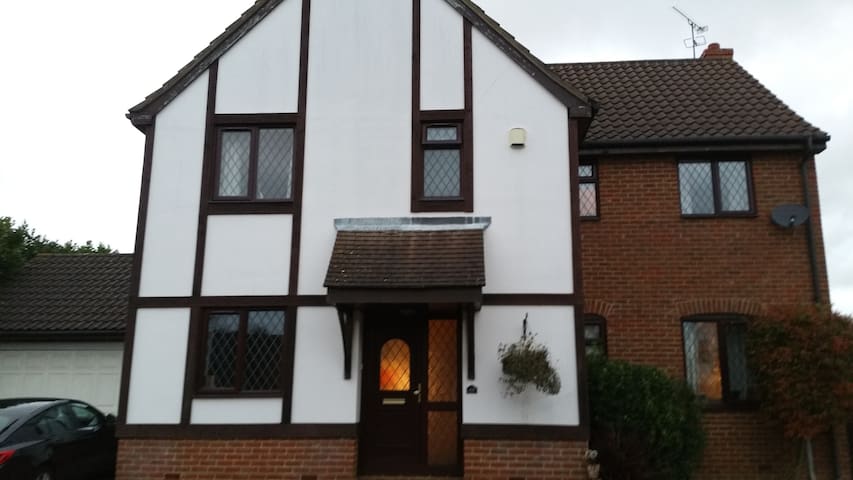 my home is bright and sunny ideal for a couple or single person, all nationalities are most welcome.you will have shared use of bathroom kitchen and living room and small garden.
Oda Tipi
Özel oda
---
Mekan Türü
Ev
---
Konaklayacak Kişi Sayısı
2
---
Yatak odaları
Stevenage, İngiltere, Birleşik Krallık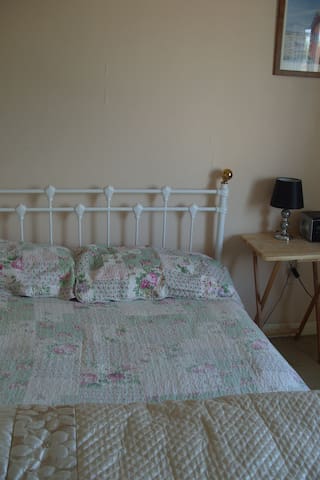 Everything we do, we believe will enhance your living experience. We believe you should have the comfort of your home wherever you go. The way we do this is by replicating a modern home in all our apartments - new, clean and fully furnished with everything you could possibly need. Come live with us!
> Living Room Equipped with a Smart TV so you can stream your favourite movies on Netflix, free high-speed Wifi and a sofa to kick back and relax. If you have a group of more than 2, the sofa also converts into a handy double bed with bedding stored within. > Kitchen: The kitchen is fully equipped with professional series Neff gas hob and electric oven, fridge with ice box, Russell Hobbs appliances such as a microwave, kettle and toaster. We also provide some of the essentials such as tea bags, coffee and sugar and all the cookware necessary to make a gourmet meal. Any last minute laundry needs are also catered for with a washing machine and dryer. > Bedroom The double bedroom gives you everything you need for a good night's rest with a comfy double bed and bed linen provided, bedside cabinets and clothes rails with hangers. You can find a hair dryer, iron and ironing board in the bedroom too. > Bathroom Take a soak in the bathroom suite which has the option of a rain shower, we'll even supply the towels for you and your guests in your rooms. > Building The apartment is located in the Stevenage town centre. The building has a secure code to access the premises and each apartment also has a outdoor video surveillance monitors installed for your safety.
You will be staying in the heart of Stevenage, which is situated within the New Town and is within a 2mins walking distance of Stevenage train station. Properties in this area are mostly apartments with various public parking spaces nearby.
This place was just awesome. Such a high quality apartment done to an amazing standard. Great location. Definitely coming back.
Chris
2017-01-11T00:00:00Z
Exactly like the pictures, it was a lovely modern apartment. It is definitely close to the station and right next to Tesco. Although we stayed 1 night it was a cosy stay.
Kellie
2017-02-15T00:00:00Z
It is really close to the train station so it may be a bit noisy when sleeping. But overall the apartment is extremely nice. Would definitely recommend.
Sandy
2017-02-19T00:00:00Z
Ahmed is a fantastic host. The place is immaculate and styled almost like a showroom. So anyone that always dreamt of living in one of the amazing interior design places, this one is for you! There was a bit of noise due to the trains and road being so close, so if like me you are sensitive to that bring ear plugs, but otherwise enjoy the place, it's fabulous.
Coralie
2017-02-24T00:00:00Z
Stayed whilst working locally. Perfect location, everything needed shops, trains and restaurants etc are within easy walking distance. The flat is really clean and well appointed and Ahmed is a great host who made sure that I was settled in. I'd definitely stay here again when in the area.
Ashley
2017-01-19T00:00:00Z
Great little apartment near to shops and transport. Highly recommended. Ahmed is a great host, we actually booked on the day we arrived and he made sure everything was organised and even checked up to see that all was well. Thanks so much.
Natalie
2017-03-19T00:00:00Z
This property was amazing, well presented and clean. I wanted to have a short break away from London and this fit the bill perfectly. I will definitely try to stay again when I'm in Stevenage.
Aaron
2017-02-05T00:00:00Z
The flat was clean, well presented and well equipped. The windows were not very good at keeping the sound out at night, but the overall experience was very pleasant. Thank you very much!!
Lewis
2017-02-04T00:00:00Z
Oda Tipi
Tüm ev/daire
---
Mekan Türü
Daire
---
Konaklayacak Kişi Sayısı
4
---
Yatak odaları
Stevenage, İngiltere, Birleşik Krallık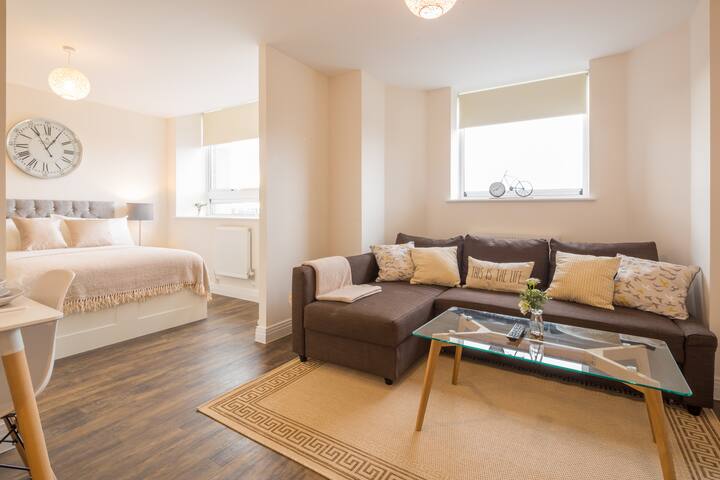 Welwyn Garden City - Airbnb
:
452

misafir değerlendirmesinden,

5

yıldız üzerinden ortalama

4.89

yıldız
Tam fiyatlandırmayı görmek için tarihleri görün. Ek ücretler uygulanır. Vergiler ilave edilir.