Please enjoy the spacious and comfortable master bedroom! The private room has a large walk-in closet, as well as a new queen Serta pillow top mattress. The house is comfortably furnished with access to wifi, cable, laundry and a large bathroom with a garden tub and shower. Enjoy access to the pool, hot tub, and gym. Located in the heart of Draper, this apartment is close to major attractions, public transportation, the mountains, and restaurants.
This unit is located on the third floor of a brand new apartment community. There are pets that live here. Both are very friendly and well-behaved. My cat, Inman and my dog, Bandit are loving and have their own space in my room. They can be kept in their space to provide you convenience. My home is non-discriminatory, LGBTQ friendly and open to all religions, races, ages, genders, and gender identities.
Residential and quiet in the heart of Draper, just 20 minutes from downtown Salt Lake City and the mountain range. A quick drive north will lead you to the Great Salt Lake and the surrounding state parks.
Oda Tipi
Özel oda
---
Mekan Türü
Daire
---
Konaklayacak Kişi Sayısı
2
---
Yatak odaları
Draper, Utah, ABD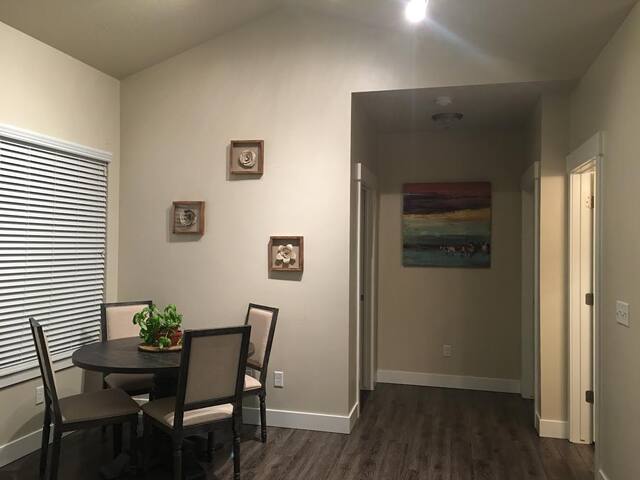 New Apt. 1600 sq. ft, close by seven Ski resorts, paragliding, hiking trails, few minutes to I-15. 2bedrooms with queen size resort quality beds plus sofa bed-queen size in family room, office area and laundry room. Leather sofas, big plasma TV, Netflix, Blue-Ray. WiFi. Private entrance, no sharing areas. Covered patio, great views of SLC, enjoy Sunrise-Sunsets. Read our reviews. Skiing, Paragliding 5min, Downtown SLC-Temple 20min, Park City 25min.
New construction, new furniture, appliances, complete cookware, linens, towels. Big bedrooms-queen size beds. Professional cleaning. NO sharing areas, all apartment 1600 sqft only used by guest(s).
Nice area. couple minutes to freeway I-15, gas stations, markets, malls-shopping centers, many restaurants. Walking distance to golf course, hiking trails. Paragliding and Ski resorts near distance. SLC downtown 20 minutes.
Magda's place was great for my family of 4. The place is located on top of a mountain and the views are spectacular at night. The place is neat and tidy with a huge bathroom and a kitchen to cook your meals. We enjoyed our stay and will do it again. Much better than any hotel in the area.
Emile
2016-05-22T00:00:00Z
We had a great time during our stay in Utah. It was wonderful having a nice place to come home to.
Eric
2016-11-23T00:00:00Z
Magda's place is extremely clean and well kept. The view from the porch is outstanding. It was very nice to have our own place to park and our own private entrance. She was great with communication and willing to provide us with everything we needed. The location is in a very nice neighborhood and it's not a bad commute up to the mountains. I would highly recommend staying here to anyone considering visiting Utah. Thanks again Magda!
Jared
2016-02-16T00:00:00Z
This is a special place, and I should know - I'm a consultant to the hotel industry! It's located on a beautiful, quiet street and the view is fantastic! Magda has made certain the apartment is stocked with all that is needed except for the guests and the groceries! She didn't skimp - all the appliances and the flat panel TV are A+, and she's highly responsive before, during and after the stay.
Kenneth
2016-06-20T00:00:00Z
The apartment and neighborhood were fantastic. It was quiet, amazing views off the backyard over looking the Salt Lake valley. The rooms were large and comfortable, as were the kitchen and living area. No bugs, the WiFi worked with no problems. It was very close to the highway access and shops. I went for a nice run on the mountain roads at sunrise. It was great for what I needed.
Edward
2016-06-16T00:00:00Z
The host canceled this reservation 16 days before arrival. This is an automated posting.
Heather
2015-12-03T00:00:00Z
The place was beautiful and exactly what we needed. The best part of this place is the spectacular view you get of the city at night. The space is spacious, clean, and in a very quiet neighborhood. I introduced myself to Magda upon my arrival and she was very welcoming and friendly and respected our privacy completely. Truly a 5-star experience and would absolutely stay here again.
Alexander
2016-03-01T00:00:00Z
Great stay! Had everything that I needed!
Shahjahan
2016-08-18T00:00:00Z
Oda Tipi
Tüm ev/daire
---
Mekan Türü
Daire
---
Konaklayacak Kişi Sayısı
6
---
Yatak odaları
Draper, Utah, ABD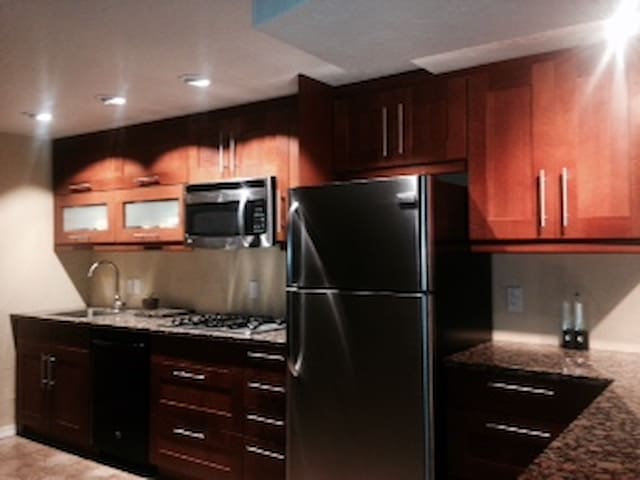 Be close to all the best Ski Resorts in Utah!!! Enjoy the benefits of a bright interior with windows that celebrate natural light, as well as a private balcony facing west that welcomes the outdoors to your space and let you enjoy amazing sunsets.
Spend the winter holidays close to all the best ski resorts in Utah! Our apartment features amenities that make your stay a true haven. Enjoy the benefits of a bright interior with windows that celebrate natural light, as well as a private balcony facing west that welcomes the outdoors to your space and let you enjoy amazing sunsets. Our apartments for rent in Draper, UT also offer the perks of community amenities such as a fitness studio, a theater room, a resort-style pool and spa, and a variety of sport courts to complement an active lifestyle. It is an amazing opportunity that you can't miss!!! Designer Accent Walls Technology Ready Central Air Car Charging Station In Home Washer & Dryer Add Convenience to Your Life Style Expansive Kitchen with Pantry Two-tone paint Spacious walk-in closets Quartz countertops Modern white cabinets Faux hardwood floors 9 ft ceilings Stainless steel/black appliances Stainless steel double sinks with sprayers Private Balcony Extends Your Living Space to the Fresh Outdoors Illuminating Windows Easy Online Rent Payments Easy access to freeway I-15
Perfect host , beautiful place, awesome location!
Miki
2016-01-08T00:00:00Z
Oda Tipi
Tüm ev/daire
---
Mekan Türü
Daire
---
Konaklayacak Kişi Sayısı
4
---
Yatak odaları
Draper, Utah, ABD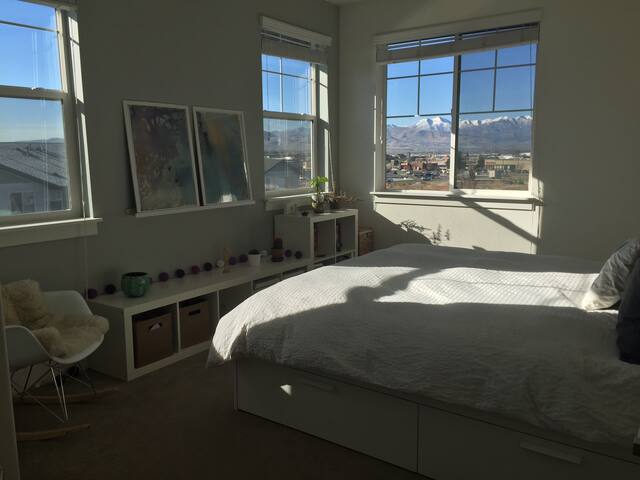 Located in the coveted neighborhood of Draper, this modern unit has a private entrance,brand new carpet, tons of natural light, entire kitchen set appliances and professional office space.
Great host and everything you might need is there for you.
Wyatt
2017-01-02T00:00:00Z
Very nice little place. In a quiet part of town. The pictures really don't do it justice
Aubrey
2016-12-16T00:00:00Z
Everything was great. This was the best airbnb I've stayed in so far. Brian provided us with all the necessities and even breakfast for the morning. Having a full kitchen was definitely a plus. We were also provided with a book of notes with recommendations as well as tips and tricks for the apartment. Value is great. I would definitely stay here again and would definitely recommend it as well.
Brittany
2017-01-17T00:00:00Z
The location was the main reason we come this place, and it more than met our expectations.
Vivian
2016-12-29T00:00:00Z
Clean and good size 1 bedroom place. It's a converted basement of a large house so you do have the normal noises of an upstairs neighbor. Brian and his family were very kind and quiet. They do have a small dog that barks occasionally. Nothing annoying or our of the ordinary, just something to be aware of. Also, they have a steep driveway, so, again, something to be aware of. It was a bit snowy and icy when I was there and Brian did a great job of having the driveway salted and safe.
Sean
2017-01-31T00:00:00Z
Our host Brian made us very wellcome, he even pick us up from the airport!
Vilija
2016-09-17T00:00:00Z
This was def one of my best Airbnb experiences. It had lots of the creature comforts of the hotel with none of the negatives. I don't like the high volume corporate feel of the hotels. This place starts with the accurate description and the clear pictures. Communication was smooth and prompt. The unit had everything we needed and more. Brian(the owner) actually lives right upstairs and was extremely friendly, responsive and available when needed for anything. This is a modern, comfortable, quiet and clean unit, with easy parking. Walking distance from a really fun park with a great view of the city. I definitely recommend it!
Allison
2016-08-18T00:00:00Z
Oda Tipi
Tüm ev/daire
---
Mekan Türü
Daire
---
Konaklayacak Kişi Sayısı
3
---
Yatak odaları
Draper, Utah, ABD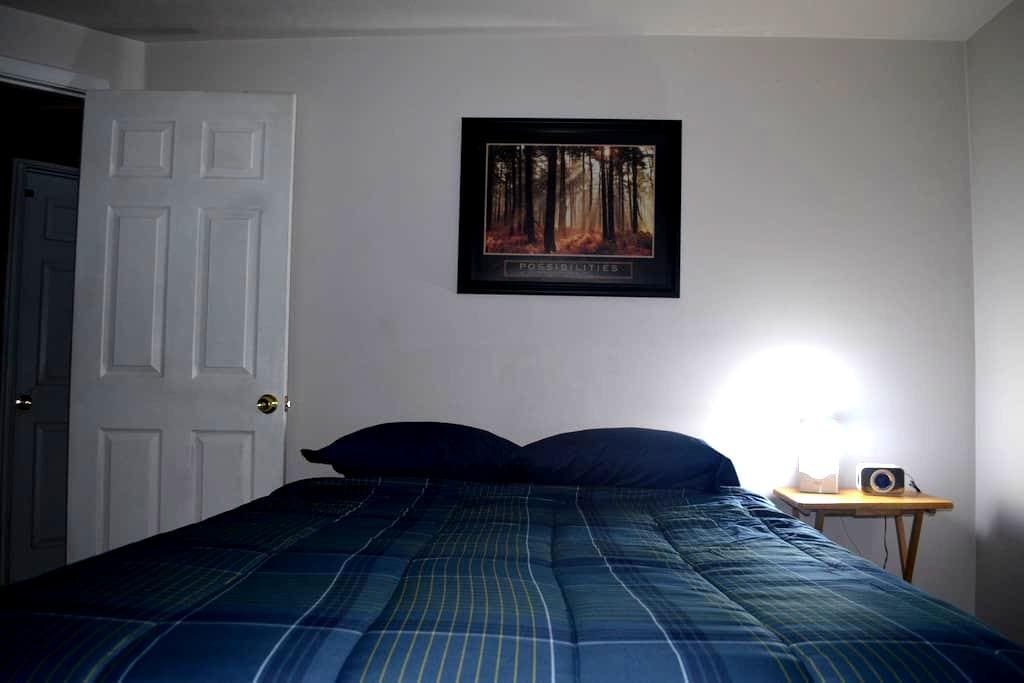 This is a new home, adding an amazing 2 level apartment. Full Kitchen, bathroom, Laundry and even a garage. Located just a minute from I-15, you can be anywhere you need to be in Salt Lake or Utah Counties in just minutes.
New mother in law apartment, part of a large beautiful custom home. Great year round location, with quick access to many ski resorts, world renown hang gliding located just minutes away. Be downtown SLC in just 20 min, located only 30 min from the SLC airport. 35 min to BYU. Host is living in connected home to the apartment to handle any issues during the stay The apartment space is completely private.
Access and location at key to this gem. You can get anywhere fast. Many great restaurants are just minutes away.
Perfect stay in Draper with an over the top host experience. The place was perfect and private with convenient access to everything in the Draper area. Paul and Emily were extremely welcoming and accommodating and were always available. I would recommend this AirBnB to anyone traveling to the area - we certainly look forward to staying here next time in Draper. Thanks so much, Emily and Paul.
Amanda
2016-09-21T00:00:00Z
We really enjoyed our stay. The apartment was clean and very accommodating. Loved the full size fridge, washer and dryer, complete kitchen with dishwasher and even spices for cooking. Loved the garage access too. Made our week stay very comfortable.
Tess
2015-09-12T00:00:00Z
early and easy contact. Location was well stocked with everything we needed except groceries of course. We would stay here again.
Michael
2016-04-10T00:00:00Z
This was a great experience for my husband, my son, and I. The home felt private and was beautiful and clean. The kitchen was gorgeous and had everything to accommodate a longer stay such as pots, pans, Kurigg and cups. Literally anything you need to prepare a meal. The washer and dryer were so convenient and it was nice to be able to wash our laundry before heading home. We had our own clean garage that fit our extra large truck. (We were surprised). The privacy that we hoped for was everything and more.
Angelina
2015-02-10T00:00:00Z
Staying at Emily's was great. Very friendly and accommodative. The apartment was excellent, very accurately described in the listing. Brand new, nice neighborhood, plenty of room and privacy, fully applianced kitchen (great if you want to cook), garage, and very clean and comfortable. Many good restaurants within minutes, very close to the ski areas, with quick access to I-15 - you can get almost anywhere in the Salt Lake Valley in under 30 minutes. Whether you want to stay in the area short or long term, this is a excellent option. Thank you Emily and Paul. I had a great winter staying at your place!
Tom
2016-03-31T00:00:00Z
Our stay was wonderful! Paul and his wife were great hosts! Paul was always prompt to respond and the check in process was easy. This place is gorgeously decorated, clean with brand new appliances and decor! It has all the amenities you need to feel like home. Great location, that's only a 5 minute drive from a large shopping center. Not to be missed, we'll definitely stay here again!
Shanea
2016-06-11T00:00:00Z
Loved the place! Very clean, located 10 minutes away from whereI was working. Couldn't have asked for a better accommodation for my trip. Hosts were very attentive and responsive. Will stay there anytime I go back to UT!
KAI
2015-07-14T00:00:00Z
Paul and Emily were great hosts. The apartment was exactly as described, very clean, warm and comfortable; beautifully furnished. The dishwasher is über quiet! Very nice neighborhood with great access to Bangerter Hwy and I-15. The garage and entry through the garage is a very nice added feature.
Robert
2014-11-20T00:00:00Z
Oda Tipi
Tüm ev/daire
---
Mekan Türü
Daire
---
Konaklayacak Kişi Sayısı
4
---
Yatak odaları
Draper, Utah, ABD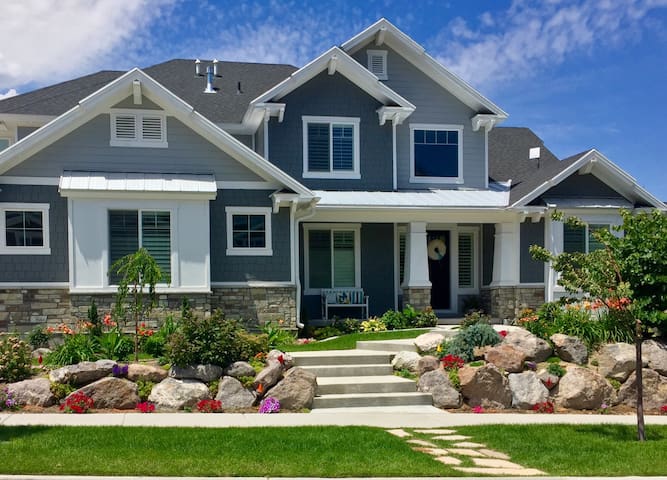 CUTEST VACATION STAY IN SANDY/DRAPER!! PRIVATE APARTMENT: your own entrance, space and parking spot. Separate from the main residence of the home. Full laundry in apartment. Located close to; restaurants, cinema and shopping. Public transportation (Trax and UTA) a 3 minute walk. Beautiful views with walking paths and ponds both summer and winter. 7 ski resorts within 15 miles (Snowbird) to 45 miles (Deer Valley). Neighborhood pool and sport court during summer months. Perfect cozy place to return to after a day exploring.
Location is amazing. The space is high on cozy charm.
Our neighborhood is located along a wetland and bird refuge. There are trails, ponds, fishing, and lots of wildlife watching. We are also within minutes to three grocery stores. Entertainment areas including; waterpark, bowling, and cinema.
One the most accommodating hosts I have ever stayed with. Deb and Annie are a great couple and I would strongly recommend staying with them to anyone looking to stay in the salt lake area .
Francois
2017-03-21T00:00:00Z
Oda Tipi
Tüm ev/daire
---
Mekan Türü
Daire
---
Konaklayacak Kişi Sayısı
6
---
Yatak odaları
Draper, Utah, ABD
Newly Remodeled Home in the heart of Draper, Utah. 9 bedroom home has room rentals and Airbnb. You will have access to the whole house that includes huge full kitchen and dining room - two family rooms - 4 bathrooms and more. Easy access to highway, shopping, ski resorts, lakes and many National parks. Our cute town offers hiking and biking trails all over. Close to the famous Point of The Mountain Paraglider Park. Come and enjoy Utah in our beautiful home.
You will have brand new beds, furniture, towels, blankets, sheets - everything you need to make your stay warm and cozy.
Quiet neighborhood, very quiet street with very low traffic. Plenty of parking.
Oda Tipi
Özel oda
---
Mekan Türü
Daire
---
Konaklayacak Kişi Sayısı
2
---
Yatak odaları
Draper, Utah, ABD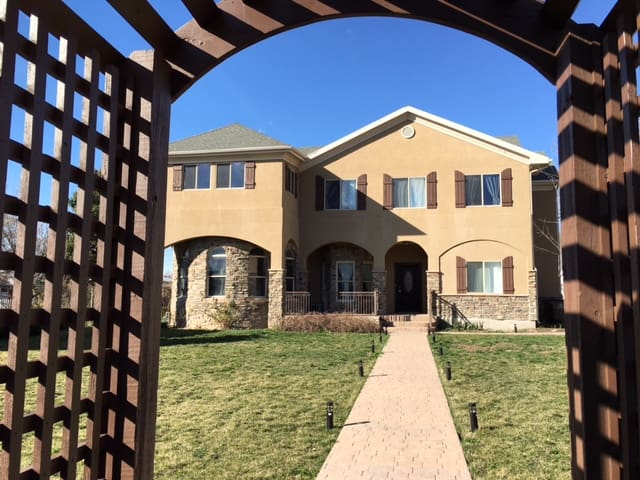 Located within close driving distance (30-60 minutes) to 8 ski resorts including Park City/Canyons, Solitude, Brighton, Alta and Snowbird. Just 30 minutes from the airport. 1700SF basement apartment with amazing backyard views, fire pit, and hot tub! Plenty of room to spread out. Great for couples, solo adventurers, and families with kids. Located in beautiful subdivision that is about 2,000 ft in elevation above Salt Lake. Amazing views and lots of snow!
1700 sf 2 bedroom, 1 bath basement apartment. 2 bedrooms have a king sized bed. We also have a king sized floor mattress and a queen sized air mattress that can be used. We live in a community that is 2000' above Salt Lake City elevation, making for great views and lots of snow! Please message for more information :)
breathtaking, peaceful, comfortable and roomy ! But most of all the communication offered by Jordan plus his availability made this stay feel more welcoming. I recommend this to a family, girls trip, or a couples vacation...the space just works for all! clean .(URL HIDDEN) kitchen.
claudia
2017-03-12T00:00:00Z
Oda Tipi
Tüm ev/daire
---
Mekan Türü
Daire
---
Konaklayacak Kişi Sayısı
6
---
Yatak odaları
Draper, Utah, ABD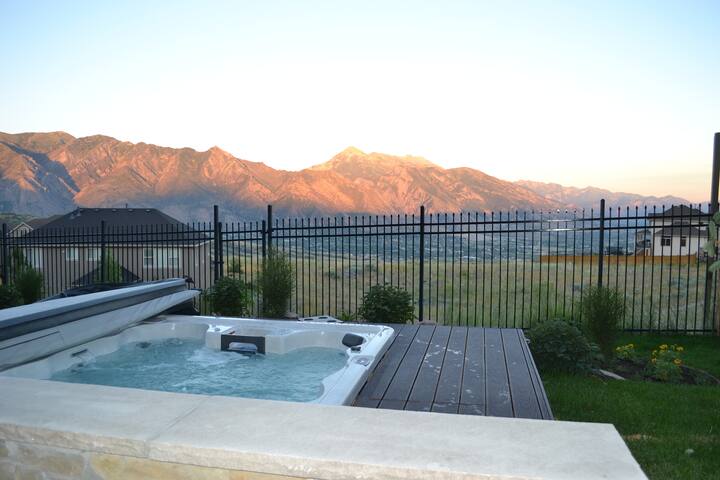 First floor 2 bedroom apartment with new furniture, private hot tub, fireplace, flat screen TV & full kitchen. Centrally located between Salt Lake City, Provo and 7 ski resorts. We love hosting families and kids love the fenced yard with fun toys!
2 Bedrooms with full bath, nice family room with new leather furniture, full kitchen, covered patio with hot tub and BBQ grill. Kids can play in the fenced backyard with swing set, trampoline, playhouse and zip line while parents relax by the pondless waterfall. Easy drive to 7 ski resorts.
Location and views of the mountains and valley! We can be almost anywhere in 30 minutes: The theater or symphony in Salt Lake City, BYU games in Provo, ski resorts like Alta, Snowbird, Brighton, Solitude and Park City.
Great place to stay. Laura described it perfectly. We had 3 people and we were very comfortable. We really appreciated to stocked fridge and coffee. We never had to shop. Very clean quite and comfortable space. The hot tub was also fantastic. I recommend staying here! Thank you
Andy
2017-02-01T00:00:00Z
Appartement spacieux et très propre . Proche des pistes de ski Calme
Karine
2017-02-19T00:00:00Z
You could not find a better place to stay. Laura is the perfect host should you decide to ring the doorbell. I have never met such a helpfull, kind person
Martijn
2015-01-24T00:00:00Z
Oda Tipi
Tüm ev/daire
---
Mekan Türü
Daire
---
Konaklayacak Kişi Sayısı
6
---
Yatak odaları
Draper, Utah, ABD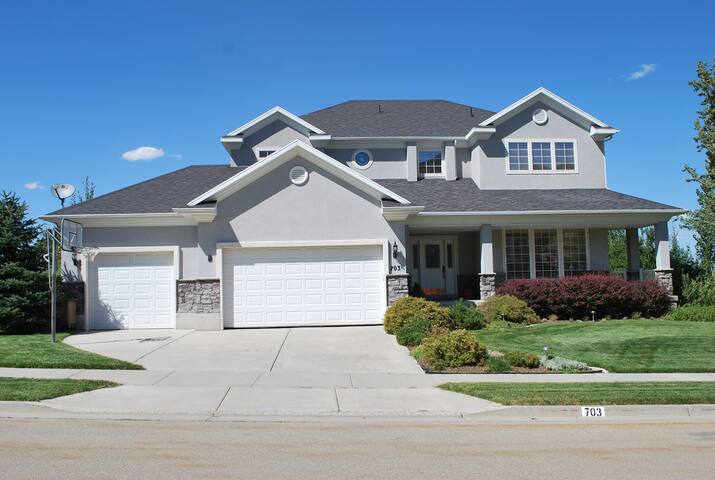 Modern full apartment sleeps 3. Full kitchen, shower, King size bed, double sofabed, Private entry, coffee maker, baby bed available. Close to ski resorts (Alta, Snowbird, Solitude, Brighton) close to Trail systems. upscale neighborhood.
Adam and Sarah's place was great! They were very easy to communicate with, the unit was impeccably clean and well-appointed, and it was a perfect launching off point for a couple days on the slopes at Alta. Our only issue was that the kitchen was quite small for any attempts at cooking however, we would definitely stay there again.
Max
2017-03-12T00:00:00Z
Great basement suite in a quiet neighbourhood with good access to the ski resorts. Netflix, cozy king bed and big bathroom with great shower. The kitchen is nice, but mini. Don't plan any big meals. The wifi leaves something to be desired... Would for sure stay again.
Ryland
2017-01-14T00:00:00Z
I really enjoyed my stay in Sarah's place. It was exactly as advertised, a quiet basement unit in a nice neighborhood. Sarah was super quick and friendly in responses. There was no hassle at all finding the place or getting the key. It was spotlessly clean with a comfortable bed and a small kitchen. I never really used the kitchen because I was there for business and mostly at dinner functions, but it has the necessities. I mostly enjoyed the quiet, dark, basement unit for watching a round of Netflix and sleeping early. One bonus was a 24 hour fitness 5 minutes away, perfect for early AM exercise. Sarah seems to really enjoy being a host but was not the least bit intrusive. I'll stay again next time I'm in SLC for work. -chris
Chris
2017-01-12T00:00:00Z
Great host! Everything I needed and more.
Michael
2017-01-25T00:00:00Z
Great place to stay to go skiing.
Dirk
2017-03-30T00:00:00Z
Great place to stay.
JT
2016-08-21T00:00:00Z
A well appointed and roomy basement apartment in a quiet suburban neighborhood with easy access to the canyons making it a perfect SLC ski get-away. Sarah and Adam were excellent and accommodating hosts.
Manny
2016-12-23T00:00:00Z
Great basement apartment in a quiet neighborhood close to the mountains. Place was very clean and nicely decorated. Communication was seamless and easy. Five stars all around!
Michael
2017-02-26T00:00:00Z
Oda Tipi
Tüm ev/daire
---
Mekan Türü
Daire
---
Konaklayacak Kişi Sayısı
3
---
Yatak odaları
Sandy, Utah, ABD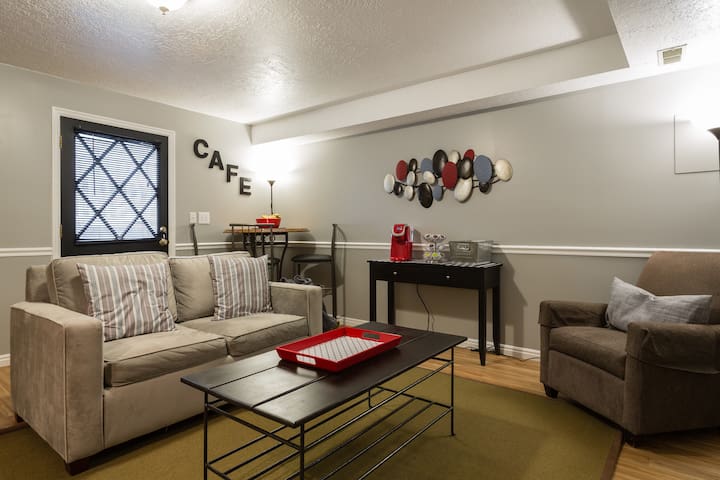 Conveniently located in a friendly, quiet neighborhood, and close to restaurants, stores, ski resorts, hiking and biking trails and downtown Salt Lake City. Great neighborhood to stay in!
Free WiFi and a work space at the counter, make this space ideal for business travelers. The futon can sleep 1 adult or 2 small children. The bedroom has a queen bed, en suite bathroom, and a big walk-in closet with slide-out storage space. Sleeping bags are available. We will wash your dishes daily. Outside smoking areas and an ashtray is available.
There are several restaurants, take-outs and grocery stores in the area. There are plenty of things to do - we are full of suggestions, just ask!
La casa realmente esta genial. Y Hettie es super agradable. Nosotros buscamos un alojamiento cerca a Snowbird y Alta para esquiar y esta a 15 minutos de estas estaciones. Por otra parte esta muy bien decorada y la atención es magnifica. Gente muy muy agradable. Repetiremos sin duda si volvemos a Utah.
Antonio
2017-03-20T00:00:00Z
Hettie was so welcoming! The apartment was everything I needed while I was in Salt Lake City. I would definitely stay again.
Ashley
2017-03-31T00:00:00Z
Our hosts were very friendly and accommodating. They were flexible and allowed for a late check in and late check out so we could shower after skiing. The room was very clean and spacious. Our hosts provided chocolates and even some toiletries- not to mention lots of suggestions for places to eat. Location was perfect for access to canyons. My best Air Bnb experience to date.
Michael
2017-01-16T00:00:00Z
Hettie, and her husband Hennie, were the best AirBnb hosts I have ever experienced. Hettie was very accommodating and allowed for a late check in. Both Hettie and Hennie welcomed us in and made us feel at home, inviting us to eat with them and recommending things to do in the area. If you are going to ski/snowboard, this is the best value for the location, located atthe base of Snowbird/Alta, the trip was easy and cost less than $15 via Uber to get up the mountain. If you want Nightlife in Salt Lake, you are only 20 minutes away; this was truly an awesome experience!
Chris
2017-03-17T00:00:00Z
This was my first stay at an AirBnB, and Hettie and Hennie were spectacular hosts. In addition to being extremely accommodating, they are very nice people and they take care of the living area well. It is an excellent location if you're skiing Alta/Snowbird, and they even supplied a boot and glove dryer for my use. The bed was comfortable, the bathroom was well stocked, and the closet was very spacious. This was a perfect place to stay for my first time, and sets a high standard for other AirBnB's to live up to. As a side note, persons above 6 feet should know that the shower head sits at about 5'7". It was not an issue for me, but it could be for taller people. I did not consider it a downside, but I thought it is a good idea to put it here for tall folk! Overall, this is an excellent choice for the majority of travelers and I would highly recommend.
Mitchell
2017-01-11T00:00:00Z
The place was perfect for an affordable ski weekend in SLC. Hettie was a fantastic host and the room was great. I look forward to staying here again in the future!
Dan
2017-02-12T00:00:00Z
Great place to stay. Clean, comfortable and Hettie was very kind and helpful.
Leslie
2017-02-20T00:00:00Z
Hettie's home was so welcoming and comfortable. Everything was very clean and the space was perfect. It's about a 20-30 min drive (depending on weather) to Snowbird and Alta, and a 40 min drive to Park City. When I come back I will most definitely stay here again!
Sarah
2017-01-21T00:00:00Z
Oda Tipi
Özel oda
---
Mekan Türü
Daire
---
Konaklayacak Kişi Sayısı
3
---
Yatak odaları
Sandy, Utah, ABD
I designed this space to be a modern, inviting and an effortless experience. There is unlimited hot water for the big bath tub, 100 Mbps Internet, 47" TV playing all your favorite movies & shows. Fully stocked kitchen and very large closet to store clothes and all other equipment needed for your trip.
The tankless water heater makes sure you never run out of hot water. The large deep bath tub (with shower) is the best in our house. A 100+ Mbps cable internet connection with 802.1AC WIFI makes sure you can stay connected. This space has more than enough room for two, but we can add a Queen air mattress in the living room to accommodate four, upon request.
A quiet, safe and clean neighborhood. I have lived here for almost a decade and get along with neighbors well.
Lacee and Travis were great hosts and made my extended stay in Salt Lake a great one. The apartment is just as advertised and even nicer once you get there. It is located close to grocery stores, restaurants, activities, etc. It is only a short drive to anything you're interested in. For skiers, being at the mouth of Little and Big Cottonwood Canyon gives you access to 4 resorts in about 20 minutes. Lacee and Travis were always willing to help me out or give me advice on and questions or help I needed. I had a fantastic 7 weeks there and can't wait to go back and stay with them again.
Mike
2014-12-22T00:00:00Z
Lacee is a great host and our 3 days there could not have been better. She kept us informed every step of the way, greeted us promptly upon our arrival, and even asked what kind of coffee we liked and had it waiting there for us! The one bedroom suite was very clean, warm and cozy, it was a perfect size for me and my girlfriend. It was our first time using AirBNB and will definitely use it again. If we ever visit salt lake again we will stay here and I would recommend her place to anyone. Thanks Lacee!!
Robert
2015-01-16T00:00:00Z
Absolutely beautiful and stunning place! Upon arrival the place was just as advertised and more... Beautiful view of the mountains right outside the door, complimented by a beautiful and extremely clan inside. Our stay was perfectly hosted by Lacee performing everyone of our wishes while also giving us the privacy of our own home. I enjoyed our stay so much I booked a second month! I would recommend this place and Lacee a hundred times over. thanks again! !
Zachary
2016-05-16T00:00:00Z
Lacee was an amazing host and made me feel at home during my 6 week stay with her. Her house is perfectly located near the city and the mountains. The apartment was clean and just the perfect size. Plus the closet is massive! If I ever come back to SLC I would love to stay with Lacee and her family again!!
Angeline
2016-10-28T00:00:00Z
Lacee was very helpful and quick to answer any questions we had. My husband and I came to Salt Lake City to go snowboarding. Lacee's place was only 20 mins from snowbird and about 45 mins from Park City. It was perfect for us because we wanted to check out different slopes. The kitchen is stocked with everything you need if you want to eat in, and the house is located close to a lot of different types of restaurants if you want to eat out. The fireplace is an awesome heater and it's cool because it heats the bedroom as well. The living room is comfortable and watching movies on Netflix during the evenings was nice. Overall, great location, awesome host, and spacious accommodations.
Michelle
2017-01-12T00:00:00Z
Great hosts and a fantastic space. Everything has been thought of, from a fully stocked kitchen to extra bed linens if your stay is more than a couple of nights.
Kodi
2015-04-28T00:00:00Z
Lacee's basement apartment was great! And she was fantastic at making sure we had everything we need.
Danielle
2015-12-21T00:00:00Z
This is a very nice place to stay if you want to ski and also do things in Salt Lake City. It's a perfect location for both. The apartment is comfortable and clean, just as described, and Lacee is helpful and friendly. We would definitely stay again.
Mairi
2017-03-01T00:00:00Z
Oda Tipi
Tüm ev/daire
---
Mekan Türü
Daire
---
Konaklayacak Kişi Sayısı
2
---
Yatak odaları
Sandy, Utah, ABD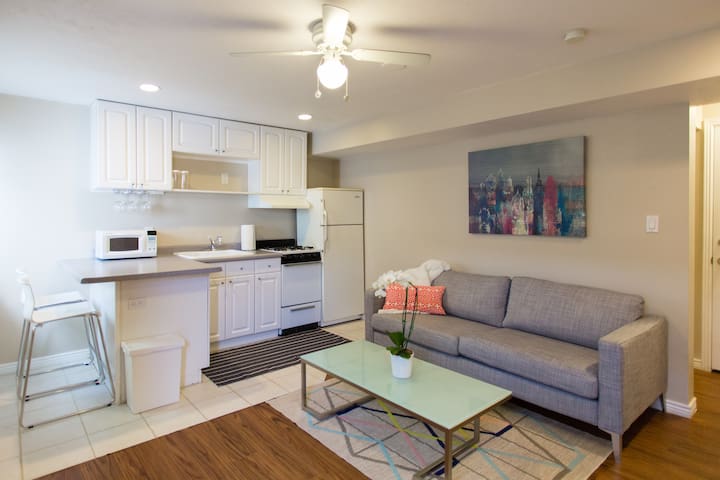 Stay on adventure's doorstep! Enjoy a private, clean, comfortable basement suite with separate entrance at the feet of the incredible Wasatch Mountains. 15 minutes to Snowbird & Alta ski resorts; minutes more to gorgeous Albion Basin. Big Cottonwood Canyon 8 minutes away; home to Brighton & Solitude ski resorts. Amazing hiking as close as 2 minutes away. 20 minutes to Downtown Salt Lake, 40 to Park City. Kitchenette, large TV w/ Roku (Netflix, Hulu & more), king bed.
Our 1 bed, 1 bath basement apartment has a kitchenette and living area with flat screen TV (Roku). We are a fully functioning family that lives upstairs and have two small children. We go to bed early and are usually up fairly early as well (7:30am). The rental space is completely separate, and while you may hear us you will not see us unless you need our assistance with something (or we're out in the yard). Please take advantage of the soothing sound machine in the bedroom to help avoid early morning wake-ups from the pitter-patter of little feet above. Enjoy a king size bed with comfortable bedding and a private bathroom with soft towels, shampoo, toiletries, etc. The living area has a comfy sectional and flat screen TV with Roku streaming (Netflix, Hulu, etc.). We have a full size fridge, a hot plate with two burners and a microwave that also does convection. Cookware is provided, as well as plenty of plates, cups and utensils. If there is anything more you need in the kitchen we would be happy to lend it from upstairs, as long as we have it and are home: rice cooker, crock pot, wok pan, etc.
From our well kept neighborhood you can enjoy breathtaking views of the canyons. There are two grocery stores just down the road and plenty of other stores and restaurants to choose from in the area. The South Towne mall is not far, as well as several movie theaters, the Real Salt Lake stadium, the Living Planet Aquarium, and Cowabunga Bay Waterpark.
This place was great. Very clean, comfortable, and in a great location right at the base of the mountains. The hosts were very thoughtful both in their communication and in their preparation of the space for guests. It is a basement apartment, so you can hear footsteps and activity above, so if you're very noise sensitive that could be an issue. Overall a great place to stay.
peter
2016-08-22T00:00:00Z
The perfect spot! 5 stars - my favorite Airbnb so far!
Allie
2016-09-28T00:00:00Z
This cozy house was the perfect getaway for my husband and I. It was so clean and well stocked, we had everything we needed and wanted. Haylee messaged me the day of our arrival and let us know we could come early to drop off our bags and also let us know that they weren't expecting anybody the day of our checkout so we got to sleep in and stay a little later. Upon arriving there was a diffuser running with excellent smelling essential oils which are always welcoming and comforting.
Kaitlin
2016-09-25T00:00:00Z
Absolutely fantastic experience - we have stayed in multiple AirBNBs and this rates at the top! The space is beautifully furnished and decorated. The bed is incredibly comfortable. The space is very quiet (overhead noise as promised, but Haylee and Jay so thoughtfully put a white noise machine in the bedroom so if you turn that on you'll not even notice it!), and we slept like rocks. The water pressure in the shower is fantastic and they really thought of every detail, like soap and shampoo/conditioner provided. The neighborhood is upscale and very safe. It is 10-15 minutes from the interstate, if that factors into your decision, but we didn't find it to be problematic. On the morning of our checkout, Haylee let us know that they didn't have anyone checking in that day so we could stay as late as we wanted - very thoughtful and considerate! Overall, a phenomenal stay and we wouldn't hesitate to stay again or recommend to others.
Sarah
2016-09-18T00:00:00Z
Haylee and Jay's place was just what we needed as a restful place to stay when passing through Salt Lake City. It was very clean and had all the necessities for a good night's rest. The neighborhood was safe, beautiful, and pretty much backed up to the mountains - it was close enough that we were able to go running from the apartment to some waterfalls up a nearby canyon (Bell Canyon Waterfalls). I would definitely look at staying here again the next time I'm passing through the area.
Chris
2016-09-10T00:00:00Z
Such an awesome place! Beautiful area, safe and quiet neighborhood! Our hosts were kind and allowed us to come and go,as we pleased. Base camp was cozy and charming loved every minute. We would definitely stay here again in the future!
Nicky
2016-09-12T00:00:00Z
This was my first stay at an Airbnb, and it was an amazing first impression! Clean, spacious, and great value for the space. Highly recommend for anyone coming through this area!
Noah
2016-11-16T00:00:00Z
We enjoyed our stay at Base Camp. They answered promptly our last minute reservations and were extremely accommodating. The place was clean and well decorated, very inviting. The neighborhood was quiet and established. The kitchenette had a large fridge/freezer. We didn't have a key to lock the door to our entrance, the owner said he was going to get one. It wasn't a big deal (very private entrance inside of their gate), but if it's important to you I would ask before you book. Overall we would highly recommend.
Alyse
2016-08-27T00:00:00Z
Oda Tipi
Tüm ev/daire
---
Mekan Türü
Daire
---
Konaklayacak Kişi Sayısı
2
---
Yatak odaları
Sandy, Utah, ABD
This simple basement apartment offers a nice space with 2 new queen beds and a queen size airbed if needed, private kitchen, common space and bathroom. Keyless entry offers check in at any time. We're only a 20 minute drive to 2 beautiful canyons. This space is in a quiet family neighborhood in a cul-de-sac so traffic is minimal. Public transport is down the road a bit but Uber/Lyft is a great option for getting around. Parking is on the driveway, off the street.
Located in a cul-de-sac, this home is in a quiet area. This is not a shared space. You have your own entrance, bathroom and bedrooms. And since it's got keyless entry you can check in at any hour. The entrance is around back and going around either side of the house works great.
This is a family neighborhood, so it's quiet. The streets are slow and there's a lot of kids around.
Beau bon pas chers!
Caroline
2017-02-25T00:00:00Z
Matthew's place was a real bargain! Great location, nice neighborhood. Absolutely loved being able to do laundry at any time, and the flexible check in was so convenient! The beds were clean and comfy, and the carpet had been shampooed. The only suggestion I would recommend is to have some cleaning supplies on hand to tackle any issues (the refrigerator and microwave had some minor issues). We were pleased overall with our stay and would stay here again.
Lorraine
2017-03-13T00:00:00Z
I loved staying here and Matthew was great. The apartment was very clean and spacious. I would definitely recommend it.
Angela
2016-08-05T00:00:00Z
Matthew provided me all the information I needed to communicate with him and to find the house. He works hard to be a good host, and provides everything one needs: kitchen items, soap, towels, washer/dryer with laundry soap & bleach, even shampoo & conditioner in the bathroom. He provided a flat screen TV with access to Netflix, and WiFi throughout the house. He checked with me to ensure we had everything we needed. I can't ask for more from a host.
Mark
2016-09-14T00:00:00Z
This is a nice two-bedroom with very comfortable living room. Basement apartment, but was very quiet. Safe-feeling neighborhood with easy access to highway and close to shopping and restaurants. We would definitely stay again. Good wifi. Did not see (or hear) Matthew very much, but he was extremely nice and helpful when we needed something.
Roxanna
2016-11-28T00:00:00Z
Matthew's house was perfect. Beautiful views of mountain ranges surround his house and is only 20 minutes from downtown Salt Lake City. He was very responsive to any questions and provided clear instructions on how to get in. The house was exactly as described and he had labeled everything and provided supplies for everything (towels, laundry detergent, Netflix account). Definitely recommend!
Garett
2017-02-28T00:00:00Z
Matt was a great host and responded to all questions quickly. He let us check in early after a late drive which we were extremely grateful for. The place was in a great location with lots of dinning around. For being a basement apartment we were a little worried that it may be cold but there were plenty of warm blankets and the basement was heated. We were never cold :) We were so happy with our stay and would definitely stay again!
Lizette
2016-12-28T00:00:00Z
The location was great, a bit out of the way for where we were supposed to be going, but great nonetheless. Unfortunately we had to cut our trip short but matt was understanding and exceptionally accommodating. Would absolutely recommend matt as a host to anyone
Nicholas
2017-01-01T00:00:00Z
Oda Tipi
Tüm ev/daire
---
Mekan Türü
Daire
---
Konaklayacak Kişi Sayısı
6
---
Yatak odaları
Sandy, Utah, ABD
Beautiful retreat with valley and mountain views. A single-level entry, basement apartment, with separate entrance and driveway. Features 4 areas; front room, full kitchen, bedroom and separate guest laundry room. Close to parks, ski resorts (Alta, Brighton, Solitude and Snowbird, less than 30 minutes) and public transport. You'll love the natural light, the neighborhood and the peaceful atmosphere. Great for couples, solo adventurers, business travelers, and families.
Just 10 minutes from the major freeway, our place is amazingly serene and quiet, tucked away in a private neighborhood. It is common to look out the living room window and watch a deer pass by in the trees below. Experience Jon Johnson original Art work pieces, throughout the space.
5 minutes from local Trail head hiking (Rocky Mouth) access along Wasatch Boulevard. Within 10 minutes from Little Cottonwood and Big Cottonwood Canyons.
The apartment was great for what we needed - our family of 5 was comfortable there and it is about 20 min drive from skiing in one direction and downtown in the other. Julie was a great host and made sure we had everything we needed.
Aryeh
2016-12-31T00:00:00Z
Great host! Comfortable space with an outstanding view. Super friendly and accommodating. Thank you!
David
2016-10-02T00:00:00Z
This is an ideal place to stay if you're skiing Alta or Snowbird. The home has gorgeous views, there's plenty of space, and it's very quiet and peaceful. You're just a 25 min ride or so to Alta and Snowbird and the drive is a breeze. I do recommend renting a car though. The public transit + uber commuting is certainly doable, but not the most convenient. And Julie is a fabulous host! She's very responsive, keeps the place very clean and tidy, and it was even outfitted with small shampoo, soap, plenty of towels and pillows, and fruit, OJ, and coffee. We felt very welcome. Definitely recommend, and hope to be back.
Jake
2017-02-21T00:00:00Z
This property is as described, and the patio has a great view. Comfortable living room. Very convenient to skiing at Alta/Snowbird. Helpful, cheery, and available hosts.
John
2017-03-15T00:00:00Z
Julie was easy to communicate with and very responsive throughout our stay. The apartment was in mint condition and the kitchen had all the things we needed (i.e. coffee machine with coffee capsules). Julie even had for us fresh fruit and orange juice bottles! I would recommend this place to anyone looking to spend a few days in the SLC mountains.
Victor
2017-03-26T00:00:00Z
Julie was helpful from the beginning! She had suggestions ready for us several days before and water and coffee available upon arrival. The space and location was perfect for our weekend and I would 100% recommend this space if you're heading out to Utah. Fifth water hot springs is only an hour away and it was AMAZING. Perfectly in-between downtown and nature.
Keeley
2016-10-09T00:00:00Z
Julie contacted me and was very accommodating to leave the door open and the lights on as my check in time was very late in the day. It was very kind of her.
J. Blair
2016-10-22T00:00:00Z
Julie's place was wonderful, and her communication was just as good! It's clear that they have put care into their space and want their guests to feel comfortable. I appreciated that they put effort and focus into maintaining it! The beds were also very comfortable! Overall, a great experience!
Melissa
2017-03-12T00:00:00Z
Oda Tipi
Tüm ev/daire
---
Mekan Türü
Daire
---
Konaklayacak Kişi Sayısı
6
---
Yatak odaları
Sandy, Utah, ABD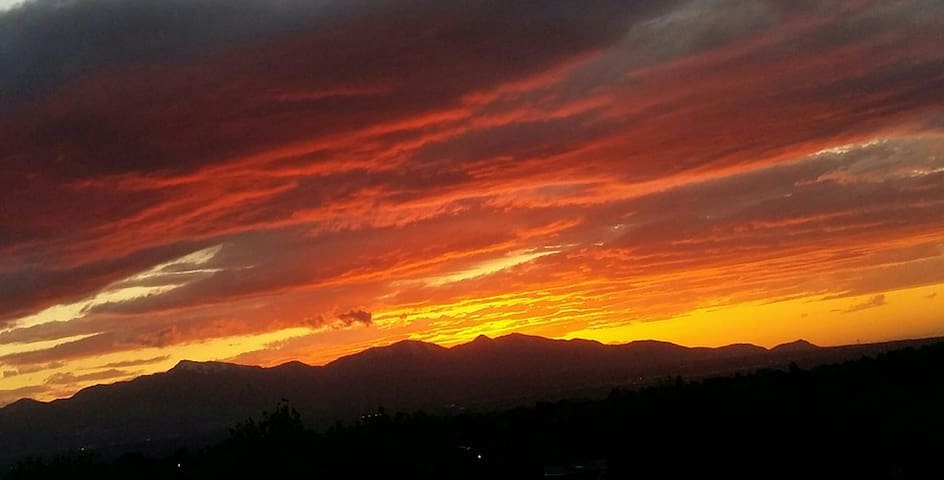 My place is close to great views, restaurants and dining, close to the mountains, skiing in winter, hiking in the summer, and close to shopping and amovie theater. RV parking is available, You'll love my place because of the location, the ambiance, and the views. My place is good for couples and solo adventurers. Room is located on lower level of split level home. Movie room is also available.
Oda Tipi
Özel oda
---
Mekan Türü
Daire
---
Konaklayacak Kişi Sayısı
2
---
Yatak odaları
Sandy, Utah, ABD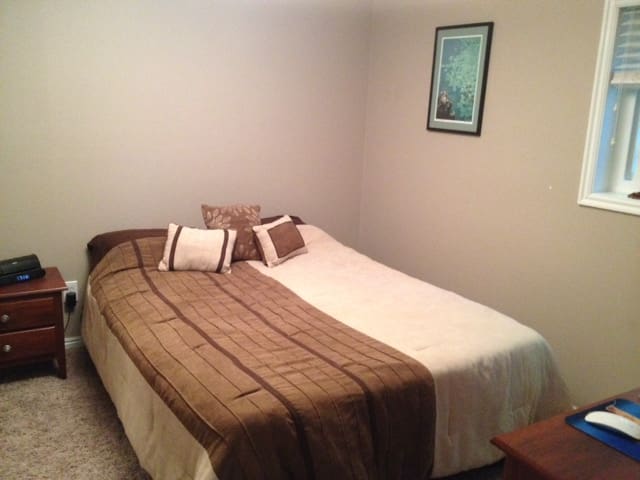 Room in our two bedroom apartment in a brand new apartment complex! On site laundry, pool/hot tub and fitness center. Guest WiFi available. Kitchen is shared but there is a ton of room. Private bathroom with shower/tub. Right by I-15 near ski resorts
Nice, clean and modern. Very friendly people with an awesome cat. Everything you could want and then some more on top of that... It doesn't get much better than this place!
Craig
2017-04-06T00:00:00Z
We were their first airbnb guests. Erik and Kate were really really friendly. The appartment (kitchen, our room, bathroom, living room) was so clean, everything was tidy. They also cooked for us some breakfast which was really nice. Erik showed us Park City before he went to work. We really appreciate that. They gave us some ideas what we can do in Salt Lake City. We could also use the laptop. We had some nice communication and great evenings. It was just perfect! We would definitely recommend them as airbnb host!
Adrian
2017-03-13T00:00:00Z
very Nice experience ,I like that I felt as home!
Su
2017-03-31T00:00:00Z
Erik's place was immaculate. When I first got there I was surprised at how nice it was for how much I was paying. I just moved out here and have been surfing a bunch of Airbnb's at a little bit higher price point and when I found this one so close to the canyon's I thought it'd be a good way to save money. This place turned out turned out to be the nicest place I've stayed at. Erik and Kate were both super friendly and helpful with sharing local insight to what was around. I'd recommend this Airbnb to anyone especially are looking to access little and big cottonwood canyons for skiing/snowboarding. It was an easy 20min drive for me to Snowbird. To top it off they have a hot tub in their complex which came in handy for me a few times after a day of riding.
Erik
2017-03-23T00:00:00Z
The host canceled this reservation the day before arrival. This is an automated posting.
Dennison
2017-03-22T00:00:00Z
Very nice and comfortable space with plenty of privacy. Very friendly cat and very good value.
Ronald
2017-04-05T00:00:00Z
Oda Tipi
Özel oda
---
Mekan Türü
Daire
---
Konaklayacak Kişi Sayısı
2
---
Yatak odaları
Sandy, Utah, ABD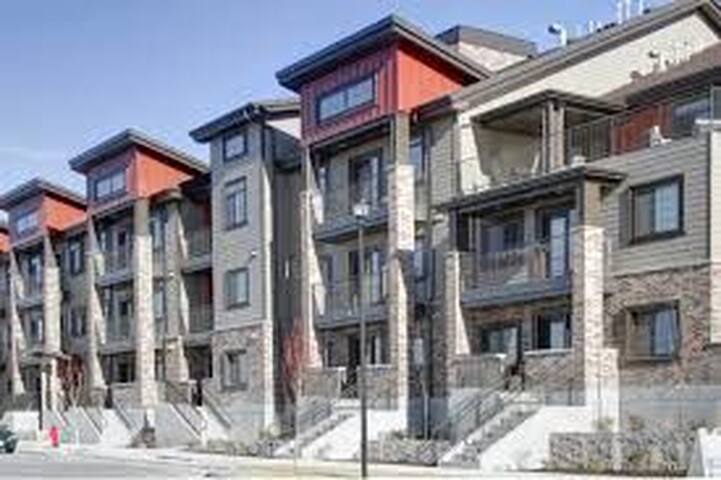 Everything you'll need for a family-friendly winter vacation, 3 spacious bedrooms, one with a fireplace, 3 comfortable queen beds and a foldout couch, theater with comfy seating, 11' screen, surround-sound, DVD's, cable with expanded sports channels, fully equipped kitchen, Keurig coffee maker, K-Pods, sugar, 13 minutes to Snowbird and 15 to Alta at the speed limit, 34 to Brighton, 40 to Park City, Deer Valley, hiking and rock climbing in the Canyon. Perfect for a wonderful family ski vacation!
We're located in a quiet residential neighborhood at the mouth of Little Cottonwood Canyon. The Apartment has 3 bedrooms, 1 bath, a fully equipped kitchen and a theater with an eleven foot screen, surround sound, hundreds of DVDs, and cable with extended sports channels. Snowbird and Alta (the local favorite) resorts are just a few minutes away. They are immediately adjacent to one another and you can get a SnowbirdAlta One Pass and ski both resorts. We're 34 minutes from Brighton/Solitude Ski Resorts in Big Cottonwood Canyon and 40 minutes from Deer Valley, The Canyons and Park City Resort in Park City. Cross-county skiing and snowshoeing are also available nearby. In the summer, there are trailheads within a mile of our location, and excellent rock climbing in the Canyon. We have 2 grocery stores within a block as well as multiple restaurants. More available about a mile away. Traverse Mountain Outlets about 20 minutes south of our location has world-class shopping as well as a Cabelas. Scheels and Sportsman Warehouse are about 15 minutes away. We're also close to South Town Expo Center.
Proximity to ski resorts, hiking, cross-country trails, rock climbing, biking and great shopping and restaurants makes our location great for a family vacation or just a great place to get away.
Really great place -- a lot of room to hang out, big bedrooms, very nice kitchen. Marney is a great host -- very welcoming and responsive, had some breakfast food waiting for us, which was a very nice touch. great value for a place 30 minutes from skiing.
Andrew
2016-12-30T00:00:00Z
If you're skiing Alta or Snow Bird, Marney's is a great spot. Can't get any closer without being up the mountain. It's clean, comfortable and has a great entertainment system.
Tom
2017-01-12T00:00:00Z
The space was just as advertised and was VERY convenient to skiing. The neighborhood was nice and close to ski rentals, groceries and restaurants. All that we needed for a great trip. Marney was a very friendly and helpful host. I would definitely stay again.
joseph
2017-03-09T00:00:00Z
My husband and I stayed here for a ski vacation. The place is great, three bedrooms, nice living area and kitchen, and clean. It is very close to ski resorts, restaurants, Walgreens, Wal-Mart, etc. Marney and her husband were very friendly and came to introduce themselves and showed us how to use TV, DVD, etc. They also had some breakfast foods for us and a nice dessert. Photos accurately displayed the home.
Andrea
2017-03-03T00:00:00Z
Marney is friendly and helpful, and her place is absolutely lovely.
Amy
2017-01-04T00:00:00Z
Great apartment! So close to both Canyons! A skier's dream come true. Thanks Marney and Steve.
Ted
2017-03-13T00:00:00Z
Rent this place just for the water pressure in the shower!! I booked at Marney's place for a week of skiing at Snowbird/Alta with my family and couldn't have been happier. Its a beautiful 15 min ride up the mountain to Snowbird so we couldn't ask for a better location. Truly felt like our home away from home with a great kitchen/living room area and all the movies/shows you could ask for. Marney was a great host providing recommendations on places to eat to where to find the best ski rentals. Would book here again!!
Perry
2017-03-17T00:00:00Z
Great find! The basement suite was cozy and perfectly set up for the 4 of us. Marney had the kitchen stocked with everything we needed for breakfast (and some bonus snack food and beer). Very clean and well organized. The rooms were bigger than they looked in the pictures, and the projector space had an incredible collection of DVDs! It provided great access to Alta/Snowbird for some skiing.
Andrea
2017-02-27T00:00:00Z
Oda Tipi
Tüm ev/daire
---
Mekan Türü
Daire
---
Konaklayacak Kişi Sayısı
8
---
Yatak odaları
Sandy, Utah, ABD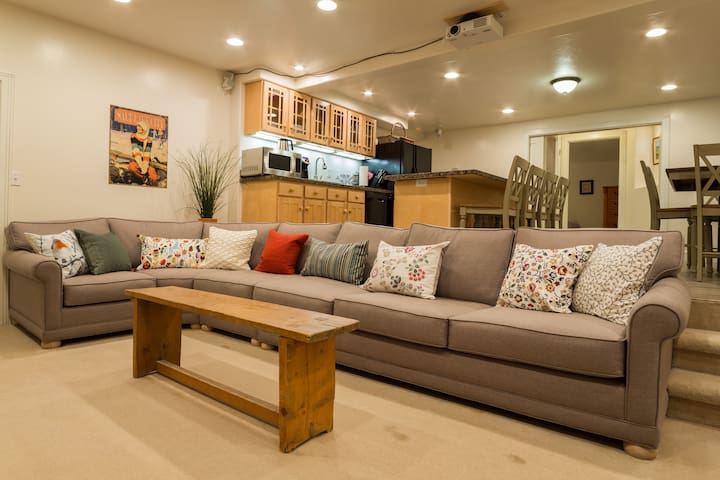 Draper - Airbnb
:
317

misafir değerlendirmesinden,

5

yıldız üzerinden ortalama

4.84

yıldız