Garden flat - perfect for couples. Set all on one level where you live, eat and sleep: watch TV from the comfort of the two-seater sofa or whip up light meals in the smart little kitchen, sleep deeply in the comfortable, king size bed in the tastefully dressed bedroom – there's a separate cute and sparkling shower room. Good lighting, pretty fabrics, soft pastel walls and solid oak doors comprise a bright understated décor. The living area is cosy while the light-filled, compact kitchen is neat-as-a-pin with its white sink, striped blinds at the windows and all the stuff you need for cooking breakfasts and suppers. Lots of useful basics, plus milk, bread, tea, coffee and eggs are left for you. Meals can be eaten at the little kitchen table or outside on the patio when the weather is good. Step outside to catch the morning sun on the patio and enjoy the sea view towards Berry Head and Brixham and nearby Occombe woods, an idyllic spot for breakfast or evening sundowners. In sunny weather you can sit in the garden or take a bottle of wine and stoke up the BBQ. You could just stay put and read your book, your peace will only be interrupted by the carefree cry of seagulls. Take to the sofa after a day trip and maybe enjoy some TV, there are also DVDs, books, board games and a deck of cards to while away the hours, also maps and local guides on the shelf to inspire you. So, relax and enjoy this clever space; with your own front door you'll feel nicely private if you prefer to be, plus your own parking space. All in all a cosy apartment - come for calm, comfort and of course Devon cream teas! The owners live on site and will welcome you into this comfortable, self-catering hideaway for two, there if you need them but otherwise discreet if you prefer to be. Paignton, Torquay and Brixham all have attractive harbours where it is fun to sit with an ice cream or a beer and a sandwich and people-watch – it's real old-fashioned English seaside holiday stuff but there is much to explore too. There are miles of coast, wood and moorland to explore; pubs and tea rooms along the way and hikers can head for the scenic South West Coast Path. Paignton Zoo and the Dartmouth Steam Railway are popular attractions and almost on the doorstep. National Trust properties at Compton, Collaton Fishacre, Greenway, Saltram and Killerton – all within easy reach by car.
Misafirler ne diyor?
"Kalmak için ne güzel bir yer. Garden Flat beklentilerimizi aştı. Spotlessly clean ve güzel bir şekilde dekore edilmiş. Büyük, rahat yatak ve huzurlu bir ortamda mükemmel bir gece uykusu anlamına geliyordu. Keşfetmeden bir gün önce manzarayı izleyerek bahçede bir kahvenin tadını çıkarın. Çok sıcak su ve geniş bir duş. Hoşgeldin paketi de takdir etti. Biz kesinlikle iade ve bölgede kalmak isteyen herkese tavsiye ederiz. İyi 5 yıldız hak etti."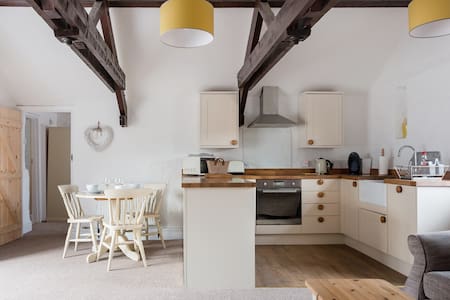 SUPERHOST
Tüm kır evi · 3 misafir · 2 yatak · 2 banyo
Relax with a Beach Walk at Farmhouse-Style Jasmine Cottage
Explore the South West Coast Path, then snuggle up for a relaxed night on the quaint, checked sofa at this cozy, single-storey cottage nestled in a shared courtyard. Whitewashed stone walls, pastel-hued panelling, and soft cream creates a snug feel.
Misafirler ne diyor?
"Yazlık Şubat yarım dönem dinlenmek ve Paignton ve Brixham keşfetmek için harika bir yerdi. Bizim için yeterli 2 yetişkin ve 11 yaşında ve 2 banyo bir lüks oldu. Duş harikaydı ve bütün ev sıcak ve rahattı. İyi donanımlı mutfak ve evde kahvaltı vardı. Yürüme mesafesinde 2 pub. Oğlumuz zevk masa oyunları iyi bir seçim. Internet bağlantısı iyiydi. Eminim yaz aylarında daha kalabalık olan dar yollar bir sorun olabilir. Ayrıca otopark sıkı yani küçük araba daha iyi olurdu. Rockfish Brixham deniz ürünleri için tavsiye ederim. Sonuçta harika bir deneyim oldu"