This 800 square foot, two bedroom apartment is located in the quiet Washington Heights neighborhood of Milwaukee. The apartment accommodates 6 comfortably. It has beautifully refinished hardwood floors as well as a recently remodeled kitchen and bathroom. This property is located 1 mile from Miller Brewery which is great for tours and 2 miles from Miller Park where the Milwaukee Brewers play. The apartment has a 42" flat screen TV with Roku/Sling.
Both bedrooms have queen beds. The living room couch comfortably sleeps two. The kitchen comes equipped with a microwave, dishwasher, and basic cooking needs.
The neighborhood is probably one of the quietest in Milwaukee. There is a police station 5 blocks away and little to no crime.
Great Milwaukee apartment at a great price. We stayed here for three days and used it as our home base while meeting up with family and seeing some the sights in the city. It's very clean, spacious and includes all the key amenities (towels, wifi, Netflix). We really enjoyed our stay!
Zach
2017-03-26T00:00:00Z
Warm, spacious, comfortable quiet place. The beds were very comfortable and the place was spotless! It was nice to have Arthur check on us once, as a courtesy, yet we had our privacy. This is the 6th Airbnb we have stayed in, and we would highly recommend Arthur's place! Great value for the money, also!
Julie
2017-02-12T00:00:00Z
Arthur was very prompt in responding to us and every question we had. The place was clean, with all the privacy we wanted. The beds were comfortable, and the living room and TV were great for unwinding together at the end of the day before heading to our separate private bedrooms. We were very happy with our experience!
Ali
2017-03-19T00:00:00Z
No complaints, great place!!!
Amanda
2017-04-02T00:00:00Z
This place was great and the host was easy to reach! Came from Chicago to Milwaukee for a edm show we all had a fantastic time! Will book again in the future. Thanks for the glowsticks again haha
Giovanni
2017-02-05T00:00:00Z
Nice, clean apartment in a friendly neighborhood. Good car parking space. We had a good stay here. Shops nearby.
Anna
2017-02-25T00:00:00Z
Great stay, quiet area, and near downtown and Miller Park!
Bianca
2017-04-09T00:00:00Z
Apartment is full of old world charm like plaster ceiling moldings and stained glass built ins. Arthur was very responsive and attentive to any needs.
Tim
2017-01-15T00:00:00Z
Oda Tipi
Tüm ev/daire
---
Mekan Türü
Daire
---
Konaklayacak Kişi Sayısı
6
---
Yatak odaları
Milwaukee, Wisconsin, ABD
Cozy one bedroom upper unit with convenient access to the highway and downtown. Five minutes to Froedtert and the Medical College. Four blocks from State Fair Park. Three minutes from Miller Park. Unit includes queen bed and linens.
Furnished with a queen size bed as well as a large sectional, this apartment will comfortably sleep two guests with space for up to four. This upper unit has been recently updated with new carpet in main living spaces. Kitchen remodeled with new counter tops and cabinets. Microwave and coffee pot ready to use in apartment. Access to washer and dryer is available to guests staying longer than four nights.
Quiet neighborhood within minutes of most of Milwaukee. Easily walk to State Fair Park and Miller Park. Guests should consider dining at Maxie's for dinner or Blue's Egg for brunch if their schedule allows.
It is a very comfortable place to stay and very close to many sights in Milwaukee. I'd definitely stay there again. :)
Maggie
2017-04-08T00:00:00Z
Oda Tipi
Tüm ev/daire
---
Mekan Türü
Daire
---
Konaklayacak Kişi Sayısı
4
---
Yatak odaları
Milwaukee, Wisconsin, ABD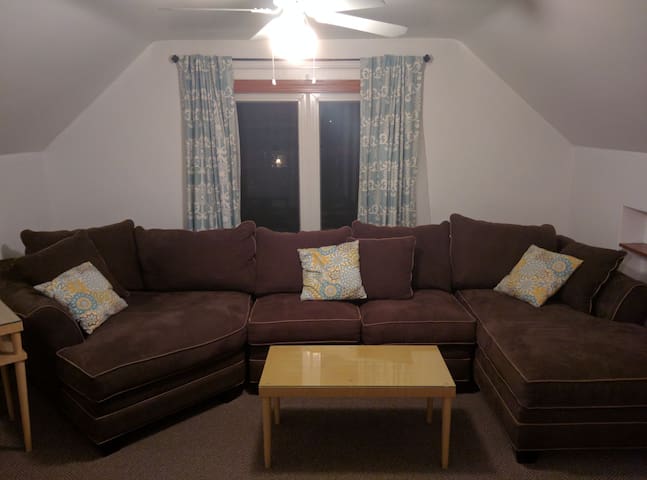 My place is good for couples, solo adventurers, business travelers, families (with kids), and big groups. This space is a lower of a duplex.
Cheryl has been wonderful she answered all questions. It was very easy check in we will be staying again.
Faith
2017-03-31T00:00:00Z
Oda Tipi
Tüm ev/daire
---
Mekan Türü
Daire
---
Konaklayacak Kişi Sayısı
4
---
Yatak odaları
Milwaukee, Wisconsin, ABD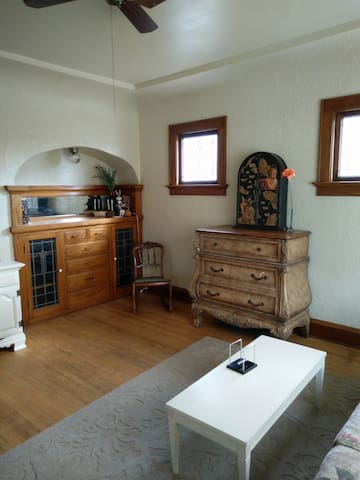 This listing is for the lower apartment in our bungalow. It has two bedrooms with queen sized beds, as well as a full-size sofa bed. It's full of original craftsman details and our crazy art collection, and we'd love to have you stay.
Beautiful arts and crafts bungalow with funky mid-century furnishings on a quiet cul-de-sac in Riverwest. Kern Park is next door, and our backyard slopes down to the river trail.
We are in a very quiet part of Riverwest. Our cul-de-sac is primarily apartment residences, and we are one of only two houses on it. You can expect a racially and economically diverse neighborhood that is very quiet and about as safe as you can get in a big city. We are a short drive to almost anything in the city, directly adjacent to a gorgeous park, and our lot backs right up to the Milwaukee River. Our home feels like a small country retreat in the middle of a bustling city. We recognize that our neighborhood might not be a good fit for everyone, so please ask us about the neighborhood before you book if you're unsure. Racist reviews or comments are absolutely not tolerated. Guests of every color, creed, religion, sexual orientation and gender are welcome here :)
We enjoyed staying at Anna's Riverwest Arts and Crafts bungalow. While we were staying just one night in Milwaukee en route to the ferry to Michigan, we wanted to feel like we really stayed in Milwaukee, not a generic hotel that could be anywhere. The house has so much character, eclectic charm, and comfort. We felt at home immediately. All logistics were easy and managed perfectly by Anna. We were able to pop into downtown for a brief look-see, so everything we wanted came to be. We snarfed down some delicious granola and a banana for breakfast before arriving at the ferry terminal at 5:15am. Anna described the neighborhood accurately and we felt we parachuted into a real city, with real people living real lives. Anna's house and hospitality are why we love Airbnb.
Martha
2016-06-04T00:00:00Z
Clean, cozy, unique property that suited our needs perfectly for our weekend in Milwaukee. Plenty of restaurants and bars just a car ride away. Our host, Anna, was fantastic! Communication was straightforward and we had no problems with check-in, during our stay, or check-out. I highly recommend this property!
Jess
2016-10-30T00:00:00Z
Cannot wait until we can stay at the Hobit House again!! Clean, comfortable, and very inviting! We loved the 60s / 70s inspired decor. I recognized many items from my childhood. The girls weren't thrilled there was no TV bit had a great time listening to Johnny Cash and playing Monolopoly. WIFI was great! Water pressure for showers was excellent! Anna was a dream to work with!
Colleen
2016-11-05T00:00:00Z
Anna's place is wonderful and everything she said it would be. It's very spacious (not sure you can tell that from the pictures) and comfortable. We loved getting to sit around a fire in the fireplace and were easily able to make meals in the well-equipped kitchen. I highly recommend this place!
Jennifer
2017-01-01T00:00:00Z
My mom and I came into town for the AIDS Walk, and only booked one night at the Hobbit Hole. Immediately upon arriving, we both decided we would book rooms here again in the future, whenever either one of us in town and space is available. The interior designs were charming, vintage, earthy, warm, welcoming. The lighting was well-thought out, the hand-painted floors were mesmerizing, and the bedrooms generous. We both wished we could have stayed longer than one night! I would recommend this home to anyone!
Sara
2016-10-01T00:00:00Z
My husband and I recently stayed at Anna's place. We loved it!! Very warm and welcoming and simple. Anna was very quick to respond about any questions we had. The bikes were a huge plus too!!! I would definitely stay again!!
Kristine
2016-09-20T00:00:00Z
Everything was exactly how it was described in the description! Located in a great neighborhood. The place had a nice, warm and cozy vibe - made us feel right at home. Had no issues upon arrival, Anna communicated prior to our trip.
Simone
2016-09-11T00:00:00Z
Staying here was like stepping back in time - and it was so fun! The house is exactly as described and allows for easy access to the city. Communication with Anna was open and easy, making check-in simple and fast. Note - this house is old, so the floorboards creak. Completely understandable. The upstairs of the house is a separate rental, and you can hear any movement and talking. No problem during the day, but if you're an extremely light sleeper, like me, this could be a problem. Despite this, I would definitely stay here again.
Kaylee
2016-10-25T00:00:00Z
Oda Tipi
Tüm ev/daire
---
Mekan Türü
Daire
---
Konaklayacak Kişi Sayısı
5
---
Yatak odaları
Milwaukee, Wisconsin, ABD
This private upper level unit is only 3 miles from Froedtert Hospital, 2 miles from Mayfair Mall, and only steps away from Mount Mary University; bordering Wauwatosa, a suburb with great places to roam! This home is spacious, yet cozy. Offers a secure bedroom for 2, living room with a nice futon that sleeps one, dining area, bathroom, & full kitchen with all the necessities. A Key Less entry makes your check-in quick and easy! Minutes from the highway, making getting anywhere a breeze.
Offers High Speed Fiber Optic Internet, Two High Definition TV's with Smart Capabilities, Spacious Living Space with a chic futon that sleeps one. Dining area, Bedroom with Queen Bed and Full Size Body Mirror & Storage in closet. Sleep during the day with the room darkening window treatments in bedroom for airbnb professionals who work overnight. Kitchen with all the necessities for cooking/eating, with coffee maker (coffee included). Bathroom has all toiletries and hair dryer with diffuser.
Great Location in Milwaukee! Minutes from the Highway and only Blocks away from Froedtert Hospital & Mayfair Mall, and just steps from Mount Mary University. This is an area in Milwaukee where you can find an assortment of restaurants, shops, and big box stores. Down the street from Menomonee River, a Golf & Country Club, and Currie Park; bordering Wauwatosa. Downtown is only a short car ride away (Less than 10 miles)! Great neighbors and a perfect area in Milwaukee to take a stroll!
Check in was made easy with the keypad entry. The location of the home wasn't far from town and was close by many shops. Milwaukee was a beautiful town to visit and Carlos' home made my stay even better.
Juliane
2016-07-06T00:00:00Z
Very clean and accommodating!!!
APRIL
2016-08-08T00:00:00Z
It was a very easy spot to get to, no in-person check-in was great. We were only there for a short time but we would stay there again. The space was clean and comfortable.
Kandice
2016-10-09T00:00:00Z
Lovely neighbourhood. Carlos responded to all communication extremely quickly, which was welcome as I was travelling from overseas.
Adrian
2016-10-07T00:00:00Z
The description of Carlo's department is accurate, clear, spacious, supplied everything we need. Carlo's replied our inquiry very swiftly .Easy to access and convenient position to go to everywhere. We had pleasant staying there, and surely recommend Carlo's place.
Yun
2016-08-26T00:00:00Z
Exactly as described! Carlos's place is really spacious and comfortable, the check-in process is easy, and all of the information he provides on home amenities and city access is clear and thorough. I really enjoyed my stay here.
Brett
2016-11-20T00:00:00Z
Came as advertised, the condo was clean, spaceous andvery comfortable. In quiet neighbourhood as well. Was only there for about 12 hours but I would definitely go back to Carlos' place if/when I go back to Milwaukee. Carlos was also easy to communicate with and made sure i had everything I need which was both amazing and appreciated. Cheers!
Artigas
2016-07-28T00:00:00Z
Carlos's place was perfect for a weekend getaway. It's clean and conveniently located to everything there is to see in Milwaukee. Check in was easy and he even let us check out a little late for free so we could sleep in. I definitely recommend staying here if you ever need a place to stay in Milwaukee.
Kristen
2016-09-25T00:00:00Z
Oda Tipi
Tüm ev/daire
---
Mekan Türü
Daire
---
Konaklayacak Kişi Sayısı
3
---
Yatak odaları
Milwaukee, Wisconsin, ABD
Small upper flat requires navigating narrow steep stairway to 2nd floor. Great East Side location near coffee shops, a MetroMarket, 7 miles from downtown, 1 mile to Lake Michigan, 2 blocks from Oakleaf Trail, 8 mi to Summerfest grounds and less than 2 miles to UWM Student Union.
Oda Tipi
Tüm ev/daire
---
Mekan Türü
Daire
---
Konaklayacak Kişi Sayısı
3
---
Yatak odaları
Milwaukee, Wisconsin, ABD
A comfortable 2 Bedroom Upper Apartment for 1 to 4 guest with furnished kitchen, living room and reading or office room. One full bath with tub and walk in shower. Parking for one vehicle, TV and WiFi. Quiet neighborhood close to shopping malls, gas stations and grocery store.
A home away from home. Both bedrooms have queen beds. If you are in need of separate sleeping arrangements I can provide extra beds twin and air beds available.
Friendly quiet and close to shopping, gas, theaters and restaurants. Site seeing at Milwaukee Art Museum, Meyer Festival Grounds, State Fair Park, The Domes, Lake Front and County Zoo. Down Town shopping on Old World Third Street accessible to shops, restaurants and Lake. All are in approximate 6 mile radius from apartment. Hour and a half drive to Chicago from Milwaukee.
Vera, and Tony, made us feel very welcome. The apartment was clean, attractive, comfortable, and everything as advertised. The home is in a pleasant neighborhood where everybody takes care of their property. It is near stores, restaurants, and not very far from Mayfair mall. It was perfect for us as we waited for our permanent apartment to become available.
Dirk
2016-05-03T00:00:00Z
Vera was such a wonderful host! She is one of the nicest people you'll ever meet and was so welcoming! If I find myself looking for a place to stay in Milwaukee again, this will be the first place I check.
Zak
2016-06-20T00:00:00Z
Our stay at Vera and Tony's upper duplex was very nice. They were both very welcoming and helpful hosts! The place is exactly as described in the description and photos.
John
2016-09-15T00:00:00Z
Vera was an amazing host! Exceptionally hospitable. The location was perfect and cozy and in an area near everything you may need. Not a far drive from the mall or downtown Milwaukee. Would definitely recommend staying here!
Seraphina
2016-03-09T00:00:00Z
Excellent hosts. We really had a great time at Vera's house. Very cosy. Great environment, in a quiet and nice neighbourhood. We stayed there for a week and had no problems at all. We totally enjoyed or stay. Would go back again and again. Thanks, Vera!
Sheldon
2016-09-24T00:00:00Z
Alvera puts together a very nice experience. The apartment was exactly as described. There were lots of extra amenities. She even had some fresh food items for us, which we really appreciated. Definitely recommend staying here and very pleased. Thanks again Alvera.
Guy
2016-04-07T00:00:00Z
Our stay at Vera's was comfortable and homey. She and her husband were extremely accommodating and thoughtful when we arrived later than check-in time. All in all a wonderful stay, would stay again if we find ourselves in Milwaukee. :)
Becca
2016-10-23T00:00:00Z
This was a fantastic experience. We made last minute reservations for 3 nights and Alvera responded promptly, met us and even welcomed us with a dish of goodies to eat. The accommodations were great, the location very central and the hospitality wonderful. We highly, highly recommend Alvera and her AirBnb.
Ann
2016-06-10T00:00:00Z
Oda Tipi
Tüm ev/daire
---
Mekan Türü
Daire
---
Konaklayacak Kişi Sayısı
4
---
Yatak odaları
Milwaukee, Wisconsin, ABD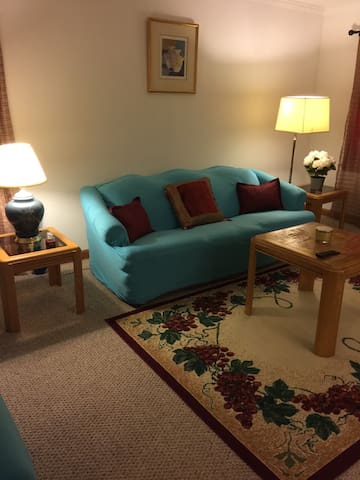 My place is close to parks, restaurants and dining, and art and culture. You'll love my place because of the coziness and the views. My place is good for couples, solo adventurers, and business travelers. a licenced massage therapist is available on request. a big garden for solitude ...big bay window to observe chirping of the birds...
River West is a diverse community We are near the Milwaukee River 3 minute walk to beautiful trails Near the biggest outside beer garden with magnificent river front views fishing for salmon is close by....canoeing is available..the bike trail takes you all the way to the lakefront...rental bikes are close by...
We had a lovely stay. The apartment was very roomy and has access to a lovely screened-in deck and beautiful back yard. Iqbal was very communicative and helpful.
Benjamin
2016-08-01T00:00:00Z
Iqbal is an excellent host. My family had a good time staying here.
Menglei
2016-08-09T00:00:00Z
Iqbal was very welcoming and easy to communicate with. The accommodations were adequate for our needs. This is a classic Milwaukee bungalow in an older neighborhood. The rooms were painted with bright colors and provided plenty of space for luggage, etc. Apparently, we were the first guests to stay there and there was a need for some cleaning and organizing before we were comfortable. Iqbal was accommodating, providing us with supplies we needed and fresh fruit and vegetables from his gardens.
Mary
2016-07-26T00:00:00Z
Our stay with Iqbal was last minute and he did everything to make us feel comfortable. The wifi was a bit hard to access sometimes but he was very open and responsive to us.
Christopher 'Kenny'
2016-08-05T00:00:00Z
We enjoyed our stay very much and would stay with Iqbal again. Iqbal is a friendly, welcoming host who was attentive to all our needs. We're a couple who sleep on different schedules, so having 2 bedrooms was perfect for us. The living room was comfortable, great for exercise, reading or work. The place was quiet and cozy.
Willy
2016-11-26T00:00:00Z
Iqbal was very knowledgeable on Milwaukee and suggested great local eateries and other things nearby, and he greeted us with beer! The apartment was clean and had everything we needed. Nice location by the river- easy 5 minute drive to downtown. After leaving, I realized I'd forgotten my phone charger and Iqbal was very accommodating!
Alisha
2016-10-02T00:00:00Z
We had a great stay. Iqbal was very friendly and had many good suggestions on things to see and do. He shared good beer with us and also sent us home with some hot peppers from his beautiful gardens. Also, They have a dog, Lucky, who is very sweet and well behaved! Thanks again for everything.
Abby
2016-09-25T00:00:00Z
Iqbal was so friendly and loved meeting my dog, as well as introducing his dog Lucky. My dog was in love with looking out the windows to see all the squirrels & chipmunks in the side yard. Iqbal provided everything I needed and even put some refreshments in the fridge for me.
Lauren
2016-12-04T00:00:00Z
Oda Tipi
Tüm ev/daire
---
Mekan Türü
Daire
---
Konaklayacak Kişi Sayısı
4
---
Yatak odaları
Milwaukee, Wisconsin, ABD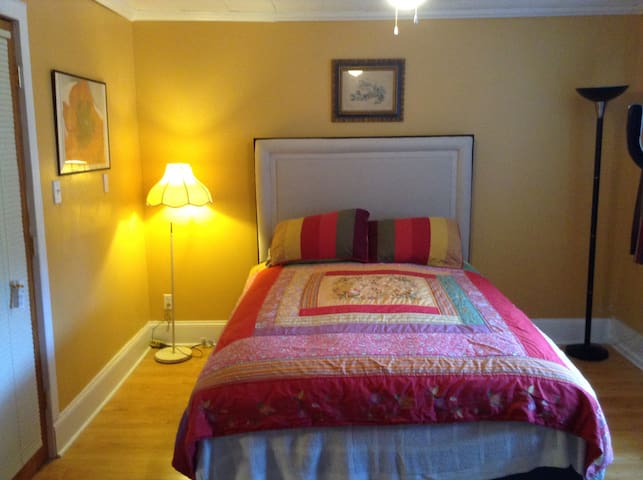 My home is the home for everybody no matter race, religion or status. A place where you can find confort and peace.
You can have everything like in your own house
The peace that you can feel and breath. No noises and very friendly people.
Candida's home is awesome and easy to find. Its spacious and has great amenities. I will always look for her listing when I'm in Milwaukee.
Corey
2017-03-06T00:00:00Z
Oda Tipi
Tüm ev/daire
---
Mekan Türü
Daire
---
Konaklayacak Kişi Sayısı
4
---
Yatak odaları
Milwaukee, Wisconsin, ABD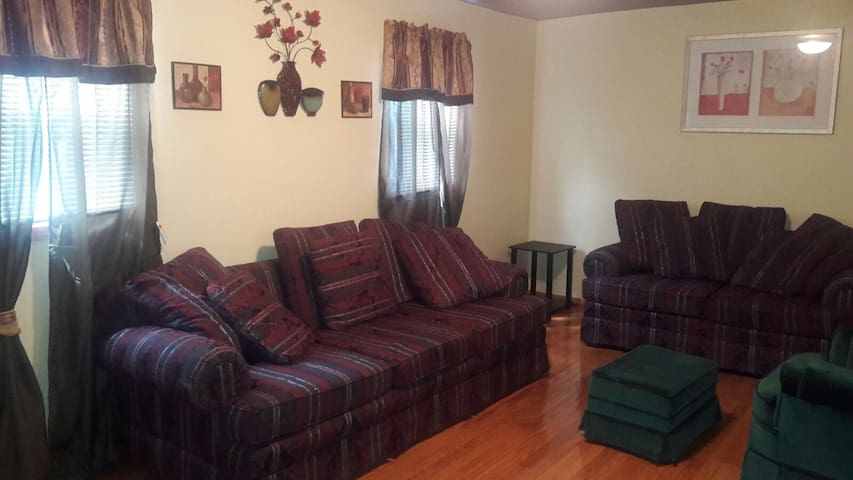 Experience the charm of this 1920's Milwaukee bungalow. Nestled in Milwaukee's fashionable west side, this original beauty is in the heart of a thriving entertainment and shopping district.
This space has wonderful architecture and essence of the 1920s but accommodates the modern needs. Guest also can enjoy cooking with a fully stocked kitchen with dishes, glassware, cookware, etc.
Walking distance to wauwatosa where there are many new restaurants bars and shops. This eclectic neighborhood has a lot to offer.
This place was adorable and super clean! Thank you so much for the lovely stay and the easy directions on how to get into the place. Highly recommend!
Amanda
2016-10-02T00:00:00Z
Tracy's space was terrific. My family of 5 stayed here for two weeks, while visiting family throughout the Milwaukee area. My mom was in one room and my kids and husband and I slept in the other. I brought foam camping mats for the kids to sleep on the floor near our bed, which worked out perfectly. The mats, placed side-by-side, were roughly the size of a full size bed. Overall, it was just the right amount of space for us to use as a base to visit family. It was exactly what we were hoping for. The pictures are spot on. Tracy was great to communicate with. We would definitely stay here again.
Jessica
2016-07-07T00:00:00Z
The house was just as described and perfectly fit our needs. We were traveling with our 5 month old daughter and use of the pack-n-play came in really useful. I am originally from Milwaukee and spent a lot of time in this neighborhood growing up. My grade school and baby sitter were two blocks south and my grandparents were two blocks north from this house. It brought back a lot of good memories driving through the neighborhood.
Nicholas
2016-10-18T00:00:00Z
Accommodated an early check in very smoothly. Place was great, even better than expected. Made for an easy one night layover. Highly recommend.
Trevor
2016-07-27T00:00:00Z
We stayed at the Uptown Gem during a recent weekend in Milwaukee while attending a conference. The apartment is beautifully restored, very clean, and overall we had a wonderful stay. Thanks Tracy!
Elisabeth
2017-03-19T00:00:00Z
Tracy was an excellent host, her response time to a question I had was very prompt and the place was very clean.
Brenda
2016-10-23T00:00:00Z
This was the perfect location for my girls weekend. The space was beautiful.
Jenn
2016-03-06T00:00:00Z
Thanks for a nice stay-- this house is in a great location. We were able to explore the good restaurants that have opened west of downtown. The house itself is cozy and well -appointed. We can imagine that it would be fun tone here during the warmer months as exploring the area would be fun on foot.
Jim
2016-02-19T00:00:00Z
Oda Tipi
Tüm ev/daire
---
Mekan Türü
Daire
---
Konaklayacak Kişi Sayısı
6
---
Yatak odaları
Milwaukee, Wisconsin, ABD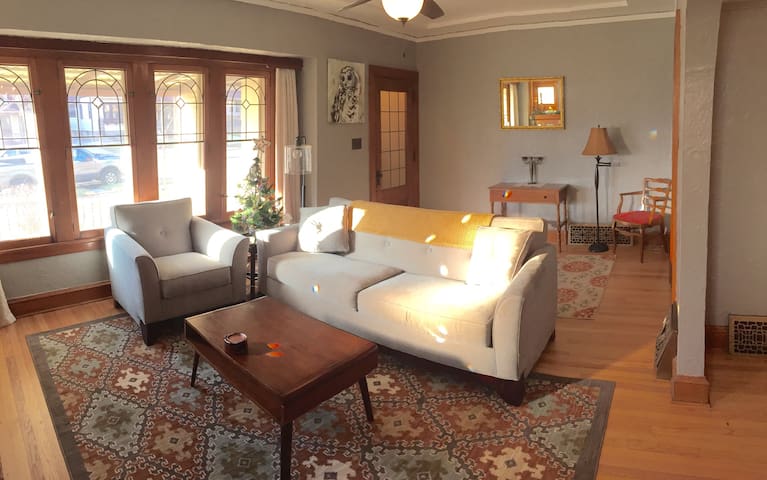 Second floor flat in University neighborhood. Living Room, Formal Dining Room and fully stocked Kitchen. Close to stores, restaurants, transportation.
Oda Tipi
Tüm ev/daire
---
Mekan Türü
Daire
---
Konaklayacak Kişi Sayısı
7
---
Yatak odaları
Milwaukee, Wisconsin, ABD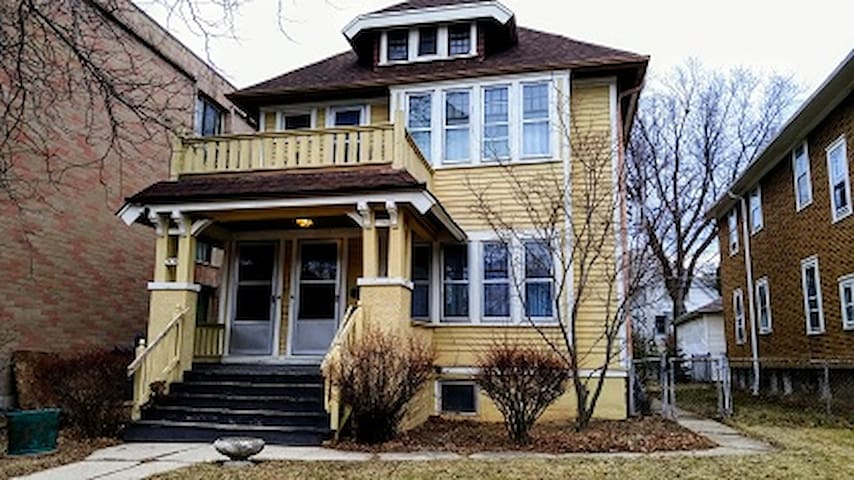 My place is close to downtown, parks, art and culture, the city center, great views. You'll love my place because of the beautiful lighting,the neighborhood, an amazing backyard. My place is good for couples, solo adventurers, business travelers, and furry friends (pets).
A beautiful one bedroom with a great breeze and beautiful art. Hardwood floors. Great backyard and laundry on site
Sunlight in the morning is incredible in such a great space.
Alexandria
2017-02-12T00:00:00Z
Really enjoyed my stay. I learned a lot about the area and my host was wonderful.
Jeremiah
2016-11-14T00:00:00Z
The place was super cute, AND we got the bonus of cuddling with Flow's dog Woof. Flow was a great host. The location was AMAZING, close to everything but still in a quiet neighborhood.
Carla
2016-11-21T00:00:00Z
It is a nice room, very classic. The location is close to the downtown, just a few minutes walk, you will arrive there!
Shawn
2017-03-15T00:00:00Z
Flow was a great host! Friendly and offered advice about local places to check out. The apartment was a great place for a quick overnight stay.
Tim
2017-02-19T00:00:00Z
Great private little place, and the host did everything they could to make us feel welcome
Shauna
2016-08-02T00:00:00Z
Convenient, quiet, friendly neighborhood. We brought bikes and got around wonderfully. Neighbors complimented our folding bike and their general kindness made it feel like a community. Love the photography on the walls, taken by the host. It feels like a creative space. Host is responsive and accommodating.
Becky
2016-08-24T00:00:00Z
The host met us personally when we moved in and showed us around the apartment. They were very good about communication throughout the whole process and the apartment had a very nice breeze.
Evan
2016-08-01T00:00:00Z
Oda Tipi
Özel oda
---
Mekan Türü
Daire
---
Konaklayacak Kişi Sayısı
4
---
Yatak odaları
Milwaukee, Wisconsin, ABD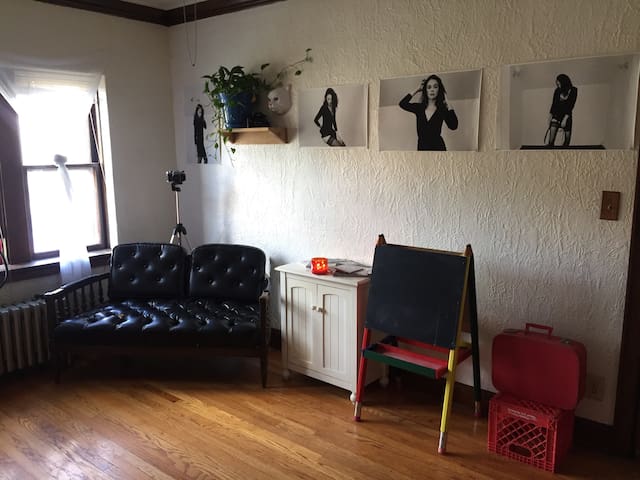 Marquette area/Coldspring Park Queen Anne Victorian Duplex. The house is filled with turn of the century handcrafted, beautiful woodwork throughout. This duplex sleeps 5 comfortably. It is minutes away from the Milwaukee Convention Center, Bradley Center, Pabst Theater, The Rave and downtown. Easy access to many breweries, the downtown museum, the art museum, the domes, and many shops and restaurants. Come stay and see what Milwaukee has to offer:)
The apartment is spacious and has a twin bed and a futon couch in one bedroom, a queen bed in the second bedroom, and a couch that turns into a queen bed in the living room. The kitchen is very big and has a round wooden table and chairs to eat meals at. The living room is spacious with big windows that let in a ton of natural light and the room has a roku ready 40" flat screen tv.
Coldspring Park is a historic neighborhood just West of Milwaukee. It is one of the the most diverse neighborhoods in the city and has some of Milwaukee's most beautiful historic homes. Coldspring Park is only a few blocks away from Washington Park, a park designed by the same architecture who designed New York City's Central Park. During the summer their are concerts at the parks bandshell every We(website hiddThe park is home to the Urban Ecology Center which has a bunch of inexpensive programming in the park and day trips doing things such as bird watching, maple sugaring, and identifying trees. (website hidden) Cold Spring Park has been around since the mid-1800s. It is named for a natural spring that was found in the northwest corner of the neighborhood (then bounded by 27th Street, 35th Street, West Juneau Avenue, and Vliet Street). In 1852, Cold Spring Park was the site of the Wisconsin State Agricultural Society fair and exhibition. During the Civil War, Cold Spring Park became Camp Washburn, housing the 2nd Calvary, 30th Infantry, and the 39th Regiment. After the Civil War, Cold Spring Park became a race track. A race that was commemorated by Currier and Ives depicted an 1871 record breaking race by the mare Goldsmith Maid, with a time of 2 minutes and 17 seconds. Adjacent to Cold Spring Park was the Cold Spring House, a hotel which housed visitors and drivers for the races. It was notorious for its gambling, cockfights, courtesans and dances. At the close of the 19th century, Milwaukee saw a population boom, prompting two new streets in Cold Spring Park; Highland Boulevard (1896) and McKinley Boulevard (1906). Cold Spring Park initially drew German-American residents of the moderate to upper income scale. The wealthy residents including the Pabst Brothers and the owners of the Gettelman Brewery. In the early 100's Coldspring Park also was home to many of the wealthiest businessmen in Milwaukee who resided primarily on Highland and McKinley Blvd where the duplex is today. The neighborhood is currently one of the most diverse neighborhoods in the city. The neighborhood holds quite a few events each year highlighting the historic roots such as the historic homes tour, a Christmas round robin, and a yearly Christmas Caroling Event. The neighborhood also is home to the Harley Davidson main Headquarters and Miller Brewery which hosts frequent brewery tours. The neighborhood is centrally located at only 10 minutes from about anywhere in the city. Come stay at the historic Theodore Kiebe House in in Coldspring Park and have quick access to check out the entire city.
We enjoyed our stay at Corinne's place. As others have mentioned, it was in the second floor of a private house. The place has an older feel, but very clean. Corinne was very responsive with any questions or requests that I had. One night was very warm and she immediately brought up some fans which did the trick. This is great place to stay as it was close to everything in Milwaukee.
Ruben
2016-06-13T00:00:00Z
Corinne was very helpful the entire time leading up to the trip. She stayed in contact with me throughout our stay and made sure everything went smoothly. The house was clean and quite spacious. We had three people, but could have easily fit more. I would definitely stay here again, especially if I'm seeing a show at the Rave.
Carly
2016-10-15T00:00:00Z
Unfortunately, our stay with Corinne started out stressful (but later changed, thankfully.) Due to some ongoing construction in her bathroom (she's in the downstairs apt), she tried to cancel our reservation the night before our arrival because she would need to use the upstairs bathroom. After speaking with her and explaining the inconvenience of cancelling with less than 24 hours notice, she decided to keep our reservation and she found bathroom accommodations elsewhere. After that ordeal, Corinne was extremely responsive, polite, and helpful. We arrived to Milwaukee the next evening and used the lockbox to get the keys to go inside. Driving North on 27th St had us a little worried about the neighborhood, but Corinne's house is on a nice, quiet street with plenty of parking. Apparently, Milwaukee is very strict about parking so we had to call the police station to register our plates in order to park for the weekend. The apartment is very sparsely furnished - basically just beds to sleep and a shower to bathe. I think Corinne could make some simple updates to her rental in order to better accommodate out-of-town guests, as well as increase the amount she could charge per night. Since we were flying, we tried to pack light. Corinne informed me she didn't have a hair dryer, so we brought that along. Extra blankets & towels, chairs at the dining room table, some decor, a couple extra lamps and fans, a clothing iron. (We were in town for a wedding, and after stuffing everything in our carry-ons, an iron was key. My fiance and our friend ended up steaming their suits in the bathroom while everyone showered- but still went to the wedding with wrinkles.) I feel these are simple additions that could really improve any stay at the rental and increase the money Corinne could bring in. Although our stay with Corinne started rocky and the apartment wasn't super nice or furnished, it really didn't hinder our stay. We still had a great time in Milwaukee. The wedding was at the Mitchell Park Domes (beautiful) and we made it to Sobelmans for burgers and "The Beast" bloody mary (80 ounces of deliciousness). I understand the reasoning behind Corinne wanting to cancel our reservation, but I'm thankful she changed her mind (saved us the stress of finding and spending much more money on a hotel at the last minute.) I think a few improvements can be made, but I would still recommend Corinne's rental if you're just looking for a simple place to get some rest.
Kylie
2015-08-31T00:00:00Z
Corinne was very accommodating to our group size of five ladies. We were very comfortable for the short time that we spent at the apartment. The neighborhood is nice and there are some kitties outside, though they ran away from us cat loving crazies, haha! The location was perfect for our trip to Miller Park and downtown. I would definitely stay at Corinne's again if ever in need of a place in Milwaukee.
Crystal
2016-08-14T00:00:00Z
Corrine communicated quickly and made our check-in and out a breeze! Great location, quick uber to downtown.
Zairel
2016-08-10T00:00:00Z
Corinne was an exceptionally welcoming host upon our arrival, walking us through the space & letting us know about the features an amenities. She also provided us a great recommendation of where to go before heading to the Brewers game that evening. The place was spotless and inviting. As two younger women traveling, Corinne was great about explaining the area and providing recommendation of places to go and things to do. Think this spot can be great for a group of friends.
Niki
2015-06-25T00:00:00Z
Nice house, close to the city. Corrine was very kind and available the whole time.
crystal
2016-10-02T00:00:00Z
I misread instructions for parking when I arrived in Milwaukee. Corinne graciously called in our cars and took care of this the evening we stayed, even though it was my fault. Corinne was great to work with, and my family and I so appreciated her help!
Angie
2016-03-05T00:00:00Z
Oda Tipi
Tüm ev/daire
---
Mekan Türü
Daire
---
Konaklayacak Kişi Sayısı
6
---
Yatak odaları
Milwaukee, Wisconsin, ABD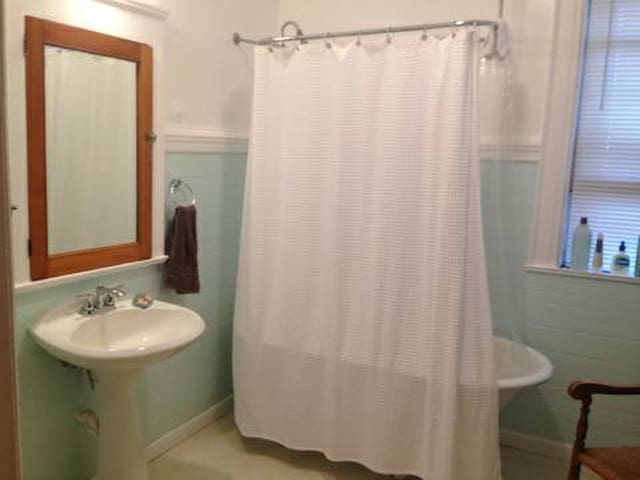 Come crash at this wonderful art filled west Milwaukee Apartment. Private room , limonite wood flooring lots of unique hand picked art with a cool mellow vibe. Leather couches & glass accents make this place perfect for a bachelor or couple to stay comfortably. Controlled lighting Flat screen tv recliner couch & sleep number Bed all inside your own private room.
Damean provides a comfortable stay, with tasteful decor, for a great value. Would recommend this location.
Katie
2017-04-09T00:00:00Z
Great host
Ramses
2017-03-28T00:00:00Z
It's not my habit to write negative reviews, but I have to comment on this one. It was such a horrible experience. Few hours before check in, I received a message from the host saying that the property listed was not available; he suggested another one instead. I went to the new one at night but could not enter the property; I waited 15 mins outside knocking on the door at freezing temperatures. I was unable to reach the host; the number entered in the airbnb site was out of service. I had to find a hotel nearby (in this scary neighborhood). Cannot recommend this host to anyone.
Fahira
2017-03-25T00:00:00Z
Oda Tipi
Özel oda
---
Mekan Türü
Daire
---
Konaklayacak Kişi Sayısı
2
---
Yatak odaları
Milwaukee, Wisconsin, ABD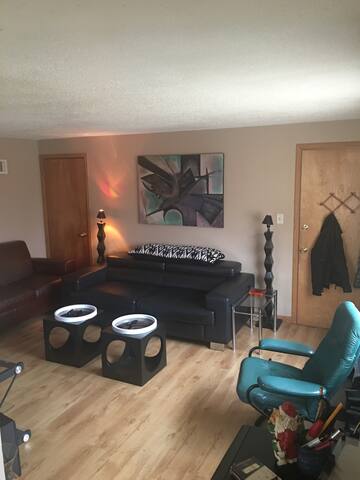 Looking for a great place to stay? This cute and comfortable basement remodel is just minutes away from all the cities adventures; with quick access to the freeway. It comfortably fits 3-4 people with one queen size bed and 1 futon in the living room. Queen or Twin Sized Air Mattress are available upon request.
Looking for a great place to stay? This cute and comfortable basement remodel is just minutes away from all the cities adventures; with quick access to the freeway. It comfortably fits 3-4 people with one queen size bed and 1 futon in the living room. Queen or Twin Sized Air Mattress are available upon request. Fully furnished 1 bedroom has everything you need while you travel. Owner shall provide towels, linens, cups, dishes, utensils, and other items commonly used. Travelers are encouraged to obtain travel insurance. (URL HIDDEN) WiFi Access
There's a reason why Christopher is a super host. He's very accommodating and gave me anything I needed. If something broke, he was on top of it. If I was parked on the wrong side of the road, he told me to move my car so I wouldn't get a ticket. I stayed here for months due to the fact I'm a travel nurse and had a contract in Milwaukee. The neighborhood is very safe, very quiet and away from the busy downtown, which is nice since I work nights and sleep during the day. He was also very nice to my pooch which I brought with me as well. It is my first airbnb experience and it was wonderful. If you ever have to stay in Milwaukee either short or long term, I definitely recommend Christopher's place!
Cynthia
2017-03-11T00:00:00Z
Great location, and beautiful neighbourhood. Easy parking on the street. Chris even had some beer in the fridge for my late arrival, also made sure I was comfortable and had everything I needed. Couldn't ask for a better host!
Wilson
2016-10-17T00:00:00Z
Chris made sure I had everything I needed during my stay. Check in was super simple amd he checked on me to make sure I was set and comfortable. I'd stay here again for sure!
Jessica
2016-09-16T00:00:00Z
Really enjoyed my stay here. The neighborhood is really nice and the space is pretty cool. Really clean room and the host was super helpful
John
2016-08-21T00:00:00Z
This lower level apartment is quiet and a good spot to getaway from the hustle and bustle of downtown. The location is on a beautiful tree lined street and felt very safe. There are a few great neighborhoods just about a mile away and this spot is a very economical, clean, and functional spot.
Andrew
2016-10-24T00:00:00Z
My parents were in town for the weekend and decided they'd like to try their first Airbnb. I'm happy to say it went great. The apartment was clean, comfortable, and private. It was also in a nice neighborhood. The host was more than acommadating to all of our needs. He was helpful with our questions and made the stay hassle free. I'm sure we will look up this place on our next stay in Milwaukee.
Connor
2016-10-02T00:00:00Z
Oda Tipi
Tüm ev/daire
---
Mekan Türü
Daire
---
Konaklayacak Kişi Sayısı
4
---
Yatak odaları
Milwaukee, Wisconsin, ABD
My place is good for couples, solo adventurers, and business travelers.
Oda Tipi
Tüm ev/daire
---
Mekan Türü
Daire
---
Konaklayacak Kişi Sayısı
2
---
Yatak odaları
Milwaukee, Wisconsin, ABD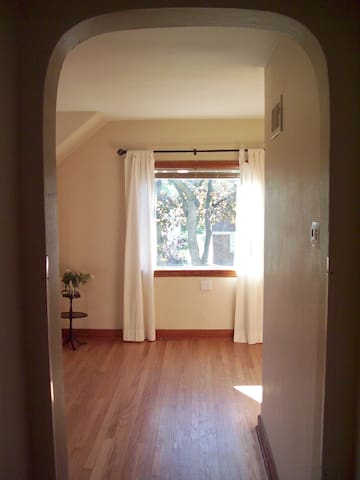 Spend some time in the cool Riverwest neighborhood of Milwaukee. The apartment is walking distance to great restaurants and coffee shops, the Oak Leaf Trail, a dog park, the Milwaukee River and much more! Beautiful and quiet neighborhood.
I have owned my house for 16 years. It's a great little place and a wonderful space. The house is a traditional Milwaukee bungalow style duplex. This listing is for the one bedroom upstairs...a fun, warm and cozy space that's versatile and very comfortable. I love this place and I hope you will too.
The Riverwest neighborhood offers everything that fun, cool, diverse and pretty fantastic about Milwaukee. With easy access to transit. Shopping, restaurants and night spots nearby, everything is at your fingertips to enjoy the city from this location.
Great experience with E Marie! She has a clean and organized home in a fun area with some of Milwaukee's best local spots for brew and coffee near by. We even had a little issue with our keys and E Marie quickly showed up with a replacement set. I would recommend this space to anyone traveling to Milwaukee.
Tony
2015-06-28T00:00:00Z
My dog and I spent another 5 days and nights in Cozy and Adorable, and frankly, we were not ready to leave. I spoke in my first review of the fabulous neighborhood, and now I want to talk about the accommodations. Imagine a flat in London or Paris. Not luxurious, but utterly enchanting. The walk-up apartment is perfect for one person (with or without dog!) or a couple (or even possibly two couples, if you like cozy - there is a double futon in the den) or a couple with one or two children. The study area is perfect if you are on a working vacation - Internet access is fast and easy; windows and doors open fully to bring in fresh air. The kitchen has all the utensils you need to cook in, if you like; there are two nice flat screens and a Bose with remote. (I'm a radio junkie.) The view from the balcony looks out on the neighboring rooftops and into the two very different gardens next door. We were very comfortable there and enjoyed the privacy, although we were also happy to meet the neighbors and another guest family in the space below. Thanks to Marie for a marvelous stay in my hometown city. L and I will be back before you can whistle Dixie.
Jessica & Libby
2016-07-30T00:00:00Z
Our host was great and very responsive. The neighborhood is fantastic.
Adam
2016-10-01T00:00:00Z
We had a wonderful time in the city. The location was ideal for walking to coffee shops, great restaurants, the farmers market on Sunday, etc. The accommodations were cozy, comfortable and perfectly clean. I would highly recommend this cozy home.
Vicki
2015-07-12T00:00:00Z
I stayed here with a friend & we both thoroughly enjoyed our stay. The host was very responsive & offered excellent suggestions on where to go nearby. We rented a car and was able to obtain a virtual parking permit within an hour via the host. There was plenty of street parking. The neighborhood is very safe and quiet – we even walked a mile to dinner the first night!
Jenn
2016-08-30T00:00:00Z
This was a nice place to stay in Riverwest! E Marie made sure that everything we needed was available, even before we stepped foot in the place. I would recommend this apartment if you are looking for a low-key and quiet neighborhood with easy access to all that Milwaukee has to offer.
Terence
2015-07-19T00:00:00Z
Cute place on a quiet street in the Riverwest neighborhood. Short bike ride to local coffee shops and the lakefront. Only met our hostess briefly but she was incredibly welcoming and friendly and wanted to make sure we had a great stay.
Meredith
2016-05-31T00:00:00Z
Place was very comfortable. Located in a nice, quiet part of Riverwest. E Marie was extremely pleasant to deal with. Would definitely come back.
Nathaniel
2015-08-16T00:00:00Z
Oda Tipi
Tüm ev/daire
---
Mekan Türü
Daire
---
Konaklayacak Kişi Sayısı
4
---
Yatak odaları
Milwaukee, Wisconsin, ABD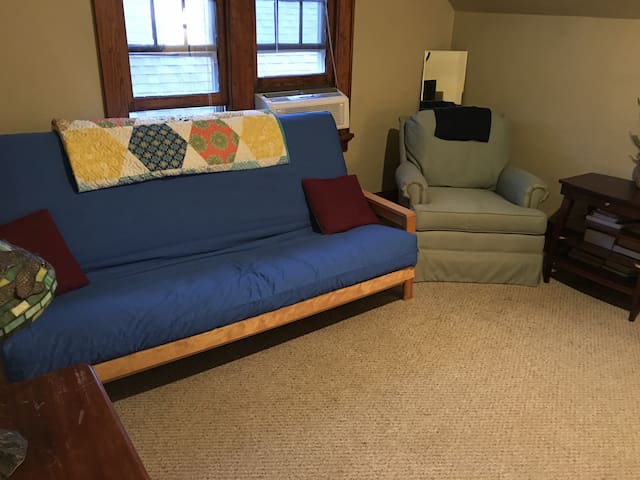 New listing! Check out my two other 5 star properties. You'll be in good hands! Sleeps up to 6! 2 traditional bedrooms plus couch/futon. Old world 1920's charm w modern bath! You'll love this space! Kitchen w stove, fridge, microwave, and basic cookware and utensils. Beautiful living room and dining room with natural woodwork and vintage lighting. Central air, driveway parking. Laundry for guests staying over three days. Front porch.
New listing for 2017. I have two other five star properties! Please check out those properties and my fantastic reviews. You'll be in good hands Two traditional bedrooms plus couch/futon. Sleeps up to six. Front porch, Vintage living room and dining room. Tons of natural woodwork and 1920s beauty. Kitchen with range and refrigerator and microwave. All basic cookware and utensils included. Driveway parking for two cars and easy street parking for others. Central air. this is a second floor apartment so there are some stairs to climb. Five minute drive to Miller Park, 10/15 minutes to downtown Milwaukee and all it has to offer such as the Summerfest grounds, third Ward, Bayview, and the entire Eastside. $10-$14 Uber ride to downtown Milwaukee A short 10 minute drive to the Eagles ballroom and Rave concert venues. 10/15 minute drive to the Riverside, Papst, and Turner Hall ballroom concert venues.
Located in the city of Milwaukee but just one block from our largest suburb Wauwatosa. Centrally located and a short distance to all the wonderful things that Milwaukee has to offer.
Previously, we've stayed at two of Jerry's other homes in the Washington Heights neighborhood of Milwaukee for family events (a reunion and wedding). When we contacted him, both of those homes had already been booked. However, he offered us a few days at a relatively new property he's rehabbing. It's a spacious two-bedroom (plus futon) duplex apartment. We loved the old world charm of the woodwork, hardwood floors and eclectic mix of furniture and art. The two queen beds in the bedrooms were very comfortable, and the futon in the living room comfortably sleeps two average sized people (remember it is a futon). The kitchen had a gas stove and spacious refrigerator. The 1920's wall hung sink was a blast from the past. All the basic essentials were provided - glassware, pots and pans, utensils, etc. There was also a microwave and coffee maker. The new bathroom was not 100% complete, but it obvious from the tile samples that it will be a classic subway tile shower over the tub. Great water pressure. The place is basically just like the other places we've rented from Jerry in the past. Jerry also gave us a tour of the other unit in the house which he hadn't started rehabbing yet. If someone needed a place for a larger group of 10 to 12, it would be possible to rent the whole house. I'm going to keep that in mind for future family events. Super convenient location - about a 10 minute drive to the downtown. We did take an Uber one night, and it was about $14 each way. We would definitely stay here again.
Thomas
2017-02-20T00:00:00Z
Oda Tipi
Tüm ev/daire
---
Mekan Türü
Daire
---
Konaklayacak Kişi Sayısı
6
---
Yatak odaları
Milwaukee, Wisconsin, ABD
1

–

18

/

56 Kiralık Daire
Tam fiyatlandırmayı görmek için tarihleri görün. Ek ücretler uygulanır. Vergiler ilave edilir.