Útulný dvěma ložnicemi penthouse v blízkosti pláže. Rezidenční má velký bazén, mini market, kavárna, obchod, lékárna, salón krásy a restaurací. Všechno, co v okolí, 2 minuty chůze od pláže
Přístřešek má veškeré kuchyňské spotřebiče, kabelová televize, klimatizace, moskytiéra na oknech a stropní ventilátor. To se nachází ve 4. patře (schody). To je vynikající apartmán pro vaši dovolenou. Nachází se v nejoblíbenější turistické místo, které je ideální pro jakýkoli cizinec se cítit jako doma. Není potřeba mít auto pohybovat se, vše, co potřebujete je jen pár minut od hotelu. 25 minut jízdy od mezinárodního letiště Punta Cana
Bezpečné čtvrti, v blízkosti obchodů, restaurací, pláže. K dispozici je bezplatné Wi-Fi připojení v místních restauracích a kavárna obchodě. Turistická oblast friendly
Bien ubicado y un excelente lugar equipado.
Miguel Angel
2017-04-06T00:00:00Z
Excellent.
Miguel Angel
2017-04-07T00:00:00Z
Oda Tipi
Tüm ev/daire
---
Mekan Türü
Daire
---
Konaklayacak Kişi Sayısı
4
---
Yatak odaları
Punta Cana, La Altagracia, Dominik Cumhuriyeti
Objevte skutečný význam relaxace v našem novém moderním stylu komunity. V bytě je prestižní adresu komfortní pronájmy bytů v větší Punta Cana, Dominikánská republika. Byt se nachází v Cruce de Veron, Punta Cana, s výhledem na bazén fantasticky upravené.
Objevte skutečný význam relaxace v našem novém moderním stylu komunity. V bytě je prestižní adresu komfortní pronájmy bytů v větší Punta Cana, Dominikánská republika. Byt komunita je ideálně umístěn v Cruce de Veron, Punta Cana, s výhledem u bazénu fantasticky krajinářský majetek a svěží Punta Cana zeleň. Apartmány nabízí výhled na bazén, přední a mají fantastický interiér aby se vešly všechny životní styl. Také, poskytuje úžasnou polohou pouhých 10 minut od mezinárodního letiště Punta Cana, 7 minut Downtown Punta Cana a nejlepší stravování, zábavy a hudby. Obyvatelé milují snadný přístup na naší komunity Club Beach "medúza" s doplňkovými shuttle bus na pláž dělat dojíždění do pláže a nákupního centra zkušenosti potěšení a vítr.
Ronny's listing was everything and more that we expected. The location is very safe and secure with 24 hour surveillance. Ronny's apartment was spacious, comfortable and had great wi-fi. The decor of the apt is also very chic and modern. Ronny also gave us the info for a reliable taxi which was very helpful as Punta Cana is difficult to get around without proper guidance. I will definitely recommend Ronny to anyone who is hoping to visit Punta Cana and wants to see what lies outside of the resorts. Thank you Ronny for your hospitality!
Beyazmin
2016-01-05T00:00:00Z
El departamento es muy acogedor y limpio. Ronny siempre estuvo atento antes, durante y después de nuestra estadía. Altamente recomendable!!
Javier
2016-03-27T00:00:00Z
Really couldn't have asked for more. Ronny was above and beyond helpful, the flat is beautiful and the beach is paradise.
Rosie
2017-01-09T00:00:00Z
Good communication from our host. Answered any questions we had. Great place!
Madison
2017-01-25T00:00:00Z
Apartment is really nice and well equipped. The free shuttle to the beach and/or market is very helpful. Public transportation is right outside the gate to take you everywhere else (Higuey, Punta Cana village, etc). There is also a gym within walking distance. Ronny is a good host and makes himself available to answer questions and such. Would definitely stay again.
S
2017-03-25T00:00:00Z
Oda Tipi
Tüm ev/daire
---
Mekan Türü
Daire
---
Konaklayacak Kişi Sayısı
4
---
Yatak odaları
Punta Cana, Higuey, Dominik Cumhuriyeti
Mi casa está justo donde quiere estar. Es muy cerca del aeropuerto, Playa Blanca y Playa Juanillo. Te encantará el barrio tranquilo y aislado, pero también lo cerca que está a lugares como el famoso Coco Bongo y Imagínese! Te encantará el parque con zona de niños. Si prefiere quedarse en casa te encantará el espacio al aire libre, el barrio, la cama cómoda, y la cocina. Mi lugar es amigos, familias, viajeros de negocios y trotamundos!
Estar a prop dels millors llocs a Punta Cana. belles platges, parcs i clubs!
Et encantarà la seves instal·lacions segures i tranquil barri. El personal del veïnat és molt amable i sempre disposat a donar un cop de mà.
Es una hermosa casa en un residencial muy seguro, la casa es muy limpia y acogedora, tenia que realizar unos trabajos en el aeropuerto y fue perfecto, esta super cerca del aeropuerto y otros centros comerciales y turisticos de Punta Cana. Para aquellos que no tienen vehículo propio les recomiendo alquilar uno porque no hay transporte publico en general. Personalmente recomendaría alquilar o utilizar los servicios de la compañía de Taxi que Carlos recomienda en su mensaje de bienvenida. Definitivamente volvería a quedarme en esta casa.
Llyser
2017-03-31T00:00:00Z
The home is beautiful and in a secluded area. There is security In the complex so you will feel safe. It is about 25 minutes from most of the beaches and restaurants. I would recommend arriving with toilet tissue and other personal items to be safe. Make sure you to have a taxi company available to come get you because the area is secluded and not in a busy area so it would be difficult to take public transportation.
Acacia
2017-03-21T00:00:00Z
Modern, beautiful home. Only a short drive to the beach. A small store with everything you need is only a 5 minute walk. Attentive hosts that were extremely helpful.
Carsyn
2017-03-17T00:00:00Z
This was a great place to stay while in Punta Cana! The house is well laid out and had lots of space for my group. Three big private bedrooms with very comfortable beds, AC and ceiling fans in each room to keep things comfortable, and a huge living room and kitchen. The entire place was extremely clean and well maintained. It was located in a beautiful and safe gated community close to everything awesome in Punta Cana by car or taxi. I can't say enough good things about Carlos's communication throughout the entire process. Even though I only stayed for one night he went out of his way to make sure things went smooth and communicated with me very quickly with any questions I had. Thanks again Carlos! I would definitely stay at your place again the next time I am in Punta Cana!
Christopher
2017-03-27T00:00:00Z
Loved the house! Very clean and neat; it is located on a very quiet neighborhood, very secured. I was on constant comunication with Carlos, he always responded very quickly. The house is very beautiful decorated. The wifi works perfectly; just 5 minutes away by vehicle from the closest beach . I will totally stay there de again.
Bolivar
2017-02-19T00:00:00Z
Carlos was quick to respond to all of our questions, and Nicole made herself available to help with anything as well. We loved the house's open floor plan and felt very secure in the neighborhood.
Miles
2017-04-04T00:00:00Z
Great place to rent from. The location is perfect especially if you have a family. I love the face there was security at the entrance and the place has a lot of space.
Steven
2017-04-11T00:00:00Z
Great home but a little far away beaches
Abdullah
2017-03-25T00:00:00Z
Oda Tipi
Tüm ev/daire
---
Mekan Türü
Ev
---
Konaklayacak Kişi Sayısı
7
---
Yatak odaları
Ciudad La Palma, Punta Cana, La Altagracia Province, Dominik Cumhuriyeti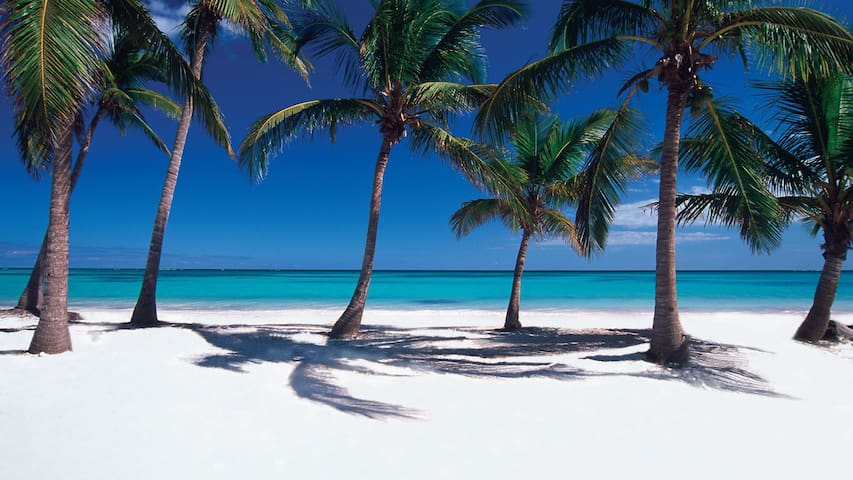 Tento povinný (95 x denně x člověk x noc) all inclusive přímořské letovisko se nachází 15 km od Cocotal Golf and Country Club a 17 km od letiště Punta Cana. Středisko má 6 restaurace 4 bary, venkovní bazén a lázně
Upozorňujeme, že se jedná o povinný all inclusive hotel all inclusive je 95 x člověk x noční
The host canceled this reservation 7 days before arrival. This is an automated posting.
Ada Vanessa
2017-04-06T00:00:00Z
Oda Tipi
Özel oda
---
Mekan Türü
Misafir suiti
---
Konaklayacak Kişi Sayısı
4
---
Yatak odaları
Punta Cana, La Altagracia, Dominik Cumhuriyeti

Vila Drago je luxusní domov, zdobené s tropickým tématikou, ideální místo pro ubytování a příjemný odpočinek v Punta Cana Village. Nachází se v soukromé komunitě (24 h. Zabezpečení) a docházkové vzdálenosti od supermarketu, nákupního, parky, hřiště, tenisové kurty, restaurace a jen několik minut jízdy od letiště, 5 min jízdy na golfové hřiště, plážový bar, soukromý přístup k pláže a Ekologická rezervace s přírodními lagunami. Během 10 minut od slavné Coco Bongo Show a Disco!
Velmi prostorná a nová vila má 3 ložnice s manželskou postelí a pěšky šatníků v každém z nich. Je možné umístit jednu přistýlku (twin) a playpen postel pro dítě na vyžádání. Dvě koupelny, které se nachází ve druhém patře a jedno samostatné WC v prvním. Má také služky ubikace s vlastním sociálním zařízením, které mohou být použity pro hosty. Villa má pohodlnou vybavenou kuchyň (kávovar, odšťavňovač, mixér, mikrovlnná trouba, atd.), Krásné jídelna a obývací pokoj s velkou venkovní terasou, kde si můžete vychutnat výhled, zaplavat v soukromém bazénu a dělat BBQ))). Vila má vše potřebné pro bydlení a příjemný odpočinek s rodinou a přáteli !!
It has been an ABSOLUTE pleasure staying here. No one wanted to leave. I had my parents fly in from the UK and it was perfect. The Villa is clean, well designed and makes you feel at home within seconds. The out door area is also perfect. Sit and read, swim and sunbath, drink wine and enjoy lunch or BBQ a nice dinner. No need to leave the villa except for more food and wine. Ideally located. Originally I was worried when I saw the map and realised the proximity to the airport but having been hear from over a week, i haven't heard a single plane. Vera has been the best host imaginable. With simple messages informing us of local events, or simply asking if we are all ok... she is on hand to make your stay easy and enjoyable. We will be back!!! Thank you so much Vera!
Alex
2017-04-04T00:00:00Z
Start to finish this was a first class experience. Highly recommend this house to anyone looking for tranquility or the time of their life! Special thank you to Vera who made the process effortless and was available anytime and one of the best hosts I have met. Muchas Gracias
Shawn
2017-04-11T00:00:00Z
Oda Tipi
Tüm ev/daire
---
Mekan Türü
Villa
---
Konaklayacak Kişi Sayısı
7
---
Yatak odaları
Punta Cana, La Altagracia, Dominik Cumhuriyeti
Situado en Cap Cana, Punta Cana, este bungalow de vacaciones cuenta con un jardín con una vista impresionante y una piscina al aire libre. Parte de las instalaciones de aire acondicionado, agua caliente, cable y conexión Wi-Fi gratuita, así como aparcamiento privado gratuito. Aeropuerto internacional de Punta Cana está a unos minutos de este Green Village at Cap Cana.
Oda Tipi
Tüm ev/daire
---
Mekan Türü
Bungalov
---
Konaklayacak Kişi Sayısı
2
---
Yatak odaları
Punta Cana, La Altagracia Province, Dominik Cumhuriyeti
Hergestellt für nicht kompliziert und freundliche Menschen, die für einen erschwinglichen Das El Dorado Gemeinde suchen im Herzen von Bavaro, an der Ostküste der Dominikanischen Ländern.Das Komplex verfügt über einen eigenen Pool mit Jacuzzi und einem wunderschönen tropischen Garten, sowie als Parkplatz und 24/7 Sicherheit. El Dorado ist nur 3 Minuten zu Fuß von den berühmten Stränden von Los Corales und Turquesa entfernt.
Die Entwicklung hat Wohnimmobilien sowie Gewerbeflächen, die Teil der lokalen Infrastruktur bildet: 2 Supermärkte, ein Fitnessstudio, eine Apotheke, ein Spa, eine Wechselstube, Französisch und Italienisch Bäckereien, mehrere Restaurants und Bars. Es ist nur 20 Minuten zum internationalen Flughafen Punta Cana fahren und 5 Minuten nach Palma Real Shopping Village.
Pick Up / Drop Off / $ 40 pro Strecke -Flughafen. -Charter Ausflüge / $? (Fragen Sie den Host). -Entdecken Punta Cana Ausflug / $ 60 Ganztagesausflug. -Wasser Funpark / $ 75-100 beetwen 2-5hours. -Vermietung Auto / $ 40 pro-Tag.
Great location
Scott
2017-04-09T00:00:00Z
Oda Tipi
Tüm ev/daire
---
Mekan Türü
Ortak mülk
---
Konaklayacak Kişi Sayısı
3
---
Yatak odaları
Punta Cana, La Altagracia, Dominik Cumhuriyeti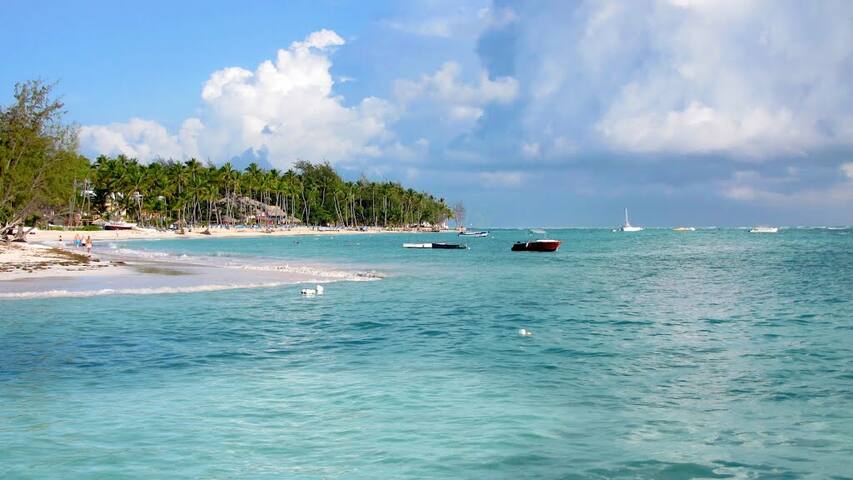 Occupation 2-4 personnes (maximum 3 adultes) -Tous Tarif tout compris est de 95,00 USD $ OBLIGATOIRE par personne par jour (Ceci est un supplément au check-in à l'hôtel. NON INCLUS DANS LE PRIX DE AIRBNB) -Au Début Check-In USD $ 18.00 par personne (à partir de 10h00) Note: Ne comprend pas les chambres, seulement dans des zones de l'hôtel. Départ tardif USD $ 10.00 par chambre par heure (jusqu'à 18h00) Note: Strictement sous réserve de disponibilité et ne sont pas garanties
-Tous Inclus 24 Heures obligatoire par l'Hôtel: Montant de 95 dollars pour les adultes et 48 pour enfants (4-11 ans) par personne et par nuit. Toutes les suites disposent de la climatisation, la télévision par câble, les téléphones et les ventilateurs de plafond, tandis que le décor a un design distinctif avec des meubles en bois sombre. patios et terrasses ombragées offrent un lieu de détente pour recueillir. - S'il vous plaît faire vos réservations à l'avance, d'éviter 100 USD $ pénalité pour les réservations le jour même. -Vous Pouvez modifier votre réservation, une fois confirmée 1 fois, 72 heures avant la date d'arrivée. Ils peuvent être nombre de personnes, dates, noms ou type d'hébergement, toujours sous réserve de disponibilité. Les modifications au cours des 48 heures auront une pénalité de USD $ 25,00
-Hôtel Dans la plage de Punta Cana Dans l'Hôtel Be Live Punta Cana Collection vous peut se vanter d'un hôtel avec une plage privée à Punta Cana. plage Cabeza de Toro, connu pour son sable et cristallines fines eaux, est l'un des plus spéciale à Punta Cana et Bávaro: cocotiers alanguis dispersés sur le sable entrecroisé avec des chaises longues confortables, des serviettes colorées et un quai de carte postale. L'Hôtel Be Live Punta Cana Collection est situé sur le front de mer, à seulement 150 mètres, avec toutes les commodités d'accès au sable et une équipe de secours professionnelle qui assure votre sécurité complète dans tout l'environnement. Visitez le Beach Club, promenade le long de la jetée ou se trouvent sur ce paradisiaque plage de Cabeza de Toro sont quelques-uns des plaisirs incontournables que vous pouvez profiter pendant vos vacances dans notre hôtel tout compris, en profitant de la beauté et la tradition d'un coin de Punta Cana Inégalée
The dream suite is beautiful and the all inclusive VIP is definitely worth the extra money. The resort staff is incredibly friendly and there is lots to do on the resort.
Oskar
2017-03-25T00:00:00Z
The host canceled this reservation 2 days before arrival. This is an automated posting.
Steven
2017-01-03T00:00:00Z
Recomendable el alojamiento, como el solicitar toda la información tanto de ubicación como el costo de la misma previó a la reservación.
José
2017-01-02T00:00:00Z
Everything was fine
Robert
2017-02-08T00:00:00Z
Buena ubicacion, pero se encuentra lejos del VIP y el wifi no es para todos los huespedes , sino que para uno solo de la habitacion.
Sofia
2017-02-28T00:00:00Z
Oda Tipi
Özel oda
---
Mekan Türü
Ortak mülk
---
Konaklayacak Kişi Sayısı
4
---
Yatak odaları
Punta Cana, La Altagracia, Dominik Cumhuriyeti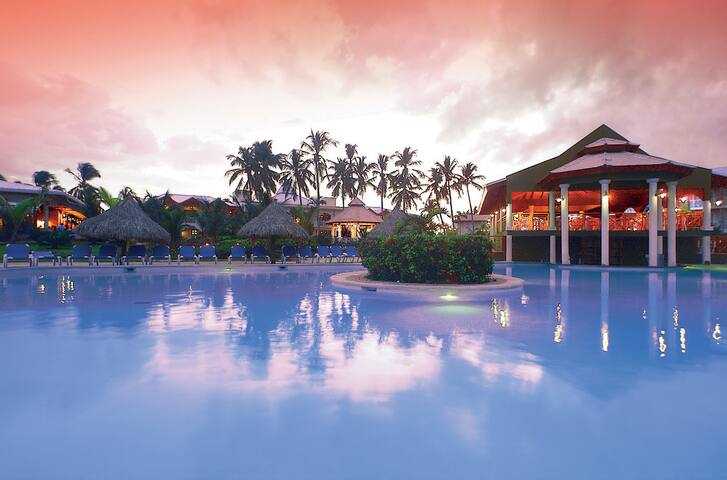 My place is in the heart of Bavaro in Palma Real neighborhood. Idéal for couple or family that want to be in the safest neighborhood of Punta Cana feeling like you were in your own home. My apartment is close to mini market, grocery store, shopping mall, theatre, bank all accessible by walk. Also close to nightclub like the famous Coco Bongo, Imagine, Jewel and drinks accessible by car. Distance to beach : 700 meter Palma Real Shopping mall: Just in front of the apartment
Hello. thank you for contacting me. My appartment is perfect for family like yours. One master room with queen bed very comfortable almost new. Second room 2 singles beds very comfortable. 1. This appartment is available now but it's hot season a lot of request. 2. You'll only have to pay electricity during your stay at the apartment. For example I have a guest that paid around 80 $Usd for two weeks. Only using fans you can save a lot more than air conditioning. 3. We have a driver that can pick you up at the airport for 30 $ usd 4. The beds are almost new. They are firm and puffy. One queen bed and deux singles beds that can be move together and make king beds. 5. The place is right in front of the Palma Real mall and they is a small market near my appartment. I have everything in my apartment to cook vegetarian food. (Please see picture) 6. Yes the we have A/C (check pictures) 7. Please check the Airbnb cancellation policy. -------------- Palma Real Villas is a residential development from the Sol Meliá Hotels & Resorts and one of the most popular golf courses in the Bavaro and Punta Cana areas. - FREE WIFI INCLUDED - BBQ INCLUDED
-Enjoy 24 hour security in gated community
Manuel was great, very responsive and considerate and nice. The residence was very safe and quiet, yet still close to everything you would want to access in PC (nightlife, beach, food, grocery). I would highly recommend this location to anyone looking to get the best of both worlds.
Jordan
2016-12-01T00:00:00Z
The apartment exceeded my expectations. It was very spacious, clean and equipped with everything needed. The view over the pond was great. I felt like I was home. It was exactly as described and more. I would definitely stay here again and highly recommend it. I was met at the gate upon arrival and the response to any requests was handled very promptly. Staying here made my vacation a great experience.
Sherol
2016-06-24T00:00:00Z
Manuel's parent definetly made us feel welcome. They gave us lots of information about the area. Good communications with Manuel in arranging the trip. The place is as described in Airbnb and we enjoyed our stay. We had a car which was helpful but resteraunts and stores within walking distance. Would stay here again. The electrical bill was very small.
Ron
2016-03-22T00:00:00Z
Esta fue nuestra primera experiencia por airbnb y eso nos preocupaba un poco, teníamos varias preguntas pero desde el primer momento Manuel respondió con claridad y nos dio esa tranquilidad. El apartamento es excelente, el complejo es precioso, seguro y bien ubicado auqnue si recomendamos a quienes se hospeden en el que alquilen un auto o similar para moverse por la zona. Durante la estadia tanto Manuel como Vladislav (quien nos atendio personalmente al llegar) fueron atentos y se preocuparon de que todo fuera bien, además son rápidos y efectivos para resolver los "problemas", por ejemplo sentimos que el agua no era caliente sino más bien tibia y al rato de comunicarle a Manuel ya estaba solucionado y la temperatura era perfecta. En fin una excelente experiencia, excelentes anfitriones y sin duda de tener la oportunidad repetiriamos con ellos!
Daniela
2017-01-16T00:00:00Z
We didn't meet Manuel but Guido who was very professional and friendly. The Golf Club is a great and large safe property within a short driving distance from everything. Many pools and where we were introduced to Paddle tennis too. 5 minutes walking from Palm Real mall which has Hard Rock Cafe and many other places to eat and shop including groceries. We found many things we needed a few minute walk within the property to a small convenience store that had the essentials and was open pretty late most nights.
Andres
2016-12-31T00:00:00Z
I've just returned from staying at the Caribbean Golf Suites and my group and I thoroughly enjoyed our stay. The host (Manuel) was away for our trip, but his mother looked after us very well and made us feel very welcome. If there was anything we needed she was only a phone call away and was always happy to swing by to see us and even gave us a few lifts to the supermarket / different beaches etc. I would very much recommend this host.
Toby
2015-04-07T00:00:00Z
A beautiful apartment in an beautiful golf club with ponds, pools and lots of green. Even if we didn't play golf we enjoyed our stay at Manuels place. But we would definitely recommend a car for staying here. Because around Cocotal Golf club there isn't pretty much expect for the Palmareal mall. So your pretty isolated and surrounded by big hotel resorts. The apartment has everything you need to cook and also fresh towels. Manuel himself wasn't there during our 4 day long stay, but his parents live near the villa and are available if you ask Manuel via (SENSITIVE CONTENTS HIDDEN). They were really friendly and answered all of our questions. Additional his Dad made us a deal for a trip to saona island. They made us feel very comfortable. Would definitely recommend this place
Robin
2016-03-18T00:00:00Z
We had a lovely time at Manuel's apt. We did not meet him but his parents were around and were very welcoming and helpful. Nice apt. inside a lovely resort close to the beach. Recommendable!
Anje
2016-03-15T00:00:00Z
Oda Tipi
Tüm ev/daire
---
Mekan Türü
Villa
---
Konaklayacak Kişi Sayısı
4
---
Yatak odaları
Bávaro, La Altagracia, Dominik Cumhuriyeti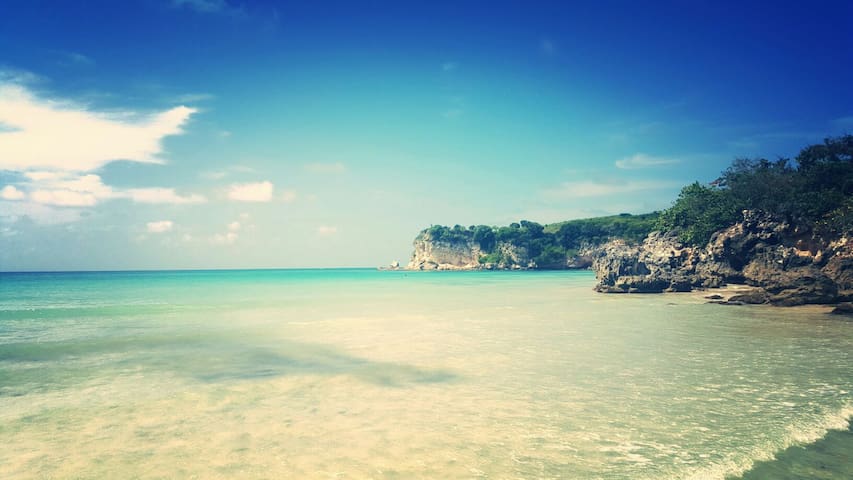 Hergestellt für nicht komplizieren und freundliche Menschen, die zu einem erschwinglichen Ort in der Nähe von allen touristischen Orten suchen. Die Wohnung ist zentral gelegen. Mit den öffentlichen Verkehrsmitteln (Taxi, Bus, und Moto). Die Nachbarschaft ist in einem perfekten Ort in der Nähe von all Bávaro Minuten zu Fuß zu den Stränden offer.2 hat und auch viele Restaurants, Bars, Supermärkte, Vermietung cars.15 min vom Flughafen entfernt. Freie keine zeitliche Begrenzung der Straße parken. Voll ausgestattet mit allem, was enthalten ist; Strom, Wasser, Internet, Schwimmbad.
ATELIERWOHNUNG.
La mejor ubicación a solo pasos de las playas, restaurantes, supermercados, el balcón es un plus extra de calidad. la atención de Reinaldo la mejor lo recomiendo 100% a toda la comodidad. Muchas Gracias por todo
raul
2017-04-12T00:00:00Z
Oda Tipi
Tüm ev/daire
---
Mekan Türü
Daire
---
Konaklayacak Kişi Sayısı
3
---
Yatak odaları
Punta Cana, La Altagracia, Dominik Cumhuriyeti
$ 525 měsíčně platí pouze pro května -Sept. El Dorado Moderní obec ležící na východním pobřeží Dominikánské republiky, ve městě Bávaro / Punta Cana a pouhých 20 minut od letiště. 300 metrů / yardů od pláže. Elektřina je navíc
$ 525 měsíčně platí jen pro máj Sept. Condo Studio je nad obchody, včetně lékárny, realitní kanceláře, obchody, salon a restaruants s mezinárodní i místní kuchyně, butiky. $ 525 za dlouhodobý nájem na základě 1 měsíčního minima. Elektřina je extra. Malý je třeba složit zálohu na elektřinu při příjezdu a vrací se při odjezdu. Nejlepší umístění v Punta Cana !!!
Rezidenční komunita je opatřen vzájemným zeleně, soukromé parkoviště, zahrada s bazénem, 24 hodinovou ostrahou. Uvnitř obci jsou obchody, včetně lékárny, realitní kanceláře, obchody, salon a restaruants s mezinárodní i místní kuchyně, butiky a další. Nejlepší umístění v Punta Cana !!!
Nice appartement, well equiped and close to the beach and many shops. Fabios sister was waiting for me, she was very friendly and showed me everything. Nothing to complain.
Carolin
2016-12-05T00:00:00Z
Fabio was very welcoming. The condo was clean and sufficient, but let's face it, you're not staying here for the condo. You're staying here for the location. The location was perfect. Great restaurants of all types: Italian, Mediterranean, french, local. Good bars and dancing within walking distance, and of course the beach is a 2 minute walk from the condo. Maybe the most practical feature of this place is that there are always taxis sitting right outside all day every day ready to take you anywhere you want to go. I could say a lot more, but bottom line is that I highly recommend staying here.
Kellan
2015-08-21T00:00:00Z
This condo is in very close proximity to restaurants, excursion sales office, bars, money exchange, salons, supermarkets and very close to the beach. Keep in mind the wifi is only for one device per day. Other than that we had a great stay, and this place is such a great deal for the ideal location it is in. Thanks Fabio and family!
Kelsey
2017-01-05T00:00:00Z
Everything is nearby!!!
Karvin
2017-01-08T00:00:00Z
It is hosts and spaces like Fabio's that make Airbnb a unique experience. Highly recommended.
Cesar
2017-01-16T00:00:00Z
Very good communicaton with Gabriella. The location was really good. 100 meters to the beach and nice cafès and restaurants just around the corner.
Oskar
2017-03-26T00:00:00Z
Très bien situe près des épiceries et 5 minutes de la plage. Excellent accueil et logement très bien pour le prix. Nous avons bien aimé le grand balcon et les chaises berçantes. Seul point négatif pour l'instant c'est le bruit des bars a proximité qui est assez bruyant.
Claudia
2017-02-08T00:00:00Z
El apartamento es lindo. En las fotos se ve como un estudio, pero le han realizado una separación y casi que es un apartamento de un dormitorio. Esta a mano de todo y cerca de la playa. Era lo que esperaba.
Alicia
2017-03-23T00:00:00Z
Oda Tipi
Tüm ev/daire
---
Mekan Türü
Daire
---
Konaklayacak Kişi Sayısı
2
---
Yatak odaları
Punta Cana, La Altagracia Province, Dominik Cumhuriyeti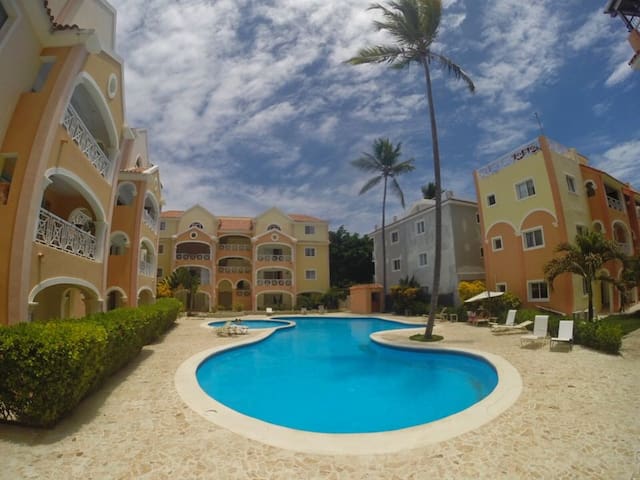 Das Hotel liegt buchstäblich am Strand, kann diese Wohnung bietet bequem Platz für bis zu 4 Personen. Es gibt komfortable Schlafzimmer mit Kingsize-Bett, Bad, Küche, Wohnzimmer mit 2 Einzelbetten, Essbereich und eine Terrasse mit Gartenmöbeln und erstaunlichen Blick auf das Meer. Inklusive: WLAN, Liegen am Strand, Zugang zum Pool, eine regelmäßige Reinigung.
Das Hotel liegt buchstäblich am Strand, kann diese Wohnung bietet bequem Platz für bis zu 4 Personen. Es gibt komfortable Schlafzimmer mit Kingsize-Bett, Bad, Küche, Wohnzimmer mit 2 Einzelbetten, Essbereich und eine Terrasse mit Gartenmöbeln und erstaunlichen Blick auf das Meer. Im Schlafzimmer und im Wohnzimmer gibt es einen Deckenventilator und / oder Klimaanlage. Die Küche ist komplett mit allen notwendigen Utensilien und Zubehör ausgestattet. Für unsere Gäste gibt es einen Zugang zum Pool und eine Bar neben dem Pool. Auch bieten wir kostenlos: • 24/7 Sicherheit • Zugang zum Strand mit persönlichen Stühle, Sonnenschirme und Badetücher • Zugang zum Pool mit Liegestühlen • WiFi inklusive Strandbereich • Eine regelmäßige Reinigung • Persönlicher Assistent, der in allen posible Fragen hilft • Pick-up in Punta-Cana Flughafen für Buchungen von 5 Nächten Verfügbar Extra: - Frühstück am Strand Café USD $ 12 / Frühstück (3 Menü zur Auswahl) - Mittagessen am Strand Café USD $ 12 / Mittagessen (5 Menü zur Auswahl) - persönliche Barkeeper für USD $ 100 / täglich (er arbeitet mit Getränken und macht alle coctails Sie mögen) - persönlicher Koch für besondere Abendessen für USD $ 150 / Abendessen (Köche aus Ihren Produkten und jedes Gericht Sie mögen) - pesonal Koch für die täglichen Mahlzeiten (2-3 Mahlzeiten) für USD $ 150 / Tag / 10-14 Gäste, USD $ 100 / Tag / 06-09 Gäste, 75 USD $ / Tag / 3-5 Personen, $ 50 USD / Tag / 1- 2 Gäste
Los Corales ist eine Gated Community direkt am Strand mit Touristen und Einwohnern aus vielen verschiedenen Ländern. Wohnung befindet sich in wenigen Schritten vom schönen Privatstrand entfernt. Alle Annehmlichkeiten wie Supermärkte, Strandbars, Pizzerien, Restaurants, Fitnessstudio, Tanzstudio und Yoga-Kurse sind in einem Radius von 2-5 Minuten Gehzeit. Der Golfplatz ist in einem Umkreis von 3 km. Neben der Wohnung: - internationales Restaurant Tronco Strand - italienisches Restaurant D'Angelo - asiatisches Restaurant Balicana - Beachbar Soles - Strandbar Bambus - Tourenschalter & Ausflug Shop - Spa und Massagen Neben unserem Komplex Los Corales: - Supermarkt BAM - Supermarkt Irina - Café Nam Nam - Restaurant Le Petit Jardin - Bäckerei Delifrance - Bäckerei Dalia - Sportbar Dannys - Pizzeria Happy Hour - kubanisches Restaurant Don Pio - brasilianisches Restaurant Garota - Fusion-Restaurant Citrus - Bar & Lounge Liqui2 - Früchte Geschäfte 5-10 Minuten von der Wohnung oder dem Shuttle-Fahr: - Palma Real Einkaufszentrum - San Juan Einkaufszentrum
Oda Tipi
Tüm ev/daire
---
Mekan Türü
Daire
---
Konaklayacak Kişi Sayısı
5
---
Yatak odaları
Punta Cana, La Altagracia, Dominik Cumhuriyeti
Nuestra hab lujo de 3 Apt se encuentra dentro de Azul Beach Punta Cana Resort de lujo en la playa Cabeza de Toro en Punta Cana. Ha sido amueblado y decorado en un ambiente caribeño para que nuestros huéspedes disfruten de su estancia y de desconexión para unas vacaciones maravillosas. La hab principal tiene una cama doble y baño privado con paneles de mármol, w / ducha y 2 lavabos. El segundo hab con 2 camas matrimoniales para 4 a dormir y 3 recámaras con 2 camas individuales para 2 a dormir. La hab secundario tiene un cuarto de baño w / showe y lavabo. Cocina llena.
Nuestro apartamento ha sido decorado en colores azul, blanco y off para ofrecer un toque de playa dentro de un ambiente de lujo.
Al caminar distancia huéspedes Blue Beach pueden ir a nadar con los delfines o caminar a Pearl Beach Club que ofrece un lugar increíble. San Juan Shopping Center está a sólo 7 minutos en coche y tiene restaurantes, bancos, supermercados y cines. Punta Cana International Airport está a sólo 12 minutos en coche.
The host canceled this reservation 7 days before arrival. This is an automated posting.
Farah
2017-02-10T00:00:00Z
Oda Tipi
Tüm ev/daire
---
Mekan Türü
Daire
---
Konaklayacak Kişi Sayısı
8
---
Yatak odaları
Punta Cana, La Altagracia, Dominik Cumhuriyeti
Oceněn jako "" GOLD TOP chaty, chalupy a Punta Cana "od roku 2011 prostřednictvím TripAdvisor. Prostorný byt se nachází v srdci pláže Bavaro. Jsme jediný komplex v oblasti, kde si hosté mají exkluzivní přístup na pláž a bezplatné užívání lehátek. Kompletně zařízený a pečlivě zařízené. Mezi naše vybavení a soukromí internetu vám bude nápomocen nádherné vícejazyčné Host. Za zlomek ceny můžete získat to nejlepší z obou světů: soukromé rezidence a možnost All-Inclusive.
Jednoduše-Lovely Condo: Útulný a prostorný byt se dvěma ložnicemi, který je plně vybaven moderním zařízením a vybavení. Vnitřní prostor je umocněn katedrála stropy přičte se estetický vzhled a zároveň zvýšit prostor a světlo do této oblasti. Lá(SENSITIVE CONTENTS HIDDEN)lně navržen tak, kompletně zařízený a pečlivě zdobená dobrého vkusu. Veškeré vybavení je 99% dováženy a jsou vybírány s kvalitou a ohledem na životní prostředí. Spotřebiče jsou nejvyšší řady nerezových výrobků nesoucích označení Energy Star. Všechny pokoje mají ventilátory klimatizace a stropní. Voda, plyn, kabel a internet jsou zahrnuty v našich sazeb. Mezi našimi bohatým vybavením budete také těšit na LCD TV 40 "s 100 mezinárodními kanály a filmy zdarma. Za zlomek nákladů, které byste zaplatit v letovisku nebo v hotelu, dostanete to nejlepší z obou světů bez kompromisů: Soukromé a plně vybavené rezidence se všemi jeho vybavení a možnost se těší All-Inclusive zkušenosti v blízkých vyhlášených letovisek. Ušetřit nějaké peníze a užít si svůj pobyt! Naše Condominium pro vaše potěšení: • 95 čtverečních. M (1023 čtverečních. Ft.) Obytné plochy • Vysoká katedrála Stropy • 2 ložnice • 2 Plné koupelny • 2 balkony •Obývací pokoj •Jídelna • Plně funkční kuchyň • Moderní Prádelna • Full-Time Podávání hostitel • Vlastní internetové připojení
Naše Jednoduše-Lovely-Condo se nachází ve městě Punta Cana v srdci pláži Bavaro, považovaný za jeden z nejlepších pláží na světě! Naše poloha je výhodná. Naše vily komplex, Residencial Costa Bavaro, se nachází mezi Barcelo Resort and Melia Resort. Jsme jen 12 minut od mezinárodního letiště Punta Cana. A jen několik minut od tohoto tropického soukromí jsou Nákupní centrum Palma Real, řada renomovaných hotelových řetězců, působivé golfových hřišť, největší supermarkety full-service, restaurace, kavárny, noční zábavu ... a samozřejmě tam jsou míle a míle krásné úsek Bavaro je ohromující pláže s bílým pískem, tyrkysové vody, přírodních korálových útesů a palmami. Tato soukromá pláž je součástí naší bytových vil komplexu volání "Residensial Costa Bavaro" řídit podle IFA Resort. Na pláži je 1,6 kilometrů od naší chatě v rezidenčním komplexu.
Great location, great condo!! Thank you!!
Lynne
2017-03-30T00:00:00Z
El lugar es súper tranquilo ya que es un barrio cerrado. A 10 cuadras de la playa. Es imprescindible rentar auto. Lugar genial.
Carlos
2017-01-21T00:00:00Z
L'appartement est exactement comme décrit, l' endroit est calme et sûre, mais une voiture est casi indispensable. Car pour rejoindre la plage ou un supermarché c'est trop loin à pieds. Surtout que dans notre cas nous avons eu plusieurs jours de fortes pluies donc les rues se transforment en petites lagunes. Yves est d'une aide précieuse pour vous faciliter la vie très discret mais efficace. Certainement un endroit où nous aimerions retourner.
Alvaro
2016-12-03T00:00:00Z
Great value, amazing experience, very clean, very accurate and detail information about the place, nice pictures and accurate, extremely secure and safe, very friendly and helpful people, love the decoration and furniture(URL HIDDEN)stayed almost two weeks for new Christmas and New Year! Personally, I don't like the resort and crowd. I felt like my home and had everything I needed. I could go to any restaurant, any beach and anywhere in addition to have my relaxing and comfortable home. The only thing you need to have a transportation. You can walk but it will be a lot. Just be careful with rental car companies because they may not honor your reservation. I ended up renting a scooter which was lots of fun! Can't wait to go back and will definitely look forward to stay there again! Thank you Yves and your wife for all your help!
Farhad
2017-01-05T00:00:00Z
Oda Tipi
Tüm ev/daire
---
Mekan Türü
Ortak mülk
---
Konaklayacak Kişi Sayısı
4
---
Yatak odaları
Punta Cana, La Altagracia Province, Dominik Cumhuriyeti
Byt v nedávné době zařízené, všechny nové a krásné pláže Bibijagua (Pláž Bavaro) 2 ložnice 2 koupelny, pohodlné postele a klimatizace! Internet! To je místo, které hledáte!
To je místo, kde jste hledali dovolené! V bytě je nová! Veškerý nábytek a postele jsou velmi pohodlné a cítíte ve svém dovolenou velmi šťastný! Byt má 2 ložnice a 2 koupelny! Každý pokoj má velké okno s výhledem na zelené, Lůžka jsou velmi pohodlné a vše je nové! Je to 3 minuty od moře v krásné pláži Playa Bavaro Bibijagua! Elektřina není zahrnuta v ceně, kterou zaplatíte za bytě, je náklad, který běží na vlastní pěst!
Mohu zařídit taxi, aby je vyzvedla na letišti a přivést je do svého bytu, mohu zajistit výlety a návštěvy z nejkrásnějších a zajímavých míst, mohu také získat dobré slevy pro vás tyto aktivity! Pokud potřebujete návod Mohu být vaším průvodcem zcela zdarma a ukázat jim to nejlepší z Punta Cana, mohu také zajistit odvoz na letiště a doporučí místa k vidění ve dne iv noci! Pokud si jen chcete být nezávislá také můžu jednoduše odevzdat klíče při příjezdu, a pokud chcete, aby mě vidět na jeho odchodu nic víc. Jsem jen tehdy, pokud mě budeš potřebovat, ale mám k dispozici 24 hodin, aby jim pomohla ve všem, co potřebují! Jen chci mít dobré zkušenosti v mé zemi
I really enjoyed staying at Cloudy's place. She was very welcoming and helpful. My overall trip to the Dominican Republic was OK to say the least but none of that had anything to do with Cloudy. Whenever, we needed her, she was there in a hurry. She was able to answer any and all questions. Also, me and my friend didn't get in until almost midnight and she made sure that she was there waiting for us when we arrived. The beach is literally around the corner and it hosts a variety of restaurants to eat at, Jellyfish being the best! Also, the supermarket and the mall are just down the street but I will warn you all that the taxi rides can become a bit expensive, especially for rides that are just 5 minutes away so it may be best to rent a car during your stay. Cloudy also took us on a tour in the city Higuey which, was also very nice. Overall, the place was just as described and well worth the price we paid. I would definitely recommend her place. Thanks for everything Cloudy, I know we were a handful :)
Jamesha
2016-08-26T00:00:00Z
El apartamento de Clody es espacioso, práctico, tiene todo lo que se necesita. El aire acondicionado de la habitación funciona muy bien. El baño es bueno. El refrigerador funciona a la perfección. No utilice la lavadora, así que no puedo hablar de ello! La cama está bien confirtável. La natación es limpio. La residencia está bien asegurado. Es muy cerca de la playa, a 3 minutos a pie! Es un apartamento que se recomienda! El Clody es muy amable y servicial! Explicó mucho sobre el país, la cultura, el idioma! Hemos ganado un amigo! ¡Muchas gracias! Hasta el próximo viaje, Clody!
Volnei
2016-10-17T00:00:00Z
Words can't express my gratitude with Clody. She was an amazing host who took care of us during our whole stay at her apartment. Clody made sure we enjoyed our vacations to the fullest. We explored the great areas of Punta Cana where all the tourist are, but also got to enjoyed and hanged out with the locals. She advised us to where to go eat and where not to go. The apartment was clean and had everything one could need to have a great time. The beach is so close to the apartment and it's totally safe. I definitely endorse Clody's home as your next vacation home. You will not regret it. Clody thank you once again and my friends and I will definitely go back to Punta Cana and stay at your place !!
Vladimir
2016-11-19T00:00:00Z
Cloudy's place was conviently located. There were resteraunts, beaches, and shops that you could either walk to or catch a quick taxi/bus too. Cloudy was very helpful upon arrival as far as explain where everything was on reference to where we were and how generally things would work. I would stay again
Lauryn
2016-12-14T00:00:00Z
I stayed at this apartment with my friends. The first impression was the neighborhood. It was very green, there are much vegetation around. The apartament buildings around were very nice and beautiful! The beach is very close, less than 5 minutes of walking time. There are local restaurants, a bar with european food and souvenir shopping center near the entry to the beach. The beach is clean and there are beautiful places to see in both directions along the shore. The place is pretty quiet, especially in the night, well lit and it feels secure to walk around at any time. Palma Real Shopping Mall with a food supermarket is close if you prefer to cook yourself or want to grab few bottles of wine. The apartment is spacy and clean, the equipment seems to be new. Windows are large and there is much natural lighting. As it is situated at the last floor, there is always gentle breeze from the sea. There is a nice shared pool in the yard, but we didn't use it as it seemed shallow. The kitchen has everything needed to cook, the fridge is anti-frost and works well. The bedrooms and the beds are comfortable. There is a Bluetooth/CD/USB MP3 player in the kitchen with local music. Both bedrooms have ceiling fans. There are two bathrooms in the apartment. The main bedroom has in addition an air coditioner and you can use the bathroom without leaving the room. The second bedroom is smaller and lacks AC but is otherwise the same, and we liked both. The bathrooms were very clean. Water heater worked, which is pretty rare in the country. Clody is very hospitable. She organized a taxi pickup at the airport for us, recommended places to see. I really recommend this apartment and Clody for anyone and I'd stay there next time.
Andrii
2016-07-28T00:00:00Z
Our whole experience with our host was more then what we could ever ask for. Clody made us feel relaxed and welcomed. Dominica Republic will forever be in our hearts. Clody made sure that we saw the good and the bad, and we liked that, we didn't feel so much like tourist but more like locals, we strongly believe that culture plays a major roll on travel and Clody did everything possible to deliver exactly that. good experience, good vibes, good food, good music. we recommend Clody home to anyone that's looking to have a fun time in the Dominica republic, and is not afraid to explore.
Jorge
2016-11-29T00:00:00Z
super nice lo recomiendo
Yelitza
2017-01-22T00:00:00Z
Excelente apartamento cerca de la playa Bibijagua! Clody te hará sentir como en casa, está ahí para ayudarte en todo lo que necesitas. El apartamento está ubicado muy cerca de la playa, está equipado con todo lo que se puede necesitar. Hay un minimarket cerca que hace envíos a domicilio y sino se encuentra cerca el shopping Palma Real, caminando está a una media hora y se puede hacer tranquilamente sino se puede ir en taxi. La zona es muy segura, podés ir y venir tranquilamente. La pasamos muy bien! Clody es la mejor anfitriona que se puede pedir!!
Virginia
2017-02-03T00:00:00Z
Oda Tipi
Tüm ev/daire
---
Mekan Türü
Daire
---
Konaklayacak Kişi Sayısı
6
---
Yatak odaları
Punta Cana, La Altagracia, DO, Bavaro, Dominik Cumhuriyeti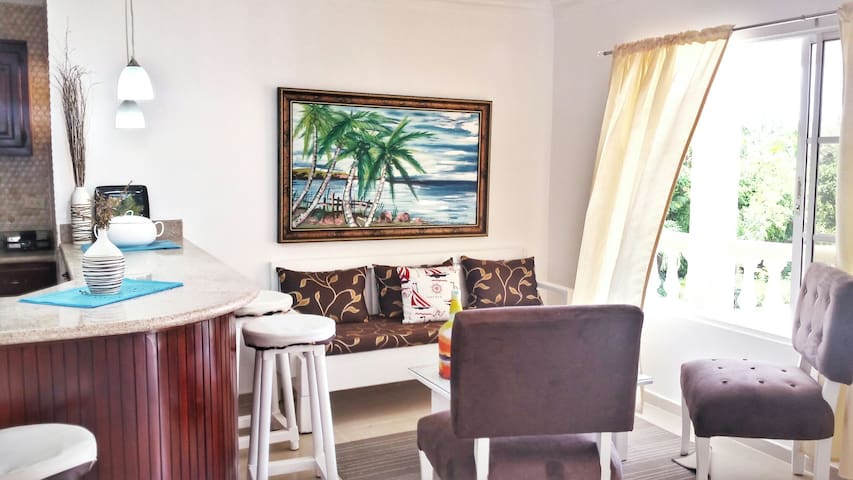 Oda Tipi
Tüm ev/daire
---
Mekan Türü
Daire
---
Konaklayacak Kişi Sayısı
4
---
Yatak odaları
Punta Cana, La Altagracia, Dominik Cumhuriyeti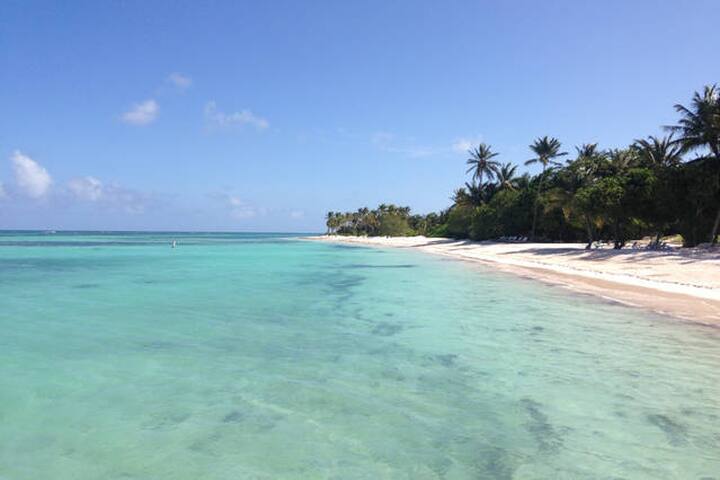 Te encantará mi lugar debido a la excelente ubicación !! También tengo Wifi muy rápido y el acceso a la playa privada cercana. El apartamento está situado en Cocotal- que se conoce como una buena zona de Bávaro. Es a poca distancia de la playa y cerca de supermercados, farmacias, restaurantes y tiendas en el centro comercial Palma Real. Hay una plaza de aparcamiento justo fuera de la vivienda, que es grande si usted está planeando sobre el alquiler de un coche. También amigos de los niños con equipo de bebé y juguetes.
Cocotal Golf & Country Club je bránou komunita nachází v Bávaro, Dominikánská republika, v blízkosti mezinárodního letiště Punta Cana. 15 minut od letiště Punta Cana.
It was our first night in RD. If you're looking for an alternative to an expensive resort in Punta Cana, this is an option. The Victoria's residence is well maintained (with a pool and golf) and a supermarket and restaurants in a mall nearby. Victoria took time to show us the neighbourhood when we arrived. Her baby is really lovely. The beach and nightlife are not so closed as described (it's better to hire a moto taxi rather than walking). Overall we expected something else from Punta Cana, so we were a bit disappointed.
Elizabeth
2017-03-26T00:00:00Z
Victora est accueillante souriante et est de très bons conseils sur les endroits à visiter aux alentours. De plaus la résidence cocotel est calme et est super sécurisée et permet l'accès à une grande piscine ! À recommander vivement !!
Kamal
2017-04-01T00:00:00Z
Victoria was a wonderful host who made me feel so welcome in her home and even cooked me food. The apartment complex is in a safe area not far from the beach and also has a pool. Great stay, I highly recommend.
Tianyi
2017-03-13T00:00:00Z
Pretty Good!
Alexandra
2016-12-18T00:00:00Z
Victoria and her boyfriend is super People. Very help full. They have close very nice pool. Are is securied. To beach You niedziela walk. But 5min from herezji house You have Hard Rock Cafe and another shows. I recomend stay in her house.
Agata
2017-01-15T00:00:00Z
Fantastiskt ställe! Reste ensam hit, bodde 8 nätter. Gångavstånd till strand, pool, supermarkets, shopping och restauranger. Tryggt och säkert område. Eget stort kylskåp. Trevligt rum och badrum. Victoria är en härlig värdinna! Hon och hennes pojkvän hade dock ett barn på 9 månader som förde oväsen ibland, annars var han riktigt söt. Jag trivdes mycket bra och kan starkt rekommendera detta boende.
Amanda
2017-03-23T00:00:00Z
Victoria is very frendly and helpful! Pleace was clean and safety. House is on cocotal, this was very frendly neigborhood !
Bartek
2017-03-08T00:00:00Z
Victoria and her family were so nice and cute! We spent a very good time at her home! I will recommend it !
Adele
2017-04-06T00:00:00Z
Oda Tipi
Özel oda
---
Mekan Türü
Daire
---
Konaklayacak Kişi Sayısı
2
---
Yatak odaları
Punta Cana, La Altagracia, Dominik Cumhuriyeti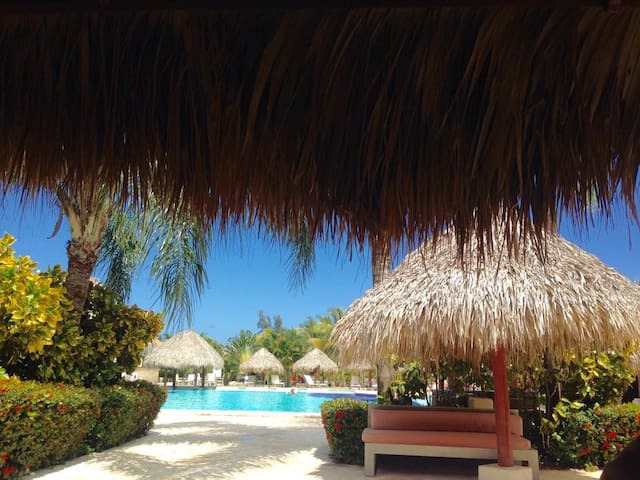 Este complejo está cerca de la vida nocturna, ir de compras, el aeropuerto, y de la playa. Esta suite de 3 dormitorios con sofá cama que viene con un balcón, la playa y acceso a la piscina, y todas las comodidades inclusivo y con capacidad para 6 huéspedes. Además, esta unidad ofrece acceso a dos baños completos, una unidad de lavadora y secadora, el concepto de estar abierta, comedor, y cocina con vistas al mar y la playa. * Evaluación de visitantes están obligados a comprar un paquete todo incluido adicional de $ 95 por día por persona y una tarifa de $ del 5 PN / pp.
También tengo estudio, 1 dormitorio, y 2 suites disponibles, además de las suites de 3 dormitorios ubicado a pasos de la playa. Tipos de habitación Suites de un dormitorio: Habitación con cama de matrimonio, cuarto de baño completo con ducha / bañera combinado. Ocupación máxima: 2 adultos. Dos suites de un dormitorio: Habitación con cama de matrimonio, un segundo dormitorio con 2 camas de tamaño completo. El segundo cuarto de baño es un baño compartido, situado fuera de la sala. Tres suites de un dormitorio: Habitación con cama de matrimonio, dos dormitorios con 2 camas cada una (1 Queen y 1 completo). El segundo cuarto de baño es un baño compartido, situado fuera de la sala. Tarifas: Por favor envíeme un correo electrónico para los precios de las suites de 1 y 2 dormitorios (fijación de precios mencionados son para las suites de 3 habitaciones). Cuotas adicionales: Plan Todo Incluido: $ 95 por adulto ($ 47.50 por niño de 3-12 años, gratis menores de 3 años) y la tasa de complejo de $ 5 por persona, por noche.
Oda Tipi
Tüm ev/daire
---
Mekan Türü
Ortak mülk
---
Konaklayacak Kişi Sayısı
6
---
Yatak odaları
Punta Cana, La Altagracia Province, Dominik Cumhuriyeti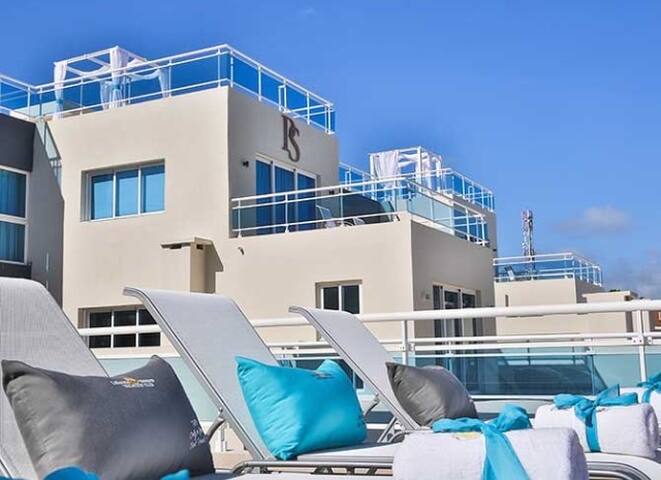 Tam fiyatlandırmayı görmek için tarihleri görün. Ek ücretler uygulanır. Vergiler ilave edilir.